Weekly round-up: 22 - 28 Jan 2014
Tyrone's super showy Pacific Diver still in situ
American Coot remains in Highland
Hebridean Pied-billed Grebe noted once again
Wintering American Buff-bellied Pipit lingers in Cheshire
Ireland's mega-double bill of Arctic larids on offer again ~ Wexford for Ivory Gull, Dublin for Ross's
Trio of Hume's Yellow-browed Warblers now up for grabs
The brief burst of pretty insignificant easterlies really didn't come to much at all this week, tossed aside by yet another hefty Atlantic low pressure system that blustered its way through the country across the weekend.
Scotland fared worst this time, as the barometer dropped as the weather advanced towards the north of Britain ~ gales, heavy rain, snow and blizzard conditions sweeping in as Sunday dawned.
Despite the occasional rare bright day, much of the rest of the UK and Ireland was also subjected to more wet and windy weather, with some spectacular thunderstorms (with accompanying big'n'bouncy hailstones) scudding across the East Anglian coast for good measure ~ and in the southwest, things have become so serious in Somerset that parts of the county have been teetering on a state of emergency.
Grim times then in terms of the weather but the birding scene offered some sort of light relief ~ no one unearthed any new late January crackers but the list of birds that was up for grabs was once again, nothing short of outstanding ~ a list so rich in quality that birders from another era would laugh in your face if you told them what was around at present…
Pacific Diver
Leading the way this week is the north of Ireland's first-ever Pacific Diver that continued to perform beautifully on the inland waters of County Tyrone's Lough Fea until 28th.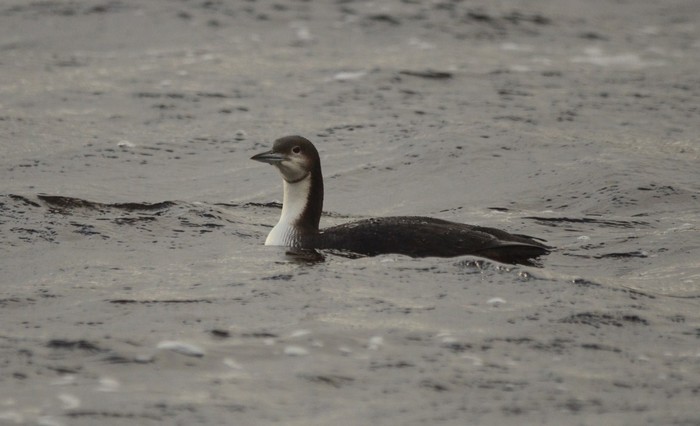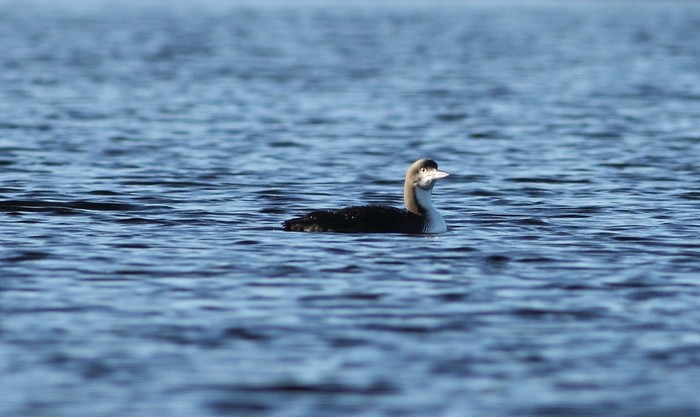 This splendidly showy adult couldn't help but show off the whole range of its distinctive suite of characters ~ from subtle structural points to the solid flanks and lovely chinstrap ~ this was a birder's delight which probably worthy of a larger attendance than it actual received.
Not that any of those with a s(pacific) sic Northern Irish list will be complaining ~ after seeing the south receive a couple of opportunities to avail themselves of this relatively new split, those across the border must have been eagerly awaiting this particular first. Though how many of them would have laid odds on Tyrone being the county to deliver the goods.
(…randomly, wouldn't be great if somewhere there was a Lough Pacific which, one day, hosted a Fea's Petrel…I guess that'll be the Naproxen kicking in again…).
American Coot
Next up, the Highland American Coot that continued to find the surrounds of Loch Flemington very much to its liking ~ present throughout the week to 28th.
With a stay of three weeks and counting already chalked up, this individual has become the longest staying American Coot on the British mainland, easing past the 14 day bird in Kent in 1996, the one-dayer in Cumbria in 1999 and Scotland's only other mainland bird, in Dumfries & Galloway for eight February days in 2004. It still has some way to go to get close to prolonged wintering stays of birds on Shetland, the Outer Hebrides, Mayo and Galway though.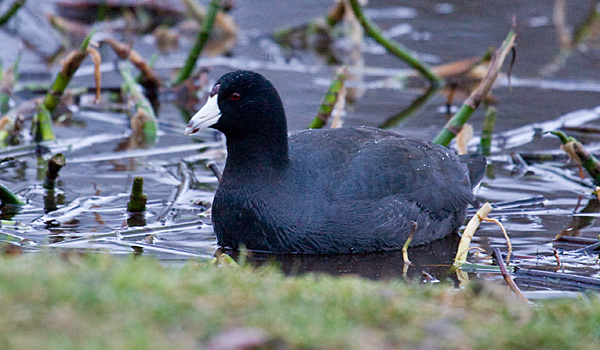 Pied-billed Grebe
On North Uist, in the Outer Hebrides, the Pied-billed Grebe was noted for the first time in almost three weeks on the Balranald RSPB reserve, seen again on Loch nam Feithean on 22nd.
This fourth record for the island group was first noted on December 6th and was seen sporadically though the month and was last reported on January 2nd. As mentioned here previously, this bird follows on from one seen on South Uist in November and December 2012, another on Benbecula in November and December 1999 and the first the famous lingerer on South Uist from June 1983 to August 1985.
American Buff-bellied Pipit
The dominance of the Nearctic continued apace with the wintering American Buff-bellied Pipit that remained at Cheshire's Burton Marsh to 28th. Most of what you can say about this popular, rather characterful little bird has been said here over recent weeks, so we'll dither no longer on move along to…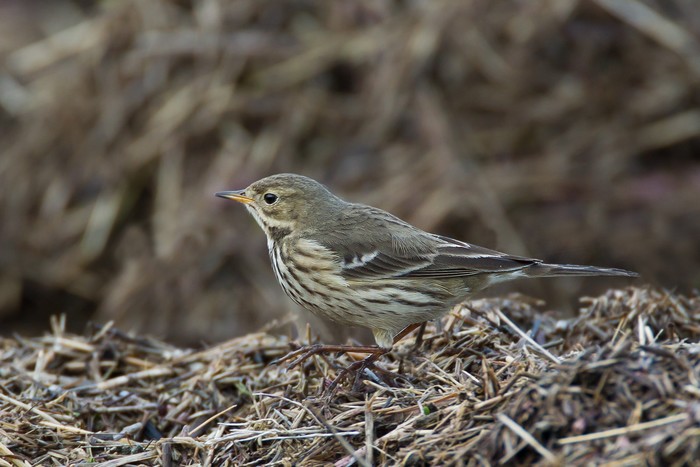 Ivory and Ross's Gull
In Wexford, at Tacumshin, the first-winter Ivory Gull remained until 24th while coming as something of a surprise was the reappearance of the lovely dainty winter adult Ross's Gull on Dublin's Bull Island, present there on 24th-25th and again on 27th-28th.
The latter bird was seen on a couple of dates last week (the final mention came on 16th), so quite where this beautiful arctic traveller has been in between times is anyone's guess tho' there are any number of hiding places along the Irish east coast, with not so many observers to check them.
This year's Dublin Ross's Gull is only the third record for the county, all of them adults ~ the first was seen at Bullock Harbour between February 15th and March 29th 1997 with the second following on less than a year later, at Dun Laoghaire, on January 7th 1998.

There wasn't a great deal on offer in terms of seabirds this week ~ a Pomarine Skua was noted heading south past Sandwich Bay (Kent) on 22nd, six Balearic Shearwaters were logged from Scilly, Cornwall and Wexford (including two off St. Martin's on 22nd-23rd and two off St. Ives on 25th) while St. Martin's also hosted a Little Auk on 22nd-23rd with another off St. Mary's on the former date and again on 24th.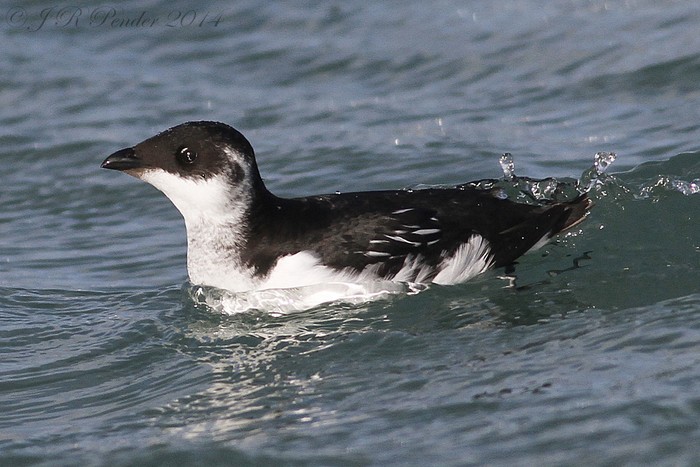 Further singles were noted on the sea off Tarbet Ness (Highland) and Kilkee (Co. Clare) on 24th (two passing the former site on 28th too) with two each for Waterford's Helvick Point and Aberdeenshire's Rosehearty on 25th. More Scottish birds followed on 26th ~ on the Shetland Mainland, at Sand and also Scatness, on Orkney, at Scapa Pier, another was seen heading past Lossiemouth (Moray) and one was also reported in Suffolk, at Felixstowe. Another lone Little Auk ended up as a Peregrine's lunch along the shore of Rosemarkie (Highland) on 27th. Luckier was the bird picked up in County Sligo, at Carney and released at Raghly Pier and the final one for the week was seen on Shetland, at Blue Mull, on 28th.
Off the coast of North Yorkshire, at Filey Brigg last week's Grey Phalarope remained to 24th with further birds seen at Ardivachar, South Uist (Outer Hebrides) on 22nd, again off the Northumberland coast at Bamburgh on 26th when one was also seen in Wexford, at Kilmore Quay and on 27th, one flew close inshore past Cley (Norfolk) when another was noted on the Hebrides, at Baleshare, North Uist.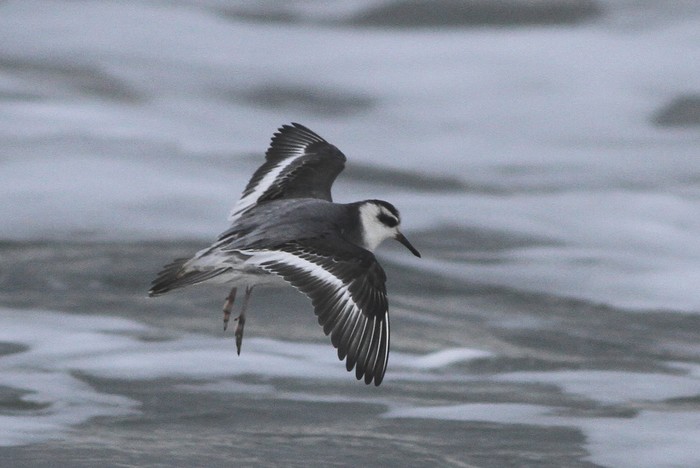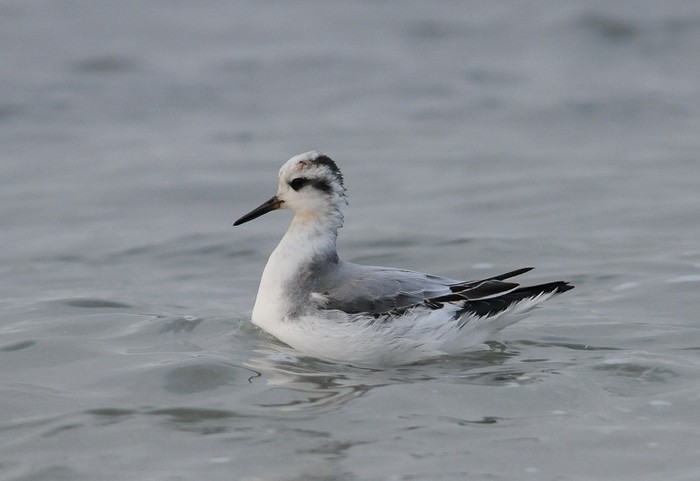 By the end of the weekend, the overall tally of Glossy Ibis spread around Britain and Ireland was 17 ~ down a little again from last week, but still a decent number for all that.
Working from north to south, a single bird was still on Westray (Orkney) to 27th while three birds remained in the northeast of England ~ two were at Boldon Flats NR (Co. Durham) to 23rd with a single bird noted in the county, at Houghton Gate on 27th. Up in Northumberland, a further loner was present at Lynemouth Flash to 23rd and in Cleveland, one popped up again at Saltholme Pools RSPB on 27th.
The only Glossy Ibis in the northwest was at Upper Thornham (Lancashire) all week while in the Midlands, the rooster at Chasewater (Staffordshire) was seen again on 26th and another remained at Brownhills (West Midlands) to 28th. Three birds were seen in Norfolk this week ~ two showed well at Martham Broad from 22nd (after one was seen there at the end of the last review period) and in the Glaven Valley, between Cley and Wiveton, the sometimes showy singleton continued to oblige all week. Suffolk's sole representative remained at Oulton Broad to 26th.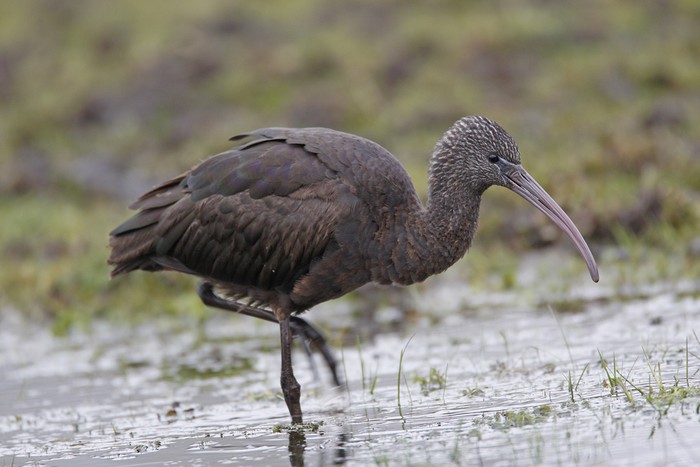 In Kent, two singles were logged this week, at Dungeness on 24th-25th and at Westbere Marshes on 25th, while moving further down the south coast and in to southwest England, Devon continued to host two birds, one remained at Clennon Valley, Paignton to 22nd, the other at Aveton Gifford to 28th. In Cornwall, the long-stayer at Tregony was present to at least 26th.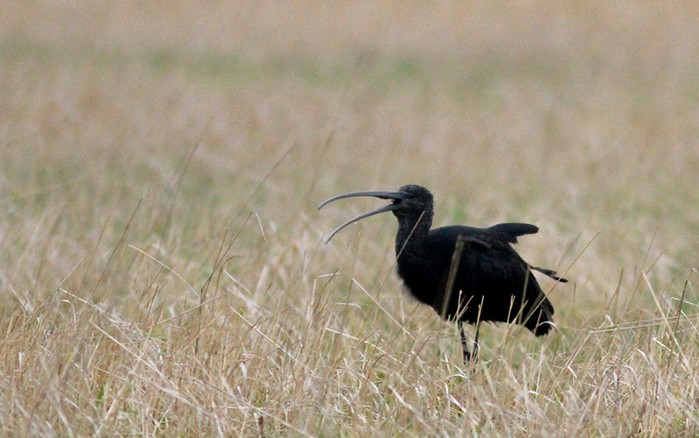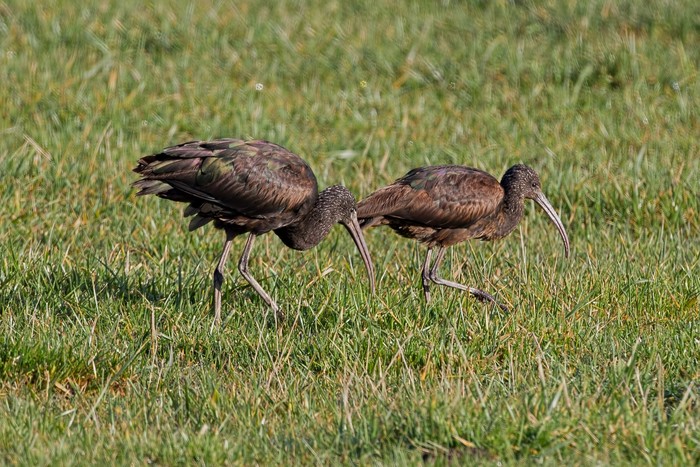 Numbers of Glossy Ibis recorded in Ireland fell away markedly this week, five birds noted ~ singles were at Killough (Co. Down) on 22nd, another remained on the South Slob (Co. Wexford) to 25th and on 27th one was seen around the edge of Lough Neagh (Co. Armagh). Back in Wexford, two were together on Cahore Marsh on 28th.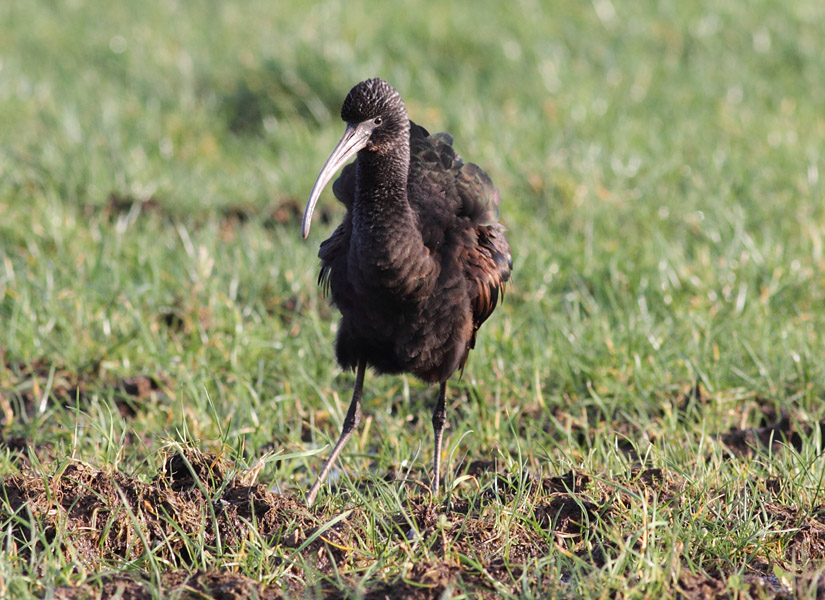 Around 30 Great White Egrets were reported from 16 counties this week ~ typically it was Dungeness that fared best, seven birds there on 25th. At least three were on Meare Heath (Somerset) on 25th with another trio at Llanrhidian Marsh (Glamorgan) on the same day and there were twos for Southport Marine Lake (Merseyside) on 22nd, two at Ditchford and Pitsford (Northamptonshire) throughout the week and two also at Rye Harbour NR (East Sussex) on 25th. Singles were noted at three sites in Hampshire and two sites in Cheshire during the week while in west Norfolk, the Great White Egret was noted again near the River Great Ouse on 24th.
The only Cattle Egret this week was the bird at Steeple Claydon (Buckinghamshire), still present there to 24th while the Spoonbill numbers were once again bolstered by the impressive Poole Harbour tally of 27 off Shipstal Point on 23rd (16 were noted briefly in the channel at Wareham on 25th and 19 were at Arne RSPB again on 26th).
In Devon, seven Spoonbills remained at Isley Marsh RSPB (Devon) and in Cornwall, three were along the River Lynher, at Wacker Quay to 28th. Singles were seen at Cuckmere Haven (East Sussex) and Cromane (Co. Kerry) on 22nd, at Castle Espie WWT (Co. Down) on 24th, Bowers Marsh RSPB (Essex) and Dungarvan (Co. Waterford) on 25th and Vange Marshes RSPB (Essex) on 28th.
The week began with two Common Cranes near Castleton of Eassie and Glamis (Angus) with six at Eldernell (Cambridgeshire) on the same day (22nd). In Norfolk, at least 10 were noted in the Stubb Mill roost at Hickling Broad NWT on 23rd with smaller groups noted elsewhere around the area through the weekend while at the opposite end of the county, three birds were seen at Welney WWT on 25th. Next door in Cambridgeshire, two flew over Ely and the Ouse Washes RSPB reserve on 25th.
Back up to Scotland where two Cranes were found at Meigle (Perth & Kinross) on 25th, followed by two in Moray, near Burghead the following day and maybe even the same duo near Dingwall (Highland) on 27th. Whizzing back down to Dorset, the two first-winters lingered around Cheselbourne to 26th.
Half a dozen wintering Snow Geese were recorded during the past seven days, all of them Round Up regulars.
The intermediate and white adults were still with the flavirostris White-fronts were at Tayinloan (Argyll) to 23rd with the two white Greater Snows ~ including a metal ringed bird ~ were still on South Uist (Outer Hebrides) to the end of the week. Single white birds held station at Carrahane Strand (Co. Kerry) and Rattray Head (Aberdeenshire) to 24th and 28th respectively while the pair of blue Snows seen recently around various bits of Scotland popped up in Clyde on 28th, seen near Braehead.
Up to seven Black Brants made the news through the past few days ~ two were at Farlington Marshes HWT (Hampshire) on 23rd and a single bird at Port Eynon (Glamorgan) on 25th was also certainly of note ~ this distinctive split-in-waiting … still waiting, largely because of one duff paper … remains a rare bird in the Principality.
At least two Brants were seen along the north Norfolk coast this week, an adult was in fields behind the Cley NWT reserve on 24th and 26th (the latter date seeing a new adult Brant hybrid amongst the flock, along with the reappearance of the superb hybrid family group of hrota X bernicla, seven first-winters with the accompanying parents). Nearby in Blakeney Harbour, a Brant was noted on 25th and to the west on 26th, singles were reported from Holkham and Holme (the latter still present the next day).
Other birds noted included adults on the Exe Estuary (Devon) and Roa Island (Cumbria) throughout the week and the first-winter was still at Kilnsea (East Yorkshire) on 28th.
In County Mayo, the drake Black Duck was still on the Mullet, at Termoncarragh Lough on 28th, where the drake Green-winged Teal was also still present and correct.
Elsewhere numbers of drake Green-winged Teals matched those from last week ~ 10 birds logged in all with five reported on 22nd ~ birds still present on North Ronaldsay (Orkney) and at Caerlaverock WWT (Dumfries & Galloway), Newgale (Pembrokeshire), Sopley (Dorset/Hampshire border) and Maer Lake CBWPS (Cornwall). A further five were seen to the end of the weekend, with new arrivals seen at Port Allen (Perth & Kinross) on 23rd and Cotswold Water Park (Wiltshire) and Ham Wall RSPB (Somerset) on 25th while singles remained at Druridge Bay NWT (Northumberland) to 27th and at Loch of Flugarth, Mainland (Shetland) on 24th (having last been reported from the site on New Year's Eve) and Druridge Bay NWT (Northumberland) to 27th.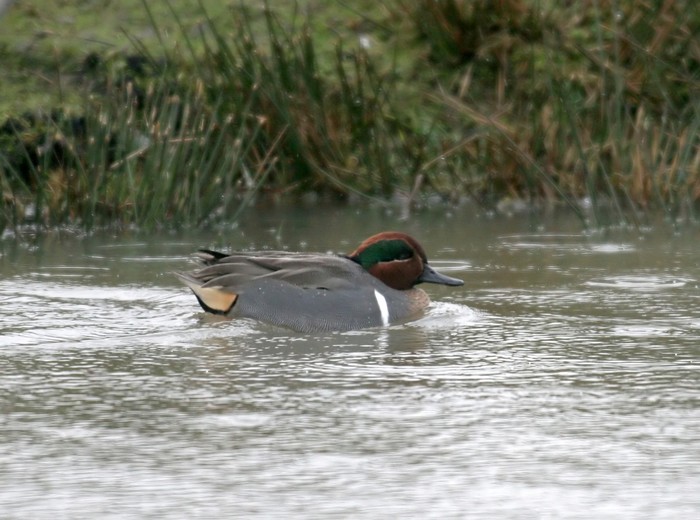 Lesser Scaups this week were all wintering birds from previous reviews ~ single drakes were still on Dozmary Pool (Cornwall) from 22nd, Cardiff Bay (Glamorgan) to 25th (heading back to Cosmeston the following day) and Tittesworth Reservoir (Staffordshire) to 28th while the only female was still on Loch Bee, South Uist (Outer Hebrides) at the start of the week.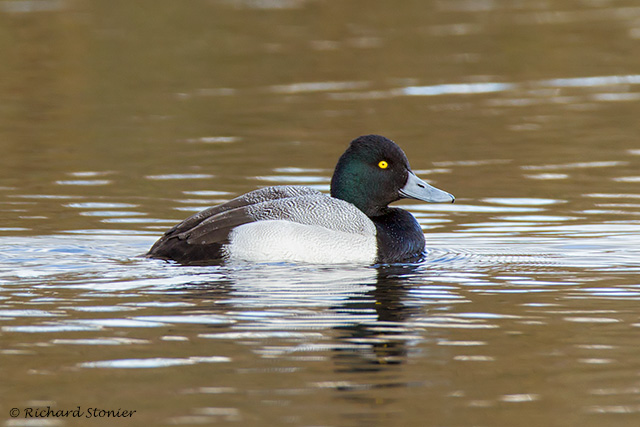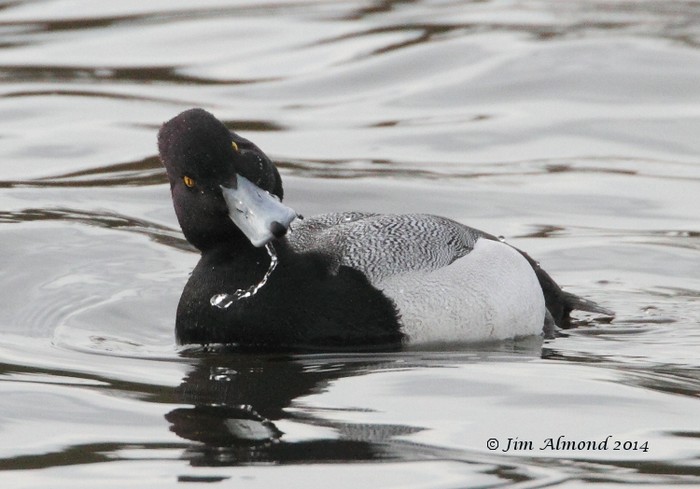 The drake Ferruginous Duck was at Blashford Lakes HWT (Hampshire) daily up until 28th while it was four male to two female Ring-necked Ducks ~ drakes lingered on Knockaderry Lake (Co. Waterford) and Wimbleball Lake (Somerset) to 22nd, Carrowmore Lake (Co. Mayo) to 25th and Trabboch Loch (Ayrshire) to 28th, while the ducks were at Burrator Reservoir (Devon) to 27th and again at Eyebrook Reservoir (Leicestershire) on 24th and 27th. Just two American Wigeons was logged, drakes still at Tullaghan (Co. Leitrim/Co. Donegal) on 25th and Udale bay (Highland) on 27th.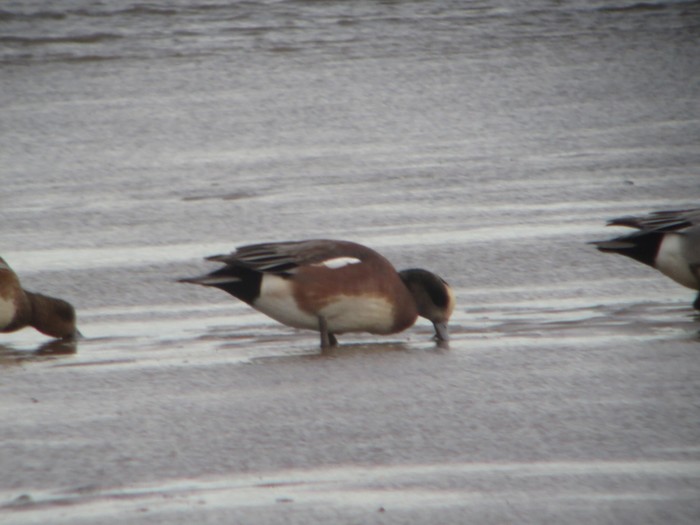 Two queen King Eiders were again off the coast of Lothian, near Gullane on 25th and the drake was back off Nairn (Highland) on 26th. As the week drew to a close two drakes were found off Hopeman Point (Moray) and the female was noted again at Blacksod Bay on the Mullet. Nearby at Musselburgh, an adult drake Surf Scoter was still present on 22nd-28th with another drake still at Ruddon's Point (Fife) on 24th-26th. Two more drakes lingered offshore at Pensarn (Conwy) on 25th-26th (with a female there too on 28th) and the first-winter drake was off Courtmachserry (Co. Cork) to the same date. Also in Cork, a female Surfie was remained off Seven Heads to 22nd when the first-winter female was noted again off Peninerine, South Uist (Outer Hebrides).
After a little spurt of interesting records last week, there was barely anything of shorebird note on offer across the past seven days ~ it came down to Hampshire's Lesser Yellowlegs at Lepe CP as the only thing to report, still in place to 27th.
The rather snazzy first-winter Laughing Gull was still to be found around the harbour at Ballycotton (Co. Cork) throughout the week with gullers elsewhere in the county also producing six Ring-billed Gulls (down by almost half last week's figure for Cork) ~ a first- and second-winter were at Clonakilty on 22nd, another second-winter was at Rosscarbery the following day. an adult was on the beach at Ballynamona on 24th and a first-winter and adult were at Blackrock on 28th.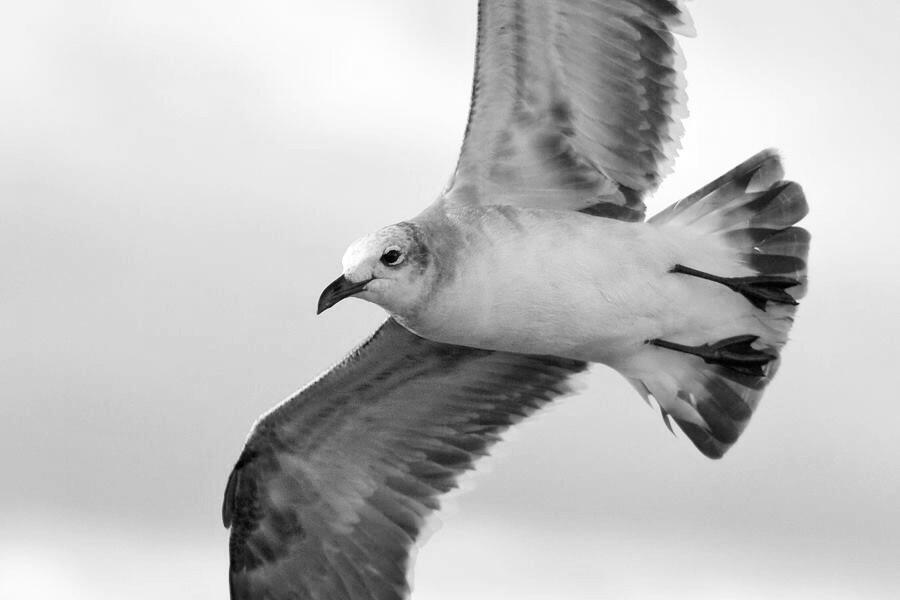 Elsewhere in Ireland, a new first-winter Ring-billed was seen at Dublin's North Bull Island on 28th and the long-staying adult was still at Portrush (Co. Antrim) on 26th. Four birds were seen in Kerry, including three at Tralee Wetlands (two adults and a second-winter there on 23rd-24th) with another adult at nearby Blennerville on the same dates. In County Wexford two singles were seen on 25th ~ one at Cahore and another at Ferrybank in Wexford Harbour, a site which also continued to host the rather snappy looking near-adult Azorean Yellow-legged Gull, also to 26th.
Back to Ring-billed Gulls and it was (largely) all about the regulars again. Adults were still at Dingwall (Highland) to 23rd, the Llys-y-Fran roost in Pembrokeshire on 25th-26th and at Walpole Park, Gosport (Hampshire) to 26th. In Somerset, a further adult was again at Chew Valley Lake on 24th (one was seen there a couple of weeks beforehand) and on Merseyside, two adults were seen on the beach at Crosby on 27th. Making up the rear, the second-winter was again at Newgale (Pembrokeshire) on 26th.
In Devon, the wintering adult Bonaparte's Gull once again remained around the Dawlish Warren area up until the end of the week and in Glamorgan, another adult was reported, this one at Cosmeston Lakes on 25th (presumably the rarely seen returning adult that was last noted two weeks ago in Cardiff Bay).
Last week it was Mayo that accounted for the bigger numbers of Glaucous Gull recorded, this time it is County Cork's turn ~ around 22 birds logged in the county this week with a minimum of 14 on 23rd alone. Seven of those were at Cahermore Strand (four adults, two third-winters and a juvenile) with three at Allihies and two still in the harbour at Ballycotton as well. The next day saw four appear on the beach at Ballynamona with singles at Youghal and Kinsale and two were at Balitmore on 28th.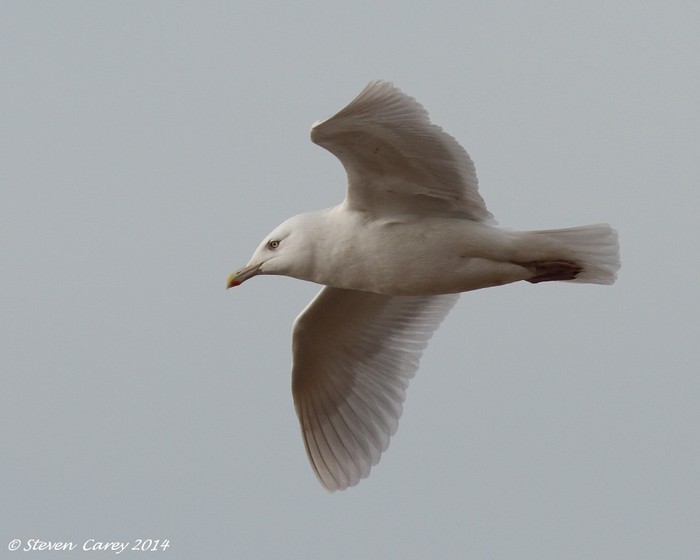 A further 35+ were seen elsewhere in Ireland to the end of the week, including seven in Kerry (with four in Dingle harbour on 22nd), three at Pollacheery (Co. Sligo) on 26th and three at Kilmore Quay (Co. Wexford) on 27th (with a minimum half dozen to eight birds in the county through the week) with three in County Waterford as well.
Some 45 different Glaucous Gull were recorded from seven different Scottish counties/regions through the week ~ with the big numbers coming on the Outer Hebrides. On South Uist, at Kildonan, 11 birds were counted on 27th (two adults and nine juveniles) with perhaps a further dozen or more around the rest of the island group, including five juveniles at Balranald RSPB, North Uist on 25th. At least four birds on Shetland included three at the Shetland Catch near Lerwick over the weekend, three juveniles were at Traigh Bay, Tiree (Argyll & Bute) on 26th and four singles were in Highland.
A further 40 or so were seen in England and Wales, including perhaps as many as 14 in Cornwall (from a total of around 20 for the southwest) with half a dozen for the southeast and Midlands (including three at Coatham in Nottinghamshire on 22nd).
Numbers of Iceland Gulls were not far off the number recorded seven days previously ~ 65 or so for Britain and 20 for Ireland. Around 20 birds were dotted around Scotland, including five in both Highland and Argyll & Bute, with up to nine across the Midlands and up to eight each for the northeast and southwest (including four in Cornwall). Tipwatchers in Cheshire managed four birds on Richmond Bank (two adults and two juveniles) during a session on 27th.
Kerry held at least seven Icelands including three at Waterville on 25th and there were three more on the Waterford side of Youghal harbour on 22nd. Next door in Cork, up to four birds were logged with three more in Mayo.
Nine of the week's nineteen Kumlien's Gulls were seen in Ireland ~ two juveniles were at Dingle (Co. Kerry) on 22nd-25th and on the latter date two were found in Cork, a juvenile at Kinsale and an adult at Ballynamona. Two more were then noted in Sligo, at Pollacheery, a juvenile and a third-winter present on 26th and an adult was in Kerry, on the Cashen Estuary on 27th. The week concluded with two more single juveniles, one in Mayo, on the Mullet, the other still in Kerry, at Inch.
The remaining set of birds comprised of two juvenile Kumlien's at Scrabster (Highland) from 22nd-24th, two juveniles again at Llys-y-Fran Reservoir (Pembrokeshire) on 26th, with further young birds in the roost at Calvert Lakes (Buckinghamshire) and on the shoreline near Machrihanish (Argyll & Bute) on the same day.
Older Kumlien's included the second-winter in East Yorkshire, at Barmston on 26th, the third-winter again on North Uist on 23rd with another bird of the same age at Rufforth Airfioled (North Yorkshire) on 28th while a near-adult was seen roosting at Mousehole (Cornwall) on 27th. Single adults were seen at Broomhead Reservoir (South Yorkshire) on 22nd and 25th with perhaps the same bird at Anglers CP (West Yorkshire) on 26th with the lingering individual still at Newgale (Pembrokeshire), present to 27th.

In Highland, a Gyrfalcon was reported to the north of Wick, at Loch of Wester on 22nd.
In Norfolk, two Rough-legged Buzzards continued their winter break at the Waveney Forest to 25th while on the north coast at least one juvenile was around the Holkham/Burnham Overy Dunes and Scolt Head area to 27th. Over the border in Suffolk, singles were at Sudbourne on 23rd and Orford Ness on 24th while in Kent a lone bird was at Sandwich Bay on 25th when one was again noted on Wallasea Island (Essex). The final day of the review period saw reports come from Frampton Marsh RSPB (Lincolnshire) and Camster (Highland) ~ two birds noted at the latter location.
Perched on top of the passerine pile this week was the new Hume's Yellow-browed Warbler found deep in the heart of England, at Coleshill (Warwickshire) on 25th.
A few words from the finder Dave Hutton
I decided to do another local area this morning as the weather was forecast good for the morning only!! Headed over to Hams Hall & the outflow off Edison Rd which over the years has produced Firecrest good numbers of wintering Chiffchaff & the odd Sibe Chiffchaff! I'd just got under the road bridge & ran up the bank to an area of extensive brambles when a Warbler called which I wasn't familiar with it then called again (almost like a speeded up Pied Wagtail call) I soon caught up with the bird close by & quickly realised it had to be either Yellow Browed Warbler ot Hume's Leaf Warbler within mins I'd put the news out thru various media outlets! The bird continued to show very well but unfortunately the camera was in the car & by this time I was convinced it was a Hume's & was still frantically calling & txting as many people as I could!
After nearly an hour the 1st birders turned up! After getting them onto the bird & with the masses now turning up I headed for the car for the camera but typically the bird became more flighty & elusive throughout the day & only a cpl of record shots were obtained! The bird as I suspected was a Hume's Leaf Warbler as confirmed by birders with more experience of them calling but I'd sort of worked that out for myself after having 70+ YBW last year on Shetland & none called like this little beaut!! A 1st for Warks & only the 2nd WMBC record!! Eventually the bird was enjoyed by many & was still present today Sun 26th but typically elusive in poor weather for most of the day...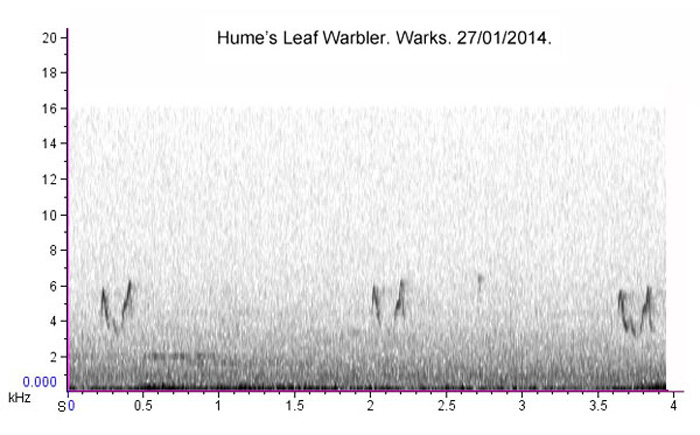 An outstanding first record for the county, the bird showed well and called well too across the weekend and on to 28th, becoming only the second record for the West Midlands region as a whole, following on from one in Staffordshire in December 1994.
The new arrival bumped the weekly total for the species up to three, with the two birds seen recently in Kent still holding station at Dungeness and Ramsgate Cemetery to 27th at least.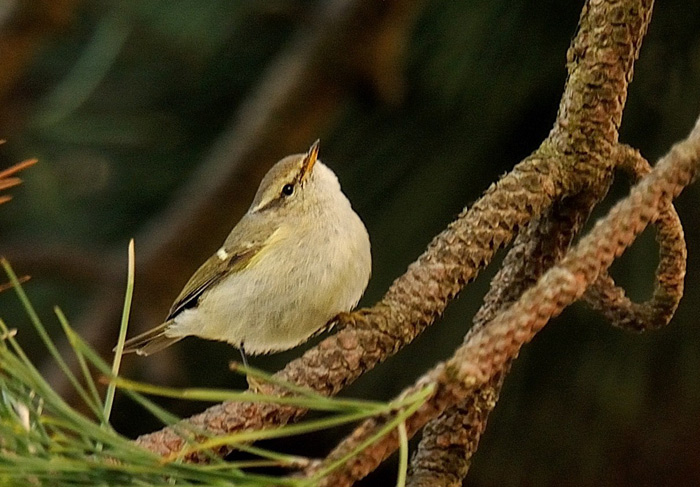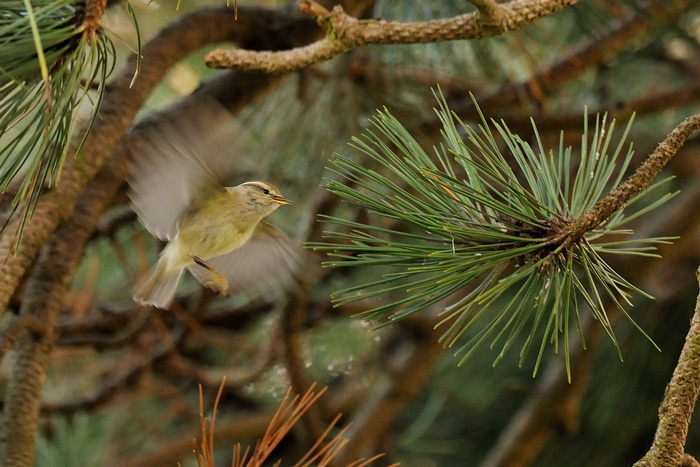 Also along the Kent coast this week, another top-quality winter Phylloscopus was located in Folkestone ~ a Pallas's Warbler present from 24th-27th and making up a very neat, very stripy threesome of rare warblers for the county in a grim January week.
Six Yellow-browed Warblers were reported through the week ~ as with other recent weeks, almost all were noted in the southwest of England. Two were in Devon, at Alphington on 22nd and again at Clennon Valley on 23rd and there were also two in Cornwall, at Gwennap sewage works on 22nd and Porthleven on 26th, with one each for Somerset (still at Sutton Bingham on 22nd) and Scilly (one found in Old Town Bay on St. Mary's on 23rd). The odd-one-out was the bird found in Worcestershire, at Uffmoor Wood on 27th.
The wintering potential "eastern" Lesser Whitethroat was on the edge of Prior's Park (Northumberland) to 27th while the bird that may also have been some type of eastern form was last seen in Northampton on 22nd.
On Scilly, the first-winter Rose-coloured Starling around the allotments near the dump on St. Mary's was joined (loosely) by a first-winter male Serin on 25th-27th (one was seen at Rocky Hill earlier in the month) while in County Durham, the probable Black-bellied Dipper was at Castle Eden Dene NNR to 23rd.
Around 17 Great Grey Shrikes made the pager this week, including two at Great Rissington (Gloucestershire) on 26th-27th, with a third elsewhere in the county, still at Cinderford as the new review period began. Two birds were seen around the New Forest and four singles were reported around the Midlands. Further single birds were recorded in North Yorkshire, Staffordshire, Derbyshire, Lincolnshire, Cambridgeshire, Oxfordshire, West Sussex and Powys.
Back in to the Forest of Dean now where the Serridge Ridge Two-barred Crossbill flock was still at 15 ~ though this week (on 23rd) it comprised of 12 males (as opposed to last week's eight). Seven also lingered in South Yorkshire, at Broomhead Reservoir to 25th and three (two males) were again in the Wyre Forest (Shropshire) to 27th.
In to the home stretch now, so it is onwards ever onwards to Parrot Crossbills ~ these winter favourites have been one of the stories of 2013-'14 so far and the weekend saw small pockets of birds continuing to draw small pockets of admiring birders.
On Nottinghamshire's Budby Common, the flock of 14 remained to 27th when Norfolk's minimum eight were still being noted on the edge of Holt Country Park. A singing male made up one of six Brecks birds at Mayday Farm, also on 26th.
Finally, as usual, we'll finish with Waxwings ~ as expected this was another poor week for any sort of numbers, bar the flock of 120 seen by Aberdeen's Bridge of Don on 23rd. By the end of the weekend, only three other birds had been seen in Scotland while an eleven in Carlisle (Cumbria), ten each in Norwich (Norfolk) and Halifax (West Yorkshire), a nine in Scarborough (North Yorkshire) and a seven in Martlesham (Suffolk) were the only tallies of any significance elsewhere in the country.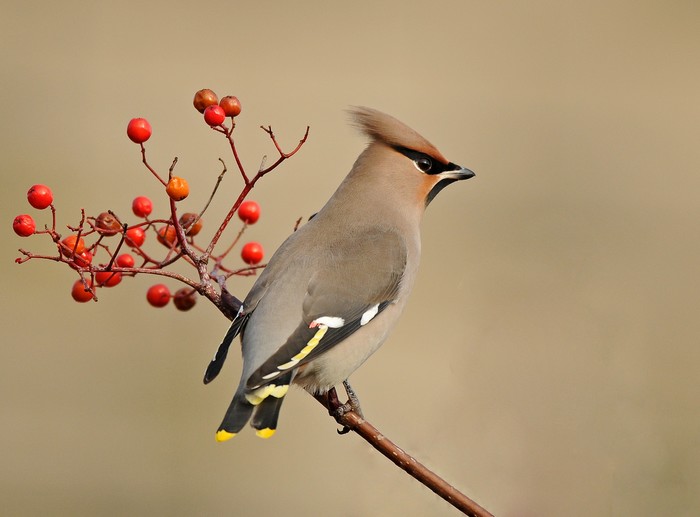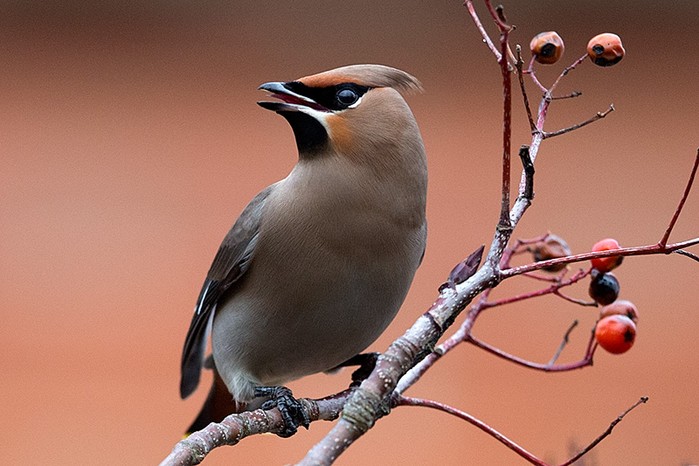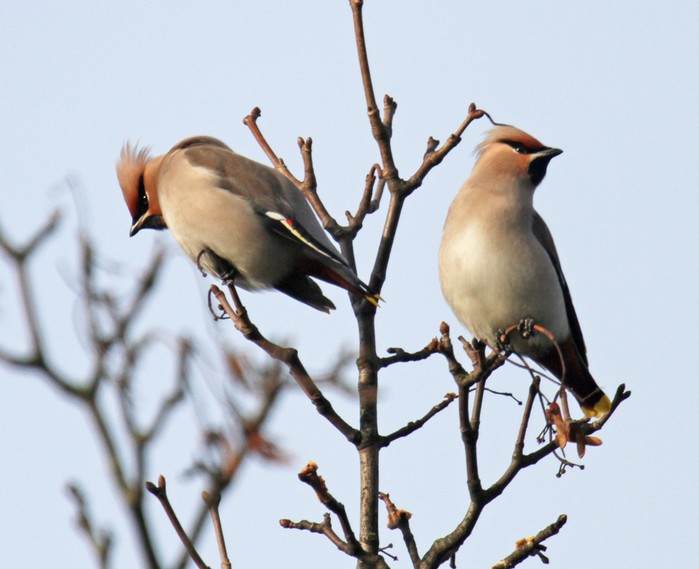 The weather suggests that it really ought to be more gulls and maybe the odd rare Nearctic duck on the oncoming horizon of the week ahead.
January 29th has yielded three Laughing Gulls and one Franklin's Gull along with a Canvasback in Kent in 2000 (remember them, they've got tough again…).
The 30th's most recent turn up for the books was the amazing Paddyfield Warbler at Pagham in 2012 while the 31st, along with "standard" Arctic fare such as spotty gulls, pink gulls and buoyant Alcids has also produced an accepted Roller, in London in 1945.
The first of the new month of February's most recent claim to fame was the first sighting of the awesome drake Stejneger's Scoter in Kerry in 2011, but it has proved productive for Penduline Tit and Lesser Scaup (three for both of those) and also Bonaparte's Gull (four of those on 1st).
Gulls rule the roost on 2nd too ~ with two Ross's and one each for Thayer's, "Smiths" and "Frankys".
There's not much on offer on February 3rd, save for four records of Lesser White-fronted Goose while the 4th offers up another near-forgotten recent ducky addition to the British List, Redhead, a drake appearing at Rutland in 1997. Either of the two mega Aytyha's mentioned in the last couple of paragraphs would generate a crowd now and, assuming they pass the stringent hybrid test, they're a better bet in terms of provenance than your average, say, Hooded Merganser…
There we are then ~ another week done and February looms. A little work outing to the Superbowl beckons for me next week, so Jon Dunn will be at the helm of the next week.
Mark Golley
29 January 2014

Many thanks to this week's contributors for their photos and videos
Christine Cassidy, Peter Phillips, Richard Zamora, Darren Robson, Ivan Ellison, Joe Pender, Rob Stonehouse, John Kemp, Dave Hutton, Penny Clarke, Trevor Hannant, Paul Kelly, Gus Guthrie, David O'Connor, Brian Henderson, Richard Stonier, Jim Almond, Toby Green, Ronan McLaughlin, Ed Carthy, Steven Carey, Michael O'Cleary, Pete Hines, Davey Darrar, Alan Dean, Brian Harrison, Bob Flood, Andrew Last, Jon Ecans, Chris Upson, Simon Spavin.