Weekly birding round-up: 20 - 26 Jul 2016
The week at a glance
Greater Sand Plover, Western Sandpiper, Pacific Golden Plover and Semipalmated Plover in Wexford
Little Shearwater at sea southwest of Scilly
Scarce seabirds influx in the Southwest
Caspian Tern(s) in Derbyshire, Yorkshire and Norfolk
American White-winged Scoter still in Aberdeenshire
Hudsonian Whimbrel still in Cornwall
Dalmatian Pelican still in Cornwall
After last week's mini-heatwave this week saw a return to near-normal weather. It remained bright and warm in the east, however, but was cloudier and cooler in the west. Conditions remained slack and anticyclonic with a very weak westerly airflow from the Atlantic.
Although the weather was slack, the same could not be said for the birds. After the relative doldrums of the last couple of weeks, the pace really stepped up a gear this week, indeed this was an outstanding period for July and, as is typical for the season, the main interest lay in waders and seabirds.
For the former, the place to be was once again Tacumshin, Wexford, this legendary site stealing the show by a long margin and hosting almost all the week's star birds and a strong supporting cast too. Even by its already high standards, however, this week was exceptional.
Tacumshin's waders
First up was an adult Greater Sand Plover on 20th though sadly its stay was brief, being seen early in the morning before flying off north-east. Though there have been sixteen in Britain to the end of 2014 this was, perhaps surprisingly, Ireland's first (the country has already hosted a Lesser Sand Plover). The first British record was in winter - at Pagham Harbour, Sussex from 9th December 1978 to 1st January 1979 - but most have been in the period April to September with June to August the best time and July the best month of all. This record is therefore firmly in line with the established pattern.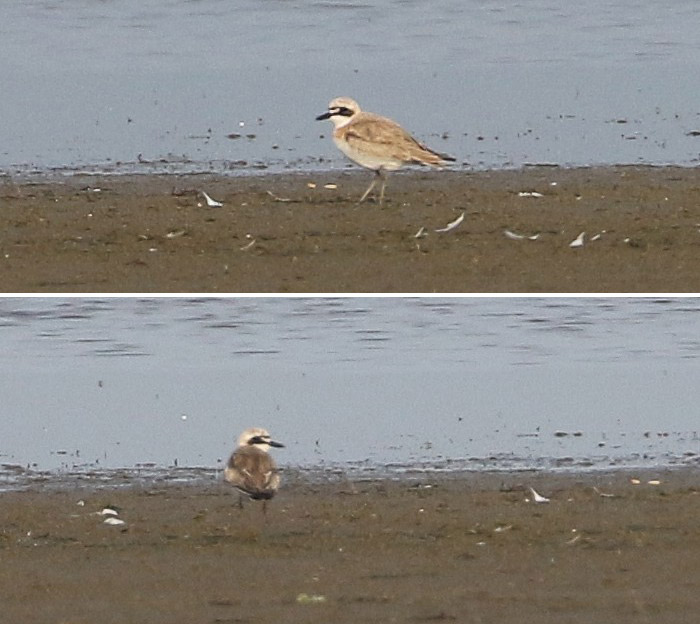 No sooner had the Greater Sand Plover departed, however, than Ireland's fifth Western Sandpiper (this one a first-summer bird, presumably a male) was found there on 23rd, reappearing on 25th and then still present on 26th. This was a tricky but successfully completed identification and, judging from the excellent photographs, a lovely thing too with big palmations, rufous-based scapulars and very extensive fine streaking down the flanks. In Irish terms, this is a bit of a Wexford speciality with previous records at North Slob on 3rd to 6th September 1992 (a juvenile) and at The Cull on 20th to 21st August 1996 (an adult). This was the first British and Irish record since the Cley, Norfolk bird of 2011.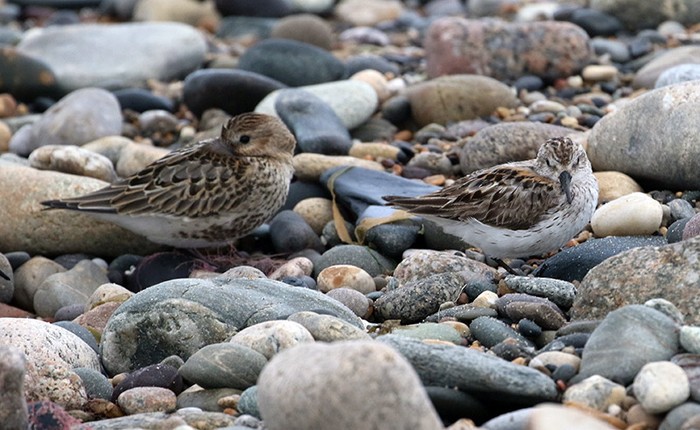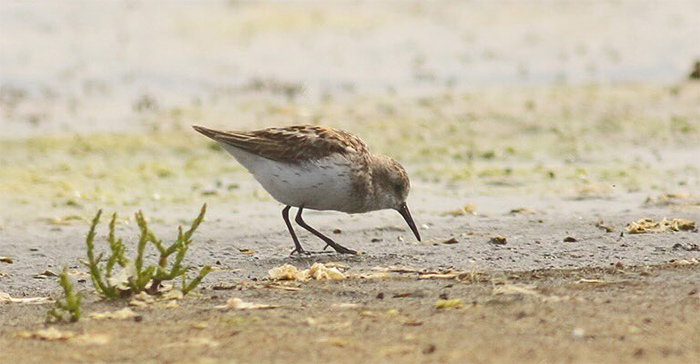 Nor was this the end of Tacumshin's banner week for a summer plumage adult 'American Golden Plover' on 20th was reidentified by 23rd as a Pacific Golden Plover . Then came news on 26th of a third mega-rare wader - an adult Semipalmated Plover with around sixty Ringed Plovers. Details are few at the time of writing but assuming this to be a different bird from the first-summer individual present earlier in the summer then this becomes the fourth for Ireland and the eighth for Britain. With three-quarters of these birds found since 2000, however, this is presumably a species we have been overlooking.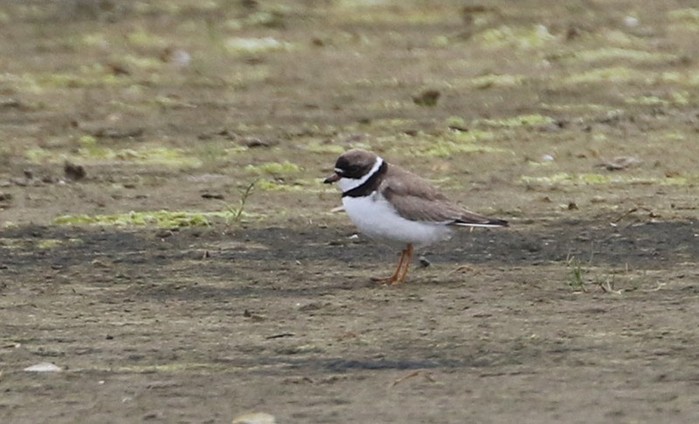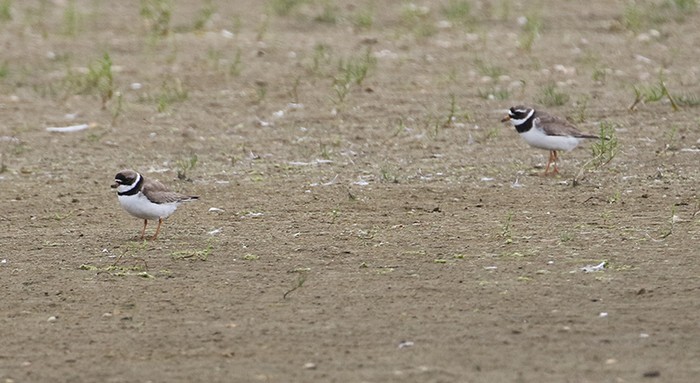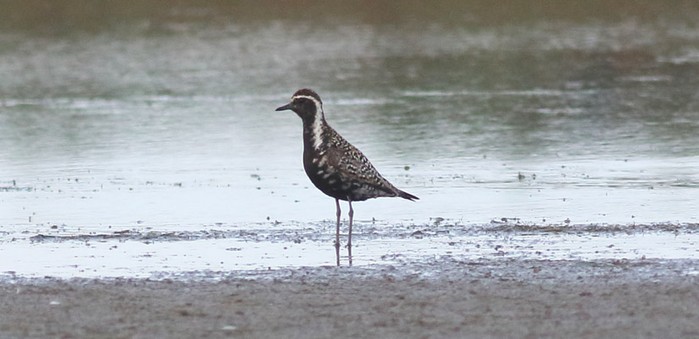 Semipalmated Plover - from the finder
I have to admit, I could hardly believe it myself when I initially noticed this bird at long range while Pat and I tried to relocate the Western Sandpiper we had seen briefly in the early morning. I occasionally see Ringed Plovers with a very wide black forehead band and correspondingly limited white just above the bill. Intriguingly however, I sensed that this bird was also slightly smaller than the psammodroma Ringed Plovers (which is in turn smaller than our breeding birds) alongside it and it had a rather narrow breastband. With growing excitement we approached the bird and it became more and more obvious as we did so that it really had to be a Semipalmated Plover!
Of course the first question that comes to mind is "could the May/June first-summer have acquired an adult breeding plumage since we last saw it in early June?" I'm open to correction but I believe the answer to this question is no, it couldn't. Apart from references in the literature to 2nd cal-year birds not having as fully developed breeding plumage as adults, the fact that the previous bird had commenced primary moult by 6 June (with the innermost primary dropped on each wing) while today's bird appears to have all-the-same-generation, slightly faded primaries, with no moult gaps or contrasts, suggests they cannot be the same bird.
One thing to be aware of, anyone who might be looking for this bird in the coming days, some Ringed Plovers (especially, it seems to me, Greenland birds ssp psammodroma) can have an extensively black forehead with very restricted white above the bill and are thus similar to the Semipalmated. Note that the Semip lacks a white supercilium just behind the eye, a feature seldom if ever lacking in Ringeds.
In spite of searching all likely spots up until around 6.00 pm, Pat and I did not manage to relocate the bird after it vanished around 11.15, but others reported seeing it again around 14.30. Incidentally, it was not very vocal; we heard it only once in the just under two hours we watched it.
Killian Mullarney
Oh, and Tacumshin had some other rare waders too - a Pectoral Sandpiper on 22nd and a White-rumped Sandpiper on 24th!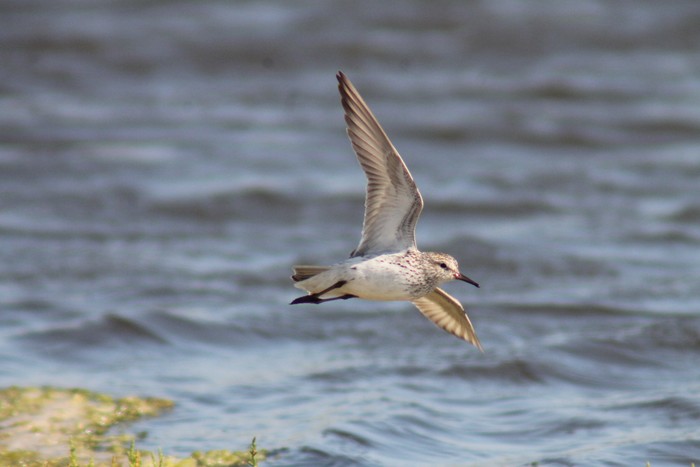 By comparison, the number of rarities in the rest of Britain and Ireland combined looked a little tame but the best was the 'baroli' Macaronesian Shearwater (aka North Atlantic Little Shearwater) seen on 26th from the research vessel RV 'Celtic Explorer' at the edge of the continental shelf 167 miles southwest of the Isles of Scilly. The statistics for 'Barolo Shearwater' are somewhat provisional pending the relatively imminent conclusion of the long-standing BBRC review but whatever the eventual figures turn out to be this is undoubtedly a very rare bird in Britain (and given its unfavourable conservation status likely to get rarer). It is also something of an enigma - frequently misidentified in a vagrant context yet in reality relatively distinctive given a good view.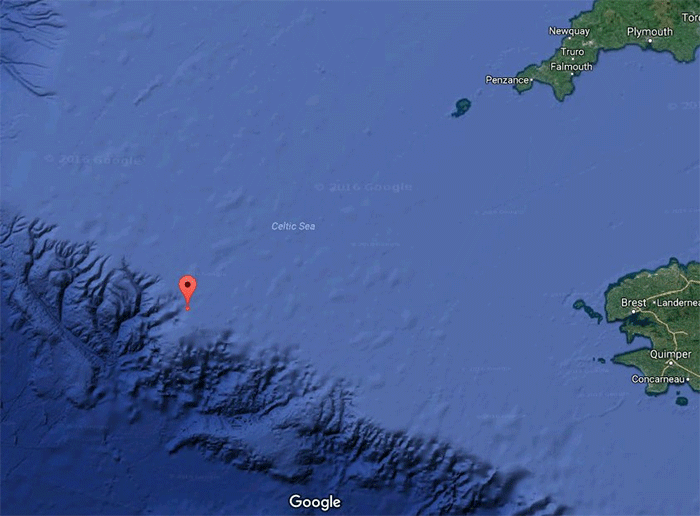 This bird came in the wake of a sudden (and given the calm conditions, rather surprising) influx of Cory's and Great Shearwaters off the Southwest on 20th to 22nd. The highest counts came from 'Celtic Explorer' and included 268 Cory's and 48 Greats 80 miles off Galley Head, Cork on 20th, 90 Cory's and 28 Greats 118 miles southwest of Cape Clear, Cork on 21st and 35 Cory's and 7 Greats 68 miles west of Scilly on 22nd. Around four Wilson's Petrels were seen during this period also, as were three Long-tailed Skuas .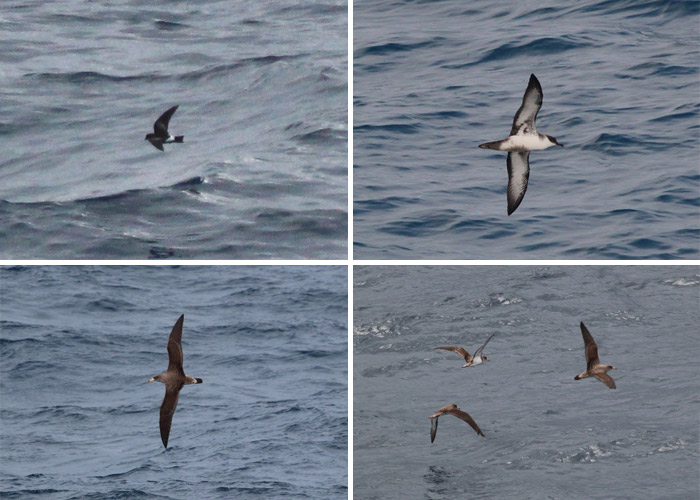 Closer inshore, a Wilson's Petrel was seen on a Scilly pelagic on 21st along with 33 Cory's and 17 Greats whilst 40 Cory's were seen from St. Mary's the same day. The influx was noted off the tip of Cornwall too with 38 Cory's at sea off Lamorna and 36 Cory's and 10 Greats past Porthgwarra on 21st and over a hundred Cory's and at least 7 Greats off the latter site on 22nd, with both species also noted from the 'Scillonian'. In Ireland a single Great was off Valentia, Kerry on 21st.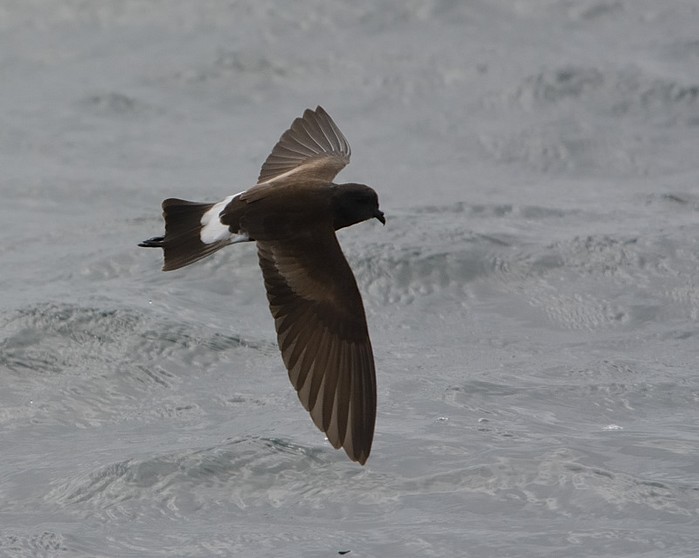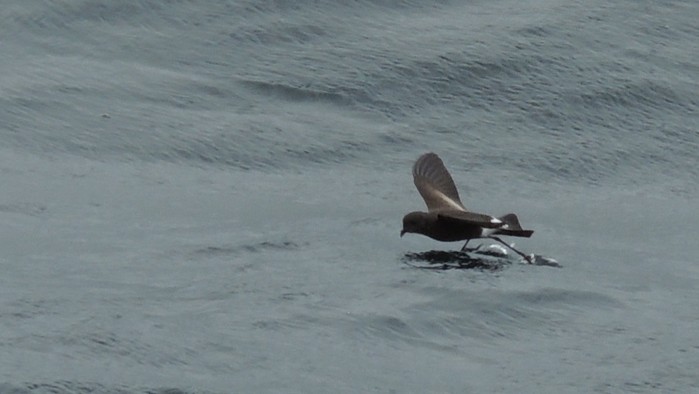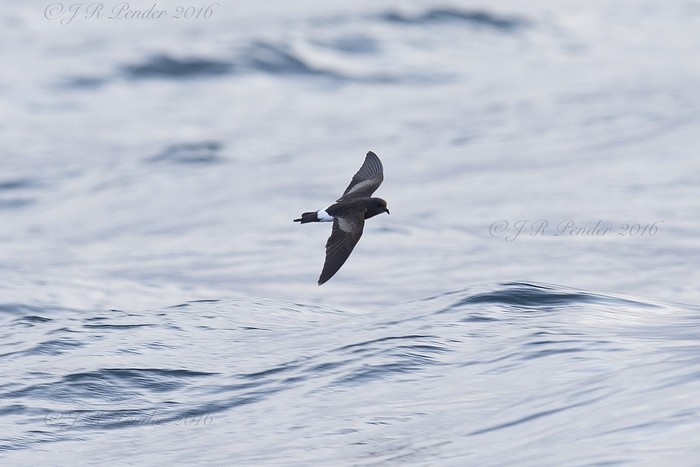 Back on land, the best rarity was a Caspian Tern at Carr Vale, Derbyshire on 21st, the day after the departure of the site's long-staying Sabine's Gull. It was still there for the first part of 22nd but then flew off, being relocated at Orgreave, Yorkshire later that day (this latter site hosted a White-winged Black Tern only the other week). This just goes to show how successful birds are at locating the best habitats but it also proves the old maxim of 'more observers equals more good birds'.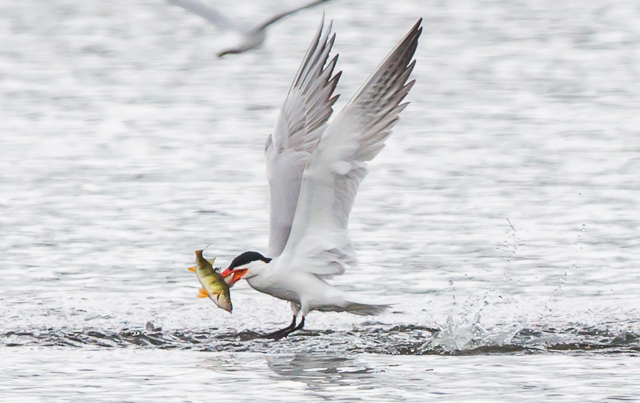 Inland Caspian Terns are of course nothing new, indeed this is the eighth for the landlocked county of Derbyshire although only the second since 2000, the last being at Willington Gravel Pits on 11th June 2007. What was presumably the same bird was then at Faxfleet on the Humber, Yorkshire on 24th. Was it, however, the same bird which had been present in the late evening of 23rd at Snettisham, Norfolk and which was presumably then at Hickling Rush Hills, also Norfolk, at some point on 25th and then on 26th? If so, it's a highly mobile individual or, perhaps more likely, two birds are involved. Hickling is an irresistible draw for this species, with this bird representing the eleventh record for the site - its combination of a safe roosting place with ready access to fishing opportunities clearly suits Caspian Terns perfectly. Next stop for this bird may well be the nearby Breydon Water, the county's other premier site for the species.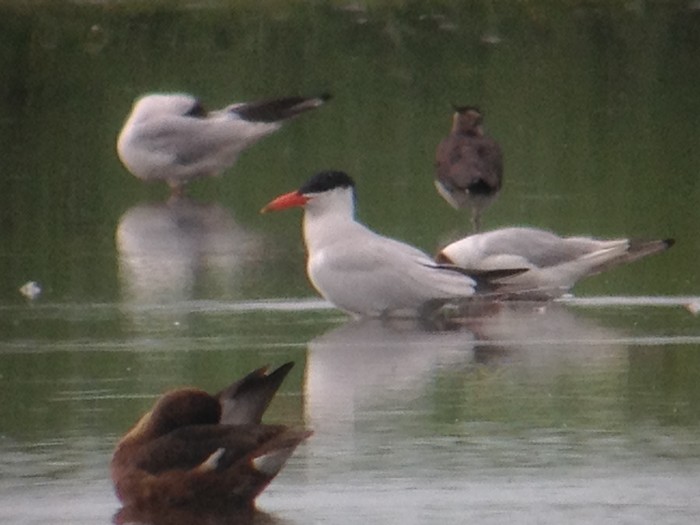 The remaining highlights were the summer lingerers. In the far north the American White-winged Scoter was still off Murcar, Aberdeenshire to 26th whilst at the other end of the country the Hudsonian Whimbrel was still at Perranuthnoe, Cornwall to at least 24th and the Dalmatian Pelican still at Ruan Lanihorne, Cornwall on 21st and then back at Restronguet Creek on 23rd and 24th at least.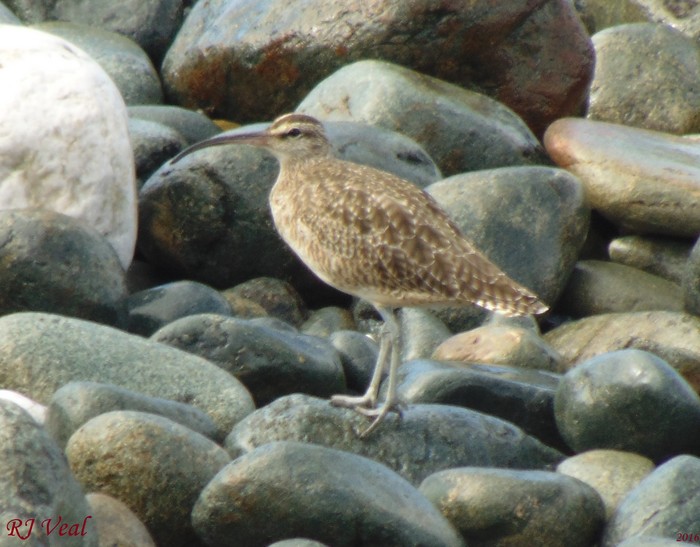 In this week's 'Euronews' a Western Reef Egret was in Italy on 20th and a Pink-backed Pelican in the Netherlands on 21st, the latter country also hosting a Pacific Golden Plover , a Baird's Sandpiper and a Semipalmated Sandpiper . Continuing the wader theme, a Greater Sand Plover was in Germany on 24th. In Denmark a Black-shouldered Kite was found on 22nd and a Long-legged Buzzard on 24th. Denmark is of course ideally placed to scoop up wandering raptors, its geography forming a giant 'heligoland trap' for any northbound water-avoiding birds. If Britain was still connected to the continent presumably we would have added both these species to the British List by now. Also intriguing this week was the appearance of two Paddyfield Warblers in northwest Europe - one in Sweden on 22nd and another in Norway on 25th.
Apart from the seabirds mentioned above there was just a handful of Balearic Shearwaters - one off St. Mary's and three off Annet, Isles of Scilly on 21st, one off Portland, Dorset on 22nd and two off there on 23rd. On 24th another was off St. Mary's with, in Devon, six off Berry Head, six off Prawle Point, four off Start Point and two off Slapton whilst in Cornwall three were off Lamorna and another two off Porthgwarra.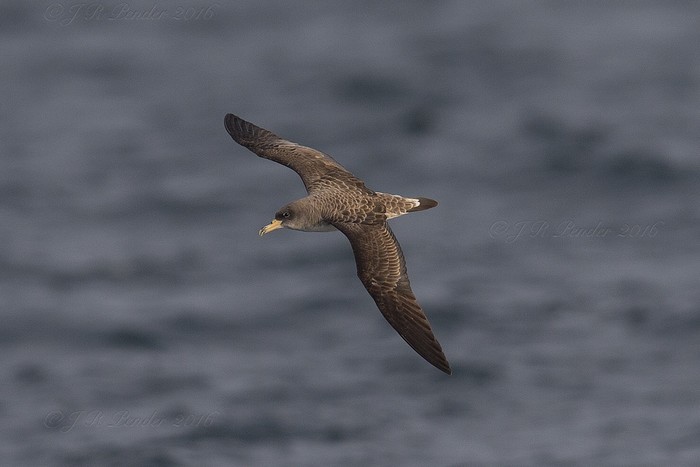 The week's only Pomarine Skuas were off Dawlish, Devon on 21st and Newbie, Dumfries and Galloway on 23rd whilst the only Sabine's Gull was last week's crowd-pleaser still at Carr Vale, Derbyshire to 20th.
A drake King Eider at Murvagh, Donegal was new but the only other rare ducks were up to two Surf Scoters off Murcar, Aberdeenshire to 25th and the drake still at Musselburgh, Lothian on 20th.
The best long-legged bird was a Black Stork over Sandwich Bay, Ashford and Sevenoaks, Kent on 23rd - potentially last week's Hampshire bird now seeking an exit from the country?
Meanwhile, up to two male Little Bitterns were still at Ham Wall, Somerset to at least 25th with the male also at Old Moor, Yorkshire to at least 21st. The week's only Purple Heron was at Hickling, Norfolk on 25th.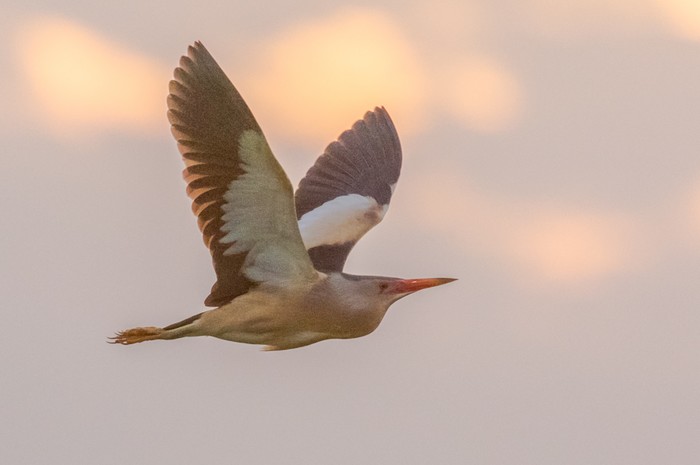 Away from the Southwest Great White Egrets were at Conwy RSPB, Conwy, Willington Gravel Pits, Derbyshire, Middleton Lakes, Warwickshire/Staffordshire, Stanwick Gravel Pits, Northamptonshire, Burton Mere, Cheshire and Wirral, Marshside, Lancashire and, most far-flung of all, Kilcolgan, Galway and Loch of Strathbeg, Aberdeenshire.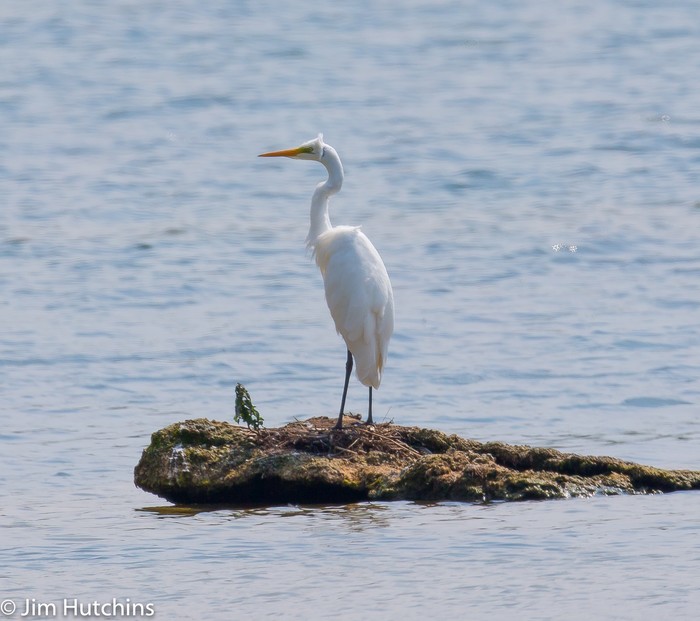 Up to two Glossy Ibises were at Ham Wall, Somerset with singles at Potteric Carr, Yorkshire, Maghull, Merseyside, Rogerstown, Dublin, Hale and Northwich, Cheshire and Wirral, Elmley, Oare Marshes and Cliffe, all Kent, and Bowers Marsh, Essex.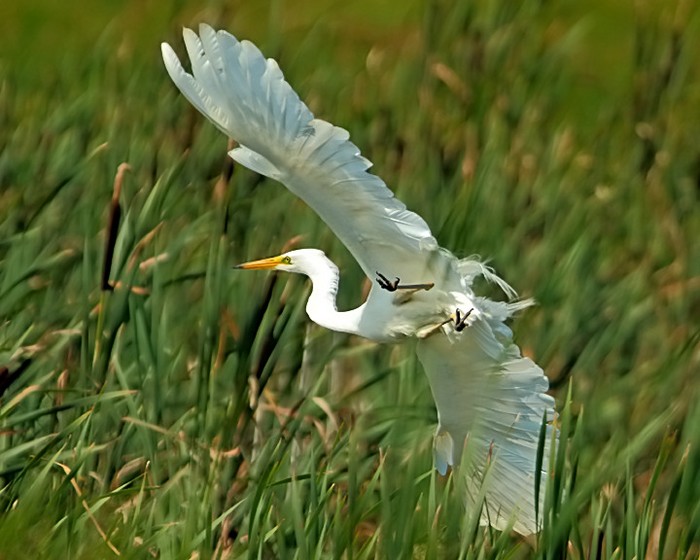 Three or four Cattle Egrets were seen this week - at Tacumshin, Wexford still to at least 23rd, at Romsey, Hampshire the same day, at Marshside, Merseyside on 23rd to 25th and at Cuckmere Haven, Sussex (the Hampshire bird?) on 25th.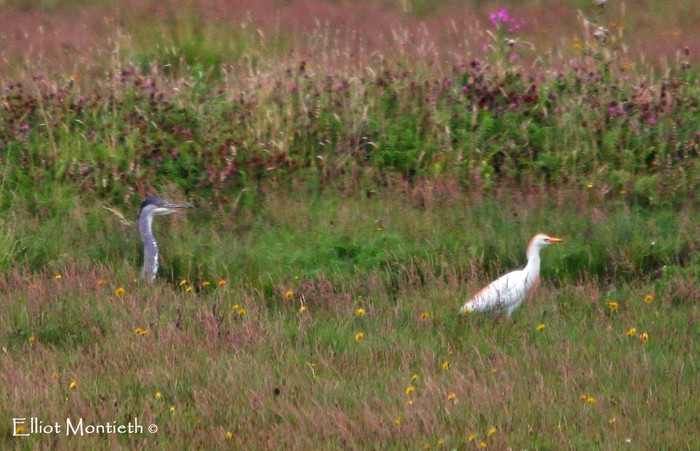 White Storks were in Oxford, Oxfordshire on 20th, over Locks Heath, Hampshire and at Sherbourne, Gloucestershire on 21st, at Beddington and over Heathrow, London on 22nd (and again at Beddington on 26th), at Tonbridge, Kent on 24th and at Otmoor and Cumnoor, Oxfordshire and Warnham, Sussex on 25th.
Finally, the long-staying Common Crane remained at Loch Fada on Benbecula, Western Isles to the end of the week.
A single Spotted Crake was at the Ouse Washes, Cambridgeshire on 21st with up to two (an adult and a juvenile) at Burton Mere, Cheshire and Wirral on 23rd to 26th.
The best raptor of the week was a Black Kite over Landguard, Suffolk on 26th. Otherwise Honey-buzzards were much more in evidence, presumably post-breeding wanderers in the fine weather. Singles were at Welney, Norfolk on 20th, around Minsmere, Suffolk on 21st to 26th, at Lowestoft, Suffolk on 22nd and at Wicken, Cambridgeshire, Basingstoke, Hampshire, Choseley, Norfolk, Black Park Country Park, Buckinghamshire and Hull, Yorkshire, all on 23rd. Another was over Abingdon, Oxfordshire on 26th.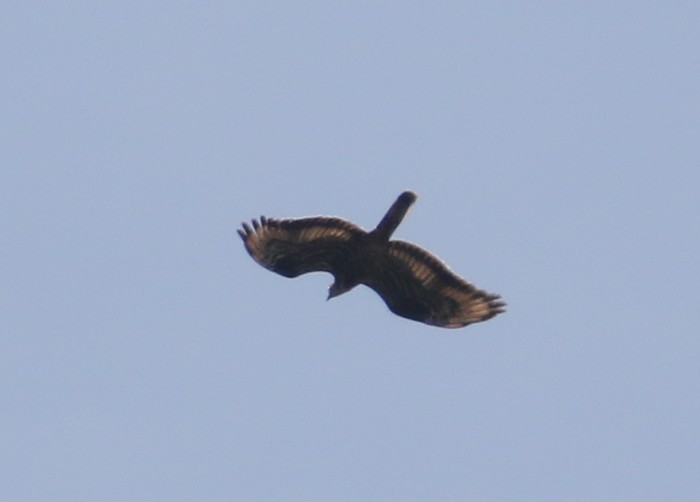 Leading the fightback against the dominance of Tacumshin were a Broad-billed Sandpiper at Frampton Marsh, Lincolnshire on 24th to 26th (the county's thirteenth) and a Baird's Sandpiper at Minsmere, Suffolk on 24th to 25th (the county's ninth).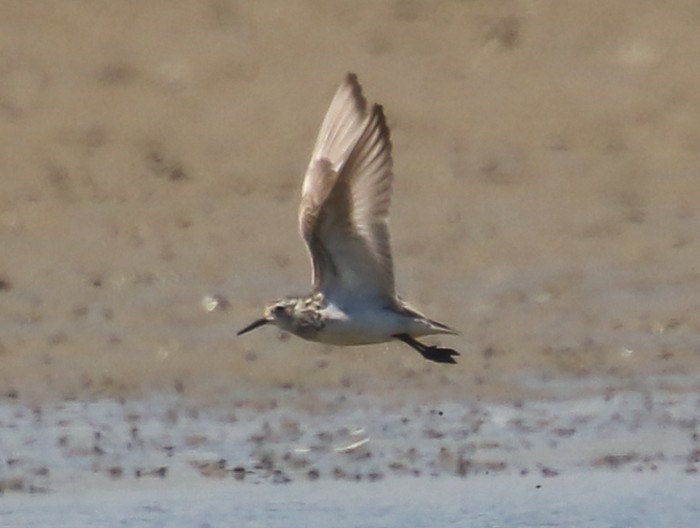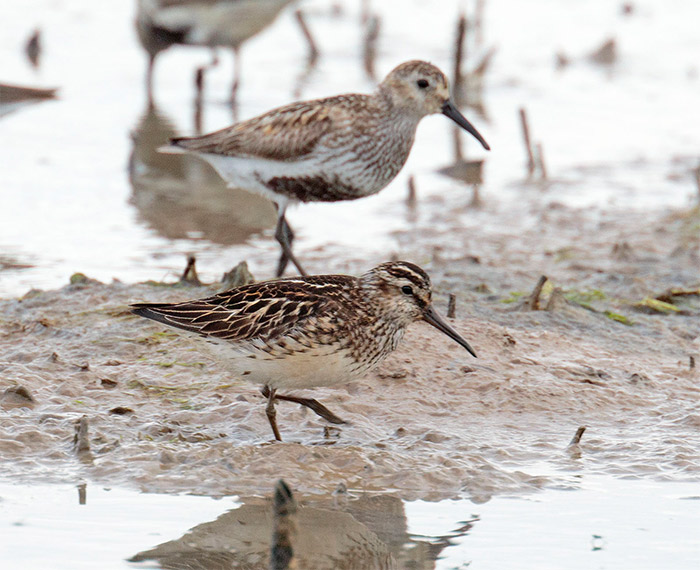 Frampton Marsh was a particularly productive site with a White-rumped Sandpiper on 21st and a Pectoral Sandpiper on 23rd to 25th also.
Other White-rumped Sandpipers were at Snettisham, Norfolk on 21st to 25th and at Loch of Strathbeg, Aberdeenshire on 22nd to 25th, with a Pectoral Sandpiper also at West Ashby, Lincolnshire on 20th to 24th and another at Low Newton-by-the-Sea, Northumberland on 26th.
A Red-necked Phalarope was at Beacon Ponds, Yorkshire on 22nd to 23rd.
The adult Bonaparte's Gull was still at Faversham, Kent to at least 25th with the first-summer bird still at Ashington, Northumberland to 26th.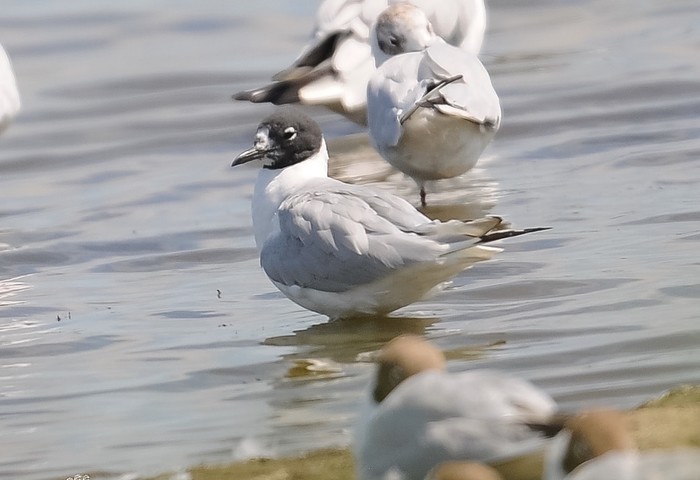 Caspian Gulls continued to appear with over a dozen recorded at typical East Anglian and East Midlands locations - Cley, Norfolk, Walberswick and Hollesley, both Suffolk, Hatfield Moors and North Cave Wetlands, both Yorkshire, Stanwick Gravel Pits, Northamptonshire, Rutland Water, Leicestershire, Holland Haven, Essex and Norton Disney, Lincolnshire.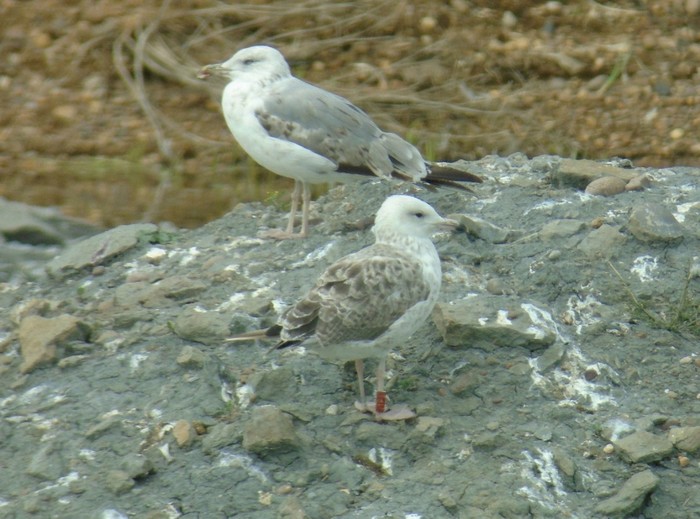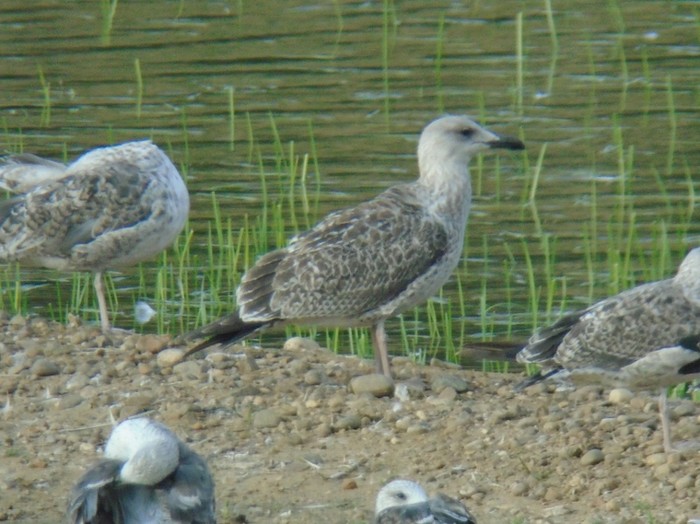 In Scotland single summering Iceland Gulls were on Harris, Western Isles to at least 23rd and at Stranraer, Dumfries and Galloway the same day while the Glaucous Gull was still at Ullapool, Highland on 26th.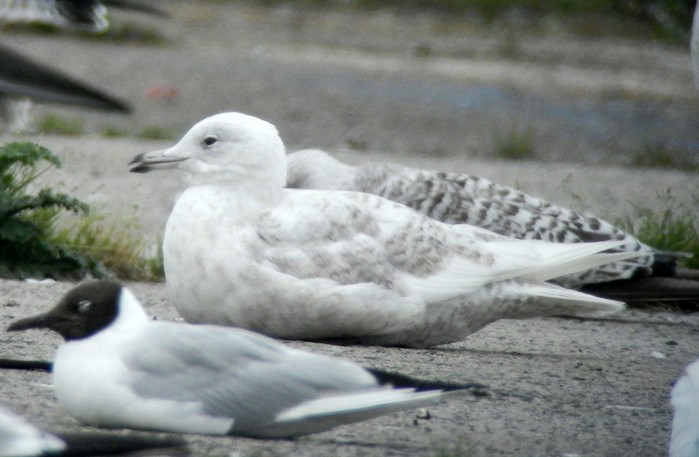 A White-winged Black Tern was at Cotehill Loch, Aberdeenshire on 24th with wandering Roseate Terns at Trimley and Landguard, both Suffolk, and Whitburn, Durham on 23rd, three at Musselburgh, Lothian and singles at Cemlyn Bay, Anglesey, Ryhope, Durham and Gibraltar Point, Lincolnshire on 24th and at Abbotsbury Swannery, Dorset on 25th.
Near-passerines and Passerines
A Bee-eater flew over Dungeness, Kent on 23rd and an Alpine Swift was over Heacham, Norfolk the same day (just down the road from a Caspian Tern and a White-rumped Sandpiper). True passerines hit rock bottom this week, however, with just the Common Rosefinch in Walthamstow, London on 20th but not subsequently, a Marsh Warbler trapped at Nanjizal, Cornwall on 25th and a Melodious Warbler trapped at Durlston Country Park, Dorset on 26th. The latter two birds represent the first stirrings of autumn of course. For passerine fans it's onwards and upwards from now on and, given events in Scandinavia this week, might there be a surprise early Paddyfield Warbler in the offing?
The weather for the coming week looks relatively settled with a gentle westerly airflow and near-normal temperatures for the time of year. Seabirds look less of a prospect (at least from land) and given this week's dramatic upsurge in migrant waders this is clearly the group to be targeting - that Red-necked Stint must be just around the corner (or, probably more likely, at Tacumshin).
Andy Stoddart
27 July 2016
Many thanks to all contributors for the photos and videos this week.
Killian Mullarney, Paul Kelly, Cian Cardiff, Niall Keogh, Gerard Murray, Brian Mccloskey, Joe Pender, Peter Garrity, Oliver Mockridge, Reuben Veal, Mark Hipkin, Jim Hutchins, Jeff Hazell, Elliot Montieth, Sean Nixon, Graham Catley, Ron Marshall, John Pringle, Dean Nicholson, Brian Henderson.
Please note: we put a lot of time and effort into sourcing and and producing the images, videos and graphics for each roundup. Some of you (probably Apple users) may notice some photos etc. that appear to have incorrect captions. Please try refreshing the page as they are correcty captioned. If after a refresh they are still showing the incorrect captions then please email us
Contributors websites