Mark Golley's weekly birding round-up: 06 - 12 April 2016
The week at a glance
A glorious adult male Pallid Harrier photographed in Kent
The White Rose lands an exceptionally early Black-headed Wagtail - our earliest ever…
…while the Red Rose County responded with what was thought to be a singing male Iberian Chiffchaff…the Real McCoy following along in Shropshire and Cornwall
County Cork's adult Glaucous-winged Gull in place still…
…ditto Cornwall's Pacific Diver and Hudsonian Whimbrel
North Uist's stellar Gyr takes her leave off the Hebrides…
Much of the week's weather surrounded the precise nudges to the left, to the right and the up and down of the low pressure system that decided to lurk out in the Western Approaches for several days out of the last seven.
Narrow bands of rain - looking like blue raspberry swirls in a wacky ripple ice-cream - drifted across many parts of the country through the first couple of days of the new review period, extending their way from the far southwest through to East Anglia by the weekend.
The classic April routine of sunshine and showers continued on post Sunday, but many areas managed to dodge the damp bullets, enjoying significant spells of sunshine and blue skies - although some areas were blighted by that low pressure and the strengthening east to southeast wind that descended over the country on Saturday and Sunday.
The winds became lighter and rather more variable as the review period drew to close but there was no doubting that spring was finally getting underway as the new season and the weather became an all-the-more appealing prospect…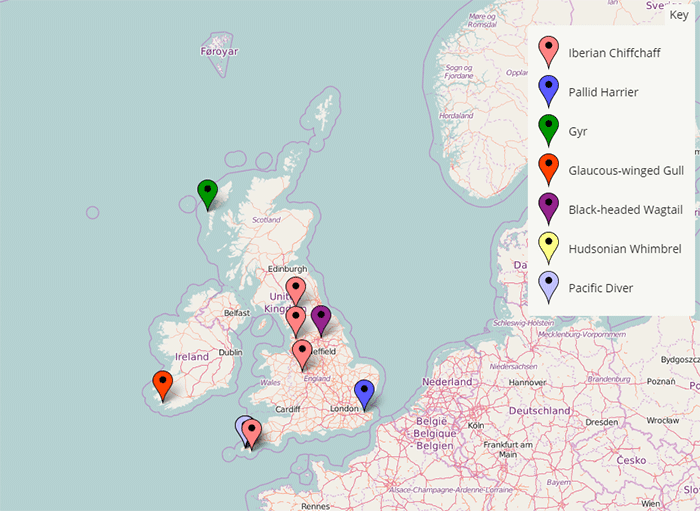 Pallid Harrier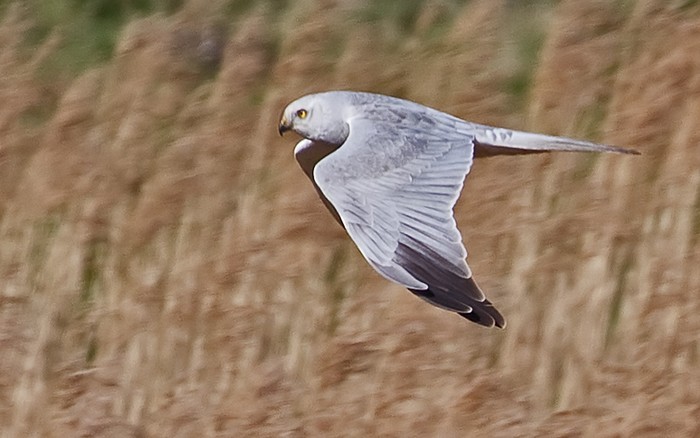 A fresh southeast breeze along the southeast coast of England early in April's second week always gives an option for something a little bit more than your "average Joe" rare and, although all the more common than it was 20 years ago, there's still that familiar quickening of the pulse when news of a male Pallid Harrier appears.
This week's gorgeous male was already gone by the time the identification was resolved (literally a fly through) - present for a desperately short space of time at South Swale NR (Kent) on 10th (if you can hold your breath to around the minute mark, that's longer than the time the bird was in view for…).
Coming hot on the heels of the garden Western Rufous Turtle Dove this must have been a frustrating two weeks for birders in the Garden of England - this week's Pallid could prove to be only the third record for Kent (following on from the male at Elmley in August 2002 and the juvenile at Cliffe in September 2011).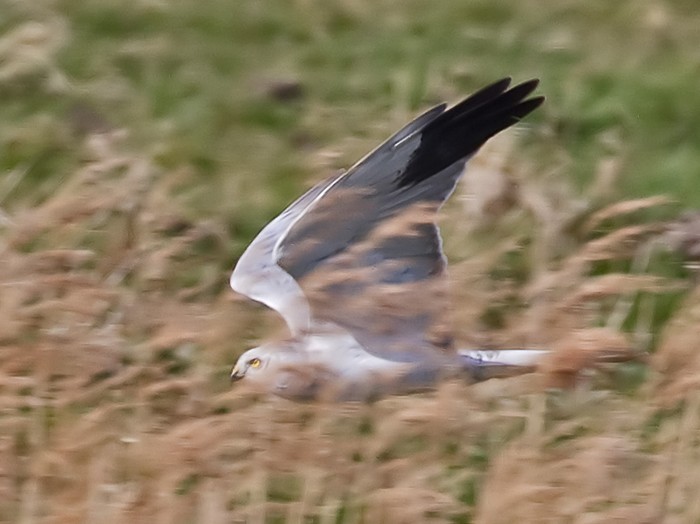 Spring male Pallid Harriers as has been mentioned here on previous occasions, is a rare beauty indeed - two have been seen in late March (in 2003 in west Cornwall and 2013 in Surrey) while six males (of assorted ages) and one juvenile have been recorded in previous Aprils (including three acceptances since 2011).
Black-headed Wagtail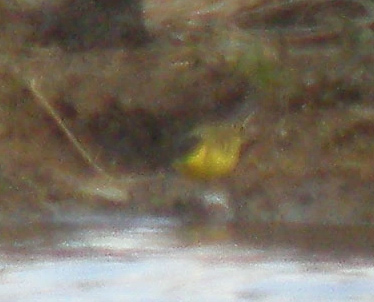 While questions rained down upon just what precisely the forthcoming Lancashire warbler was, there was no doubting the remarkable record of a male Black-headed Wagtail found in West Yorkshire, at Swillington Ings during the afternoon of 9th.
Unfortunately, this funky'n'buzzy feldegg didn't linger for too long and despite there being just one fuzzy image to play with by nightfall, there in the shot was (what must have been a stunner in life) male Black-headed Wagtail.
Despite almost annual reports (or maybe it just seems that way?) there remain just 20 acceptances by the BBRC to date; of those 20 records, just four have come in April and all of those fell after the 23rd of the month (that earliest record - until now - was a male found at Minehead Golf Course, in Somerset, in 2006 - and there's one still in the system, from Northumberland in 2010 that arrived on 21st of the month).
Other records are out there (for instance, a male was photographed at Drift in September 2011 but doesn't appear to have found a way in to print yet) and it appears that some birds, for whatever reason, slip through the recording net). But the official stats say 20 and that's what we go with - Norfolk leads with three (including two in 2009), while Cornwall and Pembrokeshire have had two.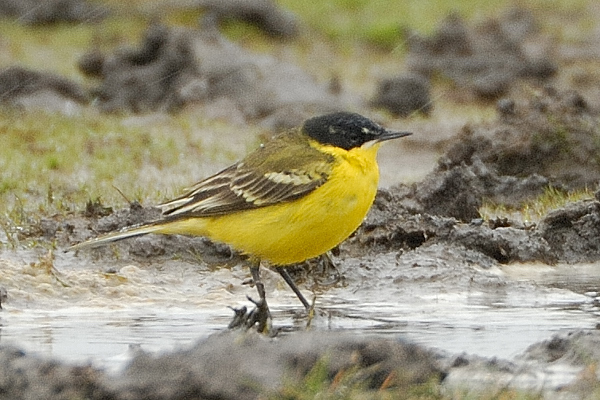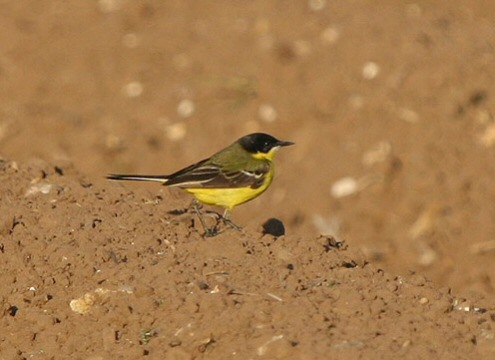 Iberian Chiffchaff/s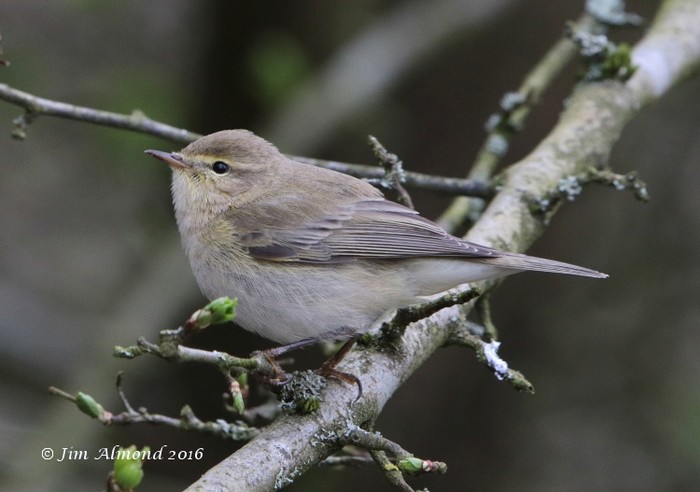 The easiest part of the weekly grind through the rare bird mullarkey that comprises the blurb offered round these parts is the very end - always the very end when you can set yourself up for a leisurely stroll through the archives and speculate and muse on those birds which may juts make themselves known during the upcoming week.
A wet Wednesday in north Norfolk saw a little time to crack on with the "end part" of this week's offering - and one of the species selected (as you'll see) was Iberian Chiffchaff. It almost featured at the end of last week but when you've a mega archive Wallcreeper shot to use and dream of, then a somewhat dowdy little Phylloscopus warbler won't get a look in…
In sneaky retribution for being overlooked as a prediction, the dowdy warbler seemed to have scuppered things for next week's crystal ball gazing when a singing male Phyllosc. was discovered south of the Ribble, not too far from Preston (Lancashire) on the cool northwestern morning of 9th, a bird that was generally regarded as an Iberian Chiffchaff.
The bird showed through the day and across the 10th and beyond too but after a short clip of the bird's sound and vision was posted online, queries were raised as to quite how (within the short clip) the bird appeared and sounded as it did - on first viewing it didn't seem to be right at all (it is, of course, always a dangerous game to make a judgement from online material from afar) but some felt that it didn't seem to add up to the component parts required for the still rare and still tricky species.
As opinion ebbed and flowed and opinion divided (some opted for a weird collybita, others still in favour of the rare option), redemption for the species was almost instantaneous - a bona fide male ibericus made a debut appearance in Shropshire; noted on 10th-12th, the singing male had actually be in place since April 5th and as well as being a 1st county record, it duly became the earliest arrival of this testing species here (and was one that everyone seemed happy with).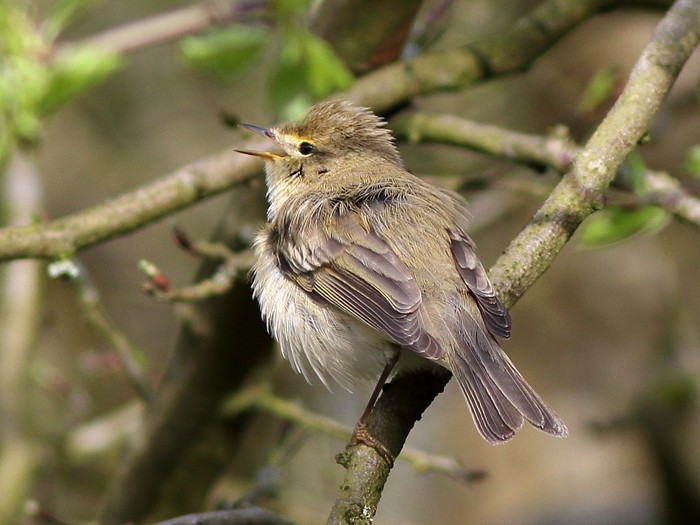 Another arrival that those who heard it were also more than happy with was the second (or third) Iberian Chiffchaff of the week, found on The Lizard (Cornwall) at the Ponsongath road during the evening of 11th. As it stands, there have been five accepted records in the county, including birds in consecutive years between 2011-2013 and this may prove to be the third April record there too.
To date there are still just 37 acceptances in all on the books for Britain with a single for Ireland too. Of those 38 in all, April has landed exactly half including the much twitched (and, at the time, 1st record) songster on the Verne, at Portland, from April 25th 1999, with "threes" appearing in both 2004 and 2010. So far, Lancashire has one accepted record, a three day male near Blackpool in early May 2011.
(It should be mentioned too that a probable Iberian Chiffchaff was reported from Penrith (Cumbria) on 9th too, but there's been no further news since).
Old favourites - spread far and wide... Glaucous-winged Gull
Let's rattle through this fascinating bunch of lingerers and let's start off in County Cork at Castletownbere where the adult Glaucous-winged Gull really didn't seem to want to go anywhere fast just yet - still present through to 10th in what is now the fourth month on site for this northwestern beauty of a beast…
Pacific Diver & Hudsonian Whimbrel
In and around Mount's Bay, Cornwall's two winter stars became ever-more locked in to early spring…
Out to sea, the Pacific Diver remained through until at least 8th while on the beach, the recently reappeared first-winter Hudsonian Whimbrel was again in and around Boat Cove, Perranuthnoe up until 9th.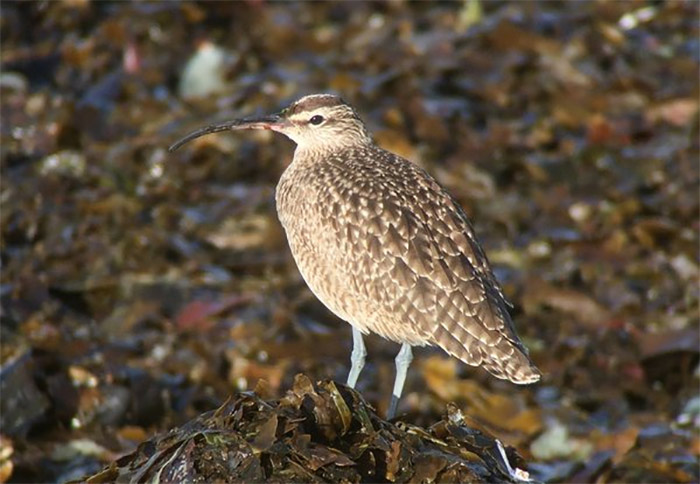 Gyr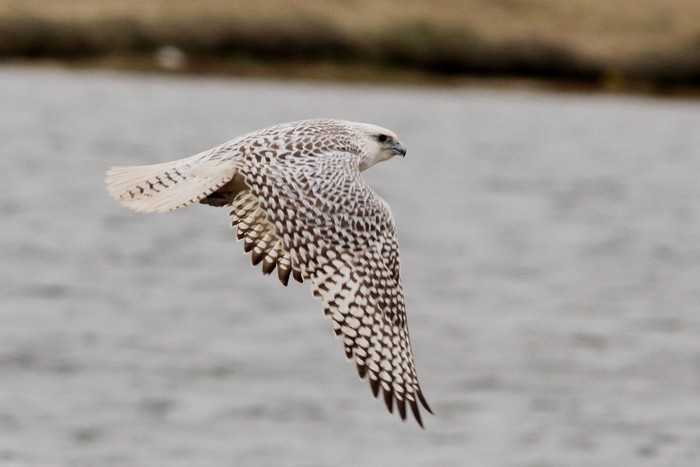 Still drawing a small band of admirers to the Outer Hebrides this week was that marvellous juvenile female white Gyr and she was noted on a daily basis between 6th-9th in and around the Balranald RSPB reserve on North Uist, often around Loch na Reivil, which is where the bird was seen to head away, off to the northwest on 9th - and there's been no sightings of her since either…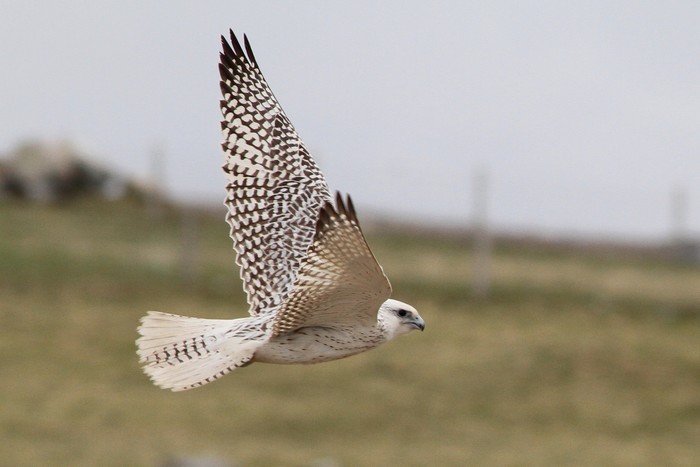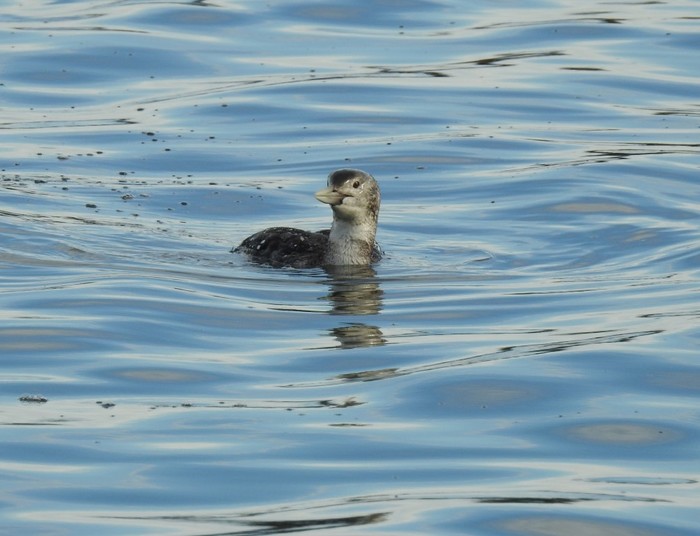 A couple of White-billed Divers were noted from the coast of Moray this week, the adult remained off Burghead to 8th and another drifted past Lossiemouth harbour the previous day. The only other birds noted this week were the showy bird that remained at Herston, South Ronaldsay (Orkney) through until 10th and another for Highland, seen near Ullapool on Loch Broom on 11th.
There were a handful of Pomarine Skuas recorded around our coasts through the week; three passed Balranald RSPB, North Uist on 6th, a p[ale adult flew past Steart (Somerset) on the morning of 7th, two were seen from Helvick Head (Co. Waterford) on 9th and one was seen in south Devon, off Dawlish Warren on 10th.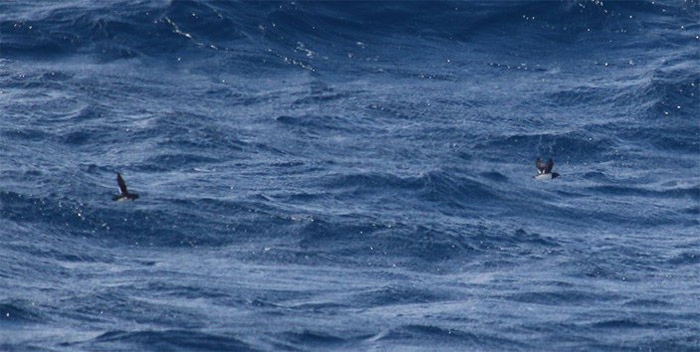 This week's travelling tales from on board the R.V. Celtic Explorer saw birders on board the survey vessel notch up an impressive 300+ Little Auks way, way out from the Galway coast, around 400 miles west of Slyne Head, on 10th (along with a couple of Pomarine Skuas). The previous day had seen a further seven Little Auks logged west of the Porcupine Bank.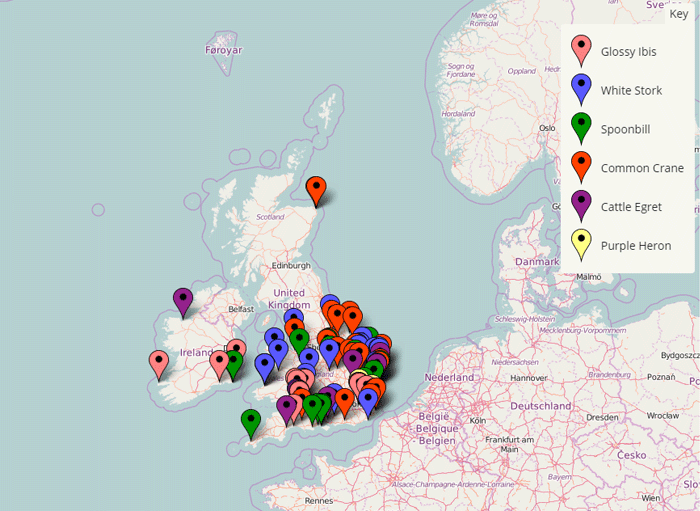 Bang on cue this week were the first Purple Herons of 2016 - no sooner had last week's words of wisdom been posted with mention made of said species then up popped a super looking adult at the Wat Tyler CP (Essex); present from 6th-10th, this magnificent bird was the first record in the county since at least 2011. The second of the week followed on 11th, another adult seen heading east over Reculver (Kent) on 11th.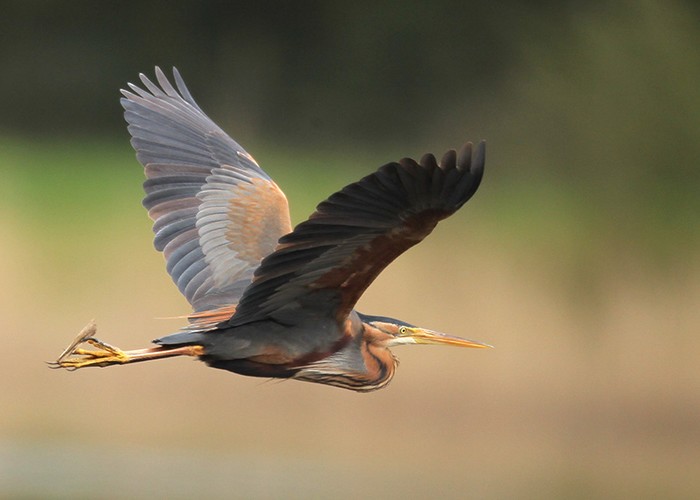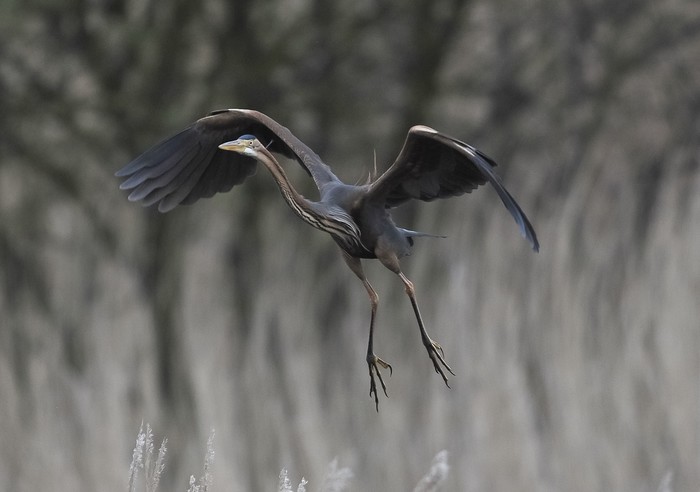 The rather popular White Stork that arrived in Devon before settling in Somerset last week remained around the area of Tealham Moor and Mark through until mid-morning of 8th, heading off northwest from the site - two hours later the drifter headed north across Elberton (Gloucestershire) and was seen a further two hours after that over Slimbridge WWT.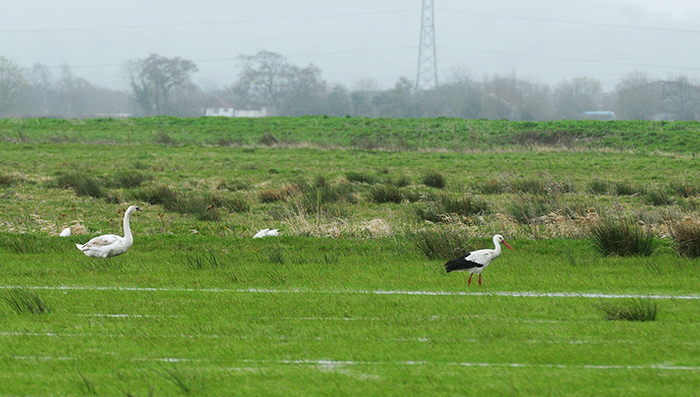 It would seem highly likely that the Stork then drifted off to the west and alighted on 10th at the Teifi Marshes Nature Reserve (Ceredigion/Pembrokeshire border) where it remained through to the morning of 12th before departing north to Cors Dyfi (Powys) and then Tremadog (Gwynedd) later the same day (unless that was the bird that follows...)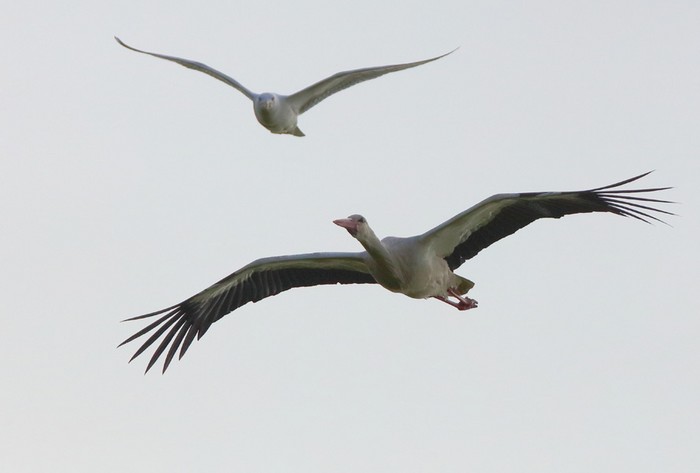 At one point it felt as though the Devon and Somerset Stork may have reached Wales via Worcestershire's Holt Heath (seen there on the morning of 10th) but perhaps that bird was the one that progressed in to an area with no public access in Leicestershire on 11th (departing high to the west in the afternoon) - it is feasible that it could have appeared in Wales the following day - either way, we do seem to have been getting a handful of wild birds this week...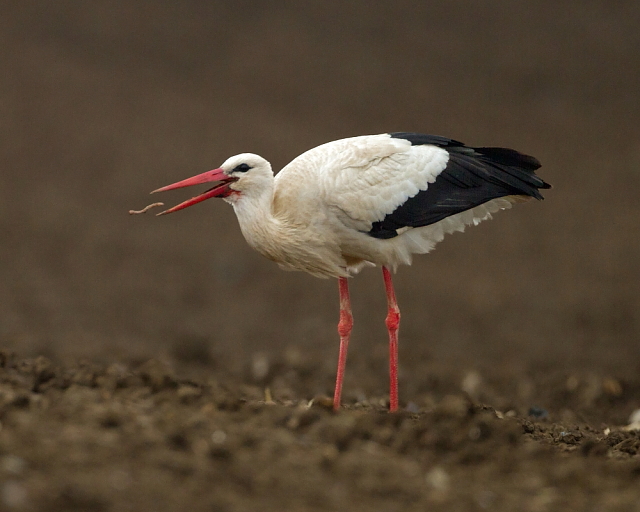 Elsewhere, other innocent-'til-proven-guilty White Storks were reported over Woolmer Pond (Hampshire) on 8th and Dungeness RSPB (Kent) on 10th (maybe one-in-the-same there too) while (unfortunately) the familiar O.U.O.. caveat has to be applied to not only records from seven locations around Norfolk (from King's Lynn, Pott Row and Hunstanton in the west right through to Norwich and on to Halvergate) but also to the bird/s seen in Suffolk this week, at Butley on 7th and Minsmere RSPB the following day.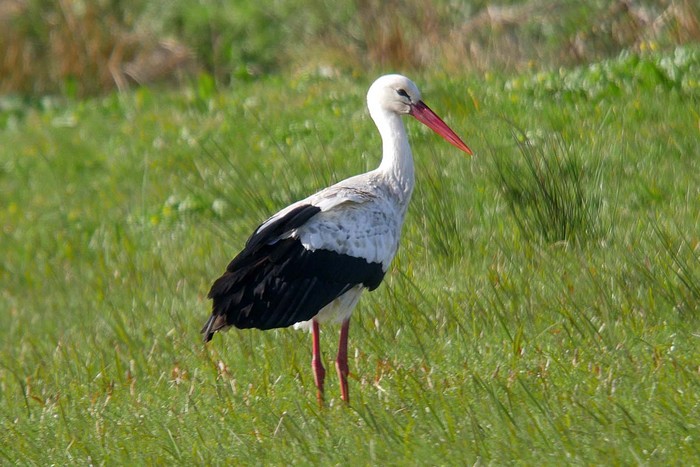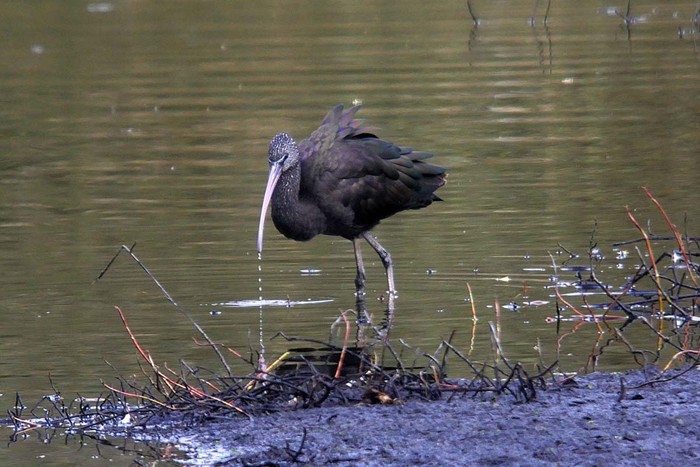 Not much change to report where Glossy Ibis are concerned; Ireland continued to host four birds ~ two stayed put at Cahore (Co. Wexford) through to 10th while others remained at Tramore Back Strand (Co. Waterford) to 7th and Smerwick Harbour (Co. Kerry) to 9th. English singles were noted again at Wat Tyler CP (Essex) on 7th-8th and at Seaton (Devon) and the Somerset Levels to 12th at least, while a new arrival was at Cliffe Pools RSPB (Kent) on 10th, with presumably the same bird hitting the Kent & Essex border, at Coalhouse Fort, the same evening (remaining at Higham Bight to 11th). A second Kent bird noted on 11th was at Oare Marshes NR (and itw as there again the following day). The tenth (and final) record over the last seven days was in Wales, still at Goldcliff Pools NR, Newport Wetlands (Gwent) until 10th.
Eight
Cattle Egrets
were logged this week, up a touch on recent weeks. Two were seen together at Bishop's Heath (Hampshire) on 7th and further new loners appeared at Tealham Moor (Somerset) on 6th, Boyton (Suffolk) on 7th (perhaps neither of these were new, they were just moving around the counties a little bit) and at Chesterton (Cambridgeshire) from 8th-12th. In Devon, the bird at Powderham remained to 6th as did Sligo's 1st ever
Cattle Egret
, still at Enniscrone. Last but not least, in Wexford, one was still around Tacumshin to 9th.
There are diminishing returns words-wise where
Spoonbills
are concerned; only 18 reported this week from eight English and one Irish county. Up to four were seen around the Norfolk coast and down to Welney WWT (there are doubtless one or two more at large) while Dorset and Hampshire shared between five to seven birds. A couple went along the Suffolk coast through the weekend and other singles were seen from Cornwall to Cambridgeshire and Essex and Nottinghamshire (where the total for 12th ended up at a notable three) and included the Shropshire bird that was at Whixall Moss until 11th at least. In Ireland, two were in and around Tacumshin until the end of the weekend.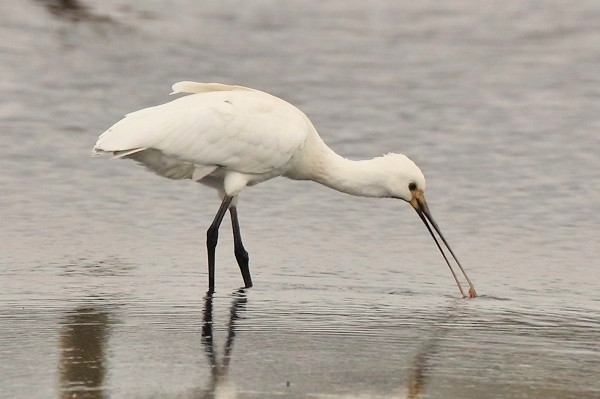 Roaming Common Cranes were, again, much in evidence across another review period - the week began with one tracking through East Yorkshire on 6th-7th, seen at Kilnsea, Grimston and Blacktoft Sands RSPB. A lone bird at Hythe (Kent) on 7th was, most likely, the bird noted at Sandwich Bay on 8th. The same day saw a Crane head along the Suffolk coast, noted at Aldeburgh and Minsmere and, also on 8th, two appeared at Rutland Water (Leicestershire), birds that made it to West Bridgford (Nottinghamshire) on 10th and then Sawley (Derbyshire) on 11th. Another duo seen on 11th were recorded at Burton Mere RSPB (Cheshire) - possibly the same duo? As the week closed, a group of three birds were seen over Minsmere - previously they'd been reported as White Storks.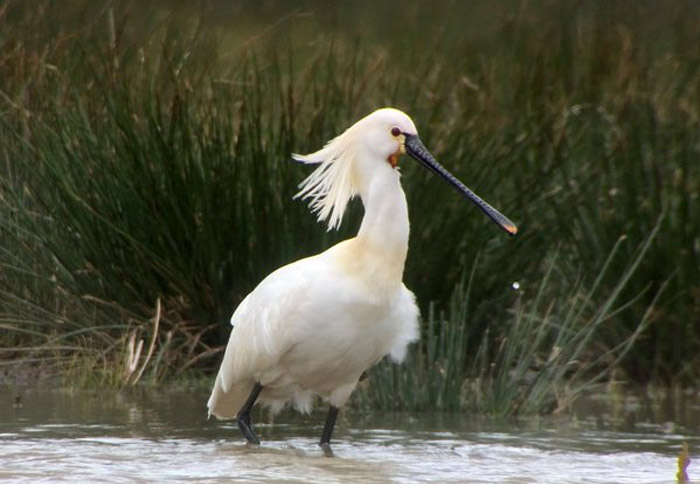 A further twosome were seen at Skipworth (North Yorkshire) on 10th with other multiples through the week seen in suitable breeding areas at Lakenheath Fen RSPB (Suffolk) - four there - and around the Winterton area of the Norfolk broads, half a dozen seen again on 8th and a quintet were still on the Ouse Washes (Cambridgeshire) on 11th. Wrapping things up, the lone birds seen at Terrington St. Clement (Norfolk) and both Rattray Head and Loch of Strathbeg RSPB (Aberdeenshire) on 8th and over Steyning (West Sussex) on 12th.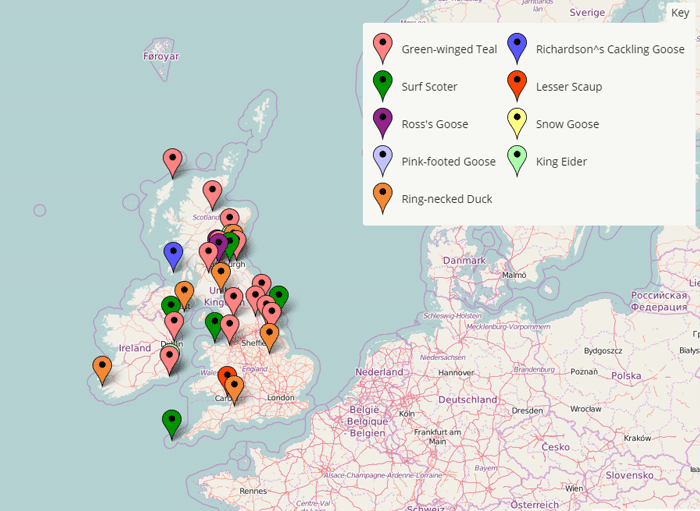 In eastern Scotland, the adult Ross's Goose was seen in Lothian at Bathgate and nearby Torpichen, still alongside Pink-footed Geese, through until 9th and appears to be one of the very few vagrant geese noted this week.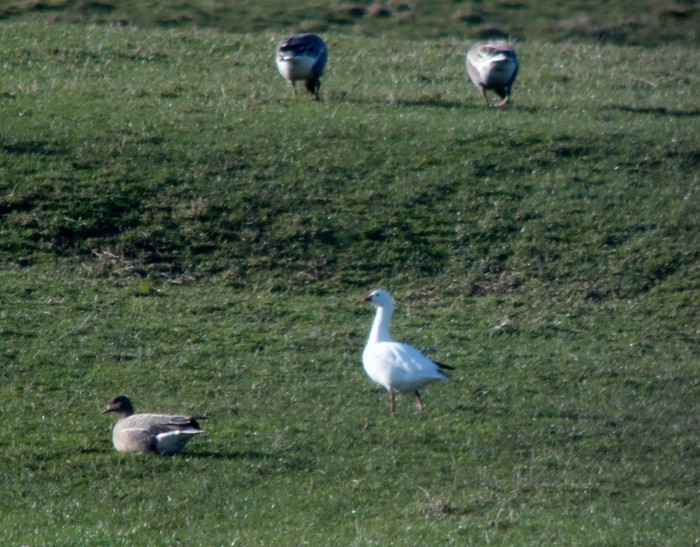 Make that the one of just two confirmed vagrant geese this week - a Richardson's Cackling Goose was on Islay, at Port Ellen on 12th - while the same day saw what was either a Ross's or Snow Goose was seen with Pinks at Skinflats Lagoon in Forth.
The onset of the new season has also seen a few drop-offs in scarce and rare ducks - we're down to just the one Lesser Scaup now, still bobbing around on Cosmeston Lakes CP in Glamorgan through until 12th.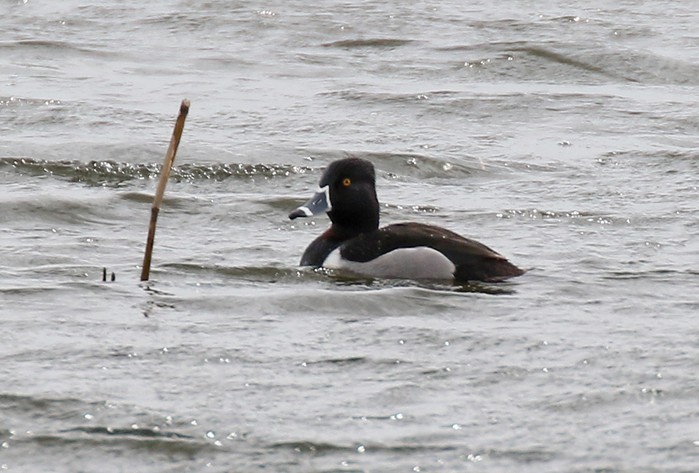 Four of the week's tally of eight remaining Ring-necked Ducks were still to be found in Ireland, three of them continuing to spend time on Lough Namona, near Waterville (Co. Kerry) to 8th at least while the lone drake was at Castle Ward (Co. Down) until 10th. Two Scottish drakes loitered at Kilconquhar Loch (Fife) until 6th and Caerlaverock WWT (Dumfries & Galloway) through until 11th while in England, the drake in Somerset was on the Levels until 10th while new was the drake found at Kilvington (Nottinghamshire) on 6th-7th - the first definite record in the county since the summer of 2012.
It seems that we've lost all our American Wigeons so it's straight on to Green-winged Teals and they actually saw a rise in numbers, up from 13 to 14 with several "new birds" recorded across Scotland, England and Ireland (where, for those of a statistical bent, the split was 7:5:2 over the past week).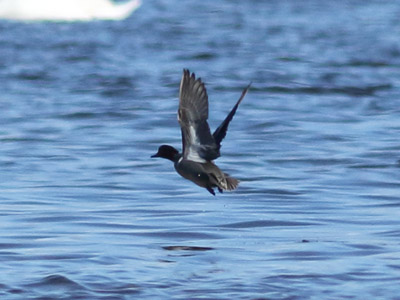 New Scottish drakes were recorded at Loch of Kinnordy RSPB (Angus) on 6th, Kinneil (Forth) on 9th and Loudoun Hill (Ayrshire) on 10th with the double bill were at Loch Flemington (Highland) to 8th with singles still at Loch Stiapabhat, Lewis (Outer Hebrides) to 7th and Tyninghame Inner Bay (Lothian) to 10th. New English birds were found at four different locations in northern Britain; the northwest saw drakes found at both Burton Mere RSPB (Cheshire) and Leighton Moss RSPB (Lancashire) on 9th and in the northeast region at Alkborough Flats (Lincolnshire) on 8th and at Nosterfield LNR (North Yorkshire) on 10th (and again on 12th) with the same region seeing the continuing presence of the drake at Saltholme Pools RSPB (Cleveland) throughout the week. New for Ireland was the one at Tacumshin (Co. Wexford) on 9th while along the east coast, the Green-winged Teal was still at North Bull Island (Co. Dublin) to 6th.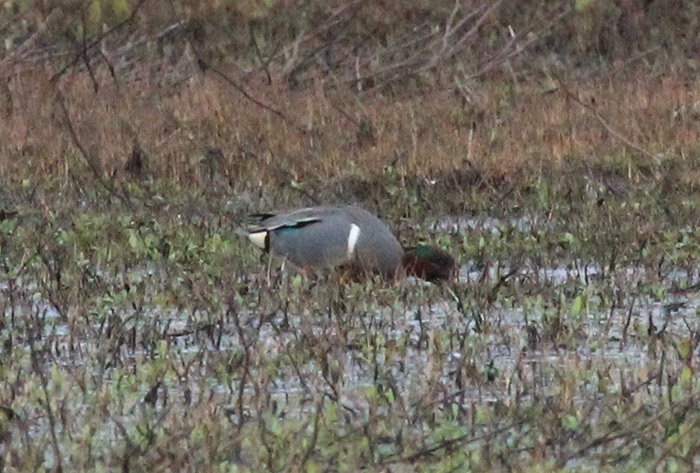 Not too far down the same Irish coast, at Annagassan in County Louth a group of five Surf Scoters were seen on 9th (including two adult drakes) while on the other side of the Irish Sea, two drakes were seen from Great Orme's Head (Conwy) on the same date. Scottish drakes remained at Largo Bay (Fife) to 6th and Fisherrow (Lothian) to 7th while the first-winter drakes in Filey Bay (North Yorkshire) and between St. Mary's and St. Martin's (Scilly) were present through to 11th and 12th.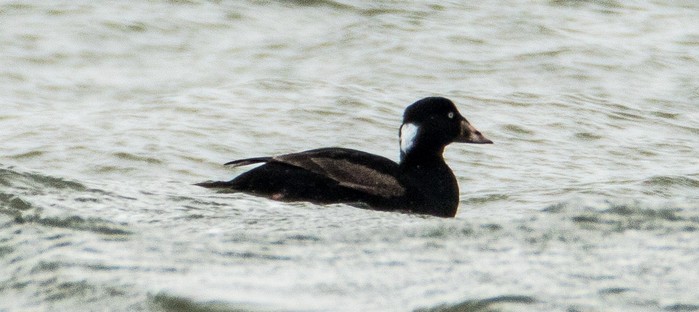 It was "as you were" for the two King Eiders this week - queens lingering at Rosslare Back Strand (Co. Wexford) to 7th and in Fife's Largo Bay to 11th.
<!—Section Title -->
Early spring days are always livened up by news of fresh goodies from the south and there are none more striking than Black-winged Stilt and the review's last day saw one drop in to East Sussex - found at Weir Wood Reservoir on 12th for what will be the 26th record for the combined counties, a figure which includes several multiples (including the successful breeding pair of 2014). From that group of 25 Sussex records to date, just three have been in April, while the national score for our fourth month is 83 and rising.
A further eternally welcome herald of a new season is the always ever-delightful Kentish Plover and this week saw south Devon welcome the first bird of 2016 - a male found at Dawlish Warren NNR on 10th.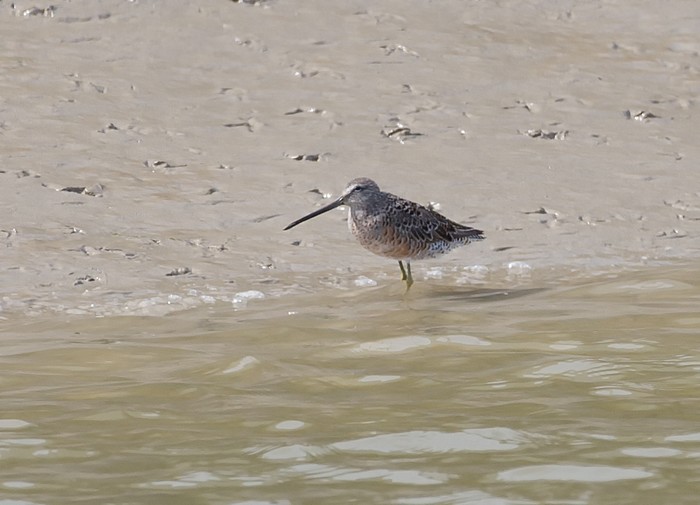 Whilst we await an early Dotterel or two, we're swiftly back to Long-billed Dowitchers - but there was "new" news here too - a fresh bird was found at Sandwich Bay (Kent) on 8th where it remained until 12th becoming the 17th county record and the third in the last five years (following birds at Dungeness in May 2014 and at Oare Marshes in September 2011).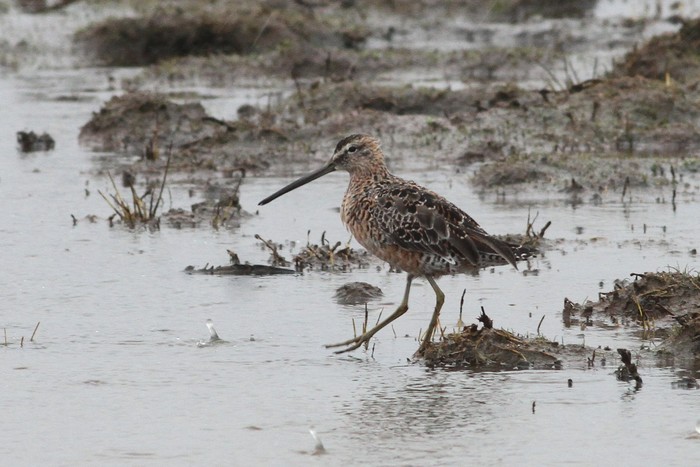 As for our winter staples, well the Rutland Water appears to have departed Leicestershire now, last seen there on 6th while the other two remained at both Keyhaven Marshes (Hampshire) and Cresswell Pond NWT (Northumberland) until 12th.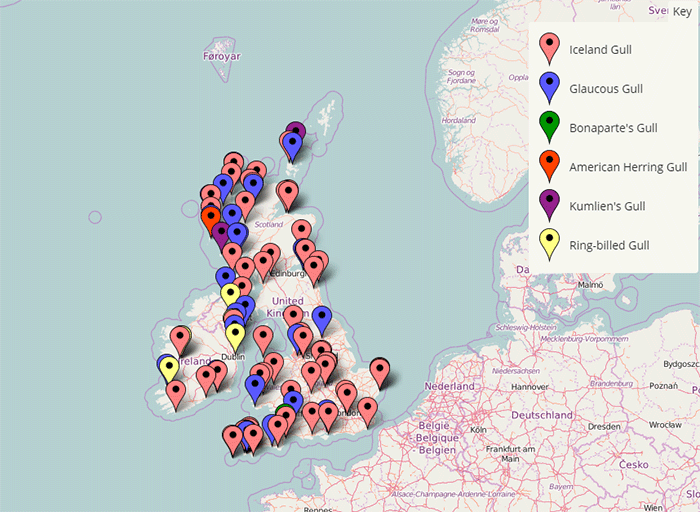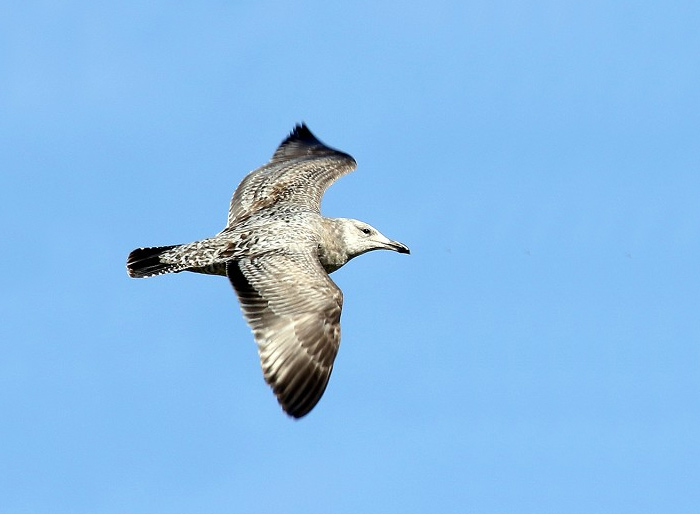 There's elusive and then there's elusive...down in Cornwall what is assumed to be the same juvenile/1w American Herring Gull was seen on Drift Reservoir and then nearby fields at Sancreed on 8th, the first sighting of the bird since the second week of March (it appeared there again on 12th). Up on Barra, the returned young bird was around Castlebay until 9th, appearing again on 11th.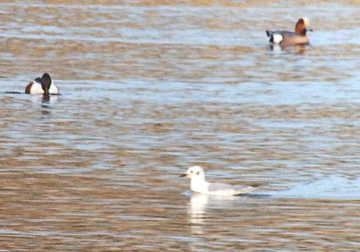 Another absentee southwest gull that's popped up again this week is the adult Bonaparte's Gull along the Exe Estuary. After no reports since March 20th, the bird was back again at Dawlish Warren on 6th before showing at Bowling Green Marsh RSPB on 8th and 11th-12th.
All of this week's five Ring-billed Gull reports came from Ireland; the first was a second-winter that was seen at Tralee Bay Wetlands (Co. Kerry) on 7th and it was followed by three further second-winters, at Nimmo's Pier (Co. Galway) on 8th and at Poolbeg (Co. Dublin) and Lough Neagh (Co. Antrim) both on 10th. The only adult Ringo was still at Cruisetown (Co. Louth) on 9th.
Another week where Glaucous Gull numbers reported just made it to the 30's, 33 to be exact seen across 17 counties in Britain and Ireland with Scotland top of the table with 12 birds in all, including up to half a dozen on the Hebrides. In Ireland, Down, Derry and Galway all hosted two birds each (from a national total of 11) while England managed a meagre six with Wales scoring a lonesome one.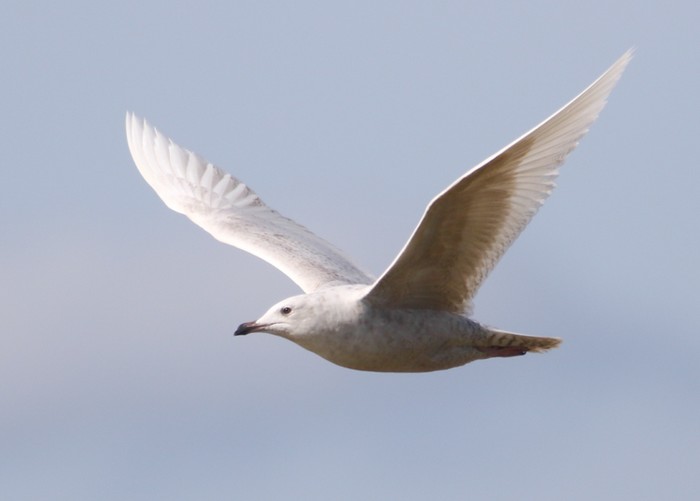 Iceland Gulls went up a touch over the past few days; 64birds noted from 32 British and Irish counties in total and this time it was England that came out ahead, 23 the score with the southwest managing eight (three for Cornwall, two each for Devon and Scilly) while all of the northwest's five were seen in Cheshire, including three at Richmond Ban on 8th-9th. Nine of Scotland's 22 individuals were on the Hebrides with three still in Moray. Galway held five of the Irish baker's dozen, with twos for Waterford and Louth while Wales managed five different individuals through the week.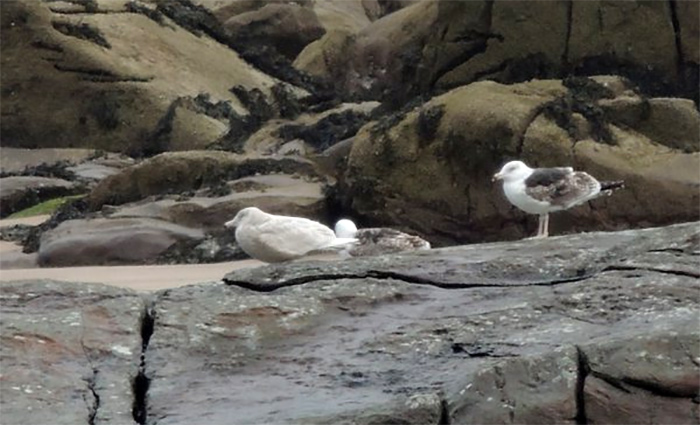 After a fortnight's absence a couple of Kumlien's Gulls managed to make the news this week - a near-adult was seen on Papa Westray (Orkney) on 8th, a Cornish adult was seen at Drift and then Mousehole on 8th and 9th and in Argyll & Bute, a juvenile was found on Tiree, at Loch an Eilein on 11th.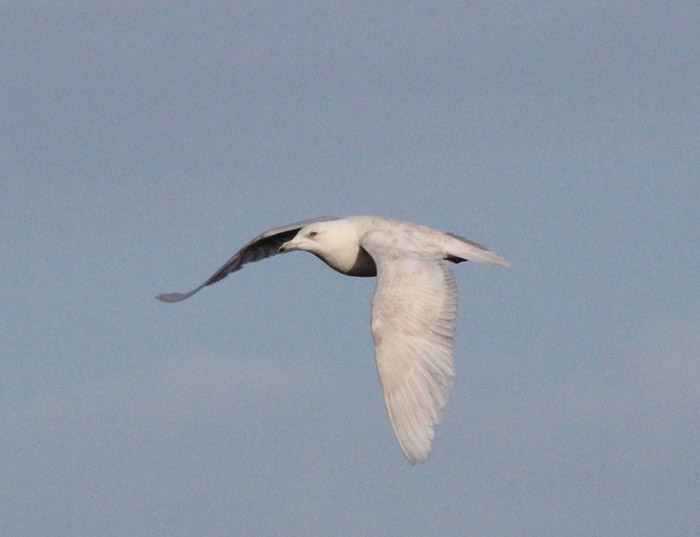 Not much to offer in the World of Raptors this week - aside from the (presumed) still-on-the-loose Black Kite in Suffolk, there's not much to go at here.
A young White-tailed Eagle was reported from Grovebury (Bedfordshire) on 9th and an early-ish Montagu's Harrier was reported from Hill Head (Hampshire) on 12th.
There were up to four (maybe five) Rough-legged Buzzards were noted over the review period; the juvenile in Highland was still at Lochindorb until 8th; the wintering beauty at Holland Haven (Essex) was seen through until 12th while in Norfolk, singles were at Haddiscoe and Breydon Water on 10th. One final report came from Lakenheath Fen RSPB (Suffolk) on 8th.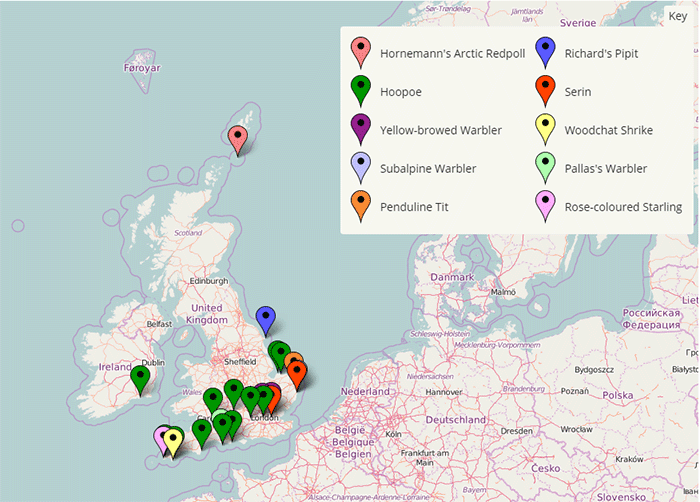 Easily the most striking of any of the passerines recorded countrywide this week was the very tame and very gorgeous looking (presumed) Hornemann's Arctic Redpoll that arrived on Fair Isle (Shetland) on 7th (when it was also trapped) and where the striking bird remained until 10th at least.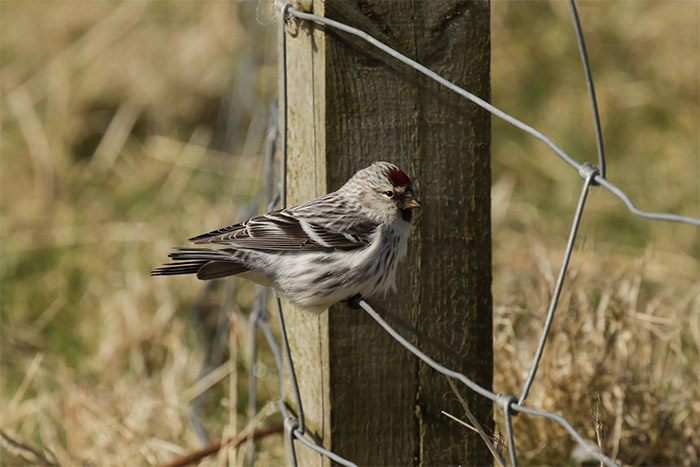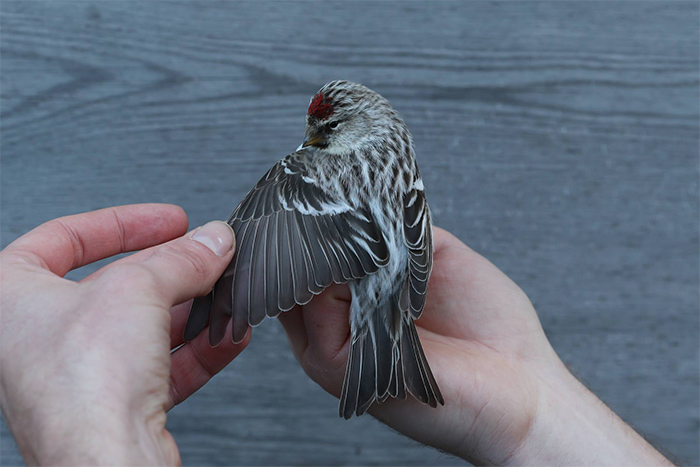 Whilst being both very big and really rather white, this monster isn't necessarily a shoe-in hornemanni. According to the FIBO Facebook page in the field the bird exhibited some significant flank marks and a thick undertail streak (neither of which immediately help the case for the big Arctic-type) and opened up thoughts of a (huge) pale "Iceland"-type, so the bird was trapped.
That too threw up perhaps more questions than answers - wing length fitted only Hornemann's or "Icelandic" (at the top end of the range for the latter); tail length only matched Hornemann's; bill depth matched either whilst the current bill length wasn't quite in the Hornemann's ball park.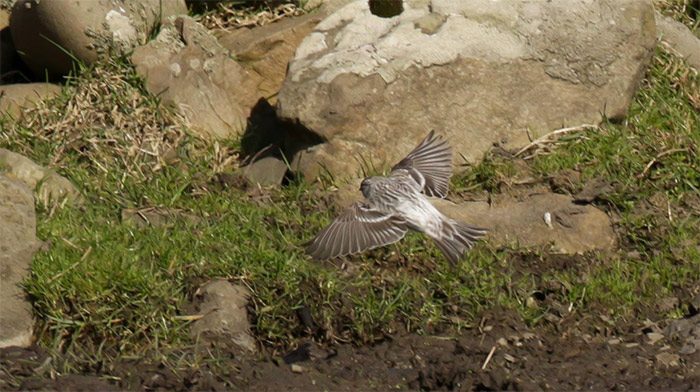 As stated by the initial Obs., posting, the bird's plumage can be matched by other hornemanni and given the fact that spring birds are more worn (darker looking) in appearance, then there's still good reason to see why this is indeed a Hornemann's Arctic Redpoll (it would surely be an exceptional exilipes?).
A mtDNA test would be an interesting next step…knowing what a mess redpoll taxonomy is, a bird like this could prove to be almost anything from the northwest. And who's to say that there couldn't be a mixing of gene flow going on too…but the test tube may prove that this is indeed hornemanni - that's what it most resembles and, either way, it is simply stunning.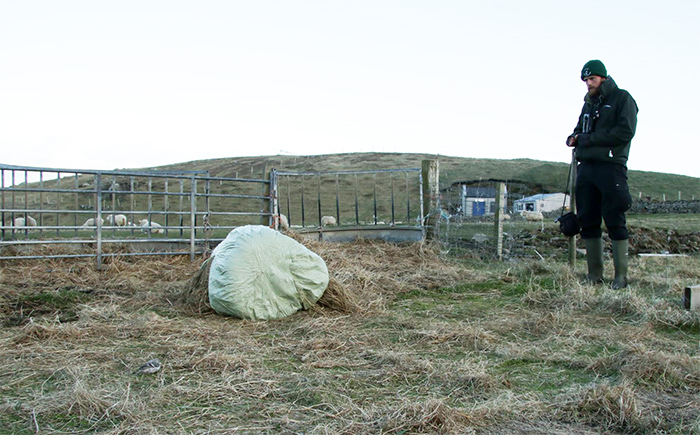 As with three or four others birds that have rocked up this week, the first Subalpine Warbler of 2016 has arrived almost right on cue (just as predicted) but was seen for only a short time in a garden in Reydon (Suffolk) on 12th, comfortably the earliest ever for the county, by almost a fortnight (there have been four other Suffolk acceptances of the species, including at least one male Eastern.
Another brief visitor from southern climes was the second Woodchat Shrike of the last 10 days or so for the Lizard, this one seen at Caerthillian Cove on 12th.
Four new Serins were seen this week; the first was at Rainham Marshes RSPB (London) from 6th-9th, the second flew over Portland's West Cliffs on the same day and a brief female was reported from Suffolk's Tinker's Marsh on 10th. The final one of the week's quartet was a male in the Observatory garden at Portland on 12th.
At least three Hoopoes were in Cornwall this week; the bird that appeared right at the end of last week's review period was still at Grumbla, near Sancreed to 12th while one or two (maybe even three) were around assorted parts of the Lizard Peninsula through the week. Dorset managed two or three, one at Swanage on 7th-8th, the other on Portland on 11th (with a second - possibly a third - following the next day) while further southwestern birds were seen at Stoke Fleming (Devon) on 9th and San Point (Somerset) on 12th.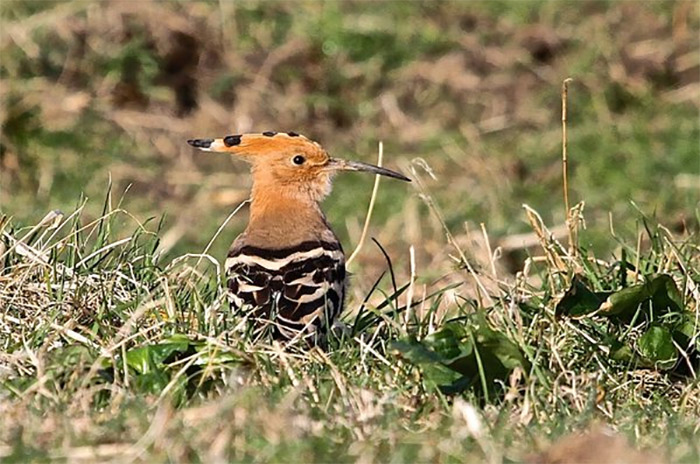 The other six Hoopoes noted over the last seven days were spread far and wide; one was a brief visitor to Poulton (Gloucestershire) on 6th while 9th saw new arrivals make it to Dunmore East (Co. Waterford), WWT Barnes (London) and also Burnham Thorpe (Norfolk) with the latter county's second appearing at Holme on 12th when another was seen in Reading (Berkshire).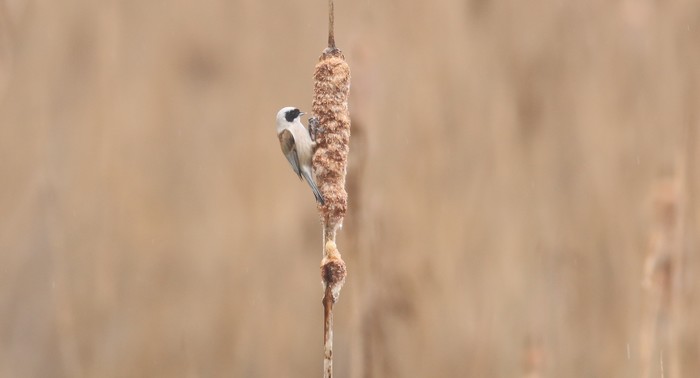 Also in Norfolk, the still sometimes elusive male Penduline Tit showed himself at Strumpshaw Fen RSPB on 7th-8th and again on 10th while back in Cornwall, a Rose-coloured Starling was seen around Land's End on 6th.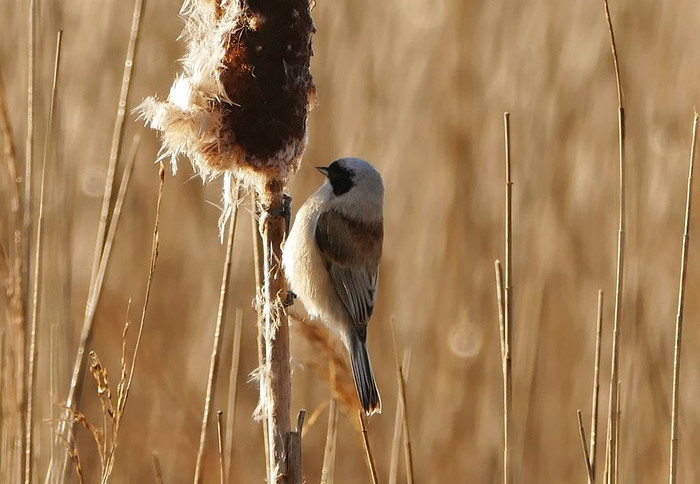 Dorset's Pallas's Warbler lingered at Portesham through until 12th (and there was an unconfirmed report from Norfolk's Holme NOA on 7th) while we're down to two Yellow-browed Warbler, still in residence at Brent Reservoir (London) to 12th with the same date seeing another found on the edge of the capital, in gardens at Gidea Park.
Flamborough's two Richard's Pipits remained on site until 10th and a migrating Waxwing arrived on Fair Isle on 7th.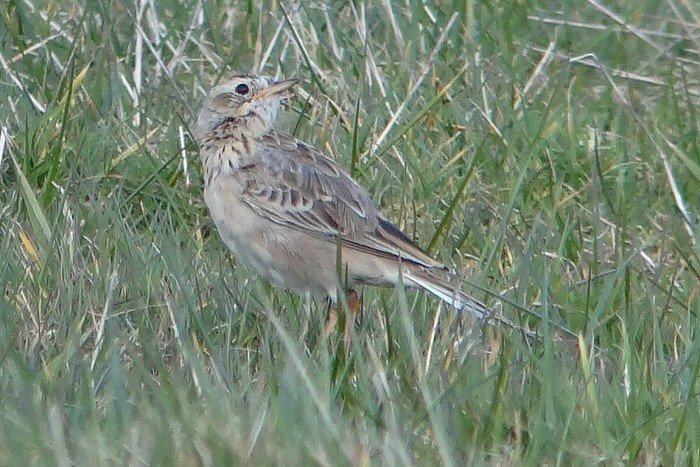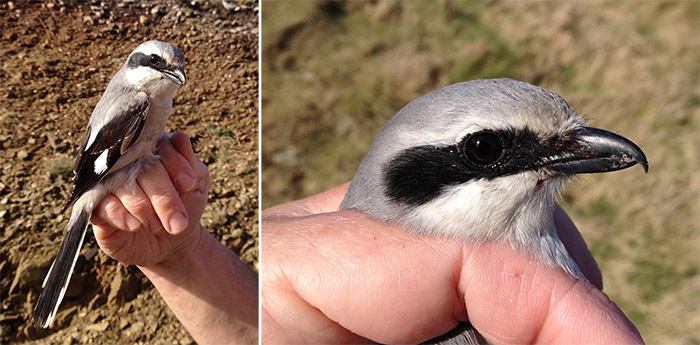 There were a few Great Grey Shrikes on the move too this week and Fair Isle bagged one of them, present around the island from 6th-10th with a second Shetland bird found at Burrafirth, Unst on 10th. Also moving out from Scotland was the birds that appeared at Forvie (Aberdeenshire) on 11th-12th and on Mainland Orkney, at Muddisdale on 12th, while the west side of the country saw another located near East Kilbride (Clyde) on 7th.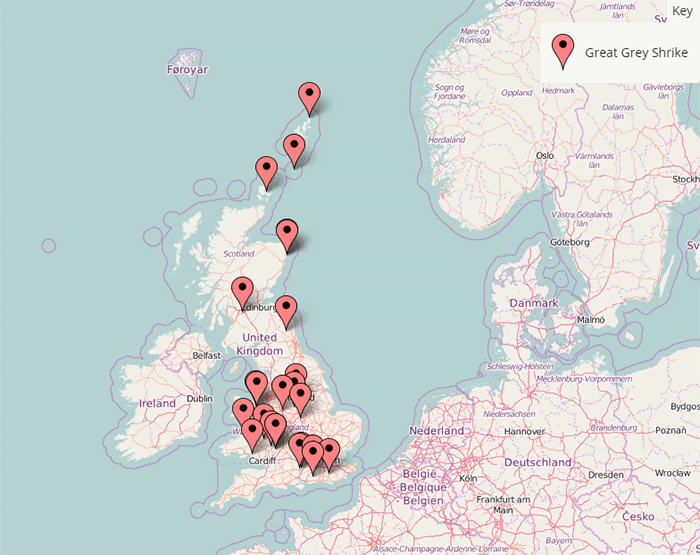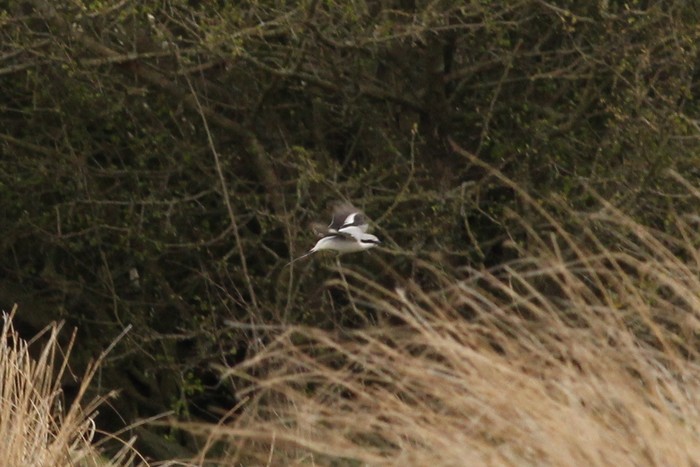 Up to half a dozen or more were around the Midlands, including two in Derbyshire, at Carsington Water on 6th and still near Owler Bar to 8th and two in Herefordshire, again at Garway Hill to 9th and new near Clifford on the same date. Elsewhere in the region, another new bird was found at Coalville (Leicestershire) on 7th (where it stayed until 12th) and at least one remained around the Forest of Dean (Gloucestershire) to 8th. Just one was in the northeast, in the Harwood Forest (Northumberland) to 9th.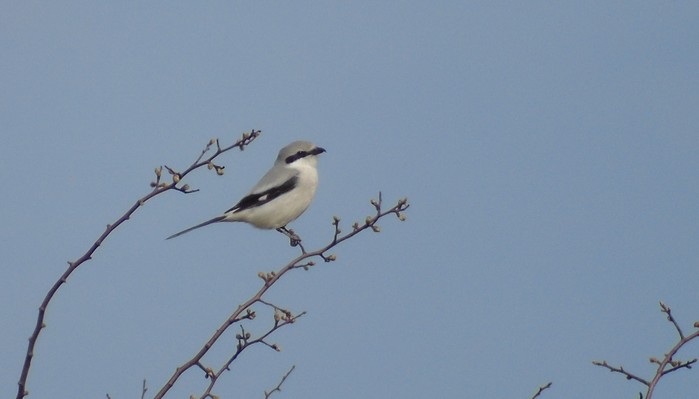 Great Greys in southeast England included two still on Surrey's Thursley Common to 10th while two singles were in Sussex, in the west at Ambersham Common until 9th and in the east, in the Ashdown Forest until 6th. Hampshire retained two birds in to the new week, still at Laverstock and near Longparish to 9th and 12th respectively.
Finally to Wales, where four excubitors lingered at Cross Inn (Ceredigion) until 9th and at both Cross Inn (Ceredigion) and Llyn Brenig (Denbighshire) until 10th. The latter county's second bird remained at Clocaenog Forest to 12th.
The coming week…
As we lurch ever closer to the "prime time" of spring - the next six to eight weeks are when, pretty much, anything goes - we become ever more reliant on the weather gods and goddesses to be kind to us and those overshooting migrants and vagrants we all so crave after a long, tough winter.
We're still slap-bang in the middle of prime early, early spring movement time for Gyr - the seven days ahead has yielded records for each day, totalling 19 accepted records in all including four on previous April 14th and six on April 13th's of old.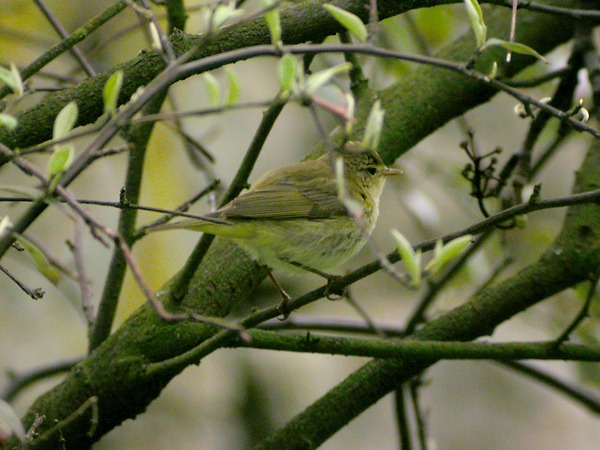 Another species which could make further appearances next week, if the weather prevails, is Iberian Chiffchaff - there have been half a dozen recorded with those raptor dates above (13th and 14th) producing four of the six - at Titchwell and Grimston on 13/04/11 and 13/04/14 respectively with singers on St. Mary's and at Dungeness on the respective April 14th's in 1992 and 2001 (others fnoted in the seven days ahead were seen in Wales and Northumberland).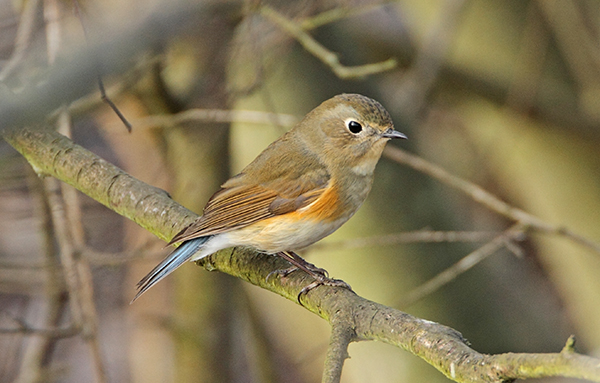 The number of rare passerines that make landfall around Britain and Ireland sees a significant jump - staying briefly on April 14th, this time in 2013, one of those increasingly frequent early spring Red-flanked Bluetails was a cracking discovery on Norfolk's east coast, at Horsey, while the 16th has scored heavily with a trio of stunning thrushes - Eyebrowed Thrush in Yorkshire in 1981; Rock Thrush at Portland in 1988 and a twitched White's Thrush on Copeland Island in 1993.
One of six British April Calandra Larks was found on St. Agnes on 17/04/96 (it is high time there was another mainland bird - there've been just five out of the 18 accepted to date, none "available" - while, on the commoner side, try your luck at finding a Red-rumped Swallow on 18th, there have been eight (minimum) so far…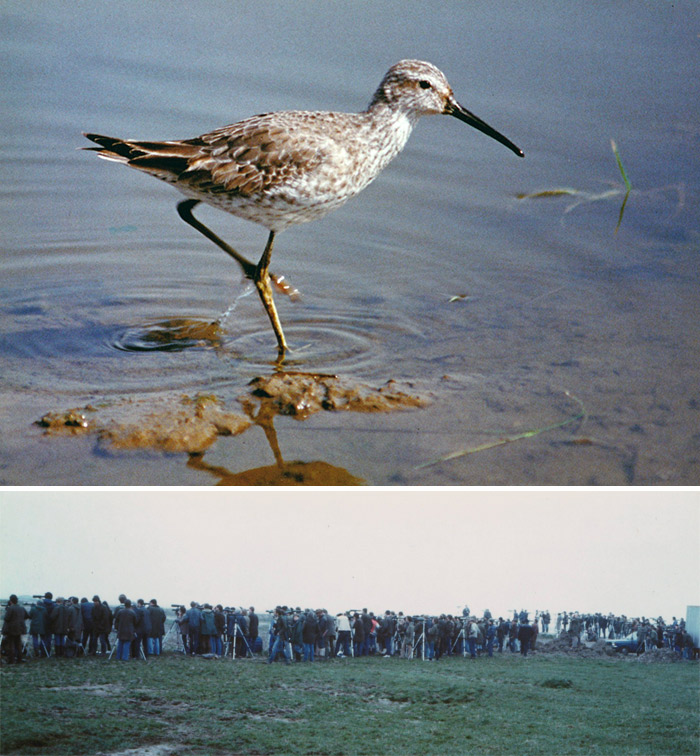 Many folk will remember the hoo-haa that surrounded the news of a first-summer Stilt Sandpiper around Frodsham on April 16th 1984 - a sizeable crowd gathered the next morning to see what was almost the first twitchable record for a generation. There had been some 14 prior to the Cheshire bird (including another for the week we're heading towards, in Highland in April 1970) but unless you were birding in 1963 when one lingered around the Wisbech Sewage Farm, you'd probably not seen one. Hence the gathering of some 300-400 folk at dawn on a murky weekend many years ago.
Finally then, to that quirky double-duck bonanza of April 15th…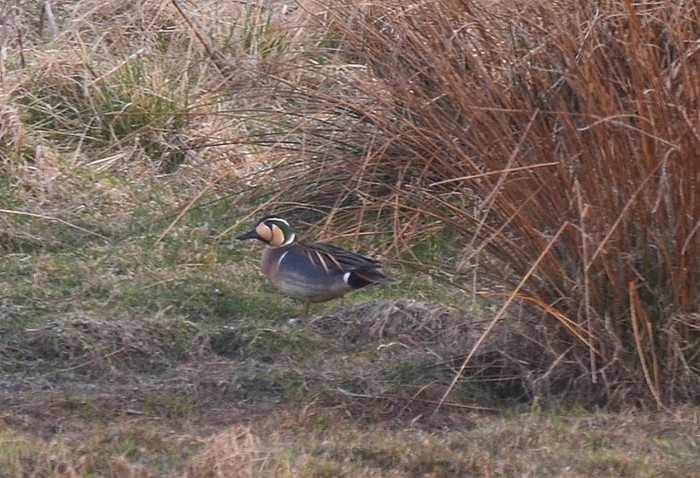 Three years ago the headline maker was the amazing drake Baikal Teal found at Flamborough Head - the sixth record for Britain and Ireland (and the fifth "wild one" within the space of 12 years, since the Minsmere bird got the contemporary Baikal ball rolling). The Flamborough bird was initially seen coming "in-off" and generated a bit of heat and debate as to precisely where it may have come from…it did the decent thing and hoofed it by dawn the next day and steamrollered a deserved spot at the Top Table…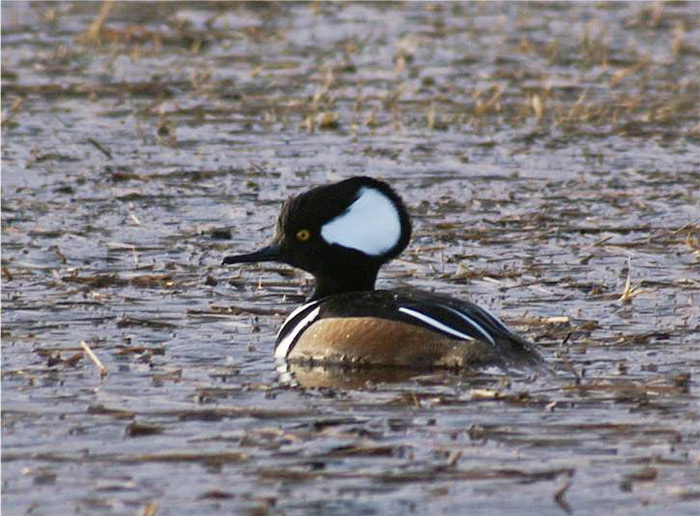 …as did one of the few (couth them with the fingers of one hand) Hooded Mergansers that really had that "feelgood factor" surrounding them - the dazzling drake found on the pools of Unst from April 18th 2006 through to May 2nd.
It is easy (and dangerous) to be seduced in to the whole thing about a potential vagrant that is also known as a common bird in captivity being seen on a far-flung island - a Shetland bird is likely to be viewed more sympathetically and more positively than a bird in, say, Wiltshire or the West Midlands, but in the case of the '06 Hoodie, well, it looked the part and few would seriously argue the case for the prosecution where that beauty was concerned.
…despite all the above, the smart money is now firmly being slapped on Alpine Accentor to be next week's headline act… given what's occurring on the continent and with the last four records coming form either Suffolk or Norfolk, that's surly going to be the region that's going to score again.
…but where's the overshooting Snowfinch going to be?
Mark Golley
13 April 2016
Thanks this week to Dave Cottridge for the archive images from Frodsham and thanks also to the rest of this week's contributors for their photos and videos.
Richard Jones, Dave Hunton, Frank Golding, Steven Seal, Jim Almond, Pete Hines, Tim Jones, David Carr, Colin Davies, Marcus Nash - The Bird ID Company, Rob Stonehouse, Paul Higson, Niall Keogh, Graham Jepson, John Pringle, Brendan Sheils, Michael Trew, Paul Riddle, Mark Coller, Steve Waite, Matthew Mellor, David Kelsall, John Nadin, Christopher Teague, Paul Kelly, Tony Marr, George Kinsman, Mark Chidwick, Rob Stonehouse, Jonathan Farooqi, Gareth Hughes, Martin Elcoate, Sean Nixon, Sean Morris, Lee Gregory, Martin Cade - Portland Bird Observatory, Dave Fidler, Robert Newton, Toby Carter, Donna Maguire, David Gray, John Malloy, Gary Thoburn, Chris Bromley, Mike Pennington.
Please note: we put a lot of time and effort into sourcing and and producing the images, videos and graphics for each roundup. Some of you (probably Apple users) may notice some photos etc. that appear to have incorrect captions. Please try refreshing the page as they are correcty captioned. If after a refresh they are still showing the incorrect captions then please email us
Contributors websites