Birding round-up: 03 - 09 Feb 2016
The week at a glance
Cork's marvellous Glaucous-winged Gull remains in situ for a few more days
The wintering mega duo lingers in Cornwall's Mount's Bay ~ step forward the Hudsonian Whimbrel and Pacific Diver
Northumberland's drake Black Scoter still bob, bob, bobbin' off Bamburgh ~ probably…
Juvenile American Herring Gull seen off the Sligo coast and a second youngster appears in west Cornwall…
The resident Greater Yellowlegs still hangin' out on the IOW…
The now familiar theme of the winter of 2015/'16 has been the seemingly constant flow of tough Atlantic storms that have wound themselves up and sprinted in to our shores since Storm Abigail blasted her way in during the second week of November.
…this week was no different for those in southwestern parts of Britain as Storm Imogen threw winds in excess of 70t to 80mph in to the face of Cornwall, Devon and Dorset along with mid and south Wales, with a significant rainfall to go with it all too. Waves over 60 feet tall were recorded, travel plans were disrupted, power lines blew down ~ the recurring theme of the last three months or so continued unabated.
The winds associated with Imogen were felt across the country but were followed by slightly more relaxed and gentle conditions as the review period closed, sunshine poking through as slightly more seasonal temperatures crept in.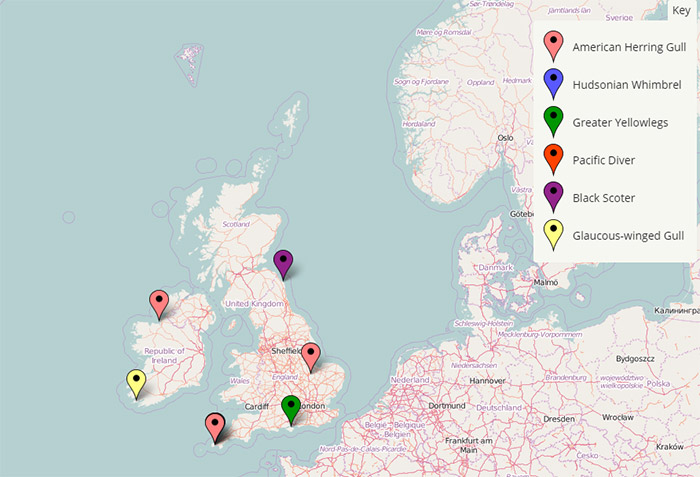 Here we are again then ~ picking up the reins on the old nag that is the RBA Rarity Round-up for my first saddling up within the avian enclosure for 2016…
…much has happened over the half a dozen weeks or so that work interfered with the usual ramblings through the week's scare and unusual bird proceedings ~ a stable full of some truly exceptional rarities delivered with quite some aplomb from (in particular) Shetland and Ireland (where Killian Mullarney's truly exceptional Vega Gull is the Frankel of rare bird finds in the past 20 years ~ a genuine thoroughbred discovery of what will remain the Bird of the Year throughout the next 10 and a bit months…).
Casting such giddy-up nonsense aside (I'm in full-on Crazy Horse mode this morning, so y'know…racing analogies sprung to mind somewhere in the typing subconscious), so as a mighty, molten chord chugs out of Old Black once more, we'll begin the proceedings with the Republic's 2nd-best seagull of the winter so far…
Glaucous-winged Gull
Having clocked up a month on site, the stunning and striking adult Glaucous-winged Gull at Castletownbere, out on Cork's Beara Peninsula may be fading from the news to some degree but with its continuing presence this week (still in the Bearhaven harbour to February 4th at least) this incredible looking gull really is worthy of top billing again this week.
Given how straight forward it has (generally) been to see ~ talk about close ~ this show-stopper has been a significant draw not just for the grateful Irish men and women who've collected a sensational national 1st but also for those from across the Irish Sea on the British mainland. Some missed the Birds 1 and 2 in Britain, others just wanted to get outrageous views of a species that has, "over here" at least, shown well at times (especially when on the ice in Cleveland) but never quite in such a fine Pacific northwestern styleee as the current Cork bird.
Glaucous-winged Gull and Vega Gull are a genuinely head-spinning duo to have in one Western Palearctic country at the same time and, when the rare bird students of tomorrow cast their eyes back in time to the early, early days of January 2016, they too should be left scratching their heads in wonderment at such a sensational duo.
West Cornwall's Double Act
…which brings us nicely on to Cornwall's best efforts to try and replicate some more double-whammy rare action…
Hudsonian Whimbrel
Up first comes the now-you-see-me, now-you-don't Hudsonian Whimbrel which still appears to be settled amongst the rocks and coves of Perran Sands (just around the corner from the long-time hideout of Mount's Bay) through until 7th at least.
This has been a particularly popular Cornish 1st, attracting many observers to the far west end of the county as it replicates the behaviour of several other Hudsonian Whimbrels by hanging around for quite some while ~ this one has been on station (give or take) since the end of October ~ and is of course, the first wintering record for Britain.
Pacific Diver
…not too far away, the ageing adult Pacific Diver made Appearance #1 of the week off Trenow Cove in Mount's Bay on 4th with #2 coming off Penzance on 7th ~ we're rapidly approaching the 9th anniversary of this bird's debut in Kernow (February 17th 2007), part of that truly epic trio of records that winter…
Honestly, if you told any of us old-duffers in waiting when we were all bopping around to Orange Juice, the Bunnymen or the Icicle Works 30+ years ago, on the twitches of yesteryear, that the mid 2010's would offer up a double hit of Hudsonian Whimbrel and Pacific Diver within just a few hundred yards of each other, we'd have laughed long and hard through the dark nights on the county's A roads…
What did we know eh?
Black Scoter
Another fanciful bird from the days of yore was Black Scoter ~ not admitted to the British List until a drake in Gosford Bay in 1987 (when it remained a lowly sub-species) this is now a species that tickles the fancy almost only for those in the adjacent area of a bird's sighting…the days of crowds for this fine visitor from afar seem to be behind us already.
But no matter, this is still a species to get excited about and that dandy, dapper drake of the coast of Northumberland, anchored offshore from Stag Rocks, Bamburgh until at least 7th was a newsworthy beast indeed. That's assuming there actually is a Black Scoter on site…
"Assumption" is a dangerous default setting to be used where rares are concerned ~ there's assorted rumblings of discontent online as to whether there actually is a Black Scoter present at present ~ observers who've seen the bird in recent years say "yes", others on site at the weekend, shown a particular bird on the day, say "no". From north Norfolk, I've no idea ~ so, play safe, report what's been reported. Don't shoot the messenger and all that.
Could this be that fine drake that ruffled feathers in the very same spot in the spring of 2011? Perhaps so. That it is the same bird that frequented the sea off Cheswick Sands nigh-on 12 months ago seemed assured, but now, hmmmm. Let's just see how this develops.
Pallid Harrier
In the northwestern pocket of Norfolk, the juvenile Pallid Harrier continued to be a significant daily draw throughout the week ~ especially now the latest roost site has been established at Roydon Common; news which, for now at least, negates the whole carry-on of standing around at Fltcham's Abbey Farm for hours on end and enter the "wasn't that a Hen Harrier" debate when a holler of "there it is" goes up…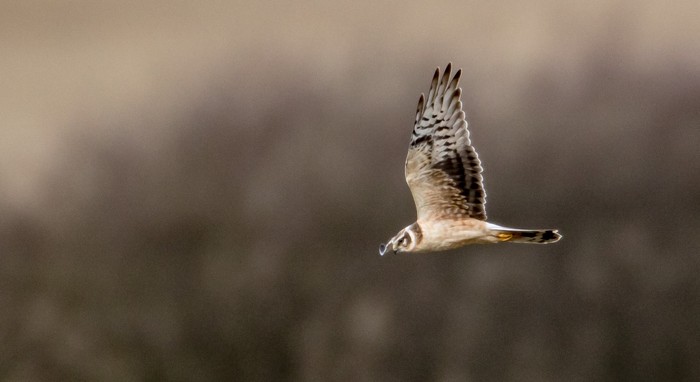 Roll down the road A148 for a handful of miles and enjoy the views as the juvenile Pallid Harrier rocks up during the afternoon and performs around the expansive open heathland site ~ its been in that particular cycle of behaviour since January 30th (at least) and, until 9th, that circle of Flitcham and Roydon remained unbroken.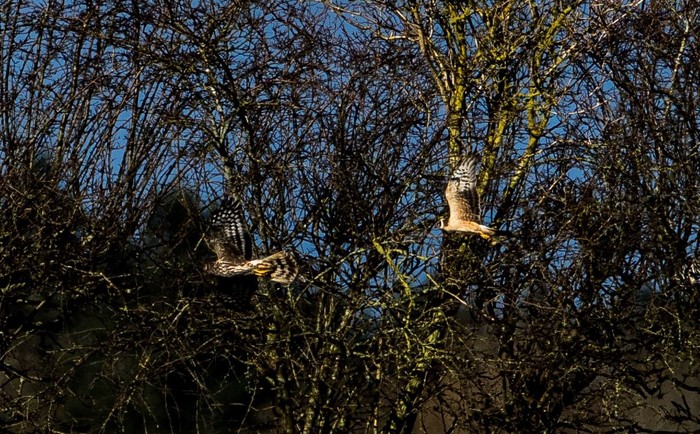 …and this bird is closing in on the Norfolk long-stay record too ~ that famous county first spent 97 days around the coast, the bird from the Scholl of 2015/'16 has amassed 82 days (to February 4th) so a new record is in sight…
American Herring Gull
Let's head back to Ireland now and head away up in to the northwest corner of the Republic and set our sights temporarily on the juvenile American Herring Gull that appeared in County Sligo on the afternoon of 5th.
The young visitor from the west alighted briefly on Raghly's Yellow Strand and then meandered past Knocklane Hill for what could be only the second-ever record of smithsonianus for the county ~ the first was a two-dayer on the dump in Sligo town back in the tail-end of March 1992.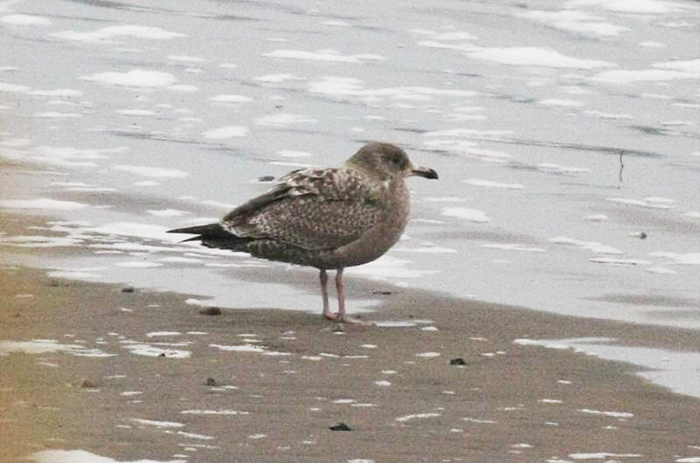 (I can't think of anywhere better to chance upon a gull as good as a juvenile AHG than the rugged and glorious surrounds of Raghly ~ anyone who's birded there for geese or wildfowl over the years will be only too familiar with the earthy beauty of the area…stunning, truly stunning…).
Rounding off a fine selection of birds in and around Mount's Bay this week was the second juvenile American Herring Gull of the week ~ seen in the final minutes of daylight of 8th on the rocks of Roskilly, between Newlyn harbour and Penlee lifeboat station.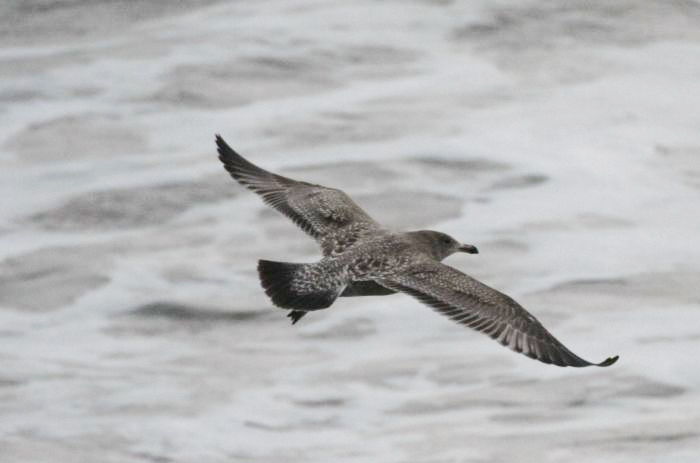 Still a rare bird in the far southwest, aside from the returning 3w that's occasionally seen around Jericho Farm there have been just five accepted records in Cornwall to date ~ the most recent being the lingering 1w in the Mousehole and Sennen area during the winter of late 2007 and early 2008.
Greater Yellowlegs
…there's a rather more sedate feel to the Isle of Wight it must be said, but the Solent-based island continued to feature in the headlines this week courtesy of the resident Greater Yellowlegs that continued to mooch around the River Medina at Whippingham until 7th at least.
This bird has been in and around Hampshire and the Isle of Wight since January 11th 2015 ~ although significant chunks of the late winter and early spring (from that one day showing at the start of the year until a repeat performance in April) were spent who-knows-where. Since the last week of September last year, this record-breaking 'legs has been in and around the funky cold Medina…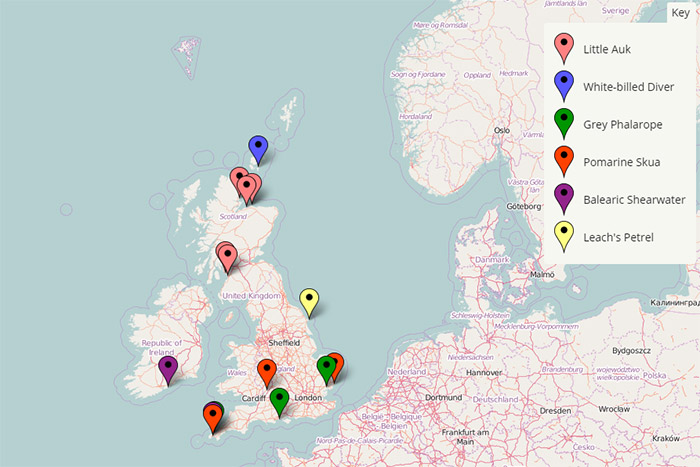 Ahead of Storm Imogen's fiercesome lashing across the southwest, the North Sea offered up a rather unseasonal Leach's Storm-petrel heading north past Flamborough Head (East Yorkshire) on 3rd ~ loosely invoking memories of the "wrecked" Madeiran Storm-petrel in Finland in January 1999 (any petrel in the North Sea at this time of year warrants close inspection because you just never know what's out there…).
The long-returning White-billed Diver lingered off South Ronaldsay (Orkney) throughout the week, while all five single Little Auks were noted around Scotland; one headed past Lossiemouth (Moray) on 3rd (where a dead bird was found on 6th) and the same county saw another loner noted from Findhorn on 4th. Ayrshire claimed two more this week ~ off the harbours of Troon on 5th and Saltcoats on 8th ~ with the final one heading past Embo (Highland) on 9th.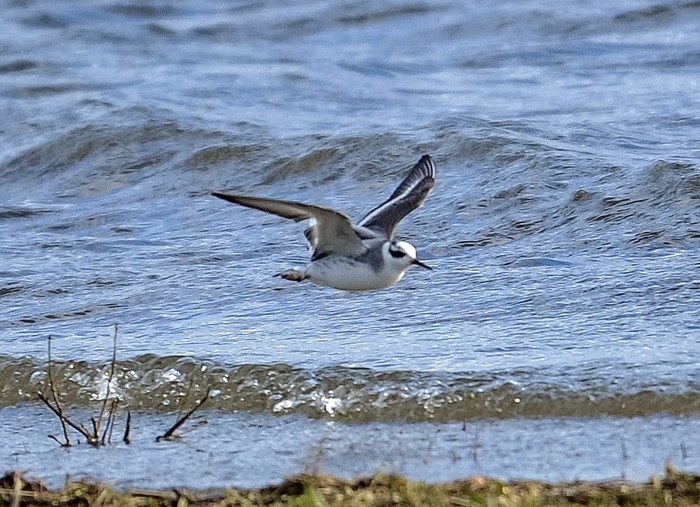 In Cornwall, a single Pomarine Skua flew through Mount's Bay on 5th while off the north coast, in Carbis Bay, three Balearic Shearwaters were noted off St. Ives Island on 3rd with a single there on 7th. One more was also seen this week, from Ballycotton (Co. Cork) on 5th.
Two different Grey Phalaropes were discovered on 7th; the first was noted on the sea off Hengistbury Head (Dorset) with another following along soon afterwards on the expansive waters of Abberton Reservoir (Essex).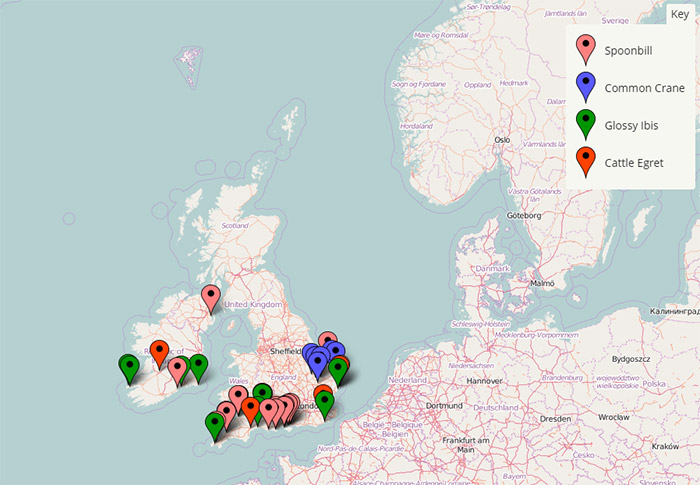 Glossy Ibis numbers sneaked in to double figures again this week ~ but only just. Four of the ten seen were logged around southwest England; two in Devon, one in the north (at Wrafton from 4th-9th) and one still in the far east (at Seaton from 4th-7th) with singles remaining on the Somerset Levels all week and showing well on Marazion Marsh (Cornwall) to 9th.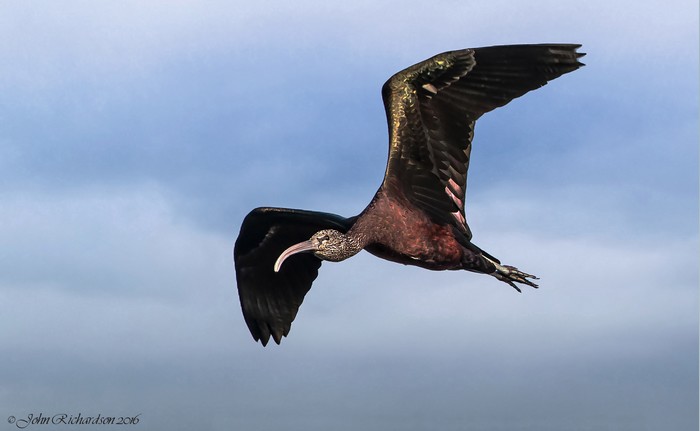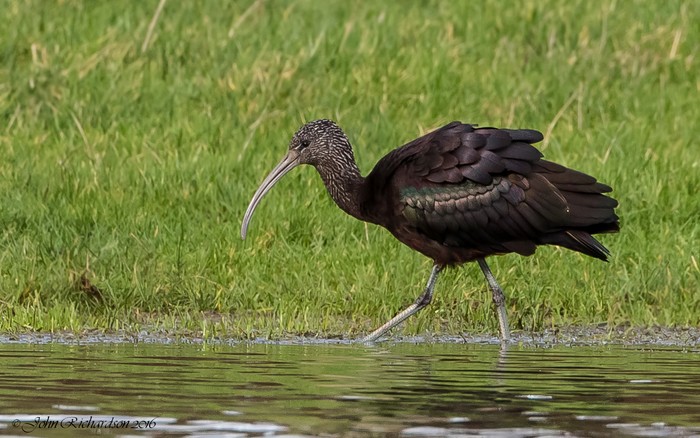 Four more were seen in Ireland, with two singles in Kerry (at Gallarus on 3rd and near Dingle on 5th) and further singletons near Bunmahon (Co. Waterford) from 6th-7th and again at Tacumshin (Co. Wexford) on 7th. Rounding things off, two further English birds which lingered at Hollesley Marshes RSPB (Suffolk) to 7th and Pett Level (East Sussex) through to 9th.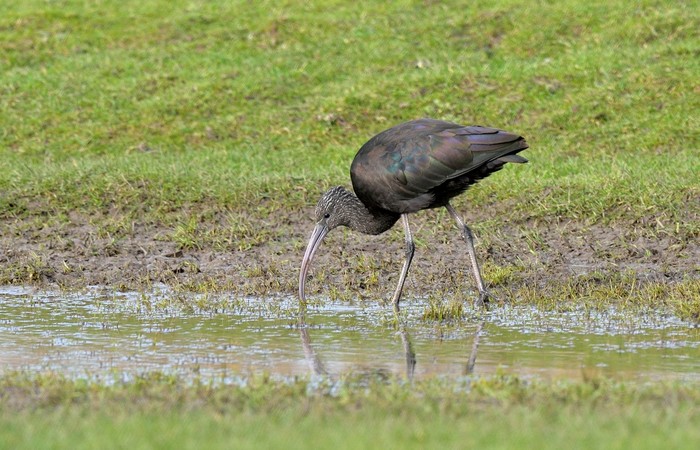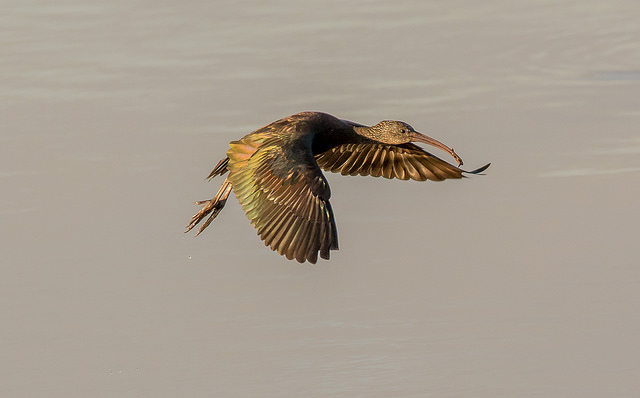 Back in Suffolk, the recently arrived Cattle Egret remained around the Iken area through to 8th at least and was one of four birds seen through the past seven days. New was a one-day visitor to Biddenham (Kent) on 6th and Westhay (Somerset) on 7th while in Ireland, last week's bird in the Groody Valley, near Limerick remained through to 6th at least.
There were plenty of Spoonbills spread across the south coast this week; 14 were at Arne RSPB (Dorset) on 7th with two more in the same county at Lodmoor RSPB to the same date. Next door in Hampshire, three headed over Titchfield Haven HWT on 3rd, with five at Pennington Marshes on 7th (with perhaps one of these close by at Keyhaven). In north Devon, half a dozen Spoonbills remained at Wrafton to 6th while further along the north coast was one on the Camel Estuary (Cornwall) on 4th with the west of the county still holding on to the wintering bird on the Hayle through the week.
In East Anglia, four birds were at North Warren RSPB (Suffolk) through to 7th and one was in north Norfolk, at Warham Greens on 4th. Across in Ireland, the Cunnigar flock was on five this week (seen on 6th) with the single again at Castle Espie WWT (Co. Down) on 6th-7th.
Swiftly moving back in to East Anglia for all this week's records of Common Crane ~ half a dozen flew west, then south over Honingham on 3rd and two were seen over Norwich city centre on 5th. Up to nine birds were around the Lakenheath Fen RSPB reserve (Suffolk) on 4th and over the border in Cambridgeshire, one was seen at Eldernell on 3rd with two present on 9th.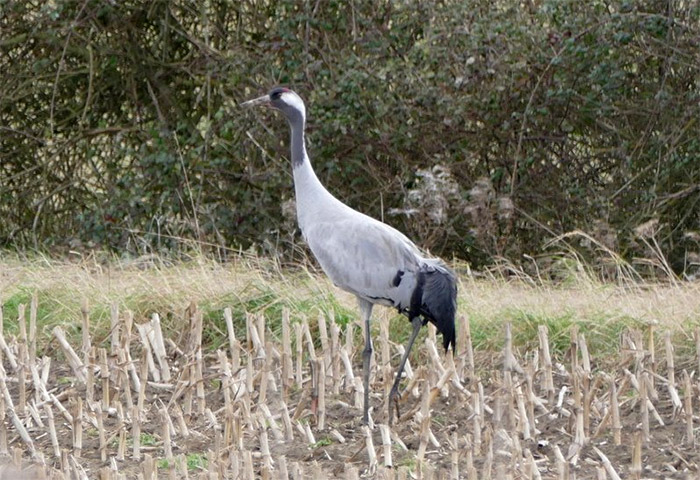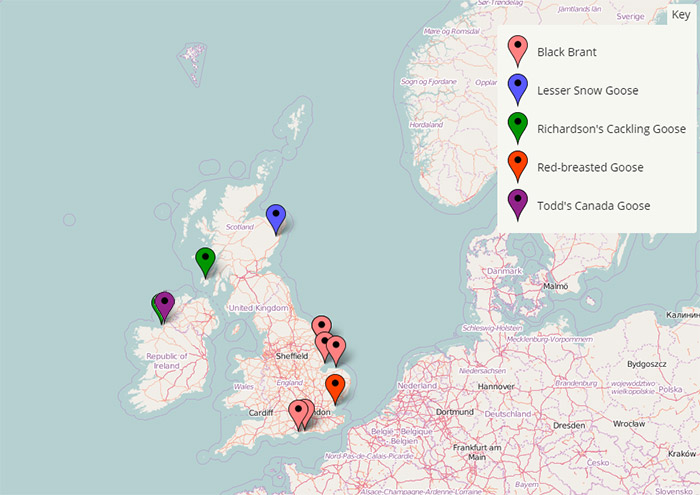 An adult Red-breasted Goose found amongst the Dark-bellied Brents at Dengie (Essex) on 3rd was surely the bird seen at the same site on January 13th (and then Foulness on 17th). You'd like to think that this was a "real one" and not one of the feral birds from Suffolk (given the carrier species, its probably fine) and will be the 1st in Essex for four years, when a returning bird was seen around the Bradwell-on-Sea to Frinton-on-Sea area of the county in February 2012.
Sligo's goose fields at Ballintemple held on to both the Richardson's Cackling Goose and the Todd's Canada Goose through to 6th while in Argyll & Bute, on Islay, the second hutchinsii of the week was in amongst the Barnacle Geese at Bridgend on 7th.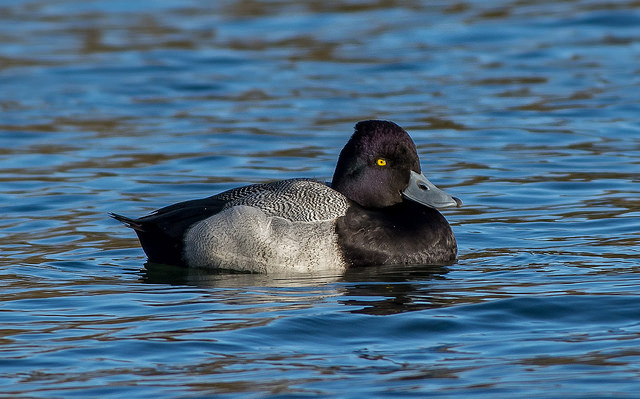 Aberdeenshire's family quartet of an intermediate adult and three first-winter Lesser Snow Geese were seen leaving the Loch of Skene roost on 4th and around Drumoak later the same day (with at least two still in place to 8th). Another intermediate Lesser Snow in Scotland was seen at the West Freugh Airfield (Dumfries & Galloway) from 3rd-8th while a second in the county was seen near Caerlaverock on 7th-8th.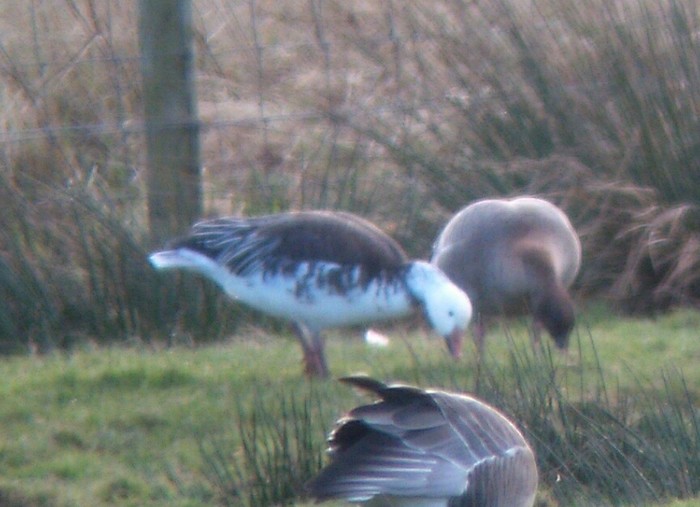 Three sets of two Black Brants were reported this week ~ one duo was alongside the Dengie Red-breasted Goose on 4th with further birds on 5th seen at Gosport (Hampshire) and also still at Spurn (East Yorkshire). Three further single Brants were seen around the country; at Stiffkey (Norfolk) on 3rd, around Croft and Gibraltar Point NNR (Lincolnshire) on 4th-5th and Chichester (West Sussex) on 6th and again on 9th.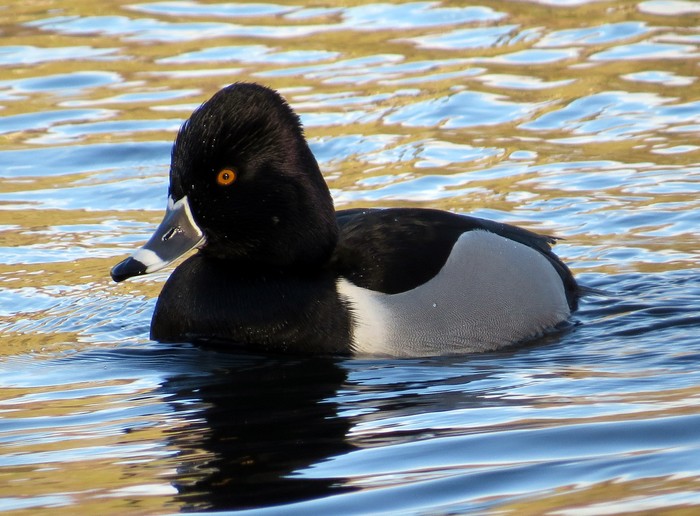 New this week was a drake Lesser Scaup in Belfast Bay (Co. Antrim) from 6th-8th ~ the first record for the Irish county since 2005 and just the third on all. The other two (also both drakes) were more familiar individuals ~ the regular drakes lingering on Glamorgan's Cosmeston Lakes CP to 4th and Cornwall's Dozmary Pool to 9th. p>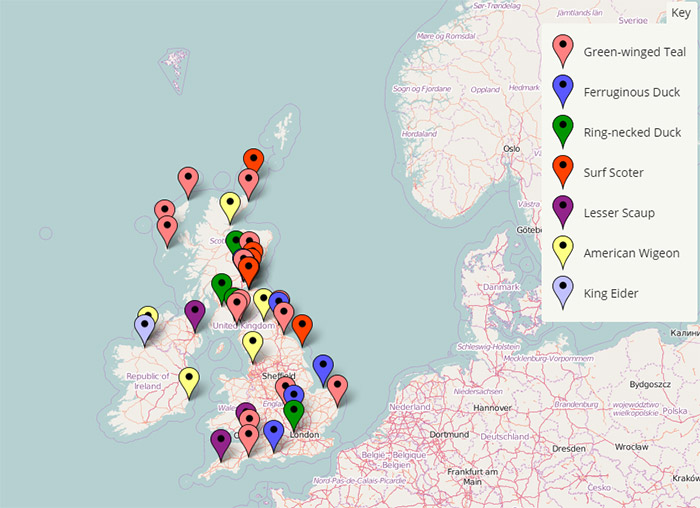 Only four Ring-necked Ducks (all of them drakes) made the news over the past few days, three of them in Scotland; in Ayrshire one was still at Trabboch from 3rd-6th, one popped up again on Milton Loch (Dumfries & Galloway) on 6th with the male in Perth & Kinross, remained near Pitlochry until 9th. A lone English remained at Bray GPs (Berkshire) to 9th.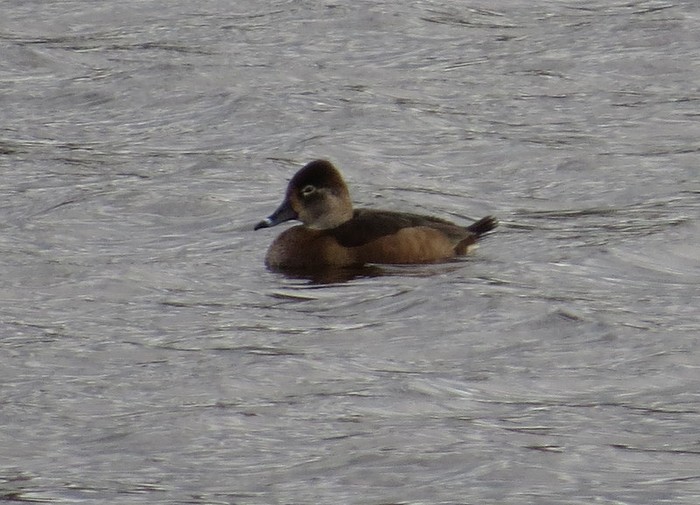 The popular female Ferruginous Duck was on the lake at Holkham Park throughout the week while three drakes included a new bird in Buckinghamshire, at Caldecotte from 4th-9th (the first in the county for four years) with others still at Blashford Lakes HWT (Hampshire) and in the captive pens at Washington WWT (Co. Durham), both to 7th.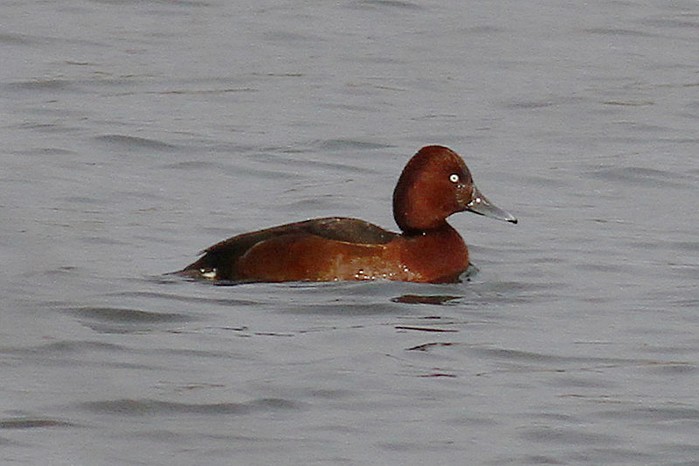 Ireland hosted two of the week's half dozen drake American Wigeons, the long-staying bird still on the Drowes River on the border of Leitrim and Donegal on 3rd with another at Cahore (Co. Wexford) on 6th. One Scottish bird was noted, still at Tain (Highland) through to 7th while English birds were at Hesketh Out Marsh RSPB (Lancashire) on 6th-7th, at Grindon Lough (Northumberland) from 4th-9th and still in Somerset, at Steart WWT to 5th.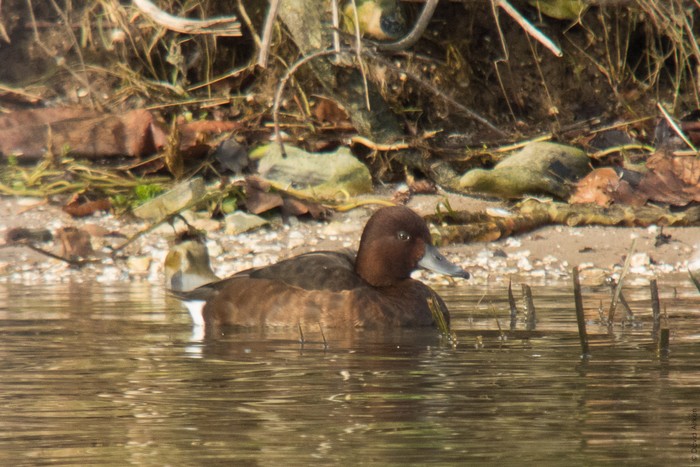 The new review week began on 3rd with seven Green-winged Teals reported; in Scotland, single drakes were at Caerlaverock (Dumfries & Galloway), Vane Farm RSPB (Perth & Kinross) and on South Uist's Loch Bee. A new English bird was found at Daventry Reservoir CP (Northamptonshire) while recent regulars stayed at Boldon Flats (Co. Durham), Seaton (Devon) and also in Suffolk, where the nasal-saddled bird trapped in Portugal in January 2015 remained throughout the week (this bird was given its appendage at the very same site, at São Jacinto, as the Welsh Lesser Scaup of the winter of 2014/'15).
Additional Green-winged Teals followed this week in Somerset at Steart WWT, along the river at Wick (Highland) and at Loch Stiapabhat, Lewis (Outer Hebrides) on 4th, Loch of Kinnordy RSPB (Angus) on 5th, Saltholme RSPB (Cleveland) and (still) on Loch Sandary, North Uist (the 3rd of the week for the Hebs) on 6th with the 15th for the week was found at Mersehead RSPB (Dumfries & Galloway) on 8th.
No surprises where Surf Scoters were concerned ~ the first-winter drake remained off Filey (North Yorkshire) to 8th at least, Scottish mainland adult males lingered in and around the Musselburgh and Joppa area of Lothian and Fife's Largo Bay through the week and another drake was at Rerwick, Mainland (Orkney) to 4th. The week's second first-winter drake reappeared off Kinshaldy (Fife) on 9th. Sweeping swiftly back to Largo Bay ~ the female King Eider there on 3rd was the week's only royal representative.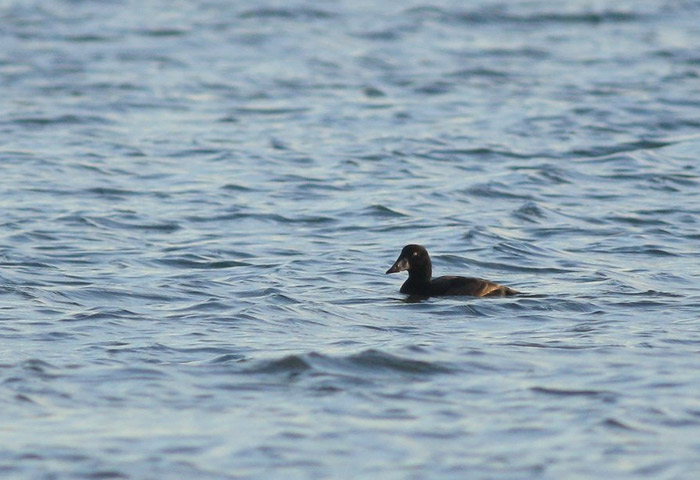 Almost nudging in to the headline makers this week was the quite exceptional discovery of a Long-billed Dowitcher at the Wanlip Meadows LRWT reserve on 5th ~ firmed up on 6th as not just the dowitcher it had been reported as, but as the second-ever Long-billed for Leicestershire in to the bargain.
Early morning local listers had to sharp about it though ~ the bird heading away by 0815 before being relocated later in the afternoon on the North Lake. Fortunately, the bird remained in to the following day and on to 9th ~ the only other county bird was a one-day adult in August 2005 at Rutland Water.
More predictable was the recurring presence of the long-staying wintering first-winter Long-billed Dowitcher that was still on Northumberland's Cresswell Pond NWT reserve until 9th.
After the hullabaloo concerning Cork's mega gull began to fade in the second week of January, there's been not one whiff of news of the wintering young Spotted Sandpiper until the weekend of 6th & 7th February ~ the bird still in place in and around Pilmore Strand.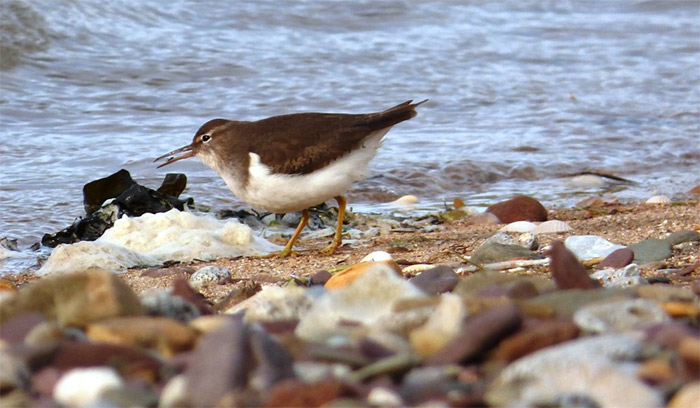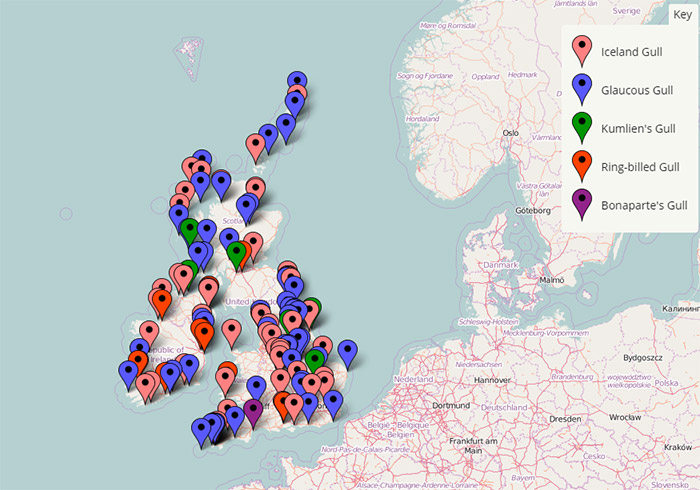 Normal service has been restored on the Bonaparte's Gull front ~ just the Dawlish Warren bird on offer this week, seen on 5th and again on 7th.
Fewer Ring-billed Gulls were up for grabs this week ~ down from 28 last week to 15 over the past seven days. In Ireland, 11 birds were split across seven counties; three adults were in and around Dublin, including two on 5th, with at least two (probably three) in Kerry (an adult at Blennerville on 4th and an adult and second-winter at Tralee Bay Wetlands on 6th) while singles adults were seen through the week in Antrim (at Carrickfergus), Wick (at Bray), Wexford (at Hook Head) and Cork (at Cuskinny Marsh) while a second-winter was found in Sligo's Doorly Park on 7th.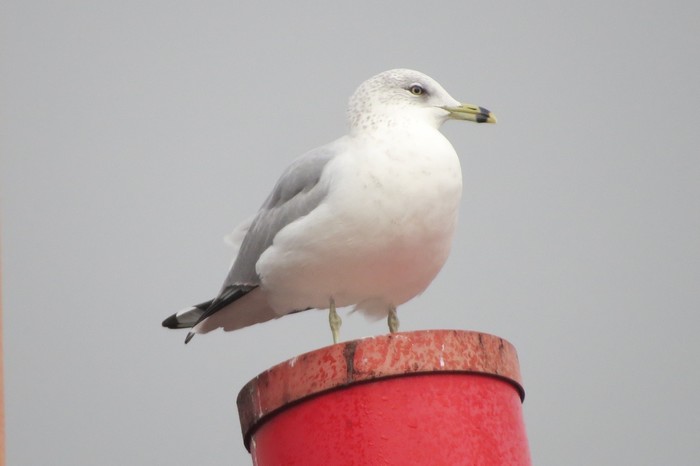 Single adult Ring-bills were in Wales (again at Llys-y-Fran reservoir in Pembrokshire on 3rd) and Scotland (popping in to Strathclyde Loch in Clyde on 8th) while English birds were the adult at Blashford Lakes HWT (Hampshire) on 5th and again on 7th while Cornwall's first-winter was around Sancreed and Drift throughout the week.
Numbers of Glaucous Gulls were almost bang on where they wwere last week, 74 (compared to 75 seven days ago). English counties recorded 36 birds in all, with 21 for Scotland, 16 in Ireland and a lone bird making up the numbers for Wales.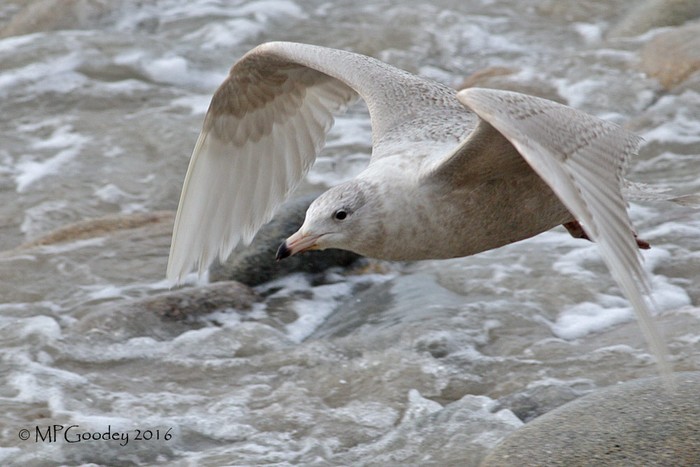 Killybegs came out on top with five birds around the Doengal gulling hotspot on 7th while Marazion managed four birds (an adult and three juveniles) on 5th with four juveniles at Rufforth on 9th. Shetland and the Outer Hebrides had an even 6:6 split of 12 birds while County Cork managed four birds from Ireland's overall tally.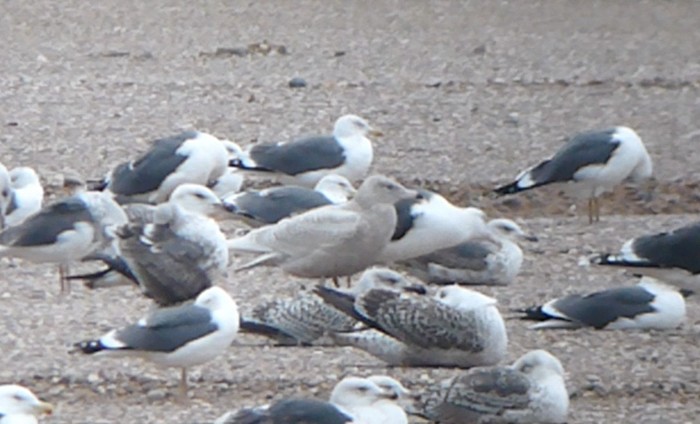 Iceland Gull numbers, in contrast to their bigger white-wing cousins, saw numbers rise a touch, up to at least 72 logged this week; 28 in England, 24 in Ireland, 16 in Scotland and three in Wales. Killybegs topped the tables here too ~ seven seen there on 7th (out of a total of 11 in all for Donegal) while at least five were noted around the Outer Hebrides and four appeared around Northumberland.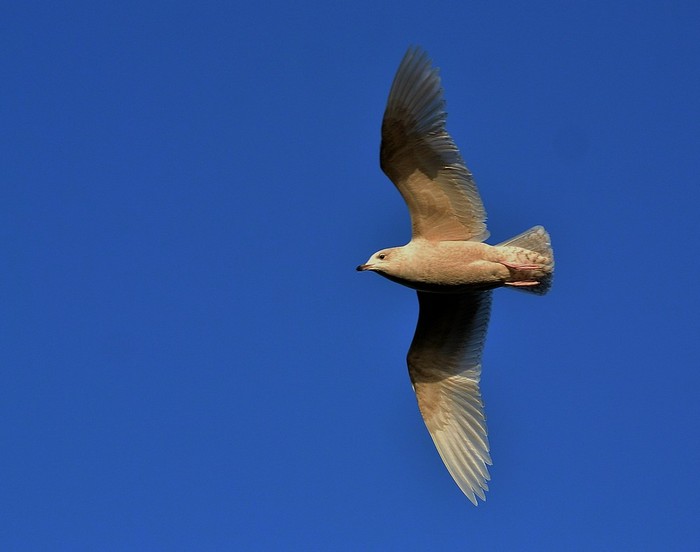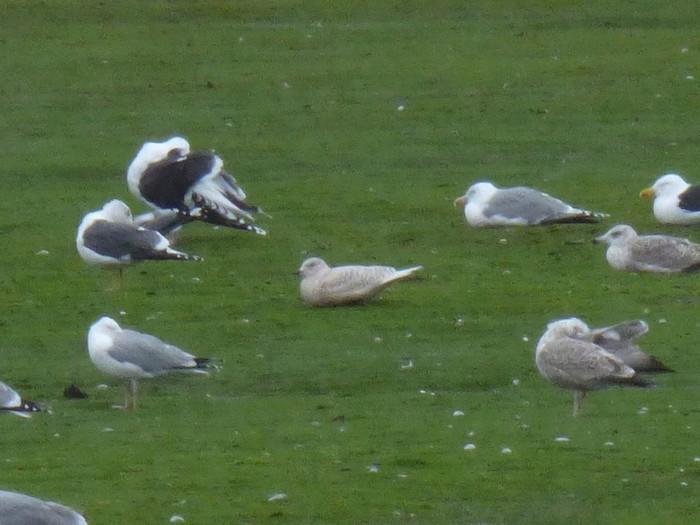 Two Kumlien's Gulls headed in to the Anglers CP roost in West Yorkshire on 4th (an adult and a juvenile) with both birds appearing in the same area the following day. Juveniles were seen again at Fen Drayton Lakes RSPB (Cambridgeshire) on 6th and at Crossapol (Argyll & Bute) on 8th while an adult was new to Donegal on 6th, found at Greencastle.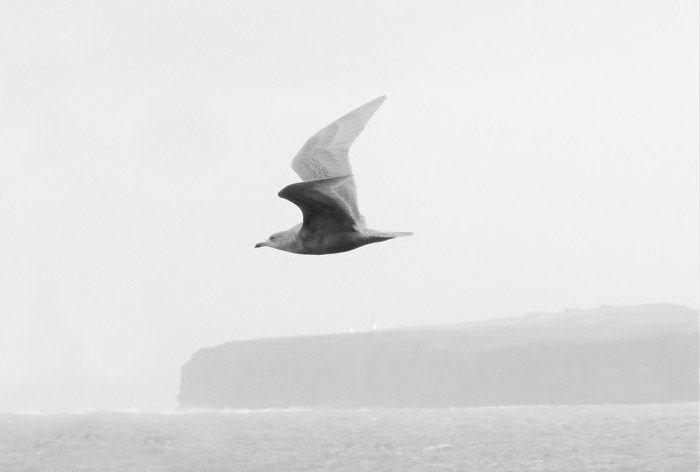 It would appear that there've been two white Gyrs around the Outer Hebrides of late ~ the start of the new review week brought news of a bird around the northern tip of Lewis on February 1st while the long-staying (wintering) bird on South Uist remained around Ardvule and Bornish through to at least 6th.
(Another white Gyr was also reported belatedly from the rocks near Sennen Cove in Cornwall on January 31st, a coastline that's no stranger to these gorgeous ermine-clad executioners.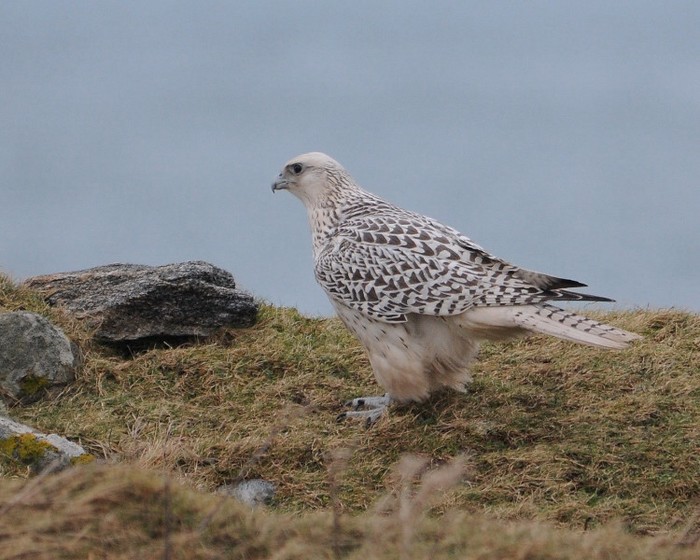 Some familiar faces remain amongst the Rough-legged Buzzards records this week; the two wintering youngsters remained around the back end of Choseley (Norfolk) at the start and end of the latest review period while the confiding winterer remained at Holland Haven (Essex) throughout the week and another was still around Shetland Mainland, at Sullom on 7th.
Back in Norfolk, singles in the east of the county were reported froM East Somerton on 3rd and from the Waveney Forest on 6th while another was reported on the north coast at Holkham on 5th.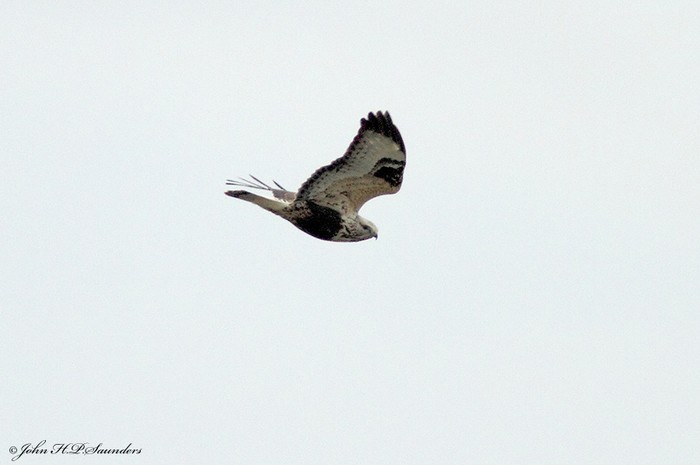 The new week began with the reappearance of the trio of Penduline Tits again at Hampshire's Titchfield Haven NNR on 3rd ~ the birds have been in the county since December ~ and the same date of 3rd saw the continuing presence of the two males in Gloucestershire, still at Horsebere Flood Alleviation Pool, near Brockworth (where they stayed throughout the week).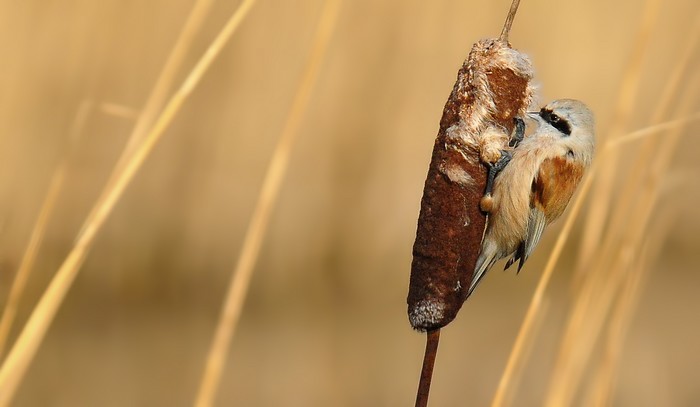 Two new Penduline Tits were a super find at Saltholme RSPB (Cleveland) on 5th where they remained until 7th (with one reported on 8th) ~ these are the first Cleveland birds since two spent 18 days in around Stockton-on-Tees and Dorman's Pool in the early spring of 2006. The only other records came in the 90's ~ in May 1993 and July 1992.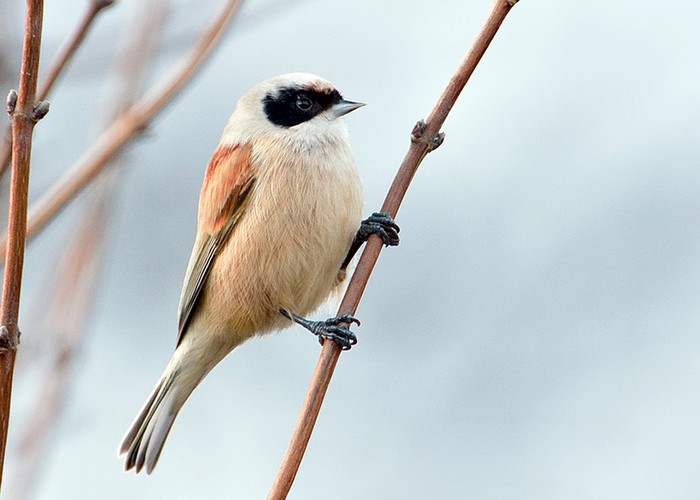 Cornwall hosted four over-wintering Yellow-browed Warblers this week; still at Ponsanooth on 3rd and also discovered at Nanjizal and St. Levan on 4th and around the boating lake at Helston on 8th. One more was seen elsewhere in England ~ remaining at Eastleigh (Hampshire) to 7th.
Other wintering bits & bobs included the wintering Hoopoe at Wall Heath in Staffordshire through to 9th and Richard's Pipits again at Shell Ness, on the Isle of Sheppey (Kent) on 8th with two loitering out on Flamborough Head (East Yorkshire) all week long.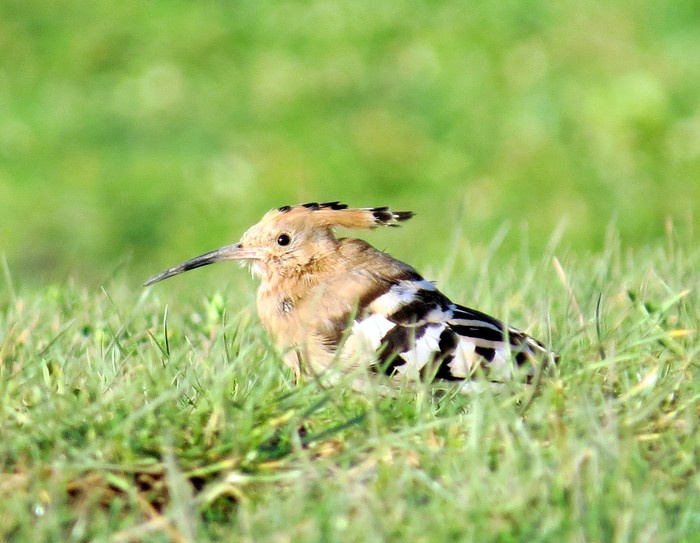 Up to three Great Grey Shrikes still found themselves under scrutiny in the New Forest through the early part of the week ~ making up part of the total of 13 birds in all this week.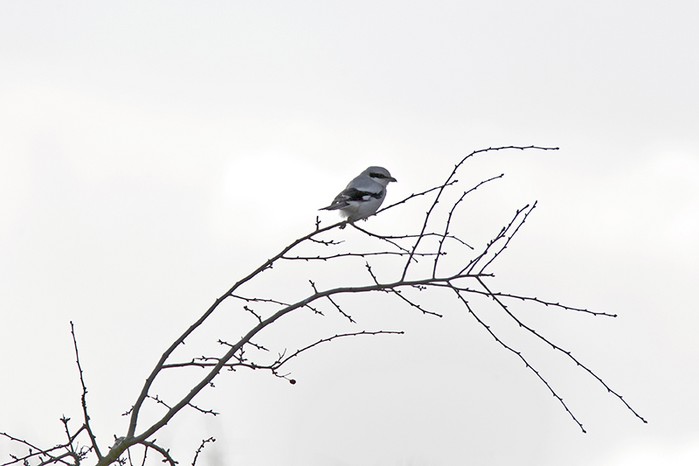 Two were around Surrey's Thursley Common on 4th and two were seen in Gloucestershire, in the Forest of Dean (at Crabtree Hill) throughout the week and Frampton-on-Severn on 4th-5th. Elsewhere around the country were single birds on 4th in the Wareham Forest (Dorset), the Harwood Forest (Northumberland) and also at Alford (Aberdeenshire). Later in the week, the recent bird found in Essex was still at Heybridge Basin on 7th and the same date saw the reappearance of London's Edgware Great Grey Shrike ~ it was last seen on January 26th. The final one of the week was found at Henlow (Bedfordshire) on 9th.
The mean and miserly Waxwing winter continued to drift away this week ~ three single birds noted across the last seven days. One remained in gardens in Ipswich (Suffolk) to 3rd, another spent four days around Widdrington (Northumberland) from 6th while the Black Country saw the appearance of the last of the week on 8th.
Finally, to wrap things up, news that the 1w Coues's Arctic Redpoll remained at Birling Carrs (Northumberland) through until 8th at least ~ and rather fine it looked too.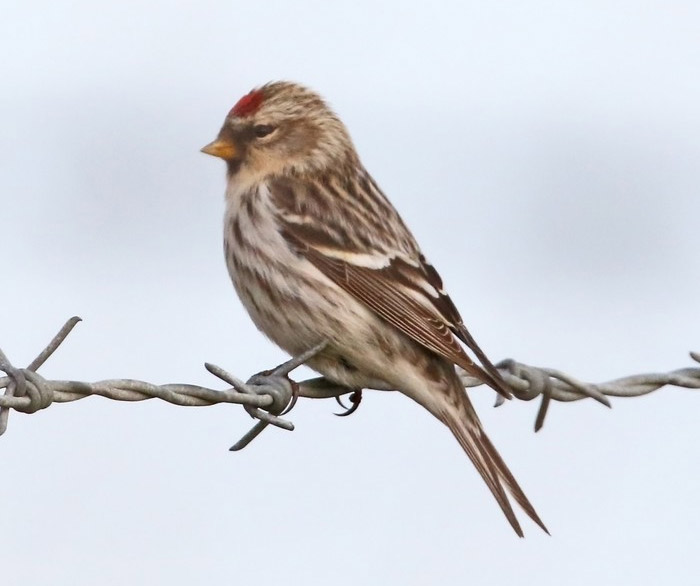 The coming week…
Despite what appears to be a more settled spell of weather ahead (certainly in the first two or three days of the new review period) it feels as though the endless flow of Atlantic storms seems determined to show no signs of letting up in terms of their influence and despite the time of year, it feels as though we still need to keep our eyes on the west by way of where our next quality bird may be coming from…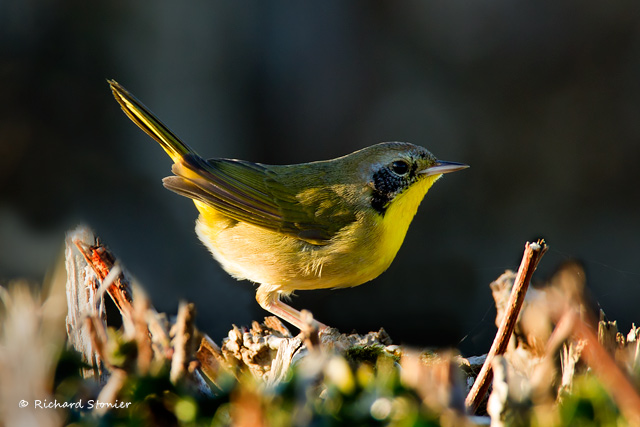 The first day of the new week ahead ~ February 10th ~ has thrown some genuine surprise Nearctic oddballs in to the mix; the wintering Welsh Common Yellowthroat near Newport in 2012 easily top of the class with the very same day seeing the appearance of a rather-less convincing Hooded Merganser in Kent ~ yes, yes, it was accepted as a Category A bird…but where's the quality control?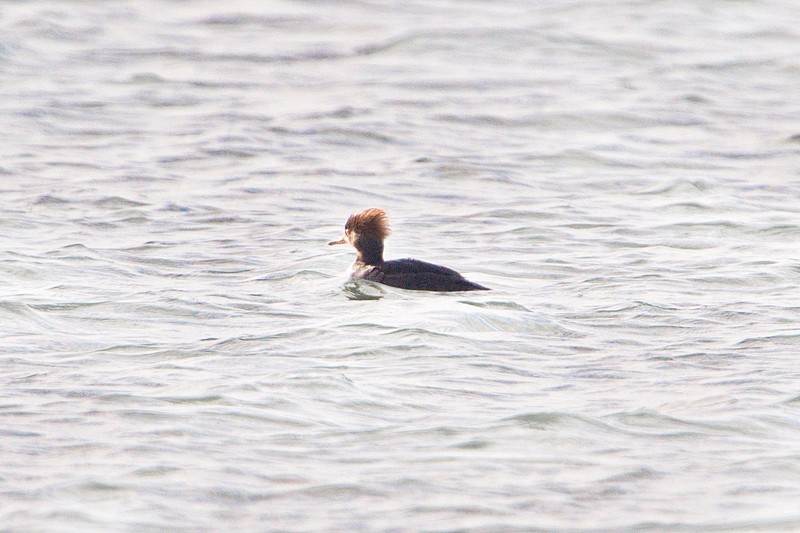 Well, some "quality control" seems to have been exercised in the last 24 hours ~ as a slight addendum to that last line, I've just noticed that the BBRC have binned the Bedfordshire Bufflehead (the one with a ring on it…) to Category E.
Does that mean that the Devon drake (also in possession of a metal ring) will also now find a way to Category E? No, of course it won't. Begs the question of what else was wrong with that Beds bird that made it a 100% certain plastic-fantatsic? Anyway…where were we?
February 12th has yielded an American Robin (for three weeks in Windsor Great Park in 1966) and a male Slate-coloured Junco in East Sussex, at Rye in 1972 but, truth be told, it seems more likely that if anything appears it'll be another American Herring Gull ~ 10 have been recorded historically across the week ahead, including four different birds on February 15th.
A burst of mild, warm, unseasonal southerlies could lob in a surprise or two ~ there was the Cork Great Spotted Cuckoo of February 15th 2009 (one of five records in the month in all) and the same date in 1998 saw a Red-rumped Swallow make skyfall on Scilly (one of six records for the month).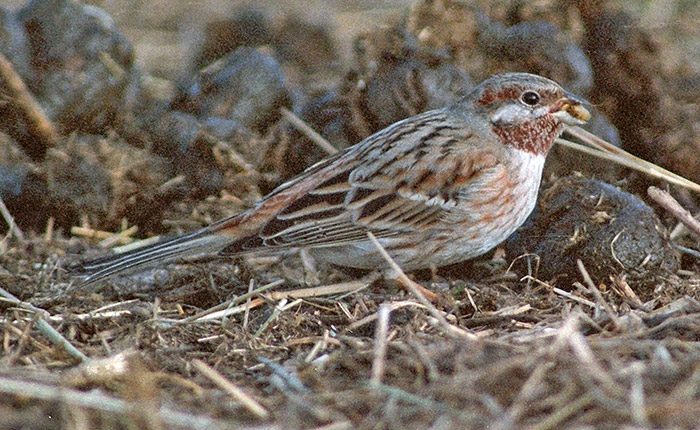 Given the contiuing presence in the Netherlands of a much-twitched Pine Bunting, it's a timely reminder that the hugely popular male on London's Dagenham Chase appeared this 24 years ago this week ~ and its 11 years and counting since the last British mainland (available) record…it's a big twitch in waiting.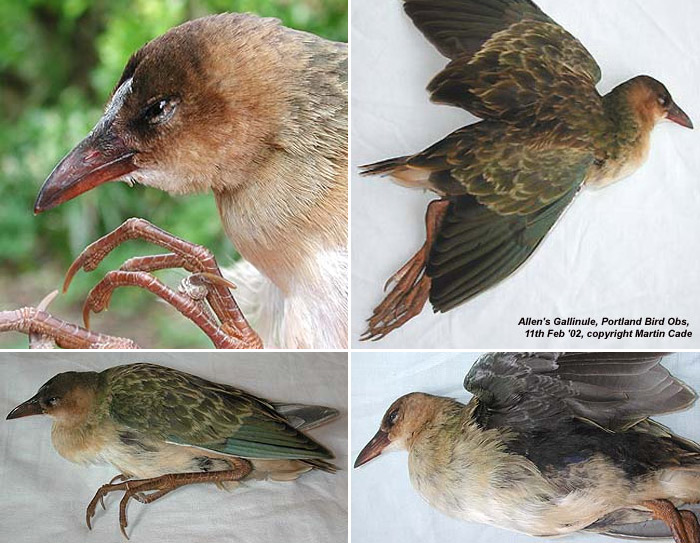 There's one final bird that has to be mentioned…Allen's Gallinule remains the most recent jaw-dropper out of the rares recorded in the seven days that we're heading towards ~ found moribund at Portland on February 2002; this species must remain firmly on the rares-radar; our birding compadres in Andalucia had the pleasure of a super-confiding juvenile last month and a second of the winter was taken by a Canarian moggy on Lanzarote less than a fortnight ago.
A suitable waft of southerlies is all we need…maybe…
Mark Golley
10 Feb 2016
Please note: we put a lot of time and effort into sourcing and and producing the images, videos and graphics for each roundup. Some of you (probably Apple users) may notice some photos etc. that appear to have incorrect captions. Please try refreshing the page as they are correcty captioned. If after a refresh they are still showing the incorrect captions then please email us
Special thanks this week to Dave Cottridge and Tim Loseby for supplying the archive shot of the Dagenham Pine Bunting. Thanks also to the rest of this week's contributors for their photos and videos.
Martin Casemore, Jonathan Farooqi, George Kinsman, Seamus Feeney, John Pringle, John Richardson, Robert Eade, Jeff Lack, Marcus Nash, John Nadin, Richard Powell, Brett Spencer, David Aitken, Mark Pearson, David Gray, Phil Birder, Kilian Kelly, Stephen Bolger, Martin Goodey, Jonathan Woodcock, Gerry O'Neill, Gaz Robinson, Tony Davis, John Kemp, John Saunders, Jack Bucknall, Derek Lees, Andrew Brown, Peter Williams, Peter Fawcett, Richard Stonier, Paul Rowe, Martin Cade / Portland Bird Observatory.