Weekly round-up: 17 - 23 Jun 2015
At a glance
Scilly's Cedar Waxwing is finally unblocked
Whalsay lands Shetland's fourth Eyebrowed Thrush
The singing male Cretzschmar's Bunting remains on Bardsey
The West Sussex Hudsonian Whimbrel sticks around a while longer...
…as does the settled Greater Yellowlegs in Hampshire
It was a funny old week, this one, with the wind coming at us from every possible direction. Typically then that meant sunshine'n'showers for us all, with varying degrees of warmth while that all went on. Just your average British summer week then. Also average for the time of year was a relatively quiet week where the quantity of rare birds was concerned. The quality meanwhile was anything but...
With longest day now behind us, the nights are closing in. Winter, as they say, is coming. Is it still fair to say we're still enjoying the tail end of a deliciously prolonged and fruitful spring? Or are we now into the early knockings of autumn? Or the dog days of summer? Who, frankly, gives a damn – we've still got some corking birds to be going at and, when all's said and done, that's what matters in Rarity Round-Up Land.
Let's be having them...
Cedar Waxwing
First reported on 2nd June by a non-birder, and given credence by subsequent confirmed birds at Kilrush (Co.Clare) and on Tiree (Argyll), we could all have been forgiven for thinking that any self-respecting Cedar Waxwing on St Mary's (Scilly) would have long done a bunk by now. And yet, and yet... in the spring that just keeps on giving unexpected passerines it seems we can never write off a rarity until the fat junco sings.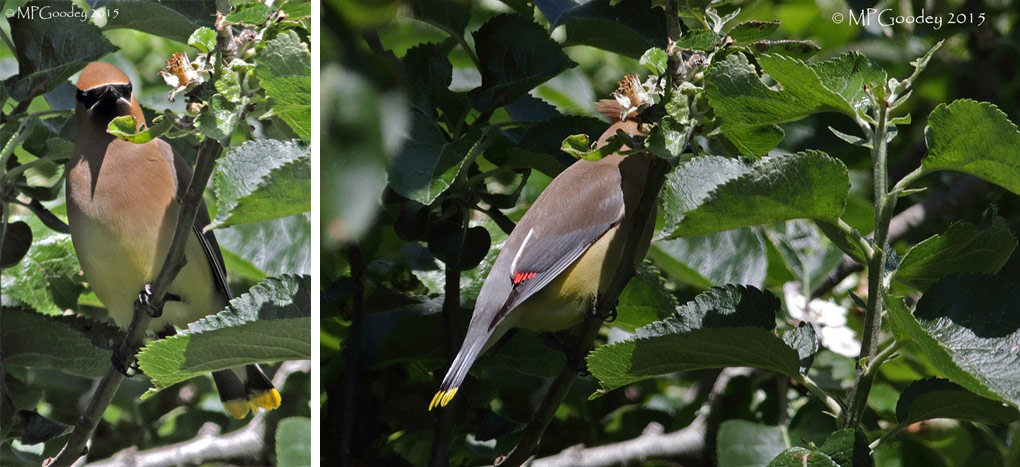 ...Around mid-day Grant Tucker, who lives 2 houses away drives past and seeing me, stops. "Have you got Will's phone number?" "Why?" "Well Maggie (Grant's wife) has just seen a bird from our kitchen window, she thinks it's a Waxwing". Drop cloth & squeegee and tell him this could be a biggy like the Great Blue Heron recently...
Read Nigel Hudson Cedar Waxwing account here
Long-staying individuals of Veery and Cretzschmar's Bunting have already been the exceptions that proved their respective species' short-stay rule, and it seems that this particular funky Bombycilla has been a-lurking in St Mary's subtropical depths all along. It's clearly very, very good at vanishing into the woodwork as, no sooner had the mega-alert chimed to confirm it was there on 19th, than Britain's fifth and England's second Cedar Waxwing vanished from sight once more.
It's been a truly remarkable spring for North American passerines, what with three Cedar Waxwings, a trio of Catharus thrush species and at least two singing Slate-coloured Juncos to show for itself thus far. Whatever next? Mention was made last week of Brown-headed Cowbird and, on current form, I don't think any of us would entirely be surprised by one on a British or Irish island sometime soon. That or a nice Nearctic sparrow of some description...
Cedar Waxwing in Britain and Ireland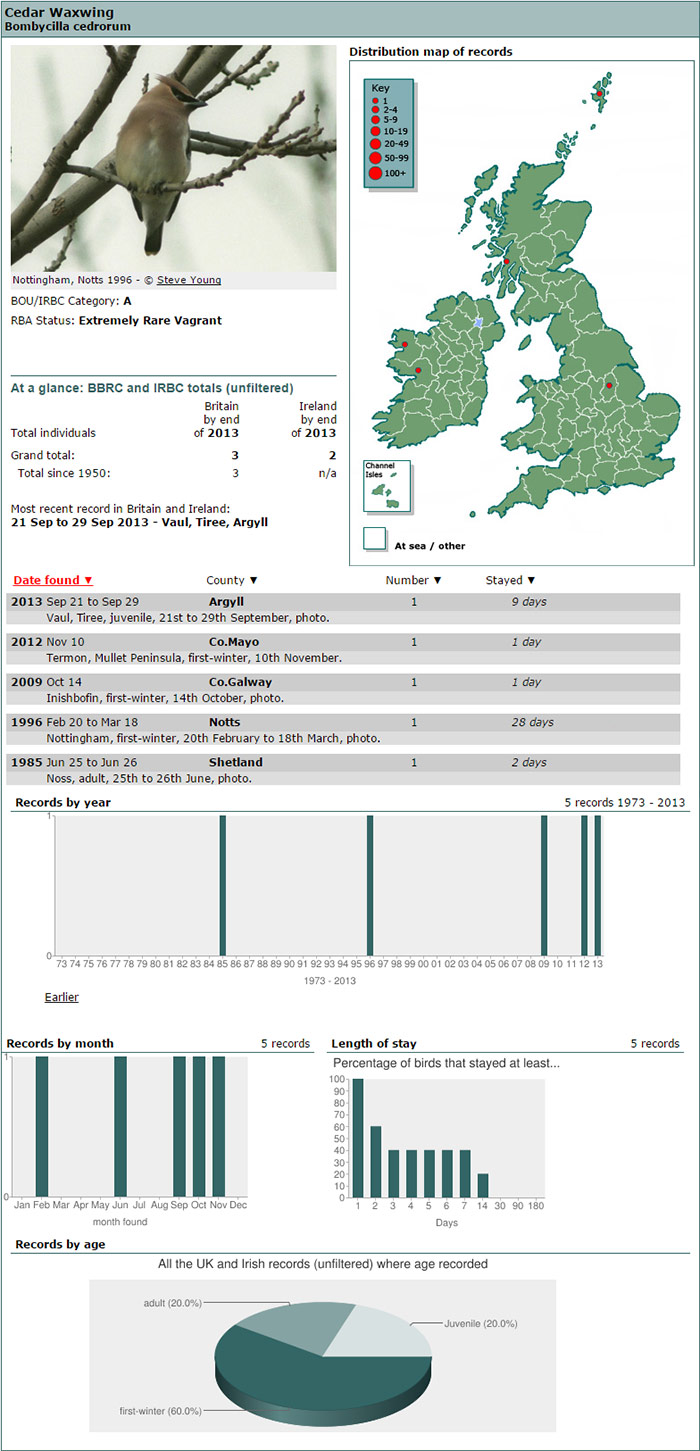 Eyebrowed Thrush
It was always going to happen sometime when I had the helm of the weekly witterings here – eventually I'd be involved in the heart of some Shetland rare bird goings on, and that's precisely what happened over the weekend.
I got a phone call from Lawrie Simpson, a non-birder friend on Whalsay mid morning on Sunday 21st – asking for an identification of a "thrush-sized bird with a white eyebrow". I asked if it had any colour on the flanks, and was told it was orangey. Erring on the side of caution, and even though there'd not been one on the isle for weeks, I said I thought it would probably be a Redwing... Lawrie said he was looking at a photograph taken of the bird by his neighbour Carolyn, and he didn't think it looked like a Redwing. I nonchalantly said I'd pop along to have a look at it...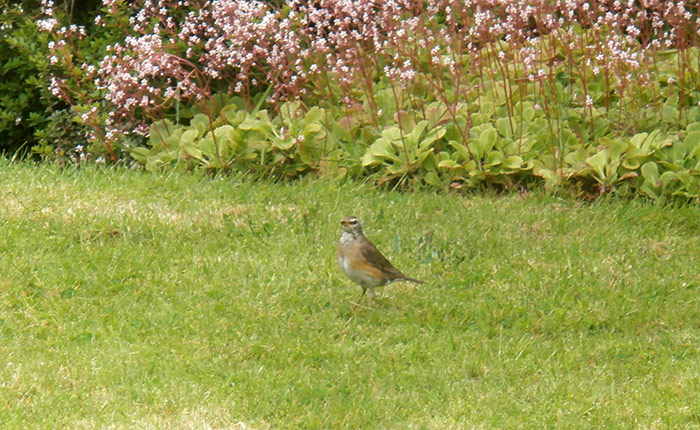 Ten minutes later and I was still expecting a Redwing when Carolyn pulled up the first of her photos on the back of her camera, only to be confronted with a perfectly lovely portrait of Whalsay's first ever Eyebrowed Thrush on Carolyn's lawn.
Cue profanity...
...and then a frantic phone call to one of the island's two other birders to break the good news that an Eyebrowed Thrush had spent three hours happily tootling around Carolyn's garden the previous day. And the less good news that it hadn't been back there so far this morning.
Hastily joined by John Lowrie Irvine and Brian Marshall, we split up to search the area; I was midway through breaking the news to RBA when a pale thrush flew up high past us – the phone call quickly terminated!
John Lowrie and I had all too little time to get onto the bird before it vanished over a nearby hilltop – an impression of a pale thrush with a plain brown back and a whitish underside with no spotting evident. Brian's view from further afield and further downhill was no more revealing. So we'd seen an interesting thrush - but had not had quite good enough a view to be certain of what we were dealing with – though to provide context, we've none of us recorded Redwing or Song Thrush on the isle for several weeks by this point in late June. Chances were this was the Eyebrowed - and we'd surely relocate it soon?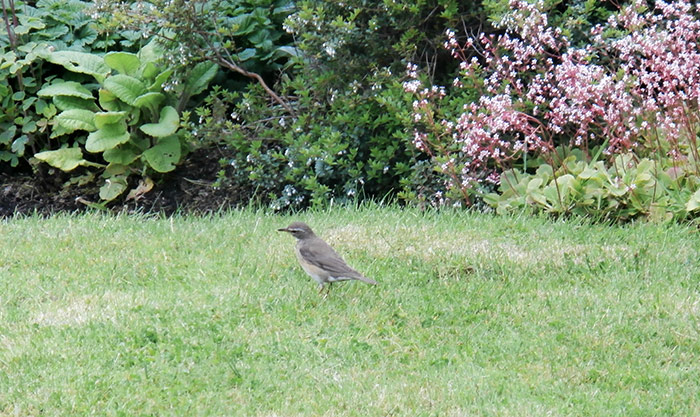 When we finally called it a day near 10pm we'd not had so much as a glimpse of any further thrushes bar one or two resident Blackbirds. It was almost unbearably cruel – perhaps better to have missed the bird altogether than to have an untickable view of what was probably it...
This was only Shetland's fourth record of Eyebrowed Thrush, and the first away from Fair Isle and Foula. Following last year's corking male on Orkney's North Ronaldsay this latest bird takes the British total to a modest 22 individuals – after the brief flurry of records on Scilly in the late 1980s and early 1990s this species has reverted to being a genuinely rare and difficult one to catch up with. Typically then, the Whalsay bird proved equally bothersome even for the island's resident birders...
But we'll finish with a huge thanks to Carolyn and Johnny Simpson for their gripping photos, and Anna and Lawrie Simpson for calling me to come and identify the bird (and for the restorative hot drinks!) – without these friendly folk this record would have slipped through the net altogether.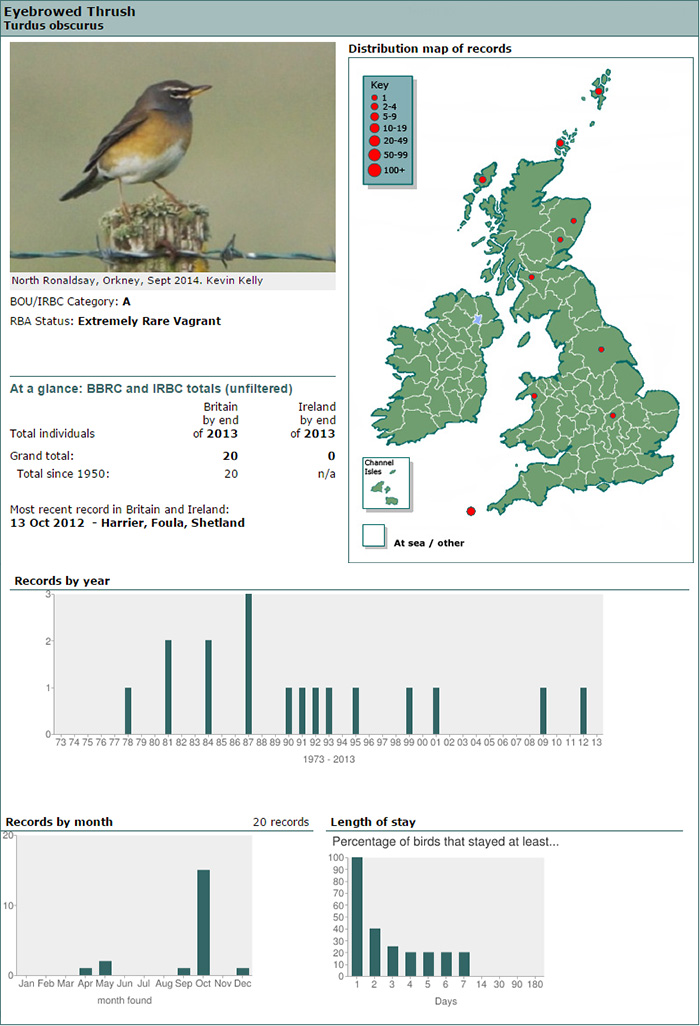 Cretzschmar's Bunting
Continuing the theme of pukka rarities in inaccessible places, the Cretzschmar's Bunting on Bardsey (Gwynedd) remained happily gorging itself on seed until 20th and, in so doing, equalled the previous longest stay for the species – the previous four records being, the first 11 day bird on Shetland aside, typically being around the three day mark...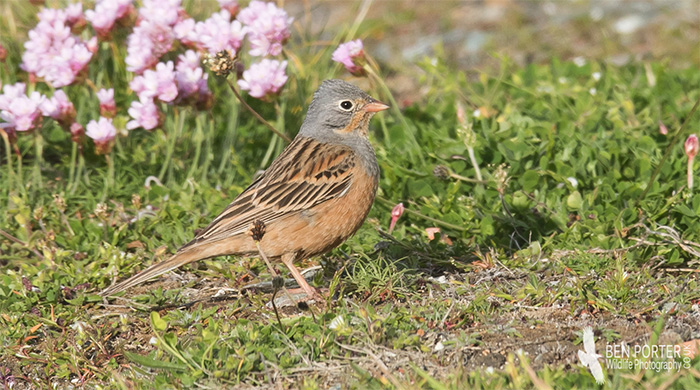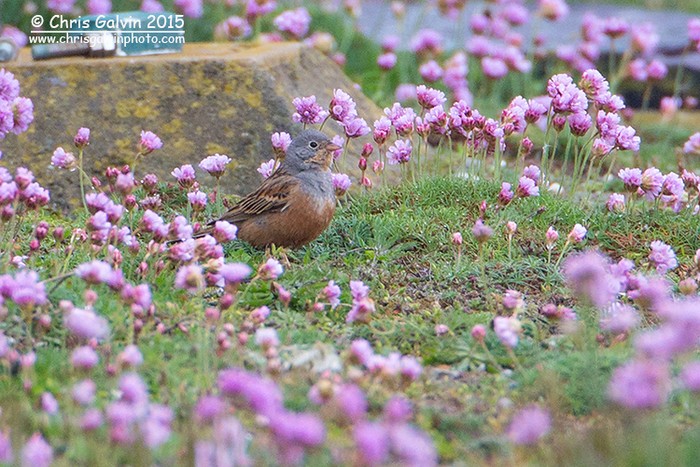 ...and hitherto solely in the far north. Granted Bardsey isn't as readily accessible as, say, Blakeney Point (cue hollow, rueful laughter from anyone who's ever tried to run out there) but nevertheless, it was a lot more readily doable for many than Orkney or Shetland, so this bird attracted a steady stream of admirers throughout its stay. If and when the first mainland record comes it'll doubtless attract many, many more pilgrims.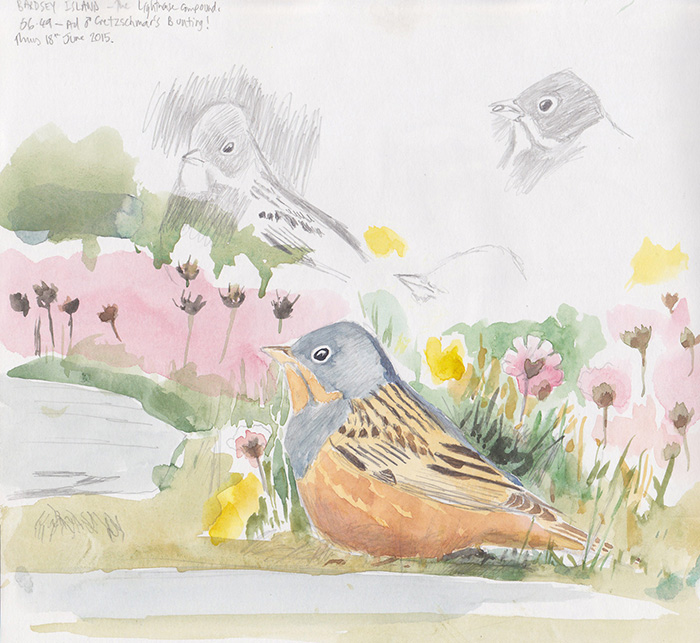 Hudsonian Whimbrel & Greater Yellowlegs & Terek Sandpiper
We'll finish the headlines with two stalwart waders - keeping the summering Great Yellowlegs in Hampshire's Titchfield Haven NNR south coast company all week long was the more newly arrived Hudsonian Whimbrel in West Sussex's Church Norton area. Meanwhile in Suffolk at Shingle Street on 22nd a possible contender for the latter species flew by but wasn't definitively nailed down.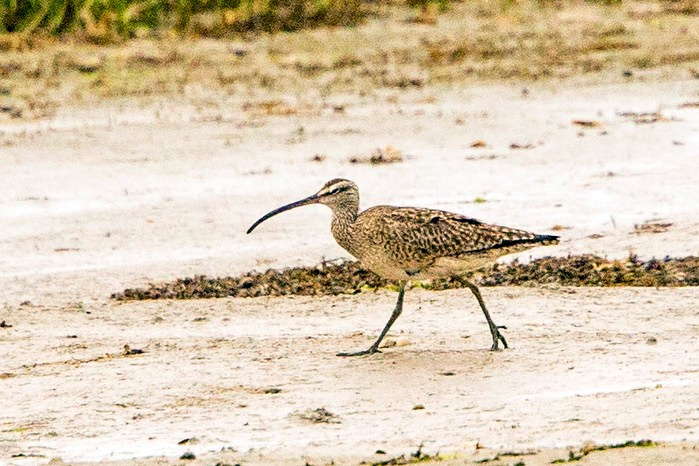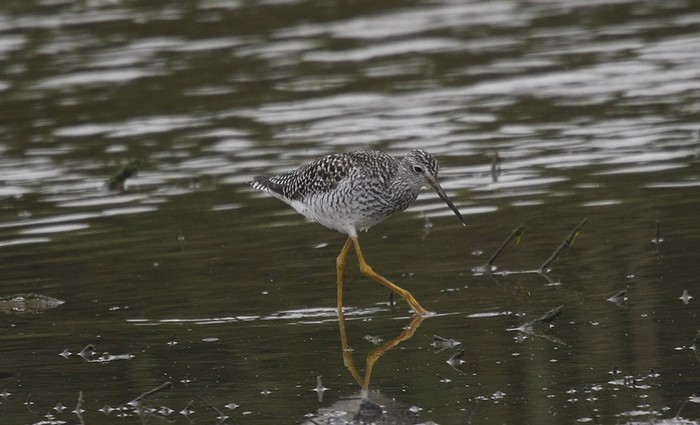 As if all that wader-tastic action weren't enough, birders paying homage to the West Sussex whimbrel could notch up a tasty double from 21st, as Church Norton simultaneously played host to a Terek Sandpiper. Niiiice. (And confidently predicted by my Norfolk based colleague in these columns only last week).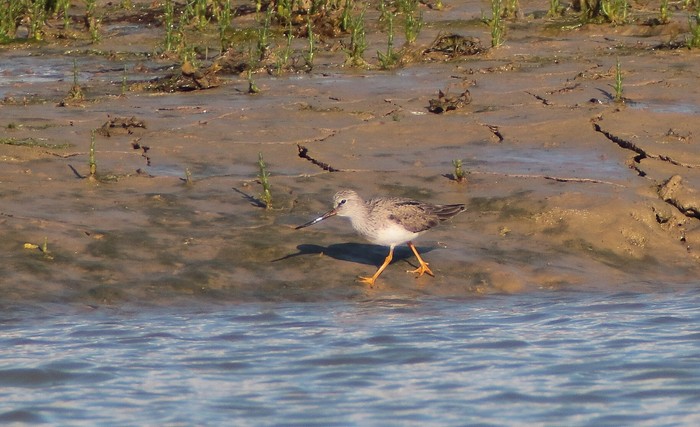 Pomarine Skuas were the sole preserve of Flamborough Head (East Yorkshire) this week with a mere flicker of activity offshore more or less daily: three on 17th, one on 19th, eight on 20th, five on 21st and at least four on 22nd and 23rd. One headed past Filey (North Yorkshire) on 23rd.
Even more desultory activity from those Long-tailed Skuas with two noted from Aird an Runair on North Uist (Western Isles) on 18th, and single records on 23rd past Whitburn Coastal Park (Co.Durham) and Newbiggin-by-the-Sea (Northumberland).
A single Balearic Shearwater passed Barna (Co.Galway) on 22nd.
In Shetland the summer-plumaged White-billed Diver remained near Eshaness on 17th; how often this bird's actually being looked for is a good question, and it's probably well-worth a look in the area for anyone who happens to be in Shetland in the coming days.
Just the one Black Stork to report this week, one seen over Kingswinford (West Midlands) on 20th. Similarly singular but considerably longer-staying was the Glossy Ibis again on 19th at Tramore (Co.Waterford).
Just squeaking (or barking) into another week was Suffolk's territorial male Little Bittern at Lakenheath Fen RSPB; still there on 17th.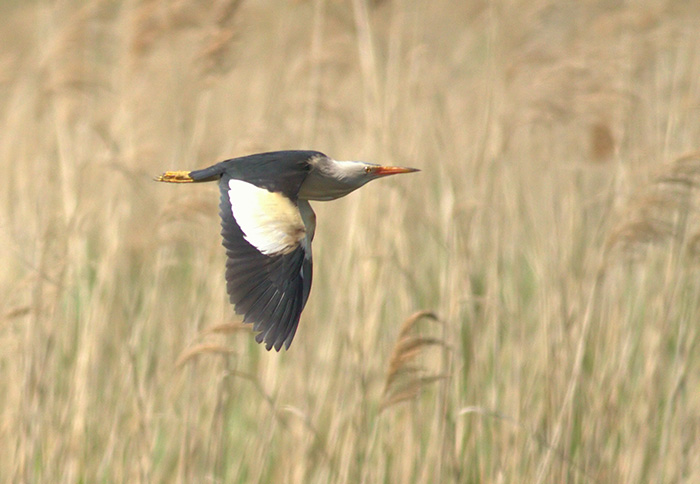 Cleveland's first Squacco Heron was a disappointingly short-lived affair at Saltholme RSPB on 18th – present in the late morning and through the afternoon it was a no-show the following day.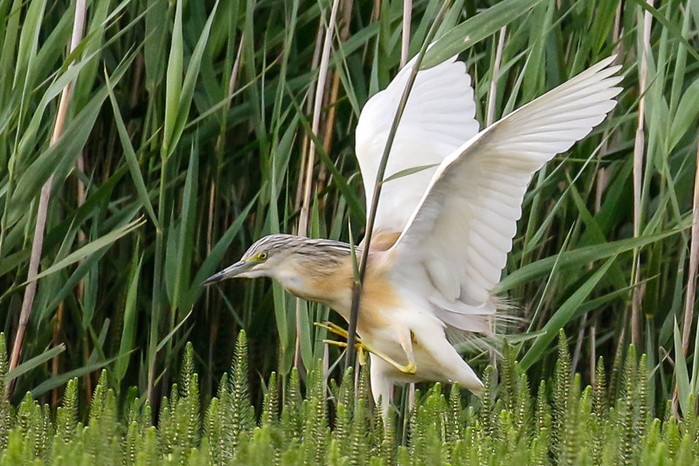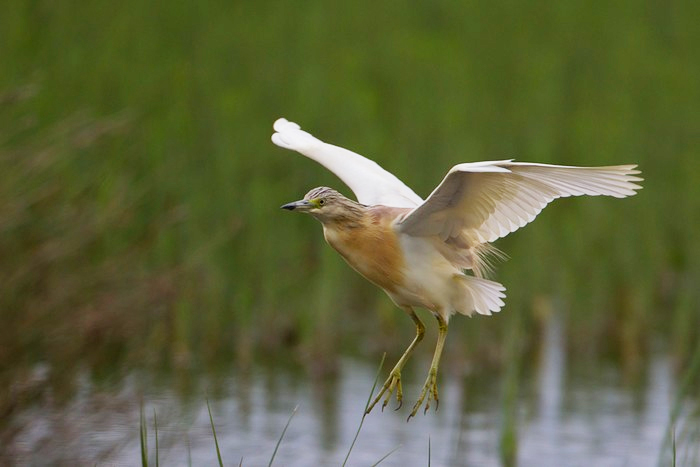 Somewhat more reliable were the week's two Purple Herons - the Scilly individual from last week continued to lob around the islands, being seen on St Mary's on 17th-18th and again on St Martin's on 20th; while in Wales a first-summer bird was at Kenfig NNR (Glamorgan) on 19th-23rd.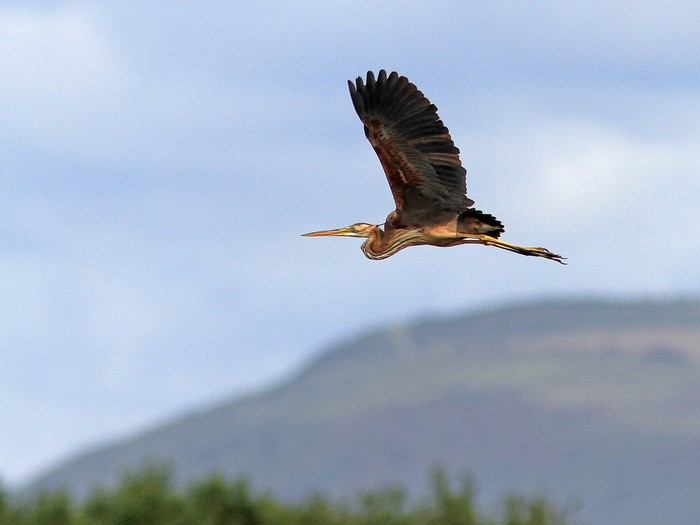 Somerset remained the centre of all things where Great White Egrets were concerned with a superb count of 18 birds at dawn on 18th at Ham Wall RSPB reserve with a mere 78 Little Egrets for company. What a sight that must have been... Paling into some insignificance compared to this largesse were other records this week – one at Leighton Moss (Lancashire) on 17th-23rd; four at Scotney GPs (Kent) on 18th, with two reported from Devon's Bowling Green Marsh on 18th also; three seen in Devon past Ilfracombe on 22nd; and in Ireland, one on Swords Estuary (Co.Dublin) on 17th and one again at Lough Beg (Co.Londonderry) on 22nd-23rd.
Once again Norfolk was the epicentre of Spoonbill action this week, with Cley in particular a daily certainty for the species, with the tally there peaking at 11 birds on 22nd; with 10 noted at Stiffkey that day also. One remained at Titchwell RSPB reserve on 17th-18th, with five past there on 20th. Salthouse accounted for a duo on 18th, with one remaining there on 19th-21st. Not a million miles away in Lincolnshire three birds were at Gibralter Point on 17th, with four there from 20th-23rd.
A single bird mooched around Cresswell Pond and East Chevington (Northumberland) on 17th-23rd; across the border in Scotland a duo were in Findhorn Bay (Moray) on 17th-22nd.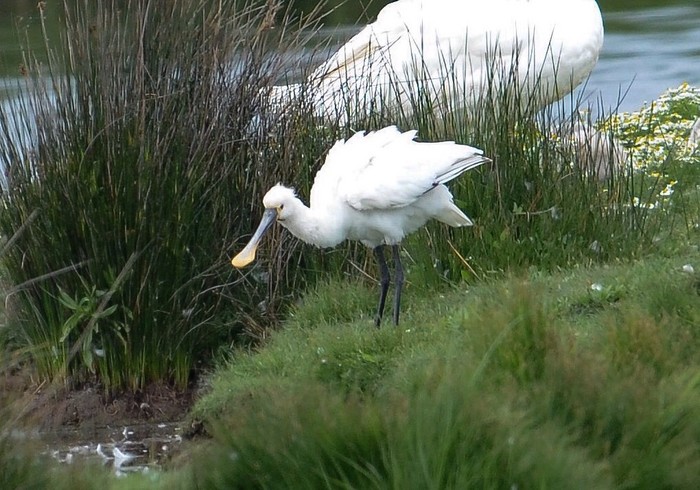 A quick run along the south coast will finish off this week's spatula-faces, starting in Kent where one was at Scotney GPs on 18th-23rd and three were noted at Sandwich Bay and Pegwell Bay on 21st and again at the latter site on 23rd. Two birds were again noted at Arne (Dorset) on 18th, and one was at Middlebere on 21st.
A scattering of Common Crane were to be had this week – starting on Scilly where the sub-adult remained lodged in the archipelago, on Annet on 18th-19th and Bryher on 21st. Two birds were again in Oxfordshire at Otmoor RSPB on 21st. One was seen at Cattawade Marsh (Suffolk) on 18th, with two noted at Hatfield Moors (South Yorkshire) on 22nd.
It grows ever quieter this week in the honkers'n'quackers quarters, with just a handful of records to distract us.
That said, the week was predominantly all about the American Wigeons, with four good birds recorded - on Scilly, the pair were noted once more on Tresco on 21st; the female remained in Aberdeenshire at Rigifa Pool until 21st, while a male was logged on the Western Isles at Loch Bee on South Uist on 19th. A further pair were reported at Sharpness (Gloucestershire) on 22nd, but matters clouded on 23rd with the news that they were probably Chiloe Wigeon type hybrids. Blee.
Last week's drake Ring-necked Duck remained in East Yorkshire at Blacktoft Sands RSPB reserve until 22nd with further Aythya variety coming from Glamorgan with the drake Lesser Scaup recorded once more in Cardiff Bay on 18th.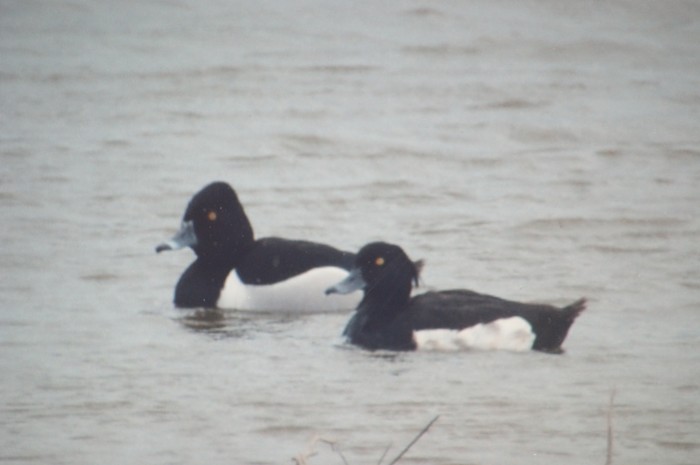 The drake King Eider remained dallying on Aberdeenshire's Ythan Estuary all week, while a second drake was reported from Moray in Spey Bay on 20th; on Unst (Shetland) the queen remained at Baltasound until 22nd.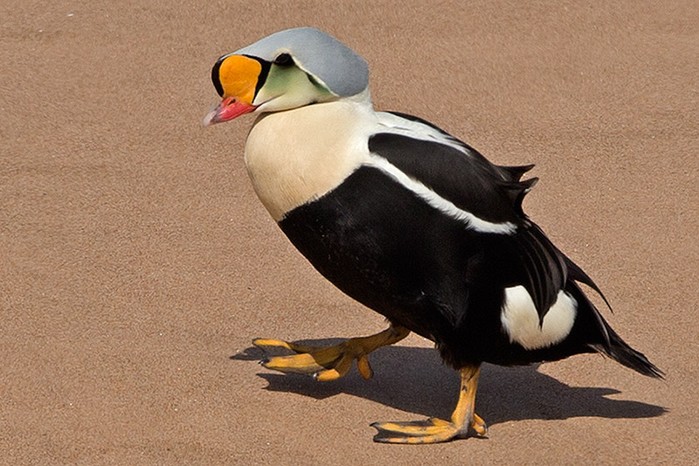 A drake Surf Scoter was the cherry on top of a heavy Common Scoter passage cake off Long Nab (North Yorkshire) in the morning of 23rd. Not long before numbers of these start to be reported off the Aberdeenshire coast... and who knows what else in the scoter line?
And finally, a goose to report – a Lesser Canada Goose was on Lewis at Loch Stiapavat (Western Isles) on 21st-22nd.
As noted in amidst the headliners, a Terek Sandpiper augmented the Hudsonian Whimbrel at Church Norton (West Sussex) beatifully on 21st-22nd.
Norfolk's adult White-rumped Sandpiper remained settled at Cley until 21st, while a further possible record came from Hickling Broad NWT earlier in the week – one was reported from here on 18th, while another possible sighting came in from Suffolk's Minsmere RSPB on 21st.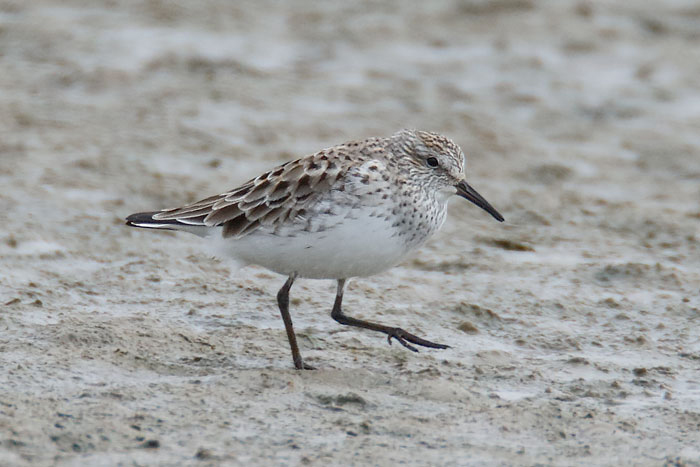 The spring's protracted series of Red-necked Phalarope records continued this week, albeit at a more genteel tempo than hitherto. The week began with one on Orkney's Papa Westray on 18th; thereafter, birds were logged on 20th at Leighton Moss RSPB (Lancashire), Old Moor RSPB (South Yorkshire) and Tarland (Aberdeenshire); on 21st at Frampton Marsh RSPB (Lincolnshire) and Grindon Lough (Northumberland); and on 22nd at Blacktoft Sands RSPB (East Yorkshire) and Mickle Mere (Suffolk), the latter bird remaining there until 23rd.
A tardy Temminck's Stint was noted at North Cave Wetlands YWT (East Yorkshire) on 18th; another late-moving individual was reported from Satlholme Pools RSPB (Cleveland) on 21st; and one was at Vane Farm RSPB (Perth & Kinross) on 23rd.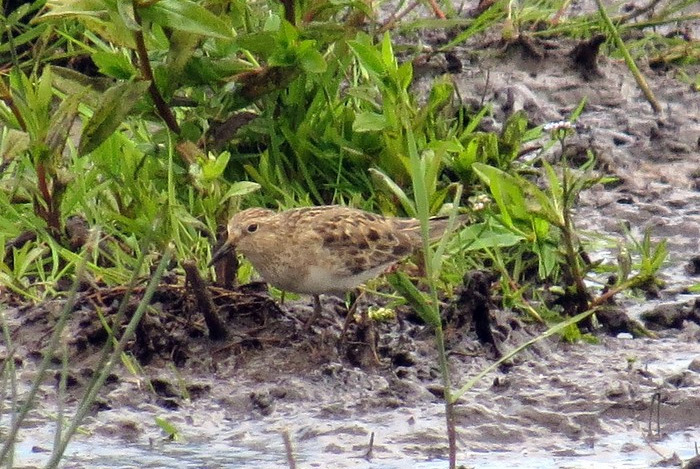 Another summer week, another trio of tasty American gulls to get our teeth (or in the case of one presumably delighted Great Skua, beak) into. Crazy days...
We'll kick off with the fine adult summer Franklin's Gull found at Lough Beg (Co.Londonderry) on 22nd-23rd – a county first, no less.
Kent landed an adult Bonaparte's Gull at the ever-lovely Oare Marshes on 20th-23rd; while out on St Kilda (Western Isles) last week's first-summer individual remained until 21st.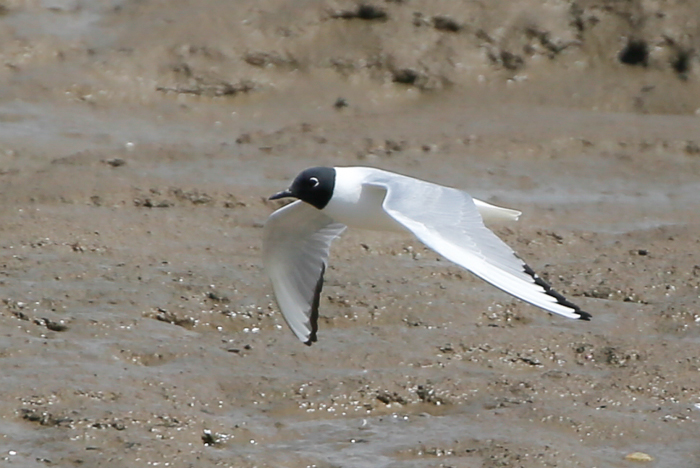 Sticking with St Kilda belated news emerged of a first-summer American Herring Gull there earlier in the month – seen on 12th, this unfortunate bird was eaten by a Great Skua shortly afterwards...
Somewhat more standard fare even in these midsummer days were the resident first-summer Ring-billed Gulls at Tralee Wetlands (Co. Kerry) and on the Hayle Estuary (Cornwall) both until 23rd.
Both Glaucous and Iceland Gulls managed to muster around a half dozen records apiece this week, predictably enough all in Scotland. Glaucous Gulls were noted on 17th in Moray on the Lossie Estuary; on Tiree (Argyll) until 22nd and on Jura at Loch Tarbert; and in Banff (Aberdeenshuire). One was seen on Barra (Western Isles) at North Bay on 20th, and individuals were at Loch of Graemeshall (Orkney) in the afternoon of 23rd and at Stoneybridge on South Uist (Western Isles) that day also. Iceland Gulls were split between Argyll – with birds seen on Tiree on 17th-22nd and on Iona on 20th – and the Western Isles, with two birds noted on North Uist at Rubh' Arnal on 18th, with one that day also at Aird an Runair; one at Balranald RSPB reserve on 20th, and a further bird on 20th in Stornoway Harbour on Lewis.
A Gull-billed Tern occasionally visited an Arctic Tern colony in Orkney on Birsay on 20th and 22nd, but was the week's sole rare tern in the news.
Sort of, kind of, maybe heading the week's raptor records was news breaking from Scilly on 17th where a dark morph Eleonora's Falcon was reported flying over Lower Moors on St Mary's late during the afternoon of 17th, and thereafter lost to view and not subsequently relocated. Wishful thinking has it that eventually one of these uber-falcons will give itself up to the birding masses, but this wasn't to be the that time. With just seven accepted records in all since the first in 1977, and all but that first one being one day birds, this feels like the ultimate right-place, right-time species.
(And with the last two accepted birds at Maldon (Essex) in 2008 and Porthgwarra (Cornwall) in 2012 both being photographed, yet the species seemingly being reported more or less annually, one's instinct is that for a record to stand in these digital days it'll need to be photographed...)
Charting a course for rather less choppy waters we'll move swiftly on to Black Kite, with a confirmed sighting this week coming from near Brenzett (Kent) on 17th-18th; in Suffolk, a probable bird was seen at Kentford on 17th, with a possible bird seen that day also in Suffolk at Ellough; in Berkshire a probable bird was seen on 21st at Newbury; and in West Yorkshire one was seen at Ossett on 22nd.
Once again up to three Honey Buzzards were seen in the Wykeham Forest (North Yorkshire) throughout the week; other records came from Nottinghamshire's Budby and Welbeck on 18th and 20th, and from Warminster (Wiltshire) on 18th also.
The pair of Montagu's Harriers remained around the Blacktoft Sands RSPB reserve (East Yorkshire) all week while the first-summer male at Gibraltar Point NNR (Lincolnshire) was still there on 17th.
Moving swiftly on from the considerable frustration a certain thrush caused one or two of us this week...
...it fell once again to our irruptive Bee-eaters to dominate the passerine news nationwide. Three birds continued to kick around Scilly on 17th-18th, being seen on St Mary's, Bryher and St Agnes; a duo flew over Braunton Burrows (Devon) on 17th. Up in the Western Isles on Barra one on 17th had increased to three on 18th-19th, and up to five on 20th-21st. In Northumberland on 17th one flew south over East Chevington NWT, with two noted south over Hauxley that day. Co.Durham accounted for one south over Whitburn Coastal Park on 17th while Norfolk had fly-overs that day in Norwich and North Walsham.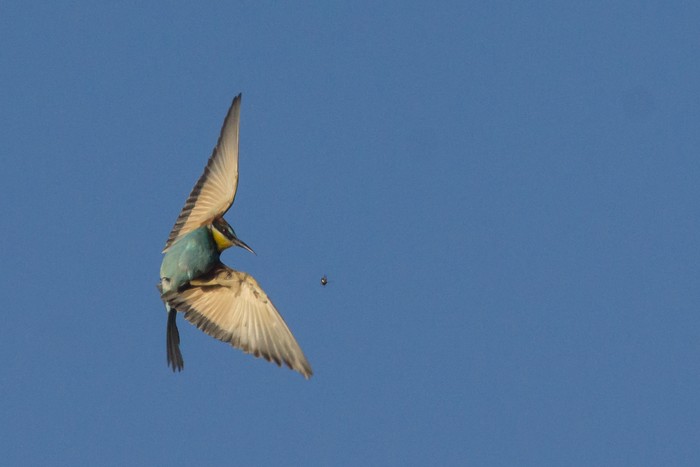 On 19th one was at Dowsby Fen (Lincolnshire) while 10 birds passed over Minsmere RSPB (Suffolk); 10 were reported that day by a non-birder in Northumberland at Ellington. One passed over Spurn (East Yorkshire) on 20th, while back in Suffolk one was seen on 21st at Dunwich Heath. The week drew to a close with another flock of 10 birds on 22nd-23rd at Glynde (East Sussex), one over Stenton (Lothian) on 23rd, and one over Spaxton (Somerset) also on 23rd.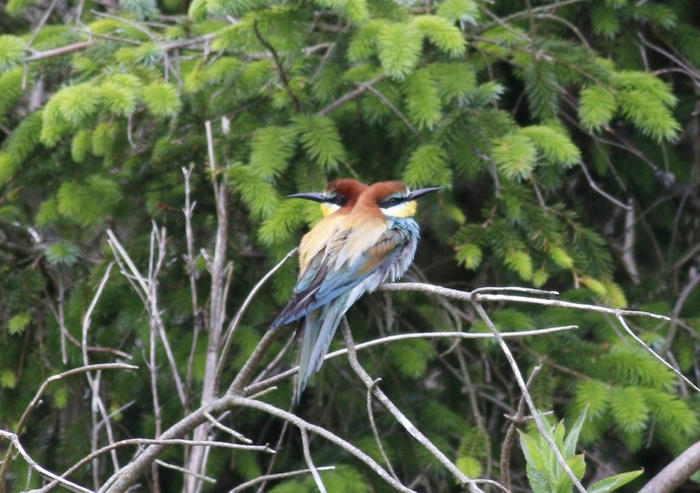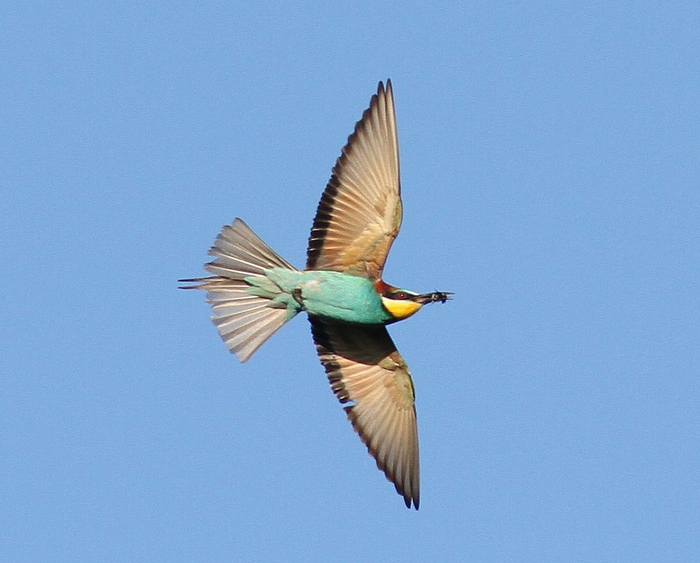 Hardly a Round-Up seems to have gone by in recent weeks without a Subalpine Warbler of one kind or another to exercise us. It was North Ronaldsay's turn to take a starring role this week with a silent male bird on 20th-21st – in the field, it seemed to look better for Moltoni's; however, when examined once trapped orange tones to the underparts and moult led the Bird Observatory staff more towards Western - albeit the bird's tail was heavily worn with no white visible in T5.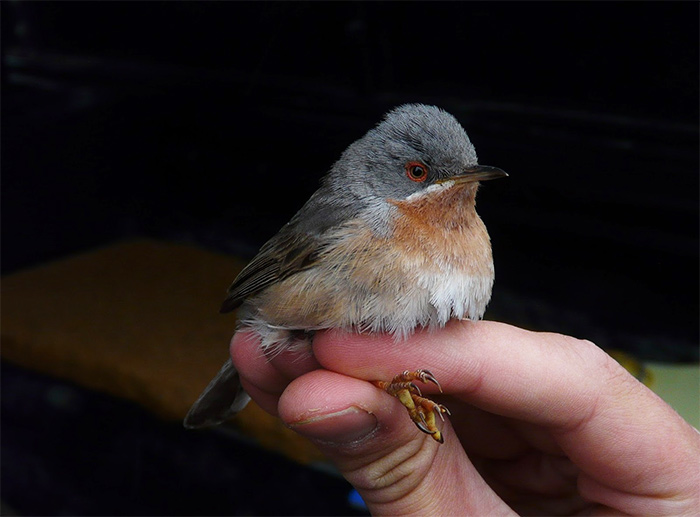 At Marsh Lane NR in West Midlands the singing male Melodious Warbler remained present and popular until 23rd (with another singing on 21st in a private area of Sennybridge (Powys); while every bit as pleasing in Norfolk was the singing male Marsh Warbler at Narborough throughout the week. Other Marshes were noted at Whitburn Coastal Park (Co.Durham) again on 17th; in Shetland at Baltasound on Unst on 20th and on Fair Isle on 22nd; and in Orkney on North Ronaldsay where two were trapped and ringed on 20th with at least one still there until 22nd.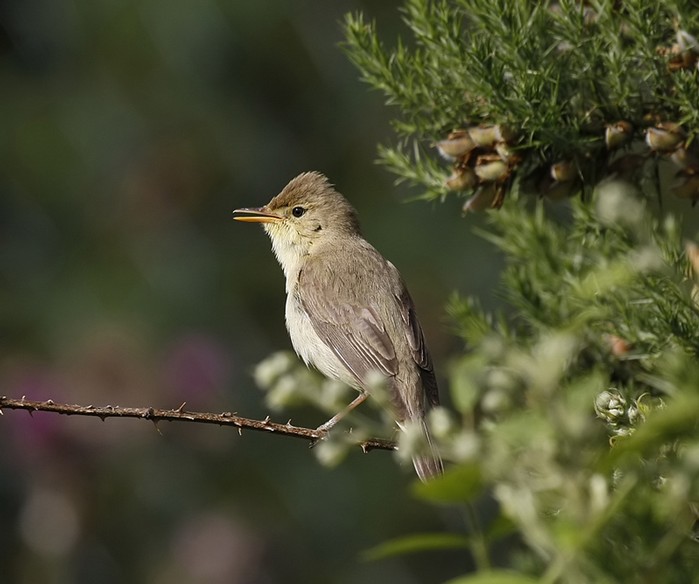 Sticking with the northern isles and Unst in particular, the Great Reed Warbler put in an appearance again at Baltasound on 19th-22nd. Nearby Fetlar accounted for an Icterine Warbler at Houbie on 18th, while back on Orkney's North Ronaldsay two individuals were logged on 19th-20th.
More staple colourful late spring fare came in the form of a handful of Red-backed Shrikes - males being seen at Deal (Kent) on 19th and North Ronaldsay on 22nd, and females on Fair Isle (Shetland) on 19th and Burray (Orkney) on 21st-23rd. A Woodchat Shrike was recorded at Sandwith (Cumbria) on 19th.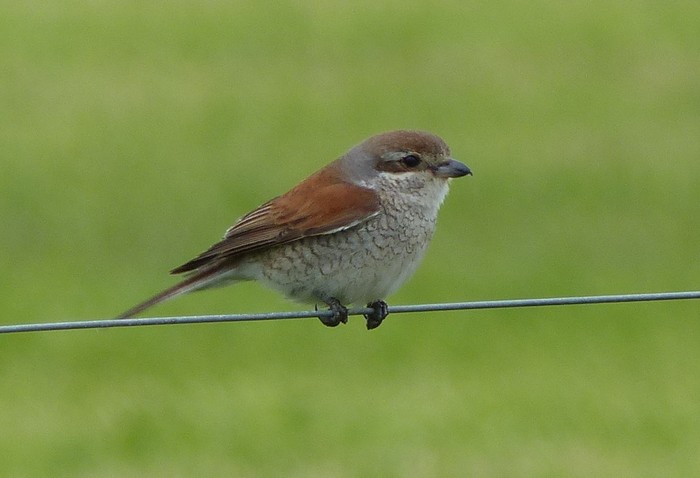 Other colour came courtesy of Golden Orioles - one singing on Portland (Dorset) on 19th and one on Fair Isle on 22nd – and Hoopoes, with singles at Ballyallia Lake (Co.Clare) on 17th and at High Newton-by-the-Sea (Northumberland) on 21st; with a further probable bird seen at Wareham (Dorset) on the latter date.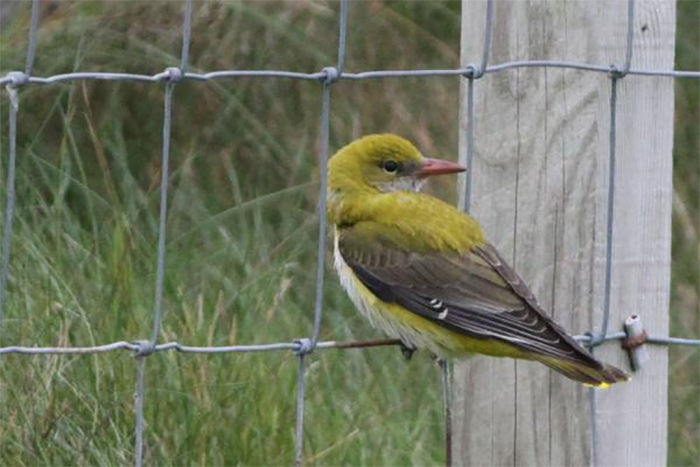 Glimmers of a midsummer spike in Rose-coloured Starlings this week with one in a private garden in Nottinghamshire at Cotgrave on 18th, while on the Western Isles an adult was on Lewis at Tiumpan Head on 19th-21st, and on Harris one was at Scaladale on 21st also.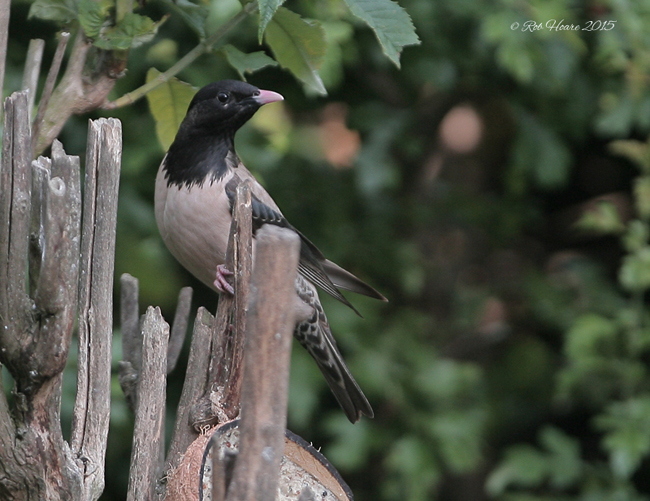 A Red-rumped Swallow was in Norfolk at Burnham Overy on 17th.
Dorset claimed a late Red-breasted Flycatcher in the Obs garden on Portland on 21st; also on Portland a probable male Blue-headed Wagtail was mobile in the Obs area on 17th.
East Sussex hosted a Tawny Pipit at Seaford on 21st.
We finish this week's passerines back up in Scotland – starting in Shetland where on Fair Isle a Common Rosefinch was reported on 18th, while a little further north on 21st a Rustic Bunting was found in the quarries below Sumburgh Head. An Ortolan Bunting came to seed in a Morar (Highland) garden in the evening of 23rd – a quality garden tick.
What of the week to come then? Things ought to be quietening down now, and in general this past week they seemed to insofar as numbers were concerned. But as the Eyebrowed Thrush on my doorstep proved, you never know what might buck the midsummer seabirds'n'waders trend where rare passerines are concerned...
It'd be a brave man though who bets against a rare tern dropping in somewhere this coming week – they're the classic midsummer doldrums monotony-breaker. While past records for the next seven days include single offerings of such gems as Bridled and Sooty, statistically it's likely to be White-winged Black or Gull-billed with around 20 past records apiece to show for themselves.
Somewhere in between though are Whiskered and Caspian Terns with around 10 records of each in past years. Both have as much potential to turn up at your local reservoir or gravel pit as at the coastal fringes, so either one of those seems like a reasonable punt for this coming week.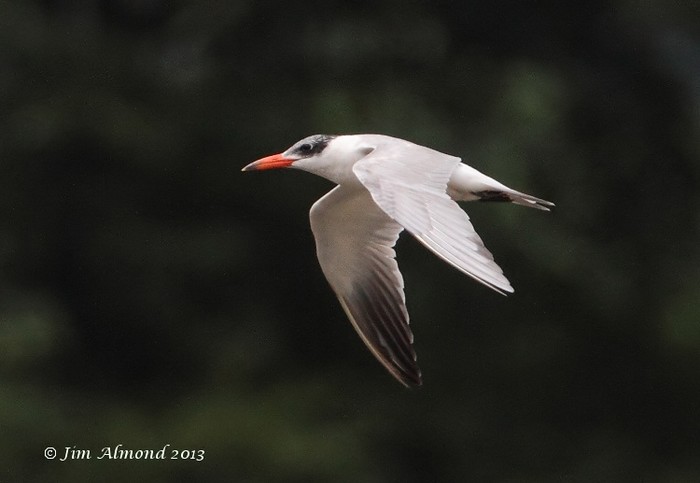 Jon Dunn
24 Jun 2015

Many thanks to all this week's contributors for their photos, videos and sound files.
Martin Goodey, Carolyn Simpson, Kevin Kelly, Ben Porter / Bardsey Bird Observatory, Richard Thewlis. Chris Galvin, Paul Ward, Dave Hutton, Jason Ward, Bart Ives, Neil Rolph, Arto Maatta, Martyn Sidwell, Cliff Woodhead, Mark Hikin, Johnny Prochera, John Pringle, David Williamson, Chris Upson, Steve Gantlett, John Nadin, Sean Nixon, Luke Dray, Toby Green, Jake Gearty, Stephen Rutt, Dave Hutton, Phillip Parsons, David Parnaby / Fair Isle Bird Observatory Robert Hoare, Martin Cade / Portland Bird Observatory, Jim Almond.
Please check out our contributor's websites for more superb birding photos, videos and more.