Weekly round-up: 26 Nov - 02 Dec 2014
The week at a glance
Stunning male Eastern Black Redstarts located on Scilly and North Yorkshire
Britain's 34th Isabelline Wheatear lingers for a couple more days in Cleveland…
…while Cornwall lands their first Desert Wheatear since 2011
A double bill of Pacific Divers this week ~ new in County Clare and lingering in west Cornwall…
Kerry's American Coot remains to the weekend
A round dozen Great White Egrets counted around Dungeness
We've finally rolled in to the last four weeks or so of 2014 and despite the late date on the calendar, the mix of headline makers, padders and general birding paraphernalia on offer was nothing short of impressive.
The above-average temperatures held through until the final couple of days of the week, with a switch from a largely gentle, benign easterly airflow to a chilly and rather brisk northerly.
There were some showers and spells of rain here and there countrywide through to the weekend, but generally it was a bit grey and overcast tho' sunny spells made themselves known by close of play on Sunday.
Those gentle winds produced some very, very good birds last week and this week was no different, so here's the tale of the rarity tape for the past seven days.
Eastern Black Redstart
Whilst the provenance of a debated funny ibis in Kent started to generate a little interest at the start of the week, there was still that outside ray of hope that there may be something less eye-rollingly dull to come along as the month came to conclusion and December eased its way toward us.
It was actually starting to look unlikely that anything may usurp the prospect of finding interesting to say about the Garden of England's latest contentious avian form (hello there Chinese Pond Heron and Hooded Merganser for two more…) but help was on hand, courtesy of gentle easterlies and two romping passerines found in southwestern and northeastern England.
The subject of such late-autumn delight was the (overdue) appearance of two male Eastern Black Redstarts (of the split-in-the-making form phoenicuroides) ~ around Porth Mellon Beach on St. Mary's (Scilly) and gardens at Scalby Mills (North Yorkshire).
The male on Scilly was first suspected as being something rather special on the afternoon of 30th and, after an early shout of "no sign" the following day, it appeared again in the general area of the sandy shores of Porth Mellon beach to enable the firming up process to be undertaken and identity confirmed.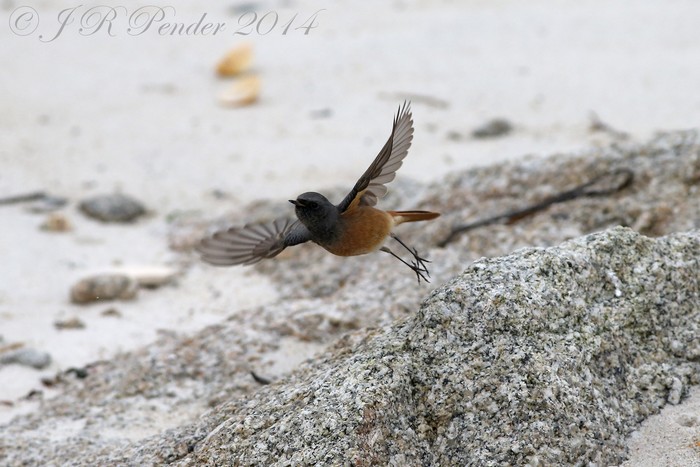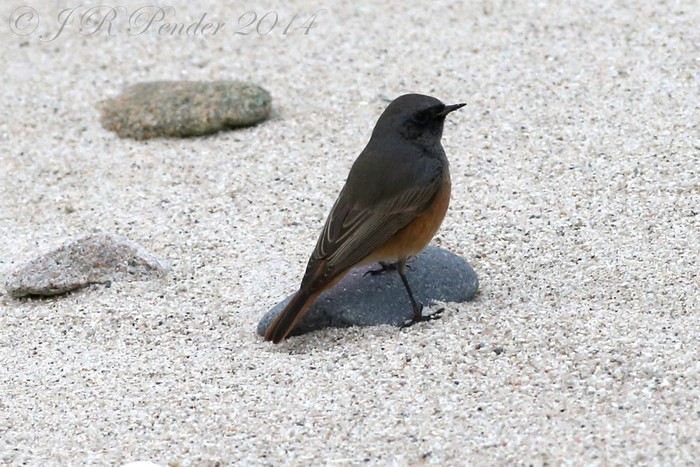 …and, in a scenario we've seen before with this charismatic species-to-be,soon after the Scilly bird's identity was confirmed, up popped news of a second male, this one at Scalby in North Yorkshire which, it turns out, was noted initially on 29th (starting out as a Redstart first of all).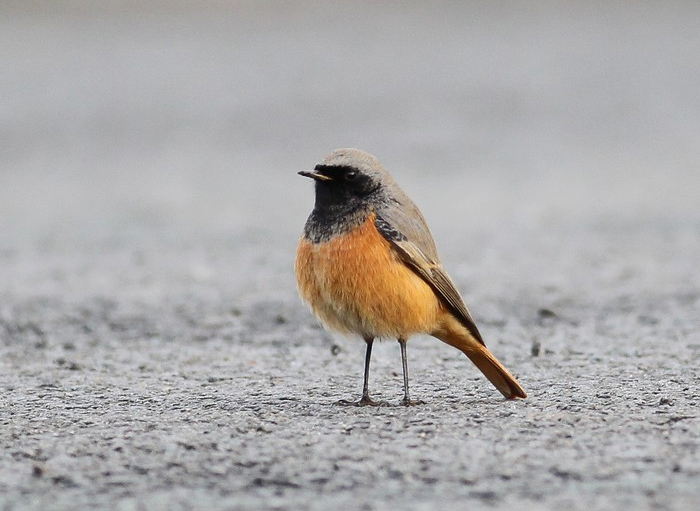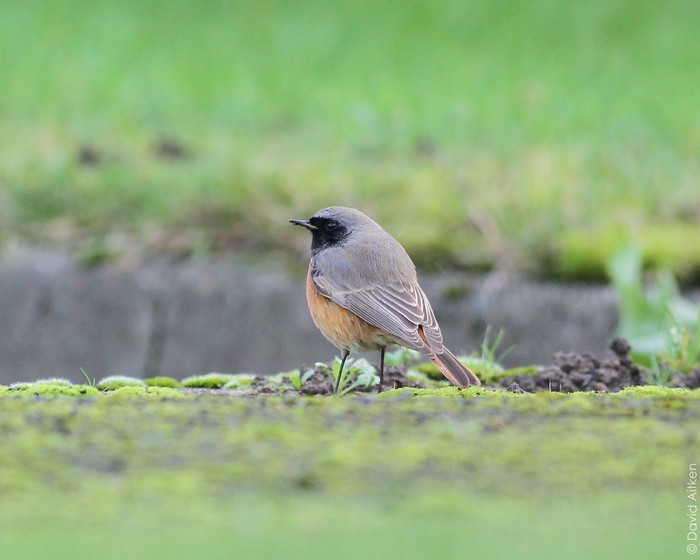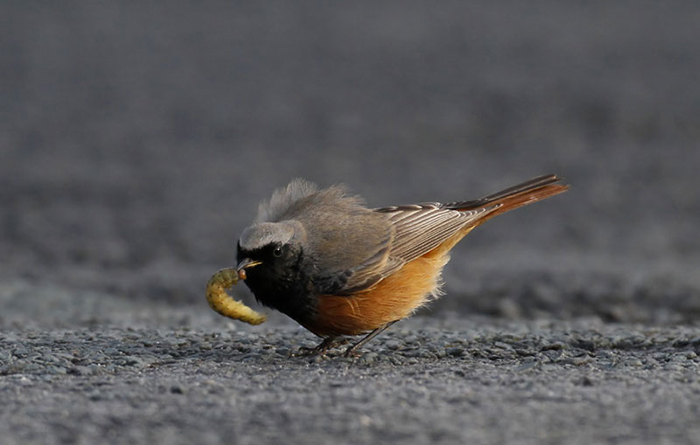 The ascent to a spot on to the British List (albeit in "form" only form) for Eastern Black Redstart was only confirmed in print in September, courtesy of the acceptance of a trapped and ringed bird at Dungeness (Kent) in November 1981. Within that same acceptance came a second bird too ~ seen near Wells (Norfolk) in November 2003.
Neither of those birds were on the radar at the time, so the appearance of the startling males at Margate (Kent) and on Holy Island (Northumberland) during a six-day period in mid-November 2011 ensured that the astute, the learned and the insurance lister all made trips to the southeast or northeast by way of acquainting themselves with two super looking birds.
…and as was mentioned at the end of the review three weeks ago, Eastern Black Redstart has come our way in Novembers where there has been a decent push of both Desert Wheatear and Hume's Yellow-browed Warbler and, although the numbers of those two species has been average or above-average at best, it is still fascinating to see the correlation between all three.
This week's mainland bird proved to be a pretty popular draw and showed well to 2nd, as did the somewhat tricker to get to bird on St. Mary's.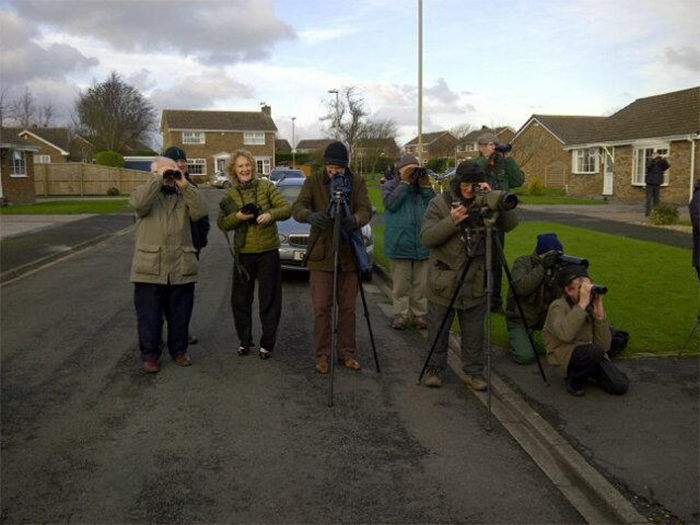 Isabelline Wheatear
After the late-in-the-month excitement generated by the (generally) impeccably behaved, rather delightful looking Isabelline Wheatear discovered last week in Cleveland, it was nice to report that this classic-of-its-kind obliged for a couple of additional days this week…
Found on the sands at Seaton Snook, under the striking, other-worldly industrial architecture of Teesmouth on 23rd, this superb first for Cleveland (and our latest ever Issy remained on site until 27th ~ a five-day stay that saw many birders head to northeast England to experience a species that remains a sometimes tricky (and sometimes rather controversial ~ in terms of identification…) call.
With Cleveland now collecting their first, the English east coast now sees gaps in only Essex, Lincolnshire and County Durham ~ Northumberland currently has one bird on the books (at Bamburgh in the autumn of 1980), North Yorkshire and East Yorkshire share to a piece (in 1998 and 2006 in the former, 1990 and 2011 in the latter) while Suffolk boasts four (spread from 1998 through to 2010, including two individuals at Landguard Point).
Norfolk though is the east coast county where there's generally trouble brewing about this particular sandy-hued star…last week mention was made of that amazing (still one and only) spring date of an Isabelline Wheatear found and identified by local legend Peter Allard at Winterton on May 28th 1977. A bird in 2001 was on the inaccessible reaches of East Hills and Lodge Marsh while an accepted bird on Blakeney Point on October 1st 2000 remains locally notorious ~ at least half of the half dozen observers remain utterly convinced that the bird was in fact a Northern.
Now it appears that a similar scenario may be played out this year too…
A bird photographed earlier this autumn on Blakeney Point has generated significant interest in terms of the identity being a second Isabelline Wheatear for the site ~ those who've seen the images are, like a set of boxing judges, in split-decision mode and the final word will come down to BBRC.
Norfolk birders beware then and steel yourself for another "unavailable" bird…
Desert Wheatear
Moving-in-and-out of the Headlines quicker than Lionel Messi can beguile his opponents by his flee-of-foot genius, we come back to a review favourite ~ Desert Wheatear.
November 2014 has been a pretty fertile month for the species ~ five of the six records this autumn appeared in November, the fifth of which was new this week, thanks to the newly arrived female that was found at the coastguard lookout hut at Gwennap Head, Porthgwarra (Cornwall) on 26th, a bird which stayed in place to 2nd too.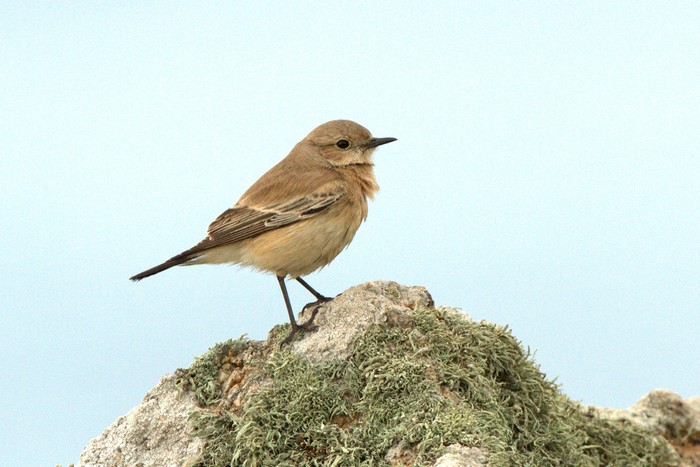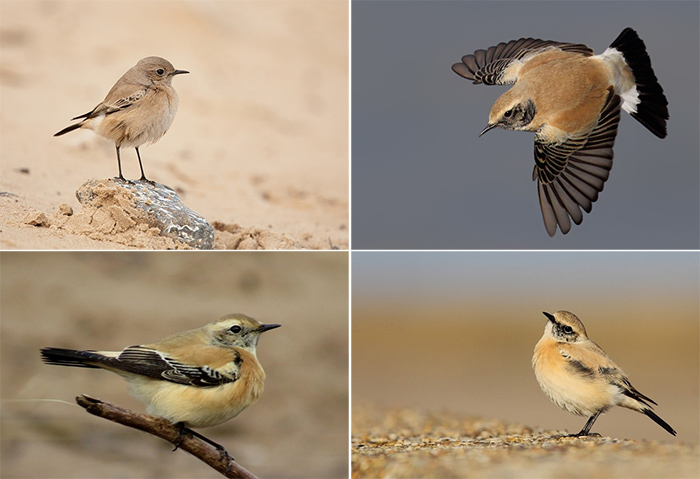 The last previously accepted record of Desert Wheatear in Cornwall was over seven years ago (a bird photographed in 2011, doesn't appear to have made the records books as yet) ~ when a female was found at Land's End on October 17th 2007. That in turn was the first for a decade, when a male spent over a week in the southeast of the county, at Hannafore Point in early December 1997. That bird was one of two in Cornwall in that early winter period, a female arriving at Loe Bar, Helston on November 28th, being last seen on the day that Hannafore Point male appeared.
There are two more Cornish records from the 1990's ~ a winter bird found near Hayle in January 1995 another bird in the southeast, at Torpoint from late November to December 1994 ~ while the 1980's saw a female make it to Sennen on November 5th 1988 with the county's first being found very close to where this week's bird was located ~ on the heather moors above the valley at Porthgwarra on November 17th 1984.
At the time, that Cornish first was a pretty big bird nationally ~ being the first twitchable bird in at least six years and the Saturday morning discovery was, initially suppressed ~ any birder worth their salt at the time will tell you just how notorious west Cornwall was in terms of (lack of) news distribution.
One Cornish birder cracked, rang his one "outside" contact at Plymouth Polytechnic who then called another Devon birder with the news of a male Desert Wheatear at PG with the strict proviso that, should the news get released from that point on, that was it ~ no more news.
After a testy, heated discussion, phones were put down and one was picked up immediately afterwards and the number for "Nancy's" was dialled…
News was out, there and then, and a birding friendship was fractured for some 25 years within that very moment.
…the grateful crowd of some 300 birders the following grey-and-dank Sunday morning kind of made up for it though…as the "unblocking" session commenced. It may seem rather archaic now, but at the time, that whole thing was a big deal…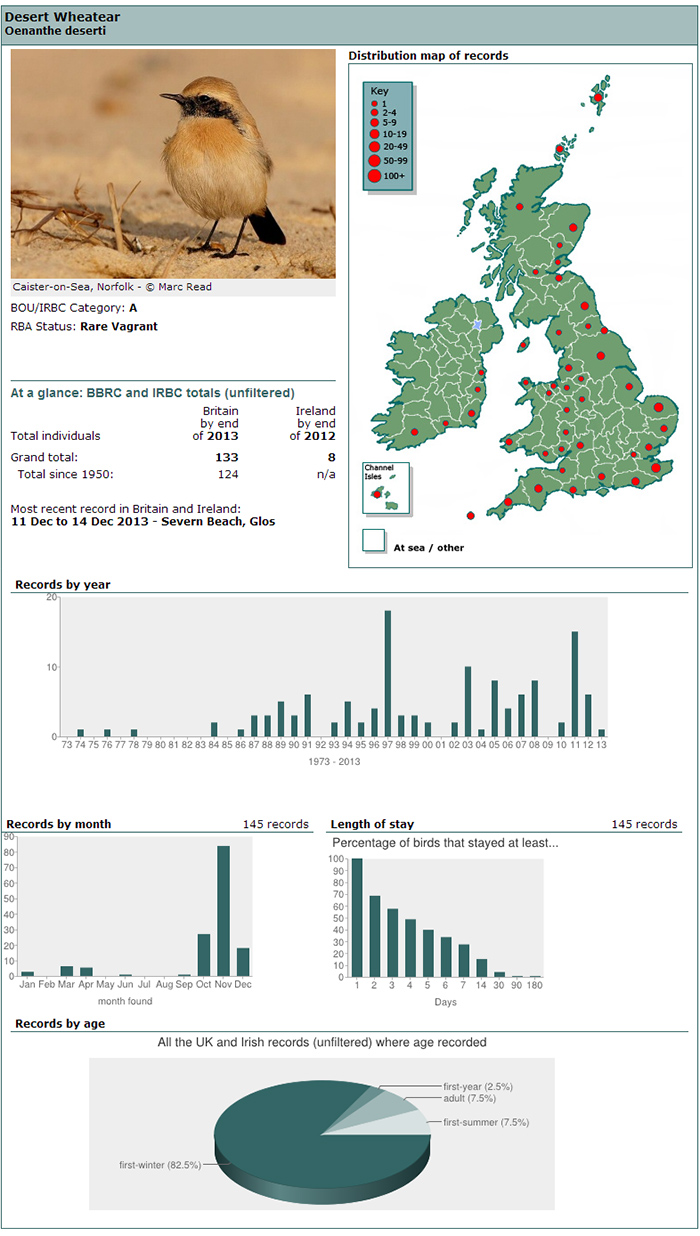 Pacific Diver
The winter wind-down continued at some speed, but a double helping of Pacific Divers is nothing to be sniffed at in any one given week ~ and the past seven days have seen two on offer, including a new bird that seems likely to be heading back to a spot already favoured once by the species…
Lying at the seaward end of the staggeringly rugged and breathtakingly beautiful Burren, at the northeast end of Ballyvaughan Bay, the Martelo Tower on the end of Finvarra Point in County Clare has already played host to a Pacific Diver once before ~ one was present for much of March 2010 (appearing again for three weeks in May the same year) and again in January and February the following year ~ so the odds on this week's bird, seen on 29th, being a returning bird seem pretty high.
The 2010/'11 bird at Finvarra was almost certainly the bird logged at Oranmore (Co. Galway) on January 30th 2010 and, again in Clare, at Tawin on January 12th 2009. It remains the sole Irish record and there's every chance that it just hasn't been picked up in the last couple of years ~ the expansive bays of Clare and Galway are watched by very few keen birding eyes.
Another returning pacifica that we all know about arrived back in west Cornwall last week and was noted in Mount's Bay on 26th, 28th and 1st-2nd this week ~ with a couple of blanks in between, which is kind of par for the course for this bird.
American Coot
There's little to add with regard to our recent American Coots ~ there's been no news at all regarding the North Uist bird through the week, whilst the bird in County Kerry, at Lough Gill remained to 30th.
Great White Egret
As the urge to confine the always-elegant though increasingly frequent Great White Egret to the highway of also-rans in terms of the weekly review, a spectacular showing away from the breeding grounds of the Somerset Levels ensures a debut in the Headlines…
Recent winters have seen the RSPB reserve at Dungeness in Kent attract some more-than-reasonable numbers of Great White Egrets through the autumn and winters months ~ fours, fives, sixes and even sevens not unheard of ~ with a high of nine on October 4th 2013. This week, that total was usurped as the magic double figure mark was reached.
The number in question was a magnificent 12 birds in all, seen on the RSPB reserve on 26th ~ a figure that would even be a struggle to reach on the Avalon Marshes ~ dropping to nine the following day. With at least seven seen there last week, its fascinating to wonder as to just how much further a field the additional five birds came in from ~ further along the south coast, or could they have been a newly arrived flock from the near-continent?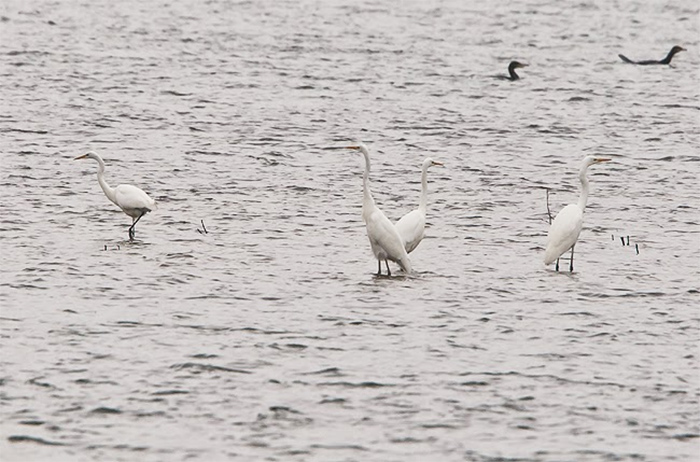 Either way, a dozen is a mightily impressive number and one that could only really be topped by Dungeness itself.
There'll be more Great White Egret news following along soon…
By the end of the weekend, a largely non-breezy affair, there'd still been around 60 Little Auks recorded from seven east coast counties ~ with over half of them passing the East Yorkshire headlands of Flamborough and Spurn.
Flamborough managed a week-high of nine on 29th, with eight being Spurn's top score the previous day. North Yorkshire managed 11 birds through the week, with the remaining east coast counties from Northumberland to Norfolk scoring modest (at best) single figures, with Orkney collecting two off North Ronaldsay on 27th and Shetland one, courtesy of a bird off Fair Isle on 29th.
A further 20 or more followed to 2nd, including 10 off Flamborough on the date just mentioned.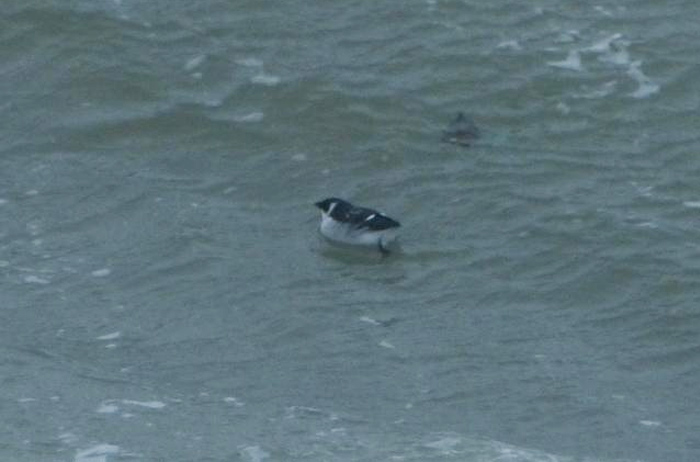 Despite the late dates involved, the total of around 170 Pomarine Skuas through to 1st, almost entirely along the east coast, including almost 90 birds off East Yorkshire, including 18 off Flamborough on 29th, with 19 there on 2nd. The other highest total of the last few days was 19 from Whitburn (Co. Durham) on the same date, while at least 19 were noted passing Lincolnshire through the week, with a dozen off Norfolk. Birds were seen as far south as Kent (around nine seen there) and north to Shetland (three noted there).
The increasingly strong Nor'nor-easterly gales winds that swept down the North Sea on 2nd dragged down some exceptional early December numbers with them ~ way out in front being the 81 birds seen off Gibraltar Point (Lincolnshire) in five hours to dusk. In East Yorkshire, 32 were seen from Spurn and 10's were seen in an hour off Withernsea and an hour and twenty minutes off Flamborough, while in Norfolk, at least a dozen flew past Cley.
Three Grey Phalaropes appeared before the weekend drew to a close; the first was on the weedy foreshore at Bar Point, St. Mary's (Scilly) on 27th, the second, also seen on 27th, was found at Tollesbury Wick (Essex) while another individual headed past Newbiggin-by-the-sea (Northumberland) on 29th. The week's final offering headed past Whitburn (Co. Durham) on 2nd.
The pick of the bunch this week, by a decent margin, was the moulting adult White-billed Diver that flew past, firstly, Filey Brigg and, a quarter of an hour later, across the bay at Flamborough, still heading south.
It looks as though North Yorkshire's most recent White-billed Diver was noted off Long Nab, Burniston on October 29th 2008, while East Yorkshire recorded a moulting adult flying out through the Humber in mid-April this year, a bird then seen heading north off Flamborough later the same day. Prior to removal from the BBRC list at the end of 2008, there had been 28 accepted records of the species across Yorkshire as a whole, with 19 of those seen in the north…
An early morning White Stork was noted heading across the M20 near Ashford (Kent) on 26th, travelling with the inevitable "o.u.o" caveats for good measure.
Also in Kent, back at Dungeness, two Cattle Egrets remained amongst the swathe of their long-legged cousins all week, with the resident bird at Burton Mere Wetlands RSPB (Cheshire) present until the end of November. New was the bird found at Willow Tree Fen LWT (Lincolnshire) from 28th to the middle of the morning of 29th, before heading away to who knows where.
Thanks to that Kent Kollective of the Dungeness Dozen, the number of Great White Egrets noted around Britain and Ireland remained pretty high this week ~ some 41 birds noted in 16 counties across three countries.
Kent's overall total was 14+, singles at Elmley NNR and Bough Beech Reservoir on 28th-29th added on to the others, while the remained of the southeast produced two in Essex, again at Abberton Reservoir on 29th and singles in Hampshire and Buckinghamshire.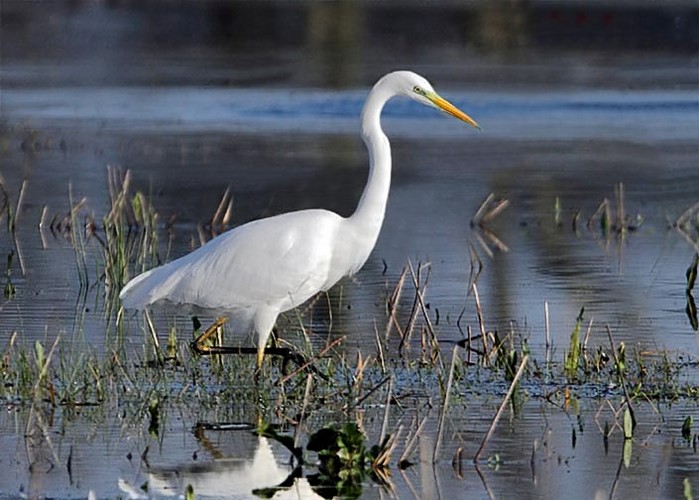 The Midlands managed half a dozen, including three again at Pitsford Reservoir (Northamptonshire) on 29th and two still at Rutland Water (Leicestershire) throughout the week, while East Anglia recorded five birds across the region ~ with two in Cambridgeshire (at Paxton Pits NR and on the Cam Washes), one reported heading through the Glaven Valley, at Glandford (Norfolk) on 29th and lingering birds at Minsmere (Suffolk) for much of the week and in the borderlands at Lakenheath Fen RSPB on 29th.
A minimum four Great Whites were reported in Somerset with one next door in neighbouring Devon, at Thurlestone, on 1st. Four was the number for the northwest, three for Cheshire, including two at Burton Mere Wetlands RSPB on 30th, while one was in Southport (North Lancashire) on 29th.
In Wales, two singles were recorded at Llangorse Lake (Powys) on 28th and Briton Ferry (Glamorgan) on 29th, with the west coast of Ireland hosting one on the expansive Lough Corrib (Co. Galway) on 1st.
Glossy Ibis numbers doubled this week, thanks to a new arrival at Fen Drayton RSPB (Cambridgeshire) on 29th-30th adding to the loner in Lincolnshire, still at Frampton Marsh RSPB to 1st.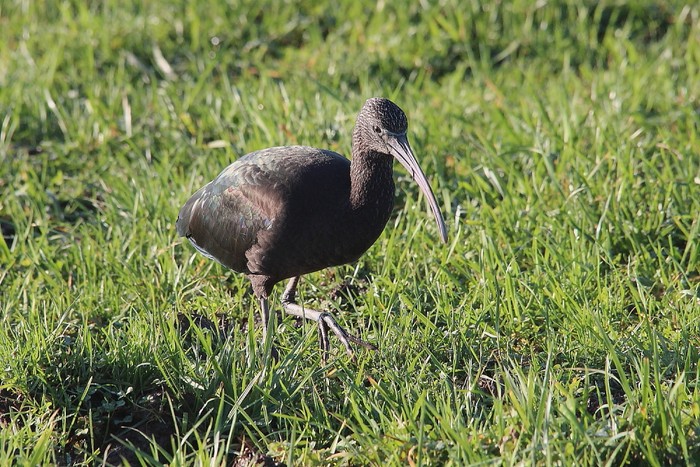 The week's highest haul of Poole Harbour Spoonbills headed up as high as 38 on 30th, seen again in the lagoons around Brownsea Island (after 30 had been seen at Shipstal Point earlier in the week). A further Dorset bird was at Lodmoor RSPB on 28th while along the south coast, at least one was in Hampshire, seen at three sites on 29th and three were noted at Church Norton and Pagham (West Sussex) on 1st-2nd ~ two had been in place prior to that, with another at Medmerry on 27th.
Elsewhere, three Spoonbills remained around the Suffolk coast, seen this week at North Warren RSPB on 28th, whilst Ireland saw an adult and juvenile arrive at the Cunnigar, Dungarvan (Co. Waterford) from 27th, while Louth's second record in just over a month (perhaps even the same bird?) was seen flying north past Annagassan on 27th ~ a very rare bird in the county. The fourth Irish bird was seen at Inch (Co. Kerry) on 2nd.
It seems entirely plausible to think that the two Common Cranes seen heading southeast over Attleborough (Norfolk) during the late morning of 27th may have been the same birds noted still tracking southeast, this time over Shadingfield (Suffolk) some two-and-a-half hours later, before appearing soon afterwards over Minsmere. The following day, 28th, they were spied over Holland Haven Country Park (Essex), this time heading off southwest before hitting the south coast at Hastings later in the afternoon.
Further doubles this week were seen at Horsey (Norfolk) on 27th and Goldcliff Pools NR, Newport (Gwent) on 29th while a flock of four Cranes arrived in Aberdeenshire on 30th, seen around the Ythan Estuary and nearby Meikle Loch. The week's highest count was again in the Cambridgeshire Washes, 16 (14 adults and 2 youngsters) at Guyhirn on 29th.
Before getting to the main attraction, there was late news of a juvenile Night Heron in the harbour at Crosshaven (Co. Cork) on 29th ~ origins aside, it would be interesting to muse upon its transit to southwest Ireland, a jaunt from southern Europe or an excursion on board ship from the Americas?
…which leads us perfectly to one of the birds that became ever-more discussed as the winter boredom set in and the darkening late afternoons meant that more and more people took to their keyboards (not their MOOGs, more their QWERTYs) and began to discuss, in earnest, the Sevenoaks American White Ibis.
The parallels with Kent's other recent duff/gen member of this (loose) group, the Chinese Pond Heron at Saltwood through February and March this year are clear ~ once identification issues were resolved, both birds had a drip-drip effect as visitors began to see options available with the respective potential British firsts ~ neither of which appears to have any proven form for extreme continental vagrancy (tho' the "1st" British CPH seen in Norfolk and then Hampshire may get a second wind as more becomes known about late autumn appearance for starters).
The Ibis, as was the case with the Heron was around for several days before it was started to be taken seriously (the latter was, you'll remember, suppressed, as a Squacco initially due to the urban environment it favoured) but the staff at the Sevenoaks WR were happy to share their news immediately, the bird appearing there on November 19th with visitors starting to appear there in earnest around 28th-2nd.
Arguments for both of Kent's curious this year remain the same ~ opinion divided in to the duff/gen camps ~ the "pro"-camp members may be proved to be remarkably perceptive should this bird (and the CPH too I suppose) charm the Committees and head to Category A; the "anti"-camp members hoping to be proved right in not paying it a visit and waiting (nervously…) to see acceptance on to Category D.
It's a nice looking bird and if it puts some pennies in the conservation coffers, so much the better. It will also keep to discussion homefires burning until it departs too…
While it may not be everyone's cup of tea (there's doubtless more than one voice out there that favours the AWI more than the next species on the agenda) it was at least interesting to note the (presumed) reappearance of a Ross's Goose at Marshside RSPB (Lancashire) on 30th ~ a first-winter (deemed to be from the Plastic Fantastic Camp by the locals) was present at the same site from November 2013 to January 2014.
Escaped or feral honkers, cacklers and quackers are known to be able to do the whole "arrive in autumn, disappear in spring" thing, which makes them innarestin' to some degree or another ~ those wild urges still strong it seems...and this appears to be no different.
There shouldn't be too many questions asked of the adult Lesser Snow Goose that arrived at dusk on Holkham Freshmarsh on the evening of 1st, in the company of several 1000 Pink-footed Geese ~ the next day it was seen to leave in the early morning gloom before being relocated behing Burnham Thorpe.
It seems a racing certainty that this bird made its across way from Lancashire ~ inter-county movement between East Anglia and northwest England's Pinks is well established.
Ireland held both of the week's representatives of the "white-cheeked goose" brigade ~ the delightful goose fields of Lissadell in County Sligo continuing to host a Richardson's Cackling Goose through to 30th while in the southeast of the country, the Lesser Canada Goose remained at Wexford's North Slob to the first of the month.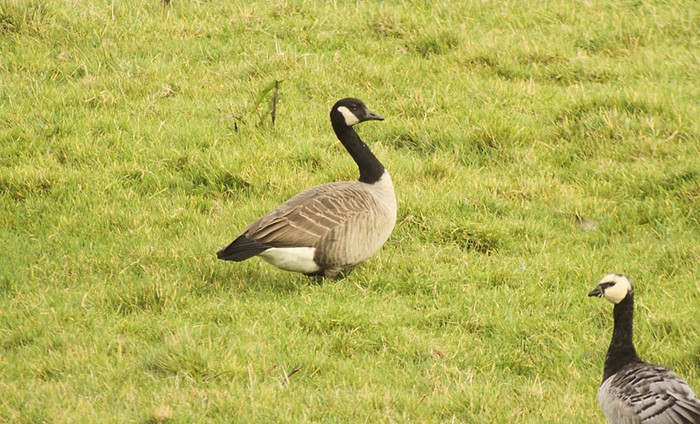 New adult Black Brants appeared along the Exe Estuary this week, seen at Topsham from 26th-1st and at Church Norton (West Sussex) on 2nd, two of up to eight noted of late. At least one bird remained in Norfolk, still around Cley and Salthouse to 1st with another reported from the Acle area on 27th (a rare bird indeed on the east coast of the county), while another was logged in Suffolk, at Trimley St. Martin on 30th.
In Lincolnshire, a Black Brant or hybrid spent a couple of days at Frampton Marsh RSPB on 27th-28th while in County Kerry, the adult was noted again at Barrow Harbour on 27th.
The Scottish east coast played host to a female King Eider at Ruddons Point (Fife) on 30th with a drake Surf Scoter also in Largo Bay the same day. Further to the south, the wintering drake remained off Musselburgh (Lothian) to the start of the new month.
At least six Surf Scoter, including four drakes, remained off Old Colwyn (Conwy) to 1st with the only individual noted being the first-winter drake that stuck around on the Suffolk and Essex border, between Stutton and Wrabness through to 2nd.
The only Ferruginous Ducks this week was the adult drake that was seen on the Blashford Lakes HWT reserve to 2nd. In Wales, the drake Lesser Scaup did a familar flit across Cardiff Bay to Cosmeston Lakes on 29th with the already-familiar wintering drakes still in residence at Lough Gill (Co. Kerry) to 30th and, back in Wales, The Saddled One remained at Llangorse Lake (Powys) to 28th.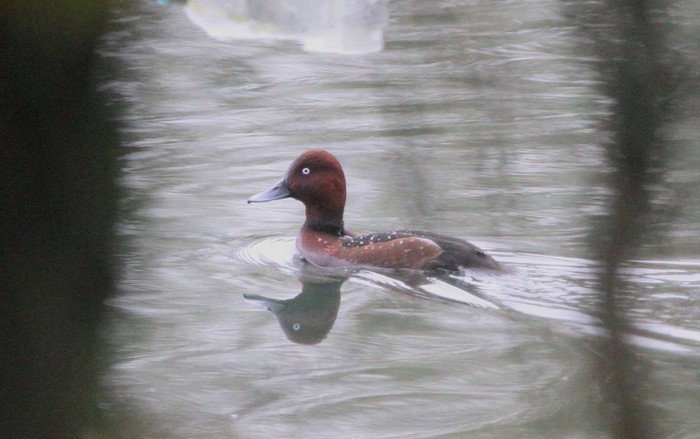 Ireland held three of the week's six Ring-necked Duck, the drake and female were again on Lough Leane, Ross Castle (Co. Kerry) on 29th and another drake was found at the Kinnegar Shore, Holywood, Belfast Lough (Co. Down) on 29th. Another Celtic bird was the long-staying first-winter drake on Loch a'Phuill, Tiree (Argyll & Bute) that remained for much of the week.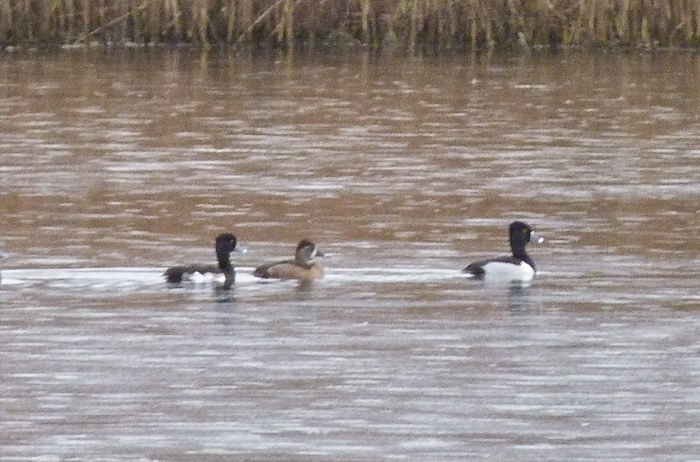 Leicestershire's second Ring-necked Duck of the autumn, this one a female, was found on Eyebrook Reservoir on 30th and is almost certainly a returning bird from October 2013 (where it was last seen in January this year) while new was a first-winter drake on Paxton Pits NR (Cambridgeshire) on 1st-2nd.
Last week the Scottish Green-winged Teal tally was a respectable five. This week, that total has snuck up by two, to an ever-more impressive seven. Hangers on from previous reviews remained at Loch Leven RSPB (Perth & Kinross) to 27th, Caerlaverock WWT (Dumfries & Galloway) to 28th, the Loch of Strathbeg RSPB (Aberdeenshire) and Muckle Roe, Mainland (Shetland) to 30th and North Ronaldsay (Orkney) to 1st while fresh stock was located at Stilligarry, South Uist (Outer Hebrides) and Banton Loch, Kilsyth (Clyde), both found on 30th (with the latter site suddenly producing a drake Wood Duck on 2nd…oooh, errr, crivens and heavens to betsy etc…).
After last week's brief appearance in Derbyshire, at Kilburn NR, near Belper, local birders got another crack at the carolenensis whip when one (the same one?) was found near Little Eaton on 29th. Another drake was again noted at Grove Ferry NNR (Kent) on 30th while new was the bird at Dorman's Pool (Cleveland) on 26th.
On Cornwall's Gannel Estuary, one female American Wigeon became two this week, present from 26th-1st. The only other representative of the clan was the drake found at Cloddach Quarry, near Elgin (Moray) on 30th ~ the second in the county this year, following a drake in Spey Bay in May.
<!—Section Title -->
Another quieter than quiet week for the shorebird connosiuer ~ the only bird on offer being the first-winter Lesser Yellowlegs that was at the Hayle Estuary (Cornwall) to 27th.
The adult Franklin's Gull seems to have finally done a bunk, no sign at all this week by all accounts.
New though was the adult Bonaparte's Gull at Loch Gilp (Argyll & Bute) on 1st ~ the county's sixth to date, with four of those seen between April 4th 2011 and this week's December 1st bird (others coming along in August 2012 and June 2013). Elsewhere, recent elusive adult Bonaparte's were seen again in Devon and Northumberland ~ the former being seen at Dawlish Warren NNR on 27th, the latter at Wallsend on 29th.
Galway's gulling galleria ~ the brilliant Nimmo's Pier ~ yielded three Ring-billed Gulls on 30th, joining a returning adult were both second- and first-winter birds. On the opposite side of the country, an adult was back at Sandymount Strand from 27th, an adult was at Rosslare Backstrand on 30th and the same day also saw a second-winter make itself known at Lough Leane (Co. Kerry).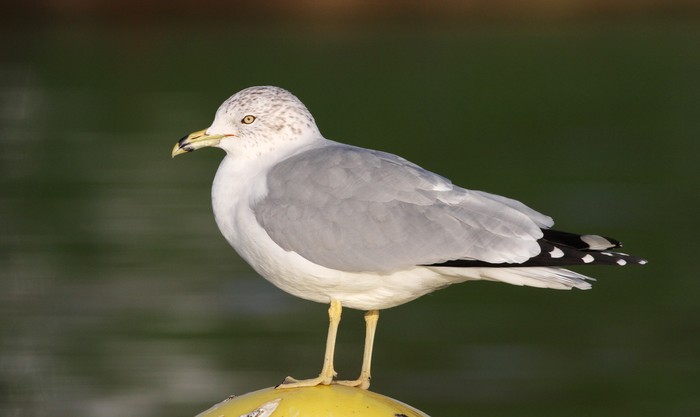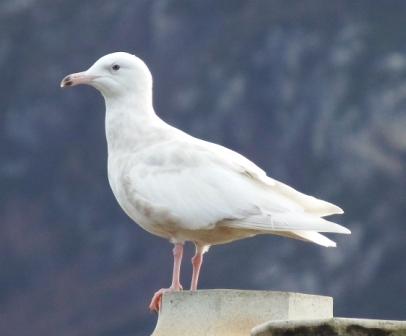 Ringos elsewhere included a new adult at Swineham Point (Dorset), also on 30th and the regular adults still at Dingwall (Highland) and Walpole Lake, Gosport (Hampshire).
The total of 11 or 12 Glaucous Gulls is surely destined to rise a little as the strong Northerly winds kick in the early days of the week that lies ahead, but the past seven days were rather spartan ~ Scotland managing five (two each for Highland and Shetland), three or four in England (spread from Northumberland and Durham to Devon) with both of Ireland's birds being found in Galway.
Shetland also hosted a couple of Iceland Gulls, from a low total of six across Britain and Ireland. Singles were noted in Moray, Durham, West Yorkshire and, once again, Galway.
Staying in Galway and heading back to Nimmo's Pier, the adult Forster's Tern perfomed a familiar movement ~ trundling northwards across the bay, from Kinvarra to set up temporary residence off Nimmo's Pier on 28th, where it remained to 1st.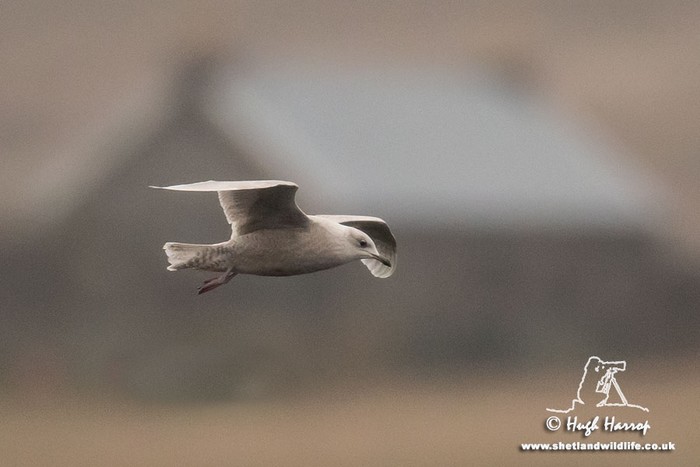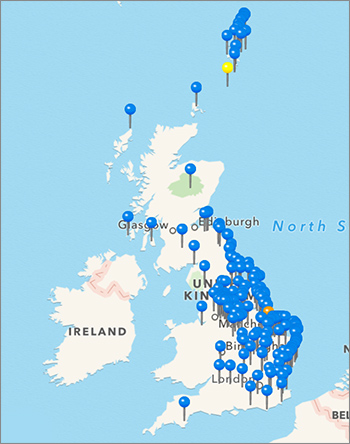 The rarely mentioned Isle of Arran gets a review outing this week thanks to the appearance of an adult male Rough-legged Buzzard on 26th, one of two in Scotland this week, the other hanging on in the area around Wanlockhead (Dumfries & Galloway) to 2nd.
Around the northeast of England, there were two two's in South Yorkshire again, present at Thornseat Delf and Broomhead Reservoir on 30th, while East Yorkshire's popular juvenile remained near Bridlington to the same date. Further south, two singles were reported in Lincolnshire, at Gibraltar Point NNR on 27th and at Frampton Marsh RSPB to 1st at least while the juvenile Rough-leg noted recently in Northumberland's Harthope Valley was seen through to 29th.
In East Anglia it was, largely, as-you-were for the region's Rough-legged Buzzards ~ actually, it was "as-you-were +" as recent birds were added too, especially in Norfolk...
...from east to west, there were up to six birds reported from three sites at Haddisoce, Halvergate and the Waveney Forest on 30th alone (1,2 and 3 respectively, with the possibility of some overlap), whilst two remained at Brydon Water to 27th at least. Around the north coast, a juvenile flew over a grey and murky Cley village on the afternoon of 26th, at least two remained around the Burnham Overy Dunes and Holkham area throughout the week and singles were noted at Brancaster Staithe and Docking on 29th. The final Norfolk bird was way out on the county boundary, still present at Welney WWT to 1st.
Also in the region, singles in Cambridgeshire were seen at Holme Fen NNR to 1st and at Winwick on the same day.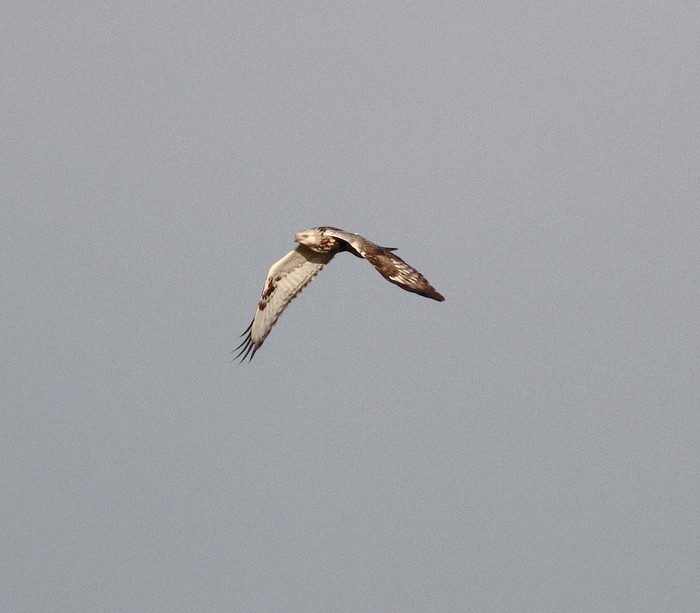 The final Rough-legs to mention were the well-received young birds that lingered near Braughing (Hertfordshire) to 28th, at Jevington, near Eastbourne (East Sussex) to 2nd with anew individual reported near Theddingworth (Leicestershire) on the latter date.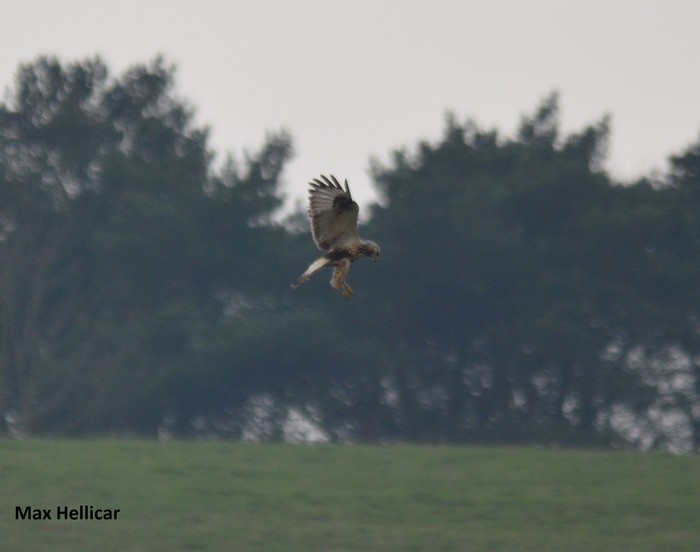 There was an undoubted (and not unexpected) cessation of passerine action as the final month of the year beckoned ~ reflected nicely by the drop in numbers of Dusky Warblers from last week's half dozen to just one lingerer in the past seven days, residing in the Kelynack valley (Cornwall) throughout the week.
Southwest England was, typically, the area best populated by Yellow-browed Warblers again this week ~ both Cornwall and Devon registering four each; singles in the former county were noted at Nanjizal on 26th, Porthgwarra on 27th and Polgigga and Newlyn on 30th while the latter saw two again at Broadsands on 26th, with one still at the Clennon Valley, Paignton on the same date with 27th seeing the appearance of another bird at Beesands. The region's ninth for the week was on Portland (Dorset) on 30th.
The only other birds noted were in rather random spots ~ great finds both ~ in north London, in Barnet, on 27th and also at Morfa Madryn NR (Conwy) on 29th-2nd.
…and along with a late Yellow-browed Warbler, Portland also played host to an even-later Barred Warbler, trapped and ringed at the Observatory on 1st (and still present on 2nd), an exceptional record (the first December record for the site, which has hosted three in previous Novembers).
There was a nice little concentration of schrreeeeep-age in Somerset this week, where the two Richard's Pipit found at Stolford on 29th became three the following day, where they stayed to 2nd (with four reported during the latter part of that day). The two birds at Cloughton (North Yorkshire) remained to 30th, with one to 2nd, while news of fresh loners found on 29th came from Coverack (Cornwall) and Pevensey Levels (East Sussex).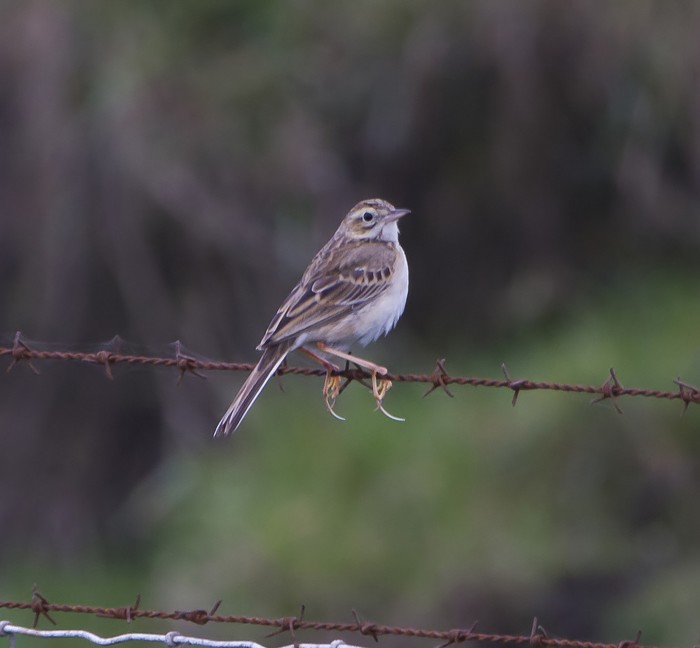 Shetland's late arriving Olive-backed Pipit wasn't in too much of hurry to find a way to get away from Fair Isle, still present at Quoy on 2nd.
This week's total for Great Grey Shrikes hopped up to around 24 birds in 18 counties from Highland to Dorset ~ several of them leftover from the last fortnight or so, but new individuals came along too…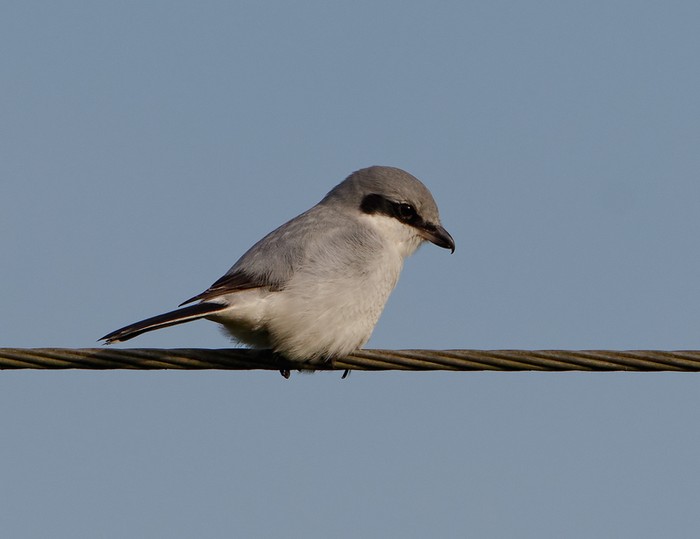 From top to bottom, we'll start in Scotland where singles were seen at Forsinard (Highland) on 28th and at Bonchester Bridge (Borders) on 1st. The northwest of England saw two loiter in Lancs., at Lytham Moss and Grindleton for much of the week, while the Cumbrian bird at Dalton Crags remained to the weekend at least. The northeast's only offerings were singles in South Yorkshire, at Agden Reservoir on 30th and Thorne Moors on 1st while the large expanse of the Midlands saw singles remain in the Bredon Hills (Worcestershire) to 29th and Ramsley Reservoir (Derbyshire) to 30th while new was a Great Grey Shrike at Swynnerton Old Park from 28th.
Norfolk continued to host heathy options in the Brecks, at Grime's Graves, and in the west of the county on Roydon Common while the southeast hosted up to eight birds ~ two in the New Forest, at Milkham Inclosure on 29th were certainly of note. The wintering Great Grey Shrikes at Chilham (Kent), Ashdown Forest (East Sussex), Iping Common (West Sussex) and Thursley Common (Surrey) were seen off-and-on throughout the week, while Bedfordshire offered up one at Shefford on 29th with another reported the following day near Leighton Buzzard.
The south Midlands and Westcountry saw two birds remaining around the Forest of Dean through the weekend, still at Crabtree Hill and near the Woorgreens reserve while new was a GGS at Grittleton (Wiltshire). The southwest's only report came from the Arne RSPB reserve (Dorset) on 27th.
At least two increasingly late November Hoopoes were in Dorset this week, one was seen at Durlston CP on 26th, seen later the same day at the nearby Winspit Valley (then at Worth Matravers on 30th) while one was noted above Portland Harbour on 29th. Moving along to south Devon and to the elusive Hoopoe around Dawlish, that one was present to 29th.
Having two Common Rosefinches to scribble about as December arrives is quite something really, so hats off to the patchworker who discovered one in stubble fields at Overton (Glamorgan) on 1st ~ the first in the county since one was reported in, funnily enough, late November 2010 (with just one recent record before that, in October and November 2007). Bird #2 lingered in gardens in Cobh (Co. Cork) to 27th.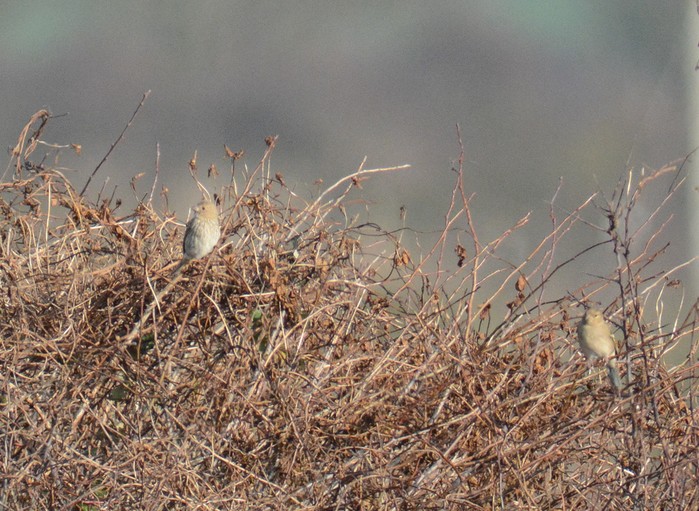 The rather fine adult Rose-coloured Starling began to draw a crowd in 'burbs of Bristol to 2nd while the lone double-figure flock of Waxwings this week was the 17 seen at Pluscarden (Moray) on 27th. It was low singles elsewhere, from Norfolk to Shetland, mustering less than 30…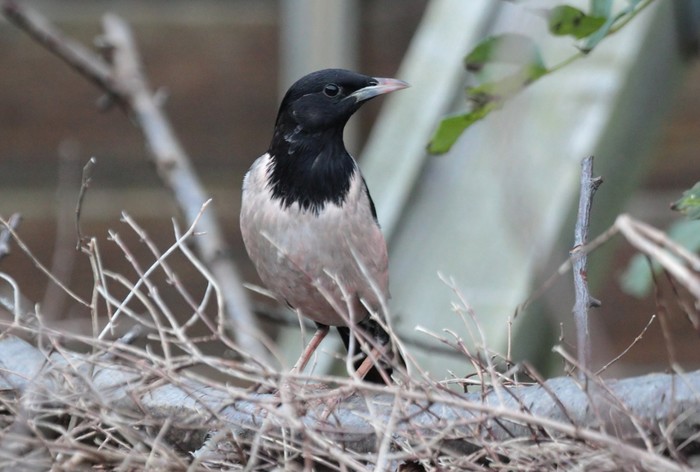 …let's see if the cold blast from the north that's forecast to push across the east side of the country by the time you read this produces the first decent flocks…its odds-on that it will…
So, the cold winds that lie ahead (for a day or two), can they "do the biz"? In reality, they seem to be not coming from that far north but there's always hope…
…and there are options to think of…
At the common end of the scale, there's beefy white-wingers to velveteen Waxwings, whilst the dreamers can "virtual-bird" their way to finding something of a higher calibre like a Brunnich's Guillemot ~ good luck with that one, woe betide you have a fly-by, you'll be duly punished with a walk on the gang-plank for identification insubordination by the non-believers who lie aboard H.M.S. BBRC.
If the ramifications of that are all too much of a migraine-enducer, have a virtual-tickle (or better) on another Pine Grosbeak. Shetland will always be favourite for the next one, but c'mon, let's channel the mainland energy…
…or, to borrow and bastardise from the acid-trip hollers of Woodstock, "hey if you think really hard maybe we can…" bag us a Hawk Owl…
Who knows what weather we need to get one, northerlies in December are probably not what you'd stick your money on, but with 31 years on the clock since that sensational September Shetland bird ~ the only one in 116 years ~ well, you gotta have a dream right…?
Mark Golley
03 Dec 2014


Thanks to all of our contributors for their photos, videos and sound files.
Martin Goodey, Joe Pender, Ashley Fisher, David Aitken, Dave Mansell, Martin Garner - Birding Frontiers, John Mclaughlin - Birdline North East, Andrew Kinghorn, John Chapple, Marc Read, Martin Casemore - Plodding Birder, Marcus Nash - The Bird Id Company, Jeff Hazel, Wayne Tucker, Terry Brown, Hugh Harrop - Shetland Wildlife Malcolm Fincham, Paul Kelly - Irish Bird Images, David Boult, Clare Fuller, Davey Farrar - Kerry Birding, Richard Rafe, Brendan Doe, Max Hellicar, Martin Cade - Portland Bird Observatory, Mike Langman, Brian Gibbs, Mark Tomlins, Nick Smith, Mark Hipkin, Allan Chard,
Contributors websites Check out our contributors website for more great photos and news