Weekly round-up: 19 - 25 Nov 2014
Sponsored by Warblr - the birdsong recognition app
The week at a glance
Cleveland rattles in a Sunday afternoon cracker ~ our latest Isabelline Wheatear ever
Shetland scores another late autumn mega ~ another White's Thrush found on Mainland
…and still they keep coming…another November Red-flanked Bluetail lands on Orkney
Northumberland sees the arrival of the month's fourth Hume's Yellow-browed Warbler…and Devon collects a second in a week
Cornwall's oft-returning Pacific Diver back again in Mount's Bay
North Uist's American Coot in place for few more days…and Kerry's does too…
Last week's Grey-cheeked Thrush remains on Mainland Shetland
Suffolk's November Black Stork becomes Norfolk's November Black Stork
There's more on the Pembrokeshire Blyth's Pipit too…
Its been said before and it may well be said once or twice more before the curtain finally comes down on December 31st, but 2014 just can't help itself ~ once again we have a birding year that just keeps giving…
A generally mild week (a particularly wet one at times across the spine of the country and on to the south and east) had a few wobbly wind moments as assorted low pressures flopped across the country.
…but as the rain cleared, clear skies, frosts and a puff of "innarestin'" east-southeasterly tucked in behind it all, and the surprises came, none more so than the week's "best bird", found in northeastern England.

Isabelline Wheatear
Finally!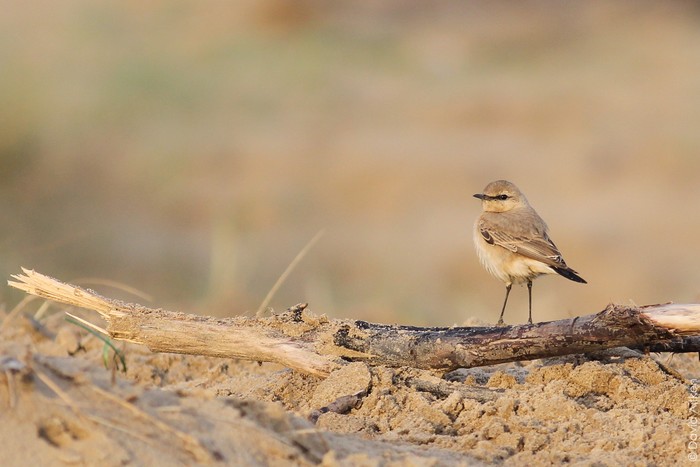 After weeks of being at the forefront of the "next good bird" thought (especially in the last three weeks or so when the weather has been, to one degree or another, favourable), a late-late Isabelline Wheatear was identified in Cleveland on the afternoon of 23rd.
Found on the beach at Seaton Snook, a few miles southeast of Hartlepool, this east coast mega was seen through to dusk ~much to the relief of all of the county's birders, being an exceptional "first record". Happily, for those "in need" but out of range, the bird did the biz the next couple of days too, so all was well.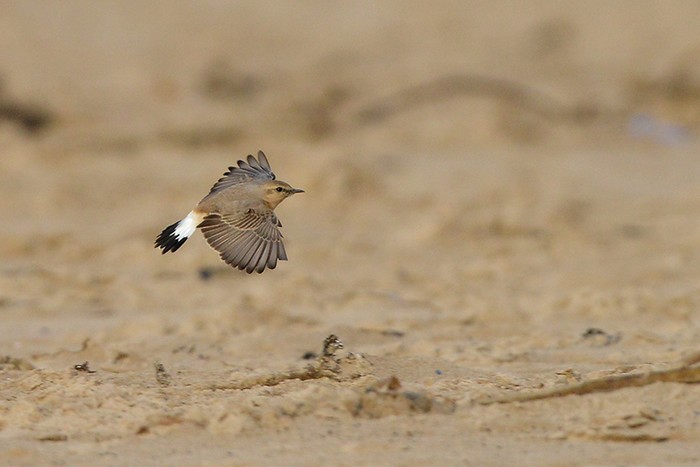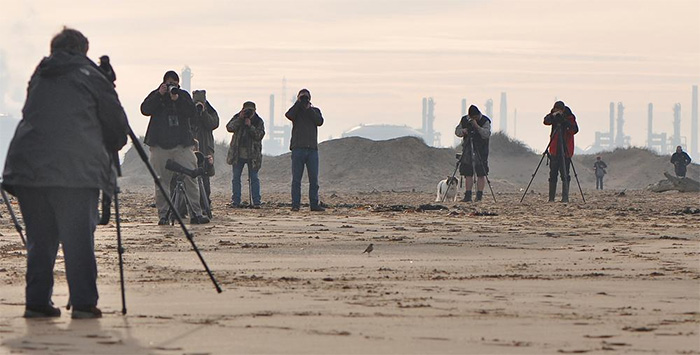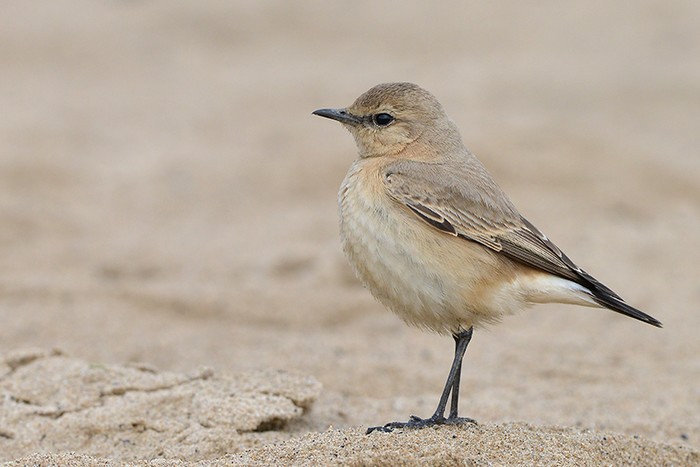 Up until the end of last year, 33 Isabelline Wheatears had been accepted by the BBRC, with just five of those being discovered in northeast England ~ two each for both East and North Yorkshire, with one for Northumberland.
This will become the sixth record of the species sin the last four years, a total boosted by three birds in the autumn of 2011, with 16 overall from the turn of the millennium.
Of those 33 acceptances, this will become only the fourth for November and, comfortably our latest-ever. The previous records through the month include Britain's first Isabelline Wheatear, shot in Cumbria, at Allonby on November 11th 1887, with the other two coming within just 24 hours of each other ~ on November 4th and 5th 2011, at Spurn and on the Gower Peninsula.
October remains the optimum month for this always-informative species, 18 records to date, with September following along with 11, then November's three (accepted ones…) and the still-amazing spring record (our only one) from Winterton on May 28th 1977.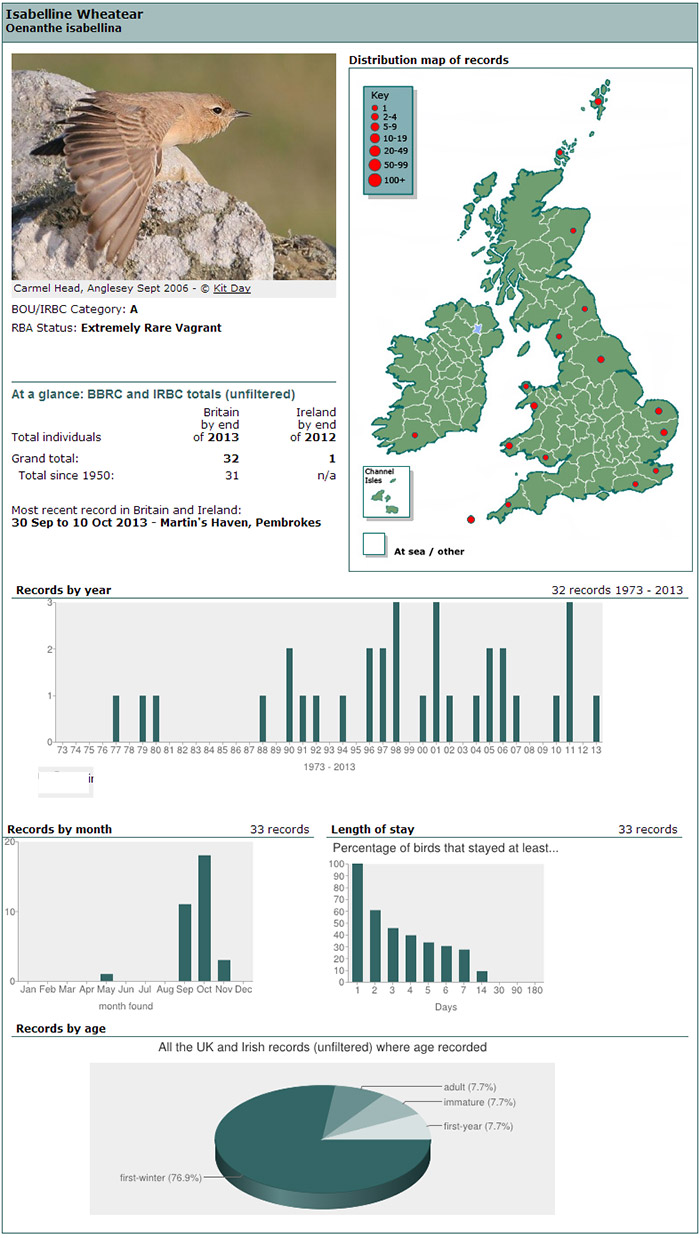 White's Thrush
…this truly delicious species continues to thrill on each and every occasion that it appears on the pager ~ and this week's slightly surprising late news was really no different.
There may be over 80 accepted records but that can never detract from the gold and black majesty of this truly sensational Zoothera…
Sadly, for many, this new White's Thrush was yet another to be found on Shetland ~ seen briefly in Lerwick on the morning of 19th, becoming potentially the fourth on the islands this autumn.
The first appeared at Brow Loch, Durigarth on September 29th, where it lingered to October 1st ~ frequently showing in the most sensational fashion, a genuine photographer's delight. Soon afterwards came the second, seen at Wester Lowther, on Fair Isle, with the third hurrying along, albeit briefly, when it was reported at Levenwick on October 8th. Well over five weeks passed until the Lerwick sighting and, if all are accepted, 2014 would draw level with the two previous best Shetland runs for the species ~ four each noted in both 2004 and 2008 (the first quartet found between October 1st and 10th, the second batch noted between October 1st and 13th).
As of the end of 2013, 28 White's Thrushes had been recorded on Shetland, from a total of 83 birds in all. Of those 83, only eight have been found in November, the most recent of which was found on Tresco on the 3rd of the month in 1965. Two of those eight late records were discovered on Shetland, both on Fair Isle, one in 1948, the other in 1958.
Red-flanked Bluetail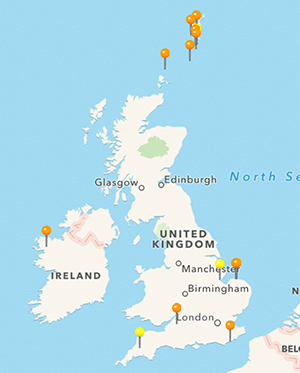 Another eternal favourite in Headline Corner is Red-flanked Bluetail and, after news of the White's Thrush came our way from Shetland, the appearance of another Bluetail almost felt inevitable ~ and, in a pleasing change from the autumn norm (!), this week's newbie made a way to Orkney.
Definitely within the Shetland shadow, this week's find at Hildavale, on Westray, on 19th could become only the sixth record for the islands as a whole ~ and follows swiftly on from two accepted birds seen only just over a year ago (on North Ronaldsay and, again, on Westray).
As mentioned above, Orkney could now go to six records in all, Shetland remains way, way ahead ~ 32 accepted birds prior to this year, with half a dozen in the offing for the islands this year. The half century draws ever-closer…
The autumn of 2014 has seen 10 Red-flanked Bluetails find their ways across the North Sea to Britain and Ireland ~ along with the Orkney bird of this week, there have been five on Shetland, two in Norfolk and one each for both East Sussex and County Mayo, with an overall year tally of 12 to date (the spring birds in Gloucestershire and Fair Isle bumping the total up some more).
The overall November finds total has now skipped along by four this month ~ the Mainland Shetland birds at Geosetter and Voe, along with the bird in East Sussex, at Hastings adding to the Orkney bird, taking the numbers to 18 discoveries for out 11th month of the year.
Hume's Yellow-browed Warbler
Following on from a small but perfectly formed pulse of three Hume's Yellow-browed Warblers during the week just gone, there's been one further addition to the November tally thanks to a new arrival in Northumberland.
Found at Whitley Bay on 22nd, this Hume's becomes the first in this particular part of northeast England since an accepted bird on Holy Island in mid-November 2011 (there was also a report of a two-day October bird at Cambois in 2012, but that bird hasn't appeared on the official record).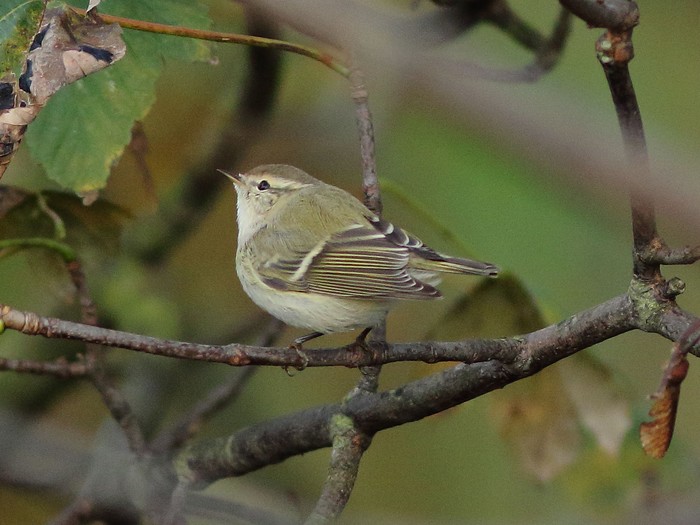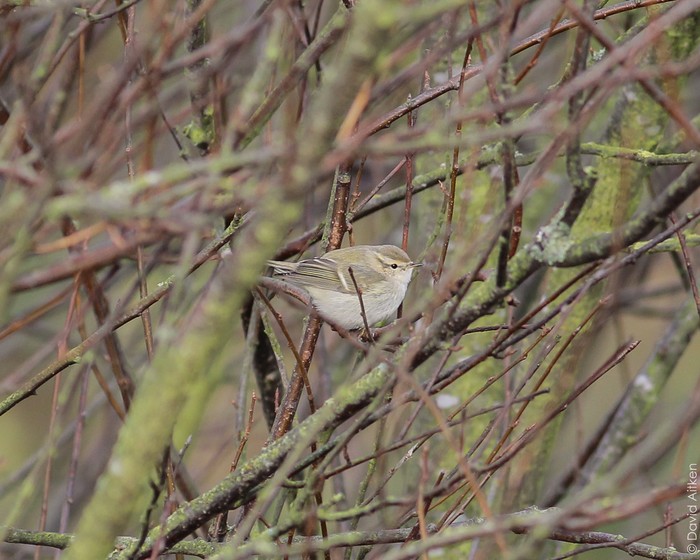 Northumberland has a particularly strong track record for the species to date ~ 12 birds accepted to date, 10 of them coming since 2000, with the first county records dating back to November 1989 (at Newbiggin) and November 1970 (at Low Hauxley). Of that dozen so far, eight have been November finds, with others coming in October (in 2001 and 2003) and, slightly more surprisingly, in January (2002 and 2006 ~ that final one appearing at Whitley Bay, site of this week's newbie).
That tally of 12 accepted Hume's Yellow-browed Warblers in the county puts Northumberland in third place in terms of occurrences ~ Yorkshire lies second on 17 with Norfolk's mighty 22 leading the way by some distance.
The Whitley Bay bird of 2014 stayed to 24th.
After last week's discovery of a Hume's Yellow-browed Warblers at Berry Head, Devon birders had the chance of another south coast bird this week, with one reported at Countess Wear, close to Exeter in bushes alongside the canal briefly on 23rd ~ potentially just the fifth county record to date.
Pacific Diver
What's presumably Cornwall's only-ever Pacific Diver was found to be back again for another winter in the warmish waters of the far southwest of England, located once again in Mount's Bay, near Penzance, on 22nd, where it showed to 25th.
This particular vagrant has been a sometimes sporadic visitor to the west end of the county since discovery in the same general area of water in February 2007, when it lingered (albeit distantly at times) in to March, before appearing there again on November 23rd the same year.
Since then, it has returned in November 2009, December 2010, December 2012 and, last year, on November 10th. The length of the bird's winter sojourns have varied from a few days to a few months ~ notably from December 21st 2010 to March 3rd 2011.
That first Cornish showing was part of the (still remarkable) triple-bill of Pacific Divers located and identified in the first seven weeks of 2007…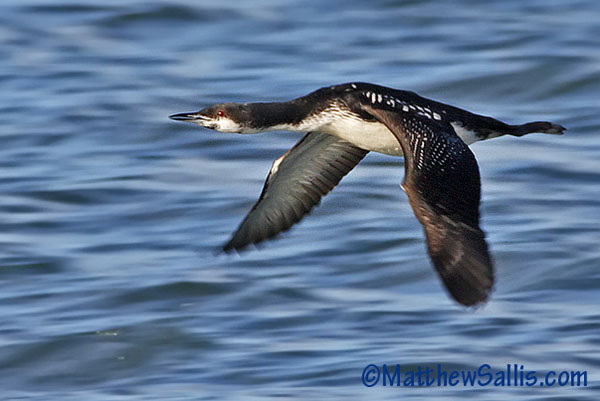 Britain's first arrived at Farnham GPs (North Yorkshire) on January 12th, where it was suppressed until news seeped out on 29th, remaining in place to February 4th. The second was discovered on the Llys-y-Fran Reservoir (Pembrokeshire) on February 2nd, where it lingered to March 20th with the Mount's Bay bird arriving on the Cornish coast on February 17th, where it was on station to March 10th.
American Coot
The first couple of days of the new review period brought news of just one of our very recent American Coots ~ still present on the Outer Hebrides, at Loch nam Feitham, North Uist to 20th ~ sticking around long enough for a photo or two to be rattled off for good measure.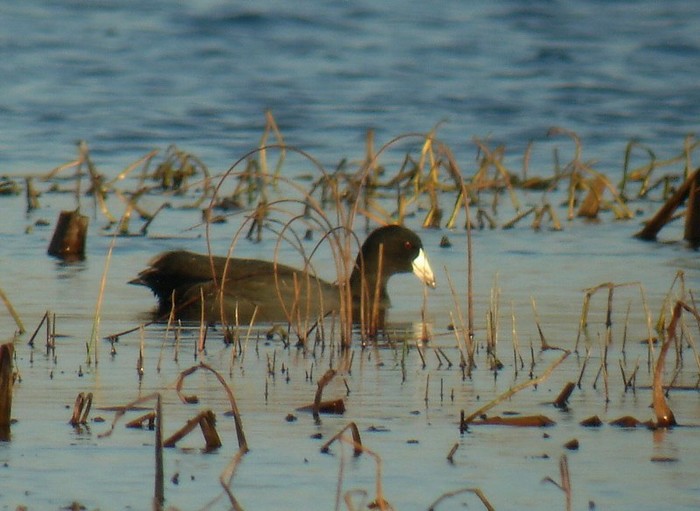 …by the weekend, our second November American Coot was noted as still present in County Kerry, happy enough on Lough Gill to 25th.
Grey-cheeked Thrush
Back on to Shetland Mainland now, for a brief reprise of the week's Grey-cheeked Thrush news ~ the rather photogenic first-winter performing through to 19th at least in the gardens of Rerwick, popping a dozen days on the board, ensuring that it is just one of seven examples of the species to have gone in to a double-figure stay.
The Rerwick Catharus has passed the 10-day bird on St. Mary's (Scilly) in October 1976 and the 11 days registered by another St. Mary's, present in October 2007. Ahead of it remain the November bird in Hertfordshire (13 days) and two more long-stayers on St. Mary's ~ a 20 day bird in October and November 1979 and a 24 day bird in October and November 1986.
Black Stork
One of the genuine surprises of a most excellent week last week, tucked away behind the Little Bustard and the like, was the remarkable news of a colour-ringed German juvenile Black Stork that, having been seen initially near St. Osyth in Essex during the early afternoon of 15th relocated later the same day to neighbouring Suffolk, pitching down at Trimley Marshes.
The popular bird spent a few morning hours at Trimley on 16th before disappearing, relocating once again the following day, seen a few miles away at Hazelwood Common. The trail then appeared to have gone cold, though one nervous set of eyes at least had daily focus on one section of the big north Norfolk sky, just in case.
Three days after the last Suffolk sighting, the young traveller had drifted quietly across another county border, being seen on the morning of 20th along the edge of the Norfolk Broads, close to Waxham (an area that, feasibly ~ on paper at least ~ could suit this lost wanderer down to the ground)…
…though clearly not more than for just a few days, wanderlust taking hold once more with the urge to escape the English east coast perhaps uppermost in the bird's mind ~ the glorious sunny Norfolk morning of 24th persuading this lost soul to take flight over Bradwell (near Yarmouth), heading back from whence it came).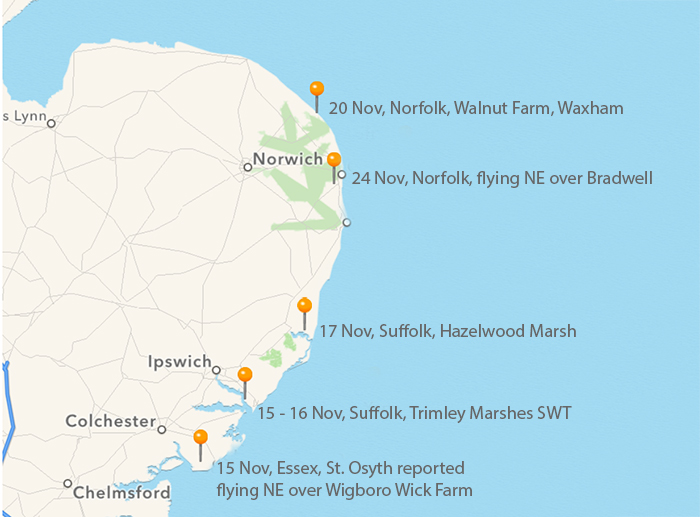 This is the second time this year in which the two local rival counties have shared the company of a Black Stork ~ in early June (on 3rd), one was seen in northwest and north Norfolk, relocating the following day to Hickling before drifting south along a stretch of the Suffolk coast from Lowestoft to Covehithe, on 5th.
The two birds of 2014 will push Norfolk's total of Black Stork records to 16 in all, the last four of which have been seen in a modestly small area of Broadland (x2 in 2014, x2 in 2011)
Blyth's Pipit
Well after close of play on the last day of last week's review, came news of what was thought to be a decent Blyth's Pipit candidate in west Wales, at St. David's Head in Pembrokeshire, seen there during the afternoon of 18th.
It didn't take long the next day, upon examination of a few shots posted on the always excellent Pembrokeshire Birds blog http://pembsbirds.blogspot.co.uk to see a super first-winter Blyth's looking back from the computer screen and, although mentioned at the tail end of the round-up, the bird really wasn't given the credit that such an excellent discovery warranted.
So, a brief re-dressing the balance is called for ~ sadly the bird couldn't be located the next day but there's more than an enough in the photos to ensure that this second of the autumn will become a county first and only the second Welsh record ever, following a two-day bird on Bardsey (Gwynedd) in mid-October 2005.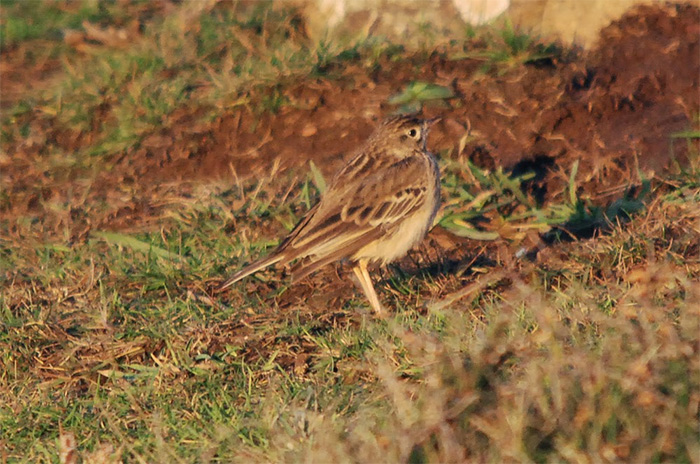 After the decidedly muted fanfare afforded the super first-winter on St. Mary's last month (present on 5th-6th and again on 9th) ~ a bird which was actually the first for seven years ~ there seems likely to have been a significant amount of interest in the Welsh bird, had it obliged a little more…
…it wasn't to be though, so it'll become the 23rd British record with just a couple of lucky observers there to enjoy it. It becomes the fifth November record (and sixth bird in all) following on from two records in 1994 (the much-twitched Landguard individual and another sticker at Seasalter), two together at Portland in late November 1998 and a lingering bird at Land's End in 2004.
None of these are our "latest" Blyth's Pipit though ~ that honour remains firmly with the Gringley Carr first-winter that spent December 28th 2002 to January 5th 2003 in Nottinghamshire.

With little by way of Little Auk winds this week, there's not too much of surprise to see that numbers were down again across the last seven days ~ 135 birds noted from 12 counties by the end of the weekend, with East Yorkshire leading the way with 65 birds in all, including 54 past Flamborough Head off the back of an interesting weather system on 19th. The same day saw 11 of North Yorkshire's 13 head past Filey, with the week's only birds away from east coast counties also noted, three seen from Berry Head (Devon).
Northumberland and Durham made it to double figures for the week, singles were noted through Borders, Fife and Lothian while two counts of six came from Sumburgh (Shetland) on 20th and 22nd.
Pomarine Skuas have also been a particularly pleasing feature of the late autumn, but this too was a species that saw numbers fall away. Around 40 in all were noted (from 12 counties), 22 of them logged on 19th, with birds that day spread from seven off the coast of south Devon to five off Lothian's Hound Point.
The only Sabine's Gull reported this week was off Portland Bill (Dorset) on 21st, while Grey Phalaropes fared a little better ~ up to ten birds noted, all bar two of them in the northeast; in East Yorkshire, one remained at Tophill Low NR to 22nd and one was seen from Flamborough on 19th. In North Yorkshire, at Filey Brigg two birds were seen on 19th and then singles were recorded there on 21st.
Another twosome were noted off the Farnes (Northumberland) on 22nd and a further county record coming on St. Mary's Island on 24th. Singles down south alighted at Oare Marshes (Kent) and Burwell Fen (Cambridgeshire) on 21st while an Irish loner was seen at Fair Head (Co. Antrim) on 25th.
Just one Balearic Shearwater made it to the RBA newsline this week, heading by Downderry (Cornwall) on 20th.
Dungeness remained, very much, Egretsville UK with the three Cattle Egrets still all present and correct on 19th (two remained to 21st) and an impressive seven Great White Egrets still in situ to 22nd. Not too far away in East Sussex, at Pett Level, a double helping of Cattle Egrets on 23rd may have had something to do with some of the Dunge birds…(maybe not tho' ~ two were again in Kent on 24th).
Elsewhere, three further Cattle Egrets made the news as well ~ long-time regulars again at Burton Mere Wetlands RSPB (Cheshire) and Hillsborough (Co. Down) through the week while a new arrival was found in County Kerry, north of Tralee, at Abbeydorney, on 22nd ~ the first record in the county since January 2010.
There was a slight downturn in numbers of Great White Egrets this week, though the haul of 40 birds (or more) from at least 21 counties would (of course) have been stellar a couple of decades ago.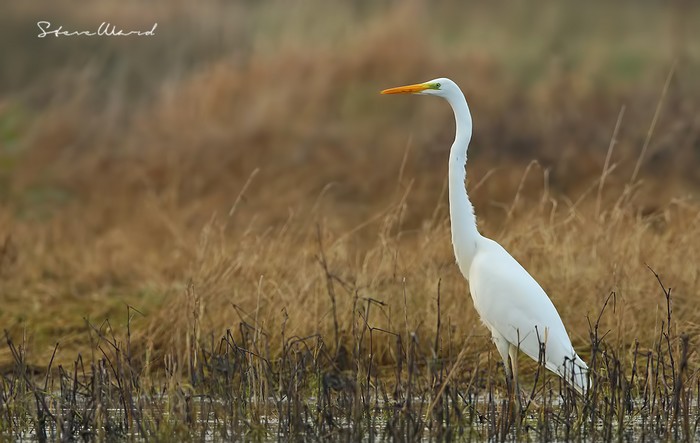 Thanks to the already mentioned septet in Kent, the southeast of England was the top region this week, with at least a baker's dozen birds present, including two in Berkshire and an extra one in Kent as well. Up to five singles were logged around Somerset this week, along with three at Shapwick Heath on 24th, with a bird at Hengistbury Head (Dorset) on 20th taking the southwest total to a neat seven or eight, with one on Studland and Bere Alston (Devon) on 23rd nudging the tally up by two more too....
In the Midlands, three birds were on station at Pitsford Reservoir (Northamptonshire) on 23rd, while two were still at Rutland Water (Leicestershire) throughout the week (with a third in the county at Asfordby on 22nd).
East Anglia and the northwest of England came in with four birds (minimum) this week ~ including two singles (then two together, at Ouse Fen) in Cambridgeshire and a newly (returned?) bird at Lakenheath Fen RSPB (Norfolk/Suffolk border) from 21st with twos also seen at Hale Marsh and Frodsham (Cheshire) on 19th and 23rd, with a duo also logged at Marshside RSPB (Lancashire) on 22nd.
Two single Great White Egrets were in Wales (in Carmarthenshire and Powys) and one also moved from East Yorkshire's Tophill Low NR to Lincolnshire's Alkborough Flats NR on 21st. A new arrival was seen in Ireland, found in County Clare at Aughinish Island on 23rd, with the same date seeing one again logged at Cahore (Co. Wexford).
Diminishing returns too for Glossy Ibis this week, the only individual noted was one that lingered at Frampton Marsh RSPB (Lincolnshire).
…and continuing the downward trends further, the week's high counts for Spoonbills in Poole Harbour were 20, on both 19th and 20th and then 43 on 23rd. Elsewhere along the south coast, two birds were noted at Pagham Harbour (West Sussex) on 19th-22nd, with another county bird at East Head on 20th and one in next door East Sussex, at Rye Harbour NR on 22nd.
Three Spoonbills were present at Orford Ness (Suffolk) on 24th with another at Havergate Island RSPB on 22nd. An immature was at Seaton (Devon) on 20th-21st, with one heading west past Wembury on 22nd while two birds remained on the River Lynher (Cornwall) to 22nd.
Just for good measure, and keeping the feel similar to several of the long-legged beasties that have proceeded them, Common Crane reports were also pretty skinny this week ~ eight flew over Ten Mile Bank (Norfolk) on 19th, two were again at Eldernell (Cambridgeshire) on 22nd and seven were in Broadland on 24th.
Best 'til last again though, and its off to north Wales and to Anglesey where the showy juvenile Purple Heron continued to show rather nicely from time to time near Capel Gwyn through to 25th.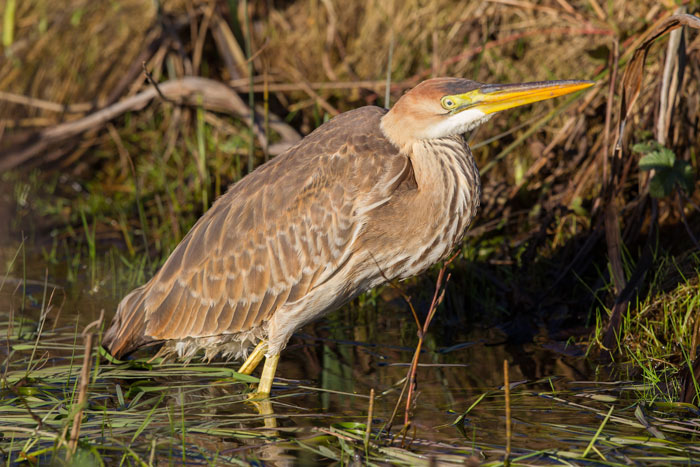 On Orkney, the island's first Red-breasted Goose contionued to show around Loch of Harray, Tormiston through to 24th.
Also in Scotland, a Snow Goose was found amongst a flock of some 2,500 Pink-feet at Keith (Moray) on 19th (moving to Mosstodloch on 20th) while in Lancashire (and rather confusingly) a white Snow Goose present at Colloway Marsh on 22nd-24th was listed as an escape ~ there's been no news of the recent Lesser Snow seen in the county this month.
Wexford's wintering parvipes Lesser Canada Goose was on the North Slob NNR all week and on Islay a hutchinsii Richardson's Cackling Goose was again near Loch Gruinart RSPB on 19th.
Norfolk's adult Black Brant continued to roam the fields and marshes from Blakeney to Salthouse throughout the week and the wintering Brant also remained at Kilnsea (East Yorkshire) for a few more days, present to 23rd at least. In Essex, two adults were present at Holliwell Point on 20th and one was noted at West Mersea (also in Essex) on 22nd-25th.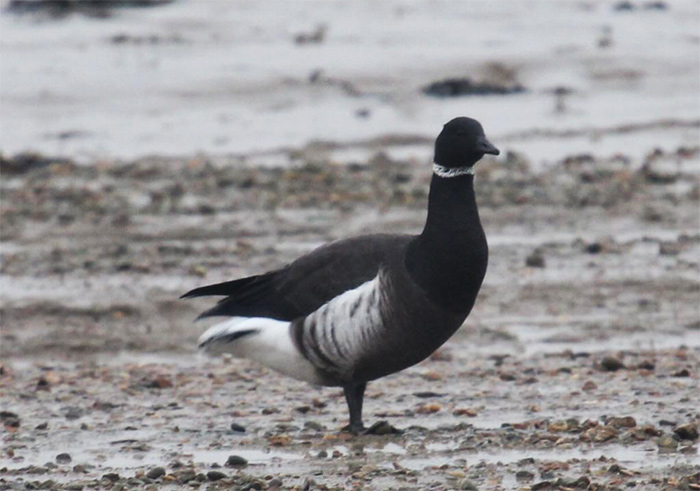 After last week's wave of Surf Scoters off the coast of north Wales, numbers were at a more expected three from Llandulas (Conwy) on 23rd, all of them fine adult drakes, with a fourth drake (and a female) present on 24th. A pair of adults were seen in Ireland, at The Hermitage (Co. Louth) on 22nd and in Scotland, the adult drake remained at Musselburgh (Lothian) to 20th moving to Eastfield on 25th.
English Surfies were represented by the first-winter drake that remained in the waters of the Suffolk and Essex border, at Stutton and Wrabness through to the end of the weekend, while the second-winter drake was in Holkham Bay (Norfolk) to 24th.
Last week's two Ferruginous Ducks were this week's two Ferruginous Ducks ~ the female lingered at Brogborough Lake (Bedfordshire) to 20th and the adult drake in Hampshire was on Blashford Lakes HWT to 21st at least.
In the Irish borders, in Connacht, an adult female Ring-necked Duck was found on Glencar Lake (Co. Leitrim) on 19th, the first county record for at least 15 years. The only other report of the week was a drake in Sligo, on Lough Gara on 23rd.
One of the week's three drake Lesser Scaups was listed as "still present" in Ireland ~ again on Kerry's Lough Gill to throughout the week ~ with the only others reported being the Portugeuse nasal-saddled bird on Llangorse Lake (Powys) to 21st and the inevitable Cardiff Bay individual to 25th.
Scotland hosted five drake Green-winged Teals through the past seven days ~ still at Loch Leven RSPB (Perth & Kinross) on 22nd (one was present for a day in October), lingering at Caerlaverock WWT reserve to 23rd when a second Dumfries & Galloway bird was found at Mersehead RSPB was located. The same date also saw the drake on North Ronaldsay (Orkney) noted again while over the water on Shetland, their drake was again at Muckle Roe on 23rd.
New singles were seen in England at Kilburn NR, near Belper (Derbyshire) and Bowling Green Marsh RSPB (Devon) on 22nd and Grove Ferry NNR (Kent) on 23rd while in Gloucestershire, one was at Slimbridge WWT to 23rd with another at New Passage from 22nd-23rd. On Scilly, a drake Green-winged Teals was again on the Abbey Pool, Tresco on 23rd, while new in Ireland were birds 11 and 12 of the week, found at Seabank (Co. Louth) on 22nd ~ the first there since February 2009 ~ and on Quoile Pondage (Co. Down) on 25th.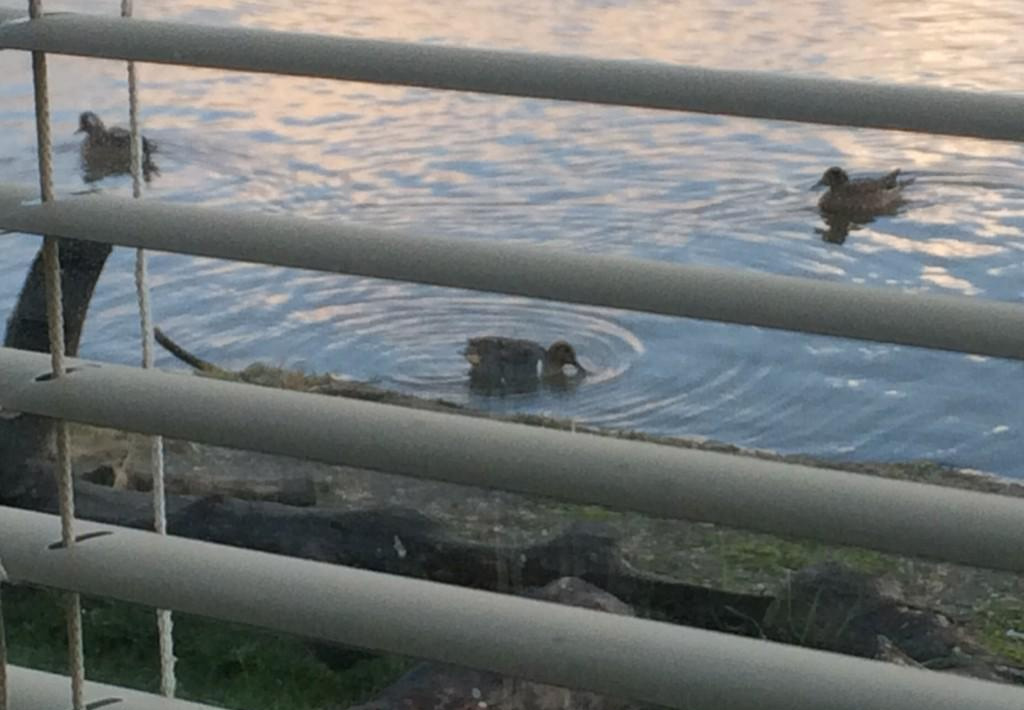 Northumberland's oft-touted as dodgy Blue-winged Teal stuck it out on the River Wansbeck throughout the week.
Making a reappearance in the roundup this week is the wintering drake American Wigeon that was seen again at Udale Bay (Highland) on 19th. Also reappearing was the drake on South Uist, seen near Cheese Bay on 21st and another drake was on Shetland, at Loch of Collaster on 23rd-25th while the female in north Cornwall lingered on the Gannel Estuary, also to 23rd.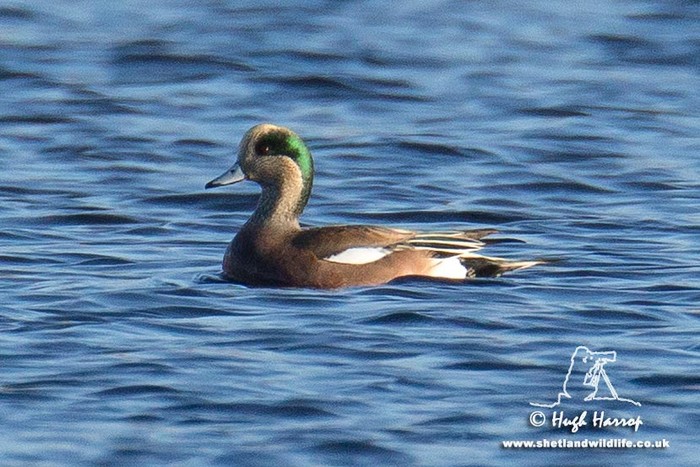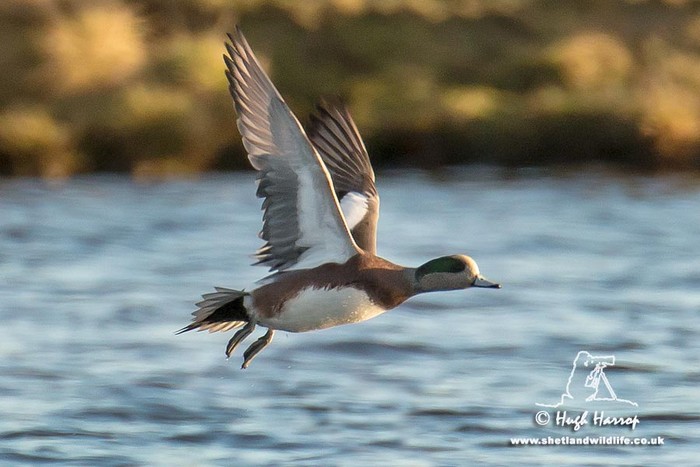 There was little on offer for the shorebird portion of this week's review ~ two juvenile Lesser Yellowlegs are all that's on offer ~ still at Poulnasherry Bay (Co. Clare) on 22nd and on the Hayle Estuary (Cornwall) to 25th.
The adult Franklin's Gull was noted nightly at Blashford Lakes HWT through to 25th. The bird has spent the best of a month popping in and out of the site ~ first seen there on October 19th before taking nine days to show itself again. Since October 28th though, it has headed in for a pre-roost bathe on almost every night to the end of this week.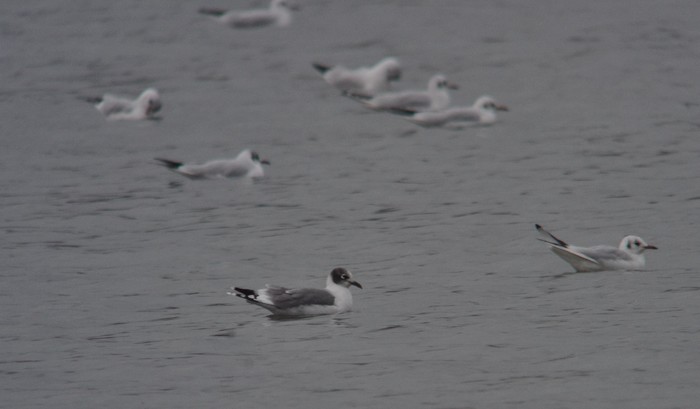 Making itself known again for the first time in a fortnight was the adult Bonaparte's Gull at Dawlish Warren NNR (Devon), seen there on 23rd (having last been noted there on 10th). Further north (and also, presumably, making itself known again) was the second adult Bonaparte's of the week, found around Inner Farnes (Northumberland) on 23rd ~ one spent odd bits of last November visiting the islands, in between time at Bamburgh, so is likely to be the same returning individual (and the fifth or sixth for the county).
There were two first-winter Ring-billed Gulls to report from southwest England across the last seven days ~ the showy recent arrival on St. Mary'sairfield was present to 23rd at least while new was one that spent a short time at Sennen Cove on 24th. The other three Ringos logged this week were old-timers of assorted senior status ~ at Dingwall (Highland), Bray (Co. Wicklow) and Walpole Lake, Gosport (Hampshire) all to 25th.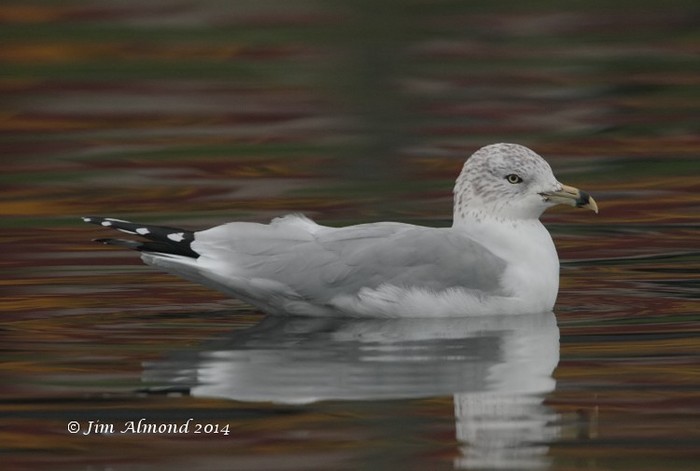 Only eight Glaucous Gulls were reported through the week, five in Scotland, including two on Shetland and two in Highland, with singles also noted in Cork, Cornwall and Norfolk. Even fewer Iceland Gulls made it to the news, some six or seven in all, including at least three in Moray, with an adult and juvenile at Lossiemouth on 22nd the only report of significance.
Finally, over on the west coast of Ireland, in the always-glorious Galway Bay, the oft-returning adult Forster's Tern was seen again at Kinvarra on 23rd ~ what is most likely to be the same bird was last seen at this site in March 2013 (though it could be new...), while the species has been seen annually in Galway since 2007.
Well and truly settling in to what looks like the winter pattern now are the 19 or 20 Rough-legged Buzzards present around the country this week ~ northeastern England faring particularly well still with some nine birds around the region. In Lincolnshire, a juvenile was at Frampton Marsh RSPB to 24th; South Yorkshire birders logged two juveniles at Thornseat Delf on 23rd with one at Broomhead Reservoir on 24th; in East Yorkshire, the superb young Rough-leg remained near Bridlington throughout and one was noted at Flamborough Head on 24th and in Northumberland, two birds-of-the-year were still in the Harthope Valley to 22nd and one was also reported at Ingram on 22nd.
In the northwest, a Rough-legged Buzzard was again noted around the Saddleworth Moor area of Greater Manchester on 25th while in Norfolk up to half a dozen birds remained in the county ~ twos lingering in the Burnham Overy Dunes and Holkham area as well as Breydon Water throughout the week while singles were reported over Titchwell and then perched at Holme on 19th and heading east over Blakeney on 22nd.
In East Sussex, at Jevington, near Eastbourne, the lovely juvenile Rough-legged Buzzard stuck it out to 25th and the juvenile was noted again near Braughing (Hertfordshire) on the same date, while in Scotland, three birds were split between Whiteadder and Fasney Bridge (Lothian) to 25th, around Wanlockhead (Dumfries & Galloway) between 20th-25th and at Saxa Vord, on Shetland, on 23rd.

This November has been a pretty strong one for Dusky Warblers and this week consolidated a good showing with a trio of new individuals to add to half dozen already listed this month.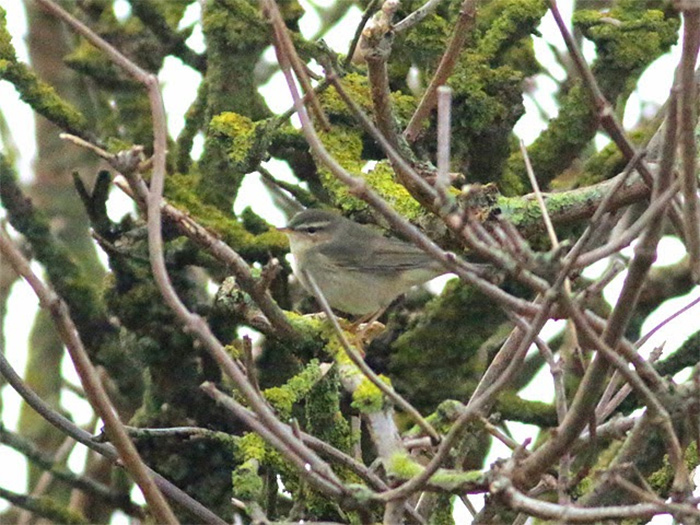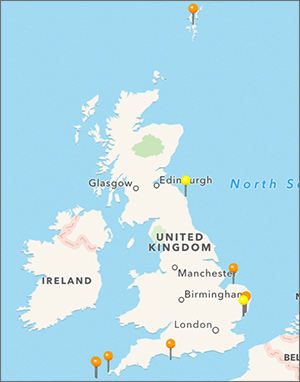 Two separate fresh Duskys were found on Scilly between 19th and 23rd, the first found on St. Mary's, at Porth Hellick, on the former date with one on Tresco on the latter. The third new individual of the last seven days was discovered on Portland (Dorset) ~ the second on the isle within just a handful of days.
Left-over from last week were the two Dusky Warblers in Suffolk, at Hollesley Bay RSPB and Landguard NR (both present to 20th) and also the Cornish valley bird, present in Kelynack throughout the week.
As expected at this time of year, the majority of the Yellow-browed Warblers on offer were to be found in southwest England ~ a dozen present in the region with five in Cornwall (two at both Nanjizal and Gunwalloe, with another at Newlyn), four in Devon (two each for Broadsands and Clennon Valley) and singles on Scilly (on St. Mary's) in Dorset and Somerset (at Lodmoor and Berrow).
The only other reports were of singles in Scotland ~ one remained at Nigg Bay (Aberdeenshire) to 19th and a new arrival was found at Holm, Mainland (Orkney) on 21st, where it stayed to 23rd.
The first modern day Desert Wheatear for Angus, the lovely, showy male found last week at Montrose remained along the sandy shore through to 19th. Further down the east coast, skipping in to England, the first-winter male Siberian Stonechat remained around the edge of the Sunderland AFC academy to 22nd.
A couple of "eastern" arrivals made it to either end of the country this week. In Cornwall, a mobile Little Bunting was in the Nanjizal valley on 20th while new on Shetland this week was the Olive-backed Pipit found on Fair Isle on 19th, which was still present on 25th.
It is interesting to take a look back at the two months between the first Shetland record of the autumn, also on Fair Isle, on September 21st to this last record on November 19th ~ the eight or nine weeks between those dates have yielded up to 31 Olive-backed Pipits around the islands, with as many as 18 on Mainland, a bare minimum seven on Fair Isle, two on Unst and singles on Whalsay, Fetlar, Foula and Yell.
Cambridgeshire's Richard's Pipit remained at Fordham at the start of the week, with a further half dozen noted elsewhere around the country. The 19th saw birds appear at Titchwell RSPB (Norfolk) and Balranald RSPB, North Uist (Outer Hebrides) with a five day bird at Penzance arriving on 20th. Another southwestern Dix was seen in Weymouth on 21st while last week's individual at Cloughton (North Yorkshire) popped again on 22nd to be joined by another on 24th, with both present on 25th.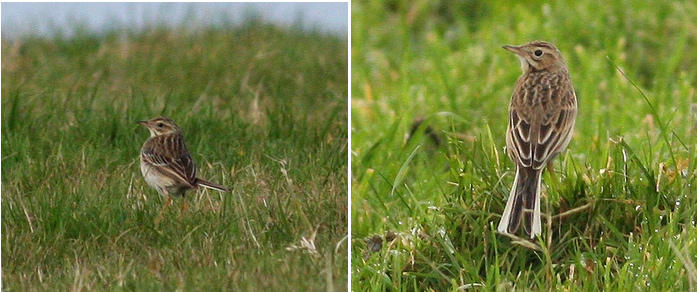 Around 20 Great Grey Shrikes were seen in 14 counties around England and Wales ~ there's not been a breakdown of the records for a little while so let's amend that right now…
South Yorkshire lead the way with up to four birds in the week, with two at Thornseat Delf on 21st and singles at Totley on 23rd and Thorne Moors NNR on 24th, with an additional "northeast" bird at Rimac (Lincolnshire) on 19th.
The northwest held four Great Grey Shrikes, with two still in Lancashire (at Lytham Moss and Grindleton) along with two new arrivals in Cumbria (a presumed returning individual at Dalton Crags from 20th and Hawkshead on 24th). Gloucestershire's Forest of Dean hosted two ~ at Crabtree Hill and near Woorgreens ~ and both still around on 24th, while the Midlands held singles at Black Hill, near Clun (Shropshire) on 19th, still in the Bredon Hills (Worcestershire) on 22nd and near Wraggs Quarry (Derbyshire) on 25th.
East Anglia's duo lingered in Norfolk, at Grimes Graves and Roydon Common, to 24th while in the southeast of England, the popular bird at Chilham (Kent) remained to 25th with last week's bird at Iping Common was seen to 20th. New in the region was a one-dayer at Pebmarsh (Essex) on 23rd and another bird in the Ashdown Forest (East Sussex) on 25th.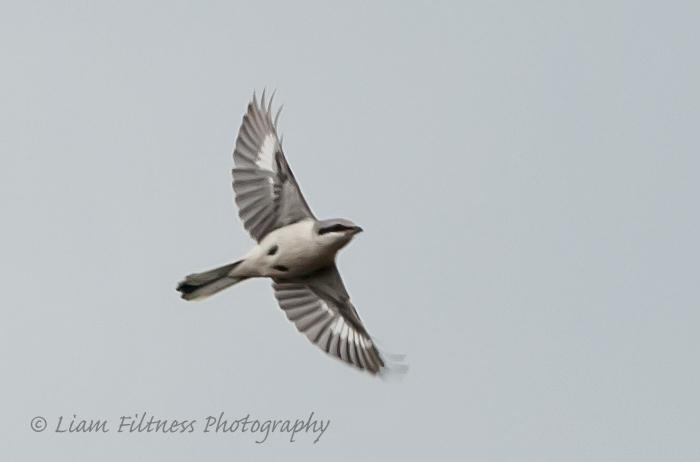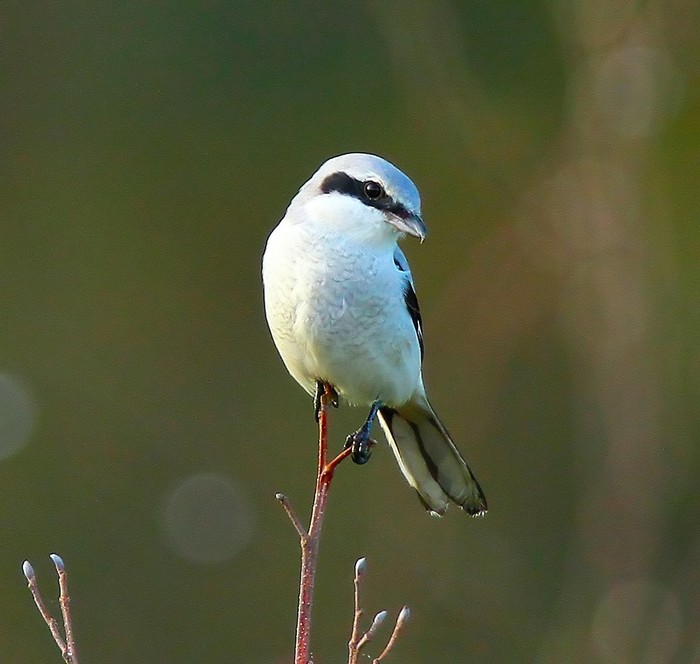 The final Great Grey Shrikes of the week were noted in Wales ~ in Brecon (Powys) on 22nd, Glyn-neath (Glamorgan/Powys border) on 23rd and near Trellech (Gwent) on 24th.
Two late November Hoopoes stuck it out on Portland (Dorset) and Dawlish Warren NNR (Devon) to 24th while late November Serins were reported at Dungeness (Kent) on 19th, again in west Cornwall, this time at Porthgwarra on 20th while two were logged briefly at Winspit (Dorset) on the same date. The final rather atypical late November species found this week is another Common Rosefinch ~ this one found at Cobh (Co. Cork) from 23rd-25th.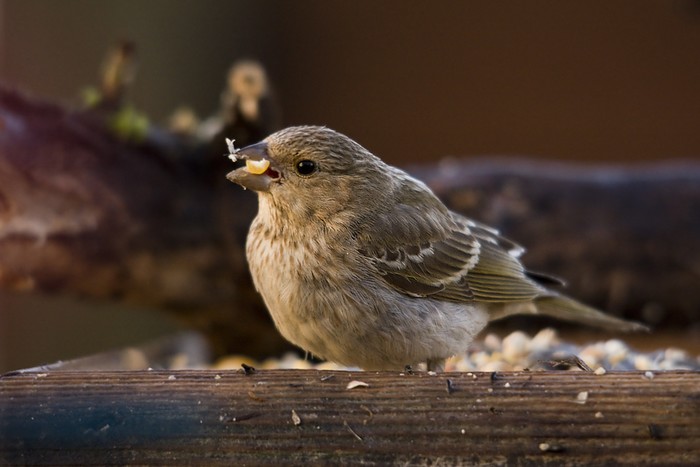 In Norfolk, the two Penduline Tits were reported again at Strumpshaw Fen RSPB reserve on 19th, but there's been no sign since. Also proving elusive, was an adult Rose-coloured Starling in gardens around the Bishopton area of Bristol, seen there on both 24th and 25th.
There were hints this week of more Waxwings turning up countrywide, though numbers remained in double figures only, around 90 noted in some 15 counties, with Shetland leading the way with around 25 birds in all (with a week "high" of nine in Scalloway on 22nd). East Anglia's three counties managed just under 30, with one in Cambridgeshire, 14 in Norfolk and 14 in Suffolk, including the three most-popular Waxwings of the week, present in Lowestoft from 20th.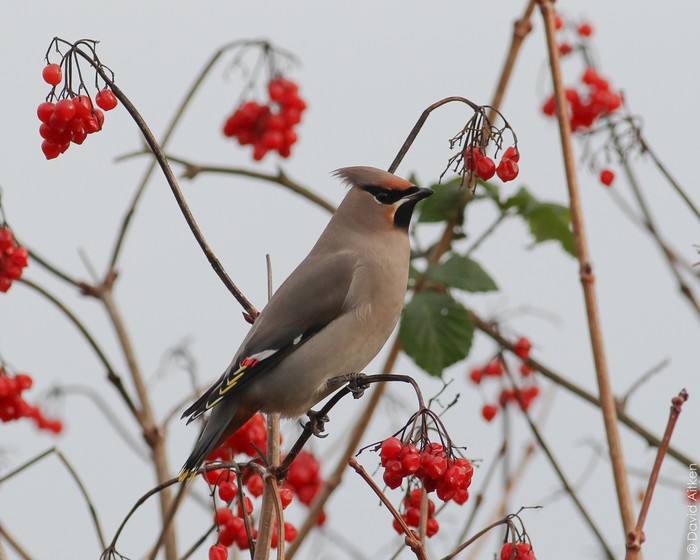 A handful of birds were noted in a few east coast counties north of the Wash to Scotland and it was perhaps a little surprising, in such a dismal late autumn so far, to see a couple make it to Kent, along with one in Wiltshire (at Chippenham, on 21st) and three in Gloucestershire (at Uley, on 20th).
The week ahead
The wind down towards full-on winter time continues a pace, but there could be just one last, little, itsy-bitsy inter-continental surprise on its way…the weather for the first couple of days of the new week ahead points to an even-later eastern surprise than this week's top bird ~ but realistically we may be looking at a funky rare mainland thrush (if we're lucky), one last Hume's Yellow-browed Warbler or perhaps a Pied or (more likely) Desert Wheatear ~ new birds have been found on each of the next seven days ahead, totalling 17 in all…yes, that's the one to aim for…
However, one bird more than any other remains particularly eye-catching from the dusty tomes of rares of bygone days for the week that lies ahead…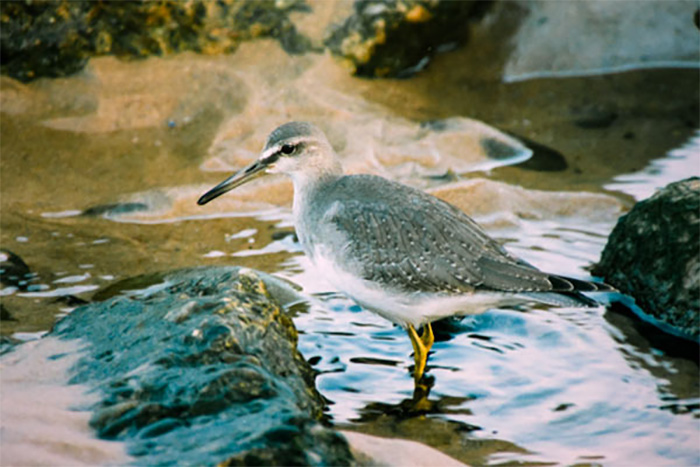 The arrival (and subsequent twitching there of) 20 years ago this week of the Burghead Bay Grey-tailed Tatler prompted a hefty exodus to the northeast of Scotland after this second fro Britain was discovered on November 27th 1994. Happily, this superb shorebird lingered for a month but we've not a sniff of one since, so it is right up there as a "most-wanted" for many now…this is, comfortably, ensconced in "blocker" territory.
Mark Golley
26 Nov 2014


Thanks to all of our contributors for their photos, videos and sound files.
Martin Cade and Portland Bird Observatory, David Aitken Ron Hindhaugh, Damian Money, Mike Young-Powell. Kit Day, Hugh Harrop - Sheland Wildlife David Carr, David Aitken, Matthew Sallis, John Kemp, Steve Ward, Simon Knight, Steve Grimwade, Mike Youdale - Caerlaverock WWT, Peter Law, Jim Almond, Frank Moffatt, John Stansworth-Ball, Liam Filtness Photography, Ronan McLaughlin, Alan Tate.
Contributors websites Check out our contributors website for more great photos and news