Weekly round-up: 29 Oct - 04 Nov 2014
The week at a glance
Britain's third Eastern Crowned Warbler found in Cleveland
Orkney's first-ever Bufflehead, a fine drake, arrives near Holm
Blackpoll Warbler hits the East Yorkshire coast, but moves on swiftly
The fourth Grey-cheeked Thrush of late October appears on Shetland
A late Red-eyed Vireo makes a surprise appearance in Cumbria
Mayo's first, and Ireland's fourth Red-flanked Bluetail lingers on the Mullet
…as Shetland collects Bluetail #38…
…with the week's third Red-flanked Bluetail making a little bit of history for East Sussex…
The drake Black Scoter remains off the coast of Angus
The week's late October sweep of helpful east to northeast winds, coming way off the weather charts along with attendant high pressure made the opening day or two of this new week look particularly interesting for birders along the east coast and, as we know, it did the business too.
Once the winds switched back to mild, warming southerlies, the avifauna changed tempo once again ~ it kept it interesting that's for sure ~ and a fascinating array of early November drifters, from west and east, kept the mid occupied and birding brains focussed on all sorts of random potential.
Without further ado, here's the rares…
Eastern Crowned Warbler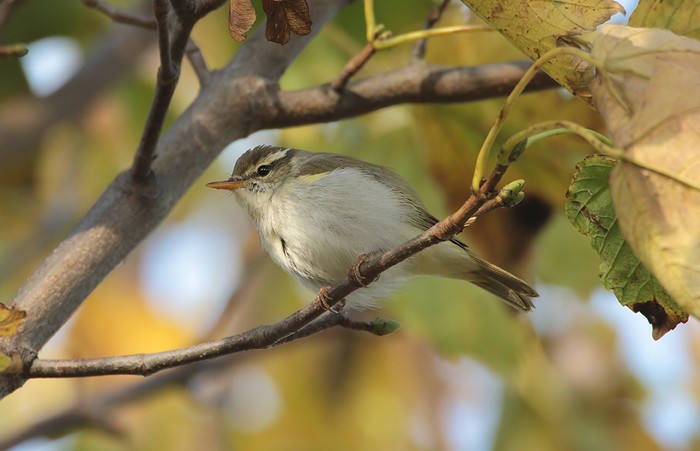 The week ahead appears to have the potential for a waif and stray from the east or northeast as the new review begins, the briefest puff of east and northeast winds making themselves known down the east coast… was how last week's stuff and nonsense drew to a close ~ to be honest, more in hope than expectation.
Even as the lights began to dim on Tuesday afternoon and the muse took my sausage fingers to hovering over the keys that spelt out Eastern Crowned Warbler it seemed a touch fanciful that such a brief spell of favourable weather would produce the species above as one of the more left-field predictions for the seven days that lay ahead.
I thought better of it and moved on to more waffle about southern vagrants and after a spectacularly uneventful 29th, where conditions seemed none too shabby, it seemed as though that east coast expectation had withered on the vine…
Finders in the field: Eastern Crowned Warbler, Brotton, Cleveland
"...but as I did something made me glance back into the Sycamore and luckily the warbler was still in it. I put my bins up and was stunned to see a green and white warbler with a couple of weak wing bars and my first thoughts were 'Bloody hell Arctic'. It then came towards me and I was struck by its gleaming white underparts and the long bright super, set in much darker surrounds. ****, time for a phone call..."
Fortunately not everyone gave up the ghost and with a sneaky indicator or two to help fuel the diming embers of rarity hunter's hope ~ hope that there may be just that one extra-special something of note out there in an east coast county somewhere on a mild and bright 30th ~ the rousing words "Eastern Crowned Warbler in Cleveland" enlivened the spirits considerably as the news of Britain's third far-off, long haul Phylloscopus gem began to permeate the collective birding consciousness.
Ok, so it wasn't a tick for most of us but, crikey, it was a heck of a find and one that was almost unthinkable a decade ago…
…and so its hats off to Bude's finest rarity finder, Ian Kendall, not only for a sensational find, but also for becoming the first person in Britain to identify this species in the field, at the time of discovery. Top work…!
The bird was located in the wooded ravine along the edge of the Hunley Hall Golf Club, just to the northeast of Brotton (Cleveland) around lunchtime and showed for around 45 minutes after discovery was known about. For much of the afternoon on Day #1 the bird then proved to be somewhat elusive but did show occasionally, and generally briefly, through until dusk.
…and the good news was that the beastie was still present on 31st ~ no Halloween dipping nightmares for those available on a very good Friday. Similarly, the boyo did the biz on what sounds to have been a very hectic Saturday as well though by 2nd, it was gone ~ matching the classic three-day stay routine so frequent of autumn vagrants from afar.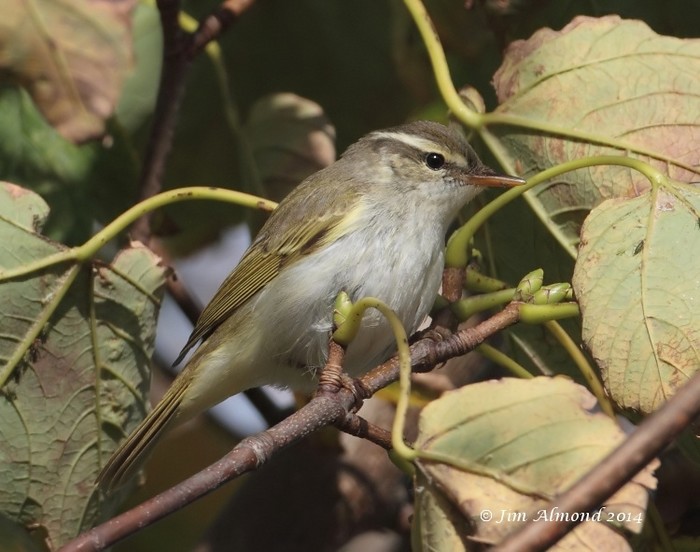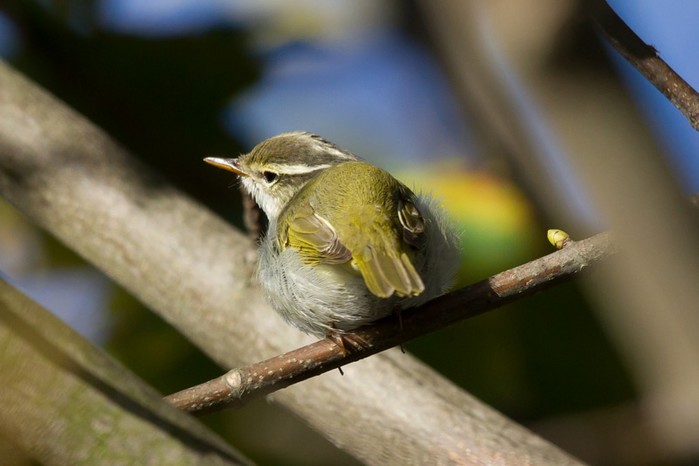 Both of the previous British records ~ falling within only the past five years ~ have also been classic late October arrivals; the first was the famous three-day bird in the Trow Quarry, South Shields (Co. Durham), found and identified as a Yellow-browed Warbler on October 22nd 2009, it was "RFP'ed" the same evening after an innocent posting online ~ causing all hell to break loose as fevered brows gazed up at the clear skies and concluded that it would never be there…
It was there (of course) and hundreds gathered to enjoy this sublime Old World warbler of boreal and temperate forests over the course of the two days that followed. And what a bird it was…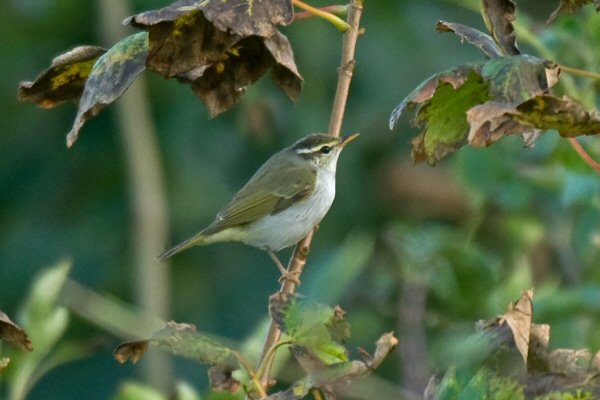 Britain's second Eastern Crowned Warbler was even more extraordinary than the first in many ways ~ no secluded east coast haunt for this one, oh, no…this one materialised in a mist net on the north side of Hilfield Park Reservoir (Hertfordshire) on (lovely-jubbly…) October 30th 2011 ~ three years to the day now separating bird #2 and bird #3.
Sharing the same initial identity crisis as the Durham bird, the correct call re:- the Herts ECW was made (again an "RFP" bird) a few hours after the bird's ringing but this once-in-a-lifetime Home Counties uber-mega wasn't seen post-release, despite untold searching.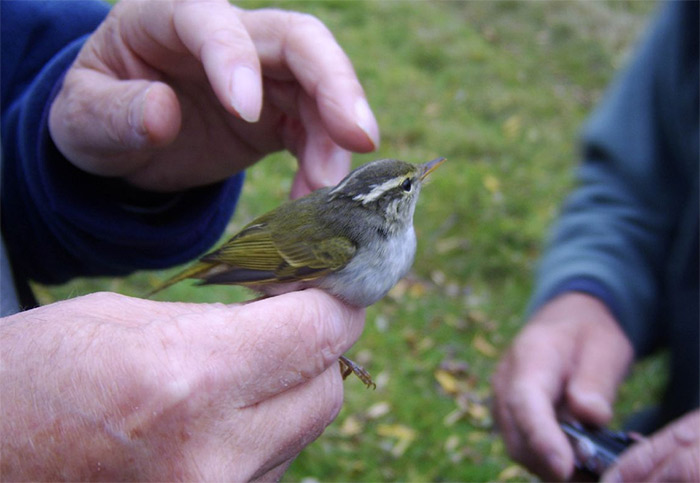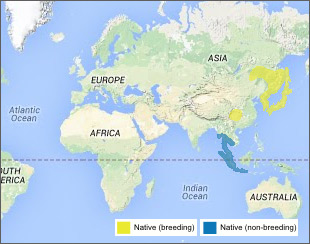 The Durham Eastern Crowned Warbler was fifth record for the Western Palearctic, and followed on in the historic footsteps of one found on Helgoland, Germany in October 1843 and three records from the 2000's ~ Norway in September 2002, Finland in October 2004 (the exact date of arrival just one day after that of the Durham bird) and also in the Netherlands in October 2007.
At the time in 2009, over on another channel, I mentioned that with "four records in Europe in the past seven years plainly offers a ray of hope" (to those who perhaps missed the Durham bird) and seeing as we've now chalked up two more in Britain on the past three years ~ as was touched upon here a couple of weeks ago ~ these eastern ultra-vagrants are slowly becoming a little more frequent.
Our third Eastern Crowned Warbler in five years is ample evidence of that being absolutely the case ~ the window of finding opportunity remains October 22nd – 30th, the first date of which, incredibly, also produced the most far-flung passerine traveller of all…
…yes, all we need now is another Pale-legged/Sakhalin Leaf Warbler to make the birding world a far better place…but perhaps we'll have to wait until October 22nd 2015 ~ minimum.

…and there may be good reason to take a punt on that date next year as I can't let the three year thing slide either…
October 22nd 2009 ECW.
October 22nd 2012 PLLW/SLW.
Three years…
October 30th 2011 ECW.
October 30th 2014 ECW.
Three years…
Get your diaries out and get that holiday request in now, October 22nd 2015? Check. October 30th 2017? Check.
Now all you have to do is wait.
Bufflehead
Orkney has enjoyed a particularly fruitful autumn it has to be said, mainly thanks to the sterling efforts of the NRBO team, but this week it was "the big island" that stole the Orcadian glory with the appearance of the first Bufflehead for the archipelago ~ and a rather dapper and dandy drake to boot.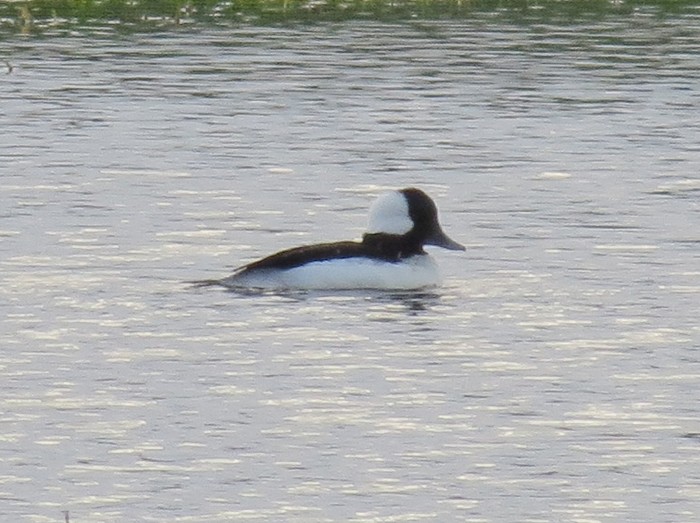 First known of on the evening of 1st, the bird was present on the pools and puddles at Holm, Mainland and it transpired that he was first noted on October's final day ~ and he remained to 2nd for good measure but the mid-morning departure wasn't perhaps expected ~ the bird didn't reappear, he was offski…
All the relevant Plastic Fantastic criteria was duly chalked off, fully-winged, suitably flighty and also bearing no illicit bling, so it was full steam ahead for this handsome chap, who's late October arrival, off the back of a weather system full of Nearctic goodies, to lodge itself a place in Orkney's ornithological history books.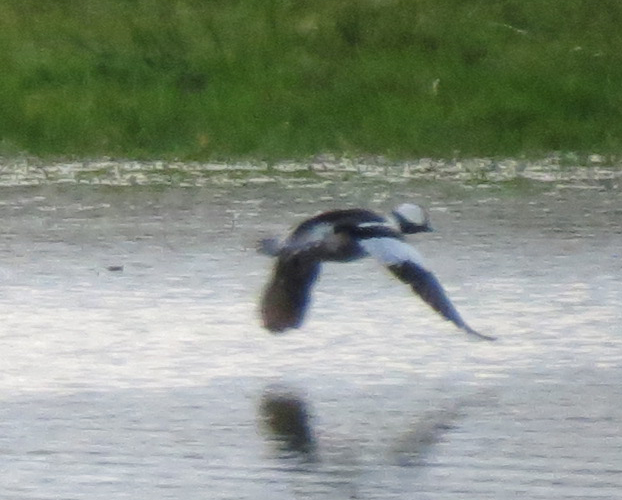 Up until the end of 2012, there were 25 accepted records of this delightful little duckie ~ and there's a particular interesting pattern borne out by the map of occurrences too ~ most striking of which is the number of "OK" records dotted throughout the spine of Britain, stretching from Warwickshire to Cleveland, the most famous of which was the mass-twitched drake at Colwick, in Nottinghamshire, for 10 March days in 1993.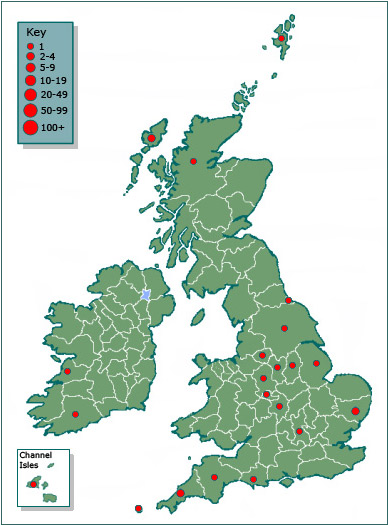 Further east, the two (at first glance) curious Suffolk records stick out like a sore thumb…the drake Bufflehead on Hevingham Hall Lake in the winter of 1997/'98 was a surprise acceptance at the time (for some) while, funnily enough, more typical was the semi-summering bird at Great Livermere and Layham (albeit sporadically) from June to October 2002.
Elsewhere it appears rather more conventional (that's not to say that all the Buffleheads through the middle of Britain were duff, the pattern arguably portrays a rather conventional transit route through the country for our vagrants) with five records in the far southwest, a couple of Irish records (in Cork and Clare), a one-day Highland bird, a lingering November drake on Shetland and three for the Outer Hebrides ~ two seen there in the last 10 years (in 2004 and 2007) and also the famous twitched bird on Loch Bee in March 1980.
This will become only the second October appearance of Bufflehead ~ there are three blank months to date (August, September and December) while the most profitable month is….June…with six records in all.
Sadly, a June first-summer female Hooded Merganser isn't afforded the same treatment as a first-summer female Bufflehead, the Titchwell and Holme Dunes HM of June 1990 really ought to have had a more ample bite of the cherry, especially given the dross of the same species that has been accepted since the listing "Type Specimen" was given the green light on the Hebs in October 2000.
Blackpoll Warbler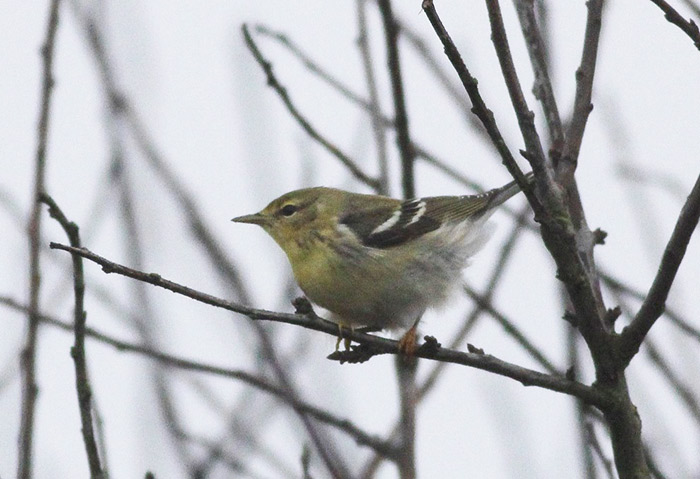 With the Eastern Crowned Warbler having done a Saturday night bunk, things started to look a little glum again on the east coast, but fear not!
Within a short while of the sad face "negative news" from Cleveland, the legendary Mick Turton (a man with the Bressay Hawk Owl sitting proudly on his list…) popped in a cheeky (and long overdue this autumn) Blackpoll Warbler early on the morning of 2nd ~ and the chosen location of Easington (almost outside Mick's door) on East Yorkshire's coastal strip wasn't too much of surprise either…an east coast "Yank" has been in the offing for a few days now.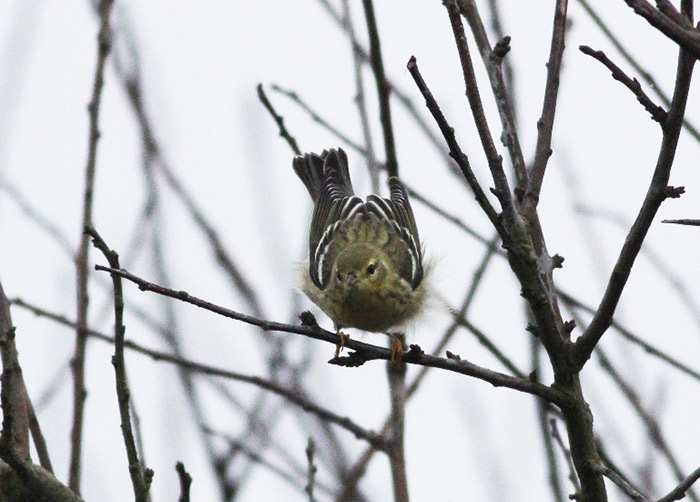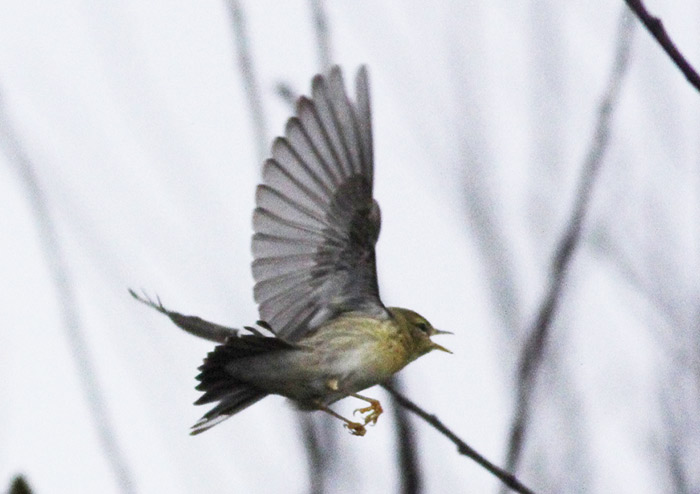 Unfortunately, the joy was short-lived ~ after showing for a while (less than an hour by the look of it) ~ the bird seemed to melt away and by lunchtime there was still no further sign. Oh well….but what a great find…!
Finders in the field: Blackpoll Warbler, Easington, East Yorkshire
"...Bang! Amazing how quickly the brain works even after only a quarter of a cup of tea. Instant recognition a Blackpoll. I grabbed my radio and alerted the birders at Spurn. "Listen up everybody, I've got a Blackpoll in the hedge opposite our house..."
East Yorkshire has now secured the only two Blackpoll Warbler records along the entire east coast ~ the only one to date was the nine day bird that was present at Flamborough Head from October 24th – November 1st 1993.
Indeed, out of the 53 accepted to date (not including last year's multi-observed bird on the Kingbird dip in western Ireland), there are just a handful of mainland birds on the books ~ the first was found at Prawle Point (Devon) in September 1976 and was followed by singles at Porthgwarra (Cornwall) in October 1988, the Flamborough bird of 1993, the December 10-dayer at Bewl Water (East Sussex) in 1994, Kenidjack in October 1995, the ship-assisted spring male at Seaforth (Merseyside) on June 2nd 2000, Marloes Mere (Pembrokeshire) in October 2008 and, back in the far southeast of England, at Pett Level (East Sussex) in October 2010 and at Tunbridge Wells (Kent) in November 2011.
Scilly remains miles ahead of everywhere else…23 records (of 25 birds) to date spread between Britain's first, on St. Agnes in October 1968 to the islands' most recent, seen at Content, on St. Mary's in the autumn of 2012.
Grey-cheeked Thrush
Not causing anywhere near as much of a fuss as the headline acts this week was the fourth Grey-cheeked Thrush to be located within seven days and this one, just like the third bird from the last review period, this was another Shetland bird.
This latest Shetland arrival was found at Strandburgh Ness, Fetlar on 29th ~ where it spent a far amount of time being ever-so-elusive down the geo, but it did show nicely form time to time…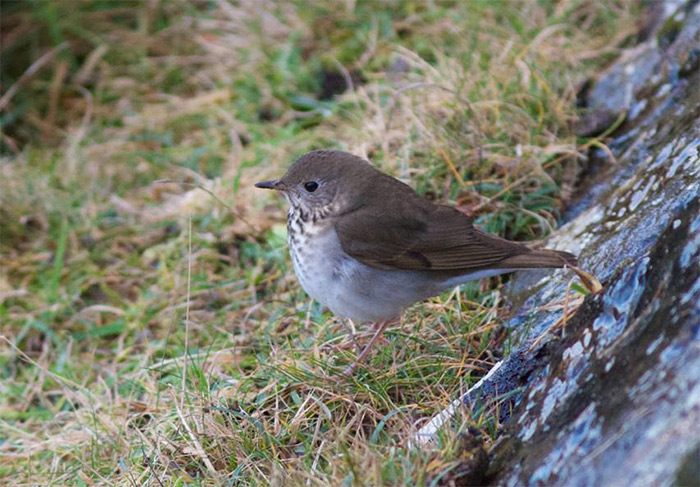 Fetlar has now hosted two of the islands' nine Grey-cheeked Thrushes ~ as mentioned here last week, two birds within a year has taken Fair Isle's total to five, with Fetlar now moving clear of Foula and Mainland with two records to one.
…just another eight needed to match that invasion of October 20th-27th 1986…
Red-eyed Vireo
The autumn of 2014 has been a bit of a curious one where Nearctic passerine vagrants have been concerned ~ last week's glorious "old skool" role call of honour being, comfortably, the strongest weekly show of the past six to eight weeks.
One surprise was the lack of the predicted Blackpoll Warbler, something that has now been rectified of course, but also absent was another Red-eyed Vireo to add to the total of five so far since the end of September.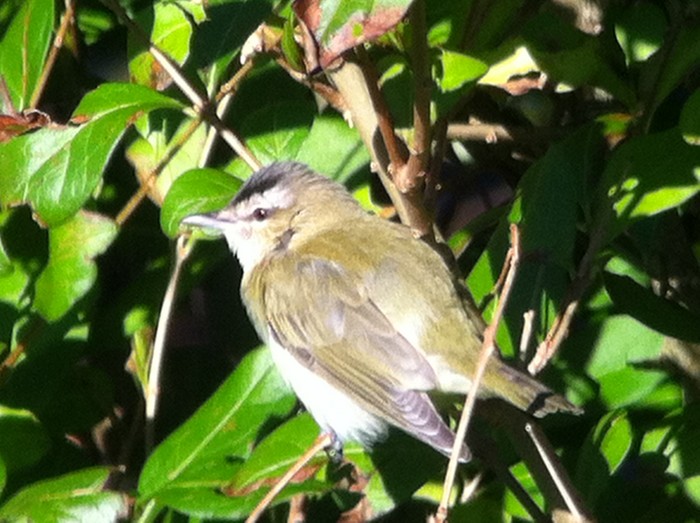 …and, with relatively benign conditions in place as the review period drew to close, any further American arrivals seemed somewhat unlikely…then, out of the blue, during the mid-morning of 4th came news of the sixth Red-eyed Vireo of 2014, in the surprising location of the bird observatory garden at Walney (Cumbria) ~ a bird which showed well throughout the rest of the day (post trapping and ringing).
The first record for the county, it is also the second mainland record in northern England in the past month following the brief report of one in Northumberland in early October. Prior to these two, the English mainland's most recent record was a bird in west Cornwall in September 2011 (a bird which wasn't known of at the time).
November occurrences for Red-eyed Vireo are sparse in the extreme ~ prior to the Walney bird there are just three (from 178 accepted records to the end of 2012). The first British November record was found at Thurso (Highland) on November 8th 1988, the second was found at Dawlish Warren on November 4th 1996 with the third following on November 3rd 1998 at Loe Pool (Cornwall).
This autumn's birds have now been spread from (first of all) Mainland Shetland, through the Irish coastal counties of Clare, Cork and Mayo, with the two northern English birds added in to the mix as well.
The lack of this species, and others from the same general geographic location, in the far southwest of Britain is also particularly striking.
Red-flanked Bluetail
Red-flanked Bluetail that flirts with the headlines from time to time, even now but after opening the batting down amongst the Passerine section last week, the benevolent Review Gods have seen fit to elevate the Mayo bird to top billing.
…and rightly so too really…
This remains a gloriously exciting species and, given half a chance, every single one would figure in the headlines but that would be overkill I suspect. However, the discovery last week of a superbly perky-looking Tarsiger in the pines of veteran birder Dave Suddaby's garden at Tarmon, way out on the majestic Mullet peninsula remains a cracker of a record and the bird remained on site to 30th at least.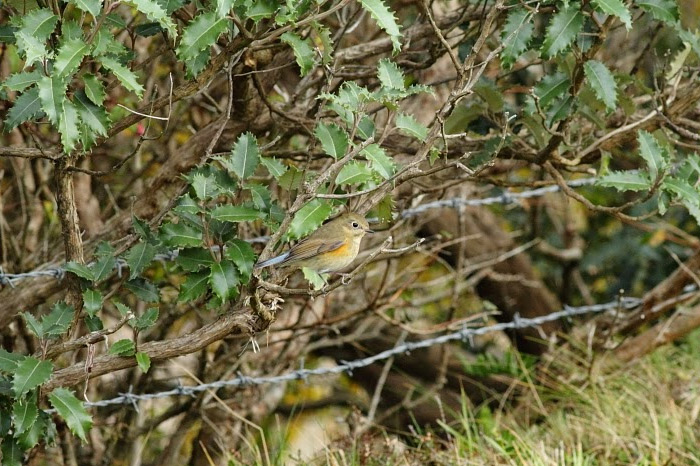 The only other Red-flanked Bluetail in such a far-off northwesterly location was the late winter/early spring from Lewis, Outer Hebrides in late March and early April 2012 ~ a glance at the "occurrence map" shows the (expected) swathe of records strewn across the east coast, with just a handful through the south and west coasts.
Mayo birders will have been delighted by this particular county first, indeed many Irish birders will be chuffed that the bird managed to put three days on the board ~ the three previous birds (all in Cork and all detailed here last week) were single day-only birds ~ and two of those were on islands.
At last found something decent! Was expecting a yank but a Red-flanked Bluetail will do :-) In pines above my house at Tarmon #patchgold

— Dave Suddaby (@davesudds62) October 28, 2014
Coming as no surprise whatsoever is the manner in which Shetland has outscored Ireland in the Bluetail stakes and the impressive haul was improved once again by the bird trapped and ringed at Geosetter, Mainland on 3rd ~ the fourth on Shetland this autumn, the fifth this year and the 38th in all.
An unthinkable total a generation ago.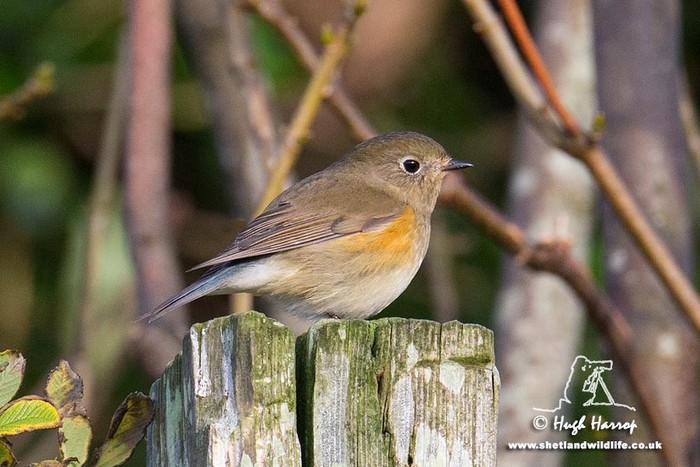 As the week drew to a close, the rather busy morning of 4th brought news of the second new Red-flanked Bluetail of a three-bird week, this one appearing in the bracken at Hastings CP (East Sussex) ~ a first for the county, to draw it level with neighbours in the West, who's one and only record came on November 7th 2010, at Stanley Common.
Unfortunately for any local attendees, the bird wasn't seen after the initial burst of activity, so the wait for inking in that little square will seemingly last a while longer yet.

The first November Red-flanked Bluetail was found at Gibraltar Point on 15th-16th of the month in 2002, with nine of the remaining 14 accepted records for the month all appearing within the first week of November.
So these two are both perfect fits ~ although it is the first Shetland record for the month.
Black Scoter
Elevated back up the ranks like a hit-record backed by the payola blues is the Lunan Bay Black Scoter.
Admittedly that's partly because, warbler and thrush aside, there's been a bit of cessation in terms of the continuing assault of Mega Alerts and a bird of the quality of this hard-to-see (and tricky to identify) duck really ought to be given a bit more of a nod of appreciation.
So here it is ~ and for those travelling to the coastline of Angus, the drake Black Scoter did the business on 29th and 31st at least (there's a chance that it may even decide to spend the winter on site of course, but there's a way to go before we know that). And for those visiting on 29th they had the pleasure of a drake Surf Scoter to add on the day list too.
In East Yorkshire, the new week began with three Long-tailed Skuas being reported from the seawatching hide at Spurn on 29th and these were followed by lone birds off Whitburn (Co. Durham) and Arranmore Island (Co. Donegal) on 1st, the headlands of Prawle and Start in south Devon on 2nd with the final one passing Annstead (Northumberland) on 3rd. In Leicestershire, a dead juvenile was found in Exton Park on 30th ~ the first in the county since an early juvenile was seen at Rutland Water in August 2006.
Just over 270 Pomarine Skuas were logged across the past seven days, with two south coast counties, Devon and Kent way ahead of the rest of the 19 other counties where the species was noted. Berry Head scored 38 on 29th with 13 on 31st and 11 on 2nd, while a baker's dozen were off Dawlish Warren on 2nd. Several singles figure counts came from Kent but their tally was bolstered by the highest count of the week when 51 were counted off Dungeness on 1st. Ten Poms were seen off the Irish coast, including seven off Loop Head and Bridges of Ross, while 22 were observed from the Uig to Lochmaddy ferry on the morning crossing of 4th.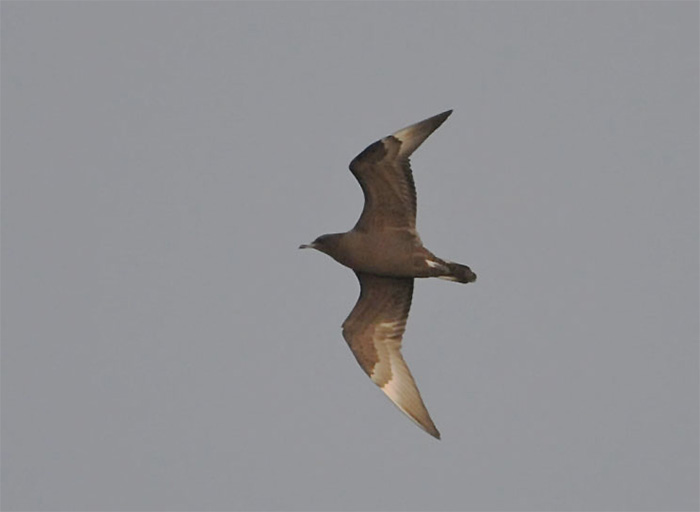 Moving swiftly back to Dungeness briefly to mention one of the week's two Sabine's Gulls ~ a juvenile noted on The Patch and around the nearby fishing boats for the morning of 2nd. The second was seen around the mouth of River Esk, Musselburgh (Lothian) on 4th.
Balearic Shearwater numbers edged up to around 120 this week, all of them noted in the far southwest of England. Upwards of 75 were seen in west Cornwall, including 21 from Porthgwarra and 32 off Mousehole on 1st while Devon's total of 34 was helped along by another November 1st count of 14 off Lundy.
There were still a few Grey Phalaropes up for grabs as the months changed over and November came a'knockin', 17 or so in all recorded this week.
Three birds were present around the Cley NWT reserve in Norfolk from 29th-4th (with a fourth heading past east theer on 4th), with another trio noted off Annagh Head, on the Mullet Peninsula (Co. Mayo) on 2nd. Lingering singles remained at Pitsford Reservoir (Northamptonshire) to 30th and Budleigh Salterton (Devon) through to 2nd at least, while new individuals were logged on 30th at Horsey (Norfolk), Edderthorpe Flash (South Yorkshire) and Filey (North Yorkshire), the latter staying to 1st.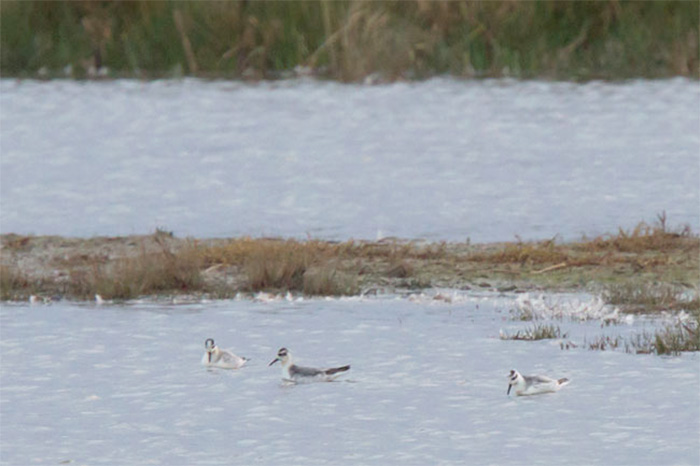 The 31st saw single Grey Phalaropes appear off the Naze (Essex) and Dungeness, with one each for South Gare (Cleveland) and also off the Scillonian III on 1st. The final birds of the week were off Gibraltar Point NNR (Lincolnshire) on 2nd, Peterhead (Aberdeenshire) on 3rd and St. Ives (Cornwall) on 4th.
With barely a breath of a fresh northerly anywhere along a coastal county, the distinct lack of cutesy Little Auks was only to be expected ~ the only records being a dozen off Lossiemouth (Moray) on 2nd and ones over the shingle-filled car park at Salthouse (Norfolk) ~ heading in to building in the village a little later…ooops ~ and also off Spurn, both on 3rd.
The week ended with singles off Staithes (North Yorkshire), South Gare (Cleveland), Holkham Gap (Norfolk), Maidens (Ayrshire) with two off Gibraltar Point NNR (Lincolnshire) and three from Flamborough Head (East Yorkshire).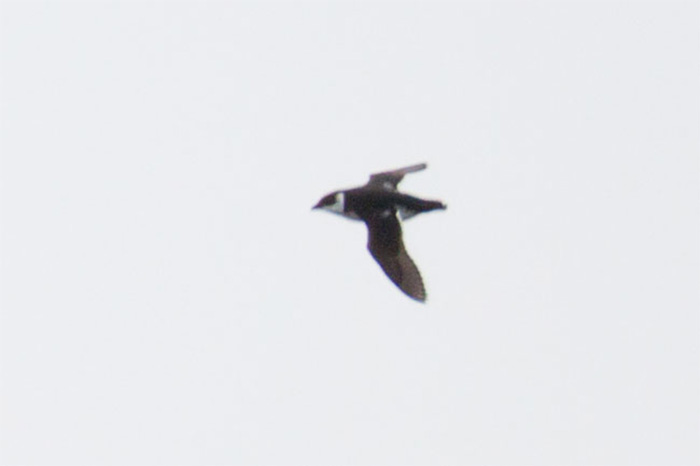 A late, late Purple Heron appeared on the North Warren RSPB reserve (Suffolk) on the morning of 4th, the third of the mid to late autumn period so far, following on from October birds in Norfolk and on the Isle of Wight.
The south coast outscored the northwest by 2 or 3 to 1 where the week's Cattle Egrets were concerned, all of them relics from previous round-ups this autumn.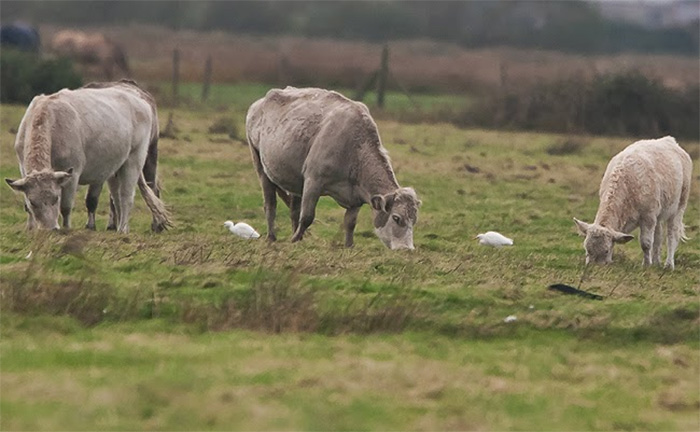 The bird at Pett Level (East Sussex) lingered to 31st while at Dungeness, one became two on 3rd (maybe the Sussex bird doing a touch of county boundary hopping?) while the faithful soul in Cheshire remained at Burton Mere Wetlands RSPB (Cheshire) all week.
Great White Egrets kept up a decent showing for yet another week ~ at least 41 birds reported from 21 counties across England, Wales and Ireland this week, with the southeast faring well with at least 13 birds seen around the region including four birds at Abberton Reservoir (Essex) on 1st-2nd and six birds in Kent, including three for Dungeness and two more at Capel Fleet.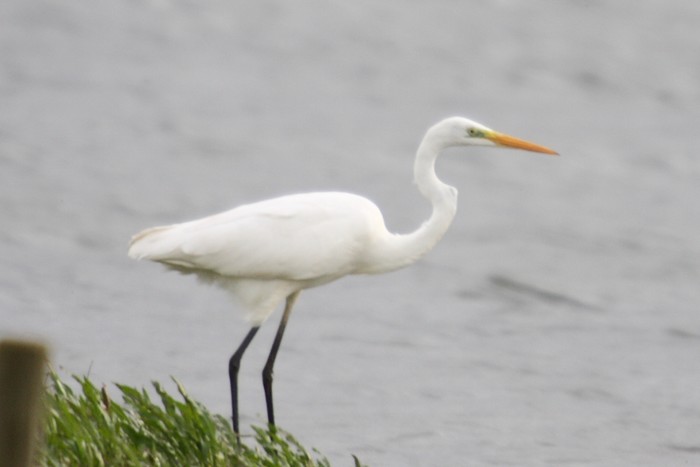 Six Midland birds included three at Pitsford Reservoir on 1st-2nd, with a similar half dozen in the northwest, with three each for Lancashire and Cheshire. East Anglia managed five, three of those in Cambridgeshire, while Wales managed another quintet, with one at Llandeilo (Carmarthenshire) on 31st, another made it to Castlemartin Corse (Pembrokeshire) on 1st while up to three were seen in Powys; one was reported from Glasbury on 30th and two were back at Llangorse Lake from 2nd. Irish singles were noted at Kinvarra (Co. Galway) on 30th and Tacumshin (Co. Wexford) on 2nd.
The far west side of East Anglia recorded a couple of Glossy Ibis sightings ~ seen at Whittlesey and Bluntisham within 20 minutes of each other on 30th, while the week's only other records were long-staying birds in Waterford, at Tramore Backstrand on 2nd and Lincolnshire, at Frampton Marsh RSPB, to 3rd.
In Dorset, this week's high count of Poole Harbour's Spoonbill flock was 42 on 31st, seen around the Brownsea Island lagoon, with 40 at Arne RSPB later the same day with 33 at Middlebere on 3rd.
Elsewhere, threes were recorded at Isley Marsh RSPB (Devon) on 29th, heading west past Hannafore Point (Cornwall) on 30th, at Gedgrave Martshes (Suffolk) on 31st and Cliffe RSPB (Kent) on 2nd, while two more Kentish birds were at Dungeness on 31st. Two Spoonbills also made it out to Scilly's Green Island from 2nd. Two singles were seen along the Norfolk coast, while further loners were seen in Cornwall, West Sussex and Lincolnshire.
In Cambridgeshire, at least 20 Common Cranes were around the Nene Washes, near Guyhirn through until 3rd, while in the Norfolk Broads, the Stubb Mill roost yielded a count of 29 on 1st. Presumably two of these were seen near Sea Palling on 31st with birds away from East Anglia noted at Thorne Moors NNR (South Yorkshire) and Slimbridge WWT (Gloucestershire) where an unringed individual was noted amongst the released breeders…
With the 2014 clock ticking every closer to 2015, the lack of Crakes and Rails wasn't going to be too much of a shock ~ just one bird to report this week, that being a Spotted Crake at Lower Moors, St. Mary's (Scilly) from 29th-31st.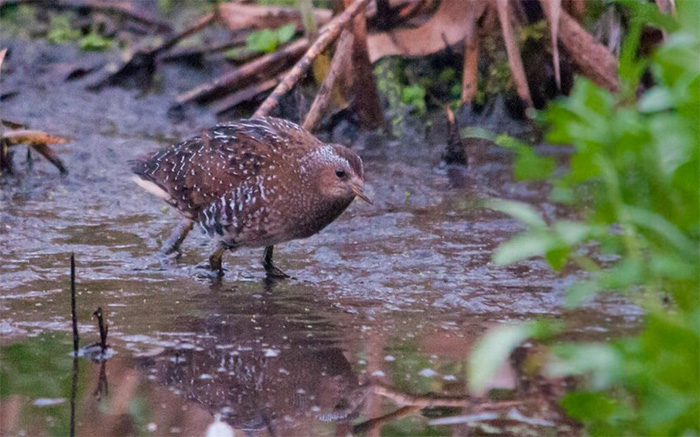 We'll crack straight on in to a nice array of vagrant geese and dive right in to news of an adult Ross's Goose in Borders, at West Water Reservoir (with Pink-footed Geese) on 31st. Regular readers of the review will perhaps remember the very "pro" stance here regarding this species ~ nothing's changed and this bird, like many other in recent years, will be viewed as a wild vagrant until proven otherwise.
Further north in Scotland, the pair of intermediate Snow Geese remained at Loch of Skene (Aberdeenshire) to 29th at least while new in to Lancashire's wild goose flocks was a Lesser Snow Goose at Eagland Hill from 31st-4th ~ the site has already played host to a blue Snow for a few days in February 2013.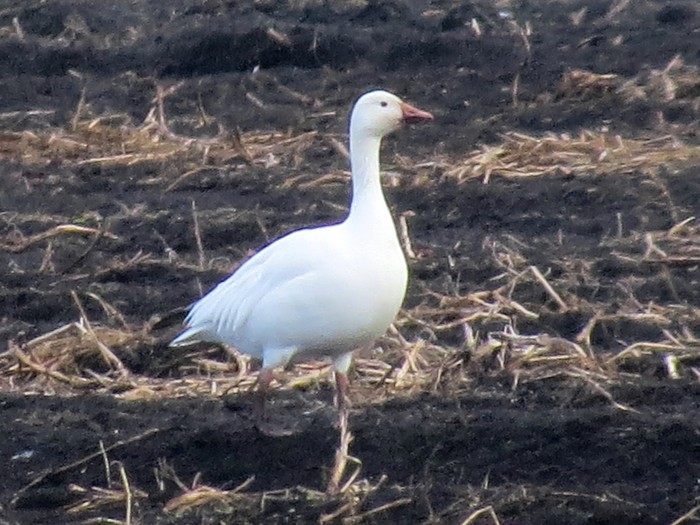 Wexford welcomed a parvipes Lesser Canada Goose to the North Slob NNR from 1st while across in Sligo, the Goose Fields of Lissadell saw a Richardson Cackling Goose arrive back with the wintering floks of Barnies from 30th. The previous day saw a representative of the same form noted as "srill present" at Loch Indaal, Islay.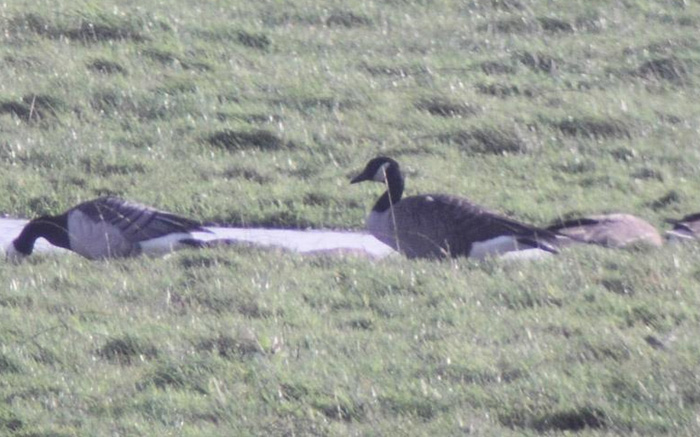 Two of the regular fixture Black Brants already in place for the impending winter shift remained at The Naze (Essex) and Kilnsea (East Yorkshire) to 2nd and 3rd respectively, while another individual was back in place on the Hampshire wetlands at Farlington on 30th. A third Brant was seen at Levington Creek (Suffolk) on 4th.
Norfolk's fine second-winter drake Surf Scoter was still enjoying life in the expansive waters of Holkham Bay throughout the week. The remaining records across the past seven days were all Scottish birds; a drake was at the mouth of the River Esk, off Musselburgh (Lothian) on 29th, another was noted in Largo Bay (Angus) the following day with the same date seeing both a drake and a duck in the waters off Lunan Bay, where they were noted to 2nd.
The only King Eider noted this week was a female at Belmont, Unst (Shetland) on 29th.
The "nose-job" drake Lesser Scaup remained on the Welsh waters of Powys' Llangorse Lake to 2nd with the drake also still in place at the Cardiff Bay Wetlands (Glamorgan) to 1st. A new male was discovered at Wraysbury GPs (Berkshire) on 29th where it remained until 1st when it was flushed by a boat and departed high to the south.
This week's Wraysbury bird is the third county record for Berkshire ~ the previous two coming within 12 month of each other, at Woolhampton GPs in October and November 2007 then Wraysbury for 10 days in October 2008.
Three of the week's half dozen Ring-necked Ducks were noted in Scotland, two on islands and one on the mainland. The first couple were seen at Loch of Skene (Aberdeenshire) and West Loch Ollay, South Uist (Outer Hebrides) on 2nd with a first-winter drake back on Loch a'Phuill, Tiree (Argyll & Bute) on 3rd.
Earlier in the week, the youngster at Drift Reservoir (Cornwall) was noted again on 29th, the adult drake remained at Rutland Water (Leicestershire) to 31st while Ireland's singleton was at Lough Shivnagh (Co. Donegal) on 1st.
In a decent goosie & duckie week for those birding on the north side of Hadrian's Wall, five drake Green-winged Teals were up for grabs ~ new birds noted at Alturlie Point (Highland) on 29th and Murton NR, near Forfar (Angus) on 2nd, while regulars from recent times lingered at Loch Gruinart, Islay (Argyll & Bute) and on North Ronaldsay (Orkney) to 2nd, with one still at Caerlaverock WWT throughout the week.
The only other Green-winged Teal noted remained on Tresco's Great Pool, along with the first-winter male and female American Wigeons, to 3rd.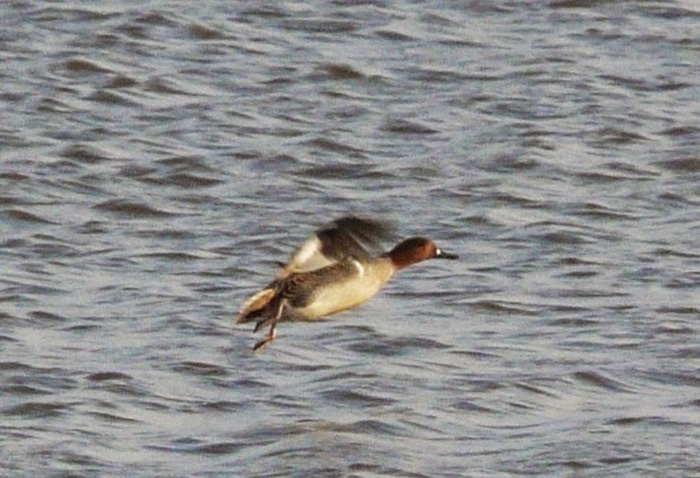 One or two new lone drake American Wigeons were found around the Outer Hebrides this week, the first appeared near Lochportain, North Uist on 29th (where it stayed to 30th) with it or another rocking up further down the island chain on South Uist, at Loch Bornish from 1st. Recently returned wintering drakes remained on the Culdaff Estuary (Co. Donegal) to 30th and Udale Bay (Highland) to 31st.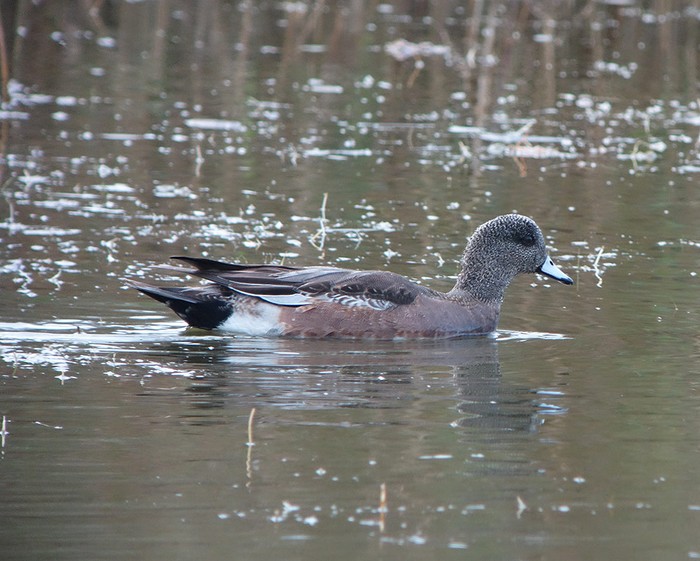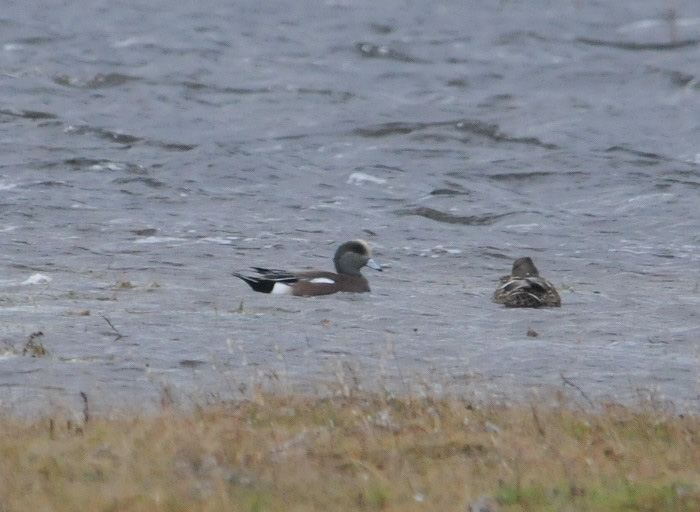 Last up, the lingering female Blue-winged Teal that stuck it out on the River Wansbeck in Northumberland throughout the week.
<!—Section Title -->
All three of the Lesser Yellowlegs that were noted in the previous review were all in place through much of the week this week ~ the newly arrived juvenile found in Poulnasherry Bay (Co. Clare) stuck it out to 1st at least while the east coast individual on Dublin's Rogerstown Estuary throughout the week. The third Celtic bird was the youngster on the Hayle Estuary (Cornwall) which was seen to 4th.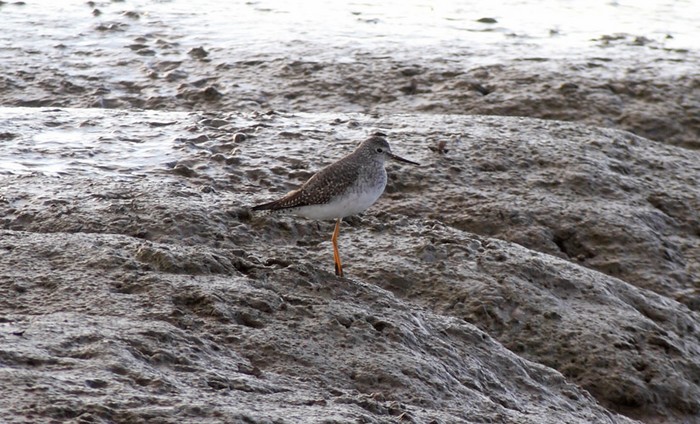 The first Spotted Sandpiper ever seen in Aberdeenshire was at Inverallochy through to 2nd at least while American Golden Plovers included a juvenile back at Maidens (Ayrshire) from 1st-3rd (it was first seen there, for just 15 minutes in mid-October), with lingering youngsters at Davidstow (Cornwall) to 31st and Slyne Head, Truska (Co. Galway) on 3rd. In Norfolk an American or Pacific Golden Plover was seen flying east with a flock of Golden Plovers on 3rd. The only Pectoral Sandpiper was the bird that remained at Loch Gruinart, Islay (Argyll & Bute) to 29th.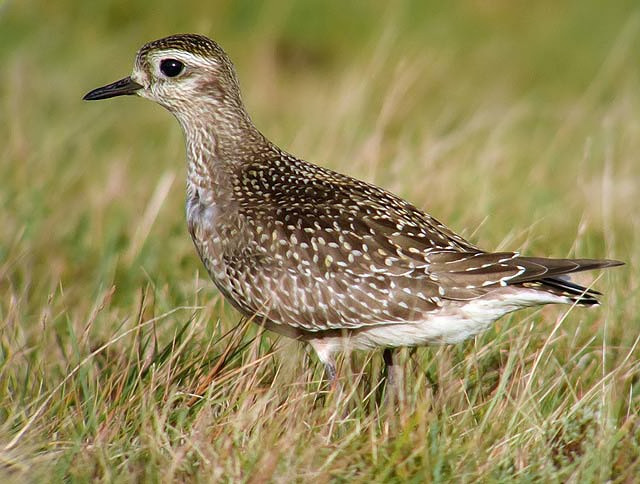 Finally we come to, in many ways, the best shorebird record of the week which takes the form of a Red-necked Phalarope. That may seem a bit weird but this week's moulting juvenile found on Tresco's Great Pool was a true Scilly blockbuster ~ the first on the islands since May 28th 1997, when a female was observed in Crow Sound, St. Mary's ~ an outstanding late season find... and only the 16th record ever.
The Irish Forster's Tern commuted around a couple of sites in County Dublin between 29th-4th while, more of a surprise, was the appearance of a juvenile White-winged Black Tern that popped up at Radipole Lake RSPB (Dorset) on 3rd, quickly moving on up through the river valley and heading away. The moulting adult W-w BT was at Rye Harbour NR (East Sussex) through to 1st.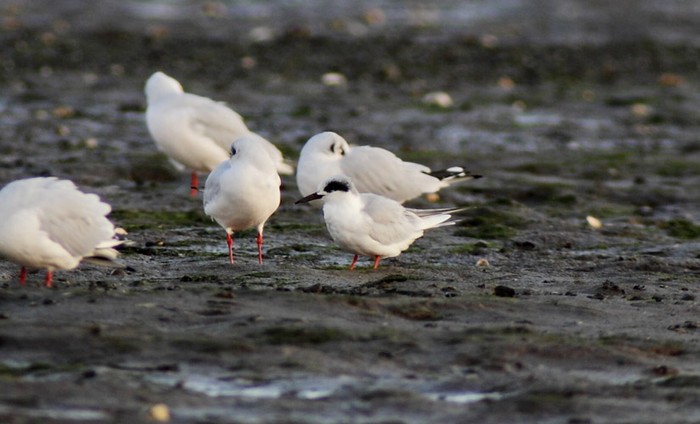 In Hampshire, the adult Franklin's Gull finally started to behave itself by appearing nightly in the evening gull roost at Blashford Lakes HWT from 29th-3rd, while the second-winter Laughing Gull was noted for the sixth month in a row at Ballycotton (Co. Cork) when it was reported on 2nd.
Rounding off the smaller Nearctic Larid triumvirate, the adult Bonaparte's Gull that was found at Tramore (Co. Waterford) on 2nd. To date, there are only two accpeted records of this attractive little gull in this particualr Irish county, seen at Ardmore in 2007 and 2008. A third bird was seen in the summer of 2013, also at Ardmore.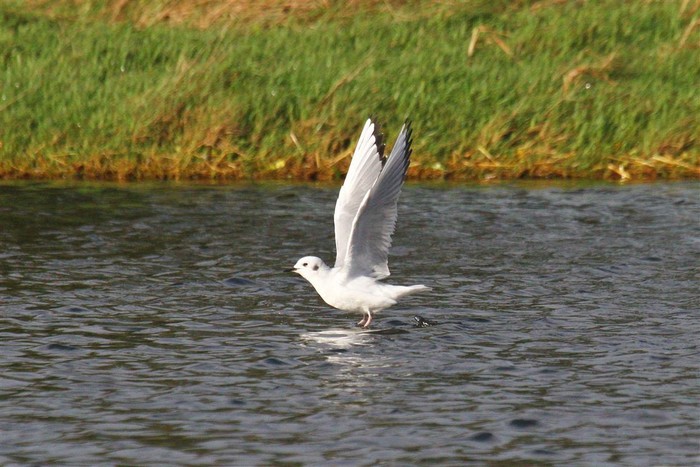 The Ring-billed Gull total this week was three ~ all of them adults ~ still at Bray (Co. Wicklow) to 29th, Portrush (Co. Antrim) to 1st and Walpole Lake, Gosport (Hampshire) on 2nd.
Three was also the number for the week's Glaucous Gulls. The first was noted on Bressay (Shetland) on 29th, the second was seen from Winteron (Norfolk) on 30th and the third was on the Isle of Skye, at Broadford Bay, on 1st.
There were a few more Iceland Gulls on offer, ten reported through the week ~ on Mainland Shetland, at Lerwick, on 29th; on Benbecula (Outer Hebrides) and Cooley Point (Co. Louth) on 31st; the five seen on 2nd were made up of three at Skaw, Unst (Shetland), at Girdle Ness (Aberdeenshire) amd Kirkwall, Mainland (Orkney), with the last of the week appearing in Broadford Bay, Isle of Skye and Ramore head (Co. Antrim), both on 4th.
The adult Azorean Yellow-legged Gull was in Cambridgeshire this week, seen in the Grafham Water roost on 29th, 1st and 2nd, with the latter date seeing four Caspian Gulls in the same roost ~ part of a grand total of 23 cachinnans in all this week, spread across 12 counties, including three a piece for Norfolk and Suffolk and three together at Aston-on-Trent (Derbyshire) on 30th.
A white Gyrfalcon presumably, tho' not necessarily of unknown origin, was reported from a ploughed field near Stanford-le-Hope (Essex) on 31st and, if accepted as wild and pure, it would become a new addition to the county's avifauna.
Somerset's handsome juvenile Pallid Harrier was still finding the area around the Steart WWT reserve to its liking for the whole week and was the only other BOP of note, aside from….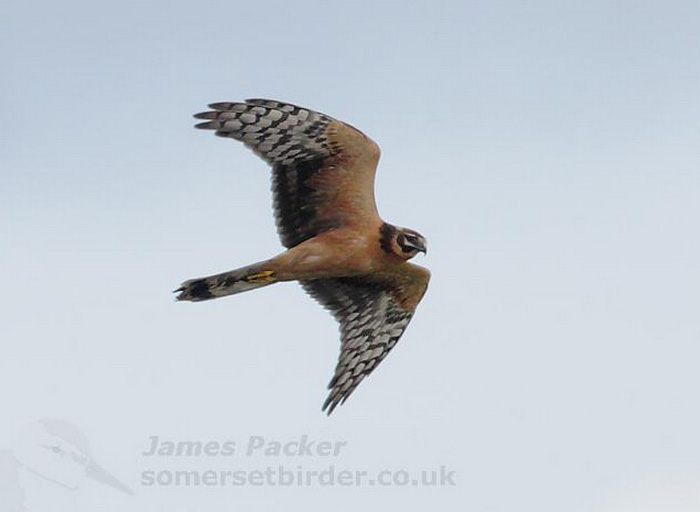 Those Rough-legs keep a'comin'…
…yes, we're still locked in to a decent run of Rough-legged Buzzards this week and all those twitchers who headed to the northeast of England had a chance to enjoy a showy juvenile or two not too far from ECW Central.
The traditional wintering site of Sleddale in Cleveland has been a bit of a fixture for fans of Rough-legged Buzzards for a while now, and this week saw up to four birds noted in the area (on 1st at least) ~ making up a regional tally of up to 18 birds in all. Along with Sleddale quartet, twos were noted at Bransdale (North Yorkshire) from 31st, Broomhead Moor (South Yorkshire) and Buckstones Moss (West Yorkshire) on 3rd.
A couple of singles were in Lincolnshire, the photogenic youngster remained near Bridlington (East Yorkshire) throughout the week while there was one each for West Yorkshire and County Durham.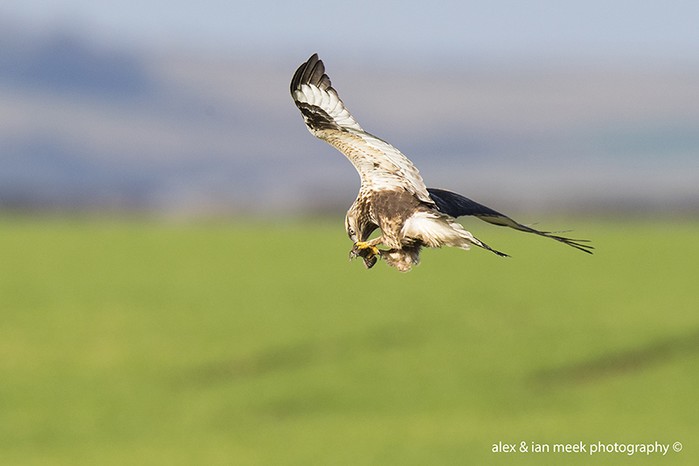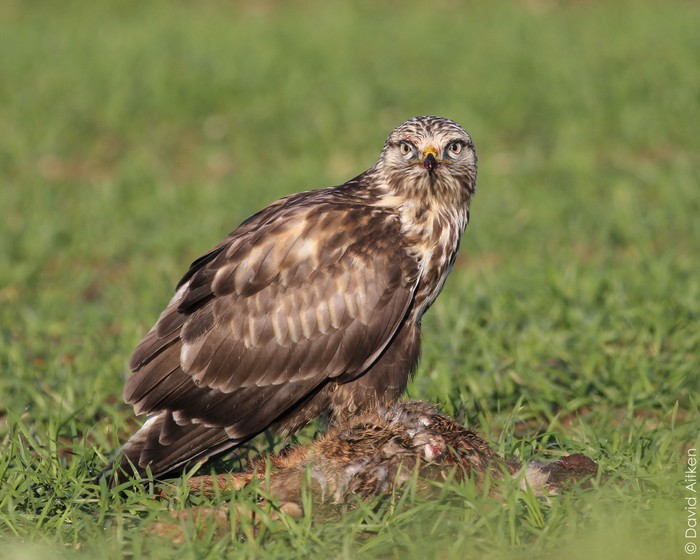 Norfolk was still holding around 10 or 11 birds this week ~ at least three Rough-legs were around Breydon Water to 1st, a minimum two were seen between Holkham and Burnham Overy dunes through the weekend, new singles were seen in the Broads (at four sites, but perhaps the same bird was involved) between 30th-1st; heading over Happisburgh on 30th with one at Welney WWT from the same date and another was at Stiffkey on 2nd. Still present was the bird in the Waveney Forest for much of the week, while one headed over Titchwell RSPB on 4th.
A further 12 birds were reported this week ~ three singles were noted in Derbyshire between 29th-1st, two were found at Dove Stone RSPB (Greater Manchester) on 31st (remaining to 4th), two were reported over the Berkshire countryside on 4th, with further individuals dotted from Essex and the Home Counties northward to Shetland.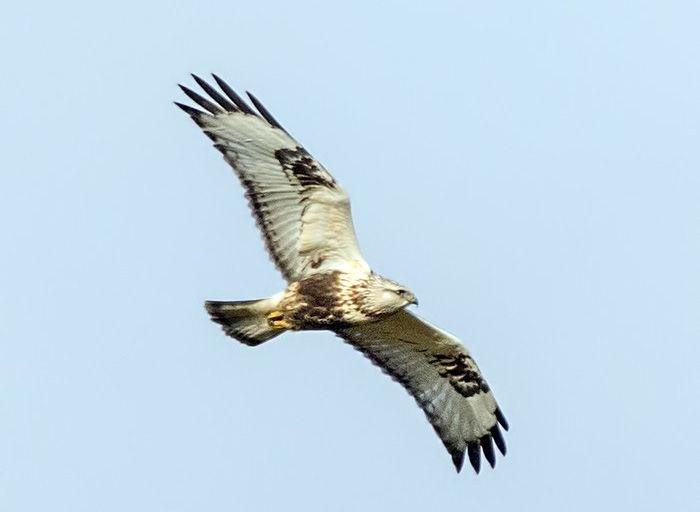 Chats, Buntings, Pipits and Larks…
What better way to start our rumble through all things Passerine than with news of what looks like a very tidy candidate for Britain's second Stejneger's (Siberian) Stonechat ~ an elusive and rather tricky to pin down (in ever sense) female found on Fair Isle on 31st which was still present to 2nd at least.
To date, the only proven example of this potential candidate for the ole splittin' mullarkey was the first-winter male that spent October 24th-26th 2012 at Portland Bill, the in-field thoughts confirmed by DNA sampling (this was, of course, the bird which was originally first seen in the Netherlands ~ a remarkable continental relocation)…
The field obs., and photos of the Fair Isle bird appear to show a suite of characters that point firmly toward stejnegeri ~ a suitably dark bird, with a pale throat, an unmarked orangey rump, moderately prominent supercilia, unmarked flanks and a distinct wing panel too. The timing is grand ~ coming as it does at an almost identical time to the Cleveland warbler ~ but whether the Rarities Committee will tackle a bird that hasn't been trapped remains to be seen.
Elsewhere on Shetland, the first Pied Wheatear of 2014, found way up north, at Haroldswick, Unst (Shetland) on 1st offered up no such identification issues ~ a lovely scaly-backed first-winter male is just a delight, in every respect and this one stayed for an extra day in to the bargain.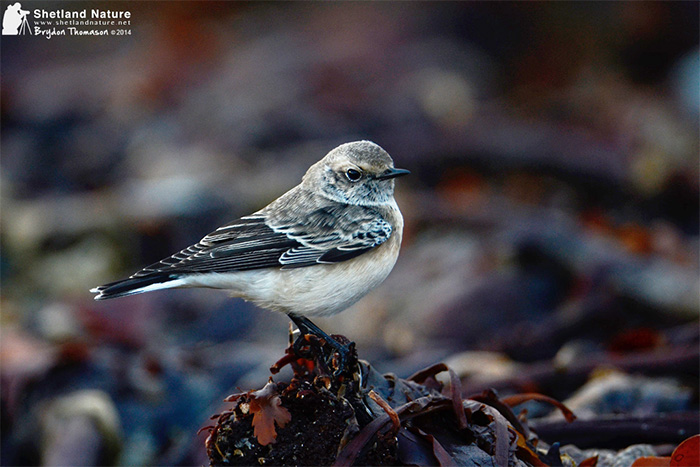 November is a particularly profitable month for those who enjoy a bit of rare Oenanthe action ~ this becomes the 15th occurrence in the month, from a grand total of 74 in all (up to and including this week's bird) ~ and the Unst bird becomes the eighth for Shetland ~ spread from the first, on Fair Isle, in 1989 to the most recent, found at Quendale in October 2012 (including double years in 1991 and 2004).
A new, late, male Bluethroat was found on North Ronaldsay (Orkney) on 31st, remaining there to 4th.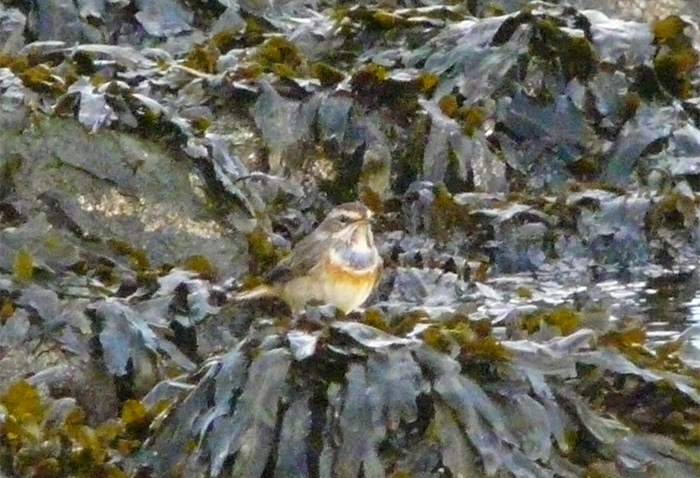 On Scilly, over on St. Agnes, the Ortolan was present to 30th while the only Little Buntings this week were the three found around Fair Isle on 31st.
Flipping back to Scilly for a sweep of a few more of the "half term" birds on offer there across the past seven days ~ the only Olive-backed Pipit of the week was seen in the Old Town Churchyard on St. Mary's on 29th while the only Red-throated Pipits noted were both Scilly birds ~ still on the airfield on St. Mary's (from 29th-30th) and new to St. Agnes on 29th-31st. The airfield also held on to three Short-toed Larks on 29th with one there to 31st.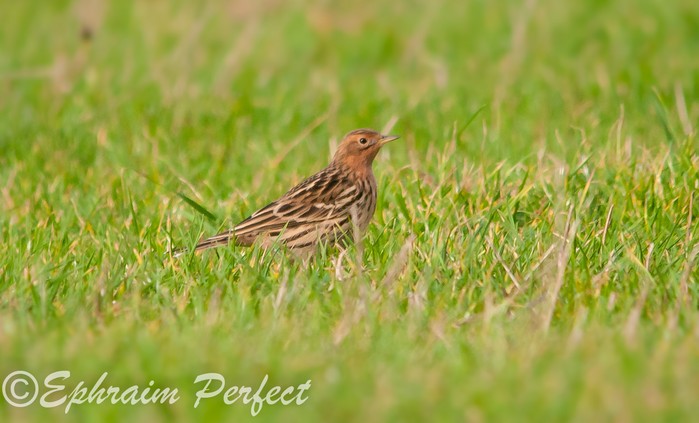 Another Short-toed Lark was found on North Ronaldsay as well, seen there on 30th.
Last week's figure of 10 Richard's Pipits wasn't too shabby and this week saw the total up itself by one ~ and just one of those was a hangover ~ that being the reappearing individual at Fordham, (Cambridgeshire), present again on 1st-4th.
The new arrivals were spread far and wide ~ three appeared on 29th, at Porthgwarra (Cornwall), Combwich (Somerset) and Halifax (West Yorkshire), with singles following at Filey (North Yorkshire) on 30th, Horsey (Norfolk) on 31st, Butley (Suffolk) and Coverack (Cornwall) on 1st, Blackwell Rocks (Co. Durham) and Skateraw (Lothian) on 2nd and Castle Eden Dene NNR (Co. Durham) on 4th.
Durham also saw a probable Blyth's Pipit head north near the Observatory at Whitburn on 3rd ~ tantalising notes were heard from the bird too ~ but unless its pinned down, the county will remain bereft of this species, for now…
New warblers, old warblers…
Sneaking in under the radar as the news of the Eastern Crowned Warbler was being digested was the discovery of a Dusky Warbler on Brownsman Island, Farnes (Northumberland) on 30th, a bird that remained to November 1st.
The autumn of 2014 has been a particularly poor one for this skulky so-and-so, only three noted throughout the past six weeks or so, on Norfolk's East Hills and Kent's Reculver on 15th and now the Farnes, a bird which is the first for the islands since another Brownsman bird was seen in October 2005. Half a dozen have followed around Northumberland since then, the most recent until this week's new arrival was one present on Holy Island in October 2012.
It hasn't been the strongest of autumns for the always alluring Pallas's Warbler either ~ just a couple of weeks with any sort of numbers (not very big numbers at that) ~ and this week there was just one fresh find, in the observatory garden at Portland Bill (Dorset) on 31st-1st. The bird then did a surprise relocation around the island, appearing along Avalanche Road on 2nd.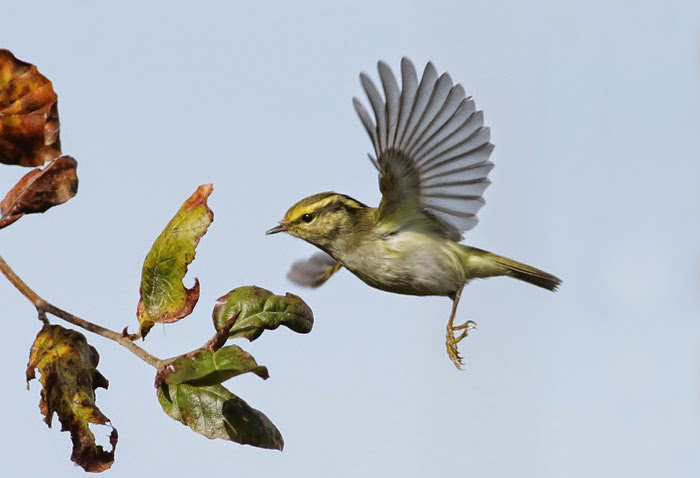 Also new this week, presumably as a direct result of those warm southerlies, was the first-winter Subalpine Warbler (a presumed Western) found at Pelistry, on St. Mary's (Scilly) on 1st-4th. The second on the islands this year (after a spring male on Bryher in May) it matches the same late arrival date of a bird on Tresco at the start of November 2001 and is around the 20th bird found on Scilly since the turn of the clock into the 2000's.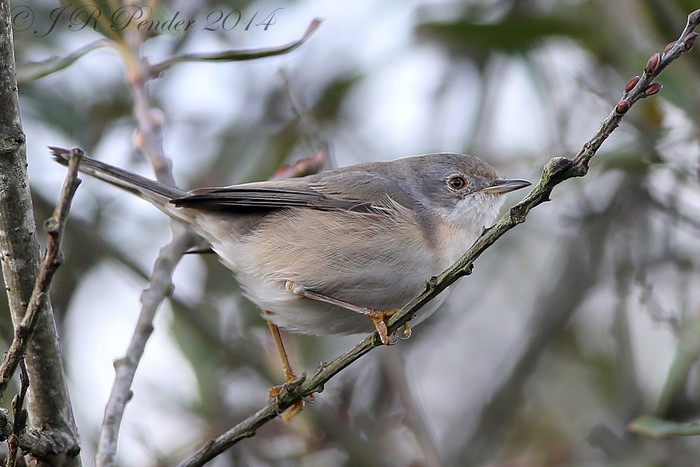 With the east wind blowing, a final upward spike in the number of Yellow-browed Warblers wasn't quite the surprise it seemed to be at the time ~ numbers up to a minimum of 161 birds recorded in 23 counties through Britain and Ireland (compared to 118 in 24 last week).
One thing that didn't change from last week was the dominance of the southwest of England, around 63 birds recorded from just four counties with 22 for Cornwall, at least 16 for Devon, 15+ on Scilly and 10 in Dorset. The northeast of England saw at least 33 Yellow-broweds on offer, with six at Filey (North Yorkshire) being of particular note on 30th, as was Northumberland's 11 birds. Four birds were found in northwest England, a dozen were in East Anglia (10 of them in Norfolk) and five were seen in southeastern counties.
Scotland's dozen included five on Shetland and four for Orkney, while Ireland saw Cork and Mayo take a further five each, with two in Kerry and one in Wexford. Wales' tally of an impressive 19 was bolstered by the 10 birds found around Bardsey on 29th while others made it to Angelsey, Conwy, Powys, Pembrokeshire and Glamorgan.
There was a somewhat resurgent performance from Barred Warbler this week, some helpful conditions pushing upwards of 10 birds our way, seven of them in more westerly locations…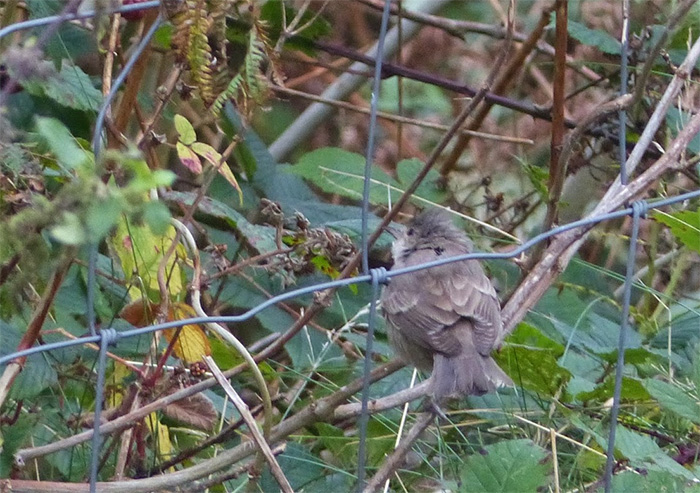 A brief bird at Pendeen (Cornwall) kicked things off and was followed by Irish singles in Cork, at Garinish Point on 29th and on Dursey Island (on 30th) while two birds were seen on Bardsey Island (Gwynedd) on 31st ~ see below for more on the island's week) ~ when one was very decent find for birders in Gloucestershire, present at Frampton-on-Severn to 2nd ~ the first in the county for donkey's years. Before departing for the east side, the third Irish bird of the week remained at Hook Head (Co. Wexford) to 1st.
Yes, the only birds along the east coast this week were a loner at Happisburgh (Norfolk) on 30th and the two found on Holy Island (Northumberland) on 1st.
Five of the week's nine Red-breasted Flycatcher were noted on the first day of the review period (29th) ~ two singles remained on Scilly, on both St. Mary's and St. Agnes, with one for Bardsey (see below), Gulberwick, Mainland (Shetland) and also on Lundy ~ the first of three noted in Devon this week, the others following along at Seaton on 31st and Prawle Point from 1st-3rd. The remaining two singles were found on North Ronaldsay (Orkney) on 30th with Bardsey's second of the week arriving on the island on 2nd.
The Bardsey fall…
After such a lot of work in the field on 29th, it seemed as though the day had passed everybody by ~ barely a new arrival of note anywhere…east coast or west…
Then, after dark, came news of a super day on Bardsey Island ~ a day full of birds, none of the rarities but that's not really the point. For the date, it was a supreme example of keeping going and reaping the rewards in a classic haul of late autumn migrants.
At the top of the list, a Red-breasted Flycatcher and also a new Barred Warbler. Not far behind, a cracking tally of 10 Yellow-browed Warblers ~ an excellent number so late in to the autumn ~ and half a dozen tristis Chiffchaffs .
Add in four different Woodlarks, a Hawfinch , a couple of Black Redstarts, Ring Ouzel and Firecrest and it all adds up to a particularly fine late October day's birding.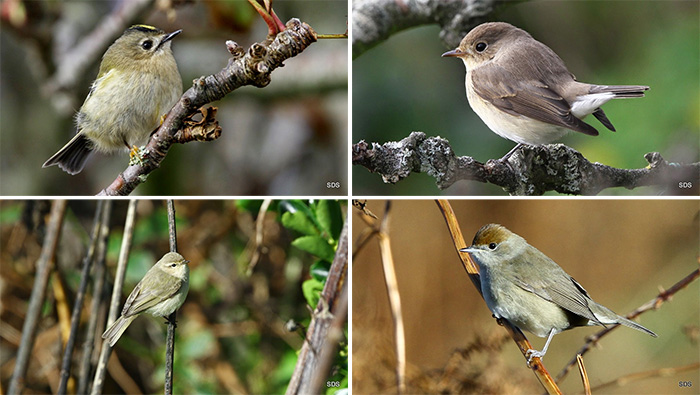 You can read more about the Observatory, the island and the fall on the 29th HERE.
Return of the Butcher Birds
Numbers of Great Grey Shrikes rose from last week's tally of 23 to 30 this week, spread widely across 23 counties.
The southeast of England fared best with ten birds in seven counties ~ with two each for Bedfordshire, West Sussex and Surrey. Elsewhere around England, two birds were also noted in Derbyshire and Norfolk, while two of Scotland's four individuals were seen on Shetland (on Fair Isle on 31st and on the Mainland, at Hoswick on 1st).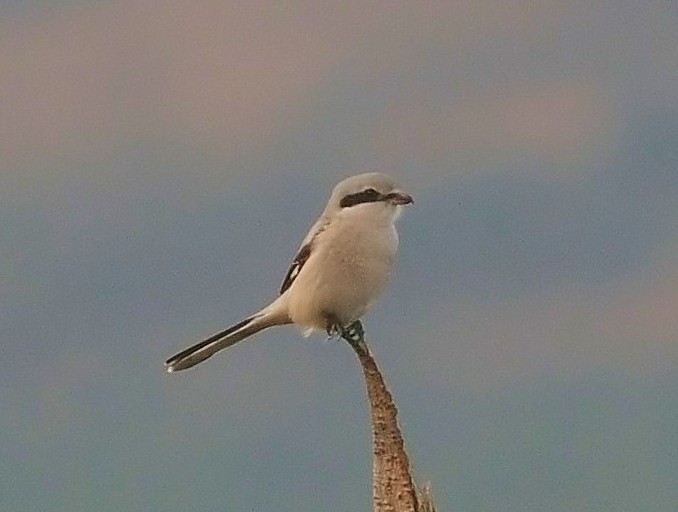 Wales also did reasonably well too ~ five singles seen, in Anglesey, Gwynedd, Ceredigion, Powys and Glamorgan.
The two first-winter Red-backed Shrike logged last week remained for much of this week too ~ the bird at Poth Hellick, St. Mary's (Scilly) was noted to 2nd while the long-stayer at Lowestoft (Suffolk) lingered to 4th ~ a notable 39 days on the clock so far, "collecting" a third month in the process, having appeared at Ness Point on September 27th.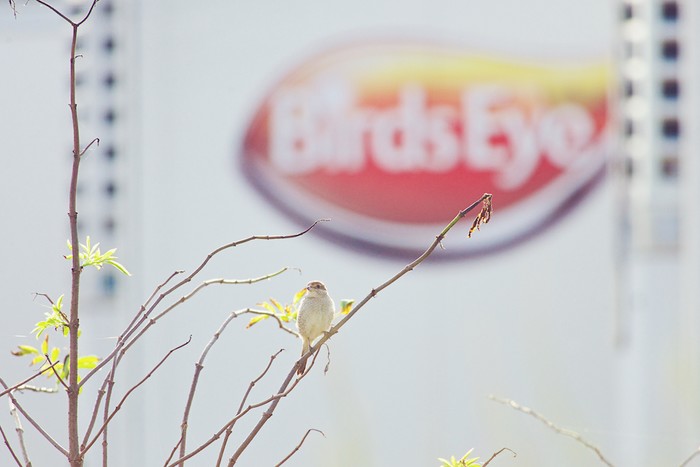 Swift sp., and the Real Deal…
The five Swifts reported this week were spread far and wide across the country, from Dorset and Surrey to West Yorkshire and Highland (all between 29th and 2nd) but the only one that passed muster as the predicted and expected Pallid Swift that whizzed around the seafront and nearby houses at Sheringham (Norfolk) during the afternoon of 31st.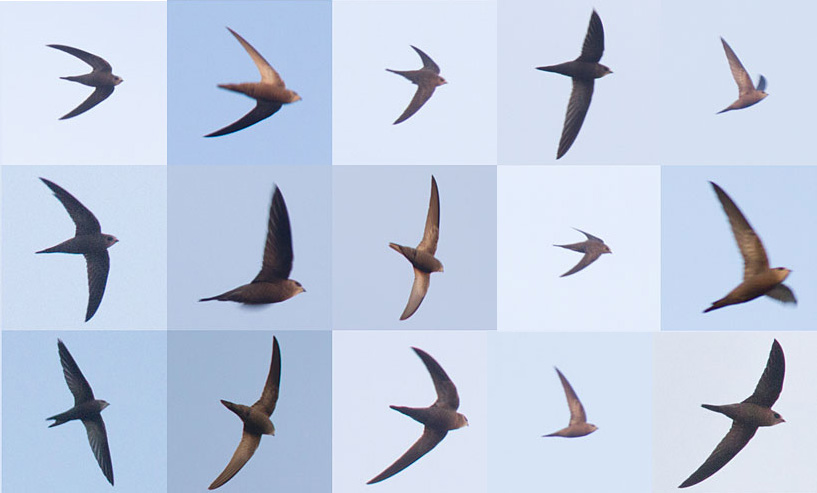 This was, once upon a time, a massive bird ~ prior to 1996 there were just nine records in all (of ten birds) but things have motored on since then ~ the first "big" autumn being that of 1999 when a dozen birds were found between October 24th and November 5th. Another 11 followed in the latter part of 2001 and the autumn of 2004 yielded 16 different individuals, all of which have boosted the overall total to some 82 accepted records.
Norfolk has proved to be a particularly fertile area for Swift hunters since the appearance of the county's third record at Trimingham in October 1999 ~ a further 16 or 17 following on from that bird and all of them falling between the fortnight window of October 23rd to November 5th, with the most recent records coming last autumn at Cley, Weybourne, Felbrigg, Cromer and Trimingham ~ at least two here ~ with doubtless with some repetition along the coast involved too.
Rounding Up the Round Up …
Two of the three Wrynecks found this week belonged to south Devon ~ found at Hallsands on 30th and Soar on 1st, with west Wales claimed the only other one seen this week, seen on Skokholm on 2nd.
Splashes of summery-hued colour to brighten up the darker days of November came courtesy of a couple of Hoopoes ~ one remained at Framsden (Suffolk) to 1st while new was one in Somerset, seen at Dunster beach from 1st through to 4th.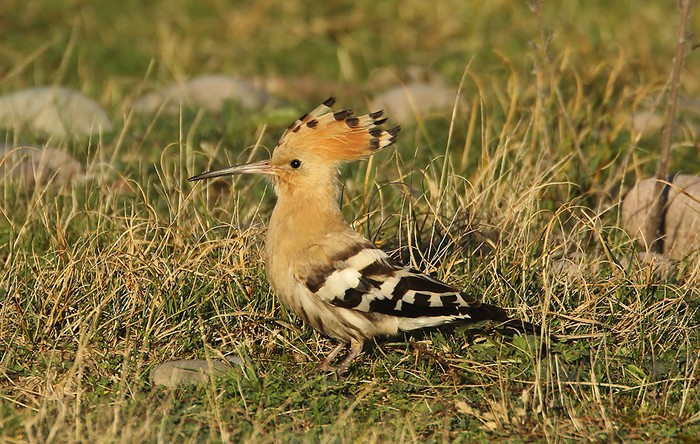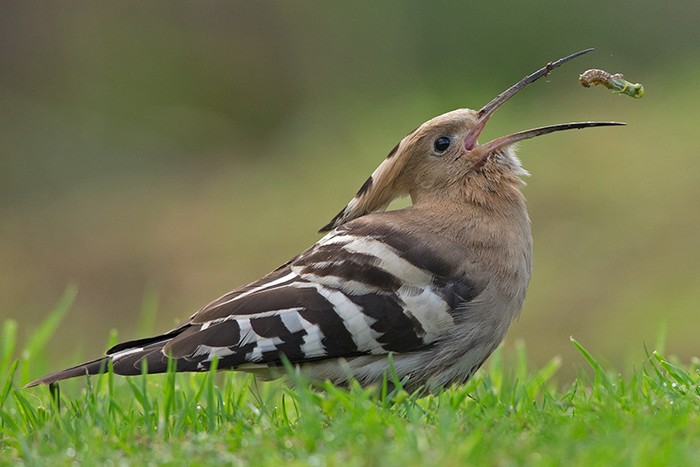 The week's half dozen juvenile Rose-coloured Starlings were split evenly between the far southwest and the far north ~ one remained on St. Mary's (Scilly) to 30th while new was one of two birds in west Cornwall, found at St. Buryan on 29th (and still present on 3rd), while the lingering youngster at Penzance was in place throughout the week.
In Scotland, the juvenile was at Leven (Fife) to 3rd while on Shetland, a new arrival was present on Out Skerries on 2nd with the Mainlander at Voe remaining to 3rd.
A handful of Waxwings round things off again this week ~ on 29th, two were reported from Caerlaverock WWT (Dumfries & Galloway) while four where noted in Sheffield (South Yorkshire). One was seen on South Uist on 30th and the first day of November saw another single make it to Clyde. The week ended with a report of a dozen or so on the Isle of Skye, seen at Milovaig. No big numbers yet, but they could be just around the corner…all we need is a brisk northerly blast.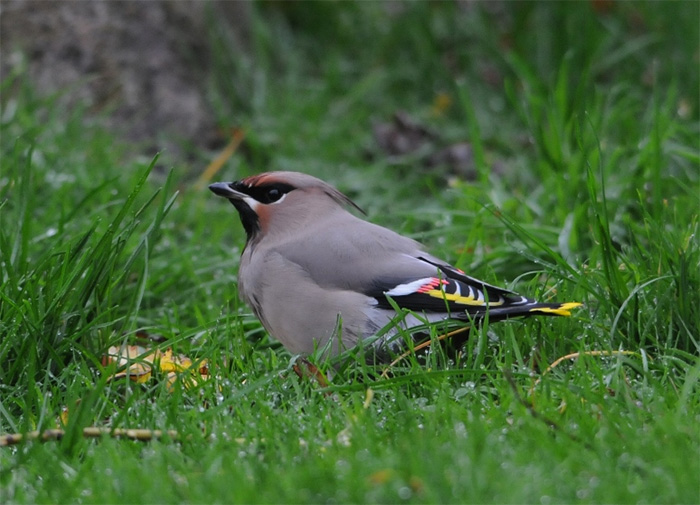 Autumn's inevitable drift to winter draws closer and closer with each passing day but, as the past seven days have proved, in emphatic fashion, there's life in the old dog yet…
The weather doesn't seem to be offering up too many favours, bar a wobble of northerly (off a weak ridge of high pressure over Scandinavia) as the new week begins. After that, it seems to be heading back to the south or southwest which, on paper at least, seems rather dull…however…
November 5th fireworks (in the avian sense) would be most welcome and I've wanted to hoy Little Bustard in as a left-field shout for some while ~ and it seems rather apt as Fair Isle pulled this particular Bonfire Night sparkler out of the ether in 1994.
A plump red-breasted American Robin doesn't feel too off the wall if there's any sort of westerly element to the weather in the next week, while Green Heron is due another outing (the Anglesey bird of 2005 was found on November 7th). Likewise, Killdeer.
If the winds stay on the south side, well its more of the same ~ rare swifts (that Little is back in the mix), rare wheatears and more travellers of that ilk.
One species that's unlikely to pop up again in hurry is one of the all-time classic rares and twitches ~ so as we're coming up to the eighth anniversary of the species in question we will, once again, tip our hats to the Dawlish Long-billed Murrelet, found on November 7th 2006.
A once-in-a-lifetime occurrence for sure and absolutely one not to have missed…
Mark Golley
05 Nov 2014


Special thanks this week to Paul Higson for his Bufflehead shots; to Garry Taylor, the Spurn Bird Observatory and Rich Swales for the Blackpoll Warbler images; to Steve Stansfield and the Bardsey Bird and Field Observatory for the great pictures from their special fall day and also to Ashley Fisher for helping with the all-important Scilly phalarope gen.
Thanks also to the rest of our contributors for their photos, videos and sound files.
David Parnaby, Ciaran Hatsell and Fair Isle Bird Observatory, Martin Cade and Portland Bird Observatory, Mark Warren and North Ronaldsay Bird Observatory Gary Thoburn, Jim Almond, Simon Knight, Steve Young, Mark McManus, Pete Saunders, Rory Tallack, Paul Buxton, Dermot Breen, Hugh Harrop, John Kemp, Steve Gantlett, Martin Casemore, Ephraim Perfect, Neil Fox, Paul Kelly, Andrew Chick. Barry Woodhouse, Alex H Jones, Paul Archer, James Packer, Martin Garner, Alex Meek. David Aikten, John Tymon, Brydon Thomason, Joe Pender, Brian Henderson, Alison, Lythgoe, Chris Upson,
Contributors websites
Check out our contributors website for more great photos and news