Weekly round-up: 20 - 26 August 2014
The week at a glance
Multi-observed Swinhoe's Storm-petrel seen off County Clare
Cork pelagic yields a double bill of Fea's Petrels
An early Arctic Warbler makes landfall on Shetland
…as does another August Blyth's Reed Warbler
The Isle of Wight awash with Bee-eaters
August Bank Holiday weekend is a time of year that you'd normally hear the triple word combo of "Touch of Frost" solely in relation to another tired old day of viewing on the slumbering ITV3's cop-show laden schedule of repeats.
This time around though it was genuinely meteorologically connected ~ an early autumnal nip in the air accompanying a northwesterly airstream seeing temperatures in rural climes up north dip out of the black and in to the blue, minus one the low for the past seven days.
The weather that sat across us for much of the week was sunny and showery for the most part as the generally rather innocuous northwest breeze did little to rally the avian troops. Shetland and Orkney again fared better with a waft of overshooting drift migrant weather but ABH Monday saw the south cloaked in a sodden shroud of heavy rain and westerlies and it all became rather soggy.
As the review period concluded, birders on the east coast saw something rather interesting looming ~ the first proper puff of easterlies this autumn was coming, but so was the sunshine. What came with it? Well, let's find out…
Goodness gracious ~ that was all a tad dull wasn't it…after last week's rather timid offerings (bar the sensational Scilly seabird ~ so gripping when photographed as last week's beastie was…) the last full week of August managed to heap another couple of Temazepam down the gullet and produced a week so quiet (well, almost) that it was hardly worth turning up for…
Indeed up until around teatime on Monday, it seemed like the only bird-related highlight this week would be the Canaries making hay in Enemy Territory down the A140, but there was a bit of other news too…
So without further ado, we mooch towards the headline acts…
Swinhoe's Storm-petrel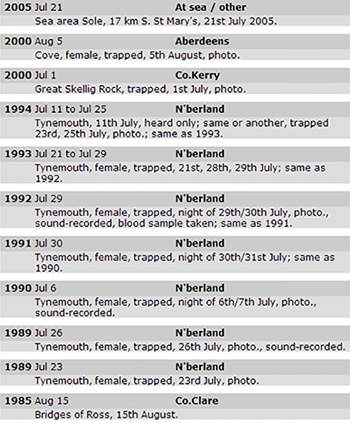 An August Bank Holiday never seems the same unless there's a good seabird off the Bridges of Ross and last week's ambitious punt of something like a Barolo Little Shearwater appearing off the above mentioned west coast headland felt just about right, especially given the generally agreeable conditions that were forecast.
As it turned out, County Clare's favourite seawatching locality upped the ante somewhat on 25th as Norfolk birder Steve Hack picked up a Swinhoe's Storm-petrel just after 6pm coming across the famous bay ~ it was watched for some four minutes by just seven observers (given the unfavourable SE wind, that's no surprise) from Ireland and East Anglia being last seen just before 6.10pm.
Four or five minutes with such an outstanding bird is actually (as anyone who's encountered a gross seabird on a seawatch) quite a long time and it must have been an incredibly exciting moment ~ imagine latching on to an all-dark petrel. Panic stations!
It has been mused upon here previously that this incredibly rare seabird has almost been devalued by events on Fair Isle in the past 24 months ~ and the wish for another fly-by has also been raised on these very online "pages" too.
Now we do ~ and it's the second one for Bridges of Ross too ~ the first (anywhere) was seen there in August 1985. The only other non-netted Swinhoe's were seen off Scilly in July 2005 and from the Harrison pelagic on board the "Chalice" in 1988.
Ireland's only other record of the species was of a bird trapped on the Skelligs (Co. Kerry) on July 1st 2000.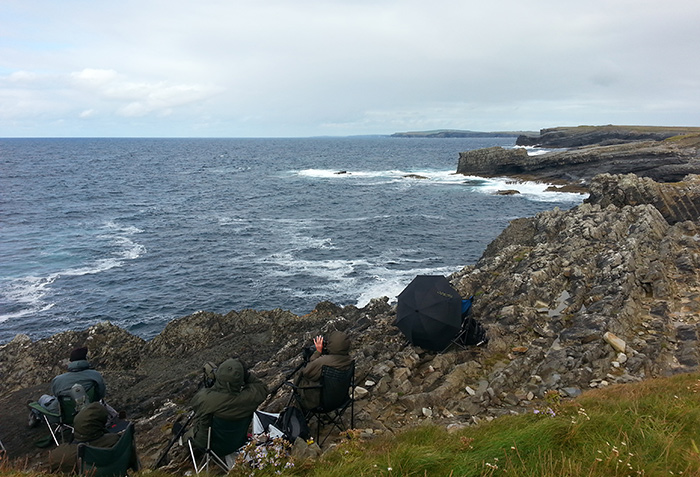 Fea's Petrel
Before a relatively small, largely all-brown seabird spent less than 300 seconds off the Irish coast ~ there was a resounding "thanks goodness for Pterodromas" from me, as one of the star turns (for a third week in a row) was Fea's Petrel.
August has been a very tidy affair where these tough-to-connect-with customers are concerned ~ and a highly successful pelagic out of Baltimore (Co. Cork) on 24th saw not one but two Fea's Petrels logged during the trip that headed out just a few miles off the coastal town.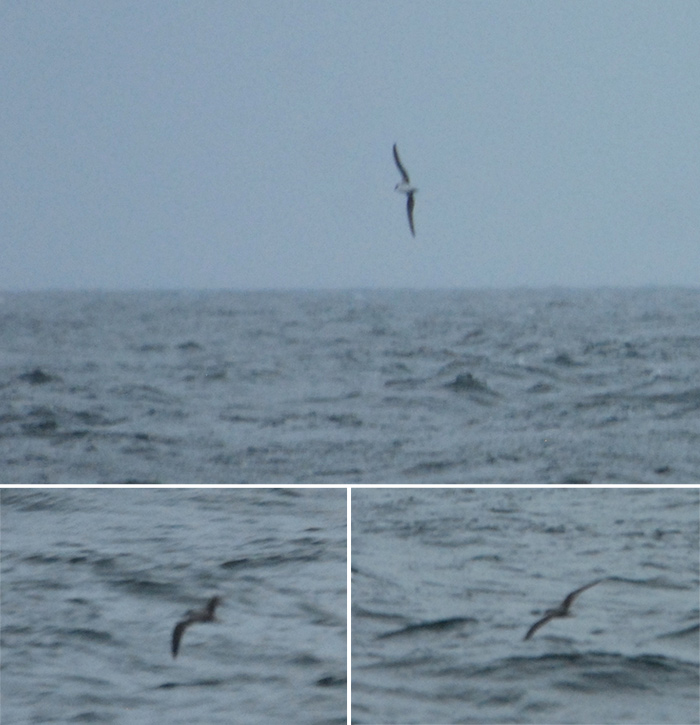 Anyone wanting to take Cork as an option for a pelagic next summer would do well on organiser Paul Connaughton's website shearwaterwildlifetours.com - it is still under construction right now, but will be up and running soon. With an enviable tally so far this summer (including three Fea's and seven Wilson's Storm-petrels anyone who fancies trying their luck somewhere new next summer could do a lot worse than get in touch with Paul and see what's what.
The month's haul is now at a very respectable minimum of eight birds, with the Cork duo becoming the 10th and 11th records this autumn. As has been discussed in recent times within these reviews, this a species that, year-on-year becomes more frequent but it still remains a significant top prize for seabirders.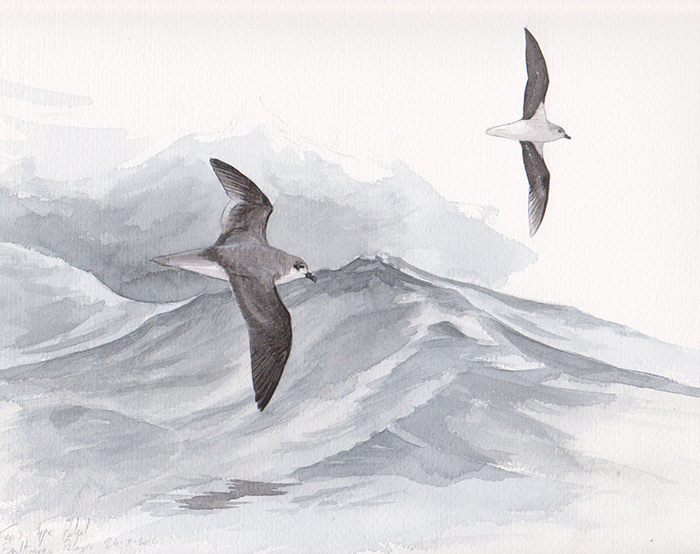 And that in itself is interesting…
"Fea's Petrel" retains an air of near-mystique and ~ despite the frequency of records and everything that is known about the family group ~ continues to hold on to a status akin to a somewhat enigmatic species. Compare that to Barolo Little Shearwater, a species that barely gets a mention and fails to generate anything like the excitement that surrounds Fea's.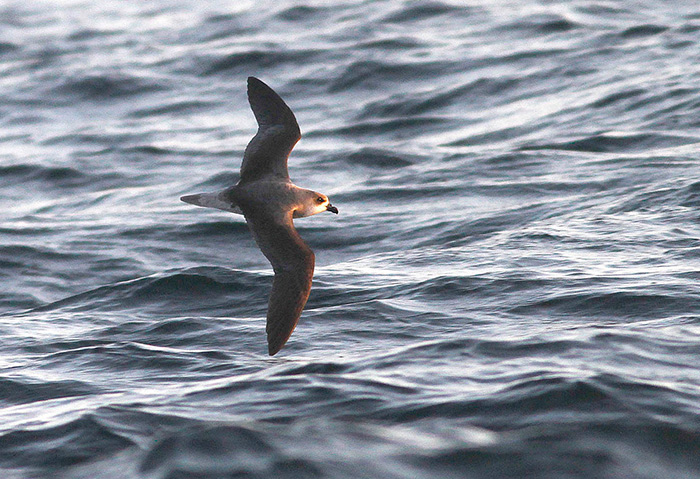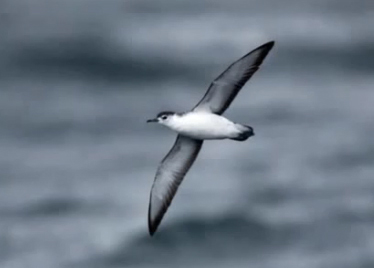 Maybe that will change when the next Barolo Little Shear is multi-observed or well documented with a gripping photo or two.
Until then and despite out scoring BLS by close on 2:1 (good going for a species not actually recorded here until 25 years ago) it is the shout of FEA'S! that will set the pulses racing most. Little Shearwater is lagging badly behind and shows no hint of remaining anything other than an exceptional rare, barely bi-annual (at best) ocean wanderer. Interestingly, a probable of last week's predicted species was noted off Flamborough on 20th but couldn't be confirmed.
Rounding things off ~ along with the two Fea's Petrels, the Baltimore boat trip also logged three Great Shearwaters, single Cory's and Balearic Shearwaters, a few Sooties, "Blue" Fulmar and 100's of Storm Petrels for good measure. Not too shabby at all…
Arctic Warbler
With the greatest respect to the species, seeing an Arctic Warbler popping up as second bird in a weekly review in August is a fair indicator as to just how quiet a week it was.
There's obviously nothing wrong in the slightest with this pleasing, rather fulsome Phylloscopus ~ far from it, they rock! ~ but to see P. borealis "way up top" is something of a disappointment in a week that can be awash with megas…
This week's early Arctic Warbler arrived on Fair Isle on 22nd ~ out of the 47 accepted records of the species from August's to date, 29 have been found on Shetland, including three during the month in 2010, four in August 2011 and three in 2012. Last year was a blank for the islands (there was one in Durham though) so this week's bird on Fair Isle restores the pattern of arrivals to a degree.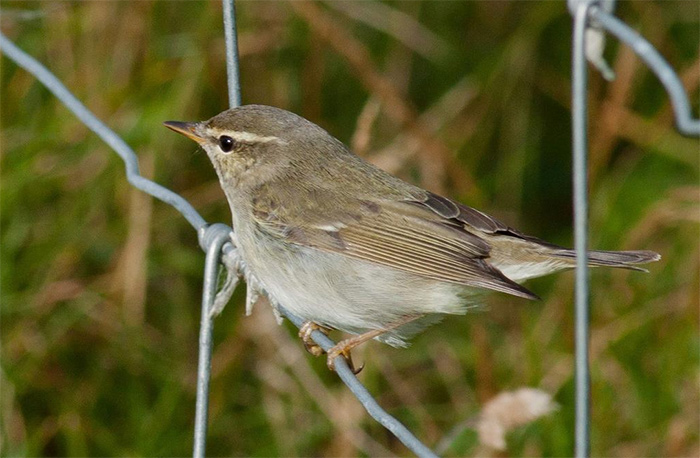 Blyth's Reed Warbler
…and talking of Fair Isle and Shetland in general ~ last week saw the arrival of two properly early Blyth's Reed Warblers on the most famous birding island in the archipelago (becoming only the fourth and fifth records of the species within the month).
Now we can add two more to the August total as Shetland saw two more arrive over the course of the past seven days ~ the first was discovered at Halligarth, on Unst on 21st with the second (and fourth within 11 days) dropped in on Foula on 25th.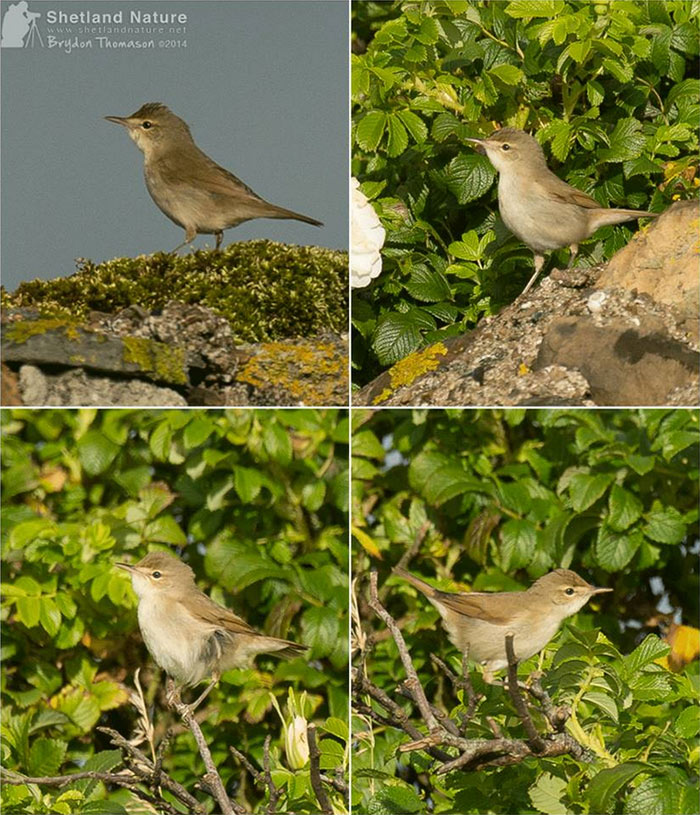 The week's sole Wilson's Storm-petrel was seen from the Thursday night voyage on board the M.V. Sapphire off St. Mary's (Scilly) on 21st ~ the species showing a decent run in the Western Approaches of late.
A handful of Cory's Shearwaters appear to be trapped in the North Sea at the moment ~ on 20th one was noted heading north past three sites along the coast of Northumberland (St. Mary's Island, Seahouses and Newbiggin). Further south, one was seen from Whitburn (Co. Durham) ~ a different bird to the one in Northumberland on timings) and singles were also reported from Flamborough Head (heading north) and Spurn (heading south).
Three birds were seen off Flamborough on 24th and one was again logged from Newbiggin (and later Beadnell) on 25th, whilst over on the west coast of Scotland, a Cory's was reported from the ferry between Ardrossan and Brodick on 20th. Two were seen from a Scilly pelagic on 20th with one seen from St. Mary's on 24th, with the singles also reported from Portland Bill (Dorset) on 23rd and Old Head of Kinsale (Co. Cork) on 24th (a seawatch which also produced a report of a possible Bulwer's Petrel). The last one of the week was seen on the Scilly pelagic of 26th.
The undoubted highlight of the week where Great Shearwaters was concerned would have been the 300+ seen from the Scilly pelagic of 21st ~ these supreme shearwaters are an absolute joy when seen at close quarters and, even more so, when in numbers. Further Scilly sea trips produced one the following day, 12 on 24th and two on 26th, whilst one was seen from land, off Penninis Head, on 24th. Another 23 were counted from a boat some 90 miles of Scilly on 21st too.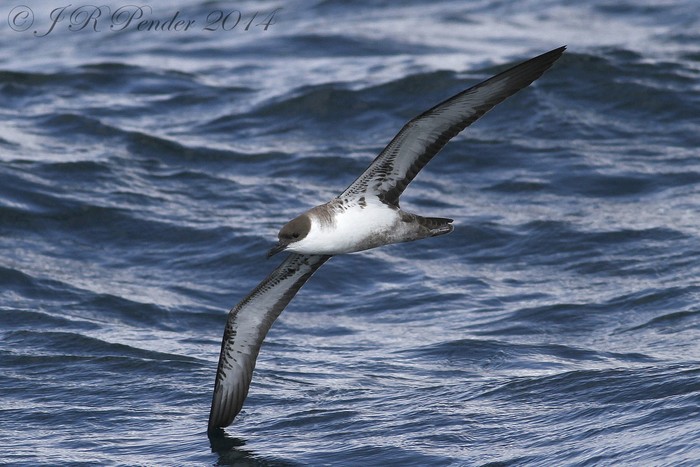 Birders at Pendeen managed eight Greats on four dates this week (including three on 20th), while Porthgwarra managed only four. Just 10 more were reported in Britain and Ireland this week ~ two were seen from a pelagic off the coast of Kerry on 20th, two singles were logged off Cork on 24th and others were seen between Fishguard and Rosslare on 20th and 25th, North Ronaldsay (Orkney) on 21st (presumably the bird tracked from Norfolk to Northumberland last week), Flamborough Head (East Yorkshire) on 22nd, Strumble Head (Pembrokeshire) on 24th, Prawle Point (Devon) on 25th and Penlee Point (Cornwall) on 26th.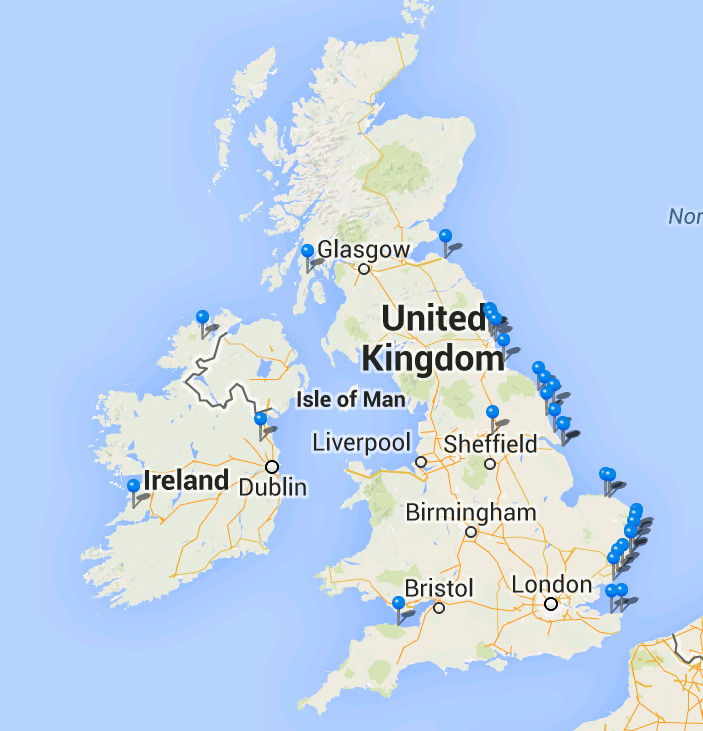 The first day of the new review period began with seven Long-tailed Skuas noted ~ three juveniles were reported off Sizewell (Suffolk), two different birds were at Flamborough (a dark juvenile over Old Hall Flash and a pale juvenile off the Head itself), inland in West Yorkshire at Swillington Ings while an adult flew past Grimston (North Yorkshire).
The 22nd saw single birds of the year recorded from Spurn and Bridges of Ross, while an adult was one of two birds seen at Kessingland (Suffolk). Two more followed in East Yorkshire, adults off Barmston and Spurn (on 22nd and 24th) while further birds included an adult past Bloody Foreland (Co. Donegal) on 23rd and a juvenile from the ferry between Kennacraig and Port Ellen (Argyll & Bute) on 24th. Back in East Yorkshire, three juveniles were reported from Flamborough on 25th and further single Long-taileds were noted off Long Nab, Burniston (North Yorkshire), Whitburn Coastal Park (Co. Durham) and Seaton Sluice (Northumberland).
A blustery 26th saw Suffolk birders fare pretty well with Long-tailed Skuas ~ just how many were seen isn't easy but totals included eight off Thorpeness, seven off Kessingland, up to six off Lowestoft, six off Landguard NR and one from Southwold. There were three each for Norfolk and Kent, with singles in Essex, Somerset and County Meath.
Some 20 counties around Britain and Ireland logged a total of 65+ Pomarine Skuas this week ~ mainly singles, the "highest" tallies were four from Flamborough on 23rd with three there on 20th when another trio passed Chanonry Point (Highland). The low numbers were pushed higher thanks to at least 21 birds on 26th ~ with Suffolk claiming nine of them.
As with many other species of seabird this week, it was sometimes pretty slow going out there from time to time…
That said, it was a marginally better week for the eternally lovely Sabine's Gull ~ a minimum ten noted with a fair bit of action off Flamborough Head. An adult and juvenile were seen there on 20th and the same combo were logged there two days later, with an adult there again on 23rd. Further adults were seen from Clare's Bridges of Ross on 21st, Donegal's Malin Head on 23rd, Scilly's pelagic on 24th (two noted that evening) and, back in Clare, off Loop Head on 24th and 25th. The final birds of the week were a juvenile at Barna (Co. Galway) and an adult off Thorpeness (Suffolk) on 26th.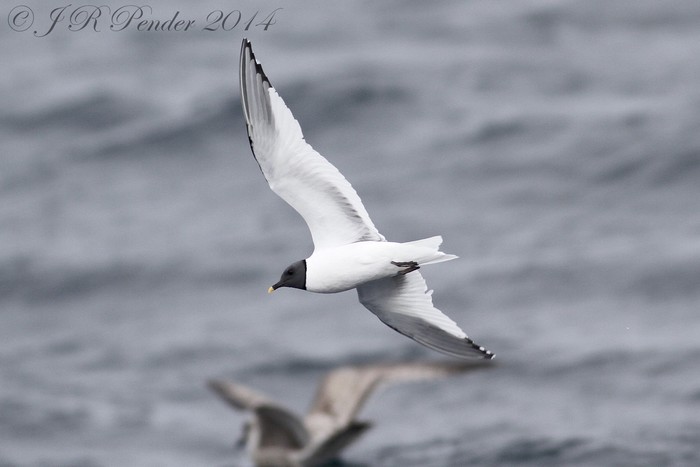 The only Leach's Storm-petrel of the past few days was trapped on Fair Isle on 24th while Grey Phalaropesincluded last week's adult at Holland Haven (Essex) on 20th, with the same date producing two off the Kerry coast and loners on Islay (Argyll & Bute) and at Slapton (Devon). Just two more followed, off Bridges of Ross (Co. Clare) on 21st and Bloody Foreland (Co. Donegal) on 23rd.
Around 100 Balearic Shearwaters were recorded throughout the week, with 28 from Prawle Point and 16 off Pendeen on 25th. Earlier in the week 24 noted off the west coast of Cornwall, 12 for Devon and 16 in all for Portland Bill, with a high count of just eight there on 21st. It was slim pickings elsewhere, singles and doubles seen from Ayrshire to Wexford and Kent to North Yorkshire.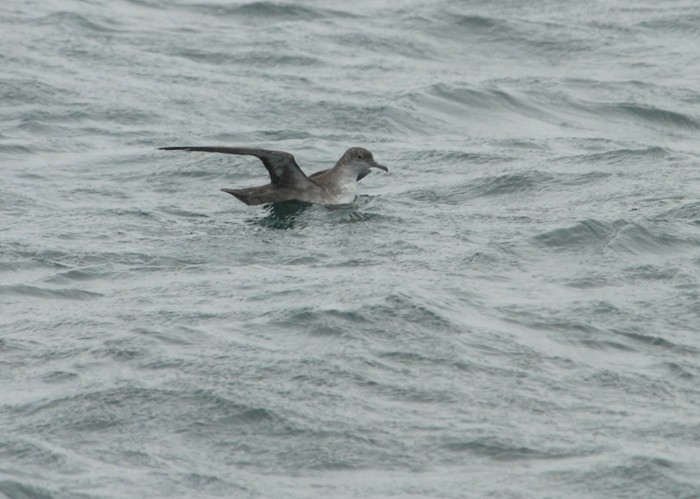 Up to 11 Glossy Ibis were seen through the week ~ the first day of the review period seeing birds lingering at Pegwell Bay (Kent), Frampton Marsh RSPB (Lincolnshire) and Saltholme Pools RSPB (Cleveland). Making another reappearance the same day was the single bird at Loch Leven (Perth & Kinross) while 22nd saw a new bird appear ~ found at Nosterfield NR (North Yorkshire) commuting to Staveley YWT the following day before appearing again at Nosterfield on 24th.
In Cambridgeshire, a Glossy Ibis was again at Wicken Fen NT from 22nd-24th at least, while 23rd-24th saw birds reported from Whisby Pits (Lincolnshire), Langfield Lowfields (Nottinghamshire) and Sandwell Valley RSPB (West Midlands). The 25th saw the appearance of one in Derbyshire, at Willington ~ the second site of the week to do the Glossy Ibis & Great White Egret double-bill…
Yes, both Wicken Fen and Willington GPs managed to register both species (the former on 24th, the latter on 25th) but it was around the Somerset Levels where most of the action took place for this scarce breeding resident…a minimum of nine birds recorded this week, seen at Ham Wall RSPB on 24th (one of three or four sites in the Avalon Marshes complex to record Great Whites this week.
The Cambridgeshire bird was one of up to half a dozen birds in the county this week, seen across five sites, including two at Berry Fen on 24th. Three birds were at Leighton Moss RSPB (Lancashire) on 24th too, while the Kent Estuary in Cumbria hosted two on 22nd. Many of the remaining dozen or so individuals were long time regulars (from Cotswold Water Park to Dungeness and onward to Blashford Lakes and Hickling Broad for instance) while new were birds at Cuckmere Haven (East Susex) on 20th, near Quedgeley (Gloucestershire) on 21st, Colyford Common LNR (Devon) on 21st-22nd and at Mountsorrel Meadows (Leicestershire) on 23rd.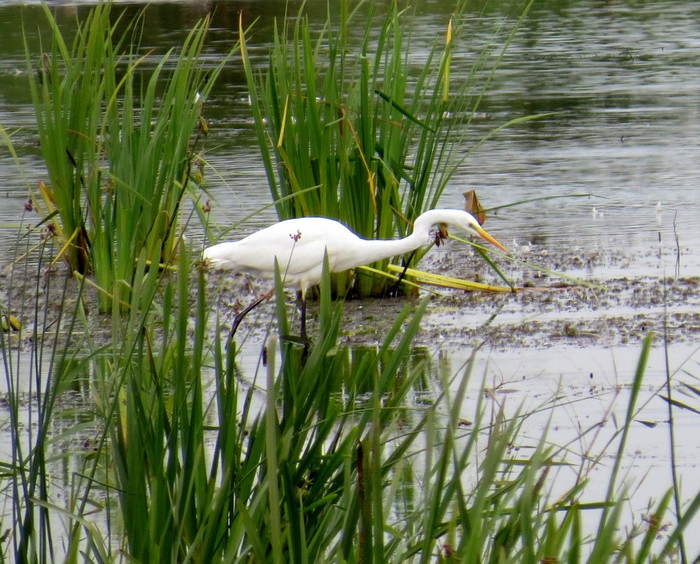 The only Cattle Egret seen this week was the only one noted last week ~ still at Sidlesham (West Sussex) to 24th ~ while along the south coast in Dorset, a White Stork was reported near Abbotsbury on 23rd.
There was no sign this week of the second-summer Night Heron in Warwickshire although the unconfirmed report of one in Leicestershire, at Swithland Reservoir on 24th may be connected.
The big numbers of Spoonbills were, once again, the domain of the east coast, with the annual early autumn gathering at Suffolk's Havergate Island topping 27 ~ present there on 21st. Norfolk's highest totals of the week were 18 each for Titchwell and Stiffkey (on 20th and 24th respectively), with eight at Thornham and seven at Burnham Overy Staithe off and on through the week, while Cley could manage just six as a weekly high. In Dorset, nine were present at Middlebere Farm on 22nd, whilst the threesome in Moray, at Findhorn Bay were still having fun on the coast at the beginning of the week. A notable inland single was seen over Lowe Farm Gravel Pits (Berkshire) on 22nd.
Two Common Cranes started the week at Hatfield Moors (South Yorkshire) while the roving first-summer mooched around East Yorkshire for much of the week taking in three or four sites as it went about some Grus-sy business. Another lone bird was reported in Angus, at Brechin on 23rd and two were seen at the Ouse Washes RSPB (Cambridgeshire) on 24th with a singleton on Thorpe Marshes (Norfolk) on 26th.
Two of the week's six Spotted Crakes spent 23rd-24th at Bowling Green Marsh RSPB (Devon) while singles remained at Tophill Low NR (East Yorkshire) to 21st and Rainham Marshes RSPB (London) to 24th. New was one at Rutland Water (Leicestershire), found on 23rd and still in place to 26th while rather more unexpected was a garden find in Scarborough (North Yorkshire) on 26th.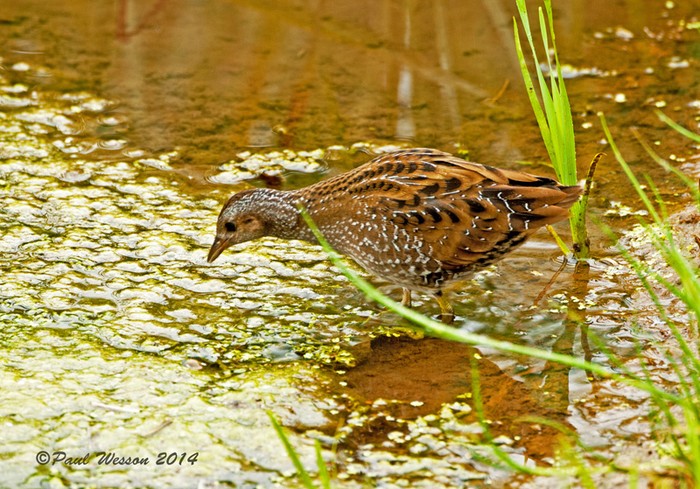 Midlands listers hoping to check off a new species in the Worcestershire box were, eventually left disappointed by an eclipse drake hybrid at Grimley on 25th-26th. Initially reported as a Blue-winged Teal it was reidentified as a presumed Shoveler cross (arguably showing more features of the latter than the former from images posted online) but that didn't stop some debate ensuing. There have been just four Worcestershire records of the Transatlantic traveller, the most recent one coming back in August 1989.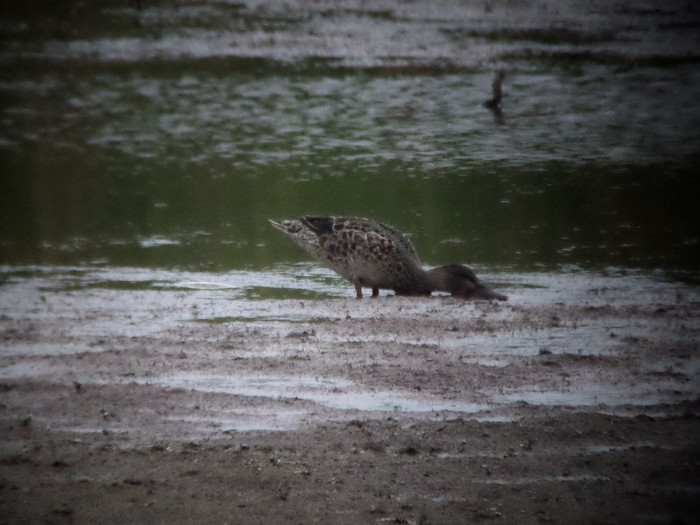 After a scare in Cambridgeshire, the only pure Lesser Scaup of the week was the eclipse drake at Chew Valley Lake (Somerset) ~ present from 20th-24th at least.
In Suffolk, a female Ferruginous Duck was found at Minsmere RSPB on 20th and still present there on 26th, the second reserve record this year, following a late spring male.
Following on from three birds at the end of last week, just a single drake Surf Scoter was reported from the coast of northeast Scotland this week, seen from Blackdog on 21st.
<!—Section Title -->
County Offaly's first Long-billed Dowitcher, a rather fine and dandy summer adult, remained at Lough Boora Parklands from 20th-25th, allowing the few birders in the county the chance to avail themselves of the species for their lists.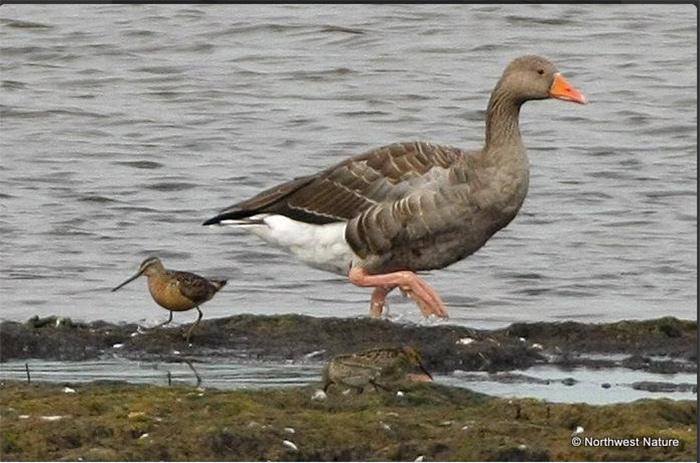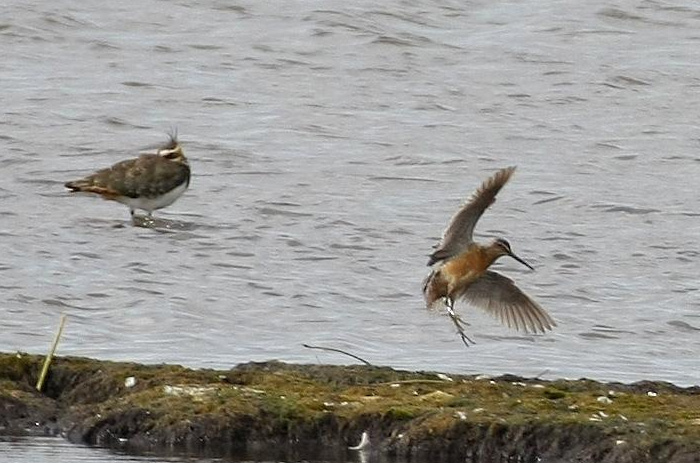 Almost as rare for one Irish county was the Black-winged Stilt seen at the mouth of the River Skivileen, in Doonbeg (Co. Clare) on 23rd ~ potentially only the second county record, the first being a five-day April male at Enistymon in 1987.
In West Sussex a Broad-billed Sandpiper was reported at Pulborough Brooks RSPB on 25th reappeared briefly the following day ~ if it was one, it would be the first in the county since May 1993 and only the third in either side of Sussex in modern times ~ 1988 the only other date for the stripe-clad star ~ the other records coming in 1934, 1887 and 1845. All that said however, the little online chitter-chatter that came with the record suggested it was actually a Dunlin with a dark crown. We'll let them sort that out for themselves…
Three single Pectoral Sandpipers started off the new review period ~ still present at Frampton Marsh RSPB (Lincolnshire) and on the Great Pool, Tresco (Scilly) while new was one at the Cunnigar (Co. Waterford). On 22nd, a new bird arrived at Roos (East Yorkshire) with the final bird of the week being found at Freiston Shore RSPB (Lincolnshire) on 23rd, where it stayed to 25th.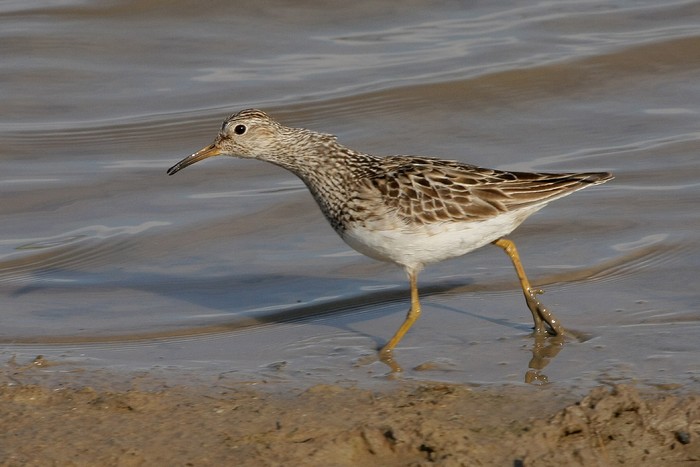 On Shetland, a juvenile Red-necked Phalarope was on Unst on 21st with the same day seeing another noted on North Ronaldsay (Orkney). The week's third was found on Cliffe Pools (Kent) on 26th. An adult Temminck's Stint remained at Blacktoft Sands RSPB (East Yorkshire) until 22nd when the second of the week arrived at Bowling Green Marsh RSPB where it remained to 26th. A couple of double departing Dotterels round things off ~ two seen near the trig point on Garreg Lwyd (Carmarthenshire) on 23rd and two more noted on the Lizard (Cornwall) on 25th.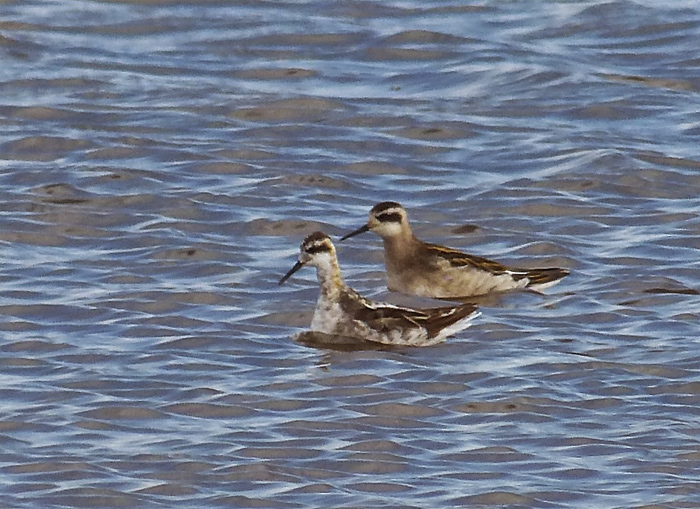 The presumed returning adult Bonaparte's Gull was noted in fields at Cleadon (Co. Durham) on 21st ~ it has appeared along this stretch of coast in each August since 2010. Down in Kent, the Oare Marshes adult remained to 25th.
After no news last week, the first-summer Laughing Gull was noted again at Ballycotton Pier in County Cork, present there on 23rd, while a first-summer Ring-billed Gull wa sagain on Gormanstown beach (Co. Meath) on 25th. In Cumbria, an Iceland Gull was reported at Mockerkin Tarn on 22nd.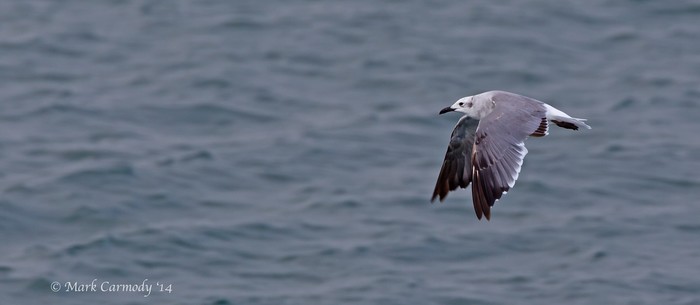 An unringed probable adult Baltic Gull was seen at Dungeness (Kent) on 23rd, while potential juveniles were reported flying past Flamborough Head on both 21st and 23rd while in Staffordshire, a potential Azorean Gull (form atlantis) was at Chasewater on 23rd.
The general unending adoration ion given across these pages to the ever-marvellous beauty that is Caspian Gull has produced something of a rod-for-my-own-back issue, given just how many are appearing but we'll plough on with one final summation of the week's cachinnans proceedings.
At least 33 were reported this week ~ including four at Pitsea Tip (Essex) on 23rd and three each for Hatfield Moors (South Yorkshire) and Nosterfield NR (North Yorkshire) on 24th ~ two of the latter trio being juveniles. Almost half of this week's tally was made up of birds of the year and several of these were doubles; at Cley NWT (Norfolk) on 20th, Sutton Courtenay (Oxfordshire) on 22nd, Dungeness (Kent) on 23rd and Flamborough Head (East Yorkshire) on 24th.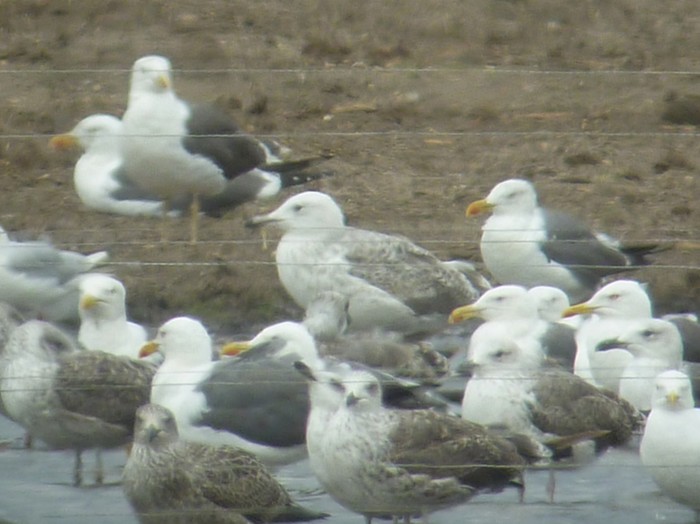 Further single youngsters were logged in Essex, Bedfordshire, Northamptonshire, Derbyshire, Staffordshire and North Yorkshire while the curios Yellow PKCS lingered at Amble (Northumberland) for much of the week and continued to see questions asked as to exact age and parentage.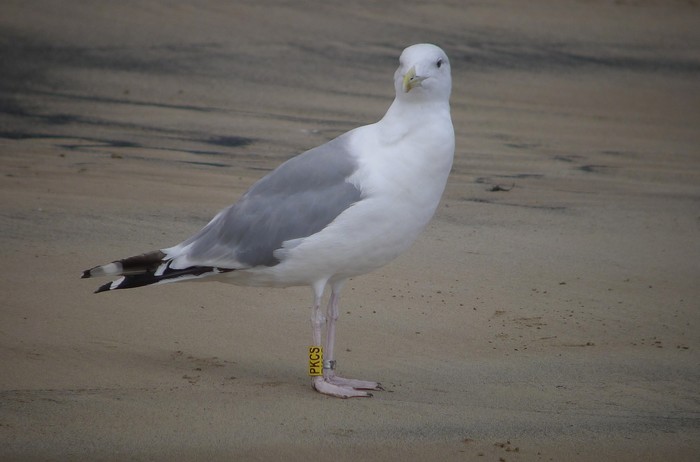 It will also be interesting to see if a number was read of the green-ringed juvenile at Flamborough on 25th...aside from maybe a colour-ringed fuscus, there's nothing more exciting on a seagull than some darvic bling on a Caspian Gull.
Four of the eight Honey Buzzards reported this week were seen in Kent and all on 24th ~ singles appearing over Dungeness and Reculver, with two at Grove Ferry. The previous day saw a single bird head over Brighton (East Sussex) and the week started with one again at Kilham, Hatfield Moors (South Yorkshire) on 20th while proceedings concluded with one over Cramlington (Northumberland) on 26th.
There were just two Montagu's Harriers to report in a desperately quiet spell ~ a ringtail seen near Hoddesdon (Hertfordshire) on 20th and a juvenile was seen heading through Aveton Gifford (Devon) on 26th. A little late news from last week concerned a satellite-tagged adult male noted heading south over Eastbourne (East Sussex) on 19th ~ where's that been I wonder and where's it heading now?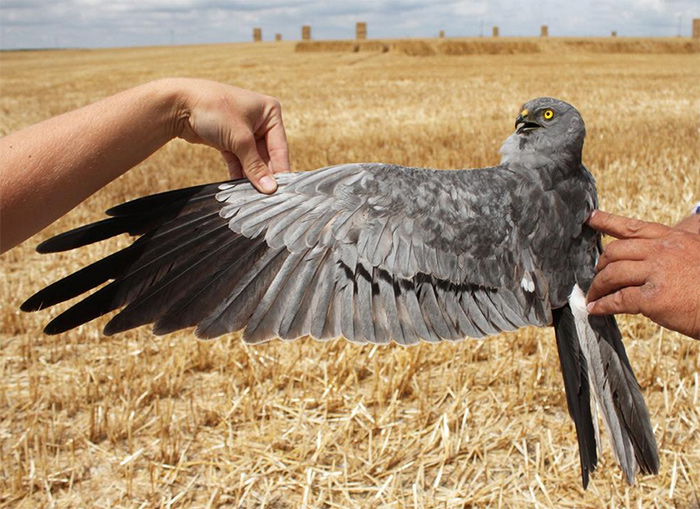 A full two and a bit weeks after becoming the first-ever August Rustic Bunting, the bird found on August 5th was still listed as present & correct on Unst to 23rd.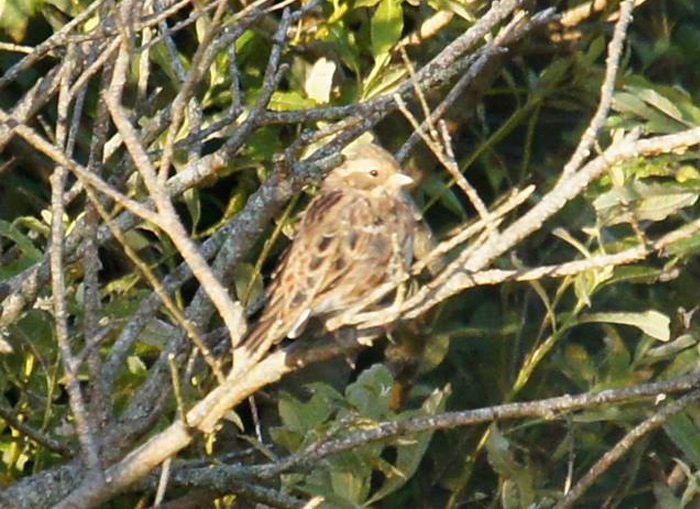 Shetland fared pretty well for a couple of more regular August drifters ~ Common Rosefinch and Barred Warbler.
Both of the species named above arrived in a Halligarth garden crammed full of birds on 21st ~ joining the Rustic Bunting and the Blyth's Reed Warbler ~ with Fair Isle boasting one of each the previous day.
Further Rosefinches on Unst on 21st included two in Baltasound and singles at Northdale and Skaw, with another at the opposite end of the islands, at Sumburgh, on 23rd. Birders on Foula upped the overall Shetland haul to eight on 25th when two more were found at Ham. On Orkney, singles were noted on 22nd and 23rd, with three present on 25th.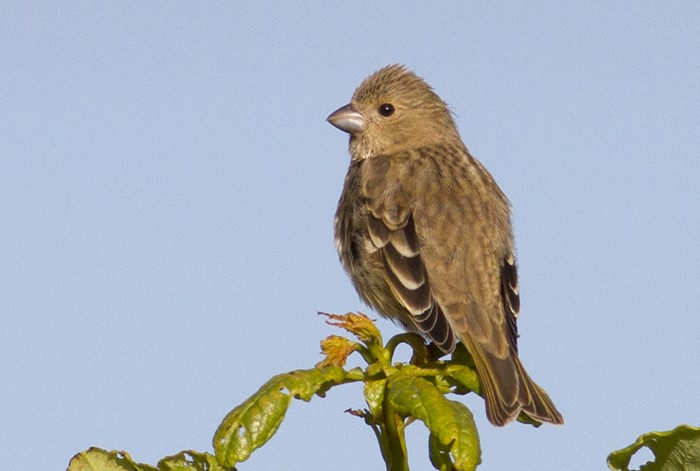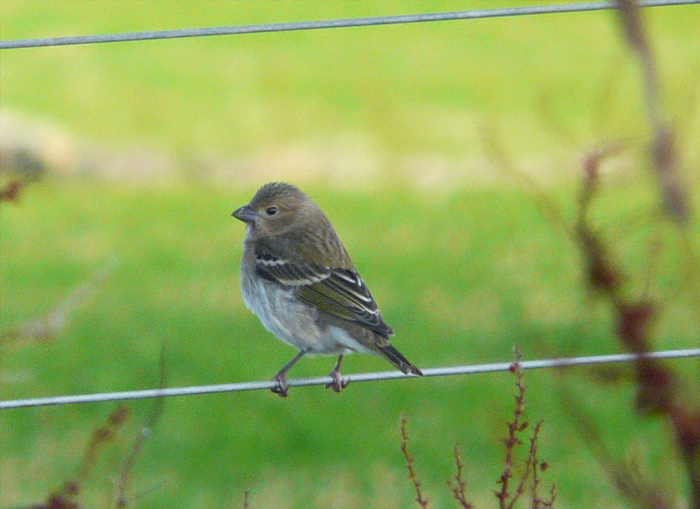 At least five Barred Warblers were found on Fair Isle on 22nd (with three there on 25th) with a further Shetland record coming from Baltasound, Unst on 20th. On the British mainland, an adult female was a great find in the nets at Wheldrake Ings YWT (North Yorkshire) on 23rd and she was followed by one at Flamborough Head and also at Eccles-on-Sea (Norfolk) on 24th-26th, with two at the former site on 25th.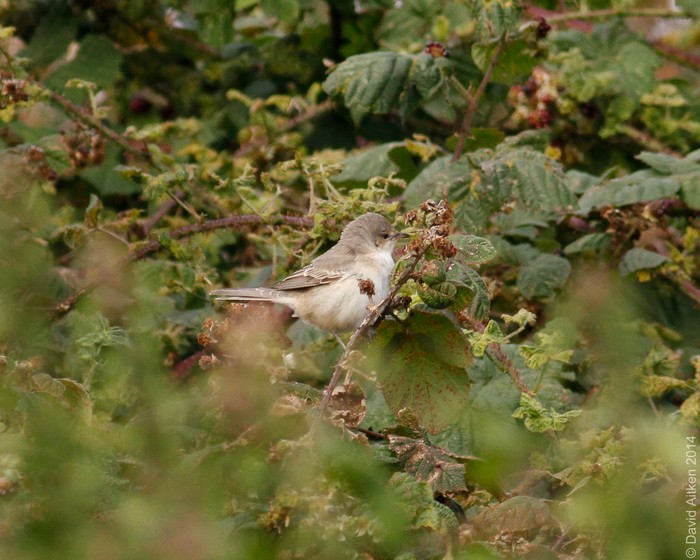 In East Sussex, Melodious Warblers were seen at Birling Gap on 20th and Hodcombe on 21st, while a bird on South Uist (Outer Hebrides) was present at Ormiclate on 23rd-25th and had originally thought to have been an Icterine Warbler but was re-identified from photographs. A hugely rare bird for the Hebs, it becomes the first Melody there since one on Barra in the autumn of 2003.
Single Wrynecks were seen on Noss (Shetland) on 20th and near Ringwood (Hampshire) on 22nd and a Hoopoe was found on North Ronaldsay on 25th (and was still present the following day) while Red-backed Shrikes scored two as the ABH came to a close ~ a male was at Winterton from 20th-26th (one was seen here from the end of June through to at least the third week of July and appeared just after a female was seen in the area too...) and a juvenile was found inland at Wylye (Wiltshire) on 24th.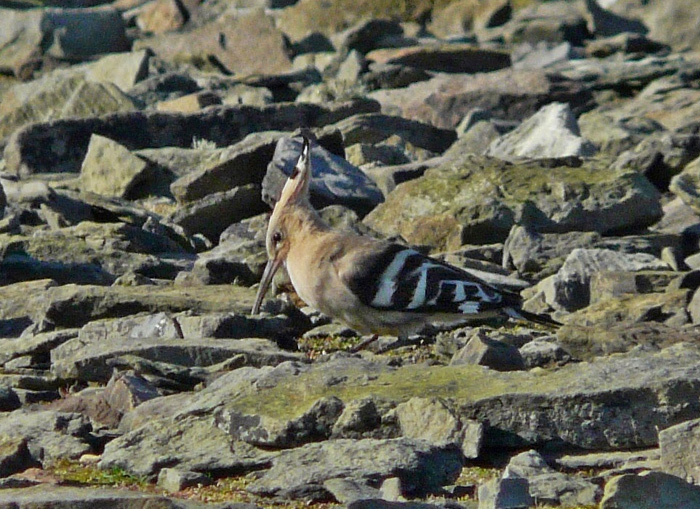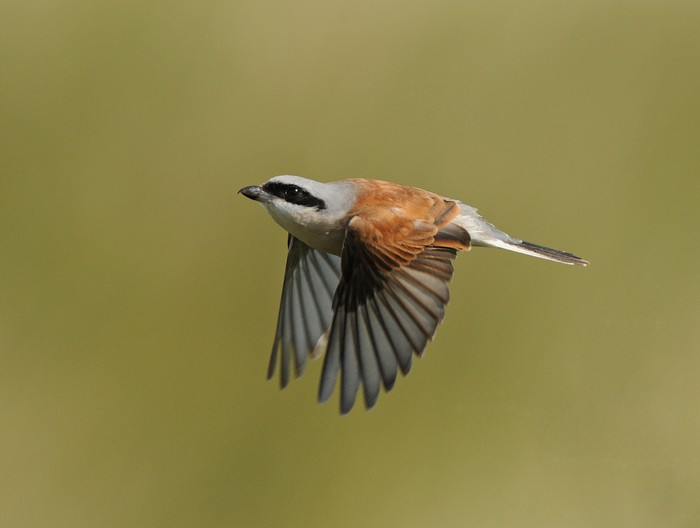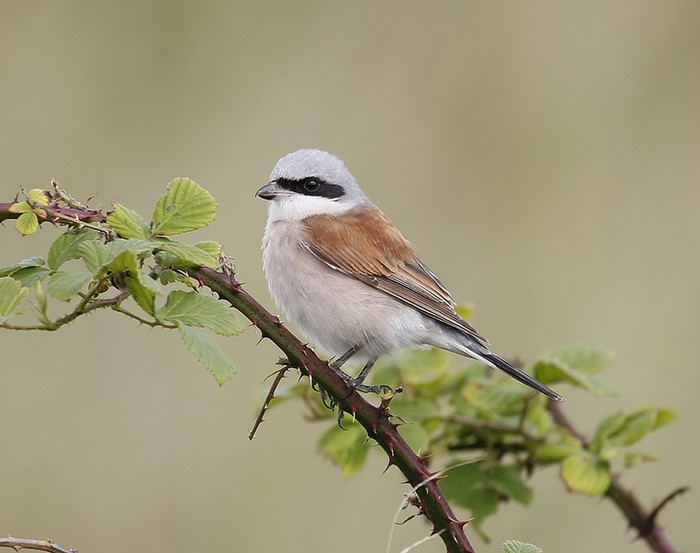 A nice early juvenile Rose-coloured Starling spent 21st-23rd on Lundy while the success of the breeding Bee-eaters at the Wydcombe Estate NT on the Isle of Wight apparently knows no limits ~ it seems as though one burrow was shared by a couple of pairs ~ one brood of five we knew fledged last week but this week brought the fabulous news of a further four youngsters emerging, taking the grand total over the weekend up to a very Lucky Thirteen.
Marvellous scenes indeed…
A modest fall…
At the start of the review, mention was made of a wobble of promising eastern air which offered east coast birders some hopes of a small arrival of drift migrants on 26th ~ sure enough the rather brisk east wind duly came in just in time to produce a few new bits and bobs for the week.
Given where the winds were (loosely) coming from, there was little real surprise that a couple of late afternoon Greenish Warblers were discovered at two inevitable locations ~ the first at Flamborough Head, the second at Whitburn.
Four Icterine Warblers come next ~ first came one on North Ronaldsay, with singles following on Fair Isle, at Kilnsea (East Yorkshire) with the fourth following at Landguard NR (Suffolk). The firm Northern grip on Common Rosefinches was broken by one at Kilnsea while to o the south, on the Lincolnshire coast a Barred Warbler was found at Saltfleet while further north of Kilnsea, what may well have been a new individual was found at Flamborough's South Landing.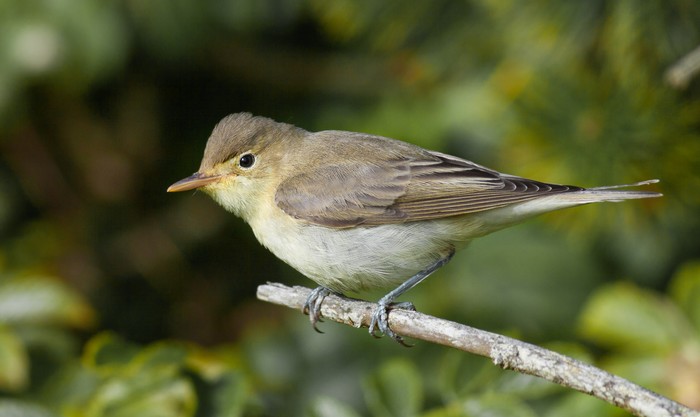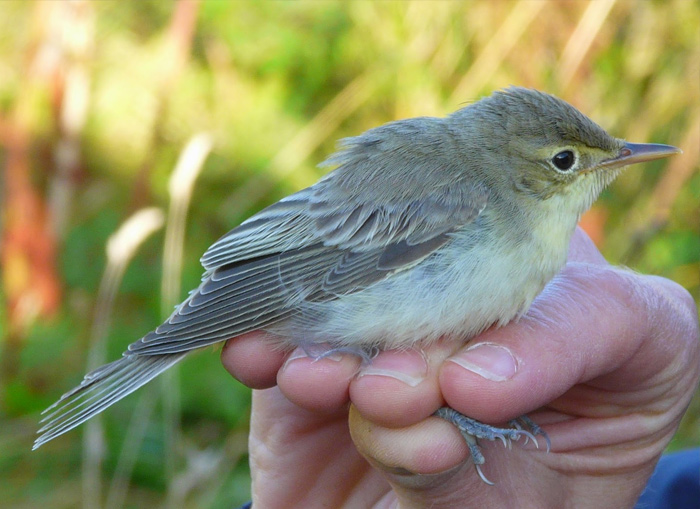 Most of the Wrynecks discovered on 26th decided to pop themselves on to Blakeney Point ~ at least four, perhaps as many as six dropping on to the site in classic afternoon fashion. Two more Norfolk birds were found during the late afternoon, one was at Walsey Hills, Cley with the other arriving at Winterton. Spurn birders discovered one as well while down south, the final bird of an eight-bird day was found at Titchfield Haven (Hampshire).
The easterlies are scheduled to blow for another day or so, hopefully there's more to come…we may see someone, somewhere chancing upon the first Great Snipe of the autumn, whilst familiar drifters such as more of those Greenish Warblers and perhaps a Citrine Wagtail or two, and even Blyth's Reed Warblers could get in on the action if we (on that side of the country!) get a bit of cloud.
If not, the west coast may be where all the action is as the predicted blue skies could see the goodies whizzing all the way to the Atlantic coasts.
We're lurching into September now of course and with the vaguest of murmurings around another potential tropical storm winding itself up sometime soon, the mind begins to turn, slowly but surely, to the joy and wonder of very early Nearctic passerines.
Cape Clear produced a Northern Waterthrush on August 27th 2008 (to join the already present Yellow Warbler of course).

The latter species has appeared four times (out of nine in all) in the final week of August, so if any big fronts do look as though they are about to career this way, be sure to check out the bright sulphur-toned things first (and we're overdue another, the two birds in Cork in 2008 are the most recent ones).
A second Waterthrush was found on St. Agnes on August 29th 1989 while a Northern Mockingbird obliged garden birders in Saltash on August 30th 1982 with a freshly dead Black-and-white Warbler found at Mylor, near Falmouth just two days later.
There's potential galore for seabirds of course and shorebirds too. And there, well, two ultra-spectacular species take centre stage ~Long-toed Stint and Little Whimbrel.
The incredible early autumn of 1982 (the very same one that offered up the two mega US passerines above) also delivered the stunning juvenile Long-toed Stint at Saltholme (from 28th) and the incredible adult Little Whimbrel at Sker Point two days later.
The Cley square registered our second (and most recent) Little Whimbrel three Augusts later, while our most recent accepted Long-toed Stint (for the moment) remains the June bird in Cork in 1996.
The pair of them remain staggeringly rare.
After the debacle in Sussex, a showy LTS will be greeted by hordes of fevered brows and few of those joining the listing party post September 3rd 1985 (there's many 1000's of them) will be anything but sloth-like in heading to wherever the next small bendy bill will be.
Let the games begin.
Mark Golley
27 Aug 2014


Special thanks this week to Robert Vaughan for his images and artwork of the Cork Fea's ~ to keep tabs on this immensely talented artist check out his blog http://robertvaug.blogspot.co.uk/. Many thanks also to Bob Flood and Scilly Pelagics for tracking down a great shot of Barolo Little Shearwater.
Thanks also all our other contributors for their photos, videos and sound recordings.
Alex Penn, Joe Pender, Brydon Thomason from Shetland Nature, Paul Connaughton from Shearwater Wildlife Tours, Keith Ross, John Nadin, Paul Wesson, Mike Tew, Ian Miller, Séamus Feeney, Northwest Natur, Roy Harvey, Mark Warren and North Ronaldsay Bird Observatory, Mark Carmody, Dean Nicholson, Davie Abraham, Mike Pennington, Roger Riddington, David Aitken, Jon Evans, Dave Hutton, Sean Cronin, Ronan McLaughlin.