Weekly round-up: 11 - 17 Dec 2013
Storming adult Thayer's Gull found in Donegal
Another week, another couple of baby Ivory Gull! The 1st hits Orkney, the 2nd follows in East Yorkshire
…and Orkney also sees the surprise return of the first-winter Short-billed Dowitcher on North Ronaldsay
Lancashire's much-discussed drake Baikal Teal lingers a while longer
A handsome Desert Wheatear makes a late, late appearance in Gloucestershire
Outer Hebrides' Pied-billed Grebe remains on North Uist
This week was generally a mild affair, with a mix of sunny days and rainy days for many ~ but often the overriding feature was the strong south to southwesterly wind ~ weather stations on the Outer Hebrides recorded gusts of over 105 mph on 15th.
Despite the temperatures often feeling above the seasonal norm (nudging well in to double figures in some parts of the southeast) the stars of the past seven days had a distinctly Arctic air to them.
…but this is 2013, so the bag of goodies this week was as unusual and as different and as fascinating as many that have passed before it over the past 48 or 49 weeks…
The year end advances, there was no let up in the arrival of new birds, and genuinely outstanding birds at that. At a time when many people have been discussing the demise of Birding World, it is seems suitably fitting to pay a suitably larid-lead homage to the soon-to-end champion of gull ID (amongst, many, many other things) with the week's best bird.
Thayer's Gull
…and, by a county mile, that bird was the superb adult Thayer's Gull found at one of Ireland's premier larid-locations, Donegal's brilliant Killybegs.
Winter gull aficionados will be only too aware of the power of Killybegs ~ a genuinely exciting place to bird when the big trawlers are in, unloading their lovely, smelly fishy bounty. The town offers (or offered) several sites where you could check through the ravenous flocks of large gulls ~ loafing at the "inland" end of the estuary, or along the roofs of fish processers such as Gallaghers, or to-ing and fro-ing around the outfall at the head of the estuary, just beyond the Shrine, and also wheeling around the pier in the town centre…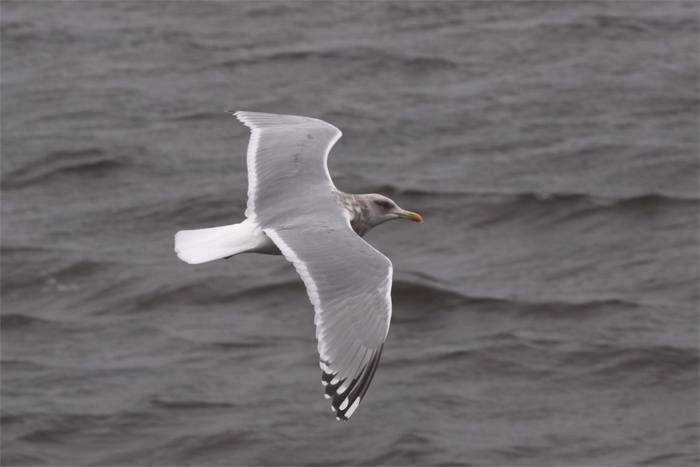 And that is precisely where Derek Charles struck Gulling Gold this weekend…and with him was Lurgan birder Majella Callaghan ~ here's how she saw things on a proper RED ALERT day…
Derek and I have decided that, due to the lack of birds in Northern Ireland we would put all our energies into Donegal this winter in the hope of finding a good gull or duck. So, Sunday 15th saw us back in Killybegs following Derek's success of re-finding a Cackling Goose the day before in Sligo, for two of his Finnish birding friends.
We had endured the onslaught of Saturday's horrific storm conditions around the fields of Lissadell only to be met with them again on Killybegs pier the following morning. The previous afternoon had turned up 3 Glaucous Gulls, a Blue Fulmar and an Iceland Gull, so my hopes were high that the winds had swept something really exciting inland that night, even if it was just for shelter.
There were still quite a few gulls about and even a female Eider had made her way into the harbour mouth. We were determined to tolerate the high winds, the rocky car (often placed precariously near the pier edge) and squalls coming through the open windows in the hope that we would find a far-from-home stranger wheeling in the crowds! It was around lunchtime and my instincts were calling for a warm cup of coffee, but luckily Derek had other ideas as he'd spotted something kumlien-like floating around shortly before, so he decided to have one more look from another angle of the weird and wonderful collections of gulls moving in and out between the boats. We had only pulled up against the pier wall when I noticed an odd looking candidate cruising around, only to lose it seconds later as I squawked…'What was that?' and before Derek could get a proper look! A few minutes later Derek had this dark stranger fly over the car and shouted…'That's it! That's the gull I had earlier!'
Now, although the bird was close… I mean, reach-out-and-touch close… the very high winds and rain battering our faces and bins made it difficult to get a good look each time it swooped by. However, I left the finer details to Derek as I knew he'd have a better idea of particular diagnostic features… I just kept shouting out words like 'dark shawl', 'pale underwing', 'strong pink legs and feet'… even I (a novice in the gull world) knew that this bird was from the high northwest! Derek decided to brave the storms and stood until his hands froze to his camera, snapping at every opportunity that the bird came close. About a billion shots later, we decided we had enough photos to look at over that sacrificial cup of coffee!
Derek was keen to get the bird on the deck to get another perspective on size and a good look at those 'raspberry' legs! The gods were on our side as he picked the bird up on the floating pier. I think we committed every driving offence as we careered from the main pier to the wall facing the jetty! A good view through the scope confirmed the size of the bird amongst the Herring Gulls and those lovely legs! The very dark eye was quite evident as well. Derek had resisted using the word 'Thayer's' up until this point, but pretty soon the both of us were jumping up and down like a pair of half-wits! A few phone calls, emails and photographs the next day to those who 'know their gull stuff' confirmed that Derek had indeed found a very likely candidate for an adult Thayer's Gull! We're still excited about the whole thing and are so delighted that we decided to weather the storm last weekend! Majella Callaghan
As Majella mentioned, Derek rattled off a few shots of his Thayer's Gull to wow the online larophiles ~ what a beast! Of course, there are many, many folk out there who don't want to give too much room in their lives for gulls, any sort of gulls (!) but this particular bird was lifted from the box marked "absolute classic" and was way, way outside that mysterious, shady and somewhat gloomy area where dark-winged Kumlien's, pale-winged Thayer's and unknown High (Ne)arctic hybrids lurk in packs to trip up the unwitting guller.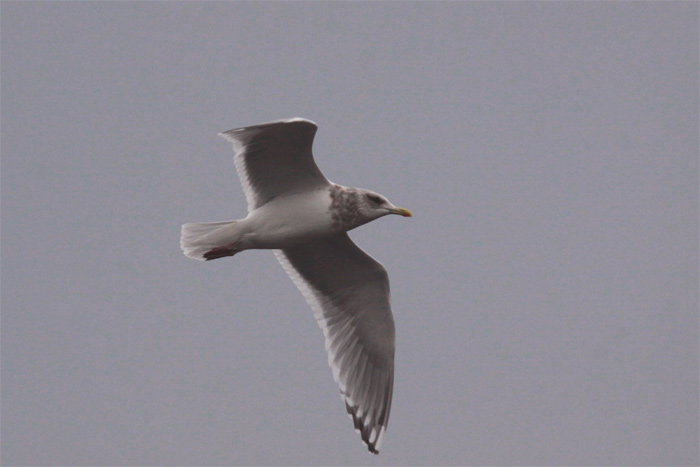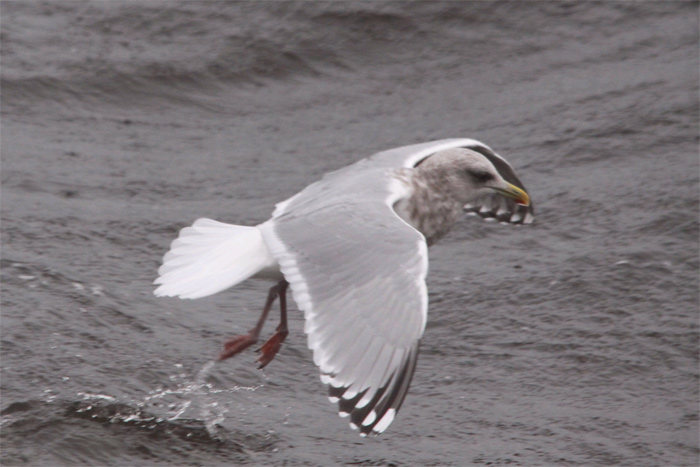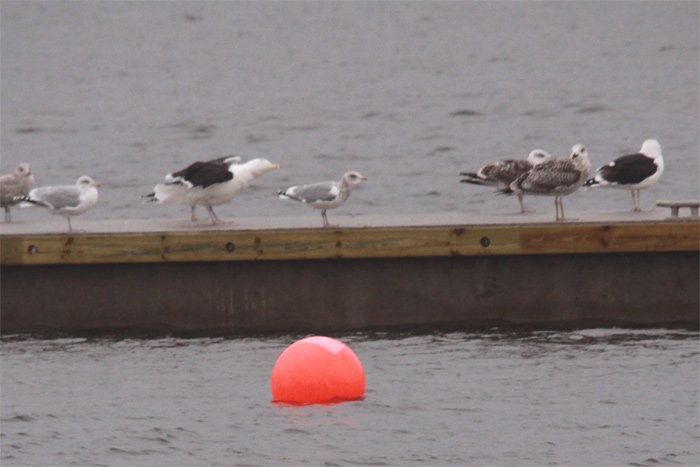 Killybegs becomes the first site anywhere in Europe to have hosted three Thayer's Gulls ~ the first ~ found by Anthony McGeehan, whom I was standing some 10 yards from at the time ~ was a much-discussed, controversial adult in February 1998 that quickly split the jury in to Camp Thayer's or Camp Kumlien's.
The IRBC had looked hard at the bird at the time and duly accepted the bird as the Western Palearctic's first-ever adult Thayer's Gull ~ assorted provisos included ~ tho' there are still experienced watchers out there who don't see anything bar a dark-winged Kumlien's for that bird of '98.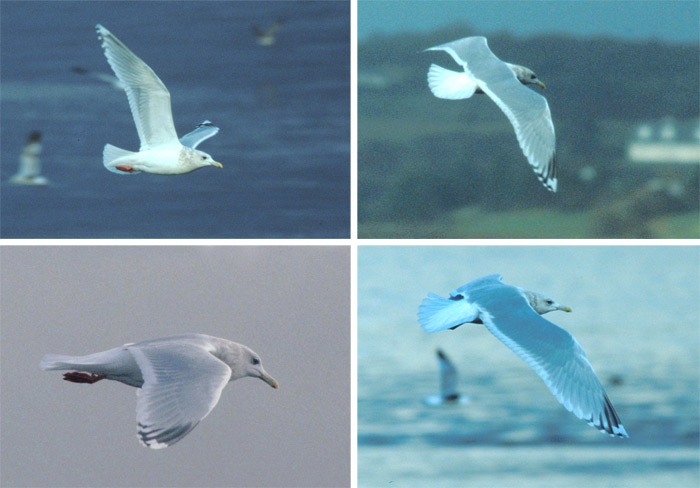 For those wishing to know a little bit more about the thought processes from 2003 ~ yes, things have moved on but the proactive outlook was refreshing to say the least ~ check out the IRBC announcement here….
http://www.irbc.ie/announcements/announce28.php
Rather less contentious was the juvenile that spent almost all of February 2003 (and a bit of March too) in the area and now we have an unequivocal adult to make it three for Killybegs ~ a unique haul.
Off the back of the recent juvenile Thayer's-type at Cley, the current status of the species was detailed once again ~ but it would be remiss not to make another mention of the only adult found in Britain ~ the bird seen and photographed on Pitsea Tip in November 2010. That record, along with the Lincolnshire juvenile, currently resides with the BOURC.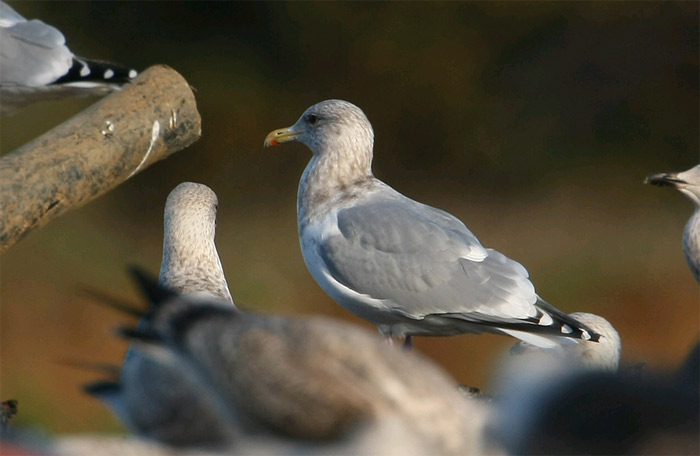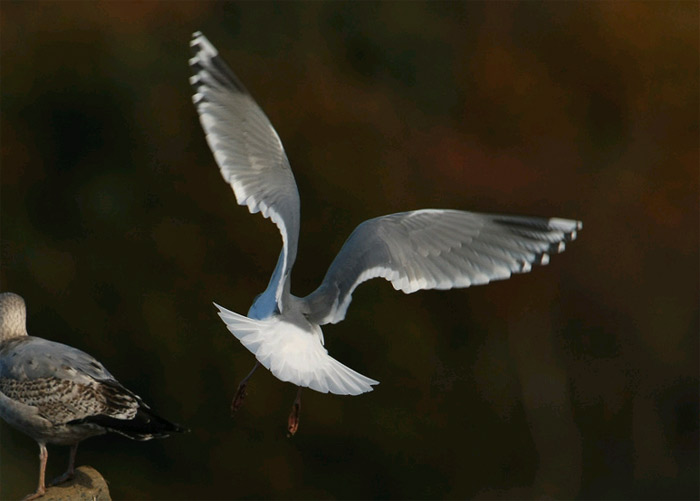 Finally, it is worth noting the similarity between the this week's Killybegs bird and the (now) adult in Galicia ~ for instance, the upperwing pattern is so similar that it almost feels like it has to be one-in-the-same. Check out these photos from Rafael Armada, taken in March this year…both remarkable looking birds.
Ivory Gull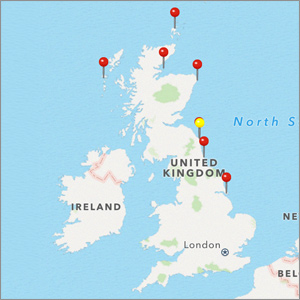 Before all the Donegal malarkey kicked off, there was little doubting the successful passing of the RBA rarity crystal ball between Norfolk to Shetland and back again over the past couple of weeks ~ no sooner had I gone for another Brunnich's Guillemot in the southern North Sea (that's three and counting now, two single flyby's off Cley and now the super Filey bird) than my erstwhile northern deputy plumped for at least one more Ivory Gull rocking up this week…and by close of play on 19th it was a case of the boy Dunn good (sic…) as Jon's thought that the growing list of winter '13 Pagophila records would swell a little more was proved to be absolutely right.
So, like a late night pianist in smoky blues bar in a downbeat dead-end street somewhere, it's my turn now to tinkle those ole Ivories…
This week's first newbie was the super spotty youngster found feeding on the carcass of a dead whale on the beach near Evie, on the Orkney mainland ~ a Lucky 13 for the islands but, crucially for Orcadian listers, the first-ever modern day record.
Prior to this week's star attraction, the previous dozen had been recorded between 1832 and 1949 ~ the 64 year gap being something of a surprise in many ways given just how many have appeared on Shetland in the same period of time ~ it was 16 to nil.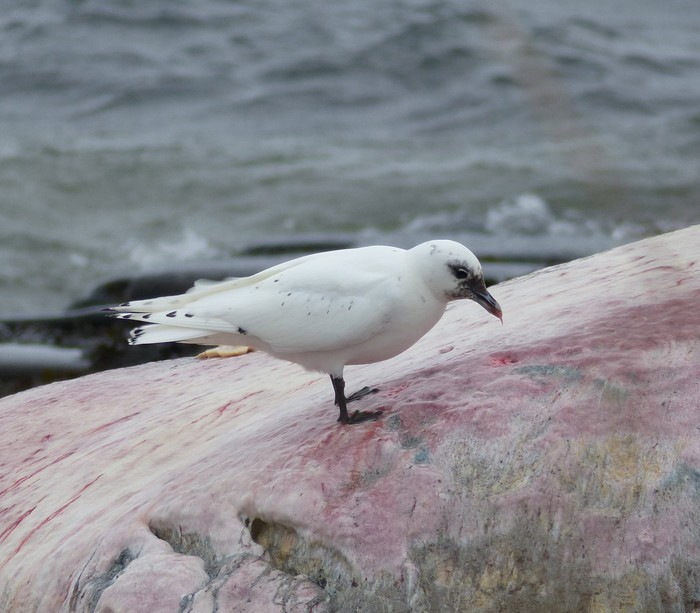 We're now up to at least six with the Orkney bird, probably seven here since November 30th ~ there's still a little bit of mystery surrounding the Highland bird off Tarbat Ness (initially reported as a Ross's Gull if you remember…) ~ but we know we have now got a definite half dozen ~ from North Uist, County Durham, the tremendous twosome in Northumberland and the Aberdeenshire bird all preceding this newbie on Orkney.
Then, the tally upped by one more again in the final daylight hour of 15th as bird number seven (or eight) of the past 16 days was found along the side of the Humber near Patrington Haven (East Yorkshire). Much in the way that their contemporaries on Orkney would have breathed a massive sigh of relief that their bird held on for a second and a third day, Yorkshire listers would have been cock-a-hoop that the Patrington bird did the decent thing and started showing again from dawn the following day. A massive gap final blocked off for many (as it turns out it may well have been around since 12th, a local fisherman having a close encounter with a spotty gull near Easington ~ it too was a white-faced one).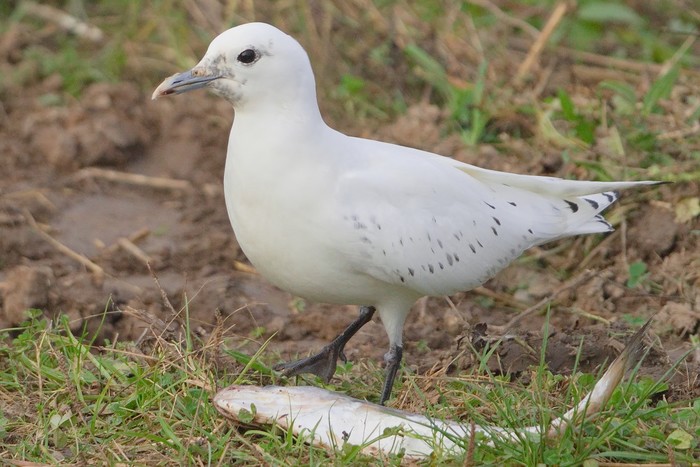 The massed ranks of Yorkshire counties has welcomed half a dozen Ivory Gulls to date ~ three in what is now North Yorkshire (an August adult obtained at Filey in the summer of 1875, with two there ~ and also meeting a similar fate to the first ~ in September 1880, and a six-day young male at Whitby in early March 1925) and, prior to the weekend, three too for East Yorkshire (the first was another obtained bird, this one at Flamborough in April 1904, with the most recent records anywhere in Yorkshire both coming from Hornsea Mere, single day first-winters on February 1st 1971 and January 25th 1976.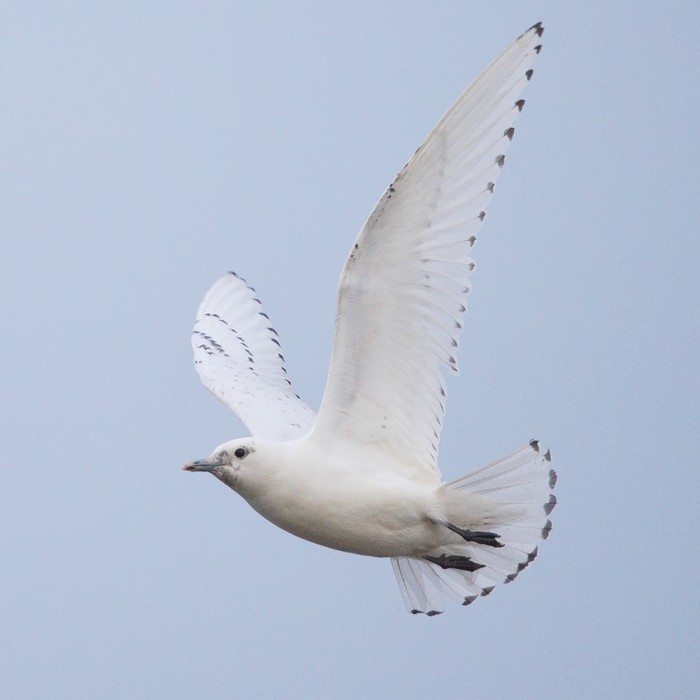 Between 2000 and 2011, a grand total of 14 Ivory Gulls were accepted which kind of puts the this last couple of weeks into perspective numbers wise with the most recent of that crop coming to Baltimore (Co. Cork).
And, of those 14 in the 00's, four were seen in 2002 (including three in Wales, one of which was the exquisite adult on the beach at Morfa Bychan) with high scoring years from way back when including (as Jon mentioned last week), six in 1980 (including the popular "Twitcher's Diary" bird on Chesil Beach, Portland in January of that ~ all the others were seen on Shetland, including two found dead on Unst in April and June) and five in 1916.
There are ten years over the years that have logged three Ivory Gulls from 1847 to 2001, so the last few weeks of 2013 will certainly go down in to the records books ~ and it will be interesting to sit and compare shots of some of these birds too, all different or are there itinerant east coast wanderers at large?
Short-billed Dowitcher
Back to Orkney where over on North Ronaldsay, the first-winter Short-billed Dowitcher made a surprise return to the island on the afternoon of 13th ~ almost a month after it was first noted.
The bird was first noted on November 17th and a set of handy photographs confirmed the identification later the same day. Absent on 18th, the bird was back again on 19th and showed until 23rd. With no sign on either 24th or 25th, that appeared to be that ~ but the Dowitcher clearly has other ideas ~ where has it been for three weeks? Elsewhere on Orkney seems favourite of course, but it could easily have slipped north to Shetland or perhaps it even went further up and hit the Scandinavian coastline before decamping south again…
Baikal Teal
Lancashire's lovely looking drake Baikal Teal seemed to take his leave of the marshes at Marshside RSPB by the end of 11th ~ there was negative news from there on 12th despite an all-day search, so any lingering quibbles about him will begin to fade as Category A beckons. And rightly so…the arguments about other eastern ducks have been explored here in the past, so we'll move on and ignore the fact that Falcated Duck remains distinctly off-the-list.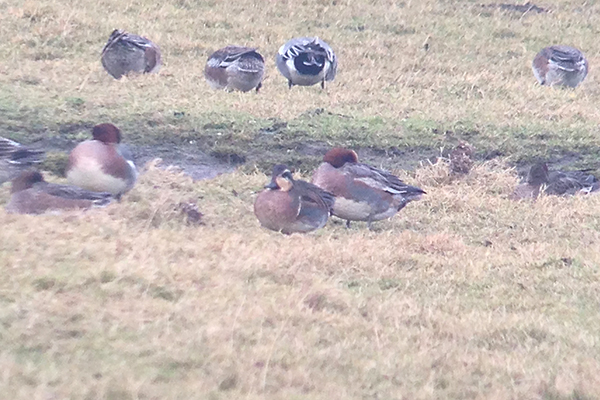 Desert Wheatear
Coming up as the runner-up in the "new rare of the week" race this week was the delightful first-winter male Desert Wheatear found along the sea wall at Severn Beach (Gloucestershire) on 11th and still in place alongside the fabulously-named Tubbies Burger Bar until 14th.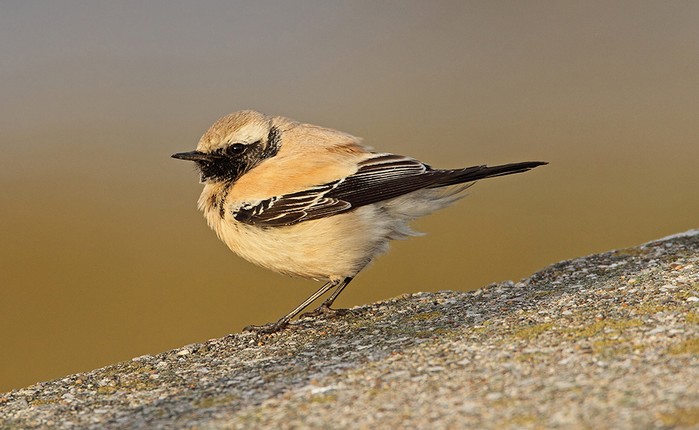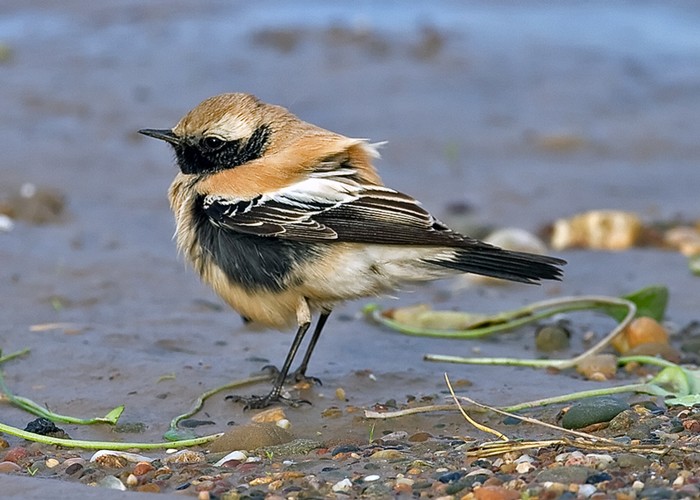 December Desert Wheatears
December actually fares pretty well with the discovery of Desert Wheatears ~ this week's bird brings the number found in our final month to 18 (out of some 140 records overall).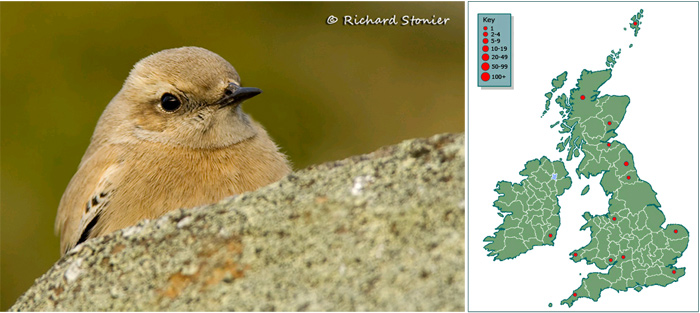 The first of the December 18 appeared at Arbroath in 1887 with the next springing up in December 1955 in Arbroath. A further 29 years followed until the next, at Thruso in December 1984 and a further 12 followed until the next December bird, in Gwent in 1996.
An incredible seven were found between December 1st and 12th in 1997, including Gloucestershire's only other record, at Bishop's Cleeve on 10th, with singles for Scotland, Ireland and Wales and four in England.
This week's Westcountry/South Midlands arrival means that our last three Decembers have seen the discovery of Desert Wheatears while one final mini-factoid about this always popular vagrant is that (until the end of 2011) a massive 58 of the grand total of 138 accepted records have been found since 2000 and there's no hint of them letting up.
Pied-billed Grebe
On North Uist, at Balranald RSPB reserve, the Pied-billed Grebe found on Loch nam Feithean last week remained until 12th ~ could it be a returning bird? One was found at Snerclate, on South Uist in late November 2012 and stayed until December 7th ~ so maybe this is one that's come back? Either way, it is still an exceptional bird for the islands (aside from the 2012 bird, the only previous records for the islands came in 1999 and the hush-hush (at first) bird that was present for over 800 days between June 1983 and August 1985 on Loch na Liane Moire on South Uist.
First up ~ the potential Pacific Diver reported last week from Worthing in West Sussex showed itself via the medium of the photograph this week ~ sadly it wasn't a county first, it was a Great Northern Diver.
In Highland, single late Leach's Storm-petrels were seen passing Hynish and Aird, both on Tiree, on 14th and 15th while two single Balearic Shearwaters were noted from Gorran Haven (Cornwall) on 12th and 14th and off St. Ives on 16th. The only Pomarine Skua was also a bird from the southwest, seen off Dawlish Warren (Devon) on 15th.
Displaced Grey Phalaropes round things off in this section and it was single birds from last week that made up the majority of the miserly numbers again this week ~ birds remaining in the Walberswick and Southwold area of Suffolk and at East Yorkshire's Hornsea Mere, both to 17th while new was a bird at Carnfunnock (Co. Antrim) on 16th-17th.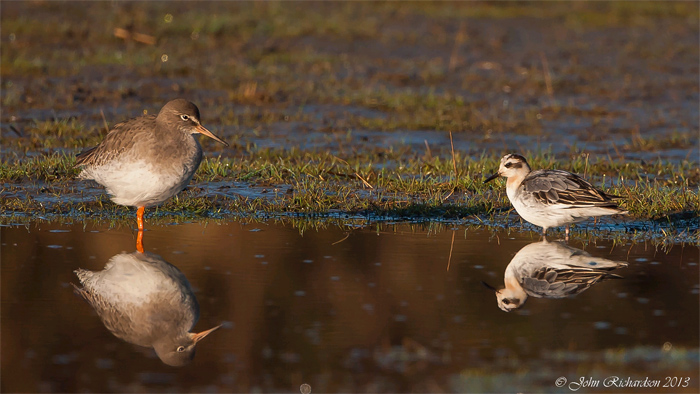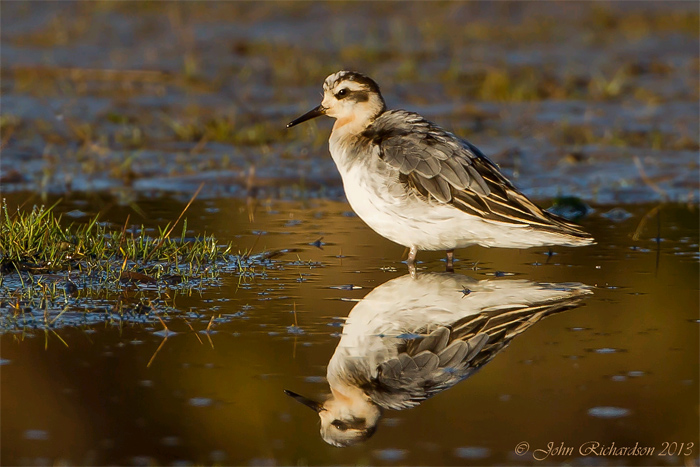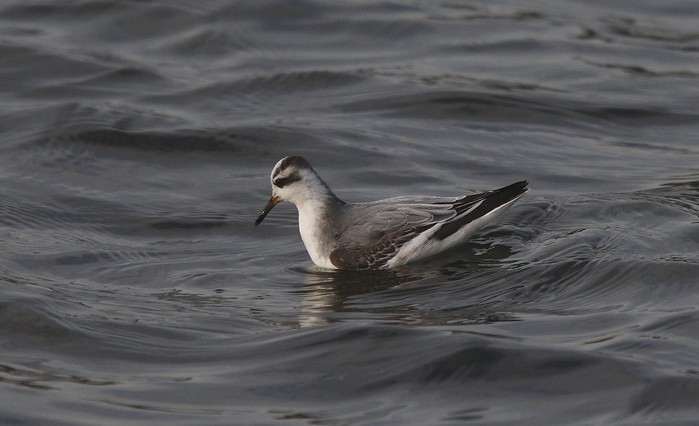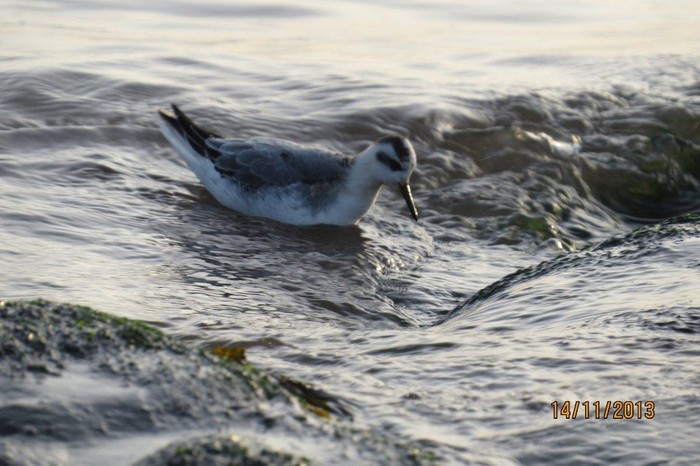 Given the brisk, mild southwesterly Atlantic airflow this week, it wasn't too surprising that Little Auks were in short supply once again ~ remains of a freshly snaffled bird were found by Snipe's Marsh, near Cley (Norfolk) on 11th and was followed by two passing the beach at the adjacent Salthouse later the same day. Single birds logged way down south were at Mudeford (Dorset) on 14th and Falmouth on 16th, while on 15th a bird seen at Balivanich, on Benbecula (Outer Hebrides) was eventually taken in to care.
Herons, Egrets, and allies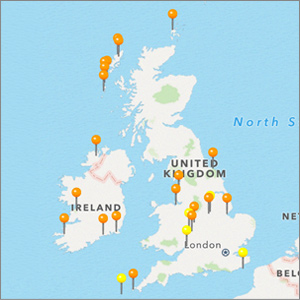 There was rather less good fortune for another Hebs bird this week ~ a Glossy Ibis on North Uist, at Loch na Revil was taken by a Buzzard on 15th. It seems unlikely that this was the same bird that had been seen earlier on the week on Lewis, near Loch Barvas because on 16th one was still on that particular island, near Callanish (with perhaps four in the area in all). Further down the Hebrides chain, two more Glossy Ibis were seen on South Uist, at Daliburgh, also on 16th and one was seen on Benbecula on 17th ~ a remarkable set of records for a species that remains so rare so far to the northwest.
That sad demise accounted for one of up to 25 birds logged this week ~ on 11th a single was still on St.Mary's (Scilly) whilst Ireland saw two loners arrive near Tramore (Co. Waterford) and on the beach at Ballinskelligs on the same date. The latter bird moved along to Carrahane on 12th when a juvenile was again at Slimbridge WWT (Gloucestershire) and the first Hebridean bird was noted on Lewis.
Friday the 13th came and went with two new Glossy Ibis at Tacumshin (as an aside, wouldn't it have been more fun if BOU''s Slender-billed Curlew rejection notice had been posted online on this date…dark comic timing would have been everything…) and they were still there on 14th ~ a date which saw four further singles reported. One was seen over Cheshire's Burton Marsh RSPB, another was at two sites in Worcestershire (Upton Warren then later on near Kidderminster) with another in west Cornwall, this one at Drift and so presumably one from the Hayle flockette, with a long-stayer at Dungeness (Kent) making up the Saturday total's final bird.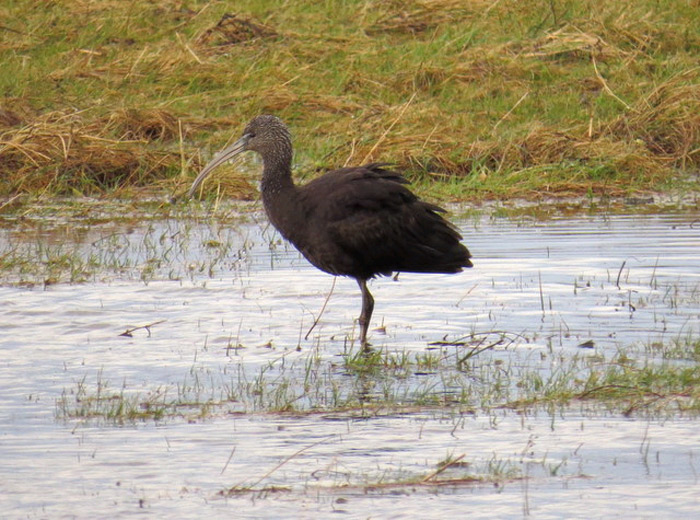 Nottinghamshire then scored a Glossy Ibis on 15th, at Holme Pierrepoint when a flock of six popped up on the Irish west coast, at Rusheenduff Lough (Co. Galway) ~ especially interesting given the three or four on Outer Hebrides and the single on Orkney too which arrived on Mainland on 17th. Another was reported from Cleveland, at Boulby, on 16th when one was found near Warton Aerodrome (Lancashire) ~ clearly there's a definite push of new Ibis blood this week as the new small groups show and this which was borne out by further singles on the last day of the round-up at Frampton Marsh (Lincolnshire) and in the West Midlands, near Pelsall and two in Donegal, found at Dunfanaghy.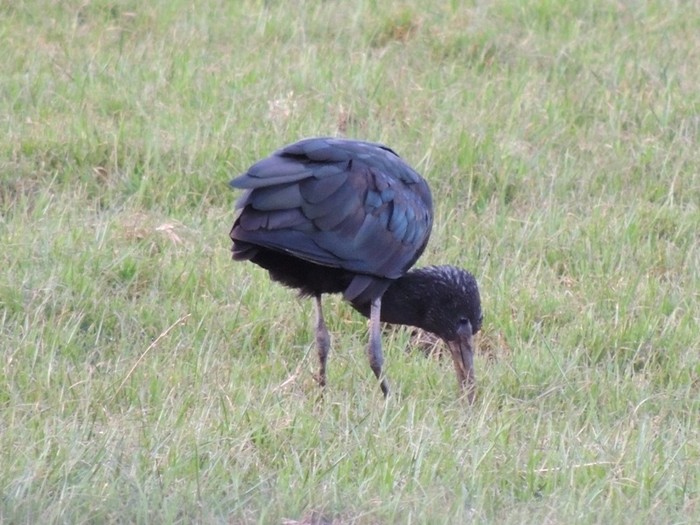 After numerous weeks where numbers of Great White Egrets were lodged firmly in the low 30's (not unlike some of England's middle order batsmen…if you're lucky) numbers dropped (not unlike England's fielders…) this week to the low 20's countrywide.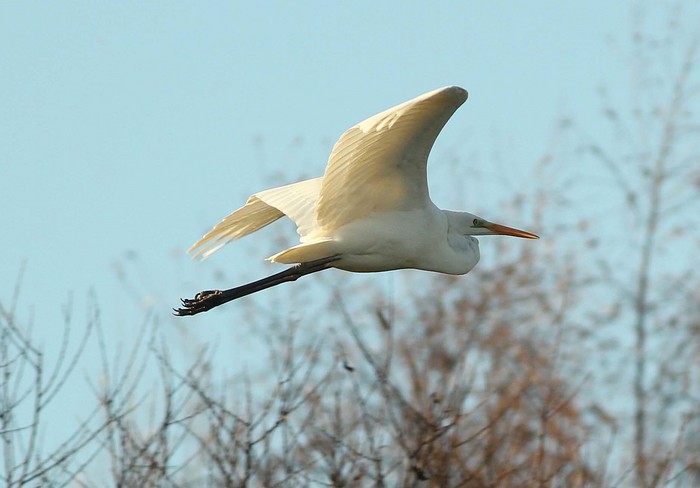 Up to 10 were noted in southeast England, with siz in Kent (with five at Dungeness on 16th with another at Grove Ferry NNR on 14th), with singles noted at Wendover (Buckinghamshire) and Foulness Island (Essex) on 14th, Angmering (West Sussex) on 16th and Blashford Lakes HWT (Hampshire) throughout the week. In the Westcountry and southwest England, a couple of singles were stooging around the Somerset Levels (at Shapwick and Catcott) through the week and singles were seen near Hambridge on 16th and Curry Moor on 17th, while one remained at Coate Water Park (Wiltshire) from 12th-16th and another was seen at South Milton Ley (Devon) on 14th.
In and around the Midlands, at least three were still in Northamptonshire, one each for Ditchford and Pitsford on 14th with two at Earls Barton GP the following day, with three at Pitsford on 17th, while one was seen at Drakelow DWT (Derbyshire) on 12th and one headed through Warwickshire on 16th and Staffordshire on 17th. East Anglia was represented by a bird in the Nar Valley (Norfolk) on 17th while in the northwest a Great White Egret lingered in the Crossens Marsh area of Lancashire to 13th with another at Hale (Cheshire) on 16th. The northeast of England saw two still at Hornsea Mere (East Yorkshire) on 12th. The Welsh were represented by two birds again at Llangorse Lake (Powys) on 16th.
The Cattle Egret seen recently in Buckinghamshire remained in fields near Steeple Clayden until 16th, when one was also noted at Clennon Valley (Devon). A third was reported down by the river at Rickmansworth (Hertfordshire) on 13th.
In Dorset, 20 Spoonbills were counted in Poole Harbour on 17th with a single for Lodmoor RSPB throughout the week. Along the coast in East Sussex, a juvenile was at Newhaven Tide Mills on 11th-15th (with one at Cuckmere Haven on the latter date) while on the east side, one remained at Tetney Marshes RSPB (Lincolnshire) to 11th and another headed over Walberswick NNR (Suffolk) on 12th with perhaps the same bird appearing further south at Vange (Essex) on 16th. Two singles lingered in Ireland, at The Cunnigar (Co. Waterford) to 11th and at Castle Espie WWT (Co. Down) to 15th.
This week's Grus action included nine birds still around in fields near Guyhirn (Cambridgeshire) to 15th at least. The two adults seen last week at Crieff (Perth & Kinross) were still present on 13th and the two sandy-headed first-winters were again at Cheselbourne (Dorset) on 15th and 17th. In Somerset, two Common Cranes (of unknown origin) were seen in flight at Portishead on 14th while in the Norfolk Broads, five were seen at the Stubb Mill roost.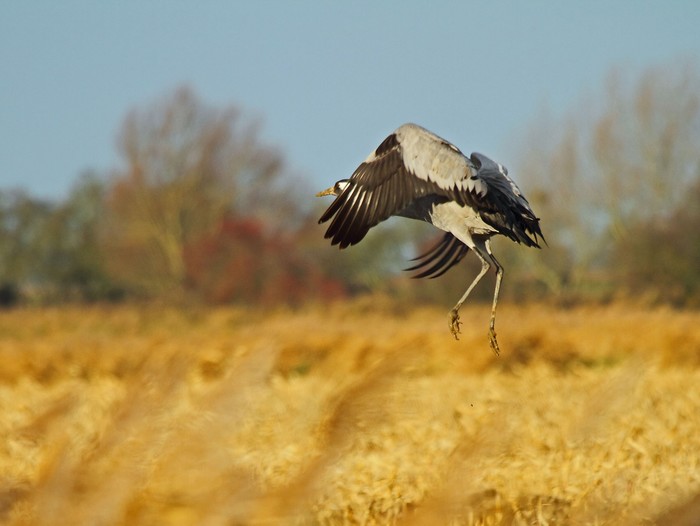 A parvipes Lesser Canada Goose was found amongst the wild Greylags between Durness and Balnakeil (Highland) on 15th while a hutchinsii Richardson's Cackling Goose was still in the goose fields around Raghly on 13th-14th.
In Dumfries & Galloway, an unringed (so presumed wild) Red-breasted Goose was amongst the Barnacles near Loaningfoot on 15th (when, interestingly, one was noted with Dark-bellied Brents on Jersey ~ dropping down from Hampshire presumably? Perhaps the same bird then came back to the Isle of Wight on 17th, one at Shalfleet, on 17th).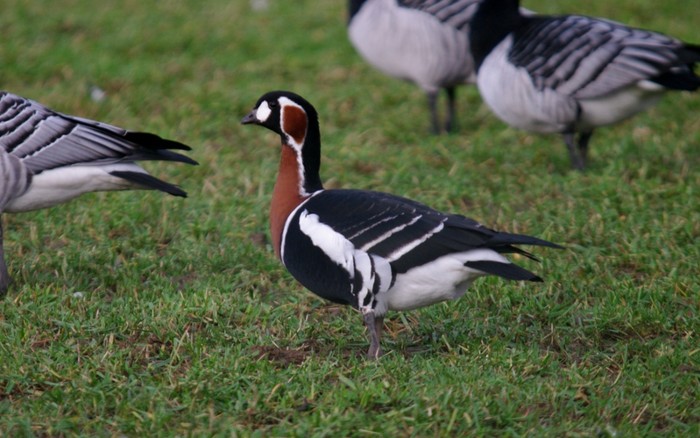 Up to 11 Black Brants were logged through the week ~ and pretty much all of them were repeats from previous weeks. Along the south coast singles were noted at Dawlish Warren (Devon) and Lymington (Hampshire) through to the end of the weekend while on the Fleet (Dorset) two were present again on 17th.
Moving along in to Kent, the adult Brant remained at Lower Halstow for much of the week and in Essex two Dark-bellied end hybrid-types were at Canvey Island on 15th following a report of a Brant there the previous day. The same date saw one appear at Falkenham (Suffolk) while the adult at Cley was ever-present through the week. New was a juvenile at Beacon Ponds, Spurn (East Yorkshire) on 17th while the west coast's sole representatives were the adult that lingered on Roa and Piel Island (Cumbria) to 17th and one at Scraggane (Co. Kerry) the same day.
Two white morph Lesser Snow Geese at the Loch of Strathbeg RSPB (Aberdeenshire) were the only ones reported this week, so it's on to the ducks…
A busy North Ronaldsay hosted not just a mega shorebird but they also held on to both their Blue-winged Teal (to 14th) and their Green-winged Teal (to 15th) ~ an impressive mid-December Nearctic haul.
The Orkney Green-winged Teal was one of three seen in Scotland this week, others remaining at Caerlaverock WWT (Dumfries & Galloway) and Loch of Kinnordy RSPB (Angus), both to 15th. Further south, the only other record of the species this week was the still-present drake on Norfolk's Hickling Broad, present there on 14th-17th.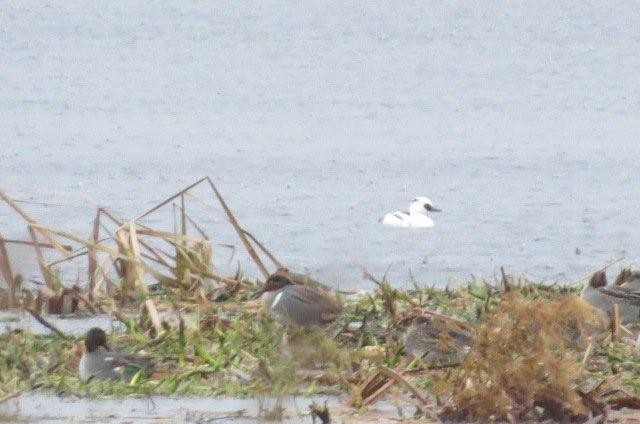 In Highland, a couple of "new" Lesser Scaups were seen this week ~ a female was at Alturlie Point, near Inverness on 12th (where it remained to 17th) while a drake was seen at Loch Watten, 10 miles southeast of Thurso, on 14th. Elsewhere, the female remained on Loch an't-Saile, South Uist (Outer Hebrides) to 13th while the drake in Glamorgan went all flip-flop between Cardiff Bay and Cosmeston Lakes between 12th and 15th and a drake lingered on Kerry's Lough Gill to 17th too.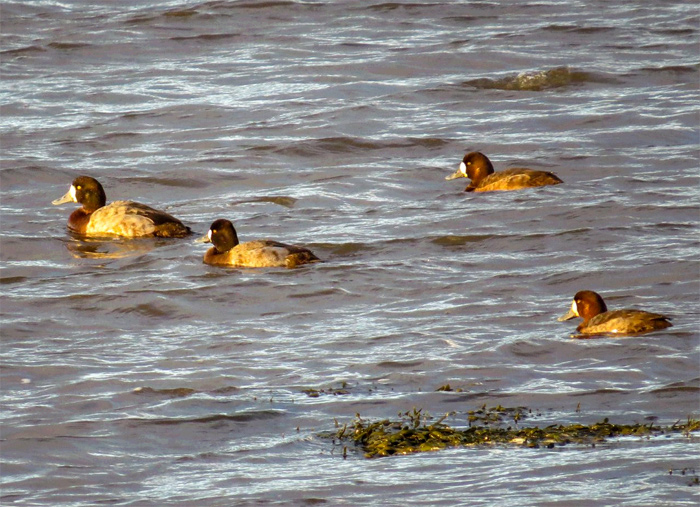 In a slender week for all things quacky, the only Ring-necked Ducks noted were two for Ireland ~ the drake still at Ross Castle, Lough Leane (Co. Kerry) to 11th at least with the second bird appearing gain at Ballyshunnock Reservoir (Co. Waterford) on 13th and one again in Scotland ~ a drake back on Meikle Loch (Aberdeenshire) on 17th. In Hampshire, the drake Ferruginous Duck was again at Blashford Lakes HWT on 15th.
A new drake American Wigeon was unearthed at Burton Marsh RSPB (Cheshire) on 13th and was still present to 17th. The only others seen this week were drakes in Scotland ~ lingering at both Loch of Strathbeg RSPB (Aberdeenshire) and Udale Bay (Highland) to the weekend ~ and a drake in Ireland too, still on the Leitrim-Donegal border at Tullaghan.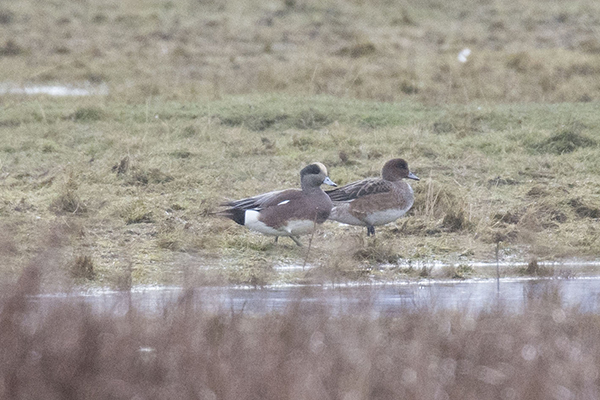 Lothian's first King Eider in nearly five years was found near Gullane on 11th with a second found in the same area on 15th ~ two super finds, made all the better for being the trickier-to-pick-up females.
Although the record book lists at least a dozen accepted records for the county, several of those actually refer to a returning female from the mid late-90's to early 00's, so the total is rather fewer than the 12 listed.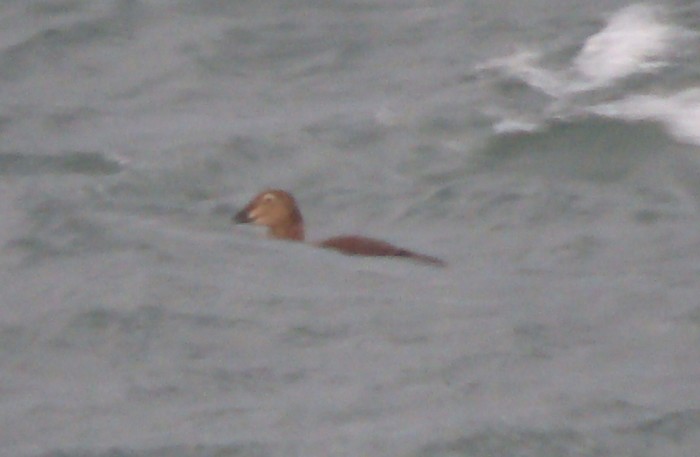 Lothian's first King Eider was found in Aberlady Bay in July 1988 and was followed by a drake near Edinburgh in December 1991 while the first appearance of the bird mentioned a few lines ago came at Aberlady Bay in July 1995. She popped back in assorted springs and summers right through to 2003 with the only other county record (prior to this week) being a second-winter drake in the Aberlady area in February 2009. With this week's almost unique feminine duo, Lothian's actual total for the species is actually six.
The wintering juvenile Surf Scoter remained in the Studland end of Poole Harbour all week and two drakes were still on the sea off Llandulas (Conwy) for several days with three off Pensarn on 17th. Two single Surfies were noted in County Cork, the young male still off Courtmacsherry on 15th with a female at Coolbaun on the same date.
Short-billed Dowitcher aside, it was a really quite week for other shorebirds of note this week ~ Hampshire's Lesser Yellowlegs the only other bird to report, still present at Lepe CP on 17th.
Leading the way this week is a new Forster's Tern seen in County Cork on the morning of 14th ~ a first-winter heading past Garrettstown on 14th to become only the second record for the county, following on from a first-winter seen at two sites in Cork through February 2006 that came back for a few days in the early part of 2007.
Cork also held one of Ireland's nine Ring-billed Gulls ~ one at Bantry on 11th. Elsewhere a second-winter was at Carrahane (Co. Kerry) on 12th and on 13th, the adult was again at Tramore (Co. Waterford) while the adult and second-winter remained at Tralee Bay Wetlands (Co. Kerry) to the same date. The 14th saw the adult reported again from Bray (Co. Wicklow) and on 15th it was singles adults for Nimmo's Pier (Co. Galway) and Portrush (Co. Antrim) with the latter county also continuing to host the adult at Carrickfergus all week.
Further Ring-billed Gulls were lingering, long-term adults at Dingwall (Highland) to 12th and Walpole Park, Gosport (Hampshire) to the same date while an adult was seen at Sandbanks (Dorset) on 17th. A little further down the south coast, Devon's wintering adult Bonaparte's Gull was seen at Dawlish Warren on 12th, 14th and 16th (when it also popped up again at nearby Teignmouth).
Just two Kumlien's Gulls were seen this week ~ both second-winters ~ still at Barmston (North Yorkshire) on 16th and at Rossaveal (Co. Galway) to 15th where it was joined by one of six Iceland Gulls seen around the Republic ~ other Galway birds were at Nimmo's Pier and Rinvyle Point, while an adult and juvenile were at Reenard Point (Co. Kerry) throughout the weekend and a third-winter was at Killybegs (Co. Donegal) on 14th. In the north, in Derry, an adult was found at Timber Quay, on Lough Foyle, on 11th.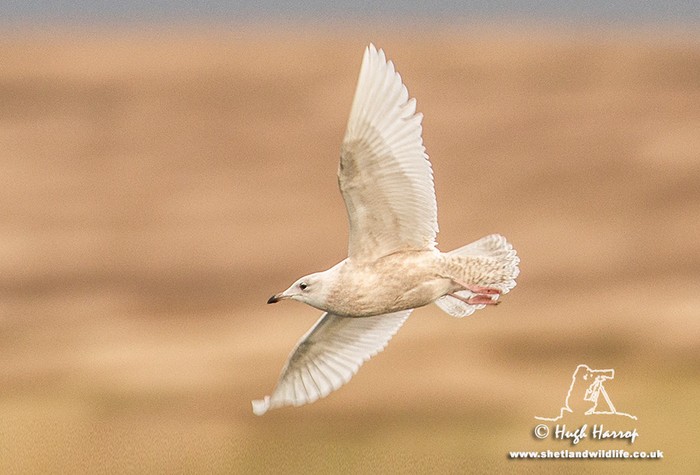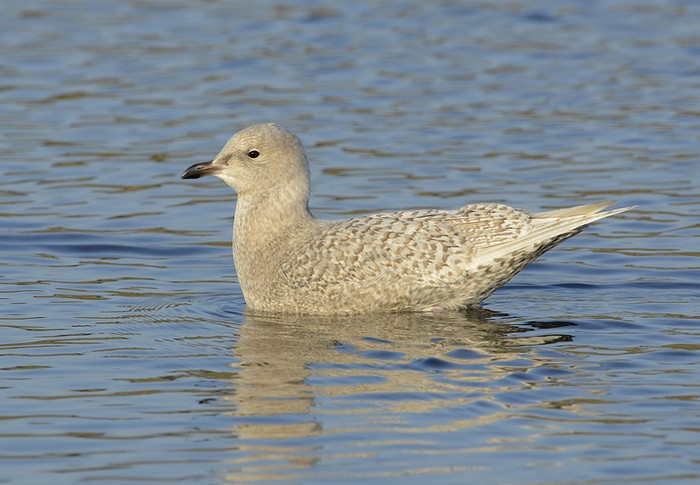 Along with Ireland's half dozen, a further 36 or so Iceland Gulls were recorded this week ~ 12 for Scotland (including three for Highland and four for Shetland) and 24 around England with the Midlands seeing at least eight birds noted, with two each for Staffordshire and Northamptonshire with Lancashire seeing three separate singles logged during the week. At least five were seen in northeast England, including three in North Yorkshire on 15th, two of them present on Rufforth Airfield.
Glaucous Gull numbers were, like Icelands, down a tad on last week ~ from 30-odd to 28. Again it was the Midlands and Ireland that fared best, seven in the former, nine in the latter, with two in Leicestershire and Staffordshire, with four for Donegal, including three at Killybegs on 14th. Elsewhere, three were on Shetland on 15th and the same date saw two at Rufforth Airfield.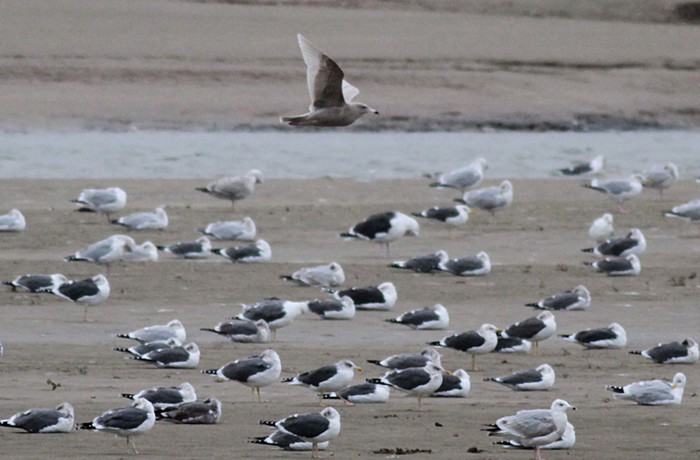 A couple of probables are worthy of note before moving on ~ a potential second-winter American Herring Gull was seen at Ditchford (Northamptonshire) on 14th-15th and a probable juvenile Kumlien's Gull was at Wildmoor Sand Quarry (Worcestershire) on 17th. For a little more on the former bird, check out the images and sketches here…
http://northantsbirds.com/2013/12/15/the-probable-american-herring-gull-at-ditchford-gravel-pits/
The now-you-see-it, now-you-don't-it Kentish Black Kite was seen again at Sandwich Bay and Samphire Hoe CP on 12th and 13th ~ what must be the same bird has now been in the county since mid-November, initially at Dungeness and surrounding area (including a trip in to East Sussex) before an early December appearance in the area it favours now.
East Norfolk's two Rough-legged Buzzards, an adult and juvenile, remained in the Waveney Forest/Haddiscoe Marshes area to 17th with another remaining out on Foulness (Essex) to 15th. A fourth bird was reported from Elmley NNR (Kent) on 14th.
Finally there was belated news of a Snowy Owl in west Cornwall, reported from an area near St. Buryan on December 8th.
Northamptonshire's first Hume's Yellow-browed Warblers remained in the north of the county, on the Kelmarsh estate but it should be noted that there is no general access to the site, although there were some guided walks to see the bird during the early part of the week which were all very well received. The bird remained in the area until 15th at least.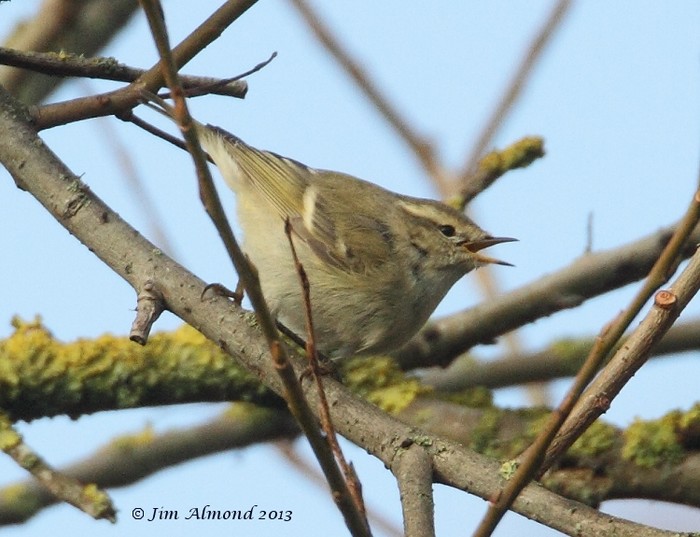 Five Yellow-browed Warblers were noted on 11th ~ still in the valley at Winspit (Dorset) and Clennon Valley Lakes (Devon) with new birds noted on Tresco (Scilly) and at Titchwell RSPB (Norfolk) and Attenborough NR (Nottinghamshire). Back on Scilly, were two birds were still on St. Mary's on 13th with the singles in Norfolk and Devon still present on the same date. Dorset's second of the week was found at Studland Bay on 15th and Cornwall got in on the act with one at Ponsanooth on 17th.
The unseasonal wintering Hoopoe was still on site in Abergele (Conwy) to 17th while also slightly outside of a normal pattern of occurrence was the Richard's Pipit that lurked amongst all the flood debris between Salthouse and Kelling Hard (Norfolk) between 11th-17th.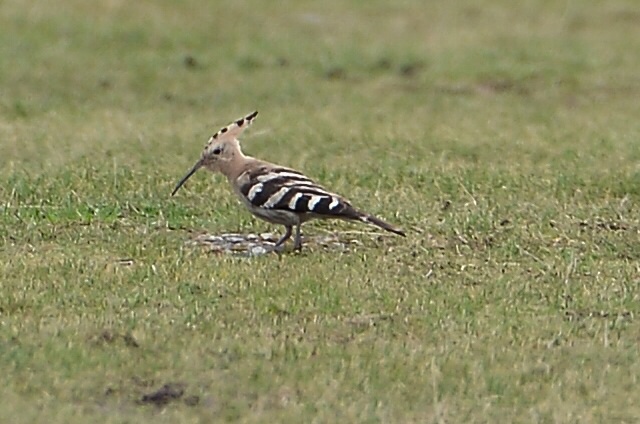 Up to 20 Great Grey Shrikes were recorded over the week ~ many were birds that have been mentioned here already in recent weeks and, with a whole winter ahead, will doubtless feature in the next few weeks and months anyway. So, giving most of the Usual Suspects a rest for a week, the standouts were as follows; Gloucestershire held three over the weekend of 14th-15th, near Cirencester and in the Forest of Dean, at Woorgreens Lake GWT and still near Cinderford, with what may be a fourth at Rissington on 17th. Two birds were again noted on Dorset's Morden Bog on 11th while new were birds at West Ayton (North Yorkshire) and Hungarton (Leicestershire) on 12th, near Falmer (East Sussex) on 14th and Fen Lane (Lincolnshire) on 15th.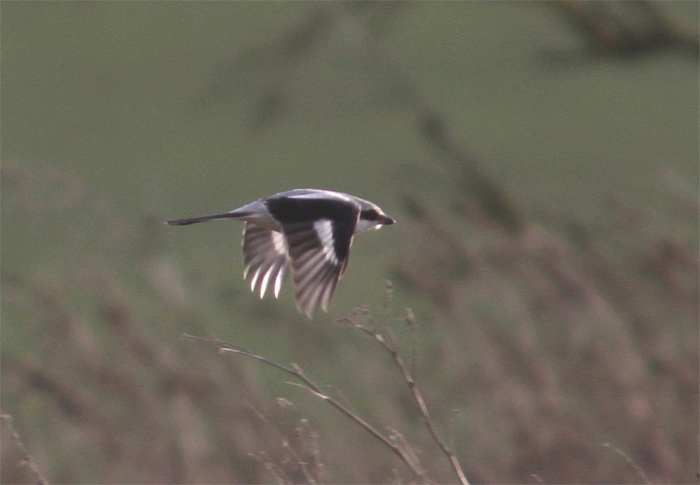 Also new was a Great Grey Shrike on Budby Common (Nottinghamshire) where birders continued to enjoy up to 14 Parrot Crossbills throughout the week ~one of seven sites were the species was present over the past seven days.
A minimum 13 remained around the area of Holt Country Park and Heath House Wood (Norfolk) numerous splinter groups of pairs and singing males have been noted so the numbers may be higher still (and, come February or March, increased significantly again…hopefully), while Suffolk hosted at least 13 around Mayday Farm and 10 were back in the Tunstall Forest from 14th (last seen there on December 1st).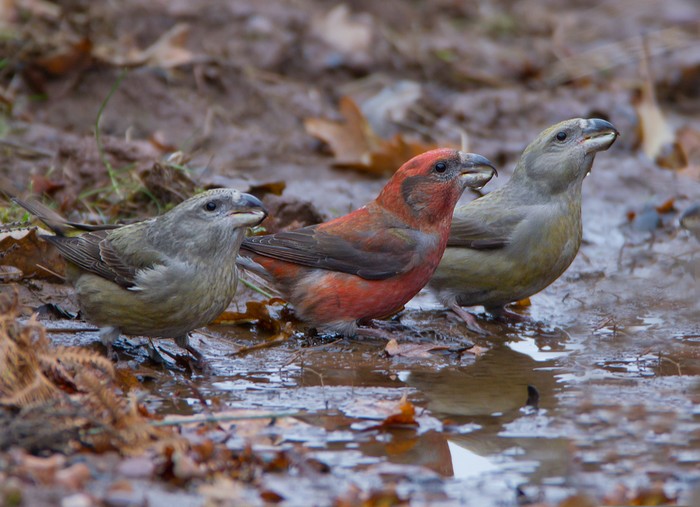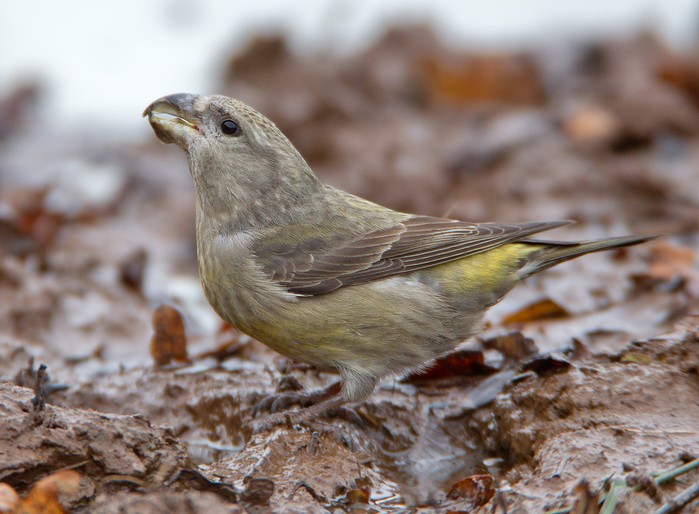 A single Parrot Crossbills was still at Hemsted Forset (Kent) between 11th-15th with new single males located at Chamber's Farm Wood, near Bardney (Lincolnshire) on 16th-17th and in South Yorkshire at Broomhead Reservoir on 13th to make it (a minimum) three Loxia species at two UK sites this week.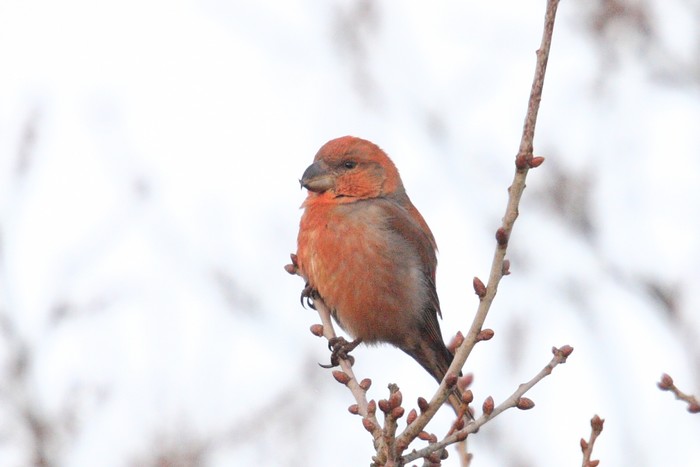 The most obvious of those three species were, of course, the eight Two-barred Crossbills that remained around the reservoir fringe until 17th and the lone male in the Kent woods to 14th while elsewhere the two males and single female remained in Shropshire's Wyre Forest to 17th and at least 17 were still in the Forest of Dean in Gloucestershire along the Serridge Ridge, where a male was in song on 14th, suggesting exciting times ahead…
In Norfolk, a much-discussed male wing-barred Crossbill was listed as a Two-barred Crossbill throughout much of the week.
Also in Norfolk and far easier to cope with was the first-winter Rose-coloured Starling at Caister-on-sea, in place to 14th at least while the young bird remained at Long Rock, near Marazion (Cornwall) to 17th when another young bird was found on St. Mary's (Scilly).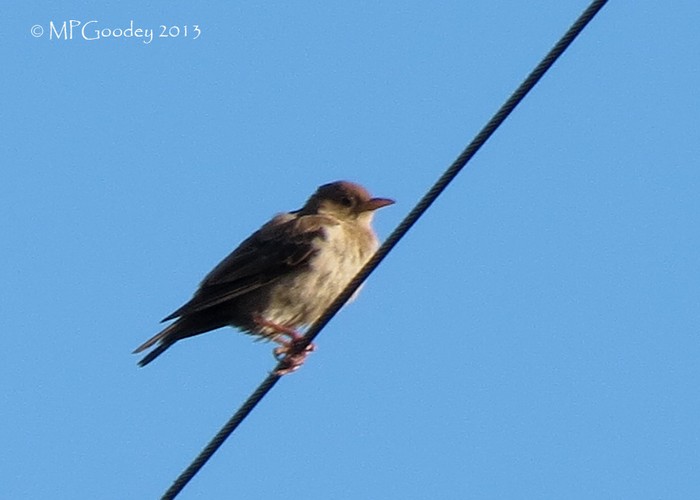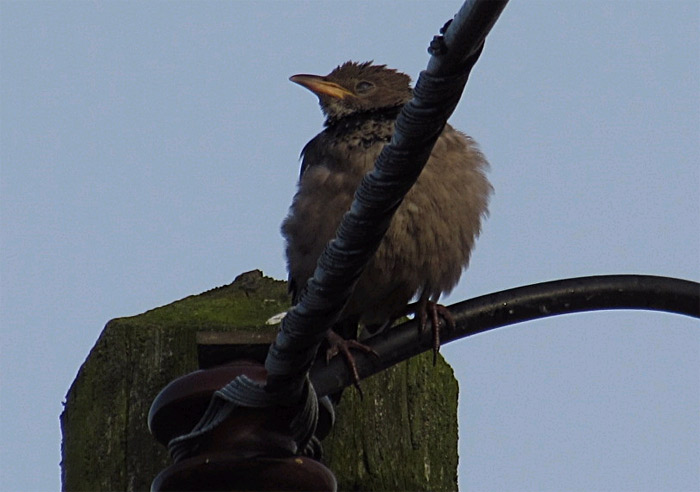 Mercifully it remains all quite on the Waxwing front ~ the largest gathering remains the 40 or so around Elgin (Moray), still there on 11th, with flocks of 13, 12 and 11 around assorted parts of Aberdeen through the early part of the week. Two flocks of a dozen were noted in the northeast, at Burniston (North Yorkshire) on 12th and Felton (Northumberland) on 15th while East Anglia managed an overall score of 21. The largest groups reported outside of Scotland were the 30 noted at Groby (Leicestershire) on 14th and 20 (maybe 40) in Sheffield (South Yorkshire) on 17th.
Mild and windy was the order last week and much the same seems to be on offer this week too ~ but as Derek Charles and Majella Callaghan proved this week, brave the storms and you may just get a supreme reward...
This is, historically, one of the quietest times of the year ~ for those fancying the chances of plucking another Ivory Gull out of the bag, December 18th may be worth a go, three found on that date (all between 1970-73 though…), while, with a timely nod to the bird of the week this week, we'll remember the superb juvenile Thayer's Gull found on Newport Dump in Mayo on December 18th 1998.
Fans of Nearctic passerines should cast an eye to December 20th, American Robin, Rose-breasted Grosbeak and Ovenbird ~ the infamous garden visitor to Herefordshire ~ have been unearthed on that date. Further in to the week ahead, there's the small matter of a male Magnificent Frigatebird ~ the bird picked up knackered on the Isle of Man in 1999, with the same date also yielding the Dix Pit Baikal Teal in 2002.
But one species catches the eye a little more than others and top and tails the review nicely as well ~ it may not be everyone's cup of tea coz it's a seagull ~ but if I found an American Herring Gull this week I'd be pretty chuffed! And with the weather ahead, something from the Atlantic's Eastern Seaboard seems like the logical place to start for the birds that may grace us before Chrimbo ~ four separate dates from 18th-24th have been treated to a Smickers….fingers crossed for this week too then…
Mark Golley
18 December 2013

Special thanks this week go to Derek Charles and Majella Callaghan for the Killybegs Thayer's report and exculsive images. Also, many thanks go to Killian Mullarney for supplying a set of shots of the 1998 Killybegs bird and also to Steve Arlow for allowing us to use shots of his Pitsea bird too.
Thanks also to the rest of this week's contributors
Mark Warren and the North Ronaldsay Bird Obs team, David Edgar, Paul Rowe, Phil Woollen, Gary Thoburn, David Carr, Richard Stonier, John Richardson, Chris Downes, Gus Guthrie, John Nadin, Tim Wotton, Ashley Banwell, Geoffrey Tibbenham, Gavin Chambers, Michael O'Clery, Davey Farrar, Alison Ritchie, Martin Scott, Hugh Harrop, Micheal Malpass, Nic Hallam, Michael Turner, Jon Mercer, Jamie Macarthur Sean Wileman, Martin Goodey, Roland Hopkins,
Contributors Websites