Weekly round-up: 06 - 12 Nov 2013
A new Black-throated Thrush makes landfall on Shetland
Scilly's American Robin stays put on Tresco
Wexford's unequivocal Northern Harrier remains at Tacumshin
…while Nottinghamshire hosts the first-ever inland Pied Wheatear in Britain
A quieter week that last week as the autumn thrills and spills started to ease and fade as further slight glimmers of the oncoming winter edged just little bit closer.
The weather was a little bit nothing-y ~ heavy pulses of rain swept across much of the country during the weekend, some areas where worse off than others, as mild-ish southwest to westerly winds (not too strong really) continued to dominate.
That said, a look to Scandinavian showed that there were still some great, great Eastern birds making their way across the Western Palearctic and this week's two most interesting rarities certainly had an vibe from the right hand side of the compass, albeit not of the quality of species that Swedish birders have enjoyed this week, but a change is as good as a rest and all that...
Last week's word for the week was "still" as an array of crazy megas lingered on far flung islands to the north and the west of most of us. This week, the word that could be used to best describe the past seven days is "quiet".
Like a House Mouse doing tip-toes across a feather duvet in the softest-soled velvety slippers, there was barely a sound to be heard from Pagerland ~ the Big Red Mega Alert button at RBA's assorted HQ's was already beginning to gather dust and need a bit of oiling after at least a week with no activity whatsoever.
Black-throated Thrush
Lead-off bird this week, and the only new rarity of significant consequence was the Black-throated Thrush found on the Shetland mainland (where else?!?) during the morning of 9th. Only the second of the year ~ the other was noted in Aberdeenshire in March, a bird which some questioned as perhaps showing the influence of another thrush species (two for the price of one, excellent!).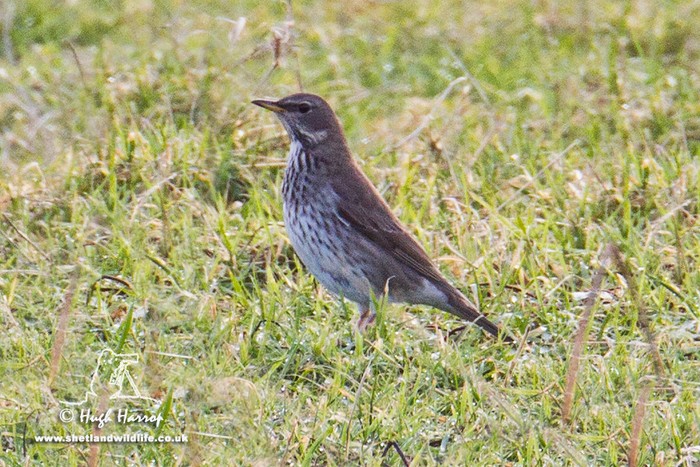 Up until the end of 2011, the record books show a total of 70 accepted birds and, of those, 28 had been seen on Shetland. Since then, a further three have followed ~ on Fair Isle in early October 2012 with another arriving on the slightly more surprising date of December 1st last year along with this week's new arrival at Gulberwick.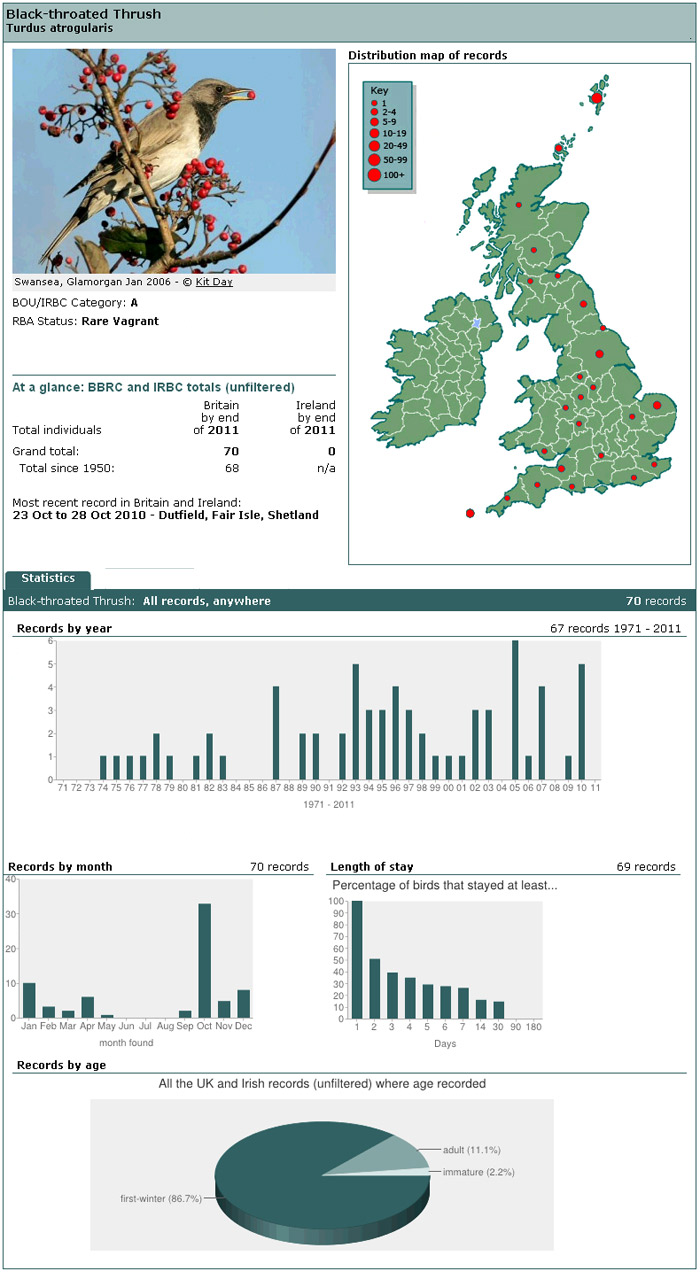 This particular spot, just a couple of miles or so to the southwest of Lerwick has hosted some supreme rares in recent years ~ most famously the Siberian Rubythroat and Pechora Pipit during the autumn of 2011. Along with those two birds and this week's Black-throated Thrush, the Gulberwick area has also hosted (amongst other things) Hume's Yellow-browed Warbler in November 2011, Western Bonelli's Warbler in August 2011, Lesser Grey Shrike in August 2004 and Desert Wheatear in November 2003.
Rarity hotspot - Gulberwick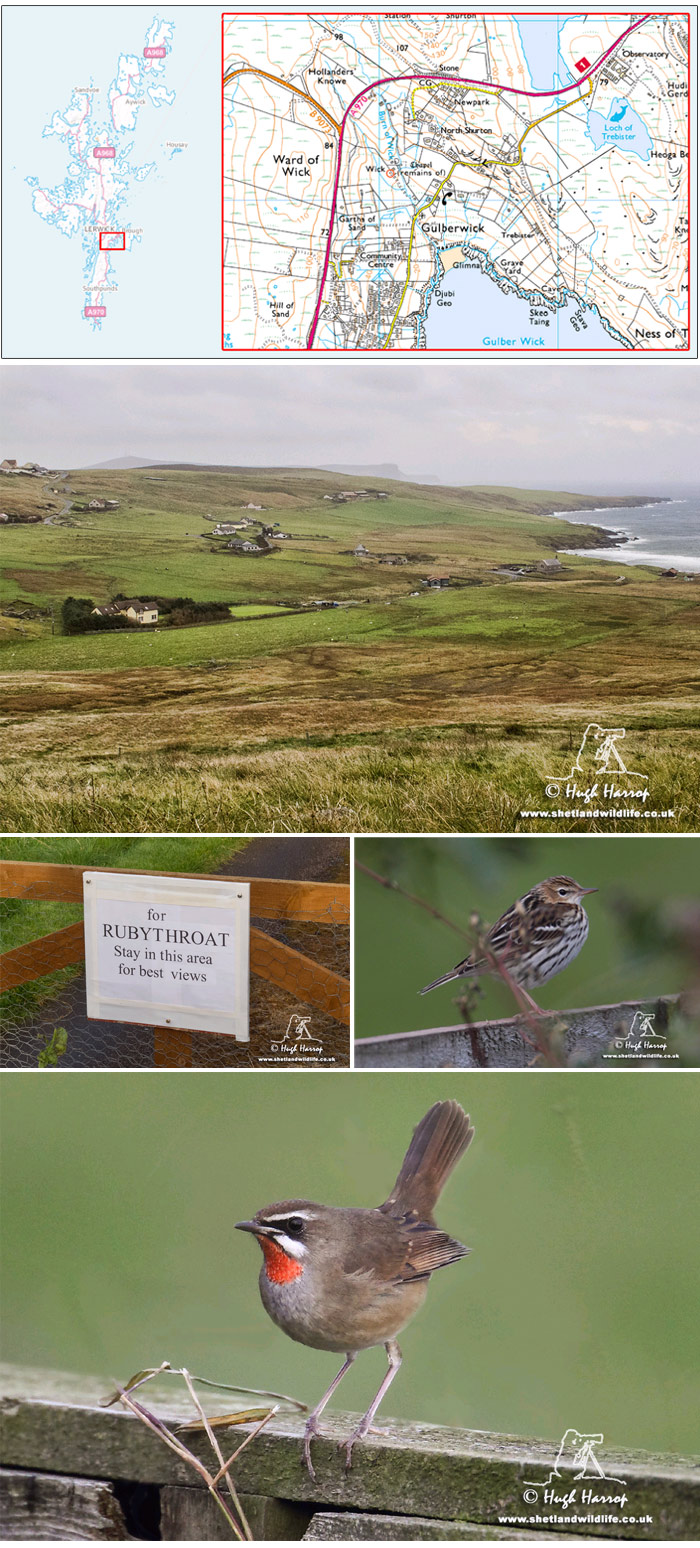 Shetland's first-ever Black-throated Thrush was a male, on Fair Isle, in December 1957 (a bird that stayed in to the New Year). Almost 20 years elapsed to the next Shetland occurrence ~ on Mainland in October 1974 ~ and two more followed in the 1970's. Four were found during the '80's (including two in 1987) and the 1990' saw an upturn in the species ~ eight accepted for the decade, with doubles in 1993, 1994 (two on the same day on Fair Isle on October 17th) and 1997.
Since the beginning of the 2000's, Black-throated Thrush records on Shetland have risen again ~ 11 recorded between 2000 and 2007, including three in 2003, with four since then (one in 2010, along with the others mentioned a few paragraphs ago). The Shetland dominance is clear to see…and, should you fancy your chances at finding one, October is clearly the month to try ~ 22 of the 33 records in been found then.
American Robin
On Tresco, in the fields between Borough Farm and Rowesfield, the first-winter female American Robin remained in to the start of the new review week ~ still present on 6th. With nine days on the clock it remains a few days away from the 19 record Scilly stay of the first-winter male that spent much of mid to late October on the same island in 2006.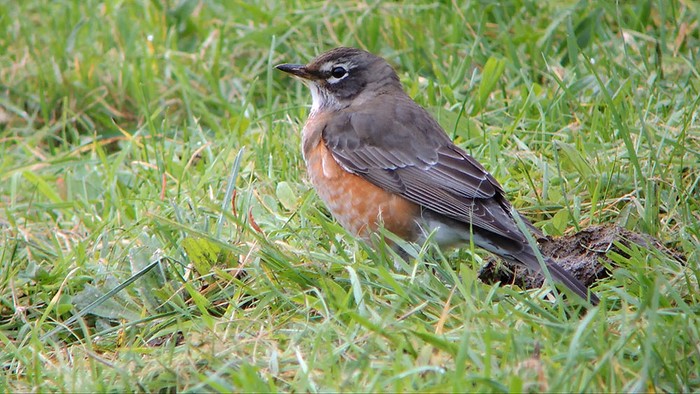 Northern Harrier
With seemingly no sign of the presumed juvenile female Northern Harrier on the Ouse Washes RSPB reserve in Cambridgeshire at the start of the week, the nailed-on young male at Tacumshin was seen again on both 8th and 9th.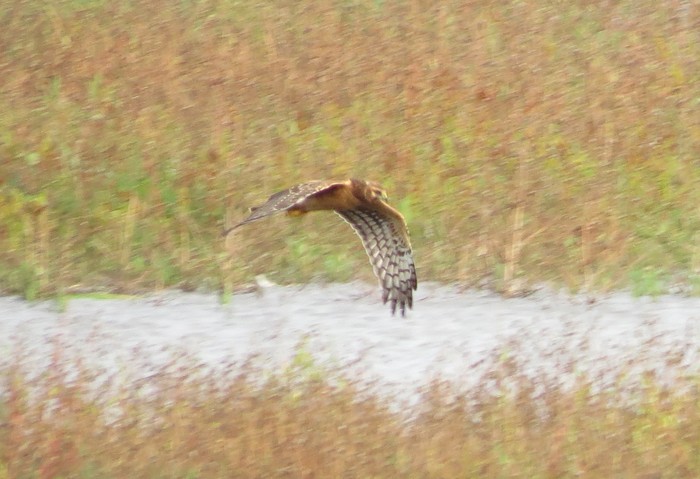 Interested parties may want to check out Martin Garner's Birding Frontiers website, where the identity of the Cambridgeshire individual is discussed.
Pied Wheatear
Not often ~ if ever actually ~ has Pied Wheatear been a headline bird but in a quiet week, coming over a weekend and at an inland location too, there's every reason to make sure that the first-winter female at Collingham Pits (Nottinghamshire) on 9th-10th gets the credit it deserves.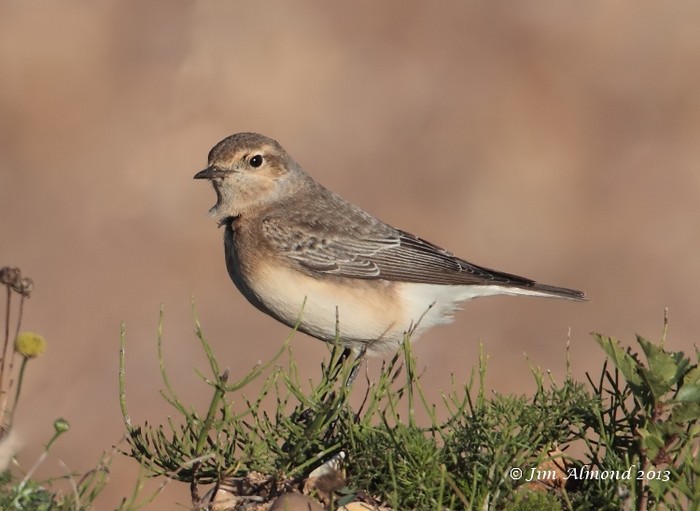 It won't come as too much of a surprise to know that this is the first county record for Notts., but it is also the first truly-inland record anywhere in Britain ~ out of total of (to date) 68 accepted individuals (not including the two well-watched birds from last autumn in Northumberland and Shetland).
East coast records dominate of course, Norfolk has a dozen, Yorkshire (as a whole) has seven, with five in Northumberland, four in Aberdeenshire while there are seven more a piece for Orkney and Shetland.
The far southwest has a total of nine records shared between Scilly, Cornwall, Devon and Dorset while further west come records from Pembrokeshire and Lancashire, with three singles in Ireland too.
October is, comfortably the month to see Pied Wheatear in Britain and Ireland, 46 have been found in that one month alone, but November birds aren't too unusual ~ we're up to 15 now with this week's super find.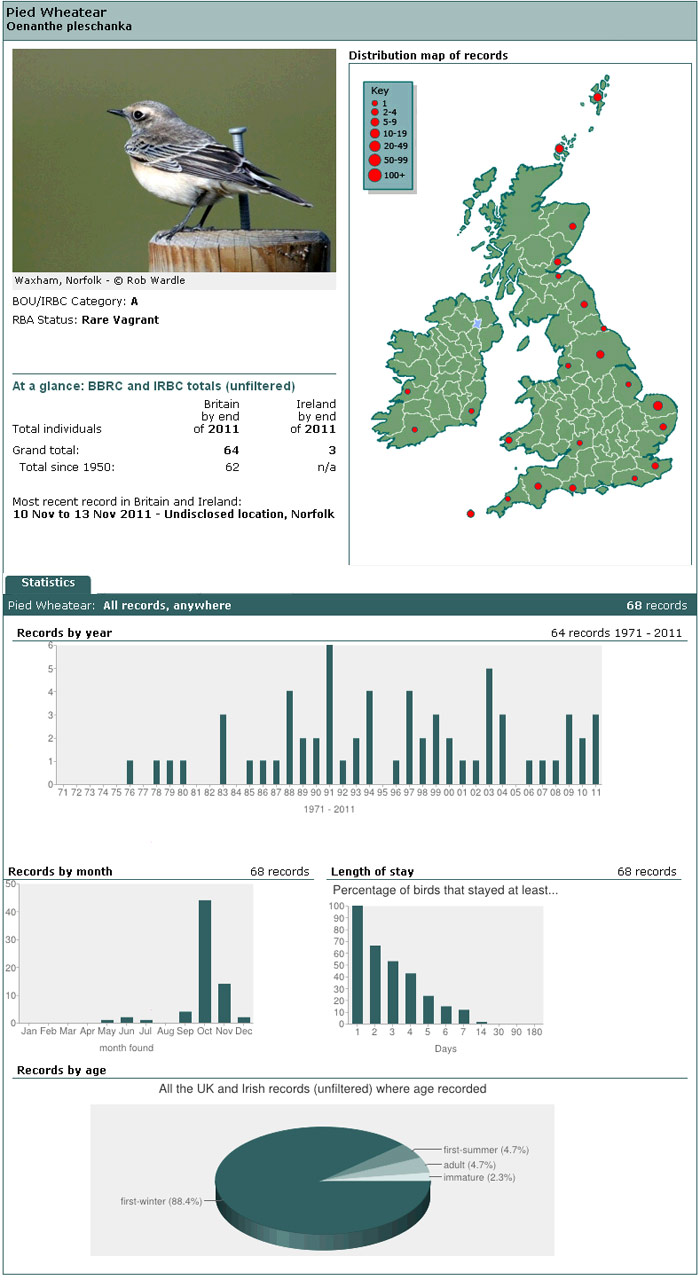 On Shetland, a White-billed Diver was again noted in the waters off Kirkabister, Mainland, on 10th but there's been no news (or no sign) of the adult seen recently in Kerry, at Castlegregory.
Despite a spurt of rather wet and windy weather, it is getting late now for many of the autumn's special seabird species but there were a few things still dotted here and there around the country.
A couple of single Leach's Storm-petrels were seen on 6th ~ at Mudeford Quay (Dorset) and at sea, four miles off Roches Point (Co. Cork), where two Sabine's Gulls were also seen the same day. On 7th, another Sabine's was noted from Sandwich Bay (Kent) and on 8th an adult was recorded off Bardsey Island (Gwynedd).
The week's total of around 30 Pomarine Skuas was comprised entirely of single birds with the exception of three at Reculver (Kent) and six reported off Holme (Norfolk) on 10th (from a Norfolk tally of a dozen). The remainder were spread across nine counties, eight in Britain and one in Ireland.
Two photogenic Grey Phalaropes lingered through the first part of the new review week ~ in Norfolk, at Salthouse and in Devon, at Roadford Reservoir (to 8th and 10th respectively), with another remaining at Newhaven (East Sussex) to 8th as well. Birders in Norfolk recorded three more singles across the weekend of 9th-10th ~ off Titchwell, Burnham Overy Dunes and Cley, with one at South Shields (Co. Durham) on 10th, at Southwold (Suffolk), Ferrybridge (Dorset) and Loch a'Phuill, Tiree, all on 11th and off Arbroath (Angus) on 12th.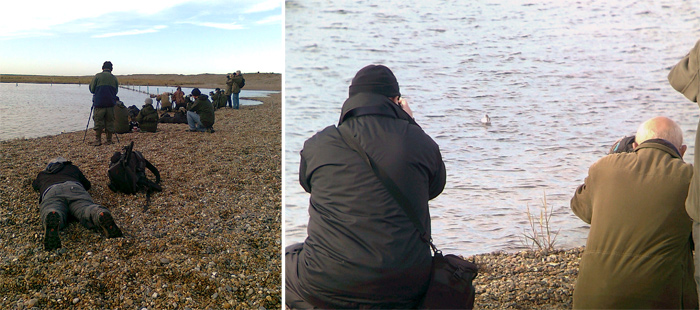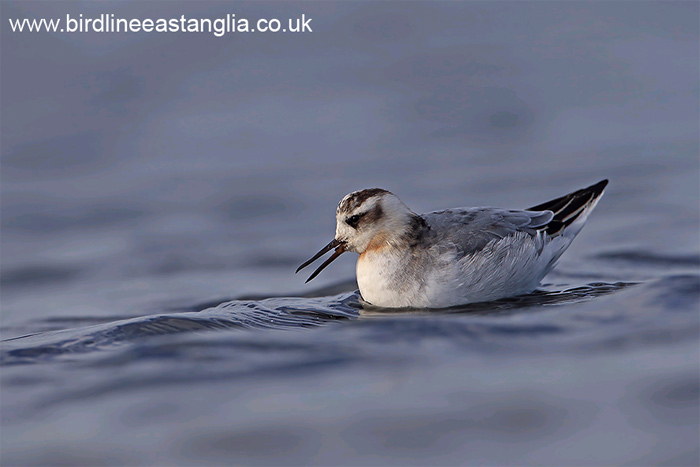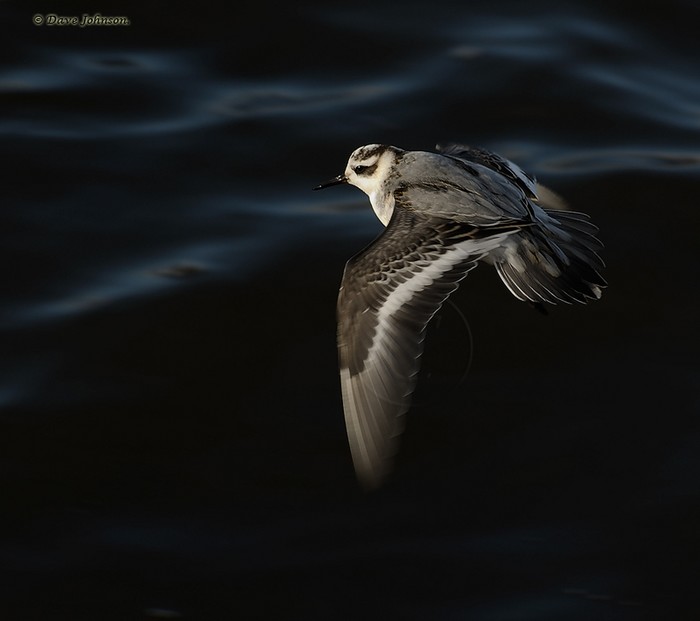 Numbers of late autumn Balearic Shearwaters fell away again this week ~ double figure counts coming from the Devon headlands of Prawle and Start on 6th (19 at the former, 12 for the latter) with eight logged off the Scillonian III the following day and 10 off St. Ives Island (Cornwall) on 10th. The remainder of the 30-odd logged were all from the southwest bar a couple for East Sussex and Kent.
Just over 20 Little Auks were reported, with five off the Isle of May (Fife) on 6th the only figure to leave the ones and twos. A further 11 counties hosted the species this week, including one as far south as Hampshire (present near Southampton on 8th) with one in the west of Ireland, at Aughcashla (Co. Kerry) on 11th and north Wales, off Bardsey Island (Gwynedd) on 12th.
Over 20 Glossy Ibis were reported through the last seven days with a good spread over the country, with the most notable appearing at Wick (Highland) on 8th ~ the first in the region since one near Dornoch in December 1962 (the only Highland birds coming pre-1913 and also 1911.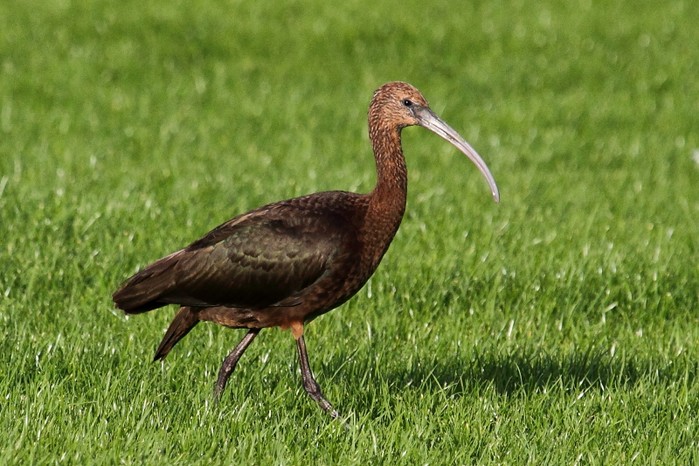 The next most northerly birds were at Ogston Reservoir and then Willington GPs (Derbyshire) between 6th-8th and then 10th, and still at Lowdham (Nottinghamshire) for the whole week. In East Anglia, singles were at Ouse Washes RSPB (Cambridgeshire) on 10th and still at Welney WWT (Norfolk) on 6th (perhaps one in the same there) while Suffolk saw two head over Minsmere RSPB on 7th, with another lingering at Hollesley Marsh RSPB for a few more days as well.
Essex saw two recorded at Holland Haven on 8th, with one each for Bowers Marsh RSPB and Abberton Reservoir on 7th and Vange Marshes on 10th. One was still around Dungeness on 7th at least and further singles were at Seaton Marshes (Devon) on 8th and Steart WWT (Somerset) on 7th. Moving back through to the far reaches of the Westcountry (or south Midlands maybe?), the adult and juvenile Glossy Ibis that arrived at Slimbridge WWT (Gloucestershire) at the end of last week left early on the first day of the new review week (6th) with two juveniles dropping in there on 10th.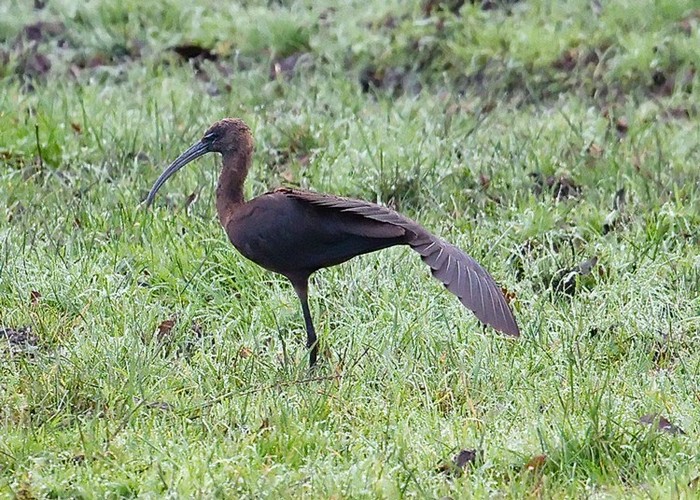 In the Home Counties, the juvenile at Rye Meads RSPB (Hertfordshire) was present on 7th-8th (and again to the week's end) with (it or) another at Amwell on 8th with the week's final records coming from Ireland on 10th ~ one each for Tramore Backstrand (Co. Waterford) and the North Slob WWR (Co. Wexford).
The adult Cattle Egret was at Harty Ferry, Sheppey (Kent) until 10th at least and another was reported in Hampshire, at Old Alresford, on 7th. Great White Egrets managed to edge towards 30 birds this week, with six at Dungeness RSPB on 9th easily the highest count reported. "Twos" were on the Somerset Levels, at Banks Marsh NNR (Lancashire) and still at Pitsford Reservoir (Northamptonshire), while singles were seen in East, South and West Yorkshire.
Also of note, a Great White Egret at three sites in Hertfordshire on 6th, along with two records in Surrey (at Burpham and Staines Moor) and one in Berkshire (at Wraysbury). Two were back at wintering sites in Wales (Llangorse Lake in Powys and Llanrhidian Marsh in Glamorgan) with further lone birds in Cheshire, Staffordshire, Nottinghamshire and East Sussex, while two singles were noted at either end of Suffolk ~ at Minsmere RSPB and Lakenheath Fen RSPB.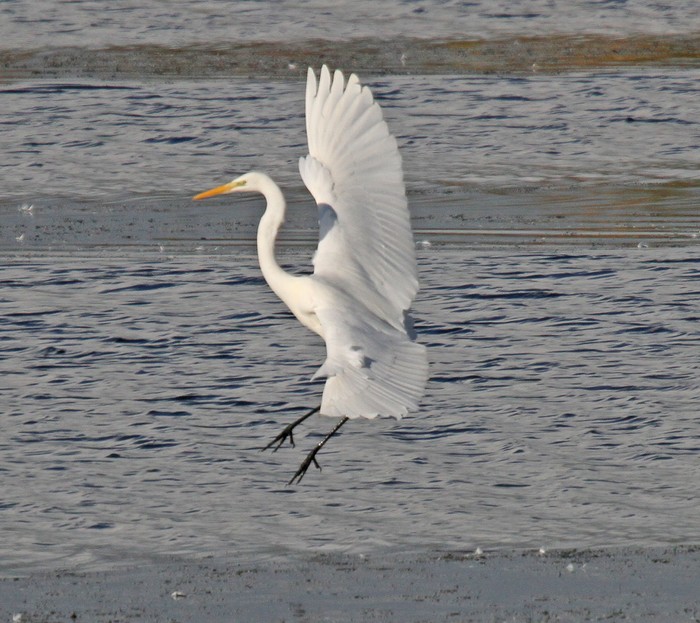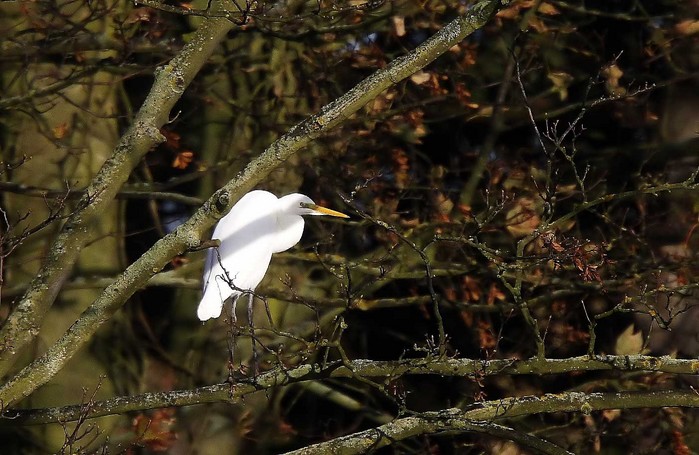 27 was the magic number for the Poole Harbour Spoonbill flock, seen again at Arne RSPB on 10th. Celtic birds included two still at Jupiter Point (Cornwall), also on 10th with ones still at Piltanton Burn (Dumfries & Galloway), Cromane (Co. Kerry) and Cunnigar, Dungarvan (Co. Waterford). The only Common Cranes reported were the nine seen at Guyhirn (Cambridgeshire) on 9th.
A Todd's Canada Goose was at Rockcliffe (Cumbria) on 10th while further rare and scarce Brantas included a presumed returning adult Grey-bellied Brant in County Dublin ~ one seen on 11th-12th at Kilbarrack seems likely to be one of the birds seen in the same area in February and March this year. Much has been written here in the past about this enigmatic form/hybrid swarm/species-in-waiting, so I won't bang the drum any harder for how interesting and rather beautiful they are…
A migrating adult Black Brant was tracked around the Norfolk coast throughout the day on 10th ~ first noted off Hopton-on-Sea just before noon, it was picked up at Winterton, Horsey and, soon after, Waxham and then later in the day heading west over the coast at Cley. A couple of days prior to that, an adult was located amongst the Dark-bellied Brents between Salthouse and Kelling, before relocating to Cley's Eye Field where it remained to the end of the week. Another East Anglian fly-by was logged heading south off Southwold (Suffolk) on 11th and on 12th, one was again at Wells-next-the-sea (Norfolk), an area where, generally, hybrids are king nowadays.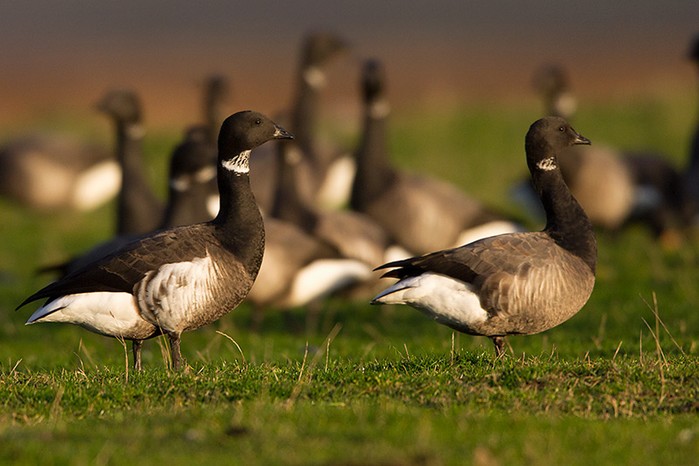 Further new Brants included two at Dengie on 10th, on Hampshire's Hayling Island on 9th with another passing Dungeness on 11th. Irish singles at North Bull Island (Co. Dublin) on 7th, the wonderfully rugged surrounds of Raghly (Co. Sligo) from 8th and Barrow Harbour (Co. Kerry) on 12th. Late autumn regulars remained at Ferrybridge (Dorset) and Dawlish Warren (Devon) in the early part of the week at least.
In Hampshire, the wintering, lingering Red-breasted Goose was still around the Milford-on-Sea area to 12th while a yellow-ringed bird with Barnacle Geese in Cumbria was thought to be an escape, although there is a WWT ringing scheme for Bulgarian wintering birds which also uses yellow rings too.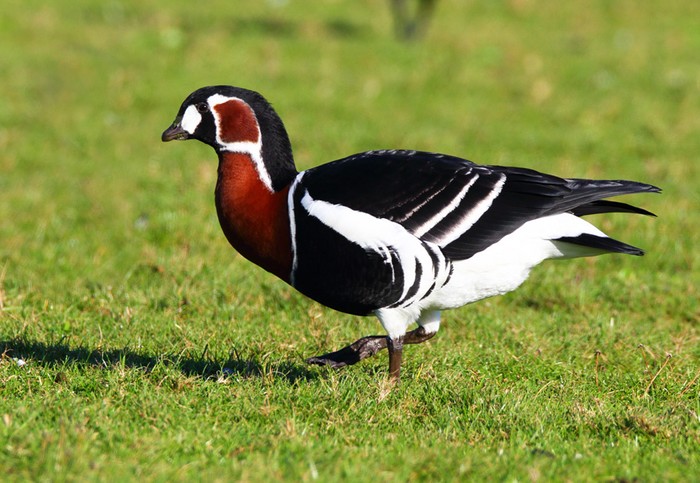 The two Lesser Snow Geese (the intermediate-blue male and the white female) were still in Argyll & Bute, at Tayinloan to 9th, with a white bird at the Loch of Strathbeg RSPB (Aberdeenshire) from on 9th-12th. In Lancashire, a Snow Goose flew over Leighton Moss RSPB (with accompanying Pink-feet) on 9th and the Irish white bird was back at Carrahane Strand (Co. Kerry) on 12th.
In Lincolnshire, the single drake Blue-winged Teal at Boultham Mere was recorded off-and-on to 12th, while a one-day drake at Wellington GPs (Herefordshire) will be the first for the county (neighbouring Worcestershire has scored four in the past).
Two of the week's four drake Green-winged Teals were newbies ~ at Slimbridge WWT from 6th-12th and Rutland Water (Leicestershire) from 10th with two remaining at Scottish sites, the WWT reserve at Caerlaverock (from 6th-10th) and the RSPB reserve at Loch Leven, seen again on 11th.
Also new this week was a first-winter female Lesser Scaup on the American Coot lough at Murlach, Ballyconneely (Co. Galway) on 9th-12th ~ perhaps surprisingly, this is only the third record for the county ~ the first was an adult male at Loughrea in November and December 2009 and the second, another drake, was at Rahasane Turlough in November 2011.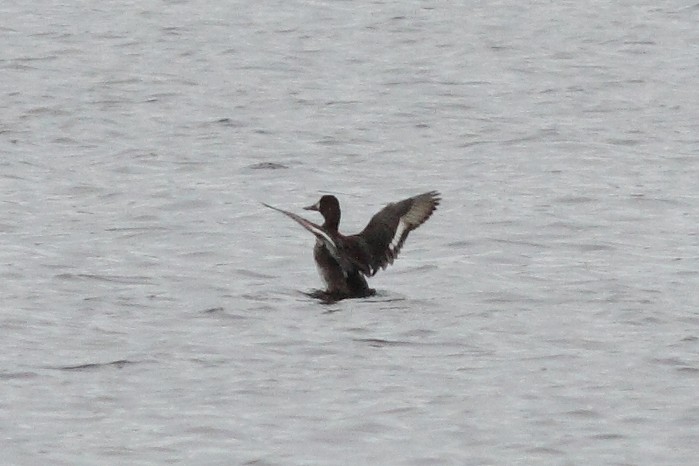 Another Irish bird, this one a drake, was found in Westmeath, on Lough Owel on 12th while in Somerset, the returning drake Lesser Scaup moved from Chew to Blagdon on 9th, and was still there the following day before popping up back at Chew by the week's end.
In Ayrshire, the drake Ring-necked Duck was back at the Loch o' th' Lowes on 7th while the female-type remained at Eyebrook Reservoir (Leicestershire) to 10th. In the Irish Republic, a drake was still on Lough Gara on 8th while in Galway, at the previously mentioned Loughrea another drake was found on 10th. Another new bird on the west coast was the young drake at Lough Gill (Co. Kerry) on 11th.
Three single drake American Wigeons remained at Tullaghan (Co. Leitrim) to 6th and Udale Bay (Highland) and Loch of Strathbeg RSPB (Aberdeenshire) to 8th while on South Uist, at Loch Bee what is presumably another returning drake was seen on 11th (one has been seen here at various points of both 2011 and 2012, as well as dates in February and March this year).
A far rarer duck on the Outer Hebrides is King Eider, so the female that flew south past Ardvule (also on South Uist) on 11th will become only the fifth (or sixth) for the island group. Drakes have been recorded in 1979 (on Harris), 1983 (on Pabay), 1992 (on St. Kilda) and 2004 (another for Harris) while a female was present at Rubha Ardvule in May last year.
This week's fly-by, photographed as she headed south, is another excellent discovery for rare-finder extraordinaire John Kemp and thanks go to him for letting us use the excellent record shot of a bird that is a tough one for many to call on the water, let alone one on the move (males excepted of course). But, as John's image proves, this is actually a pretty striking bird and you may be in with half a chance ~ if you're quick enough and sharp enough…
An all-together more familiar island group host for King Eider is Shetland and a drake was found there this week at Hascosay Sound, on Mid Yell, on 10th. It would take more time than I have (or want to spend…) working out the potential repetitions for records of the species on Shetland but, as of the end of 2011, there were a massive 161 accepted occurrences ~ quite a contrast to the Hebs' six. Another familiar drake was back in Burghead Bay (Moray) from 12th.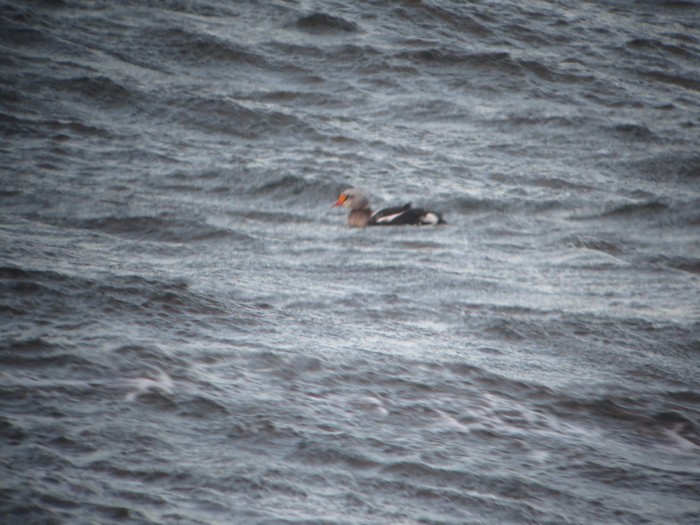 A juvenile Surf Scoter was found in Brand's Bay, on the edge of Poole Harbour (Dorset) on 7th where it loitered to 12th and, back on South Uist, another juvenile remained at North Bay, Ardivachar to 7th. In County Cork, the juvenile drake continued to find the waters off Courtmacsherry to his liking (still present there to 9th at least and a new youngster was off Dungarvan (Co. Waterford) from the same date.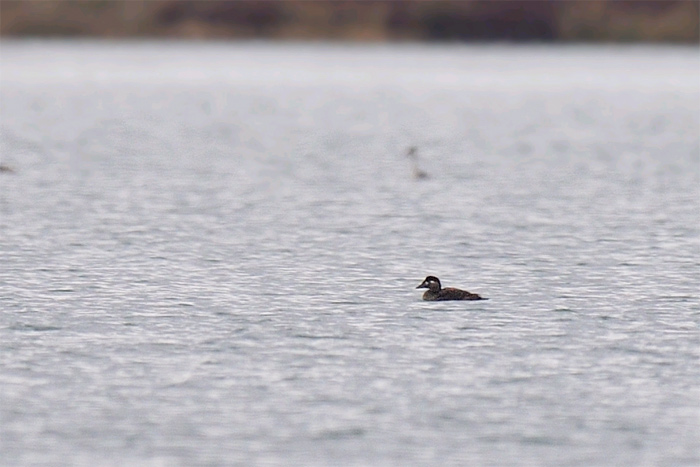 Elsewhere in the Celtic Nations, a drake was noted from Tankerness, Mainland (Orkney) on 10th and two drakes were still off Llanddulas (Conwy) for much of the week.
A first-winter Semipalmated Sandpiper provided some unexpected news from Knott End (Lancashire) on 12th ~ only the second ever recorded in that particular part of the northwest, the first being a one day adult at Brockholes Quarry in July 2004.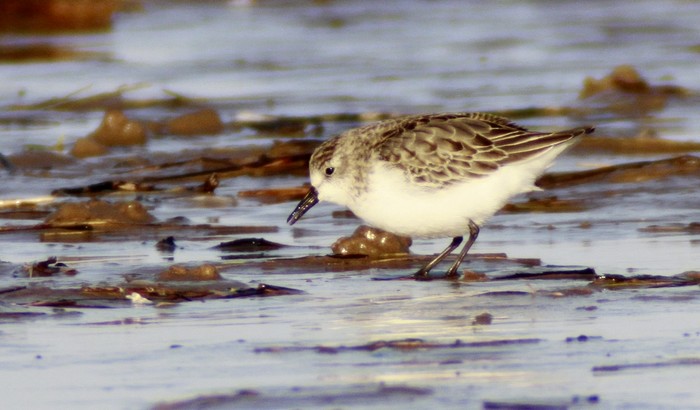 The adult and two juvenile White-rumped Sandpipers were all together on Cornwall's Hayle Estuary on 10th ~ with the Junior #1 and #2 still around the place on 11th. Back up on South Uist, two youngsters were at North Bay on 9th (after one was at Baile Gharbhaidh on 7th) and another juvenile was re-identifed from photos taken at Blacktoft Sands RSPB (East Yorkshire) on 9th. Last up in WRS corner was the adult found at Frampton Marsh RSPB (Lincolnshire), the second there this month, following on from the juvenile at the start of November.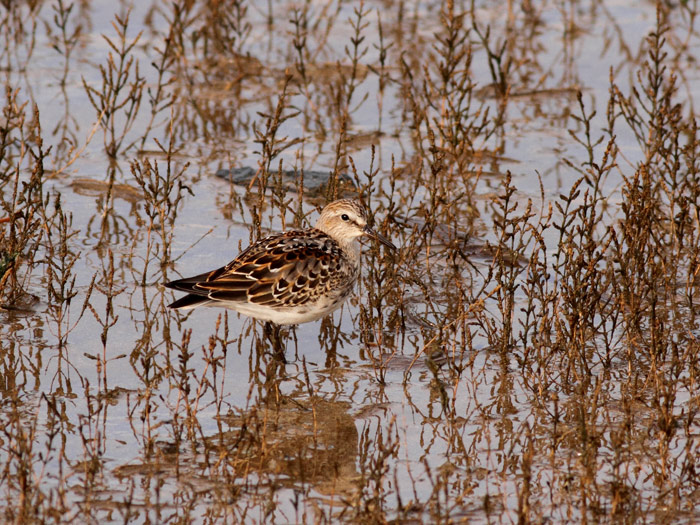 In County Limerick, an adult American Golden Plover was new at Aughinish on 8th and at Lepe CP in Hampshire, a Lesser Yellowlegs was also new, found on 10th and still in place for the next couple of days too. Also in Hampshire, the adult Long-billed Dowitcher reported again from Keyhaven Marshes on 10th.
New this week were the Bonaparte's Gulls found in the roost at Rostherne Mere (Cheshire) and Swillington Ings (West Yorkshire) on 10th. The adult in Cheshire could be the first in the county since May 2004 (and only the fourth-ever) while the immature reported in West Yorkshire could be the first there since April and May 2003. Rare indeed…
On the Farnes, the first Bonaparte's Gull for the islands was seen again off the northern end of Brownsman on 9th while the popular adult along the south Devon coast was seen at both Dawlish Warren and Teignmouth throughout he week.
A neat looking second-winter Kumlien's Gull arrived at Galway's Nimmo Pier from 10th, while next-door in Clare an adult Iceland Gull was seen at Killmer on 10th while back at Swillington Ings, a juvenile glaucoides was noted on 11th.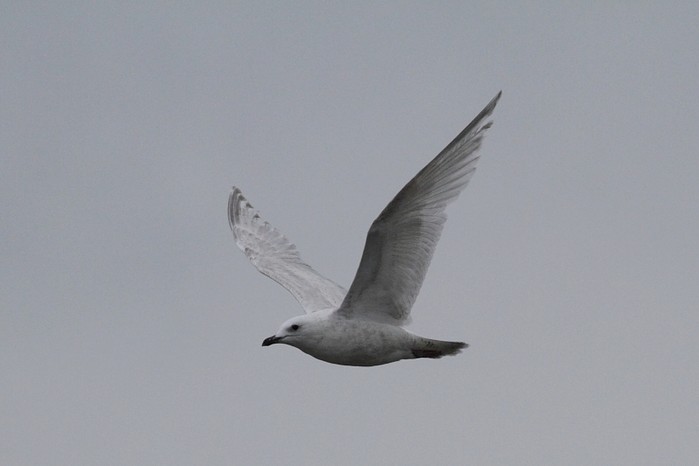 After nigh-on 20 Glaucous Gulls last week, just eight were reported in this one ~ two (both juveniles) were in north Norfolk, on Blakeney Point on 6th and then Cley on 10th (with the same bird found at Edgefield tip on 11th) with singles also seen in Hampshire (at Titchfield Haven NNR) on 6th, North Hykeham (Lincolnshire) from 7th-11th and Lowestoft (Suffolk), East Chevington (Northumberland) and Peterhead (Aberdeenshire), all appearing on 10th. The final one of the week was on Loch Stiapavat, Lewis (Outer Hebrides) on 12th.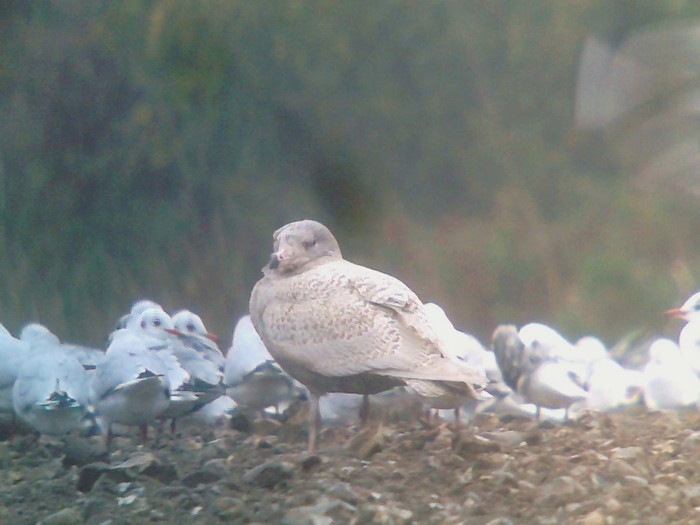 Two adult Ring-billed Gulls were seen in County Antrim on 9th, still at Portrush and also at Carrickfergus with the recently returned adult still at Gosport (Hampshire) on 10th. A new adult was found at Carrahane Strand (Co. Kerry) on 12th. In Highland, the near-adult Ring-billed Gull was seen at Mallaig on 8th and a second-winter was at Tralee Wetlands (Co. Kerry) on 11th and a new first-winter was found near Portavogie on 9th. A first-winter Ringo was also reported from a private airfield in north Wales on 7th (and was reported as being in place for at least three days).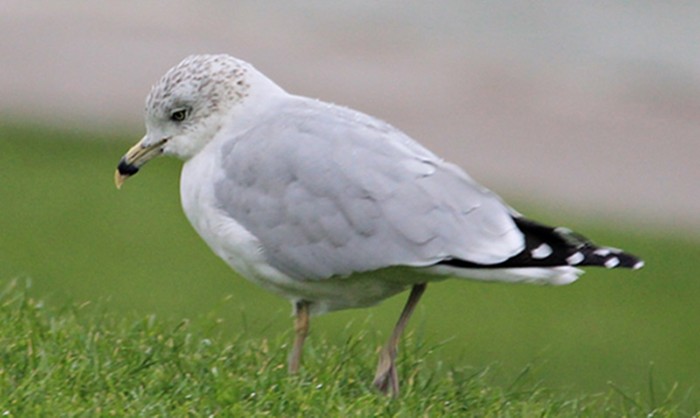 The adult Azorean Yellow-legged Gull was in the evening roost at Stanwick GP (Northamptonshire) again on 6th and was the only other larid of note this week.
The second white Gyrfalcon within just a few days was discovered on the Outer Hebrides on 9th, seen on prey at Balemore, North Uist during the early afternoon before being lost to view.
In Norfolk, near the Great Ryburgh Raptor Watchpoint, a Rough-legged Buzzard was noted on 6th and was one of just two noted this week, the other remaining at Orford Ness (Suffolk) to 12th.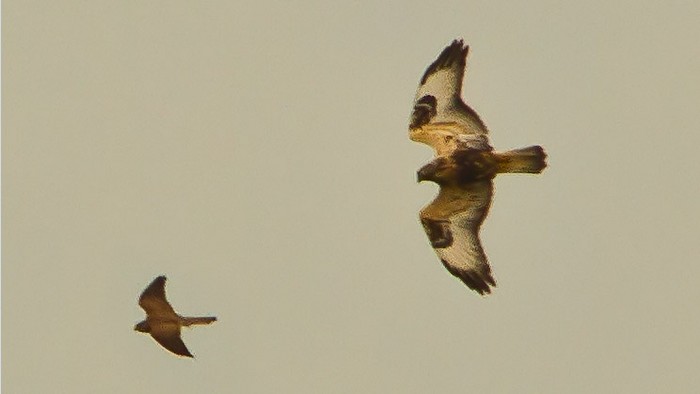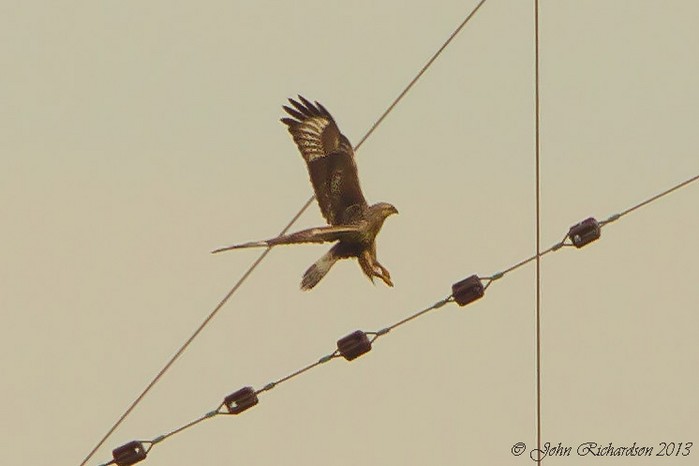 Perhaps one of the finds of the week, certainly in the first couple of days of the new review period, was the male Penduline Tit outside the Visitor Centre of the Uskmouth NR, at the Newport Wetlands, on 7th ~ a first county record for Gwent.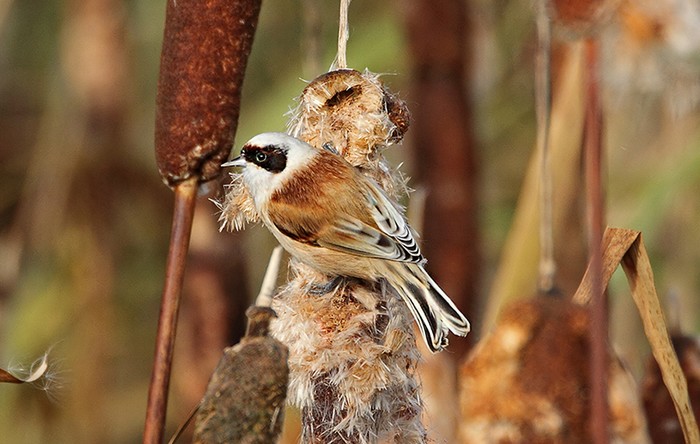 Welsh records are pretty thin on the ground ~ nearby Glamorgan has three birds on the books (including two at Kenfig Pool for the winter of 1996-'97) while in the Principality's Northern quarter, Anglesey has one (at Llyn Rhos Dhu on October 21st 1992) as does Bardsey ~ one seen there for five days in May 1981 ~ which was only the 7th-ever record for Britain. How times have changed for this changed in the three decades or so since then ~ by the end of 2011, there were 214 accepted records, including numerous multiples.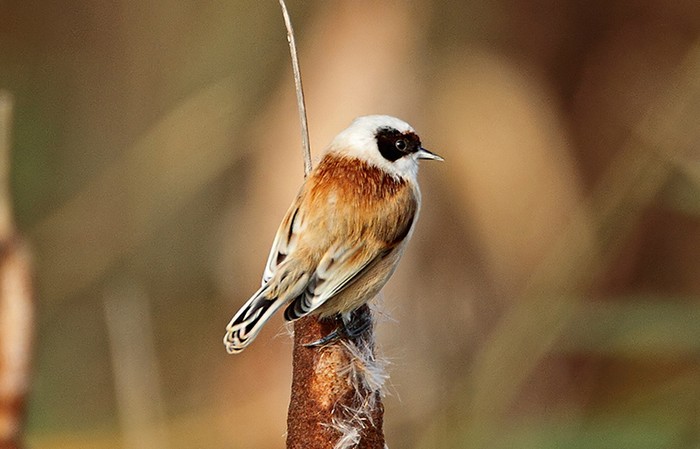 Away from Gwent's county first, a few "winter" finches and their ilk caught the eye in news terms. Single Coues' Arctic Redpolls were trapped and ringed at Dungeness (Kent) on 7th and Whixall Moss (Shropshire) on 9th.
Kent had just five accepted records (of eight birds) prior to the removal of the species from the Rarities List in 2005, the most recent of those being 22 years ago, when four spent a fortnight in woods near Canterbury in February 1991. At least one was seen around Harty Ferry in February 2006 and another was seen earlier this autumn at Foreness Point ~ it still remains a big county rarity though. The Whixall bird is the first Coues' Arctic Redpoll for the county and must have been a very pleasant surprise for the ringers…
The largest flock of Parrot Crossbills for an age was found in Holt Country Park (Norfolk) on 11th ~ at least a dozen birds seen in the pines around the car park there during the morning with nine seen and heard during the afternoon. The next day, there was no sign until midday when at least 10 were back around the car park before the group splintered into ones and twos and spread themselves across the large expanse of mixed woodland.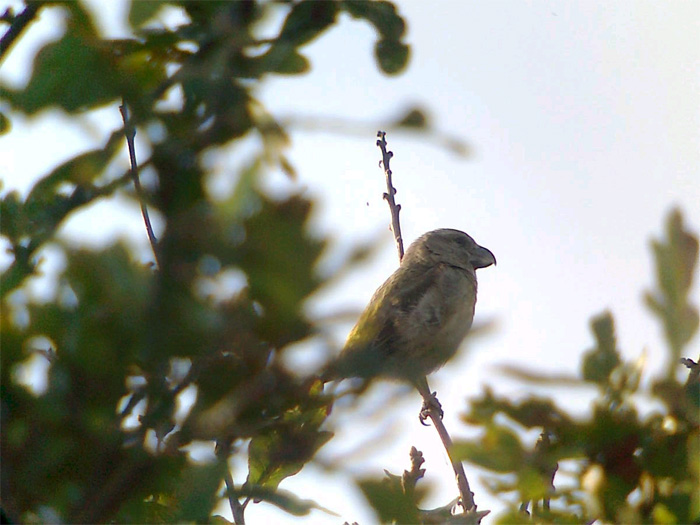 Elsewhere, at least one bird remained in the Hemsted Forest (Kent) along with a male Two-barred Crossbill both to 11th at least. Further male TBXB's remained at Lynford Arboretum (Norfolk) and Broomshead Reservoir (South Yorkshire) ~ to 8th and 10th respectively while two new males were noted at Woorgreens Lake GWT (Gloucestershire) on 9th ~ a county that has had just one record of the species in the past, a female for around a month in February and March 1998. This week's only female was the bird seen off and on at Leith Hill (Surrey) to 8th.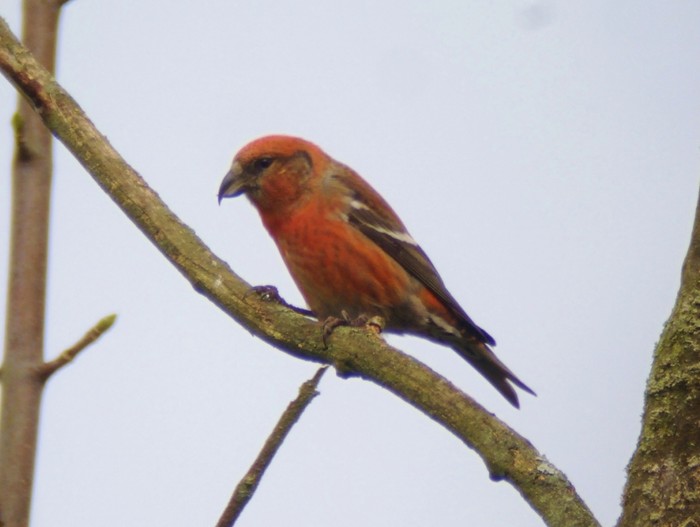 All four Dusky Warblers this week were in the southwest of England ~ starting off with one at Portland Bill on 7th which was followed by news of last week's bird still on St. Agnes (Scilly) on 10th when another was found in an area with no general access near St. Buryan (Cornwall). The final one of this "tac"-ing quartet was found at Berry Head (Devon) on 11th, and it was still there the next day.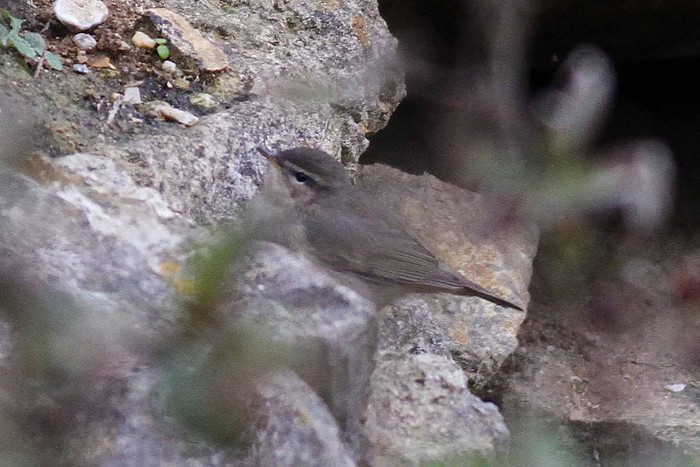 Back over on Scilly, the first-winter Subalpine Warbler remained at Longstones, on St. Mary's to 8th at least while the Spurn Barred Warbler was coming up to a full calendar month on site ~ arriving on October 17th, this long-staying bird was still present to 12th. A new arrival appeared at Fethard-on-Sea (Co. Wexford) on 8th and that bird too was also still present on 12th.
Yellow-browed Warblers numbers fell again this week, thosugh not quite by the 50% figures we've seen in the previous three. From 46 we've dropped to 34, with 25 of those in the southwest of England, including a dozen in Cornwall (with three in Cot Valley on 8th) and a minimum of eight on Scilly, a total that included at least six being trapped and ringed at Porth Hellick on 10th. Three were seen in Dorset and two in devon, while County Cork scored three singles. Other singles were found on Orkney (near Kirkwall on 10th), in Surrey (at Holmethorpe on 6th), Kent (near St. Margaret's at Cliffe on 7th), Glamorgan (in Bridgend, also on 7th), Pembrokeshire (at St. Florence on 11th) and in Wexford (at Hook Head on 7th).
A Red-breasted Flycatcher seen at Finstown, Mainland (Orkney) on 5th was still in place on 9th while another "late news" find, at Pevensey Levels (East Sussex), also on 5th was in place until 11th at least while the 6th saw singles noted at St. Levan (Cornwall) and Mizen Head (Co. Cork).
The final day of the review period saw four single Richard's Pipits appear on the east coast, three in Norfolk (at Winterton, Holme and Felmingham) and at Gibraltar Point NNR (Lincolnshire) with the day's fourth noted in Somerset, at Sand Point, near Weston-super-Mare. Earlier in the week, on 8th, a Richard's Pipit was at Waxham (Norfolk) with another at Colaton Raleigh (Devon) the same day. On 7th a single was found in fields between St. Just and Cape Cornwall with three singles on the first day of the review period ~ birds remaining at Hartlepool (Cleveland) and Gibraltar Point NNR, with a new one at Reculver (Kent).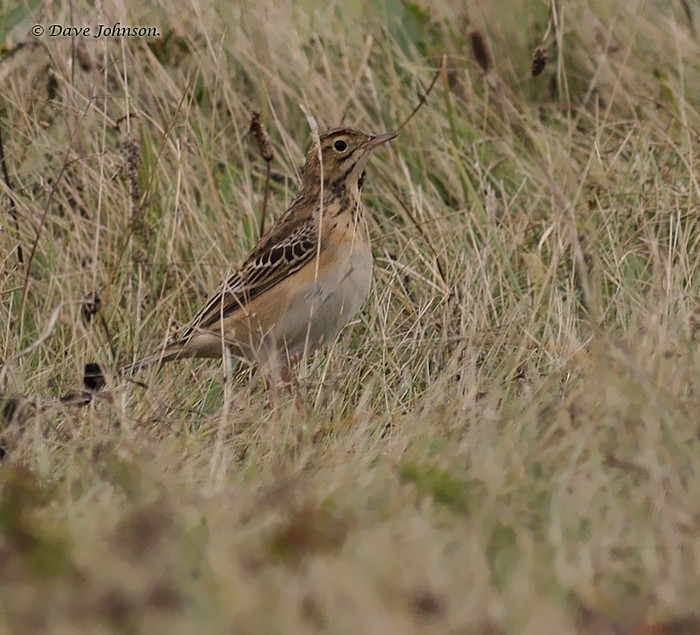 The popular, showy Common Rosefinch seen near Bridlington (East Yorkshire) remained until 7th the Red-backed Shrikes seen recently at Pagham Harbour (West Sussex) and St. Mary's (Scilly) were both present until 9th.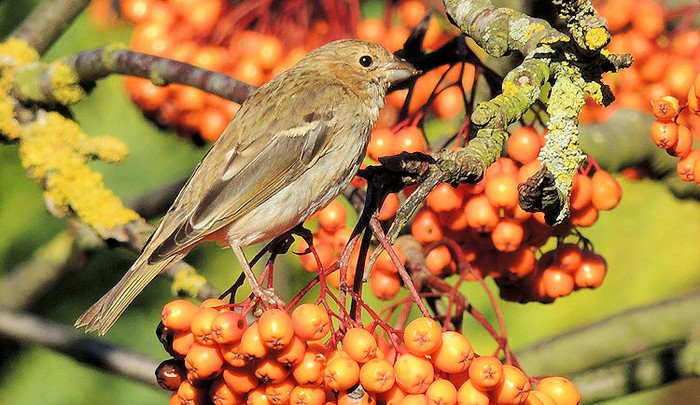 Great Grey Shrike again had a pretty strong showing, down one from 26 to 25 birds this week with up to three birds in Cambridgeshire (including two in very close proximity near Yaxley for most of the past seven days) with two each for Suffolk, West Sussex, Dorset and Devon. One bird was noted in Scotland, at Nisbet (Borders) on 9th while just two were logged in the northeast, both in Yorkshire (one in the north, one in the south).
A single at Roydon Common (Norfolk) brought the East Anglia total to six, with three in the Midlands (in Staffordshire, Derbyshire and Warwickshire) with two more in the southeast (taking the tally to four) with Home Counties birds mustering three and the Westcountry's sole representative being noted Gloucestershire, at Woorgreens Lake GWT from 9th. Two singles were also seen in Wales, in Powys and Denbighshire.
Three of the recent juvenile Rose-coloured Starlings were reported during the last seven days ~ at Port Nis, Lewis (Outer Hebrides) to 9th and Penzance (Cornwall) and Caister-on-Sea (Norfolk) to 10th.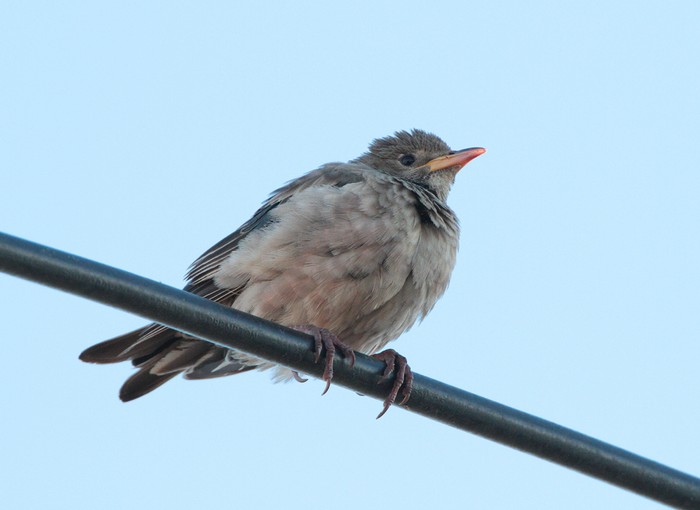 Waxwings began to show themselves in slightly larger numbers this week but only in the north ~ at least eight double figure flocks were noted around Scotland which included 59 at Echt (Aberdeenshire) on 12th, 36 at Elgin (Moray) on 7th, 30 at Stow (Borders), also on 7th and 22 in Lossiemouth (Moray) on 6th. Further south, they were still very thin on the ground, singles noted in Lincolnshire, South Yorkshire and Norfolk.
Rounding things off this week, news from North Ronaldsay, where the Little Bunting remained until 8th.
Clearly as November heads towards the middle of the month, and beyond, it gets tougher to think ahead to predict what may head our way in the next week. Indeed with rather benign weather forecast for the first few days of the new seven days that await us, it is harder than normal to think of what, if any, new significant rarities could be found.
The 13th has seen Black-throated Thrush, Siberian Thrush and Dusky Thrush appear (in South Yorkshire, Orkney and Cornwall respectively) but there's nothing in the weather to suggest one of these will pop up on 13th November 2013.
Actually, with time ticking down for the nightly laugh at another episode of Count Arthur Strong on the bedroom cd player, we'll draw the look ahead to a swift conclusion ~ mainly because when you get to November 14th, no matter what else you scan the rarity record books for during the week ahead, there is just one species that catches the eye... another thrush, but from the west, not the east ~ the monster-mega "pale morph" Varied Thrush that was discovered (and duly puzzled over) in the quite valley of Nanquidno in the far west of Cornwall in 1982.
31 years and counting with not a single sniff of another here (Iceland bagged a conventionally coloured ~ sensationally alluring ~ bird in May 2004). The 1982 bird caused an almighty commotion (for many reasons) but one found in this new era of ultra-listing will be bedlam, mayhem and ~ as long as you don't dip ~ full of uncontained joy.
C'mon! Let's be 'avin' you.....!!!!!
Mark Golley
13 November 2013

In a rare move, we've included two more images of the departed Cape May Warbler on Unst. We've never used shots of a bird that isn't around in the review period before, but for these exquisite shots from Rebecca Nason, there's every reason to make an exception. This popular Nearctic wood-warbler was one of the undoubted highlights of a sensational autumn, and Rebecca has captured the long-haul vagrant beautifully in these two pictures.
To see more of her work, visit Rebecca's website www.rebeccanason.com/ or her new blog shetlandexposure.blogspot.co.uk. And try and track down one or two of Rebecca's Fair Isle Rufous-tailed Robin shots ~ one of them remains, arguably, the very best photo of a vagrant taken anywhere in the UK. Check it out…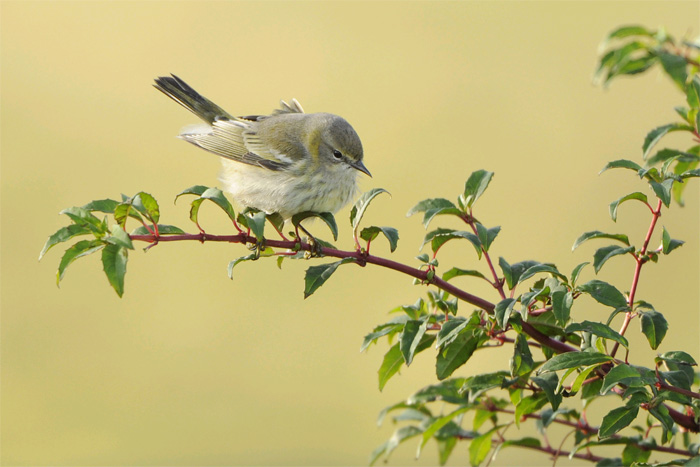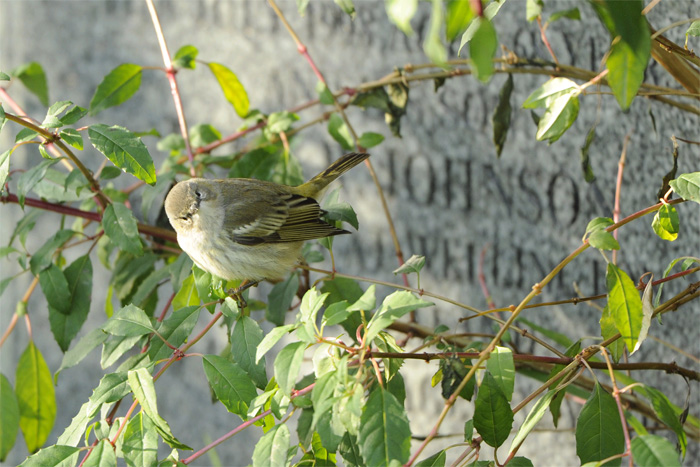 Special thanks this week to Shetland Wildlife's Hugh Harrop for his wonderful array of shots in the Gulberwick Gallery. Also, many thanks to new Shetland resident Rebecca Nason for her Black-throated Thrush shot and exquisite Cape May Warbler images too.
Many thanks to the rest of this weeks conributors for their photos and videos.
Ashley Fisher, Neil Fox, Jim Almond, Clare Gillet, Rob Wardle, Robin Chittenden, Dave Johnson, Chris Griffin, David Carr, Richard Jones, Chris Downes, Simon Spavin, Mark Warren, Chris Upson, David O'Connor, Michael Trew, Phillip Parsons, Dermot Breen, John Kemp, Toby Green, Will Scott, Brian Harrison, Stuart Piner, Brian Mellow, John Chapple, Nick May, John Richardson, Gary Thoburn, Jonathan Theobald, Brett Spencer, Darren Ward, Allan Chard,
Contributors Websites