Weekly round-up: 11 - 17 Sept 2013
The week at a glance
Elegant Tern flies in to the Kerry coast
Barolo Shearwaters and Fea's Petrels breeze past the Irish west coast….Kerry scoring both on the same day
…and another Fea's passes the Welsh coast too….
Monstrously showy Great Snipe a massive weekend draw at Spurn before sad finale…
Kent pops in belated news of a Greater Yellowlegs
Mayo's adult Pied-billed Grebe keeps the Tricolour well to the fore…
Wind and rain, gales and storms. Wet and windy. That's what it was all about this week but the tricky conditions meant that the birds kept coming.
Some pretty full-on Atlantic low pressure systems scuttled swiftly towards us as the weekend approached and duly produced the (virtually to-be-expected) weekly mega in the process.
Along with the storming Kerry tern came another ripple of Nearctic shorebirds and the deeply unsettled weather also churned up yet another pulse of outstandingly rare seabirds, with a super bunch of fulsome collections of padders in to the bargain.
Elegant Tern
It has been so nice not to have had the headache that would inevitably spring to the front of the cranium as soon as an Elegant Tern appeared again…there's been a nice, long spell of almost 10 years since the last one surfaced in Ireland and Britain ~ a near-decade long space of time where the occasional peek at a rarity report yielding nothing while glancing at the fabled "Work-in-Progress" files to keep tabs on the progress (or the lack, there of) with the advancement of the species on to the list (the British one at least) gave away few clues….
Now, the dreaded spectre of when is an Elegant Tern not an Elegant Tern has sprung to the fore thanks to the discovery of a near-adult winter bird, strongly resembling (at worst) the species, at Beale Point in County Kerry on the afternoon of 13th (a Friday the 13th find to boot…).
Almost immediately the debate began ~ and the headaches started too….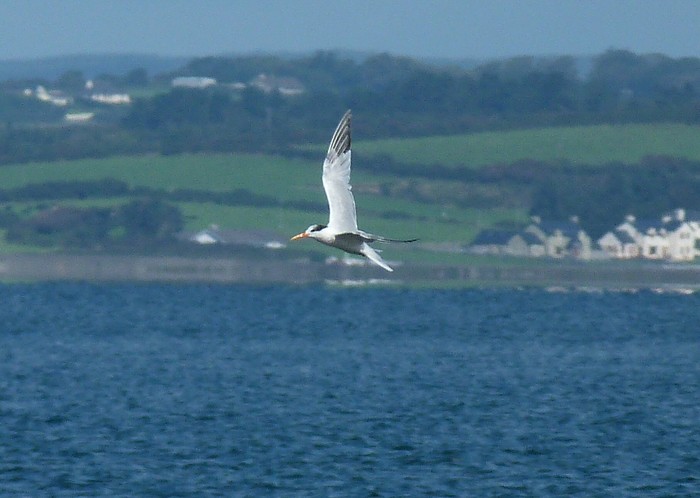 The pro's? It looks like an Elegant Tern, which is as good a foundation as you could wish for! It has arrived on the west coast of Ireland (nice) during a spell of brisk Atlantic storms and weather systems (nice as well) that have deposited flocks of Nearctic shorebirds across not only Ireland, but through much of the west coast of Britain too (a fourth "nice" point). Birds are dispersing away from colonies in the US right now and there is an irresistible draw to the Kerry bird as being the real deal. So that's what this round-up will go with…
The cons? Well, the major fly-in-the-ointment for many is the French hybrid situation. A "DNA'ed" bird present in a Sandwich Tern colony at Noirmoutier, on the French Atlantic coast is reported as being an F1 Sandwich X Elegant hybrid and, given the remarkable in-the-field resemblance to Elegant Tern it is suggested that, at least in a vagrancy context in the Western Palearctic, Elegant Tern is now unsafe to call in the field. With further "pseudo-Elegants" noted in Spain as well in the past decade the road ahead seems rocky to say the least.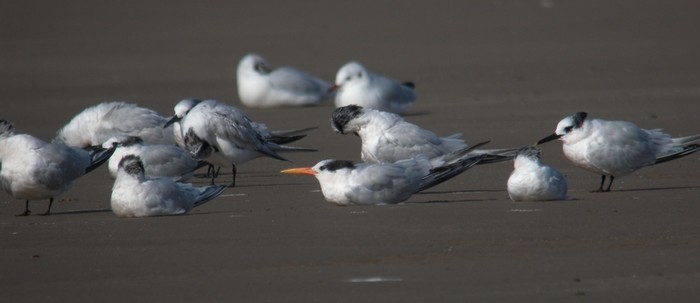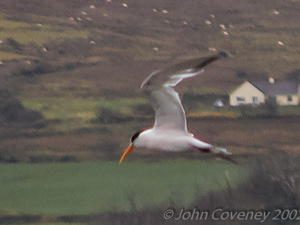 Should the F1 hybrid issue be viewed as a negative though? It at least means that, somehow, there's been "contact" on (presumably) this side of the Atlantic, at some point in the recent past between the two species. A real-deal Elegant Tern has presumably reached the Western Palearctic. That in itself must surely be viewed as a good thing? If one can make it, so can another. And another. And another. Indeed most people feel that all of those British records are all perfectly acceptable Elegant Terns. Anyway. Time to accentuated the positives and all that…
Further negatives, specific to the Kerry bird of 2013 suggested online include a feeling that the bird being too long legged for the mega tern option and the length of the bill (too short?) and crest (too short as well?) are a couple of the other ID grenades lobbed in to the mix. Is it really imperfect though? How forensic does the analysis have to be? Do all Elegant Terns in the US all look identical? It seems unlikely.
The current status of the species here is split with one "on" and one "off" the list…the IRBC admitted Elegant Tern to the Irish List years ago, and there are five birds there that are approved and given the green light.
The first was the famous bird at Greencastle (Co. Down) during the summer of 1982 and it was followed, in July 1999, by a sporadic visitor to the Lady's Island Lake area of County Wexford. A third-calendar year bird was a day visitor to Mayo in October 2001 and the run of records continued the following year with a second-winter in the harbour at Dingle (also in Kerry) from October 18th-30th. Then, in 2005, came the Republic's most recent record ~ on the beach at Gormanstown (Co. Meath) in July of that year.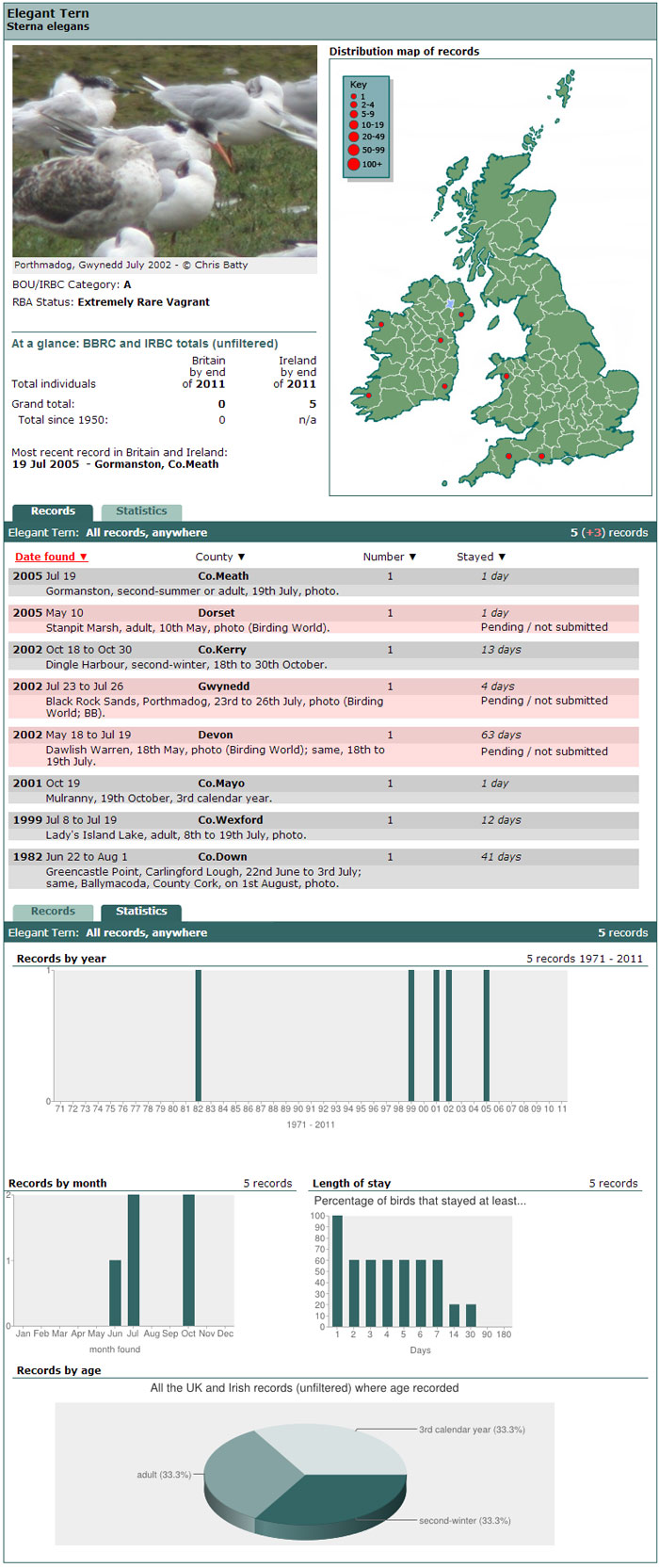 Britain's first Elegant (-type) Tern was found at Dawlish Warren in Devon in May 2002 and reappeared there on three separate July dates (last noted on July 19th). Less than a week later, one was found at Black Rock Sands, near Porthmadog (Gwynedd) were it stayed for four days, while a well documented adult appeared on a busy rare May day in 2005 in Dorset, at Stanpit Marsh.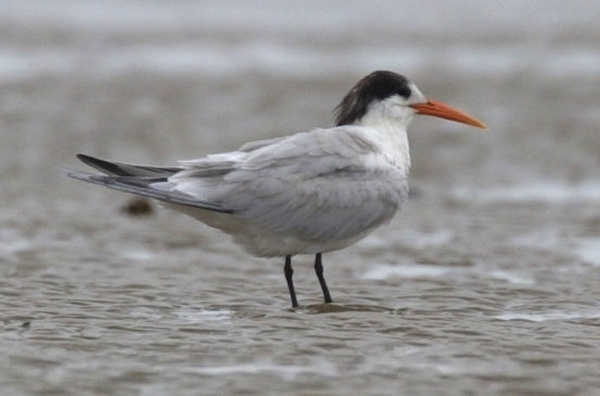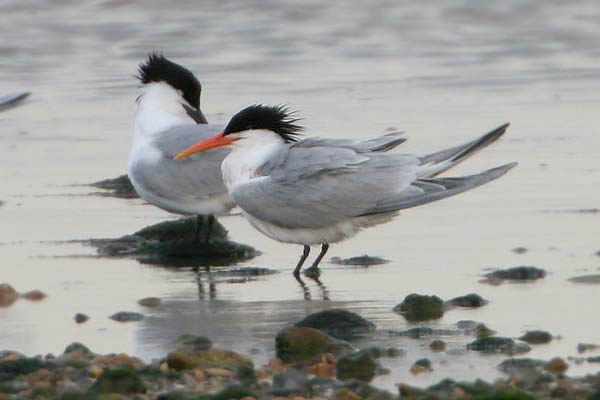 To date, none of these records has been accepted on to the British List. The most recent BBRC "W-i-P" file shows that all three records are bundled up together and are at the BOURC. With the current situation looking increasingly bleak for the acceptance of any of them ~ none have been trapped for DNA work, so absolute certainty as to the parentage is impossible to know ~ so perhaps for once, the conservatism so often displayed by the Big Boys committee may actually be the right way to go. Will they employ the same resolution with the far-from-perfect Slaty-backed Gull? The British and Irish Elegant (-types) arguably have much more going for them….
Whatever the outcome in the years to come (it will rumble on and on and on ~ forum chat will have lots more on the hot-again topic) this second for Kerry must have been a massively exciting bird to pick up and great kudos to finder Davey Farrar for being out there to latch on to it in the first place. The bird remained in the area until 17th.
Barolo Shearwaters and Fea's Petrels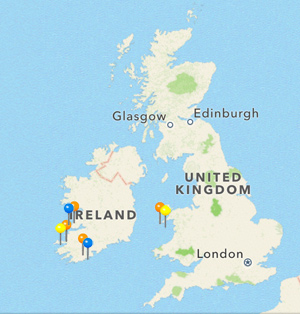 We'll stay in Kerry where those Atlantic weather fronts that surely DID deposit a real-life Elegant Tern from somewhere out of the south (c'mon, it is the classic "looks like a pig, smells like a pig thing" isn't it?) continued to keep Kerry men on their toes with some seawatching goodies too ~ at Deelick Point, out on Brandon Point, a Barolo Shearwater was seen around lunchtime on 15th with an evening Fea's Petrel there later in the evening.
The 15th proved to be a particularly strong one for Fea's Petrel (in a record breaking year for the species) ~ four birds reported during the day (but whether it was four birds involved is impossible to know, though it seems the most likely scenario).
Three of the four were noted in Ireland ~ along with the already mentioned bird off the Kerry coast, further singles were seen from Mizen Head (Co. Cork), potentially the sixth land-based Cork record since July 31st ~ with Galley Head bagging four, including that famous hat-trick on the date above, and Mizen now has two ~ and one was recorded off Bridges of Ross as well. The birders present at Mizen also logged a Wilson's Storm-petrel too… a bird which has been rarer off the Irish coast this summer than Fea's, with a second Wilson's noted off Bridges on 17th.
The fourth Fea's was seen flying past Bardsey Island (Gwynedd) during the early evening of 15th ~ the only previous accepted record for the county was also seen off Bardsey, on September 10th 1994. (This week's same Bardsey seawatch also produced a probable Barolo Shearwater too.)
This is sure to be the best year ever here for Fea's-type Petrels ~ since the first of 2013 was tracked along the coast of Northumberland on July 22nd, there have been up to 22 records from Britain and, predominantly, Ireland. As mentioned just now, there have been up to six in Cork, while up to four (including perhaps two on the same day) have been seen off County Clare's Bridges of Ross, with a fifth at the nearby Fodry in mid August. A couple of "at sea" records have come within Irish waters and this week's Kerry bird takes it to 14.
Northumberland has registered two birds, the second of which was then seen twice off the coast in Highland and up to three individuals have been noted from Porthgwarra while the Scilly pelagic season logged one in August. This weekend's Welsh island record brings us to 22 in all. An amazing year….
Great Snipe
Not usually a species that warrants the old bells and whistles of a Mega Alert, this week's Great Snipe at Spurn was a marked exception to the rule. Unbelievably confiding, almost stupidly so, this incredible bird offered up nigh-on "once-in-a-lifetime" views of a notoriously tricky species to see (or at least see well) here.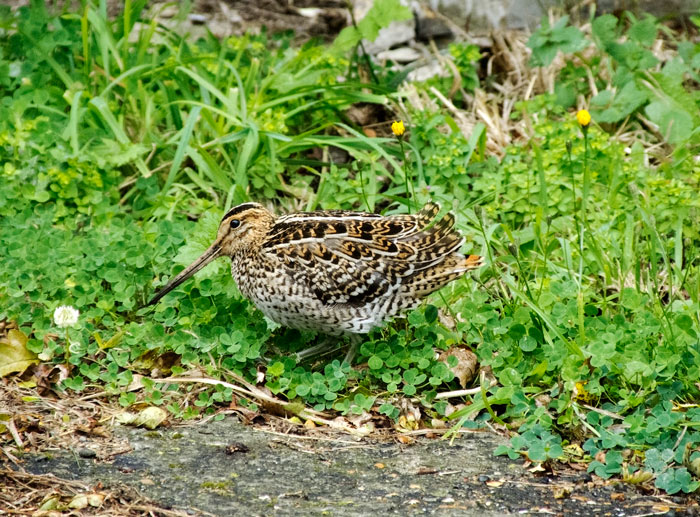 Found during the busy day of 14th, the bird performed in the most amazing way around the Kilnsea area of the peninsula, allowing allsorts of photographic opportunities. Head shots, body shots, full frame shots, subtle artistic shots, bonkers shots featuring the feet of birders (oh, how we do enjoy a close encounter…) this was borderline mind-blowing stuff.
Showy mainland Great Snipes remain a truly rare happening ~ the outrageous displaying spring male at Cley and the bird at Girton in Nottinghamshire in the autumn of 1989 immediately strike a chord in the old memory banks ~ there'll have been more, but those two were widely twitched ~ but this week's incredible Kilnsea bird knocked them in to the ole cocked hat.
The past tense comes in to play as, sadly, the bird was a goner on the morning of 17th ~ thought to have been taken by a predator, either by a cat or a weasel or stoat. There was no real suggestion that the bird was unwell, it appeared to be in immaculate condition, and it seems as though the bird's tameness and trust was the cause of its untimely downfall.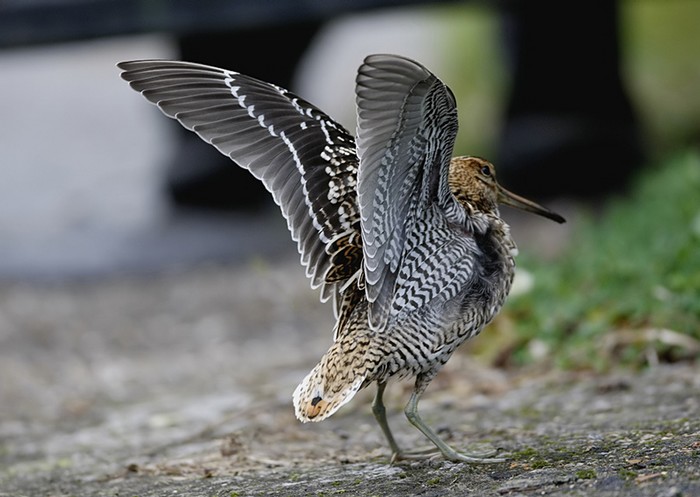 Yorkshire, as a whole, has a total of 33 accepted records but just five of those have come in the last 20 years ~ two were seen in 1993 on consecutive September days around Spurn and Filey) with the third being found at Kilnsea in September 1996, the fourth at Speeton Moor, in September 2008 with the fifth of the past two decades appearing at Spurn in September 2010.
With this week's bird making it six in 20 years, there is a tight grouping for five of the bird's in terms of dates ~ 14th-20th September ~ with that 2010 bird coming earlier (on 4th).
Greater Yellowlegs
Once everyone was tucked up and ready for some serious snoozing on the evening of 11th came a little bit of belated news from Kent, where a moulting adult Greater Yellowlegs had been seen and photographed (at pretty close range) at Coldharbour Lagoons, Reculver on 10th. Unfortunately for the local listers, there was no sign of the bird on 12th, but it becomes another one to add to the impressive, ever-growing, list of Nearctic shorebirds that have made landfall here in the last two or three weeks.
Thanks to several twitchable birds over the last few years (and that long, long stayer in the northeast of both England and Scotland in 2001 to 2012), it doesn't rank as highly as it could (and should) on the "nice birds" charts but there are still only 49 accepted records (excluding any from newly accepted birds in 2012) for Britain and Ireland.
The first record was shot on Tresco in September 1906 and a further seven followed until the formation of the BBRC. Seven birds were recorded during the 1960's, with another seven in the 1970's, including a much-twitched bird on Norfolk's Breydon Water in September 1975.
A wintering bird drew a few people to Blennerville (Co. Kerry) in the early months of 1983 and after a dip on Skye in May 1985, a new generation of listers were thrilled later that year by the on-off bird at Minsmere in July and August. Just five Greater Yellowlegs were recorded in the 80's and after two in 1985, there was a seven year gap to the next one, a one-day bird in Cambridgeshire in May 1992. Since then, several twitchable birds have followed in various parts of the country…
There have been five records (of three individuals) for Kent prior to this recent bird ~ the first for the county was found on the Medway in September 1943, with the second on the same estuary (almost 40 years on, for just a day) in November 1972. A further gap of almost 34 years would follow until the next bird ~ found on Stoke Lagoon on March 22nd 1996, it stayed for 12 days, returning to Allhallows and the North Kent Marshes in January the following year, before what was assumed to the same bird popped up again at Elmley in March 1999.
Pied-billed Grebe
The final headline bird this week is the still-present (there for the winter?) adult Pied-billed Grebe that remained on Sruhillbeg Lough, Achill Island (Co. Mayo) until 14th at least.
The continuing pulse of brisk Northwest winds running down the east coast of England on 11th produced a scattering of just under 50 Long-tailed Skuas from North Yorkshire down to Kent ~ a total of 46 noted in all.
Flamborough Head fared best ~ 15 birds counted there during the day (an adult and 14 baby ones), with eight off Filey (North Yorkshire), two off Long Nab, Burniston, (also in North Yorkshire) and Gibraltar Point (Lincolnshire) along with singles at Donna Nook and Tunstall making a northeast tally of 28. In East Anglia, some 12 birds were reported, with four juveniles for Sheringham (Norfolk) and three adults and a juvenile for Slaughden (Suffolk) the two largest totals for the region, while there were two for Thorpeness (Suffolk) and one each for Winterton and Corton.
Another quartet was noted at Shell Ness, on Sheppey (Kent) with another at Margate, while Essex managed a lone bird off Frinton-on-Sea. The following day, the rather more placid weather yielded singles off Spurn and Portland Bill.
The rough stuff didn't stay away for long though and after one on 13th and nine on 14th (including four off Hartlepool in Cleveland) the 15th saw a further 18 birds recorded ~ almost entirely on the west coasts of Britain and Ireland, although Suffolk scored highest with five, including three birds from Southwold. One Long-tailed Skua made it up through the English Channel, passing Hope's Nose, Torquay with further singles towards the end of the week noted off Strumble Head, Loch Sandary on North Uist and Cley (amongst others) while nine from Kerry's Brandon Point on 17th was certainly of note.

Staying with the family, Pomarine Skuas this week were dotted around across most of the stormy days ~ on 11th a total of 13 were recorded countrywide including one over the WWT Wetlands Centre at Barnes (London) and four off the pier at Cromer (Norfolk) with day counts of a miserly three on 13th and 11 on 14th following. Numbers rose on 15th, 38 birds recorded from 18 counties across Britain and Ireland (spread ~ for instance ~ from Devon, through Kent, Essex and up in to Cumbria) with high counts of five each at Bowness-on-Solway (Cumbria) and Melmore Head (Co. Donegal) with six off Deelick Point, Brandon (Co. Kerry).
The first Great Shearwaters for a fortnight, six in all, flew past Kilcummin Head (Co. Mayo) on 11th and were followed by further Irish records from Mizen Head (Co. Cork) and Cuas, near Brandon Point (Co. Kerry) on 15th (five for the former site, one for the latter) while further singles were logged off North Ronaldsay (Orkney) on 12th and Scilly on 13th.
Hefty gales also shoved a bunch of Balearic Shearwaters along English Channel coasts, particularly through the weekend days. A modest set of figures was posted for 11th-13th ("high" counts of 11 past Portland Bill on 11th and 13 from Prawle Point on 12th) then on 14th, 94 were logged by 10am of Portland with 43 for Hengistbury Head and 29 for Dungeness.
Numbers climbed again on 15th ~ in Cornwall, both Porthgwarra and Rame Head fared well, recording 128 and 112 birds respectively, while in south Devon, off Teignmouth, 60 were counted in just over two mid-afternoon hours and seawatchers at Prawle scored 44. Back in west Cornwall, on the north coast on 16th, 29 were seen from Pendeen while back at Teignmouth 80 were noted and on 17th Prawle watchers logged 53.
Sabine's Gulls remain a "must-see" seawatch bird and the weather of the last seven days has been nigh-on bob-on for throwing a bunch of these exquisite pelagic travellers out across the seas towards us.
The first of the week was a delightful, close-in juvenile off the beach at Cley on 11th and was followed by three more that day ~ two for Flamborough Head (East Yorkshire) and one for Filey (North Yorkshire). A single bird was in Suffolk on 12th (passing Thorpeness and Sizewell) and on 14th Norfolk scored an adult off Sheringham and Cromer while a juvenile was reported from Weybourne. More single young birds were seen in Kent and Northumberland.
On 15th, there was one for Hope's Nose, twos for Strumble Head, Mizen Head and Inishbofin and 12 for Brandon Point. These were followed by, amongst others on 16th, five off Melmore Head in Donegal and four in Broadford Bay, on Skye (with twos in Antrim and the Uists) and on 17th, 11 were seen from Brandon Point ~ the biggest tallies of the week are coming in a mo tho'…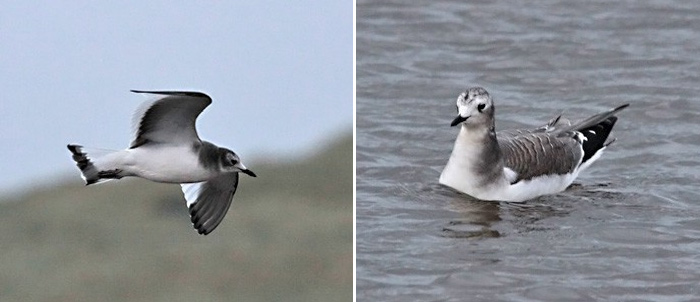 Also caught up in the deepening low pressure were both of the other classic mid-September seawatch species, Grey Phalarope and Leach's Storm-petrel.
After one in Mayo on 11th, Grey Phalarope numbers peaked on the blowy 15th ~ 65 recorded including 16 off Kilcummin Head and four each for Louth's Clogher Head and Galway's Inishbofin. Singles were seen in Cork, Donegal, Argyll, the Outer Hebrides and Pembrokeshire and five were seen at Quilty (Co. Clare) on 17th ~ but the highest counts are coming up….!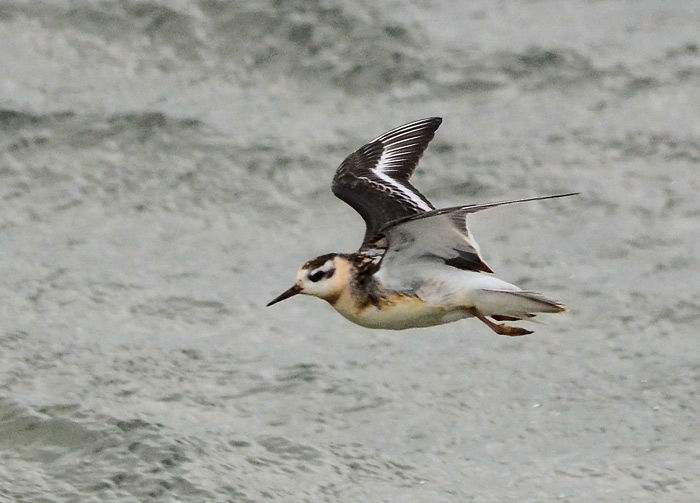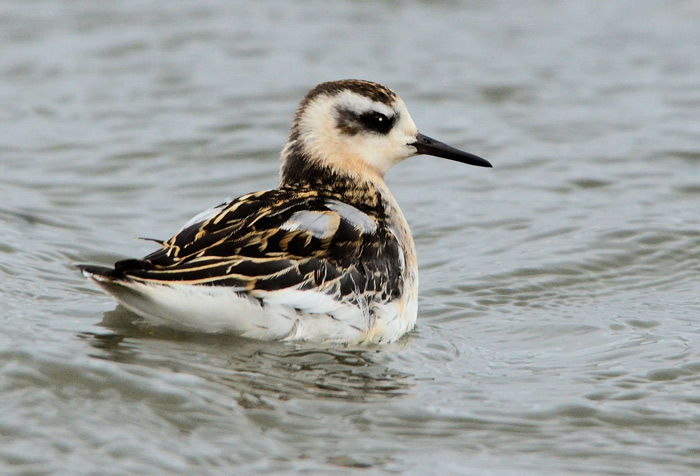 Leach's Storm-petrel peppered the traditional spots in northwest England ~ around the Wirral and up into Lancashire ~ on 16th. No big, big numbers were noted but over 30 were logged by lunchtime with 15 from Hilbre Island the peak count, with numbers rising throughout the day to end, across the northwest, at around the 100 mark, with 26 for Hilbre and 12 for Corsewell Point (Dumfries & Galloway) with one of the most interesting record appearing from Fort William, in the Highlands on the same day.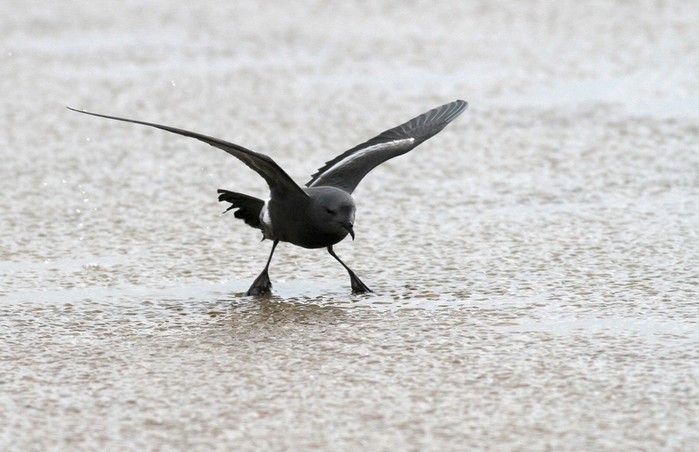 Things stepped up a gear the next morning, at least 109 were counted passing Hilbre Island alone by late morning with 44 for Hoylake, 15 at New Brighton and 11 each for Red Rocks and Formby Point. Photo opps., were many and varied….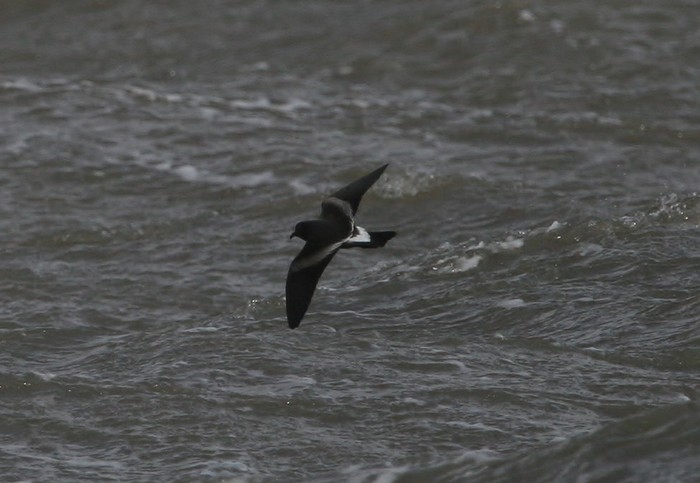 The previous day had seen six off Brandon Point and 19 off Inishbofin while, unsurprisingly it was County Clare's Bridges of Ross that hauled in two of the better seawatches anywhere, this week…
Birders at the famous spot on 15th logged three Long-tailed Skuas, 26 Sabine's Gulls, 36 Grey Phalaropes and 32 Leach's Storm-petrels along with a neat mix of commoner mid-September birds, most notably Sooty Shearwater, at least 490 counted. That figure was small fry though compared to the 1000 off Kilcummin Head, the 1200 off Brandon Point (1000 were also seen at nearby Cuas) and the 2,500 (in only three hours) off Melmore Head in County Donegal.
The following day at Bridges, a further three Long-tailed Skuas were noted, along with five Sabine's Gulls, 22 Grey Phalaropes and 10 Pomarine Skuas but it was further to the north, at Kilcummin Head, where the action was…
At least 39 Long-tailed Skuas were logged (a pretty high count for the time of year) as well as 52 Poms, 16 Leach's Storm-petrels, 13 Grey Phalaropes, six Sabine's Gulls. An impressive 2,300 Sooty Shearwaters and 220 Bonxies were also counted on what seems to have been a cracking day's seawatching in Mayo.
Pelagic good stuff continued to find its way in to Irish waters right up until the end of the week with another great total of birds logged from Bridges of Ross through the day on 17th ~ along with the already mentioned Wilson's Storm-petrel, birders there recorded two more Long-tailed Skuas, 11 Sabine's Gulls, 20 Grey Phalaropes, 15 Leach's Storm-petrels and three Pomarine Skuas.
In Devon, a White Stork appeared in-off the sea at Dawlish Warren NNR before tracking off over Lympstone Camp on 11th and was a rather more appealing prospect in terms of genuine vagrancy than the lone bird seen heading over the outskirts of Norwich, at Thorpe St. Andrew on 12th.
The Glossy Ibis remained at Meare Heath NNR (Somerset) throughout the week while numbers of Great White Egrets in the area fell to a maximum four, also at Meare Heath, on 16th.
New singles were noted at Christchurch Harbour (Dorset) on 14th and near Cudworth (South Yorkshire) on 16th while regulars remained at Minsmere RSPB (Suffolk), three still there throughout the week, Denge Marsh, Dungeness (two there), on the Isle of Wight at Brading Marshes RSPB, again at Hornsea Mere (East Yorkshire) and in Cambridgeshire, at both Fen Drayton RSPB and Wicken Fen NT. The week ended with an old favourite back again at Blashford Lakes HWT on 17th and one again at Frampton-upon-Severn (Gloucestershire).
In Lincolnshire, the Cattle Egret was still at Tetney Lock to 17th while on 12th, a minimum of 28 Spoonbills were recorded from four sites ~ in Norfolk, nine were at Morston and five were at Titchwell (four at Blakeney Harbour may have been some of the Morston birds…), while eight were in Poole Harbour with the most spectacular record coming from West Putney in London, where six Spoonbills flew over, heading south during the afternoon.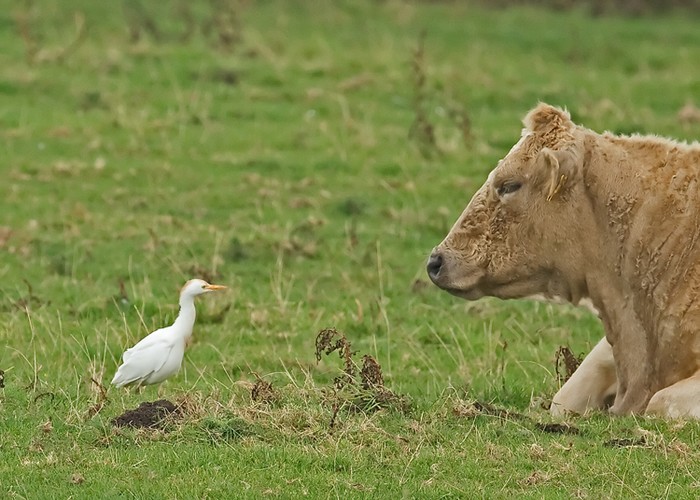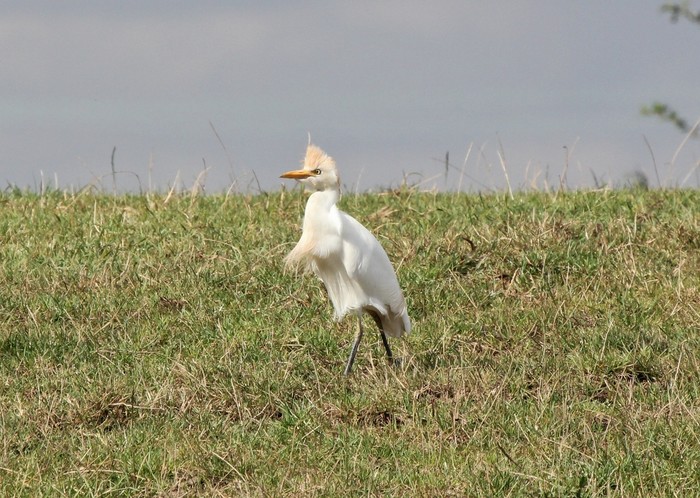 The Poole Harbour flock rose to 10 on 16th (seen at Arne) and Titchwell was up to 11 by the end of the week. At least two birds were around the Lancashire marshes over the weekend and new singles were seen in Kent and Dorset (at Cliffe and Christchurch) and others remained at WWT Wetlands Centre (Carmarthenshire) and Old Moor RSPB (South Yorkshire) to 13th and 15th at least.
The Broadland flock of Common Cranes was 38 birds strong on 15th ~ seen at Waxham ~ while singles were seen at Slimbridge WWT (Gloucestershire) ~ the released birds drawing in a presumed wild bird on 12th ~ still up on Shetland, on Unst on 12th, at Blithfield Reservoir (Staffordshire) from 13th, again on the Rogerstown Estuary (Co. Dublin) on 14th and over Drogheda (Co. Louth) on 16th. Three birds also lingered at Hatfield Moors (South Yorkshire) while the regular bird remained on Unst to 16th. To the south, in Aberdeenshire, a lone bird was heard heading south over Cults on 17th.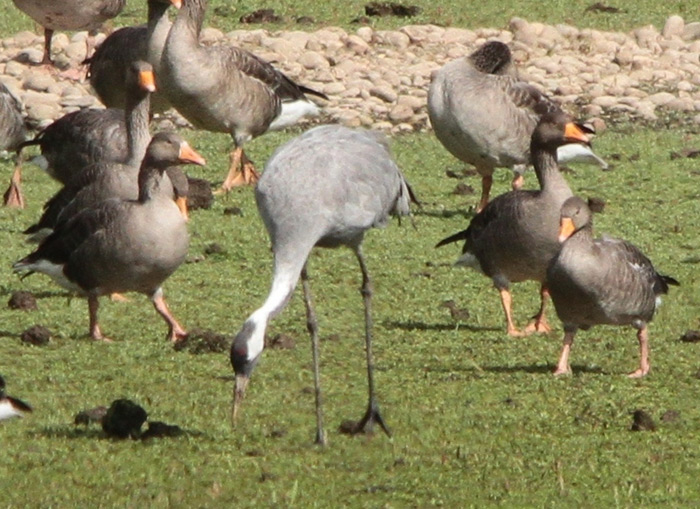 After a couple of pretty strong weeks, Spotted Crakes dropped down to five individuals this week, two of them were new though. The first was found at Oare Marshes (Kent) from 11th-16th with the second fresh bird was found at Bedford's Longholme Lakes on 15th, a bird that remained to 17th. Lingering birds from previous weeks were still at Ynys-hir RSPB (Ceredigion) to 12th, East Chevington NWT (Northumberland) to 13th and Ladywalk NR (Warwickshire) to 15th.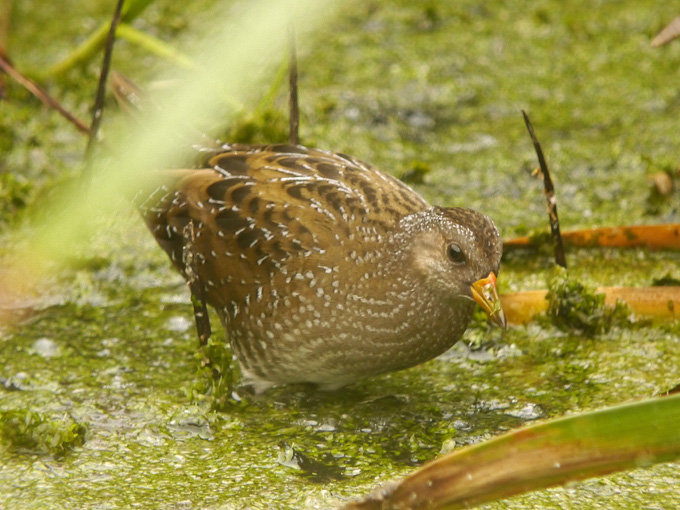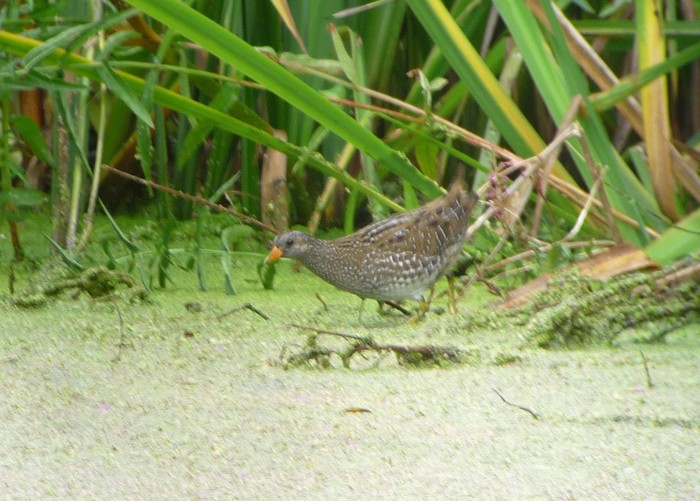 Also seeing a plunge in records after two or three great weeks is Corncrake ~ the week's sole migrant was found on Portland, near Culverwell, on 12th.
The drake Black Duck was still liking his surroundings of Lough Doo on Achill Island (Co. Mayo) ~ present there to 14th at least.
In Greater Manchester, the rapidly changing drake Lesser Scaup spent another week on the water at Pennington Flash CP, present to 17th, while what was presumably a returning Ring-necked Duck was back on Mainland Shetland this week ~ appearing firstly on Loch of Spiggie on 15th before moving to Loch of Clickimin on 16th. The long-staying drake near Barns Ness (Lothian) was present to 14th while on Aberdeenshire's Meikle Loch, another eclipse drake was found on 15th.
In Somerset, the two Ferruginous Ducks (one of each) were on station to 14th while a female on Loch Ree, near Knockcroghery (Co. Roscommon) was, potentially, only the sixth record in the Republic in the last nine years.
Two new Blue-winged Teals were a great find at Boutham Mere (Lincolnshire) on 16th ~ the first record since 1997 and only the sixth and seventh ever for the county. Remarkably the figure rose by one to on 17th ~ the first time there has ever been three on the British mainland. In September 2009, three were seen and photographed at Howmore, South Uist and in September 2010 an amazing five spent several days at Keel, on Achill Island.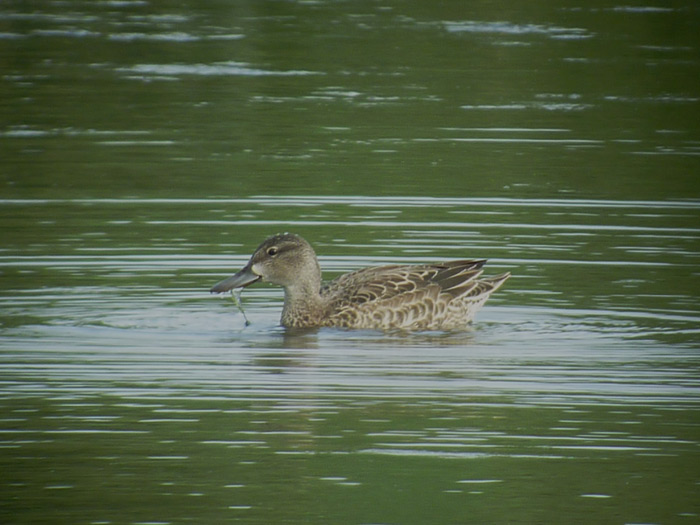 Last week's eclipse drake Blue-winged Teal at Frakenfield Loch (Clyde) was seen to 12th and then again on 16th.
Not much is known about the precise origins of the white Snow Goose at Carrahane (Co. Kerry) on 16th but seeing as how the same county is currently home to an American mega, there's no reason to view the lovely white and black honker as anything other than the real deal.
Semipalmated Sandpipers are a bit of a favourite over here in Shorebird Corner and this week saw the impressive autumn 2013 total edge up by a further three birds ~ all in Ireland. First was an adult at Beale Strand in Kerry on 11th where a second bird was found on 13th (nice little bonus on top of the carroty-beaked Sterna…) while what was presumably a new juvenile joined a long-stayer baby at Tacumshin, also on 13th.
The popular juvenile Semi-P was at Dungeness until 13th (although it was reported again on 16th) with a single bird a little more further a field for most remained at Clachan, on Tiree (Argyll) to 11th.
We're up to 23 and counting...that 2011 tally seems tougher to get towards after a quiet week this week, but there's plenty fo time to go yet....
A beautiful first-winter Wilson's Phalarope was a lovely find on Cley Marshes NWT from 16th ~ the sixth record for this famous reserve and the 13th for Norfolk as a whole.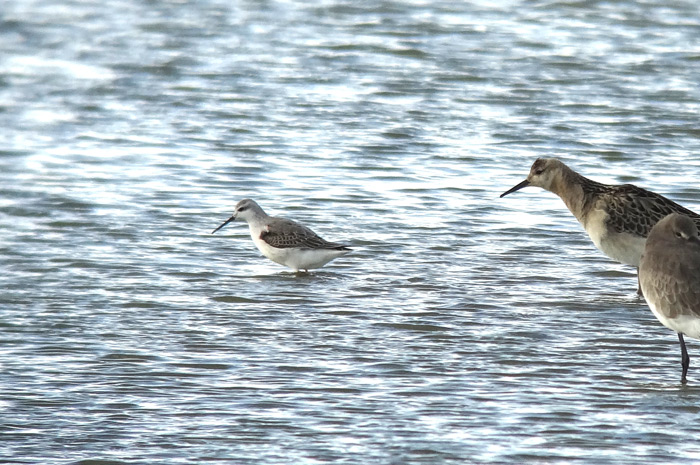 Cley's most recent record was another first-winter, in October 2008, with adult females found in the May's of 1979 and 1985 (the latter departing just ahead of the awesome pair of Slender-billed Gulls of course) with a further adult female in August 1985. The first for the reserve was found in October 1973.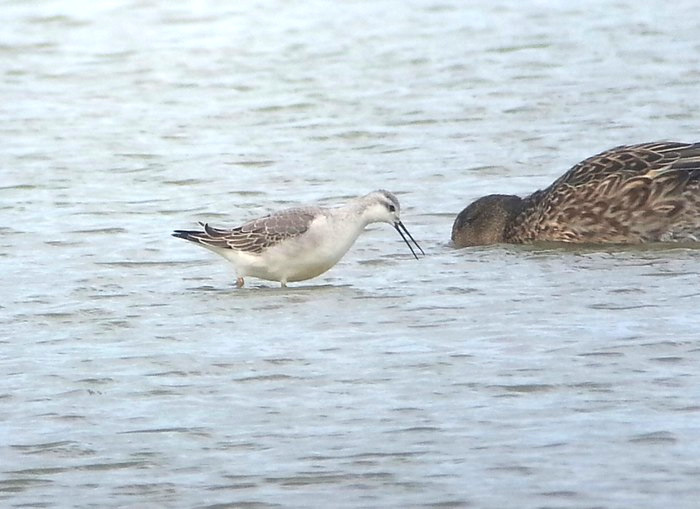 The second Wilson's Phalarope this week reappeared at Lough Beg (Co. Derry) on 15th after almost seven days without a report. Not too far away in the Derry countryside, at Myroe Levels, an eye-popping five (FIVE!!!) adult American Golden Plovers were found on 14th, making up an excellent total of 19 birds (minimum) for the week as a whole.
On 11th, the adult was still at Sennen Cove (Cornwall), while on Tiree, at least three birds remained around the island ~ an adult and a juvenile at Barrapol, with a juvenile at Ruaig (and then an adult was seen at Vaul on 16th). An adult was also at Tacumshin on the first day of the week.
The latter two sites hosted new adults on 12th and the third new bird of the day was found by the North Light, on Fair Isle. What could have been another Wexford newbie, another adult, was at Lady's Island Lake on 13th and a further new bird, this time a juvenile, became Tacumshin's third of the week on 14th with an adult in Mayo, at Corraguan Lough, the same day.
Three more new American Golden Plovers were found on 15th ~ in Highland at Portnaluchaig and in Ireland at Kilkee (Co. Clare) and in-off at The Hermitage (Co. Louth).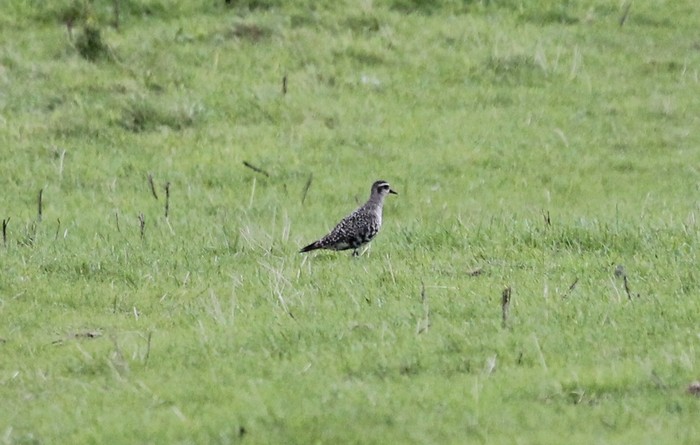 The Lesser Yellowlegs that was a new arrival in Devon last week remained around the edge of the Exe Estuary for much of this week too ~ present around Exeter and Countess Wear to 17th.The long-stayer at National Wetlands Centre WWT (Carmarthenshire) remained to 13th.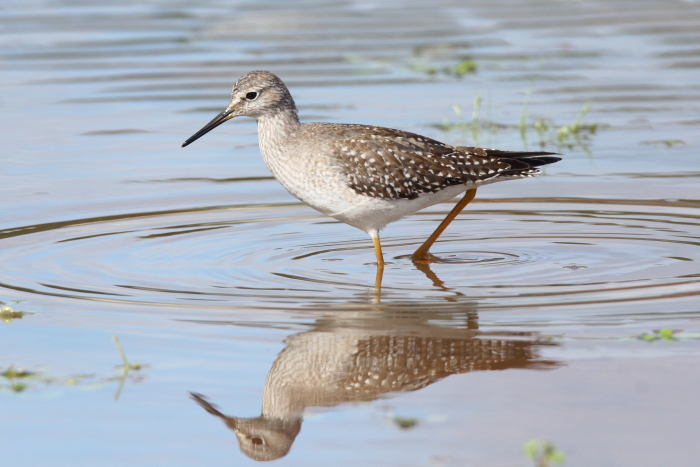 Shetland collected their first Lesser Yellowlegs for eight years ~ one found at the Pool of Virkie, Mainland on 16th is only the second there in the 2000's ~ the only other record was on Out Skerries in late September 2005. The second new arrival of the week was found at West Canvey Island (Essex) on 17th ~ the 12th for the county and the sixth since the start of the 2000's.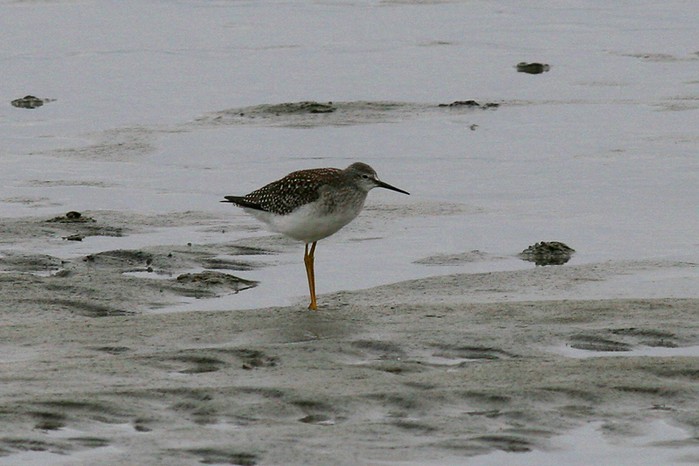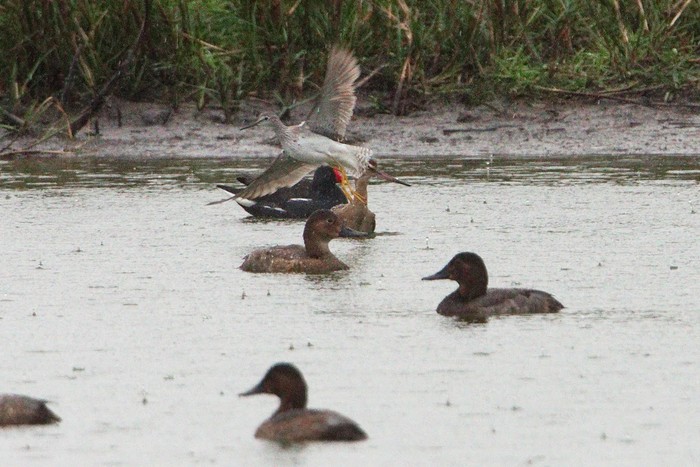 The two juvenile Baird's Sandpipers remained at Stoneybridge, South Uist (Outer Hebrides) to 14th and new birds (adding to the seven last week) arrived at Dublin's Rogerstown Estuary on 13th (with it or another on Swords Estuary the following day) and on the beach at Killala, in Mayo on 15th.
Perhaps a little surprising was the lack of new White-rumped Sandpipers ~ the only bird this week was a leftover from previous days at Davidstow Airfield (Cornwall) on 11th-13th, moving to nearby Crowdy Reservoir on 14th.
Also coming as a little bit of a surprise was the relative lack of Buff-breasted Sandpipers ~ after 16 new birds last week, there were 14 in all over the past seven days (but they did include several fresh arrivals).
On the Outer Hebrides, singles on Harris (at Scarista) and at the Butt of Lewis on 12th and 15th were presumably fresh in, as were birds in southwest England at Davidstow Airfield and Dawlish Warren (both on 14th). New on Tiree on 17th was one at Loch a'Phuill, while two were seen at West Burra (Shetland) on the same date.
New in Ireland were two Buff-breasts at Derry's Myroe Levels and on Achill Island (Co. Mayo) on 14th and also along the long beach at Inch Strand (Co. Kerry) on 12th. A juvenile remained at Tacumshin from 11th-14th and further lingering singles were on St. Mary's Airfield (Scilly) and the Ribble Estuary (Lancashire).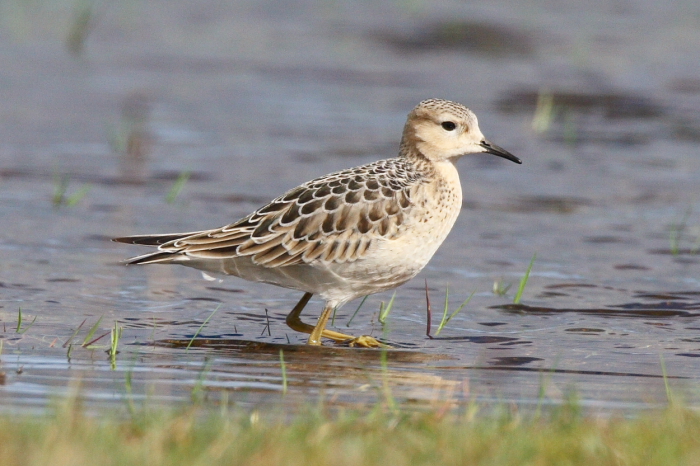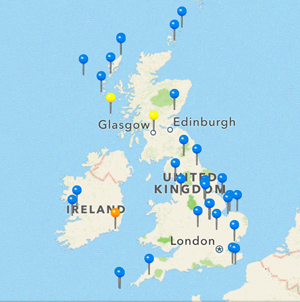 Some 32 Pectoral Sandpipers were logged this week, with three each for Titchwell RSPB (on 13th) and Tacumshin (from 11th) while two were noted at Leighton Moss RSPB (Lancashire) on 14th. Seven birds in Scotland included twos on South Uist on 13th and North Ronaldsay on 15th, five in the northeast (with one or two in South Yorkshire), half a dozen in East Anglia (five of them in Norfolk), three in the southeast, three in the southwest and four in total in Ireland. Of particular note, the inland bird at Rutland Water (Leicestershire) from 11th, the first in the county for three years and also the bird at Rumworth Lodge Reservoir (Greater Manchester) from 13th-17th.
In Fife, the week's only Temminck's Stint remained on Letham Pools to 14th while Dotterels were, again, thin on the ground. One was at Frampton Marsh RSPB (Lincolnshire) on 13th with another at Davidstow on the same date. The wader fields of Derry's Myroe Levels yielded the one present amongst the American Goldies and Buff-breasts on 14th with the final one of the week arriving on Esha Ness, Mainland Shetland on 16th.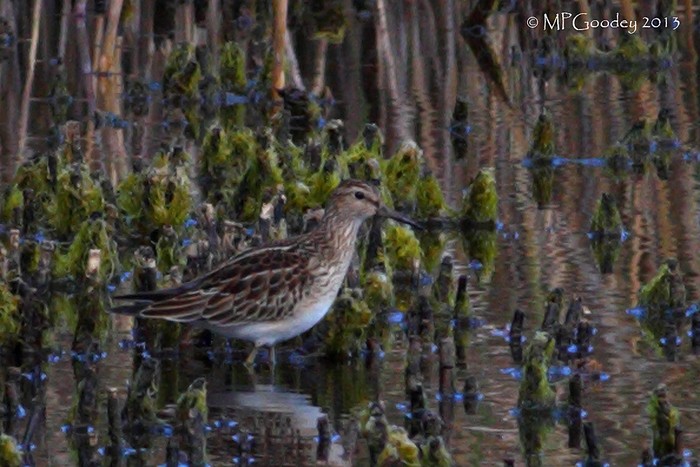 After a blank week or two, there were four Bonaparte's Gulls on the go this week, though three were all birds back in old haunts….
An adult winter was back around Durham's Whitburn on 14th (having last been seen in the area on August 13th) while the adult in Lancashire was again at Heysham from 16th (that one had been absent for a fortnight or so). In Devon, at Teignmouth, an adult was found on 16th as well and it seems highly likely that it is the bird seen there and around the Exe Estuary sporadically throughout much of last winter and again in May of this year.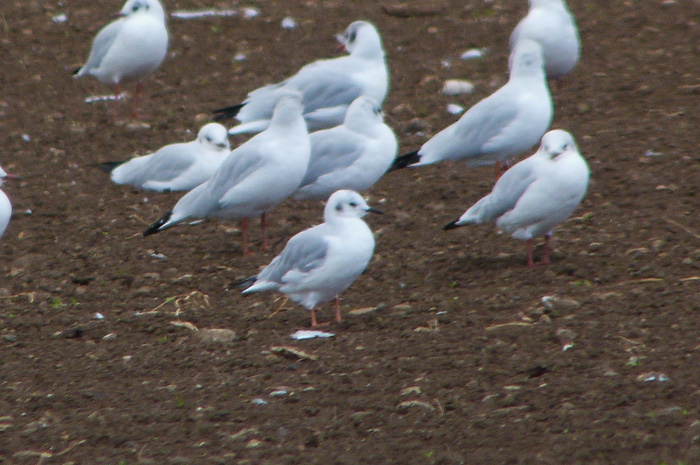 A first-winter Bonaparte's Gull was reported flying through Porthcressa Bay on 15th ~ if submitted and accepted, it will become only the fourth for the islands, the only records to date coming in 1990, 2006 and 2009.
In North Yorkshire, an adult Ring-billed Gull was at Nosterfield NR briefly on 12th and again on 17th, with the only other records this week coming from Myroe Levels in Derry, on the remarkable 14th for the site and Quilty (Co. Clare), where a second-winter was found on 17th. Three single Iceland Gulls were seen during the week, two of them in Ireland. An adult was at Cooley Point (Co. Louth) on 12th and another was reported from Greystones (Co. Wicklow) on 15th while on Orkney, one was noted on Sanday on 17th. The same date also saw a juvenile Glaucous Gull fly north past Ardvule Point on South Uist.
A juvenile White-winged Black Tern was a brief flyby past Cley's salubrious Beach Hotel on the morning of 14th with another youngster showing on 15th-16th at Swineham GPs (Dorset).
Black Kite isn't a species that normally makes it out to the far reaches of the Outer Hebrides, so the discovery of one drifting across the small island of Eriksay, to the south of South Uist on 11th was something of a red-letter day. Prior to the species' removal from the Rarities List in 2005, only two birds had ever been recorded on the Hebrides, on North Rona in June 1976 and on Lewis in May 2002. Since then, up until this week's photographed bird, there has been just one further report, from South Uist, in June 2005.
Two of the week's three Montagu's Harriers were reported from Kent on 11th, both of them juveniles. The first was seen at Chislet Marshes and the second drifted over Swalecliffe. The third of the week, a male, was noted at North Newbald (North Yorkshire) on 13th.
Honey Buzzard records totalled eight ~ with two for Kent on 14th (at Oare Marshes and Bockhill Farm) with further singles around the southeast noted over Hampton Court (London) and Two Tree Island (Essex) ~ known to the old school mob as the site of the 1984 Cream-coloured Courser. Further individuals were seen in Devon, the West Midlands, Lincolnshire and Angus.
Some late news from last week from Hirta, on St. Kilda, where the male Snowy Owl was noted again on 10th.
Suffolk's ninth record of Lesser Grey Shrike leads the way for all things Passerine this week ~ always a treat to find and see, the first-winter discovered between Leiston and Sizewell on 15th was one of the birds of the weekend.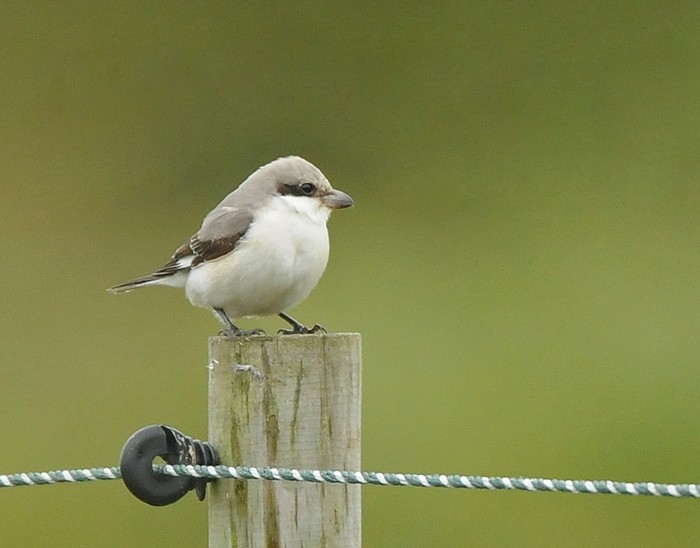 There have been three other records of the species in Suffolk during the 2000's ~ two in the summer of 2006 with the third (another September first-winter) arriving at Trimley Marshes on 14th of the month in 2009. The only record in the 1990's was a one-day male at Walberswick in May 1996 and an adult at Lound in September 1989 was the only record for that decade. Suffolk's first three Lesser Grey Shrikes were found during the 70's ~ in June '77 and June '73 with number one coming in May 1970.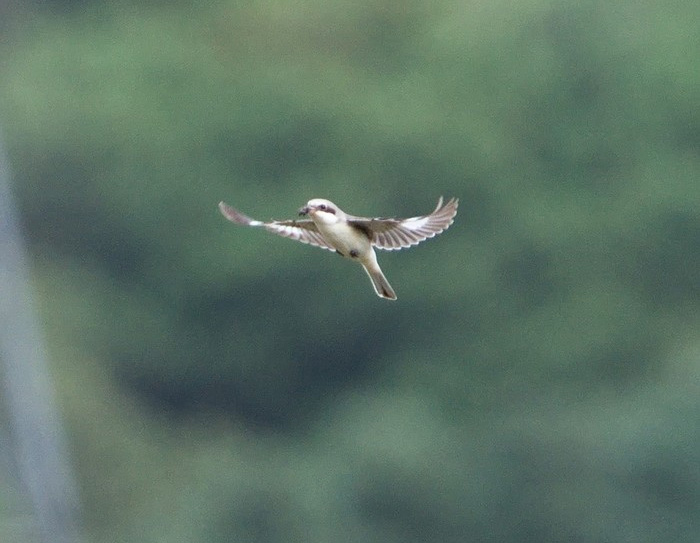 This week's bird is only the second of 2013 ~ following on from the bird on Holy Island in the spring ~ and remained to 17th.
A big surprise, in more ways than one, was the mist-net discovery of an adult male Great Reed Warbler on the MoD range on Salisbury Plain, near Deptford (Wiltshire) on the morning of 13th. This will become the first record for the county.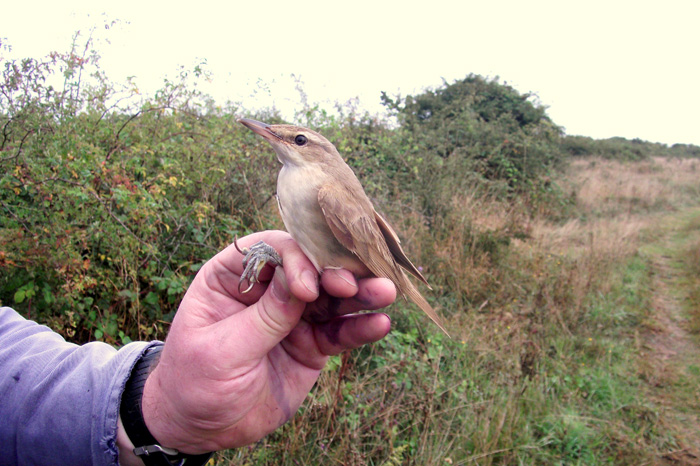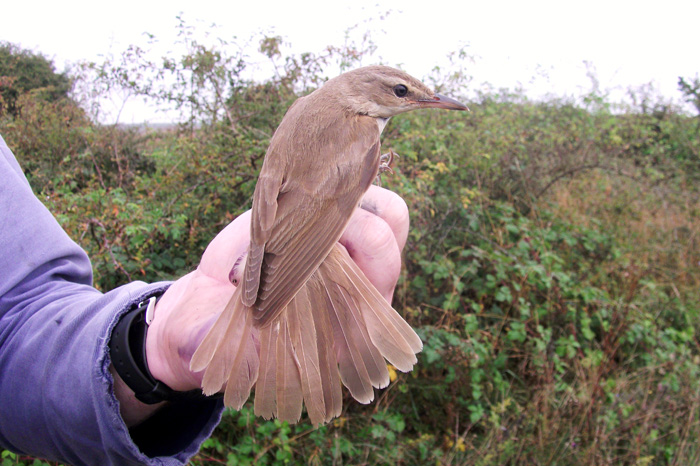 Shetland wracked up a couple more Arctic Warblers this week ~ one was on Unst at Baltasound on 11th and Fair Isle clocked up a fourth within a handful of days on 13th. One more appeared ~ going over the top to drop in to Dursey Island (Co. Cork), also on 13th. The seventh county record, it follows on from singles in 2010 and 2009 with a gap to 1985 for the next one before that. To date Cape Clear has scored four of the accepted six. A Greenish Warbler was a brief visitor to Great Orme (Conwy) on 14th ~ potentially only the second for the county after one was found on the same bit of land in August last year.
Heading back to Shetland where the only Western Bonelli's Warbler recorded this week was the lingering bird at Virkie (still present to 13th) and the male Western Subalpine Warbler remained on Fair Isle to 16th at least. Shetland also hosted three of the week's six reported Yellow-browed Warblers ~ the first was seen on Unst on 11th with singles following on Foula and Fair Isle on 17th, when one was also seen on North Ronaldsay (Orkney). On the mainland, one was noted in Wells Woods (Norfolk) on 11th, one of the earliest ~ tho' not the earliest county record ever, that was September 10th of both 2004 and 2005 it seems ~ and one was found at Deal (Kent) on 15th.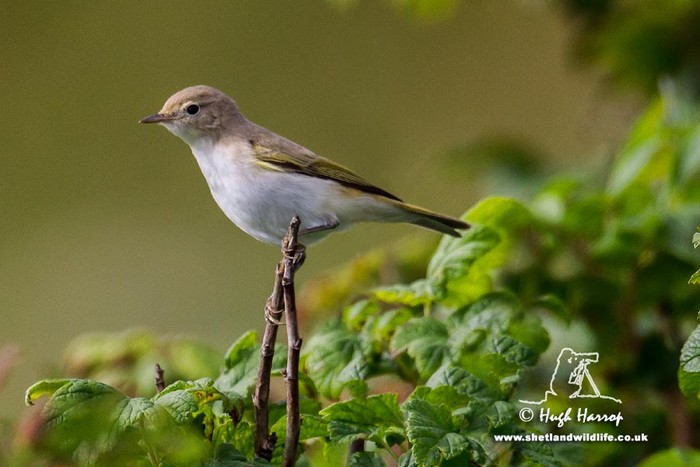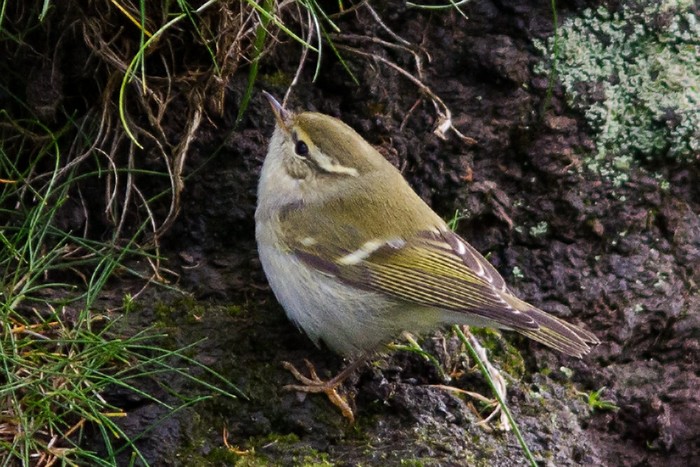 We'll come back to other warblers later, but we'll move on to Citrine Wagtail next ~ another new one (the 23rd of the autumn so far) came to light on 11th, but related to a bird on St. Kilda on 9th which had been around since 5th (keeping up with all this?). This could be the eighth for the Outer Hebrides and the fourth for St. Kilda (first-winters were found there in September 1992, October 1995 and September 2009). The only other one this week was the first-winter at Marazion Marsh RSPB, present to 16th.
A Bluethroat was found on North Ronaldsay on 17th and, earlier in the week, a male was found at Sullom Voe, Mainland Shetland on 14th. The same date produced a Tawny Pipit near Rodden (Dorset) on 14th amongst a fall of some 30 Blue-headed Wagtails, 30 White Wagtails and 200 Yellow Wagtails. Further along the south coast on 15th, at Dungeness, came the only Ortolan Bunting, seen at the Dengemarsh Gully.
Back to warblers for a while now and up to Shetland which hosted both of the week's Marsh Warblers, on Unst on 11th and Fair Isle on 13th, while two of the week's three Barred Warblers were in East Yorkshire's domain on 14th ~ at Kilnsea and Flamborough ~ with the other appearing on the Isle of May (Fife) on 16th.
The Isles of Scilly was the place to head for on the off-chance of locating an Icterine Warbler ~ one was found around the campsite on the Garrison on 11th and was followed by one on Bryher the next day. On 14th, singles were found at Rocky Hill on St. Mary's and near the Hell Bay Hotel, again on Bryher, with 16th seeing one located at Morning Point, at the far end of the Garrison.
The only other Ickys this week were found on the Verne, Portland on 11th and Brownsman Island, Farnes on 12th where the only Red-breasted Flycatcher was noted, also on 12th.
As with several other "fall" species, numbers of Wrynecks dropped away again this week ~ 23 recorded across the country, with at least nine in the southwest including four or more on Scilly and three for Cornwall and two for Dorset. The Pembrokeshire islands of Skokholm, Skomer and Ramsey all hosted a single bird each at the start of the week (another Welsh one was in Glamorgan, near Ogmore on 13th-14th) and two birds were in Hampshire. Also of note, a Wryneck at the Ouse Washes RSPB (Cambridgeshire) on 16th which, along with one reported in a garden in late August, could be the first records for almost three years.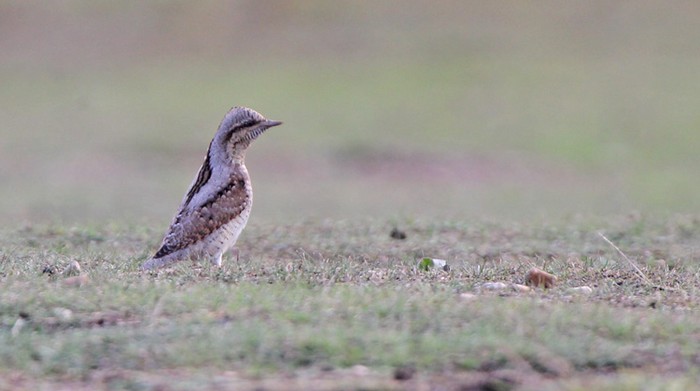 Fair Isle held three of the week's 11 Red-backed Shrikes, after two were seen on 11th-12th, a third was found on 13th. Two were noted in Essex, still at West Canvey to 16th with another at Walton-on-the-Naze from 12th-15th and two more were found between Easington and Kilnsea over 12th-13th. More new arrivals were found on St. Agnes (Scilly) and Walsey Hills NOA (Norfolk) on 14th and Thorpeness (Suffolk) on 15th while on Mull, one remained from last week near Dervaig to 13th. Further out to the northwest, on Lewis, a Red-backed Shrike was found in gardens at Brue on 17th when another was discovered on Sanday (Orkney).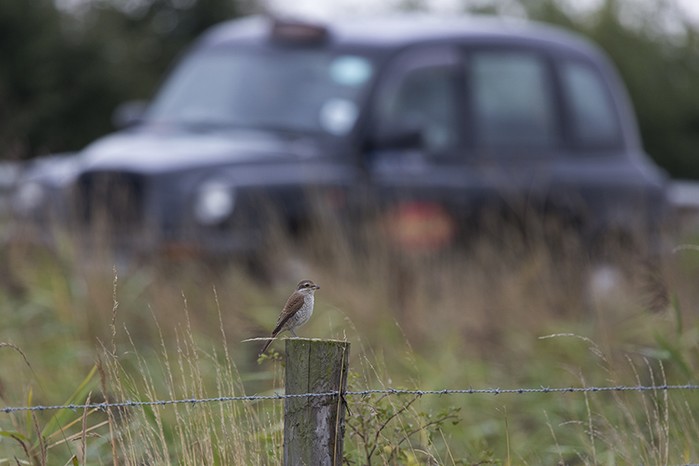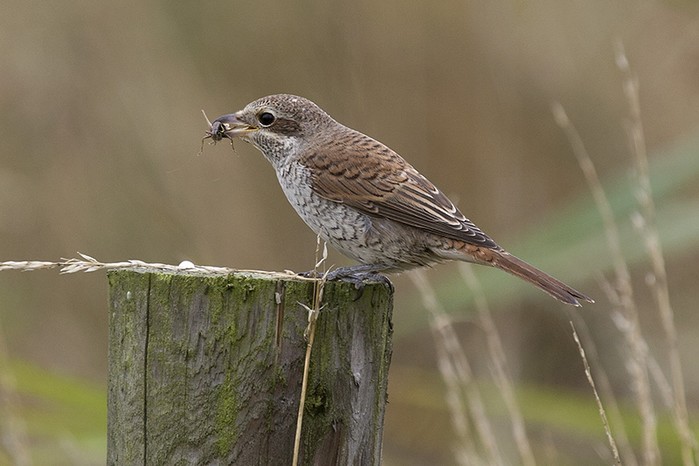 Common Rosefinches remained the almost-exclusive property of Shetland through the last few days and, just as was the case with the last species, it was Fair Isle that was dominant ~ five birds seen on the island on 13th. Elsewhere on Shetland, two birds remained on Out Skerries at the start of the week and two were noted at Baltasound and Valyie, both on Unst, on 11th and 12th, while a single Rosefinch was found on Foula on the latter date. Away from Shetland, the only other individuals recorded were on North Ronaldsay on 12th-16th and on Mizen Head (Co. Cork) on 15th.
A Red-rumped Swallow was seen over the track at Middlebere, Poole Harbour (Dorset) on 14th while in neighbouring Somerset, a Hoopoe was reported from Greylake on 16th. On St. Agnes, last week's juvenile Rose-coloured Starling was still around the island to 14th while in west Wales, near Pembroke Dock one was again reported from local gardens around the start of the week. Another juvenile appeared at Caister-on-Sea (Norfolk) on 14th and was still there to the end of the review period (had it just drifted around the coast from Horsey?) while at Hornsea (East Yorkshire) a new juvenile was found on 15th.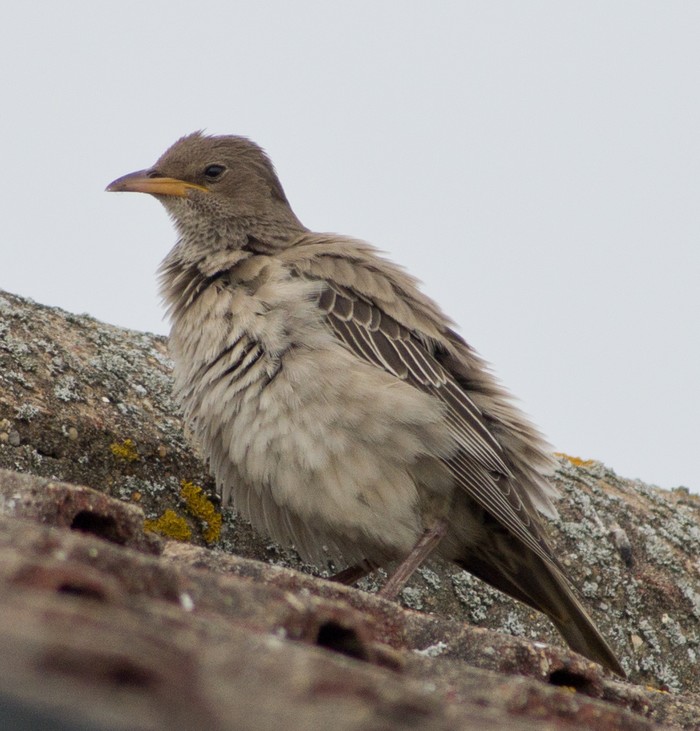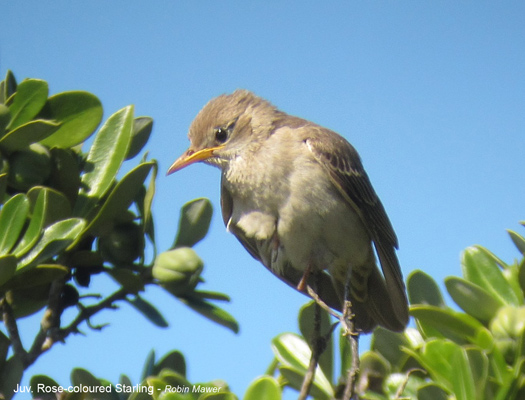 The week began with five Two-barred Crossbills still in residence at South Yorkshire's Broomhead Reservoir ~ with one each of adult male and female, an immature male and two juveniles ~ and then on 13th the flock had risen by one to six and consisted of two adult males, an immature male and three females. The following day, six were seen again, but this time it was two males, three females and a juvenile which all shakes down to roughly eight birds still being present in the area.
In Norfolk, at Lynford Arboretum, a new wave of Two-barred Crossbills sightings began on 13th with a juvenile noted in the larches by the Visitor Hut. An adult (no sex mentioned) was present on 14th and on 15th an adult female was recorded on site. Three birds, including an adult male, were found on 16th and on 17th, two males and a female were present.
Amongst all this news from Yorkshire and Norfolk, another single TBXB sneaked in almost unnoticed ~ a juvenile seen briefly at Grindon Lough (Northumberland) on 14th could become only the fifth record for the county and the first since a July male was on the Farnes in the summer of 2001.
The weather in the next few days appears to be relatively settled but entirely loaded with a westerly vibe. Which suggests that the shorebirds will keep coming and maybe another wood-warbler will join the party. It does feel, again, as though anywhere from the Foula to St. Agnes (and all westerly spots in between!) may become the focus of attention in the week ahead. Equally, as is often the way at this time of year, some eastern superstar could easily loop over the top to cause a surprise.
A mainland repeat of the male Cretzschmar's Bunting of September 19th 2008 would go down well with 100's, while just as many would welcome a follow-up to our only record of Yellow-throated Vireo found in Kendijack on September 20th 1990 and, now, long overdue for a second coming (though not too soon eh? Some of us of old boys need something to cling on too…).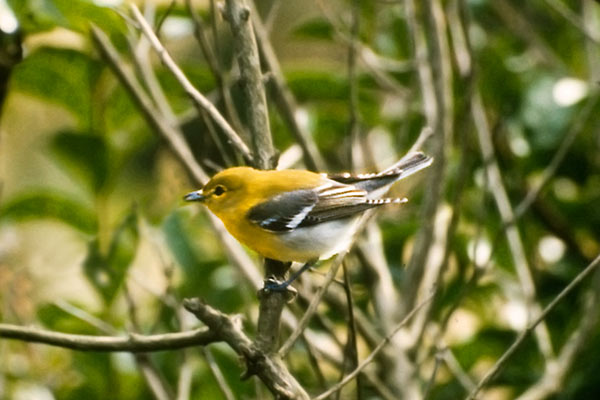 Indeed, September 20th is something of a monster date for BIG American passerine rares…not only does it boast that stunning Yellow-throated Vireo, but there's also two more firsts for the same date ~ the Scilly Hooded Warbler from 1970 and the Fetlar Chestnut-sided Warbler too. Throw in the last record of Tennessee Warbler over on St. Kilda in 1995 and it suddenly becomes a date for the superstitious rare-finder to pop a great big red ring around…
The rest of the dates in the week to come are littered with superb seabirds, shorebirds and passerines too ~ and it will be west vs., east throughout ~ Veery and Taiga Flycatcher have both been found on Shetland on different (recent) September 22nd's for example.
But rather than look back, maybe look forward to the new firsts ~ Cerulean Warbler, a different Empidonax or maybe a Least Bittern would all be most welcome….
Let's see what springs up in the days ahead....
Mark Golley
18 September 2013

Special thanks this week to Garry Taylor, Ian Smith and Spurn Bird Observatory, Trevor Williams, Martin Garner and Birding Frontiers, John Coveney/ Many thanks also to the rest of this week's contributors for their photos and videos.
Davey Farrar, Stuart Piner, John Coveney, Chris Batty, M C Richardson, Kit Day, Dave Hutton, Steve Evans, Nigel Jarman, Derek Charles, Eddie Maguire, Zac Hinchliffe, David Carr, David Aitken, Patrick Perry, Murray Wright, Martin Palmer, Steve Blain, Dean Nicholson, Paul Kelly, Trevor Williams, Will Soar, Robert Smith, Paul Kelly, Andy Williams, Andrew Jordan, Gary Bell, Paul Rowe, Steve Duffield, James Packer, Martin Goodey, Derek Charlton, John Kemp, Jon Evans, Scott Mayson, Phil Deacon, Brydon Thomason, Hugh Harrop, Dave Curtis, Sean Nixon, Andrew Brown, David Rounce, Robin Mawer, Alan Tate.