Weekly round-up: 24 - 30 July 2013
The week at a glance
Back of the net! Fair Isle scores with the Swinhoe's Storm-petrel
Ireland's first Sand Plover found in County Cork, and it's a Mongolian…
The Bridled Tern goes a-wanderin' again, crossing the border in to Fife this time…
A handful of Two-barred Crossbills hang on in Norfolk and Shetland lands double figures…
..while Norfolk's presumed dark phase Booted Eagle noted again
The heatwave took a mini-break as a wave of hefty showers and thunderstorms weaved their way across many parts of the UK on some intense weather fronts ~ fronts that drifted across the English Channel and away to the north, off and on, throughout the week.
Winds took a turn to the south or southwest, allowing the first tiny pulse of seabirds to push through the Western Approaches and although the searing heat of last week was gone, temperatures remained (generally) in the low 20's and the humidity remained too (tho' again, not as stifling as the previous seven days had been).
The bird news was again full of interest and intrigue ~ plenty to see countrywide if you wanted ~ and there were two or three Mega Alerts to keep the tempo high too.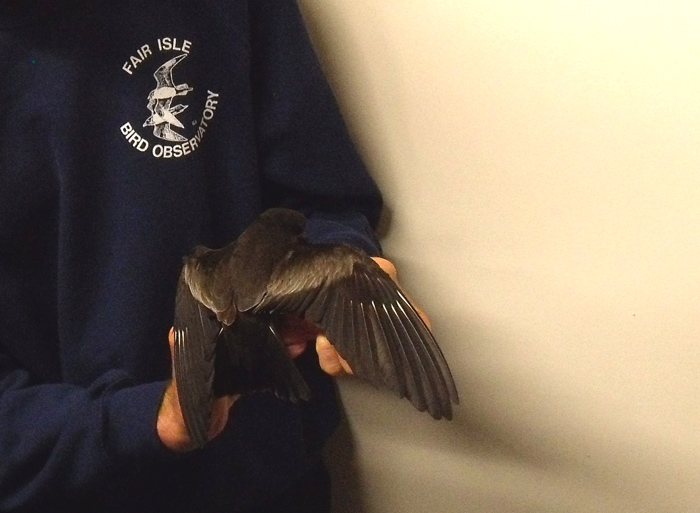 Swinhoe's Storm-petrel
Another lively week stuffed full of exciting birds as the early, early autumn stepped up another gear as August beckoned.
Leading the way not one, but two significant "Second Comings" (which were certainly all the more memorable than the Stone Roses effort of the same name to be sure…).
Anyway, Here's the tale of the tape…
After each review is done and dusted and then goes live, there's always a little bit of respite. "Always allow a day or two to pass before contemplating the next bundle of words and pictures" is the long-winded mantra. A couple of days pass by and then comes the thought of the next week's review…
There's a wodge of "cut & paste" action first and then everything gets cut back to the bare bones of species and where they were. A little template to work from. The "headline birds" are swiftly removed unless there's half a chance that they'll hang on. Some do, some don't. Some are obvious, some aren't.
The outstanding bird from last week, for many reasons, was Fair Isle's calling Swinhoe's Storm-petrel, heard overnight on 21st-22nd. Normally, with no subsequent reports from the petrel ringing sessions there, I'd chop it. But, as was detailed here last week, these things have history in reappearing several days later. "Leave it in, see what happens"…
…and happen it did, as a bleary-eyed, early morning viewing of the pager on 27th revealed that the bird was indeed still adjacent to the island and, this time around, the petrel ringing team had gone one better. They'd bagged the big one!
As was mentioned last week, the Tynemouth petrel famously appeared on three occasions in the nets in the northeast between July 21st-29th 1993, so the re-appearance of the Fair Isle bird wasn't perhaps as unexpected as it may have seemed at first.
Fair Isle Bird Observatory warden David Parnaby has had a curious week where this particular bird has been concerned ~ and he's kindly allowed us to take a peek at a couple of his blog posts which capture, perfectly, some of the trials and tribulations of birding….
MONDAY 22nd JULY ~ Petrel Prizes
The summer means many things to many people; here at FIBO our thoughts don't turn to barbeques, beaches or cricket but to Storm Petrels (amongst other things admittedly). Saturday night provided our best catch of the season so far, with around 25 Storm Petrels and 2 Leach's Petrels trapped, so Sunday night was keenly anticipated.
Sure enough, things ticked along nicely, with around 40 Stormies trapped and, impressively, another two Leach's Petrels (we'd normally only expect four or five or so of these larger Petrels during the summer, so we've certainly started well this year).
Things were getting a bit quieter by around 2.40am, until Will wandered out of the ringing hut with Billy (our current JHMF volunteer) and started yelling 'THERE'S A SWINHOE'S CALLING!' Noa and I ran to the far end of the net where Will was and, sure enough, chattering away just offshore was the distinctive call of Swinhoe's Petrel (prior to that, the speakers had been between the bird and us, pumping out the calls of various petrel species).
At this stage, Richard had seen the gathering (but not heard the shouts as he'd been too close to the other speakers!) and started heading towards us from the other net when he also recognised the call as Swinhoe's. Although the call was heard several times, apparently from the same place (possibly on a small shelf of exposed, flat rocks a few metres offshore from the net site on South Haven), the bird was not seen. At one point, it was answering back directly to the call of Swinhoe's Petrel coming from the speakers! I ran to the Obs to get sound recording equipment, but by the time I returned, the bird had flown and was not heard again or seen.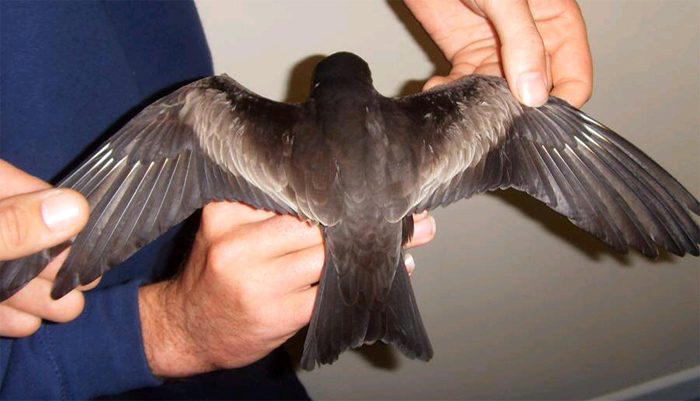 Well done to Will for having the optimism to persist with playing Swinhoe's calls during the Stormie sessions for the last three years, although he's as amazed as the rest of us that it has worked! Congratulations also to former Assistant Warden Jason Moss, who used his inside knowledge to predict it as a first for Fair Isle in the Prediction Competition and earn himself eight points to move to joint first place!
We'll be trying again tonight, and there is some hope for a repeat performance (the last of the famous Tynemouth Swinhoe's Petrel was caught on several occasions during its last two years visiting the site). Although everyone agreed it would be great to get the bird in the hand, there was no real disappointment it hadn't flown into the nets, as the six of us present were more than happy to have been involved in such a remarkable record.
…and then came the overnight developments during the wee small hours of the Saturday just gone…
SATURDAY 27th JULY ~ Postcard from Sunderland
…. I decided to take Grace down to Sunderland to catch up with my parents and my sister (who was due her first child three days ago) this week…. after all, although autumn migration can get going from very early in August, I'd not miss anything in the last week of July would I? I was mightily pleased when we heard the Swinhoe's Petrel shortly before I went…and when it didn't reappear the night before I left, (despite a catch of 60+ Stormies) I was hopeful I'd get away without missing anything.
A Pectoral Sandpiper on Monday was also nice to catch up with and made me hopeful that I'd jammed in on late July's best birds (although I did confess that I thought a Two-barred Crossbills was probably on the cards)...
Things seemed to be going to plan, as the first few days reports from Fair Isle were all related to the bad weather (fog, rain, wind) whilst Grace and I enjoyed sunshine, ice creams and catching up with my family.
Then the text 'Orca!' from Susannah, followed by superb pictures of three animals that lingered round the island. Ah well, a bit gutting to miss that, but we've been very lucky for sightings this year already, so it's not the end of the world. Next came the news on Friday that Two-barred Crossbills had indeed made it to Fair Isle, not one though, but a flock of 8 (eight) on Hoini! OK, so that's a bit galling to miss, but hopefully they'll stick around, or we may even get more by the time I return.
An Icterine Warbler the same day at Schoolton was a bit concerning - surely autumn migration can't have started already, this wasn't the plan. Best not panic though, that's probably a one-off isn't it? Either way, there was not much I could do about it, so I enjoyed dinner in the garden at my parents', with my first ever Comma butterfly in County Durham (they've spread north since I moved away from the area and I very rarely make it back in the summer) and even a display from the Red Arrows as the Sunderland Air Show kicked off just to the north of us.
After going to bed, I was vaguely aware of a text message coming in during the small hours. In my bleary eyed state, I thought I read something about 'Swinhoe's', but almost went back to sleep, assuming it was an old message from our previous encounter. But hang on, look at the date and the time; that's just come in from Will, and it says they've caught the Swinhoe's! I'll confess that my first reaction was 'why am I not out catching Stormies tonight?' and to throw on my clothes, before the sickening realisation as I opened the door that this wasn't my bedroom on Fair Isle and there was no way I was getting to see the bird tonight!
I did see the pictures Susannah posted on Facebook but that's the closest I got. Still, I'm very pleased for the team and I hope they're enjoying themselves now. Although a sixth record for Britain is not as rare as some of Fair Isle's previous visitors, this has to rank up there as one of the outstanding records for the island…. David Parnaby
Indeed it is one of the island's very best records (though, funnily enough with SSP's in both Aberdeenshire and Norway over the years, it was always a very long odds, outside bet) but it has now taken the island's list up to a monster 380.
Fingers crossed that maybe, just maybe, David strikes it lucky when he returns to the island…that is one heck of a birding rollercoaster…and to keep in touch with what's what on the island, check out David's outstanding blog at fibowarden.blogspot.co.uk
Mongolian Plover
Irish birders were hoping for all the luck to be with them after the discovery on the estuary at Ballymacoda, in County Cork, of the first-ever Sand Plover to be seen the country on the evening of 27th. Despite the significant rarity value of both species here (we touched last week on the six Lesser Sand Plovers ~ there have 21 accepted Greaters to date), many of Ireland's keenest birders have been awaiting the first bite at the Sand Plover cherry for quite some time…
Soon after the initial news was broadcast, along came the follow-up ~ not only was it the first Sand Plover but the finder had gone and landed (arguably) the most charismatic of the bunch ~ a Mongolian Sand Plover.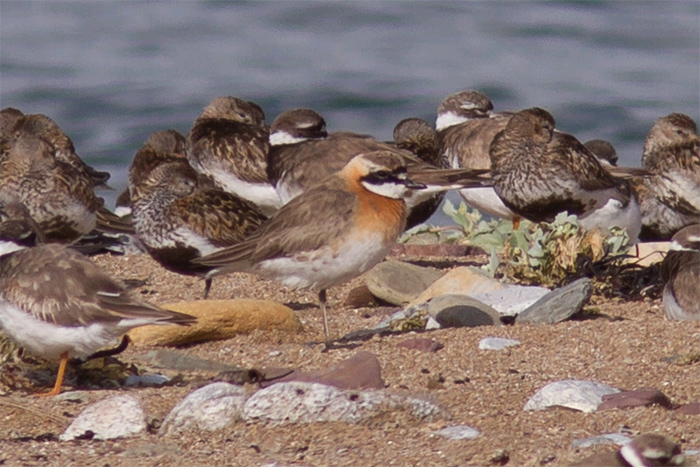 …and the luck was indeed with the Irish as the following morning, the MSP was still in place (and drew a minimalist huddle from the British side of the Irish Sea too).
The six records of both forms of Lesser Sand Plover were listed in last week's review but the early speculation quickly centred on whether there was a chance that the Pilmore Strand bird was actually the very same individual that appeared at Lossiemouth just 11 days before hand. Never before have there been two Mongolians in the same year, let alone less than a fortnight apart….
Soon enough, when photos appeared of the Irish first, it was easy to establish that yes, this was indeed the bird seen in Scotland just under a fortnight beforehand ~ the flank marks, the slightly worn covert panel and black mark near the mask all pointing to it being one in the same bird involved. Fantastic stuff!
…funnily enough, this bird, along with the lead bird of the week from Fair Isle, was also in the "leave it in, see what happens" category too…it just felt like that this one may turn up again. It has been that sort of summer.
This stunning adult male showed throughout much of the morning on 28th, disappearing for a while to return again for the afternoon, but as dusk began to fall there was again no sign of the bird and there was no further news during the first part of 29th either.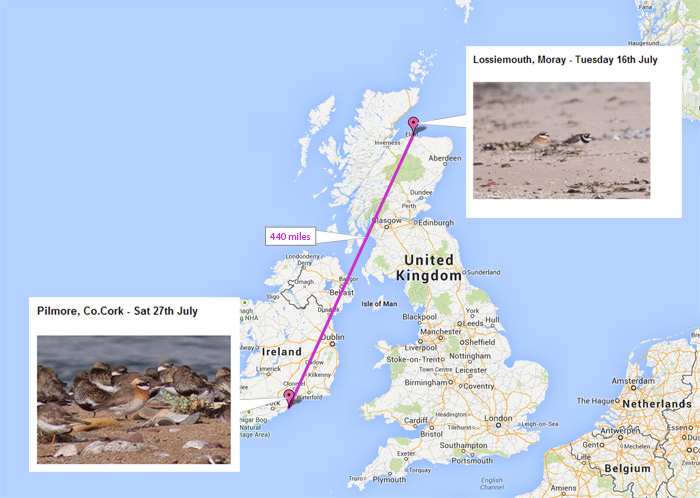 If the bird has moved on, you can only begin to guess at where it could possibly appear next. Birders on Cornwall's Camel or Hayle Estuaries may want to keep a crafty eye open, just in case, tho'…
Bridled Tern
The new review period began on 24th with the summer's most popular bird, the adult Bridled Tern still behaving itself and performing through much of the afternoon and evening on Inner Farne. Things changed the following day, no sign of the bird all day and the same negative news came along by the middle of the afternoon of 26th. It seemed as though it had gone walkabout again and a few folk speculated that, surely, it was on the way again, coming south…
Not so…! This mercurial bird, which had already clocked up trips to the Northumbrian mainland, Cleveland and also a flight past the East Yorkshire coast, decided to head a little further north this time ~ spending a couple of hours on the rocks around the harbour of the Isle of May, off the coast of Fife on the evening of 26th.
A county first, this becomes the sixth record for Scotland and the first since 2003 when one was seen at Arbroath, in Angus, on July 19th 2003. Prior to that was a ten day bird on Tiree (Argyll) from June 30th 1994, further one day birds in Highland in July 1993 and Aberdeenshire in August 1988, with the first for Scotland, a first-summer, appearing at Stromness, on Orkney on August 6th 1979, where it remained to the following day.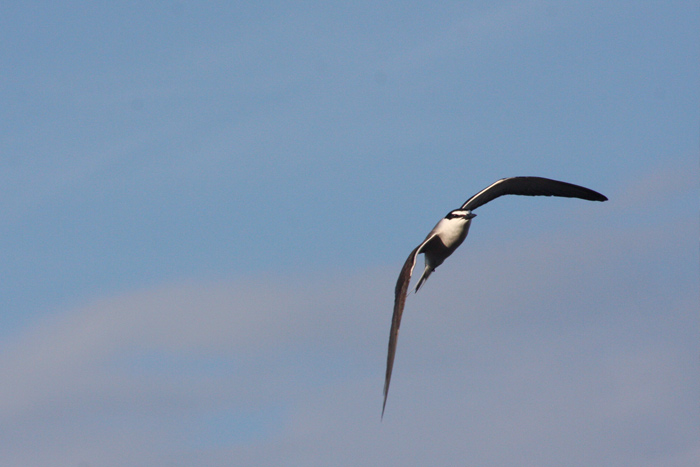 At some point it will depart south and any number of county birders along the east coast still have everything crossed that their county will be the "chosen one".
Two-barred Crossbills
Almost lost within allsorts of excitement last week was the extraordinary double figure push of Two-barred Crossbills into Norfolk across 20th-21st. A minimum of 11 birds arrived but by the start of the new review period, arrivals seemed to have ceased, but there were still some leftovers to draw a crowd or two.
A female and three juveniles were again at Lynford Arboretum on 24th, with two birds there the following day, which seemed to be the final time any were noted at the site until two, or perhaps three were noted there again on 29th with a lone juvenile on 30th. The juvenile on Kelling Heath showed sporadically through to 27th with a new bird in the pines at Holkham on 25th (having actually first been noted there on 22nd). Further brief new Norfolk arrivals were a single female in gardens at Salthouse on 24th with a juvenile on nearby Salthouse Heath on 27th (seen a couple of hours after the Kelling Heath bird was last seen…)
A little further along the east coast, a female Two-barred Crossbill was an outstanding discovery around the buckthorn at Rimac (Lincolnshire) during the afternoon of 24th. Found by the same patch worker who found (and photographed) Lincolnshire's first Pacific Swift a few weeks ago, this is the county's second-ever record of the species, the first a mere 124 years past ~ an adult male shot at South Cockerington in September 1889.
Shetland's first Two-barred Crossbill of this particular irruption was the female found at Wester Quarff at the end of last week's review period and this week, the islands managed a combined total of 30 birds.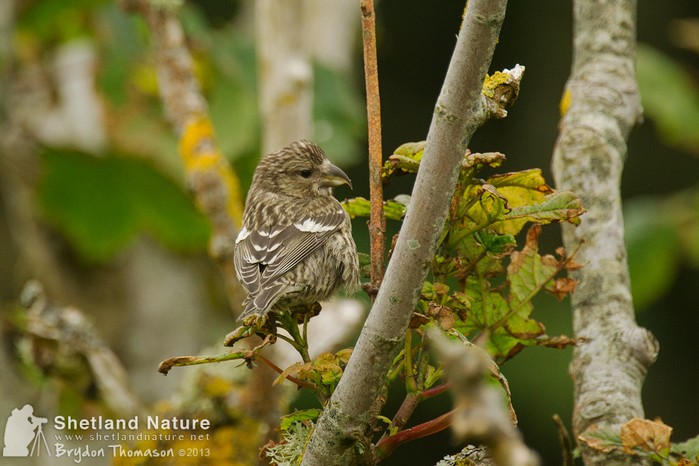 First came a juvenile found on a boat to the west of Mainland on 24th and then eight (including two males) were found at Hoini, on Fair Isle on 26th. Later the same day came news of two more, this time at Halligarth on Unst. Perhaps one of these accounted for the report there the following day, while on Shetland Mainland, at least three more were found at Tresta, also on 27th.
More birds followed later on the same day, two were noted on a boat some 45 miles west of Shetland, one of which had been on board since 25th and another juvenile was found on Noss, to take Shetland's total to 17 birds minimum for this review period alone and it reached 20 with the discovery of a single bird at Garths Ness, Mainland and two at Sumburgh Head on 28th. A further trio were found at Hamtoun Banks, Foula on 29th to push the total up once more, 23 and counting…
The week concluded with a flock of five together at Loch of Voe and a single at Sandwick (both sites on Mainland) and what may have been another new juvenile on Unst. A grand total of 30 birds (give or take one or two) for seven days and the overall Shetland tally went up by a further one, following late news of a bird on 23rd at Tronda, near Scalloway.
Fair Isle's octet is, obviously, a really impressive group, but it isn't even a record for the island. During the still-amazing 2008 invasion of Two-barred Crossbills across the Northern Isles, 11 birds (10 juveniles and a female) spent from August 5th-18th around Buness (with at least 18 at Sumburgh Head from August 6th-20th).
The first bird of the push anywhere in the UK was the early arrival on Eday on June 30th and, finally, Orkney grabbed a couple more this week ~ a pair seen around Stromness from 28th-30th.
Booted Eagle
In Norfolk, the probable dark morph Booted Eagle was seen again around lunchtime on 24th ~ but there have been no further sightings and the trail has gone cold.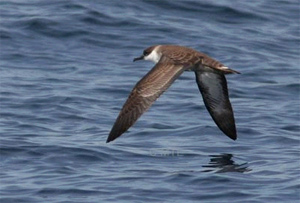 Off the far tip of Cornwall, some six miles due south of Land's End, a Great Shearwater was seen from the "Penzance Pelagics" trip on 28th with another noted the same day from Trenarran, on the south-east coast of the county.
In County Cork, off the Old Head of Kinsale, eight Cory's Shearwaters were counted on 24th when one was seen from St. Ives Island (Cornwall) and two more were noted later the same day on the evening crossing of the M.V. Scillonian III. A pelagic the following evening off St. Mary's (Scilly) produced three Cory's and also some nice shots from skipper Joe Pender, and single birds were seen in Cornwall from Gorran Haven on 28th and Porthgwarra on 30th.
Then on the evening of 30th, a very tidy pelagic off Scilly yielded 17 Cory's and 10 Greats suggested that things were warming up nicely down there. I feel a Mega Alert coming on….
The first six days of the review period produced double-figure overall tallies of Balearic Shearwaters ~ with the vast majority of records coming from Cornwall and Devon.


Daily totals were 13 on 24th (including four off St. Ives), at least 18 on 25th (with eight off Coverack the high count), 11 on 26th (including six more for St. Ives), 19 on 27th (with five each for St. Ives, Portland Bill and the Cornish pelagic) while the 28th proved to be the biggest day of the autumn so far ~ up to 57 birds noted with double figure counts coming from Porthgwarra (14), Prawle Point (14 there too) and Berry Head (21 noted). A further 14 were seen from Portland Bill on 29th, when half a dozen each were seen from Porthgwarra, Lizard Point and Berry Head. The big numbers on 29th though were 38 morning birds off Prawle Point with at least 40 from Start Point during the afternoon but these were overtaken on 30th with the first three figure count of the summer ~ 104 counted from a long seawatch from Start Point, with 52 noted from Prawle too.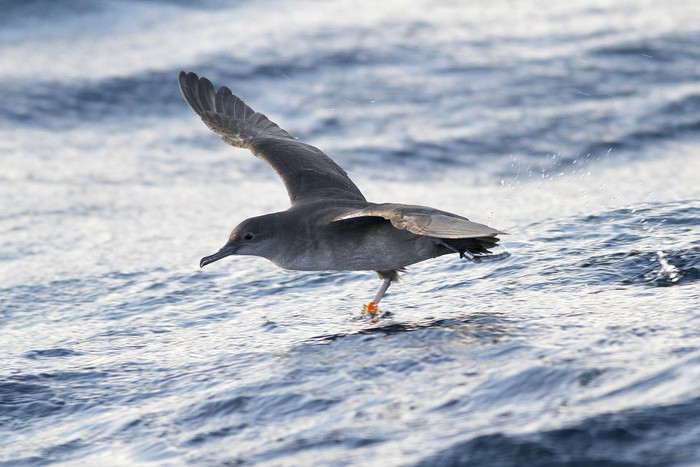 Also seen from Berry Head on 28th was a Long-tailed Skua and another was seen on the same date (28th) from Ballycotton (Co. Cork), along with three Pomarine Skuas. A further ten birds, six singles and two twos, were seen in seven counties from Cornwall to Borders while seawatchers at Porthgwarra on 28th also logged a Grey Phalarope.
The brisk conditions along much of the west coast also produced a couple of Sabine's Gulls ~ an adult was seen in the Minch, to the east of Staffin Island (Highland) on 26th and was followed by one from Melmore Head (Co. Donegal) on 27th.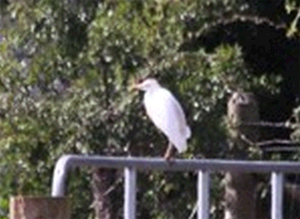 The week began with at least three male Little Bittern showing themselves at Ham Wall RSPB (Somerset) on 24th ~ a single male followed on 25th, a female was noted on 26th, with one of each reported on 27th and 28th while two males were seen on 29th-30th.
The first-summer Night Heron at Old Moor RSPB (South Yorkshire) showed again on 24th, 27th and 30th while last week's two single Cattle Egrets remained around the Isle of Sheppey (mainly on the reserve at Elmley but also taking in flights over Oare Marshes and Shell Ness) until at least 29th with the bird at Randalstown (Co. Antrim) seen up until the same date too. In Wales, the Marloes Mere Glossy Ibis remained to 30th.
Great White Egret numbers have risen markedly this week ~ after a run of weeks with maybe half a dozen or so birds in place in regular haunts, there has been a distinct upturn in activity over the last seven days.
Two birds were noted in Kent on 24th, at Oare Marshes and at Dungeness with another newbie noted at Clevedon (Somerset) and a single at Ham Wall RSPB as well. The 25th saw singles appear at Trimley (Suffolk) and over Barking (London) while one reappeared at Norfolk's Breydon Water. On 26th, a second Norfolk Great White was reported near Long Stratton, with Suffolk seeing a second in two days appear at Oulton Broad. Also new was a bird at Testwood (Hampshire) while the Dungeness bird remained in place as well.
The weekend saw further fresh sites added to the list ~ on 27th birds were noted over Longham Lakes and Sturminster Marshall (Dorset), at Clifford Hill GPs (Northamptonshire), Wicken Fen NT and Fen Drayton RSPB (Cambridgeshire) and also at Hatfield Moors NNR (South Yorkshire). Down in Somerset, two birds were at Ham Wall as well.
Around the coast of Norfolk, this week's maximum site tallies for Spoonbills were 15 for Titchwell RSPB on 27th (with 14 on 29th), 11 for Stiffkey Fen and seven for Cley. Singles were also noted at Holme and flying over Cromer Pier on 25th.
In Lincolnshire, four Spoonbills were still at Alkborough Flats on 24th-25th, while there were two each at Rainham Marshes RSPB (London), Grove Ferry NNR (Kent) and Slimbridge WWT (Gloucestershire) during the week, while notable singles included birds still in Gwent (at the Newport Wetlands) and Carmarthenshire (at the National Wetlands Centre), in South Yorkshire (at Denaby Ings) and also in Northumberland (one at Budle Bay on 28th) while one on North Ronaldsay (Orkney) on 29th was perhaps the best of the bunch.
The only Common Cranes this week were the trio at Welney WWT (Norfolk) while far rarer (though far more elusive) was the Black Stork reported near Ilkeston (Derbyshire) on 29th ~ potentially the third for the county, after two records in 2011, one in April, the other in June.
County Kerry's Black Duck remained around the area of Killelton Polder and the Ballylongford estuary until at least 28th. The sole representative for Ring-necked Ducks this week was the summering drake in North Yorkshire, still at Brompton-on-Swale, also to 28th.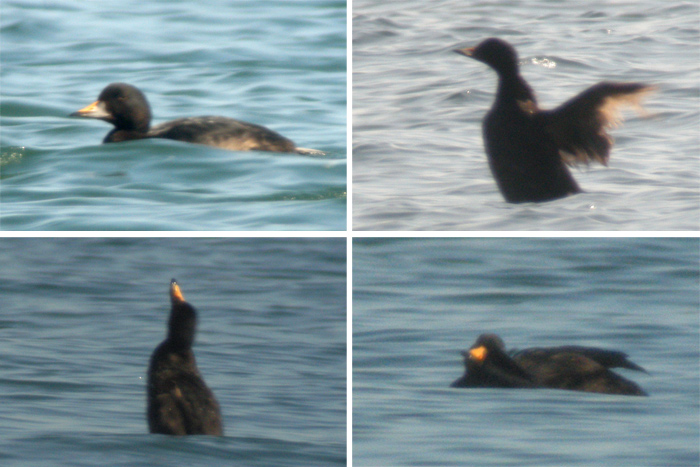 A female Surf Scoter was seen off Inch Strand (Co. Kerry) on 30th but that was that…not a whiff of another rare seaduck to be had. The Titchwell Scoter loomed up for a while again over the weekend but, in many observers' eyes, the lid seems to have been nailed firmly shut on that bird as new images of what was widely held to be the same bird seen earlier this month were captured on 26th. The finder disagrees and is sticking to his guns but it seems as though the faded, tatty, worn (presumably now flightless), orange-billed bird will be going nowhere fast (in every sense of the word).
The slow trundle towards autumn shorebird passage picked up a bit of speed this week, with several new species appearing countrywide, and it was "toss of the coin" time to see which birds lead the way....
Coming down on the side of heads, the adult Long-billed Dowitcher that arrived at the National Wetlands Centre WWT reserve in Carmarthenshire on 28th, joining the still-present Lesser Yellowlegs for a Nearctic double-bill.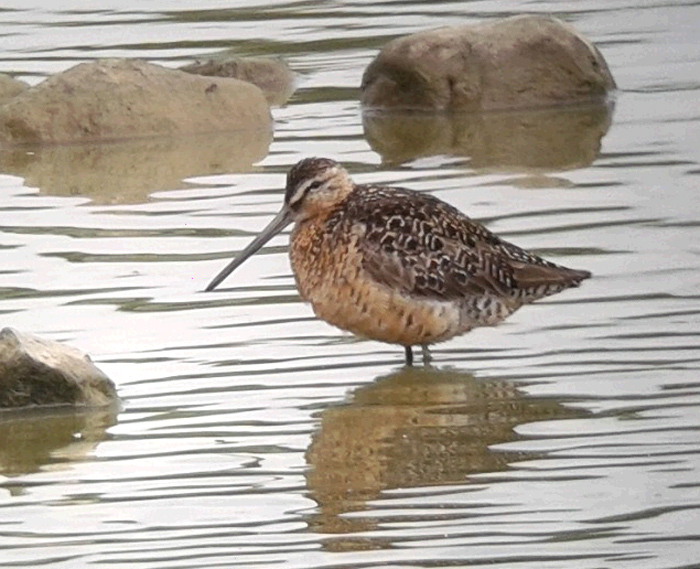 There are currently three accepted records of Long-billed Dowitcher for the county, the first and second were both found at Penclacwydd (in November 1997 and October 2002) while, more recently, one spent nearly seven months in and around the marshes at Kidwelly (from the end of September 2011 through to the end of April 2012). A record of the same species at the same site as this week's bird from October 28th-29th remains at BBRC.
The Welsh Lesser Yellowlegs was one of two recorded this week, the second was reported briefly from Loch Ryan, near Stranraer (Dumfries & Galloway) on 28th
Northumberland's super run of super rares showed little sign of letting up thanks to the summer-attired Spotted Sandpiper found along the River Aln at Alnmouth on 27th where it stayed until the following day, reappearing on the morning of 30th as well. Another great county bird, this is only the third record and the first for 11 years ~ the previous records coming in 2002 (at Derwent Reservoir) and 2001 (one at Stag Rock, Bamburgh).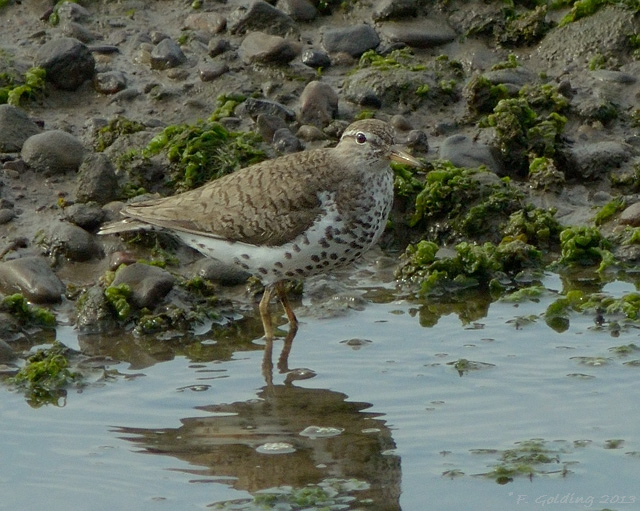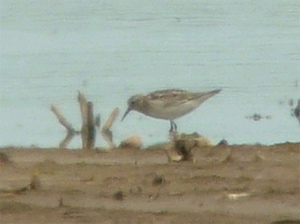 In Lincolnshire, what started out as an adult White-rumped Sandpiper on 24th eventually changed identity a day later to actually being an adult Baird's Sandpiper ~ the first record for 2013 with the bird staying on site until 26th to become the fifth record for the county and the first there since 2005.
A Buff-breasted Sandpiper was new on the Outer Hebrides on 29th, discovered out on Berneray while, from a different point on the compass, came another Pacific Golden Plover ~ this one found at the productive Burwell Fen in Cambridgeshire on the morning of 24th where it spent just a couple of hours or so before departing to the SSE with a couple of commoner Golden cousins.
As was discussed in a recent review, Cambridgeshire already has two fulvas on the books, the first was a fortnight-long sticker at Swaffham Fen in April 1996 with the second county record following at the end of October 2004, one seen for three days at Fidwell Fen, Streatham.
A decent showing of Pectoral Sandpipers last week tailed off to not very many new ones at all this week ~ a bird on the beach at South Gare (Cleveland) on 24th presumably was the bird that appeared the next day at Saltholme Pools RSPB (where it remained to 29th at least). A single bird at Weir Wood Reservoir (East Sussex) on 26th and singles at Newport Wetlands (Gwent) and the Axe Estuary (Devon) on 30th were the only other new birds reported, while lingering from last week were individuals at Pennington Marshes (Hampshire) to 25th and Belfast Lough RSPB (Co. Antrim) to 26th.
The only Temminck's Stint of the week was seen at Kingston, on the Spey Estuary (Moray) on 26th.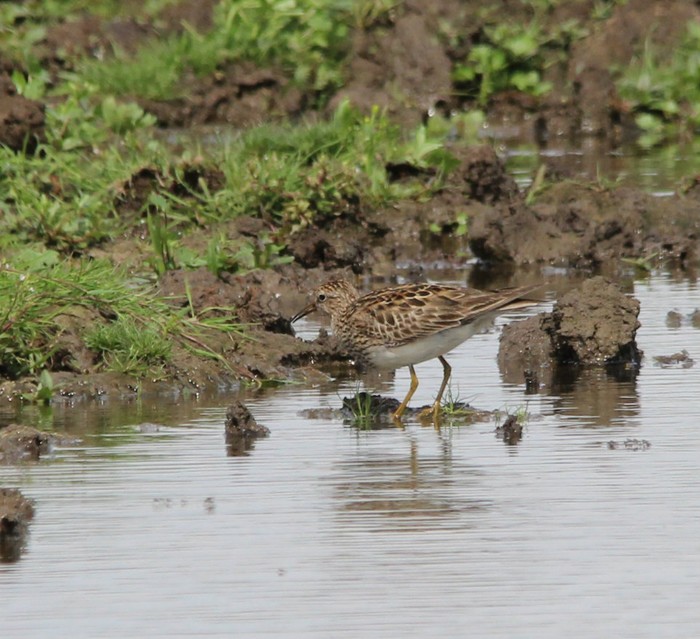 Shetland's Swinhoe's Storm-petrel wasn't the only outstanding bird for the islands this week ~ as birders worked the south end of Mainland on 27th, the third Gull-billed Tern for Shetland was found at Scatness, where it remained to 30th (taking the occasional saunter to the Pool of Virkie too).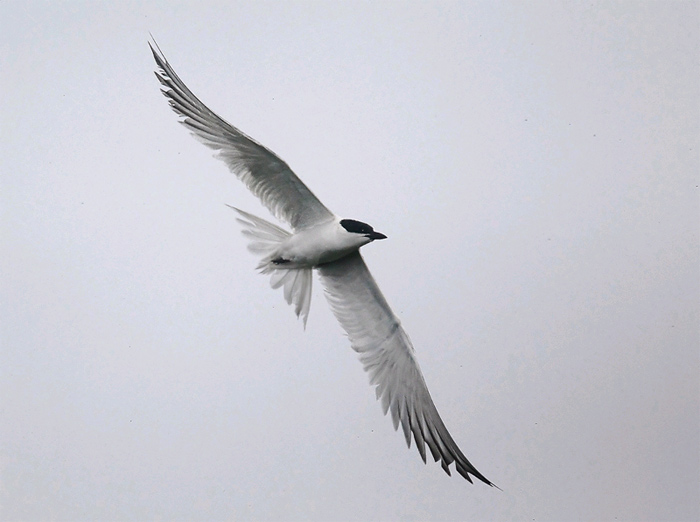 The only other records so far north were a one day bird around the Pool of Virkie on June 25th 1995, with the first (and only other record) comin from 1971, when a single bird spent six days around Fair Isle between May 24th-29th.
Another tern that proved hugely popular during the week was the super first-summer Caspian Tern that was found at Acre Nook Sand Quarry (Cheshire) on the evening of 24th, which reappeared there the following night as well. Quiet where it was during the day was something of a mystery until the morning of 26th, when it was found at Rudyard Lake (Staffordshire).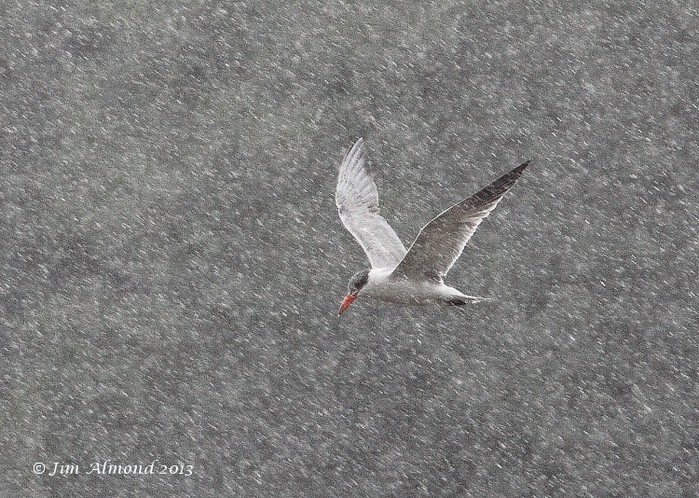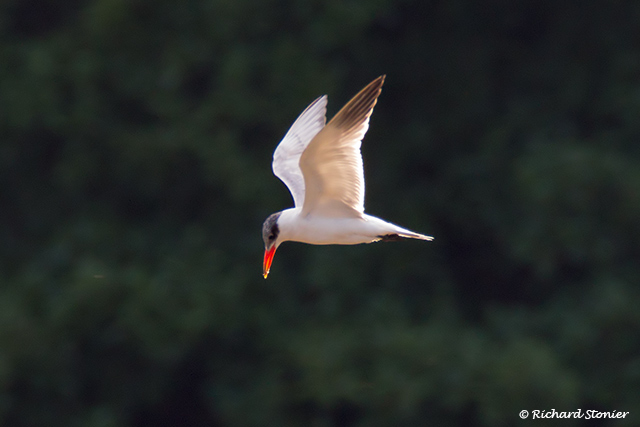 The Tern remained in Staffs until (a very precise) 7.51pm when it took off north. At 8.23pm it landed back in Cheshire and a pattern was established. The bird continued to move between the counties until 29th and was, undoubtedly, one of the weekend highlights for many and on until the evening of 29th, when it departed to the northeast from the favoured Cheshire pre-roost site.
Cheshire has six records of Caspian Tern to its name as it stands, prior to this week's bird ~ the first came in 1967 and the most recent was almost 20 years ago when one was seen at Neumann's Flash and Marbury Mere on June 12th 1994. Staffordshire has bagged seven until now, the first coming in 1968 with the most recent being a one day bird (they've all been one-dayers) at Westport Lake on June 3rd 1999.
The first-summer presumed Baltic Gull was reported again in the fields near Brigg (Lincolnshire) during the early morning of 27th and another first-summer showing many characters of the form was present on 30th. Elsewhere, in the same county, a third first-summer was noted at the tip at North Hykeham on 29th.
Both of the recent lingering Bonaparte's Gulls continued their respective summer hols in Lancashire and Kent this week ~ both the first-summer bird at Oare Marshes NR and the adult at Heysham stayed put to 30th.
An Iceland Gull was still at Nimmo's Pier (Co. Galway) on 25th-26th and was the only other gull of note this week.
In London, a Black Kite was reported over Oxleas Wood, near Woolwich on 25th (following an earlier mention of a possible of William Girling Reservoir) and this was followed by further reports from Nottinghamshire (one heading east over Barnaby in the Willows) on 27th and in Northamptonshire (seen heading over the A14 near Cranford St.John) on 28th. The liking of counties beginning with "N" continued with the Black Kite that was seen over the beach at Bamburgh and also over Inner Farne in Northumberland on 30th.
Half a dozen Honey Buzzards were noted by the end of the weekend, birds seen at Banstead (Surrey) on 24th, at Islip (Northamptonshire) on 25th and on 28th, birds were seen at the Welbeck Raptor Watchpoint (Nottinghamshire), at Balephuil, on Tiree (Argyll) and in Kent, over Margate and Kingsdown.
The only Montagu's Harriers reported this week were a male between Cley and Salthouse (Norfolk) on 24th with a ringtail at Frampton Marsh RSPB (Lincolnshire) on 28th while the origins of an adult White-tailed Eagle seen heading over Tropical Wings Zoo, near South Woodham Ferrers (Essex) on 24th remain something of a mystery…
Over on Donegal's Arranmore Island, the male Snowy Owl was still in place above the twin lakes on 27th.
Fair Isle continued to be the place to see not only mega dark-rumped petrels this week, but was also the spot to be for a handful of slightly unsesasonal summer warblers...
The long-staying male Western Subalpine Warbler was still around the Schoolton area on 26th when the island saw the arrival of an Icterine Warbler (as mentioned earlier in the review by FIBO warden David Parnaby). The following day, in the Obs., garden, up popped a Marsh Warbler too!
A Red-backed Shrike were reported from Oldbury Power Station (Gloucestershire) on 25th and followed a belated report of an inland male at Eccleshall (Staffordshire) on 23rd.
With little else in the Passerine cupboard this week, we'll conclude with the report of an unconfirmed report of a flyover Golden Oriole at Cromer (Norfolk) on 28th.
Seabirds and shorebirds should remain the prime focus of attention during the next few days ~ we're in prime time for those exciting big shearwaters ~ and, as mentioned earlier, the only accepted Scopoli's Shearwater in British waters was seen on August 2nd 2002. Another one-record-only species is Bulwer's Petrel ~ the sole accepted record from Cape Clear Island was seen on August 3rd 1975. Less rare, but still highly prized is Fea's Petrel and the week ahead has seen four recorded.
We're still in the prime time for Red-necked Stints, two of Ireland's four birds have appeared in very early August, but more curious are the two records of Sora ~ one was found on Bardsey on August 5th 1981 and another was at Tacumshin from August 2nd 1998.
There's always a surprise in there somewhere....

Mark Golley
31 July 2013

A special thanks this week go to David and Susannah Parnaby, Will Miles, Noa Eden, Deryk Shaw and Tommy Hyndman for everything Swinhoe's Storm-petrel related.
Thanks also to the rest of this week's contributors for their photos and videos.
Seamus Enright, Aidan G Kelly,
David Pickett - Isle of May Bird Observatory
,
Brydon Thomason - Shetland Nature
, George Petrie,
Martin Elliott - Penzance Pelagics
, Bryan Thomas,
Joe Pender - Sapphire Pelagics
, Derek Charles, Giles Diggle, Bob Cobbold, John Swallow, Frank Golding, David Aitken, Ellis Lucas, Jim Woods, Jim Almond, Pete Hines,