Weekly round-up: 12 - 18 June 2013
The week at a glance
Spurn does it again as the Pacific Swift mooches south…
…and Lincolnshire gets in on the action too for a county first….
…while Suffolk's second showing in a fortnight gives Pacific Swift weekenders something to celebrate….
2013's fifth Collared Flycatcher arrives in Highland
Neat oddments also include the fourth Paddyfield Warbler of the spring and a sticking Roller too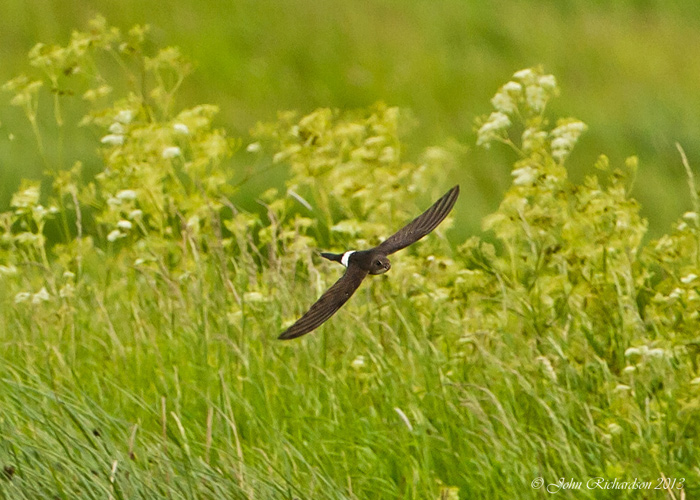 With the almighty sonic distortion of a bunch of grizzled, gnarly musical warriors still careering around my head, its not been an easy task trying to concentrate on the rare news of the week but, despite being almost in to the "wrong side" of June, everyone needed to have their wits about them…
Unsettled conditions, pushed on by brisk Atlantic southwesterly winds, ensured that it was all a bit sunshine and showers-like this week, giving a run of moist and mild, warm and wet weather across much of the past seven days, though sunshine and rising temperatures where on hand to wave the week farewell.
Despite what, on paper, looked to be a fairly dull chart (warm southwesterlies produced the mid-June Rock Sparrow way-back-when don't forget…) there were at least two birds mentioned that kept interest high and ensured that some Internet hounds focused their minds on something other than the on-going online deconstruction of the Margate Duskmann's or Naumanky Thrush.
…or, of course, if you're Lars Svensson, a nailed on DT….
#ImWithLars
Anyway….
Headline birds
Lightning, they say, doesn't strike twice. In the avian world that may not always be the case and at a certain East Yorkshire migration hotspot somewhere out east of Hull, lightning this week has struck not twice or even thrice, but a head-spinning fourth time in eight years…
Yes, it doesn't seem that long ago that the words "Pacific Swift" and "Spurn" were being mentioned alongside each other in terms of the remarkable number of records that the one site could boast for a bird that remains a monster mega….
….indeed it wasn't that long ago, just a couple of weeks ago actually, off the back of the Suffolk sighting of said high flyin' bird, that the Yorkshire site's role call of honour re:- all things Asian traveller was being listed and, blow me down, if they haven't gone and done it again.
Credit to those out looking on the Peninsula that day, almost 12 hours clocked up on migration and seawatching duties ~ the winds had switched to the southwest for the first time in weeks and, via the Obs., Twitter feed the day before, not only had the guys predicted a decent passage of Common Swifts, they'd even gone as far to suggest that a Pacific Swift was also on the cards this year, because of the bird in Suffolk….
Lo and behold, the very next morning, with a decent passage of Swifts moving south and a netting operation in place to try and catch a few too, the Spurn warden promptly found a Pacific Swift at the Triangle before heading slowly south before passing over the Warren just before 9am.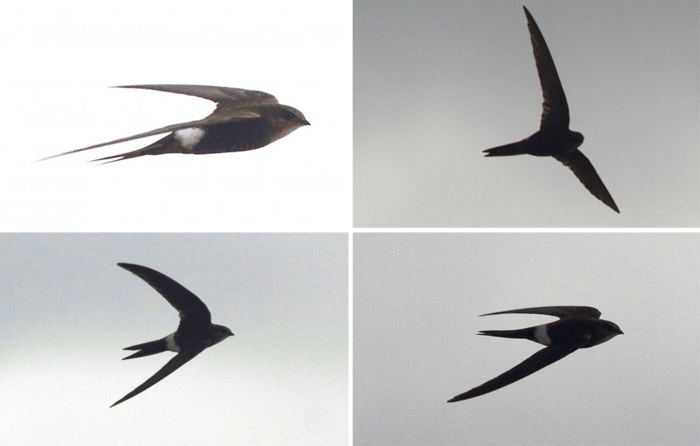 Remarkably, the same bird was picked up later in the day near Saltfleetby in Lincolnshire where it was photographed and confirmed as being one in the same and will become a first for the county in the process.
This becomes the earliest date in the four years that Pacific Swift has been seen at Spurn ~ as mentioned a fortnight ago, the other records for the site came on July 1st 2005, June 22nd and 26th 2008 and July 9th 2011.
So. It must have had a little dawdle along a far amount of the Lincolnshire coastline after crossing the Humber, but assuming (not always a wise move…) this is actually a returning Pacific Swift (à la the discussed-in-detail here recently White-throated Needletail) then there was always just a chance that the bird may repeat its manoeuvre of 2008 and re-appear somewhere (if not at Spurn, some gambled that it maybe in Lincolnshire this time, others thought further a field).
How far could it go this week? There were certainly allsorts of conundrums to muse on with that one…
As Wednesday turned to Thursday, assorted thoughts accumulated as the guessing games began. Perhaps the bird drifted across the Wash, took a right turn and hit Norfolk? Or could it have drifted in to the Wash and headed for inland Cambridgeshire? Maybe it was going to make a beeline back to Suffolk?
Another popular one was that, for anyone with a yearning desire to bag the species, who had time on their hands, the idea of loitering around Spurn in southwesterlies in the next couple or three weeks was perhaps one way do the trick ~ taking further expert guidance by following the all-seeing Predictor Eye of the Spurn Twitter feed, which would certainly seem to give you the nudge required…
But, we all know the end of the story…
…this is birding and funny things happen, so come the middle of Saturday morning it actually didn't come as much of a surprise when the clarion call went up for the very same species for the third time in a five days, from the third county in five days, when the Pacific Swift was found over the marshes at Levington and Trimley (Suffolk).
Imagine the nerves as you head to the site, knowing that you've still got a three mile walk ahead of you until you get to the spot…but anyone who headed towards Trimley on 15th wouldn't have gone home empty-handed. The bird performed pretty much throughout the day as hundreds and hundreds of birders gathered to enjoy only the second-ever twitchable example of the species in the 32 years that it has been on the British List. And it continued to perform the following day too (until just after 4ish, a shared trait for the species it seems), ensuring that the next one will barely see an eyebrow raised, such is the way of birding in the 2010's…
For those who weren't around for the Cley bird of 1993, there was much relief. But perhaps not as much relief as that felt by the many people who failed to see that Cley bird, arriving too late or appearing on-site to see just a tantalising shape fire off west, as high-tea was being taken…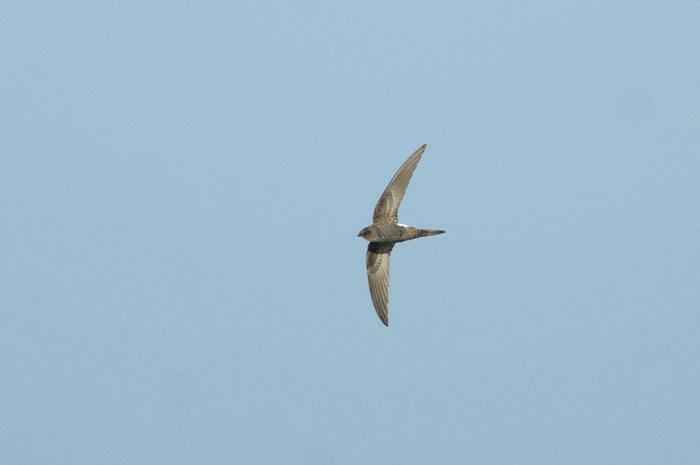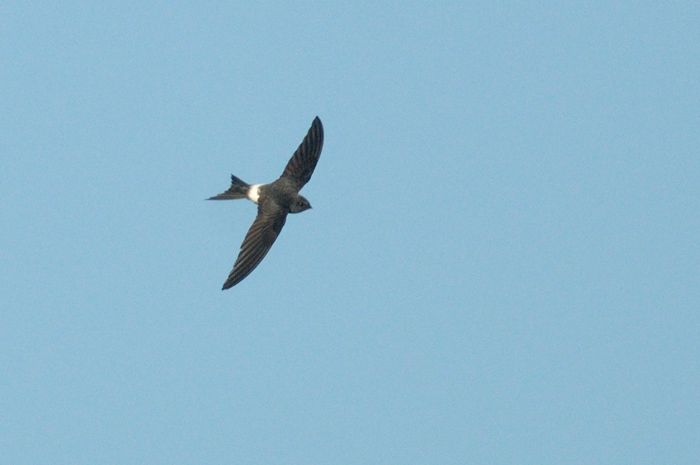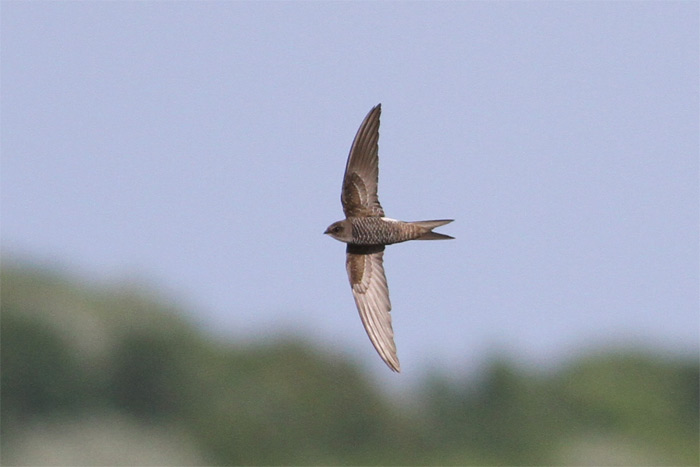 Could the Trimley bird be the Bawdsey bird? Had it left Suffolk at all? Could the Bawdsey bird be the Danish bird? Could the Bawdsey and Trimley bird (assuming they are the same) be the Spurn and Saltfleetby bird (which we know was the same)? Could the three county's records actually all relate to one single bird, scooting up and down the east coast after hitting Denmark first and then gently heading south?
So many questions! But there was no doubting the excitement generated by Pacific Swift this week….warm, dampish, slightly muggy southwesterlies aren't so bad after all….
#unblocked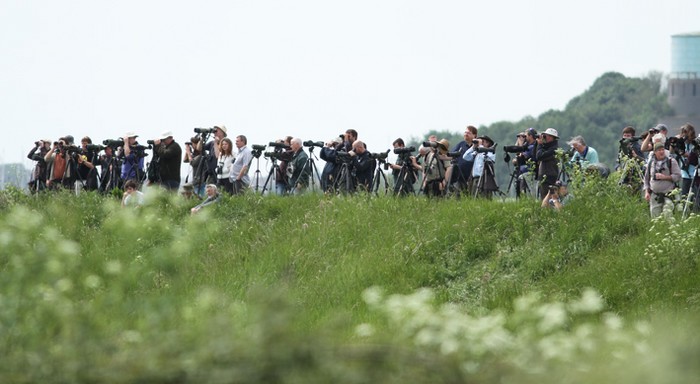 Another species that has featured heavily throughout much of the mid to late spring of 2013 is Collared Flycatcher and after last week's female on Fair Isle, the fifth (fifth!) bird of the year was seen in the lighthouse garden at Stoer (Highland), during the afternoon of 12th.
The last five or six weeks have become the busiest ever here for Collared Flycatcher, with a score of four males to one female, it has become the highest scoring year since records began, pummelling 2009 and 2011 out of sight (both those years boasted an impressive three each).
Back in the RBA Review of May 8th-14th it was commented on that this was a species that seems to be on the up…and now, just over a month on, that comment seems to be absolutely on the money.
The total now, for the past 11 years, stands at an eye-popping 17 (which is heading towards almost half of the total ever recorded for the species in the UK and Ireland) of which an even-more startling 13 have arrived since 2009.
Seabirds
Off the tip of west Cornwall, at Porthgwarra, a Wilson's Storm-petrel was noted during the morning session of 13th, the second of the year in the far southwest following Britain's earliest-ever record from Scilly on the last day of May.
Off the Irish west coast, a Cory's Shearwater was seen from Ballycotton (Co. Cork) on 15th while also affected by the early summer disturbed conditions were an adult Long-tailed Skua and two Pomarine Skuas, also seen off Ballycotton, on 14th while a further single adult Long-tail was noted from Lavernock Point (Glamorgan) on 16th and two sub-adults were seen off the coast of North Uist on 17th.
More Pomarine Skuas included three birds off Chesil Cove (Dorset) on 13th with two off Splash Point (East Sussex) the same day, with three there on 14th. Dorset scored more twos on 14th (past Hengistbury Head) and on 15th (off Portland Bill) while two more were seen from Newlyn (Cornwall) on 16th. The week's highest count was off five from Tutt Head, on the Mumbles (Glamorgan) on 15th.
Three single Balearic Shearwaters were seen from Porthgwarra and also Portland Bill and Hengistbury Head on 13th and further singles followed in County Cork as well as to more in Cornwall and one in Dorset.
Meanwhile in Aberdeenshire, the first White-billed Diver in over a fortnight was seen a couple of miles from Banff on 14th. And that just about concludes the seabird news for this week…
Herons, Egrets & allies
In North Yorkshire, a Black Stork was seen over Troutsdale, in the Wykeham Forest area of the county on 14th while on the Isle of Wight, the Squacco Heron first seen last week was still present on Brading Marshes RSPB to 14th at least .
The Purple Heron that was seen in south Wales, at Kenfig last week was also still present for a few more days this week ~ noted again on 15th-16th (after being seen in flight on June 6th).
A quiet week for herons and allies saw seven Great White Egrets reported ~ on 12th, one was again at the Ouse Washes RSPB (Cambridgeshire), another was seen at Tophill Low NR (East Yorkshire) from 14th-16th with further singles noted heading east at Cley (Norfolk) on 15th, when one was again at National Wetlands Centre (Carmarthenshire). A second Welsh bird was at Ynys-Hir RSPB (Ceredigion) on 18th with another just over the border in Cheshire, at Heswall on the same day. Another bird from the 18th was seen in Suffolk, at Pipps Ford
Also in Wales this week, the Marloes Mere Glossy Ibis was still in residence while at least 27 Spoonbills were seen countrywide, including five at Minsmere (Suffolk) on 13th, with three more over Beccles the same day. Two birds remained at the Newport Wetlands (Gwent) on 12th when three were seen over Cuckmere Haven (East Sussex).
At least two birds were seen along the north Norfolk coast on 13th and two were noted in Hampshire as well. Single birds made it as far as Cumbria, near Arnside and also to the Isle of May, one seen over the island on 15th.
Two Common Cranes were at Loch of Strathbeg RSPB (Aberdeenshire) on 15th while, further to the north, on Shetland, on remained on Unst for much of the week. The only other Crane in the early part of the week was the singleton on the Isle of Man, at Ballaugh to 13th and then six were seen over the Sound of Raasay (Highland) on 16th.
Geese & Ducks
Shetland was the place to be for anyone who fancies bagging a few rare quackers this week ~ a trio of very rare, rare and scarce North American vagrants on offer up there over the last seven days.
Top of the bill, the drake Black Duck that appeared at the end of the last review period at Loch of Hillwell last week found itself on pools near Boddam on 16th. Elsewhere on the Shetland mainland, the drake Ring-necked Duck was on the Loch of Tingwall, Mainland until 14th (reappearing near Lerwick, on Loch of Clickimin on 17th before going back to Tingwall as the week closed) and the same island hosted the one of the week's two drake Green-winged Teals, one seen at Orbister on 13th with another at Marloes Mere (Pembrokeshire) on 17th. In Somerset, a drake Ferruginous Duck was back at Chew Valley Lake on 18th.
As you'd perhaps expect at this time of year, there wasn't muh more duck action to be had ~ the usual adult drake King Eider was lurking around the Ythan Estuary (Aberdeenshire) to 15th at least and then a first-summer drake was seen at Tresta Voe, on Mainland Shetland on 16th. A first-summer drake Surf Scoter was noted off nearby Murcar Golf Course on 13th-16th and two birds were noted in the Sound of Harris (Outer Hebrides) on 14th (one of them a drake) while in Ireland, another first-summer drake remained off Inch Strand (Co. Kerry) to 14th and a drake was seen flying past Ballycotton (Co. Cork) on 16th.
Shorebirds
The first Wilson's Phalarope of the year, a female, was found on the Isle of Wight on the evening of 18th ~ seen from just before EastEnders to dark at the Station Pools at Yarmouth and becoming the first record for the island into the bargain.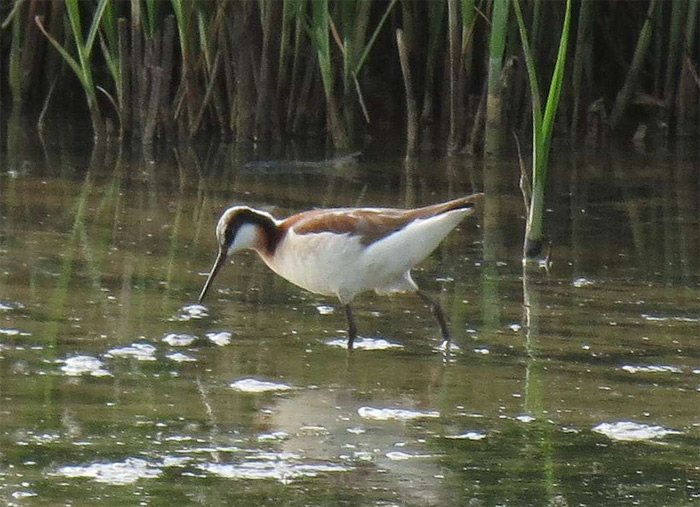 Cumbria's first Spotted Sandpiper in almost 15 years was seen in the harbour at Workington during the late afternoon of 12th ~ if accepted it will become only the fourth record ever for the county, following on from one at South Walney in September 1998, a wintering bird at Barrow-in-Furness from November 1989 to May 1990 and Cumbria's first, an adult at Longtown for three days in June 1986.
A single White-rumped Sandpiper remained in Findhorn Bay (Moray) to 14th while the popular first-summer American Golden Ploverremained at Cuckmere Haven until late in the evening of 14th. A second bird was found on South Uist at the start of the review period, on 12th, at Ardvule while the end of the week saw an adult make an appearance at Needingworth Quarry Lakes (Cambridgeshire) on 18th.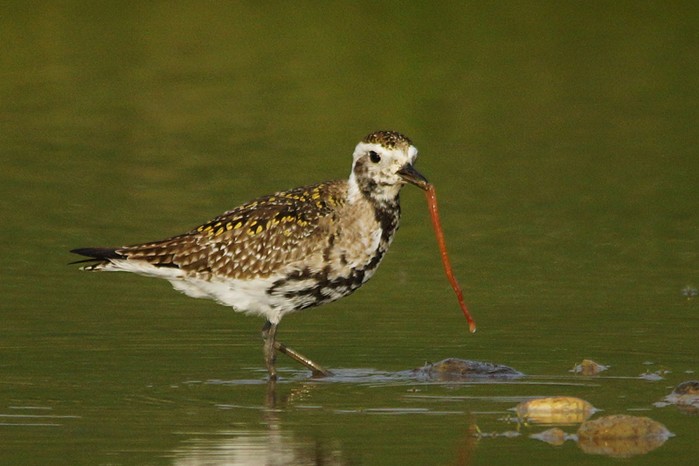 Seven Pectoral Sandpipers were noted over the past few days, with two birds together on the Serpentine, just off the East Bank at Cley on 12th-14th the most popular of the week. Singles were noted at Low Newton-by-the-sea (Northumberland), also on 12th, again at both the Walmsley Sanctuary (Cornwall) and Frampton Marsh RSPB (Lincolnshire) on 13th, for five minutes at Hatfield Moors (South Yorkshire) on 15th with another at Meikle Loch (Aberdeenshire) on 14th which also produced a Temminck's Stint the following day.
Up to six or seven Red-necked Phalaropes round off things in Shorebird Corner this week ~ new arrivals appearing at Kilnsea (East Yorkshire) on 12th, at Minsmere RSPB (Suffolk) on 14th (with a probable reported off Felixstowe the same day), at Kenfig (Glamorgan) on 15th, at Vange Marshes RSPB (Essex), perhaps even the Minsmere bird, on 16th and Berry Fen (Cambridgeshire) on 18th. Down in Gloucestershire, at Coombe Hill Meadows, the female Red-necked Phalarope clocked up a whole calendar month on site, still present to 16th (having arrived there on May 16th).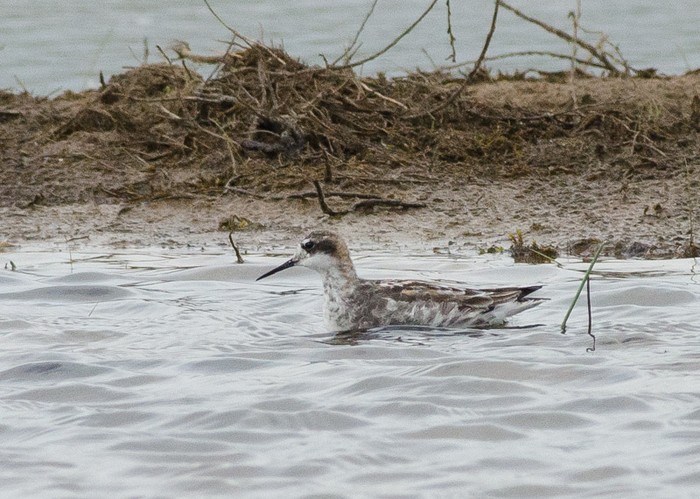 Gulls and Terns
Another bird that appears to be booking in for a long stay is the first-summer Bonaparte's Gull at Oare Marshes NR (Kent), present throughout the early part of the week and beyond to 18th when a second first-summer appeared at on Tiree (Argyll). In Kerry, a first-summer Ring-billed Gull was at Blennerville, and another was at Roslare (Co. Wexford) both of them on 16th.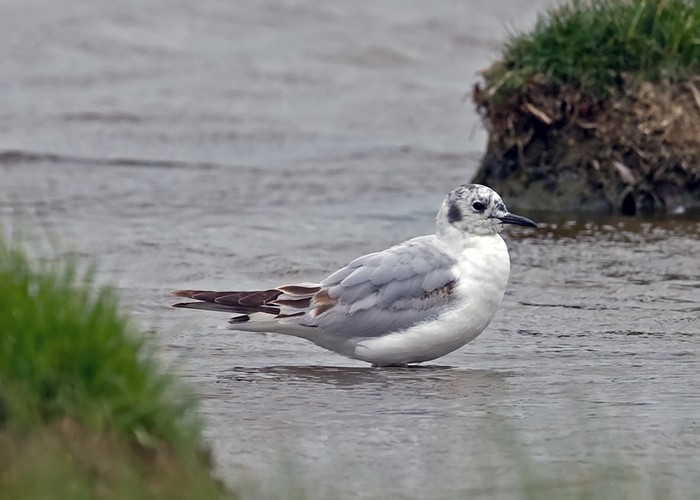 Elsewhere in
Laridworld
it was hard going to be honest (it is June, so no surprise there then really...). A young
Iceland Gull
was at Moville (Co. Donegal) on 13th and a single
Glaucous Gull
lingered at Eoropaidh, on Lewis (Outer Hebrides) to 15th at least. With around half a dozen or so
Caspian Gulls
making up the numbers ~ with three on Suffolk's Blyth Estuary and two at London's Rainham Marshes ~ things were pretty quiet for gull enthusiasts, but it won't be long until more
cachinnans
appear to keep us (
errr
, them) happy and before you know it, they'll be first-summer
Baltic Gulls
to be had and, who knows, someone may finally nail a
Heuglin's Gull
somewhere later in the summer…
The showy Caspian Tern that took in Hampshire and Dorset last week remained around the West Bexington area of the latter county until the early evening of 12th and the week concluded with a brief Gull-billed Tern at Kirkby-on-Bain pits (Lincolnshire) on 18th ~ seen briefly mid-afternoon and again late evening for what could be the first accepted record of the species in the county since early September 1978 (and becoming only the sixth for Lincolnshire ever).
Raptors
Another hangover from last week that continued to prove pretty popular this week was the Black Kite that lingered around Faversham (Kent) until 15th at least. Another was reported in Cambridgeshire, at Conington on 16th.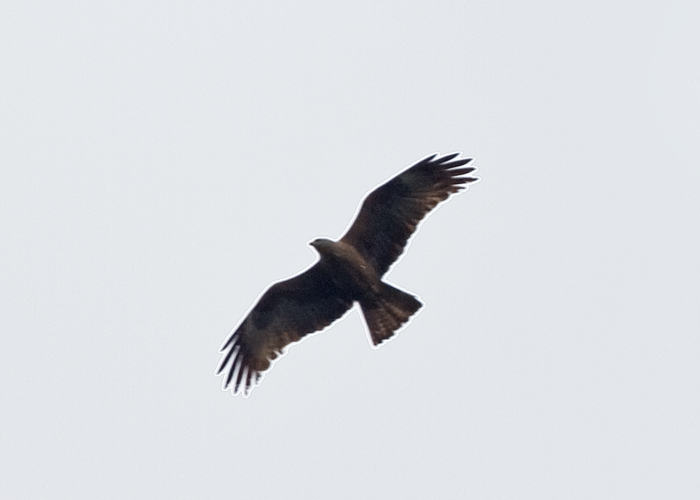 Back in Kent's BK site, the 15th saw a Honey Buzzard pass overhead, with others noted, also on 15th, in Dorset (over Brownsea Island) and Essex (over Ardleigh Heath) while another was at Hackness (North Yorkshire) on 16th, with another reported from Margate (Kent) on the same date. A single errant Montagu's Harrier was noted near Goole (East Yorkshire) on 17th and another was an early morning fly through at Gibraltar Point NNR (Lincolnshire) on 18th.
A male Red-footed Falcon was reported from East Wittering (West Sussex) on 13th while a Snowy Owl on St. Kilda (Outer Hebrides) on 12th was the only other bird of prey of note reported this week.
Passerines
Lancashire's Turton Golf Club may not, at first glance, appear to be somewhere that would host ~ mega Swifts aside ~ one of the most visited birds this week, but this is precisely what's been going on thanks to the tremendous dicovery of a singning male Greenish Warbler somewhere beyond the 5th tee on 13th ~ where it remained to the end of the review period, on 18th.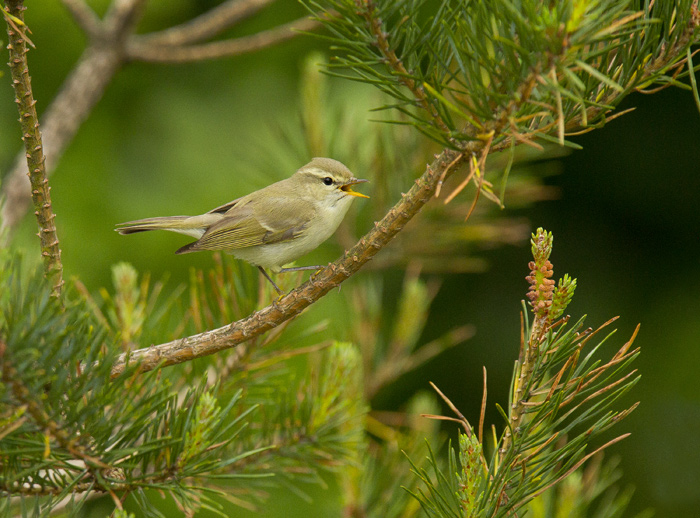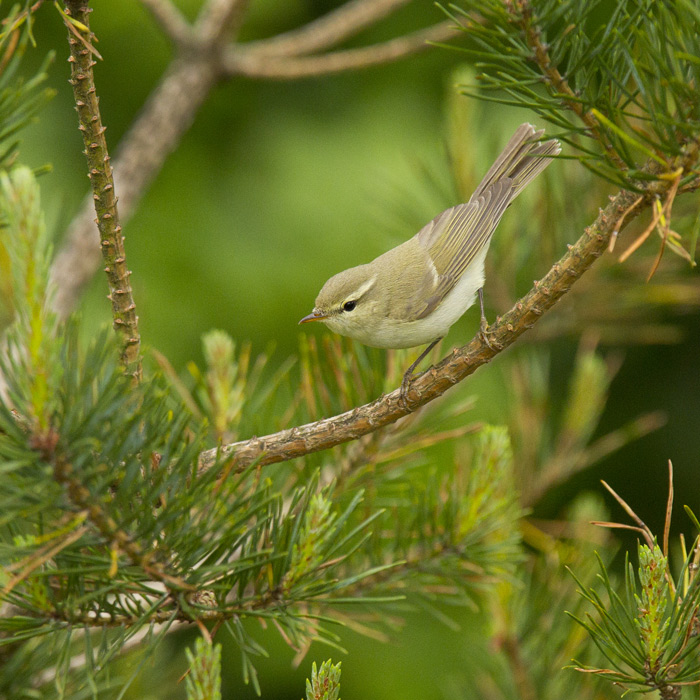 This is just the second record for Lancashire and North Merseyside, following on from a bird at Seaforth on September 15th 1994.
A second singing male Greenish was found near the Observatory garden at Portland on 16th, when it was also trapped and ringed with the third of the week making landfall on Skokholm (Pembrokeshire) on 18th.
On Fair Isle, a late-ish Ortolan Bunting must have given everyone there the collywobbles on 14th ~ appearing slap-bang in the time frame you'd really want to see a male Cretzschmar's Bunting in your bins or even a Grey-necked Bunting ~ one of which appeared at Helgoland on the very same day as Fair Isle's green-headed beastie….so close, so close…!
No such issues with the Paddyfield Warbler seen on the island on the afternoon of 16th. The first ten of Shetland's 34 records (accepted ones to the end of 2011) were seen on Fair Isle, from 1925 to 1994, and a further seven accepted ones have followed (as well as two more last year as well). It has been a good year for the species so far ~ this one follows on from birds on North Ronaldsay, in Kent and on Bardsey.
Also on Fair Isle this week, the male Western Subalpine Warbler remained to 14th, and the island also hosted (on the same day) a couple of Icterine Warblers and also two Marsh Warblers as well. Then, for good measure, a new male Western Subalpine Warbler was trapped and ringed on 17th.
Just one other Icterine Warblerwas noted this week, also on Shetland, over on Fetlar on 14th, while further Marsh Warblers were at Cley (Norfolk) from 12th-13th, on the Farnes (Northumberland) on 12th, at Sumburgh (Shetland) on 13th, at Uig, on the Isle of Skye, and Lochmaddy, North Uist both on 16th.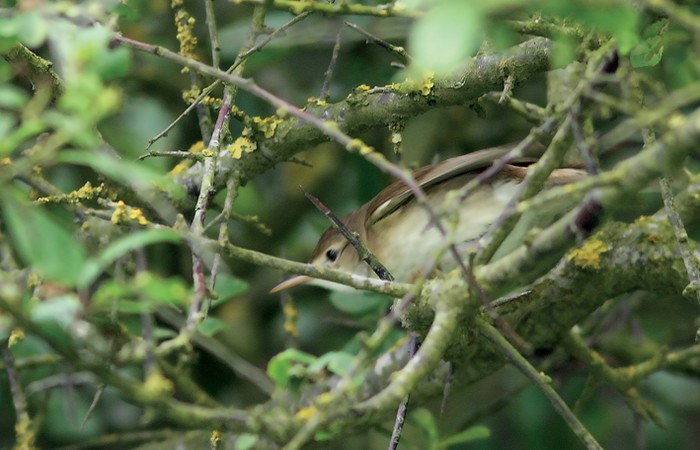 Back at Cley, the singing and song-flighting male White-spotted Bluethroat seems to have gone to ground again, no sign of him this week, while late news from the end of last week concerned a Red-spotted Bluethroat on North Ronaldsay (Orkney) on 11th.
The last named location also fared well with sightings of Red-backed Shrikes this week ~ females were seen on 12th and 14th with males noted on 13th and 15th. Another was on South Ronaldsay on 13th, while Shetland and East Yorkshire recorded birds at Sumburgh and Spurn on 12th and 14th respectively, with a male at Buckton (East Yorkshire) and lone females at Minsmere and on Fair Isle, all on 16th. Another female then appeared along the Spurn Peninsula on 17th, at Kilnsea and then two were on Fair Isle as the week ended on 18th.
In Cornwall, a Woodchat Shrike was reported from Sennen Cove on 18th, while way up to the north, a Red-rumped Swallow was at Loch of Asta on the Shetland mainland on 13th and another was noted over Swalecliffe (Kent) on 17th. The only Bee-eaters of the week were both seen on 14th, on heading south over Spurn, with the other in the dunes at Winterton (Norfolk).
The latter county also produced further near-tropical colour in the form of a sometimes-elusive Roller along the south side of Holt Country Park and the adjoining Lowes from 16th ~ the first record for the county in 22 years, since an obliging bird spent an afternoon and evening at Holkham on July 29th 1991 (the scarceness of the species in Norfolk nowadays is something of a mystery ~ 32 accepted records but none for 22 years until now. Odd…). But a big hole in a few folks Norfolk lists is now duly filled as the bird performed through to 18th.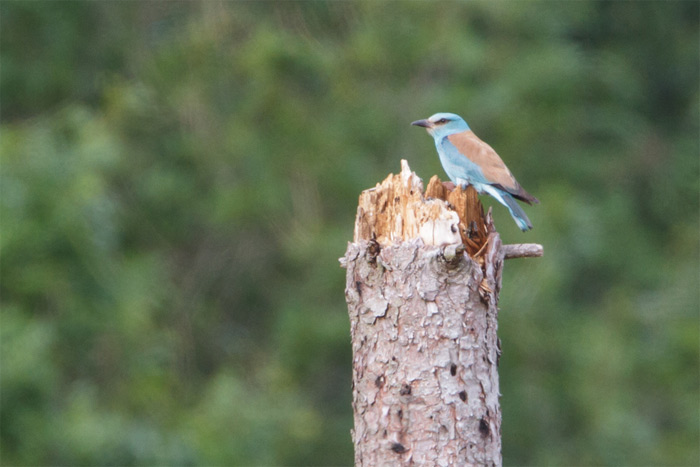 The young male Common Rosefinch remained near Maybole (Ayrshire) until 12th and was followed by singles on North Ronaldsay (Orkney) on 13th, at Carinish, South Uist (Outer Hebrides) on 15th-16th and on Unst (Shetland), back on the Hebs, on Barra, and also at Uig, all on 16th with what may have been another, also on Unst on 17th. The wholly Scottish contingent was rounded off with news of another singing male at Tressait (Perth & Kinross) on 18th ~ which had been around for a week or so prior to that.
We'll finish with yet more glorious colour ~ two Golden Orioles made themselves known in Padley Gorge (Derbyshire) on 15th when one was seen in the dunes at Gibraltar Point NNR (Lincolnshire) and a singing male spent much of the morning at Minsmere RSPB on 16th. Another male was seen in East Sussex, at Rye Harbour on 18th. Finally, on the Isle of Man, the handsome Rose-coloured Starling remained at Withy, on the Calf of Man, to 16th and an adult was found at Wells-next-the-sea (Norfolk) on 18th.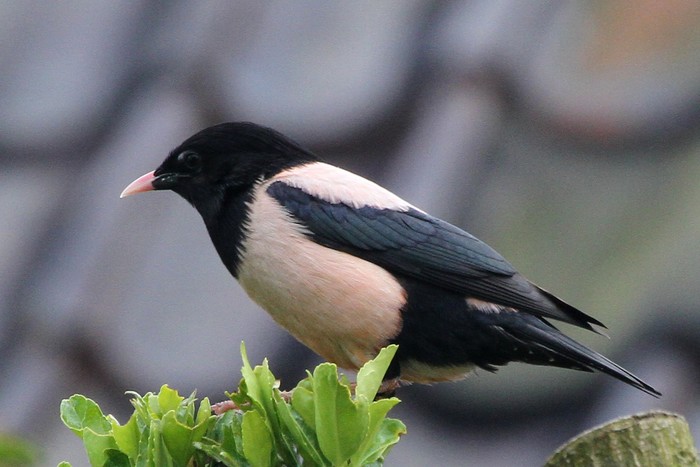 The week ahead looks moderately warm, with a handful of showers and variable, lightish winds currently forecast ~ as with this week, it doesn't look spectacular but the element of surprise remains likely (hopefully…).
What's occurred in the past? Well, there was a Slender-billed Gull and Little Bustard on June 19th and 20th 1960, while Shetland scored big in June 20th 1997 with the Blue-cheeked Bee-eaterwith the same glitzy and glamorous mega Merops in Hampshire on June 21st 2009 with Britain's first-ever record arriving on June 22nd 1951 on the Isles of Scilly. Could we be on for another in the next week?
…oh, and Britain's first Pacific Swift appeared on June 19th 1981 ~ imagine the clamour if one of those reappeared and was twitchable…actually, scratch that thought….
Mark Golley
19 June 2013
Many thanks also to the rest of this week's contributors for their photos and videos.
John Richardson
, Ian Curran,
Peter Moore
,
Penny Clarke
,
Terry Townshend - Birding Beijing
,
Roger Riddington - British Birds
,
Robbie Brookes - Nature in Shetland
,
Derek Hale - IOW Birds
, Luke Dray, Kris Gillam, Mark Hipkin, David Carr,
John Barlow
, Jason Atkinson,
David Parnaby - Fair Isle Bird Observatory
,
Peter Simpson - Blue Sky Birds
,
Contributors websites