Weekly round-up: 03 - 09 2013
The week at a glance
Another week, another Killdeer as one makes a first-ever appearance in Lancashire
"New" wintering Northern Harrier makes itself known in Wexford
Galway's American Coot eyes up a record stay
The drake Harlequin remains on North Uist
Somerset's Pied-billed Grebe hangs on for a few more days too….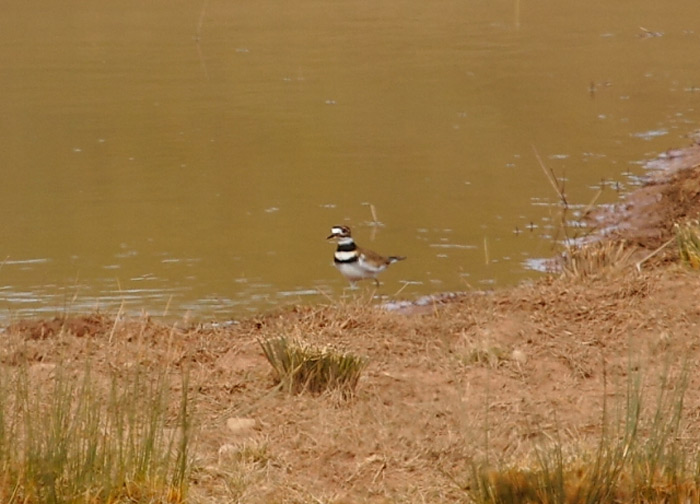 After what seemed like an eternity (but was only really a few weeks at most), many people finally managed to discard the shackles of the chilly easterly to northeasterly winds that have dogged us recently ~ there was certainly a change on the way.
Temperatures almost everywhere started to rise ~ though still generally below the seasonal average, but there were a few places that copped for a little more wintery weather across the weekend....as parts of the south and northwest were bathed in lovely sunshine, parts of Scotland received a little more snow...
For many, the endless dark clouds were finally blown away on 8th and the sun seemed to shine a little more as spring really began to perk up.
That big high pressure that brought us that barrage of cold easterlies nudged away and a low pressure system looks set to scuttle across the country in the next few days, bringing warmer southwesterly air across much of the country...temperatures are due to rise swiftly, in to the high teens, and hopefully it'll bring some more migrants along for the ride.
There were plenty of scarce and rare birds on offer through the last week and as the roundup period concluded, the south coast started to pick up a few more "firsts of the year". It's all beginning to happen….
Headline birds
Y'know, there must be something about April….
In the past, the fourth month of the year has produced the odd curio in terms of "what are the chances of that happening" scenarios….the most notable of which was, of course, the absolutely extraordinary discovery and rediscovery of the (recently touched upon here) Belted Kingfisher in Staffordshire and Aberdeenshire in April 2005 ~ hundreds of miles to the north ~ found firstly by dad Roger Broadbent and then indentified, a way up north, by son Ian.
The Birding Broadbents must have known there and then that the absolutely extraordinary finding and re-finding event ~ of the same bird so far apart ~ was never likely to be repeated but this week, Lancashire birder Gavin Thomas has given it a fair crack of the whip….

Last week's headline bird was County Donegal's first-ever Killdeer ~ found by visiting Lancashire birder Gavin Thomas ~ on March 29th. This week's headline bird is Lancashire's first-ever Killdeer ~ found on April 7th at Alston Reservoirs by a local patch-working birder…step forward please Mr G. Thomas!
Here's Gavin's initial, post-celebration, take on things…
It's been a strange ten days or so but that's birding for you eh! I thought I was losing my mind when I heard THAT call again on my local patch yesterday morning. Luckily Lancs., has a few more birders than Donegal so as well as having a couple of friends with me when it flew in, quite a few managed to get down and enjoy the bird before it flew off after a couple of hours or so. The local LRPs didn't help it stick around!
....and, if you haven't seen it already, click here to read the whole story from the man himself.
Gav's find is the first-ever record not only for the county but also for the northwest of England ~ the closest the species has ever come to the region in the past are singles to the east in Derbyshire (in February and March 1964), a one-day April bird in Nottinghamshire in 1981 and Leicestershire (the very well-received long-stayer at Eyebrook Reservoir in the autumn of 1975) while further to the west, records of Killdeer have come from Gwynedd in March 1982 and, most recently, a four day New Year bird on Anglesey in 1992-'93.
As mentioned here last week, Gavin's first Killdeer find in Donegal was the first record of the species anywhere in just over two years, while his Killdeer find this week is the first mainland record since a brief one-day bird in west Norfolk in January 2009, with the latter county hosting the most recent mainland twitchable individual, found on Blakeney Freshmarsh on ~ daa daaah, April 7th 2006.
That Norfolk bird (assumed to have been a returning passage bird, seen the previous year at Breydon Water), as well as appearing on the same date as this year's Lancashire bird was also suitably skittish ~ at both sites on the east coast it did a few heart-stopping disappearing acts and the Alston bird has proved to be equally tricky to connect with too.
As was touched upon by the finder, the bird this week was present for less than an hour after discovery in the middle of the morning before heading off high to the east. It was back for half an hour before noon and was off again, also roughly to the east with another brief re-appearance during the middle of the afternoon. The following day, the 8th, the Killdeer was reported to be back again in the early afternoon but once more, it seems to have been the most fleeting of visits. Behaviour and dates almost suggest that Norfolk and Lancashire could almost be one in the same….but the seven year gap does suggest otherwise….
The final question ~ could Gavin's Donegal and Lancashire birds actually be one and the same? On a brief comparison of the images from Ireland and the northwest, it is hard to tell, but the Lancashire bird appears to have slightly bolder and neater looking breast bands, maybe cleaner looking supercilia and it also appears to be a little darker. Photo effects may come in to play of course and there's no doubt that the Killybegs and Lancashire images show a bird with similarly worn and bleached coverts. Same bird, different bird ~ it doesn't matter too much as the finder is definitely one in the same ~ remarkable scenes!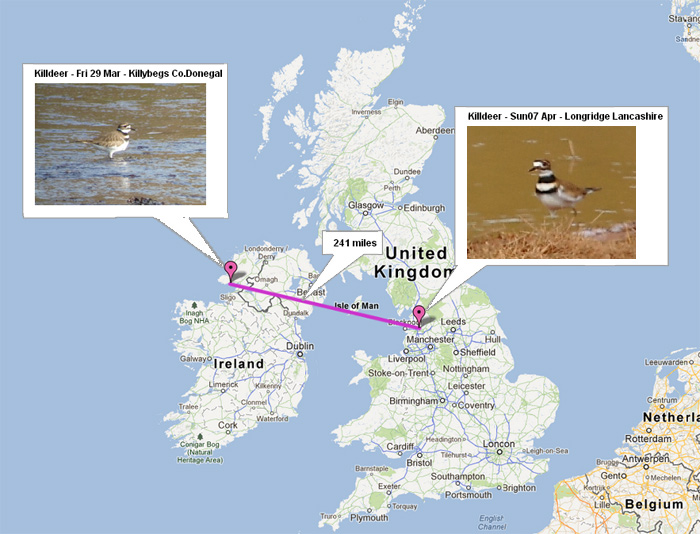 In Ireland, news emerged this week of a wintering Northern Harrier at Cahore Marsh on the Wexford coast, a decent distance to the north of Tacumshin….
The Cahore bird, seen throughout the winter and still present over the weekend of 6th-7th has hopefully been photographed ~ if shots do emerge, it should be possibly to tell whether it's actually the juvenile male that arrived at Tacumshin on October 6th last year or a brand new individual. The original Wexford bird was present until 18th or 19th of the same month last year and was (incredibly) swiftly replaced by the juvenile female, that was last reported on March 30th.
The two Tacumshin birds of 2012 took the tally for the site to an astounding five birds in two years, so the Cahore bird (described as being a being "quite a dark looking bird") could become Wexford's sixth Northern Harrier if proven to be a new individual.
Elsewhere on the south side of the line, the first-winter American Coot at Murlach in County Galway this week became the third longest staying americana out of the ten birds seen in Britain and Ireland. Still present on April 8th, the bird has now clocked up 131 days on site, since appearing at the end of last November.
That total beats the 2003 Shetland bird (that arrived at the end of November and left in the first week of April…) by three days and if it remains to next week, it'll pass the 136 days registered by returning Shetland bird in 2004. The longest staying American Coot on the books to date is the 2010/'11 bird on Termoncarragh Lake in Mayo ~ a 146 day stay recorded between November 15th to April 9th.
The other top birds this week are becoming regular fixtures here ~ the delightful drake Harlequin was still present at Traigh Iar, near the Balranald RSPB reserve on North Uist throughout the week, while in Somerset, the perky Pied-billed Grebe was still at Ham Wall RSPB to 8th.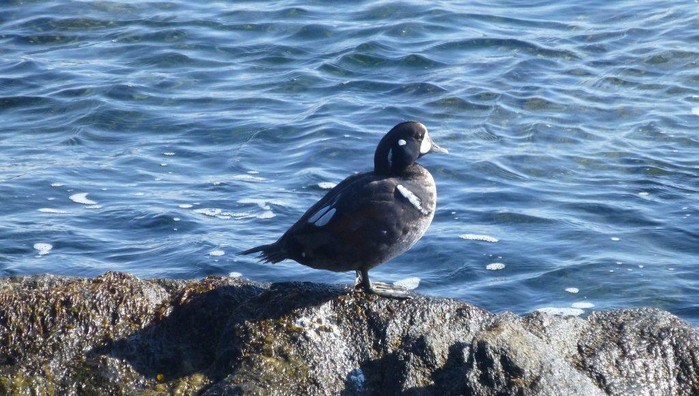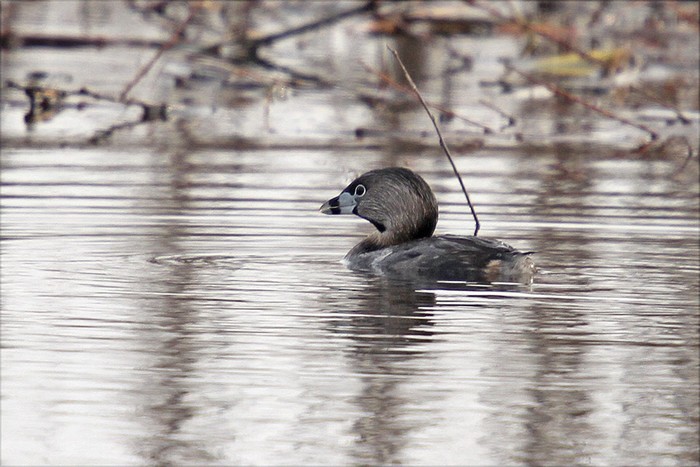 Seabirds
Off the coast of Orkney, the White-billed Diver at Herston on South Ronaldsay was present again from 4th-8th at least ~ Hugh Harrop taking a break from taking crinklingly good photos in Shetland and Norway to reel off some crinklingly good photos on Orkney…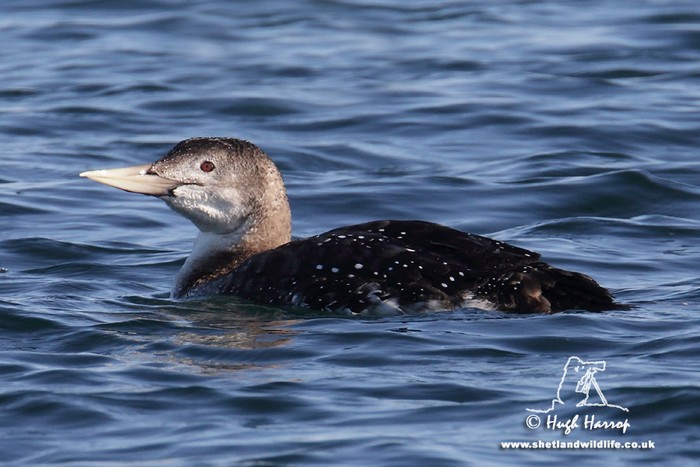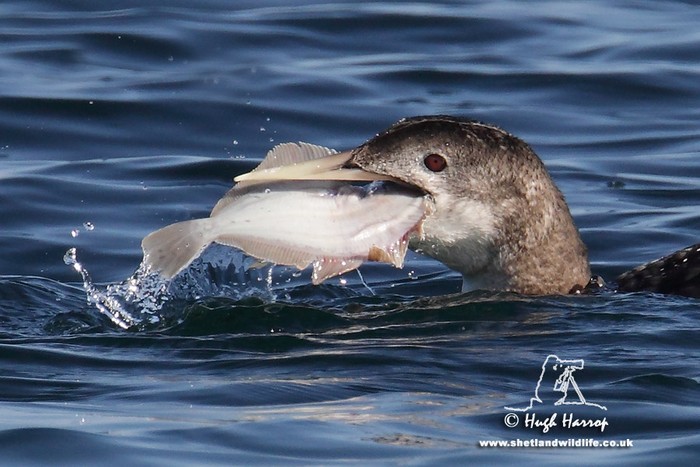 A short video of the White-billed Diver filmed off Herston, Orkney earlier this week by Hugh...Keep up to date with Shetland Wildlife's news, pics and videos by following them on Facebook www.facebook.com/shetlandwildlife
Elsewhere, a single White-billed Diver remained off Port Nis, Lewis (Outer Hebrides) to 5th with it or another on the northwest side of Tiumpan Head on 8th. Off the Scottish mainland, a further WBD was seen near Gairloch (Highland) on 9th.
Also in Scotland, on the mainland this time, two Little Auks were seen off the beach at Dunbar (Lothian) on 3rd….and were the only other seabirds of note this week.
Herons, Egrets & allies
As the breeding season approaches, Great White Egrets are falling off the rares-radar (understandably so…) but there were still 17 birds reported this week.
In the northwest, singles on 7th were seen at Hale and Frodsham (Cheshire) while the Midlands' only bird this week was one again at Summer Leys NR, Earls Barton (Northamptonshire) on 6th-7th. In Cambridgeshire, a lone bird was again noted at Soham Lode on 8th with one earlier in the week, in flight only, near Huntingdon on 3rd.
The roost at Llanrhidian Marsh in Glamorgan still hosted two Great White Egrets on 3rd while in Somerset, three birds were at Ham Wall RSPB on 4th.
Mostly though, it has been the southeast that has fared best….five birds were seen in Kent on 7th, three at Dungeness and one each for Elmley Marshes RSPB and Grove Ferry NNR, while singles were noted at Wanstead Flats (London) on 3rd, Old Hall Marshes RSPB (Essex) on 6th and at Arundel WWT (West Sussex) on 8th ~ where last week's Glossy Ibis was also still present on the same date.
The only other Glossy Ibis noted this week was, inevitably, at Marloes Mere (Pembrokeshire), still present on 7th while the only news relating to Cattle Egret over the past few days was the report of one near Rye Harbour (East Sussex), also on 7th.
A whole mish-mash of Spoonbills were recorded in southern and western counties this week ~ at least 18 birds were seen from Cornwall to Hampshire on 3rd alone ~ one was at Pennington Marshes, there were two each for Walmsley Sanctuary and Brownsea Island, three were at Exminster, four remained at Lodmoor and there were still six birds at Titchfield Haven.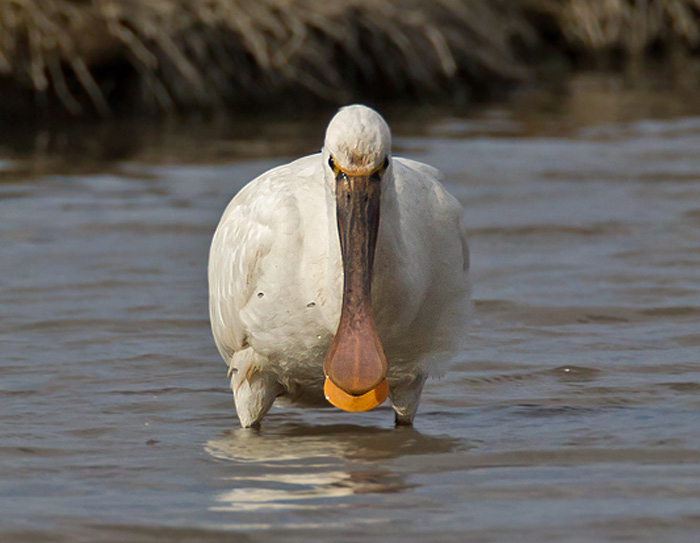 Singles appeared on Scilly (at Porth Hellick) on 5th, at South Milton Ley and again at Wrafton (both Devon) on 4th and 5th and over Hengistbury Head (Dorset) on 6th, with two or three sites in Poole Harbour recording one or two through the rest of the week.
Farther along the south coast, in East Sussex, single birds were seen at Cuckmere Haven on 5th-6th and Pevensey Levels on 6th, while four birds headed east at Eastbourne on 6th when a lone bird flew past St. Margaret's at Cliffe (Kent) with it or another at Dungeness the next day.
Elsewhere around the country, six or seven more single Spoonbills were recorded, from Essex to Lancashire, including two in Wales ~ at the WWT National Wetlands Centre (Carmarthenshire) and Goldcliff Pools (Gwent).
Three Common Cranes remained at Welney WWT (Norfolk) until 7th this week, with two at Snettisham RSPB on 8th. In neighbouring Cambridgeshire, two birds were still at Eldernell on 7th, while in Suffolk, a lone Crane flew over Kessingland on the same date.
Two birds were seen over Michelmersh (Hampshire) on 6th and in Kent loners were at Stodmarsh NNR on 5th-6th, South Foreland on 7th and Sandwich Bay BNNR on 7th-8th. Further to the west, three Cranes were at Shapwick Heath NNR on 6th with two over Cheddar Reservoir and another at Clevedon on the same day.
In Wales, a one-day bird was at Brechfa Pool (Powys) on 7th and in Lancashire, one was seen at Leighton Moss RSPB on 6th. What could have been the same roaming Crane was seen in three Yorkshire counties over 7th and 8th ~ in North Yorkshire one was noted over Hunmanby Gap, Bempton and Filey Dams and the following day, one appeared in West Yorkshire, over Pugneys CP before heading through South Yorkshire later in the day, flying over Broomhill Flash.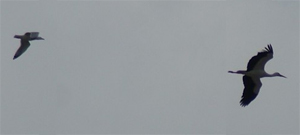 Further Celtic singles were seen in Scotland, at Loch of Strathbeg RSPB (Aberdeenshire) on 5th and in Ireland, at Rogerstown (Co. Dublin) on 6th.
A White Stork over the RSPB reserve at Dungeness (Kent) on 6th seems likely to have been a non-contentious vagrant ~ appearing later in the afternoon over Folkestone. The same date also saw a White Stork appear at Breydon Water (Norfolk) and Kessingland (Suffolk), while the bird in Lancashire is probably the escape noted recently in the northwest.
Geese & Ducks
The drake Black Duck that remained on Achill Island's Sruhill Lough on 4th was comfortably the rarest duck of the week.
More popular (if only through geography) were the seven drake Lesser Scaups seen around England and the Celtic nations of Cornwall, Wales, and Ireland this week.
New was the drake at Saltholme Pools (Cleveland) from 3rd-8th ~ the third county record and the second for the site. Cleveland's first was found at Saltholme on June 6th 1999 before moving to the Reclamation Pond which is where Cleveland's second record was discovered ~ a female there for just over a week in January 2006 (a bird which was also seen in Dumfries & Galloway).
Three birds were reported to 7th ~ at Freiston Shore RSPB (Lincolnshire), Cosmeston Lakes CP (Glamorgan) and Oxford Island NNR (Co. Armagh), one more lingered to 8th (along with the Cleveland bird), at Bryn Bach CP (Gwent), while drakes at Lesser Scaup at Siblyback Reservoir (Cornwall) and Wellington GPs (Herefordshire) remained all week.
A dozen lingering, wintering Ring-necked Ducks were recorded this week ~ still leading the way, the Tresco trio ~ the first-winter drake and two first-winter ducks on the Great Pool until 8th at least ~ and the Devon duo ~ the young male and female still on Slapton Ley to 6th.
Singles first-winter drakes remained at New Arram and Marloes Mere to 4th and 9th respectively, the adult drake was again on Somerset's Wimbleball Lake on 3rd and the female was on Loch Grogary, North Uist (Outer Hebrides) all week.
Single drake Ring-necked Ducks in Ireland lingered at Keel, Achill Island (Co. Mayo) to 4th, at Ross Castle, on Lough Leane (Co. Kerry) to 5th and on Knockaderry Lake (Co. Waterford) on 8th-9th.
In Oxfordshire, the drake Ferruginous Duck was still at Otmoor RSPB on 6th-9th.
Numbers of Green-winged Teals certainly tailed off a little more this week ~ only seven noted, with three for England, two for Ireland and two in Scotland.
English long-stayers were still at Pennington Marshes (Hampshire) and Dorman's Pool (Cleveland) ~ both to 7th ~ while in Northamptonshire, the bird seen last week at Irthlingborough reappeared on 3rd and was still present on 9th. On Tiree, one was again at Loch a' Phuill on 7th-9th with another on the latter date at Loch an Eilein and Wexford shared two birds on 7th, one still at Tacumshin and with another at Cahore Marsh.
Five drake American Wigeons made it in to the second week of April this week ~ all of them regulars….
The birds at Fiskerton Fen (Lincolnshire) and Udale Bay (Highland) were seen on 3rd, while the bird found last week at Little Neston (Cheshire) was found again on 5th, staying put for a couple of days to 7th this week. The Quoile Pondage drake remained in County Down to 6th while the bird in Devon started the week at Bowling Green Marsh and ended it on Exminster Marshes.
The drake King Eider was seen again at Symbister, Whalsay (Shetland) on 8th-9th (having last been reported there in mid-January) while two drake Surf Scoters were seen off Cockenzie and Port Seton (Lothian) on 5th (with one at nearby Seton Sands on 3rd-4th and again on 7th-9th) and in Ireland, single drakes remained off Ben Head (Co. Meath) and Rosslare (Co. Wexford) to 6th.
A Richardson's Canada Goose at Loch Grogary, North Uist was the only representative of the white-cheeked goose clan this week, present there to 6th, while Snow Goose records on 3rd came from Loch na Reivil, North Uist ~ a white bird there, still near Lochmaben (Dumfries & Galloway) ~ that was a blue one and near Glenbarr (Argyll) ~ an intermediate morph there. Two blue Snows were reported from a bus near the Balmedie CP entrance in Aberdeenshire on 8th.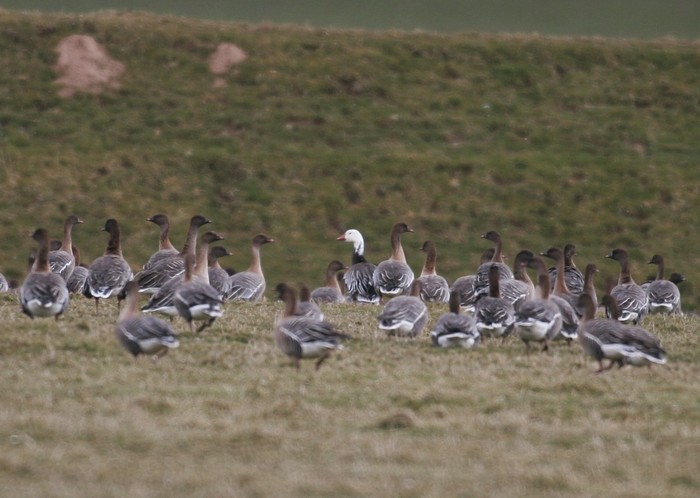 Hampshire's Red-breasted Goose resided at Farlington Marshes HWT until 5th before heading past Oare Marshes NR and, an hour later, Cliftonville (Kent) the following morning while in Dumfries & Galloway, at Loaningfoot, the adult Red-breasted Goose was seen again on 9th ~ the first report since the end of January.
Black Brant records totalled four, with the long-staying adult remaining on the Spurn peninsula (East Yorkshire) all week, while new were singles at Heybridge Basin (Essex) on 4th, Ballykinler Point (Co. Down) on 5th and Frampton Marsh RSPB (Lincolnshire) on 6th-7th.
Shorebirds
One of the two male Kentish Plovers seen last week at Rye Harbour (East Sussex) remained off and on to 9th, with further singles seen at Old Hall Marshes (Essex) on 7th and briefly at Pegwell Bay (Kent) on 8th.
The same site also welcomed a Temminck's Stint on the same day, while two appeared at Sandwich Bay on 7th, with four reported there on 9th.
In Lincolnshire, at Alkborough Flats, the Long-billed Dowitcher that arrived in early October was seen again on April 3rd (the first report for two months) and in Pembrokeshire, on the Gann Estuary, the first-winter Long-billed Dowitcher remained to 7th. Another wintering Nearctic visitor, the Ernesettle Lesser Yellowlegs was looking particularly fine this week, in a lovely dark, spangly summery garb, present on the creek until 7th at least.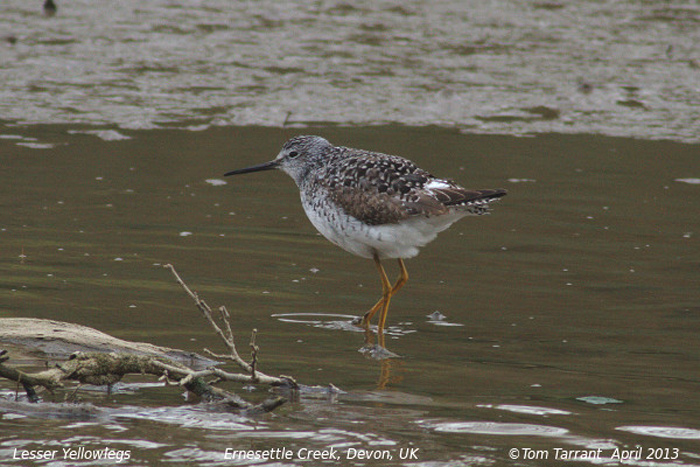 Gulls and Terns
In Highland, the adult Bonaparte's Gull was seen on the beach at Castletown on 6th while numbers of rarer gulls continued to fall away throughout the week.
Only 10 Ring-billed Gulls were seen ~ seven of them in Ireland. Two new adults were noted near the Inny Estuary, Waterville (Co. Kerry) on 4th with a further two adults again at Cuskinny Marsh (Co. Cork) on 5th. The adult and first-winter birds remained at Kerry's Tralee Wetlands to 6th (with presumably the same ones seen at nearby Blennerville earlier in the week), and in Antrim, the adult was still at Carrickfergus on 4th.
The first-winter Ring-billed Gull was still in Neath (Glamorgan) on 6th, the adult was still in the Highlands, at Dingwall for the week while in London, a first-winter was reported at Beckenham on 8th.
Back over in Cork for the week's only definite Kumlien's Gull, the near-adult still at Cobh on 3rd. The Barmston juvenile Iceland or Kumlien's remained to 7th.
After 35 Glaucous Gulls last week, numbers dropped to around 23 birds this week. Eight were seen around Scotland, including two for Shetland and two for Moray, two birds were noted again at both Seaton Carew tip (Cleveland) and Chasewater Reservoir (Staffordshire) during the week, while three birds loitered in Killybegs until 5th. Up to four single birds were still in Norfolk, two on the east coast and two in north Norfolk, including one at Edgefield tip near Holt ~ the third individual for the site this winter.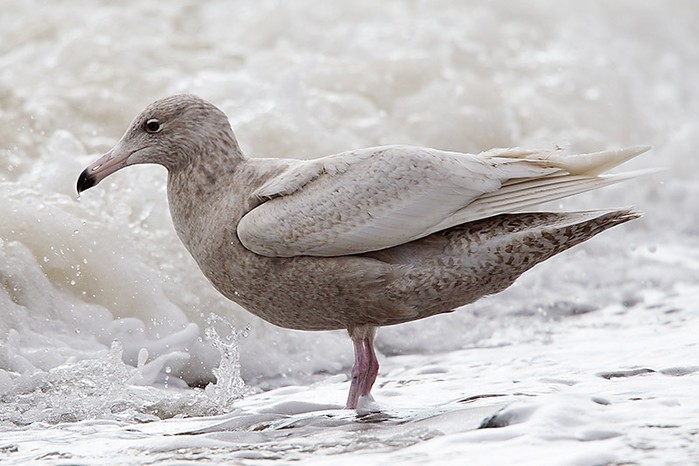 Iceland Gull numbers nudged just ahead of those for Glaucous this week, 29 recorded, including ten in Scotland (two's for Aberdeenshire, Moray and Clyde), seven through the northeast (including two past Hunmanby Gap on 7th), two each for both Derbyshire and Leicestershire with Killybegs scoring four on 5th.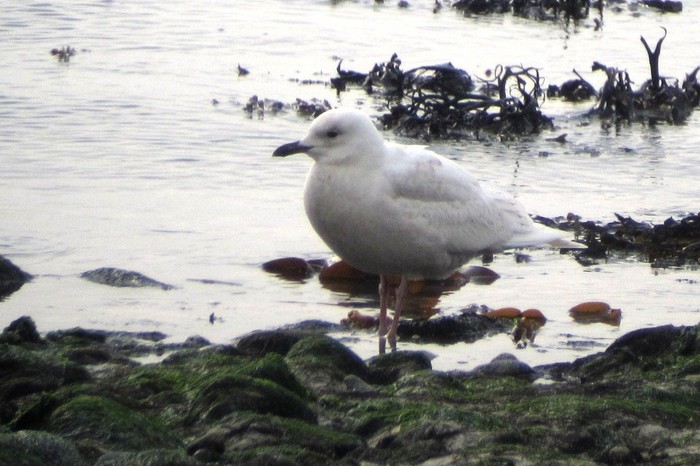 Raptors
On top of old Ben Macdui, the male Snowy Owl remained in place until 5th at least (the full monty in terms of mountaineering gear is still being advised folks) while on the Hebrides, the male was reported again at Solas, on North Uist, on 6th.
The sunny 6th seemed to be the day that the juvenile White-tailed Eagle finally got the right conditions to consider a move across the North Sea that didn't include the Wash....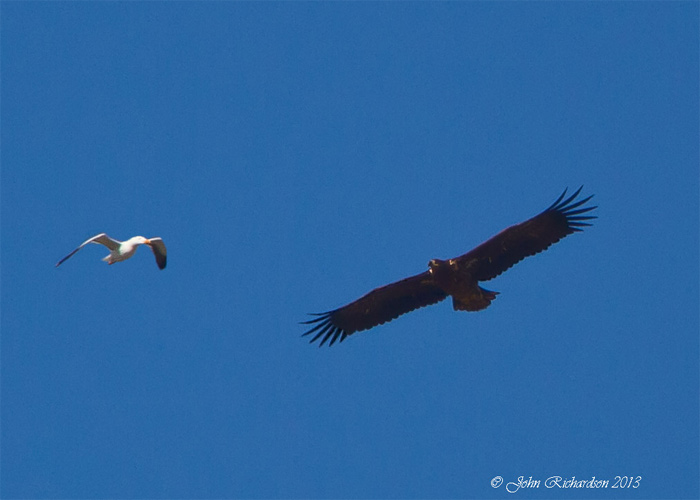 Seen initially cruising over Kelling Heath just inland of the Norfolk coast, the bird was tracked across the central zone of north Norfolk before hitting the coast at Winterton and then heading south over Burgh Castle and on in to Suffolk, appearing over Minsmere and Leiston before continuing further south to Gedgrave Marshes, Boyton and the Butley river area ~ a considerable distance covered in just five hours...luckily Suffolk birder John Richardson was on hand at Boyton to capture some great shots of the beastie ~ found from the river wall there by Mark Cornish.
Then during the afternoon of 7th, the Eagle was seen flying southeast from Orford Ness ~ perhaps with the Netherlands as its next stop off point (although there was then an unconfirmed report of it again around Butley on 9th.

View White-tailed Eagle in Norfolk & Suffolk 6th April in a larger map
In East Sussex, a Black Kite was seen over Brighton on 8th with a report of a possible following in the same county, later the same day, at Ditchling Common CP ~ and a possible was reported from West Bexington (Dorset) on 9th.
The only records of Rough-legged Buzzard this week came from Shetland, one was on Fetlar on 3rd and on 9th one was noted on Unst.
Passerines
The week ended with a report of a male Red-flanked Bluetail along the path to Burnham Overy Dunes (Norfolk) ~ but the report was from three days beforehand, on 7th. Spring birds aren't as unlikely and fanciful as they were once considered to be, indeed it was listed here last week as one of the outside bets in terms of potential new rare-arrivals….
There has been one late March Bluetail record (at Easington in 2007) and three April records (on Holy Island in 1995, on Out Skerries in 2007 and in Dorset in 2011) and the late news from Norfolk will at least galvanise folk in to going and having a look….
After a bumper week last week for White-spotted Bluethroats, another three new arrivals were seen over the past week to take the tally between March 23rd to April 6th to 13 birds.
The first newbie was a male, trapped and ringed at Ashleworth Ham NR (Gloucestershire) on 3rd (the news emerging almost a week later) and was followed by two more males, one on St. Agnes (Scilly) on 5th and at Start Point (Devon) on 6th.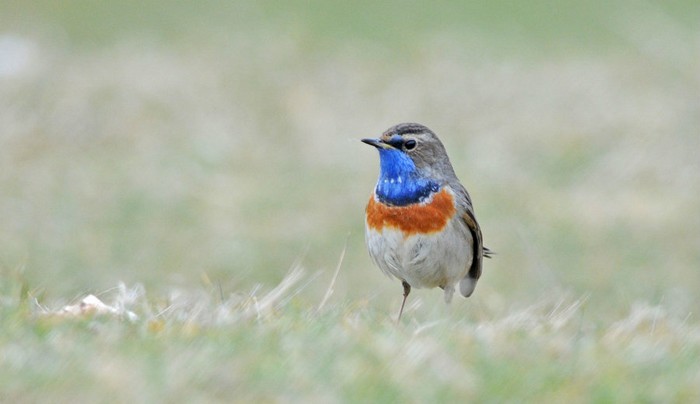 Birds leftover from last week were the males at St. Helen's (Isle of Wight) and Chesil Cove (Dorset) ~ to 5th and 6th respectively, and the female at Samphire Hoe CP, near Dover, present to 3rd.
In County Durham, near Houghton-le-Spring, the Little Bunting seen for a week at the start of November was, remarkably, back again on 8th-9th around the Elba Park area of the town ~ found on both occasions by the same observer. Where's that one been for the past six months?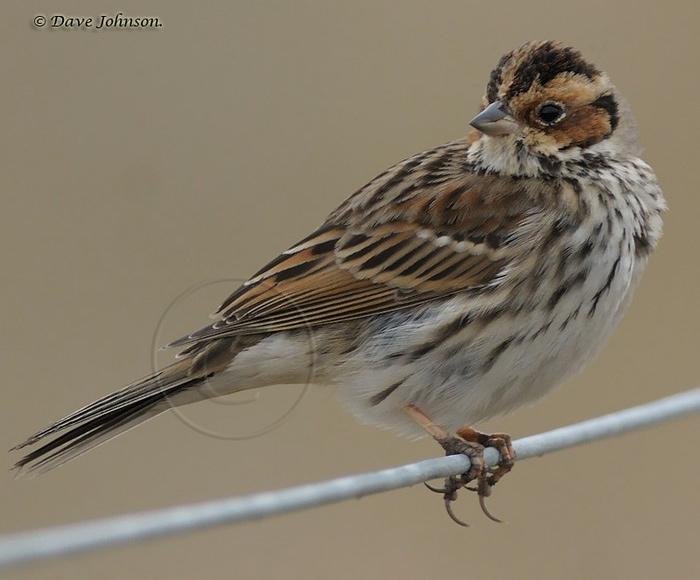 A couple of new Hoopoes appeared in the southwest ~ one was noted at three sites on Portland on 7th and on 9th, in Cornwall, one arrived on the Lizard peninsula, at Lestwoder.
The male Penduline Tit showed at Stodmarsh NNR (Kent) between 3rd-6th, while wintering fare included the Common Rosefinch still on feeders in Broadstone (Dorset) on 3rd, the singing male Pallas's Warbler at Moor Green Lakes (Berkshire) to 9th and the first-winter Rose-coloured Starling in Exminster (Devon) through to the end of the week as well.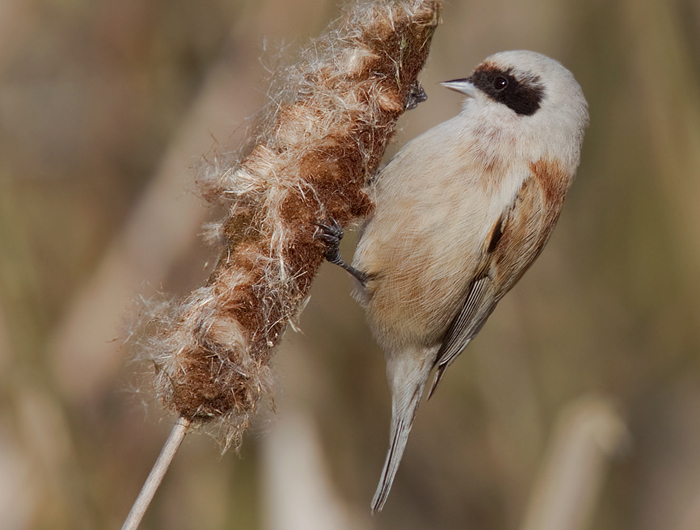 Despite the impending spring, there were up to 11 Great Grey Shrikes on the go this week ~ one at Bempton (East Yorkshire) on 7th was presumably about to take its leave of the UK after a winter sojourn somewhere, or it could even have been a continental overshoot…
In Surrey, a Great Grey Shrike was trapped at Leith Hill on 8th when the bird at Thursley Common was still present and correct. Two birds were in Glamorgan, at Llwyn-on Reservoir from 3rd and again at Crynant on 4th, with two more still in Dorset, at Sixpenny Handley to 5th and Morden Bog to 6th. Next door in Hampshire, two singles were in the New Forest during the week, at Beaulieu Road Station and the Bishop's Dyke and further singles remained at Egmere (Norfolk), Beeley Moor (Derbyshire) and Cannock Chase (Staffordshire).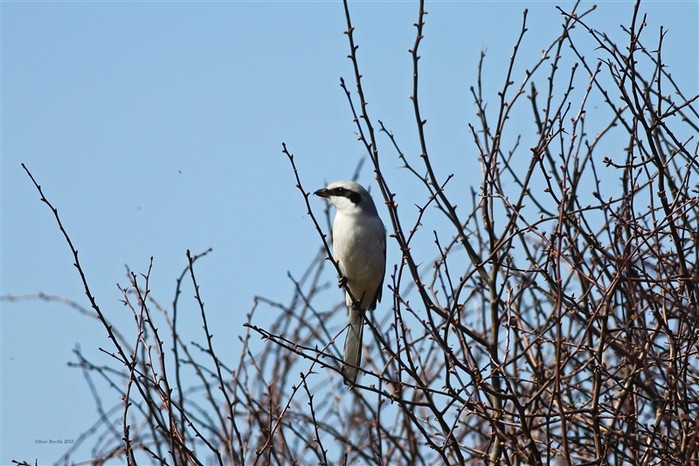 Waxwings were still scattered liberally around much of the country, but it certainly seemed as if numbers had afllen away even since last week when well over 3,500 were reported.
Just one three figure flock was noted this week, 154 birds still in Orrell (Greater Manchester) on 6th, with honourable mentions to the 53 in Topsham (Devon) on 3rd ~ that's a decent number of Waxwings to have so far west in April ~ and the 79 in Castleford (West Yorkshire) on 4th, the only other significant flock noted this week.
Another week done then and as each Spring week advances onwards, the mind thinks of bigger and better rarities….
In the corresponding week we're coming to over the last decade there have been a few megas to entertain the masses. In April 2004, a drake Bufflehead in Greater Manchester and then West Yorkshire was a popular draw while in 2007, two drake Barrow's Goldeneye were up for grabs, with the same year offering up a one-day male Blue Rock Thrush in the Elan Valley, in Powys, on April 11th 2007 ~ the most recent record of the six accepted to date.
As well as the Euro-overshoots that we're hoping come our way, April also offers fans of all things American sparrows, juncos and their ilk half a chance to make a name for themselves....
Seven Slate-coloured Juncos have been found in April and there have been two White-throated Sparrows too. There've been two Brown-headed Cowbirds found in April (the first and second for Britain found in the month) and Shetland has collected all three April Song Sparrows, including one in the week we hit next, found on Fair Isle on April 11th 1989 ~ and the 11th also boasts an even-rarer North American arrival in the shape of Britain's first-ever (and only ) "Ipswich" (Savannah) Sparrow, found on Portland Bill in 1982, where it stayed for six days. Britain's only other two Savannah Sparrows (more conventional looking ones) were autumn birds on Fair Isle in 1987 and 2003.
Mark Golley
10 April 2013
With a current total of just shy of 200,000 signatures, please take a moment to head over to the Badger Trust's "Stop the Cull" website and sign the petition ~ it only takes a moment and the more of us who sign it, the better the chances of enforcing action against the Department of Environment, Food and Rural Affairs plans to wipe out huge numbers of Britain's badgers.
PLEASE SIGN THIS PETITION NOW

A special thanks (for the second week running!) this week to Gavin Thomas for his words and photos on his amazing Killdeer find.
Hugh Harrop / Shetland Wildlife
,
Shailesh Patel
,
Chris Upson
,
John Richardson
,
Oriole Birding
, Darren Robson, Gus Guthrie, Jon Hall/The Bumbling Bears, Ivan Elison, Brian Henderson, Tom Tarrant, Robin Mawyer, Bill Dykes, Dave Johnson, Steve Ashton, Oliver Reville,