Weekly round-up: 27 Feb - 05 Mar 2013
The week at a glance
Hebrides' drake Harlequin maintains "top bird" status this week
Pied-billed Grebe continues to show well in Somerset
Wexford's young female Northern Harrier remains at Tacumshin
American Coot still in place in Galway
First tiny trickle of summer migrants dribble in too
A largely dry week for many of us as relatively calm, almost benign conditions held firm across the country ~ bursts of warming very early spring sunshine dotted themselves liberally around the place too as a sizeable area of high pressure maintained station over Britain and Ireland through to the weekend and beyond.
Winds were light and generally from the southeast, temperatures rallied to double figures and as the Skylarks sang and the Lapwings cavorted their giddy way over the local marshes it felt as though winter's corner had been turned…
That maybe a short-lived hope perhaps…as rain is apparently on the way….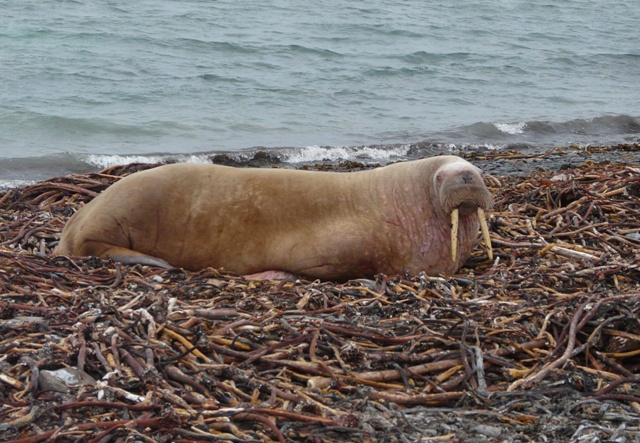 Headline birds
No question that still leading the way in terms of this week's best bird was the delightful drake Harlequin, continuing to be a suitably enticing draw for many way up on the Outer Hebrides, performing nicely on the sea at Traigh Iar, near the RSPB reserve at Balranald throughout the week.
This most dapper of ducks seems to be in no hurry to depart (but that was thought to have been the case with the Pine Grosbeak…) and has been present now for almost three weeks.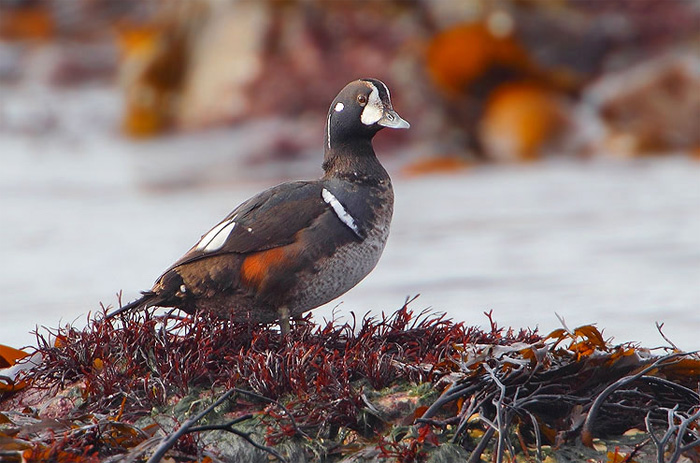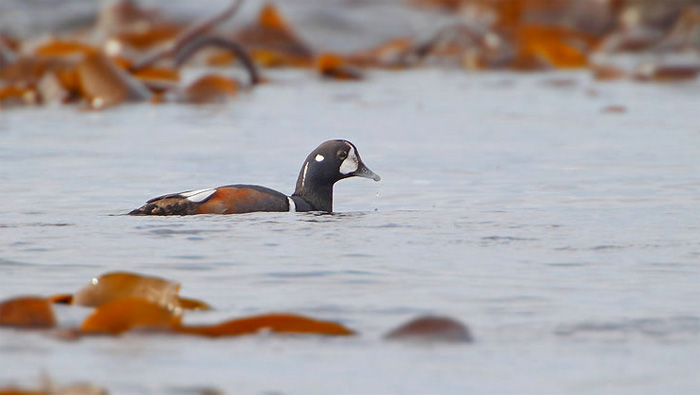 The 2013 bird completes a Hebridean hat-trick where this still-mega duck is concerned, the last three records of the species have been recorded around the island archipelago ~ this year's bird follows the surprise (photographed) adult drake off St. Kilda in mid-June 2007 and Britain's longest-staying Harlequin, the female on Coll, Lewis for over four months from mid-January to mid-May 2004. The Hebrides only other record was a male seen in the Sound of Harris, off Berneray on February 13th 1931.
In Somerset, celebrating the Golden Anniversary of the species' first recorded British appearance (fittingly enough in the same county), was the summer-attired Pied-billed Grebe on the Avalon Marshes, still showing daily at Ham Wall RSPB throughout the week. Visitors to the site this week could also enjoy a host of cracking top quality padders ~ a drake Ferruginous Duck (to 4th at least), a drake Ring-necked Duck (from 3rd), the inevitable Great White Egret (throughout the week) and three Spoonbills (on 5th).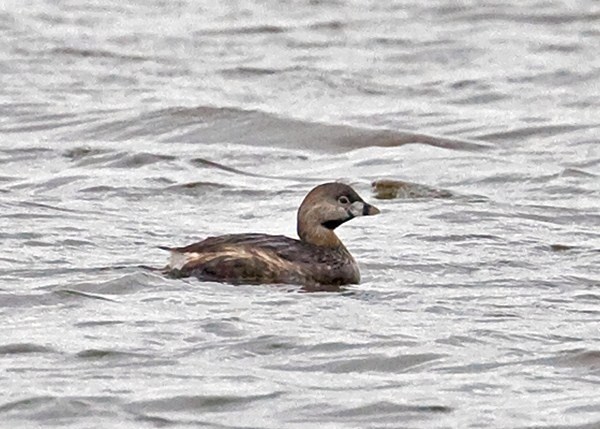 Another site that remained full to bursting with high-quality birds was Tacumshin were Wexford birders continued to enjoy the young female Northern Harrier to 3rd ~ their other bits and bobs will be found scattered liberally throughout the rest of the review…
Elsewhere in Ireland, the wintering American Coot was still on Murlach, Ballyconneely (Co. Galway) to 4th, having clocked up three whole months on site since it arrived in late November.
Seabirds
Seabirds were in decidedly short supply this week ~ no surprise given the gentle conditions.
On Orkney, the White-billed Diver remained in the waters off South Ronaldsay from 28th-3rd, seen again at St. Margaret's Hope and also at nearby Cara. A second White-billed Diver was seen in Highland, off the pier at Huna, near John O'Groats on 4th and a third was off Uisead Point (Argyll) on 5th. The only other seabirds of note were the three Balearic Shearwaters off Gwennap Head, Porthgwarra (Cornwall) on 1st.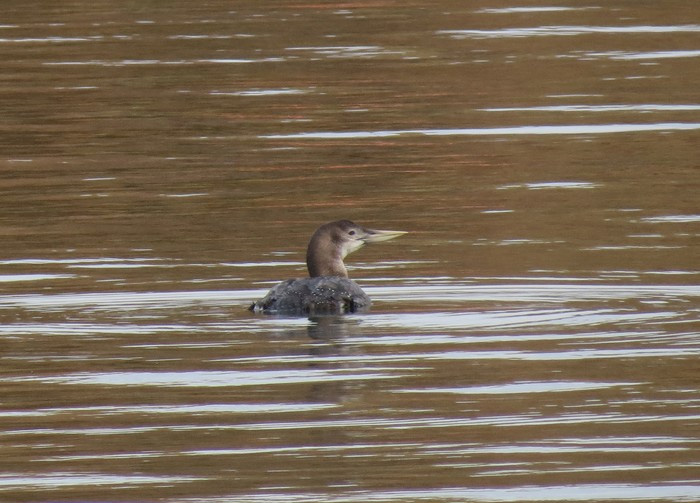 Herons, Egrets & allies
Despite the early on-set of spring, there were still over 20 Great White Egrets on offer over the past few days with two sets of three reported ~ at Queensferry (Flintshire) on 28th and at Dungeness (Kent) throughout the week.
In Wales, two sets of two were noted, at Llanrhidian Marsh (Glamorgan) to 2nd and at the National Wetlands Centre WWT (Carmarthenshire) on 3rd, while up to four birds were also recorded in Norfolk this week ~ singles still in the Broads (around Hickling and Horsey) on 2nd and on the edge of Norwich city, at Bowthorpe to 3rd when one was seen again at Lynford Water with perhaps this bird then appearing at Boughton Fen on 4th.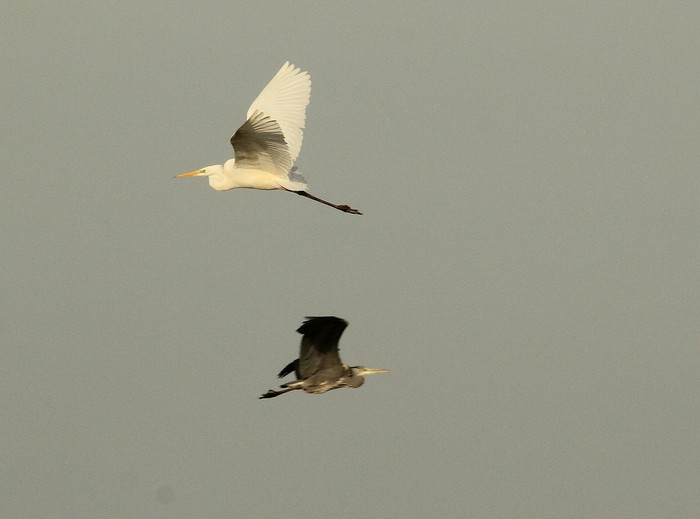 Further singles remained in Cheshire, at Hale Marsh and Frodsham to 27th and 2nd respectively while in the Midlands, a Great White Egret stayed at Pitsford Reservoir (Northamptonshire) to 3rd at least. Another long-staying single was at Coate Water Park (Wiltshire) on 1st while in Somerset, aside from the bird at Ham Wall RSPB mentioned earlier, another was seen at nearby Catcott Lows NR off and on until the weekend. On the evening of 4th, a Great White Egret flew over Cork City and the final bird of the week was seen over Needingworth Quarry Lakes (Cambridgeshire) on 5th.
The only Cattle Egrets this week were two birds seen heading past Lough Gur (Co. Limerick) on 3rd.
In west Wales, at Marloes Mere in Pembrokeshire, the resident second-winter Glossy Ibis entered in to another new month, still present on 3rd ~ if it is one of the original three seen at the site, it has now clocked up 14 months in the area, almost 10 of which it has spent as a lonesome Ibis soul…
In Hampshire, another single Glossy Ibis remained at Warblington from 27th-5th, still frequenting fields near the cemetery.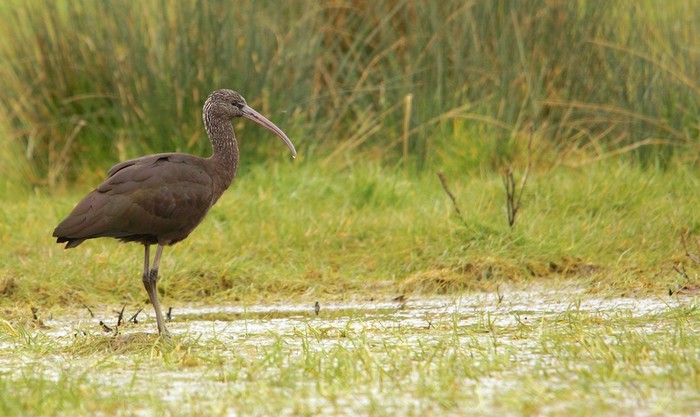 Around 30 Spoonbills were seen this week with the highest count coming, once again, from Dorset's Poole Harbour, 13 birds seen at Arne RSPB on 28th. Five birds were still on the north Devon marshes, at Yelland, on 2nd (with nearby singles the same day at Ashford and Fremington). In Hampshire, two birds were noted at Normandy Marsh and Lower Pennington on 3rd (with one the same day over Hill Head) and singles were also noted in Cornwall (at Walmsley Sanctuary), in Devon (at Seaton Common), in Norfolk (at Cley), in Lancashire (at Marshside RSPB) and in Waterford (at Dungarvan).
In the Norfolk Broads, after weeks of single figure Common Cranes, a stonking 40 were noted near Brograve Farm, Waxham on the afternoon of 2nd ~ perhaps all those roaming flocks around the country have come home for the spring? Earlier in the week, on 28th, four Cranes were seen heading west over North Walsham before then appearing going east over Titchwell RSPB later that morning.
Away from Norfolk, the first-winter Crane remained at Tyninghame (Lothian) to 3rd at least, two birds were seen heading over Scarborough (North Yorkshire) on 27th, two were at Burwell Fen (Cambridgeshire) on 1st while in Suffolk, four Cranes were at Lakenheath Fen RSPB on 3rd with the same date seeing another report of a single bird at Martin Mere WWT (Lancashire).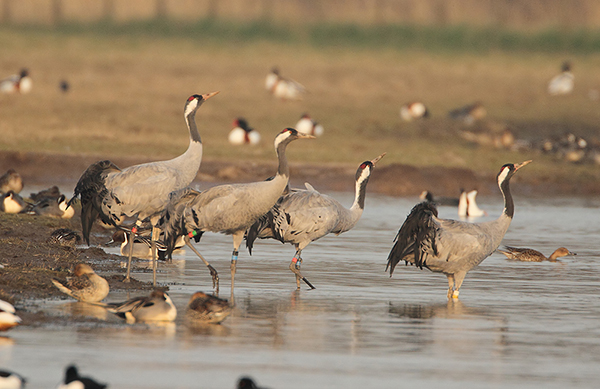 Geese & Ducks
Cheshire's first Lesser Scaup in nearly a decade was great find at the impressive Burton Mere RSPB on the morning of 3rd ~ and will become only the fourth county record of this occasionally still tricky Aythya. The most recent record was a male at Sandbach Flashes in October and November 2004, and followed further single drakes at Redes Mere in April 2001 and a summering first-year at Frodsham from May to September 1996. What was presumably the same brid was at Shotwick Fields (Flintshire) the following day (having been seen here at the start of February).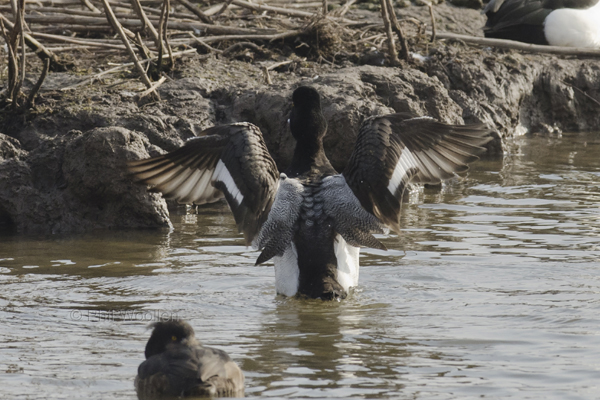 Elsewhere, the adult drake was again at Siblyback Reservoir (Cornwall) on 1st-5th (one was seen here on February 20th) while the wintering youngster remained at Lough Gash Turlough (Co. Clare) to 5th.
After two of Scilly's trio of Ring-necked Ducks took another little trek across the sound to Tresco's Abbey Pool on 27th, all three were back on Porth Hellick Pool, St. Mary's by 2nd. In Devon, Slapton's duck and drake were noted in Ireland Bay on 27th and were still on site to 4th while in East Yorkshire, the gallivanting drake popped up on the fishing lakes at New Arram on 2nd and was still there the following day before moving to Leconfield on 5th.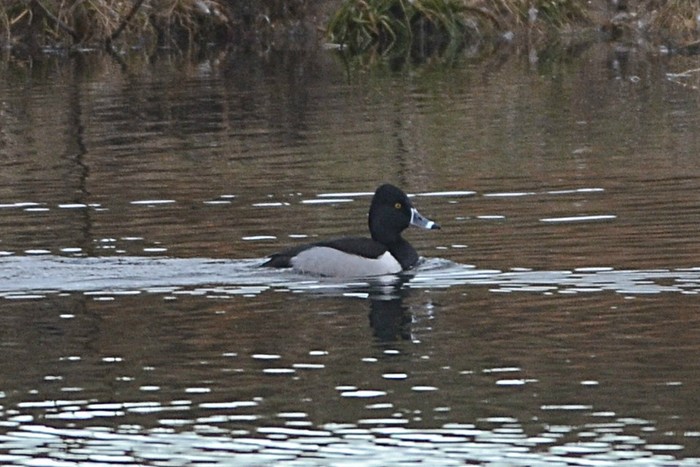 On the Outer Hebrides, a female Ring-necked Duck was on Loch Scaraidh and then Loch Sandary, North Uist on 27th-2nd while Irish singles (both drakes) remained at Ross Castle, Lough Leane (Co. Kerry), Roo Lough (Co. Clare) and Knockaderry Lake (Co. Waterford).
As well as the drake Ferruginous Duck at Ham Wall RSPB, Somerset also entertained a second drake, this one at Wimbleball Lake on 3rd (one was seen here during the early stages of the winter). The week's third and final Fudge D. was the popular drake that remained at Priory CP (Bedfordshire) to 2nd at least.
In Dumfries & Galloway, at Threave Castle, the drake Blue-winged Teal was present again on 28th-1st at least, while four of the week's 10 drake Green-winged Teals were seen in Ireland ~ on Blanket Nook (Co. Donegal) on 1st and still at Ballyquintin (Co. Down), on the Courtmacsherry Estuary, Timoleague (Co. Cork) and Tacumshin (Co. Wexford) across the weekend of 2nd-3rd.
On the Outer Hebrides, a Green-winged Teal was at Baleshare, North Uist on 2nd, while English birds remained at Dorman's Pool (Cleveland), Brandon Marsh (Warwickshire), Breydon Water (Norfolk), Poole Harbour (Dorset) and at St. John's Lake, Torpoint (Cornwall).
The drake American Wigeon was at Fiskerton Fen (Lincolnshire) until 27th with the only other records this week being the still-present drake on the Exe Estuary, around Bowling Green Marsh from 27th-3rd and a third drake at Finstown, Mainland (Orkney) on 3rd-4th.
A first-winter drake King Eider was found in Bluemull Sound, Yell (Shetland) on 1st, while Surf Scoters included four off Llanddulas (Conwy) on 2nd (three males and a single female amongst the 20,000 Common Scoters there). A single drake was reported from Blackpool (Lancashire) on 2nd, with further lone males again off Soleburn (Dumfries & Galloway) to 2nd and Ruddon's Point (Fife) to 4th, while in Ireland, at Ballinskelligs in County Kerry, the young drake remained to 3rd. In west Wales, the female Surf Scoter was still at Broad Haven (Pembrokeshire) throughout the week.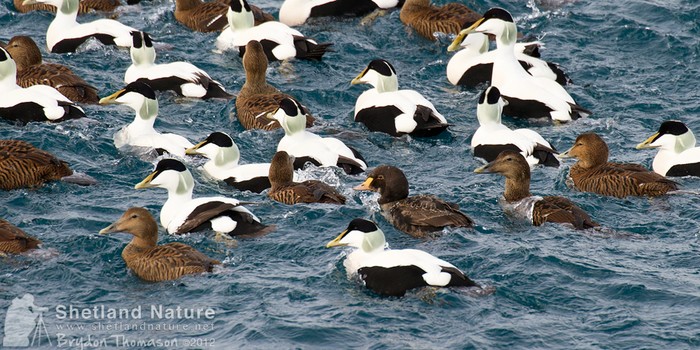 On the Irish goose fields of Sligo, three Richardson's Canada Geese were found with 2,000 Barnacles at Ballintemple on the afternoon of 3rd. In Scotland, at least three single Richardson's were noted ~ one was still on Islay (Argyll) at Loch Indaal, to 1st (and it or another was at Loch Gruinart on 3rd), with the others at Loch Paible, North Uist (Outer Hebrides) on 2nd and again at Mersehead RSPB (Dumfries & Galloway) on 2nd-3rd while the Todd's Canada Goose was at Newton Marsh (Cumbria) to 28th.
In West Sussex, the adult Red-breasted Goose remained at Thorney Island to 3rd before moving back to Farlington Marshes HWT (Hampshire) on 5th, while half a dozen Black Brants were reported ~ two of them (an adult and juvenile) still on the saltings at Felixstowe Ferry (Suffolk) on 28th (the young bird still present to 5th) with one each for the Heybridge Basin (Essex) on 2nd, the Fleet (Dorset) on 2nd-4th and at Southsea (Hampshire) and Gibraltar Point (Lincolnshire) on 4th.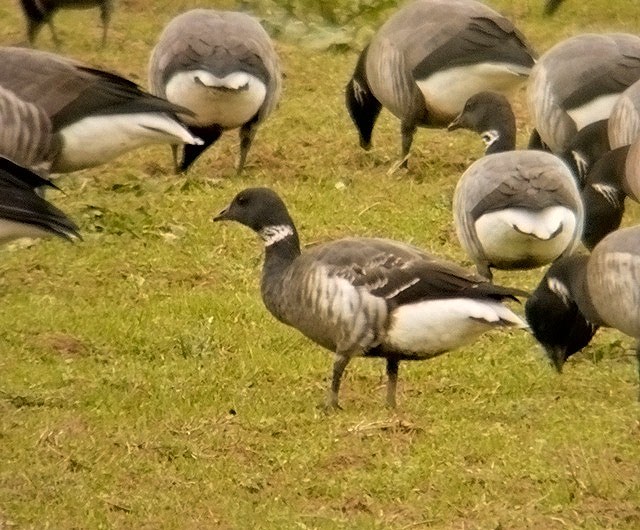 The latter site was home to a possible Gray-bellied Brant on 2nd with one of the birds seen in recent weeks remaining at Greendale Park, Donaghmede (Co. Dublin) over the weekend, to 3rd.
Single adult blue Snow Geese remained at Pilling Lane Ends (Lancashire) to 27th and Lower Lough MacNean (Co. Fermanagh) to 5th, while the pair of white Snows on the Outer Hebrides were seen at Loch Paible, North Uist on 2nd and Loch Sandary on 4th. A lone Snow Goose was at the Mull of Galloway (Dumfries & Galloway) on 4th and another remained in Donegal, at Sheskinmore Lough, to 5th. In Norfolk, the O.U.O Ross's Goose was at Horsey Mill on 3rd with Pink-footed Geese (no mention of the Barnacles…) and was followed by a Ross's Goose with Barnacles (and nothing else) was back at Cley on 5th.
Shorebirds
An American Golden Plover was found amongst a group of Grey Plovers at Tacumshin on 1st, where the adult Long-billed Dowitcher was still in place to 3rd at least. The first-winter Long-billed Dowitcher on the Gann Estuary (Pembrokeshire) was seen until 3rd (entering in to its third month on site, having been found on New Year's Day).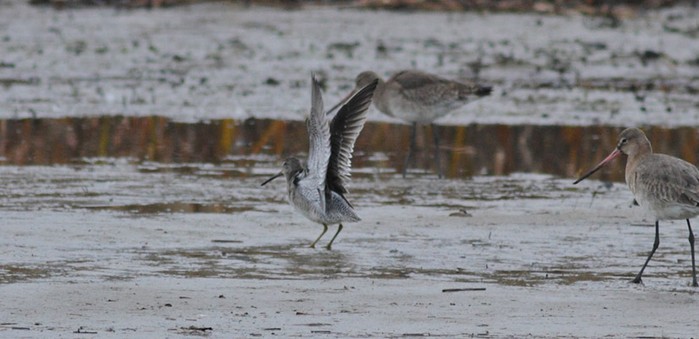 A longer-staying US visitor (now in to a sixth month, having appeared in October last year) is the Lesser Yellowlegs at Ernesettle Creek, near Plymouth ~ still present on 3rd with 134 days and counting on the clock.
Gulls and Terns
A new adult Bonaparte's Gull was found in the roost on Skerries Beach (Co. Dublin) on the evening of 2nd, potentially only the sixth or seventh county record. In Glamorgan, the (two?) single adult Bony's were seen again in Cardiff Bay on 1st, 2nd and 4th with the other still on the Ogmore Estuary on 2nd-3rd.
With winter seemingly in her final few days, it wasn't too much of a surprise to see a slight fall in the number of Ring-billed Gulls again this week ~ 22 birds noted, with sixteen for Ireland, four for England, two for Scotland and one bird for Wales.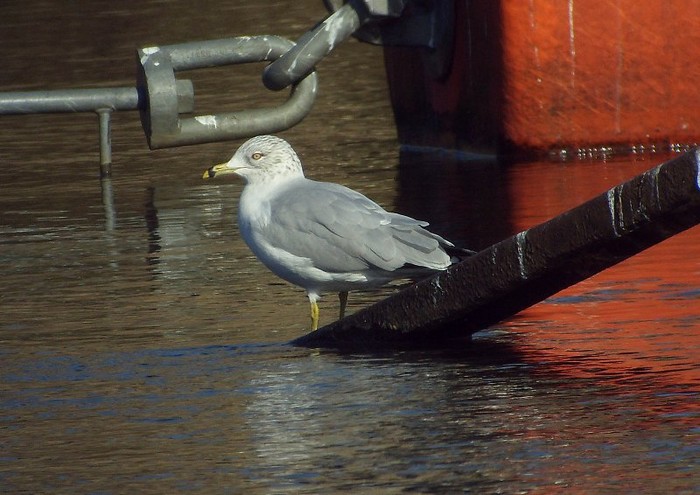 Four birds were in County Cork, first- and second-winter birds were at Timoleague on 2nd with lone adults present near Midleton on 27th and in Cork City on 5th. Two adults were at Nimmo's Pier (Co. Galway) on 3rd and two more adults were seen around Dublin's Sandymount Strand on 3rd, with a third bird still at Drimnagh to the same date. Further lone Irish adults were still at Tramore, in Waterford to 2nd, Carrickfergus and Portrush in Antrim and also in Wexford town to 3rd, with the wintering first-year still in Sligo on 3rd. Two birds, an adult and first-winter remained at Tralee Wetlands (Co. Kerry) to 5th.
England's four were all adults, one of them being a new bird ~ seen off Hannafore Point (Cornwall) on 3rd. The others were at Crosby Beach (Merseyside) on 27th and again at Sands End GP (West Yorkshire) and also still in Gosport (Hampshire), both the latter birds present over the weekend of 2nd-3rd.
The first-winter Ring-billed Gull at East Voe, Scalloway (Shetland) remained to 27th and the adult was still at Dingwall to 28th (presumably enjoying the odd visit to see the soaraway Staggies at Victoria Park…) while the Welsh contingent, a lonely singleton, was a new first-winter bird at Neath (Glamorgan) from 2nd.
Two juvenile Kumlien's Gulls were still at Killybegs (Co. Donegal) on 1st with at least one juvenile still present at Castletown Bearhaven (Co. Cork) on 28th. On the Outer Hebrides, two birds were seen during the week, one passed Peninerine, South Uist on 1st with another near the Harlequin on North Uist on 2nd. A second-winter bird appeared in the roost at Chasewater (Staffordshire) on 4th while the "is it or isn't it" juvenile remained at Barmston in East Yorkshire all week.
Compared to only three weeks ago, numbers of Glaucous Gull have almost halved from 80 in mid February to just over 40 in early March. A dozen were in Ireland made up, almost entirely, of eight juveniles at Killybegs on 1st.
Half a dozen birds were seen in Scotland, with a similar number in the northeast, including three juveniles that remained at Seaton Carew (Cleveland), while at least seven were noted in the Midlands, including at least four in Staffordshire, three of them at Chasewater Reservoir on 3rd-4th. Numbers elsewhere around the country were low, and getting lower day by day too.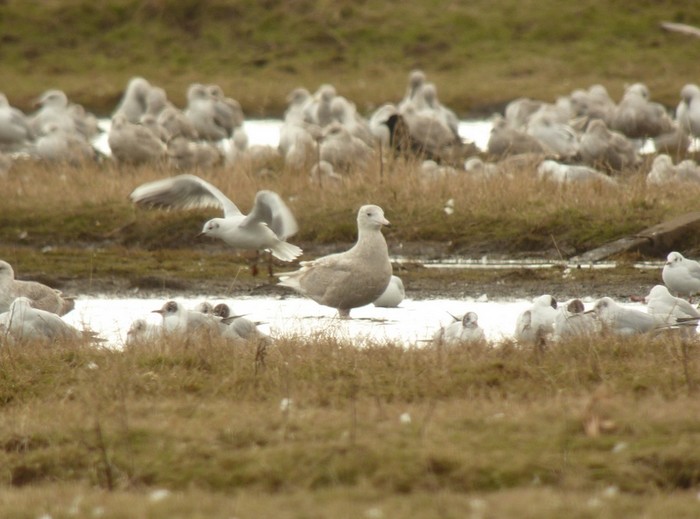 Iceland Gulls
too have dropped in number over the past few weeks ~ around 40 recorded this week and, as with Glaucous, it was Donegal's Killybegs that scored best this week, nine birds present there on 1st (an adult, four second-winters and four juveniles) making up a considerable portion of Ireland's 14 birds this week.
The Midlands fared well, at least eight birds there (including two in the Chasewater roost on 3rd and 4th) while three were noted at Richmond Bank (Cheshire) on 1st.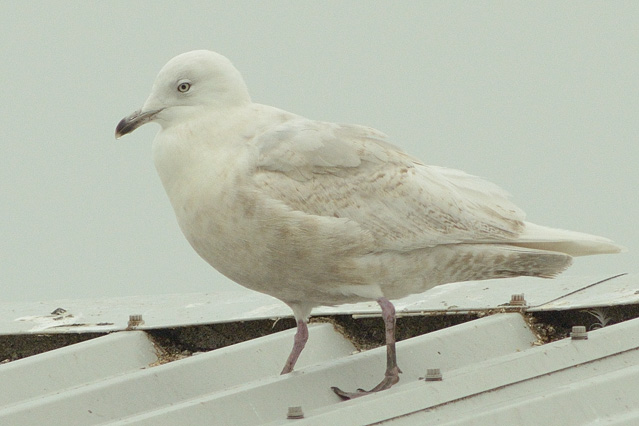 On Scilly, off Morning Point, St. Mary's on the afternoon of 28th, a possible second-winter American Herring Gull was watched for an hour or so but despite searching wasn't seen again. Greyer second-winter smithsonianus, such as this one, are far harder to deem acceptable in a European than the more swarthy, brown second-winters that almost mimicking the appearance of a first-winter, and the grey birds need to be feather perfect which, the learned Larophiles suggest isn't perhaps the case with this individual. It's one to watch though….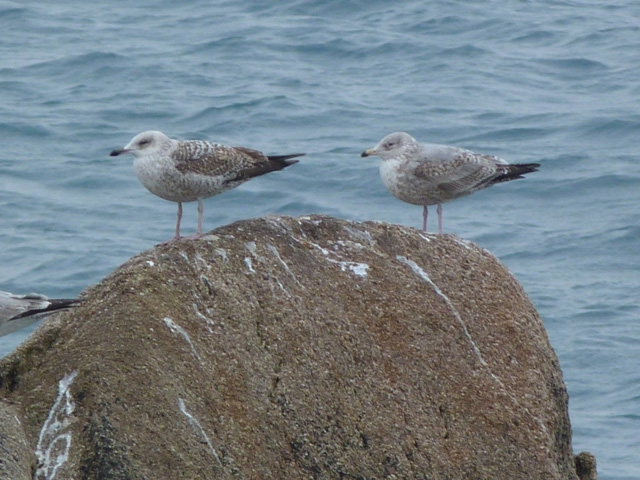 Raptors
The beautiful male Snowy Owl was still present in the Cairngorms, a mile or so from Ben Macdui, on the summit of Garbh Uisage Mor on 27th-4th at least ~ a site that is recommended only for experienced hill-walkers ~ listers in espadrilles and linen suits may be advised to give it a miss…!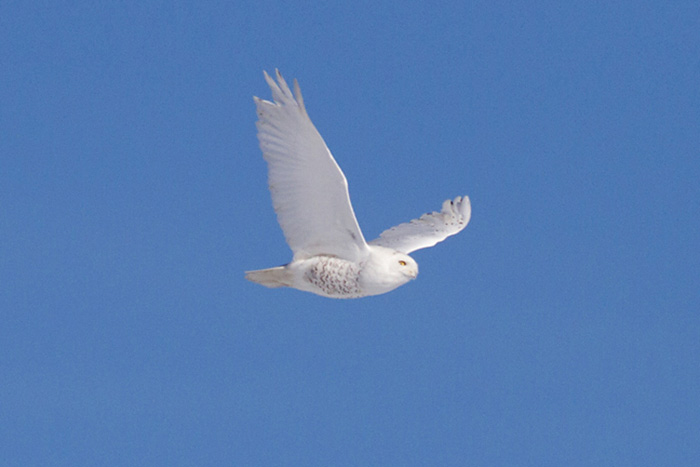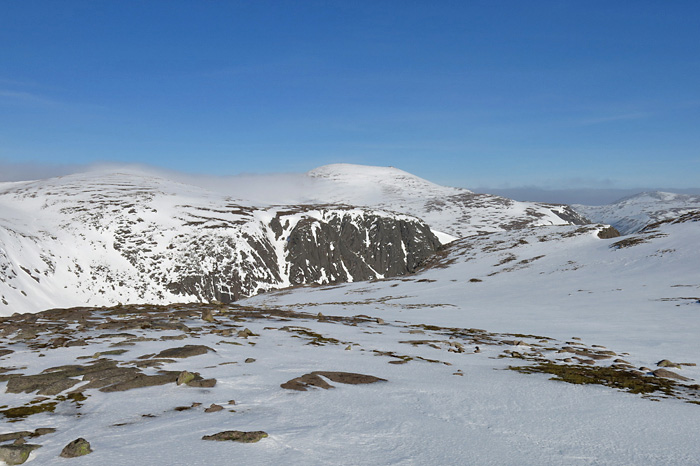 On Orkney, after having its photo taken on South Ronaldsay at the end of last week, the white Gyrfalcon was seen over Newark Bay, Mainland, on 27th.
Norfolk's juvenile White-tailed Eagle lingered in the open parkland areas of Anmer and Houghton for a few more days this week, still present to the end of the week in fact (though proving very hard to see for much of the time, with a few observers thrown off the scent by unconfirmed reports that it headed back to whence it came, over the Wash to Lincolnshire) while the same county was host to up to five Rough-legged Buzzards ~ two remained on the marshes at Haddiscoe to 1st (one was there to 3rd) and singles were reported from King's Lynn on 27th, North Walsham on 2nd and Holkham on 2nd-3rd. Elsewhere single Rough-legs were reported from Kent and Somerset.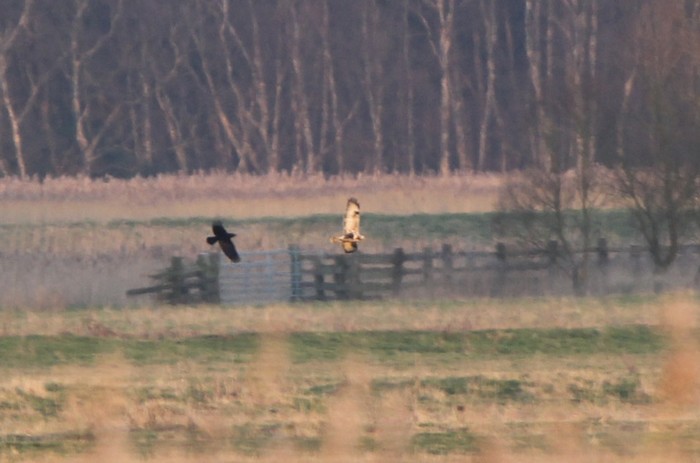 Springing an early surprise in Raptorworld was the arrival of a Black Kite in Kent, seen heading over Bough Beech Reservoir on the morning of 4th ~ prior to the species' removal from the rarities list in 2005, there were just six accepted March records, the earliest being one in Suffolk on March 16th 1996.
Passerines
Starting off in unseasonal passerine corner this week, are four of the winter's less-typical visitors.
Rarest of the quartet remains the female Desert Wheatear at Rattray Head (Aberdeenshire) ~ she's still appears to be finding life on the northeast coast of Scotland very much to her liking, on station to 5th. On the Berkshire/Hampshire border, the Pallas's Warbler was also present over another weekend, seen at both Moor Green Lakes and Eversley GPs, while in Dorset, near Poole, the Common Rosefinch continued to visit a private garden in Broadstone for another week and the Hoopoe was seen again in the Sandy Lane area of the town on 4th.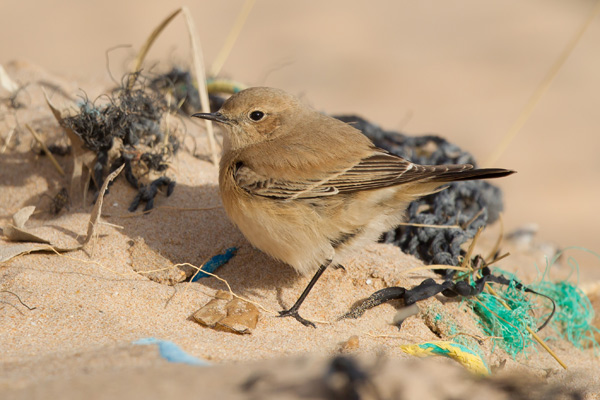 In Cornwall, at the Gwennap Sewage Farm near Redruth, a Yellow-browed Warbler and four Siberian Chiffchaffs were in place to 3rd while next door in Devon, the first-winter Rose-coloured Starling at Exminster was present to 4th at least.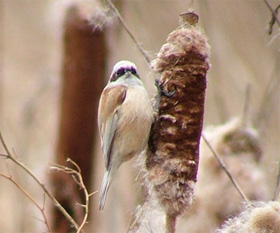 The male Penduline Tit at Stodmarsh NNR (Kent) remained a popular weekend bird this week, still present to 5th and occasionally showing well, with another seen again at Dungeness RSPB, also on 5th. Another bird that was ceratinly retaining its crowd-pulling power was the Black-bellied Dipper in Thetford (Norfolk) ~ though more of the binoculars and camera lenses seem now to be focusing on the show-stopping Otters there...
Three of the week's 10 Great Grey Shrikes were in Wales, two of them in Denbighshire ~ at World's End and also still in the Clocaenog Forest ~ with the third bird lingering at Mynydd Illutud (Powys) to 2nd. Elsewhere,"newish" singles remained at Loch Davan (Aberdeenshire) to 27th, Wrentham (Suffolk) to 3rd and in Herefordshire, at Climbing Jack Common, near High Vinnalls to 5th, with familiar winterers still at Beeley Moor (Derbyshire), Therfield (Hertfordshire), Thursley Common (Surrey), Bishop's Dyke (Hampshire) and Sixpenny Handley (Dorset).
Despite the onset of some early spring sunshine, there were well over 4,000 Waxwings dotted around the country this week, with the southeast of England leading the way with at least 1,200 birds in the region. Following on behind were the northwest of England, with around 1,000 birds reported (including 80 in Liverpool on 27th) with around 880 birds in the northeast (with 85 in Barmston, County Durham on 28th being the largest flock recorded this week).
The Midlands laid claim to around 450 birds, the Westcountry and southwest England scored over 350, East Anglia just under 300, Ireland around 130 birds, Scotland 91 and Wales 39.
After the appearance of two male White Wagtails on Scilly last week and 30 on two islands on 5th (along with three or four Black Redstarts) there were also a couple of Sand Martins reported in the last few days to make it feel a tiny bit more spring-like, single birds seen at Lackford Lakes SWT (Suffolk) on 2nd and Walthamstow Reservoirs (London) on 4th. Northern Wheatears arrived at Dawlish Warren (Devon), Weir Wood Reservoir (East Sussex), Skomer and Skokholm (Pembrokeshire) and Aberystwyth (Ceredigion) while a Sandwich Tern flew past Bexhill (East Sussex), all on 5th.
Slowly but surely then spring is on the way….and there are a few nice rarities to think about too….there have been 11 March Ross's Gulls (including six in the 2000's), six March Sardinian Warblers (the earliest being the popular male near Bude from March 8th 1990, with those half dozen records split equally between Cornwall, Scilly and Norfolk) and at least 17 March Little Crakes (tho' 13 of those came between 1791 and 1913, with the touch-tame Cuckmere bird in 1985 appearing on 6th).
There have also been a trio of humdingers too in the week we're coming up to now…the infamous Spurn Tengmalm's Owl was discovered 30 years ago to the day (March 6th 1983), Britain's first Black-faced Bunting was found at Pennington Flash on March 8th 1994 (only four have followed), while a 16 day visit to garden feeders at Nethybridge by Britain's second (and most recent) Evening Grosbeak, from March 10th 1980 is something that everyone would dearly love to see replicated now….the first was also a March bird, out on St. Kilda in 1969 ~ but it is now eye-wateringly rare and, funnily enough, barely on the radar.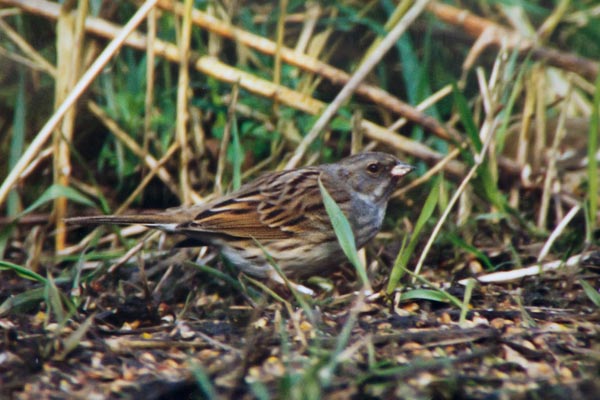 Mark Golley
06 March 2013


Many thanks to this weeks contributors for their photos and videos
Special thanks this week to Mark Warren and Kevin Woodbridge and the
North Ronaldsay Bird Observatory
Kit Day Photography
, David Carr, Paul Higson, Ashley Banwell,
Alex Berryman
,
Gary Thoburn
, Phil Woollen, Andrew Hood,
Brydon Thomason - Shetland nature
, Barry Woodhouse,
Paul Kelly - Irish Bird Images
, Ray Scally, David Aitken, Frank Golding,
Will Scott
,
Carl Baggott
, Sean Nixon,
Simon Knight
, Neil Randon,
Alan Tate - AA Bird Pix
.