Weekly round-up: 13 - 19 Feb 2013
The week at a glance
Stunning drake Harlequin Duck on the Western Isles
Pied-billed Grebe found in Somerset
Pine Grosbeak increasingly lonely on Shetland
Pacific Diver again in Cornwall
Two Black Ducks still in Cork
American Coot still in Galway
Snowy Owl graces Fermanagh
Northern Harrier hangs on in Wexford
The winter's chill hold finally broke this week, although a band of snow affected central parts on 13th. Behind it came suddenly mild conditions and temperatures of up to around twelve degrees for some. It was not to last, however. By 19th a Scandinavian high pressure was fully in charge and a strengthening easterly flow and increasing cloud cover ensured that temperatures were soon heading all the way back down again. Common birds responded well to the rapidly lengthening days and the suddenly mild conditions but these are early days indeed for spring rarities. Thoughts of Great Spotted Cuckoos and Red-rumped Swallows will have to wait a while yet!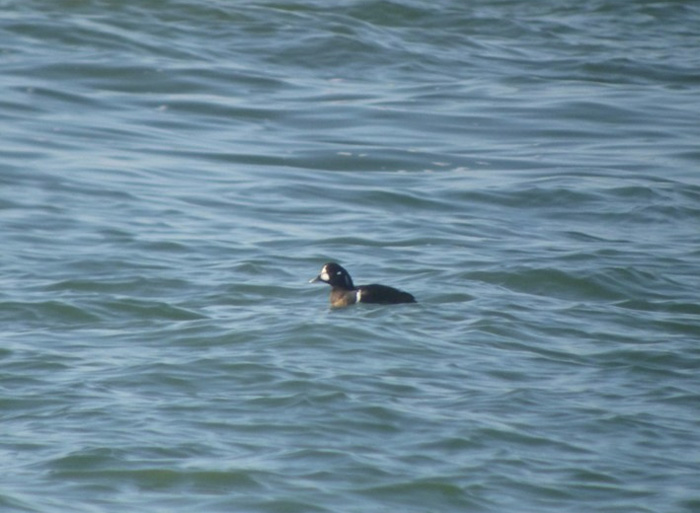 Headline Birds
The outstanding discovery of the week was a true winter bird - a beautiful drake Harlequin Duck on the sea off Balranald, North Uist, Western Isles on the afternoon of 18th and still present in the early evening of 19th. This is of course an outstanding rarity with only 17 records to the end of 2011, only 11 of which have been since 1950. As might be expected, many of these have been drakes but, sadly, most recent birds and almost all twitchable ones have been brown. The first of these was on Islay, Argyll in October 1987, with others at Wick, Highland from February to May 1991, 2 at Girvan, Ayrshire in April 1996 and on Lewis, Western Isles from January to May 2004. The only twitchable drake was a first-winter at Sullom Voe, Shetland in January and February 1987, the other recent drakes both being brief sightings - an 'age uncertain' bird off Fair Isle, Shetland on 15th October 1999 and an adult drake off St. Kilda, Western Isles on 18th June 2007. If this North Uist bird lingers, it will be deservedly popular.
Harlequin Duck in Britain and Ireland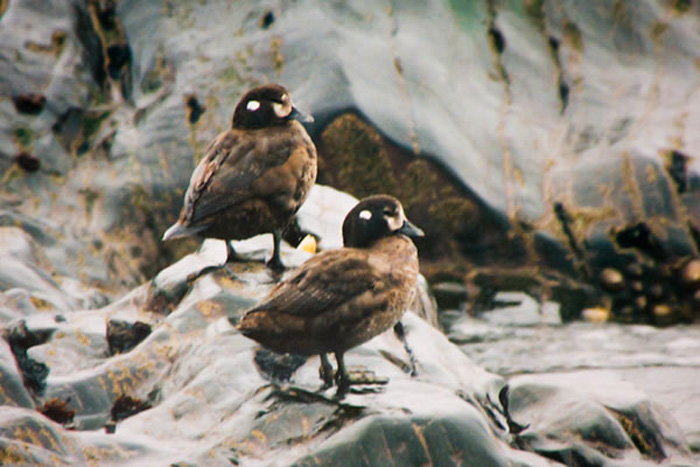 Until news of the Harlequin Duck, the best bird of the week had been a smart-looking black-throated, white-spectacled and black bill-banded Pied-billed Grebe at Ham Wall, Somerset. First found on 15th, it was confirmed next day and remained until 19th. Following the county boundary reorganisation, this becomes the first for Somerset. The nearby bird (Britain's first) which frequented both Chew Valley and Blagdon Lakes between 1963 and 1968 is now attributed to Avon. Though not a real 'top-drawer' rarity, Pied-billed Grebe is still a rare bird with only 39 British and 10 Irish records to the end of 2011. Records are increasing, however, and many have been long-stayers, ensuring that this is not a hard species to catch up with.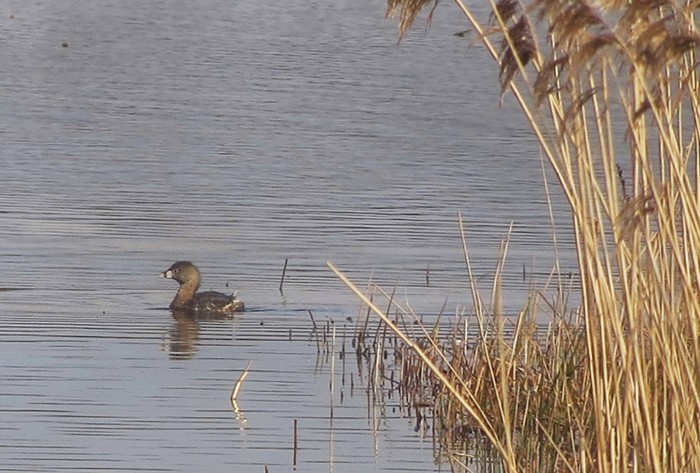 Otherwise, this week's list of star birds was an increasingly familiar one. Top of the pile was the Pine Grosbeak still in its remote pine clumps around North Collafirth, Shetland. Although mobile and now little looked-for, it was still present to at least 18th and presumably has the potential to linger a while longer. Signs of spring in Shetland must be few and far between at the moment.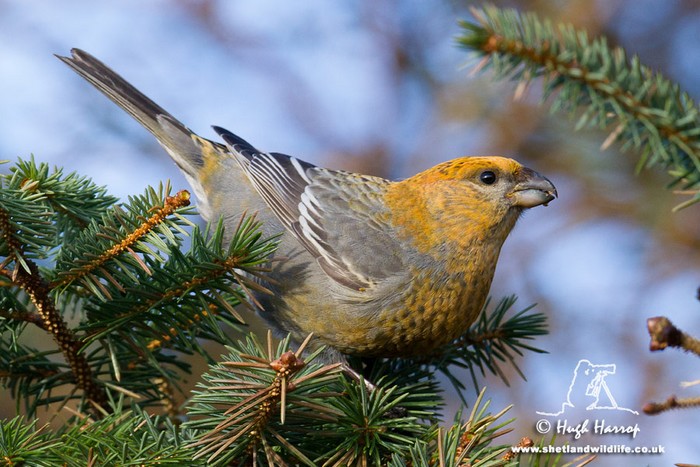 Ireland again dominated the remaining list of major rarities, with the latest Northern Harrier still at Tacumshin, Wexford, a Snowy Owl at Pettigo Plateau, Fermanagh on 15th, the two Black Ducks still in their flooded field at Mizen Head, Cork and the American Coot still at Murloch, Galway.
Apart from the Pied-billed Grebe, the only headline-grabbing bird actually on the British mainland was the reappearing adult Pacific Diver in Mount's Bay, Cornwall.
'Euronews' was sparse this week but a White-billed Diver caused waves (literally) in the Grevelingenmeer off Buinisse, Zuid-Holland from 13th to at least 18th, and a Black-throated Thrush was at Värmland, Sweden on 13th.
Seabirds
The best 'seabirds' of the week were White-billed Divers - one still in St. Margaret's Hope Bay, South Ronaldsay, Orkney to at least 14th and then another at the traditional site of North Lewis, Western Isles on 18th. Other rare seabirds were more notable by their absence, with only a paltry trio of Little Auks on offer - singles off Walney, Cumbria on 14th and Rhos-on-Sea, Conwy and North Ronaldsay, Orkney on 15th. Single Pomarine Skuas were off Minsmere, Suffolk on 13th and Frinton-on-Sea, Essex on 19th.
Herons, Egrets etc.
The wintering Great White Egret tally remained at just over the twenty mark, with some now familiar birds at familiar sites. The full list kicks off with at least 3 in the core breeding area in Somerset, another 3 at Dungeness, Kent and 2 on the Gower Peninsula, Glamorgan. The list of singles comprises birds at Norwich and Hickling, both Norfolk, Chenies/Latimer, Buckinghamshire, Parkgate and Frodsham, both Cheshire and Wirral, Hesketh Bank, Lancashire, Pitsford Reservoir, Northamptonshire, Llangorse Lake, Powys, Cilsan Bridge, Camarthenshire, Rickmansworth, Hertfordshire, Swindon, Wiltshire, Thorpeness/North Warren, Suffolk, Frome Valley, Dorset and Sandwich Bay, Kent.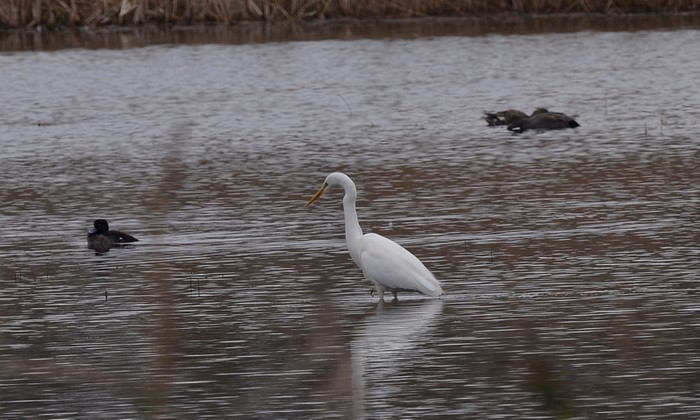 Over in Ireland, the long-staying Cattle Egret remained with its porcine friends at St. Johnston pig farm, Donegal until at least 15th but another was found this week, at Conyer, Kent on 14th. Up to 16 Spoonbills remained at their Poole Harbour, Dorset wintering grounds during the week with another 6 at Yelland, Devon but the presence of 2 at the Holkham, Norfolk breeding site was a sure sign of spring.
Finally, the now very long-staying Glossy Ibis remained faithful to Marloes Mere, Pembrokeshire until at least 15th.
Wildfowl
Top billing this week must go to Richardson's Canada Geese . No English birds were reported but singles were at Balranald, North Uist, Western Isles, 2 on Islay, Argyll and another single at Ardtermon, Sligo. From the same direction (at least in theory) were adult blue morph Lesser Snow Geese on Bute, Argyll on 15th and at Pilling, Lancashire on 19th and 2 white morph birds at Loch Paible, North Uist, Western Isles on 18th.
Also in the far west, Nearctic Black Brants were at Munnia and New Quay, Clare and at Douglas Strand, Kerry whilst 2 Siberian birds were at Tetney, Lincolnshire with another 2 at Portsmouth/Hayling Island/Southsea, Hampshire and singles at Frampton, Lincolnshire, Fishbourne, Sussex and Shotley/Falkenham/Felixstowe Ferry, Suffolk. Also in Hampshire, the Red-breasted Goose was again at Langstone Harbour on 19th.
'Grey' geese were still much in evidence with 60 Taiga Bean Geese at Cumbernauld, Clyde and 28 still in the Yare Valley, Norfolk. There was also a scatter of Tundra Bean Geese - 6 at Westleton and 4 at Benacre, both Suffolk, 5 at Dungeness, Kent, 3 at Slimbridge, Gloucestershire, 2 at Radwell, Bedfordshire and a single at Cowpen Marsh, Cleveland. From the other direction, a flock of 6 Greenland White-fronted Goose on St. Mary's, Isles of Scilly was an excellent record.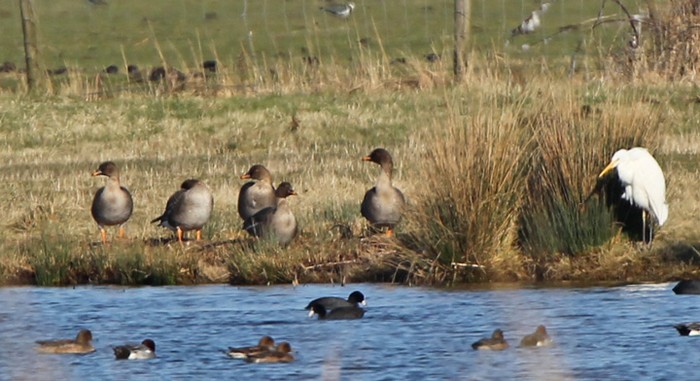 The drake Ferruginous Duck was still at Friary Country Park, Bedfordshire all week but all the other duck interest was Nearctic. American Wigeons were at Slimbridge Gloucestershire (a female), Udale Bay, Highland, Topsham, Devon, Cahore Marsh, Wexford, Tullaghan, Leitrim, Fiskerton Fen, Lincolnshire and Loch Bee, South Uist, Western Isles. Green-winged Teals (all drakes of course) were at Blashford Lakes, Hampshire, Dorman's Pool, Cleveland, Torpoint, Cornwall, Caerlaverock, Dumfries and Galloway, Loch Sandary, North Uist, Western Isles, Timoleague, Cork, Ballyquintin, Down and Tacumshin, Wexford. The rarest dabbling duck was the adult female Blue-winged Teal still at North Bull, Dublin to at least 17th.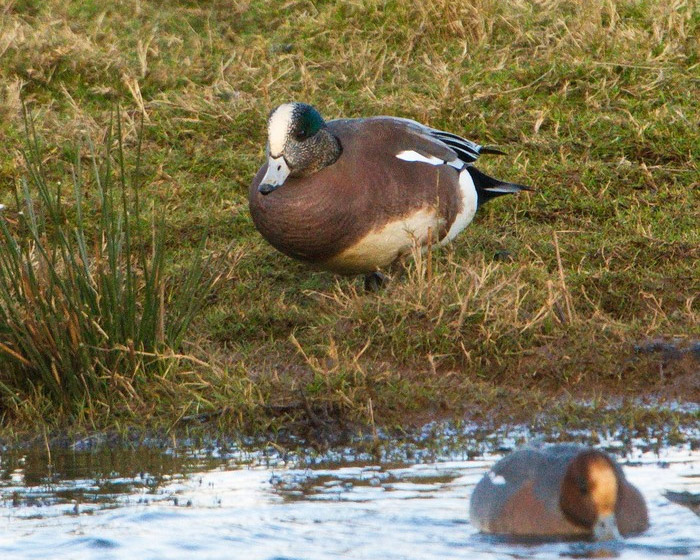 As for diving ducks, Ring-necked Ducks dominated the proceedings with the faithful trio still on the Isles of Scilly and singles at birds at Slapton, Kennick Reservoir and Stover Country Park, all Devon, Hawkridge Reservoir, Somerset, Siblyback Reservoir and Par Beach Pool, both Cornwall, Loch Scaraidh, North Uist, Western Isles, Lough Leane, Kerry, Lough Ennell, Westmeath, High Eske, Yorkshire and Prestwich, Greater Manchester. Lesser Scaups numbered just 3 - at Colliford Lake, Cornwall, Lough Gash, Clare and Cardiff Bay, Glamorgan.
Surf Scoters were also scarce, with just a tiny handful at some traditional sites - Largo Bay, Fife, Loch Ryan, Dumfries and Galloway, Ballinskelligs, Kerry, Ballyvaughan, Galway and Llanddulas, Conwy, all singles apart from 2 at the last-named site on 18th and 19th. A female King Eider was also off Ballyvaughan, Clare on 18th.
Waders
There was no change at all in the wader line-up this week. Still present were the Lesser Yellowlegs at Ernesettle, Devon and the Long-billed Dowitchers at the Gann Estuary, Pembrokeshire and Lady's Island Lake, Wexford.
Gulls and Terns
The often extremely obliging and highly photographable adult Bonaparte's Gull remained at Eastbourne, Sussex to at least 18th whilst the adult at the Ogmore Estuary, Glamorgan was present again on at least 17th and 19th. Otherwise the story was one of white-winged gulls. The pick of the bunch were Kumlien's Gulls , with adults at Angler's Country Park, Yorkshire to at least 15th, Whalsay, Shetland on 14th and Loch an Tiumpan, Lewis, Western Isles on 19th. First-winters included 2 at Castletown Bearhaven, Cork and singles at Killybegs, Donegal, Barmston, Yorkshire and (the previously controversial individual) at Castlemaine, Kerry.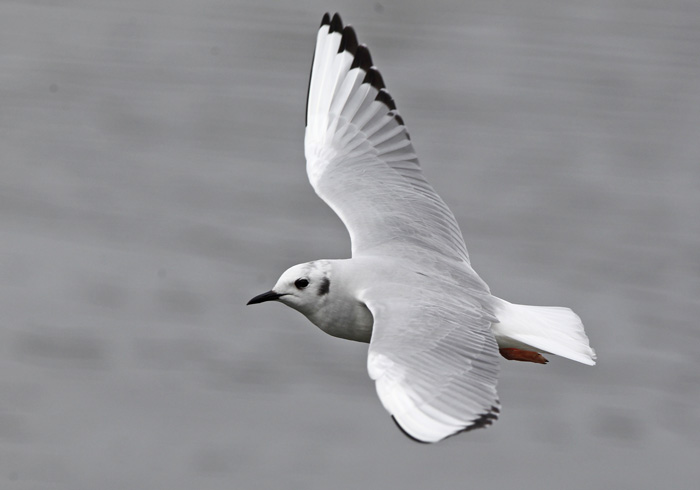 'Conventional' Iceland Gulls numbered around fifty, not a particularly spectacular total in what has been a relatively poor winter for this species. The highest count was a mere five on Lewis, Western Isles. Glaucous Gulls numbered about the same and were, as the Iceland Gulls, well-scattered from northernmost Scotland to the Channel coast as well as liberally spread around inland too. Around a dozen, mainly inland, Caspian Gulls were noted, somewhat fewer than recently, and no particular concentrations were logged.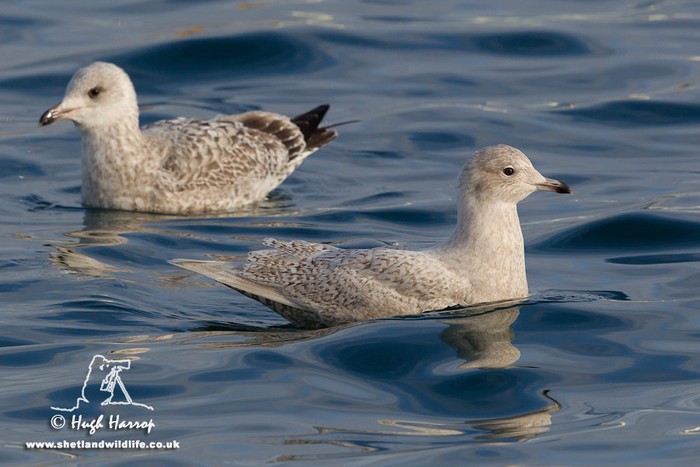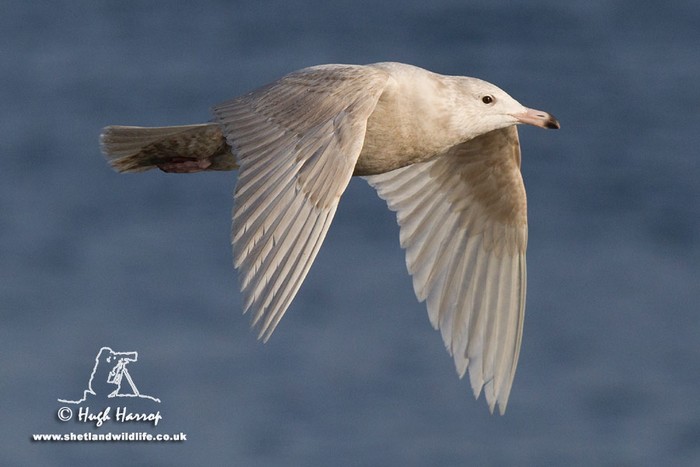 Ring-billed Gulls remained obvious, though not in quite such large numbers as hitherto. As usual, most were in Ireland with birds at Tralee, Kerry, Castletown Bearhaven, Ballydehob and Cork City, all Cork, Nimmo's Pier, Galway, Tramore, Waterford, Carrickfergus, Antrim, The Quays, Wexford and Groomsport, Down. British birds were at Gosport, Hampshire, Scalloway, Shetland, Oban, Argyll, Dingwall, Highland, Llys-y-fran Reservoir, Pembrokeshire, Newnham, Gloucestershire and Crosby, Merseyside.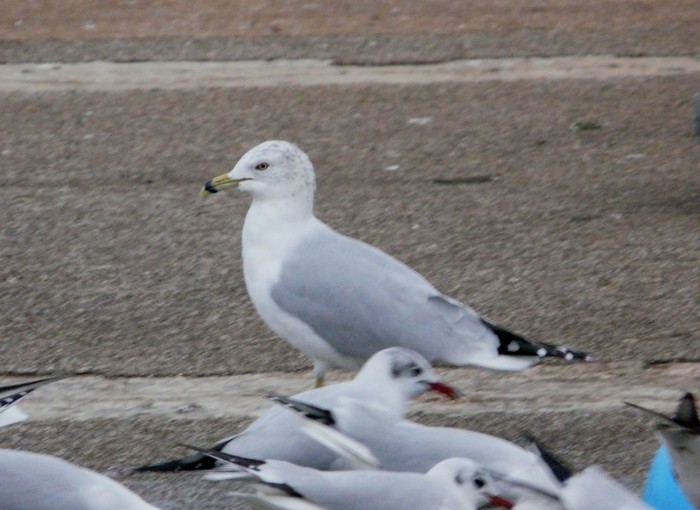 Finally, the Forster's Tern was seen again, this time at Doorus Pier, Galway on 17th and 18th.
Raptors
The rarest raptor of the week was a White-tailed Eagle which flew in off the sea at Hunstanton, Norfolk on 16th and then conveniently lingered around Houghton on 18th and 19th. Norfolk also dominated the Rough-legged Buzzard tally with up to 2 at Holkham/Burnham Overy Marshes, 2 at Haddiscoe and a single at North Wootton. Singles at Spout House Hill, Yorkshire on 17th and Wykeham Forest, also Yorkshire, on 18th were the only other birds reported. After a near-absence in the early part of the winter, there has clearly been a small late-winter arrival of this species.
Owls
A Dark-breasted Barn Owl remained at Rodmell, East Sussex from at least 15th to 17th.
Passerines
The Penduline Tit remained at Stodmarsh, Kent to 19th whilst Dungeness recorded another on 16th to 17th, further confirming this latter site's astonishing track record for this species. Late news concerned another at Rainham Marshes, London on 17th. Familiar long-stayers included the hardy female Desert Wheatear at Rattray Head, Aberdeenshire, the now-obliging and much-photographed Black-bellied Dipper at Thetford, Norfolk and the delightful wintering Pallas's Warbler at Moor Green, Berkshire/Hampshire.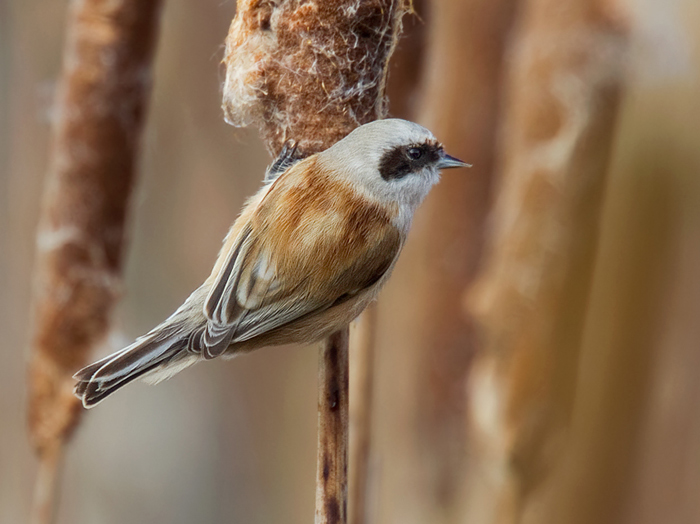 Also from the east were Siberian Chiffchaffs at Lough Gash, Clare (2) on 14th with another 2 on St. Mary's, Isles of Scilly on 16th and a single at Lough Leane, Kerry the same day. Given the number known to be wintering in the south and west, however, these reports must represent merely the tip of the iceberg. Richard's Pipits were also on offer, with singles at Cooley Point, Louth and at Hesketh Bank, Lancashire. The other faithful long-stayer of the week was the Rose-coloured Starling at Exminster, Devon, still present to 19th.
Relatively few Great Grey Shrikes were in evidence. It is still too early for spring migrants and the only birds reported were established winterers at Wyke Down, Dorset (2), Therfield Heath, Hertfordshire (also 2), Thursley Common, Surrey, Clocaenog, Denbighshire, Beeley Moor, Derbyshire, Bishop's Dyke, Hampshire and Erewash Meadows, Derbyshire/Nottinghamshire.
Finally, in what has been a dreadful winter for this species, single Shorelarks were at Salthouse, Norfolk and Havergate, Suffolk, whilst Waxwings were still widespread though invariably in small or medium-sized flocks only.
Andy Stoddart
20th February 2013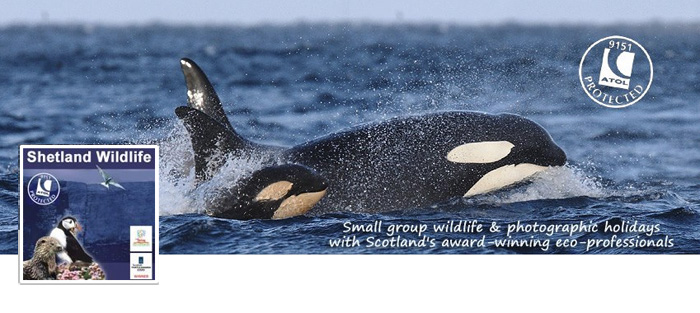 Many thanks to this weeks contributors for their photos and videos
Hugh Harrop / Shetland Wildlife
, Sean Nixon,
Stephen Duffield - Western Isles Wildlife
,
James Packer - The Somerset Birder
, John Carter,
Alan Tate - AA Bird Pix
, John Gale, Brad Robson, Chris Bromley,
Paul Rowe
, Neil Fox, Steve Ashton, Martin Bonfield