Weekly round-up: 30 Jan - 05 Feb 2013
The week at a glance
Shetland shakes it all up with the first Pine Grosbeak in eight years
Black-browed Albatross heads past the coast of Clare
Juvenile American Herring Gull found in County Cork
…and a curious (or is it?) juvenile Glaucous-winged Gull type is found in Kerry
American Buff-bellied Pipit makes one-day reappearance in Berkshire
First-winter American Coot still in Galway
Juvenile female Northern Harrier remains in Wexford
A real mixed bag of weather this week after all the cold ~ rain, gales, more chilly winds and a bit more snow to boot. And things seem to be getting a little chillier again as the round up period draws to a close.
…the early-in-the-week Atlantic Ocean blast stirred things up and left a few new visitors here for birders to get stuck in to and there are hopes that the forecast Arctic air that's forecast may yield something exciting too.
Will anything be able to match this week's big bird though? It'll have to be pretty special…..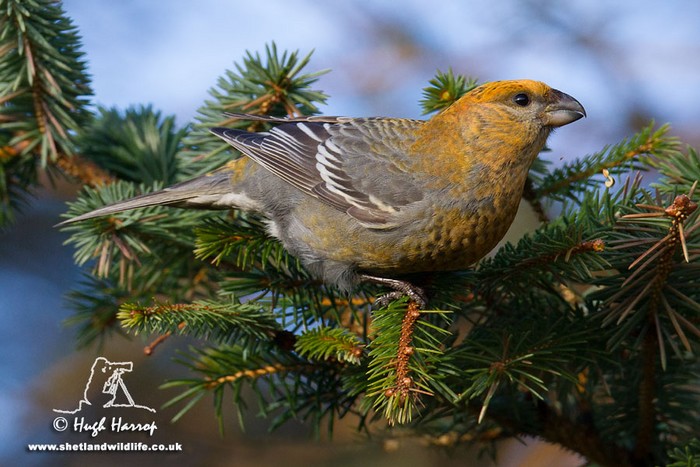 Headline birds
So. You couldn't script it ANY better than this….
For several weeks in a row, as you'd sort of expect for the time of year I guess, the bird news has been a little bit on the samey side. The chilly, snowy fortnight of a couple of weeks ago yielded nothing (despite hopes being high off a wayward drifter coming our way from a colder continent) and as the weather (temporarily it seems) adopted an altogether milder, if rather windy, outlook, readers of this review had to endure a week or two (or three) of pretty much carbon copy bird news ~ and some David Byrne lyrics too.
A change was always going to come (we knew it would right?) but the bird that awoke us from our slumbers was almost another of those classic "ones that got away" scenarios before we even knew it…
….so, answering the call to get the change underway, blowing away those mid-winter blues in one enormo-rare fell swoop whilst breaking that "same old, same old" feel came a Pine Grosbeak ~ fittingly reappearing on the day that Punxatawney Phil emerged from his burrow (February 2nd). Whatever Phil's shadow (or lack of it) said, there is absolutely no danger of any Groundhog Day mullarkey with our top birds this week, no sirree bob….
…but it could have been so different….
Here's how it all unfolded…..
On the morning of February 1st, once the white rabbits had been pinched and punched, amazing news came out of Shetland…a first-winter male (or female) Pine Grosbeak had been photographed at North Collafirth, on Mainland but the bird had actually been seen a few days earlier, on January 29th.
Local resident Bert Ratter and former work colleague, and birder, Paul Sclater take up the story…..a rather modest Bert's up first…
I'm afraid it's not much of a story really. I just happened to see the bird in one of my trees as I was looking out for the school bus while the kids were getting ready for school. I knew I hadn't seen it before but just thought it was some sort of finch. It seemed to be staying still for a bit so I went and got the camera. I only have a very basic British birds book so when I didn't find it in there I emailed some pictures to Paul Sclater, a friend I used to work with, as I was sure he would know what it was. I wasn't expecting to find out it was such a rare visitor. It was probably in and around the tree in the pictures for five to ten minutes before it moved out of sight. To be honest I didn't really look for it later in the day, as I didn't realise how special it was!
….now over to Paul….
I used to work with Bert several years ago and he was aware of my interest in birds. I occasionally get sent photos of birds that people see in their garden, usually they are the commone, brighter looking birds (Waxwings, Crossbills, Siskin etc.). Bert sent me an email to my work on 29th January with pictures of the bird he photographed in his garden that morning. Having been off for a few days, I returned to work on 1st February and picked my way through my emails that morning. I opened one of the pictures Bert sent, expecting it to be something common and was stunned when I immediately realised it was a Pine Grosbeak! I contacted a few local birders and the news was circulated on the local birders text service. The bird was not seen that day but as I'm typing this I've just received info that the bird has been relocated at Collafirth!

….indeed it had….! Having gone AWOL somewhere locally for three days, more searching on the morning of 2nd, found the bird in gardens near Collafirth Pier, at Saltoo and so gave Shetland birders the chance to enjoy the islands' third record of this High Arctic sometimes-nomad, following on from a brief bird at Maywick on November 9th 2000 and the hugely popular long-staying young male that spent 32 days around Lerwick, from March 25th to April 25th 1992.

A few hundred souls headed north back then to collect the monster rare, but aside from the November bird at Easington on November 2004, present for three days but, in circumstances vaguely similar to the 2013 Shetland bird, only seen by birders at last knockings (it disappeared during the late morning of the final day, never to be seen again, to the dismay of a few more hundred sorry souls) there's been no chance of connecting with the species since ~ but let's not forget the panic that the colour-fed, escaped red female caused in Essex in July 2006 ~ what a fiasco that was…..!
Pine Grosbeak has of course been on almost everyone's rares-radar for the whole of the late autumn and winter too, since the big push of birds through Nordic countries from the end of October (a massive 12, 000 heading through Finland in a single week between October 22nd -29th). As birds filtered through to Norway and then on to Denmark by the middle of November (birds reaching the far south of the country, putting them within striking distance of Shetland), birders along the whole of the east coast were on red alert for this long-standing mega. Surely, surely, we were on for a Pine Grosbeak….?
Pine Grosbeak, Collafirth, Shetland from Shetland Wildlife on Vimeo.
Well, yes we were on for one as it happens and now, a couple of months after all that hope and speculation of exactly when and where one would appear, there it is and it is (almost inevitably) Shetland that wins the prize once again.
But, in another amazing twist to this particular Grosbeak tale, on the morning of 3rd (with the bird still in situ) it became clear that the "new arrival" wasn't a new arrival at all ~ it was seen and photographed in a Christmas tree by Urafirth resident Alistair Williamson on November 1st and had stayed there a couple of days….non-birder Alistair thinking that the bird was a Crossbill.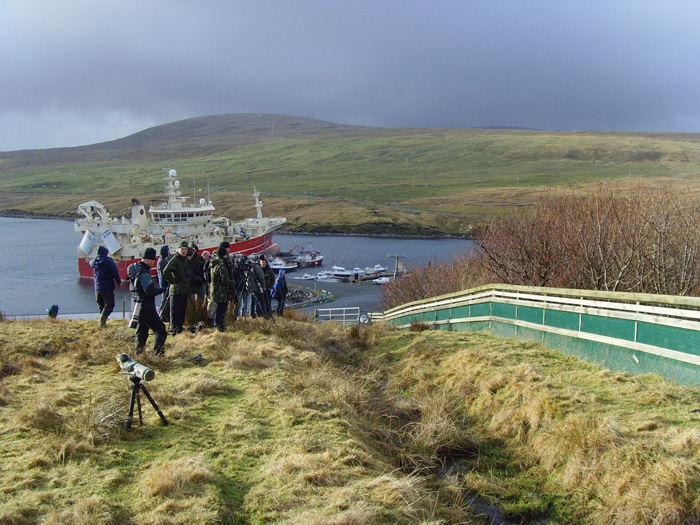 So, in actual fact, we did get one bang on when there should have been one….! And it looks as if it was back there on January 31st too ~ a Facebook chat suggests that "a similar looking bird" was a brief visitor in the Urafirth garden that day….extraordinary scenes…!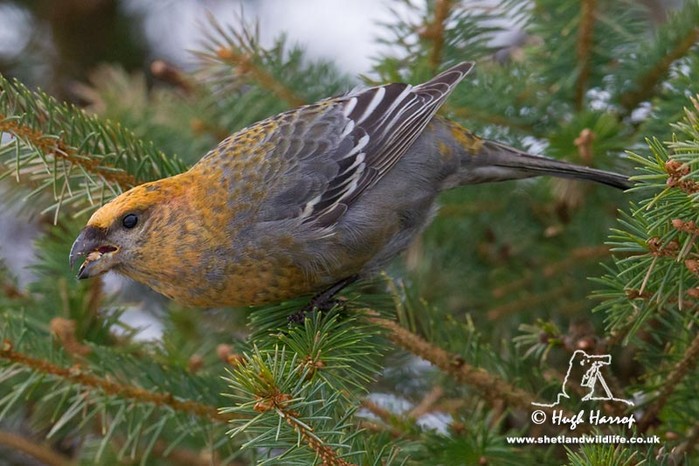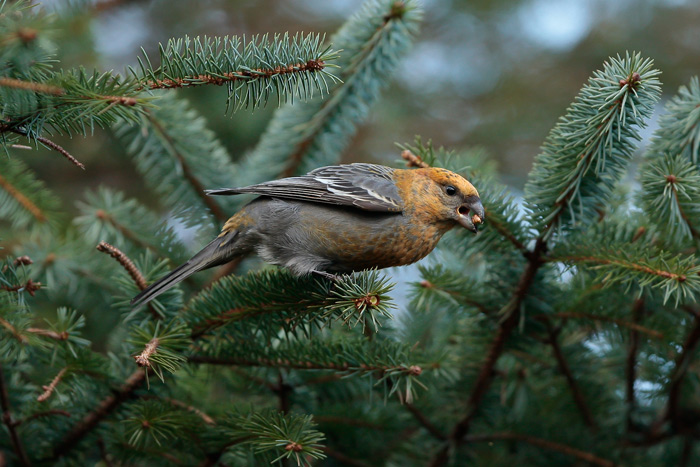 Alistair and Bert's bird will become Britain's 12th Pine Grosbeak ~ the first four birds were all pre-1900, the first was shot in County Durham sometime before 1831, the second suffered a similar fate near Harrow-on-the-Hill pre-1843. The third and fourth birds were also shot, in North Yorkshire around 1861 and in Nottinghamshire in 1890.
Almost 65 years later, in November 1954, an adult female trapped on the Isle of May became the first modern-day record of the species, and was followed three years later by another November bird, this one in Kent and the same county scored the next one ~ a May adult male near Maidstone in 1971. A second May male followed four years later, on Holy Island (a rare two-day bird) and then it was almost 17 years until that famous first Shetland bird.
The bird was still present on 4th and 5th, having moved again, to Housetter, around a mile away from previous days (flying in as soon as a tape was played in the first bit of good habitat on 4th) ~ and a few planes and the odd ferry (when it could make it through horrendous, mountainous seas) took birders north through some pretty grim weather to enjoy this supreme, much-admired rarity.
Pine Grosbeak in Britain and Ireland

Needless to say, the Grosbeak kind of overshadowed everything else this week including two outstanding finds in Ireland, both doubtless assisted by the strong westerly weather system that tracked across the Atlantic on 30th.
First up, a Black-browed Albatross seen off the coast of County Clare, passing some 500 metres offshore from Lahinch during the late morning of 30th. At first it may seem like a strange time of year to chance upon this supreme ocean wanderer but a look in the record books confirms that actually a February Albatross isn't as unusual as you may think…
Currently there are eight accepted February records of the species, although only four or five birds are involved. In the Februarys of both 1968 and 1969, what was presumed to be the Bass Rock Albatross was seen in sea area Forth, off Eyemouth and then off St. Abb's Head. In 1980, on February 4th, one was seen off Durlston (Dorset) and in four years during the 1980's ('81, '82' 87 and '89) Shetland's Hermaness bird was noted as being a February returnee, back on the cliffs below the Saito outcrop. Then, in 2005, an adult Black-browed Albatross was seen heading past South Stack, on Anglesey, on February 12th, perhaps heading for Sula Sgeir.
Quite where the 2013 bird was heading is anyone's guess but it must have been a heck of a sight…..
Down the west coast and in to County Cork, where a lovely juvenile American Herring Gull was discovered at the fish factory at Baltimore on 2nd. Baby Smickers remain a significant prize for larid lovers and this is the second youngster at the site within the last couple of years.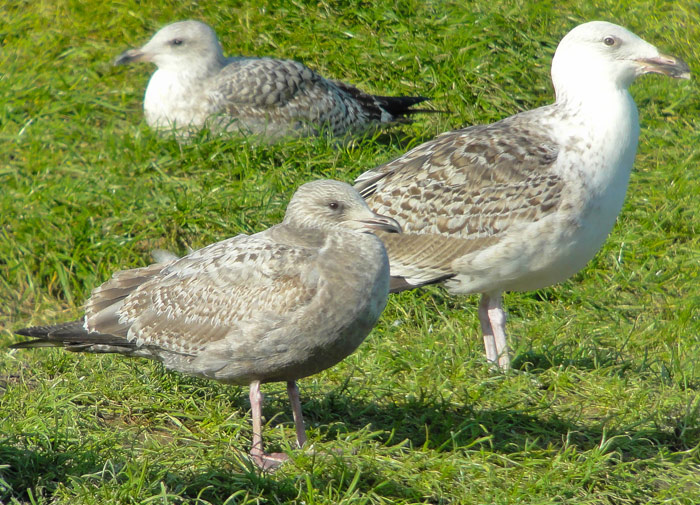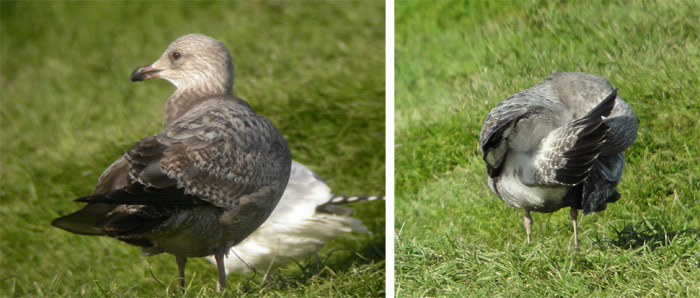 Another young gull that was the cause of mounting discussion was the pale hybrid juvenile seen and photographed in County Kerry, at Cromane, on 30th. Birders in Ireland have got used to much-debated Thayer's -like hybrids (which may or may not have been adjacent to the real thing ~ that depends almost entirely on the individual birder) but now it looks as though they've gone up a notch with a bird that appears to have a waft of some Glaucous-winged Gull influence in it. If it is a GWG hybrid (and that is a mighty big "if") it is hard to work out what the other parent could be ~ American Herring could fit maybe?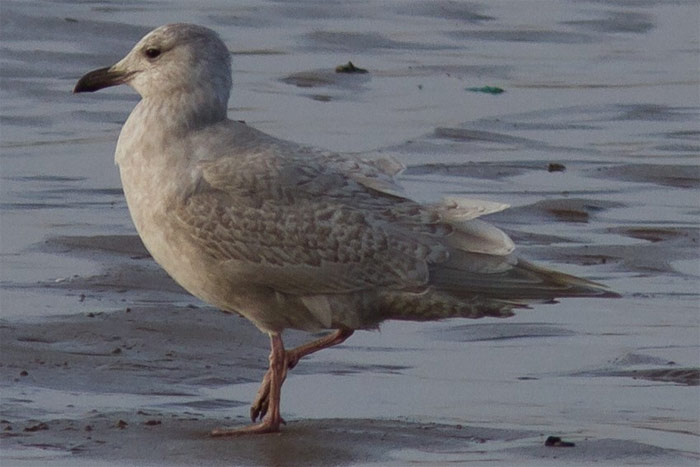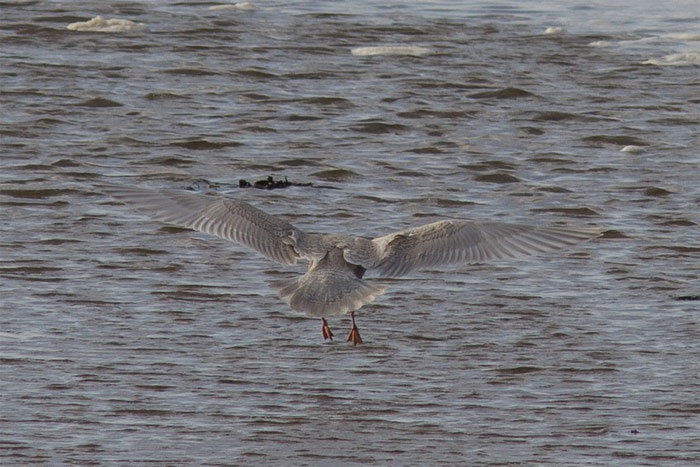 However, given the propensity of "Eastern Seaboard" gulls to mix up their gene pools as much as those from the west coast, the options for the Kerry bird expand further ~ an Iceland or Kumlien's hybrid with American Herring Gull another (more likely?) potential option. It bears a passing resemblance, in paler form, to the curious bird seen in Sligo in 2009 which was much discussed at the time too.
Whatever the lineage of the Cromane bird (birders overnight in the US seem to be liking it as the real deal, a full 100% GWG….), it seems almost certain that it too is a new arrival from across the Atlantic (especially given the appearance of the new American Herring Gull, three or four Kumlien's Gulls, a new Bonaparte's Gull and a few new Ring-billed Gulls and Iceland Gulls in the past week in Ireland and Scotland).
There is also the slim, outside chance (however fanciful) it seems, that it could even be the progeny of one of the recent Glaucous-winged Gull that have been seen in Britain and Denmark. Whatever route this bird has taken, and whatever the parentage (even assuming that Glaucous-winged Gull isn't involved) there's something very, very interesting going on….
Also in Ireland, the two regular star turns of recent weeks remained for a few more days ~ in County Galway, the American Coot remained at Murlach, near Ballyconnelly throughout the week and in Wexford the juvenile female Northern Harrier remained at Tacumshin between 31st-4th at least.
Meanwhile one of the other leading lights in the rarity role-call from the past few weeks, Berkshire's American Buff-bellied Pipit was seen again at Kingsmead Quarry on 2nd, after no news for a week.
Seabirds
On South Ronaldsay, a White-billed Diver was seen again this week, noted near Hoxa Head on 31st with another reported from Shetland the following day ~ at Muness, Unst.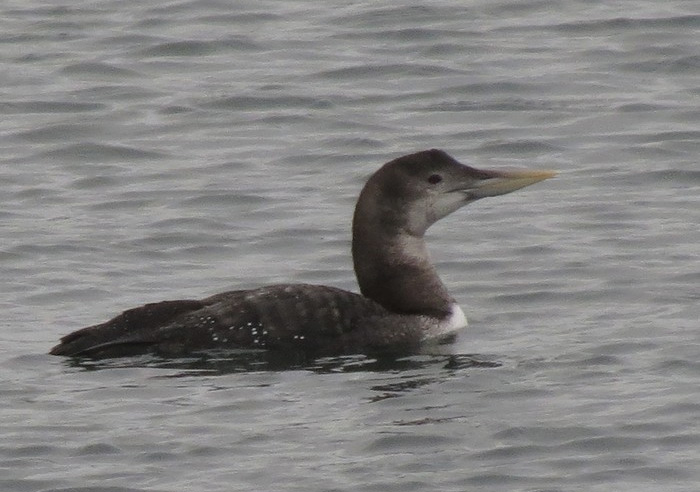 The stormy start to the review period produced a decent late winter scattering of Little Auks ~ on 30th at least 24 birds were seen from Cornwall to Shetland, with eight noted on Tiree (Argyll), seven were seen from Balranald RSPB, North Uist (Outer Hebrides), four were counted heading past Rumps Point (Cornwall), while two were seen in County Clare, and further singles were noted in Cornwall, Somerset and on Shetland.
Eight birds followed on 31st, another two for Tiree and further west coast singles from Scilly and Cornwall to Conwy, Lancashire, Dumfries & Galloway and Shetland, with the first day of February claiming a further nine ~ including four between Slyne Head and Inishshark in Galway, and three on Loch Fyne, near Ardrishaig (Argyll). As the windy weather abated (temporarily), half a dozen more were found around western coasts, including two past Kilcummin Head (Co. Mayo) on 2nd.
Two single Pomarine Skuas were seen in Yorkshire on 2nd ~ one in the east, off Spurn and one inland in the south, an adult flying through Broomhead Reservoir. In Cornwall, 10 Balearic Shearwaters were seen passing by Cape Cornwall on 1st and a further six (fourones and a two) also made it past assorted north and south Cornish coastal headlands this week.
In North Yorkshire, a Grey Phalarope spent 31st-2nd on the sea off Filey Brigg and the latter date also saw a Grey Phalarope fly past Somerset's Hinkley Point. The third of the week was seen heading past Flamborough Head (East Yorkshire) on 4th with number four at Gillingham (Kent) on 5th. While on the same date in Ireland, there was a remarkable record from "the Midlands" of County Offaly, where a Leach's Storm-petrel was seen at close range in the shadows of the Slieve Bloom Mountains, at Lough Boora Parklands (and let's not forget that at this time of year, in similarly stormy weather, there have been two wrecked Madeiran Storm-petrels too ~ in Finland in January 1993 and Switzerland in December 1999 ~ eyes peeled and all that).
Herons, Egrets & allies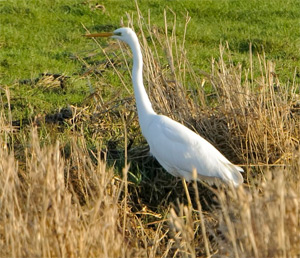 This week has been another tidy one for Great White Egrets ~ at least four remained at Dungeness (with two at nearby Lade Pits) until at least 2nd-3rd, while the Somerset Levels hosted birds at four different sites at least (including two at Shapwick Heath NNR on 30th).
Several birds (up to four or maybe five) where in the northwest, with two at Burton Mere and also Parkgate (Cheshire) on 30th and 3rd respectively, and two singles were also seen in Norfolk, in the Broads at Stubb Mill and again along the River Yare, near Marlingford, both on 31st (the latter bird perhaps moving from Wymondham and also perhaps being the bird that has appeared at the same site in the Februarys of both 2011 and 2012).
In Wales, two Great White Egrets remained at Llanrhidian Marsh (Glamorgan) to 2nd and another was noted at LLandeilo (Carmarthenshire) on the same date. Elsewhere, singles were still at Coate Water Park (Wiltshire) and Paglesham Lagoons (Essex) through much of the week while the bird at Fishers Mill (Warwickshire) on 30th has been skipping around a few sites in the county in the past couple of weeks. Also this week, a Great White Egret was reported over Stanmere (London) on 30th and another at Whitwell (Hertfordshire) on 31st could also be a bird bouncing around that particular county.
On Northumberland's Holy Island, the county's second Cattle Egret remained at Crooked Lonnen until 2nd while the bird in Donegal was still at the organic pork farm at St Johnston to 3rd.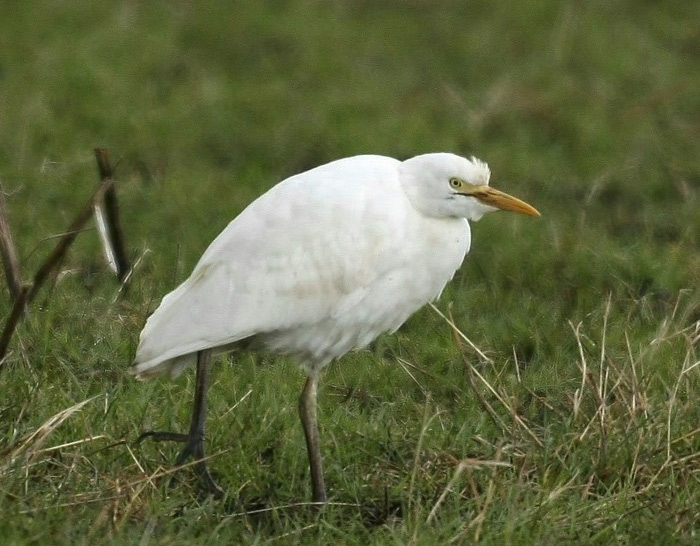 The two old-faithful Glossy Ibis were still enjoying life in Pembrokeshire and Cork this week, the Marloes mere bird still around to 31st at least, while at Timoleague, the bird there was present to 2nd.
A sweet 16 Spoonbills were counted at Arne RSPB (Dorset) on 2nd, with four birds at Lytchett Bay on 3rd the only other multiple count of the week. Single Spooners included two in Ireland (at Dungarvan in Waterford and Cromane in Kerry) and birds in Hampshire, Cheshire and Lancashire.
Worcestershire's Common Cranes moved through Wiltshire on 1st, heading over Stourton to who knows where…..while in Kent, the Sheppey Seven remained at Capel Fleet until 4th at least. In Norfolk, nine Cranes were reported over Whitlingham Lane, Norwich on 2nd, a day which saw a flock of six noted over Costessey and Lynford Arboretum. Back in Kent, the lone adult Common Crane was seen again at Walland Marsh on 1st and the five birds at Tacumshin remained to 4th.
Geese & Ducks
In Dumfries & Galloway the Barnacle Goose flock near Loaningfoot held both a Red-breasted Goose and a Todd's Canada Goose this week ~ the former to 30th at least, the latter still present to 2nd. On the Hampshire/West Sussex border, at Emswoth and Thorney Island, the Red-breasted Goose was still present on 2nd while on 3rd, another Red-breasted Goose was seen with a flock of around 1,000 Dark-bellied Brent Geese at Sudbourne (Suffolk). There's every chance that this bird could half a decent chance of being acceptable, but given the recent history of the species in the county, it makes it hard to separate the wild wheat from the feral chaff….
Other Canadas this week included a Richardson's with Barnacles at Balranald RSPB on North Uist and at Loch Gruinart RSPB, Islay (Argyll) on 4th, while the other "Hutch" (of unknown origin) was again on the scrapes at Frampton Marsh RSPB (Lincolnshire) on 30th-4th.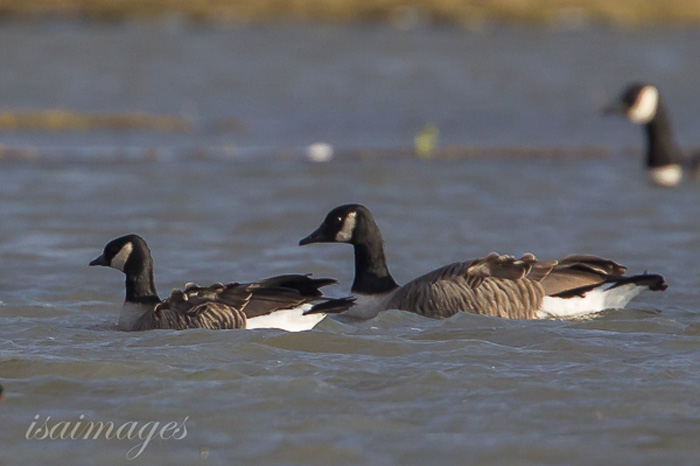 In Norfolk, the juvenile Black Brant remained between Kelling and Cley until the end of the weekend and one or two hybrids also lingered along the north coast of the county throughout the week. An adult and another juvenile Brant were at Blue House Farm EWT (Essex) on 5th, with singles in the same county noted at Old Hall Marshes on 30th-4th and Hamford Water on 31st. Elsewhere, lone birds were in Suffolk (on the Orwell Estuary, near Shotley) also on 31st, in Kent at Lower Halstow, to 2nd in West Sussex, at Fishbourne to 4th and around Portsmouth (Hampshire) also to 4th.
No news of any Snow Geese this week, so we'll move right along to ducks and start off with the drake Black Duck that's still enjoying his Highland Fling at Strontian ~ still present there on 2nd.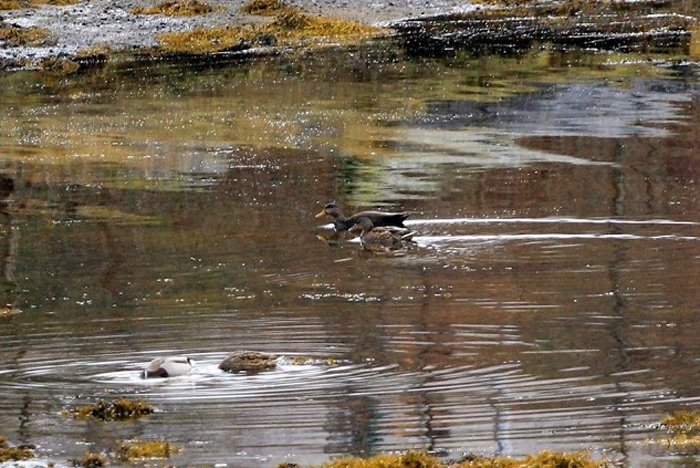 Keeping the Celtic vibe going, birders in both north and south Wales had chance to enjoy lone drake Lesser Scaups this week ~ at Connah's Quay (Flintshire) one was present from 1st-3rd (a potential county first to boot) while one was seen again in Cardiff Bay (Glamorgan) on the morning of 3rd.
Whether the appearance of the bird in Cardiff and the disappearance of the drake from Somerset's Blagdon Lake are connected is anyone's guess ~ the latter bird was still in place on 31st but wasn't seen the following day. The adult drake Lesser Scaupremained on Colliford Lake (Cornwall) to 30th at least and in Ireland, the wintering young drake was still on Lough Gash Turlough to 5th, while a drake was seen at Oxford Island NNR (Co. Armagh) towards the end of the week ~ a regular site for the species over the years.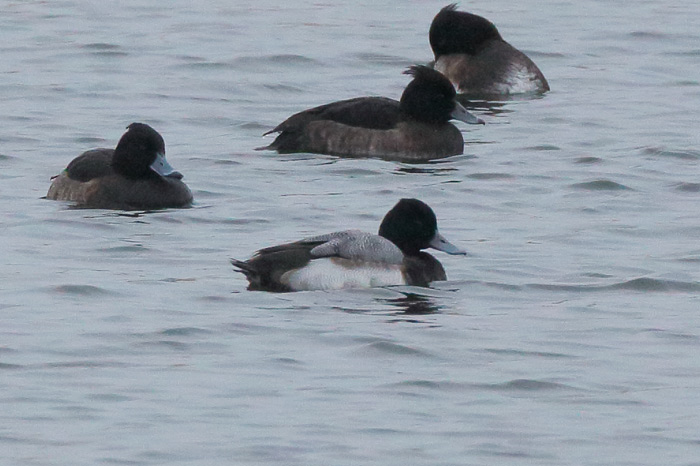 Scilly's three Ring-necked Ducks were all together until 1st at least, with the male slipping away somewhere, leaving the two young females on Porth Hellick Pool on 3rd-5th while Devon's double, a female and a young male, remained on Slapton Ley to the same date.
In Cornwall, singles remained at Siblyback Reservoir (a duck) and Loe Pool (a drake) to the end of the weekend and beyond, and the drake at Hawkridge Reservoir in Somerset popped across to nearby Ashford Reservoir on 3rd. Other Ring-necked Ducks this week were still being seen at Marloes Mere (Pembrokeshire), on Loch Scaraidh, North Uist (Outer Hebrides) and in Ireland at Lough Roo (Clare/Galway border) and still near Killarney (Co. Kerry). A young drake was a new arrival at Tophill Low NR (East Yorkshire) on 3rd-5th.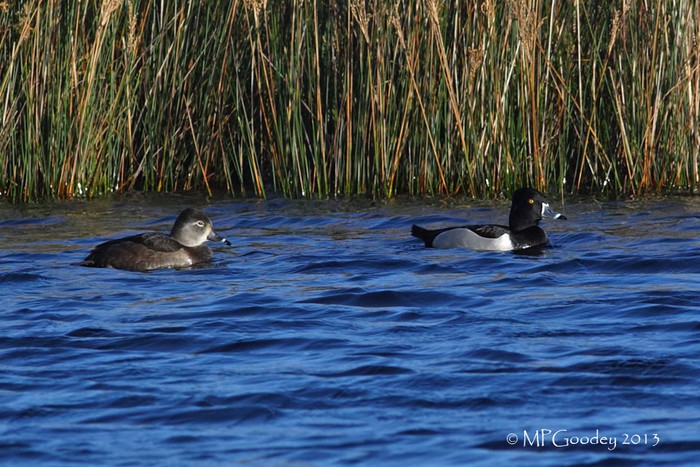 Two Ferruginous Ducks were in and around London and the Home Counties ~ last week's handsome drake at Priory CP (Bedfordshire) stayed to 4th at least, while a female was found at Danson Park (London) on 31st, remaining to the following day when it was flushed by a canoeist, heading off high and south.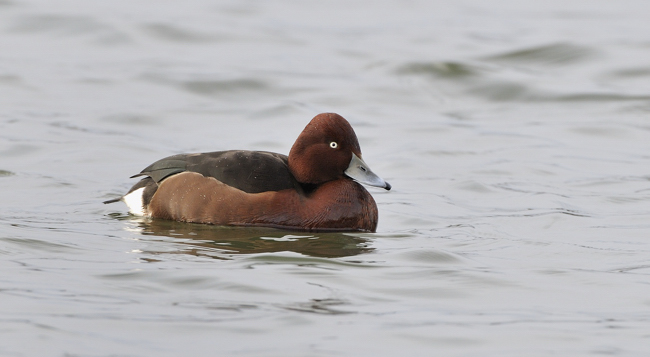 At least 15 drake Green-winged Teals made themselves known through the week, including two in Lancashire, at Fleetwood on 1st and still at Martin Mere WWT to 3rd, two in Dumfries & Galloway (at Caerlaverock for much of the week and also on Soulseat Loch on 1st) and two more lingered in Cornwall (at Maer Lake near Bude and St. John's Lake, near Torpoint). Lone birds remained at Hodbarrow RSP (Cumbria), Polemere (Shropshire), Dorman's Pool (Cleveland) while a new bird was found at Rutland Water (Leicestershire) on 30th and on 2nd.
Irish Green-winged Teals were still present on the Rogerstown Estuary (Co. Dublin), Courtmacsherry (Co. Cork), Shannon Airport Lagoons (Co. Clare), Dunfanaghy New Lake (Co. Donegal) and Ballyquintin (Co. Down) through the end of the weekend too.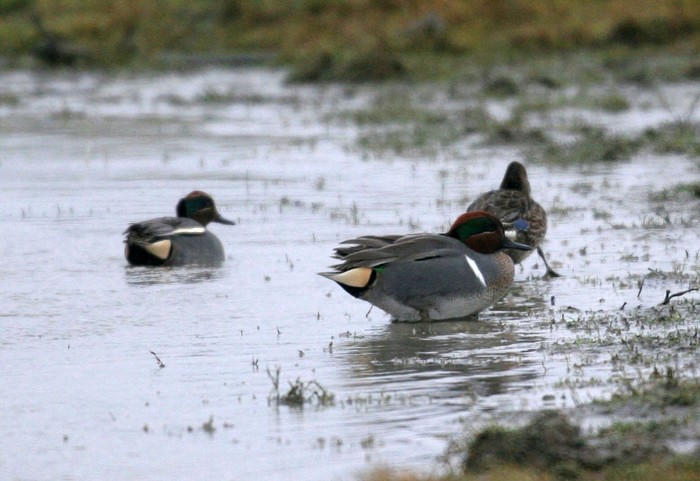 Staying in the Republic where the drake American Wigeon was still being seen at Tullaghan (Co. Leitrim) to 3rd while in Norfolk, the drake at Marlingford remained to 31st at least.
In Dumfries & Galloway, at The Wig, last week's drake Surf Scoter remained alongside upwards of 600 Scaup (an impressive sight in itself) until at least 4th with the only record of the species this week coming from Llandulas (Conwy), a drake still present there to 2nd.
Last week's drake Garganey was still at Titchwell RSPB (Norfolk) on 30th and a second drake was seen on the edge of London, at Rainham Marshes RSPB, the following day.
Shorebirds
There were three Long-billed Dowitchers to report this week ~ wintering first-winters lingering on the Gann Estuary (Pembrokeshire) throughout and also again at Alkborough Flats (Lincolnshire) to 2nd (that's the first news on that one since January 9th), while at Tacumshin, the adult was present again from 2nd-5th.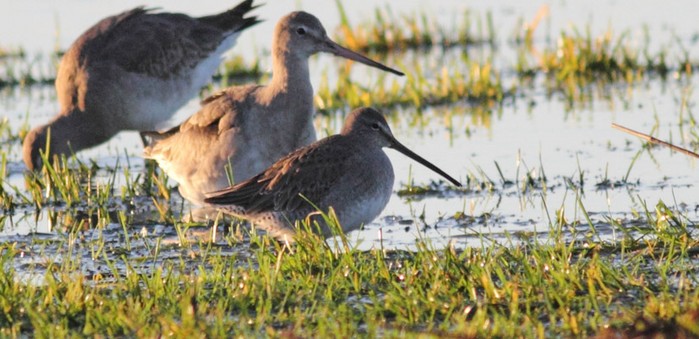 In Devon, at Ernesettle, the Lesser Yellowlegs was still up the creek for another week, and doubtless will be for a few more weeks yet….
Gulls and Terns
Almost as good as the juvenile smithsonianus and the funky Kerry hybrid featured in amongst the headline birds this week was the discovery of a new first-winter Bonaparte's Gull at Stoneybridge, South Uist (Outer Hebrides) on 2nd. Until the end of 2011, there were 16 accepted records of this rather robust though suitably dashing little gull on the islands, all bar one coming in the past 12 years (the first was seen in 1989, the second came in 2001).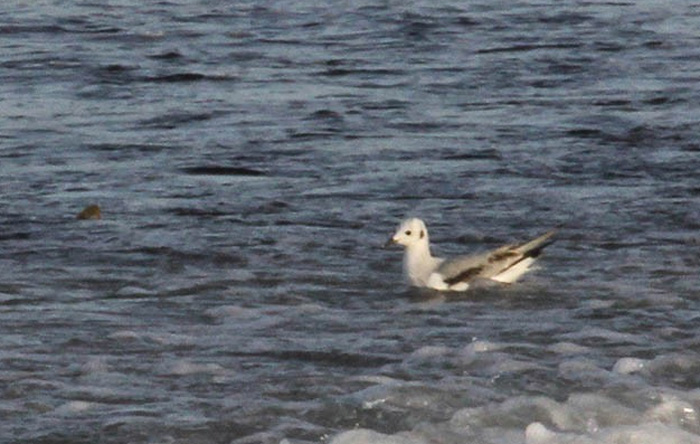 The adult Bonaparte's found in Eastbourne (East Sussex) last week remained a popular figure this week ~ still showing daily to 5th, with further adults remaining at Larne (Co. Antrim) to 30th and on the Ogmore Estuary (Glamorgan) to 2nd.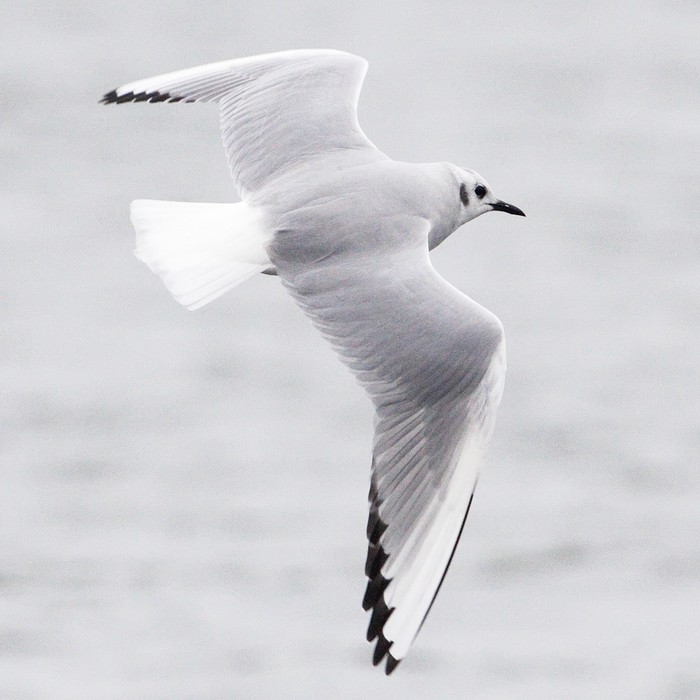 County Cork was the King where Ring-billed Gulls were concerned this week ~ at least a dozen in and around the county over the last seven days (exceeding by two the number reported in the whole of Ireland last week). Three adults were near Cork City on 30th and over the course of 2nd-3rd, a further 10 were seen ~ a first- and second-winter were in Bantry Bay on 2nd, with other first-winters noted the same day at Ballydehob and Castletown Bearhaven. Also on 2nd, second-winter birds were seen on the Great Island and also again at Timoleague, while two adults were on Cuskinny Marsh, near Cobh, with a further adult at Ballycotton on 3rd.
Another 11 birds were seen elsewhere in Ireland, including three adults at Nimmo's Pier (Co. Galway) on 31st, two were at Drogheda (Co. Louth) on 1st when the adult and first-winter were again around Blennerville and the Tralee Bay Wetlands area in Kerry and two adults were on Dublin's Sandymount Strand on 2nd. The final birds of Ireland's 23 this week were the adult again in Wexford town on 3rd and the third-winter still in Groomsport (Co. Down) throughout.
In Scotland, the adult Ring-billed Gull was still in Dingwall (Highland) on 31st-5th and the Scalloway first-winter remained all week. English adults were noted again at Somerset's Torr Reservoir on 2nd and, inevitably, at Gosport (Hampshire) to 5th while the first-winter at Bude (Cornwall) was present to 3rd at least.
The weather system that rattled in across the Atlantic as well as producing a new American Herring Gull, also yielded a healthy new crop of white-winged gulls including two Kumlien's Gulls at Killybegs (Co. Donegal) on 3rd (along with eight each of Iceland and Glaucous Gulls), a juvenile at Rossaveal (Co. Galway) on 30th with another juvenile Kumlien's seen and photographed at Eyeries (Co. Cork) on 2nd (this one another teasing bird, at the other extreme from the Barmston bird and perhaps if not a Kumlien's then ~ eeeek! ~ potentially another, different hybrid combo from that of the Kerry juvenile). Whichever, a great find and nice shots too…..

In Cambridgeshire, the adult Kumlien's Gull was reported again in the Grafham Water roost on 31st and one was seen at Scalloway (Shetland) on 5th.
The Iceland or Kumlien's Gull in East Yorkshire, remained at Barmston to 3rd at least, and the number of glaucoides this week jumped to around 55 ~ along with the eight in Killybegs, there were up to seven birds in County Waterford (four at Dunmore East on 30th and three off Dungarvan on 3rd) and these three groups made up 15 of Ireland's 21 Icelands this week (others noted in Antrim, Galway, Kerry ~ two there ~ Cork and Wexford.
Thanks, in part, to the eight Glaucous Gulls at Killybegs mentioned a wee while ago, the total of the species this week jumped to around 60 birds. Up to 11 birds were seen around the Midlands, with at least four in Staffordshire (including three in the Chasewater roost on 4th), and there were seven each a piece for Scotland and for the North East of England (three for Orkney and up to four in Cleveland). There were 22 birds in seven Irish counties, including another four at Dunmore East in Waterford through the week and, as usual, the adult Forster's Tern was off Nimmo's Pier (Co. Galway) on 2nd.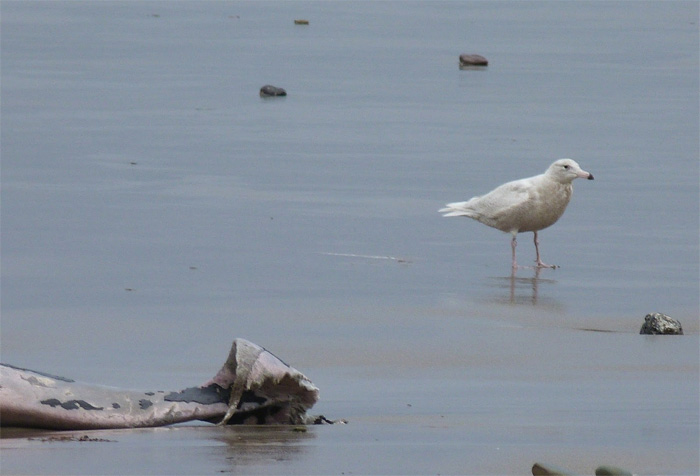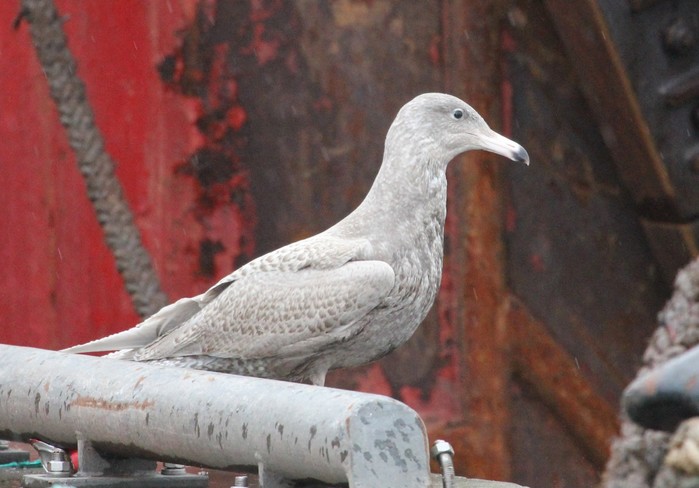 Before moving on, a quick mention of a species that doesn't feature here too often ~ Caspian Gull. Over 40 birds are currently being seen around the country, but mention must be made of the nine birds seen at Milton Tip in Cambridgeshire on 2nd. An adult, four second-winters and four first-winter birds were seen ~ it must have been an amazing day for the regular gullers there…..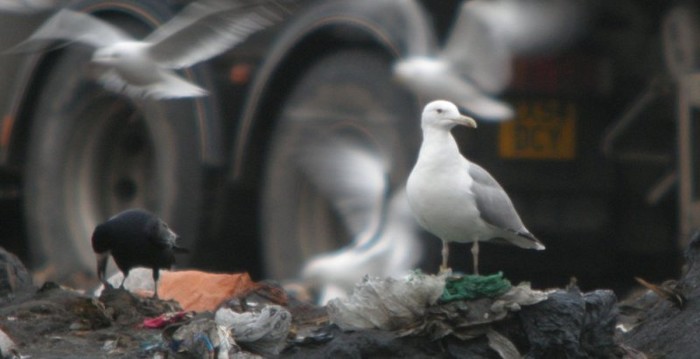 A further five were seen at Hedgerley tip in Buckinghamshire on 1st (three adults and two first-winters there) and there were three each at Appleford (Oxfordshire), Cotham (Nottinghamshire) and at Telford (Shropshire). One of the adults at the latter site was a yellow-ringed Polish bird ~ numerous colour-ringed birds from eastern Europe have been seen in here in recent years and there's been at least one more known Polish bird in the UK recently, at Edgefield Tip (Norfolk), one of two adults on site.
Raptors
On Orkney, a stunning juvenile white Gyrfalcon appeared on Mainland from 31st-2nd ~ initially at St. Peter's Pool and then around Loch of Steness, where a few tasty shots were rattled off for good measure….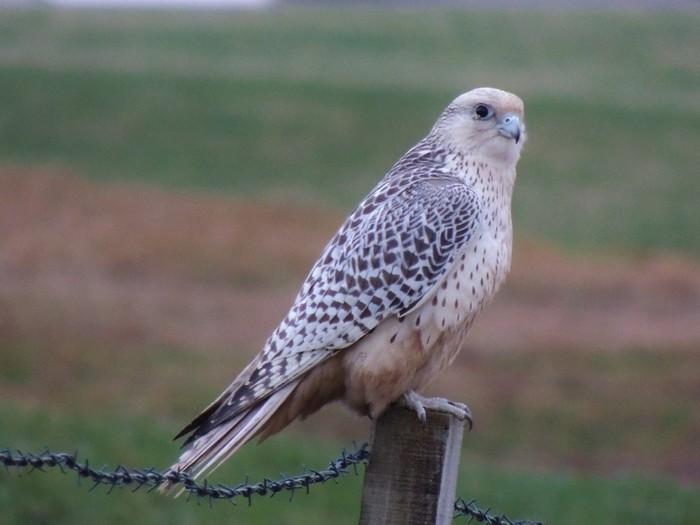 An immature White-tailed Eagle was seen over Sutton-on-Sea (Lincolnshire) on 1st heading down towards Huttoft. From there on it, nothing ~ as is often the case with these birds despite their barn-door qualities but surely it'll pop up somewhere in the Fens or along the coast of Lincolnshire or Norfolk in the next few days?
The latter county was the only one to record any Rough-legged Buzzards up until last knockings this week ~ up to five noted. Two birds were seen again around Haddiscoe Marshes in the far east of the county to 4th and, working our way around the coast, one was seen in the Broads, at Hempstead Marshes and Hickling village on 3rd, with another seen around Holkham and Burnham Overy between 1st-3rd and in the far west of the county, a single bird was noted at Terrington St. Clement on 30th. The only other Rough-leg this week was seen at Ingham (Suffolk) on 5th.
In East Sussex, a Dark-breasted Barn Owl spent two days at Rodmell, near Southease Railway Station on 2nd-5th.
Passerines
Berkshire's wintering Pallas's Warbler lingered at Moor Green Lakes until 3rd while at least one Yellow-browed Warbler was still being seen at Gwennap Sewage Farm (Cornwall) through to the 3rd.
A county first Richard's Pipit was a great find on the beach at Cooley Point (Co. Louth) on 2nd ~ the obliging bird remained to the end of the review period on 5th when another seaweed-loving Richard's Pipit was found at Dornoch (Highland). Last week's bird at Kilnsea was last reported on 30th.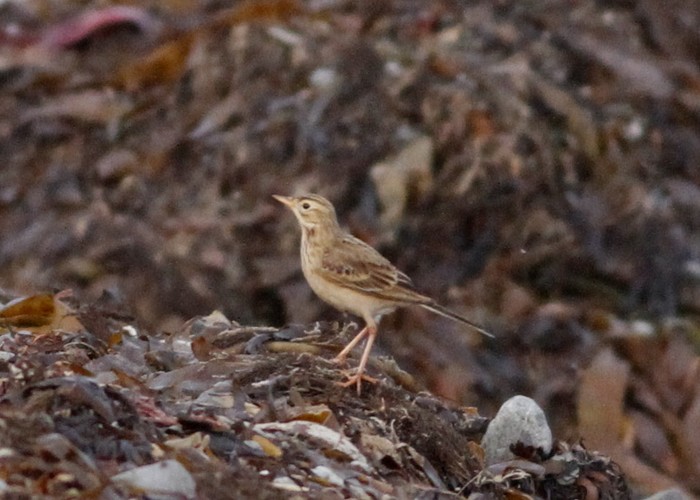 The long-statying female Desert Wheatear at Rattray Head (Aberdeenshire) clocked up another full week on site, pushing through the 60 day mark and receiving a few more visitors as it took on "padder" status for a few of the Grosbeak listers.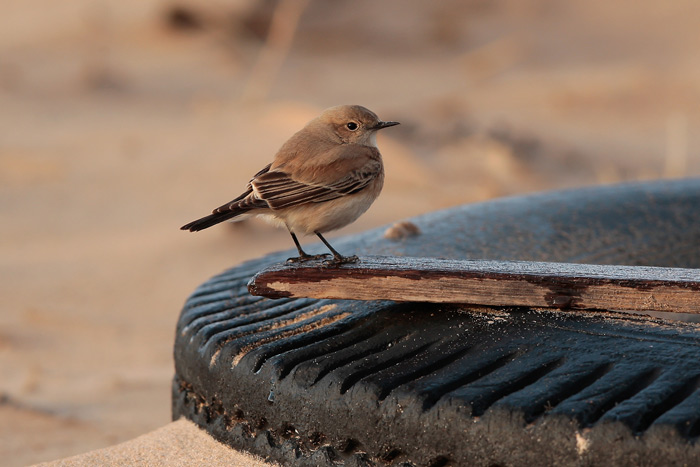 In Dorset, the unseasonal Hoopoe at Hamworthy was present throughout the week and the "possible" Common Rosefinch was seen again in gardens at Broadstone (let's hope it isn't actually a House Finch ~ it'll be another one for the committee dustbin if it is...) on 1st. Also still in the southwest, the first-winter Rose-coloured Starling at Exminster (Devon), present through to 4th at least.
Earlier in the winter, the Thetford Black-bellied Dipper was one for playing numerous games of cat & mouse with observers ~ but recently he (for sooth 'tis a he, he doth sing!) has settled down and performed wonderfully well for days and days on end. This week was no exception, on show every day from 30th-5th.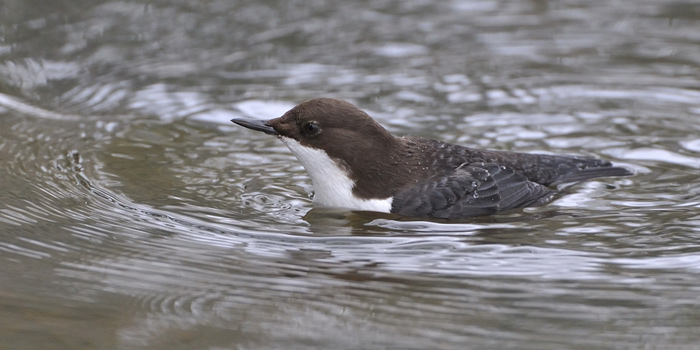 Up to 10 Great Grey Shrikes were seen this week, including the return to the news of two birds in Wales ~ at Mynydd Illtud (Powys) and Clocaenog Forest (Clwyd) on 1st. A new bird was reported from Shropshire, at Richard's Castle, on 3rd, but after that it was birds from previous weeks that made up the numbers ~ at Loch Kinord (Aberdeenshire), Upper Longdon (Staffordshire), Beeley Moor (Derbyshire), Therfield (Hertfordshire), Thursley Common (Surrey), Denny Wood (Hampshire) and still at Sixpenny Handley (Dorset).
Rounding things off, as we always do, its Waxwing time. There were still a couple of thousand or so around this week ~ with nine groups nudging in to the three figure mark. The largest single flocks this week were 270 at Bredbury (Greater Manchester) on 5th with 140 in Glasnevin (Co. Dublin) on the same date, with 130 at Offerton (Greater Manchester) on 30th not far behind. In Sheffield, a total of 155 birds were noted in different parts of the city on 30th and there were further flocks of 100 or so in North Yorkshire (at Harrogate on 1st), South Yorkshire (110 at Handsworth on 3rd), Lancashire (at Preston, on 2nd), Greater Manchester (at Hazel Grove on 3rd), Kent (at Ashford, on 1st) and in London (at Crayford) on 3rd with 115 at Southgate on 5th.
There we are then ~ an exciting week with allsorts going on! Winter doldrums blown away and, fingers crossed, they won't be back either….
What can we look forward to in the week ahead? Well, possibly some genuine Artic air for starters and that could finally yield one of the recently-discussed Ivory or Ross's Gulls…
…..or, better still, and raising the bar a tad higher, what about a nice Harlequin? The popular female at Wick in 1991 appeared on February 6th, and it has been nine years since the last twitchable bird (another female on Lewis, for just under five months in 2004).
The 7th brought us the first Western Palearctic American Coot, at Ballycotton, in 1981, two Norfolk Great Bustards in 1987 and, in the same year, the widely-twitched Shetland Brunnich's Guillemot lasted to the same date (one of nine accepted February records). The predicted weather could produce another one of those maybe?
There's also been an early Baillon's Crake in the week that we're coming to (in Wales in 1974) and one of the few accepted records of Boreal Willow Tit occurred at Thorne Moors in Yorkshire on February 8th 1975.
In fact, February 6th-12th is a spell that has been full of good birds ~ there's an American Robin and a Pine Bunting in there too ~ but clearly the best find of them all has to be the first-winter Least Sandpiper discovered on the beach at Portscatho (Cornwall) on February 9th 1986 ~ an inspired, genuinely brilliant find by a particularly sharp-eyed young birder….wonder what happened to him?!?
And just in case there was any doubt the wild weather in northern Scotland check out this amazing footage from Fair Isle recorded by Tommy Hyndman
Mark Golley
06th February 2013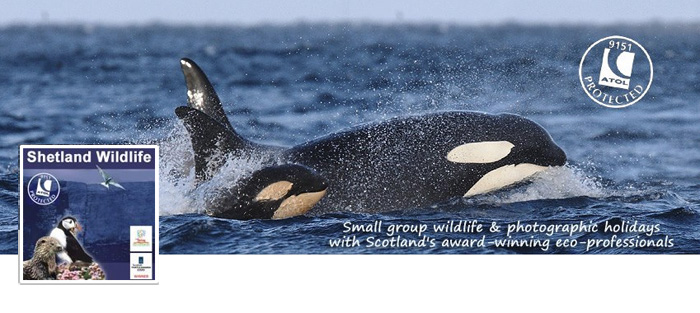 This weeks contributors
A very special thanks this week to Shetland residents Bert Ratter, Paul Sclater and Hugh Harrop (https://www.facebook.com/shetlandwildlife) on all things Pine Grosbeak.

Thanks also go to Owen Foley, Seamus Enright,
Davey Farrar
, Fionn Moore,
Yvonne Benting
, Lee Gregory, Matthew Whitelocke,
Ian Appleton
,
Alan Tate - AA Bird Pix
, Garry Taylor, Hanna Hyvonen, Paul Higson, Andy Thompson, Brian Henderson, Dave Kelsall,
Martin Goodey
, Mike Lawrence,
Paul Kelly - Irish Bird Images
, Paul Rowe, Andy Williams, Tom Lowe, Tim Wotton, Gerry O Neill,