Weekly round-up: 25 April - 01 May 2012
The weeks highlights
Britain's first potential Atlas Flycatcher found in East Yorkshire
An afternoon Bufflehead stops off in Lincolnshire
Lingering Greater Yellowlegs remains in north-east Scotland to month's end
Singing male Scops Owl reported in Highland
Fly-by Roller in south Devon
Rain, rain go away, come again another day……
Another seven days passes by and occasionally it felt as if we'd never see the sun again. Weather maps showed seemingly endless blue swathes (of different hues) as rain belts unloaded themselves on the south, then north of England over a truly foul weekend.
Sadly, those blue bits on the weather map related to threatening, dark, leaden grey skies, full of rain and any number of places across England and Wales suffered some pretty grim conditions as the week edged by ~ flooding was noted in some places ~ and it really wasn't nice to be in the field….unless you were further north and west of course, much of Scotland and Ireland dodged the damp and chilly bullets, enjoying some decent birding conditions….
As the week drew to a conclusion (coinciding with data that told us it was the wettest April on record) a blue-skied Monday across much of the county opened the door to warm south-easterlies and they had a sunshine effect on the spirit and on the birds too….but a close-down of sorts followed on swiftly, more rain rolled in as the week concluded.
With the migrant corridor opening a little wider than many recent weeks, a potential first for Britain was the undoubted star of the show (as predicted at the end of last week's round-up….!), while the runner-up reverted to type, with a more wintery vibe about that one…..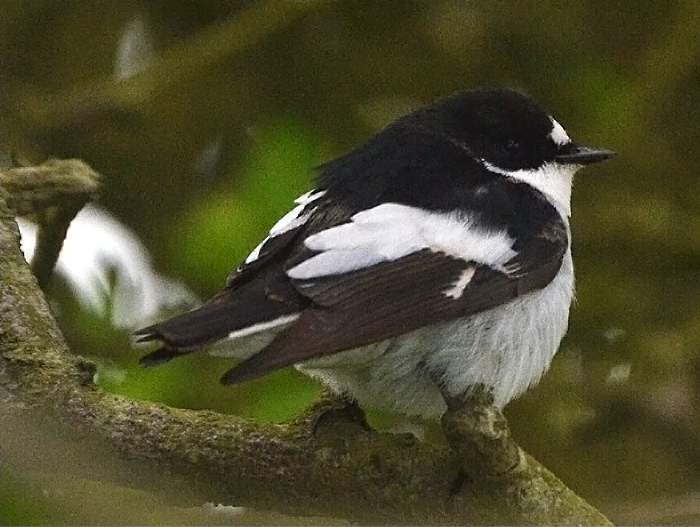 Headline birds
As the weekend drew to a close it was East Yorkshire that became the focus of attention for many when compelling images of a first-summer (second calendar year) male black & white flycatcher appeared online, the bird being discovered at Flamborough Head on 28th.
A series of shots posted by Brett Richards showed what appeared to be a strong candidate for Britain's first Atlas Flycatcher ~ a beautiful bird, full of field marks which soon generated a significant degree of "interested party" chat.
Informed online comment following on after Brett's original post, primarily from ex-BBRC- man Brian Small and Italy's Andrea Corso, saw the ball rolling towards the Atlas trail ~ the large diamond-shaped head patch, the sizeable primary covert patch and the even-more sizeable white wings all apparently ticking the right boxes and the suite of characters seemed to be further enhanced by the intensity of the black (also shared with Collared-types) and the tail pattern too.
It did all seem to be a little bit "after the horse has bolted" though ~ the bird had been looked for subsequently, but not seen again. That was until the afternoon of 30th when it reappeared in the Old Fall hedge and was trapped and ringed later that day.
One or two things noted were seen by some to be being highly indicative of a hybrid rather than a bang-on Atlas Flycatcher but with the bird still present on 1st and with more Italian comment coming forth to ease the worries of tortured listing souls, (primarily with regard to its greater covert pattern), the bird's bandwagon gathered more and more momentum.
When the bird was being processed in the hand, feather samples were taken and these will lead to resolution, one way or another. Without them, and being the age it is, the Flamborough bird would undoubtedly struggle at committee level but in what is already a record year for Atlas Flycatchers across Europe (two trapped and ringed in central Italy, at least two seen on Sicily with singles in Spain and Malta) the individual in East Yorkshire has, as well as looking rather interesting, some decent circumstantial evidence in its favour too.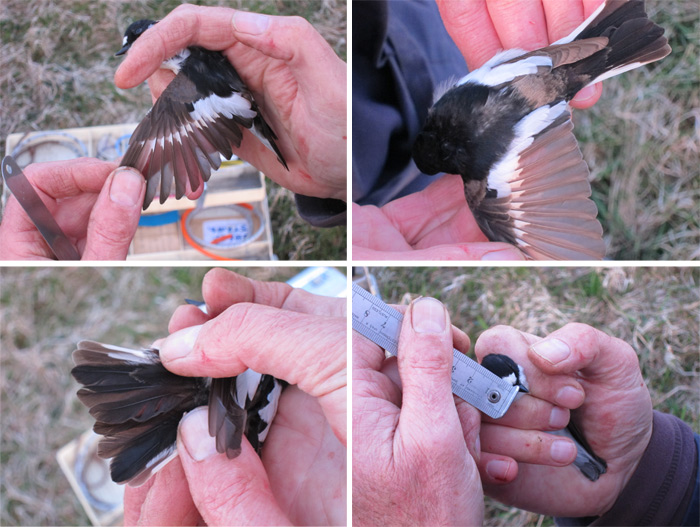 A sound recording would be a massive help and it seemed as though the likelihood of it being a black and white flycatcher hybrid was drifting away. Or was it? The acknowledged variability between some black & white flycatcher species pairing's offspring ~ most notably of course Collared X Pied Flycatcher ~ remains the major fly-in-the-ointment (expert opinion split firmly in to the "it is" and it isn't" camps) but, whichever way you look at it, it's a heck of a bird and regardless of all the wooliness and lack of definitive evidence (both in-the-field and in-the-hand) it was a particularly sharp-eyed discovery.
The BOU Taxonomic sub-committee announced in December 2003 that Atlas Flycatcher (Ficedula speculigera) would be split from Pied Flycatcher. That same announcement also mentioned the official split of Taiga Flycatcher from Red-breasted Flycatcher and, of course, Britain's first record of that newly recognized species was also at Flamborough, and also at the same time of year ~ April 26th-29th 2003.
Dropping down the east coast a county where Lincolnshire birders have been having a fine old time of it of late, hot on the heels of the Thayer's Gull came this week's rarest bird ~ a female Bufflehead, found at Covenham Reservoir on the afternoon of 27th.
This perky little duck showed herself throughout the afternoon and evening but departed overnight to who knows where. There's an outside chance that it could have been the bird that wintered in Cornwall but that bird disappeared in the first week of March ~ the seven week gap between the two records would suggest that this was a new arrival, perhaps coming across the North Sea as it headed north-west.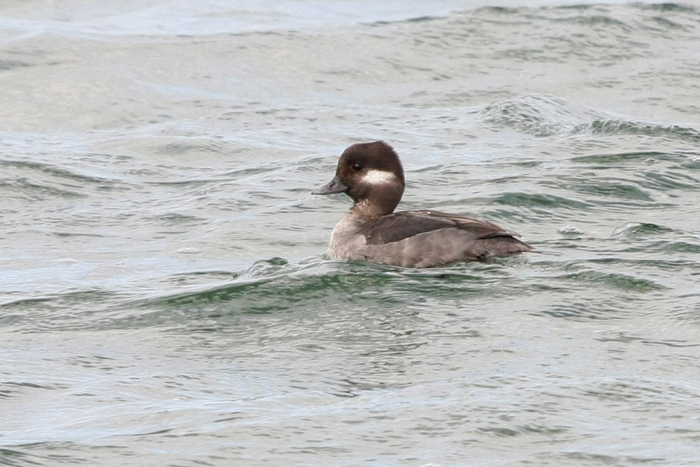 Up until the end of 2010, 14 Buffleheads have been accepted as being the genuine article in Britain, with one accepted record in Ireland ~ and this bird will become the fourth in an east coast county following a first-summer male in Cleveland in June 1994, an adult male in Suffolk at the end of 1997 and on in to 1998, with a second Suffolk record, a female, seen sporadically from June to October 2002.
The (inevitable) question of quality control lurks in the background for this species, as it does with Hooded Merganser (something that was touched on in one of the first RBA round-ups) and one or two other Nearctic mega-ducks. There are (loose) patterns of occurrence across the board for Bufflehead, and birds in 2004 and 2007 were tracked and known to be the same individuals as they plotted their way out of the UK.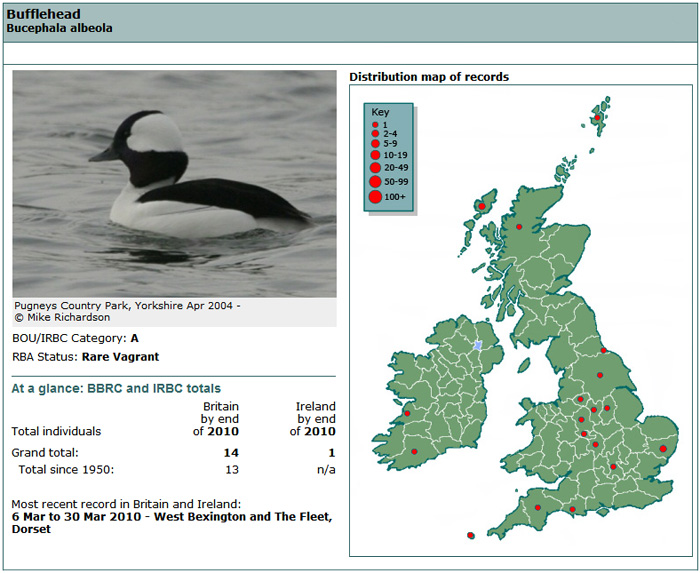 But some outstanding patterns occurrence are established for White-headed Duck and Marbled Duck (the latter is a known wire-hopper, but so is Hooded Merganser). Undoubtedly some genuine vagrant Marbled Ducks have been cast aside too readily. Disparity rules ok?
No such issues with the (soon-to-be) first-summer Greater Yellowlegs that continued to perform at the Loch of Strathbeg until 30th. Also in Scotland this week, a Scops Owl was reported singing at Skye of Curr on 1st, but there was no sign later in the day. Also brief and not seen again was the Roller at Little Haldon, in Devon, seen flying towards Teignmouth on May 1st. If accepted, it will be the first in Devon since the long-staying bird on East Budleigh Common in May and June 1989.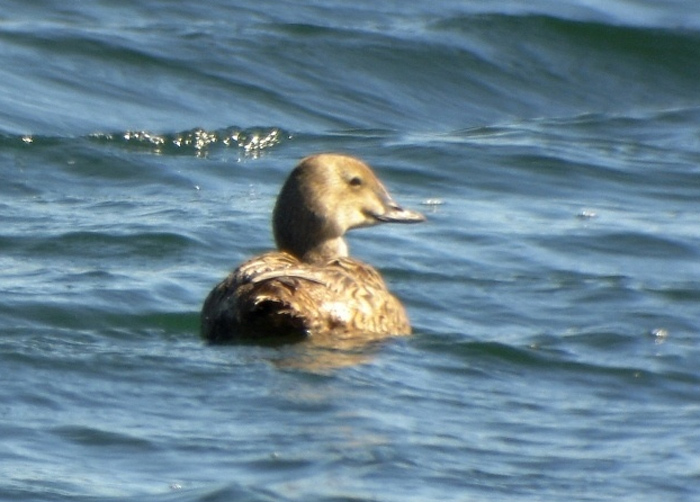 Seabirds
On Orkney, single White-billed Divers were seen off Papa Westray and South Ronaldsay this week (the former on 27th – a summer plumaged adult – and the latter on 29th) and then two appeared off North Ronaldsay on 30th. Singles also remained off the coast of northern Scotland, at Portsoy (Aberdeenshire) to 29th at least and Burghead (Moray) to 30th.
Wayward seabirds this week included a Cory's Shearwater of Dungeness on 29th and an adult Long-tailed Skua flew past Thorpeness (Suffolk) on the same date. Around 160 Pomarine Skuas were recorded over the course of the past seven days, from 18 counties, with every south coast county (from Cornwall to Kent) scoring a few each. Nowhere hit a really heavy passage with the highest counts all coming on the back of south-easterly winds on 30th ~ 19 flew past Selsey Bill (West Sussex), a flock of 15 were seen off Dungeness and 11 were seen off Thorpeness. Eight Poms were also seen off Dawlish Warren on 25th. Birds also found their way along a few west coast counties and one popped up inland, at Queen Mother Reservoir (Berkshire) on 29th with another over Paxton Pits (Cambridgeshire) on 1st.
Herons, Egrets & Allies
After last week's incredible news of a flock of nine White Storks in Worcestershire, followed by their own splinter group of six in north Wales, it didn't come as much of surprise when the sextet reappeared this week ~ back in central England ~ flying over Didcot and Abingdon (Oxfordshire) on 26th, before settling at Standlake from 28th-30th. Very sadly, on 1st, the six became five, as one of the birds collided with overhead power lines and died.
In Norfolk, two White Storks appeared at Acle on 28th and were presumably two more of the original "Worcester 9" (assuming it was really nine and not eight) while elsewhere, single White Storks, of unknown origin, were noted in North and West Yorkshire and over on the Isle of Wight, at Rookley, on 1st.

White Storks on the move view in larger map
Over in Waterford, the Purple Heron near Seafield was still present on 27th, while nine Glossy Ibis lingered from previous weeks, including the Marloes Mere three present throughout the week, two Irish singles (in Cork and Galway) and at least one still on North Uist.
New Glossy Ibis this week were found on Scilly (flying over St. Mary's before alighting on Tresco) on 27th, at Montgomery (Powys) on 28th with a new trio in Cumbria, at Campfield Marsh on the same date. There's every chance that these three than headed north-east to Aberdeenshire, appearing at Donmouth on 29th and leaving there early the next morning.
A Cattle Egret at Burnham Overy Mill (Norfolk) relocated to Snettisham during the course of the morning of 25th. A second new arrival this week was seen in East Sussex on 28th with number three at Lodmoor on 1st and singles remained in Cornwall and Gloucestershire. As well as a Cattle Egret, East Sussex also hosted a new Great White Egret, one found near Lewes on 30th, and others were seen in Berkshire on 28th (another decent bird for Queen Mother Reservoir this week), in Northamptonshire and Cheshire at the start of the week (possibly two birds in the latter county) and again in Cambridgeshire on 29th-30th.
In Norfolk, seven Broadland Common Cranes were seen over Waxham on 30th (four had been seen at Breydon Water three days beforehand). Elsewhere four Cranes were seen near Howden (East Yorkshire) on 25th and two were seen in Greater Manchester on 26th-27th. Two others were noted at four different sites in Aberdeenshire on 28th-29th, while lone birds remained on Shetland and in Staffordshire.
This week's Spoonbill haul was a near-mirror image of last week's ~ five still around Brownsea Island, four still at Cley, with three in Suffolk, two in Devon and scattered singles on Scilly and also in Cheshire.
Ducks & Geese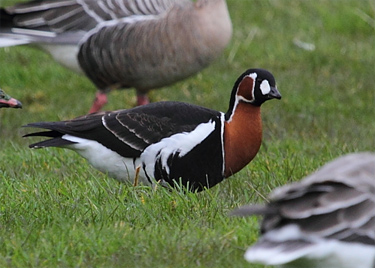 With the inevitable march to May, it wasn't a massive surprise that interesting wildfowl records faded further still this week.
In Highland, last week's new Red-breasted Goose remained near Brora until 28th and the Southerness Point Red-breasted Goose was still present on 1st. The only Canada Goose reported was the presumed escaped minima at Slimbridge. Back up to Scotland, to Moray, where the Ross's Goose remained with Pink-feet near Forres until 28th while a Snow Goose was with Greylags on Mainland Orkney on 25th.
The female Blue-winged Teal still seems to be in no hurry to make her move from the Amble Marshes in north Cornwall ~ discovered in mid-March, she was present to 28th at least. Last week's Green-winged Teals at Hornsea Mere and Blithfield Reservoir remained to 26th and 29th respectively, while a drake reappeared at Chew Valley Lake on 30th. A new bird was found in County Cork, at Carrigtwohill, on 27th and the final bird of the week was seen on Tiree on the same date.
The Aythyastandard-bearer for yet another week was the drake Lesser Scaup in south Wales, seen in Cardiff Bay on 28th, while a pair of drake Ring-necked Ducks were found on Loch of Skene (Aberdeenshire) on the evening of 28th. Another drake was seen again in Lincolnshire on 27th and the female popped up again at Wroxham Broad (Norfolk) on 29th (she was last reported there ~assuming its one in the same) on Valentine's Day. Presumably she didn't take too kindly to not receiving a suitor…if only she'd gone to Barton Broad a couple of weeks ago…!
Talking of a lack of duckie romance (that's the sound of the barrel being scraped) the lonesome drake King Eider remained on the lovely Ythan Estuary to 30th (how he wishes that female from the Wash last week headed north). However, he if cared to take a trip to the Uists, he may be in luck! A female King Eider was found at Rubha Ardvule, South Uist on 1st. Back in Aberdeenshire, at Blackdog, a drake Surf Scoter was seen offshore on 29th and another drake was still off Ruddon's Point, in Fife, on 26th.
Raptors
In Cornwall, a Black Kite was seen flying over Trevelgan, near St. Ives on 28th and was followed by a two day bird at Letterston in Pembrokeshire on 30th-1st and another at Galley Head (Co. Cork), also on 1st. Three Rough-legged Buzzards were noted during the week ~ appearing on South Ronaldsay and County Down, with another reported in Bedfordshire.
Shorebirds
After tracking the odd single Black-winged Stilt over the last two or three weeks, a smattering of brand new arrivals appeared in the south-west in the last few days. Three birds popped up at Exminster Marshes RSPB on 25th, with one at nearby Bowling Green Marsh and two at Powderham the following day. On 27th, the three were back together at Powderham, with two later in the day at Bowling Green Marsh.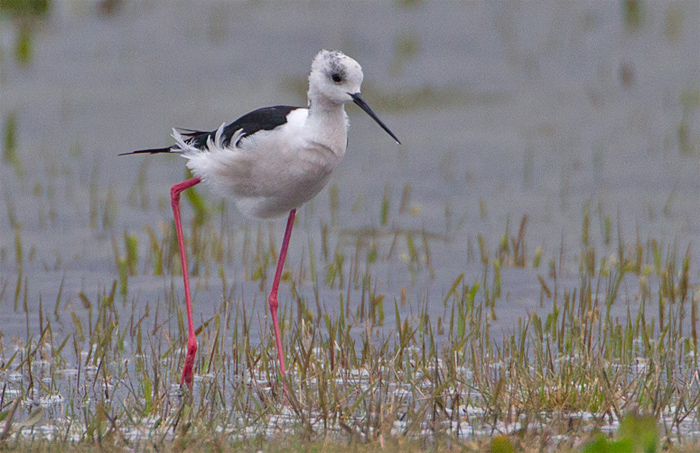 By 28th, it seems as though two of the trio had made their way to north Devon, dropping in at Wrafton, with what may have been bird three making itself known on the Amble Marshes in north Cornwall on the same date. All three were in their new locations on 29th, with the Devon duo still present on 1st. Up in Lincolnshire, the Black-winged Stilt at Frampton Marsh RSPB clocked up a second week on site and that bird also lingered long enough to wave the red flag on May Day.
Further north, on the Isle of May, on the first of the new month, came remarkable news of a Black-winged Stilt on Three Tarn Nick ~ it must have been a remarkable sight of what remains a remarkably rare bird in Scotland. A couple have been reported over the past decade or so, but there are only five accepted records for the country, the most recent being two for a day on the Outer Hebrides in July 1990.
Somerset's increasingly handsome first-summer Long-billed Dowitchers notched up another week in their ever-increasing residence at Meare Heath while the Wexford bird remained at The Cull until 29th ~and was also laying down a lot of lovely colour.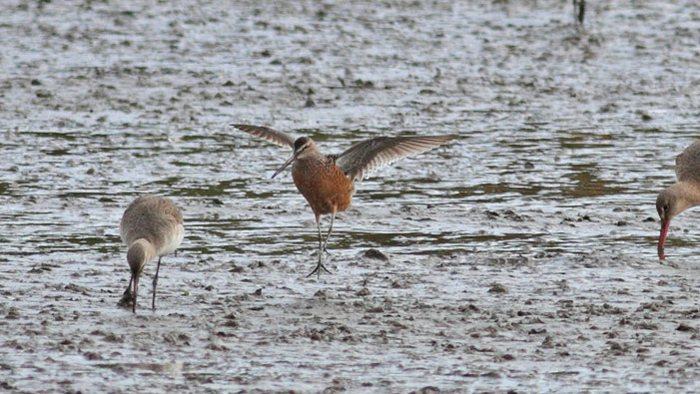 Staying in Ireland, a first-summer American Golden Plover appeared at Reenroe in County Kerry on 29th-30th while a Pectoral Sandpiper was found at Loch Gruinart RSPB reserve on Islay on 27th.
No sizeable Dotterel trips this week ~ three were at Slyne Head (Co. Galway) on 26th and were still present on to 1st. A female Dotterel arrived at Langness on the Isle of Man on 26th and in Oxfordshire, one remained at Balscote Quarry throughout much of the week.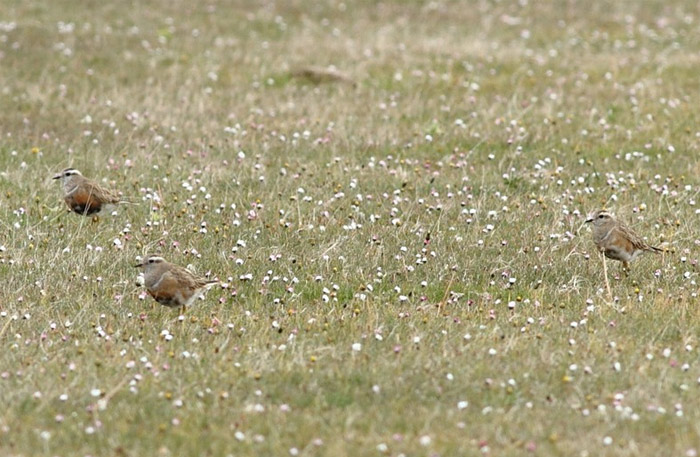 New this week (and the first of 2012) was a Red-necked Phalarope, found at Llynheilyn (Powys) on 30th and seen again there the following day.
Gulls & Terns
An adult Laughing Gull made a brief stop-over at Severn Beach (Gloucestershire) on 1st, the fifth for the county and the first since one in January 2006.
In Sligo, two Ring-billed Gulls (a first- and second-summer) were still around Doorly Park on 28th and two singles were in Kerry on 29th (an adult at Carrahane Strand and a first-summer at Blennerville). Across the border in County Down, the second-summer remained at Groomsport until 28th.
There were plenty of single Iceland Gulls on offer this week, predominantly on the west coast but nine continued to linger around the Shetland Catch factory in the middle of the week. Two single Kumlien's Gulls continued their lengthy stays at Ardglass and Beddington, while four Glaucous Gulls were still around the Loch of Skaill on Orkney on 26th with seven singles spread from Scilly to the Outer Hebrides.
Passerines
Allsorts of new arrivals this week and many of them the sort of birds that make you go "oooo, interesting". Its tough to know which one to start with ~ so its lucky dip from here on in…..!
In Norfolk, a male Citrine Wagtail was a brief visitor to the always interesting cliff-top fields around West Runton on the morning of 30th. One brief trip west and the bird was back, but its second venture in the same direction proved to be final.
This was Norfolk's fourth spring Citrine of recent years ~ a male was found at Titchwell in May 2008, females were uncovered at Cley in the Mays of 2009 and 2011 and also last spring, on April 24th, a fine male Citrine Wagtail was found within just a mile or two of this year's male. A returning bird perhaps?
Not far way from the Runton Wagtail on 30th came a report of a Siberian Stonechat, seen briefly near Cromer in the early morning before flying off inland. A second Siberian Stonechat, a male, was found on Holy Island (Northumberland) two days before the Norfolk bird.
At Dungeness, a stunning male Ortolan Bunting made use of the widening overshot door on 30th, spending a couple of hours near the old lighthouse before flying off towards the power station. A couple of days later, a singing male Melodious Warbler appeared at the same site ~ one of the earliest Melodys of the last decade. Dungeness also chipped in with a flyover Tawny Pipit on 26th ~ a very tidy little hat-trick of spring arrivals…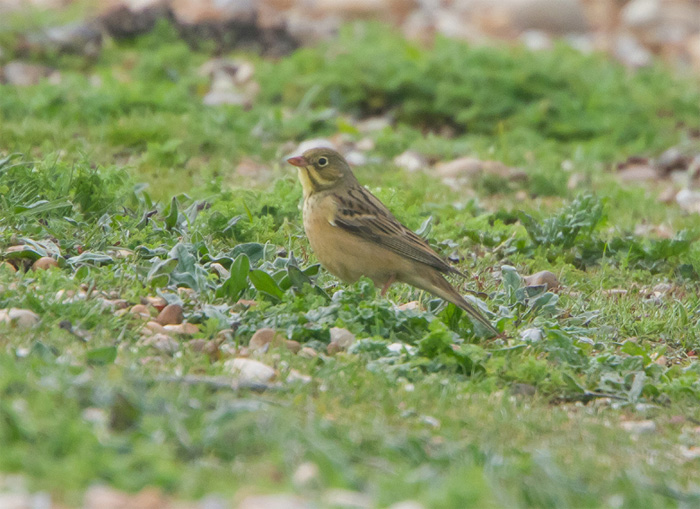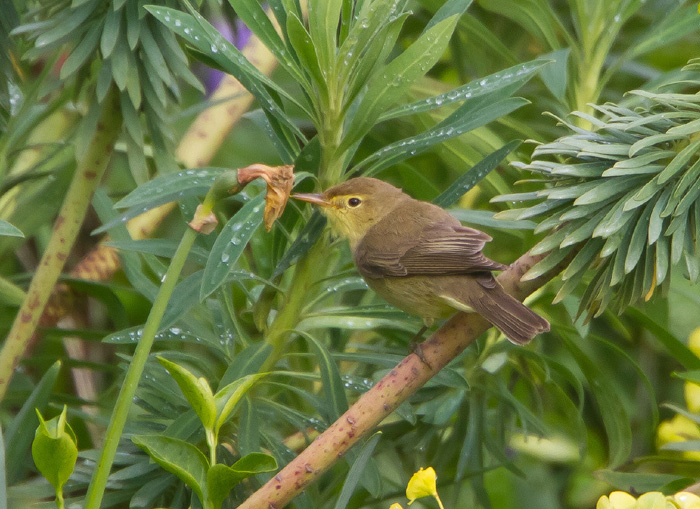 In Cornwall, at Cape Cornwall, a male Woodchat Shrike arrived on 30th, remaining to the following day (it's the second this year, following on from one in late March in Waterford) while the first Red-backed Shrike of 2012 was found on Mizen Head (Co. Cork) on May Day. Numbers of Great Grey Shrikes fell again, nine reported during the week, with three birds on Shetland, four in east coast counties (from Aberdeenshire to Norfolk) with singles also in South Yorkshire and Ceredigion.
More summery fayre came in the form of three or four Red-rumped Swallows ~ two for Lincolnshire and one (or two) in Cleveland. The former county hosted a two day bird at Far Ings (on 28th-29th) and an evening bird at Gibraltar Point NNR (on 30th) while Cleveland, following on from a fly-over on 28th, one settled at Bowesfield Marsh for two days from 30th. In Suffolk, an Alpine Swift was at Lowestoft on 28th (and again, briefly, on the evening of 29th), with further individuals at Canvey Island on 29th and Berry Head on 30th.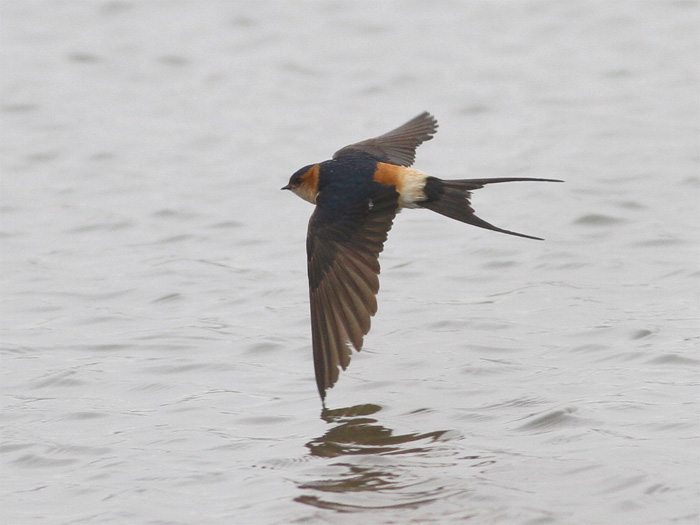 Cley's potential Ashy-headed Wagtail (or hybrid) and Spanish Wagtail (or hybrid) were both still present on 25th, but remained distant and elusive (in awful conditions). A scattering of Blue-headed and "Channel" Wagtails were also noted this week, just to keep the hybrid vibe moving…..
Last week's Iberian Chiffchaff in Cambridgeshire, at Castor Hanglands, north-west of Peterborough, (a potential county first) became this week's probable Iberian Chiffchaff as the impetus shifted away from it being the real deal (a mixed singer and a rather drab looking individual), so perhaps it will be packaged in the same file as the bird seen in West Sussex recently. Another possible male Iberian Chiffchaff was at Coombe Hill meadows (Gloucestershire) on 30th.
A vibrant male Golden Oriole spent three days generally showing off just how dazzling he was at Snettisham Country Park (from 29th) and a male was also seen back at Lakenheath RSPB on 26th. Half a dozen Hoopoes included one in County Kerry, at Lixnaw, from 26th-28th and also one in Derbyshire, at Torside Reservoir, on 30th. The remaining quartet were noted in East Sussex (at Pett Levels), Essex (at East Tilbury), Dorset (at Wyke Regis) and in Cornwall (at Pendeen).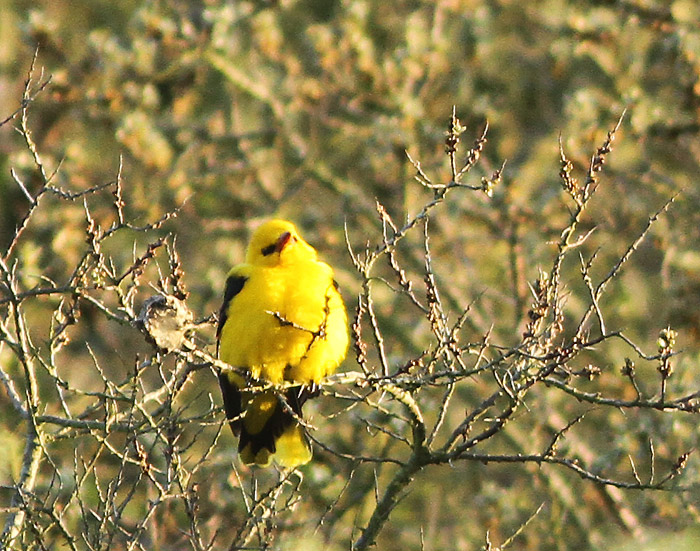 Northumberland lead the way with the week's Wryneck haul ~ four birds were seen in the county on 26th-27th (two of them on the Farnes) with perhaps another three found towards the end of the week. Suffolk also fared well, four singles there, with two each for Kent, Lothian and Shetland in a week that saw up to 20 recorded.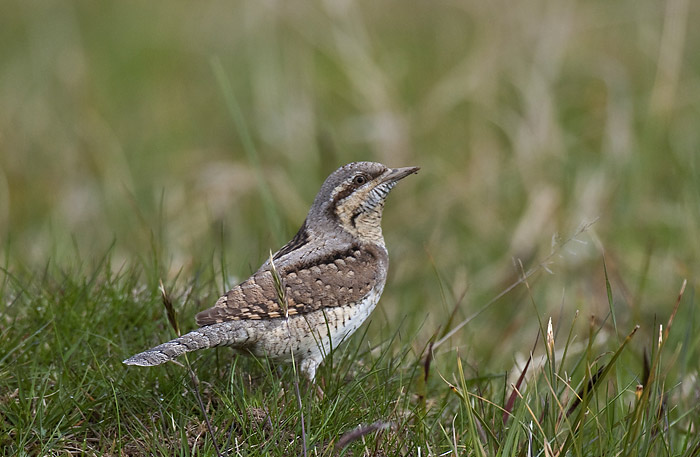 More spring goodies included a Richard's Pipit on Lundy on 30th, two Serins (one in Suffolk, at Landguard on 30th and one in Dorset, at Portland, on 1st) and a particularly snazzy looking Little Bunting at Sandwich Bay, also on 30th (undoubtedly the day of the week for new arrivals). The same day brought a late unconfirmed report of an Olive-backed Pipit at Filey (North Yorkshire).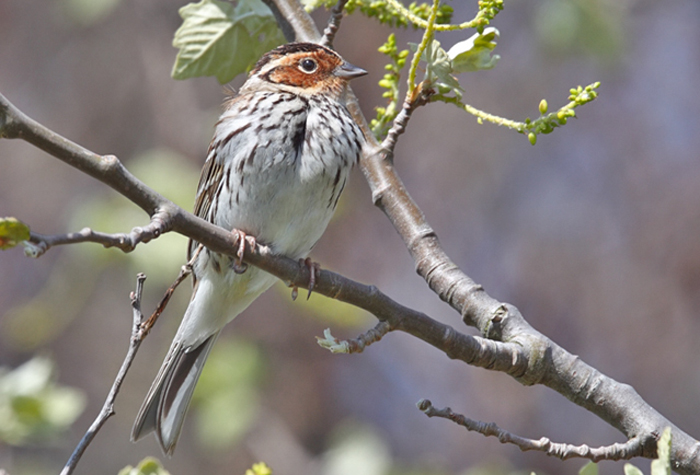 The week concludes with a gentle reminder that winter hadn't quite left us ~ the long-staying Hume's Yellow-browed Warbler was seen again at Wyke Regis on 26th (it was last reported there on April 8th), a Yellow-browed Warbler was at Waxham (Norfolk) on 30th and at least 25 Waxwings lingered around Sheffield until the end of the month.
Plenty to talk about then ~ the Flycatcher will rumble on and on until those samples come back and who knows if they'll come back in the affirmative. Some say "of course", some say "of course not". Whether you like your ticks to come from a laboratory is one for discussion but most listers won't be too worried where the tick comes from. That said, they may well have to wait a wee while before they find out exactly what's what with the Flamborough bird. It will be a fascinating outcome and one which, whatever the conclusion, will just nudge us further down the identification road. And that can only be a good thing right?
What's next I wonder?
Mark Golley
02 May 2012
This weeks contributors
For their help, contributions and photos this week a special thanks goes to:
Andrew Hood
Brett Richards
Roy Harvey
John Kemp
Chris Griffin
Martin Casemore
Steve Ashton
Colin Pears