Weekly birding round-up: 15 - 21 Feb 2017
The week at a glance
Pacific Divers in Devon, Northumberland and Cornwall
Pine Buntings in Yorkshire and Kent
Blue Rock Thrush in Gloucestershire
'Eastern Black Redstart' in Cleveland
Red-flanked Bluetail in Glamorgan
Hume's Yellow-browed Warbler in Dorset
Killdeer on Shetland
Snowy Owl on Orkney
Northern Harrier on Orkney
American Coot on Western Isles
Black Scoters in Northumberland and Kerry
Pallid Harrier in Yorkshire
Hudsonian Whimbrel in Cornwall
The weather this week couldn't have been more different from last week. No sooner had the new review period started than the wind swung into the south and temperatures surged dramatically. Suddenly it was no longer winter and by 20th temperatures were reaching 18 degrees across parts of southern England. Having said that, it was a quiet week for new rarities and the roll-call of bird highlights started to look ever more familiar. The best bird of the week by far was yet another Pacific Diver , otherwise white-winged gulls continued to make the headlines, with Iceland Gulls now increasingly prominent.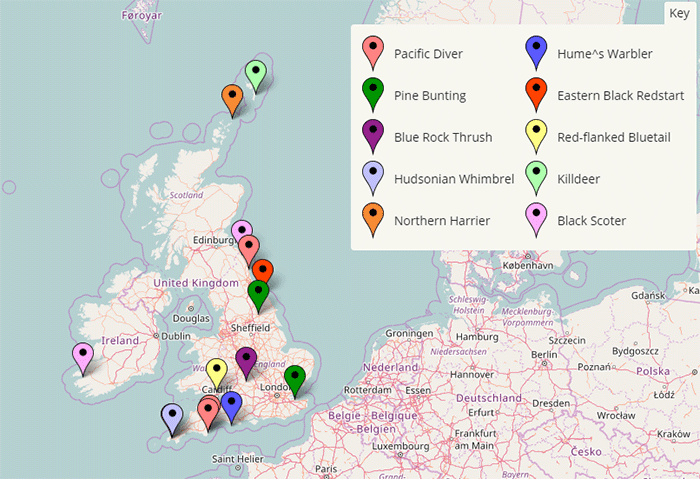 Pacific Divers
Surprising news on 16th involved a potential Pacific Diver off Broadsands, Devon. With the identification quickly firmed up during the day, this duly became the fourth Pacific Diver for Britain and Ireland this winter and a fabulous new bird for Devon. It was still present on 18th and any fleeting thoughts that it might be the Cornish bird relocating were quickly quashed as the long-staying returning adult was still off Penzance on 17th to 20th. To complete what is now a trio of Pacific Divers in Britain, the well-watched bird at East Chevington, Northumberland was still present to 21st.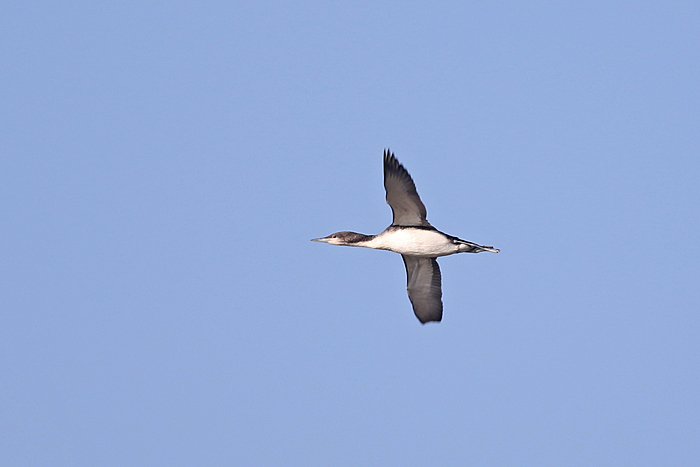 The story of Pacific Diver in Britain is a remarkable one. It only seems like yesterday (although it was actually in 2007) that the first was discovered at Farnham Gravel Pits, Yorkshire, closely followed by others in Pembrokeshire and Cornwall. Since then the species has been a near-annual presence, thanks largely to the returning individual in southwest Cornwall but also to a slow but steady drip of new discoveries including two more this winter. Two things are clear. Firstly, Pacific Diver is a regular vagrant to Britain, certainly overlooked before 2007, and, secondly, the distribution of records shows that this is a species which could turn up anywhere, including inland. Winter is of course the season but there has also been a spring bird - the beautiful full summer plumage bird at Grutness, Shetland in May 2013.
Lingering passerines
The rare passerine line-up was a now familiar one. The male Pine Bunting was still at Dunnington, Yorkshire to 21st while, in Kent, the bird at Sittingbourne, absent for the whole of last week, made a surprise reappearance on 18th to 20th. Also still very much alive and well, and doubtless enjoying the much balmier conditions, was the adult male Blue Rock Thrush on the rooftops in Stow-on-the-Wold, Gloucestershire, still there on 21st. Also making it to the end of the week were the male 'Eastern Black Redstart' at Skinningrove, Cleveland, the ever-elusive Red-flanked Bluetail near Caerphilly, Glamorgan and the also rather shy Hume's Yellow-browed Warbler at Portland, Dorset to 21st also. There was, however, no sign of the Derbyshire Dusky Thrush - its disappearance in the bitter weather last week seems to have been a genuine departure.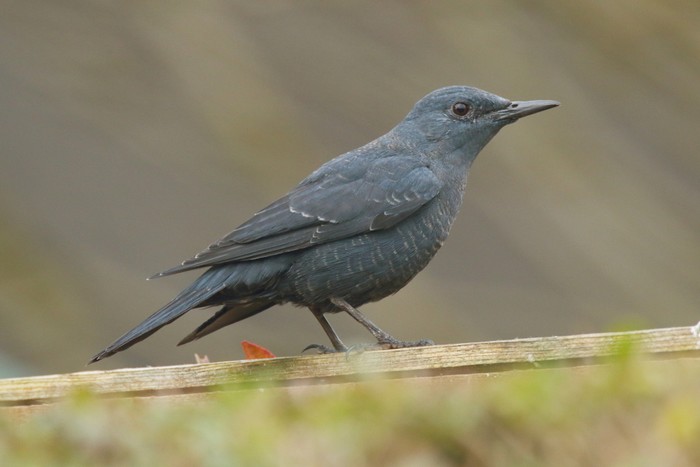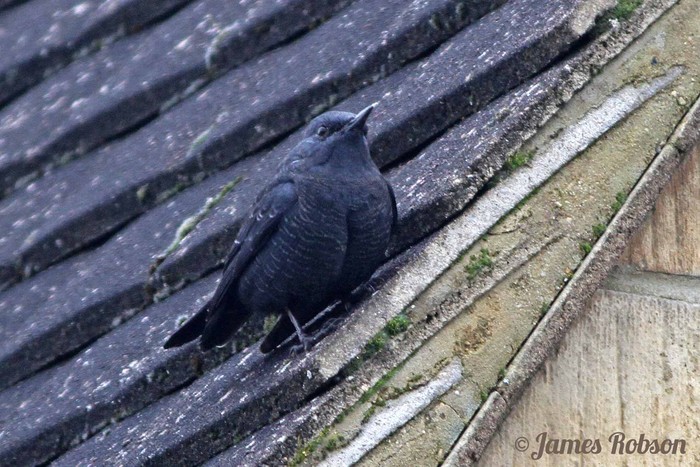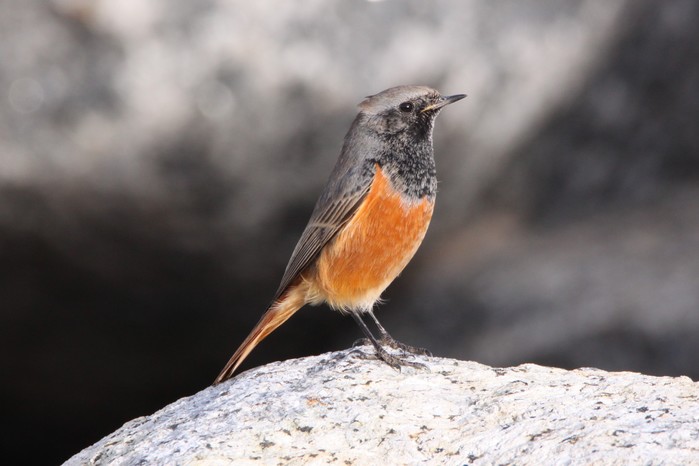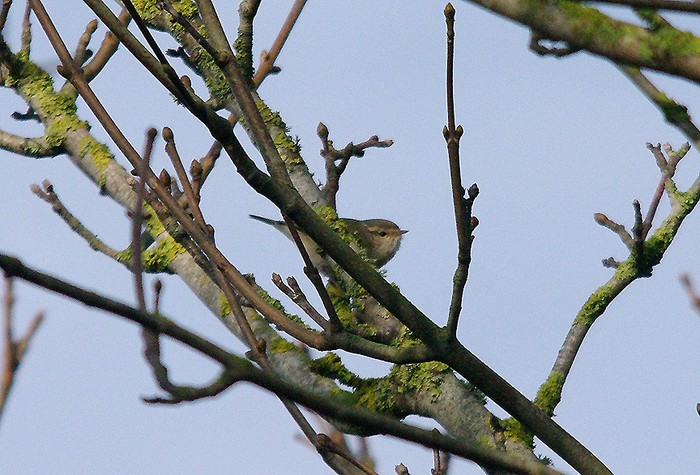 Non-passerines
Turning to the non-passerines, the Hudsonian Whimbrel was still at Perranuthnoe, Cornwall to 21st. Further north, the juvenile Pallid Harrier remained in the Welwick area, Yorkshire to 21st as well, with occasional trips to Kilnsea. Still in England, the drake Black Scoter was again off Goswick, Northumberland on 17th. In Scotland, the long-suffering Killdeer was still at Sandwick, Mainland Shetland to at least 21st with, just to the south on Orkney, the Snowy Owl (probably much less bothered by the weather) still on Eday on 15th and the adult male Northern Harrier on North Ronaldsay to at least 20th. On North Uist, Western Isles the wintering American Coot was still present to at least 19th whilst in Ireland the Black Scoter was again off Rossbeigh, Kerry on 20th.
Further afield
In a relatively quiet week for new European discoveries, far and away the best was a surprise Brown Shrike just across the southern North Sea at Den Helder, the Netherlands on 19th and 20th. Also in the Netherlands was a good candidate second calendar year American Herring Gull which, if confirmed, would represent the country's first. Meanwhile, in Norway the Yellow-throated Bunting first seen three months ago in Nordland was seen again on 18th. Elsewhere, a Hume's Warbler was found in France and a Forster's Tern on the Azores.
Two White-billed Divers were seen this week, both in traditional northern settings - off South Ronaldsay and Burray, both Orkney, on 15th to 19th with, on 16th, another in Bluemull Sound, Shetland. The only other seabirds of note were a Little Auk off Bamburgh, Northumberland on 17th and the lingering Pomarine Skua in Cornwall seen again off Penzance on 17th also.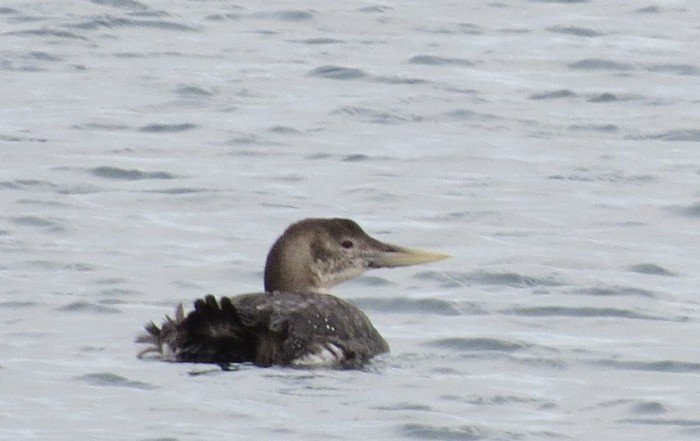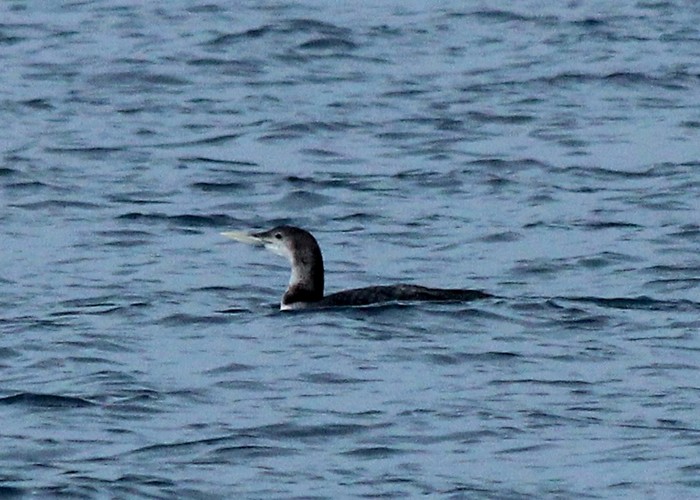 The great selection of geese in Lancashire remained in place all week, headlined by the Red-breasted Goose around Cockerham on 16th and 17th and Out Rawcliffe on 18th. Also in the county the 'blue' Snow Goose was at Nateby on 15th to at least 20th and the 'Todd's Canada Goose' at Aldcliffe Marsh, near Lancaster, on 19th and 20th.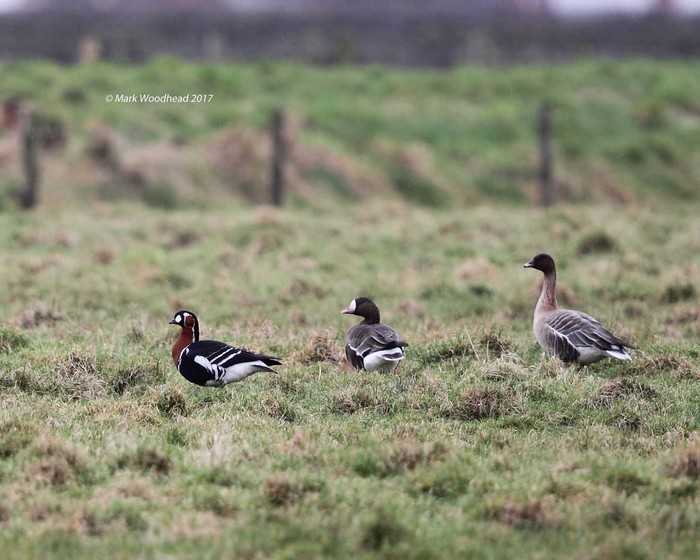 Another Snow Goose, this one a white bird, was again at Alness, Highland on 15th and 16th. Also in Scotland, up to two 'Richardson's Cackling Geese' were still on Islay, Argyll and, in Ireland, the 'Todd's Canada Goose' was at North Slob, Wexford still. Nearctic 'Black Brants' were at Castlegregory, Kerry and North Slob, Wexford with Siberian birds at Gibraltar Point, Lincolnshire, Kilnsea, Yorkshire, the Beaulieu River, Hampshire and The Naze, Essex. Finally, numbers of Tundra Bean Geese and White-fronted Geese continued to impress, with over a hundred of the former still in east Norfolk, this week often alongside Breydon Water.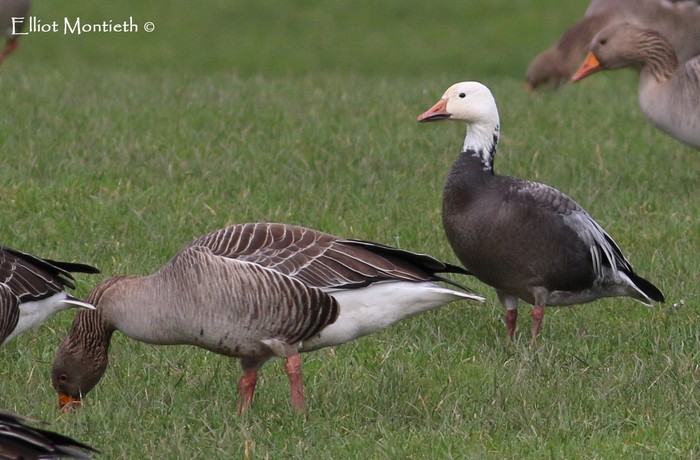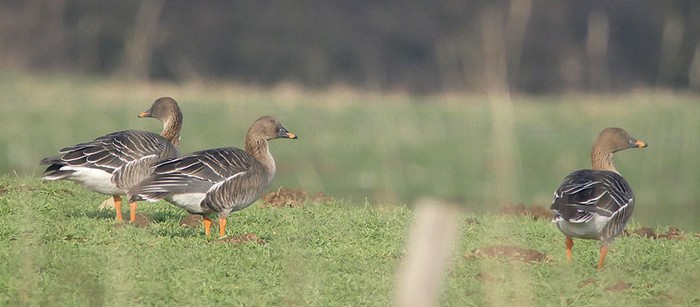 The long-staying rare ducks all made it into the new week - the drake Hooded Merganser at Lochwinnoch, Clyde to at least 19th, the drake Black Duck at Strontian, Highland to 21st, the Lesser Scaups still at Dozmary Pool, Cornwall and Birsay, Mainland Orkney and the Ferruginous Duck again at Blashford Lakes, Hampshire.
Turning to the commoner species, thirteen Ring-necked Ducks were well scattered - singles at Garryhesta Quarry, Cork, Dungeness, Kent, Paxton Pits, Cambridgeshire, Lough Clubir, Cork, Trisant Pools, Ceredigion, Carlingwark Lough, Dumfries and Galloway, Carrigilihy, Cork, Loughrea, Galway, Marfield Wetlands, Yorkshire and Lough Sheelin, Cavan and, more impressively, three at Lough Morne, Monaghan.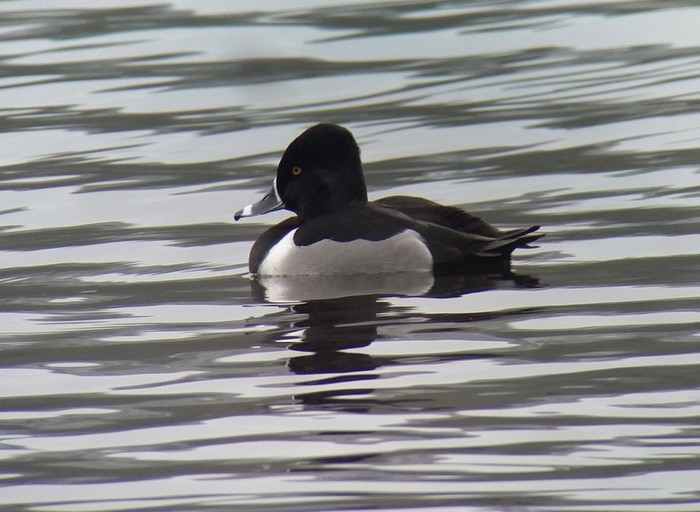 A dozen American Wigeons were reported, the majority in Scotland - at Loch of Harray, Mainland Orkney (two), Collessie, Fife, Portmahomack, Clachnaharry and South Kessock, all Highland, and Hunterston, Ayrshire. In England birds were at Slimbridge, Gloucestershire, on the Gann Estuary, Pembrokeshire and at Exminster, Devon with, in Ireland, singles at the Inishowen Peninsula and Malin Town, both Donegal.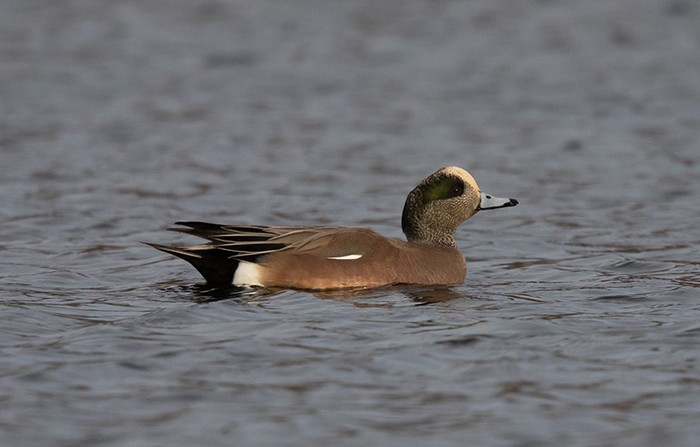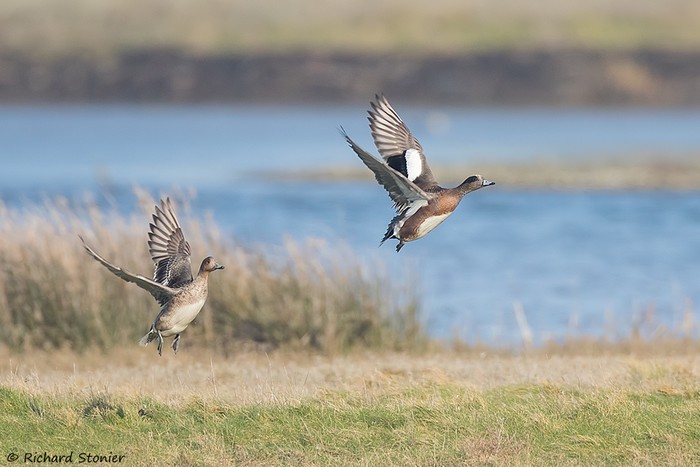 Green-winged Teals numbered twelve but apart from singles on the Hayle Estuary, Cornwall, at Blennerville, Kerry and at Abbotsbury, Dorset and Ashleworth Ham, Gloucestershire, all were in Scotland - at Caerlaverock, Dumfries and Galloway (two), on Tiree and Islay, both Argyll, and at Loch Flemington, Highland, Marwick, South Ronaldsay and North Ronaldsay, all Orkney and Scatness, Mainland Shetland.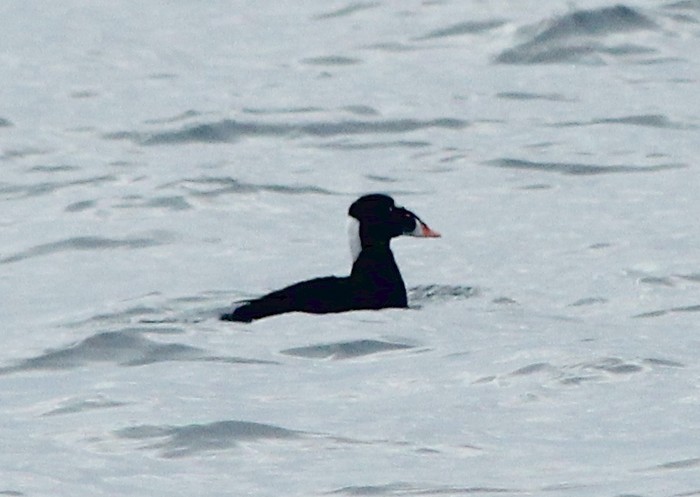 At sea, the female King Eider was again at Castlegregory, Kerry to at least 19th, with Surf Scoters noted off Reenroe, Kerry (two), Musselburgh, Lothian, Colwyn Bay, Conwy and in Bluemull Sound, Shetland.
Herons, egrets, crakes etc.
A Night Heron flushed at Youghal, Cork on 18th was the first 'different' heron species to be noted for some weeks. Otherwise the heron news continued to be dominated by the impressive flocks of Cattle Egrets in the Southwest and southern Ireland. The best count this week was of sixteen coming in to roost at Helston Loe Pool, Cornwall, with other double-figure counts of fourteen at Ruan Lanihorne, also Cornwall, twelve at Tamerton Foliot, Devon and ten at St. Clement, Cornwall. Nine were at Litton Cheney, Weymouth and Abbotsbury, all Dorset, eight at Tomhaggard, Wexford, seven at The Lizard, Cornwall, six at Southport, Merseyside and Totnes, Devon, five at Axmouth and Colyton, both Devon, four at South Milton, Devon, Frampton and Arlingham, both Gloucestershire, and Woodborough, Wiltshire and three at Portesham, Dorset, Clonakilty, Cork and Thurlestone, Devon. The real outlier was again a far-flung bird at Stranraer, Dumfries and Galloway. With spring coming on, it will be interesting to see what these birds do. Will some remain to breed or will there be a complete disappearance back to the continent?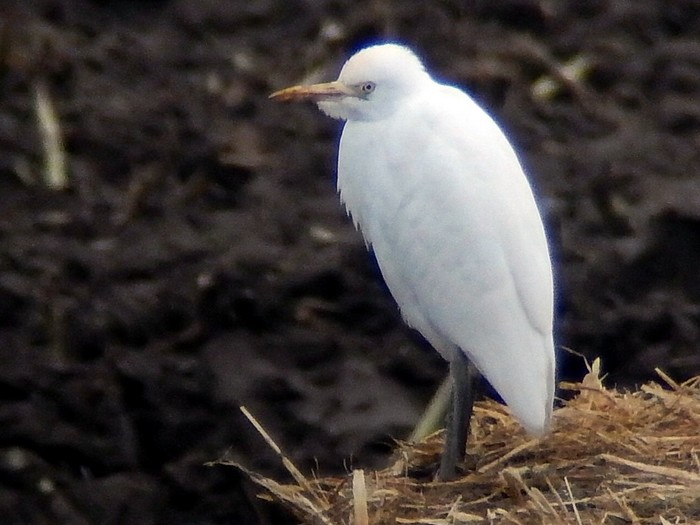 A potentially new Glossy Ibis was noted this week - at Brighstone, Isle of Wight on 16th to 21st - but otherwise it was a familiar tale with singles still at Watermead Country Park, Leicestershire, Ely, Cambridgeshire and Loch of Strathbeg, Aberdeenshire and two at Ham Wall, Somerset.
The two adult male Rough-legged Buzzards - at Haddiscoe, Norfolk and Thorney, Cambridgeshire - both remained all week and another was reported over Somerleyton, Suffolk on 19th.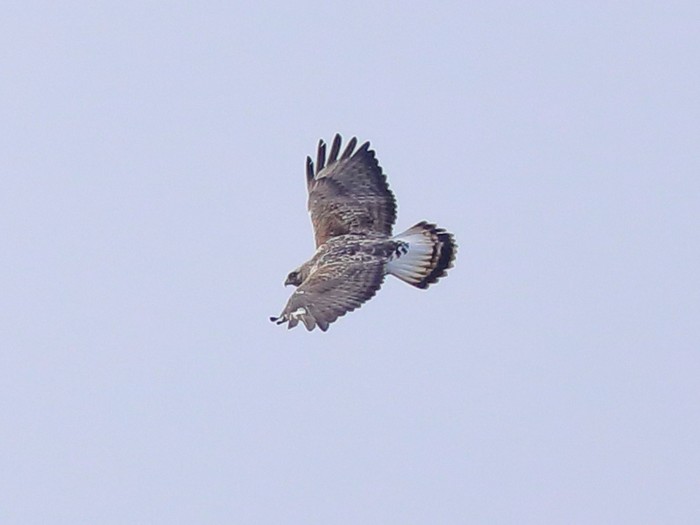 The wintering Lesser Yellowlegs remained at Poole Harbour, Dorset to at least 19th and in Staffordshire, the elusive Temminck's Stint made a surprise reappearance at Branston Gravel Pits on 18th, 19th and 21st.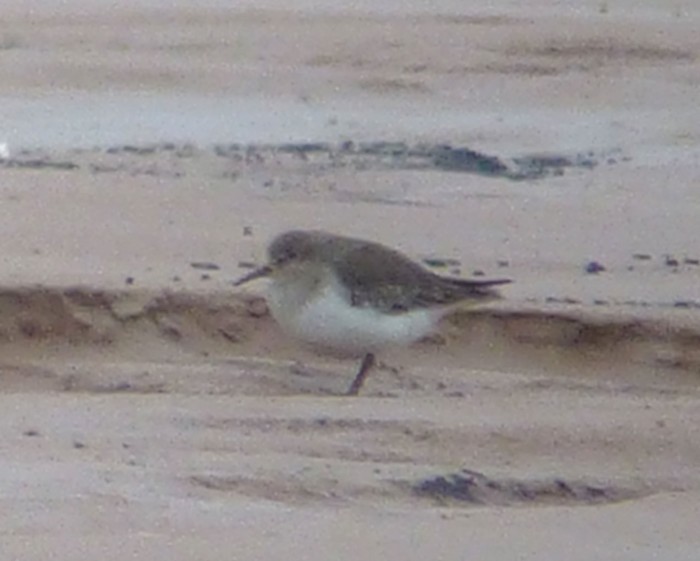 The very long-staying adult Bonaparte's Gull was still on the Exe Estuary, Devon again this week, with the more recently-discovered adult at Gourock, Clyde still present on 20th. Another adult was at The Gearagh, Cork on 19th and 20th.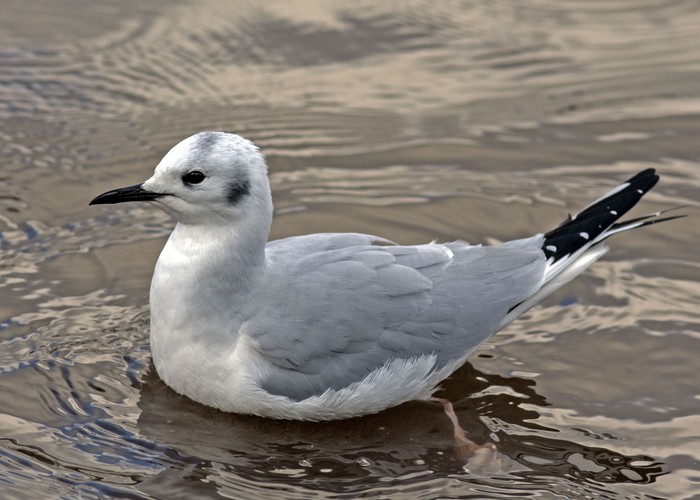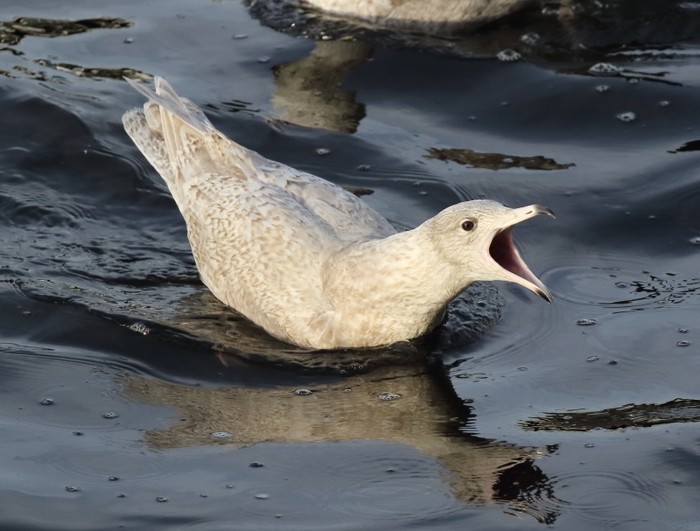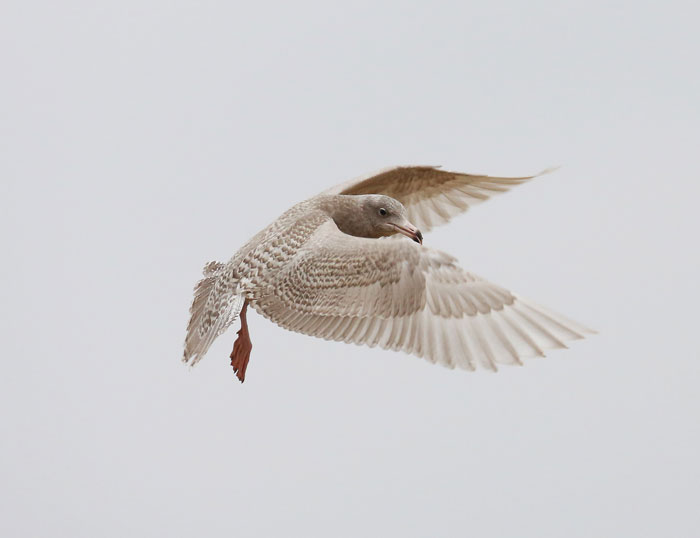 Glaucous Gulls remained widespread with some concentrations still being noted including five at Draycote Water, Warwickshire, four on Tiree, Argyll, four at Rufforth Yorkshire, four on North Ronaldsay, Orkney and six on North Uist and Lewis, both Western Isles. Iceland Gulls were more prominent this week with some greater concentrations than previously. These included four at Polgigga, Cornwall, five at Rufforth Yorkshire and Loch Kishorn, Highland, twenty on Lewis, eight on Barra and six on North Uist, all Western Isles, and eight in Sligo, County Sligo. Three were as far southeast as Dungeness, Kent.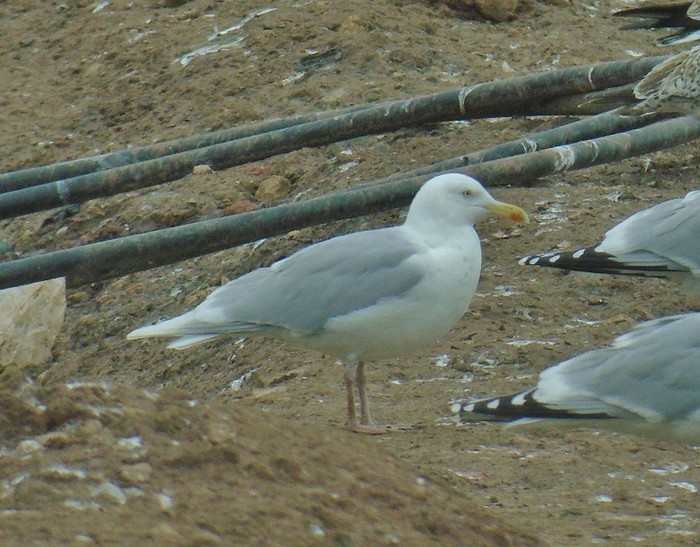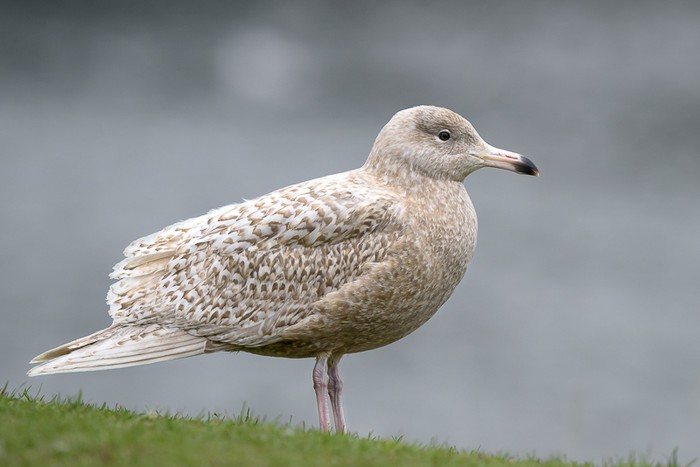 'Kumlien's Gulls' remained few, just singles on Mainland Orkney and Lewis, Western Isles on 15th, Loch Kishorn on 17th and 20th at least, Helvick Head, Waterford on 18th and Rossaveel, Galway on 18th and 19th.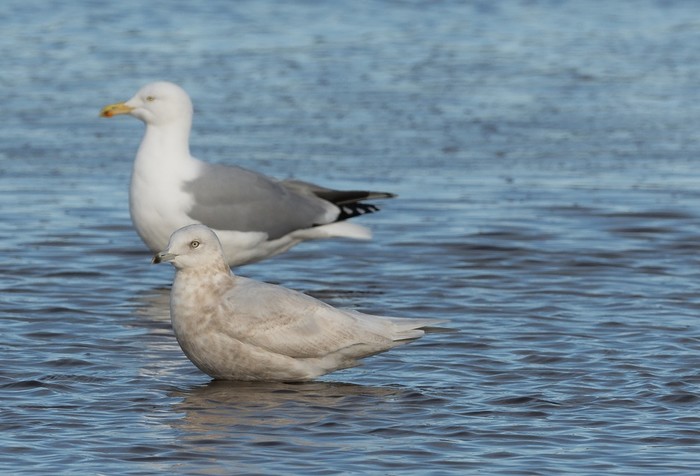 Around ten Ring-billed Gulls were still at now familiar venues in Ireland with, on this side of the Irish Sea, birds still at the Hayle Estuary, Cornwall, Chew Valley Lake, Somerset, Motherwell, Clyde and Llys-y-Fran Reservoir, Pembrokeshire. A new discovery this week, however, was a second calendar year bird on Islay, Argyll on 15th.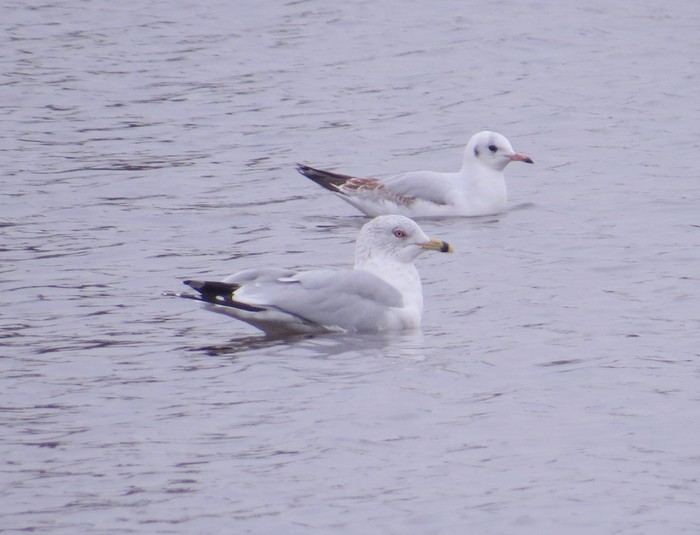 Back in Ireland, the Forster's Tern was at Doorus, Galway on 17th.
The most popular passerine of the week was surely the showy Bluethroat at Spalding, Lincolnshire, present all week and delighting all-comers, birders and photographers alike.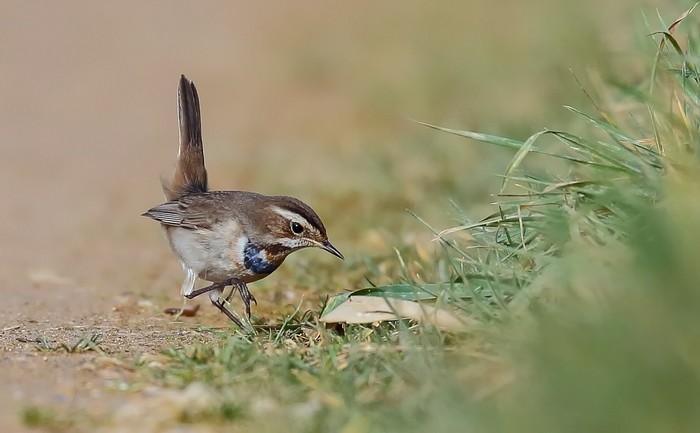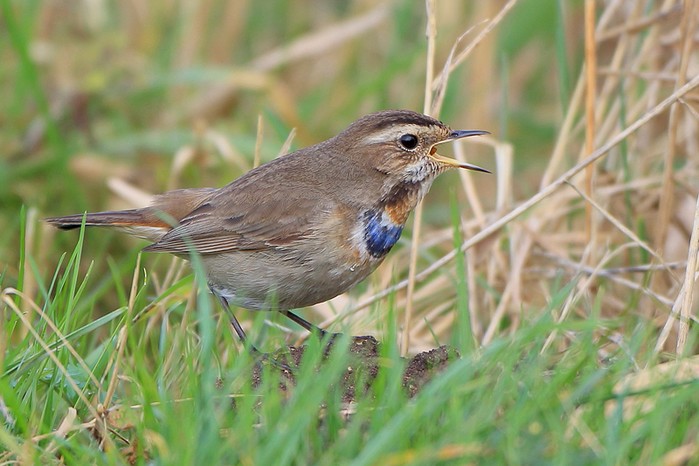 Otherwise, the line-up was a familiar one - the male Desert Wheatear at Thurlestone, Devon to 21st, Little Buntings at Great Barford, Bedfordshire to 21st, Axminster, Devon to at least 19th and Polgigga, Cornwall to at least 17th, two Richard's Pipits at Abbotsbury, Dorset to 21st and a single at Arlingham, Gloucestershire to at least 19th, Rose-coloured Starlings at Crawley, Sussex to at least 20th and Dorchester, Dorset to 21st and the Serin at Newhaven, Sussex to at least 18th.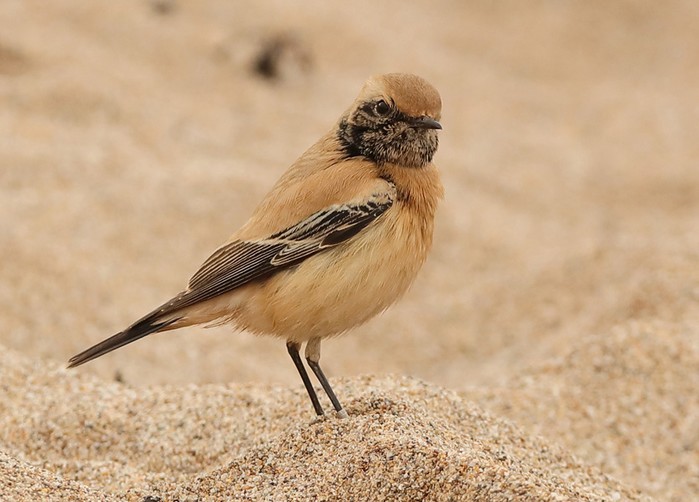 At least half a dozen Yellow-browed Warblers were noted in the Southwest whilst the bird at Kinver, Staffordshire was present still to 21st and, in Ireland, the bird at Dungarvan, Waterford to 18th at least.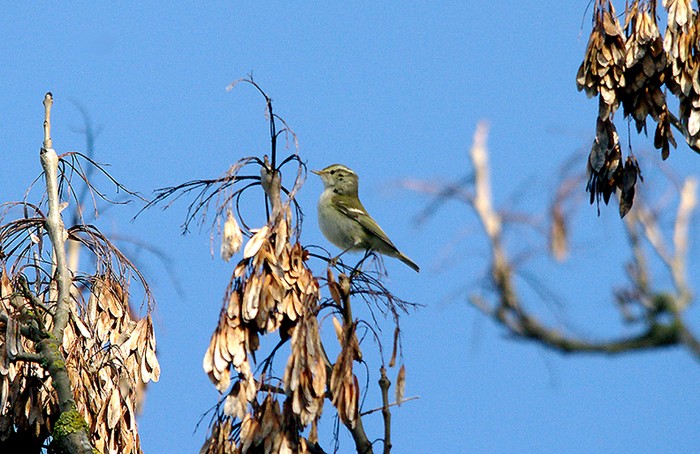 Turning to true winter passerines, a 'Coues's Arctic Redpoll' was again at Hamilton, Clyde to 18th. Shorelark flocks included 21 at Tyninghame, Lothian, 20 at Donna Nook, Lincolnshire and 33 at Holkham Bay, Norfolk. Great Grey Shrikes numbered almost 30, most in southern England but two were in Yorkshire and singles still in Lothian and Aberdeenshire.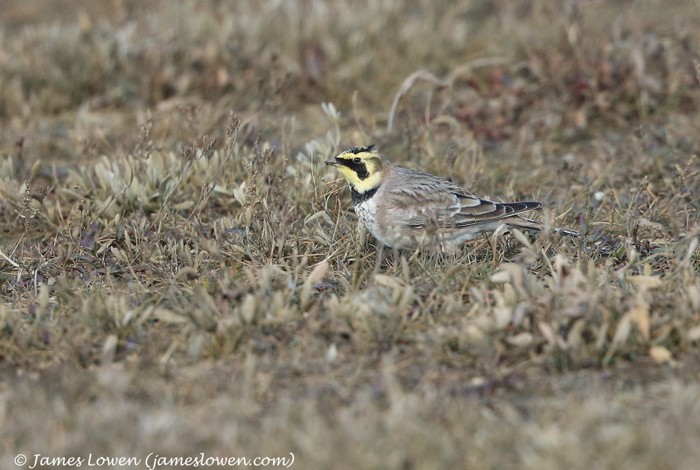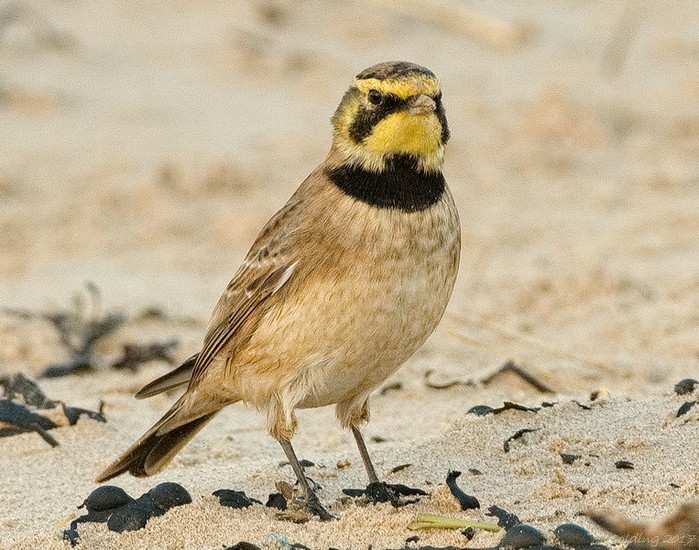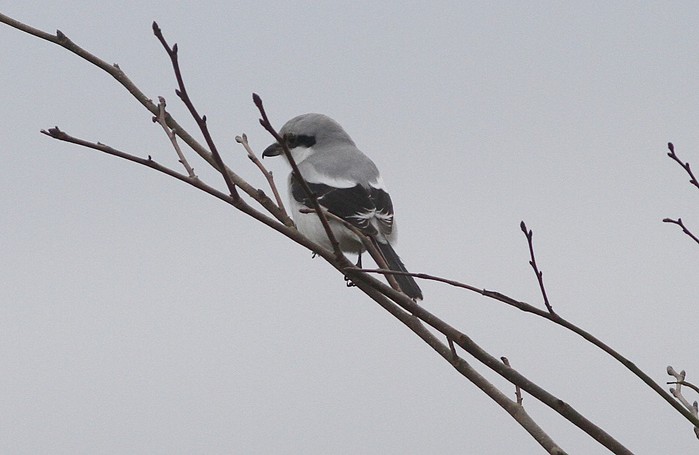 Waxwings remained widespread all week but were now well scattered in ever smaller flocks. The only three-figure counts noted were 120 in Leicester, Leicestershire and 100 in Mansfield, Nottinghamshire. 'Fifty plus' groups included 80 in Sheffield and 80 in Morton-on-Swale, both Yorkshire, 80 in Clifton, Nottinghamshire, 52 in Birmingham and 50 in Knowle, both West Midlands, 75 in Shirebrook, Derbyshire and 50 in London.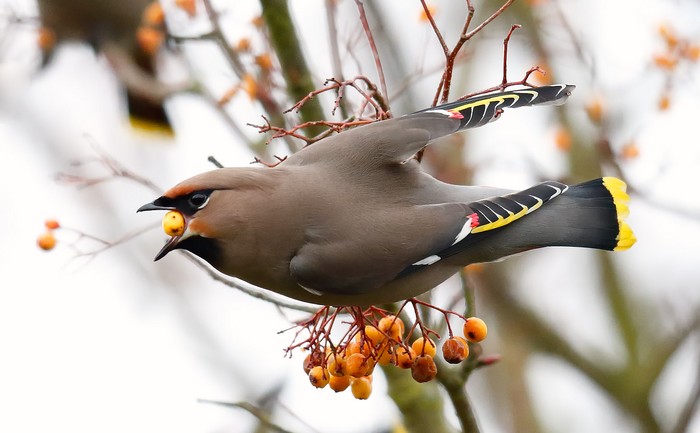 Looking ahead, we appear to be in for a pretty mixed week, initially a continuation of the mild conditions but then a direct hit by storm 'Doris' which looks set to bring wet and very windy weather to southern England and snow to northernmost England and Scotland. Given the conditions, gulls might represent the best bet for a new rarity. With an influx of Iceland Gulls now underway and likely to gather pace next week, a Thayer's Gull is perhaps not an unreasonable hope but will we really go a whole winter without a Ross's Gull? This highly charismatic and much-desired species, once a reliable winter rarity, seems to be getting ever rarer, retreating once more to the realm of myth.
Andy Stoddart
22 February 2017
Share this story
Tweet


Many thanks to all contributors for their photos and videos this week.
Brendan Ryan, Andrew Jordan, James Robson, Neil Fox, David Stone, Martin Cade, Hugh Harrop, GoDigiscoping, Glen Tyler, Mark Woodhead, Elliot Montieth, Ian Boustead, Simon Knight, Richard Stonier, Brian Henderson, Neil Bramwell, Jonathan Woodcock, Sean Ronayne, Alan Jack, Murray Smith, Dean Nicholson, Angus Molyneux, David Main, John Nadin, Tony Davison, Adam Mcpherson, Michael Trew, David Stone, John Pringle, James Lowen, Frank Golding, Ashley Banwell,