Weekly birding round-up: 19 - 25 Oct 2016
The week at a glance
Pale-legged Leaf/Sakhalin Warbler dead on Scilly
Siberian Accentors in Yorkshire, Shetland, Orkney and Northumberland
'Caspian Stonechat' on Scilly
Western Orphean Warbler still on Orkney
Black-faced Bunting still on Shetland
White-throated Sparrow on the Western Isles
Pine Buntings in Shetland and Yorkshire
'Eastern Black Redstart' in Yorkshire
Isabelline Wheatears in Cornwall, Shetland, Yorkshire, Northumberland, Norfolk and Suffolk
Isabelline Shrikes in Northumberland and Aberdeenshire
Northern Harrier on Orkney
Western Purple Swamphen still in Lincolnshire
Hudsonian Whimbrel still in Cornwall
Dalmatian Pelican still in Cornwall
The brief westerly spell in the second half of last week led to a large clear-out of birds, ensuring that it was a quiet start to the week. A few leftovers were around on 19th but nothing new was found. During 19th, however, the wind swung into the north and then - at least along the southern half of the east coast - the north-east, introducing another period of continental weather from 20th which continued until 25th. And so began Act II of this October's already extraordinary run of eastern birds.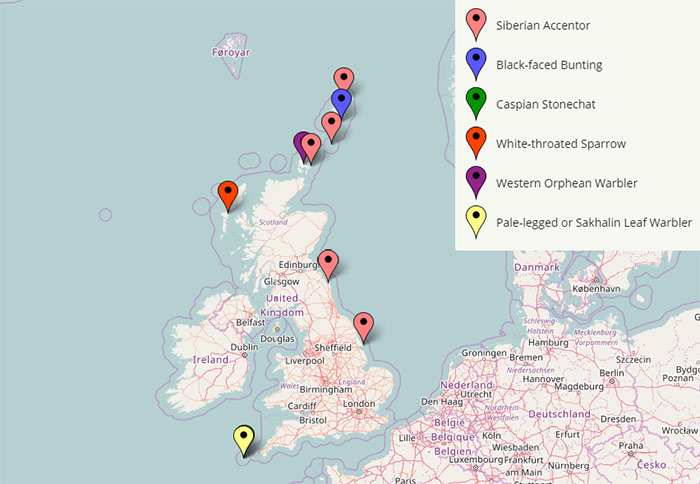 Pale-legged Leaf/Sakhalin Warbler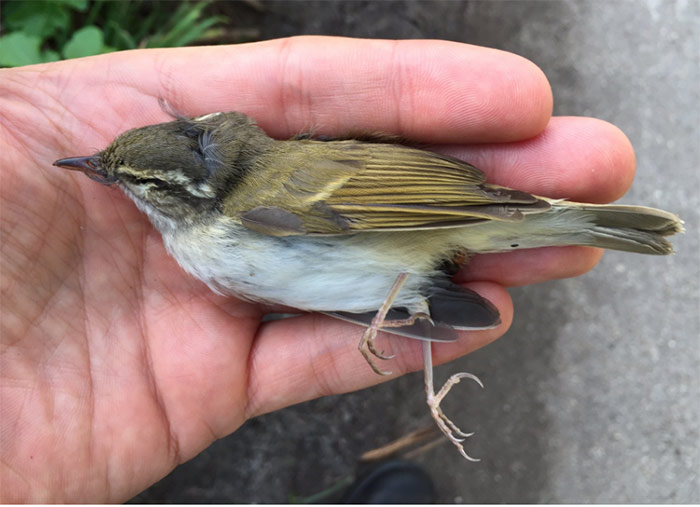 Top billing in this latest spell of easterlies goes to a Pale-legged Leaf/Sakhalin Warbler found dead on 21st on St. Agnes, Isles of Scilly below a conservatory window by the lighthouse. At first thought to be a Yellow-browed Warbler, then an Arctic Warbler, its true identity was quickly rumbled once its images appeared online. For a bird which had travelled from the far east of the Palearctic to one of its westernmost outposts, this was a particularly tragic end and from a birding perspective it was laced with irony too - in a month when rare birds have largely passed the Isles of Scilly by, the sad demise of this, one of the best birds of the autumn, must have been a bitter blow indeed to resident and visiting birders alike.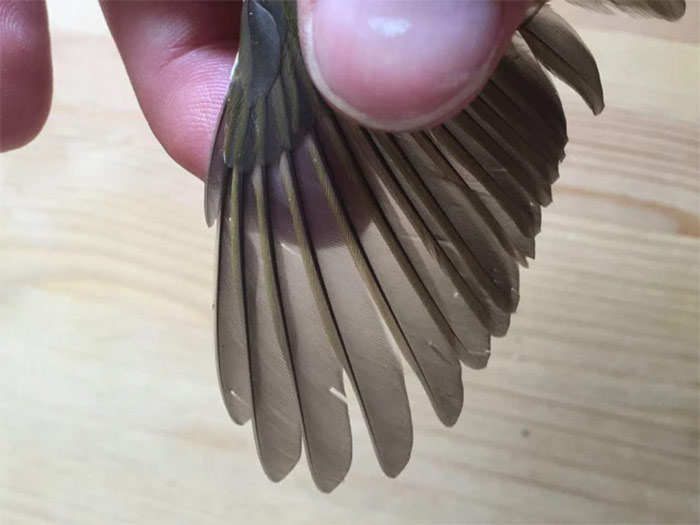 It is of course Britain's second record, coming not long after the bird at Portland, Dorset on 22nd October 2012. This newly-split species pair is very much a work in progress in terms of field identification although songs and calls offer clues. Neither will be available for this bird but the wonders of genetic analysis should tell us in due course whether it was a Pale-legged Leaf Warbler or a Sakhalin Warbler. The answer will be fascinating and will secure one of the species a full place on the British List.
From the archives:


Siberian Accentors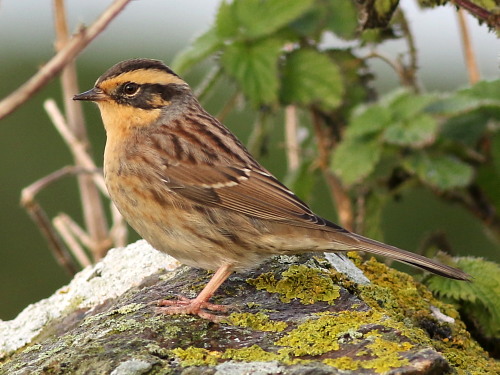 Otherwise the main story continued to be one of Siberian Accentors . The long-staying and much-twitched bird at Easington, Yorkshire remained to 19th but there was no sign of it thereafter. However, on 20th another was found, this time on Fair Isle, Shetland and then yet another, also on Fair Isle, on 22nd. After looking as though it might miss out, it was fitting that our premier bird observatory and vagrant trap should play a starring role after all in the main event of autumn 2016. Another accentor was discovered on 22nd, this time at Lund, Unst where it remained until 25th and yet another was at Deerness, Mainland Orkney on 24th to 25th. Finally, what was presumably last week's Holy Island, Northumberland bird was rediscovered near to its original location on 25th.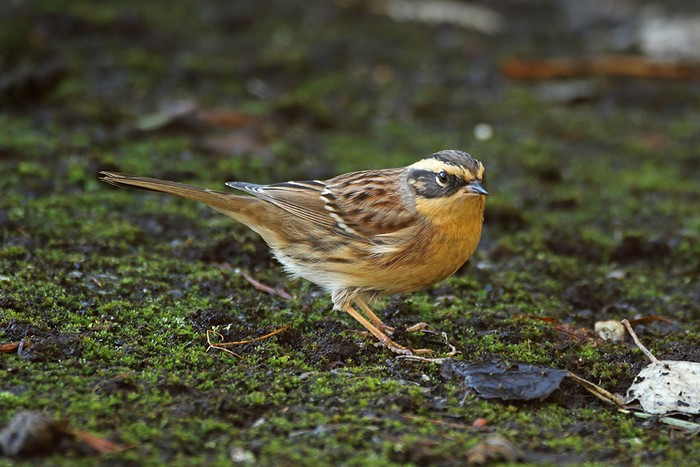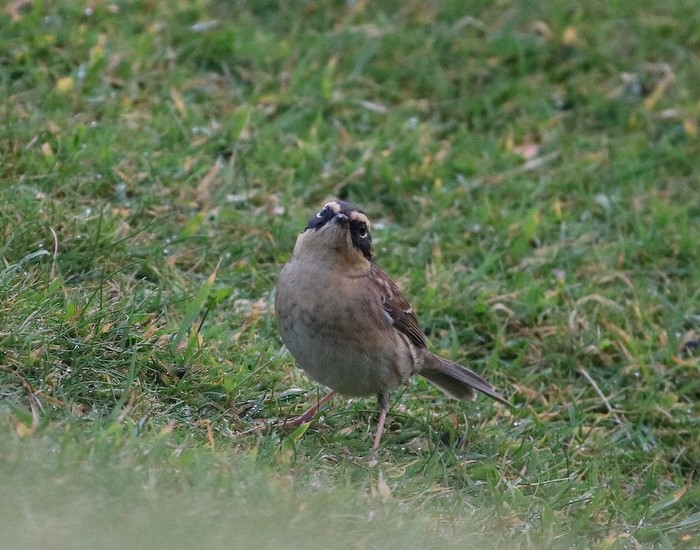 Caspian Stonechat
On 23rd news emerged that a Siberian Stonechat on St. Mary's, Isles of Scilly on 22nd had in fact been a 'Caspian Stonechat' . This delightful North Caspian subspecies of Siberian Stonechat (variegatus in the still-just-about-extant BOU taxonomy but treated elsewhere as hemprichii) remains very rare in Britain though records are increasing, with around half a dozen now logged. Some photos of the St. Mary's bird show the characteristic large extent of white in the spread tail but in most images the tail is closed, appearing simply dark and rendering the bird indistinguishable from maurus. This has been an excellent month for Siberian Stonechats, with, for the first time ever, three subspecies present in Britain at the same time.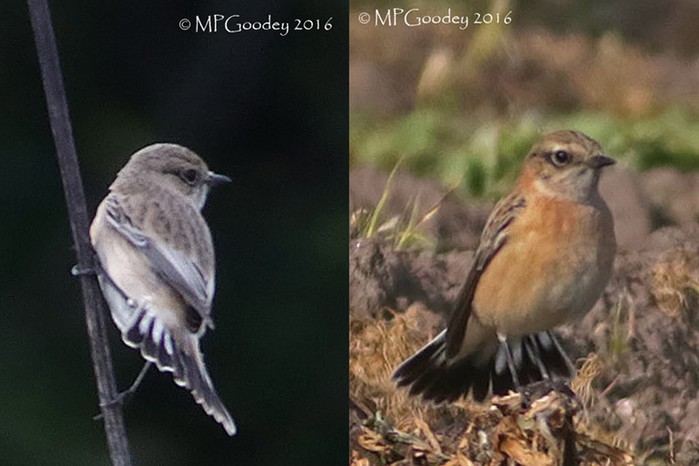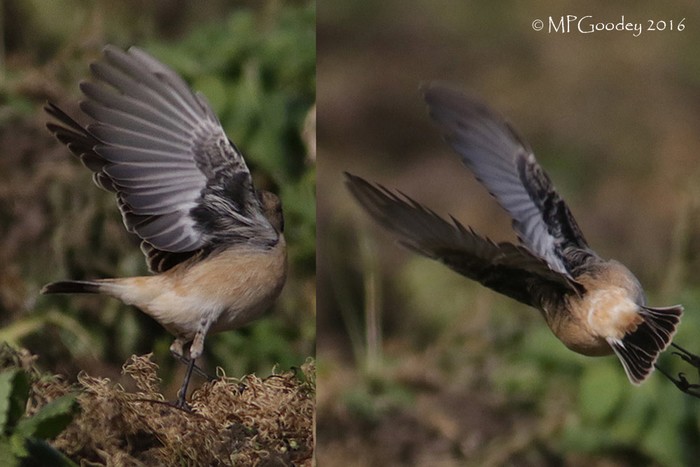 Western Orphean Warbler
Last week's first-winter Western Orphean Warbler was still at Finstown, Mainland Orkney to at least 21st but there are still few sensible suggestions as to how it (and the earlier bird on Shetland) managed to get from Iberia to the Northern Isles in the face of a relentless easterly. Maybe the birds had been in Scandinavia before their arrival in Shetland and Orkney? But if so, what were they doing in Scandinavia?
Black-faced Bunting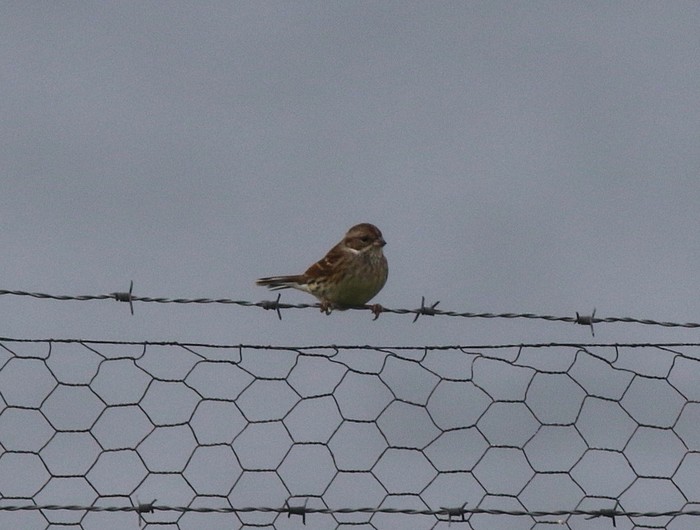 Also still present this week, but only occasionally reported, was the Black-faced Bunting on Bressay, Shetland.
White-throated Sparrow
Against the run of Siberian birds was a White-throated Sparrow at Lochmaddy, North Uist, Western Isles on 20th though it was first reported on 1st October so had already been there for at least three weeks. There was no subsequent mention of it, however. Autumn White-throated Sparrows are actually quite rare. Of the over fifty British and Irish records to the end of 2014, only eight have previously been found between September and November.
Pine Buntings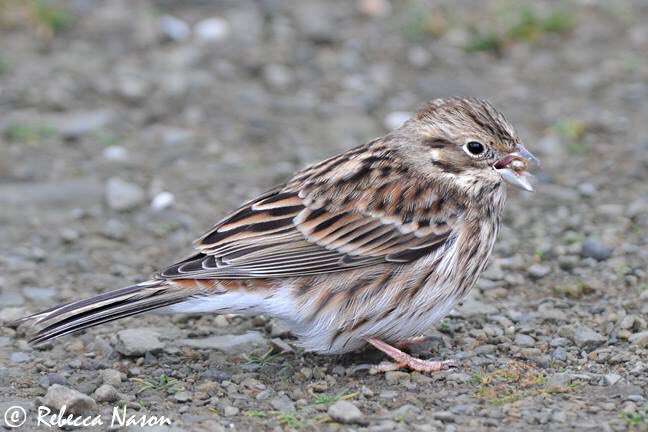 At least one of last week's remarkable trio of Pine Buntings was still on Fair Isle to 19th and yet another (a male) was found there on 22nd and was still present to 25th. Another male was at Brake, Mainland Shetland on 21st and then, and finally on the mainland, a male was at Kilnsea, Yorkshire on 25th, albeit relatively briefly. Then came another Shetland discovery - a female on Bressay, also on 25th, although yellow fringes in its primaries indicate a hybrid origin. After ten years with very few records, this October has seen a positive resurgence for this species. With seven now found this month could we be in for another winterer in mainland Britain?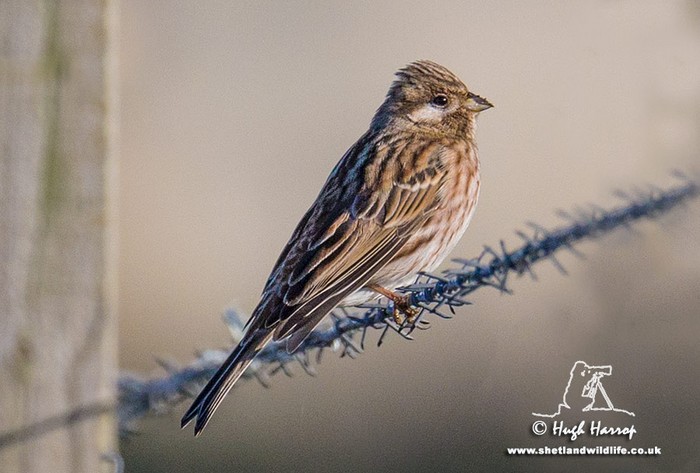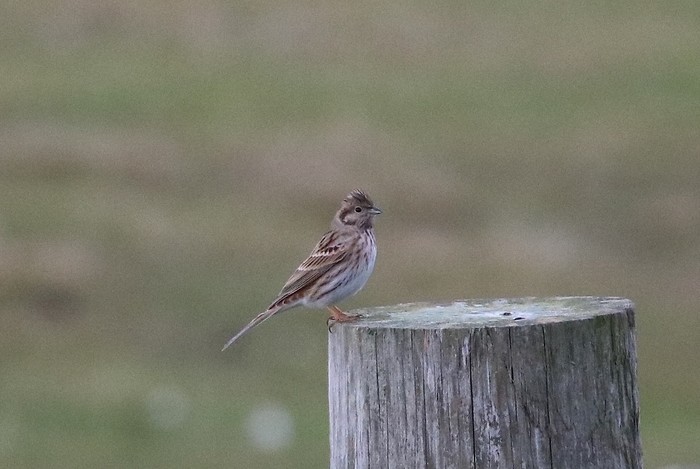 'Eastern Black Redstart'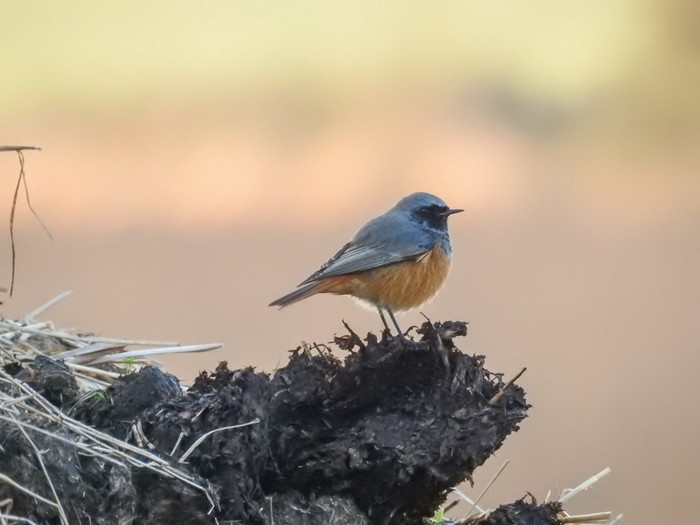 Right at the end of the week on 25th came news of a male 'Eastern Black Redstart' at Easington, Yorkshire. Occurring on the same day as a Pine Bunting and two Red-flanked Bluetails, this made quite a good day for the Spurn area on top of what has already been an astonishing month there. The first photographs show the characteristic combination of a dark 'bib' extending down onto the breast and uniform orange underparts including the vent and undertail coverts. This is the seventh for Britain and the second for Yorkshire, following the bird at Newby on 29th November to 3rd December 2014.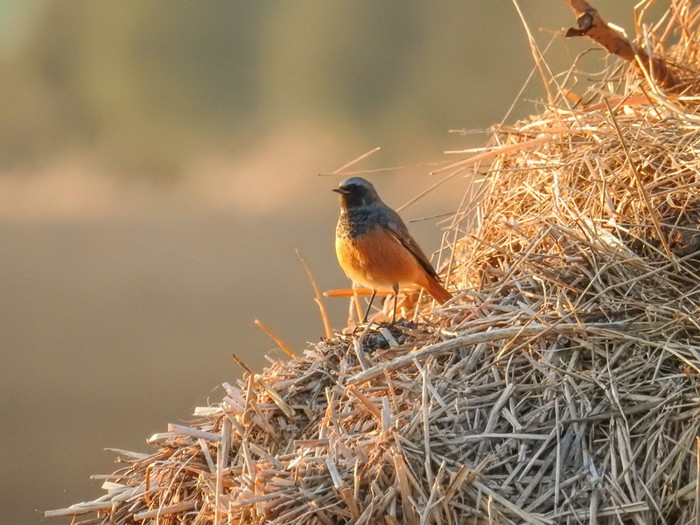 Isabelline Wheatears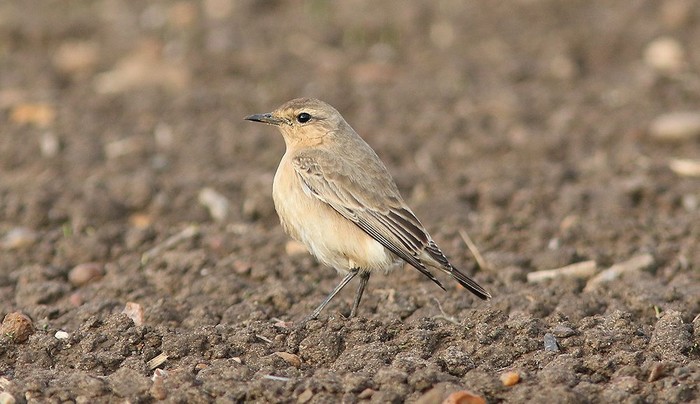 Last week's three Isabelline Wheatears all remained into the new week, the bird at Holy Island, Northumberland to 20th, that at Easington, Yorkshire to 22nd and that at Spiggie, Mainland Shetland to 21st. Another was found at Godrevy Point, Cornwall on 20th but could not be found next day and then another (a long overdue twitchable bird for the county) was at Burnham Overy Dunes, Norfolk on 22nd to 25th. Finally came some late news of yet another - at Sizewell, Suffolk on 21st. With six now on the books, this is a record autumn for this species.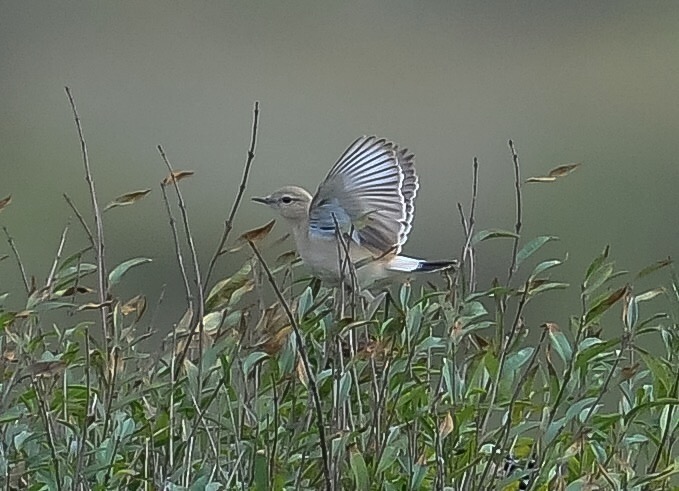 Isabelline Shrikes
Both of last week's Isabelline Shrikes also made it into this week, the bird at Holy Island, Northumberland remaining to 19th and the Girdle Ness, Aberdeenshire bird staying to 20th.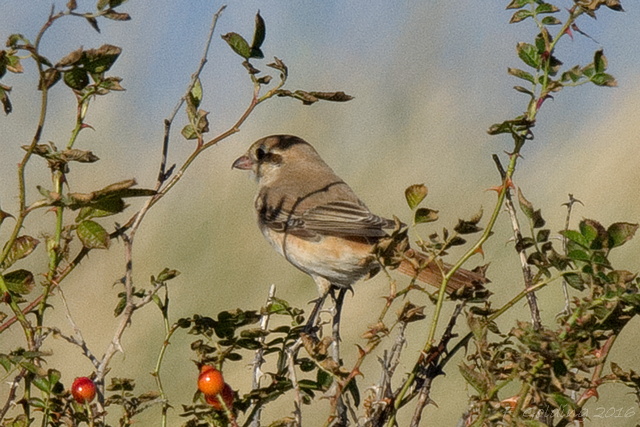 Northern Harrier
Moving finally away from passerines, the hot news on 23rd was the appearance of an adult male Northern Harrier on North Ronaldsay. Given that a male took up residence on this very island last year, it is an obvious suggestion that this may be a returning bird.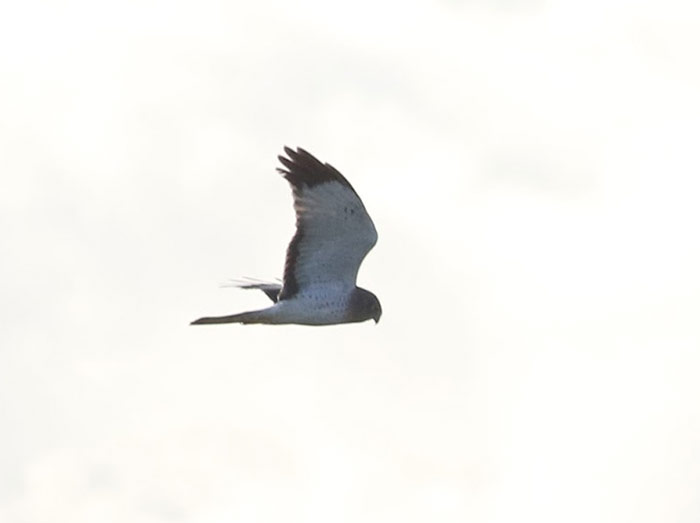 Long Stayers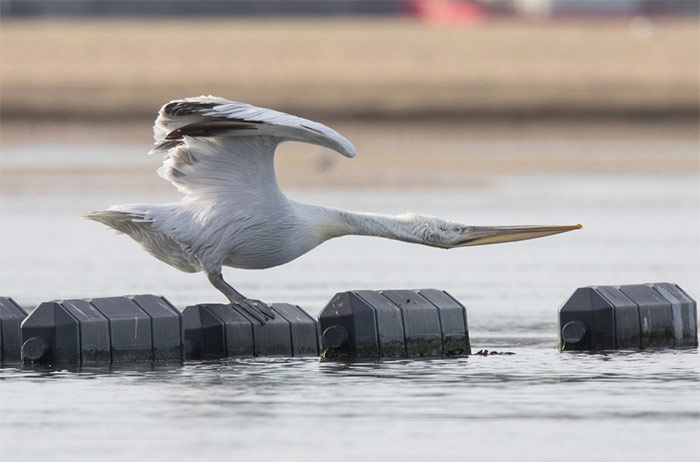 Back to old favourites, the Western Purple Swamphen was still at Alkborough Flats, Lincolnshire and the Dalmatian Pelican still on the Camel Estuary, Cornwall. Finally, last week's report of the apparent departure of Cornwall's Hudsonian Whimbrel was premature. It was again at Perranuthnoe on 20th to 23rd.
Further Afield
As ever, it was a busy 'Euronews' week, dominated once more by the ongoing Siberian Accentor saga. From a total of ninety-something at the end of last week, the total continued to climb relentlessly, with new birds being found every day. These included the first for The Netherlands - a much-twitched bird at the Maasvlakte on 21st. By the end of 25th Tarsiger.com had the north-west European total as 157.
Other news included Eastern Crowned Warblers in Belgium and The Netherlands and, more surprisingly, a candidate Mountain Chiffchaff in Germany. This species has been suspected in Europe before but remains a bit 'off radar' for most of us. If confirmed by DNA analysis, this German bird would help to develop a most intriguing tale. Other Euro-excitements included a Two-barred Greenish Warbler in France (on Ouessant), two Black-throated Thrushes and a Black-throated Accentor in Finland (the latter with a Siberian Accentor!), Pine Buntings in The Netherlands, Norway, Germany and Belgium, an Isabelline Wheatear in The Netherlands, a Blyth's Pipit in Norway, two or three Asian Desert Warblers and an Eastern Black Redstart in Sweden and a Chimney Swift in Spain.
Near-passerines and Passerines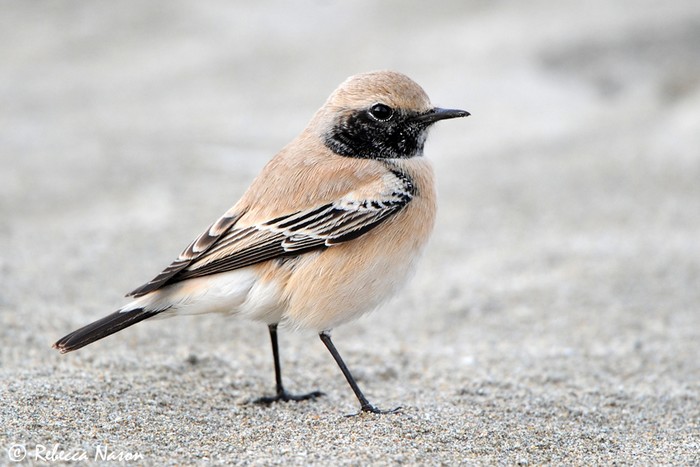 Sticking with passerines, Shetland's array of rare wheatears remained in place into the new week. In addition to the Isabelline Wheatear, the male Desert Wheatear at Spiggie remained to 21st and the female Pied Wheatear at Scatness to 24th. With at least one Northern Wheatear also in the area, a four wheatear morning was perfectly possible! Another Desert Wheatear (a female) was at Burnham Overy Dunes, Norfolk (sometimes with the Isabelline Wheatear!) on 22nd to 25th.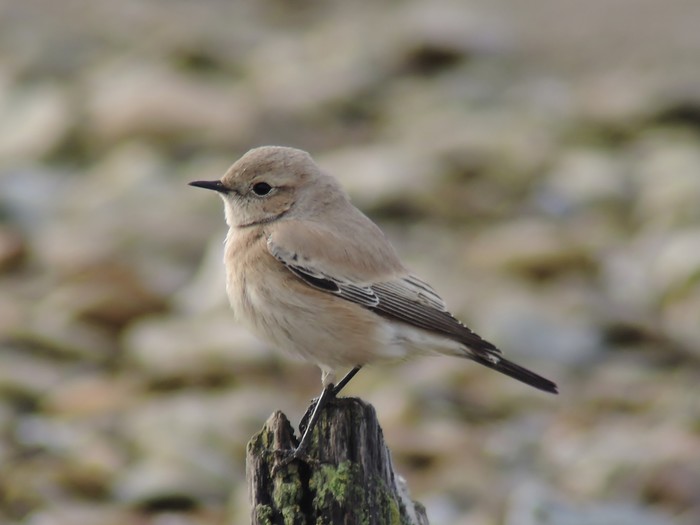 The other headline passerines were another Paddyfield Warbler at Nanjizal, Cornwall on 20th (the second there this autumn), presumably last week's Black-throated Thrush reported briefly at Brancaster, Norfolk on 23rd and the autumn's first Hume's Yellow-browed Warblers at Flamborough Head, Yorkshire on 22nd to 25th, Grimston, also Yorkshire, on 23rd, Cape Clear, Cork on 23rd and Bempton, Yorkshire again, on 25th.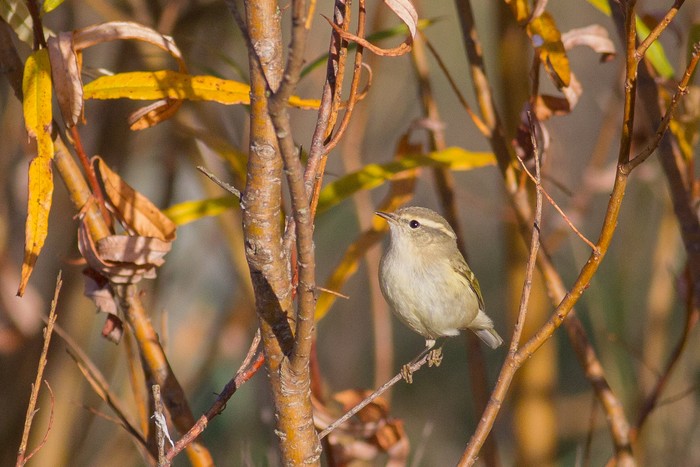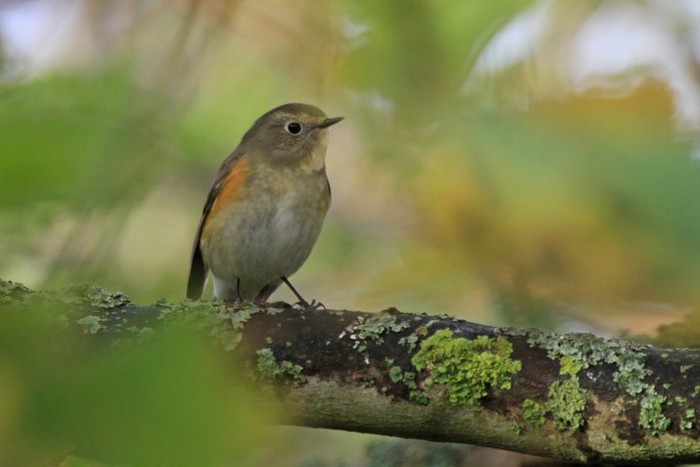 Red-flanked Bluetails continued to feature prominently with eight more new birds to add to this autumn's already impressive tally - at Geosetter, Mainland Shetland on 20th, East Hills, Norfolk and St. Agnes and St. Mary's, both Isles of Scilly, on 21st, Chapel St. Leonards, Lincolnshire and Mizen Head, Cork on 22nd and 23rd and Spurn, Yorkshire (two) and Portland, Dorset on 25th. The Portland bird (surprisingly, the first for the observatory) was a beautiful male with extensive blue in the upperparts but it was nevertheless outclassed in the looks department by the second Spurn bird (at the Point) which was about as bright blue above as it's possible to get - perhaps the best-looking Red-flanked Bluetail ever seen in Britain.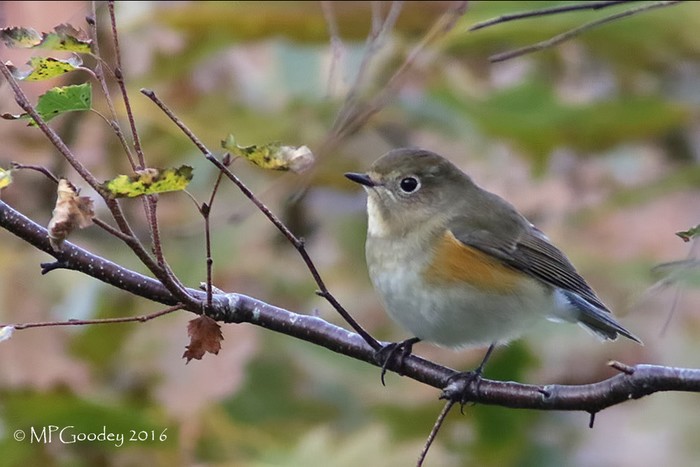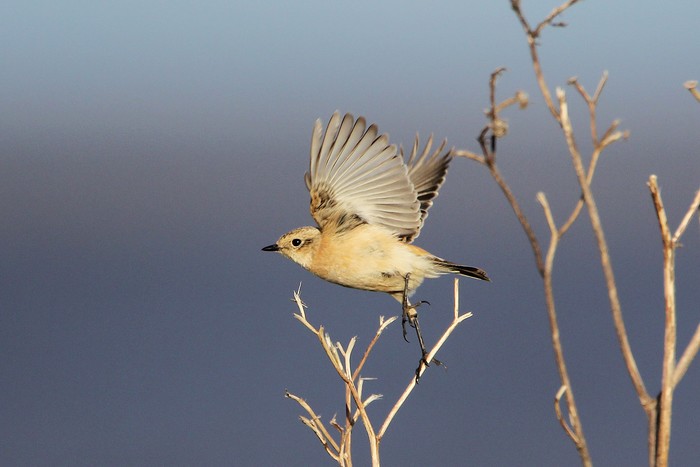 In contrast to most recent years, this has also been a good month for Siberian Stonechats . As last week, most have been the good old-fashioned peachy-rumped maurus-types but two ginger-rumped stejnegeri-types were flagged up too. The full list of records for the week is as follows: Fair Isle (stejnegeri-type) to 24th, Farne Islands, Northumberland on 20th, Easington, Yorkshire and Blakeney Point, Norfolk on 21st to 23rd, Cape Cornwall on 21st and Spurn, Yorkshire (another stejnegeri-type) on 22nd to 25th.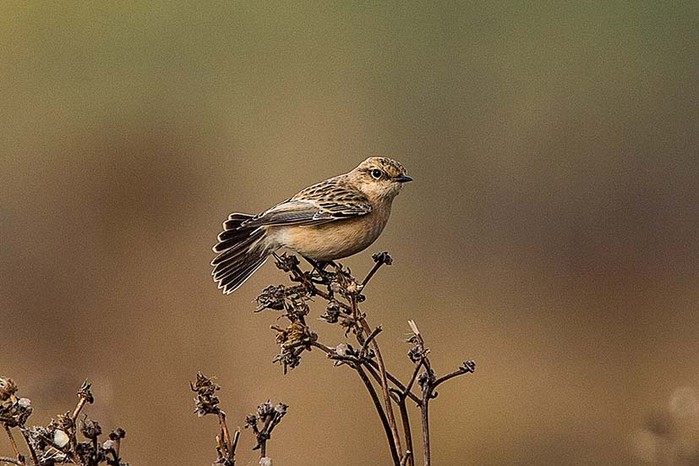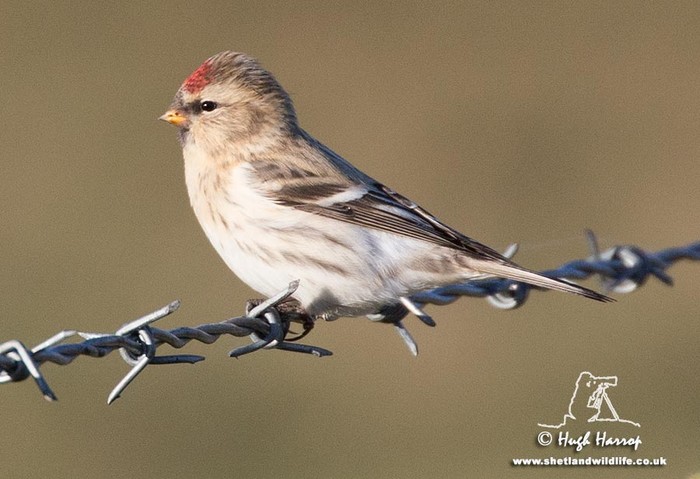 Coues's Arctic Redpolls continued to drop hints that this might be a good winter for this species. After last week's tasters, there were a few more this week, all in Shetland - at Brake, Mainland on 21st, Lerwick, also Mainland, on 21st, 23rd and 24th (at least two birds involved), Gorie, Bressay on 23rd and Unst on 25th. From the other direction, a Hornemann's Arctic Redpoll was on Unst on 24th.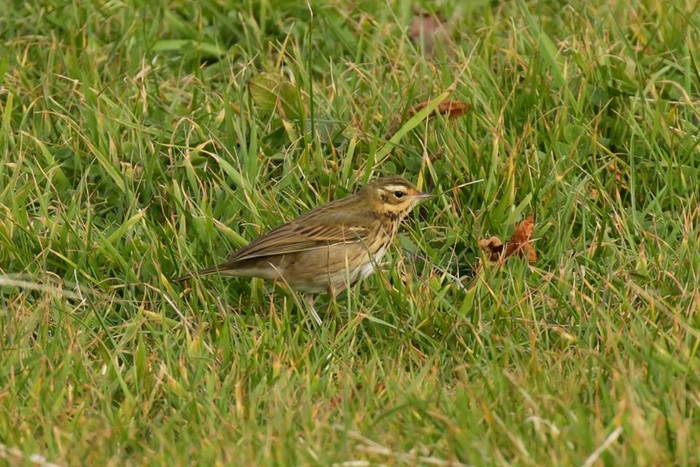 Olive-backed Pipits were suddenly much scarcer, however, with only five noted - at Firkeel, Cork on 19th, Fair Isle still to 20th, Hornsea, Yorkshire on 21st and Tresco and St. Mary's, both Isles of Scilly, on 24th to 25th (with two on St. Mary's on the latter date). A Red-throated Pipit was at Hook Head, Wexford on 23rd.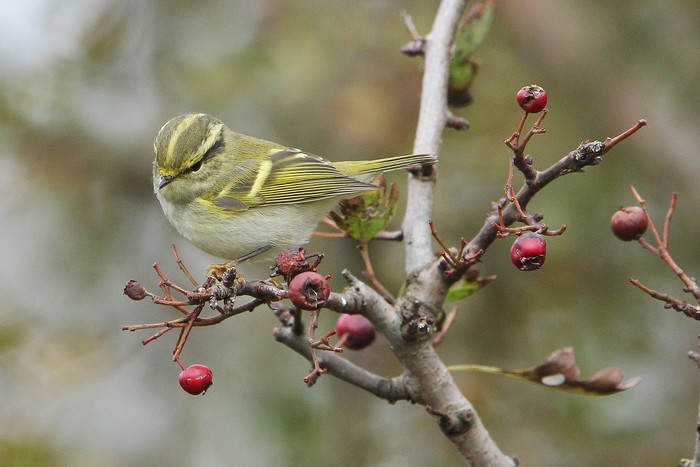 Pallas's Warblers were still prominent, however, with almost thirty noted - at Filey, Yorkshire and St. Margaret's at Cliffe, Kent on 20th, Hook Head, Wexford on 20th to 22nd, Easington, Yorkshire and Unst, Shetland on 21st, Burnham Overy Dunes, Norfolk on 21st to 23rd, Hickling, Norfolk and Scarborough, Yorkshire on 22nd, Portland, Dorset and Keynsham, Somerset on 23rd, Wells and Trimingham, both Norfolk, St. Mary's, Isles of Scilly (at least two), Portscatho, Cornwall and Portland, Dorset on 24th, Corton and Landguard, both Suffolk, Porthgwarra, Cornwall, Holme, Norfolk and Start Point, Devon on 24th to 25th and Lowestoft and (another) Landguard, both Suffolk, Gibraltar Point, Lincolnshire, Berry Head and Lundy, both Devon, Kingsdown, Kent, Brancaster Staithe, Norfolk and Flamborough Head and Filey (two), both Yorkshire, on 25th.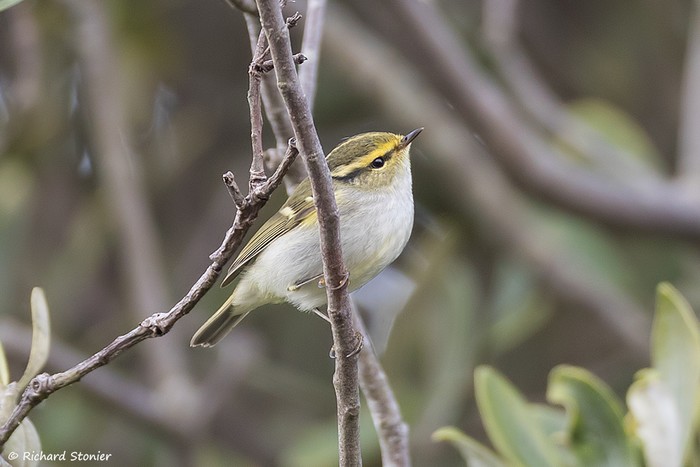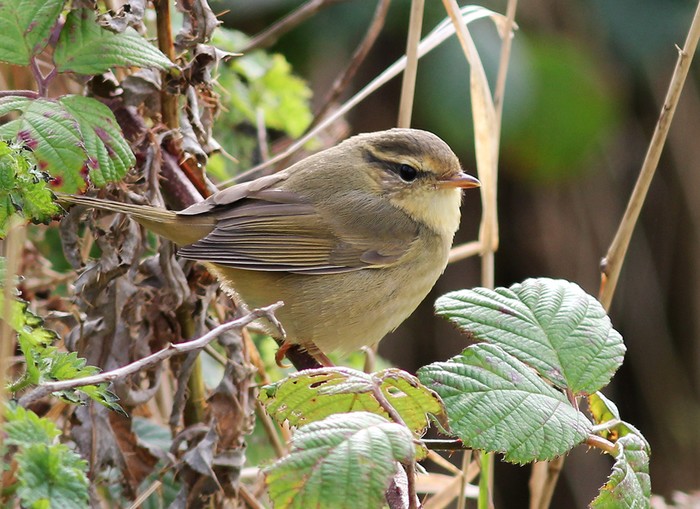 Radde's Warblers were also fading away, with just two noted - last week's bird at Barry's Head, Cork still to 20th and a new bird at Burnham Overy Dunes, Norfolk on 24th. By contrast, Dusky Warblers (traditionally a later autumn species) continued to appear in force, with at least twenty-four noted as follows: Barns Ness, Lothian to 21st, Spiggie, Shetland on 19th, St. Agnes, Cornwall and Tynemouth, Northumberland on 19th to 20th, two at Spurn, Yorkshire to 22nd, Fair Isle on 20th, Hummersea, Cleveland on 21st to 22nd, Sea Palling, Stiffkey and Holme, all Norfolk, Holy Island, Northumberland, Flamborough Head, Yorkshire and North Ronaldsay, Orkney on 22nd, Cley, Norfolk on 22nd to 25th, Wivenhoe, Essex and North Ronaldsay, Orkney on 23rd and Titchwell, Norfolk on 23rd to 25th, Burnham Overy Dunes, also Norfolk, and Tresco, Isles of Scilly on 24th, St. Mary's, Isles of Scilly and Holme, Norfolk on 24th to 25th and Bressay, Shetland and Kingsdown, Kent on 25th. This has been a remarkable autumn indeed for this species.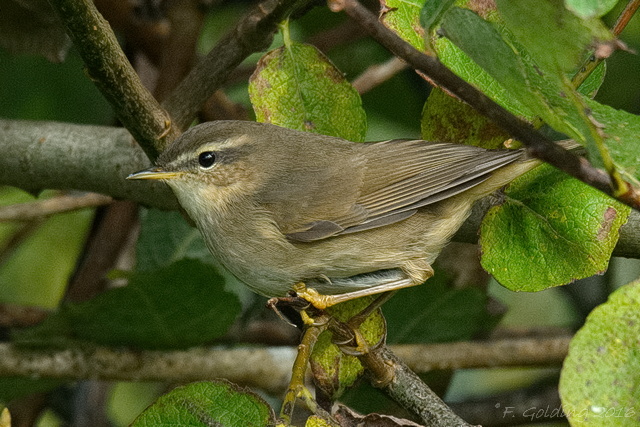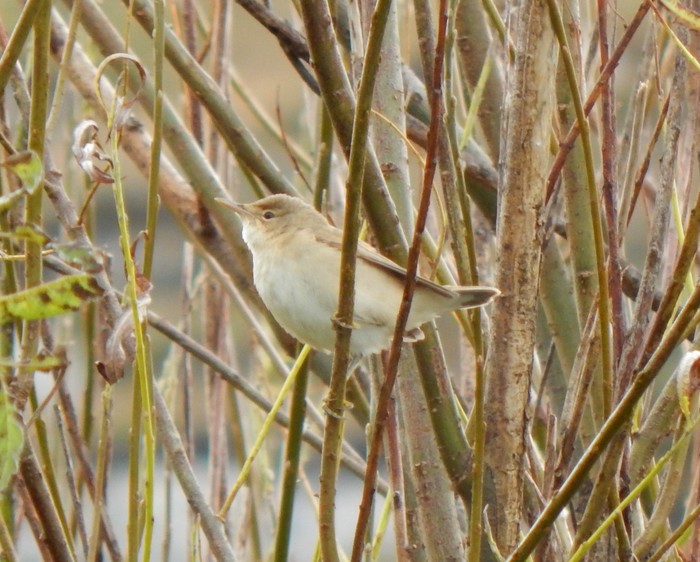 The rest of the rare warblers comprised a Blyth's Reed Warbler on Tiree, Argyll on 22nd, a Greenish Warbler at Knockadoon Head, Cork on 20th, a Western Bonelli's Warbler on Inishmore, Galway on 20th and 21st and a wide but thin scatter of 'Siberian Chiffchaffs' and blythi-type Lesser Whitethroats. Yellow-browed Warblers continued to decline from their earlier peak but there were still some good totals, most notably thirteen at Nanjizal, Cornwall on 20th.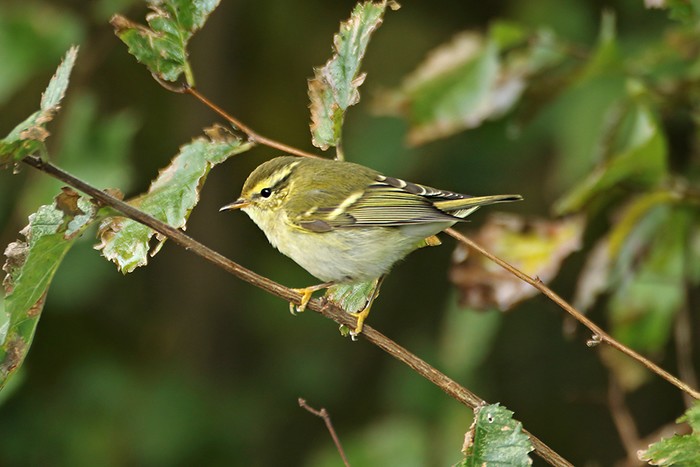 Turning to buntings, a Rustic Bunting (easily outnumbered this month by Pine Buntings!) was on St. Mary's, Isles of Scilly on 22nd and at least a dozen Little Buntings were logged - at Dawlish, Devon, St. Mary's and St. Martin's (two), Isles of Scilly and Bardsey, Gwynedd on 19th, Fair Isle (up to two) to 24th, Oxwich, Glamorgan on 20th, Tresco, Isles of Scilly (up to two) on 21st to 25th, Caister, Norfolk on 21st, Channerwick, Shetland on 20th, Unst, Shetland and Kilnsea, Yorkshire on 22nd, Dursey Island, Cork on 24th and Spurn and Easington, both Yorkshire, and another on Unst on 25th.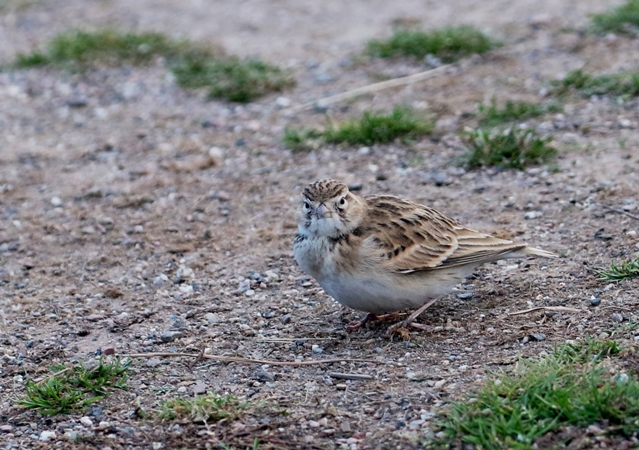 As for the rest of the passerines, last week's two Short-toed Larks were still present - at St. Agnes Head, Cornwall and St. Mary's, Isles of Scilly to 20th - and another was at Quendale, Mainland Shetland on 23rd. It has been a noticeably poor autumn for this species. Rose-coloured Starlings were at Weymouth, Dorset to 20th, Donna Nook, Lincolnshire to 19th, Isle of Skye, Highland on 20th to 22nd, Lewis, Western Isles to 23rd, Scalloway, Shetland to 24th, Polgigga, Cornwall on 21st to 22nd and Dorchester, Dorset on 22nd.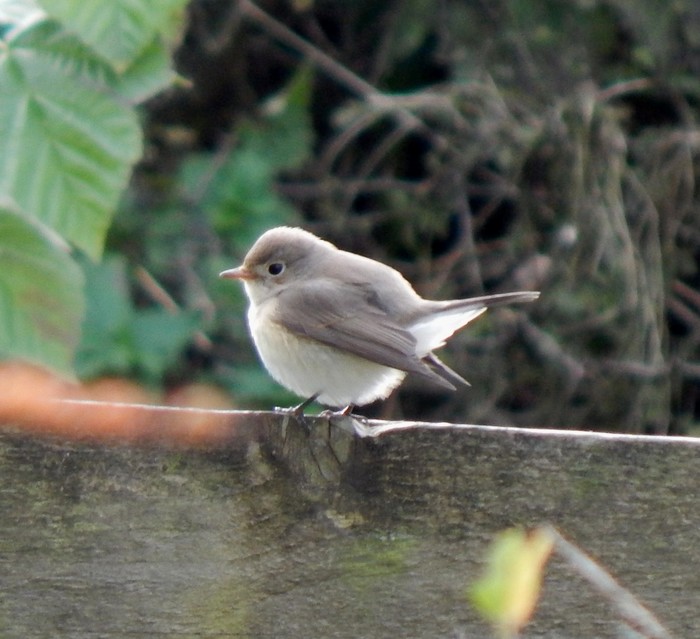 Other scarcities included up to two Red-breasted Flycatchers on Barra, Western Isles to 24th and singles at Flamborough, Yorkshire on 21st, Tiree, Argyll on 22nd, Filey, Yorkshire and the Calf of Man, Isle of Man on 23rd and Redcar, Cleveland on 24th. Also found this week were two late Icterine Warblers - on Fair Isle and at Trondra, both Shetland, on 20th.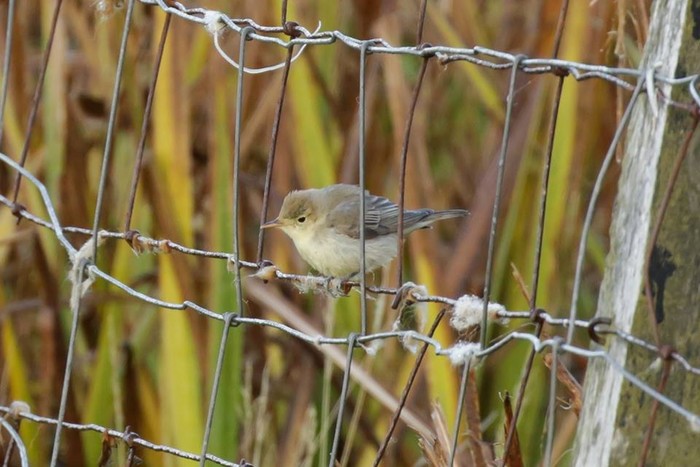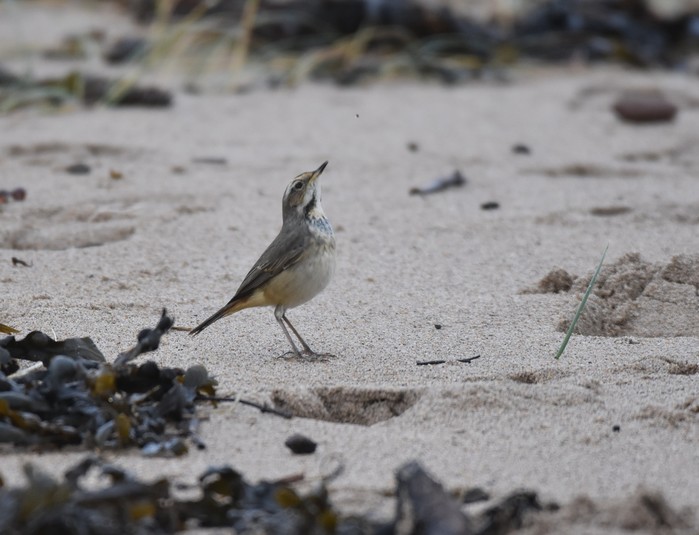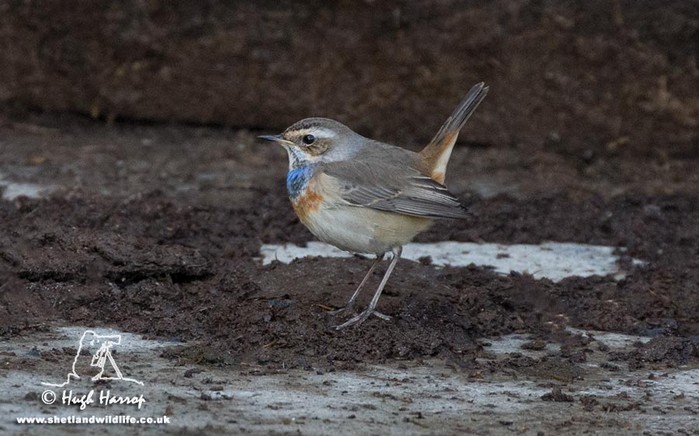 Bluethroats were at Belhaven Bay, Lothian on 21st to 25th, Hillwell, Mainland Shetland on 22nd and Deerness, Mainland Orkney on 24th to 25th and a Black-bellied Dipper at Needham Market, Suffolk on 21st to 25th.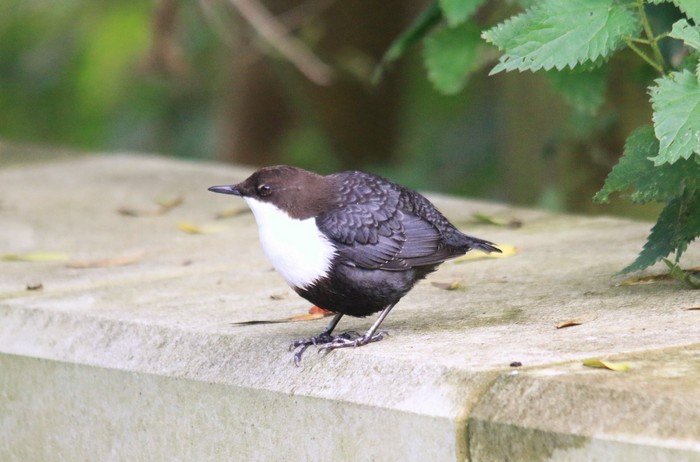 There were only around a dozen Richard's Pipits but they were well scattered from Aberdeenshire to Scilly and on both east and west coasts. Over a dozen Barred Warblers were noted, as with the previous species scattered to all corners of the country.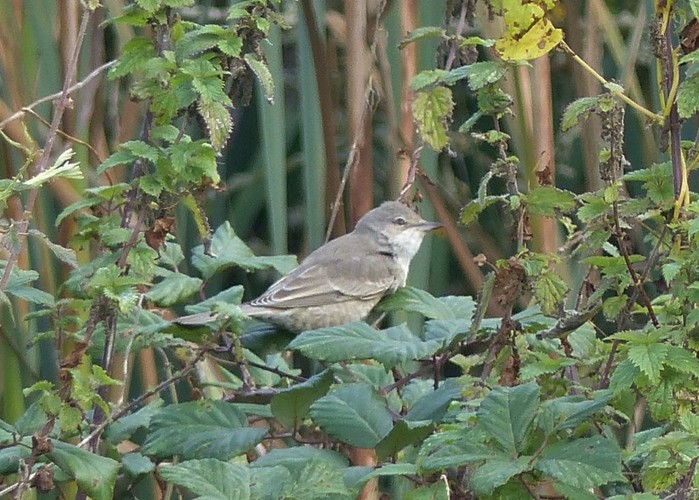 Common Rosefinches also fitted this pattern, with singles on St. Martin's, Isles of Scilly, on 20th, Barra, Western Isles and Fair Isle on 21st, Unst, Shetland on 22nd to 25th (up to two) and Evie, Mainland Orkney on 25th. More southerly in their distribution were a Woodchat Shrike at Mizen Head, Cork on 22nd, five Wrynecks (all in the Southwest) and five Serins (all in the Southwest apart from one in Kent).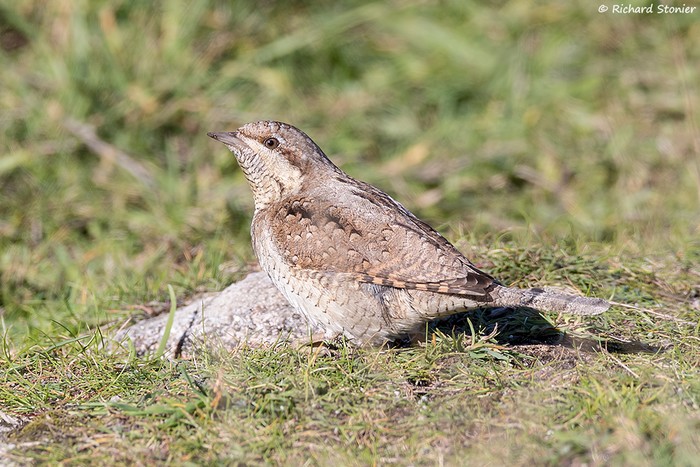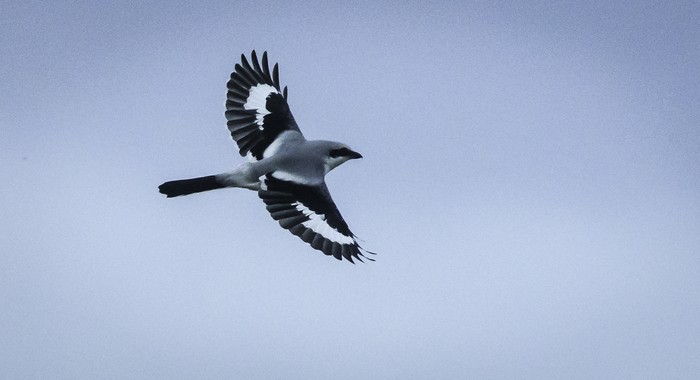 Great Grey Shrikes were well distributed with around forty-five noted, an increasing proportion of which were inland at potential wintering sites. Red-backed Shrikes numbered just three - at Westleton, Suffolk to 24th, Norwick, Unst to 19th and Evie, Mainland Orkney on 22nd.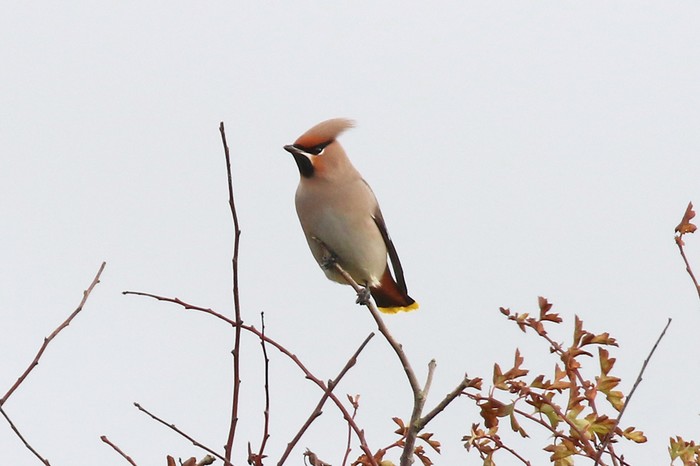 Winter irruptors also put in a good showing but while last week belonged to Mealy Redpolls, this week was dominated by
Waxwings
which, after a tentative appearance towards the end of the last review period, came in larger numbers. Reports of ones and twos were widespread along the east coast on 19th to 21st though the largest numbers were in Shetland. Numbers rose further from 22nd with the first flocks noted including 24 at Holme, Norfolk, 22 in Lerwick, Shetland and 26 in Stromness, Orkney. A few
'Northern Bullfinches'
were also logged whilst, from the other direction, a
'Greenland Redpoll'
was on Inishmore, Galway on 20th.
Shorelark
numbers continued to build this week - clearly we are in for a good winter for this species. Flocks of twenty-eight were noted at Saltfleetby, Lincolnshire and Holkham Bay, Norfolk.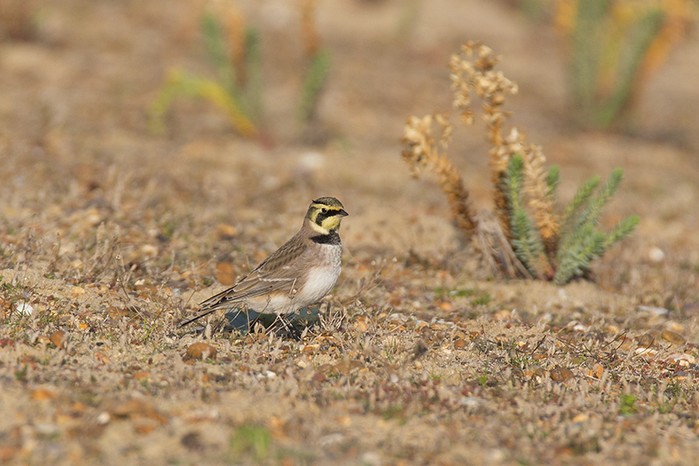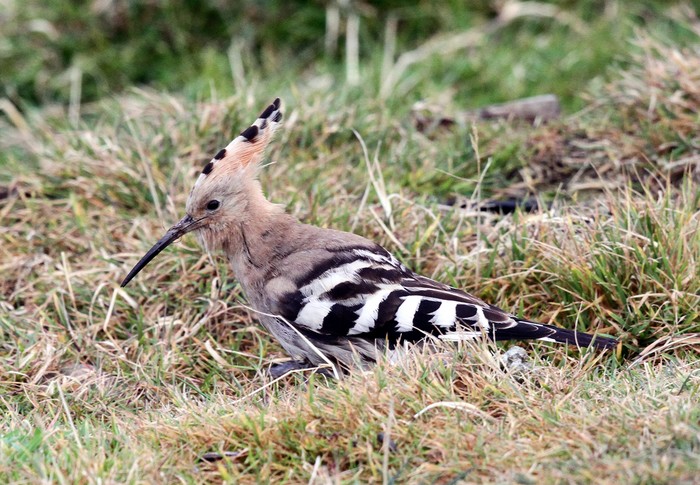 Turning to near-passerines, the recent run of presumably eastern origin Hoopoes continued with singles at North Ronaldsay, Orkney on 19th and 24th, Llanstadwell, Pembrokeshire and Woodford, Gloucestershire on 20th, Kelling and Blakeney Point, both Norfolk, on 21st, Ledbury, Herefordshire on 22nd, Whalsay, Shetland on 22nd to 23rd and Conwy RSPB, Conwy on 25th. Finally, a Pallid Swift was over St. Mary's, Isles of Scilly on 24th and then over Tresco on 25th with another over Lundy, Devon the same day. These were the first birds associated with the switch in the weather – will next week bring some more to the rest of Britain?
In the easterly airflow seabirds were little in evidence. The strong northerlies of 20th and 21st brought one or two Little Auks to the Norfolk and Suffolk coasts but there were no significant movements. Long-tailed Skuas were also scarce, with just five noted, all but one in the North Sea - two off Flamborough Head, Yorkshire on 19th, singles off Whitburn, Durham and Burnmouth, Borders on 22nd and one off Bray Head, Wicklow on 23rd.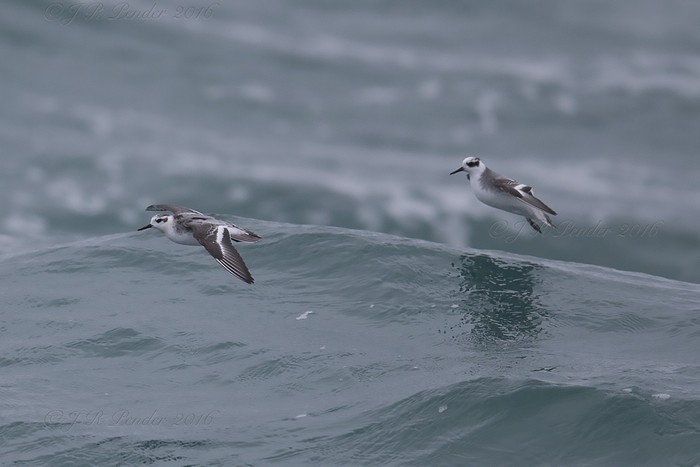 There were seven Sabine's Gulls , split between the east and west - singles off Bloody Foreland, Donegal and Bardsey, Gwynedd on 19th (with another at the latter site on 21st), Godrevy Point, Cornwall on 23rd and Winterton and Sheringham, both Norfolk, on 20th and Winterton on 24th. Five Grey Phalaropes were similarly split - two off Bishop Rock, Isles of Scilly on 19th and singles off Great Yarmouth, Norfolk and Birchington, Kent on 20th and inland at Farmoor Reservoir, Oxfordshire on 21st to 25th.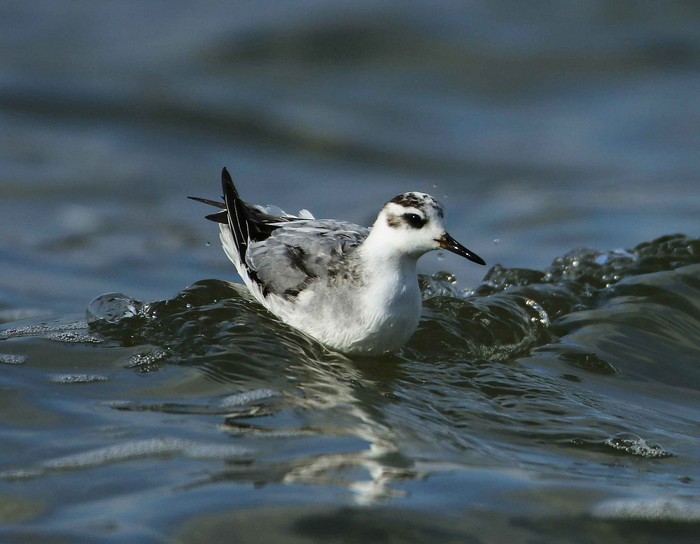 Balearic Shearwaters continued to be seen off the Southwest but in the North Sea birds were off Winterton, Norfolk on 20th, Flamborough Head, Yorkshire on 21st and Whitburn, Cleveland and Sheringham, Norfolk on 22nd.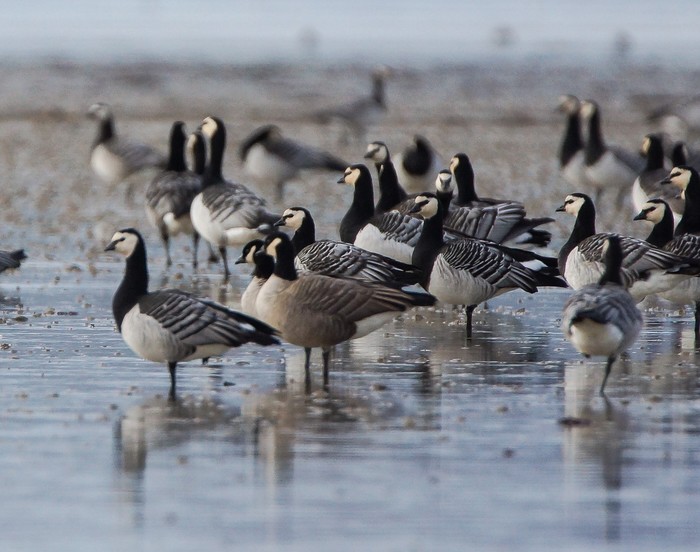 The turn of the year was signalled by a continuing increase in the number of scarce and rare wildfowl. Most notably, the sudden mass arrival of Barnacle Geese on Islay, Argyll brought seven Richardson's Cackling Geese plus single Todd's and Lesser Canada Geese . Another incoming Todd's Canada Goose flew north past Blyth, Newbiggin and Farne Islands, Northumberland with 28 Barnacle Geese on 19th and was then at Budle Bay, also Northumberland, on 23rd to 25th. Snow Geese were at Mersehead, Dumfries and Galloway on 19th and on the Beauly Firth, Highland from 22nd. 'Black Brants' were at Exmouth, Devon and Walton-on-the-Naze, Essex on 23rd and Weymouth, Dorset on 25th.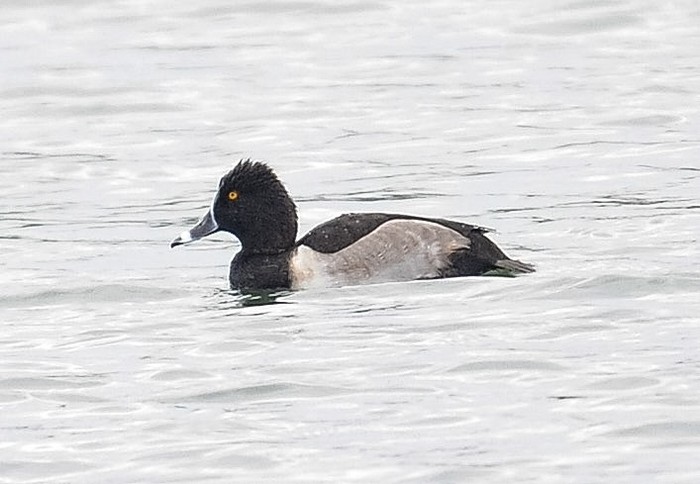 Apart from a drake Ferruginous Duck at Wilstone Reservoir, Hertfordshire on 25th, all the rare ducks were Nearctic. Last week's drake Ring-necked Duck in Hertfordshire commuted between Wilstone Reservoir and Startop's End Reservoir all week with others at Chew Valley Lake, Somerset to at least 21st and Lough Gara, Sligo on 21st and 22nd.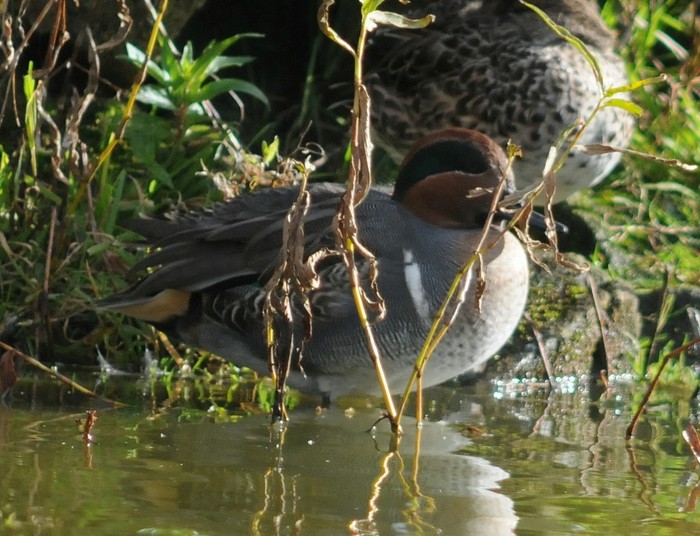 American Wigeons were at Leighton Moss, Lancashire to at least 25th, Marshside, Lancashire on 20th to 23rd, Kirkwall, Orkney to at least 21st, Brigsteer Wetland, Cumbria on 21st, Inishowen, Donegal on 22nd and North Uist, Western Isles on 22nd. Green-winged Teals were at Caerlaverock, Dumfries and Galloway to at least 23rd and Loch of Kinnordy, Angus to at least 21st.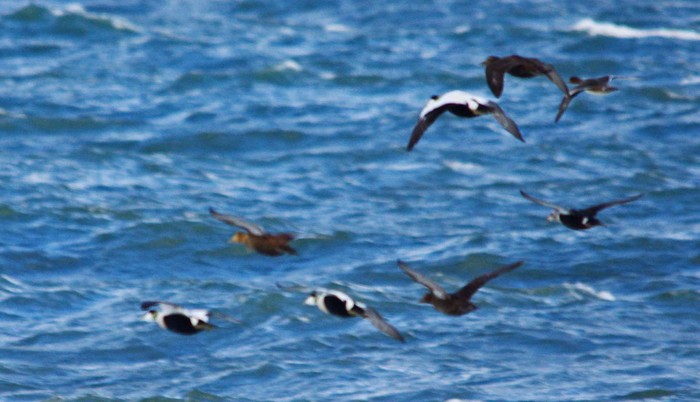 At sea, a drake King Eider flew north past Whitburn, Durham and Beadnell Point, Cullernose Point, the Farne Islands and Holy Island, all Northumberland, on 23rd and another was at Sheskinmore Lough, Donegal on 24th. The long-staying Surf Scoters were still on South Uist, Western Isles and at Musselburgh, Lothian to at least 25th. In North Wales, up to four were off Llandulas, Conwy and another was at Kirkwall, Orkney on 21st to 22nd. Much rarer was a drake Black Scoter off Rossbeigh, Kerry on 25th.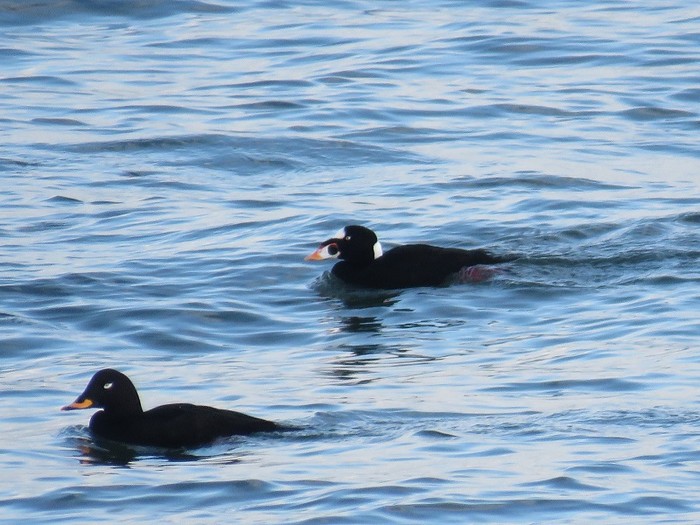 Herons, egrets, crakes etc.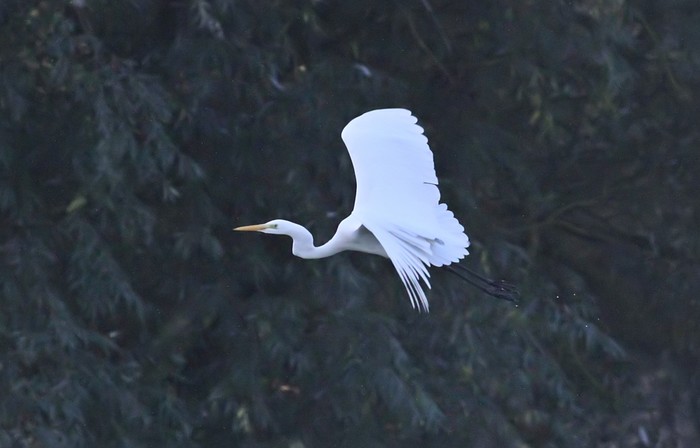 Great White Egret totals included nineteen at Blagdon Lake and 22 at Chew Valley Lake, both Somerset, with fourteen at Dungeness, Kent and six at Burton Mere, Cheshire and Wirral.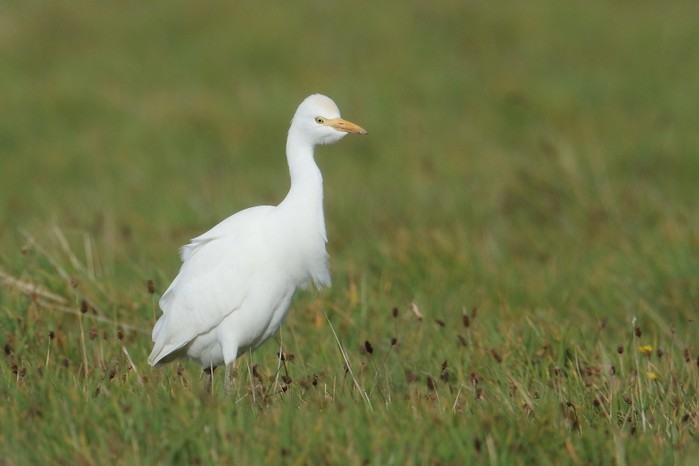 Five Cattle Egrets were also at this latter site on 21st to 23nd with others at Marshside, Merseyside (three), Marsh Lane, West Midlands, Thurrock, Essex (two) and Tacumshin, Wexford (two) on 20th, Steart, Somerset on 22nd, Leighton Moss, Lancashire, Cartron, Sligo (six) and Rainham Marshes, London on 23rd and 24th, Pendeen, Cornwalll on 24th and Slimbridge, Gloucestershire (five) on 25th. A single Purple Heron was reported at Ardersier, Highland on 22nd.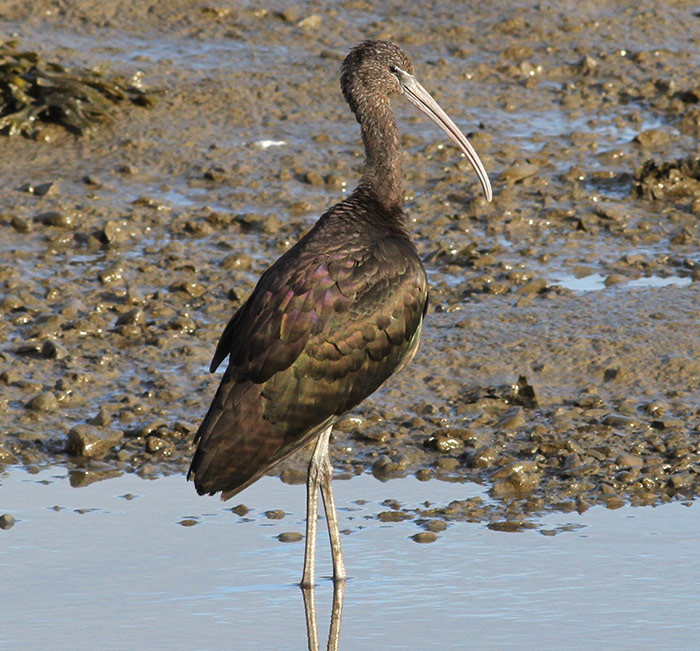 Glossy Ibises continued to frequent Fremington Quay, Devon, Cossington Meadows, Leicestershire, Ham Wall, Somerset (two), Nosterfield, Yorkshire, Dundalk, Louth and the Rogerstown Estuary, Dublin. Away from these traditional locations, one was near Boston, Lincolnshire on 23rd and then at nearby Frampton Marsh on 24th and 25th. Up to thirty-nine Spoonbills could still be counted in Poole Harbour, Dorset. Finally, a Spotted Crake was again at Chew Valley Lake, Somerset on 21st with another on North Ronaldsay, Orkney on 24th.
The only scarce raptor of the week was a Rough-legged Buzzard at Tophill Low, Yorkshire on 23rd.
Just a few lingering American waders were seen this week. The Lesser Yellowlegs was still at Poole Harbour, Dorset to at least 24th with another in Somerset at Meare Heath on 20th, Steart on 21st to 23rd and Cheddar Reservoir on 25th.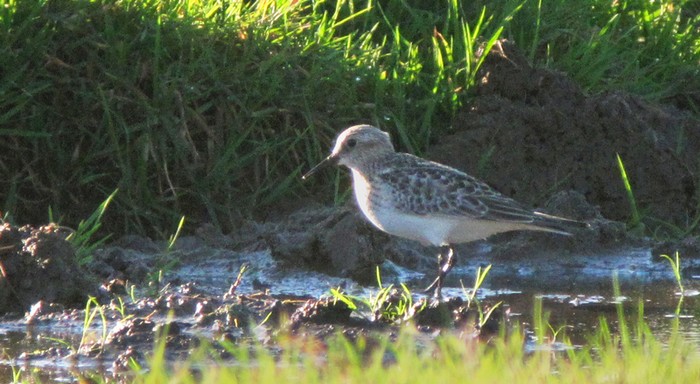 In Northumberland the Baird's Sandpiper was still at Low Newton-by-the-Sea, Northumberland to at least 25th as were the Semipalmated Sandpipers at Inch Island, Donegal and Tacumshin, Wexford. Also in Ireland, two American Golden Plovers were still at Ballycotton, Cork on 19th while back in England singles were at Low Newton-by-the-Sea on 20th and over the Great Orme, Conwy on 21st. In Scotland one was on South Uist, Western Isles on 23rd and two there on 24th with one still there to 25th.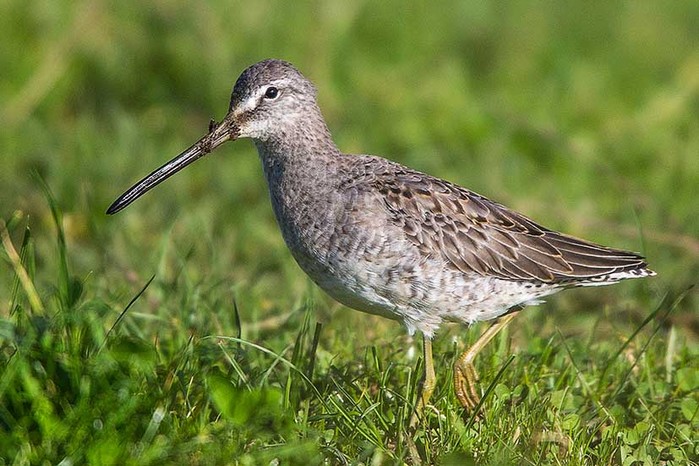 Long-billed Dowitchers were still at Faversham, Kent, Frampton Marsh, Lincolnshire, Dundalk, Louth and Tacumshin, Wexford all week. The only Pectoral Sandpiper of the week was at College Reservoir, Cornwall on 19th.
The best new gull discovery was a third-winter American Herring Gull on St. Mary's, Isles of Scilly on 23rd. The only other scarce or rare gulls of the week were Iceland Gulls at Newbiggin, Northumberland on 21st and Mainland Orkney on 22nd, Glaucous Gulls at Beckton, London on 22nd and Holy Island, Nortumberland on 25th and Ring-billed Gulls at Nimmo's Pier, Galway on 21st and Enniskillen, Fermanagh and Ainsdale, Merseyside on 25th.
Looking ahead, the beginning of the next roundup week sees an abrupt return to a westerly airflow. After the almost unbroken run of easterly winds this month, this rapid transition and the inevitable draining away of birds will come as something of a shock to those on the east coast. Nevertheless we can look back on a remarkable period, not just for Siberian Accentors but also for some record-breaking showings by Yellow-browed Warbler, Dusky Warbler, Isabelline Wheatear, Red-flanked Bluetail, Pine Bunting and Little Bunting. Conversely, it has been a very poor autumn for the likes of Richard's Pipit, Short-toed Lark and Rustic Bunting. Quite what influences the mix of eastern birds and leads to such marked annual variations remains a fascination.
The best of an exceptional October certainly lies behind us but we can surely still look forward to some more excitements. Late October and early November are always difficult to predict, some years seeing a sudden descent into winter but other years bringing a prolonged run of rarities. Is it all over now for the east coast or will the Siberian Accentors, late eastern vagrants and Scandinavian irruptors still get through? Will there be some end of season Nearctic surprises in the west? With Scilly finally producing some quality Asian birds this week, could it now provide a quality American rarity too? This time next week we will know the answer.
Andy Stoddart
26 October 2016
Many thanks to all contributors for the photos and videos this week.