Birding round-up: 23 - 29 Mar 2016
The week at a glance
Suffolk scores a 1st Thayer's Gull on a slow Easter Sunday
In County Cork, the adult Glaucous-winged Gull remains for another weekend
Leicestershire guller scores a Norwegian colour-ringed Baltic Gull - only the second in Britain
The drake Black Scoter remains in Ireland
Cumbria's controversial Demoiselle Crane still generating some interest…
A dreaded Hooded Merganser pops up - this one in Scotland
After some while in the striking "omega" pattern, the jet stream finally got it together again this week and realigned itself with a straightforward old fashioned (slightly angled) straight line blast way, way above us in the troposphere.
It meant that we soon lost that wibble-wobble high pressure system that had dogged many North Sea coastal counties with an east wind more nagging than toothache and this grey-shrouded weather system was replaced by a classic mix of sunshine and showers through assorted parts of the week.
The winds sifted towards the south and southwest and, despite not appearing to be that helpful towards our migrating feathered chums, it was a darn site more useful than what had been blocking any further progress seven days ago.
Temperatures rose a little, quite a lot on a glorious long Good Friday , huge swathes of the country revelling in clear blue skies and wall-to-wall sunshine (and, in southeast England, thermometers showing 15° C or more, as seasonal norms were very much back in fashion.
That Bank Holiday Friday was it though for the Easter-adoring hordes, things went downhill quick smart as two hefty broad bands of wet weather followed in, from west to east on Saturday and, in the guise of Strom Katie, on Monday. Clouds grew dark, the wind blew and blew and blew (100 mph+ gusts) - it was like Friday never happened. More rain swirled across the country and the rest of the week was a mix of heavy showers, cool, blustery winds and occasional further bursts of sunshine.
Thank you very much, no flipping…
Thayer's Gull
The pretty average late March weather really wasn't delivering any nice little Easter surprises across the first couple of days of the long weekend and it was all looking a little desperate round these parts (more desperate than even the last two quiet weeks) as the rarity role-call began to deplete itself of some of the recent trusted allies that have been staples of the past month or so…
…that was until the Birding Easter Bunny decided to drop a little surprise out of the basket during the day on Sunday (27th), plonking an outstanding adult Thayer's Gull in to the Minsmere RSPB reserve for the most significant surprise of the year on the British mainland so far this year.
Caution was the understandable watch-word employed through much of the time that the bird resided on the scrapes on the RSPB's flagship reserve - rightly so given the complexities of birds in this ball-park (Vega Gull a very real option and confusion species). News eased during the afternoon, but the bird remained around the area through until 1745, when it flew off south towards the gull flocks off the Sizewell outfall - with no further sign by dusk.
By then, the identity had firmed up nicely and a remarkable 1st for the county was in the bag (next stop BBRC obviously…) - and a quick glance at the first images posted online by finder Brian Small ticked all the adult Thayer's Gull boxes…no question, this a beauty…
Correct size and structure? Check.
Correct head pattern? Check.
Correct upperpart tone? Check.
Correct bare parts? Check.
Correct primary pattern? Check.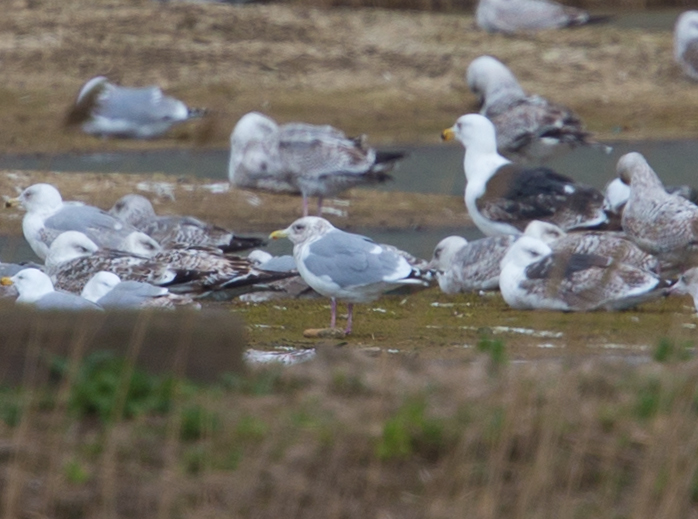 ...amongst a group of Great Black-backs and Herring, a strangely distinct, paler mantled gull, with soft and blotchy crescental streaking on the head - creating a vague hood - a dark eye and raspberry pink legs. It was a very distinct gull and was different enough to think, straight away, that it was a northern Pacific-rim gull - although I had never seen adults of these, it somehow seemed familiar...
Read Brian Small's finders' account here
It really looked the business and it will become the second record of an adult in Britain - following on from Steve Arlow's photographed Pitsea bird of November 2010 (another bird in the east/southeast of England of course) - all counties along the east coast need to be on alert for the Suffolk bird in the next few days…Norfolk must be the next stop for a bird as striking as this one surely?
Such hopes were on hold though as the bird still hadn't given up the ghost on the noisy neighbours next door just yet- seen again in the grimness kicked up by Herself on the morning of 28th and again for a time that same afternoon.
The only other accepted British Thayer's is the Lincolnshire juvenile found by Tom Lowe in April 2012 with a further three individuals within the current Work-in-Progress file - juveniles from Oxfordshire and Derbyshire in the winter of '07-'08 and two from 2014, in south Wales (at Burry Port) and in Argyll & Bute (at Gartbreck and surrounding areas). There's another one or two somewhere in-the-loop as well - the juvenile from west Yorkshire, also seen in 2014, this time at the back end - with the same bird found (again by Tom…) at Rufforth in March 2015.
Across the crop of Irish acceptances are two further adults - both at Killybegs - during February and March 1998 and, most recently, in December 2013.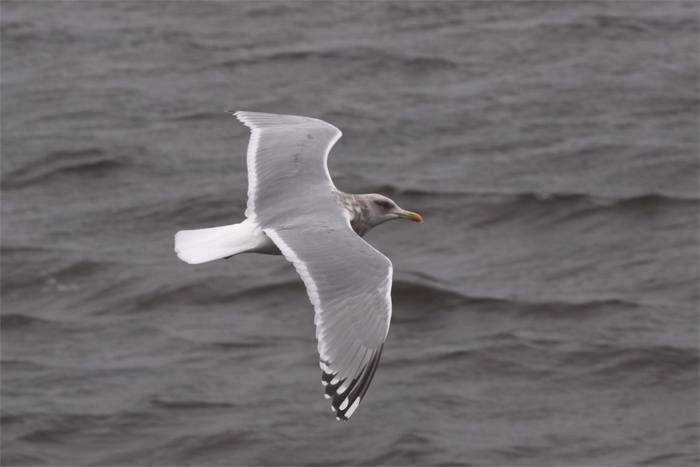 The significant issue for listers here remains though - that being that, despite the recent ascent to acknowledged acceptance here, this complex "form" remains only a subspecies - still within the Iceland Gull group (comprising the nominate glaucoides as well as kumlieni and thayeri).
Whether this will change once a new taxonomic line is taken by the BOURC is one of many fascinating issues that could arise now we've seen the termination of the Taxonomic sub-committee - many authors still favour the instigation (once more) of a split between Iceland Gull and Thayer's Gull; the latter really is way out there as far as all of the work that has been employed upon exactly what it is recently…but the likelihood seems to be that Thayer's Gull will remain in limbo for some while to come.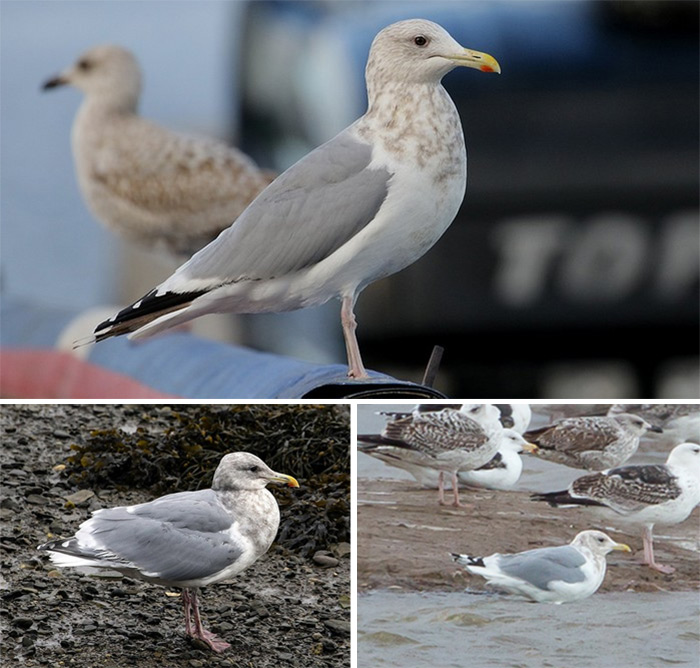 Glaucous-winged Gull
…all of which leads us nicely in to the news that Cork's fine adult Glaucous-winged Gull was on station at Castletownbere through until 28th at least. Those local argenteus had better watch out…
Baltic Gull
No sooner had the larophiles of Britain taken in the wonder of Brian's Suffolk beastie, news popped up from Leicestershire of a bird that, just like Thayer's Gull, remains nothing more than a distinctive form/race in a British listing context - step forward Baltic Gull.
There's little to suggest that Larus fuscus fuscus will be deemed worthy of specific status here anytime soon but hats off to Carl Baggott for finding the colour-ringed Baltic Gull (Black J727) on the pits near Shawell on 26th - only the second record of such a colour-ringed bird in Britain.
The bird, presumably a beefy male judging by the photo, was ringed as a chick in a colony (that is apparently wholly fuscus) at Buholmen, Somna, Noordland in northern Norway (an area where allsorts of carry-on goes on in "Lesser Black-backed land").
The first colour-ringed Baltic Gull (White CNUM ) was present at Hempsted Tip, near Gloucester from April 18th-20th 2007 - that bird was ringed as a juvenile at Pietarsaari, Vaasa in Finland (a far less contentiou,s wholly fuscus zone and where most gullers would feel happiest to have a colour-ringed BG from…) in 2004 and was subsequently seen in Morocco after John Sanders' sightings in the south Midlands.
That there is, to date, just the one acceptance of the form/species-in-waiting on the British List has been long been a bone of contention for many gullers over the years - the identification criteria was established, in great detail, by the legendary Lars Jonsson almost 20 years ago (in 1998) and his work emphasised (even then) that Baltic Gull doesn't need a colour ring to be identified (as a vagrant) in other parts of Europe.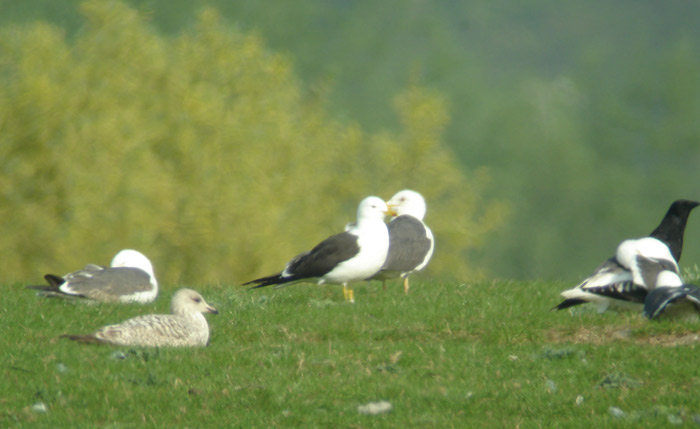 Gullwatchers here will testify to that - they are eminently "do-able" in the field, at all ages, and in recent years numerous obvious Baltic Gulls have been seen and photographed in Britain - some years are better than others, but they are a rare, annual migrant here, with spring and late summer the optimum times to employ diligent searches…
Just because they are a challenge, it doesn't mean that they don't get here. Look, and look hard, don't hide away behind the all-too-easy "they're too difficult" banner and you never know you're luck…
Black Scoter
Once upon a time, Black Scoter was just like Thayer's Gull in terms of miserly sub-specific status; that changed 11 years ago (in Britain) and these dapper ducks remain a popular draw when they appear.
This week saw more news of Ireland's first Black Scoter - seen on at least three days across the last seven; noted on 24th and 26th-27th (when it was showing well). Last spring, he departed on April 3rd, what's he going to do in 2016?
Demoiselle Crane
Over in Cumbria, the adult Demoiselle Crane continued to generate some chat at the start of the new review period when it was still residing in the fields close to Cockermouth through to 25th when it then moved a little closer to Mockerkin Tarn, noted at Pardshaw through until the evening.
Had people got bored of it? Was it just a case of all interested parties had been (just in case)? Despite a busy news weekend, there wasn't a peep to be heard from Cumbria regarding this classic O.U.O. individual - it later transpired that it was still around, at Eaglesfield, on 27th.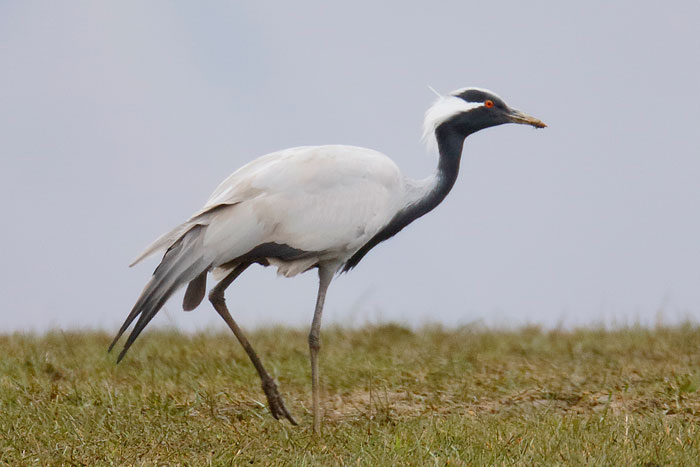 There was damage to some primaries (broken not clipped) and although not a reason to damn the record, there's little to hang a listing hat on here (and such curious damage doesn't help the cause one jot) - despite a Spurn '93 "feelgood factor" being adopted by some for the School of Cumbria '16.
….all of which rang a dim and distant bell (for me at any rate) with another Cumbrian bird (another somewhat incongruous Cumbrian bird too…) that generated a lot of interest once upon a time - step forward the Sandscale Haws Purple Gallinule and the six day stay in late October 1997.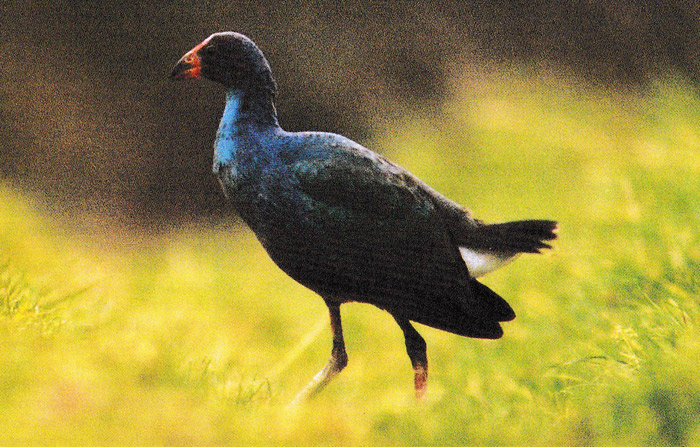 This too had a significant vibe of listing love poured towards it and yes, when watched in the meadows and fields it was an easy seduction - it felt "right" and looked great…and was duly submitted to the BBRC (and BOURC)
as a potential 1st for Britain. It fell down under stringent scrutiny - the bird didn't actually fit the bill for
any
known form of
Purple Gallinule
- it was suspected as being a captive hybrid and that was that.
If you're going to hang your hat on the weird and wacky, maybe best not try it on off-the-wall birds found in Cumbria…
…and finally…
…let's mention the female Hooded Merganser that was seen on the pits at Blair Drummond (Forth) on 28th - presumably the same (mooted escape) that was seen nearby, close to the Safari Park in the first week of February. It was reported as confiding first time around and it would be a surprise if this was a new bird…which just goes to show how dubious these things can be…but would the BBRC accept it if submitted? No "guilty-as-charged" evidence, so they have to right?
Niall Keogh's been at it again out on the R.V. Celtic Explorer, scoring a fine March record of a Great Shearwater some 280 miles to the WNW of Tory Island, over the Rockall Bank on 28th - along with 36 Little Auks the same day.
On the Outer Hebrides, two White-billed Divers kick things off again, present off Port Skigersta, near Port Nis on Lewis on 23rd-24th. The only other records for the week were the lingering adult at Burghead (Moray), present between 25th-29th, a fly-by from Kingsbarns (Fife) on 28th - only the third record in the county in the past 13 years (all coming since 2013) - and a young bird off Portsoy (Aberdeenshire) on the same date - and one seen from Eoligarry, Barra (Outer Hebrides) on 29th.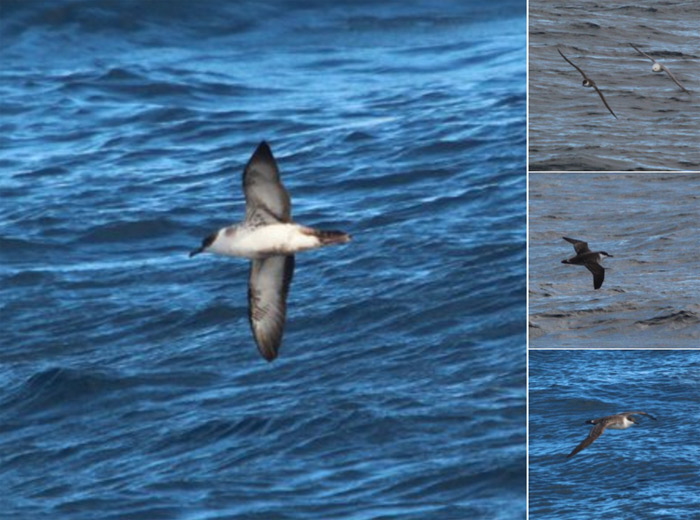 Ahead of Storm Katie, a couple of stray Little Auks were logged on the southwest side of Scotland, off Corsewall Point (Dumfries & Galloway) and Saltcoats (Ayrshire) with a couple of Pomarine Skuas also logged around the same time - one was seen at sea, in the Rockall Trough, some 160 miles WNW of Donegal's Tory Island from the R.V. Celtic Explorer on 26th while a land-based record came from Lizard Point (Cornwall) on the same day.
Elsewhere along the Cornish coast, off Helston's Loe Bar, was a Balearic Shearwater on 25th with West Sussex seeing a single pass Worthing on 26th and two fly by Selsey Bill the following day.
The past week has seen ten Glossy Ibis noted; new was one in County Kerry, at Smerwick Harbour on 23rd and that was one of six Irish birds this week - one lingered at Toome (Co. Antrim) through until 26th while the double act in Wexford remained at Cahore until 27th with the loners down at Tacumshin and Waterford's Tramore Back Strand, both to 28th.
A new English bird was at Misson (Nottinghamshire) on 26th-27th (the first since May last year in the county) with the long-stayer at Seaton (Devon) present to 29th as well while popping up again were the birds at Wat Tyler CP (Essex) and Ham Wall RSPB (Somerset) on 28th. Just one Welsh bird was seen, again at Goldcliff Pools NR, Newport Wetlands (Gwent) through to the Easter Weekend.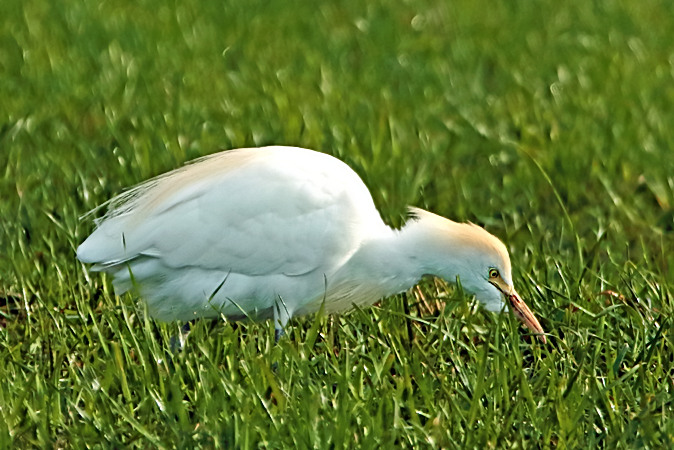 Three "regular" Cattle Egrets were still on station this week, present at both Biddenham (Kent) and, again, at Westhay Moor (Somerset) through until 28th and near North Cove (Suffolk) to 29th. The 27th saw the appearance of the 4th for the week at Powderham (Devon) which remained to 29th. Back in the news again was the fifth of the past seven days, again at Lingstown, near Tacumshin on 28th.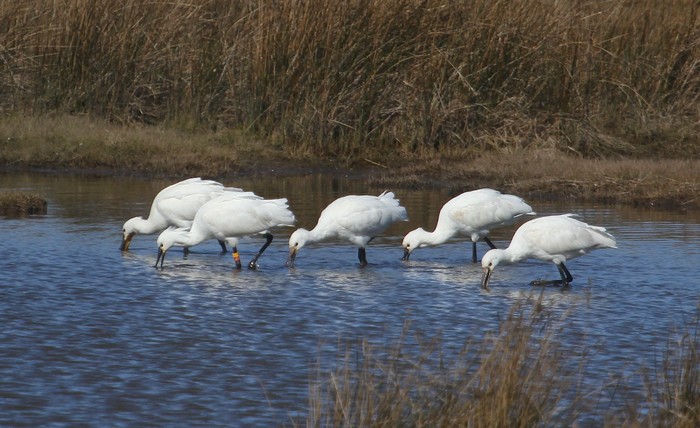 There were still well over 35 Spoonbills on offer, with ten at Middlebere, Poole Harbour (Dorset) on 29th and six around Keyhaven (Hampshire) on 26th-29th. The latter county seeing birds recorded at seven different sites, with five at Pennington for a couple of days and four at Normandy on 24th. Two twos were in Kent (at Oare Marshes and Dungeness) through to the weekend and four were along the Cuckmere River (East Sussex) on 23rd.
Norfolk registered four birds around the county's extensive coastline and singles were spread from Cornwall to the Isle of Wight, Suffolk and Cambridgeshire. A couple of lone Spoonbills were seen in Ireland, at Mullagh (Co. Derry) from 24th-28th and Cahore (Co. Wexford) on 28th.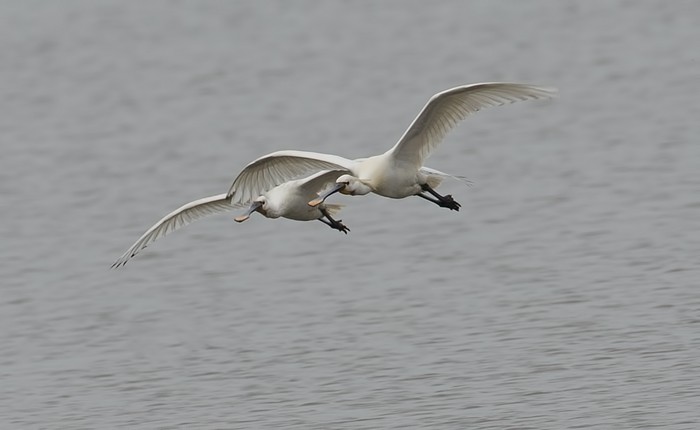 The high count of Common Cranes this week was a hefty eight at Lakenheath Fen RSPB (Suffolk) on 25th. Others in East Anglia included five at the start of the new review period at Wicken Fen NT (Cambridgeshire) on 23rd with two in the same county, at Ouse Washes RSPB on 27th and in Norfolk, six birds were seen at Barton Broad on 25th with odd singles and a two here and there in the Broads and on the coast as well, with a group of three heading west over Cley's East Bank on 25th as well.
Also on 25th was a Crane over North Cotes (Lincolnshire) and further reports appeared from Stonnall (Staffordshire) on 24th and Cobnor Point (West Sussex) on 25th. The week ended with two birds heading over Garton (East Yorkshire) then Gibraltar Point NNR (Lincolnshire) on 29th.
Once upon a time, West Yorkshire hosted free-flying White Storks at Harewood House but they've not been heard of for some while so the origins of the bird noted heading over Eldwick, near Bingley on 23rd remain "unknown".
The two Black Brants seen for much of the winter remained around Kilnsea (East Yorkshire) for much of the week, the birds occasionally splitting up and being seen at various points of the Spurn Peninsula. Just one other was reported, seen along the Exe Estuary, at Powderham, on 25th.
Same old same old was the order of the day for the two drake Lesser Scaups seen this week, still at Cosmeston Lakes CP (Glamorgan) through until 28th and Dozmary Pool (Cornwall) to 29th.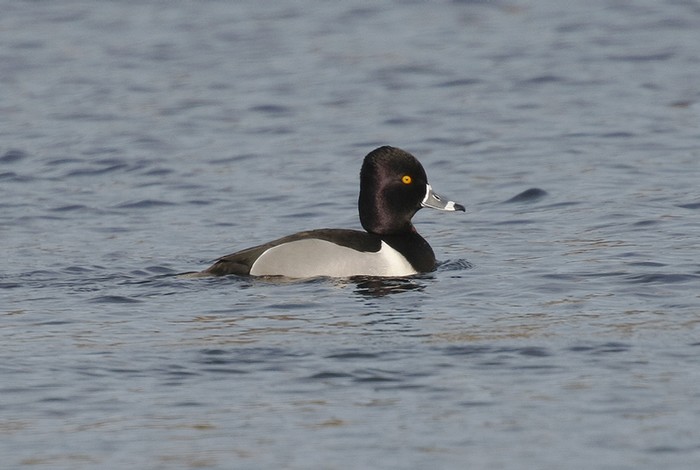 It was "as you were" for numbers of Ring-necked Ducks, five last week and five again this week. The fine adult male remained at Chasewater (Staffordshire) through until 28th while Scotland and Ireland had a share of the other five (all drakes). New in Fife was the bird found near Elie, on Kilconquhar Loch from 25th-27th (appearing again on 29th) while the drake on Loch o' th' Lowes (Ayrshire) also remained to 27th. In Dumfries & Galloway, a drake surfaced at Caerlaverock WWT on 29th (perhaps one of the birds from elsewhere in the county recently). Ireland saw a new bird appear on Carrowmore Lake (Co. Mayo) on 24th while the final bird of the week remained at Knockaderry Reservoir (Co. Waterford) to 27th.
The extremely popular (and photogenic) drake American Wigeon was seen at Scalby Mills (North Yorkshire) up until 23rd while another review regular of late, the drake at Steart WWT (Somerset), was in place to at least 25th. A great find in the south was the drake at Pulborough Brooks RSPB (West Sussex) on 27th-29th - the first confirmed record for the county since September 2003 (when a one-hour drake was seen at Pagham Harbour).
Two males were close to each other at Malin Town (Co. Donegal) on 29th but perhaps the pick of the bunch though was the female American Wigeon that was located in Dargan Bay, Belfast (Co. Antrim) on 26th - a rare find indeed these days (as was mentioned here a few weeks ago).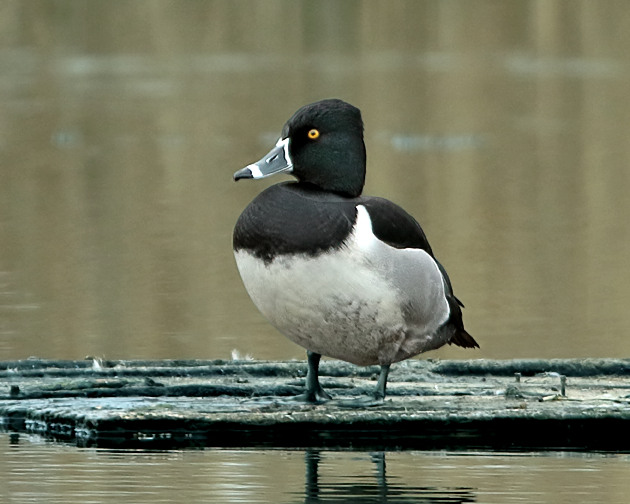 Green-winged Teal seemed to reach their late-winter peak last week (when 20 were recorded across Britain and Ireland) - this week sees a significant drop to 13 birds in all, the national split being 5:4:4 across England, Scotland and Ireland.
English drakes included two in Gloucestershire - still at Ashleworth Ham NR to 27th and new at Coombe Hill Meadows on 26th-29th while in Norfolk, a drake was found at Berney Marshes RSPB on 27th. Lingering birds were at Saltholme Pools RSPB (Cleveland) and at Seaton (Devon), both to 29th.
The Scottish foursome included a new find on the east coast, at Tyninghame Inner Bay (Lothian) on 25th (and again on 28th-29th) with hangers-on noted as still present on the Outer Hebrides, at Loch Sandary (North Uist) to 24th and Loch Stiapabhat, Lewis to 27th and at Caerlaverock (Dumfries & Galloway) all week.
Ireland's quartet of Green-winged Teal were all winter familiars (as it were) - remaining at Lough Beg (Co. Derry) to 24th, in Kerry, at both Ross Castle, near Killarney and Tarbert until 25th and North Bull Island (Co. Dublin) to 26th.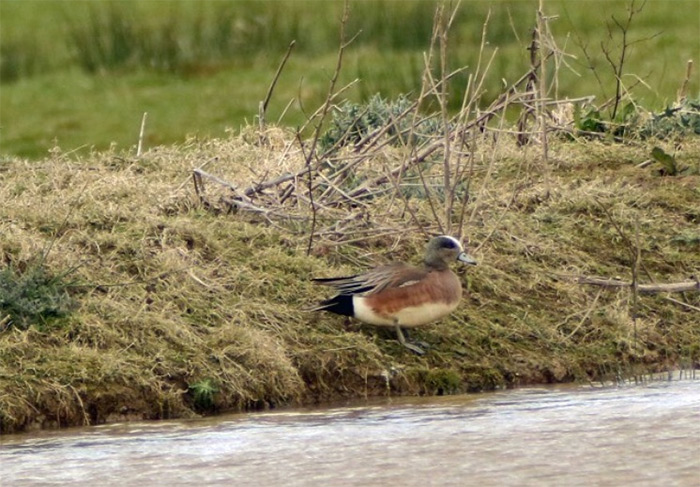 Until Bank Holiday Monday, there were five Surf Scoters reported across the week; long-staying 1w drakes remained off Scilly's Bar Point to 25th and North Yorkshire's Filey Bay to 29th while three Celtic birds, all adult drakes, were at Colwyn Bay (Conwy) and Cockenzie (Lothian) on 27th and off Ruddon's Point (Fife) to 28th.
The total doubled later on 28th when six Surfies were counted in Mayo's Claggan Bay - up one on last week's impressive tally at the same site.
The same site also held one of two regal additions to the duck list this week, the female King Eider on station to 28th while in Ireland, the first-winter female remained off Rosslare Backstrand (Co. Wexford) through to 26th.
You know the drill - all that was on offer round these parts were the three wintering 1w Long-billed Dowitchers - all present to assorted parts of the Bank Holiday weekend - at Keyhaven Marshes (Hampshire) to 26th and both Cresswell Pond NWT (Northumberland) and Rutland Water (Leicestershire) to 29th.
(There'll be a KP soon enough to liven things up…).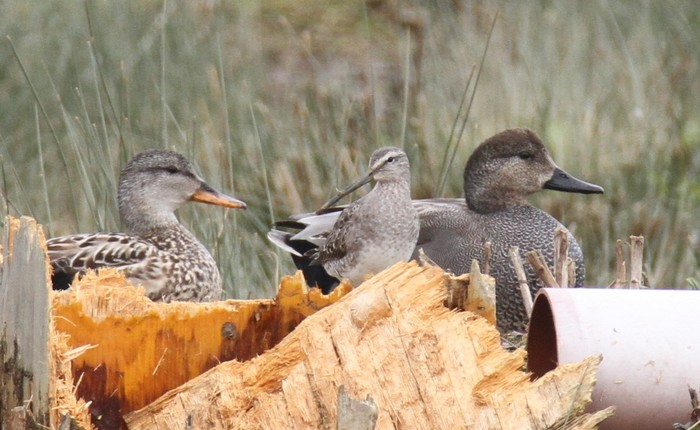 …and so to the Camel Estuary in Cornwall where it appears that an adult Franklin's Gull seen at the Walmsley Sanctuary on 23rd (and, as it turns out, 21st) may actually have been in the area since some time in January.
Given the modest distance between the Camel Estuary and Siblyback Reservoir (less than 20 miles as the seagull flies east to west) it would seem logical to link this week's recent news with the 15 minute sighting at Siblyback on March 5th - as was mentioned at the time, that was the record in the county since another commuting Camel bird (this one went to Crowdy Reservoir) in April 2007.
Over a month has passed since the last mention of the Thurso Bonaparte's Gull (last reported on February 23rd) but what is presumably the same bird was back again off the harbour on the evening of 29th - the third sighting this year (one was off Dunnet Bay in late January too).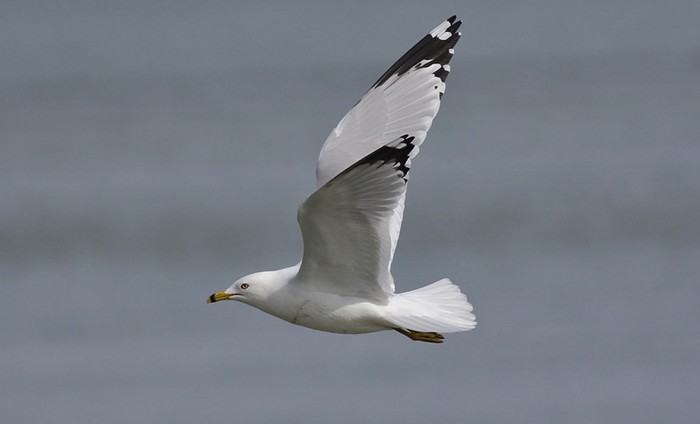 There were still 16 Ring-billed Gulls up for grabs this week and, as is often the case, the vast majority were in Ireland - four birds, three adults and a second-winter were seen at Tralee Bay Wetland (Co. Kerry) on 24th (with three of those four at nearby Blennerville the following day with three adults there on 28th) while three Irish counties each held two birds each; in Antrim, single adults were at Portrush on 24th and Carrickfergus on 28th; in Dublin, loners were at Drimnagh on 25th and still along the Grand Canal on 27th while in Cork, birds appeared at Lough Aderra on 26th and lovely Cuskinny Marsh on 27th. Also in the south was a new bird at Cromane (Co. Kerry) on 26th-28th and again in Wexford town on 27th-28th.
Two English birds lingered towards the Easter break, the adult seen at Blashford Lakes HWT (Hampshire) through 23rd-25th with the 2w last seen on the Hayle Estuary (Cornwall) on 24th. In the Highlands, the adult remained at Dingwall (Highlands) through until 28th.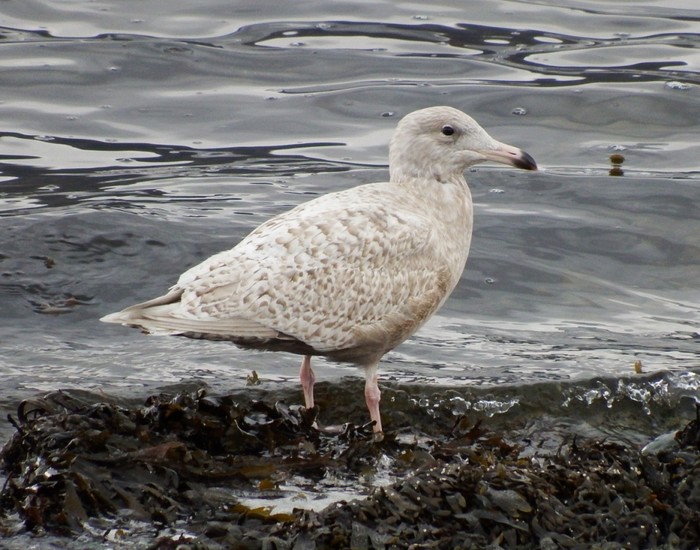 Glaucous Gull numbers fell away to some 40 birds on 20 British and Irish counties this week - England lead the way with up to 18 birds in 10 counties, including up to eight in the northeast, including four at Rufforth (North Yorkshire) on 26th and three in East Yorkshire which incluced two past Sunk Island on 27th. Six individuals were in the far southwest while it was singles for four other regions around the country. Scotland managed 12 Glaucks including four on the Outer Hebrides, while Ireland managed eight, four of them in Claggan Bay (Co. Mayo) on 28th and Wales just the one, in Glamorgan.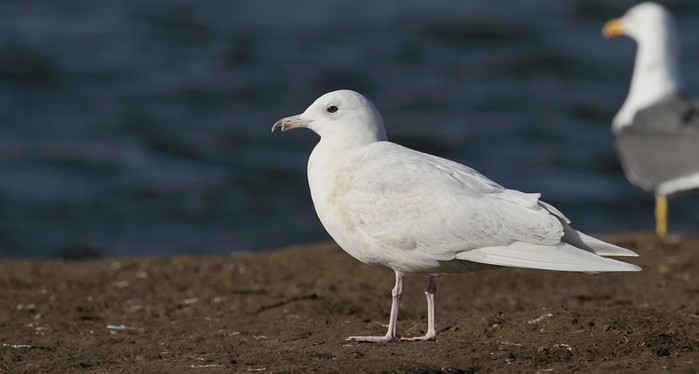 Numbers of Iceland Gulls dropped to some 56 in 35 British and Irish counties - England was out ahead here too with 24 birds in 15 counties, including nine in the southwest, with up to five in Cornwall while there were fours in the northeast, the northwest and southeast too. Up to six of Scotland's 17 birds in all were on the Outer Hebrides, with three more in Moray while Ireland saw 11 birds noted, in seven counties. A couple of birds were also noted in Wales, including one off Bardsey Island.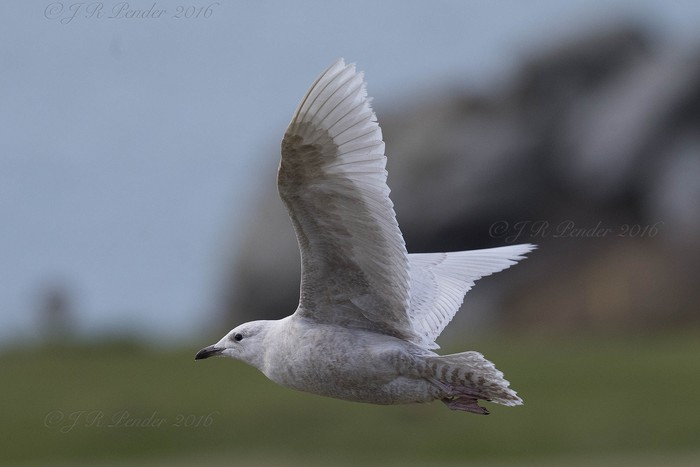 The only Kumlien's Gulls were an adult found at Daventry Reservoir (Northamptonshire) on 24th - a bird that spent just 20 minutes on site before heading south and another adult in Claggan Bay in Mayo on a productive 28th in the area.
The immense juvenile white Gyr was back at the Balranald RSPB reserve, North Uist on 27th and then both Loch na Reivil and Loch Eaval the next day, before appearing at Loch Grogary on 29th - this most imposing raptor still drawing birders to the far northwest.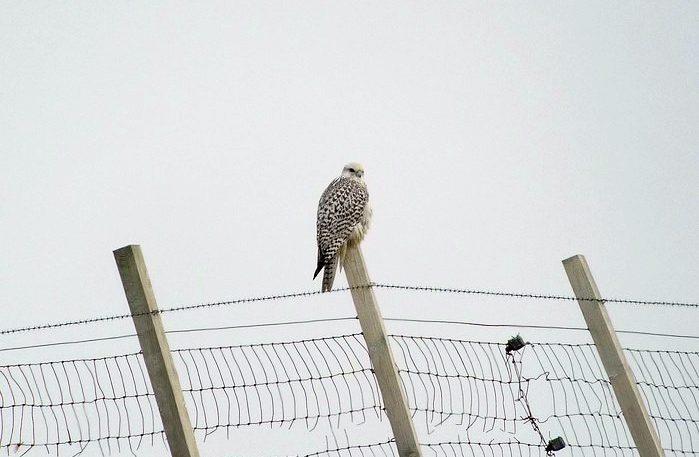 After a winter spent all alone at Holland Haven, the wintering Rough-legged Buzzard in Essex was joined by a second bird on 23rd - a quite unexpected get together. The following day saw two separate individuals pop up in Highland, near Tomatin and also again at Lochindorb while 25th saw two singles notched up in Norfolk, at Breydon and Burgh Castle in the east and over Titchwell in the northwest.
The still-popular Pallas's Warbler continued to draw folk to the old railway line at Portesham (Dorset) through until 29th while Yellow-browed Warbler numbers peaked at four through the week; three were in Cornwall, two of them on the Lizard on 25th and last week's new bird remained at Marazion Marsh RSPB throughout the week. The same date saw news of the continuing presence of the wintering bird at Monk's Haven (Pembrokeshire) - the first news for three weeks or more.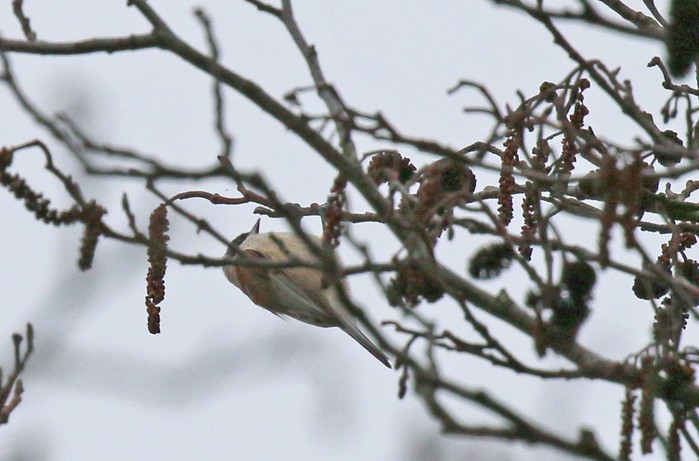 The still-elusive Penduline Tit was logged at Strumpshaw Fen RSPB (Norfolk) between 23rd-25th while the double in the northeast continued to attract birders to Saltholme Pools RSPB (Cleveland) through until 28th.
The Staffordshire Hoopoe lingered at Kingswinford throughout the week, while other wintering goodies were in shorter supply - just the two first-winter Richard's Pipits at Flamborough to report, still on site to 25th.
Numbers of Great Grey Shrikes began to fall away markedly this week - some 15 noted - with seven of them in southeastern England, with twos for Hampshire (in the New Forest and at Longparish to 25th and 28th respectively), West Sussex (on Heyshott Common from 23rd-25th and Ambersham Common on 24th-26th) and Surrey (still on Thursley Common to 29th and at Frensham Little Pond on 24th-25th). The final bird in the region was lingering in the Ashdown Forest (East Sussex) to 29th.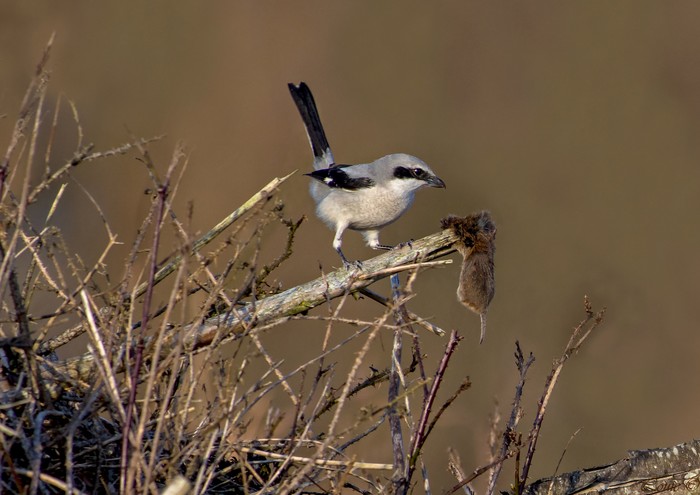 There were also two Great Greys each for the Midlands and southwestern England - the former seeing singles remain near Owler Bar (Derbyshire) and in the Forest of Dean (Gloucestershire) to 27th while in the latter region, birds remained at Morden Bog NNR (Dorset) and in the Quantock Hills (Somerset) through to 25th. Singletons were still to be found at Llyn Brenig (Denbighshire/Conwy) to 24th, the Harwood Forest (Northumberland) through to 25th and both Grime's Graves (Norfolk) and Cross Inn Forest (Ceredigion) to 29th. One final bird was reported from a train in Lothian, at Cobbinshaw Reservoir on 23rd but there was no further sign of it in subsequent searches.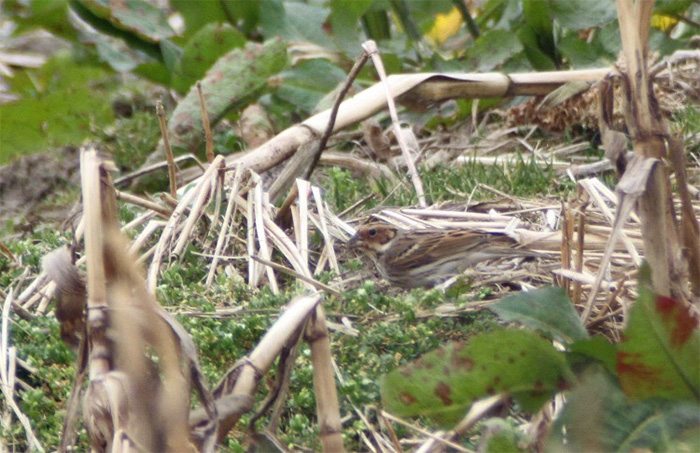 Surrey's supremely elusive Little Bunting was a sporadic visitor to the pager this week, seen to 25th and again on 27th in the fields near Pyrford while we close out this week's proceedings with two small groups of departing Waxwings, both in Highland - three were at Nethy Bridge on 23rd and another three were at Dulnain Bridge the next day.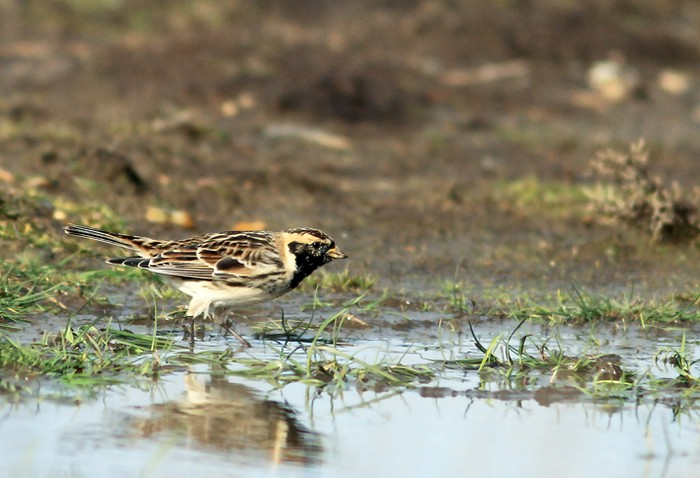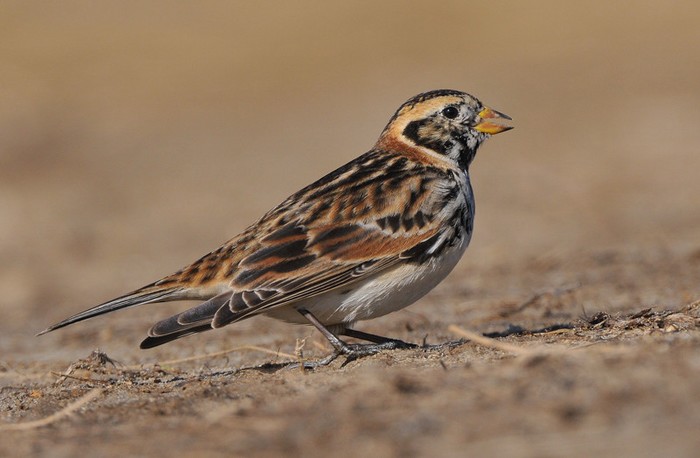 Last but not least - Lapland Buntings. This species has never featured in a rarity roundup before but this increasingly showy and devilishly handsome little group has been one of the draws of the late winter to the sea wall at Blakeney and as the males have taken on some stunning colour, they have, in the past three weeks or so, begun to sing.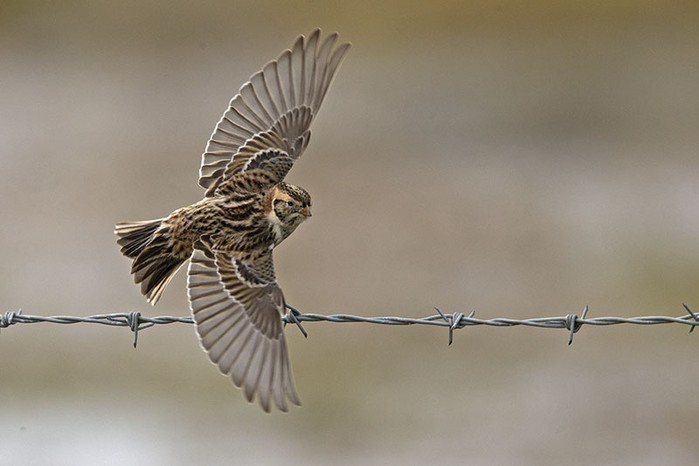 Most birders have never encountered this pretty jingle-jangle song in a British context and it really has been quite something to witness between one to three males in full flow at certain times recently - it really has been quite something. Gary Elton kindly sent through a clip of one of the Blakeney birds in song…what a treat!
The coming week…
April showers seem to be on the horizon this week; the winds look as though they may have a little wibble back to the northwest - which isn't in the slightest bit of use to any of us - but there is a suggestion, albeit a few days away yet that more promising early April weather may be lurking not too far away…
While some have been having their fill of that magnificent Gyr up on the Hebrides recently, we're in to peak time for this jawdropping raptor and a bit more northwest wind may push another our way in the next seven days - there have been 28 accepted records in the week ahead, including seven for March 31st and eight for April 2nd. Mainland birds are still much appreciated and none more so than the 30 years ago this week stunner at Berry Head.
Three decades on and it still has a significant "wow" factor…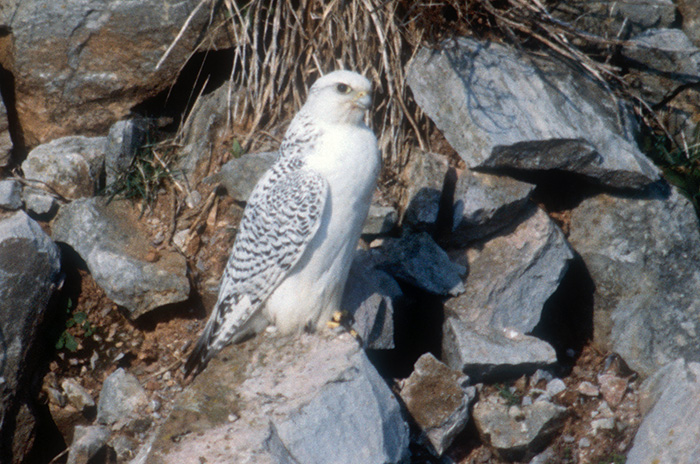 Other Devon rares that seem a little less likely to grace the pages of next week's review are two further birds who's appearances were responsible for huge twitches when they surfaced first time around - March 30th 1992 saw the Lundy Ancient Murrelet appear for the third and final year to the island while the well-received Semipalmated Plover returned to Dawlish Warren on March 31st 1998 for a second spell on site.
If there's a waft of southeast or easterly winds this week, south coast watchers may want to keep Short-toed Treecreeper in their thoughts (there've been three in the week ahead, all in Kent, two at Dungeness) while there's also been the very occasional, very rare lark to play with too - turning back the pages to the 60's, a Crested Lark spent a day at Marazion (on April 4th 1965) and Britain's first-ever Calandra Lark was discovered at Portland Bill on April 2nd 1961.
Should conditions prove favourable, don't forget those Red-flanked Bluetails (who'd think you'd say that 20 years ago)…five have been located in the seven days that lie ahead; March 30th 2014 saw one arrive on Fair Isle, while March 31st has scored two - at Easington in 2007 and on Lewis in 2012 while April 2nd yielded another double, on Out Skerries in 2007 and Durlston Country Park in 2012.
Add in the usual shouts of Alpine Swift, Great Spotted Cuckoo and even Scops Owl - along with a whole stream of other quality birds from further afield, well there's much to wonder about in the next week.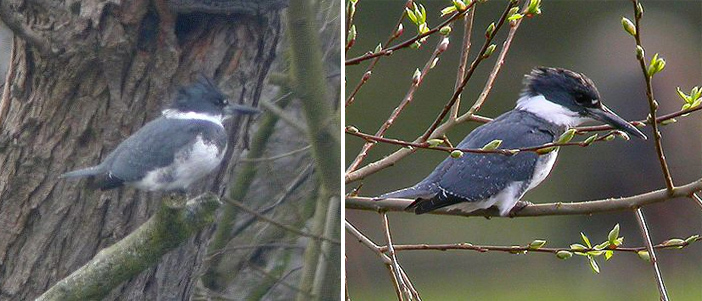 There is, of course, one bird that can't helped but be mentioned (as it is every year…) - that gobsmacking Belted Kingfisher which fooled no one on April 1st 2005 when found at Shugborough, in Staffordshire. The bird departed overnight and, incredibly, was found the next day in East Yorkshire, at Eastrington (near Howden) but left in no time at all. That seemed to be that until, to many people's astonishment, the bird was located for third time, some 360 miles north, at Peterculter in Aberdeenshire on April 5th, where it remained to April 8th.
A once-in-a-lifetime find, for three people through the week, two from the same family, 100's of miles apart. Truly remarkable and a record, along with some of the others mentioned above, that mean that the serious rarity finder really needs to have their "game face" on…
You may now flip…
Mark Golley
30 March 2016
Special thanks this week to finder Brian Small and also to Jeff Higgott for their assorted Thayer's Gull shots from Minsmere. Thanks too to Tim Loseby for his archive Gyrfalcon and to Gary Elton for his Lapland Bunting soundfile. Thanks also to the rest of this week's contributors for their photos and videos.
Graham Clarke, Derek Charles, Tim Loseby, Nick Watmough, Carl Baggott, John Sanders, Steve Gantlett, Keith Stone, Niall Keogh, Jeff Hazell, Andrew Last, Mark Chidwick, Dave Hutton, Mark Leitch, Richard Gannon, Paul Kelly, Richard Rafe, Alex Shepherd, Jonathan Farooqi, Joe Pender, Simon Warford, Ron McIntyre, Louie Horleston, Penny Clarke, David Mercer, Chris Upson, Stuart Piner, Darren Robson.
Please note: we put a lot of time and effort into sourcing and and producing the images, videos and graphics for each roundup. Some of you (probably Apple users) may notice some photos etc. that appear to have incorrect captions. Please try refreshing the page as they are correcty captioned. If after a refresh they are still showing the incorrect captions then please email us
Contributors websites