Weekly round-up: 17 - 22 Dec 2014
The week at a glance
American Herring Gull lands in Co.Donegal
The Ivory Gull finds something tasty in the Western Isles
Yorkshire's first Blyth's Pipit is still hanging on in there
As is the male Eastern Black Redstart down in Scilly
And news of a probable Snowy Owl emerges from Cornwall
It felt a lot this week like what passes for winter these days. One of those weeks that mixed up cold bits and mild bits and rain. Lashings and lashings of rain, for some of us anyway.
None of which seemed to dampen our respective seasonal cheer. It's hard to feel mis when there are quality rare bird goodies out there to be seen, particularly when they're a mix of eastern passerines and Arctic splendour, and most especially when one of them's an early Christmas present for your own correspondent...
This will be the last Rarity Round-Up of what's been yet another spectacular year for British and Irish birders – we'll be back in the New Year - so rather than try to second guess the bookies and predict what the weather's likely to be between now and early January, let's just dive with no further ado into the last few days.
American Herring Gull
Do you remember the World Cup? While Mark was drinking pina coladas on the beach in Rio (sorry "working in Brazil"), I was your regular columnist in the Rarity Round-Up. And every week I at first confidently, latterly desperately, and ultimately despondently predicted a Pacific Golden Plover would be found somewhere.
And it took how many weeks before one finally paid attention to the statistics and turned up? Pretty much the entire football tournament, that's how long.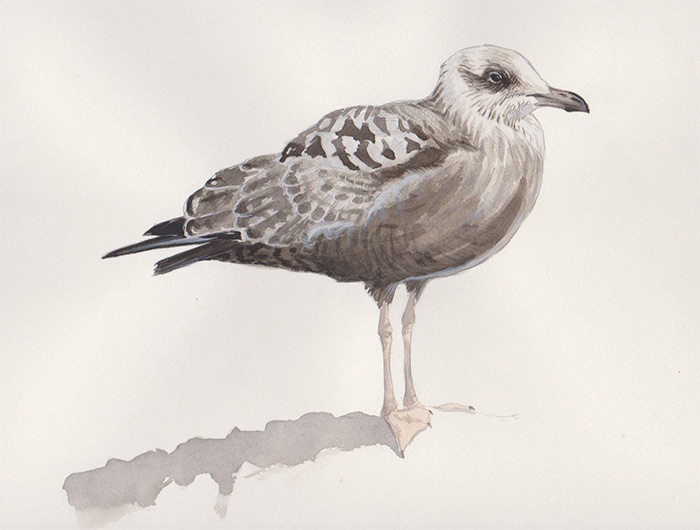 I'm not saying it's been a poor year for my predictions – I had a good spell in the spring, after all – but all the same. The plover left my mystic credentials in tatters. Step forward this week's first-winter American Herring Gull at Killybegs (Co.Donegal) on 20th, as confidently predicted at the close of last week by yours truly. Was ever a brown baby gull so well-received by a Rarity Round-Up writer? Get in.
Ireland of course dominates proceedings where smickers are concerned, with a hefty 91 accepted records to the end of 2012, so if one was going to be anywhere, Ireland was always a good bet. And if one was going to be found anywhere in Ireland, canny money would go for Killybegs – of the 10 records (involving 12 birds) from Co.Donegal, all but one have been from that fabulous gull Mecca.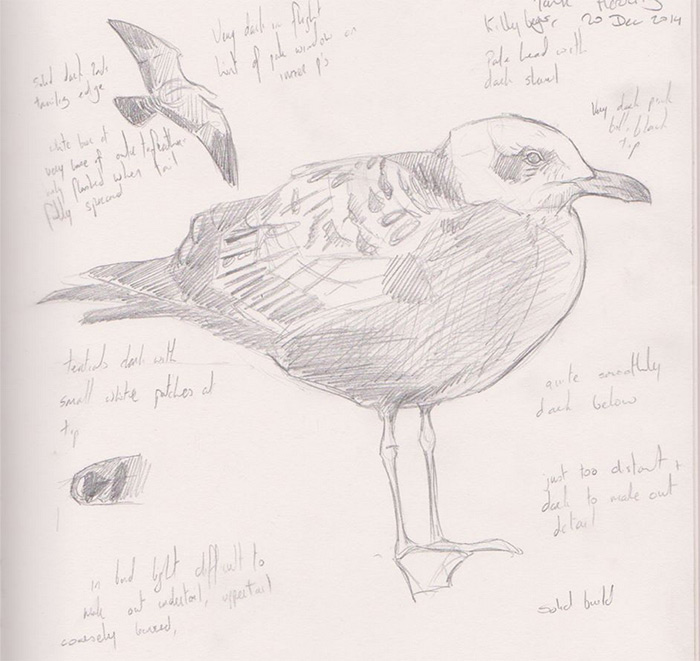 No further news emanated from Killybegs after 20th, but you'd imagine there will be more American Herring Gulls in Ireland before the winter's done with. A far rarer proposition in Britain, a possible first-winter was reported on the Hayle Estuary (Cornwall) on 18th, but not thereafter.
Ivory Gull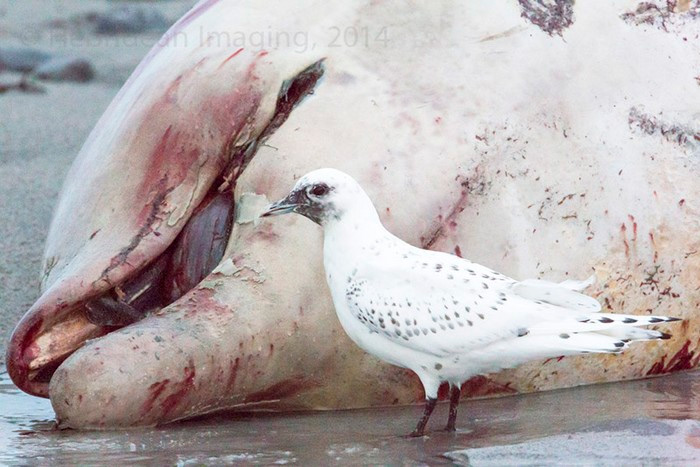 "Had a look this morning at Lochs Fada and Mor for the Ivory Gull that has been around since Saturday but there was no sign of it so headed off to do the business of the day - measuring and taking a sample for the SAC from the poor unfortunate Cuvier's Beaked Whale that is washed up on the beach between Stinky Bay and Liniclate. What should fly in when we were measuring - yup the Ivory Gull It actually landed on the whale while we were measuring it! What a stonking bird!!"
Yvonne Benting
Last week's beautiful Ivory Gulls remained in the Western Isles this week on 18th, having relocated on Benbecula to Borgh. Why Borgh, you may well ask. Well, if there's one thing an Ivory Gull really, really likes, it's a big pile of rotting blubber. And what more delectable lump of exclusive protein could a gull wish for than a dead Cuvier's Beaked Whale. No common or garden Sperm Whales or Grey Seals for this bad boy, oh no.
And the happy event was captured for us all to share (probably for the best it's not smell-o-vision) by Yvonne Benting in what for me just pips the Short-toed Eagle'n'Grass Snake photo from earlier in the summer for the title of rare bird photo of the year. No artful portraiture, just a stunning bird feeding from a rarely encountered (albeit in this instance, rather unfortunate) cetacean. It does it for me!
Blyth's Pipit
Back down in West Yorkshire theBlyth's Pipit remained available all of this week at Pugney's CP. With this bird having been here for 15 days at the time of writing, we're firmly into Gringley Carr territory – a fair number of us enjoyed the bird that stayed nine days there in late 2002 and early 2003. Barring any adverse weather event, you'd be forgiven for hoping now that this Yorkshire bird stays put and sees us into 2015.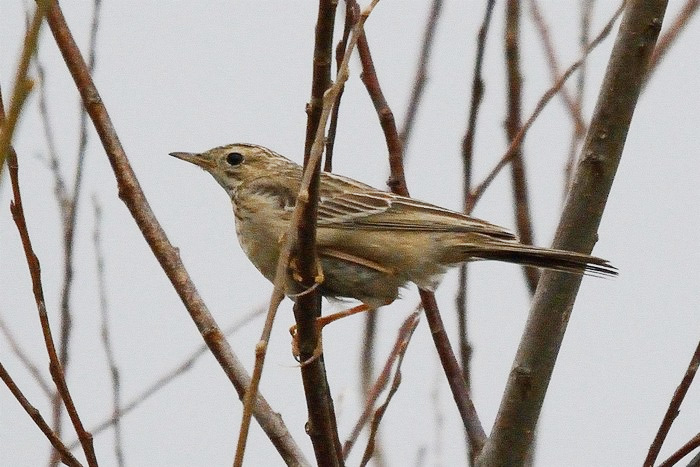 Eastern Black Redstart
Down in the very lovely surroundings of Scilly, the Eastern Black Redstart stuck around for another week on St.Mary's. If I wasn't hoping for one in Shetland in the coming year or two I'd almost feel tempted by doing an end-to-end of the country twitch for this (and to see my family in Cornwall at Christmas, obviously).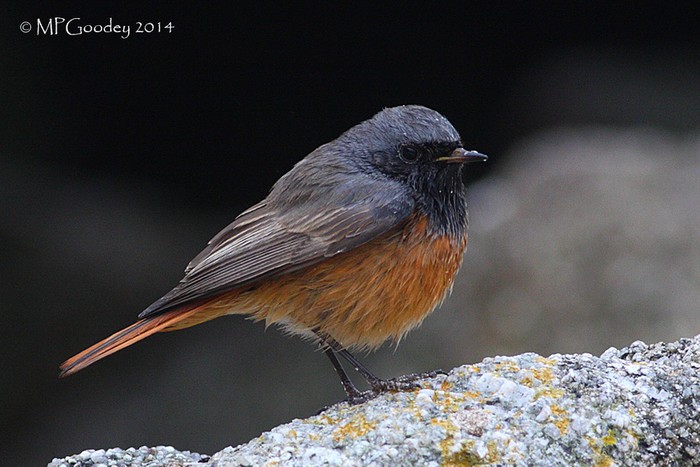 Snowy Owl
News trickled out of Cornwall on 21st of a probable Snowy Owl seen there the previous day at St.Buryan. Shades then of the bird that spent 120 days overwintering in the county in 2008/2009 (a bird which, if I were to feel tempted by a family trip to see the Eastern Black Redstart I should recall as a salutary lesson – I schlepped all the way down there and dipped that particular snowy executioner). While this latest report has yet to firm up into a nailed-on definite bird, there'd be many a birder who'd welcome another chance at an available bird on the mainland in the south of England.
For anyone considering a trip to Cornwall (not me, obviously) there was more reassuring news from Mount's Bay on 20th – the Pacific Diver was still there.
Belated news came this week of a Brunnich's Guillemot in Highland last week, seen 20 minutes out to sea from the Uig-Lochmaddy ferry on 14th. A return to more conventional form (well, almost – this one was alive) after the unexpected Christmas cracker last year in Dorset.
Numbers of Little Auks fell further away with just under 30 birds logged this week. Almost all of these were single birds, but Flamborough (East Yorkshire) managed an extremely respectable 17 on 20th.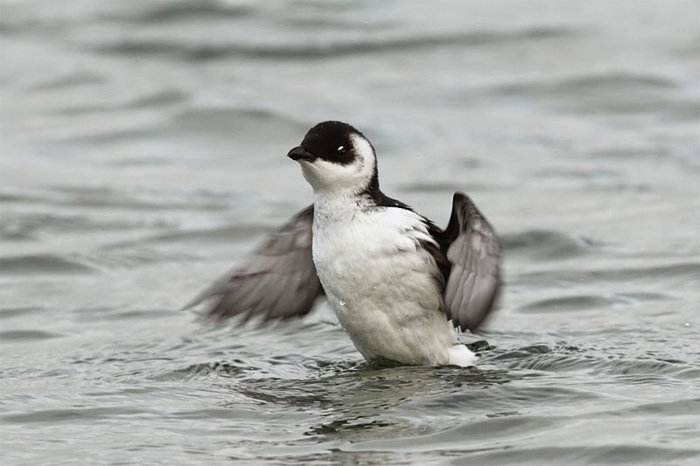 That same day the eagle eyes on Flamborough also logged the week's stand-out tally of Pomarine Skuas, clocking 14 birds passing by. Filey (North Yorkshire) managed the week's other notable tally that day with six birds logged. Some 35 birds were seen in total this week, with one making it as far south as Dungeness (Kent) on 21st – and one lingered in the far north in Shetland, still lobbing around Yell Sound (but not within sight of land from Whalsay...) on 18th.
Our faithful trio of Cattle Egrets remained in Kent and Cheshire this week, with the pair still at Dungeness all week long, and the Cheshire bird still at Frodsham on 20th-21st.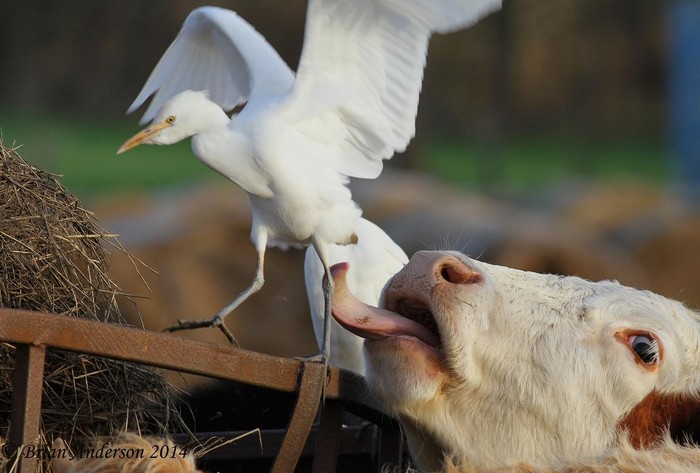 Dungeness racked up the top score of Great White Egrets again this week, with six birds noted there on 18th. Elsewhere, three birds were at Pitsford Reservoir (Nottinghamshire) still on 19th, with two birds there on 20th-22nd; and another duo remained at Rutland Water (Leicestershire) on 17th-19th. Other settled singletons were at Blashford Lakes (Hampshire) on 19th-21st; Chew Valley Lake (Somerset) on 19-21st; Summer Leys (Northamptonshire) on 17th-22nd; at Llangorse Lake (Powys) on 17th-19th; at Burton Marsh (Cheshire) on 18th; and at Paxton Pits NR (Cambridgeshire) on 20th again.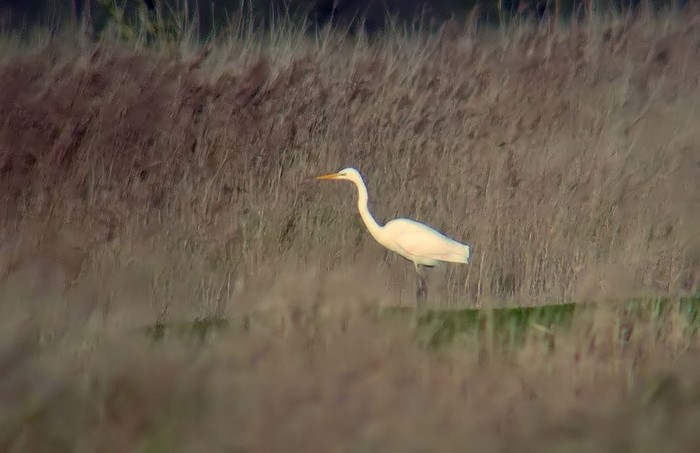 Further individuals were noted at Arne (Dorset) on 17th; on 18th over Worplesdon (Surrey) and at Catcott Lows (Somerset); at Out Rawcliffe (Lancashire) on 19th; from Dunwich Pools and Kessingland (Suffolk) on 20th; and from Admiralty Point (Norfolk) on 21st.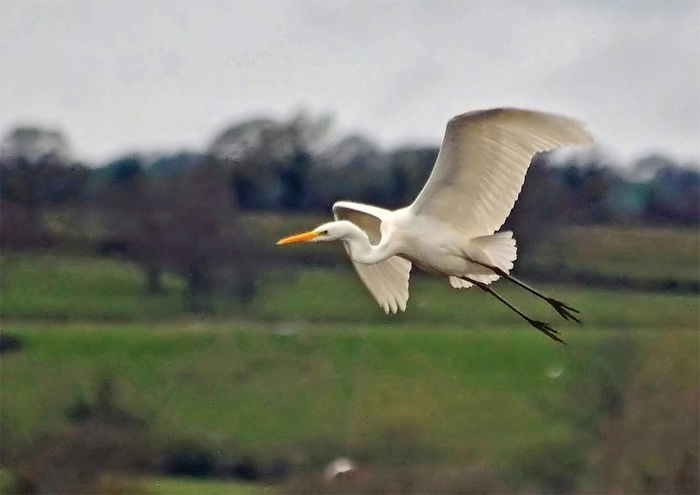 With not a squeak from a Glossy Ibis this week, we're reduced to scraping the ibis barrel with the American White Ibis which continued to feel at home at the Sevenoaks Wildfowl Reserve (Kent) on 19th-20th.
With no big counts coming out of Dorset this week, the overall return of Spoonbills was pretty modest, barely scraping into double figures. The West Sussex trio were (mostly) at Church Norton all week, with three noted at Snow Hill Marsh on 17th. Two remained in Ireland at Dungarvan (Co.Waterford) on 17th, with one there still on 20th. Dorset's Holes Bay yielded a mere two birds on 20th. One was in Suffolk at Boyton & Hollesley Marshes RSPB on 18th, and one was still on Scilly's Green Island on 19th-20th.
Co.Dublin held onto the mobile pair of Common Cranes noted last week, with flyovers seen on 20th at Donabate and Bull Island. In England, four birds were noted flying along the east coast, being seen initially at Hartley (Northumberland) on 17th before moving through Co.Durham and Cleveland and last seen heading over Middlesborough. Two flew over Wicken Fen (Cambridgeshire) on 21st.
Topping the week's honker headlines were a cornucopia of Canada Geese of one size or another. We kick off with the Lesser Canada Goose which remained at Wexford's North Slob until 21st . Scotland hosted a brace of Richardson's Cackling Geese on Islay at Loch Gorm (Argyll) on 20th and on North Uist at Balranald (Western Isles) with Barnacle Geese on 17th-21st respectively. In Lancashire meanwhile a pair of Todd's Canada Geese were at the appropriately named Todderstaffe Hall with Pink-footed Geese on 17th-20th.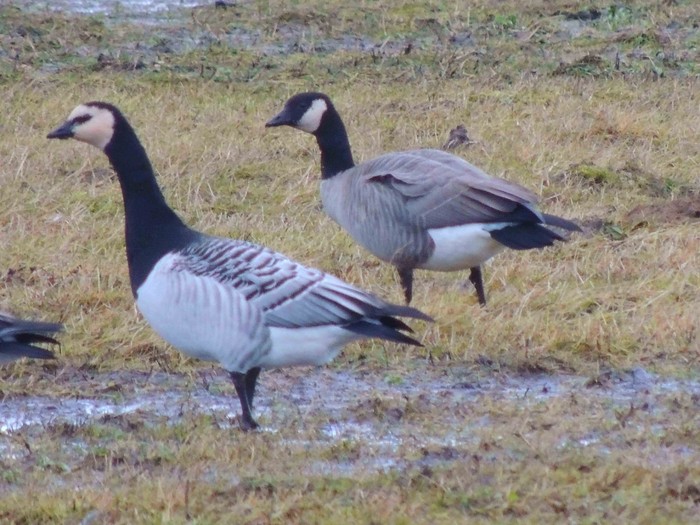 A possible Snow Goose was reported on 18th in Norfolk at Cantley Marshes RSPB.
Black Brants continued to crop up all over the place this week. The usual suspect lobbed along the north Norfolk coast, being reported on 19th-20th; and from Walsey Hills NOA and Admiralty Point on 18th. Other familiar faces were still at Darts Farm RSPB (Devon) on 17th-21; at Kilnsea (East Yorkshire) on 18th; and Levington (Suffolk) on 18th-22nd. Further individuals were noted in Kent at Lower Halstow on 17th-19th; on 18th in Lincolnshire at Saltfleet; on 20th at Butterstreet Cove (Dorset); and on 21st on Blackwater Estuary (Essex) and at Castlegregory (Co.Kerry).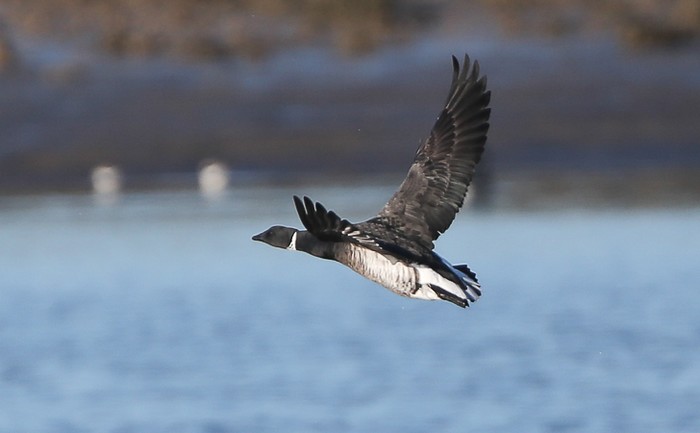 The first-winter drake Surf Scoter was still off Stutton Ness (Suffolk) on 17th-21st, and the drake remained off Musselburgh (Fife) on 20th. Five individuals were noted at Old Colwyn (Conwy) on 19th.
A queen King Eider was the week's sole royalty, with a bird again reported from Basta Voe, Yell (Shetland) on 18th.
The drake Ferruginous Duck was still at Blashford Lakes HWT reserve (Hampshire) on 19th-21st.
Four Lesser Scaups were recorded this week – the drake still on Linlithgow Loch (Lothian) on 17th-22nd; the drake still in Cardiff Bay (Glamorgan) on 20th; the first-winter drake on Trabboch Loch (Ayrshire) on 17th-20th, and a reappearance of 'The Saddled One', the drake in Powys on Llangorse Lake on 17th.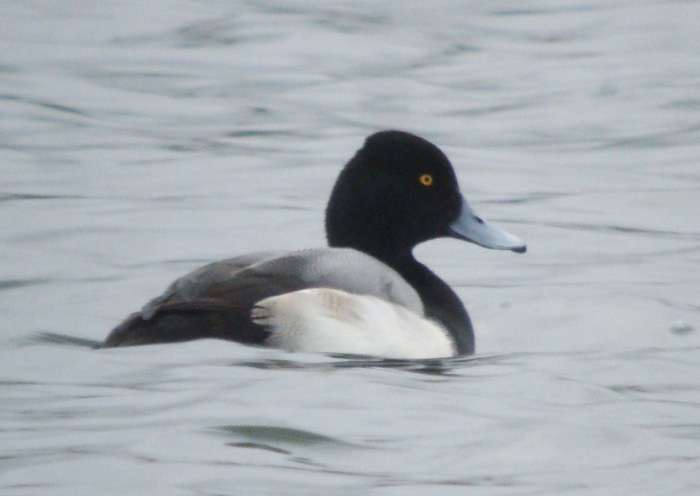 A fall in numbers of Ring-necked Ducks reported this week, none more so than at Lough Leane (Co.Kerry) where last week's three was down to a single female this week still on 17th-20th. Elsewhere, another female was on Lough Ennell (Co.Westmeath) on 20th, two female/immature birds were at Carlingwark Loch (Dumfries & Galloway) on 21st, and the first-winter drake remained on Loch a' Phuill on Tiree (Argyll & Bute) on 22nd.
There was a similarly denuded tally of Green-winged Teals, with the regular Caerlaverock (Dumfries & Galloway) bird there all week and augmented by three other birds – one still in the Western Isles at Loch Sandary on 18th, and at Balranald RSPB on 20th; in Suffolk at Orford Ness on 21st.
Seven American Wigeons were seen this week – the two females remained on the Gannel Estuary (Cornwall) until 22nd, while drakes were at Yelland (Devon) still on 19th; Marshside RSPB (Lancashire) on 20th-21st;at Slains Pools (Aberdeenshire) on 21st; and at Tullaghan (Co.Leitrim) and Cloddach Quarry (Moray) still on 22nd still on 22nd.
In Suffolk, the pair of Trumpeter Swans remained all week at Boyton & Hollesley Marshes RSPB.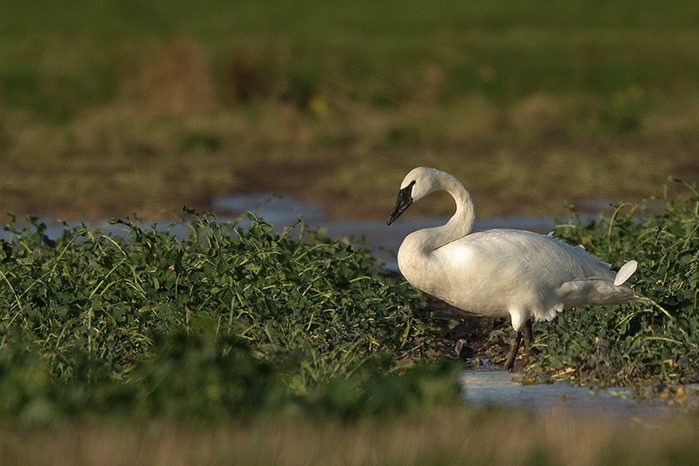 While concerning neither a goose nor a duck, the waterbird section closes for 2014 with news that the Green-winged Teal at Balranald RSPB (Western Isles) continues to share that body of water with the American Coot, the latter still there on 20th at least.
<!—Section Title -->
The Lesser Yellowlegs on the Rogerstown Estuary (Co.Dublin) topped the slender shorebird bill this week, still there on 18th, and reported again on 20th.
One reasonably settled Grey Phalarope was seen on 18th-20th in Lancashire at Rossall Point, while two were in Norfolk at Filby on 22nd, and one was in Lothian at the mouth of the River Esk that same day.
In Co.Galway the adult Forster's Tern was seen again this week, at Newtownlynch Pier on 20th. In Devon meanwhile the adult Bonaparte's Gull remained at Dawlish Warren NNR on 20th-21st at least.
The regular Ring-billed Gulls remained this week in Hampshire at Gosport on 18th-21st, and in Co.Waterford at Tramore on the boating lake on 20th. Further single birds were in Cornwall on the Hayle Estuary on 18th and 22nd, at Llys-y-fran Reservoir (Pembrokeshire) on 19th, and in Devon at Goodrington on 22nd – on another boating lake - there's a moral in that somewhere... Four birds were at Nimmo's Pier (Co.Galway) on 20th – two adults, a first-winter, and a second-winter.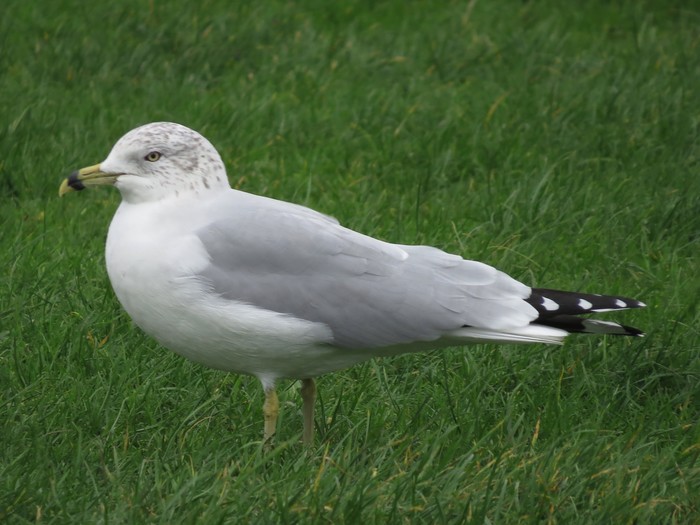 Still little change where white-wingers were concerned this week. 17 Glaucous Gulls were scattered with a largely northerly distribution: Scotland accounted for half of these, with two birds on Fair Isle on 19th; England claimed five birds, with the most southerly of all being on the Hayle Estuary (Cornwall) on 17th; and the remainder were in Ireland.
Numbers of Iceland Gulls were ever so fractionally up on the week before, with some 20 birds noted across 14 counties including birds as far south as Cornwall and London. All were singletons bar two birds (an adult and a juvenile) at Pugney's CP (West Yorkshire) on 21st, and two at Tarbat Ness (Highland) and Fair Isle respectively on 22nd. Two possible Kumlien's Gulls were reported from Scrabster (Highland) on 17th, with another possible on the Lossie Estuary on 22nd, and confirmed Kumlien's individuals in Shetland on 22nd at Scatness and Fair Isle.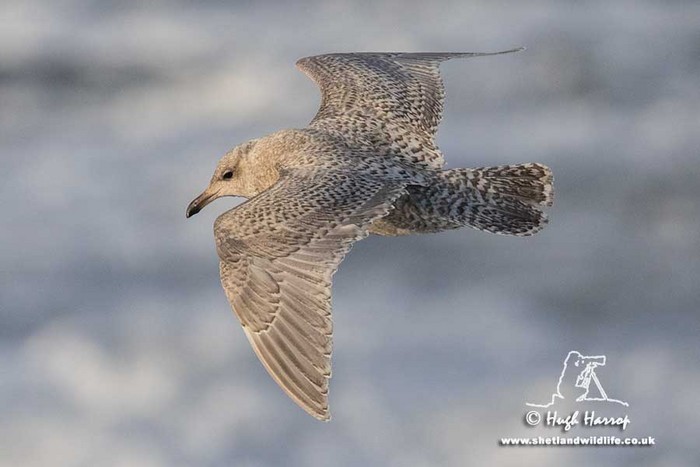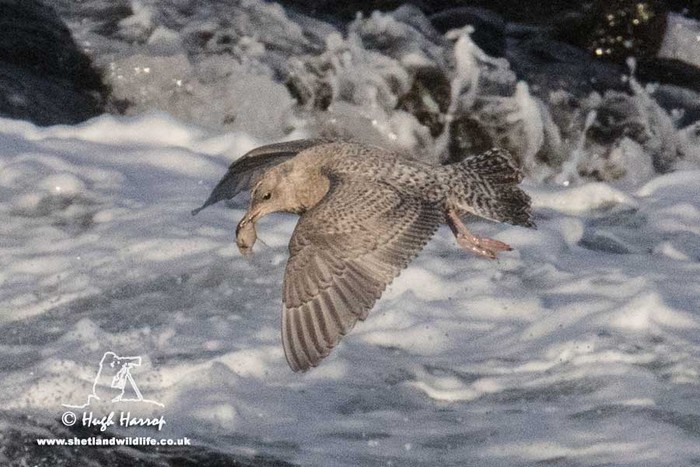 Rough-legged Buzzard continued to put on a good show this week, with birds reported far and wide.
As is becoming our habit, we kick off in Norfolk,where two birds were again at Burnham Overy on 17th-21st. Elsewhere in the county individuals were seen at Halvergate Marshes on 17th-21st still, at Welney on 17th-18th and at Blakeney Point on 21st. Individuals remained in Cambridgeshire at Holme Fen NNR on 17th-21st, and in Lincolnshire at Frampton Marsh RSPB again on 19th and still at Heckington on 20th-21st.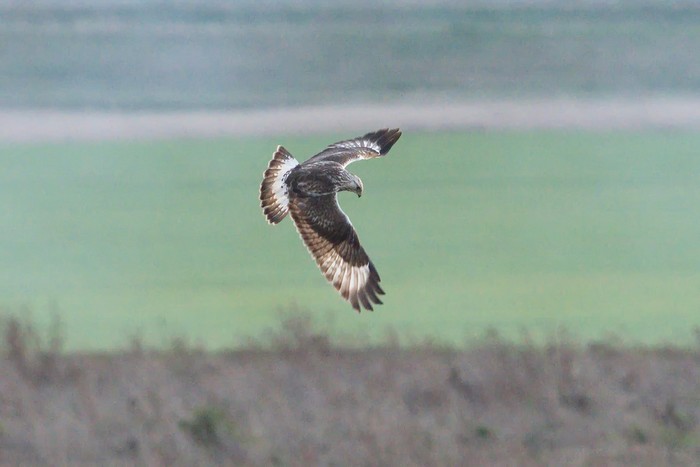 Others remained in Hertfordshire at Braughing on 17th; at Jevington (East Sussex) on 17th-22nd; at Sleddale (Cleveland) on 17th-19th; in South Yorkshire at Wigtwizzle on 21st; in East Yorkshire at Grindale on 21st; in Essex at Wallasea Island on 17th-21st, with another reported from the county at Hamford Water on 20th; at Quarrington Hill (Co.Durham) on 17th; and in Dumfries & Galloway at Mennock Pass on 17th-20th.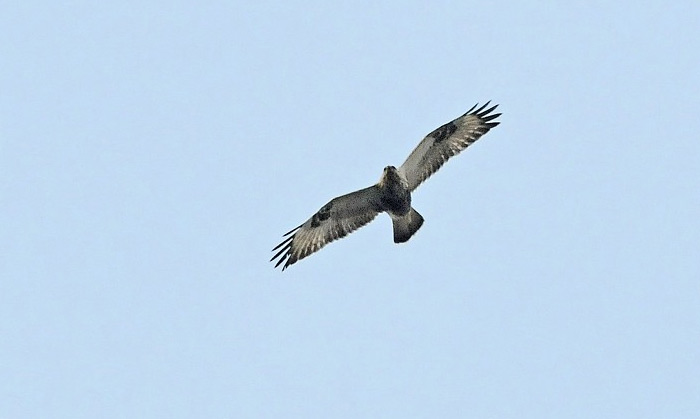 Devon once again provided us with Penduline Tits this week - three birds were once again at Topsham on 18th-19th, and two birds (both males) were at nearby Bowling Green Marsh RSPB on 20th.
Pulses were raised in London this week with a possible (but mobile) Northern Long-tailed Tit from 19th-22nd in Sydenham Hill Wood LNR. A good bird, if confirmed, anyhere, but rather brilliant for London.
New Yellow-browed Warblers were noted in Cornwall at Penryn on 20th (for it's sixth day), and in Hampshire at Stockbridge on 21st. Previously noted birds in Devon were at Beesands again on 17th, and at Broadsands 18th-22nd.
In Dorset, Portland Bird Observatory held onto the Barred Warbler for another week. Challenging this individual for the title of most unlikely passerine of the week was the exceptionally late Wryneck that popped up in Scilly on St.Mary's on 19th. (Even more unlikely still was the Common Bulbul still in a private garden in Cam (Gloucestershire) on 19th...)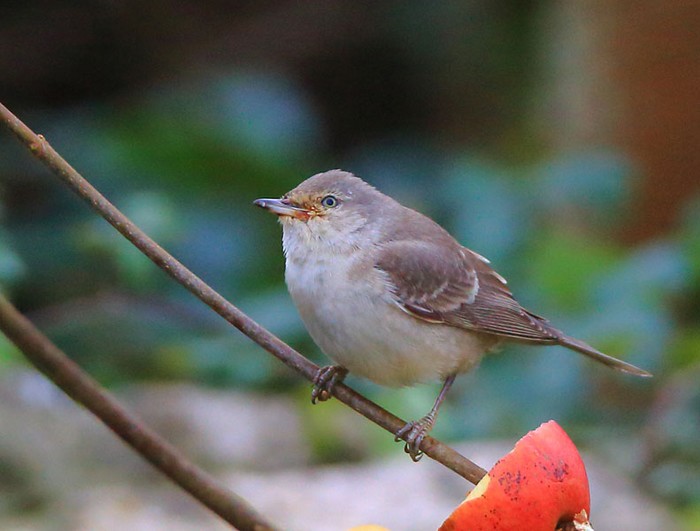 Richard's Pipits remained a feature of the early winter period, with two birds now in North Yorkshire at Cloughton Wyke on 20th-21st; the Redcliff Point bird still in Dorset on 17th-22nd; one still at Horse Eye Level (East Sussex) on 17th-20th, and one again on Pevensey Levels on 19th; one at Horsey (Norfolk) on 20th, and a further probable bird in Devon that day over Start Point. All of which, not to mention other birds seen in the past few weeks, and the Yorkshire Blyth's rather begs the question of how many large pipits there might be out there lurking unseen in the nations rank grassland and crops. Food for thought for the dedicated inland local patchworker.
22 Great Grey Shrikes were recorded this week from 15 counties. As usual, settled birds account for the bulk of these, but a handful of new birds were logged too. In Kent, the Chilham bird remained on 17th-22nd, with another logged on 20th at East Barming. Reports aplenty came from Devon, with birds noted at Aylesbeare Common RSPB again on 18th, Headland Warren area still on 19th-20th, and Manaton on 20th. Birds remained in Surrey at Thursley Common on 17th-18th and Frensham Common on 20th; from Hampshire, birds were reported at Milkham Enclosure still on 19th-21st, Great Litchfield Down on 19th, and Bransbury Common on 20th-22nd.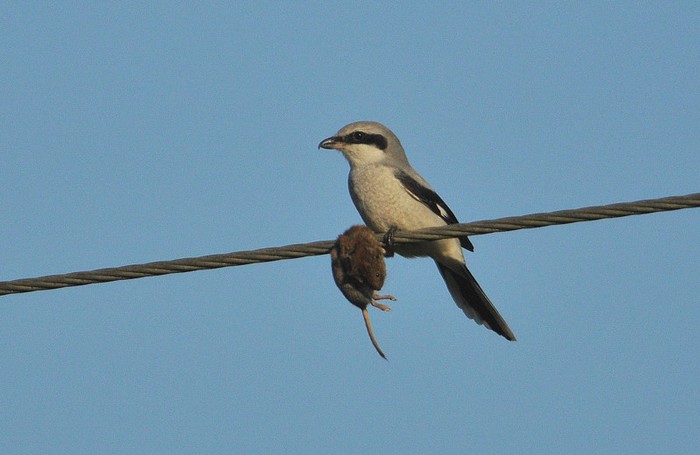 Other birds remained in Gloucestershire at Crabtree Hill on 18th; at Lytham Moss (Lancashire) on 18th-21st; at Roydon Common (Norfolk) on 20th-21st; at Thorne Moors (South Yorkshire) on 19th-22nd; at Iping Common (West Sussex) on 20th still; at Santon Downham (Suffolk) on 19th-20th; in Glamorgan at Afan Forest Park on 20th; on Beeley Moor (Derbyshire) on 21st still (with one at Wingerworth on 18th); at Horwich (Manchester) on 20th again; and at West Hartford (Northumberland) on 17th-21st. A final new bird for the week was in Glamorgan at Duffryn on 22nd for at least it's third day.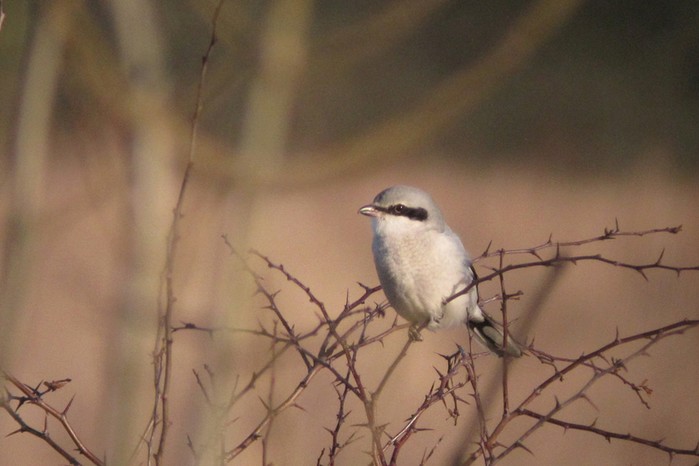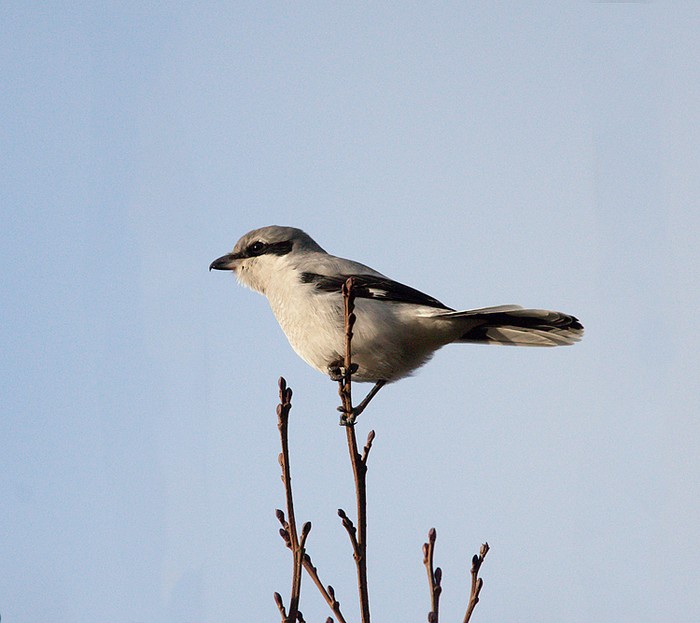 What's more appropriate for Christmas than a colourful flock of Waxwings? Numbers lifted somewhat on recent weeks, with 45 birds reported nationwide, and a couple of double-figure flocks to raise the spirits: 18 birds in Aberdeenshire at Westhill on 21st and, further south, 15 birds in Leicestershire at Groby on 17th-19th.
And that brings us to the end of the week's Rarity Round-Up – and indeed, 2014's last account of the weekly happenings. Fear not though, we're back in the New Year, and until then, you get a daily fix of rare bird shenanigans courtesy of Mark's 12-ish Birds of Christmas. There's a lot of festive birding cheer coming up...
Meanwhile, if Santa's kind to you and you have new optics to play with, or you just head outside to try to walk off the mince pies or clear your head the morning after, there's always the prospect of stumbling across something interesting in the closing days of the year. Remember what happened in Dorset last year? Yes, it's worth keeping your eyes peeled, even now.
Peering back through the ages, there's a surprising variety of good stuff that's been turned up in the coming days of yore; but let's keep it realistic for this final wild stab in the dark that's making a prediction for what's around the birding corner.
No matter what the weather, it's always worth checking out your local freshwater bodies at this time of year, so get yourself down the local lake or reservoir, escape the Christmas specials on TV, and pull a Ferruginous Duck, Lesser Scaup or similar out of the bag. Christmas might be all about the turkey, but I think I'd prefer a rare duck...
Meanwhile, have a good one, everyone. I'll see you next year.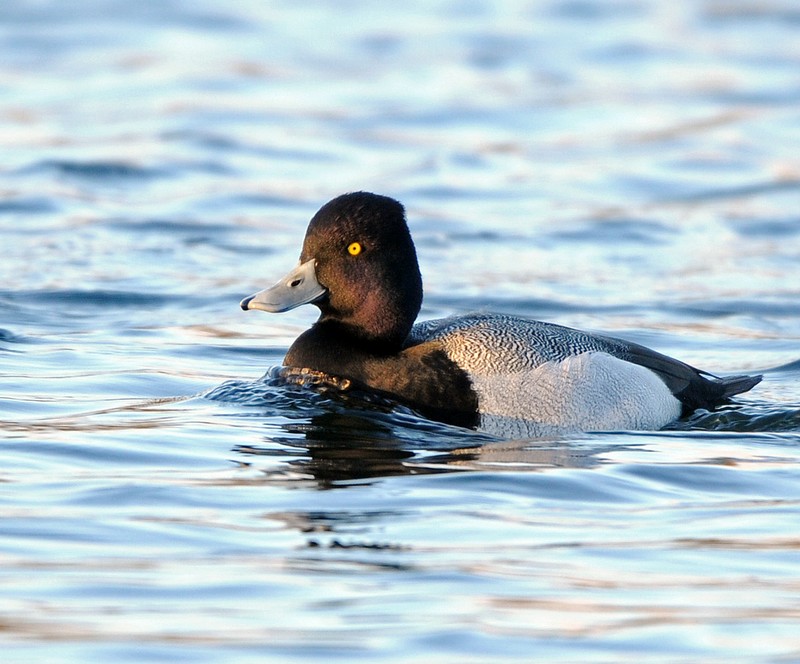 Jon Dunn
23 Dec 2014


Thanks to all of our contributors for their photos, videos and sound files.
Steve Duffield - Western Isles Wildlife, Dermot Breen, Hugh Harrop - Shetland Wildlife, Martin Cade - Portland Bird Observatory, Yvonne Benting, Mick Hemmingway, Mick Goodey, Ashley Fisher, Brian Anderson, Kris Gillam. Barry Woodhouse, Lee Gardiner, Roger Auger, Sean Nixon, Martin Scott, Chris Upson, Mike Langman, Neil Fox, Paul Rowe, Angus Hogg, Michael Trew, David Mercer, Jonathan Farooqi, Graham Clarke.
Contributors websites Check out our contributors website for more great photos and news