Record breaking year for Cornish Choughs
Twenty-three newly fledged Choughs have taken to the skies of Cornwall, making this the most successful breeding season since the bird made a surprise re-appearance 15 years ago.
A new milestone has been reached for Cornish coughs as twelve pairs attempted to breed this year and eight of those pairs have successfully reared young, meaning there are now some 54 Choughs flying above the Duchy of Cornwall.
Chough were once a common sight in Cornwall but by 1973 the bird had become absent from the area. However, in 2001 three Choughs, now known to have come from Ireland, made a surprise re-appearance – three decades after the last surviving Chough had been seen in Cornwall.
Choughs can begin to breed at two years old but this season one-year-old birds have successfully reared young, an extremely rare event barely documented before. And Choughs are once again breeding in the Roseland area, probably the first time they have done so since the 1820s.
Nicola Shanks, RSPB field officer, said: "I hope that everyone, the volunteers who help monitor the Choughs, the farmers who work to provide crucial habitat for them, and the Cornish communities that support 'their' Choughs are as proud as I am."
A newcomer has also joined the Cornish Chough population, demonstrating movement between Brittany, Cornwall, Ireland and Wales is increasingly regular. New arrivals and their offspring are important to the health of the resident breeding population.
Nests all round the coast have been closely watched by volunteers from the RSPB/National Trust every breeding season since their return and this year has been no different.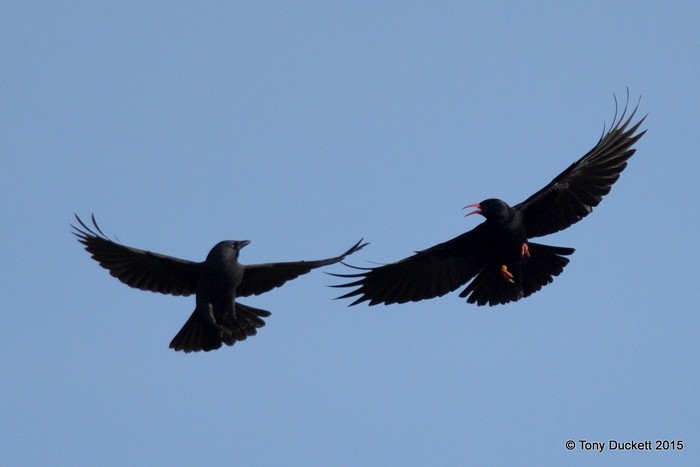 Geoff Rogers, who has been a nest-watching volunteer for three years, said: "The Choughs take over my spring and summer, I am out most days at one of the sites doing my bit to help protect and watch over them."
Paul Mason, nest-watching volunteer, said: "I joined the Chough volunteer team this year and watched over a pair at a new site on the north coast. I was a bit apprehensive to start with but what an experience it's been.
"I've enjoyed every minute of my watches despite rain, wind and anxious moments worrying about the birds. The thrill of seeing the chicks appear was more than worth it and I'm definitely going to continue volunteering. Choughs are addictive."
Where to watch Choughs around Britain and Ireland
Now is a great time to see Choughs around the Cornish coast and on many RSPB reserves across the country including South Stack in Wales, Rathlin Island in Northern Ireland and Oronsay in Scotland. To find an RSPB reserve near you and discover the amazing wildlife that makes its home there, visit www.rspb.org.uk/reserves
Partners in the Chough Conservation Network in Cornwall, the RSPB, the National Trust and Natural England would like to thank everyone involved for their interest and support.
RSPB
05 July 2016