Update: 15-10-2015, photos added
Finders-in-the-field: Wilson's Warbler, Lewis, Western Isles, 13 Oct 2015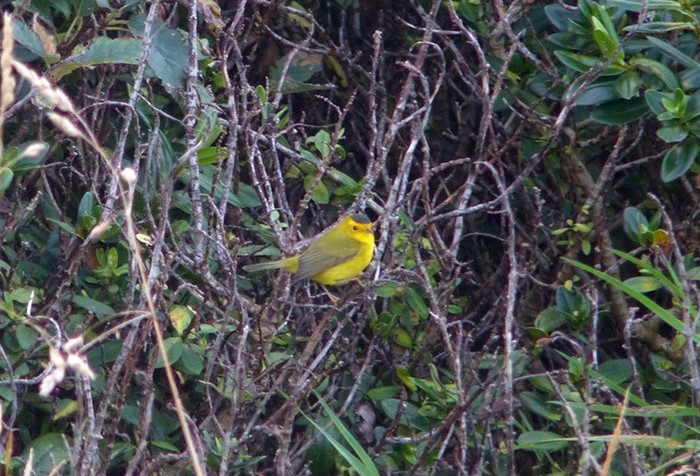 Roy Dennis is an old friend from the 1950s when he lived in Hampshire and I lived in Sussex. We used to meet up at such early south coast birding sites as St. Catherine's Point on the Isle of Wight, Langstone Harbour and Farlington Marshes in Hampshire, and Chichester Harbour in Sussex. Roy left the south coast for Scotland where he became the RSPB's North Scotland Officer, and I slowly made my way north via Cambridgeshire and Norfolk to a holiday cottage near the Butt of Lewis. Here I've established a rather large, but very exciting, local patch which I've been watching daily in spring and autumn for the past seven years.
Roy came over to Lewis in April 2014 to open a new hide overlooking the Loch Stiapavat Local Nature Reserve; liked the area and its birdlife; and vowed to return. He said that the Butt of Lewis and its cliffs reminded him of Fair Isle, where he was the warden in the 1960s. Rather like Arni, he told me 'I'll be back".
And this week he was. Roy arrived on Sunday evening, with just two and a half days' birding before he caught the ferry back from Stornoway to Ullapool on Wednesday. Monday was a day of lovely scenery in a strong north-west wind (remembering that the Butt of Lewis is in the Guinness Book of Records as the windiest place in Britain) and we found 44 Barnacle Geese and a couple of Blackcaps in the morning around the Butt. We had a successful afternoon visit to the south-west of Lewis around Uig, with two Golden and two White-tailed Eagles, and on Uig Sands 138 Golden Plovers and a Knot. We returned home satisfied after a good day's birding in the autumn sunshine.
Tuesday dawned clear, bright and sunny with a spectacular view across The Minch to the Scottish mainland, 50 miles away. The morning we spent around the Butt: a ringtail Hen Harrier mobbed by a juvenile Merlin, a Snow Bunting and in a Port of Ness garden, a Yellow-browed Warbler. There may be hundreds of these lovely little Phylloscopus warblers across Britain, but one per autumn is about the norm here. We need the wind from the west to bring us the goodies.
Lunch back at my house in Port of Ness became rather a relaxed affair, with no real urgency to be back in the field. We spent far too long talking about 'the good old days', and slagging off characters and personalities from our (rather long) past. Two pm arrived. Let's go! So off we went into the large and almost impenetrable garden behind my house, where owners David and Dolina Nichols allow me open access. Ten minutes later we found ourselves staring at a tiny bright yellow warbler in a Sitka spruce: Britain's only second Wilson's Warbler!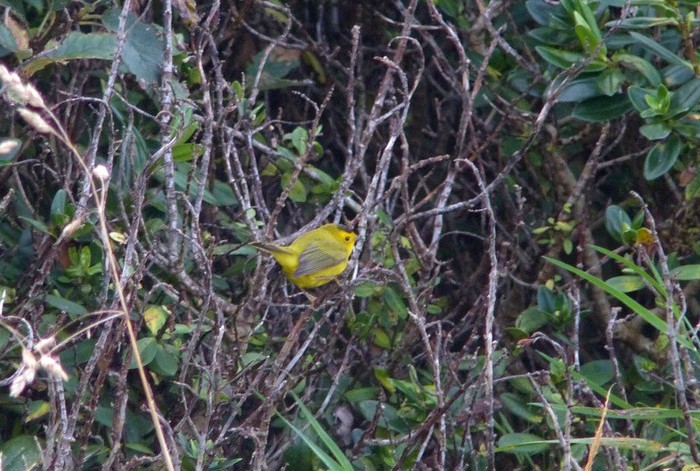 We first saw it at 2.20 pm, when I said to Roy "There's a Goldcrest flying towards us". It landed in the top of a small Sitka spruce only 10 metres from us. And it was bright, bright yellow below and olive-green above – no wing or tail markings. It was small and with a tiny bill. I thought I could see a black cap, but had to admit when Roy quizzed me later that I couldn't be absolutely certain. We both called at the same second: "It's a Wilson's Warbler!" It dropped down into the bushes and vanished.
At 2.45 pm Roy saw it again in the top of another small Sitka spruce. He had great views of the amazing yellow underparts of the bird, but before we could both get on to it flew and dived back into cover. He was able to be certain that there was no white in the tail. We spent several hours searching for the bird in vain, as we had not been able to obtain photographs.
Around 6.00 pm we were joined by Paul St Pierre and Jaclyn Pearson (from RSPB and about to start work tomorrow on the Shiant Isles rat eradication programme) who had driven up from the south of Harris on hearing the news. They searched for the bird and Paul refound it at 6.35 pm, only a few metres from where we had first seen it. Not only did he see the vivid yellow underparts, but he could see that the bird had a black cap! (It isn't dark here until about 7.00 pm).
This is the first record for Scotland; the second British record after the first one at Rame Head in Cornwall on 13 October 1985; and the third for Britain & Ireland after the bird seen on Dursey Island, Co. Cork, in 2013.
We await today with some anxiety. Will the bird still be here? How many birders will arrive? What will the fickle Hebridean weather be doing?
Tony Marr
Lewis, Western Isles
14 October 2015

Write for Rare Bird Alert
Do you have a birding story you would like to share? From foreign birding trips to your local patch, finders accounts and more, we would love to hear from you.
All our articles are free for anyone to view and we include them in our weekly newsletter which goes out to thousands of birders every Wednesday. We also share them on our Twitter and Facebook pages, making sure your article will get read by as many people as possible.
If you would like to write an article please for us please get in touch with your ideas, thank you.
The RBA team