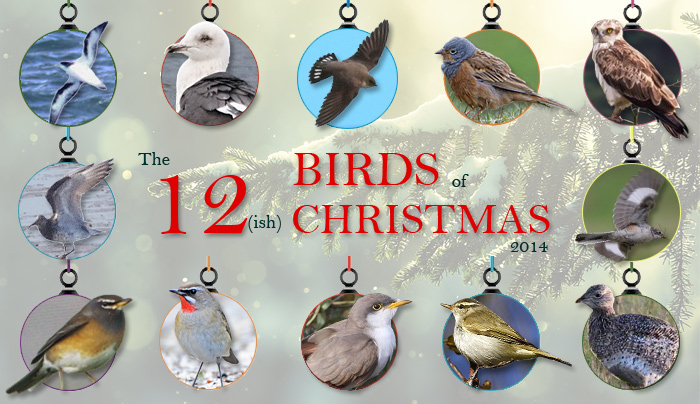 This time last year, some RBA toes were dipped in to the surprisingly stormy waters of a "Best Rare Image of 2013" thing - a little bit of heat being generated around some of the images selected (biff, bang, full-on full-frame often the only way ahead it would seem for many birders), so this winter's holidays see us head off on a different tack once again…
Rather than take a trawl through everything that's popped up on the RBA pagers, apps., website and weekly review to present them as an-end-of-year bonanza detailing the blow-by-blow account of the rare bird events of 2014, this year we're taking a little spin on the "12 Days of Christmas" to remember some of the most talked about birding moments of another busy, hectic year.
…and where better to start than with a bird that it seems only really the finder saw coming…a bird which, even now, on a sunny December Norfolk morning, remains a head-scratchingly fantastic occurrence - not only the bird of 2014 but, arguably, one of the finest birds seen on this side of the Atlantic in decades…

#1 Bermuda Petrel - Porcupine Bank, c.180 miles WNW of the coast of County Kerry, 19 May
Wow.
A truly "fabled" species - a species that you'd genuinely struggle to even begin to associate with a sighting anywhere close to the coast of a European country. Or so it seemed, until the middle of May this year.
May is, of course a month where the prospect of great birding and great birds is always high - it remains the most anticipated month of the spring for so many of us - but who-on-earth would ever predict that a stunning seabird would take the garlands, bouquets and plaudits…?
Well, actually, one remarkably astute Irishman - Niall Keogh.
In what has become the most prophetic and remarkable of any online birding dispatches, Niall tweeted an open-book image of something that was at the back of his mind as he headed down to Cork to board the RV Celtic Voyager…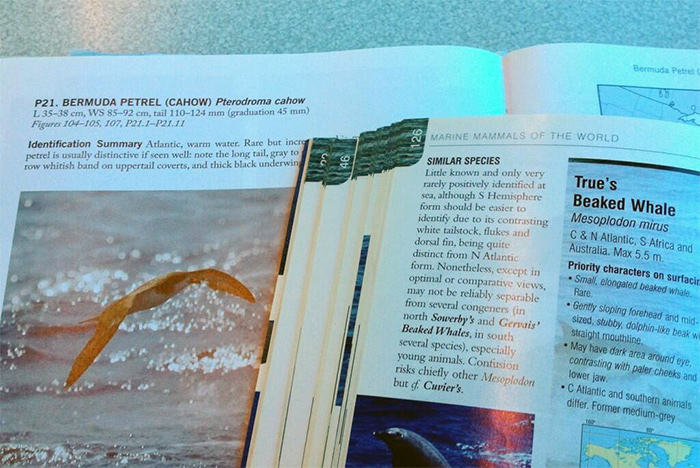 What a trip it must have been…and what an unbelievable moment it must have been - as there, hoving in to view sometime after 6pm on May 19th, loosely over the now-famous Porcupine Bank, around 180 to 200 miles WNW of Slea Head, off the coast of County Kerry (a mileage that rendered it as "tickable" for many - though this record far outweighs the "tick" element of it all…) was a stunning, heart-stopping Cahow - the Bermuda Petrel.
And almost as soon as they'd captured a few images for posterity, Niall managed to post the shots online to keep the doubters at bay.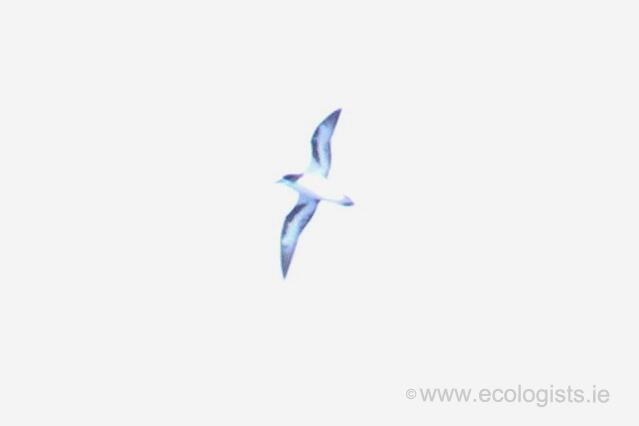 AWESOME!
What a gob-smackingly fabulous record…!
In those few moments of at-sea observation, Niall Keogh and his colleagues aboard the RV Celtic Voyager immediately realigned for so many of us the thought processes of precisely what does lurk off our deep-water ocean canyons to a whole new level.
In one-fell-swoop, they managed to take seabirding (on our side of the Atlantic at least) to a new place with this jaw-dropping record - ignoring the other Pterodromas, even by-passing the (very much) on-the-cards Black-capped Petrel and going right in, right over the top to land the Ace-in-the-Hole.
This, without a shadow of doubt, was Western Palearctic Pterodroma Motherlode.
Like the still-to-come Black-capped Petrel, Bermuda Petrel, despite its extreme rarity in world terms, has actually been an almost-expected ultra-vagrant to the seas way out off the Irish west coast - an expectation based upon solid scientific tracking data to back up many a seabirding experts' hunches.
A hunch that, as we know, Niall had been working his way towards for some while, a hunch that, upon hearing about just where the ship was heading, made him take a place on board with the notion of (however bonkers it seemed to some) of finding a Bermuda Petrel on the very voyage he was heading out on.
The bird was on view for around a minute, no more, and was seen by just a handful of people. Along with Niall, Ryan Wilson-Parr was on hand to rattle off a select number of shots - yes, they may have been of "old school" quality but no matter - they show an identifiable Bermuda Petrel off the Irish coast!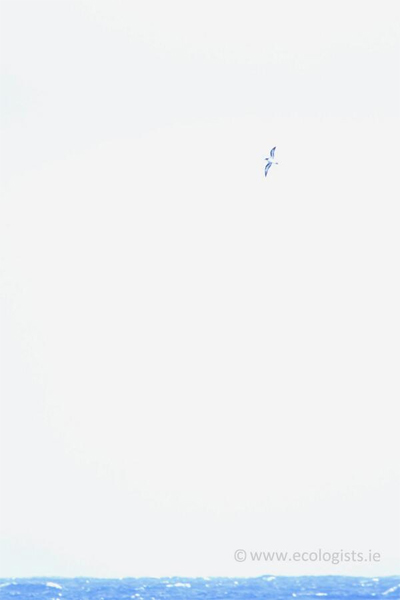 In their superb book, "Multimedia Identification Guide to North Atlantic Seabirds:Pterodroma Petrels" authors Bob Flood and Ashley Fisher wrote in detail not only about the at-sea idenification of Bermuda Petrel but also its known tracked vagrancy, one bird already coming to within less than 150 miles of Ireland. At the time of the record, the RBA round-up of that particular week included some of the more pertinent facts regarding the potential for vagrancy to British and Irish waters and it is perhaps worth a re-cap here again…
"Very recent geolocator studies of adult birds, giving 15 lots of usable data…(dispersal) in the non-breeding season is shown to have two concentration points: west and north of Bermuda, and off the Azores Islands in the northwestern Atlantic."
"…the only at-sea records away from Bermuda involve one photographed in the Gulf of Maine in June 2009, and a small number seen during short-range pelagic trips into the Gulf Stream off Hatteras, North Carolina (USA) where it was first recorded in 1993. Off Hatteras, it is a very rare but fairly regular visitor May-June….rarer and irregular July-September…with records in April and December."
Later in the book, the authors expand on the information with regard to two birds (from six viable individuals) who had their geolocators redeployed on them in early 2012 and their non-breeding season dispersal.
"Two…spent several weeks off northwest Europe, at times between southwest Ireland and northwest Spain, coming fairly close to land at both locations (about 125-150 miles), confirming waters of northwest Europe are part of the maximal range. Another bird spent two consecutive years between Bermuda and the USA during both breeding and non-breeding season. Nothing is known about the at-sea range of immature birds".
So, despite the general incredulity when this staggering record hit the news, this was perhaps a species that was actually on the cards and an article by Jeremy Madeiros, Bob Flood & Kirk Zufelt for North American Birding called 'Conservation and at-sea range of Bermuda Petrel (Pterodroma cahow)' provided further illuminating notes ahead of the Kerry sighting…
The paper indicated that a route taken by an adult Bermuda Petrel through March and April 2010 arguably pushed it closer to the Irish coast than this week's bird…and their foraging ranges outside of the breeding season suggests that someone, somewhere (with a fair wind and as many four-leaf clovers as they can muster) may just chance upon another, be it in Irish or even British waters - and a trip to Porcupine Bank would seem a likely trip for the most intrepid (and wealthy) lister within the next few springs.
The history surrounding this fabled species is well known - eaten in to what was widely held to be extinction (a theory that held for over 300 years), confirmation of the survival of the species was confirmed by a small expedition around the rocky islets and outcrops of Bermuda in 1951 that found 18 breeding pairs - a "Lazarus species" bar none.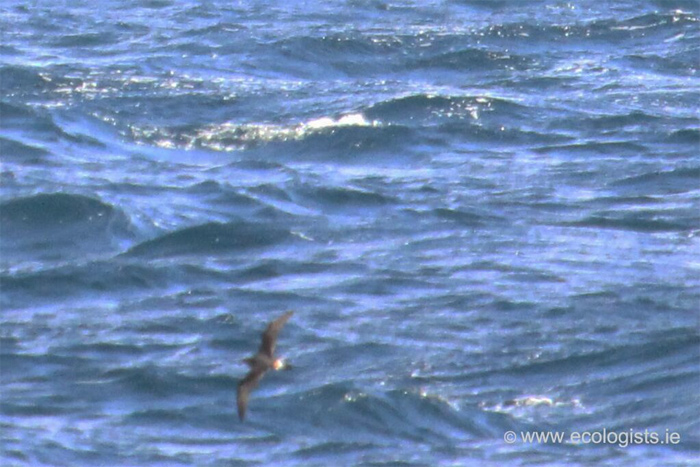 Through the following six decades local and international conservationists have worked hard to ensure, first and foremost, the survival of the Bermuda Petrel and to push it forward and prosper as a breeding species. The 2012/'13 breeding survey revealed 103 nesting pairs and the world population is thought to be around some 300-350 individuals (Flood and Fisher 2013).
Despite the fact that Bermuda Petrel was one of those wildcard potential additions to the list, it is still a pretty humbling fact that one of the world's rarest seabirds has finally been observed in waters close enough to all of us to make your jaw drop.
If you don't own a copy of the North Atlantic Seabirds:Pterodroma Petrels" book and dvd set, order one ASAP - when you've got it, turn to page 112 and read Inset 2 (and watch Disk 2 as well) to learn more about "Saving the Bermuda Petrel".
It really is quite a story…
…and so too was Niall Keogh's ~ there's little doubt that his pioneering and adventurous outlook, coupled with astute and learned thinking and a hefty dose of what every rarity finder values most ~ luck ~ landed him with the very finest rare bird record of 2014.
"Calm seas and glorious Spring sunshine greeted us as we steamed out of Cork Harbour on board the R.V. Celtic Voyager during the afternoon of 17th May 2014. Propped up on the portside bridge wing, I casually scanned through rafts of skating Manx Shearwaters and enjoyed close views of a surfacing Minke Whale. As tranquil as this setting was, my mind was racing with the prospect of hitting the Porcupine Seabight the following morning. For seabirders, the 'Bight is comparable to a well-placed West coast island in Autumn. The shelf edge is its wind swept sycamores and the bounty of plankton, fish and squid that occur there its lighthouse.
Just like a West coast island in Autumn, the 'Bight can test your mettle. Surprisingly sparse seabird distribution at times can mean prolonged periods with little or no activity and even on a good day conditions can be far from comfortable (at least in a trawler sized vessel). However, the variety was certainly there to keep us alert and focused, with enough Manxies and European Storm-petrels to look through interjected with scarcer species like Sooty Shearwater, flocks of Arctic Terns and a Yellow-legged Gull. Superb aggregations of Long-tailed Skuas brandishing full streamers and occasional Pomarine Skuas spooning about the place well and truly made the trip worthwhile. It was this Northbound Spring migration I was hoping to connect with. But then 17:56 on Monday 19th May rolled around and that black and white enigma decided to put in an appearance, spending just enough time investigating the vessel for us to detect, identify and secure some record shots. A Cahow in Irish waters is the bird of a lifetime. The physical effect of its effortless pass-by in what must have been just one minute was such that I was unable to sleep properly for two days! To be honest, seven months later and I'm still having difficulty coming to terms with what happened. I've never been so thankful for digital record shots, otherwise I could be laid up on a therapists couch, spouting nonsense trying to get my head around it!
But the deed is done. Data loggers told us they were here and now birders have clapped eyes on one. With that, plans are no doubt being hatched for pelagic forays into the deep next Spring and we'll all be keeping a close eye on the weather charts in the hopes of a rare May low pressure tracking across the Atlantic.
It's tempting to speculate that this is just the beginning of the story, much like Jim Enticott's first sighting of a Fea's-type Petrel off Blanan', Cape Clear on 5th September 1974. Perhaps through the coming years we will see more records of Cahow come to the fore as a result of better knowledge of distribution, occurrence, targeted seawatching, pelagics and so forth, but in reality the relevant chapters in story of the Cahow began in 1960 when Dr. David Windgate made a start on the recovery program on the islets off Bermuda. Thanks to his great work and that which is being continued by Jeremy Madeiros, the population is increasing steadily and we are learning more about their movements. With a fresh batch of geolocators due to be deployed next breeding season, exciting times lie ahead. The 2014 sighting from the R.V. Celtic Voyager is merely a link in the chain, well down the line. Hopefully towards the end of that chain many more Western Palearctic birders will be sitting pretty with Cahow on their lists!"
Niall Keogh
, Dec 2014.
Fair play to ya fella, fair play…
For tomorrow's "Second Bird of Christmas" we'll stay in Ireland, hitting the west coast for a truly stunning February first…
With special thanks to Niall Keogh and Ryan Wilson-Parr for recording the bird of the 2014! Also many thanks once again to Dr. Bob Flood and Ashley Fisher for allowing me to quote from their outstanding "Multimedia Identification Guide to North Atlantic Seabirds:Pterodroma Petrels" book.
Mark Golley
25 December 2014

Thanks to Oriole Birding for sponsoring The 12 Birds of Christmas 2014