Rare Bird Alert, Reliable Bird News Services Since 1991
Latest birdnews
(Click for full details) :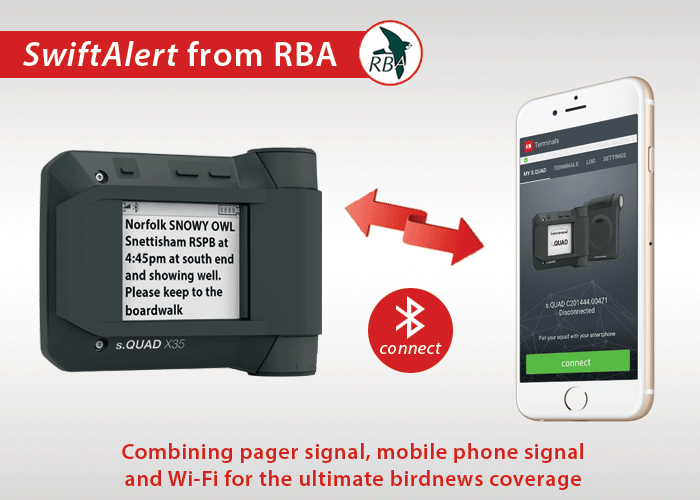 Launched in Aug 2018, the best ever birdnews service is called SwiftAlert. Whilst this new service is still primarily a pager service, the exciting news is that SwiftAlert is also able to receive messages via Wi-Fi and the mobile phone network, by linking to your smartphone. Thus you can get news on your pager even when you don't have a pager signal, resulting in the most comprehensive birdnews coverage ever available, wherever you live and wherever you go birding
We offer a range of different SwiftAlert services to suit all birders, if you mainly bird locally the check out our Bronze and Silver services, if you travel far and wide then Gold and Platinum are ideal.
Some key features of SwiftAlert:
Revolutionary new access to mobile and Wi-Fi networks for added reception (requires Smartphone)
Changeable 'local areas', switch areas whenever you move around the country and get all the news
Easy to read screen with variable text size and bright backlight for dark conditions
Excellent message receiving capabilities in remote areas on paging network
Waterproof and shock resistant
Stores the latest 400 messages - available for instant review at any time
No-quibble 2-year warranty – extendable to 5 years
We have been able to update and greatly improve the RBA service, ensuring that you can continue to get the most reliable birdnews from the same dedicated team of birders that have served you thus far.
We are excited with these improvements, and very much look forward to many more years of being able to provide you with the very best in birdnews, in the remote corners of the country, as well as at home and at your place of work.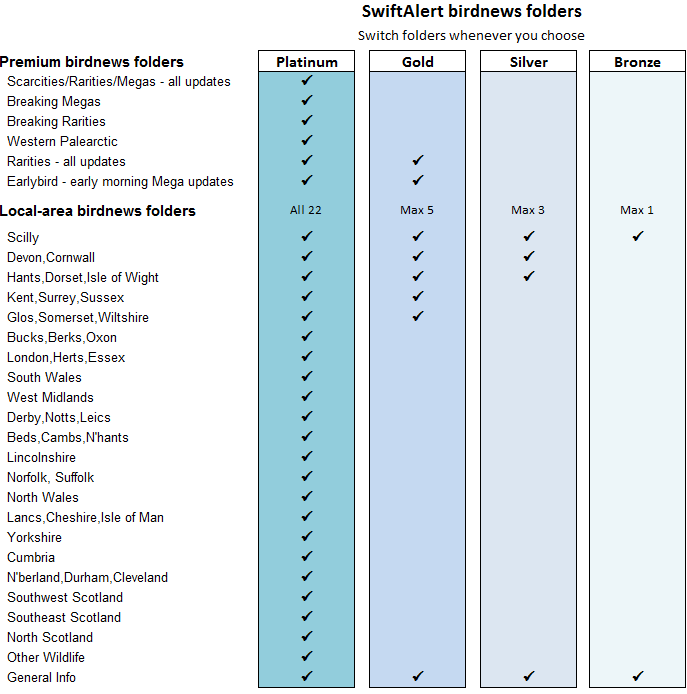 To see a map of the areas covered by each local folder click here

One-off purchase of SwiftAlert: Special offer at £149 (rrp £299) or pay in 24 monthly instalments of £6.50
Need more information?
Call 01603 457016 (Mon-Fri 9am-5pm) or email admin@rarebirdalert.co.uk
Order SwiftAlert
Online: click HERE
or
Phone: call 01603 457016 (Mon-Fri 9am-5pm)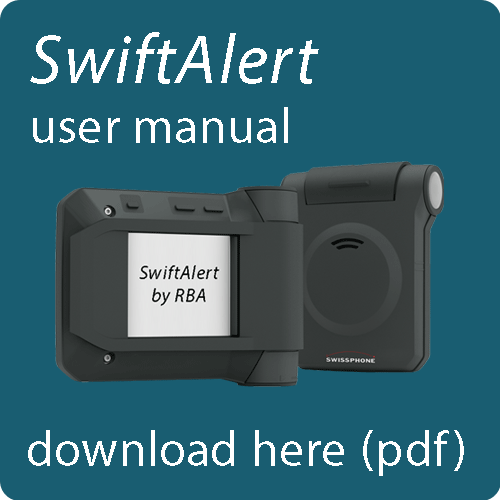 Latest photos



Latest article
Wintering Blackcaps overwhelmingly originate from breeding locations across Europe, and are undertaking a highly atypical north-westward migration. More here >
Hen Harriers are the UK's most persecuted bird of prey relative to its population size and sightings help build a picture of where they are. More here >
The latest review of the Birds of Conservation Concern in Ireland provides alarming reading, with a 46% increase in the number of Red-listed species, those of highest conservation concern. More here >