Weekly birding round-up: 5 - 11 Jun
The week at a glance
Northumberland starts the week with a brief Baillon's Crake
Norfolk enjoys a Lesser Grey Shrike
And a scattering of Black-headed Buntings add to the south-eastern flavour
Well, if you can trust the British summer to do anything, it's usually to disappoint. All plans for barbecues over the weekend were, if not washed out by torrential rain showers, then certainly dampened by a persistent lump of low pressure that parked itself across the country. It proved to be of little practical use to anyone – no good for the wielders of barbecue tongs, nor for birders. Birds? Well, there were some, but if a nation's barbecues were proving difficult to raise above a dismal smoulder, the birding for the most part wasn't setting anything on fire either. There were, however, one or two sparks rising from the embers of spring…
Baillon's Crake
Birders of a certain vintage will recall fondly the early summer of 1999 – found on 6th June, and still present at Grove Ferry until 20th July, the cracking male Baillon's Crake that scurried around the surface of a small pool in Kent and sang his little heart out all the meanwhile was, unquestionably, one of the birds of what proved to be a tremendous year all round for rare birds. Reliable enough to practically be counted upon, this was a bird that let you turn up with a few cold tins of beer, sit on the edge of the path that ran beside the pool, and just drink in the spectacle. And the beer. Or was that just me and my birding mates?
One could almost, at the time, forget just how rare Baillon's Crakes really were. This accommodating bird was, however, only the 10th of its kind in Britain almost three decades. Not so common after all, averaging roughly three birds per decade – a statistic that the first decade of the new century precisely bore out too.
A glance at the overall statistics reveals another trend – a distinctive southerly distribution to records. Head north and one starts to find blank counties in the midlands and beyond that are still waiting for their first of these attractive small crakes.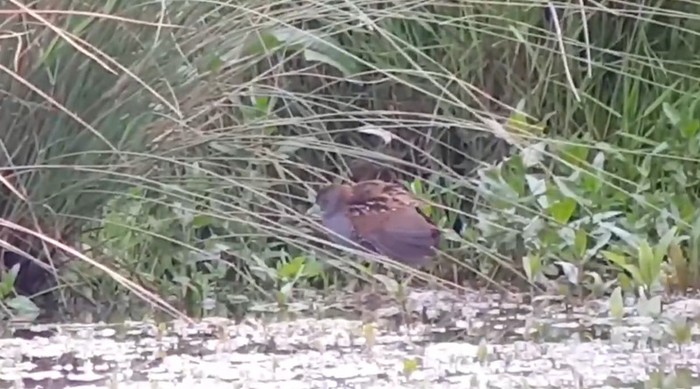 Until this week, those counties included in their number Northumberland – but on 5th June, that was to change when Northumberland's first Baillon's Crake was discovered near Seahouses at Monks' House Pool. A discovery that was not, alas, going to give itself up readily for many with a yearning to see this particular bird as, on 6th, it appeared to have gone.
Lesser Grey Shrike
Comaprisons between the former bird and the next in our headlines are few and far between – unlike said crake, Lesser Grey Shrike is basically annual in Britain. Were this not a relatively slow week, and were the bird in question not giving itself up readily to all comers at the weekend in Norfolk, it probably wouldn't warrant elevation to these giddy heights. But there it is…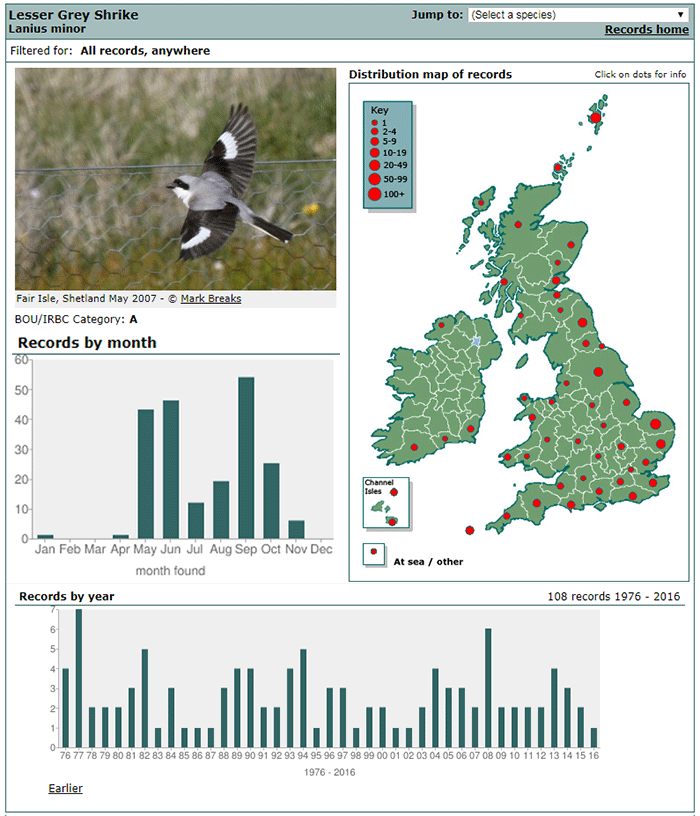 With over 20 accepted records on the books to date, Norfolk comes second only to Shetland (with north of 40 accepted records) in terms of general attractiveness to itinerant Lesser Greys - and June, alongside September, marks one of the two annual peaks in their occurrence in Britain. While you can't quite set your watch by one being found somewhere nationally during the month of June, and that somewhere being either Norfolk or Shetland… you sort of can, actually.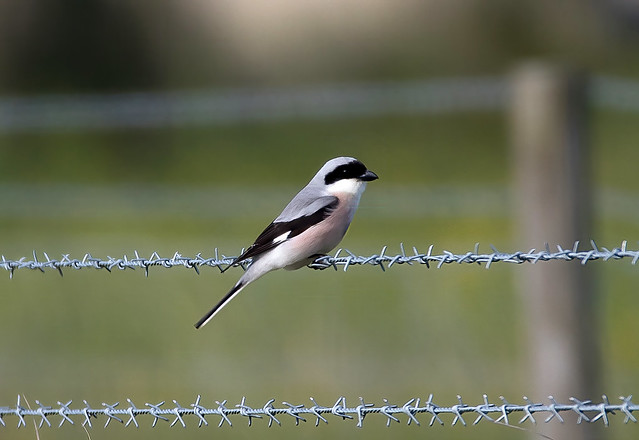 None of which knowing stat-gazing in any way diminishes the joy rolled up in finding a shrike of any kind, let alone a rare one; nor, indeed, the pleasure of simply seeing such an exclusive, handsome bird. Small wonder then that the bird at Horsey on 8th-11th proved to be so popular.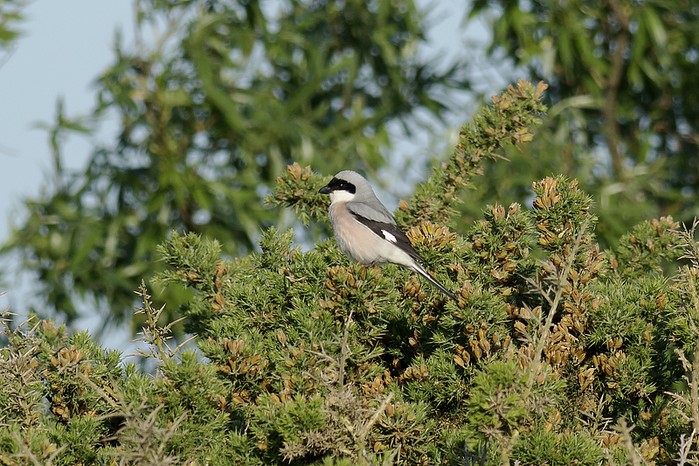 Black-headed Bunting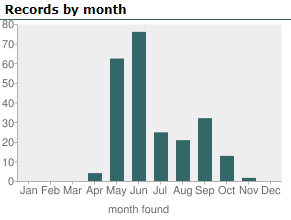 Much the same joyfulness all round can always be said of Black-headed Buntings. Basically, you look at them and just think "I would…"
…love to find one / just see one. [Delete as appropriate].
June is absolute prime time to do either. Critically, for students of the fine art of self-finding your own rarities, it's peak month for unearthing one of your own, and that bird could, theoretically, be pretty much anywhere – we've plenty of inland as well as coastal summer records. You just need to get lucky…
This week, a handful of birders did just that with a small multiple arrival of these smart buntings scattered about. Male birds were found on 6th on Arran (Ayrshire); on 7th-9th on Flamborough (East Yorkshire); and on 8th on Gigha (Argyll & Bute).
The Flamborough bird at least was twitchable for those so inclined – collectively, they all give fresh impetus to the dream that any one of might be smiled upon by fortune and have one cross our path closer to home. And there's plenty of time yet left in June…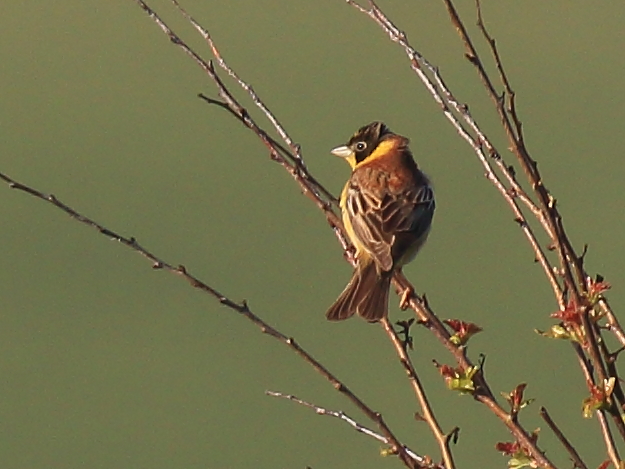 Hints of summer? Apart from a sudden dearth of shorebirds, more of which in due course, these would have been in the modest but significant upturn in shearwater sightings this week…
Starting with Balearic Shearwaters, the pace began to quicken in recent days with around 50 birds logged along the length of the English Channel from Cornwall to Kent. Peak count came on 5th with 10 birds noted off The Lizard (Cornwall).
Cornwall too was the provider of an early flurry of Cory's Shearwaters - six birds were seen on 8th off Downderry.
Ireland, however, contributed the most significant early harbinger of summer of all – a Wilson's Petrel found on a pelagic off Baltimore (Co.Cork) on 5th.
That summery treat was offset with a little winter frosting – a White-billed Diver noted on 8th off Whitburn (Co.Durham), and Whitley Bay and Church Point (Northumberland).
A Pomarine Skua seen off Portland (Dorset) on 10th was about the extent of our skua passage this week.
This week's offerings on the long-legged beasty front felt very much like everything I had been seeing in north Greece in recent days had been picked up and sprinkled across Britain and Ireland, starting in the far north where the female Little Bittern remained on Foula (Shetland) on 5th.
At the opposite end of the country the recent Hampshire Squacco Heron was once again present at Titchfield Haven NNR on 8th-9th; late on 11th another bird was discovered at Pagham Harbour (West Sussex).
Purple Herons were well-represented this week with the settled adult bird still present at Titchwell RSPB (Norfolk) on 5th-9th, and the Barra (Western Isles) bird seen once more there on 9th-10th. A further possible was seen in flight over Dunwich Heath NT (Suffolk) on 9th.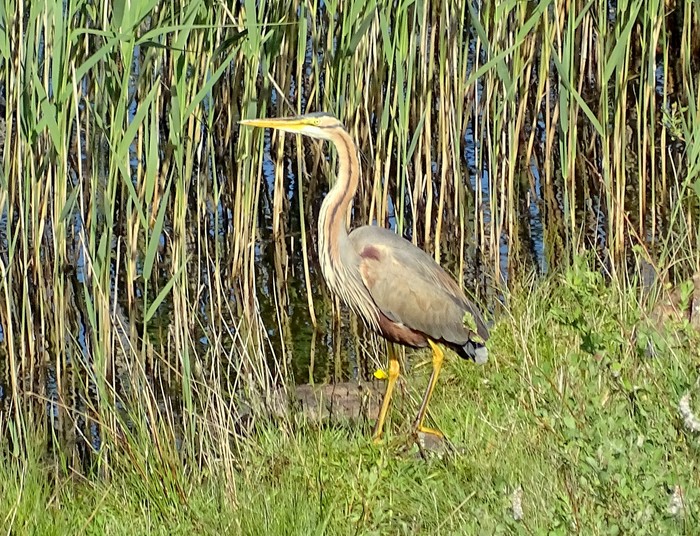 Giving White Stork a body swerve for another week, we move swiftly onto Black Stork, and sightings from Scotland where one at Loch of Strathbeg RSPB (Aberdeenshire) again on 7th was followed by one seen at Findhorn Bay (Moray) on 9th-10th.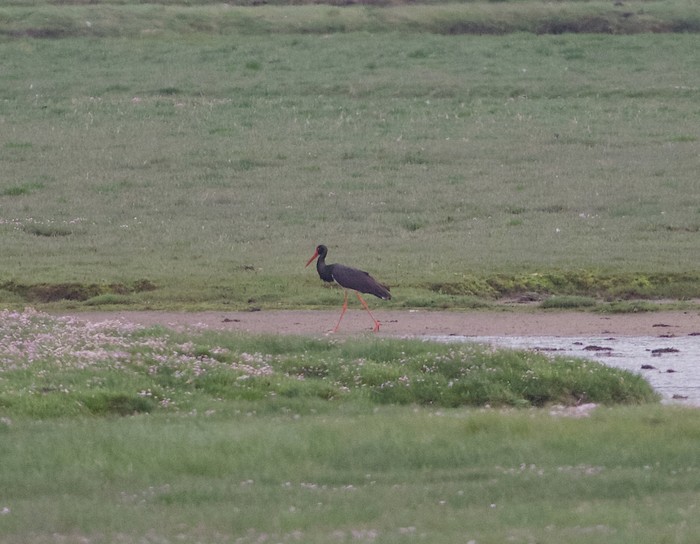 Glossy Ibises continued to provide colour and texture – regular birds were seen once more at Newport Wetlands NNR (Gwent) on 5th, over Marazion RSPB (Cornwall) on 6th, and at Marshside RSPB (Lancashire) again on 10th; and further sightings this week came from Seaton (Devon) on 8th and, on 9th-11th, Radipole Lake RSPB (Dorset) and Cahore Marsh (Co.Wexford), with two birds at the latter site on 10th.
Sightings of extralimital Common Cranes were mostly restricted to the far north this week. In Shetland two were seen on Unst on 5th, and Hillwell on 9th-11th; in Orkney one on North Ronaldsay on 6th was followed by a sighting from the magnificently named Mill Dam of Rango on 9th. On the British mainland one was seen over Monyash (Derbyshire) on 7th.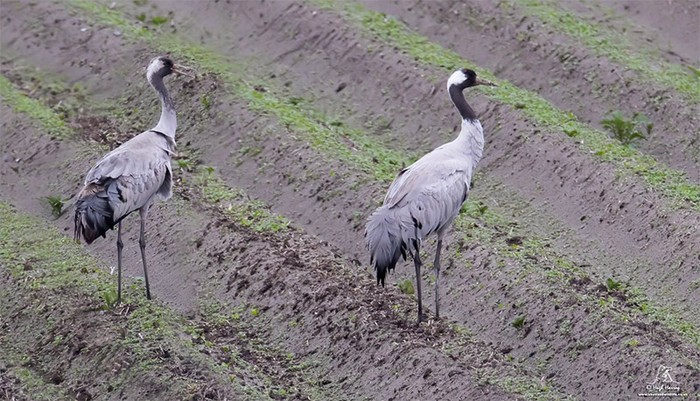 One of the criticisms levelled at the doomed drake Wood Duck seen on Shetland a decade ago was the duration of its stay in the south Mainland. For rare ducks it really doesn't do to hang around. We like our rare spring honkers to make their visits fleeting at best, suggestive of an irresistible impetus to migrate.
An observation that I've not heard made, hitherto, about the now rather long-staying Baikal Teal that continues to lurk in eastern England. Present now for yet another week in Northumberland at Druridge Pools NR and Hemscott Hill on 5th-11th, the drake was showing no signs of going. Had it been a Wood Duck BOURC would have long ago laughed it out of contention for the British list. But heyho. They've passed muster onto Category A now and so all bets are off for subsequent records. This particular bird has been here for a long time now, which probably says more about the double standards applied to duck record assessment than suggesting anything particularly untoward about this Baikal Teal.
(In no way making any comparisons about relative dodginess, we merely note in passing this week the presence of a Cinnamon Teal in Essex near Maldon on 9th).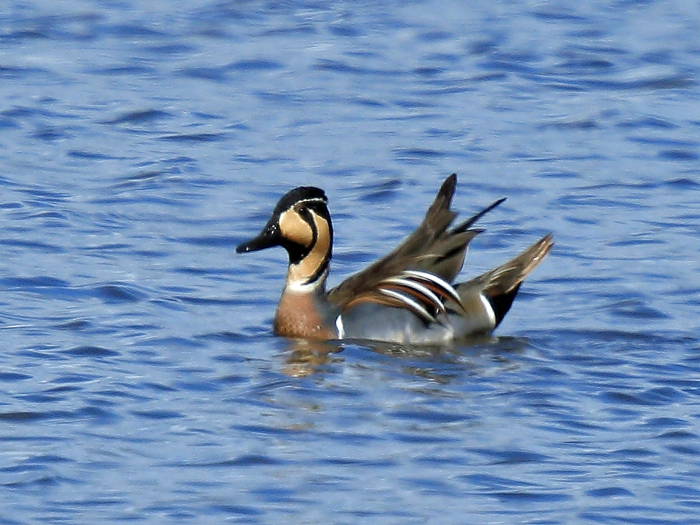 Starting the presumably perfectly okay American offerings in the far north, a Green-winged Teal was seen on Unst (Shetland) on 5th again; while drake American Wigeons were noted once more at Grindon Lough (Northumberland) on 5th-11th and Cahore Marsh (Co.Wexford) on 7th-10th.
In Highland the drake Black Duck remained at Strontian on 6th-11th; while the drake King Eider was still to be found at Nairn on 5th-7th.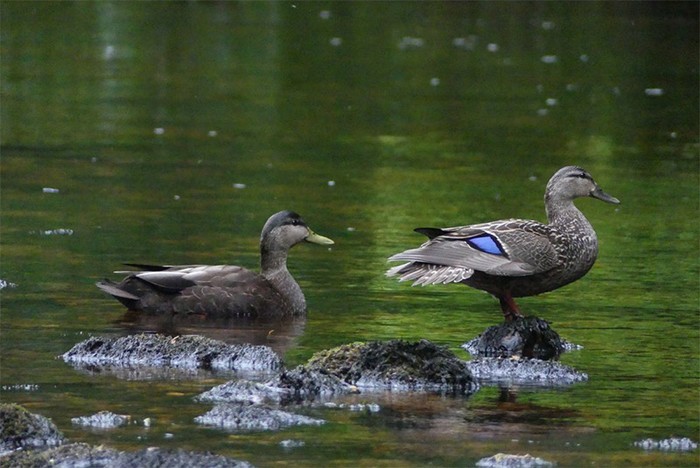 The drake Ferruginous Duck was seen again in West Yorkshire this week at South Kirkby on 5th-11th, while the recent two Ring-necked Ducks were still logged in the south – at Radipole Lake RSPB (Dorset) again on 5th-6th and in Essex at Fishers Green on 5th-11th and Abberton reservoir on 11th. On 10th, two more drake Ring-necked Ducks were seen, on North Uist (Western Isles) and at Grimley (Worcestershire), both of which remained to 11th.
Back in news still this week, our honorary wildfowl the Pied-billed Grebe in Argyll & Bute remained at Loch Feorlin on 8th.
<!—Section Title -->
For the most part our scarce and rare Shorebirds had crashed this week, with Broad-billed Sandpipers on Holy Island (Northumberland) on 5th again and at Tacumshin (Co.Wexford) on 7th representing something of a dead cat bounce. Apart from them, it was tumbleweed time…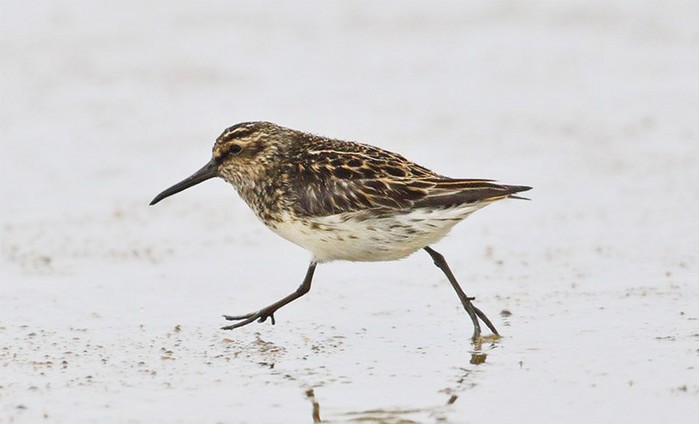 …with the sole exception of a quintet of Red-necked Phalaropes - seen Washington WWT (Co.Durham) on 7th; Teifi Marshes NR (Ceredigion) on 8th; at National Wetlands Centre WWT (Carmarthenshire) on 9th; at Grindon Lough (Northumberland) again on 9th-11th; and at Insh Marshes RSPB (Highland) on 11th.
Quiet times too for gulls and terns again this week, with the terns providing the bulk of the highlights – and Ireland being where it was at once more. The Gull-billed Tern remained in Smerwick harbour (Co.Kerry) on 7th-9th, and the Forster's Tern again seen in Co.Galway at Inishroo on 6th.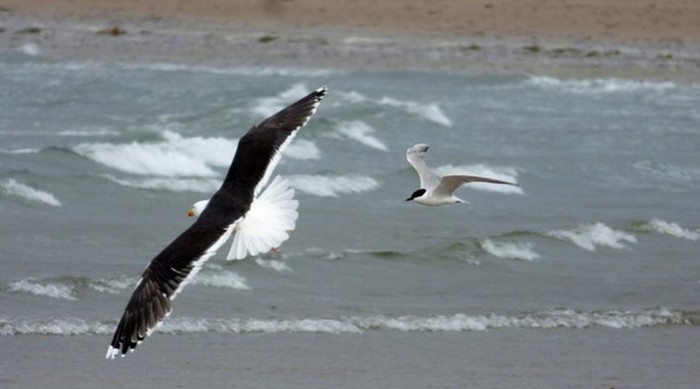 Pick of the gulls, meanwhile, goes firmly to the Franklin's Gull found initially at sea off Fair Isle (Shetland) in the early morning of 6th and, latterly that morning, on the favoured isle itself for a brief while.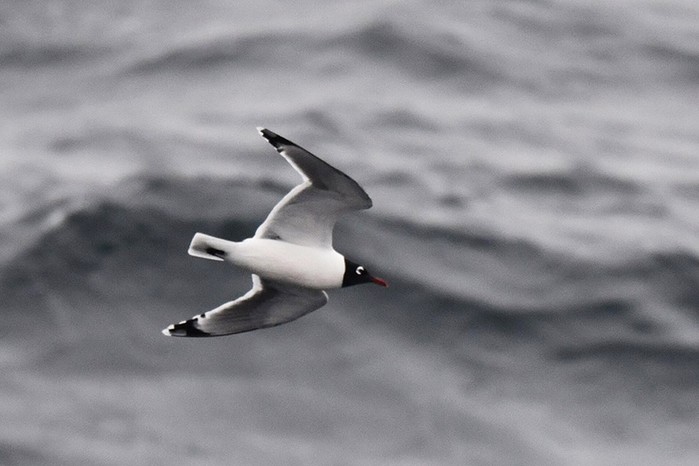 On 10th a Laughing Gull was found in Pembrokeshire passing by Skokholm in the evening; another unconfirmed report was received of one on 9th at North Slob WWR (Co.Wexford).
In Devon, the first-summer Bonaparte's Gull remained at Shelly Beach on 5th-6th.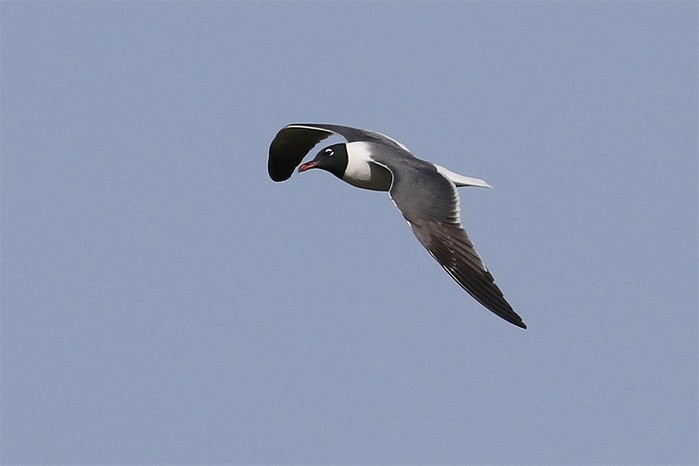 An unconfirmed report of an Audouin's Gull at Rhos-on-Sea (Conwy) on 6th came to nothing subsequently.
Four Iceland Gulls were noted this week - on Barra (Western Isles) still on 5th-8th; at Anstruther (Fife) on 5th; at Findhorn Bay (Moray) on 9th; and Killainey (Co.Dublin) on 10th. A Glaucous Gull seen at Cashen (Co.Kerry) on 7th was followed by a further probable at Torr reservoir (Somerset) on 9th; the regular bird was seen once more in Burghead harbour on 10th, and one in Findhorn Bay (Moray) on 9th-11th.
The first-summer female Red-footed Falcon remained at Cahore Marsh (Co.Wexford) on 6th-9th, and kicks off a similarly denuded raptors section of proceedings. Another female was seen on 10th at Danby Low Moor (North Yorkshire.
Sightings of a female Montagu's Harrier filtered in from Suffolk this week – seen at King's Fleet on 5th-6th; and Havergate Island and Shingle Street on 9th. Seemingly also the same bird seen the previous week at Felixstowe, Suffolk birders were quietly surprised as they'd always thought they'd see a Pallid Harrier before another Monties in the vicinity… Speaking of which, an individual of one or other species was noted on 9th at Deerness on Orkney. A further Montagu's Harrier ringtail was seen on 10th in Lincolnshire at Far Ings NR.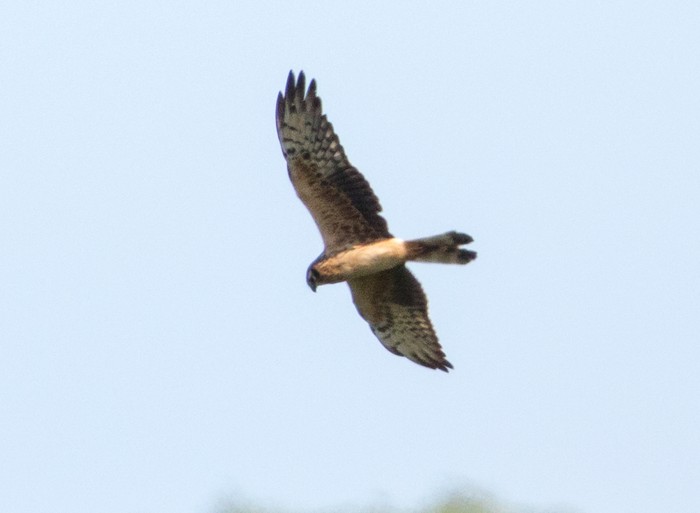 A possible White-tailed Eagle was seen over Allen Banks (Northumberland) on 5th.
Finally, a Snowy Owl was found on Great Blasket Island (Co.Kerry) on 8th-9th, while the St Kilda bird remained in situ in the Western Isles on 10th; and a dead Scops Owl was discovered in a shed on Bressay (Shetland) on 10th.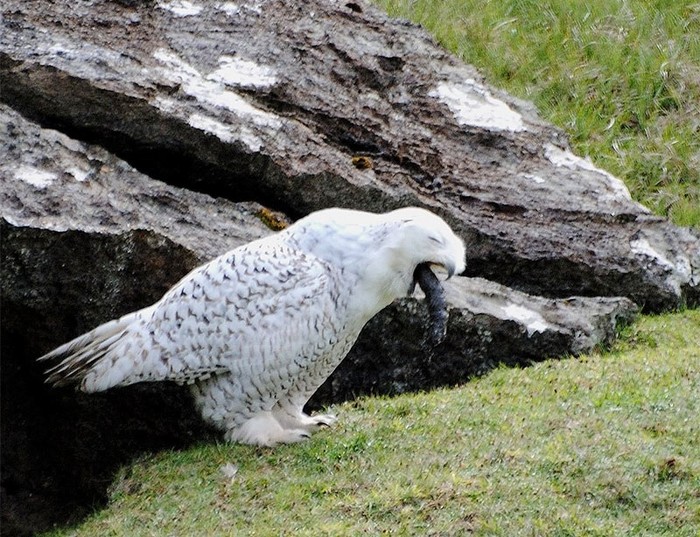 Thank goodness for warblers at this point in our peaceful proceedings…
Fresh Eastern Subalpine Warblers were located this week on Papa Westray (Orkney) on 8th and Fair Isle (Shetland) on 9th-11th. Further Subalpine Warbler sp were seen on Holy Island (Northumberland0 on 5th and Flamborough (East Yorkshire) on 8th-10th.
A Greenish Warbler was trapped and ringed on Bardsey (Gwynedd) on 6th; further birds in song were found at Lowestoft (Suffolk) on 7th and Crantock (Cornwall) on 9th, and The Lizard (Cornwall) on 10th.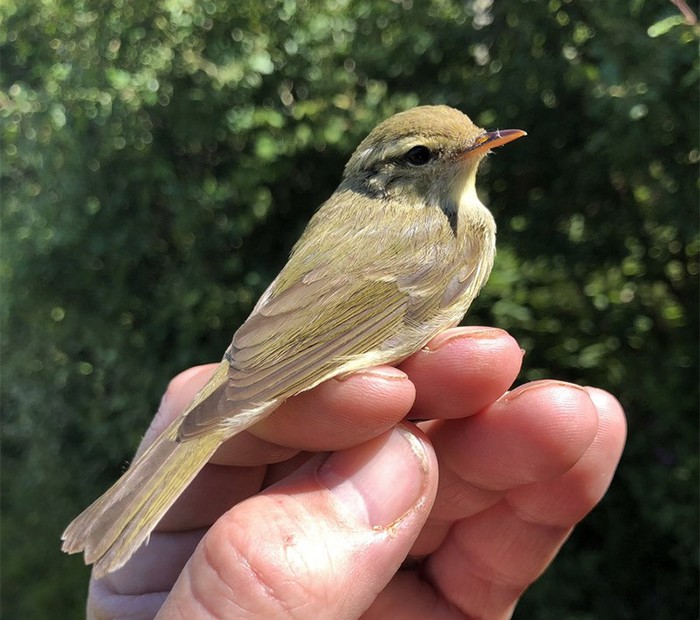 Settled Iberian Chiffchaffs remained in song at Dunwich Heath (Suffolk) on 5th-11th, Pilling Lane Ends (Lancashire) on 5th-9th, and South Kirkby (West Yorkshire once more on 5th-10th. An unconfirmed report of a further bird in song came from Lough Bray (Co.Wicklow) on 10th.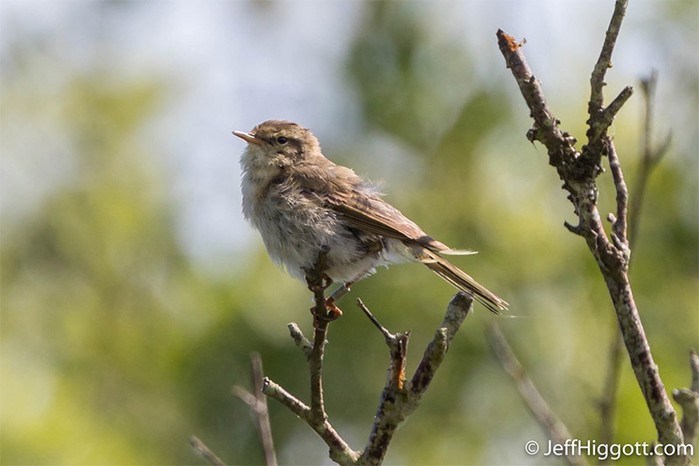 The two similarly settled Savi's Warblers remained at Minsmere RSPB (Suffolk) until 11th, with one once more at Buckroney Marsh (Co.Wicklow) on 7th.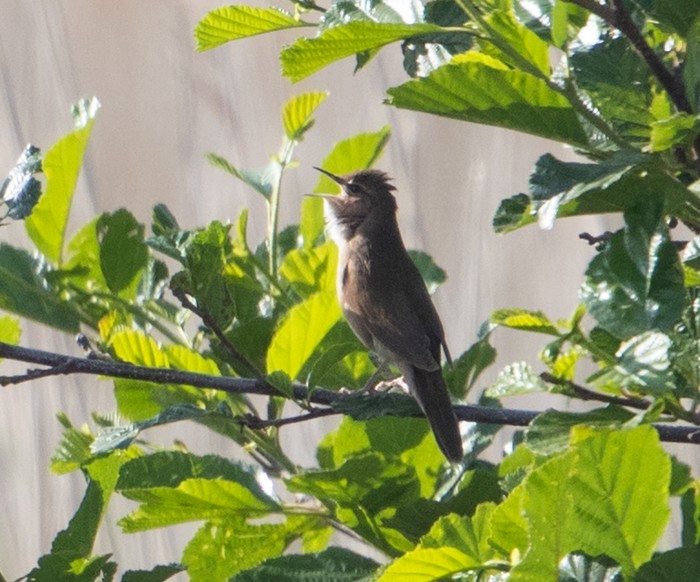 The Great Reed Warbler was still croaking away at Wintersett reservoir (West Yorkshire) on 5th-11th, while one was once more noted on St Mary's (Scilly) on 8th.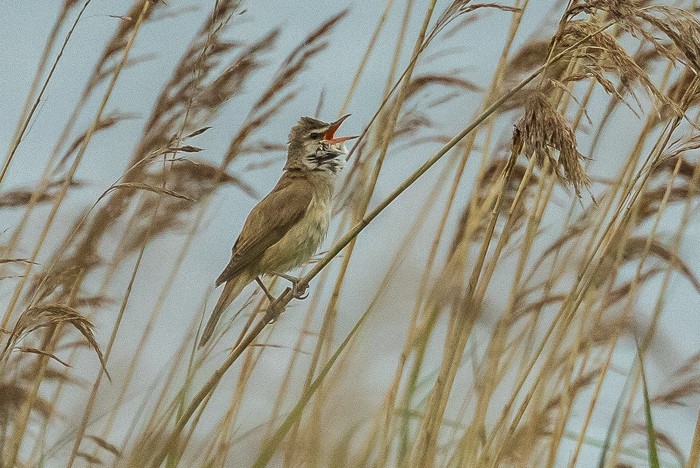 A Blyth's Reed Warbler was trapped and ringed on Fair Isle (Shetland) on 5th; another was found at Collieston (Abderdeenshire) on 6th.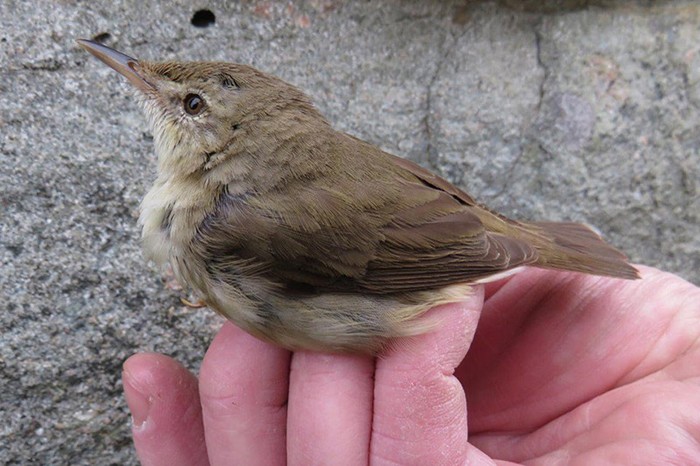 Numbers of Marsh Warblers meanwhile began to pick up a little – birds were found this week on 5th on Unst and Foula (Shetland) and the Isle of May (Fife); on 5th-6th in song at Oulton Marsh SWT (Suffolk); on 8th at Ringstead Bay (Dorset) and on 8th-10th at Cresswell Pond NWT (Northumberland); and on 9th-11th at Quendale and back on Unst (Shetland) on 9th-11th also.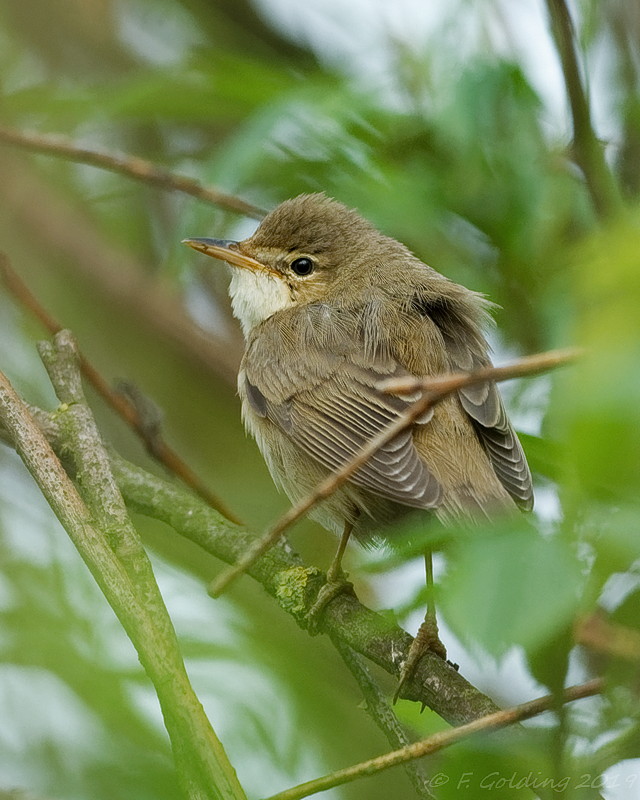 The Melodious Warbler remained on St Mary's (Scilly) on 5th-9th, with another seen on Fair Isle (Shetland) on 9th. Icterine Warblers were logged on Skerries on 5th-7th and Fair Isle (Shetland) on 8th, and the Isle of May (Fife) on 5th-8th, with two birds on the latter island on 6th, and another in song at Boultham Mere (Lincolnshire) on 11th; a further sighting on 11th came from East Chevington NWT (Northumberland).
A Thrush Nightingale remained on Fair Isle (Shetland) on 5th; a Bluethroat meanwhile was present on the Farne Islands (Northumberland) on 8th-9th.
A Red-breasted Flycatcher was trapped and ringed on Calf of Man (Isle of Man) on 6th; one was in song on South Uist (Western Isles) on 10th.
Wagtails were a shadow of the recent past with just a Grey-headed Wagtail present on Skerries (Shetland) on 6th, and a Blue-headed Wagtail at Kenfig Pool NNR (Glamorgan) on 10th.
Onto more colourful fare, we've one Hoopoe on Brownsman (Northumberland) on 8th; and a handful of Bee-eaters to further gild the lily – over Spurn and Skeffling (East Yorkshire) on 5th; at Horsey (Norfolk) on 6th; two birds seen at Gibraltar Point NNR (Lincolnshire) on 7th; and three birds at West Rise Marsh (East Sussex) on 7th also.
Alpine Swifts were logged at Corsewall Point (Dumfries & Galloway) on 7th; South Ronaldsay (Orkney) on 8th; Flamborough (East Yorkshire) on 9th; and Durlston CP (Dorset) on 11th, with another reported on 11th in Devon at Dawlish. A Red-rumped Swallow was seen on 5th at Spurn (East Yorkshire).
Less showy altogether, a Wryneck was seen on 7th at Embleton High Common (Cumbria); and a Short-toed Lark remained on St Mary's (Scilly) on 5th-8th.
A handful of Golden Orioles were once more seen as the week progressed – one on St Mary's (Scilly) on 5th-10th still; one at Coverack (Cornwall) on 6th; one present at South Gare (Cleveland) on 8th-9th; another on Portland (Dorset) on 8th-9th; and one at Shuart (Kent) on 9th. On 10th further birds were logged at Stodmarsh NNR (Kent) and Flamborough (East Yorkshire).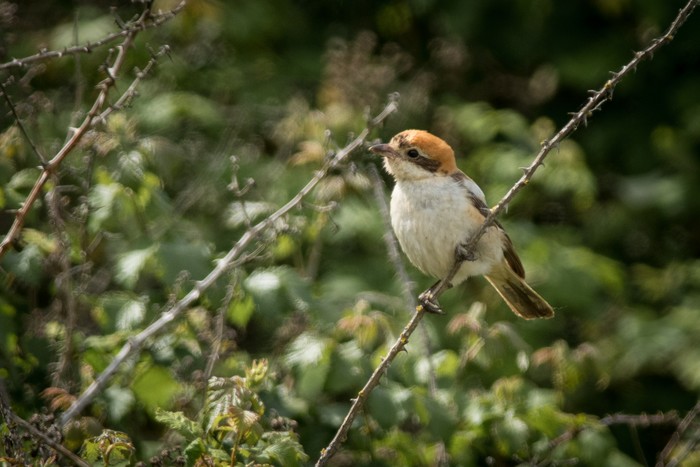 Two Woodchat Shrikes were logged this week – on Great Saltee Island (Co.Wexford) on 8th-9th and at Kessingland (Suffolk) on 9th-10th. Red-back Shrikes meanwhile hit double figures for the first time in ages, with around 20 birds in all seen, mostly all down the north-east coast from Shetland to Co.Durham with the exception of the bird seen on 6th on Bryher (Scilly).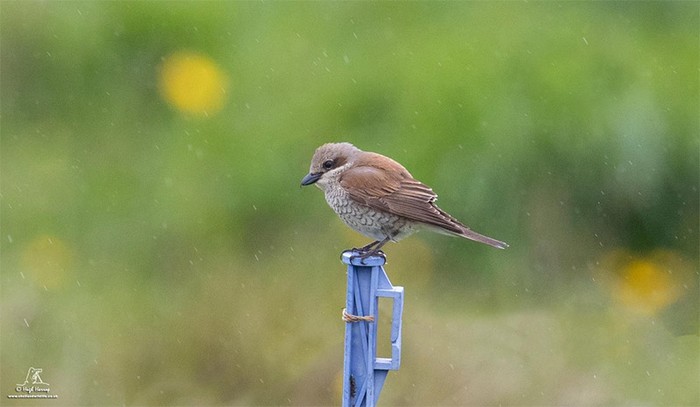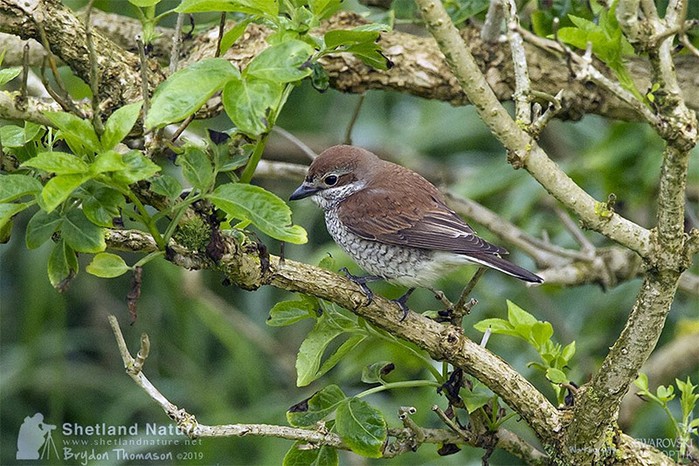 The Great Grey Shrike remained in Cambridgeshire at Needingworth GPs on 5th-9th.
Ten Rose-coloured Starlings were seen this week – at Uwchmynydd (Gwynedd) on 5th; Aberdaron (Anglesey) on 5th; at Kilnsea (East Yorkshire) still on 5th; on 5th-6th at Drumoak (Aberdeenshire); on 6th on Unst (Shetland); on 7th at Sherburn (Co.Durham); on 8th-9th at Wrexham (Wrexham); on 9th at Repton (Derbyshire); and on 11th on Portland (Dorset) and North Uist (Western Isles).
The settled Serin remained on territory at Littlestone-on-Sea (Kent) this week, still singing there until 11th.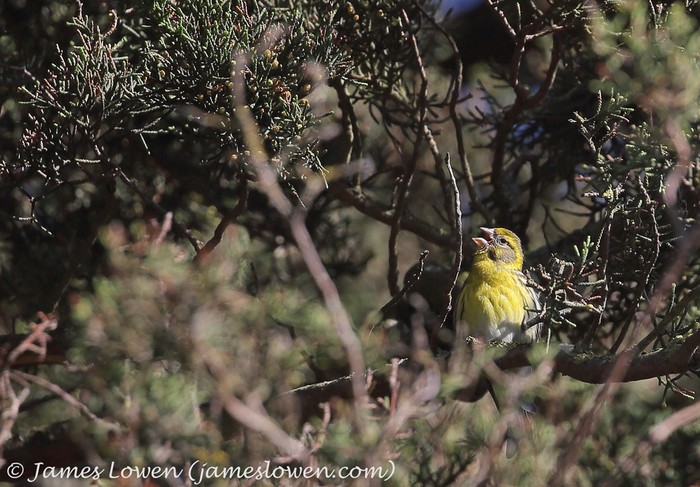 A handful of late Common Rosefinches were found in recent days – two on Shetland, on Unst on 5th-6th still and Fair Isle on 5th again; on Cape Clear (Co.Cork) on 6th; at Druridge (Northumberland) on 8th-10th; and on Tory Island (Co.Donegal) on 9th.
Lastly, another stonking male Rustic Bunting was found up on Unst (Shetland) on 5th-6th. Was this the same bird Brydon Thomason had found a headland away the previous week? Who, in the face of such a glorious bird, really cared… It was a belter, nuff said.
Returning to the provenance of our recent Baikal Teal one more time, it's worth starting our overseas perusals with the drake Baikal Teal seen in Denmark on 6th at Sneum Digeso; a site having a good day on 6th as it also scored Franklin's Gull, the latter bird remaining on 7th also.
Sweden meanwhile mustered an Eastern Olivaceous Warbler at Umea on 7th and a Lesser Kestrel at Holmon on 9th. Scandinavia – what spring it's had.
Holland continued to quietly plug away too, with the Nutcracker still present at Wageningen until 10th at least, a Pygmy Cormorant near Nijmegen on 5th-6th, and a Greater Spotted Eagle (or a hybrid) at Piamm on 7th.
Two Slender-billed Gulls were seen on 11th in Poland at Zator fishponds.
Spain landed a form vetula Cape Gull at Urdaibai on 6th.
We don't hear much from Turkey, but this week a Sykes's Warbler was trapped and ringed at Aras Bird Research Station on 10th.
Not that I'm overly confident of this actually bearing any fruit this week, but mid June comes to be a good time for vagrants of a south-easterly flavour turning up on our shores. Maybe a Whiskered or a Caspian Tern…. Perhaps an accessible and twitchable Roller…
Or perhaps, with keen-eared birders finding singing warblers of all kinds at the moment, a nice reeling River Warbler might be uncovered? That feels like the sort of thing that might just happen after all.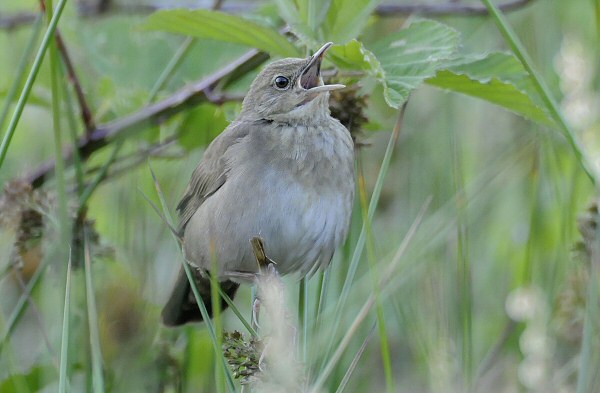 Jon Dunn
12 June 2019
Many thanks to all contributors for their photos and videos this week.
Share this story
Tweet