Weekly birding round-up: 08 - 14 May
The week at a glance
The Western Isles land a long overdue American Bittern
East Yorkshire enjoys a purple patch with a Collared Flycatcher…
…and an adult male Brown Shrike
While another Collared Flycatcher is found on Orkney
While sheer numbers of migrants may not have been on the cards this past week, British birders were treated to a respectable roll call of rarities and scarcities, from east, south and west alike. Time to grab a cuppa and your biscuit of choice for a journey through the best birds of recent days…
American Bittern
American Bitterns are not, as a rule, like buses – they don't tend to come along often, let alone in consecutive years. Last year's obliging bird at Carlton Marshes SWT (Suffolk) will have scratched an itch for many a British birder, but who would have anticipated another British record the following year?
Let alone one up in the Western Isles where American Bitterns are as rare as hen's teeth. Their one and only bird was way back in 1932, greeted on Benbecula on 27th December by being unceremoniously shot. (I'd love to say times have changed for the species, but a glance at all of Britain and Ireland's previous records reveals a sorry litany of shot birds, birds killed by a dog, or simply found dead and dying, even in later years…)
Happily none of the above applies to the latest example discovered on Lewis at Loch Stiapabhat on 10th, and still present there on 12th. Marvellously alive, unmolested, and intermittently on view for anyone who cared to see it. Of course, in the wake of last year's bird in Suffolk that may not be all that many folk south of the Scottish border, but it's a welcome bird nonetheless and an absolute screamer for Hebridean birders.
Collared Flycatchers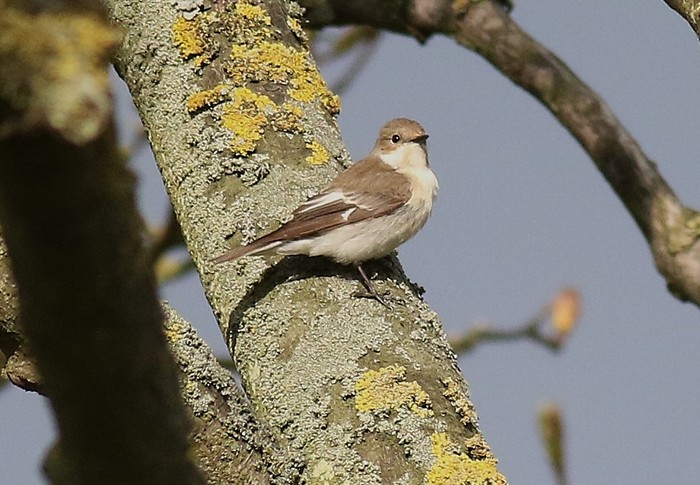 While nobody would ever anticipate an American Bittern in any given spring, the week's next noteworthy bird was both more conveniently accessible and, while never predictable in their arrival, a species that does have rather more of a track record for turning up in spring. That bird is, of course, the Collared Flycatcher found in Easington cemetery (East Yorkshire) on 11th.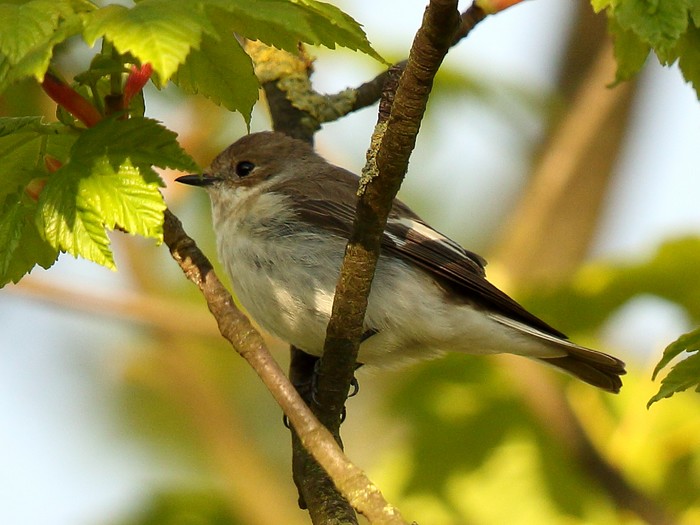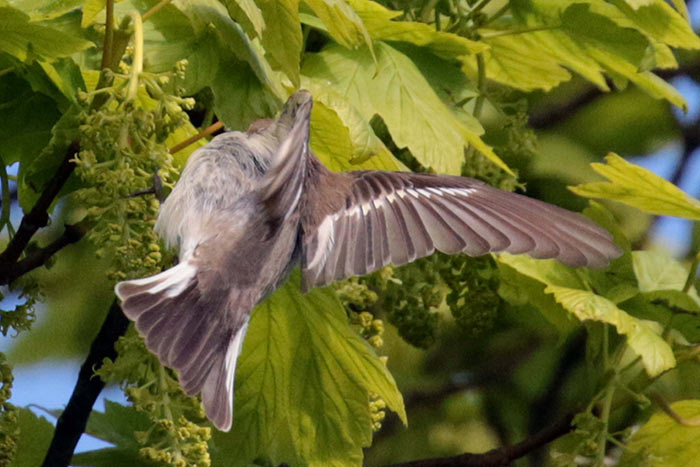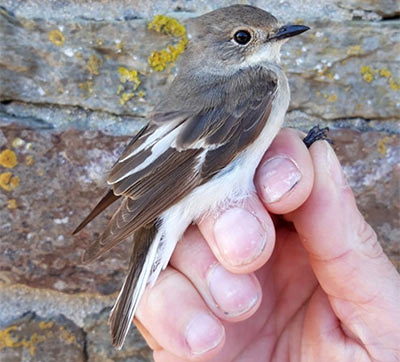 At the risk of sounding churlish, of course we all want our spring rarities to be stonking, freshly minted adult males in full summer plumage. (More of which in due course). That was not, however, part of the script for this, East Yorkshire's third Collared Flycatcher, as the bird in question was a female. Which isn't to say, of course, that she was any less warmly received – because when all's said and done, a Collared Flycatcher is still a Collared Flycatcher and one found on the English east coast at the start of the weekend is always going to draw a crowd. Alas she was long gone by the time day broke the following day.
They're just about annual these days, with some years really turning up the goods. 2013, for example, was marked by five spring birds being found along the east coast from Yorkshire to Shetland. Maybe 2019 is going to be another one of those golden years, for another female was found, and duly trapped and ringed, on North Ronaldsay (Orkney) on 12th. One that should be firmly on east coast birders' radars in the coming days…
Brown Shrike
Speaking of crowd-pleasing, there is a small cadre of eastern vagrants that just do it for everyone. Siberian Rubythroat, Red-flanked Bluetail, Brown Shrike…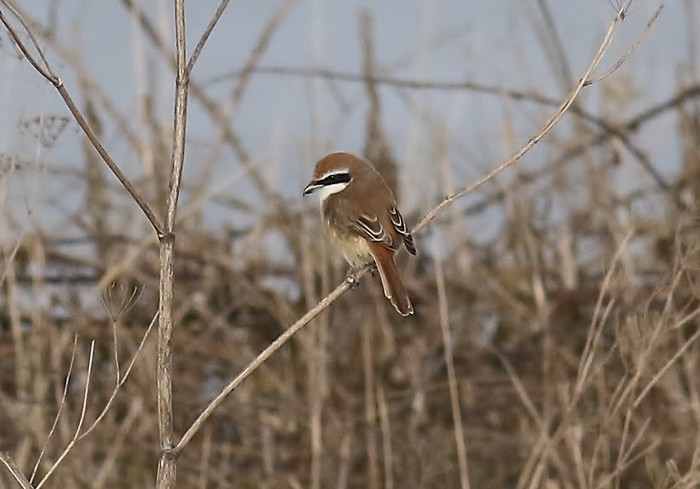 "Brown Shrike?" you cry. "They're not half as lovely as a rare (or formerly rare) chat!" Well, maybe a first-winter bird is a tough sell, more of a birder's bird. But an adult male… that's a different thing altogether. And while Brown Shrike has latterly done a bit of a Red-flanked Bluetail and turned up with some regularity in recent years compared with hitherto, they've also still got decent cachet and an aura of rarity surrounding them.
The days may indeed be gone when one would drop everything to twitch a Brown Shrike, but when news broke of an adult male cristatus Brown Shrike present at Great Cowden (East Yorkshire) on 11th, the same day as the Collared Flycatcher in the county… I could sense interest mounting and engines firing up, familial deals being made and excuses brokered. You just would, for one of those smart birds.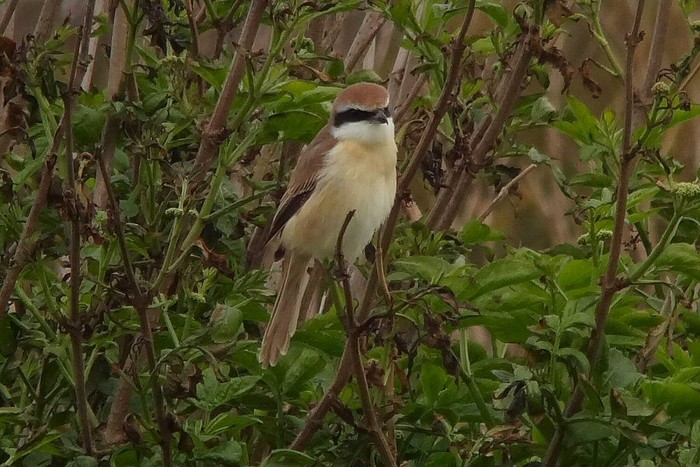 And let's not talk them down too much. With a shade over 20 accepted British records to the end of 2016, they're still a properly rare bird for all their recent upsurge in sightings. Most of those past records are autumn birds – we've just the one previous May sighting on the books, the female seen at Sennen Cove (Cornwall) on 20th May 2010. And most of those past records have been first-winter birds – so just feast your eyes on the glory that's an adult male Brown Shrike.
Indisputable star of the seabird show this week would have to be the Black-browed Albatross seen heading north past Starr Gate (Lancashire) early on 11th. Coming to a Scottish Northern Gannet colony near us any time soon?
White-billed Divers were reduced this week to just a couple of birds, singletons seen off two of the recent stand-out sites for them – Portsoy (Aberdeenshire) on 8th and 14th, and Papa Westray (Orkney) on 11th and once more on 14th.
Numbers of Pomarine Skuas continued to be generally rather miserable for another week, with around 70 birds in all tallied as the week progressed. The spring isn't shaping up, so far, so be a classic for skua passage. With a poor showing of Poms, there were never going to be good numbers of Long-tailed Skua either – and so it proved. This week just two birds were seen – passing Rendall (Orkney) on 11th.
Finally, two Balearic Shearwaters were seen off Thurlestone (Devon) on 8th.
Southerly exotica arrived in Norfolk this week in the form of a cracking male Little Bittern discovered at Nunnery Lakes NR on 12th-14th. Hopefully far from the only one of his kind lurking in English reedbeds this spring and early summer…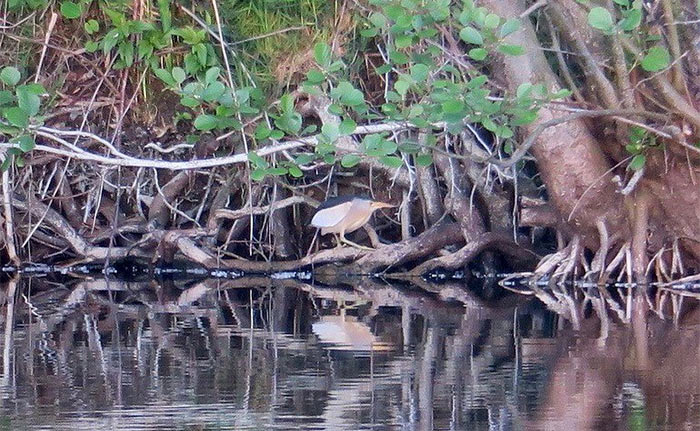 The settled adult Night Heron was seen intermittently throughout the week in Kent at and near Ashford's Conningbrook Lake CP until 12th, while another adult was noted in flight on 12th over Attenborough NR (Nottinghamshire).
Purple Herons continued to feature too, with the Norfolk individual remaining at Burnham Overy Staithe until 11th, and some fresh faces too – on the Isle of Wight at Brading Marsh RSPB on 9th and Bembridge on 11th-12th; and on Scilly's St Martin's on 10th and again on 12th.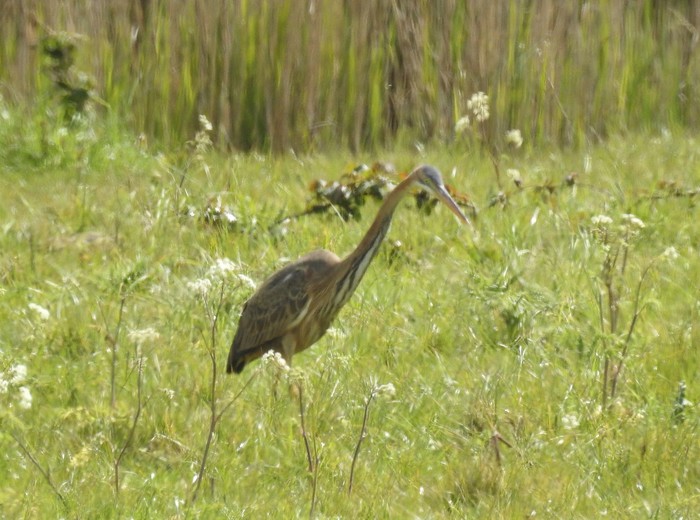 Norfolk provides the bulk of a mercifully slim bundle of stork news – sightings of a single White Stork over Martham Broad and Horsey Corner on 10th; while on 13th two were seen over Stoke Common.
Compared with recent weeks things had quietened down on the Glossy Ibis front – lingering birds remained at Marazion RSPB (Cornwall) and Newport Wetlands NNR (Gwent) on 9th, with the Cornish bird still present on 13th-14th; and one was lurking at Borth Bog (Ceredigion) on 10th-11th. One was again seen in flight in Hampshire at Fishlake Meadows HIWWT on 14th.
Common Cranes continued to feature all over the region in ones and twos and, at times, small itinerant parties such as the five seen in Lincolnshire heading north west over Normanby on 13th.
A Corncrake was found on 13th at Wheldrake (North Yorkshire).
Still bossing the rarity duckpond for another week, we'll kick off our weekly dabble with the drake American White-winged Scoter still off Musselburgh (Lothian) on 8th-14th with, depending on the day, anything between two and four Surf Scoters there for daily company too. Elsewhere, further Surf Scoters comprised two drakes again off Llanfairfechan (Conwy) on 11th-12th.
The drake King Eider was again seen and showing well on the faithful site of the Ythan Estuary (Aberdeenshire) on 10th-14th; the dresseri Dresser's Eider was once more noted from Skerries (Co.Dublin) on 13th.
Staying in Scotland, and Highland in particular, the drake Blue-winged Teal was still present at Mellon Charles on 8th-14th, while the (now somewhat lame) drake Black Duck remained at Strontian on 10th-14th.
Two Green-winged Teals were logged this week – one remaining at Kilnsea (East Yorkshire) on 8th-9th, and the other (with accompanying female Teal sp) at Northdale on Unst (Shetland) on 11th-13th.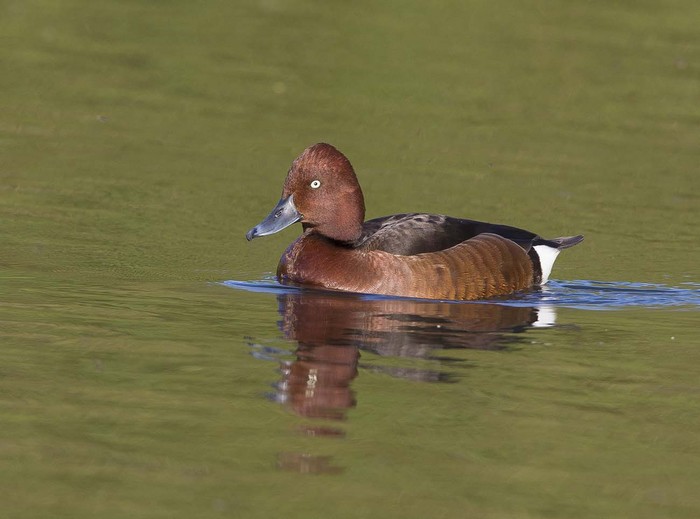 Sightings of Ferruginous Duck were confined to Yorkshire – a drake seen at South Kirkby Marsh again on 10th and 13th-14th, and Edderthorpe Flash on 12th.
Ring-necked Ducks meanwhile fell through the floor, with just three birds noted nationally – one still at Lodmoor RSPB (and occasionally nearby Radipole Lake RSPB) in Dorset until 14th; one at Wykeham South Lake (North Yorkshire) on 8th-10th; and a drake still at Wellington GPs (Herefordshire) on 9th-13th.
Last, but as always not least, our honorary waterbird the adult Pied-billed Grebe remained on Loch Feorlin (Argyll & Bute) on 9th still.
<!—Section Title -->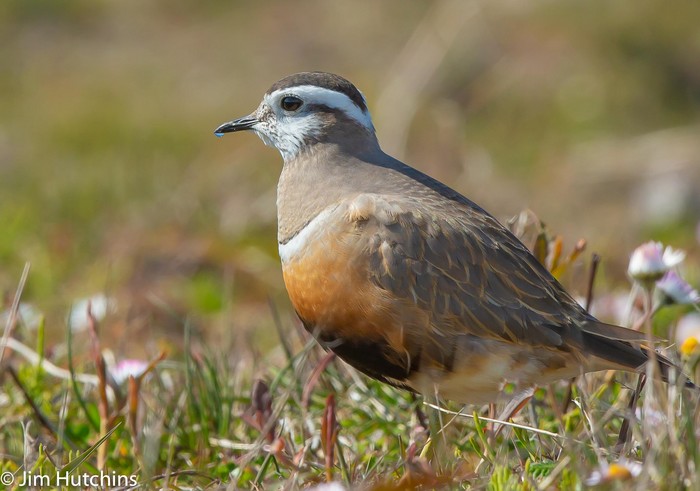 Pick of the shorebird action, if not for rarity then for sheer volume, this week were the impressive numbers of Dotterels logged nationally – birds being seen in a broad swathe from the north of Scotland down to East Anglia and north Wales. Amongst the 100 or so birds recorded were some decent trips too – 17 birds a Scottish peak tally at Rattray Head (Aberdeenshire) on 11th; and a magnificent 27 birds noted in Norfolk at Choseley on 12th.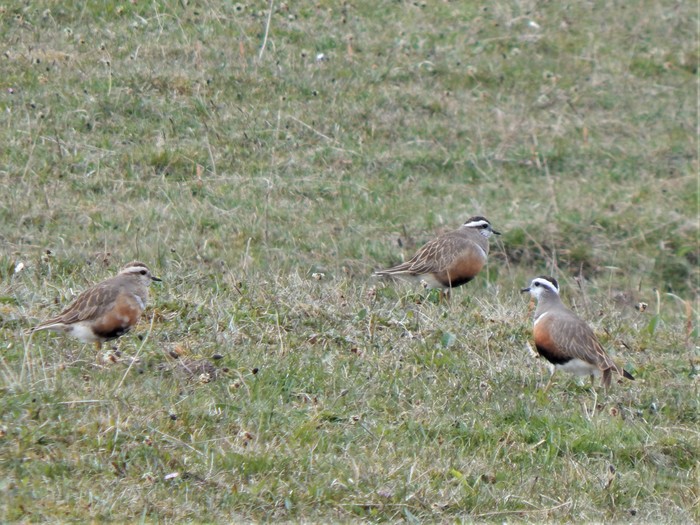 Also increasing in volume this week were migrating Temminck's Stints, with some 18 birds recorded across England and Wales. Most involved single birds, but some sites managed two birds – Trimley Marshes SWT (Suffolk) on 10th, Rainham Marshes RSPB (London) on 12th and, on 14th, Cley NWT (Norfolk).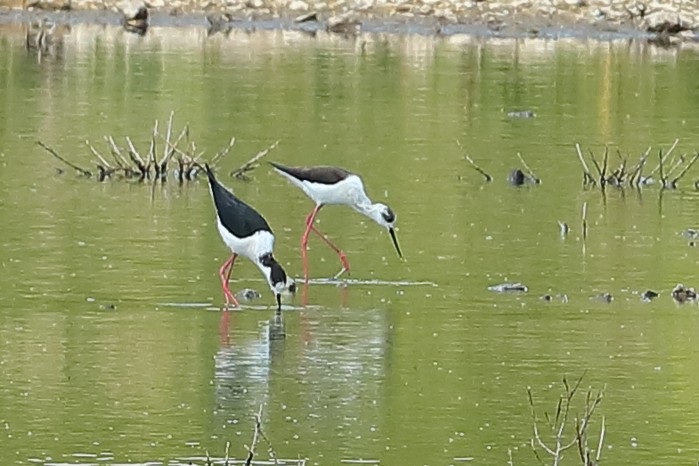 Two Black-winged Stilts were seen this week at Langford Lakes NR (Wiltshire) on 11th; two were then noted on 14th in Buckinghamshire at College Lake BBOWT.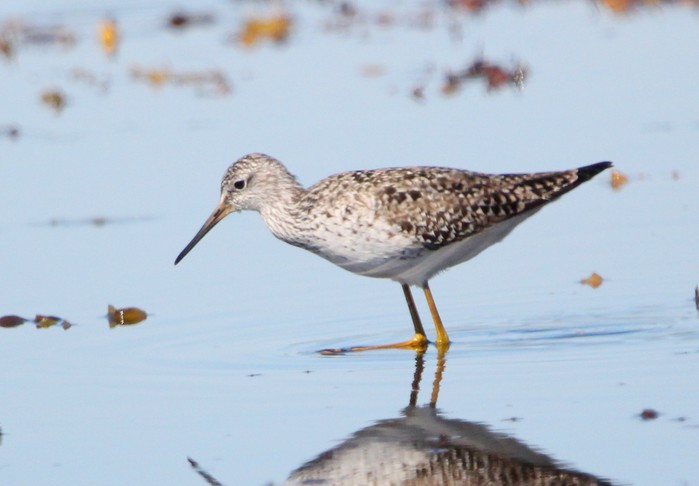 Scilly landed a Lesser Yellowlegs on Bryher on 11th-12th. A possible Spotted Sandpiper was reported from Fairburn Ings RSPB (North Yorkshire) on 8th, while the overwintering bird remained at Ferrybank (Co.Wexford) on 9th-11th.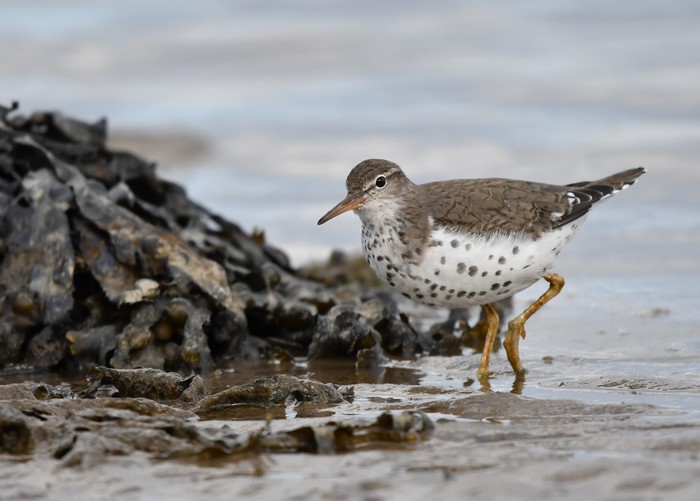 On 14th a small flurry of Red-necked Phalaropes emerged on the newsfeed – two seen in Tyninghame Inner Bay (Lothian), and one at Frampton Marsh RSPB (Lincolnshire).
We finish the section with a frustrating near miss – a possible Great Snipe noted in flight over Portland (Dorset) on 12th, heading north.
Gull news this week had a decidedly summery feel about it – which is to say, there wasn't an awful lot of Larid to go around.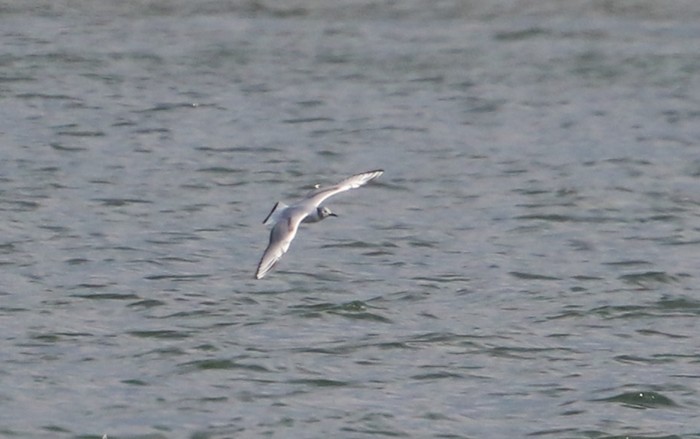 Pick of the bunch were two lingering Bonaparte's Gulls - these being the individuals at Abberton reservoir (Essex) still on 8th-11th and at Blashford Lakes HWT (Hampshire) still on 8th-12th.
Blink and you'd have missed the sole Iceland Gulls in the news, one seen on 11th on North Ronaldsay (Orkney), another on 13th at Jarrow (Co.Durham), and on 14th birds at St Just (Cornwall) and at Scrabster (Highland) still.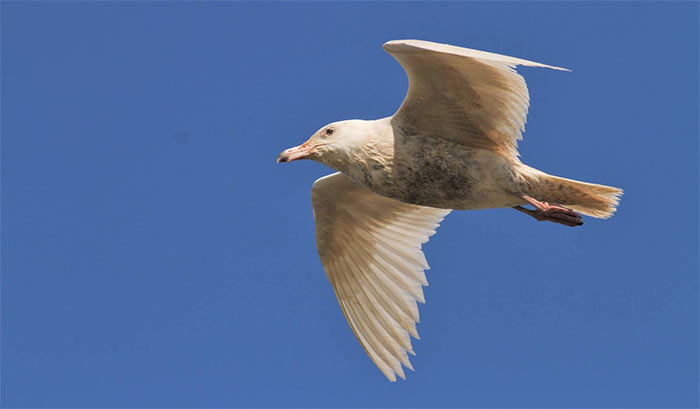 Glaucous Gulls fared little better, with just a handful to report upon – on 10th at Hoylake (Cheshire), East Coast NR (Co.Wicklow) and on 10th-13th at Magheraroarty (Co.Donegal); on 11th and 14th at Flamborough (East Yorkshire); and on 12th in Highland at Reiff, on North Ronaldsay (Orkney) and on Islay (Argyll & Bute).
The week's decent raptors began with a possible female Red-footed Falcon reported from Dounby (Orkney) on 11th; with more concrete news coming in the form of first one male again at Thorne Moors NNR (South Yorkshire) on 12th and then, later that day, two males there.
Orkney kept featuring in the news with a couple of northward bound White-tailed Eagles - one seen over North Ronaldsay on 10th, and the other over Sanday on 12th. In between, one was noted on Unst (Shetland) on 11th. Back to Orkney, four were seen on Papa Westray on 14th, while a Rough-legged Buzzard was present on Papa Westray on 13th.
Norfolk dominated sightings of Black Kites, with a small flurry of records – on 9th at Choseley; on 11th at Cockley Cley and Morston Quay; and on 12th at Burnham Deepdale. Our further sightings came in the form of a possible bird at Garlogie (Aberdeenshire) on 9th, birds noted on 11th at Leckhampton (Gloucestershire) and Zelah (Cornwall) and then, on 13th at Skewjack (Cornwall). On 14th another was seen in Worcestershire over Bewdley.
Continuing the county-by-county theme, if you wanted to bump into a Montagu's Harrier this week, you'd have done worse than to spend some time in East Yorkshire – sightings came in from Easington on 9th, Kilnsea on 10th and 12th, Blacktoft Sands RSPB again on 11th-14th and Patrington on 12th; and on 14th, one was seen over Carlton (North Yorkshire). That monopoly was broken only by a probable in Norfolk at Burnham Overy Staithe on 11th and another at Barton-upon-Humber (Lincolnshire) on 12th.
Our penultimate news item comes in the form of a juvenile Pallid Harrier seen on 12th at Sutton Buscel (North Yorkshire).
And we finish with a Snowy Owl on Orkney on 14th at Mid Tooin on Mainland.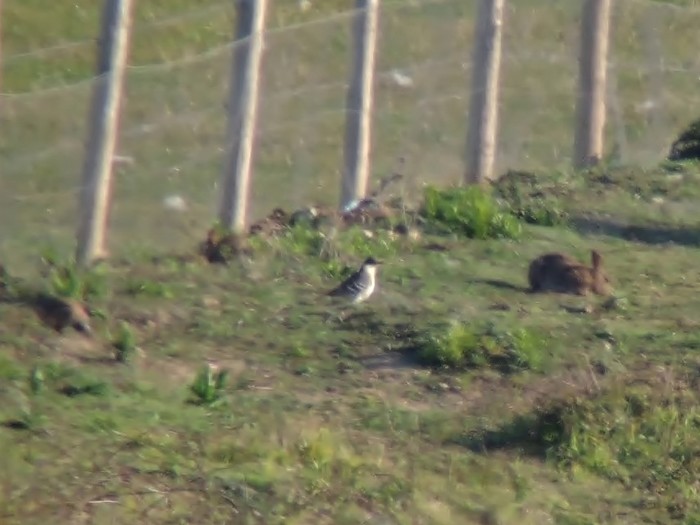 We'll start our final section of the national news with the lingering presence of the Great Spotted Cuckoo in Norfolk this week – a slippery beast, most often reported with the "though distant" caveat, it continued to haunt the Weybourne Camp area throughout the week.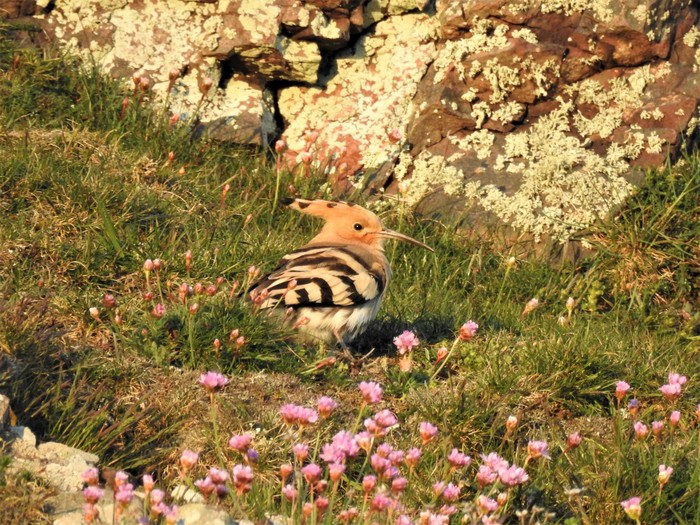 A further scatter of southern colour came in the form of a handful of Hoopoes - that still on West Burra (Shetland) on 8th joined this week by additional sightings from Branston GPs (Staffordshire) on 8th-10th; Stanstead Abbots (Hertfordshire) on 8th; St Abb's Head (Borders) on 10th-11th; and St Cyrus NNR (Aberdeenshire) and Gugh (Scilly) on 12th-14th. On 13th one was present at Holme Dunes (Norfolk), and another was seen at Blairmore & Strone golf club in Argyll & Bute.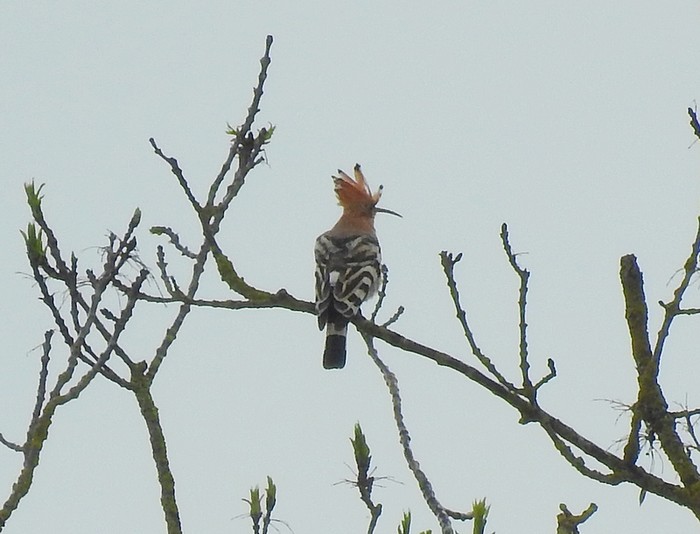 A solitary Bee-eater was logged in Cornwall at The Lizard on 10th, with another single bird noted on 13th at Long Nab (North Yorkshire).
Llangorse Lake (Powys) was graced by a male Citrine Wagtail on 8th; another male was found on Fair Isle (Shetland) on 14th.
Numbers of Blue-headed Wagtails tailed off this week, with just 11 birds noted nationally. Variety, however, remained – a probable male Black-headed Wagtail was seen briefly at Market Warsop (Nottinghamshire) on 9th; a possible Ashy-headed Wagtail was seen at East Coast NR (Co.Wicklow) on 10th; and Grey-headed Wagtails comprised males at St Abb's Head (Borders) on 10th and, on 11th-13th, at Low Newton-by-the-Sea (Northumberland), and another bird on 13th at Loftus (Cleveland).
A Richard's Pipit was seen on St Agnes (Scilly) on 8th. A male Bluethroat was present at Cley (Norfolk) on 9th. 10th was marked by a piece of the week's more intriguing news – a possible form seebohmi Seebohm's Wheatear seen, all too briefly, on Skomer (Pembrokeshire).
An eastern Stonechat sp was found on 14th in Suffolk at Southwold.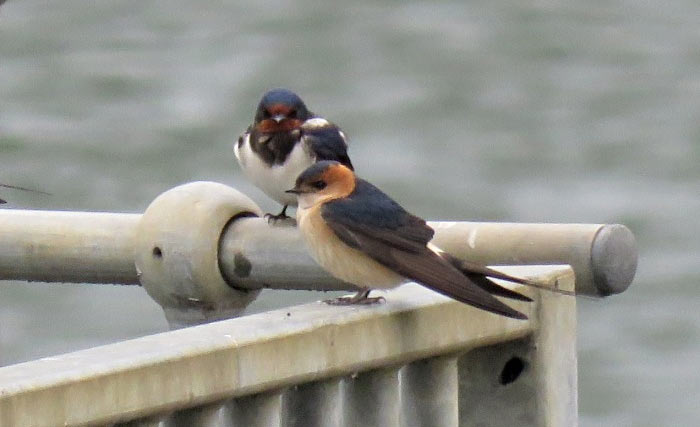 In a shadow of their recent showing, a Red-rumped Swallow remained this week at Grimsbury reservoir (Oxfordshire), with another noted on 9th at Horsey Gap (Norfolk).
On 10th an Alpine Swift was reported from Athlone (Co.Westmeath).
Ireland also got in on the news this week with a Short-toed Lark seen at Tacumshin (Co.Wexford) on 12th; another was seen that day on Tresco (Scilly).
Numbers of Wrynecks picked up, albeit just a little, this week with East Yorkshire and Norfolk making all the running. Three were seen on Flamborough on 10th, with individuals noted on Spurn and Kilnsea on 10th-12th. In Norfolk, sightings came on 11th-13th from Beeston Bump, Burnham Overy Dunes and Weybourne Camp. On 14th one was seen in Shetland on Fetlar.
On now to warblers, and Great Reed Warblers were making some noise – singing birds were recorded at Wintersett reservoir (West Yorkshire) on 8th-14th and at Tichwell RSPB (Norfolk) on 12th; and another was a handful for ringers on Spurn (East Yorkshire) on 10th.
Lundy (Devon) was, with some inevitability, where a female probable Eastern Subalpine Warbler was trapped and ringed on 11th; another Subalpine Warbler sp was reported from Tresco (Scilly) on 13th.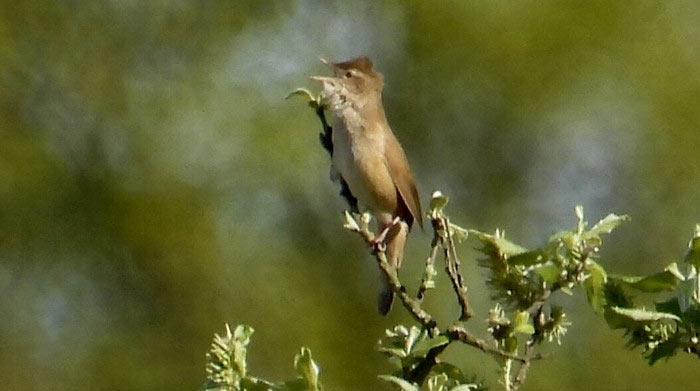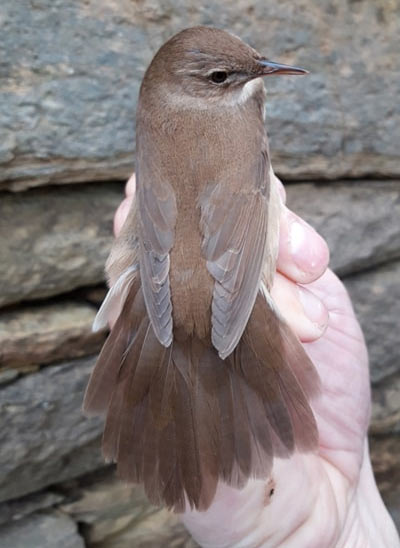 Savi's Warblers remained in song at Minsmere RSPB (Suffolk) on 8th-13th and Carlton Marshes SWT (Suffolk) on 11th-14th. Another was reported from Heacham South Beach (Norfolk) on 10th; and one was trapped and ringed on North Ronaldsay (Orkney) on 11th.
Three Iberian Chiffchaffs were noted in song also this week – birds remaining at South Kirkby (West Yorkshire) on 8th-13th and Gibraltar Point NNR (Lincolnshire) on 8th-10th; an unconfirmed report of another at Annbank (Ayrshire) on 11th; and one in song near Newburgh (Aberdeenshire) on 12th-14th.
A Melodious Warbler was found in song in Essex on 14th at Marks Tey.
Eleven Golden Orioles provided more welcome colour and sound wherever they were found this week – two mooching around St Mary's (Scilly) on 8th-12th being our peak single site count anywhere.
We continued to do well for Woodchat Shrikes also – the lingering male at Long Nab (North Yorkshire) on 9th-11th being joined in the news by fresh birds at Flamborough (East Yorkshire) on 10th-11th, on 12th on The Lizard (Cornwall) and, on 12th-13th, on Skomer (Pembrokeshire). On 13th another was present on St Martin's (Scilly).
The wandering Pied Crow made further Kentish outings at St Margaret's at Cliffe on 9th, Broadstairs on 12th, and then Foreness Point and Swalecliffe on 13th before being back to Broadstairs on 14th. Where next for those itchy feet, we wonder?
Just five Serins were seen this week – single birds widely scattered across the south on St Mary's (Scilly) on 8th, Landguard NR (Suffolk) on 9th, Portland (Dorset) on 11th and at Land's End (Cornwall) on 12th. A final bird was seen in Norfolk at Kelling on 13th.
Finally, the Little Bunting remained on Barra (Western Isles) on 10th still.
After the previous week's Norwegian craziness, things settled down once more this week and something approaching normal order resumed further afield. All of which means that Holland dominates our opening news once again…
Starting in Wageningen, the Nutcracker remained in situ on 8th; on 10th-11th a Little Crake was present at Wetering West; while on 10th-11th yet another sighting of Black-shouldered Kite continued to haunt British birders' wildest dreams – this one seen at Terhole. They keep on coming practically within sight of the English Channel… surely one of these days that barrier won't prove insurmountable.
Much the same could be said for the Black Vulture seen in Belgium at Antwerp on 8th. On 12th the Pygmy Cormorant was once more seen in Brussels at Parc De Woluwe.
Denmark too scored a Black Vulture - this time at Hellebaek Avlsgard on 14th.
Having a somewhat quieter week, Norway got in on the news with a Greater Sand Plover seen on 11th, thought probably to have been a Greater at this point though unfortunately it was flushed before its identity could be resolved once and for all – on 13th-14th all was clearer and it was still present at Slettnes. The nation's good recent run of shorebirds continued on 13th with a Greater Yellowlegs at Klepp.
Sweden, meanwhile, scored a Stejneger's Scoter at Hornefors on 8th-13th and either last week's Norwegian or, thrillingly, a new Grey-headed Plover on 13th-14th at Varmlands Ian.
In France, the Sociable Plover remained at Onnaing on 13th.
Heading further afield, on Fuerteventura (Canary Islands) the Dwarf Bittern remained present on 11th still, while on Cape Verde the recent sightings of Black Heron coalesced into three birds present at Santiago on 9th.
Finally, in Egypt, a Crested Honey Buzzard was noted at Gabal el Zayt on 8th.
The coming week…
By all accounts the coming week could be an interesting one, with high pressure over Scandinavia and, if the weather forecasters are to be believed, freshening easterly and south-easterly winds blowing across the North Sea. With some rain, too…
And if that doesn't sound like a recipe for some spring migration madness, I don't know what does. I fancy another Collared Flycatcher, and that's just for starters. A side order of Lesser Grey Shrike, maybe a sprinkling of Black-headed Bunting to garnish…
It goes without saying that there'll be more Subalpine Warblers of one flavour or another; and probably the dulcet tones of another Great Reed Warbler will ring out from a reed-bed or two.
So far so colourful (and discordant). My money this coming week goes on Thrush Nightingale - surely one is due to be found any day now…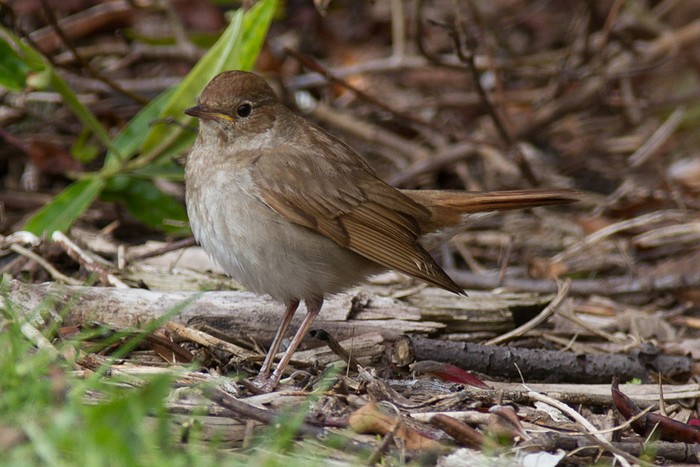 Jon Dunn
15 May 2019
Share this story
Tweet