Weekly birding round-up: 2 - 8 Aug 2017
The week at a glance
The great seawatching conditions deliver again with Barolo Shearwater in Devon
While pelagic magic continues off Co.Cork and Scilly with fresh, enormous tallies of Wilson's Petrels
And DNA analysis confirms that Fair Isle's intriguing July Phyllosc was a Green Warbler after all
More mixed weather this week meant that pretty much every part of the British Isles had a smorgasbord of sun, wind, rain and, in many cases, a bit more rain for good measure.
While the conditions may not have been balmily clement throughout, the unsettled weather continued to deliver more superb seawatching both for those who parked themselves on a handy headland or took to the high seas. There was plenty to see for advocates of either approach…
Barolo Shearwater
Ah, finally… After a few false starts with the old 'predicting the coming week's rarities' my needle finally hit the groove this week with a couple of Fea's Petrels and, rarer still these days, a Barolo Shearwater seen in the morning of 3rd from Devon's Prawle Point.
(To be fair, neither was the most spectacular act of divination - Fea's are practically a fixture these days in early August, and on the back of the preceding fortnight's seawatching it was surely only a matter of time before someone, somewhere, picked up a little shearwater flouncing across their field of view…)
Still, I'd have put my money on that Barolo being off the south-west extremities of Ireland or England– and really, given Devon's proximity to the Atlantic action, I shouldn't be in the least bit surprised that this week's record came from there. The county has recent form, of course, not least in the form of the male bird that returned to Lundy for two consecutive years, heard singing there in 2010 and 2011 – but also with two subsequent accepted seawatch records in 2013, off Berry Head on 7th June and Start Point on August 4th.
Overall, though, Barolo Shearwater remains a real prize for the dedicated seawatcher, with a mere 81 accepted British and Irish records to the end of 2015, from a good scattering of locations right around the region – while Scottish and eastern Irish seaboard records are, understandably, slim to absent, there are fair numbers from a variety of eastern English counties as well as the, perhaps more anticipated, westerly locales. In fact, of the 65 accepted British records to date, fully 23 come from the east side of the country, all but one of those (off Musselburgh (Lothian) on 9th December 1990) being from English coastal counties.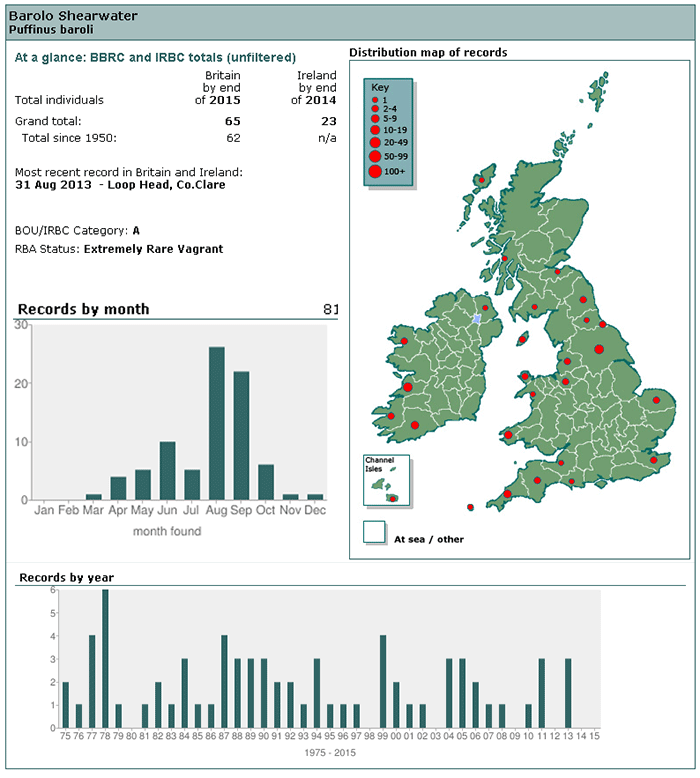 Interesting thing though, when one drills down into those occurrences a little – almost all of those accepted eastern English records pre-date 1991 – the exception being one seen from Hartlepool (Cleveland) on 15th July 2000. Overall, the accepted records have kept coming, but only from westerly stations – begging the question of what's changed. Clearly it's not through want of effort, as there are many dedicated seawatchers on the east coast – so either the birds ain't coming any more, or the level of proof required to get one across the line with the BBRC has changed in the meantime. Or a bit of both. If it's the latter, one wonders what might happen were some of those previously accepted eastern English records to be re-appraised by current criteria.
Those idle musings aside, a big hats-off to Prawle Point's faithful this week – I had a feeling there was a Barolo Shearwater in the post, and sure enough there it was.
Pelagic magic
Last week I made passing reference to the growing popularity of pelagic birding in Britain and Ireland, singing the praises of this as a means to really get in and amongst the seabird action.
There was no implicit criticism intended of those who prefer their seawatching to be land-based – after all, I love sitting on a rain-scoured headland as much as the next man, though I note with some consternation the changes the years have wrought – what's with all the comfy portable chairs, people? Back in the day we made do with a placcy bag to sit on and counted ourselves lucky…
Nevertheless, some took to social media to staunchly defend the traditional British summer birding past-time of land-based seawatching, "land beats sea every time" being the flavour of the debate… To each their own, says I, but all the same… I merely give you the notable pelagics the past week served up by way of example of how good it can be when you go to sea…
We'll kick off at the start of the week when the Scilly pelagic of 3rd encountered simply remarkable numbers of birds – some 4,500 shearwaters of five species, with 750+ Great Shearwaters and 250+ Cory's Shearwaters amongst them. Perhaps the biggest surprise of this mêlée was that there wasn't something really rare amongst them – though at least 15 Wilson's Petrels certainly weren't to be sniffed at.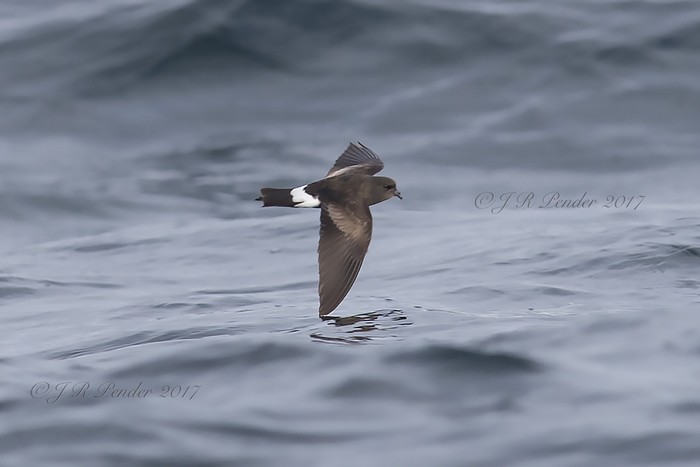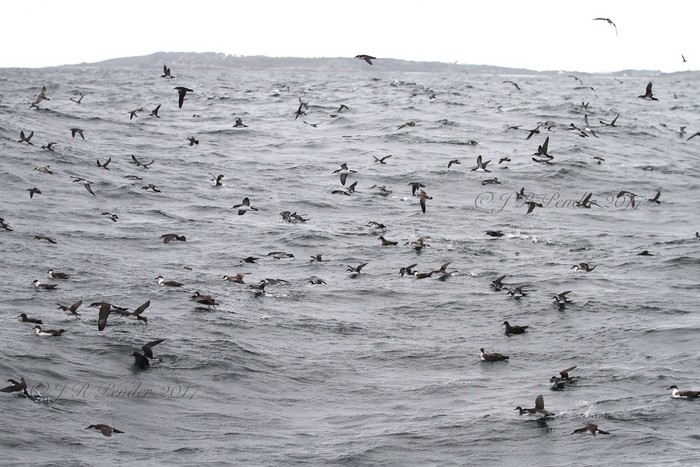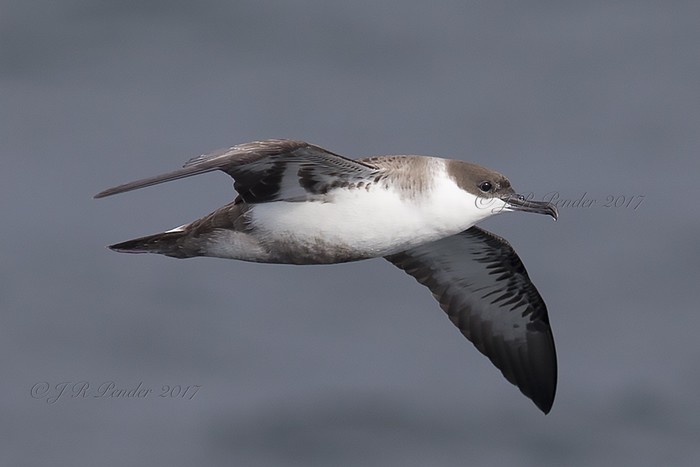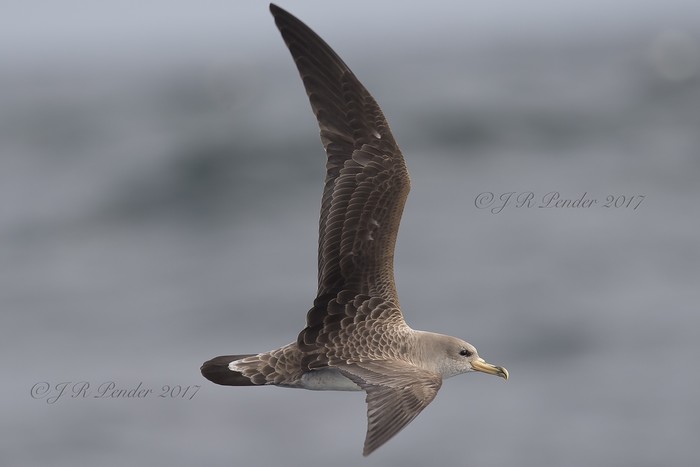 There were plenty more Wilson's Petrels to go at as the week progressed, but we'll come to them in due course – for now, we spool forwards to Sunday 6th and a pelagic off the Co.Cork coast – and a simply staggering tally of no fewer than 56 Wilson's Petrels! Fifty. Six. That's phenomenal.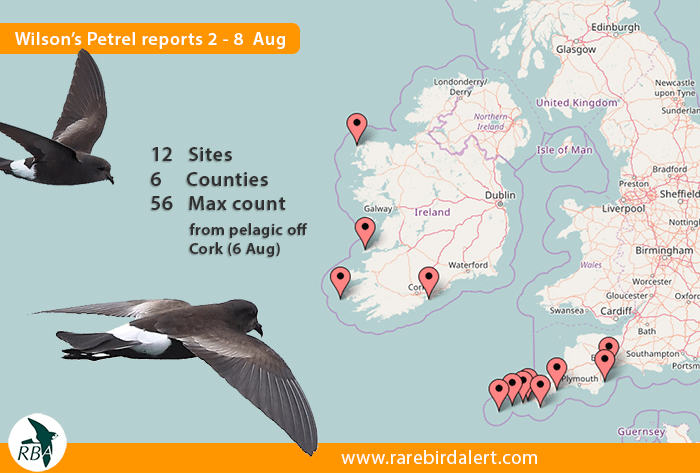 So yeah, given the choice, I think I'd rather roll the dice and go out to sea. I've done the land-based seawatches, and they're a lot of fun, but having paid those dues I think from now on I'd rather gamble on my path crossing the really big tallies or outrageous rarities that lurk closer to the Continental shelf edge or other marine upwellings.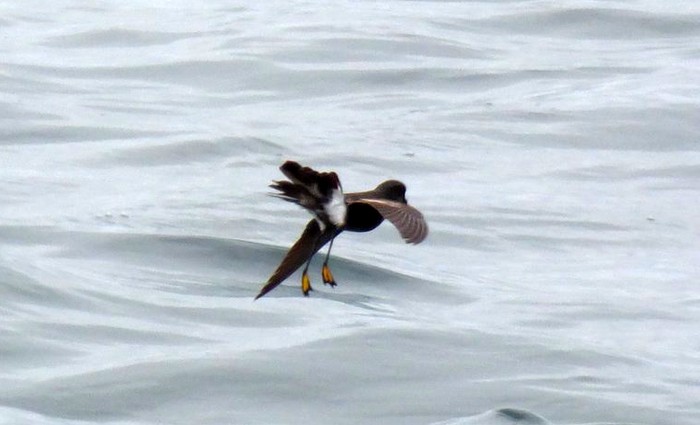 Green Warbler
Speaking of changing times and approaches, our last big news this week concerned DNA confirmation of what the Observatory staff had suspected at the time – namely that the bright-faced Greenish-type Warbler trapped on Fair Isle on 4th July was, in fact, Britain's third confirmed Green Warbler.
The bird stuck around until 7th July in the Obs plantation, a spectacular first for this wonderful island though not, of course, for Shetland as a whole following the bird that spent a few days on Unst at Baltasound on 13th-15th May last year.
That individual, only Britain's second record after the first waaay back in autumn 1983 on Scilly, was a cracking bright bird with a good yellow wash on the face and upper breast that had set alarm bells ringing straight away with the finders. Subsequently vocalisations and DNA analysis confirmed things.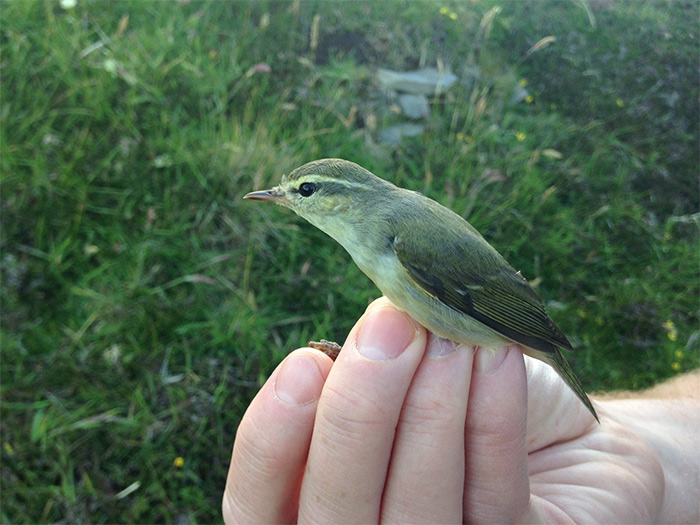 DNA analysis, and not only that but fast DNA analysis, really is a game-changer these days. Provided a shed feather or faecal sample is obtained we can have certainty where once we had only speculation about birds as fascinating as this latest Green Warbler on Fair Isle. The times they really are a-changing.
I'd promised myself that, after a fortnight in the headlines, Wilson's Petrels would drop back this week into the main body of the news. As you've already seen, I've only half-kept that promise… Including those immense counts off Scilly and Co.Cork, the species as a whole was busy again this week with around 100 birds overall logged – starting with a busy flurry on 2nd when four were seen from Porthgwarra and at least three from the Lizard (Cornwall). (Porthgwarra scored another bird as the week drew to a close on 7th).
As the week unfolded further sightings from elsewhere in Cornwall rolled in, not least from the venerable Scillonian in a nod to her former incarnation as the site from which many of us saw our first examples of the species – three were seen from her on 3rd, and two on 4th, though happily for all concerned this was from waters closer to home than the Western Approaches where she, infamously, sometimes struggled somewhat with the swell.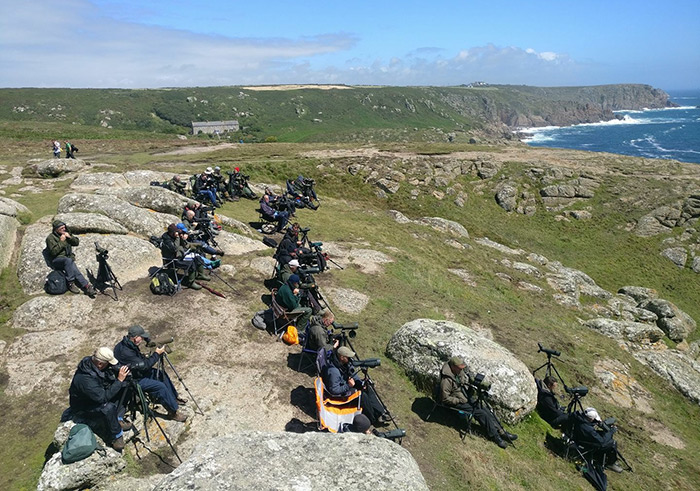 Wilson's Petrels were a fixture from the Scilly pelagics this week apart from the notable 15+ count on 3rd, with diminishing tallies of three, two and then one bird seen on subsequent days, and a further singleton noted on 8th. Meanwhile, further east in Devon, one was noted from Orcombe Point on 3rd with another possible that day seen off Berry Head.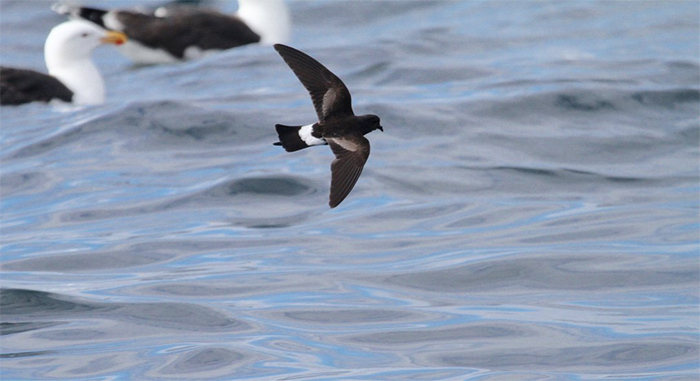 Irish promontories remained productive too – a bird seen from Bridges of Ross (Co.Clare) on 3rd was followed, on 6th, by sightings from Cape Clear and Power Head (Co.Cork) and Annagh Head (Co.Mayo).
Meanwhile, as alluded to in our headlines, the 3rd finally delivered some Fea's (or Desertas) Petrel action for watchers in Cornwall and Ireland – one went west past Porthgwarra just after midday whilst in Co.Cork one passed Galley Head in the early afternoon also. A belated report of a possible individual off Cornwall's Mousehole early on 3rd emerged the following day.
Around 800 Cory's Shearwater were logged this week, an almost twofold increase on last week's tally, fuelled in no small part by the large flock of over 250 off Scilly on 3rd, but bolstered not least by 100 noted from the Scillonian on 3rd also. For the most part the remainder were logged from the usual south-westerly bias, but a few trickled up the English Channel and into the North Sea – sightings came from Hadston Carrs (Northumberland) and Spurn (East Yorkshire) on 4th and Staithes (North Yorkshire) on 5th.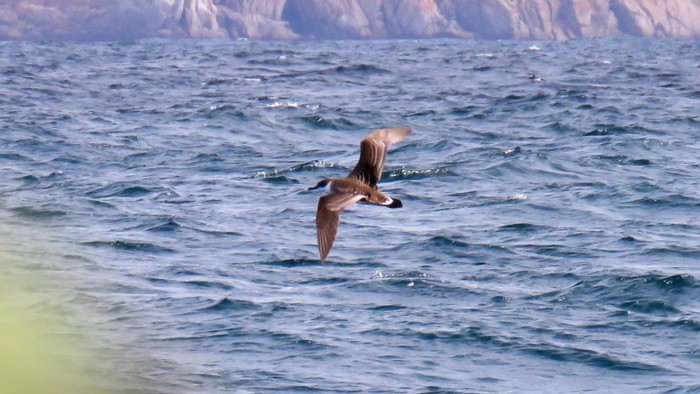 Numbers of Great Shearwaters meanwhile also saw a hefty uplift, to over 1,300 records over the course of the week, once again given a big shot in the arm by the Scilly pelagic on 3rd when over 750 alone were logged. Sightings of the species were more firmly anchored in the south-west of Britain and Ireland, with double figure counts coming from Cornwall and Co.Cork and 110 birds noted from the Scillonian on 6th. Close your eyes and it was the early 1990s all over again, out of sight of land somewhere south-west of Scilly…
Balearic Shearwaters too had their moment this week, albeit rather more modestly. Start Point (Devon) provided the stand-out count with 203 seen off there on 3rd; indeed, the bulk of the week's approximately 1,100 birds were noted in the south-west at the front end of the week, with sightings tailing off as the days wore on until 7th when another chunky Devonian count came in the form of 121 in Lyme Bay, followed by around 200 off Portland Bill (Dorset) the following day. Wandering individuals were noted in Welsh waters in Pembrokeshire off Skokholm on 2nd and 3rd, Strumble Head on 3rd, and St. Govan's Head on 6th; with two off Mwnt (Ceredigion) on 4th; while in the east one was seen from Flamborough Head (East Yorkshire) on 5th.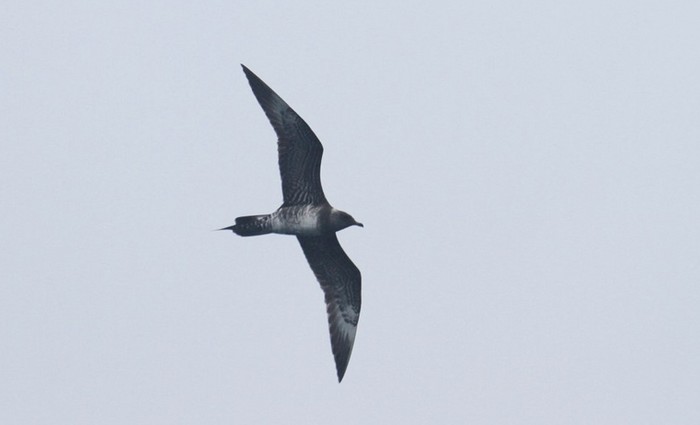 Numbers of Pomarine Skuas picked up, with around 55 in all recorded from as far north as Northumberland down both sides of the British Isles in ones and twos in the early part of the week and then, as the week closed, in somewhat larger numbers off the Devon coast – seven being seen on 6th from Dawlish Warren NNR with nine there the following day and an additional four on 7th off Berry Head.
Long-tailed Skua meanwhile made a welcome return to our weekly sightings with four birds noted: from Brandon Point (Co.Kerry) on 3rd; Lizard Point (Cornwall) on 4th; and on 6th at sea from the pelagics off Scilly and Co.Cork respectively.
We'll kick off our stride through the Herons, Egrets & sundry leggy things with last week's large arrival of 14 Glossy Ibises in Cornwall – the flock split in two at the start of this week, with seven birds decamped to Devon on 3rd at Braunton and Horsey Island on 4th-5th, and seven still in Cornwall at Walmsley Sanctuary on 4th-6th, with numbers down to five at the latter site on 7th-8th. The Horsey Island flock dropped too by 5th, to four birds, with just two still there by 7th.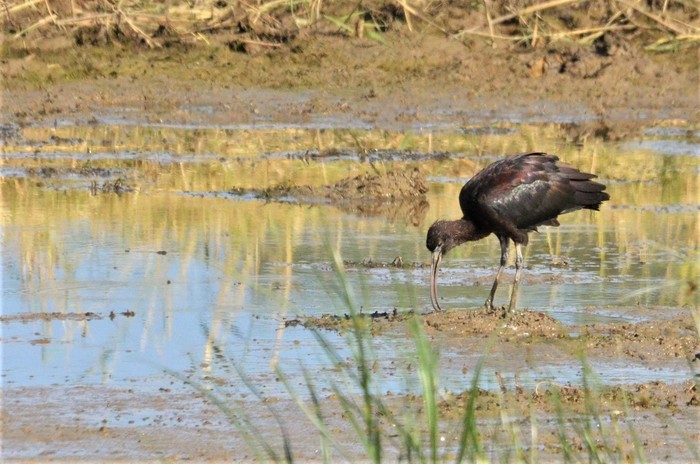 Somerset sightings came from Meare Heath NR on 2nd and then Ham Wall RSPB on 4th-6th. Further east, in Suffolk the adult remained at Trimley Marshes SWT on 2nd-5th, while it or another was at Minsmere RSPB on 6th-8th, and one was in Essex at Old Hall Marshes RSPB on 6th.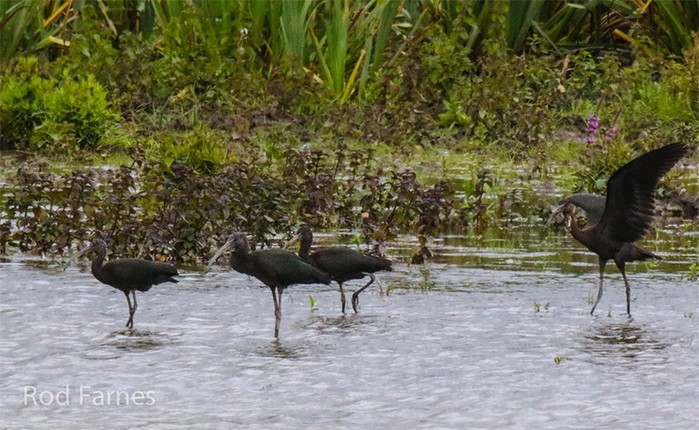 Last week's happy Night Heron news from Somerset yielded a couple of sightings in the vicinity again this week – a juvenile bird seen at Westhay Moor NNR on 3rd, and an adult at Shapwick Heath NNR on 5th. Last week's lately arrived juvenile in Northumberland at Whittle Dene Reservoirs remained there until 3rd, while the resident adult American Night Heron remained at Dingle Gardens, near Shrewsbury (Shropshire) until 8th.
A Purple Heron was reported in Ireland at Ballysadare Bay (Co.Sligo) on 2nd, while one was seen heading out to sea over Porthgwarra (Cornwall) on 5th.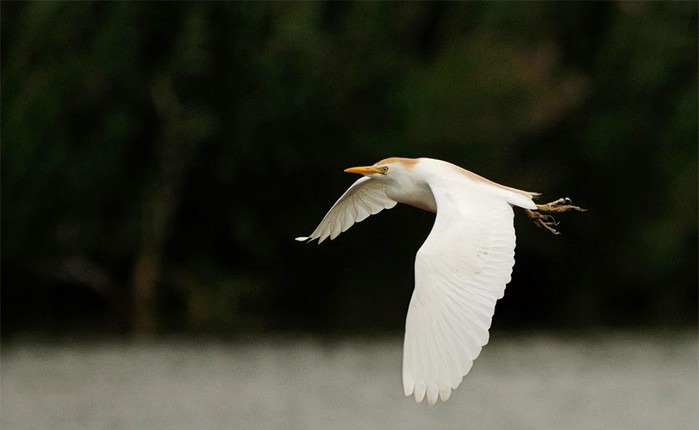 Moving onto the summer's headline egrets, numbers of Cattle Egret reported this week picked up again, back to the recent average of around 40 birds nationwide across 11 counties. Starting in Cornwall, up to four birds were reported more or less daily from Walmsley Sanctuary, with a single bird on the Gannel Estuary on 5th. Meanwhile, in Devon sightings came daily from Black Hole Marsh NR, with a peak of four birds there on 2nd; one was settled on South Huish Marsh on 3rd-6th, with one at Blaxton Meadows on 6th-7th and four seen over Aveton Gifford on 4th. In Dorset two birds were at Lodmoor RSPB on 2nd, with possibly the same duo seen on 5th at the other end of the Fleet at Abbotsbury; on the evening of 8th a dozen birds were found back at Lodmoor. Understandably, given their breeding success in the area, the Somerset Levels held onto some too, with five birds noted at Westhay Moor NNR on 7th.
Elsewhere single wandering birds popped up here and there – at Slimbridge WWT (Gloucestershire) on 5th and the WWT National Wetlands Centre (Carmarthernshire) on 7th; at Thorney Island (West Sussex) on 6th, and on 7th over North Foreland (Kent); and at Peterstone Gout (Gwent) on 8th. The settled adult bird remained in Norfolk at Potter Heigham until 6th, while in Suffolk four birds were at Minsmere RSPB on 3rd. It'll be fascinating to see if this year's national breeding success is a flash in the pan or whether this is the start of colonisation proper in years to come.
Speaking of which, Great White Egret have been breeding in Somerset since 2012 – but as of this year this elegant, spectacular egret has begun to spread its wings a little further afield – it was confirmed this week that a pair had successfully hatched three young in Norfolk at Holkham. Numbers overall remained consistent with the recent norm, with some 43 individuals recorded from 13 counties. As usual, most of these involved single birds, with the odd duo or trio – Holme NWT (Norfolk) hosted three on 6th; Rutland Water (Leicestershire) claimed three on 4th-5th; Dungeness RSPB boasted three on 6th-7th rising to four birds on 8th; while Ham Wall RSPB (Somerset) took the laurels with five present on 4th.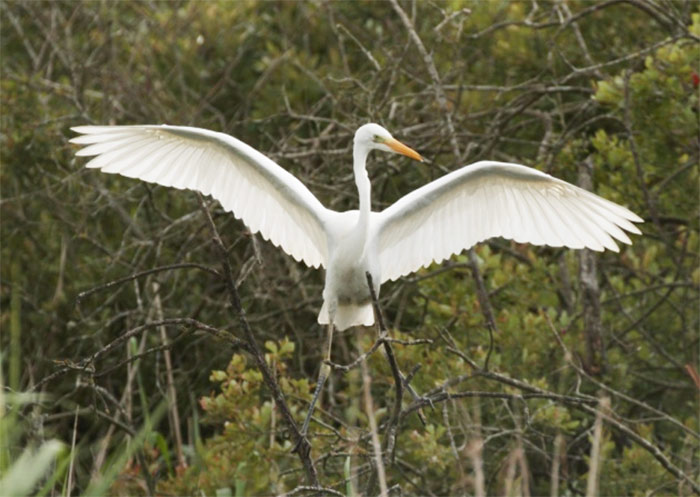 Once again, Spoonbills were both predictably numerous and fluid in their movements this week, with numbers fluctuating at their regular haunts as the days went by. Just shy of 200 records came in from 15 counties, though surely fewer birds than this were actually involved as some will be moving between sites and there will be some duplication happening, particularly in Norfolk – here alone peak counts came from Stiffkey with 37 birds on 2nd, Burnham Deepdale Marsh with 19 birds logged on 2nd and 6th, Titchwell on 6th with 14 birds, and 11 seen over Potter Heigham on 7th. You get the picture – there are a LOT of Spoonbills kicking around at the moment. Which is nice.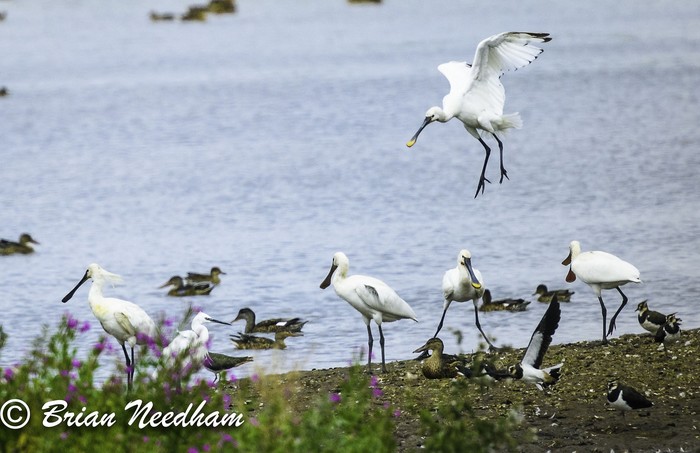 A brief dabble again this week amongst our slim pickings of rare quackers – top billing, inevitably, going to the drake American White-winged Scoter in Aberdeenshire off Blackdog still on 5th-8th, with two drake and one first-summer drake Surf Scoter reported there intermittently too throughout the week.
In Wales, the first-summer queen King Eider remained at Ynyslas (Ceredigion) until 8th.
Returning to Scotland, (and yes, I know it's not an actual duck, but it's swimming around in duck-like habitat so that'll do for me), we find the male Pied-billed Grebe still present in Argyll at Loch Feorlin until 8th.
<!—Section Title -->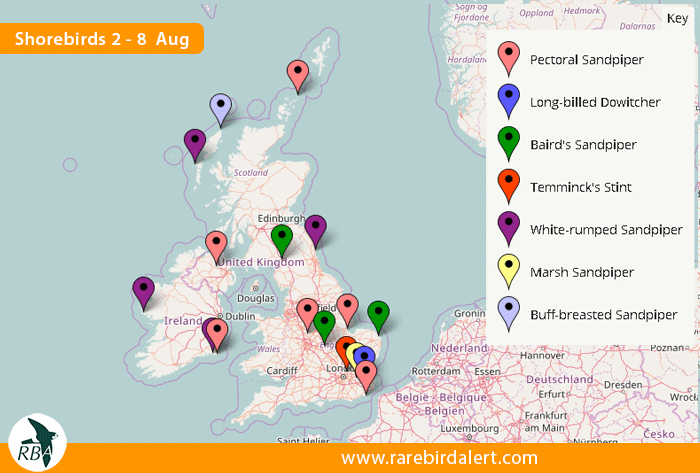 Looking overseas, the signs are all there that a really top dollar wader is really due around now – more of which anon – but in a week dominated by seawatching the rare and scarce shorebirds in Britain and Ireland continued to offer us relatively modest pickings that, had the possible Broad-billed Sandpiper reported from Highbridge on the Brue Estuary (Somerset) on 5th only firmed up into a definite bird, would have been a little livelier altogether.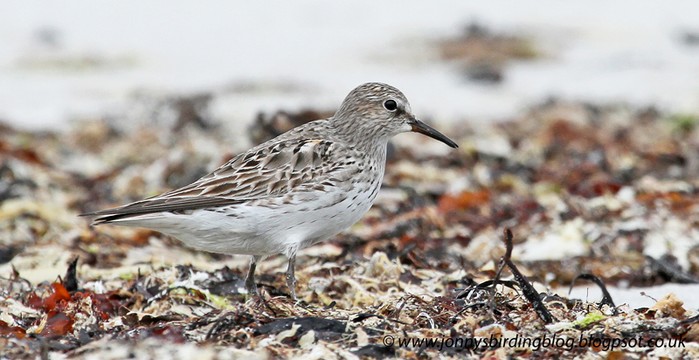 Nevertheless, a good crop of White-rumped Sandpipers turned up – adults on North Uist at Balranald RSPB (Western Isles) on 2nd-3rd, on 7th on St. Mary's Island (Northumberland) and The Cull (Co.Wexford), and on 8th at Cresswell Pond NWT (Northumberland) and Ballyconneelly (Co.Galway) – while in Norfolk an adult Baird's Sandpiper was at Potter Heigham on 5th-8th. The latter is, by some margin, considerably the rarer of the two species in a Norfolk context, so this was a deservedly popular individual.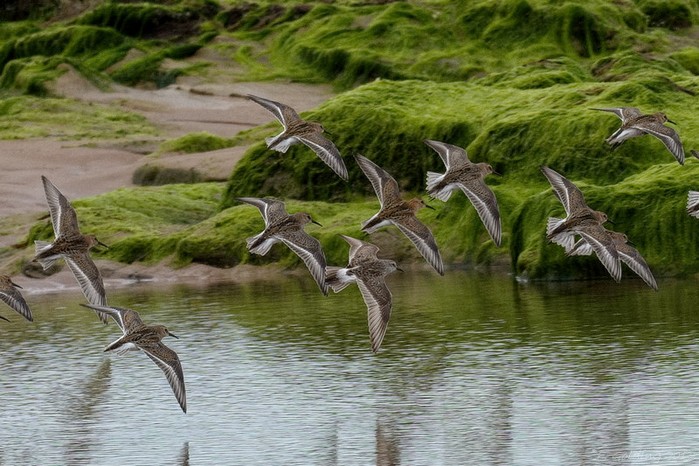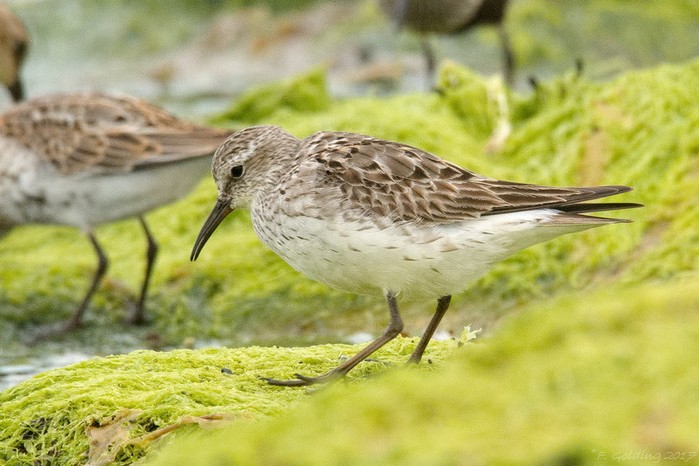 Also at Potter Heigham this week was a Temminck's Stint on 2nd-5th. Two more were reported on 8th at King George V Reservoir (London).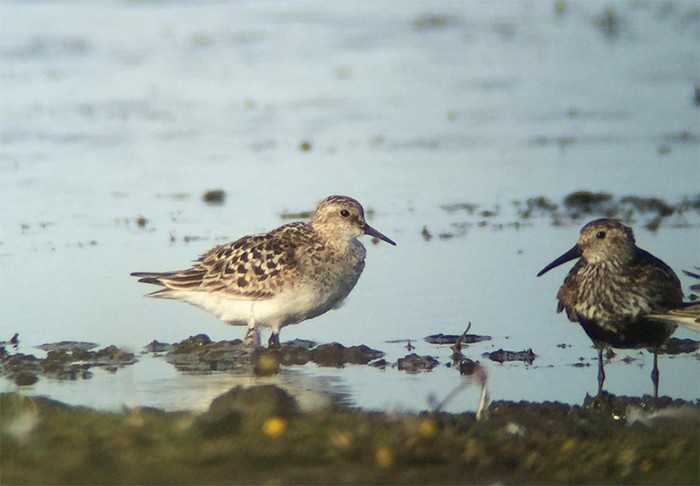 Sightings of the recent Marsh Sandpiper at Cliffe Pools RSPB (Kent) petered out this week, with the bird seen only intermittently on 3rd-5th. Elsewhere in the county, however, things perked up with an adult Long-billed Dowitcher discovered on 8th at Oare Marshes NR, the locus mirabilis for the species in the county with a number of individuals recorded here down the years.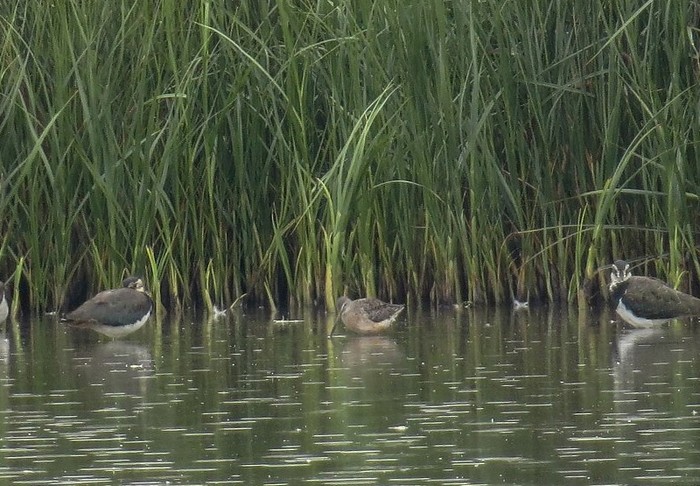 Numbers of Pectoral Sandpipers meanwhile picked up ever so slightly, with seven birds noted: familiar faces from last week remained at Frampton Marsh RSPB (Lincolnshire) until 3rd and Dungeness RSPB (Kent) until 4th, while further birds were logged at Blithfield Reservoir (Staffordshire) on 4th-8th, Lady's Island Lake (Co.Wexford) on 4th, Cliffe Pools RSPB (Kent) on 5th-6th, Lough Beg (Co.Derry) on 6th-7th, and up on North Ronaldsay on 7th.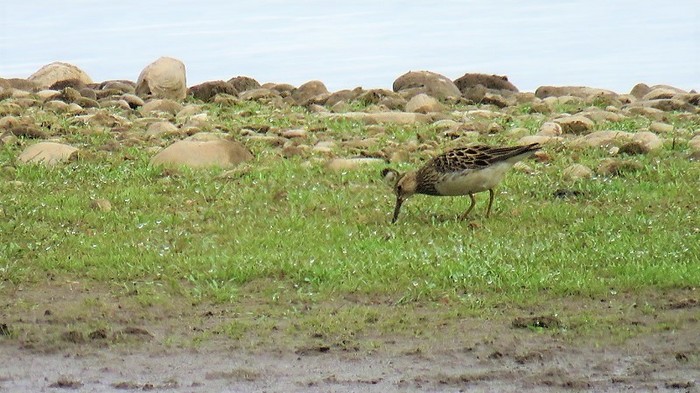 Set, of course, to be an increasingly frequent fixture in the Shorebirds section in the weeks to come, a Buff-breasted Sandpiper was seen in the morning of 4th at the Butt of Lewis (Western Isles).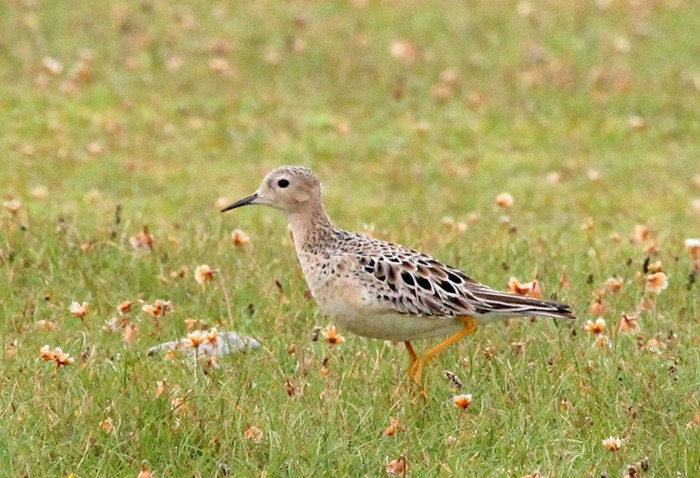 Conversely, reports of our breeding Black-winged Stilts can be expected to dwindle as the early autumn progresses. For now though three parties stuck around – at Potter Heigham (Norfolk) with six birds still present on 5th; at Cliffe Pools RSPB (Kent) where four juveniles remained on 7th; and at Bowers Marsh RSPB (Essex), where five birds (two adults and three juveniles) were seen on 5th-8th.
Any week that featured seabirds quite as prominently as this week would, surely, yield some Grey Phalaropes too… Sure enough, three birds were logged: on 3rd off Singing Sands, Ardnamurchan (Highland); on 4th from the Scillonian; and on 6th from a Scilly pelagic.
On that happy seawatching theme, we got a decent haul of Sabine's Gulls this week, starting at Brandon Point (Co.Kerry) on 3rd with three birds noted there that day. Thereafter one was seen in Highland from the Summer Isles on 5th, while on 6th in (or near) Co.Cork two were seen from Power Head with singles off Cape Clear and from the local pelagic also.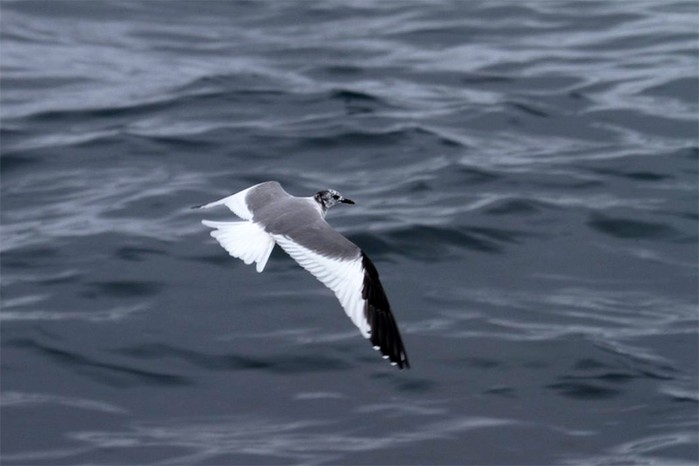 Last week's new second-winter Bonaparte's Gull remained for a little while on Brownsea Island (Dorset) at the start of the week, still present there until 4th while in Kent the adult bird stuck around a while longer at Oare Marshes until 8th.
Just one Ring-billed Gull again this week – this time an adult at Carew Mill Pond (Pembrokeshire) on 6th.
Numbers of white-wingers were also predictably low again, with two individuals of each species to report. Our Glaucous Gulls are represented by juveniles on South Uist at Ardivachar (Western Isles) and the South Gare breakwater (Cleveland), both on 6th; while our Iceland Gull contingent are juvenile on 6th-8th also at Ardivachar, and one seen in Ireland at Balbriggan (Co.Dublin) on 3rd.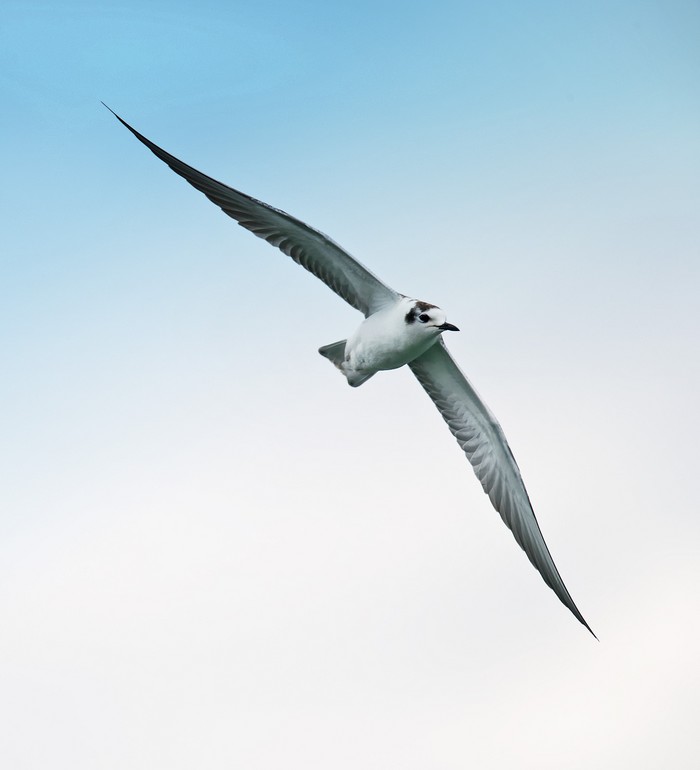 As mobile and as pleasing in its appearances as the Littlest Hobo, our recent Caspian Tern popped up a few times again this week: presumably the same bird accounting for sightings at Swillington Ings and Fairburn Ings RSPB (West Yorkshire) on 2nd, Carr Vale DWT (Derbyshire) on 3rd, and Linford NR (Buckinghamshire) on 4th.
The juvenile White-winged Black Tern remained at Far Ings NR (Lincolnshire) until 5th, with another bird seen on 4th at Bowling Green Marsh RSPB in Devon and one noted on 7th-8th in Devon off Shelly Beach.
We finish the week's terns once more with the Forster's Tern still present at Soldier's Point (Co.Louth) until 7th at least.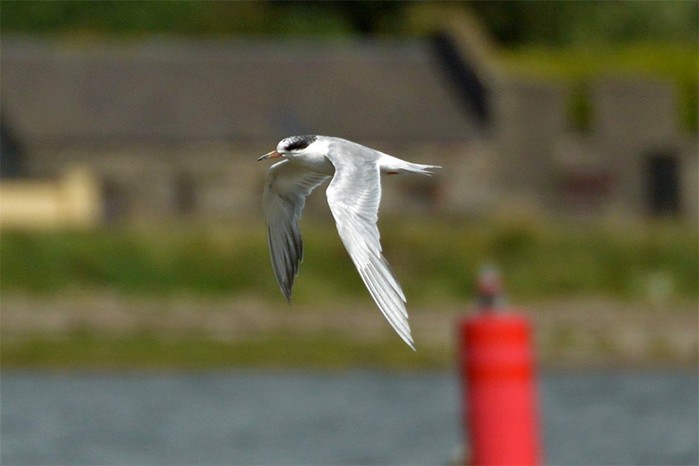 Predictably quiet times once again where raptors were concerned, with the adult White-tailed Eagle seen once again on Unst (Shetland) on 6th the most notable sighting in an otherwise very quiet week indeed.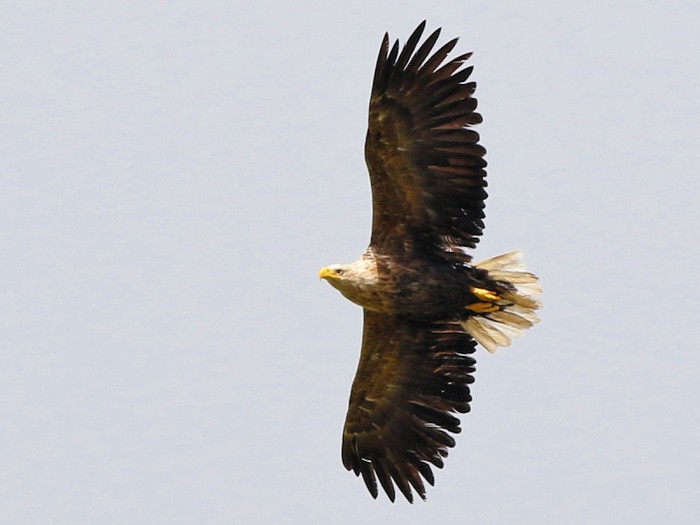 Other than that, however, and it was all about the Honey Buzzards again, with regular sightings as we have now come to expect logged from the raptor watchpoint in Wykeham Forest (North Yorkshire) where as many as five birds were noted on 4th; on 5th, meanwhile, one was seen in Suffolk over Minsmere RSPB.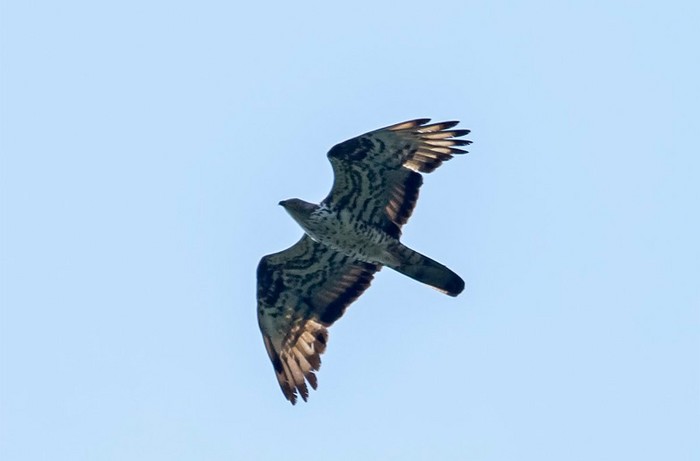 Sad news emerged this week regarding the breeding Bee-eaters at East Leake (Nottinghamshire) – their nesting attempts were confirmed to have come to naught this year. The seven birds present stuck around until 4th but weren't reported subsequently though they may, presumably, account for the six birds seen on 7th-8th in Leicestershire at Ulverscroft. A single bird was seen on 4th in Highland at Reay.
Yorkshire, meanwhile, accounted for two of the week's more notable sightings – starting with a Hoopoe at Roundhay (West Yorkshire) on 4th, and followed at the back of the week by an Alpine Swift at Bempton Cliffs RSPB (East Yorkshire) on 7th.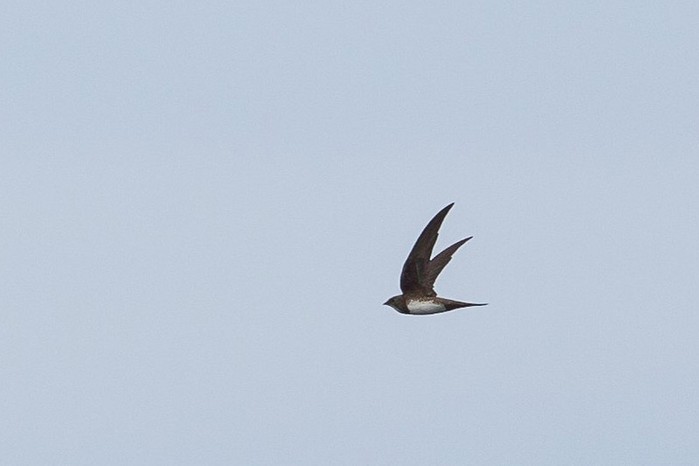 Not a million miles away, the female Red-backed Shrike remained at Filey (North Yorkshire) until 3rd. This hint of autumn was supplemented by a Woodchat Shrike at Prawle Point (Devon) on 4th, a probable Citrine Wagtail at Pegwell Bay (Kent) that day also, and an unconfirmed report of a Wryneck in East Sussex at Rye Harbour on 5th. Before too long we'll be knee-deep in the latter two species… Well, maybe ankle deep. But autumn's just around the corner now…
With no further irruptive Two-barred Crossbills forthcoming this week, we'll close with the adult Rose-coloured Starling still present on Fair Isle (Shetland) on 5th.
Practically part of the European furniture these days, our news from further afield kicks off with the Black-browed Albatross still in Germany at Sylt, Schleswig-Holstein until 8th while, in nearby Sweden, a Great Black-headed Gull was seen at Simrishamn, Skane, on 3rd.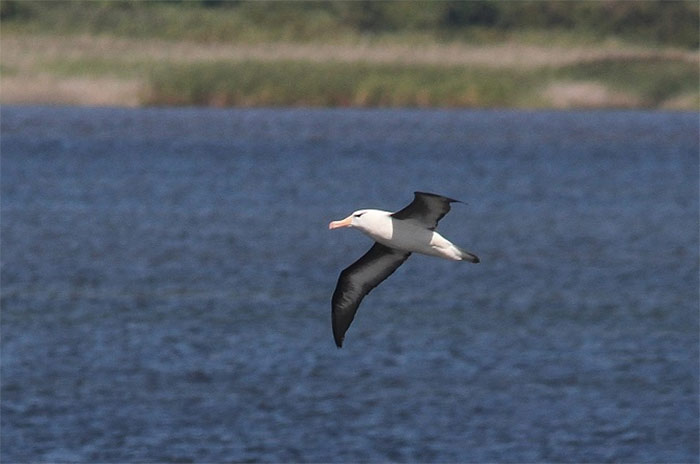 British birders have long-anticipated that particular species and, given the relative frequency of sightings of the next one in northern Europe lately, we might be forgiven for daring to dream that Black-shouldered Kite might, one day, hove into view – one was in Holland at Tetjehorn, Groningen on 2nd.
As alluded to earlier on, it's the time of year when we might be reasonably hoping for some top quality shorebirds and, elsewhere in the region, there was plenty to suggest what we're missing out on…
Starting in Austria, a Black-winged Pratincole was at Seewinkel on 7th. Nearer still, in France an adult Red-necked Stint was in Manche at Dragey-Ronthon on 6th-7th, and a Sociable Plover graced Maine-et-Loire on 2nd-3rd. Fair to say any of that trio would be gratefully received in Britain and Ireland.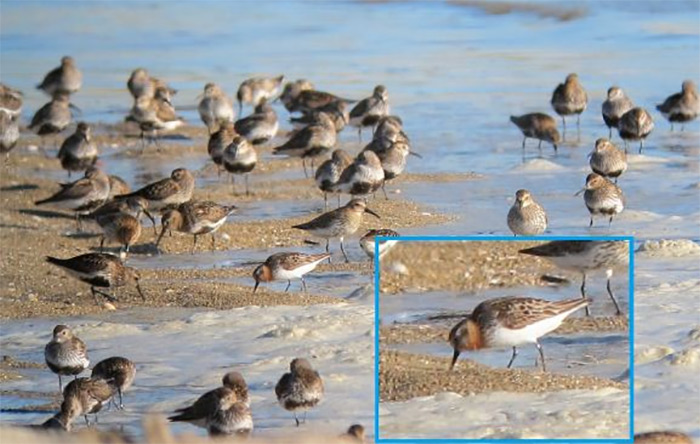 Further afield still, news from the Azores on 2nd was not wholly unexpected, but mouthwatering nonetheless – Cabo de Praia, Terceira boasted no less than two Least Sandpipers, two Semipalmated Plovers, and single Lesser Yellowlegs and Pectoral Sandpiper. Not a bad day's work, that. The Grey-tailed Tattler was here again on 8th for good measure.
In Italy a Western Reef Egret remained at Peschiera del Garda, Maraschina on 2nd-6th.
Back in Israel last week's Yellow-billed Stork was still in the Harod Valley on 6th, with Bataleur again that day at Hula.
Buoyed by last week's modestly successful predictions, and about to hand the Rarity Round Up reins back to my Norfolk colleague, Mark, I'd love to really pull a rabbit (or a Red-necked Stint out of the hat this week with a prediction of a genuinely eye-watering stand-out bird for the coming days.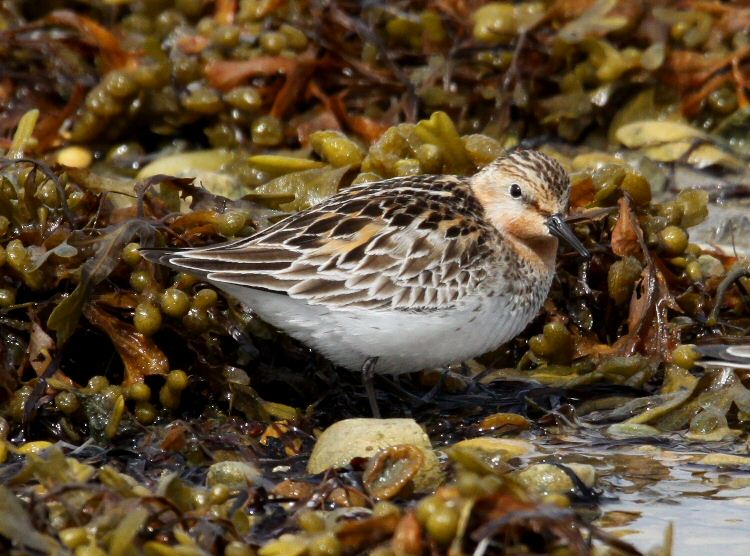 Thing is, I'm not convinced that any of the panoply of juicy wader possibilities is actually going to make it here. The weather of the past three weeks looks, broadly, set to continue for another week yet – so while southern Europe will continue to be scorchio, we're in for yet more conveyor-belt westerlies off the Atlantic, particularly as the week wears on a fresh low pressure system anchors itself northwest of the British Isles.
All of which is, probably, bad news for anyone hoping to score a Lesser Sand Plover - but pretty favourable news for anyone who fancies either a little seawatch or a pelagic trip.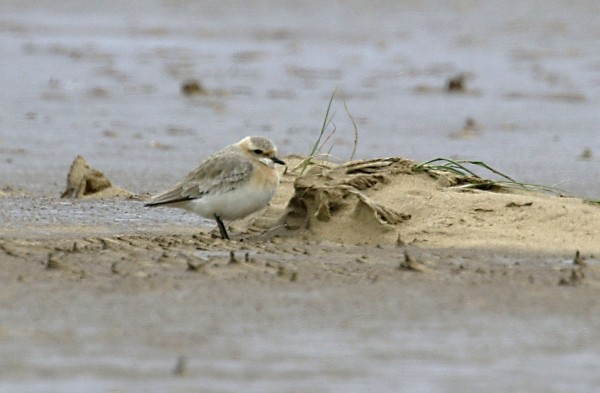 So… in the coming days I'm thinking another glut of Wilson's Petrels including more land-based sightings, several more Fea's Petrel, at least another shout for a Barolo Shearwater, and maybe something a little bit spectacular too…
After this much sustained westerly action, I reckon something could be blown really off course. Long odds then on an albatross, a frigatebird or a tropicbird…
Jon Dunn
9 August 2017
Share this story
Tweet


Many thanks to all contributors for their photos and videos this week.
Joe Pender, Kilian Kelly, Fair Isle Bird Observatory, Dan Pointon, Paul Connaughton, Chris Waring, Benjamin Gilbert, Rod Farnes, Lee Gardiner, Andy Bloomfield, Brian Needham, Jack Dawson, Ian Porter, Jonathan Farooqi, Frank Golding, Marcus Nash, Alex Perry, Tony Marr, Tony Davison, David Boult, Gerry O Neill, David Cooper, Brian Martin, David Aitken, Sébastien Provost, Paul Ehlers, Paul Baker, Michael Malpass,