Weekly birding round-up: 6 - 12 Oct 2020
The week at a glance
Ireland's first Tennessee Warbler is found in Co.Galway
Scilly scores a smart Black-and-white Warbler
And the autumn's first Blackpoll Warbler is seen in Co.Cork
Back in Co.Galway, Ireland's third Philadelphia Vireo is found
West Sussex enjoys a briefly obliging Common Nighthawk
Shetland lands a brace of Eyebrowed Thrushes…
…quickly followed by a Rock Thrush
While Highland enjoys a Western Orphean Warbler
And in Dorset an ultimately doomed Short-toed Eagle is taken into care
We could see the writing on the wall as the prior week drew to a close, a vintage one that left us wading knee-deep through eastern warblers and assorted other passerine goodies. Winds from deep in the western reaches of the Atlantic were set to sweep into Britain and Ireland, dominating the days ahead.
That said, canny birders in the northern isles still had their hopes riding high – there were surely still some good birds to come out of the woodwork or filter back into Shetland when they came up against a stiff headwind? Another classic week of autumn birding was about to unfold across the British Isles…
Tennessee Warblers
The ink had barely dried on the previous week's round up before there was news flashing up on our screens of a Tennessee Warbler - but not, as some might have anticipated, back on Shetland where the bird on Yell had last been seen at Burravoe on 4th. I closed our last round up by saying that Scilly or Inishbofin (Co.Galway) might deliver the Nearctic goods and, as we'll see, the former certainly did, but the first Nearctic warbler of the new week was, as predicted, on Inishbofin on 6th-7th – Ireland's first record of Tennessee Warbler, no less.
This was, however, the good news. The bad news was that with tightened Covid-related travel restrictions in place, access to Inishbofin was technically off-limits to would be twitchers. That may be to the chagrin of some, but we'd all do well to remember that this terrible disease is genuinely bad news for the elderly and vulnerable, and it's down to us as individuals to demonstrate some personal responsibility and thoughtfulness under the current circumstances.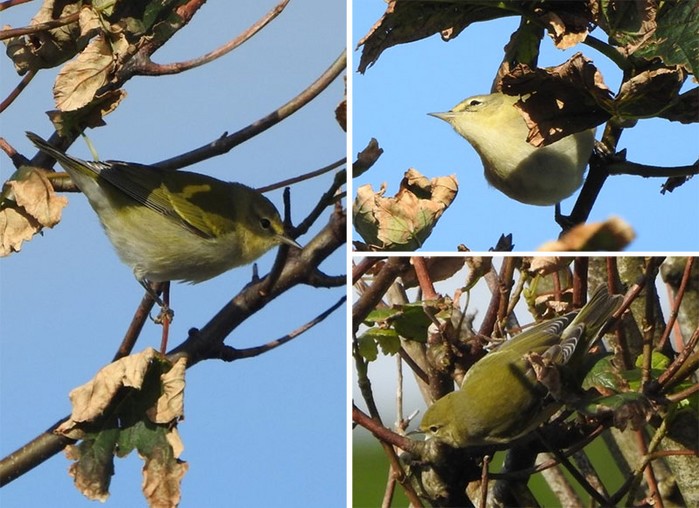 This was not, however, the end of the Tennessee Warbler story this week, for on 6th-7th news came of a bird back on Yell, albeit some miles north-east away from Burravoe, at Breckon. Perhaps a bit odd that a migrating warbler would choose to head north-east once it had replenished its fat reserves, but lightning surely wouldn't strike twice on the same island within days, would it?
Well, maybe it would – as keen-eyed observers, examining images of this latest Yell sighting and comparing them to those taken of the prior bird at Burravoe, noted a striking difference in the bare-part colour – namely the feet which, on the Breckon individual seemed to be pale-flesh-coloured, and on the original Burravoe bird were slate grey. Shades of Fair Isle in 1975, perhaps, where within days of one another two Tennessee Warblers were found?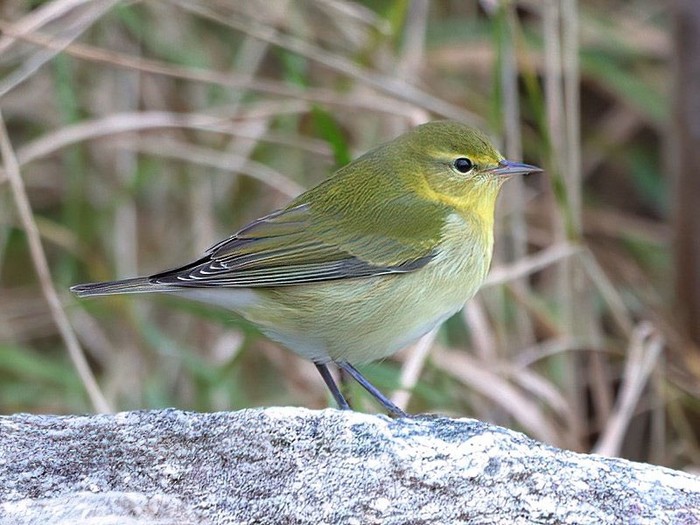 What we can say with certainty is that two have been seen in Britain and Ireland this autumn and, perhaps, three birds. Throw in a couple more Western Palearctic records in the last fortnight – in Iceland and the Azores – and it seems like something's going on. That something is probably Spruce Budworms in the forests of North America – by all accounts, it's been a good breeding year for these moths, and their larvae have been numerous.
Lots of Spruce Budworms usually portends a good breeding season for those birds that can exploit them as a food source – and that includes Tennessee Warblers, amongst others. US birders report large numbers of them migrating south lately; and plenty of Cape May Warblers too. Maybe the bird on Shetland in 2013, only Britain's second record of the latter species, is set to be followed this year by another? One has already made landfall this autumn to the east of us in Norway, after all, so we've quiet grounds for some guarded optimism.
And other birds besides do well in a Spruce Budworm year. More about them anon…
Black-and-white Warbler
As we noted last week, it had been a pretty torrid time to be a birder on Scilly lately. The odd Red-backed Shrike or Wryneck really wasn't making much amends for the largesse of scarce and downright mega birds being found elsewhere in Britain. This was all set to change this week with the discovery in the archipelago on 8th of their first Nearctic warbler of the autumn…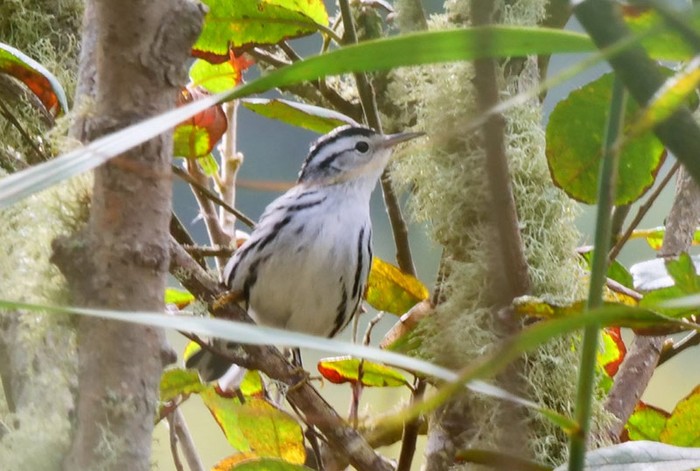 And not just any old Nearctic warbler – this was the classy, humbug-striped beauty that's a Black-and-white Warbler. Of course, there's already been one of them in Britain earlier this year, the spring bird photographed by a non-birder in Shetland on 28th May at Aithsetter – but that bird was never seen again.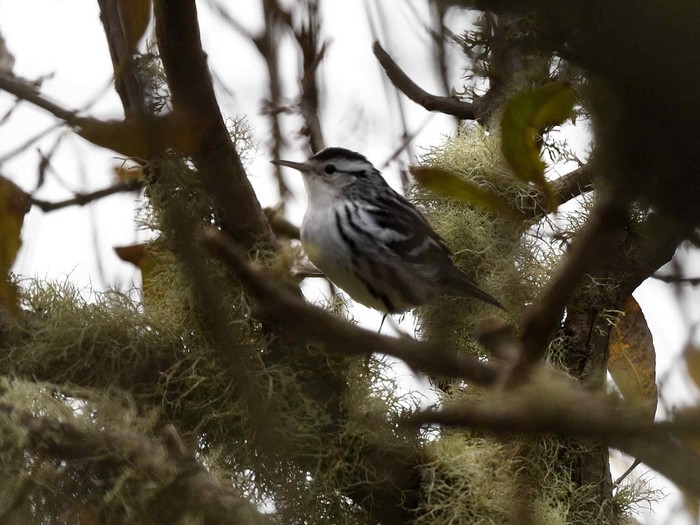 This bird, found on Tresco in the early afternoon of 8th, was somewhat more obliging, remaining present in the lichen-smothered trees throughout the afternoon. If you were on Scilly on 8th, you were in with a sporting chance of connecting with the bird – alas, on 9th, there was no sign of it, though there was a report of it once again on 12th. We'll see what, if anything, comes of that…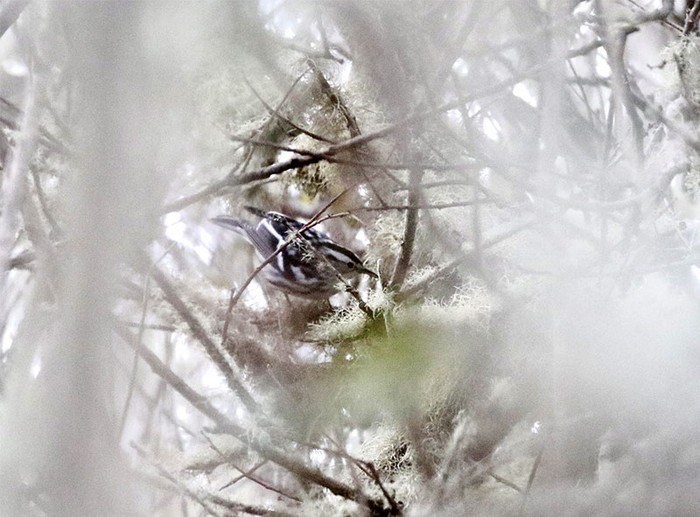 Scilly is no stranger to a Black-and-white Warbler - the islands have enjoyed five of the accepted 14 records to the end of 2018, their last being back in 2011. For now, that's their bird of the autumn, but one wouldn't bet against something rarer still turning up in the next week or two…
Blackpoll Warbler
Of all the Nearctic warblers, Blackpoll Warbler is the most regularly seen in Ireland with, to the end of 2017, 11 accepted records on the books. While that's double figures, it's still a rare bird and, in a week that features two other rare warblers in the headlines, it would be churlish to punt the bird found on Three Castles Head (Co.Cork) on 8th-11th down into the main body of the round up.
Not least because it was a heck of a showy bird, by all accounts…
Almost half of all prior Irish records owe themselves to Co.Cork, from their first on Cape Clear in 1976 to their last, at Garinish, in 2009. If one was betting, therefore, on where a bird might be found this week, Co.Cork would have been a sound call. There will, surely, be one found in Britain any day now…
Philadelphia Vireo
Co.Galway, and its islands, wasn't quite done with us this week with the Tennessee Warbler (and the lingering Upland Sandpiper) on Inishbofin augmented by another American bird of the very highest calibre – Ireland's third, and Co.Galway's first, Philadelphia Vireo, found on Inishmore on 9th-12th.
For all the very human reasons already rehearsed earlier in the week on (or looking out to sea at) Inishbofin, this news remains somewhat academic for many… Which isn't to underplay the allure of the bird as, despite being Ireland's third record of the species, the last example was a little while back now – twelve years ago, to be precise, on Loop Head (Co.Clare), on 13th-14th October 2008.
Ireland's first, meanwhile, was way back in the day, a long(ish)-staying bird on Galley Head (Co.Cork) on 12th-17th October 1985. That bird, one that whetted the appetite of those British birders who treat Ireland as a different country and not part of a convenient biogeographical entity for the purposes of list-keeping, was happily followed in relatively short order by the popular British first that spent 10th-13th October 1987 on Tresco (Scilly).
This week's bird, the fourth in Britain and Ireland as a whole, falls into a tight arrival period that spans 10th-13th October. On current form, that leaves us with a day for Britain's long-overdue second bird to be found… though I daresay nobody will be complaining if it clocks in a day or two late…
Common Nighthawk
Of all the rarities that grace our headlines this week, there's one that may not be technically the rarest, but certainly takes the biscuit for sheer chutzpah and character – and that bird is West Sussex's first ever Common Nighthawk - a superb find for Reverend Andy Wilkes practically on his Church Norton doorstep on 8th.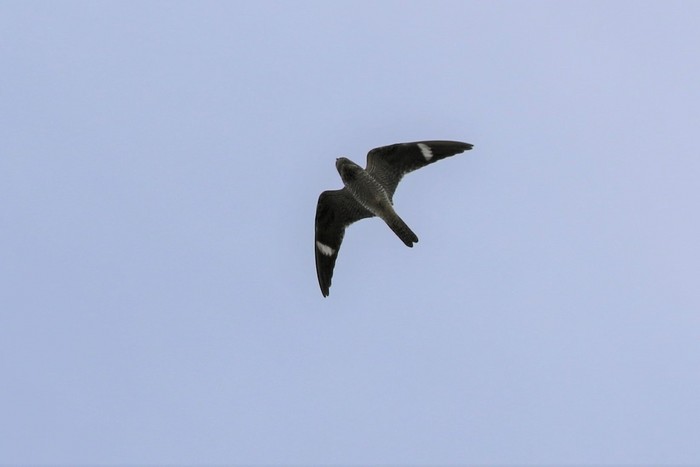 Initially thought to be merely a Nightjar, Andy had his suspicions that this might something a little more out of the ordinary and, shortly after seeing the bird, he reviewed his photographs… soon realising that he had a Common Nighthawk on his hands. With the amended news promptly released, Andy headed back to where he'd last seen the bird and, joined there by half a dozen fast-acting local birders, to everyone's delight the bird was once again found hawking insects in what remained of the dying day.
Last seen heading out towards the entrance of Pagham Harbour, the bird proved to be a transitory one – not being seen again subsequently. Local patch birding doesn't get much better than that.
Eyebrowed Thrushes
The headlines thus far have had a wholly American flavour, but there was an eastern counterpoint to be had, for the lucky few, in Orkney and Shetland this week.
The Eyebrowed Thrush found by Dante Shepherd on North Ronaldsay during the previous week, on 2nd, proved to be an enduring bird, remaining on the island until 8th. One Eyebrowed Thrush, in the course of an autumn, could be considered good going – they are, after all, far from annual on these shores.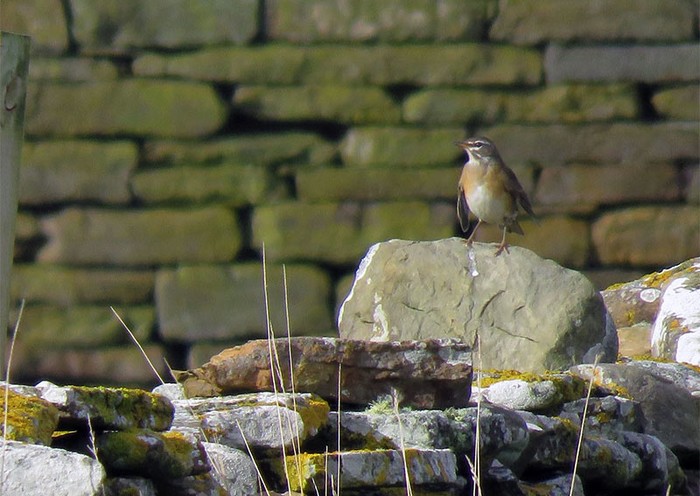 (Though, during the decade that spanned the mid-1980s to the mid-1990s, one could have been forgiven for calling them regular on Scilly as, during that period, at least half a dozen birds were recorded on St Agnes, St Mary's, and Tresco…)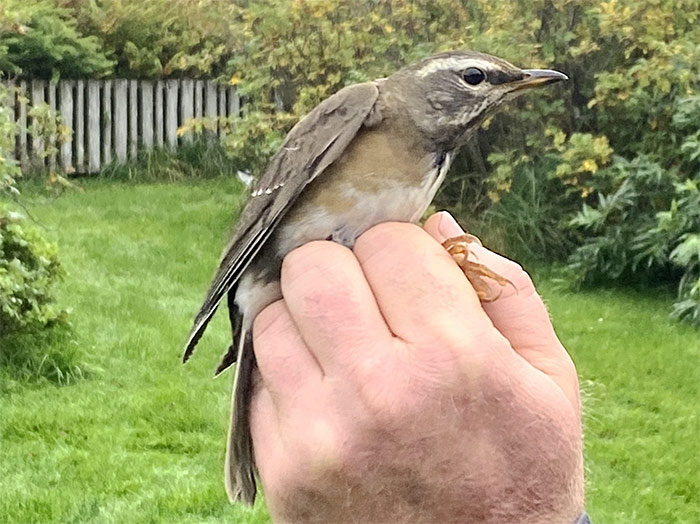 That said, not even Scilly at the peak of its Eyebrowed Thrush pomp managed two birds found on the same day, within hours of one another. This week, Shetland did just that – with one trapped and ringed in Brae on the Shetland Mainland by Phil Harris in the morning of 7th followed, later in the day, by another bird found by Harry Murphy on Fetlar – an addition to the Fetlar list, and a find announced to the world by a truly memorable tweet...
Rock Thrush
This was soon followed by news of another mega thrush on Fetlar, albeit one that was even less obliging still – the first Rock Thrush to be seen in Shetland away from Fair Isle, but one that was found in the morning of 10th by a dog-walker, seen long enough to get some images, but had then flown off and couldn't subsequently be relocated.
Funny things, Rock Thrushes… At first glance, 30 accepted British records to the end of 2018 would suggest that, while rare, they're not that rare… Whilst their tendency to hang around for a few days breeds a certain complacency amongst birders.
On the other hand, just five records since the turn of the century speaks of a species that's still got some cachet. In Shetland, they're monstrously rare fare – this bird being Shetland's fourth record, but the first since a one day bird on 30th June 1970 on Fair Isle – Shetland's previous two records, both also found on Fair Isle, owing to 16th October 1936 and 8th November 1931.
Keen Shetland listers would have dearly loved this bird to be relocated but, given the large areas of boulder and scree that skirt the flanks of Fetlar, it's needle in a haystack time.
Western Orphean Warbler
While that may have been one that ultimately proved to get away, we have the tenacity of Dean MacAskill to thank for one of the very best birds of the week – and this one wasn't from an ocean away to the west. Found in what was described as "horrendous conditions" on 10th, his persistence at Lothbeg Point (Highland) eventually resolved what was initially put out as a Sardinian Warbler into something significantly rarer still… Though, in Highland, a Sardinian Warbler would have been a local first in its own right.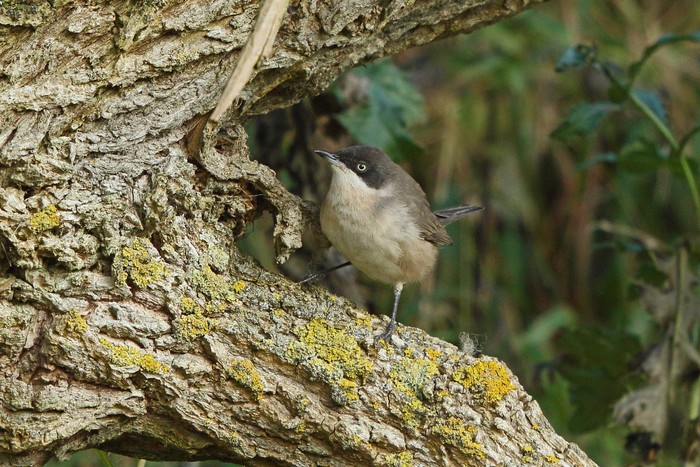 But no. This was a county first of considerably more substance, literally and metaphorically – an Orphean Warbler sp that, in due course, was seen well enough to pin down to a specific identity – Highland's first Western Orphean Warbler. Not only a Highland first, but only the seventh British record – with one confirmed Eastern Orphean Warbler, and four unassigned historic records that could have been one or the other.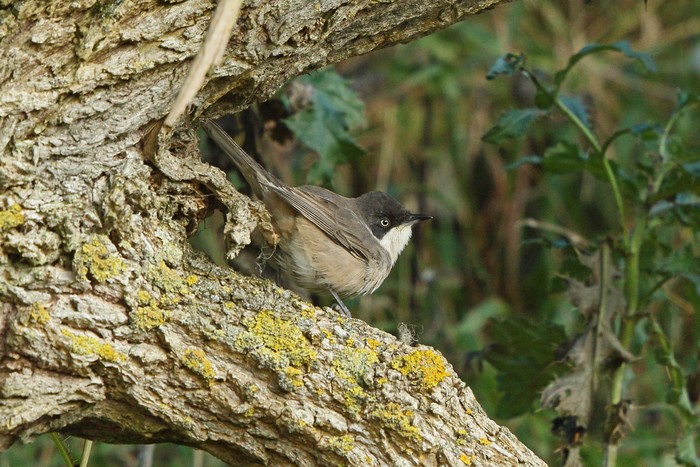 Viewing conditions were considerably better in Highland on 11th, rewarding both locals and those from further afield with better views of this chunky wonder warbler. Highland may be a stretch too far for many a would-be twitcher, especially in the latter half of the weekend with the working week beckoning, but there's some consolation to be drawn from the frequency with which Western Orphean Warblers are being found of late – this bird brings the total in the past decade to six birds, four of which have been autumnal. It's another one to have, firmly, on our radars given a decent spell of easterly winds at this time of year.
Short-toed Eagle
We conclude the week's headline birds with the tragic story of Britain's fourth Short-toed Eagle - initially reported heading north-east in Dorset over Ballard Down on 5th, what was presumably the same bird was later picked up, bedraggled and exhausted, later in the day on the beach at Hengistbury Head, and taken into care.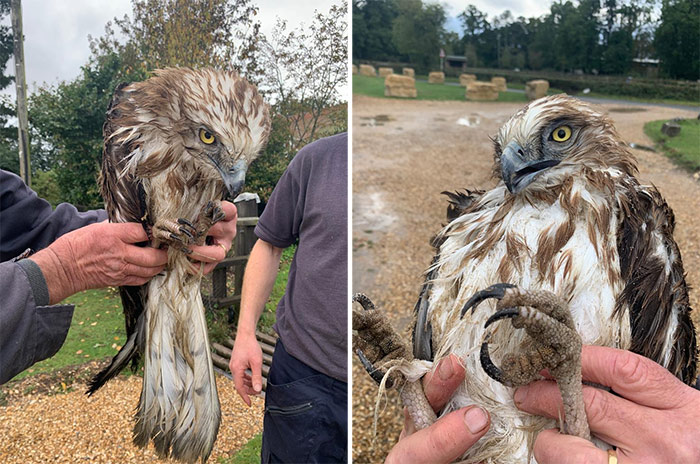 Believed by those who'd seen the bird or photos of it, to this point, to be an Osprey, a tweet that followed was infused with pathos – one of the workers at the wildlife rescue centre in question noting the bird's reluctance to feed. One presumes that there may, given the mistaken identity, have been fish involved…
Meanwhile, sager observers, seeing the initial image of the rescued bird, were alerting its carers to what they actually had on their hands – Dorset's second, and Britain's fourth Short-toed Eagle. While the penny may have dropped for the carers, unfortunately the bird itself was destined to fall off the twig shortly afterwards, news emerging on 7th that it had, sadly, died.
This, I think, must have been the quietest week for seabirds since, I don't know, May? A week without a Black-browed Albatross or a Brown Booby, let alone something rarer still… who are you, recent days, and what have you done with 2020?
It had to happen, though. Eventually, this most remarkable of summer and early autumn runs for rare seabirds would come to an end. Looking back, it's been astounding, with seabird firsts for Britain, Ireland and the Western Palearctic. One can't say that about many years.
The tempo of seabird sightings as a whole changed profoundly this week, exemplified by Balearic Shearwaters - where the prior week featured some 800 birds, the week just gone sported a mere 42 birds logged nationwide, of which 10 seen from Downderry (Cornwall) on 9th were the highest single site count.
A dozen Leach's Petrels put in an appearance lately. Three off Bridges of Ross (Co.Clare) on 6th were the peak count; with duos noted from Strumble Head (Pembrokeshire) on 8th and Porth Ysgaden (Gwynedd) on 10th. Otherwise, single birds were seen on 6th from Pendeen (Cornwall) and Fanad Head (Co.Donegal); on 7th from Ramore Head (Co.Antrim); on 8th from Dungeness (Kent); on 9th from Starr Gate (Lancashire); on 11th from Bull Bay (Anglesey); and on 12th, when two birds were seen from Kilcummin Head (Co.Mayo).
Around 50 Pomarine Skuas were logged this week, half of which were lone birds, and the balance made up of twos or threes – duos being seen from Belhaven Bay (Lothian) on 8th; Tiree (Argyll & Bute) on 9th; and Cley (Norfolk), Shell Ness (Kent), Sutton-on-Sea (Lincolnshire), and Spurn (East Yorkshire) on 11th; and trios on 10th from Leasowe (Cheshire) and Spurn (East Yorkshire); and 11th off Sheringham (Norfolk), and Flamborough and Spurn (East Yorkshire). Six were reported past Heacham (Norfolk) on 11th; four were seen from Kilcummin Head (Co.Mayo) on 12th.
A solitary Long-tailed Skua was seen from Holy Island on 6th; followed on 11th by singles from East Runton (Norfolk) and Waterville (Co.Kerry) and, on 12th, off Thorpeness (Suffolk) and Kilcummin Head (Co.Mayo).
On the morning of 11th sightings of White-billed Diver came from Seaham (Co.Durham), and latterly Seahouses and Boulmer (Northumberland).
Finally, a Little Auk was seen from Fair Isle (Shetland) on 12th.
Making a pleasant change from recent weeks, our long-legged beasties kick off with something a little different – with the emphasis on the little. Two Little Bitterns were noted in the early part of the week – one in flight over St Mary's (Scilly) in the early afternoon of 6th, and the other, a female bird, the following day in Lincolnshire at Huttoft Bank Pit LWT.
Late news: adult female LITTLE BITTERN present briefly at Huttoft Pit yesterday afternoon. The observer saw it for 10 mins and then it was flushed by a Sparrowhawk and flew off strongly south. That's two lifers I've missed on the patch in a week ?? @Lincsbirding pic.twitter.com/JHupy31GvM

— Richard Doan (@Richard_Doan_) October 8, 2020
Both recent juvenile Purple Herons were again seen this week – one remained at Burton Mill Pond (West Sussex) on 6th-10th, while the other was again seen in Staffordshire at Tittesworth reservoir on 7th.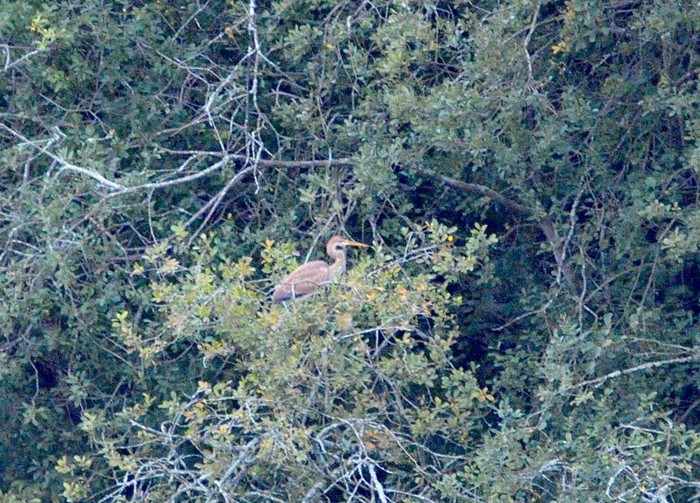 Lingering Glossy Ibises remained near Martham (Norfolk) on 6th-12th; at Chard reservoir (Somerset) on 6th-12th; at Fremington Pill (Devon) on 9th, where two birds were still to be seen, with one still present there on 11th; and at Dungeness (Kent), where two birds remained until 11th, and at least one remained on 12th. Further sightings this week came from Shapwick Heath NNR (Somerset) on 7th and, on 8th, at Marshside RSPB (Lancashire).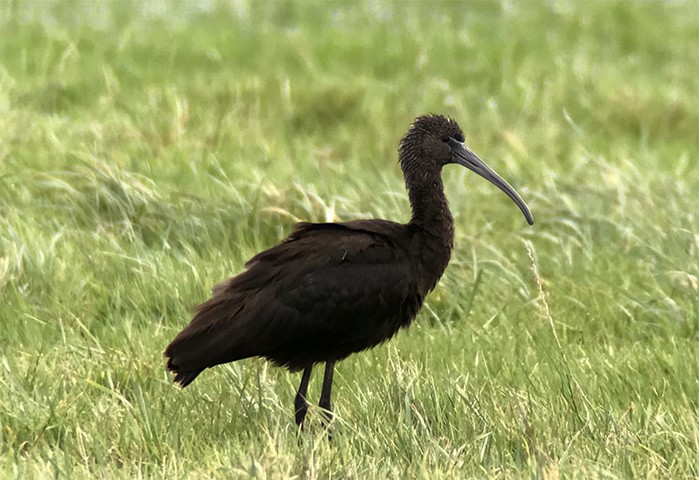 Migrant Corncrakes were found this week on Tory Island (Co.Donegal) on 6th and Porthgwarra (Cornwall) on 10th.
The faithful Spotted Crake remained at Burton Mere Wetlands RSPB (Cheshire) on 6th, while another recent bird was still to be seen on Tresco (Scilly) on 8th. One more was seen this week in the Gedling Borough Council depot car park at Arnold (Nottinghamshire) in the early morning of 6th before flying off.
It's beginning to feel a lot like winter amongst the honkers and quackers as we start, as will be our regular wont, with The Goose Formerly Known as Canada. Two probable Cackling Geese remained on Islay (Argyll & Bute) on 6th, with two more seen on North Uist (Western Isles) on 10th-12th; and, on 8th, a hutchinsii Richardson's Cackling Goose was seen at Caerlaverock WWT (Dumfries & Galloway).
The two white Snow Geese remained on South Ronaldsay (Orkney) on 6th; and the recent intermediate morph was still present in Findhorn Bay (Moray) on 6th-7th. On 12th an intermediate morph was seen, not a million miles away to the northwest, in Highland at Nigg.
A possible Grey-bellied Brant was seen in Highland at Munlochy Bay on 6th; then, on 11th-12th, near Castle Stuart once more.
Moving onto the quackers, Scotland continued to make much of the running this week. Starting out on the Western Isles, four Blue-winged Teals remained on North Uist at Loch Mor until 12th; while the drake Black Duck was still reliably found at Strontian (Highland) on 7th.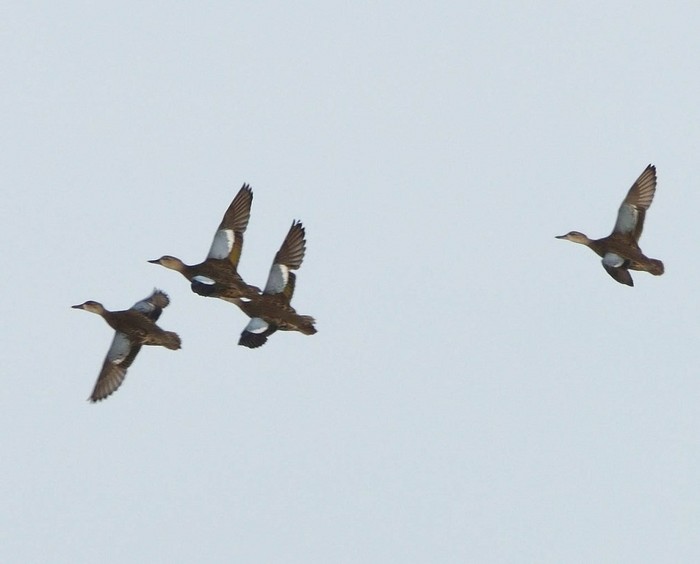 Moving south, the presumed eclipse drake Green-winged Teal remained at North Cave Wetlands YWT (East Yorkshire) on 7th-11th.
Our only Ring-necked Ducks this week were a drake seen in Lancashire at Leighton Moss RSPB on 10th-12th; a female on Tiree (Argyll & Bute) on 11th; and a female in South Nesting (Shetland) on 12th.
We head back to Scotland for our dose of scarce and rare seaducks. The drake King Eider remained in Moray at Burghead Bay on 6th-12th; and drake Surf Scoters were once more seen at Musselburgh (Lothian) on 6th-10th, in Lunan Bay (Angus) on 6th-11th, and in Shetland off the Unst ferry terminal at Belmont on 6th-7th.
<!—Section Title -->
Shorebirds continued to provide all manner of variety and diversion for another week. Rarest of the lot was one that ended up in the ringers' nets at Timoleague (Co.Cork) in the evening of 7th – a Least Sandpiper. Ireland has 15 accepted birds on the books to the end of 2017, a third of which were seen in Co.Cork – but the last of those was way back in late August 1993. A notable national and county bird then, let alone a ringing tick.
More amazing #waders caught and ringed on the beach last night in Co Cork. 2 Little stint were amazing to see in the hand, but just when we thought they couldn't get smaller, we catch a LEAST SANDPIPER from N America - the tiniest wader species of all, a real treat! @SamBayley2 pic.twitter.com/O9PW3yjubU

— James O'Neill (@Jamesoneillii) October 8, 2020
Sticking with the rare Irish sandpipers, the slinky, elusive Upland Sandpiper was still lurking on Inishbofin (Co.Galway) on 10th.
For the first time in a while, Pectoral Sandpipers barely made it into double figures – the highest single site count being two birds seen on 10th-11th at Whiting Bay (Co.Waterford), where one remained on 12th. Elsewhere, it was all single birds – at Idle Valley NR (Nottinghamshire) still on 6th-11th; on Scilly on St Mary's on 6th-11th, and Tresco on 10th-11th; sharing Anthorn (Cumbria) with the Long-billed Dowitcher on 6th-11th; on South Uist (Western Isles) on 8th-12th; on the Hayle estuary (Cornwall) on 8th-10th; at Abberton reservoir (Essex) on 11th; and at Rahasane Turlough (Co.Galway) on 9th. On 12th one was reported from Bryher (Scilly).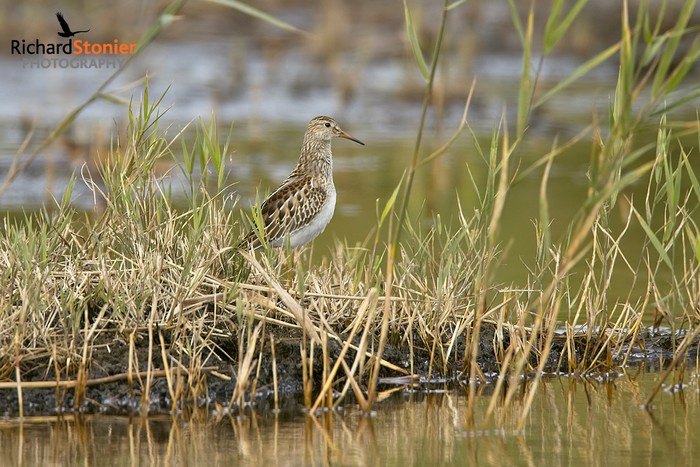 A Temminck's Stint was seen at Dundrum Inner Bay (Co.Down) on 7th-9th.
Besides the Anthorn bird, further Long-billed Dowitchers were seen this week again at Tacumshin (Co.Wexford) and Lough Beg (Co.Derry) on 6th, and at Lytchett Fields RSPB (Dorset) again on 7th.
The usual litany of American Golden Plovers this week was broken by a Pacific Golden Plover on 10th-12th at Findhorn Bay (Moray).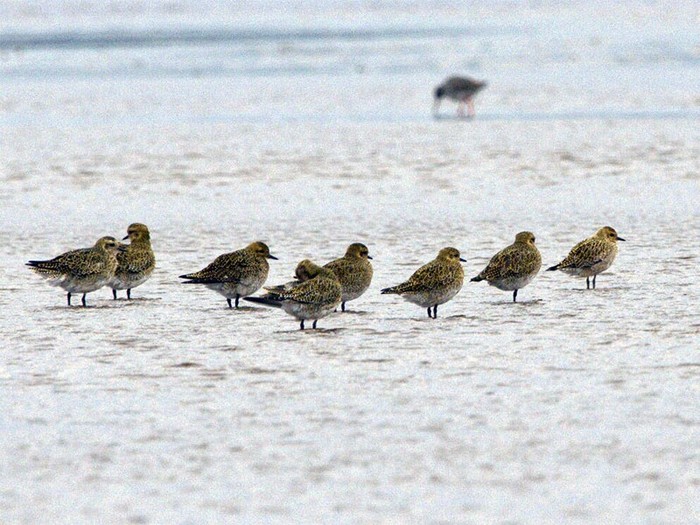 Back with those American Goldies, British birds were noted this week on Tresco (Scilly) still on 6th-12th; at Porthgwarra and adjacent Polgigga still on 6th and 7th respectively; on South Uist (Western Isles) on 6th-12th; at Longhoughton (Northumberland) on 8th; and, on 11th, at Abercastle (Pembrokeshire). A further possible was seen at Morwenstow (Cornwall) on 7th, and another was reported from Langstone Harbour (Hampshire) on 11th; on 12th an adult was at Dungeness RSPB (Kent). Ireland, meanwhile, held a single bird at Myroe Levels (Co.Derry) on 7th-12th, with three birds – an adult and two juveniles – seen there on 10th and again on 12th.
The recent Kentish Plover remained on Thorney Island (West Sussex) on 6th-7th; and another was present at Berrow (Somerset) on 7th-9th.
A few Dotterels were logged in recent days – one apiece for Kilnsea on 6th and Easington (East Yorkshire) on 7th, Filey (North Yorkshire) on 7th, Lundy (Devon) on 11th, and Dungarvan (Co.Waterford) on 12th.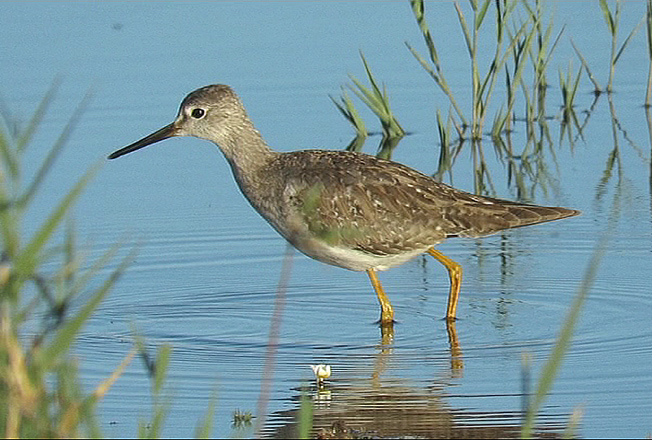 It was another strong week for Lesser Yellowlegs, with five birds noted in Britain and Ireland. Starting in Britain, we had indviduals seen at Chew Valley Lake (Somerset) still on 6th-12th; Nosterfield NR (North Yorkshire) on 6th and 10th-12th; and at Alkborough Flats (Lincolnshire) on 8th-9th. Ireland, meanwhile, scored birds at Rahasane Turlough (Co.Galway) on 6th-11th and Lady's Island Lake (Co.Wexford) on 9th.
Two Red-necked Phalaropes were found this week – one at Salthouse (Norfolk) on 6th-9th, and the other at Holnicote (Somerset) on 9th-11th.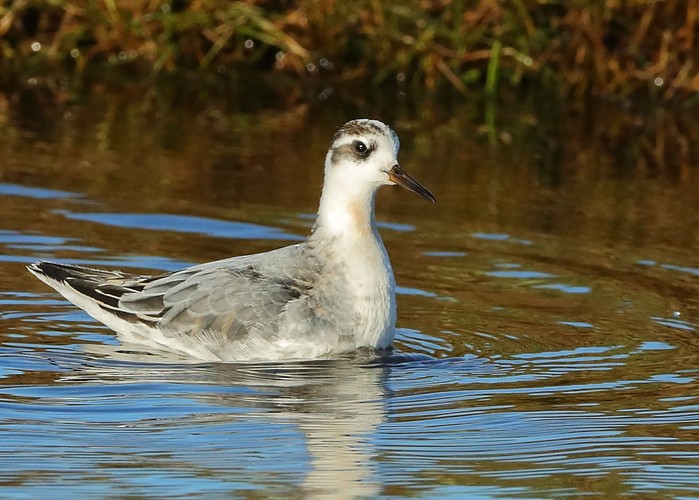 20 Grey Phalaropes were recorded this week – single birds bar three in Chesil Cove (Dorset) on 8th; and duos at Huntspill (Somerset) on 6th, Pendeen (Cornwall) on 9th, and Pennington Marshes (Hampshire) on 8th-12th.
The latter duo shared the site with our final, and rarest, phal of the week – a Wilson's Phalarope seen at Pennington Marshes on 9th-12th, the seventh county record and the first bird since 2005.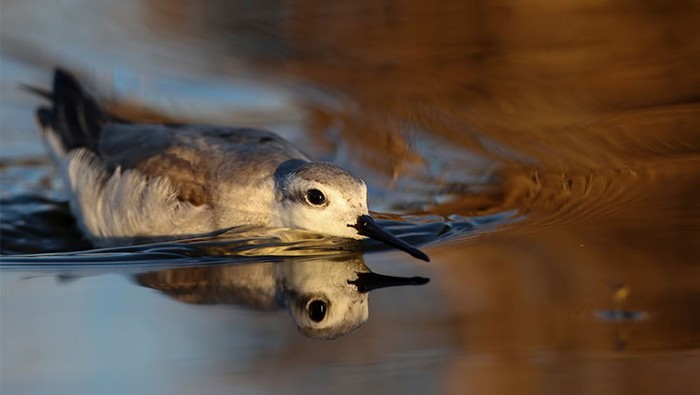 Fairly peaceful times this week where gulls'n'terns were concerned, with the best of it a juvenile White-winged Black Tern seen on 7th at Loch Ryan (Dumfries & Galloway).
Best of the gulls were a handful of Sabine's Gulls - birds noted on 6th from Bardsey (Gwynedd) and Hartlepool Headland (Cleveland); on 7th at Ullapool (Highland) still, and from Ramore Head (Co.Antrim); and one more reported on 8th from Mull (Argyll & Bute). On 11th birds were seen from East Runton (Norfolk) and Pendeen (Cornwall), and further possible past North Gare (Cleveland).
White-wingers were starting to be, quietly, more of a presence in the daily news – not least on Scilly where a Iceland Gull was lobbing around St Agnes, St Mary's, Samson and Tresco on 8th-12th. Further Iceland Gulls were seen this week at Portheras (Cornwall) on 6th and The Lizard (Cornwall) on 7th; on 8th and again on 12th on South Uist (Western Isles), on 8th on Ramsey Sound (Pembrokeshire); and on 11th on Cape Clear (Co.Cork).
Four widely scattered Glaucous Gulls were logged this week – on 7th at Budle Bay (Northumberland); on 8th on Fair Isle (Shetland); on 10th in Lehid harbour (Co.Kerry); and on 11th on North Uist (Western Isles).
In the headlines but for the protracted stay the bird made in northern England over the course of the summer, the recently relocated young Lammergeier delighted a fresh wave of admirers in Cambridgeshire and Lincolnshire this week as it drifted around a new territory that spanned Thorney (Cambridgeshire) in the south and Moulton (Lincolnshire) in the north between 6th-10th. The debate rumbles on whether or not human intervention is desirable at this juncture… but that may yet be moot as, on 11th, it was heading south once more, being noted over The Lodge RSPB (Bedfordshire) and, latterly, the City of London. Pondering whether it would now cross the English Channel, or swing back around to explore southern England a little more, seemed to be answered on 12th when it was again seen around The Lodge RSPB.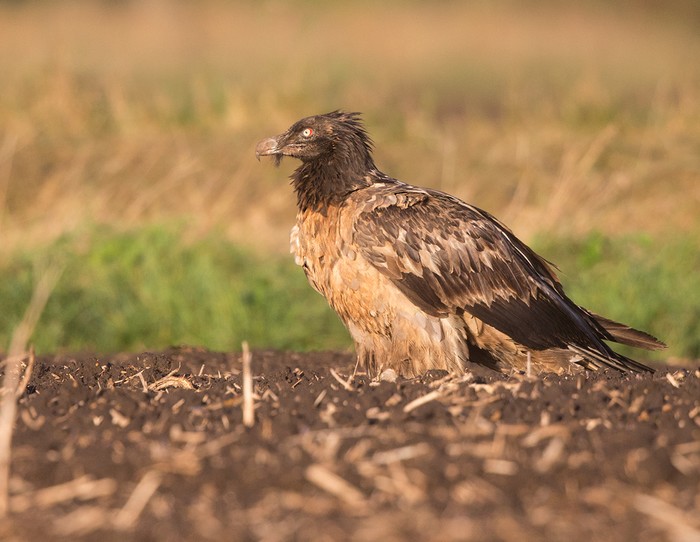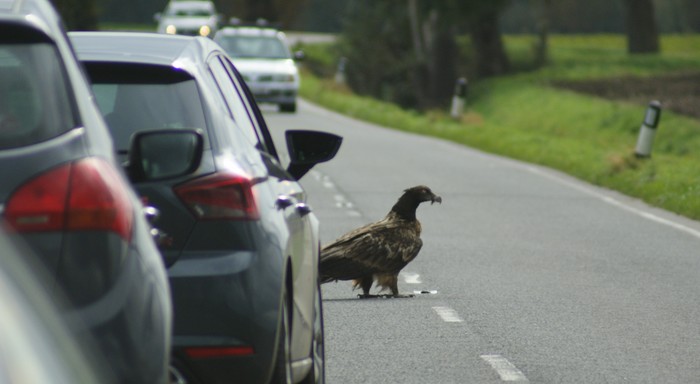 Speaking of crowd-pleasers, the adult female Pallid Harrier found well inland in Warwickshire at Middleton Lakes RSPB on 7th-10th was definitely in that category – a county first for Warwickshire and adjacent Staffordshire too. A juvenile bird was seen in Shetland at Ollaberry on 11th, and a probable juvenile on 12th at Brow Head (Co.Cork).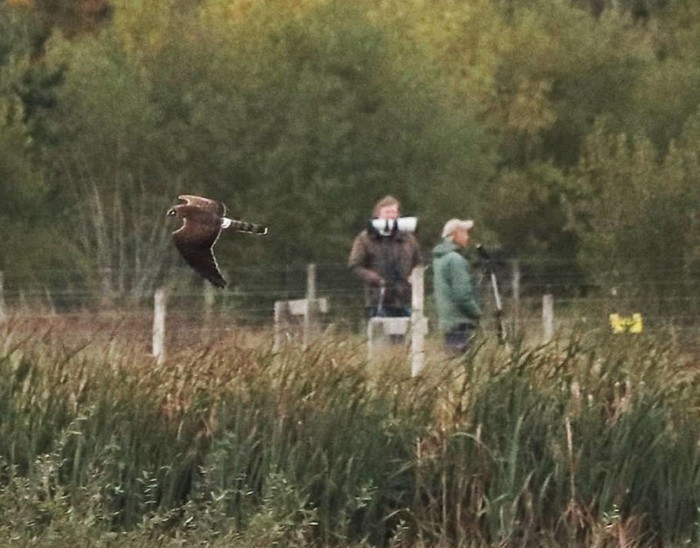 A further ringtail Pallid or Montagu's Harrier was noted on 6th at Burgh Castle (Norfolk).
Norfolk accounts for two reports of Rough-legged Buzzard this week on 7th, at Sedgeford and Choseley; a further report came from Eastchurch on the Isle of Sheppey (Kent) on 6th; and more possible birds were seen in Highland at Gills Bay and Nidderdale Moor (North Yorkshire) on 11th.
A probable male Red-footed Falcon was seen in Wales at Wyesham (Gwent) on 8th.
Finally, up in Shetland the male Snowy Owl was showing well on the flanks of Ronas Hill intermittently on 6th-11th.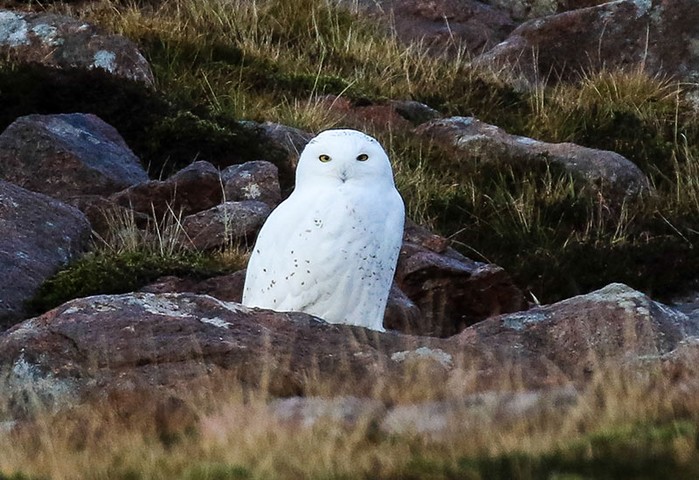 For the second consecutive week, we've a passerines section of the round up that's absolutely bursting with variety and quality, testament to the time of year and winds from all the right places.
Starting with the warblers once again, the Pallas's Grasshopper Warbler remained in my fields on Whalsay (Shetland) on 6th – and no, I can't help but grin like a Cheshire cat as I type that – while another was trapped and ringed on North Ronaldsay (Orkney) on 7th, remaining there on 8th also.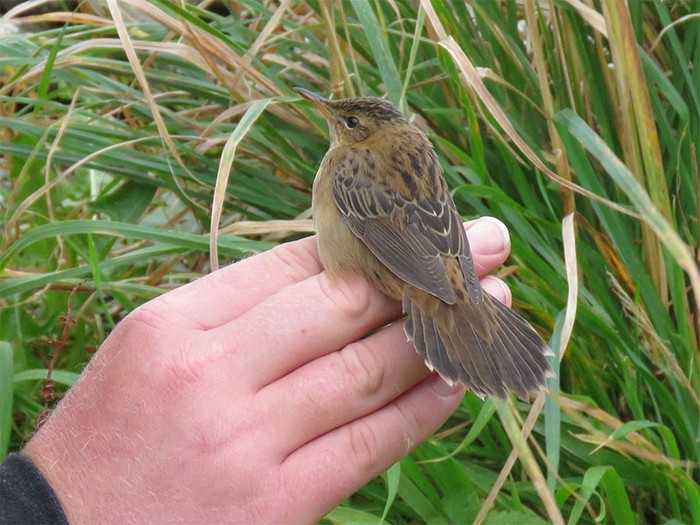 Up on Unst (Shetland), Brydon Thomason hit the locustella jackpot with a Lanceolated Warbler found at Baltasound on 9th; another was found out on Foula on 10th.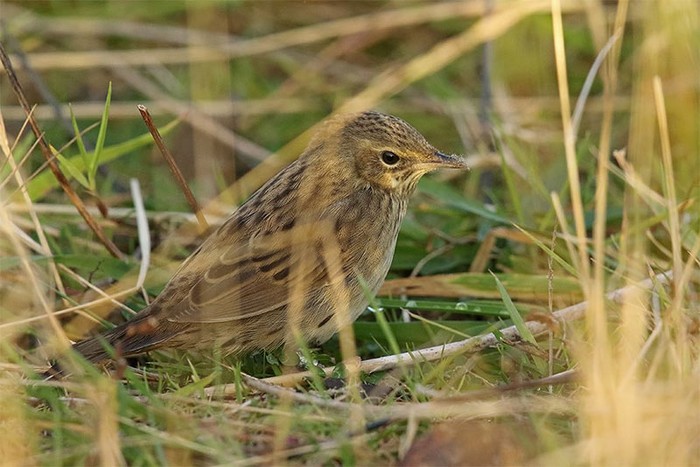 A probable Booted Warbler was found on 10th in Aberdeenshire at Cruden Bay, with a confirmed bird that day also at the opposite end of the country – in Cornwall at Men-An-Tol.
Back in Shetland, a Great Reed Warbler was found on Unst on 9th.
Two of the week's Blyth's Reed Warblers were Shetland birds – seen in the South Mainland at Swinister on 6th and Spiggie on 8th-12th – elsewhere, one was reported in Holme Dunes (Norfolk) still on 6th-8th, and another was at Fife Ness (Fife) on 8th.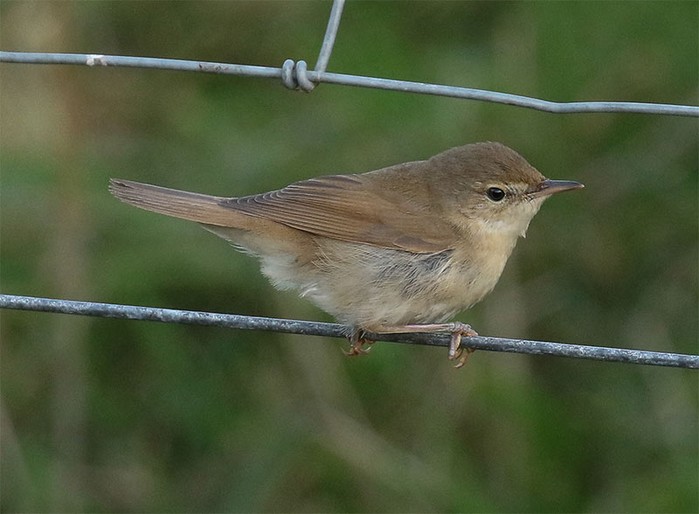 The prior week's stand-out warbler event was surely the mass arrival of Radde's Warblers, and the week just gone featured them strongly once more. Cambridgeshire's first record remained at Peakirk on 6th-8th; other hangovers from the week just gone lingered at Minsmere RSPB (Suffolk) on 6th, Hartlepool Headland (Cleveland) on 6th-8th, and Southwold (Suffolk) on 6th-11th. Fresh birds were found at Duncansby Head (Highland) on 6th-8th, joined by a second individual (and a bonus Pallas's Warbler) on 7th; one was heard only at Fife Ness (Fife) on 6th; another was seen on 6th on Blakeney Point (Norfolk); one lingered on 7th-8th at Worth Marshes (Kent); while 9th saw four new birds found – at Isbister and Tresta (Shetland), Nanjizal Valley (Cornwall), and Ventnor Park (Isle of Wight). On 11th one was found at Seaford Head (East Sussex), while one more was at Polgigga (Cornwall) – the Nanjizal bird, perhaps, or another? – Scilly landed birds on Bryher and Tresco, and a probable was seen in Leicestershire at Burrough Hill CP. A further bird was trapped and ringed in the southwest on Portland (Dorset) on 12th.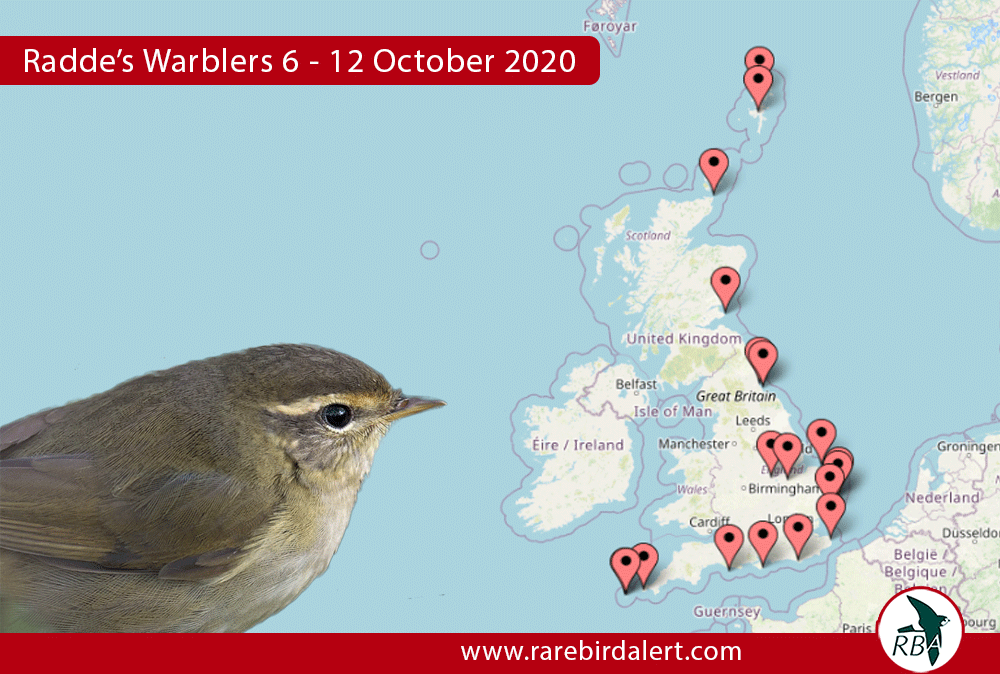 A couple of Dusky Warblers were found in Shetland – one at Maywick on 9th, and another at Quendale on 10th. One more was reported from Malin Beg (Co.Donegal) on 9th. On 11th another was found on St Mary's (Scilly), followed on 12th by a bird on neighbouring Tresco.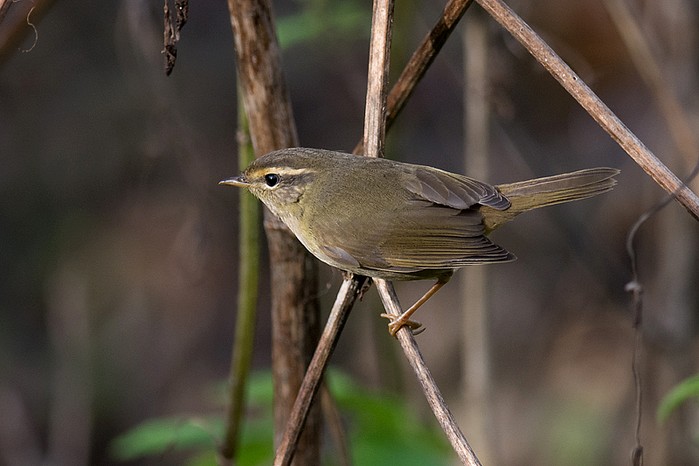 Lingering Arctic Warblers remained at Voe (Shetland) and Tynemouth (Northumberland) on 6th; fresh birds were found on 6th-8th at Fife Ness (Fife), on 7th on Tresco (Scilly), and on 8th-9th on Holy Island (Northumberland).
(Shetland's Voe also accounted for a report of a probable Melodious Warbler on 7th).
A handful of Pallas's Warblers brightened the week – on North Ronaldsay (Orkney) on 6th; at Girdle Ness (Aberdeenshire) on 6th-7th; on Papa Westray (Orkney) on 7th-9th; on Duncansby Head (Highland) on 7th; on Unst (Shetland) on 10th; and at Grutness (Shetland) on 11th.
Some 25 Barred Warblers nationwide kept the autumnal tone going strong – mostly single birds, bar in Shetland two on Unst on 6th and three at Dale of Walls in the West Mainland on 8th. Yellow-browed Warblers, it goes without saying, were still being seen in their hundreds by the day… with, amongst them, some intriguing birds – a probable Hume's Warbler at Sammy's Point on 7th… preceded by a strikingly pale, grey (and annoyingly silent) bird found by Dave Farrow, Phil Saunders and James Lowen on 5th. James' blog on the subject is well worth a read. Had this been found in early November, what would our instinctive reaction, hand-on-heart, have been?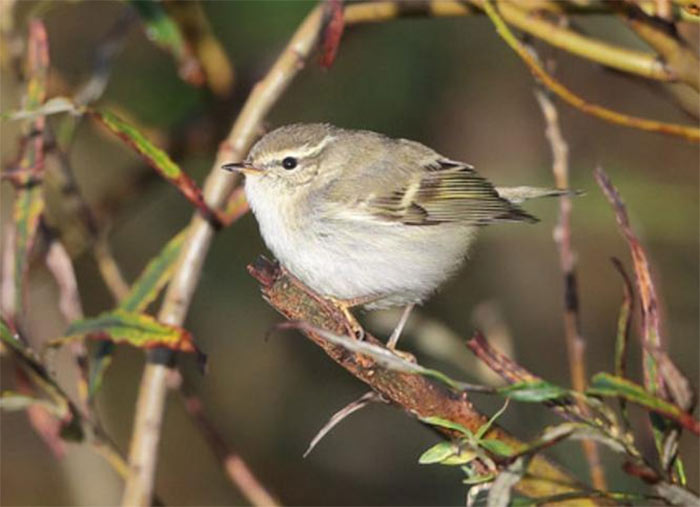 Another Hume's Warbler was reported from Walls (Shetland) on 12th.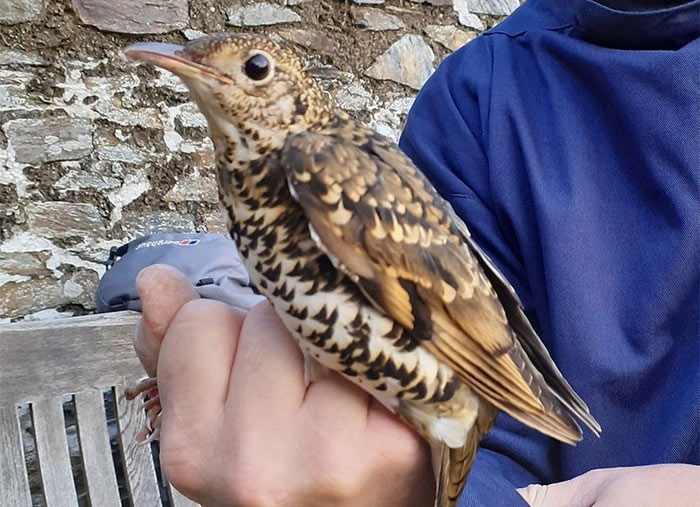 Moving onto more substantial fare, a long-staying White's Thrush on Lundy (Devon) on 7th-12th added to that island's excellent birding year; another was found on Barra (Western Isles) on 8th. The Lundy bird is the first for the county since a one day January individual in 1984…
A possible Black-throated Thrush was seen coming in off the sea at Gorleston (Norfolk) on 12th.
Scilly, meanwhile, got a Swainson's Thrush on St Mary's on 7th-8th followed by another on Bryher on 10th-12th.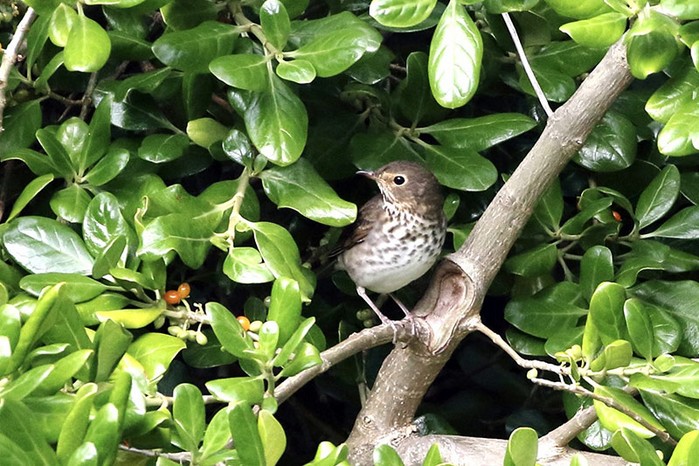 Back to Lundy (Devon), where an Isabelline Wheatear on 12th put the cherry on the cake that was already a substantial week for the island.
On Shetland, a Brown Shrike was found on Yell on 11th in an unidentified garden whose owners, isolating during Covid, did not want the location shared. A decision we can all respect, I hope.
In Suffolk, the pallidirostris Steppe Grey Shrike remained at Benacre on 6th-7th.
Great Grey Shrikes, meanwhile, were seen this week at Kessingland Levels (Suffolk) and Flamborough (East Yorkshire) still on 6th; at Boulmer (Northumberland) still on 6th-9th; on Unst (Shetland) on 6th-7th, with two birds on the island on the former date; at Sumburgh (Shetland) on 6th-9th; on South Ronaldsay (Orkney) and at Bough Beech reservoir (Kent) on 7th; at Benacre (Suffolk) on 7th-8th; at Bakkasetter (Shetland) on 8th; and at Woodbridge (Suffolk) on 11th.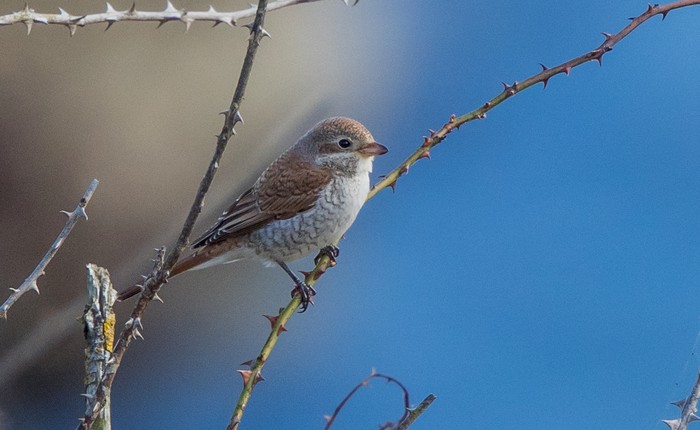 Red-backed Shrikes were seen in similar modest numbers. Birds lingered on St Mary's (Scilly) on 6th-12th, at Boddam (Shetland) on 6th-10th, and in Wells Woods (Norfolk) on 6th-9th; new birds were found on Unst (Shetland) on 6th, Flambrorough (East Yorkshire) on 6th-7th, on North Ronaldsay (Orkney) on 7th-9th with two birds present on 8th, Fetlar (Shetland) on 9th-11th, at St Mary's Bay (Kent) on 10th-12th; and on Stronsay (Orkney) on 11th-12th.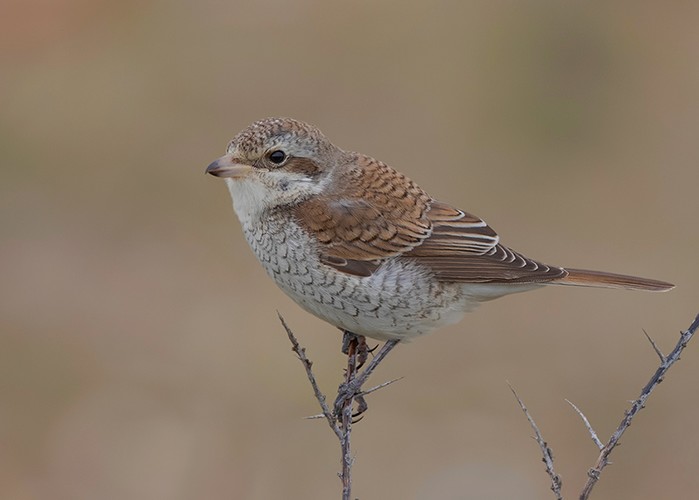 Some 15 Wrynecks were logged in recent days – all single birds bar two on St Martin's (Scilly) on 8th.
Six Hoopoes were seen lately – the lingering birds still at Collingham (West Yorkshire) on 6th-11th, Wighton (Norfolk) on 6th-9th, and out on Islay (Argyll & Bute) again on 8th; and new individuals found at Dornoch (Highland) on 6th, outside Pittodrie Stadium (Aberdeenshire) on 9th-12th, and Grange Crossroads (Moray) on 12th.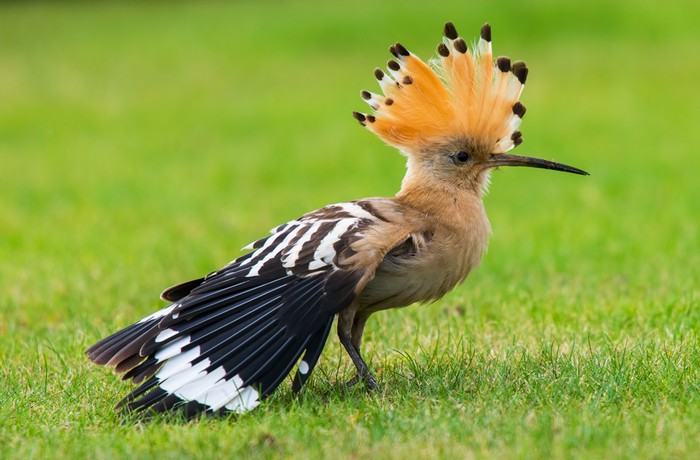 Eyes to the skies picked up some prizes this week – a Red-rumped Swallow over Bockhill NT (Kent) on 7th, and a Pallid Swift at Southwold (Suffolk) on 8th.
A probable Golden Oriole was noted at Trevilley (Cornwall) on 8th.
Two Short-toed Larks were found in the north this week – one on North Ronaldsay (Orkney) on 6th-10th, and the other on Fetlar (Shetland) on 8th-12th.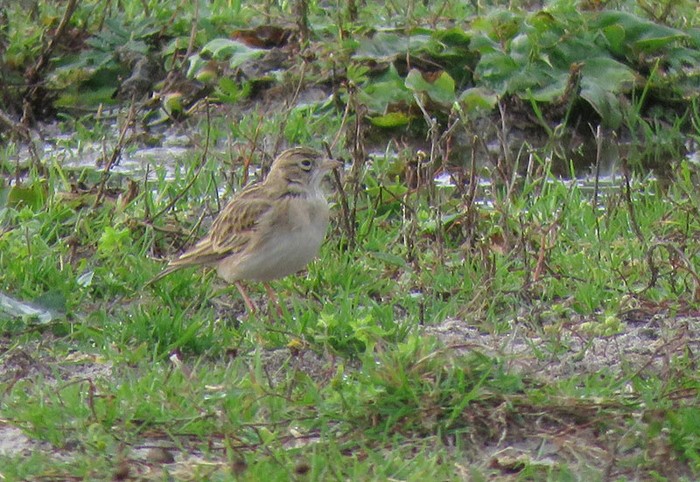 Eastern Yellow Wagtail really is the wagtail that's going from strength to strength at the moment – set to comfortably outnumber Citrines in autumns to come, one suspects. Hampshire's first example was found at the close of the prior week, in a ploughed field at Brownwich Cliff, and remained as the new week dawned on 6th. Also lingering were the recent birds on Bardsey (Gwynedd) on 6th, and on Inishbofin (Co.Galway) on 6th-12th – the latter bird, however, joined on the island by a second individual on 6th-7th. A further bird was found inland at Hatch (Bedfordshire) on 7th.
The recent Citrine Wagtail this week remained on Fair Isle (Shetland) on 7th-8th; further birds were found this week in Aberdeen (Aberdeenshire) on 6th and at Tacumshin (Co.Wexford) on 9th-12th. A possible was noted over St Mary's (Scilly) on 11th.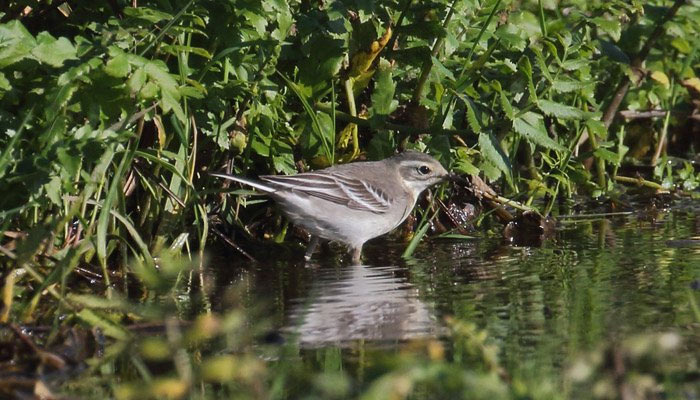 In Norfolk, the recent Blue-headed Wagtail remained at Dickleburgh Moor NR on 7th.
Comfortably opening the pipits this week were the discovery of two American Buff-bellied Pipits, one apiece for North Uist (Western Isles) on 7th and North Ronaldsay (Orkney) on 10th-11th.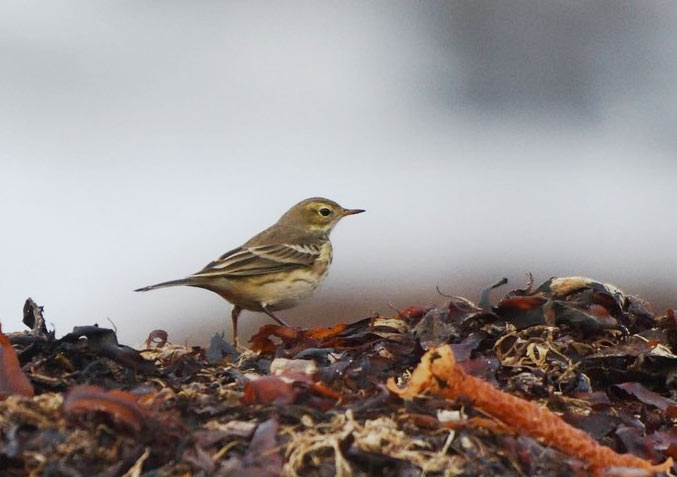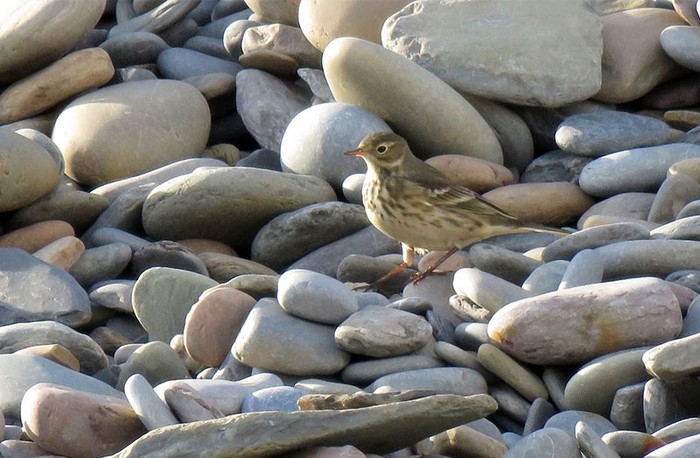 North Ron was doing alright for Red-throated Pipits too – with two birds on the island on 6th, and one on 7th-9th and 11th. The species was generally having a good week – two were at Sumburgh (Shetland) on 6th, with one that day in Suffolk at Havergate Island RSPB also; on Rame Head (Cornwall) on 7th; on Out Head (Fife) on 8th; and, back in Shetland, on Unst on 9th and 12th, and Fair Isle on 10th-11th.
Most of the week's Olive-backed Pipits owed themselves to Shetland – not least on Foula, where three birds were recorded on 6th, 8th and 11th. Elsewhere in the archipelago birds were seen on St Ninian's Isle on 6th, at Clickimin in the heart of Lerwick on 7th, at Easter Quarff on 8th, out on Whalsay on 9th-10th, and at Tresta on 12th. Away from Shetland on 7th Spurn (East Yorkshire) got a bird, while a probable was on St Mary's (Scilly) on 7th also – followed on 11th by two more reports on St Mary's relating to possible and probable birds respectively.
A possible Tawny or Richard's Pipit passed over Nanjizal (Cornwall) on 7th.
Confirmed Richard's Pipits were noted this week on Foula (Shetland) on 6th, Hillswick (Shetland) and Swalecliffe (Kent) on 7th, at Grutness (Shetland) on 9th, and over Barton-on-Sea (Hampshire) and Scolt Head (Norfolk) on 12th – with one more possible bird that day over Druridge Links (Northumberland).
Whalsay (Shetland) has enjoyed a recent run of birds that those of us resident on the island certainly aren't complaining about – gilded further by our sixth ever Red-flanked Bluetail found, appropriately, on 6th. That five of those records have come since I bumped into our second ever bird in 2006 represents, in microcosm, the meteoric change the species has undergone from former mega to annual rarity. Further birds were found this week on the Orkney Mainland at Marwick on 7th and Birsay on 7th-8th – the Marwick bird an act of intuitive discovery by North Ronaldsay's original Rarityfinder General, Martin Gray - on Unst (Shetland) on 10th, and at Sandwick (Shetland) on 12th.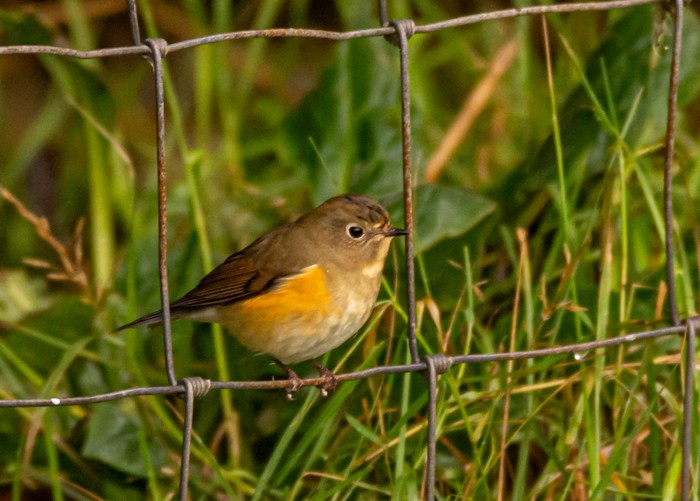 Some 15 Bluethroats were noted throughout the week, with a handful of sites notching up two bird days – two were on Whalsay (Shetland) on 6th; two at Levenwick (Shetland) on 8th – while three were seen on North Ron on 7th.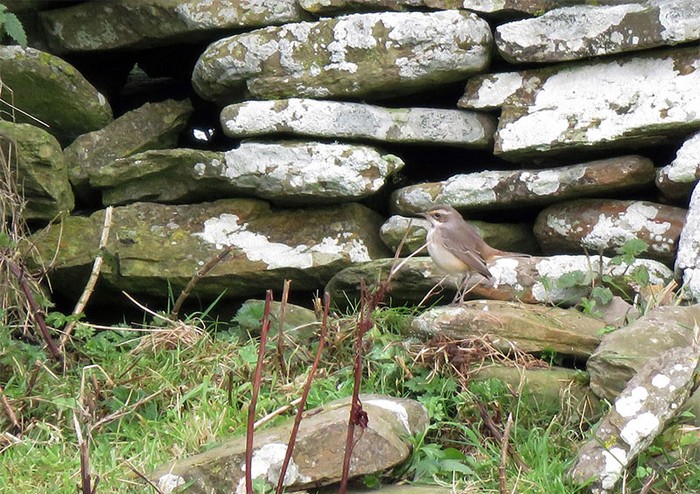 Examples of eastern stonechat sp pushed towards double figures, with some approaching tentative specific identities – that at Happisburgh (Norfolk) thought to be probably a Stejneger's Stonechat; and near Happisburgh; and probable Siberian Stonechats in Shetland on Fetlar on 6th-9th, Foula still on 7th-8th, and at Easter Quarff on 7th. Unassigned birds were logged at Thornwick Bay (East Yorkshire) on 6th; Spurn (East Yorkshire) on 6th; Deerness (Orkney) on 7th; Channerwick (Shetland) on 8th; and Fair Isle (Shetland) on 10th.
Red-breasted Flycatchers remained omnipresent down the east coast, with a handful of westerly outliers amongst the 30 birds logged nationally – the Co.Kerry bird remained at Dunquin on 6th; while on Scilly birds were seen and heard on St Mary's (Scilly) on 6th-7th and 12th, and St Agnes on 12th; and one was trapped and ringed on Portland (Dorset) on 12th.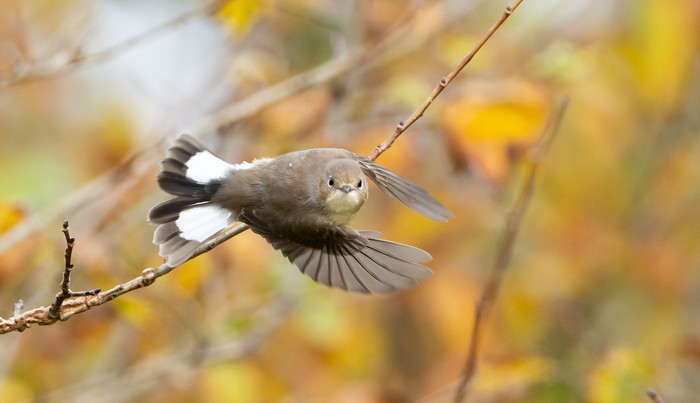 Three Rose-coloured Starlings were logged in recent days. One remained on Portland (Dorset) on 6th-11th; one was still on Yell (Shetland) on 6th; and one was seen on North Ronaldsay (Orkney) on 6th also.
North Ron also contributes the only multiple single site record out of the dozen or so Common Rosefinches recorded in the past week – this being two birds seen on there on 8th. Scilly was doing well for them, with birds noted on St Mary's on 6th-10th, St Martin's on 8th-10th, and Gugh on 9th.
A Serin was noted over St Mary's (Scilly) on 8th.
Arctic Redpolls, of one subspecific complexion or another, were very much the preserve of Shetland. A hornemannii Arctic Redpoll remained on Fair Isle on 6th-9th; further birds were seen at Stenness on 6th and Unst on 9th; the latter site also accounting for sightings of an exilipes Arctic Redpoll on 9th-11th, and an unattributed bird on 7th.
A probable Parrot Crossbill was seen in Norfolk's Lynford Arboretum on 11th.
Fast becoming a scarce commodity in Shetland, three Ortolan Buntings were a good haul in recent days – single birds noted on Fetlar on 6th, Whalsay on 7th, and at Sumburgh on 10th.
Little Buntings, on the other hand, weren't in short supply, with some 35 birds logged nationally and, in Shetland, some impressive tallies amongst them – a peak of four birds seen on Fair Isle on 7th-8th; three on Unst on 6th-8th; and two birds apiece on Foula and Out Skerries on 8th. Tresco (Scilly) came late to the party with three birds noted there on 12th.
North Ronaldsay also managed two Little Buntings on 10th-11th; but this was preceded by two Rustic Buntings on 6th. Further Rustics were seen this week at Collieston (Aberdeenshire) on 6th; on Sanday (Orkney) and Out Skerries (Shetland) on 6th; and at Sandness (Shetland) on 7th. On 12th, a busy day for Portland (Dorset) generally included a flyover bird heading north in the morning.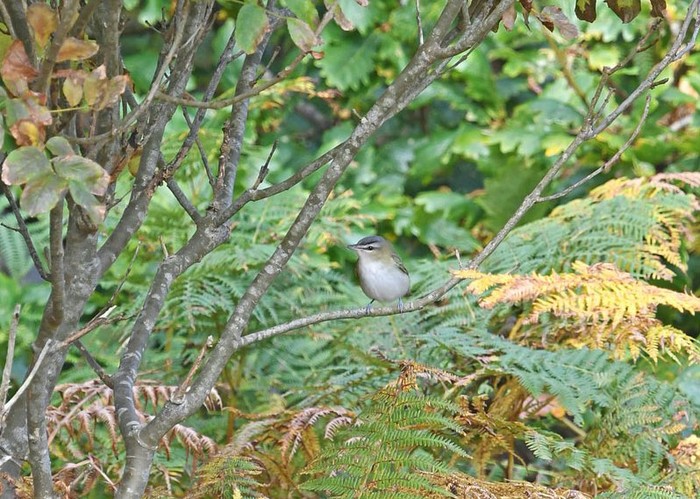 Last, but very much not least, three Red-eyed Vireos were found in recent days – one on St Martin's (Scilly) on 7th-11th; one at Kenidjack (Cornwall) on 8th-10th; and on in Ireland at Feohanagh (Co.Kerry) on 10th-11th.
As usual in October, we find ourselves kicking off the overseas news in the Azores once more, which to be fair remained fairly muted this week, until the last couple of days, when things began picking up. On 8th Corvo supplied Ovenbird, Scarlet Tanager and Yellow-billed Cuckoo; followed, on 11th, by a Bobolink, Double-crested Cormorant, Red-eyed Vireo, Rose-breasted Grosbeak, and Swainson's Thrush. On 12th, the daily haul was two Swainson's Thrushes, Rose-breasted GrosbeakRed-eyed Vireo, Double-crested Cormorant, and newly found Blackpoll Warbler and Common Nighthawk.
Elsewhere in the mid-Atlantic archipelago a Common Nighthawk was logged on Flores on 9th; and a Hudsonian Whimbrel on Sao Miguel on 11th.
Keeping with the far, far away theme, in Kuwait this week an Indian Roller was found at Sulaibiya on 7th-8th, with five Sociable Lapwings also seen there on 8th.
Iceland landed a Red-eyed Vireo at Eyrarbakki on 11th; and a Northern Parula at Grindavik on 12th.
Drawing a little closer to home, Finland and, specifically, Säppi was enjoying a good week, with a couple of birds on there we'd love to see in Britain again someday soon – an Asian Desert Warbler on 6th, and a Siberian Accentor trapped and ringed on 10th.
Another mouthwatering Sibe was closer still – a Siberian Rubythroat found in Belgium at Het Zwin on 12th. In a classic east meets west moment, a White-throated Sparrow was found there on the same day.
Lastly, French birders were doing well too – with a Red-eyed Vireo at Moeze-Oleron on 7th, and two Eastern Yellow Wagtails on Ouessant on 11th.
The coming week has ample pedigree for rarities to draw inspiration from, birds from all points of the compass but, most pertinently, from far away in the east and west alike. From the east, we have the likes of Chestnut and Chestnut-eared Bunting…
…and from the west, Yellow-bellied Sapsucker and Red-breasted Nuthatch.
Now there's a species to invoke and conjure with… Britain's one and only Red-breasted Nuthatch was found during the coming week on 13th October 1989 in Holkham Pines (Norfolk), the opening salvo of a stay that extended well into the spring on 1990.
Thirty years later, news coming out of the USA in the past few weeks is extremely encouraging - Red-breasted Nuthatches are having an irruption year, flooding south on the back of a poor cone crop in eastern boreal forests. If ever there was a year for another on this side of the Atlantic, this might just be it…
(And that's not to mention the other Spruce Budworm related news this week. It's not just Tennessee Warblers that have been influenced by them… the breeding population of Evening Grosbeaks in Eastern Canada is said to be burgeoning and, this year, some of the highest numbers in the past 25 years are said to be on the move south. Maybe not this coming week for either species – particularly the latter, as both our past records of it owe themselves to March finds - but here's the line in the sand that says we could be in with a shout…)
Jon Dunn
13 October 2020
Many thanks to all this week's contributors for your photos and videos
Share this story
Tweet