Weekly birding round-up: 12 - 18 May 2020
The week at a glance
Shetland scores another White-crowned Sparrow
And Scilly lands a Solitary Sandpiper
While East Yorkshire gets another Brown Shrike
Bee-eaters provide a national splash of colour
And belated news announces another Brown Booby in British waters
Another week of contrasts unfolded across Britain, with the north still getting lashed by persistent northerly winds and the south enjoying some balmier conditions, albeit with some frosty mornings to serve as a reminder that, even this late in the day, we're not entirely out of the winter woods just yet.
And the birds? We had a week of rare quality on our hands, and the stellar start of a young Shetland birding career…
White-crowned Sparrow
Sometimes the birding gods like their little jokes. This past week, Fair Isle Bird Observatory tweeted a nostalgic nod to the island hosting Britain's first White-crowned Sparrow on 15th May 1977, concluding that it was "Time to fill up those feeders in the garden…"
With the wind firmly in the west, it's a good time to remember that on this day in history in 1977 Fair Isle hosted Britain's first White-crowned Sparrow, whilst in 2018 there was a Song Sparrow in the Plantation. Time to fill up those feeders in the garden... pic.twitter.com/huoLgmSYhm

— Fair Isle Bird Obs (@FI_Obs) May 15, 2020
Only a couple of hours later, the mega alert chimed with the news that a White-crowned Sparrow had just been found, on Fetlar – another Shetland island with something of a pedigree where outrageous rarities is concerned but, to this point, no White-crowned Sparrow to boast of.
Thanks to the sharp eyes (and ears, for the bird was even singing) of eight year old Darcy Cook, that's all changed now, with the discovery of Britain's tenth record of the species and, for Shetland, the archipelago's fourth bird following the national first on Fair Isle and two subsequent birds on Foula in 2017 and 2018. At this rate, in recent years they're in danger of becoming annual on Shetland…
Solitary Sandpiper
American sparrows of one complexion or another are more or less anticipated in the heart of spring – as, indeed, are Nearctic waders. Of the latter broad church, however, Solitary Sandpipers are far from expected – of the 37 previously accepted records, only one has occurred during spring – that being a Shetland bird on Foula on 6th-9th May 2009.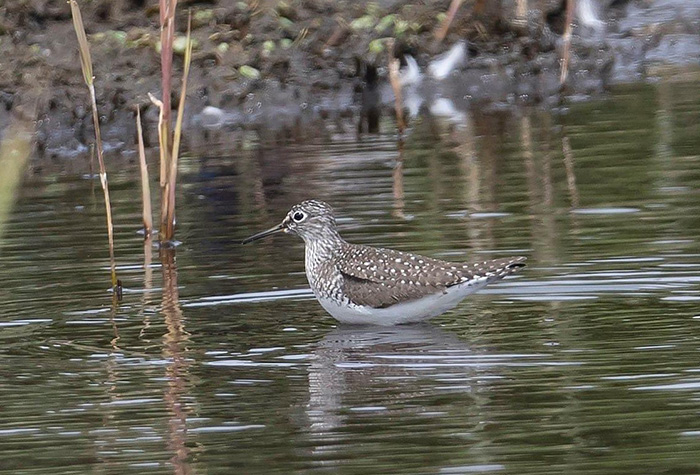 Apart from that individual, they're firmly a bird of the autumn. Whatever time of year they turn up, there's no denying Scilly's dominance of past records – almost half of the British tally have been found there and, this week, another bird was added to the mounting haul – found on 18th on St Mary's.
Brown Shrike
If White-crowned Sparrows are becoming a shade more numerous in recent years than hitherto, they've got a very long way indeed to go before they mirror the journey made by another species that, way back when, was also first found in Shetland.
That species being, of course, Brown Shrike. Britain's first was found back in autumn 1985 at Sumburgh (Shetland) and, until one found on Fair Isle in October 2000, hadn't been followed by another British bird. That was all set to change in the new century… Early glimmers of change came with a couple more birds, one on Bryher (Scilly) in 2001 and another on Shetland on Whalsay in 2004, but in 2008 we got our first taste of things to come – two birds in one autumn, at Flamborough (East Yorkshire) and on North Uist (Western Isles).
2009 marked things getting silly, with Cornish and Shetland birds followed by the immensely popular bird that dug in for the early part of the winter in Surrey at Staines Moor. And after that, in the past decade, the birds have just kept on coming, year after year. There are now 26 accepted British records to the end of 2018 – they're almost annual and, sometimes, turn up in multiples in any given autumn.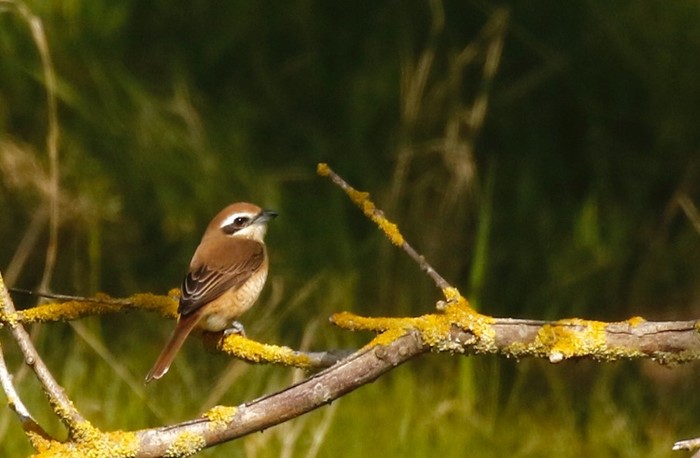 That's the thing though – they're emphatically an autumn bird. To the end of 2018 we've just one spring bird on the record books, the female seen on 20th May 2010 at Sennen Cove (Cornwall); and, waiting in the wings, the one day male seen at Great Cowden (East Yorkshire) last year on 11th May 2019. As of this week, they're joined by another spring female, present at Flamborough – itself no stranger to the species, with two of East Yorkshire's previous accepted three records to its name – on 12th-14th. One assumes that with birds turning up with increasing frequency in the autumn, we're going to be seeing a modest, proportionate increase in spring birds found too.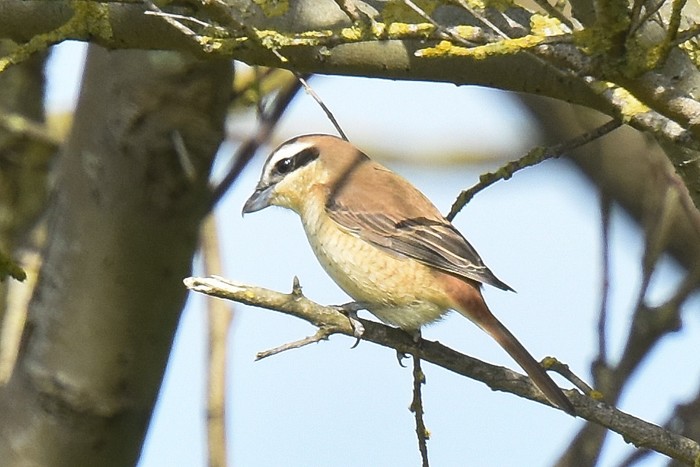 Bee-eaters
Elevated to the headlines this week by virtue of sheer numbers, and crowd-pleasing aesthetics, birders across the country enjoyed chance encounters with scores of Bee-eaters in recent days.
The week kicked off with the flock of 13 birds still present in Gwynedd near Rhiw on 12th-13th followed, the next day, by one heard over Budby (Nottinghamshire) and three in Norfolk over Hindolveston.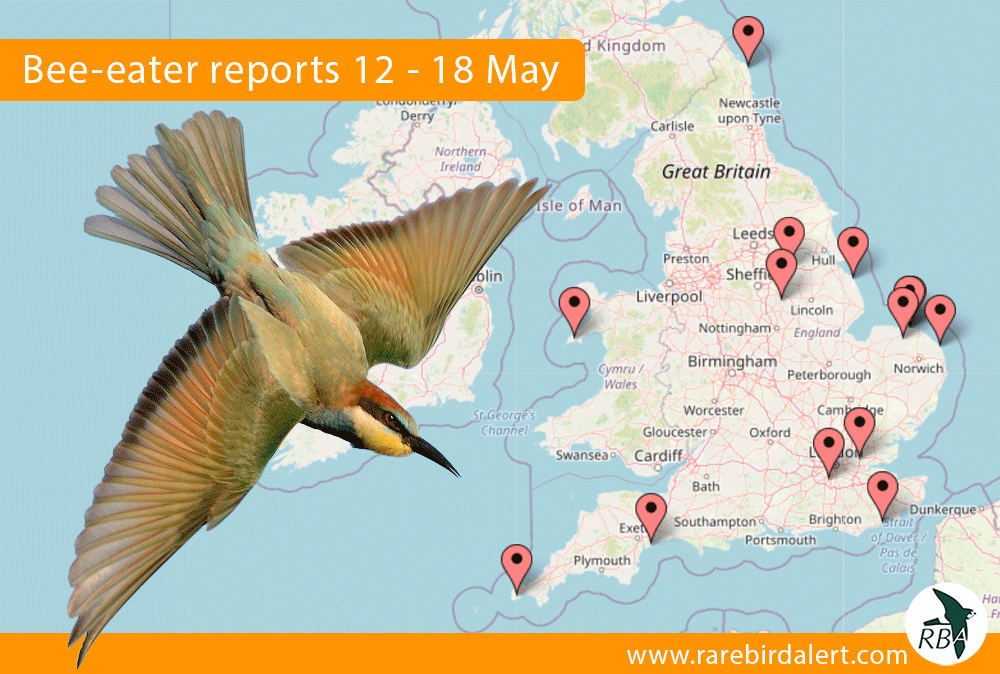 15th was marked by a flurry of further sightings, with Devon leading the charge. A flock of 13 birds was found in Exmouth, presumably also accounting for the flock of 13 seen around the coastal corner at Budleigh Salterton on 15th-16th; elsewhere on the south coast, one was seen at Fairlight Cliffs (East Sussex); and, heading north, further reports came from North Somercotes (Lincolnshire), Hatfield Moors NNR (South Yorkshire), and Norfolk, where two birds were logged at Cley, Kelling Quags, and Weybourne Camp.
On 16th, an unconfirmed report came of one in London at Upminster, while another was seen in the north that day over Long Nanny (Northumberland); on 17th two were seen in Cornwall at St Buryan; and on 18th another possible bird was heard at Ewell (Surrey).
Brown Booby
If one rarity was the stand-out crowd-pleaser and event of 2019, it was surely Brown Booby, with a succession of sightings coming after the initial, tantalising images of a bird seen off the Kent coast in August. Before too long birds had been seen in Cornwall, sticking around for long enough to allow anyone so minded a chance to head down there, sample a pasty or two and a Kelly's clotted cream ice cream, bask in the sun and come home with Brown Booby under their belt.
The last news we got of a bird in British waters came, belatedly, in early October – news of a bird that was seen on 2nd September 2019 from a cruise ship off Land's End (Cornwall). It's rather fitting then that belated news this week emerged of one seen on board the Belgian trawler Jasmine some four miles southeast of Bembridge (Isle of Wight) on 9th, remaining on board until the trawler had passed into French waters.
We weren't uniquely blessed last year – wayward Brown Boobies being found elsewhere in western Europe and up the eastern seaboard of the United States too. Something had prompted this unprecedented dispersal of birds – and whether last week's Isle of Wight sighting is one of the self-same individuals or one of a fresh batch of wanderers is moot, though the presence of a ringed immature bird this week at sea off the Canaries is intriguing. The main thing being, from a British birders' perspective, that the prospect of another bird hanging around somewhere on the south coast appears to be a real one again this summer.
Skua passage petered out this week, with just a handful of Pomarine Skuas to account for in recent days. Keen eyes in Lancashire picked out two birds from Heysham on 15th, followed by a further singleton off there on 16th; with one more on the latter date noted from Rossall Point. The balance of the early part of the week's sightings came from Selsey Bill (West Sussex) where, on 16th, seven birds were logged. On 17th the pace picked up somewhat, with four noted from Heysham, and single birds from Bowness-on-Solway (Cumbria) and Ballycotton (Co.Cork). On the last day of the week, 18th, further sightings came from Lancashire, where five birds were logged from Morecambe and a single bird off Rossall Point, and off Portland (Dorset), where a single bird was seen.
Two Long-tailed Skuas were seen in Orkney from Papa Westray on 15th; and an adult bird was noted in Devon over Clennon Valley Lakes on 16th.
A trio of widely separated White-billed Divers were logged in Scotland this week – one off Unst (Shetland) on 14th, with another seen that day from North Uist (Western Isles); and another noted off Dunnet Bay (Highland) on 15th.
We enjoyed another week with a fair selection of long-legged beasties scattered about the country. Time was when these were just transitory rarities to be enjoyed for their own sake for the duration of their stay but, with the events of more recent years, one can't help but wonder what might be set to breed somewhere suitable in the weeks to come. Exciting times.
Alas hundreds of miles apart, the previous week's male Little Bittern on the Isle of Man at Clypse reservoir was still present there this week on 13th while, on 14th-15th, a female bird was found down in Devon at Plymstock. They just need to meet on the Somerset Levels and it's game on… A further bird was seen at Knock Lake (Co.Dublin) on 17th-18th.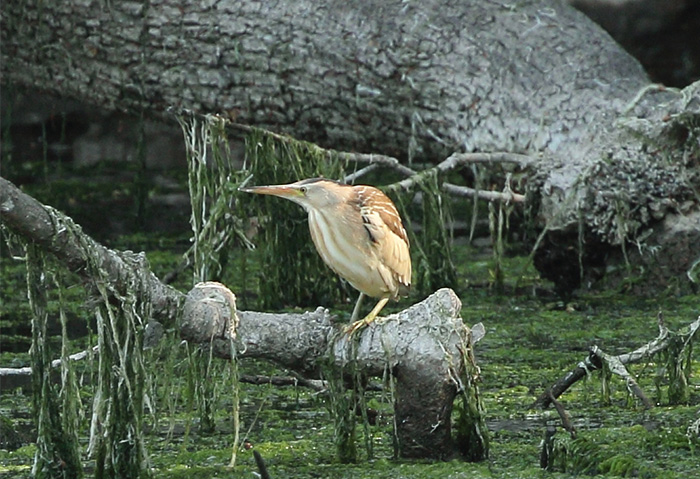 Recent weeks have featured all manner of good things seen passing over lockdown birders' gardens and, this week, a Purple Heron was added to that roster, noted in flight over a Selsley (Gloucestershire) garden on 13th. Another was found on 16th on Tresco (Isles of Scilly), while on 17th birds were found at Potter Heigham Marshes (Norfolk), Ham Wall RSPB (Somerset) and Knock Lake (Co.Dublin) – the latter bird being a superb simultaneous Irish double with the Little Bittern.
Also on 16th, a probable Night Heron was seen heading out to sea over Mousehole (Cornwall); this followed one identified from a sound recording at night over Ventnor (Isle of Wight) on 15th.
The former species have all, at some point lately, bred in Britain. Glossy Ibises haven't got over the finishing line just yet, though it's surely just a matter of time… Birds were seen this week at Dungeness (Kent) on 12th and Titchfield Haven NNR (Hampshire) on 14th.
Speaking of breeding birds, it's with very mixed emotions indeed that we get to report the recent happy(?) event in West Sussex where, at Knepp, a pair of free-flying White Storks have hatched chicks. Knepp's White Stork Project describes the parents, rather disingenuously, as 'wild storks' – a statement that's only half-accurate as the female is a ringed bird brought to Knepp from Poland as part of the introduction project, and it's only the un-ringed male bird that appears to be a genuine vagrant that's paired up with her. As a metaphor for the status of any White Storks seen anywhere in Britain now, that's rather apt – from here on we're increasingly unlikely to know whether any bird we see is the genuine continental deal or one that's had some human intervention in its recent past.
Given the wonderful successes Knepp has enjoyed with habitat management for the likes of Turtle Dove, Nightingale and Purple Emperors it feels a bit churlish to be anything less than wholeheartedly enthusiastic about the White Storks but, when the evidence of their past breeding presence appears to be somewhat circumstantial, and when other southern long-legged beasties are gradually colonising a warming Britain under their own steam… well… y'know…
And so to Common Cranes, also the subject of some human intervention - but at least their historic breeding presence is more wholesomely documented, and they started recolonising Britain for themselves in the late 20th century… This week non-Norfolk birds were seen in Shetland on Unst still on 14th-18th, at Hillwell on Mainland on 15th-17th and on Foula on 18th, where two birds were seen; in Lincolnshire, where two birds were noted at Langtoft on 13th and Bardney on 16th; at Nene Washes RSPB where two were seen on 15th; and on 16th one passed over Whitburn (Co.Durham), while at least two were heard over Irthlingborough (Northamptonshire) in the early morning.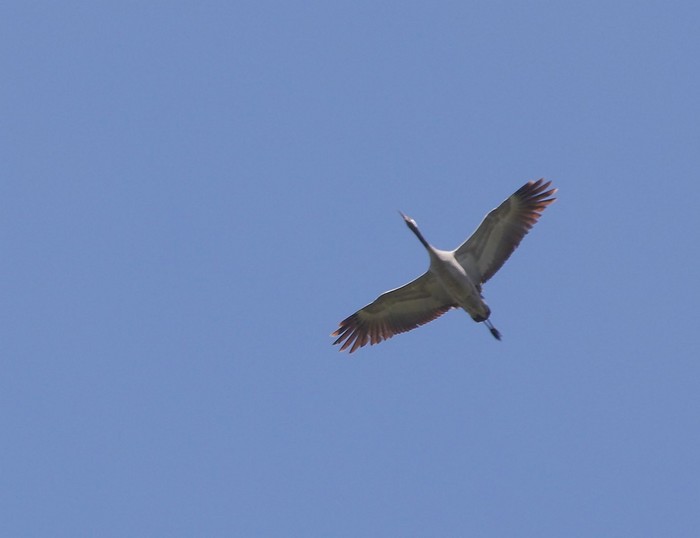 Finally, a Corncrake was noted in Cambridgeshire at Wicken Fen NT on 16th – another species we've made steps to reintroduce into suitable habitat in recent years, one with a feel-good factor about it. A record this week, away from the reintroduction site, at Devizes (Wiltshire) on 17th will have been particularly satisfying for the lucky observer.
Increasingly quiet times for honkers and quackers again this week. Pick of the exceedingly slim crop was the female King Eider again seen off Coul Links (Highland) on 13th…
…joined only in the news by the Green-winged Teal still present at Manby Flashes (Lincolnshire) on 13th-14th.
<!—Section Title -->
Best of the week's waders was the brief Terek Sandpiper that made a fleeting appearance at Alkborough Flats NR (Lincolnshire) early in the morning of 18th before flying off north.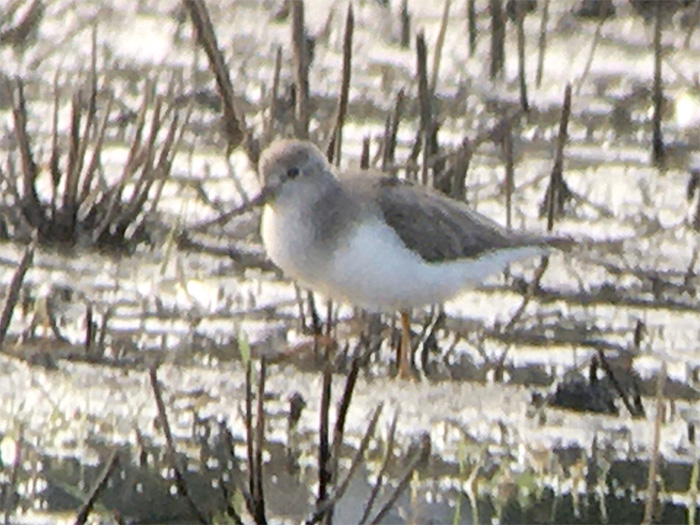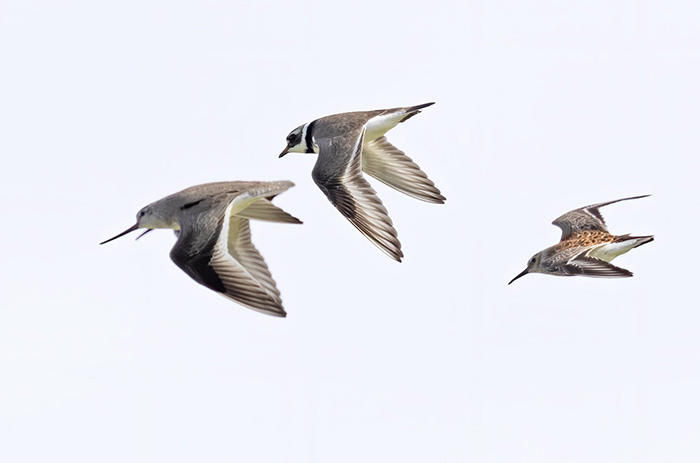 Northbound Dotterels continued to feature this week, with small parties and single birds widely noted. On 12th-14th a quartet remained on Great Ormes Head (Conwy); while English sightings came from Pendle Hill (Lancashire) on 15th and Choseley (Norfolk) on 16th, where three birds were seen, with two reportedly still there on 17th; and a further report came from Porthgwarra (Cornwall) on 15th. Scottish birds, meanwhile, were seen at Carnethy Hill (Lothian) again where, on 12th two birds were noted, followed by half a dozen present there on 13th; two spent 13th-15th on Yell (Shetland); one remained at Alturlie Point (Highland) until 17th; and one was seen near Dunoon (Argyll & Bute) on 15th. At least three birds were seen in Devon at Ringmore Downs on 16th; on 17th a single bird was found on Exmoor (Somerset) near Blackpitts.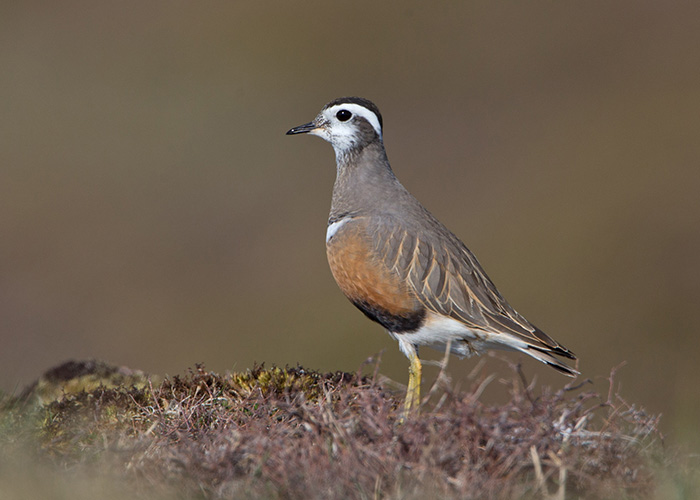 Also arriving in small numbers this week were the welcome sight of some Temminck's Stints. One at Alston Wetland (Lancashire) on 12th-15th presaged a mini arrival on 13th – one bird, present until 14th at Deeping Lakes NR (Lincolnshire), augmented by two in Norfolk at Wells' North Point Pools – the latter rising to three birds on 14th-16th, with one remaining there on 17th. A possible bird was seen on 14th in London at Rainham Marshes RSPB; and further single birds were found on 15th-16th at North Cave Wetlands (East Yorkshire), and on 16th at Brockholes Wetlands LWT (Lancashire) and at Brantham (Suffolk). On 17th one was present at Hatfield Moors NNR (South Yorkshire) in the early morning; on 17th-18th one was in Merseyside at Lunt Meadows LWT; on 18th another was found in Lincolnshire at Manby Flashes, with one in East Yorkshire at Kilnsea, and two in Essex at Holland Haven CP.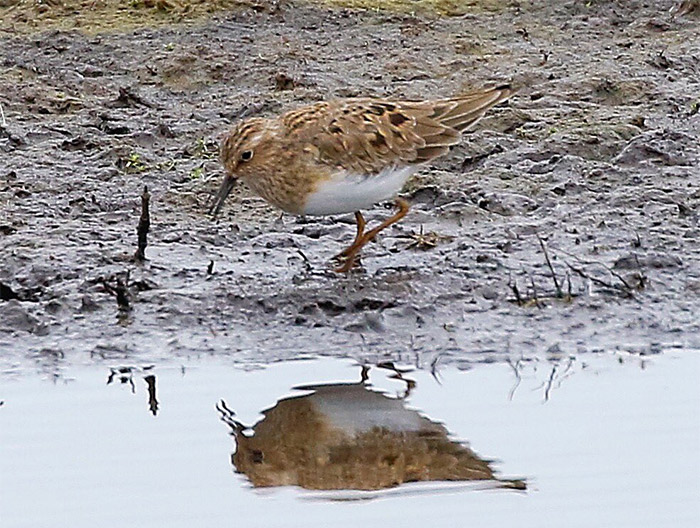 Lancashire scored a Pectoral Sandpiper at Marshside RSPB on 13th; several days later, it or another was found at Lunt Meadows LWT.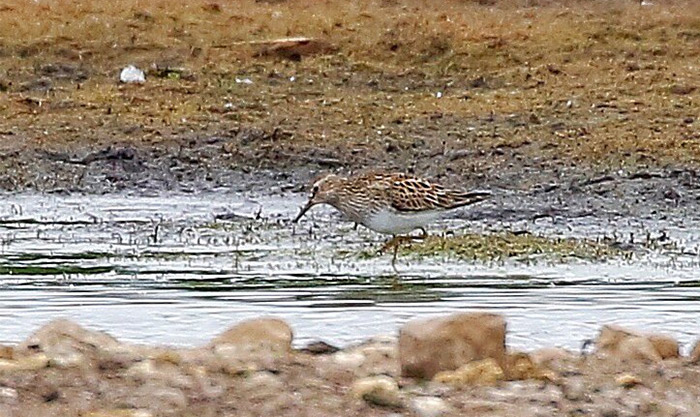 A probable American Golden Plover was noted over Porthgwarra (Cornwall) on 16th.
A Lesser Yellowlegs was reported from Titchwell RSPB (Norfolk) on 17th.
Two Black-winged Stilts paid a flying visit to Oare Marshes KWT on 14th before flying off, hopefully to find somewhere where they can quietly set about making more little stilts.
Finally, Norfolk was treated to a fine female Red-necked Phalarope at Cley NWT on 14th-16th; and further females were found on Fair Isle (Shetland) on 15th and at Grindon Lough (Northumberland) on 18th.
Once again, the best of our gulls'n'terns this week were the sporadic appearances of White-winged Black Terns - arguably the most dapper of all the regularly appearing rare and scarce terns, and always a thrilling find over an inland freshwater body at this time of year. This week a single bird was seen in Derbyshire on 12th passing through Church Wilne and Willington GPs, and at Long Eaton GPs; and also, on 12th, one was present in Nottinghamshire still at Holme Pierrepont, with another report that day from Attenborough NR.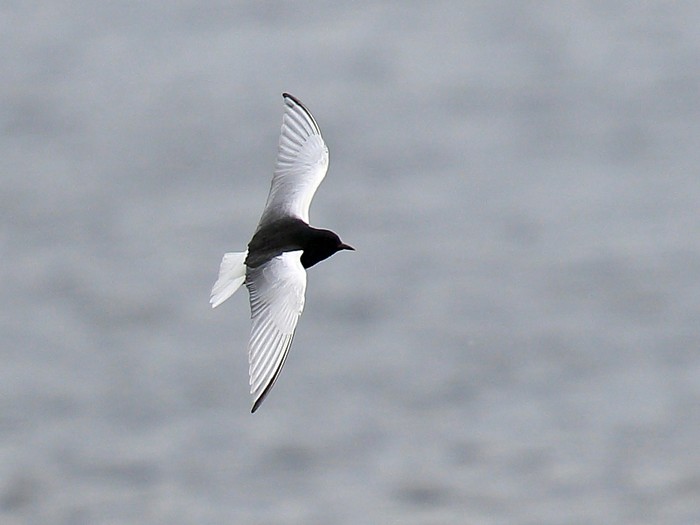 A probable Gull-billed Tern was noted passing Gorleston (Norfolk) in the evening of 13th.
A Caspian Tern was reported flying north over Newbourne (Suffolk) on 17th.
A Bonaparte's Gull was a fine late week find on North Uist (Western Isles) on 18th.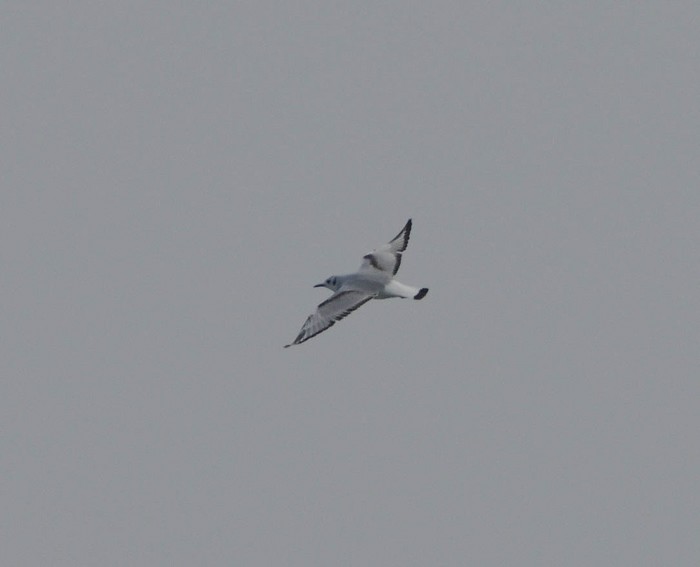 White-winged gulls, however, continued to wane this week. Glaucous Gulls in particular were in ever shorter supply – lingering birds being seen on Yell (Shetland) until 18th, at Pyewipe (Lincolnshire) again on 12th, and on North Uist (Western Isles) where two birds were noted on 13th.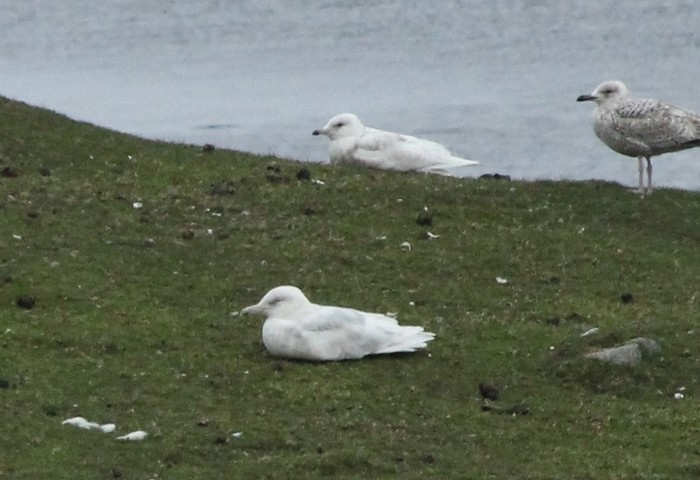 Iceland Gulls meanwhile were a little more numerous, but only a little. Yell continued to hold onto a bird until 18th, with a second individual on the island on 17th; while further Shetland sightings came from Fair Isle on 12th-18th, and on Mainland at Lerwick on 14th and Strand Loch on 16th. A bird lingered on Skye (Highland) on 12th-17th, with two present there on 18th; one was at Cromarty (Highland) on 13th; and two were on North Uist (Western Isles) on 13th also. England's sole sightings were one seen at Whitburn (Co.Durham) on 14th and another at Orgreave Lagoons (South Yorkshire) on 17th.
Whatever age they are, whether young or adult birds, Red-footed Falcons take a lot of beating for sheer beauty and elegance. We're tentatively showing signs of enjoying one of our periodic spring influxes, and a handful of sightings this week continued to please those fortunate enough to live within reasonable striking distance – a first-summer female lingered on the Oxfordshire / Buckinghamshire border around Piddington and Ludgershall on 13th-15th; first-summer males were seen at Thorne Moors NNR (South Yorkshire) on 15th-18th and Hatfield Moors NNR (South Yorkshire) on 17th, and Ringstead GPs (Northamptonshire) on 16th-18th; a female was seen near Ilchester (Somerset) on 16th-18th; a male came in off the sea in Norfolk at Hemsby on 16th; and another female in Kent at Stodmarsh NNR on 17th. On 18th a female was found at Thursley Common (Surrey).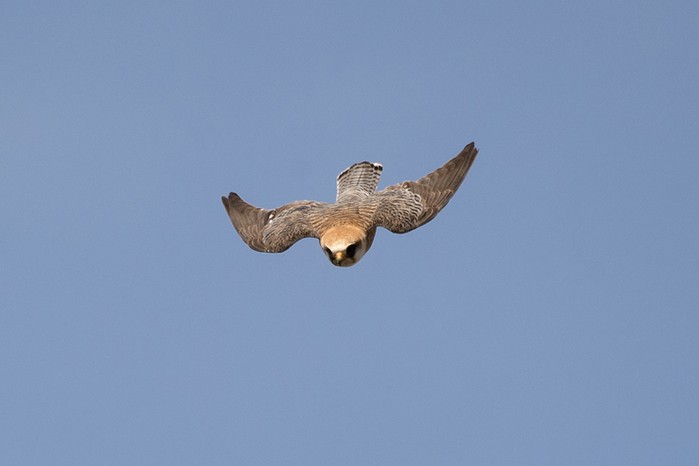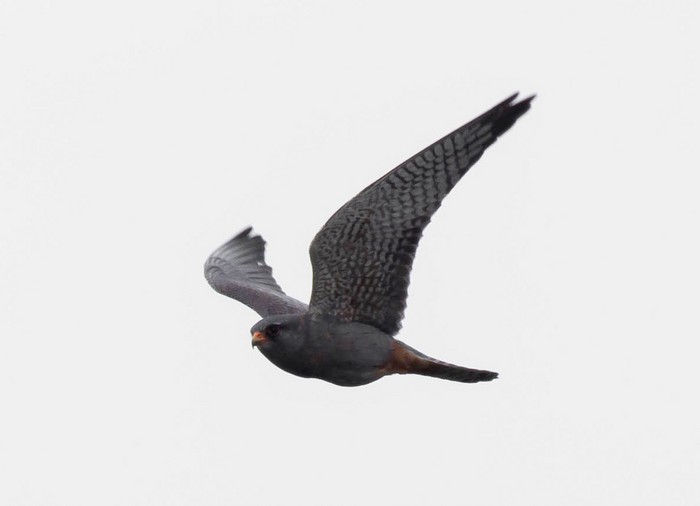 Black Kites, meanwhile, continued to figure prominently in the news and our consciousness – feeling like an outside possibility pretty much anywhere at the moment. On 12th one was seen in Kent at Dungeness, with a possible that day at Fernhill Heath (Worcestershire). 13th was marked by two more Kentish sightings, one in the morning at Selling and, in the afternoon, one at Capel Fleet. On 14th one was seen in Norfolk at Choseley, with a probable noted at Fetcham Splash in Surrey. Another probable bird was seen on 15th at Bredon (Worcestershire), with one reported that day in Norfolk at Saddle Bow. 16th was a busy day, with another Kent sighting at Oare Marshes KWT, one at Winnall Moors NR (Hampshire) and, in London, two probables over Muswell Hill and a further possible at Oakwood. On 17th another sighting came from Oare Marshes KWT, with one that day at Salthouse (Norfolk), and another probable bird in Surrey at Ewell. On 18th a final probable bird was noted in Devon near Pil Tor.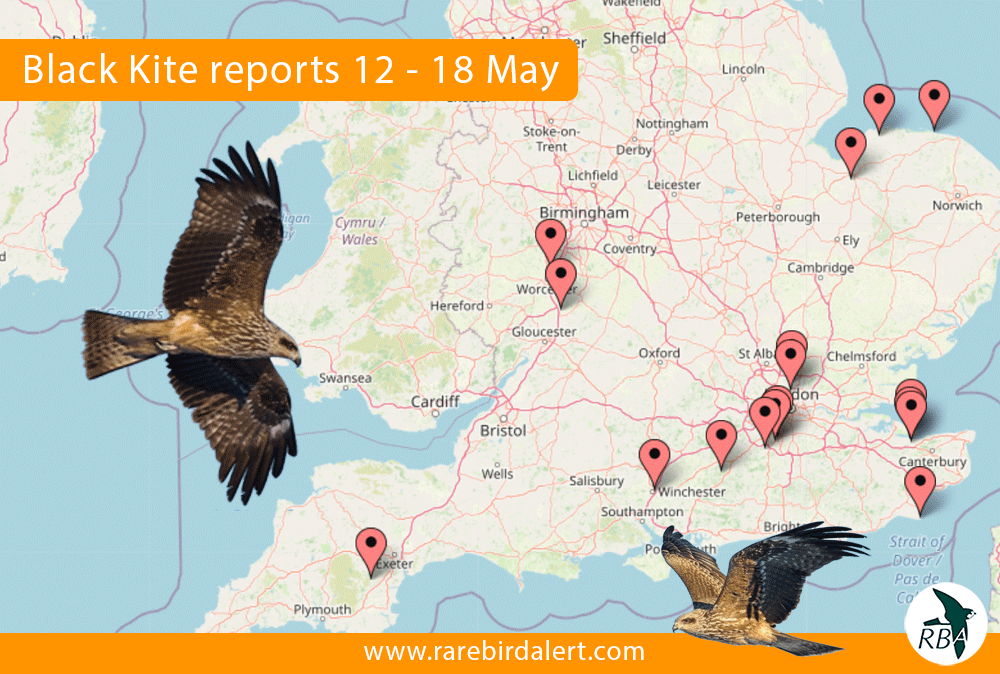 Kent, featuring so prominently for the former species, also accounted for either a Pallid or Montagu's Harrier seen flying north along the coast at Kingsdown on 16th. A Hen or Montagu's was seen in the early morning at Frensham Common (Surrey) on 16th.
Confirmed Montagu's Harriers, however, were seen this week at Nanjizal Valley (Cornwall) still on 12th; Kilnsea (East Yorkshire) on 12th; and, on 14th, at Long Mynd (Shropshire), Reston (Borders), and Hindolveston (Norfolk). On 17th, one was wandering around North and South Walsham (Norfolk); and on 18th one was noted at Cley.
Last but not least, a White-tailed Eagle was found over Oldbury (West Midlands) on 13th.
Compiling the Rarity Round Up each week, it's always a pleasure to hit the passerines section, but never more so than at this time of year. No subtle first-winter gubbins to contend with – spring is all about unabashed colour and sound.
Bee-eaters this week provided a psychedelic flourish in the headlines, but further funkiness features here in the main body of the round up – not least in the form of Hoopoes and, of their number, none was more welcome given the generally miserable, grey, snowy winter conditions that prevailed in Shetland last week than the bird that lingered in gardens in Symbister on Whalsay until 15th at least. Further birds, in the balmy south, were seen on Mull (Argyll & Bute) on 13th; at Mofra Mefyn (Gwynedd) on 14th; in Devon on 13th-14th at Axminster, on 15th at High Bickington, and on 16th at Cadover Bridge; on 15th at Farnham (Surrey) and Clywedog (Powys); and on 16th at Muggleswick Common (Co.Durham). On 17th one was at Langport (Somerset), and another was found at Aberaeron (Ceredigion). Finally, on 18th, further sightings came thick and fast from Lancing (West Sussex), Heswall (Cheshire), and Twyford (Oxfordshire).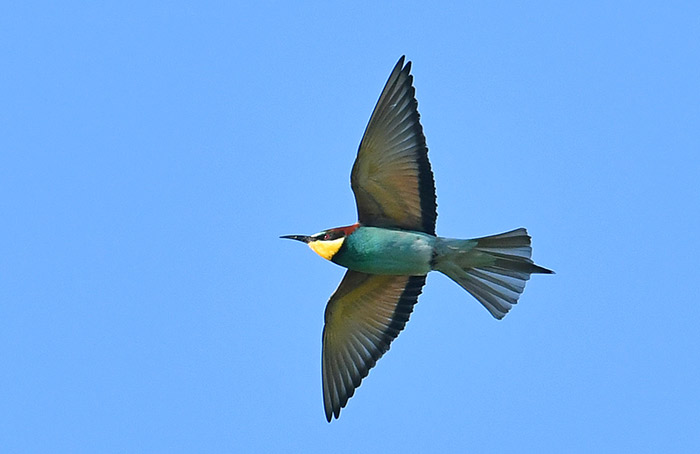 More southern exotica came in the form of a scatter of Golden Orioles - one on St Martin's on 12th was embellished by Scillonian sightings again on St Mary's, with a female/first-summer male on 14th-16th and a male on 16th; a female/first-summer male was a terrific Staffordshire garden bird at Dunston on 13th; one was seen in flight over Felmingham (Norfolk) on 16th, and another male was in song that day at Rye Harbour NR (East Sussex). On 17th one was found at Bamburgh (Northumberland) and, in the early morning of 18th, one was heard in Norfolk at Hickling Broad.
Dorset got a Red-rumped Swallow at Wyke Regis on 12th; East Yorkshire sightings came from Easington on 15th and Kilnsea on 16th; and another was found on 18th at Horsey Island (Essex).
An Alpine Swift was seen in Llandudno (Conwy) on 18th.
Flamborough (East Yorkshire) was already enjoying the week's rarest shrike when, on 15th, it was replaced there by two Red-backed Shrikes.
In Devon, meanwhile, a Woodchat Shrike was present at Wembury Point on 13th-14th.
Kenidjack (Cornwall) landed a Wryneck on 13th, whilst another was found at the opposite end of the country on Whalsay (Shetland) on 17th.
Short-toed Larks showed more faith to the south of England, with sightings this week coming from St Mary's (Scilly) and Landguard NR (Suffolk) apiece on 15th.
Our lingering recent Iberian Chiffchaff in Lincolnshire stayed in song at Croft until 15th, and was joined in the news by another singing male, present in London at Ponders End Lake since 2nd, and still in full voice there until 18th. A further probable bird was heard in song on the Isle of Wight at St Lawrence on 16th and, on 18th, a male in song was reported from Minsmere RSPB (Suffolk).
A probable Thrush Nightingale was heard, frustratingly briefly, singing at Cley (Norfolk) on 13th.
A Blue-headed Wagtail remained at Arbroath (Angus) on 14th; further birds were found this week at Donmouth (Aberdeenshire) and Whitburn (Co.Durham) on 16th, with a possible over Long Mynd (Shropshire) on 15th.
A male Grey-headed Wagtail, meanwhile, was found in Norfolk at Eccles on 12th, with another possible bird in the county seen at Wells on 14th.
An increasingly scarce commodity in recent years, a Tawny Pipit was found in Cornwall at St Just on 15th-17th; a Richard's Pipit was reported on 18th at Sammy's Point (East Yorkshire).
Finally, our only Serin this week was one found in East Sussex at North Chailey on 16th.
We've touched upon France's latest Brown Booby already in the headlines, belated news of an at sea record from the preceding week shared with British waters…
…but France was contributing further food for thought this week with Lammergeier sightings coming from the north of the country at Nieppe on 12th and Dollemard on 14th.
Holland, meanwhile, was treated to a Steppe Eagle at Apeldoorn on 13th and, on 17th, an echo of this week's headline bird in Shetland – a White-crowned Sparrow at Hunsel.
In Poland, a Sociable Lapwing was found on 18th at Wielikat ponds.
A Swinhoe's Petrel was seen on 15th in Portugal at Cabo Raso.
Italy got a Seebhom's Wheatear on 14th at Campo Imperatore.
Out on the Canary Islands, the Abyssinian Roller remained settled on Gran Canaria on 18th while, in a neat counterpoint to the recent Brown Booby mid English Channel, a ringed immature bird came to a boat off La Palma on 18th.
Finally, in Israel, the recent Three-banded Plover remained at Ma'ayan Tzvi fish ponds on 13th.
The week just gone closed with south-easterlies and rain in Shetland. Just maybe it's northern Scotland's turn to see some appreciable migratory action in the coming days…
Norfolk had a whisper of Thrush Nightingale last week – a nailed on sprosser feels distinctly possible in the days to come.
More rarefied fare comes in the form of the likes of Moltoni's Subalpine Warbler or Calandra Lark - now is the time when, with a fair following wind, either could conceivably make landfall.
If we really want to give our daydreams full, uninhibited rein, the past week boasts some gripping historic records that are truly mouth-watering. Pallas's Sandgrouse in Shetland in 1990, or the male Caspian Plover on St Agnes (Scilly) in 1988…
It's hard to imagine just how much personal angst either would cause in the current strange circumstances in which we find ourselves.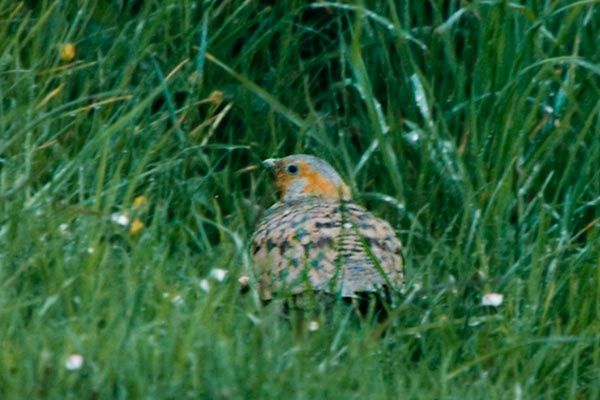 Jon Dunn
19 May 2020
Many thanks to all this week's contributors for your photos and videos
Share this story
Tweet