Weekly birding round-up: 30 Oct - 5 Nov
The week at a glance
Flight call seems to nail mystery pipit in Cornwall as Europe's first Paddyfield Pipit
Roadside Tengmalm's Owl encountered in Highland
Steller's Eider in Orkney nudges into the week
Autumn's eighth Isabelline Wheatear and sixth Brown Shrike arrive
Season's first Hume's Warblers and Desert Wheatear are found
Unseasonable Little Bittern briefly in Norfolk
While the autumn has, generally, not been the busiest where volume of rare and scarce birds is concerned, the preceding week was by any standards a strong one – how else could it be described, with a first for Ireland and a supporting cast of Nearctic goodies in Ireland and, to a lesser extent, Britain alike?
Hopes were riding high going into the week just gone – the charts looked promising, with a conveyor belt of westerlies sweeping in across the Atlantic, hitting southern Ireland and southwest Britain from Wednesday right through the weekend, interspersed with showers and, at times, heavy rain. Fall conditions, surely? And that's not touching upon the easterlies that began making themselves known as the week drew to a close. Game on.
Paddyfield Pipit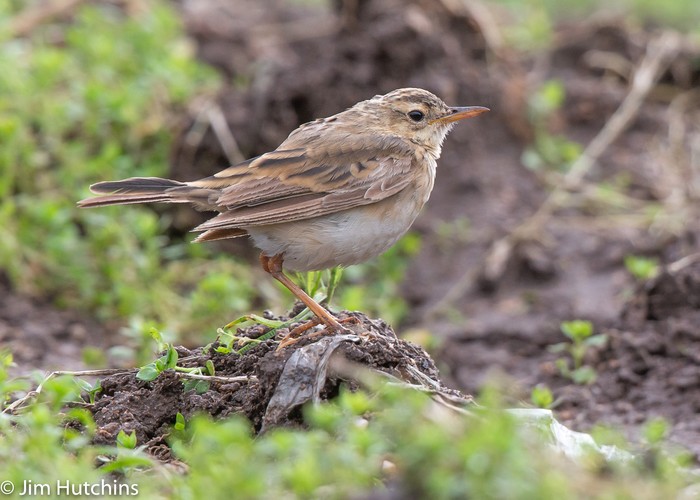 On October 31st, towards the end of its ninth day masquerading as a Richard's Pipit, the large pipit which had set itself up in a maize field in Sennen, Cornwall, became the centre of attention. Hardly in the finest nick, being midway through its complete moult (making it at least in its second calendar-year, and suggesting considerable time already spent in Europe), and giving unfamiliar flight calls, the original identification was reached after much deliberation, and never felt right to some observers. However, the bird got little attention beyond the county boundary until Magnus Robb from The Sound Approach pointed out that the bird's flight calls were a perfect match for Paddyfield Pipit.
Birders who have not set foot in its range across the Indian Subcontinent, Southeast Asia and the Phillipines might understandably have not even heard of the species. Indeed, with only birds at the north-west end of the distribution map, in Afghanistan, understood to be (modest) migrants, Paddyfield Pipit has never been on the radar as a likely vagrant, though extralimital individuals were found in the United Arab Emirates in the autumns of 2017 and 2018. However dumbfounding it might seem, the bird has been repeatedly giving diagnostic Paddyfield Pipit calls, and looks the part, too. For the most dedicated cynics, at least regarding the identification, three faecal samples have been collected for prioritised DNA analysis. With the bird still present on November 5th and little reason to suspect it will move on any time soon, if useful material can be extracted, a laboratory-standard answer could well be available while the bird is still on site. The American Buff-bellied Pipit continuing its stay in the same field, provided an ongoing, if more elusive, supporting act till 4th.
Magnus Robb says of that wacky/whacked pipit at Sennen, #Cornwall: "The calls of this bird point squarely towards Paddyfield Pipit!!!"
This is the only call I and others have heard it give, as far as I'm aware. Does anyone have any evidence of Richard's ever making this call? pic.twitter.com/uHcIfTXoT8

— Nick Moran (@sconebirding) October 31, 2019
Roadside Tengmalm's Owl encountered in Highland
Just minutes before the clock struck midnight and October 30th, and hence this roundup period, began, Dan Pointon's overnight drive through Scotland to ultimately reach Orkney and, in theory, the Steller's Eider, became etched in birding history. Two miles south of Forsinard, a Tengmalm's Owl appeared in the headlights, perched on a fence before flying into a nearby pine tree and melting away into the forestry. It was searched for until dawn to no avail. It seems as though collective motivation for the necessary careful and repeated searching through the habitat to pin the bird down was somewhat less than it might have been, had there not been the fully twitchable bird in Shetland earlier in the year. Nevertheless, this should end up on file as Britain's tenth Tengmalm's Owl since 1950.
Steller's Eider nudges into the week
Aside from reordering the relationship between time and space, birder and Tengmalm's, to produce a sensational midnight record, the Steller's Eider was busy giving keen birders the run-around. It wasn't looking good for those driving and boating over to Westray by mid-morning, with no sign of the mega duck on Loch of Swartmill. Any indecision about how to take the twitch forward was soon distilled, though, with news that the bird had been seen over 15 miles away off the island of Shapinsay, from a ferry passing its west side. Plans were hatched to try to intercept the bird in its new location but the trail ran cold just as quickly. But then it was back on Westray! And then it wasn't! Its late afternoon return to where it all began was cut rudely short by boating activity and it scarpered. And that really was that. At least, as far as could be known, because the finders, the only birders on Westray, were shortly away from the island on a trip so any resumption of the saga might have gone unseen.
A note on the Lesser Kestrel
Not a bird seen this week, but an important note… With a bird as cryptic as a juvenile Lesser Kestrel, confusion was probably inevitable from the very beginning. Indeed, the whole episode has been littered with puzzlement. Last week we mentioned that the seemingly far-fetched notion of a pale-clawed Common Kestrel replacing the Lesser had been dispelled, but it is now clear that this was the case. So, for the sake of clarity, a juvenile Lesser Kestrel was indeed photographed at Fraisthorpe in East Yorkshire on October 22nd, but only that date; all photographs taken since show a Common Kestrel.
Pomarine Skuas continued to trickle through offshore, mainly along the east coast, with the strongest movement occurring on 5th, when 39 passed Sheringham, Norfolk. This was also the best Little Auk day, with 89 counted off Whitburn, County Durham, in just over seven hours. Long-tailed Skuas were running dry, with the only two of the week both seen off the Cornish coast on 2nd. Leach's Petrels were of course more highly prized, but there were six off Canvey Island, Essex, on 30th and four at Portland on 2nd, along with singles off East Yorkshire and Co.Durham on 30th and 31st respectively.
One of the most peculiar of the week's reports was a very late Little Bittern seen a few times in flight over the reedbeds of Titchwell RSPB, Norfolk, mid-afternoon on 30th. Despite patient observation that evening and for the entire morning that followed, there was no further sign of the bird. In Suffolk, a similarly unseasonable Purple Heron was reported flying from the river bank opposite Snape Maltings on 4th. Single Glossy Ibises were at Sker Point, Glamorgan, from 30-31st, Berkeley, Gloucestershire, on 2nd and at Pilmore, Co.Cork, on 3rd. In Devon, the regular bird was at Fremington Pill on 5th, in addition to one at Exminster Marshes from 2nd-5th.
The Firth of Forth between Musselburgh Lagoons and Fisherrow, Lothian, continued to hold the adult drake White-winged Scoter to 5th, along with one of the week's two Surf Scoters to 4th, (the other being off Harris on 30th). Northumberland's Black Scoter was seen off Goswick on 30th before surfacing off Cocklawburn Beach on 2nd. In Highland, Strontian's resident Black Duck was reported again on 5th and in Lothian there was a report of a drake King Eider in Aberlady Bay on 30th.
The drake Lesser Scaup was still on Carrowmore Lake, Co.Mayo, on 31st, while the Chew Valley Lake, Somerset, bird hung on till 4th; also on 4th a new drake turned up on Helston boating lake, Cornwall, and continued to show the next day. In Clyde, a drake Blue-winged Teal, perhaps one of the birds seen elsewhere in the county earlier in the year, was tracked down near Milngavie on 2nd, where it was seen again on 5th. The Ring-necked Duck at Longham Lakes, Dorset, stayed put all week, as did the bird on Barra, Western Isles. A regular adult drake was again at Abberton Reservoir, Essex, on 3-4th, while another was on Ballyallia Lake, Co.Clare, from 4-5th.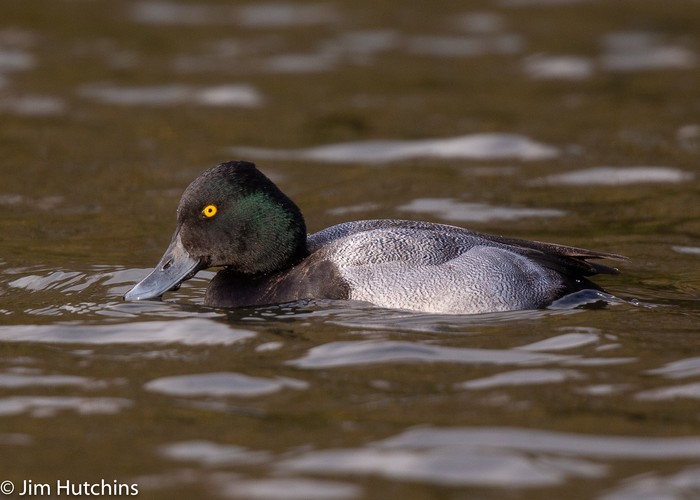 Green-winged Teals extending their residences included birds at Blacktoft Sands and North Cave Wetlands, both East Yorkshire (to 3rd and 5th respectively) , at Kilcoole, Co.Wicklow to 3rd and on both North Ronaldsay, Orkney, and Islay, Argyll, to 4th. American Wigeon were new on North Uist, Western Isles, on 31st and at Grindon Lough, Northumberland, on 3rd; others at Loch Eye, Highland, and Gortahork, Co.Donegal to 1st, and Banks Marsh, Lancashire, to 3rd, were left over from previous weeks. Black Brant had representatives at Kilnsea, East Yorkshire, to 5th, Stiffkey, Norfolk, from 3-4th and on The Fleet, Dorset, to 31st.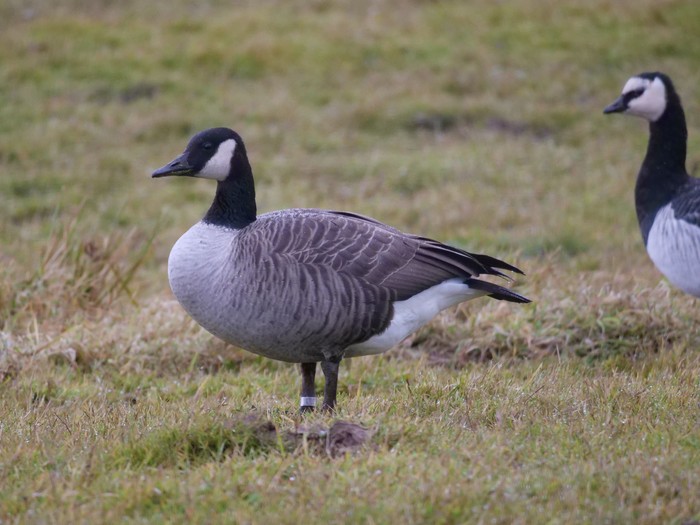 A flock of 26 Taiga Bean Geese were west of Slamannan, Forth, on 2nd and the two Tundra Bean Geese at Stodmarsh, Kent, were still present on 4th. Aberdeenshire's blue morph Lesser Snow Goose left the Loch of Skene roost again on the morning of 1st. A Todd's Canada Goose was north of Kirkbride, Cumbria, on 31st, and the Islay, Argyll, bird was still being reported on 4th; elsewhere in Argyll, another Todd's was on Tiree on 5th.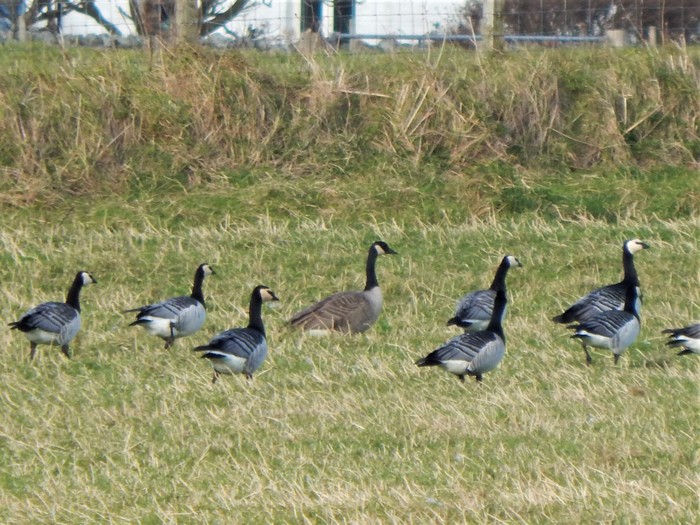 A Spotted Crake was stumbled upon at Porthgwarra, Cornwall, on 31st, but quickly vanished.
<!—Section Title -->
The Short-billed Dowitcher remained faithful to Navvy Bank Walk at Dundalk, Co.Louth, all week, while Long-billed Dowitchers continued at Bowling Green Marsh, Devon, Cresswell Pond, Northumberland and on Tiree, Argyll, to the end of the roundup period. Much appreciated by birders in the Northeast was a Kentish Plover readily available at Redcar, Cleveland, from 1-4th. At a late stage in a quite poor autumn for the species, a Baird's Sandpiper was a nice find at Ballinskelligs, Co.Kerry, present from 3-5th. The Lesser Yellowlegs on South Uist, Western Isles, stayed around till 2nd.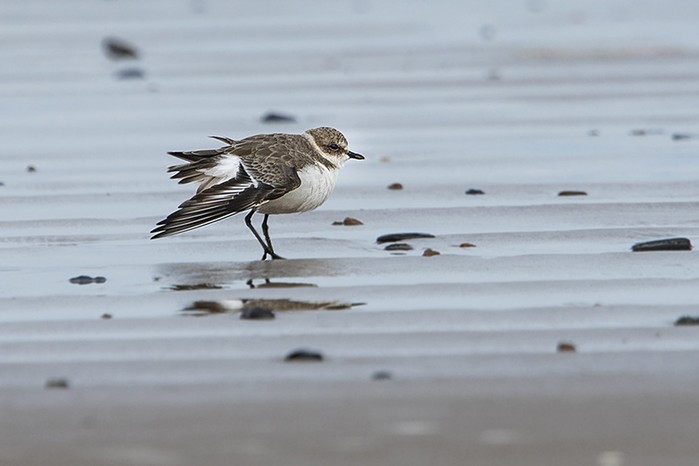 Groups of six and three White-rumped Sandpipers, at Myroe Levels, Co.Derry, and Ardivachar on South Uist, Western Isles, respectively, lingered to the end of the roundup period. Other stayers included singles at Cashen Estuary, Co.Kerry, to 30th and Annagh Beach, Co.Mayo, to 31st, as well as a repeat appearance from the Banks Marsh, Lancashire, bird on 3rd. New White-rumps graced Belfast Lough, Co.Antrim, on 30th and Oronsay on South Uist, Western Isles, on 31st, then Pickerings Pasture, Cheshire, on 1st and Lough Beg, Co.Derry, from 4-5th (three). A Pectoral Sandpiper was also on South Uist on 31st.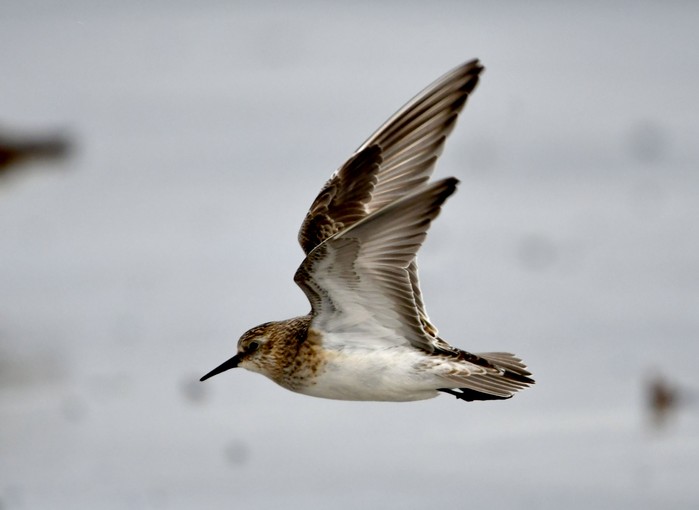 The week's seven American Golden Plovers were shared between Cambridgeshire (near Littleport on 3rd), Shetland, Cornwall, Western Isles, Co.Mayo, Co.Wexford and Co.Derry. A Dotterel was on The Lizard, Cornwall, from 31-1st. A Grey Phalarope still at Breydon Water, Norfolk, on 30th was the only non-offshore record but numbers at sea were quite low anyway, with but three were seen off West Bay, Bridport, Dorset, on 2nd.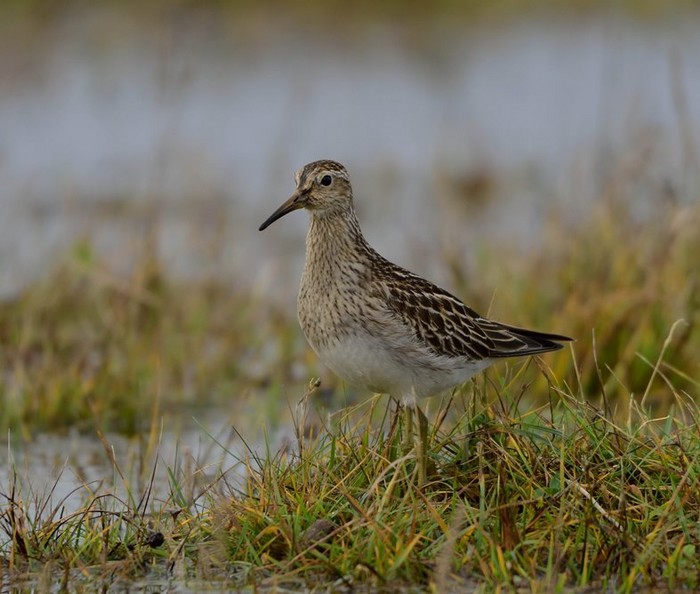 The long-staying Ring-billed Gull was at Blackrock, Co.Louth, to 5th and another turned up at The Lough, Cork, on 3rd. Two Sabine's Gulls passed Hemsby, Norfolk, on 5th but all other records this week were from Cornwall, with four singles at four separate seawatching points in the county on 3rd. A total of 13 Iceland Gulls were split between Highland (four), Western Isles (two), Shetland, Cleveland, Cornwall, Moray, Co.Clare, Co.Cork and Co.Waterford. Glaucous Gulls outnumbered them by 12, and occurred in sets of up to five (Skaw, Unst, Shetland, on 3rd) but similarly seem currently restricted to the north.
Rough-legged Buzzards were seen over Holbeach St.Johns, Lincolnshire, and King's Lynn, Norfolk, on 30th, followed by a bird lingering around Dungeness, Kent, on 1st, another in Norfolk at Sculthorpe Moor on 3rd and one near Holme Fen, Cambridgeshire, on 5th.
The eighth (!) Isabelline Wheatear of the autumn pitched itself in Kilnsea, East Yorkshire, for a while on 30th but could really have done with staying a day or two longer, as perhaps surprisingly, the untwitchable Gibraltar Point bird was the only other east coast record among the eight. Such a run of Isabelline Wheatear records follows a blank season last year and is matched only by the exceptional year of 2016; assuming all of this year's birds are accepted, nearly a third of all Britain's records will have occurred in these two bumper autumns. A male Desert Wheatear, the first of the autumn, at South Swale NR, Kent, on 30th, felt like something of a change! The pleasure had to remain vicarious for most of us, though, as it only stuck around for one afternoon performance. A female Pied Wheatear at Clifton, Worcestershire, on 3rd was all the more galling, being utterly untwitchable and quite gone by the next morning.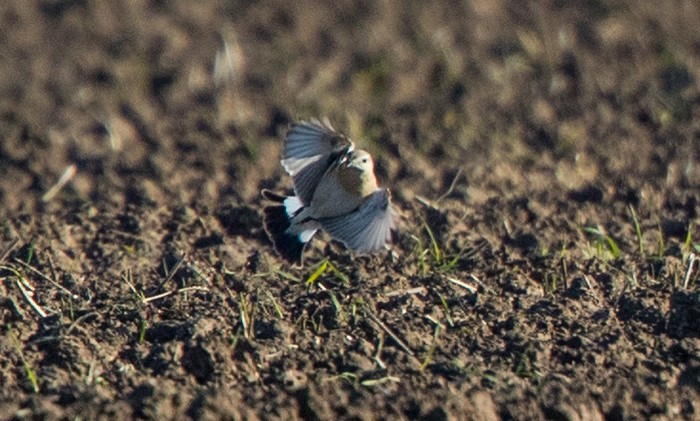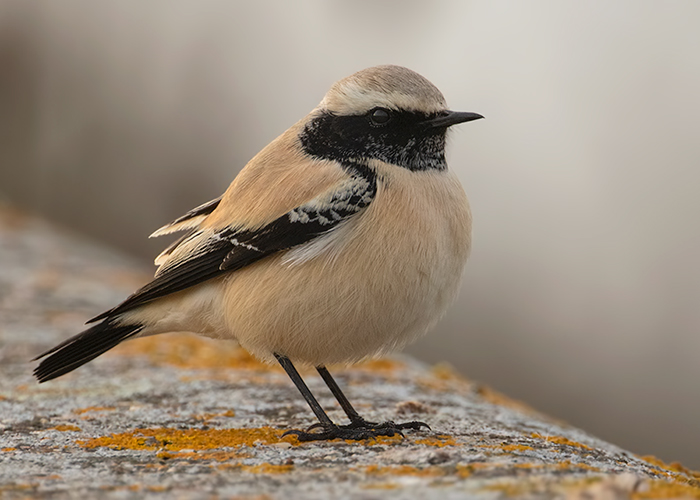 A Brown Shrike, almost unbelievably the sixth of the autumn, was on Barra, Western Isles, from 3-5th, though it was only glimpsed on its first day and put down as a potential Red-backed Shrike, before giving itself up the following afternoon and revealing its true identity. The first Hume's Warblers of the autumn arrived on cue, with one on Cape Clear, Co.Cork, from 4-5th and others unearthed at Scarborough, North Yorkshire, and Tarbat Ness, Highland, on 5th, the latter effectively alongside an Olive-backed Pipit. Another 'OBP' turned up that day on Isle of May, Fife, and a Red-throated Pipit was on St.Mary's, Scilly, on 1st.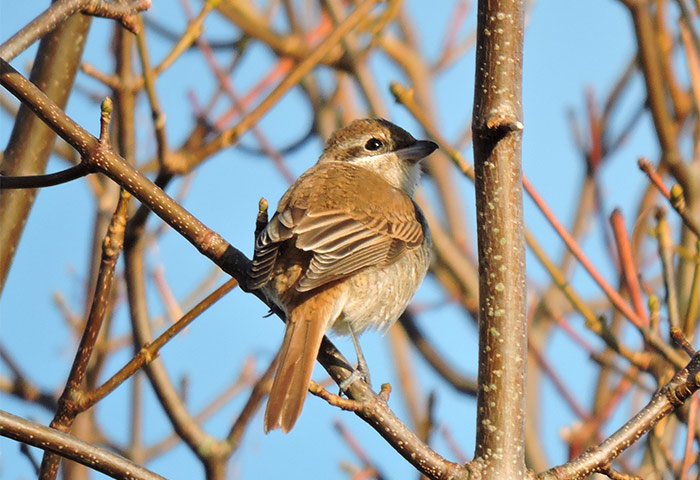 East Yorkshire hosted a popular Radde's Warbler from 3-4th.. An Eastern Stonechat sp was reported at Heacham, Norfolk, on 30th. The flock of seven Two-barred Crossbills on North Uist, Western Isles, was certainly still complete on 30th, and a minimum of three were still there four days later. All but two of the week's 14 Pallas's Warblers were fresh arrivals. The two lingering birds from last week were at The Naze, Essex, and Waxham, Norfolk, both only staying to 30th. Lincolnshire, East Yorkshire and Mainland Shetland can each claim credit for two of the week's new Pallas's, while Cornwall, Suffolk, Isle of Wight, Fife and North Yorkshire chipped in with one apiece. The best day for finding one was 1st, when birds turned up at Hoswick, Shetland, Lowestoft, Suffolk, and at Portland, Dorset.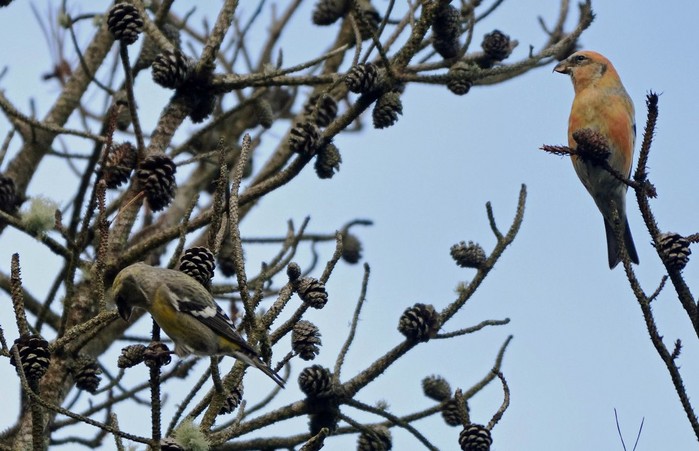 The late Red-backed Shrike at Saltfleetby, Lincolnshire, clung on to 30th, while a similarly tardy Woodchat Shrike visited Seaton GPs, Kent, on 30th. There were again 12 Great Grey Shrikes in total this week. While some like the bird at Cannock Chase, Staffordshire, saw the week out and are probably now on winter territory, not all were the same as last week, with notable birds by the Stour Estuary, Essex/Suffolk on 30-31st, and at Bockhill Farm in Kent on 3-5th. Up to six new Red-breasted Flycatchers were found this week, including males at Treeve Moor, Cornwall, and Bardsey Island, Gwynedd, arriving on 1st and 2nd respectively. An individual trapped and ringed at Anderby Creek, Lincolnshire, on 30th was notable, remaining to the next day. Others were found in East Yorkshire, Aberdeenshire and on The Lizard in Cornwall.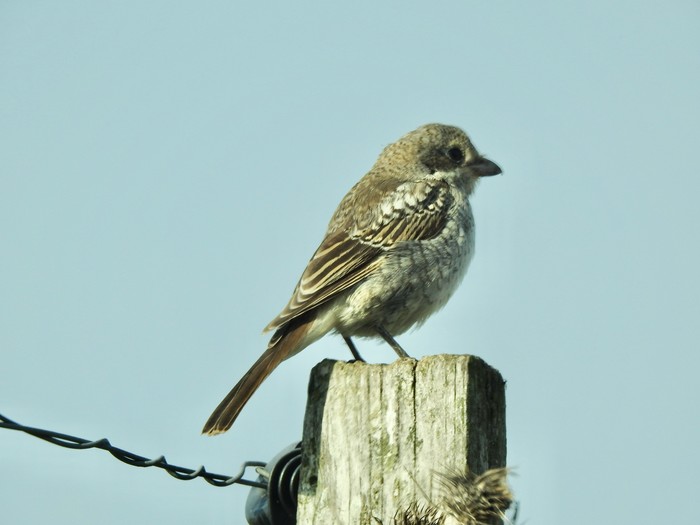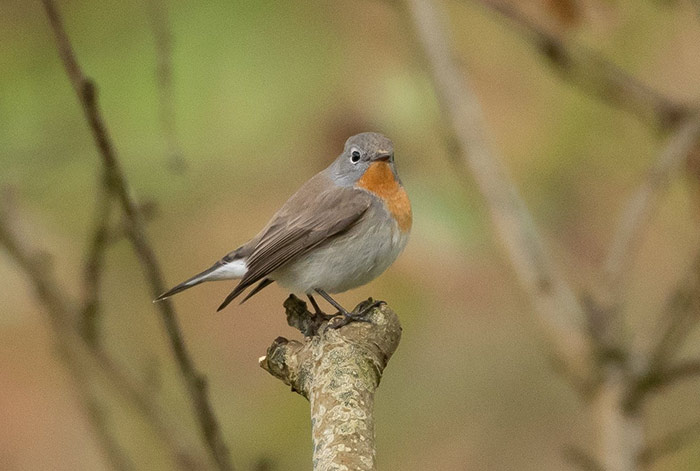 Rose-coloured Starlings remained thin on the ground, with the Northumberland bird still at Bedlington on 30th, though with access to the garden withdrawn by the homeowner after a generous spell of viewing opportunities, and a brief individual on Tiree, Argyll, on 5th, when the bird on South Uist was still showing. A Barred Warbler was at Gibraltar Point, Lincolnshire, on 4th. In a fertile week for Richard's Pipits, some 15 birds were logged. Outstanding among these were two at Slimbridge, Gloucestershire, and birds at Rainham Marshes, London, and Wilstone Reservoir, Hertfordshire, all on 3rd.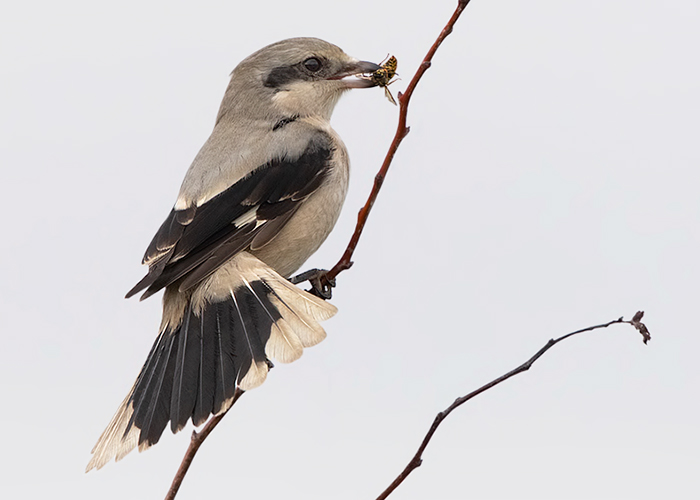 A Bluethroat was popular at the north end of the breach at Spurn, East Yorkshire, from 30-4th. Serins were noted at Spurn on 1st, Bockhill Farm, Kent, on 3rd and at Portland, Dorset, on 5th. In Co.Donegal, the Short-toed Lark lingered on Tory Island to 30th. In Devon, Soar boasted a very late Ortolan Bunting on 3rd. Little Buntings were more expected, with birds on St.Mary's, Scilly, from 31-2nd, at Portheras Cove, Cornwall, on 31st and, most interestingly, at Swillington Ings, West Yorkshire, on 1st. The Northern Long-tailed Tit was eventually pinned down at Upton Fen, Norfolk, on 3rd, but in the meantime an enchanting flock of six had been found roaming Bawdsey's East Lane, Suffolk, on 31st.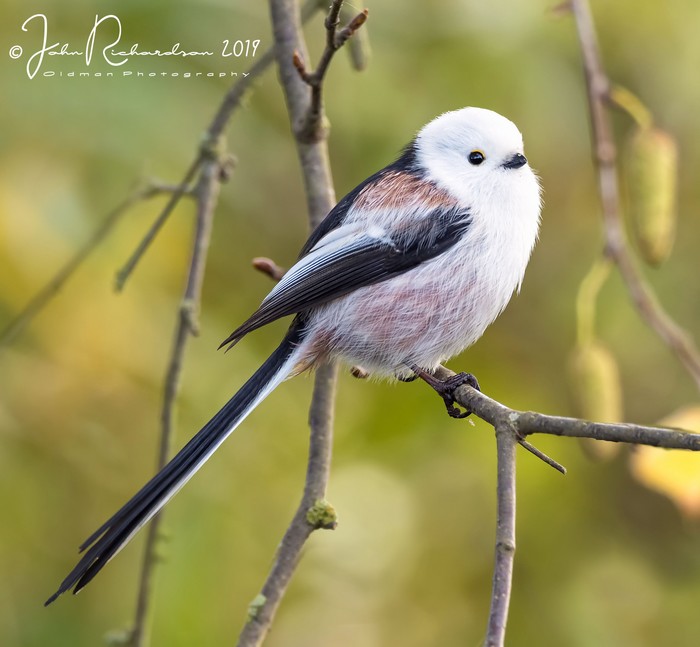 Hoopoes materialised somewhat randomly, as they often do at this time of year, starting on 30th with birds at Dawlish Warren, Devon, and near Woodsetts, South Yorkshire, the latter lingering to 1st. On 31st, others were discovered at Swanage, Dorset, and near Brae of Achnahaird, Highland. These were followed by sightings in Norfolk at Burgh Castle on 4th and Bradwell on 5th. Wrynecks running behind time were at Portland Bill, Dorset, to 3rd, and at Slapton Ley, Devon, on 5th. Waxwings continued to arrive, with sightings from Shetland to Scilly but admittedly still rather scarce away from Scotland; 26 at Ullapool, Highland, was the biggest count. Shorelarks included the bird at Dungeness, Kent, to 5th, three at Spurn to 3rd, one at Cley, Norfolk, on 2nd, two at Gronant, Flintshire, on 1st and other singles at Swalecliffe, Kent, and Dunwich and Easton Broad, both Suffolk, early in the period.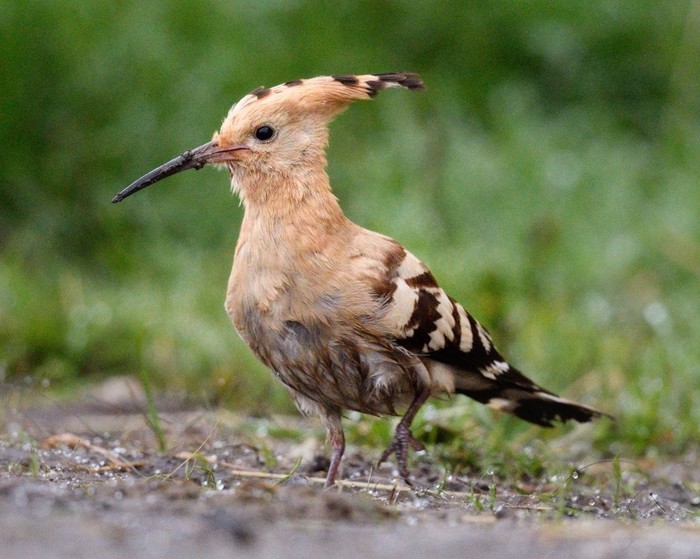 An incredible 76 Pine Grosbeaks south-west over Nordmanshage, Denmark, on 30th emphasised the scale of the current movement, only to be topped by 105 there the next day. Also on 31st, a Wallcreeper gave visible migration watchers at De Panne, Belgium, an unforgettable few moments as it travelled past them along the coast. The same day saw a Long-legged Buzzard fly south over Nazareth in East Flanders, also Belgium, as well as a Lesser Spotted Eagle over Nijmegen, South Holland, Netherlands, and a Taiga Flycatcher in Kuwait. It was also the final day of the Dutch White-throated Sparrow's residence.
On 2nd, an Azure Tit visited a garden at Hoogwoud, North Holland, and this was followed by another individial near Kiruna, Sweden, on 4-5th. In the Canary Islands, the Dwarf Bittern was still on Fuerteventura on 5th, when a Brown Booby was at Carino, A Coruna (there were other Spanish sightings off Foz, Galicia, on 3rd and at Cabo Blanco, Asturias, on 1st). Other sightings during the week included a Moussier's Redstart at Linosa, Pelagie Islands, on 4th and Lesser Flamingo in Kuwait on 4th, with Indian Roller there the previous day.
The wind is light and variable over the coming week, so it's hard to select a compass point on which to speculate. Rather than be pessimistic, I'm chosing to consider our options open and work by the calendar instead. All sorts of rare treats could be lurking, waiting to be found in the settled conditions or about to take advantage of the calmer conditions to move a bit, and nudge their way here. It might well be a matter of something showing up with no real warning. Perhaps a Blyth's Pipit or an Eastern Yellow Wagtail will be found somewhere convenient, and it's tempting to wonder whether a Steppe Grey Shrike will be thrown into the year's healthy shrike mix. I can't help feeling that a Barrow's Goldeneye is bound to show up out of the blue one November soon, so why not next week? Or perhaps one last American landbird will catch us out when we think it's all over, a Chimney Swift or a Mourning Dove, maybe…
David Campbell
6 November 2019
Many thanks to all contributors for their photos and videos this week.
Share this story
Tweet