Weekly birding round-up: 15 - 21 May
The week at a glance
Bardsey pulls a Western Orphean Warbler out of the bag
In Ireland, Co.Kilkenny lands a singing male Scops Owl
Lancashire gets the first Stilt Sandpiper in the county for decades
Co.Galway's first Broad-billed Sandpiper heralds a small arrival over the region
As hoped for at the close of last week, the weather gods finally really smiled on us this week, and the doors opened for birds of the highest quality to make landfall in Britain and Ireland. This was a week when spring migration began to go at full throttle. If it wasn't a big fall of Bluethroats in Scotland, it was quality shorebirds in the north of England. Head west, and we had a top notch warbler; further west still and Ireland added another rare owl to the year's tally. Truly, something for everyone this week…
Western Orphean Warbler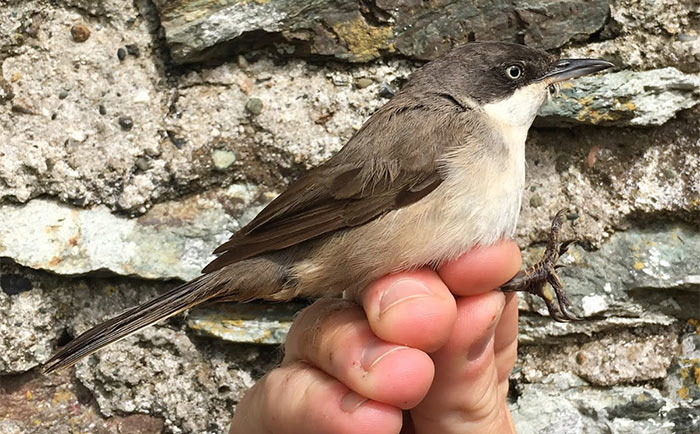 After the first, on Portland (Dorset) on 20th September 1955, British birders endured a decades long wait for our next acceptable Western Orphean Warbler - a spring bird trapped and ringed at Hartlepool Headland (Cleveland) on 29th May 2012.
Almost 60 years is a very long time indeed to wait…
Something's changed, though, as subsequently we've three more accepted records to show for ourselves, all autumn birds, shared between Pembrokeshire, Orkney and Shetland apiece. Far be it to say that the species has become regular – because heaven knows it really hasn't – but we might, tentatively, begin to say that it's becoming anticipated rather more.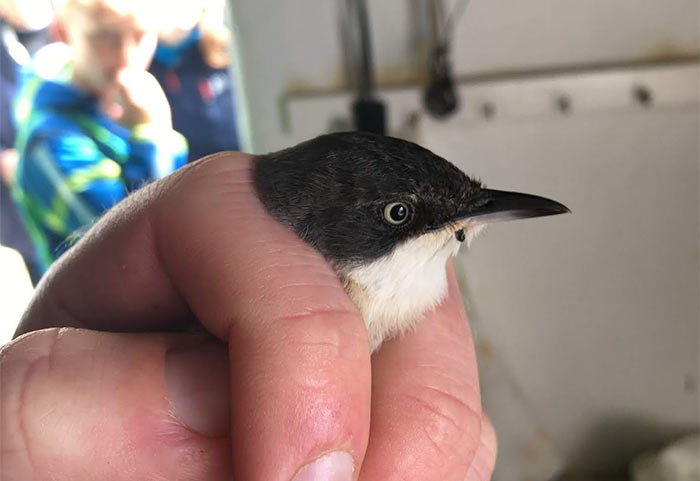 Bucking that recent autumnal trend this week was, however, our latest bird – one trapped and ringed on Bardsey (Gwynedd) on 19th. Suffice to say, that's a first for both the island and Gwynedd as a whole, and further embellishment of Bardsey's mounting reputation as an island to be reckoned with where top notch rarities are concerned.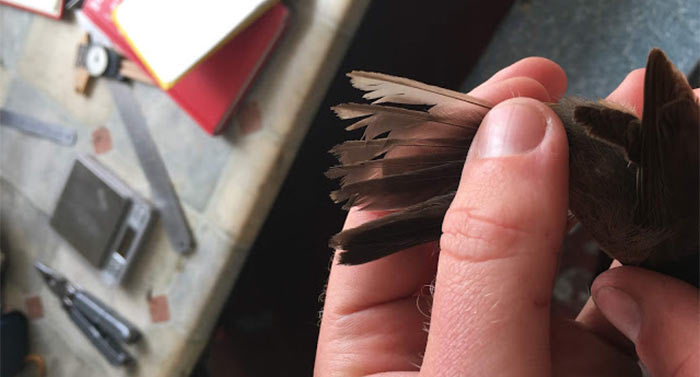 Scops Owl
Last year was an absolute peach where records of Snowy Owl were concerned, with barely a week going by throughout the year when one or more wasn't reported somewhere in Britain and Ireland – a trend that showed little sign of stopping in the early months of 2019.
Reports of Tengmalm's Owls on the move in Scandinavia led to a sense of increased anticipation that we might, finally, get another one in Britain – though this was, of course, tempered by bitter experience that the species often promised but rarely delivered. The rest of that particular tale is now history, courtesy of the somewhat jaded Orkney record in late 2018 and the more obliging bird on Shetland in the past couple of months.
Scops owl calling in my garden last night for over an hour. Recording attached. Verified by more experienced birders than me. Near Mullinavat, South Kilkenny. pic.twitter.com/feKMBI9IA8

— Adrian Allen (@KKbirder) May 16, 2019
So we're already doing okay in 2019 for rare owls. This week we took another step closer to a full house of them, with the marvellous discovery on 15th-18th of a singing male Scops Owl in Co.Kilkenny at Ballynaboley. With just 15 national records, Scops Owl remains a high quality score for Irish birders – though, hand on heart, any birder whose pulse doesn't quicken for one of these characterful little owls really needs to look for another hobby. We don't hear much of Co.Kilkenny in the rare bird news as a rule, but what a way it chose to remind us of its presence this week, with its first county record of Scops Owl - an exciting as well as a notable find.
Stilt Sandpiper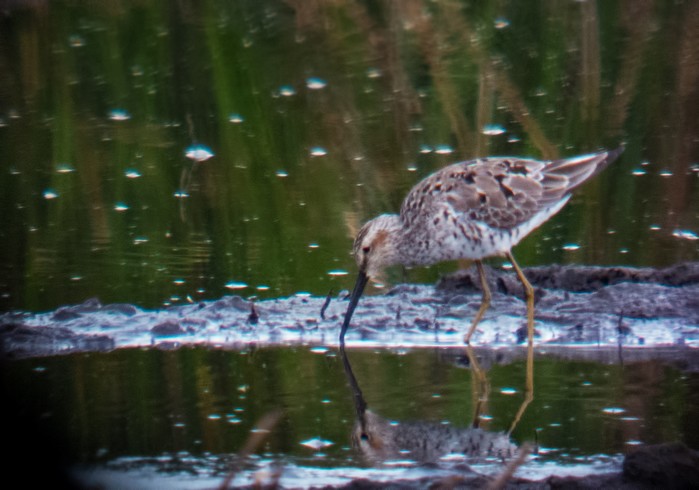 There may be rarer shorebirds than Stilt Sandpiper, and certainly nobody can accuse the species of being anything less than indecently obliging with some recent British stays that have stretched into long weeks in duration, but that's to view this elegant wader through a national prism. At a local, county level, there are still plenty of British birders waiting to add Stilt Sandpiper to their county list.
Lancashire is a good case in point. Stilt Sandpiper sits firmly inked in on the county list, courtesy of a bird graced Hundred End between 27th September and 8th October 1967, but there can't be many Lancashire birders with that bird already firmly under their belt. A half century is, as we've already noted with Western Orphean Warbler this week, a very long time indeed.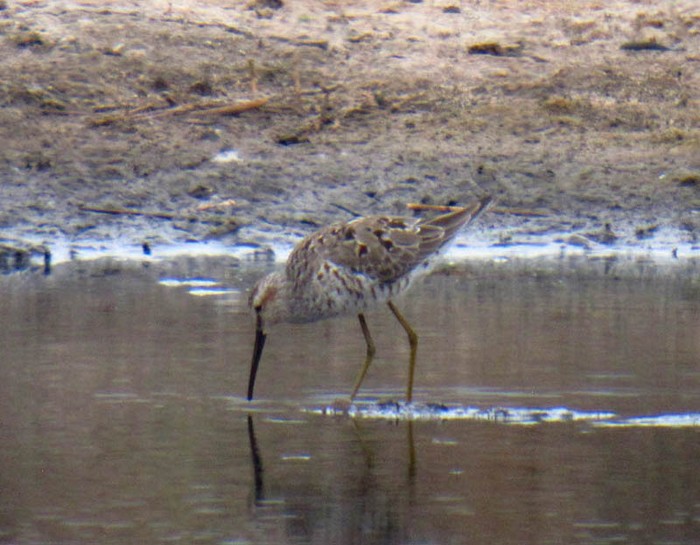 News this week of a Stilt Sandpiper present at Lunt Meadows LWT on 17th-21st will have been extremely welcome, then. A second county record, a chance for local listers to catch up with this leggy beauty, and over the weekend for good measure. That's how these things should be, in a perfect world.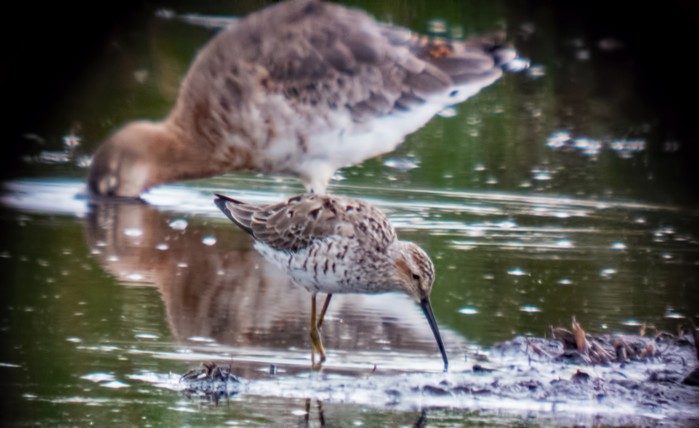 Broad-billed Sandpipers
Of course, things don't always play out so neatly and conveniently in real life. More often than not, notable birds turn up in circumstances that are just plain thoughtless. On the wrong day in the week, in an inconvenient location… this stuff is the bane of the birder's life.
I'm betting, then, that if Irish birders could have chosen a location for their latest Broad-billed Sandpiper, let alone the first record ever for Co.Galway, they wouldn't have chosen Inishbofin, on a weekday. Lovely though it is, it's also not exactly convenient.
But there it is – Co.Galway's first Broad-billed Sandpiper (and the first for Ireland as a whole for almost a decade) was found on Friday 17th on Inishbofin and, with a certain dread inevitability, was long gone the following day.
However, it heralded the start of a small arrival of this marvellously humbug-headed wader – further birds were seen this week in Britain, on Holy Island (Northumberland) on 18th and then, on 19th-20th, at the ever-wonderful Frampton Marsh RSPB (Lincolnshire).
Our seabird news this week was a slimmed down, pared version of recent weeks. No outrageous counts of White-billed Divers or startling albatrosses hoving into view – we've just one White-billed Diver to report upon, one seen passing North Ronaldsay (Orkney) in the evening of 19th. And, to be honest, while numbers of Pomarine Skuas picked up again somewhat on the prior week's 70 odd birds, they still weren't setting the world on fire – this week just shy of 300 birds were logged nationally.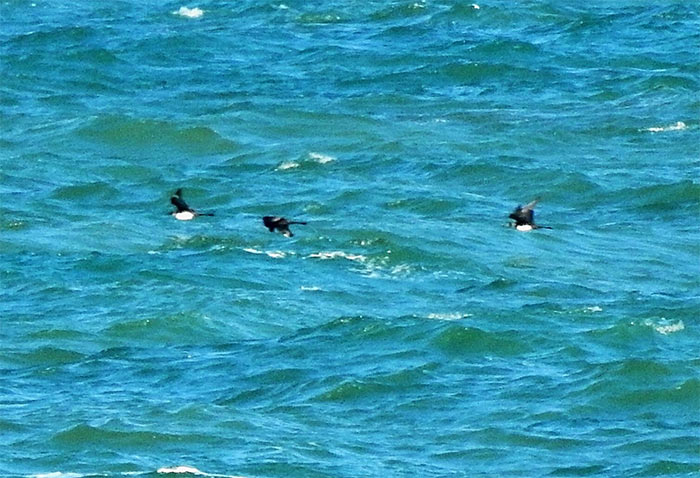 With them, however, came some hope in the form of Long-tailed Skuas on the move. Single birds were noted on 17th at Seaton Sluice (Northumberland), and on 19th at Bowness-on-Solway (Cumbria) and off South Uist (Western Isles); three were logged from the Uig-Lochmaddy ferry off North Uist on 19th also – and from North Uist itself, 15 birds were counted by Balranald RSPB that day too. On 20th a couple more were noted off North Uist.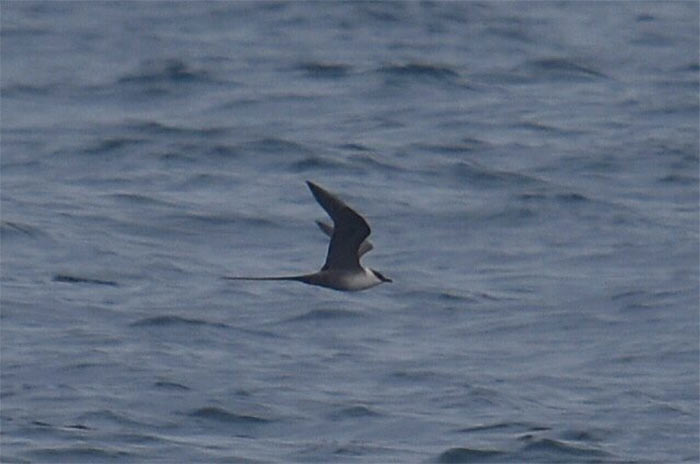 Our weekly stalk through the rarer long-legged beasties is a rather shorter one than of late – both numbers and variety being somewhat down. We'll start then with the Squacco Heron found on 21st at Tacumshin (Co.Wexford) before moving onto our sole Night Heron, one seen once more at Attenborough NR (Nottinghamshire) on 19th.
Meanwhile Purple Herons were somewhat more generous, with a modest increase in numbers reported – the intermittently seen recent individual on Scilly was once more noted on St Martin's on 18th; and new birds were logged the length of Britain. Dungeness (Kent) started the week with a sighting on 15th, followed shortly by a bird on Barra (Western Isles) on 16th-21st; one was seen at Chew Valley Lake (Somerset) on 17th; Anglesey provided another on 18th-19th at Malltreath Marsh RSPB; one was seen in flight over Portland (Dorset) on 19th; and on 20th-21st another was found at Maxey GPs (Cambridgeshire). On 21st a final bird was seen passing over the M20 in Kent near Maidstone.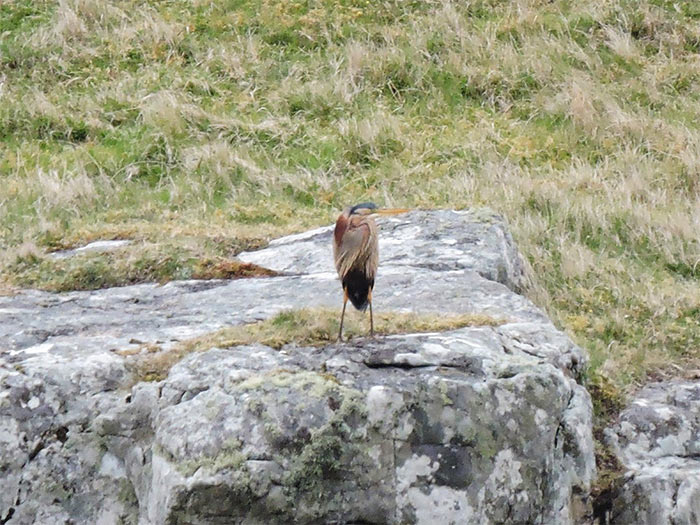 Wandering White Storks featured on 15th – two birds being reported from Tewskesbury (Gloucestershire), Earlswood (Warwickshire) and Fairham Brook (Nottinghamshire) – and a further singleton was seen on 18th in Essex at Great Holland.
Close to the heart of all the recent confusion about what constitutes a wild White Stork these days, a Black Stork was noted on 18th over the Knepp Castle Estate (West Sussex). At least we can be fairly sure nobody's slipped the latter out of a pen on their land… Potentially the same bird was seen on 21st in West Sussex over Western Weald.
One of the week's more arresting sightings was made in Chelsea (London) on 15th, when a Glossy Ibis was seen flying down the Thames. Further sightings came again from Marazion RSPB (Cornwall) on 15th-21st and Newport Wetlands NNR (Gwent) on 16th-18th; in Suffolk, at Thorpeness and Herringfleet Marshes on 18th and North Warren RSPB on 18th-19th; and in Co.Antrim at Portmore Lough RSPB on 20th-21st.
Migratory Common Cranes were still featuring in the news this week in modest numbers – displaced birds being seen as far north as South Ronaldsay (Orkney) on 17th and, on 16th-18th, Fetlar (Shetland) where two birds were logged.
Shetland's Out Skerries landed a migrant Corncrake on 17th; a singing bird was present in Norfolk at Welney WWT on 18th, with one in song near Pattishall (Northamptonshire) on 21st also.
Variety continued to be the watchword where wildfowl were concerned this week, not least with the continued presence of the recent drake Baikal Teal in Cambridgeshire at March Farmers on 18th-21st.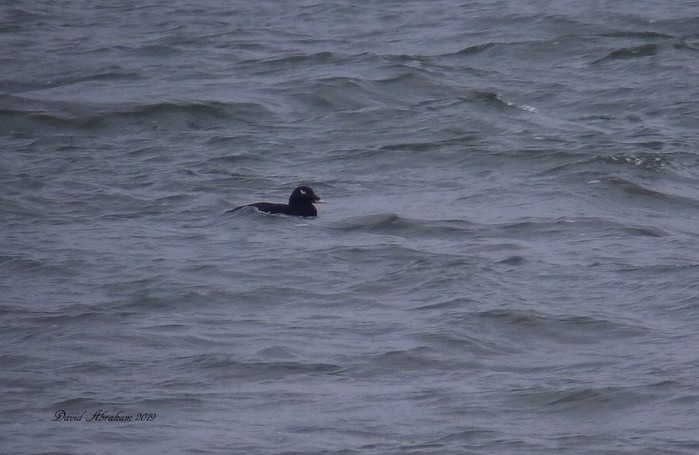 Scotland was still dominating duck news with a selection of choice drakes on offer too – in Highland the Black Duck remained at Strontian on 15th-19th and the Blue-winged Teal was still at Mellon Charles on 15th-19th, while the King Eider was once again noted at Nairn on 17th. In Lothian the American White-winged Scoter lingered off Musselburgh until 20th, while two drake Surf Scoters were still present there on 17th also.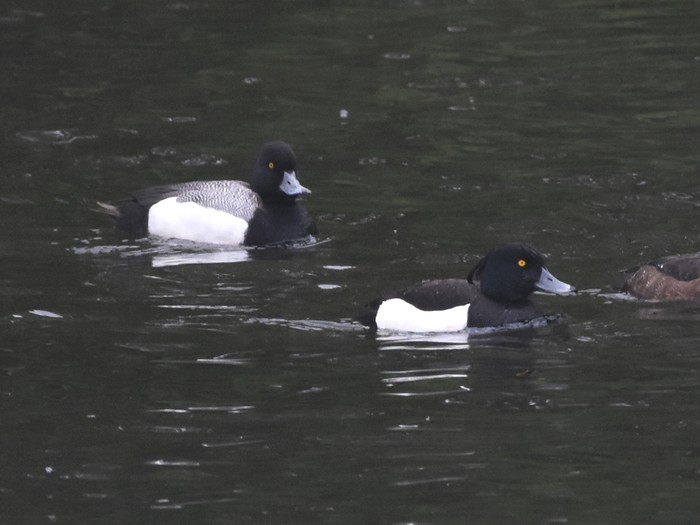 We can't leave Scotland just yet, as a drake Lesser Scaup was discovered on 18th at Millar's Moss reservoir (Borders), while a Ring-necked Duck was seen on 17th-18th at Airsaig (Highland). Three more of the latter species were noted this week – at Lough Swilly (Co.Donegal) on 17th-20th; Bowers Marsh RSPB (Essex) again on 17th-18th and, latterly, Abberton reservoir on 19th-21st; and at Llyn Brenig (Denbighshire) again on 20th.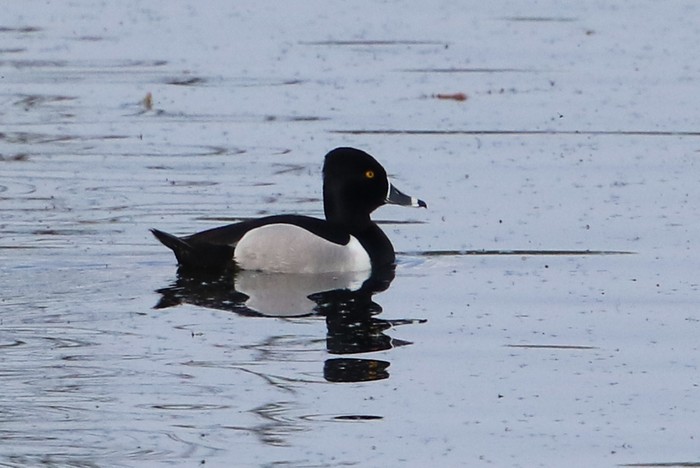 West Yorkshire contributes the week's only Ferruginous Duck - the drake seen intermittently at Anglers CP on 15th-20th.
Returning to Ireland, a drake American Wigeon was present on Shannon Airport Lagoon (Co.Clare) on 15th-16th.
<!—Section Title -->
Where to begin with a section of the news that, for drama, rivals the passerines this week? We've already covered the Broad-billed and Stilt Sandpipers in our opening salvoes, so we'll swap sheer rarity for spectacle to kick things off – a good arrival of Temminck's Stints landed in Britain during the week, with some 40 birds in all noted right across England. Many of these were single birds; some duos were noted too, with trios at Saltholme RSPB (Cleveland) on 18th and Ouse Washes RSPB (Cambridgeshire) on 21st, and Cley NWT (Norfolk) recording the week's peak count – five birds present there on 14th and 17th bookended a fine half dozen individuals seen there on 15th.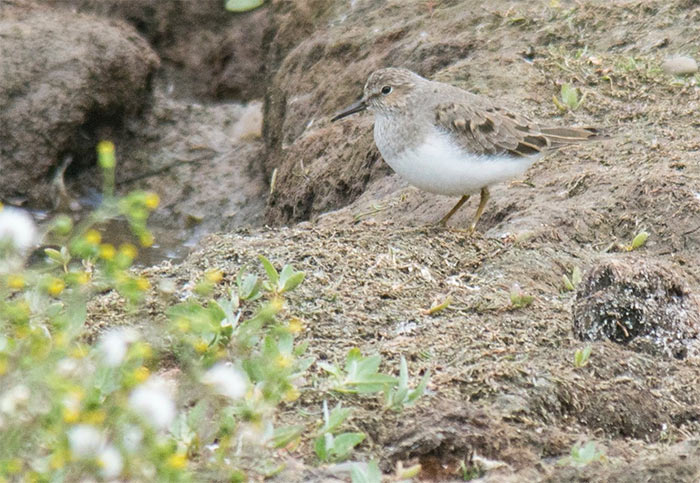 The stand-out feature of the prior week, numbers of Dotterels were down somewhat this week, although 40 birds seen nationwide is still a perfectly respectable haul. Our peak single site count came at Titchwell (Norfolk) on 17th, where nine birds were recorded.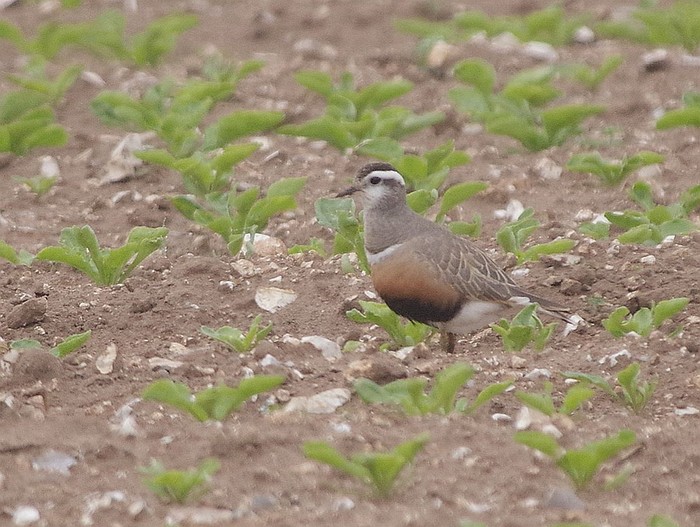 Three Kentish Plovers were found this week – males seen at South Huish Marsh (Devon) on 15th and Breydon Water (Norfolk) on 17th, and a female at regular site Pegwell Bay (Kent) on 17th also.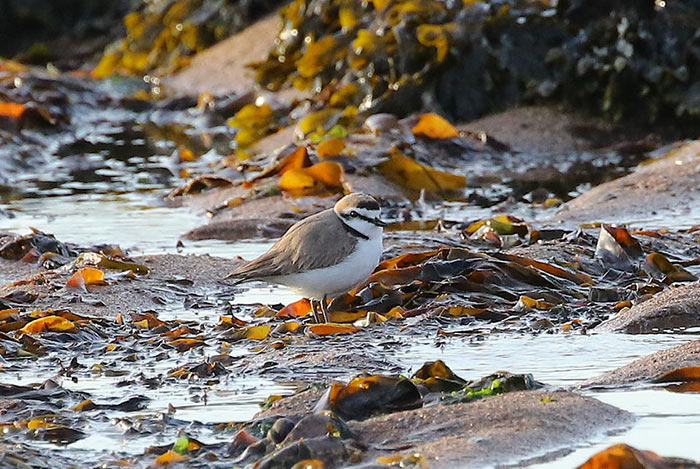 Shetland scored a couple of American shorebirds this week – a Buff-breasted Sandpiper on Mainland at Eshaness on 16th, and a Lesser Yellowlegs on Fair Isle on 18th-19th.
At the other end of the country, Dorset meanwhile provided a Spotted Sandpiper on the Fleet at Rodden Hive on 17th.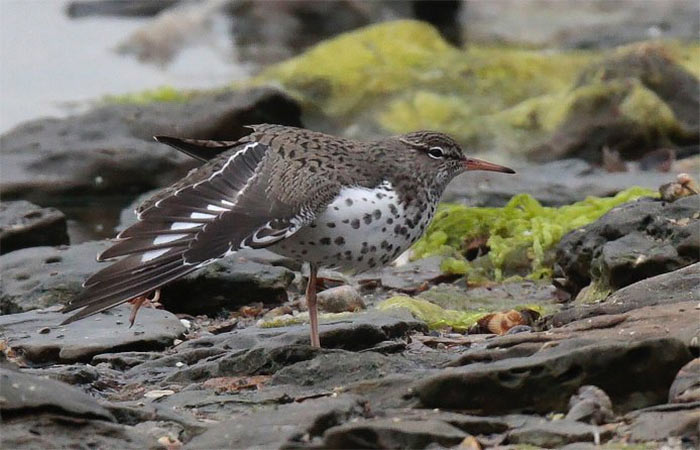 Onto daintier fare, two Black-winged Stilts were found on 21st at Pulborough Brooks RSPB (West Sussex).
We finish this smorgasbord of shorebird variety with some Red-necked Phalaropes - a female lingered, pleasingly, at Frampton Marsh RSPB (Lincolnshire) on 15th-19th; and further birds were seen on Fair Isle (Shetland) on 15th, Grafham Water (Cambridgeshire) on 17th and, briefly, back in Lincolnshire at Covenham reservoir on 18th. On 20th Fair Isle had increased its tally to two birds.
A well deserved find for @PaulUpwey . A truly stunning summer plumaged Spotted Sandpiper on The Fleet at Ridden Hive. pic.twitter.com/4XLwGsM8YU

— Brett (@brettyebrant) May 17, 2019
In a week when gull news was practically non-existent, it's only right that we should flip the regular way of things here and start with the terns.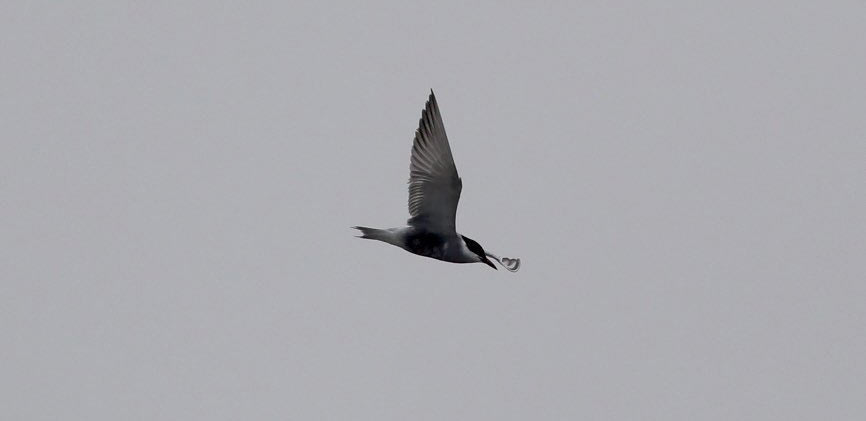 After all, it's hard to ignore Whiskered Terns at this time of year – for my money they're the most beautiful of all the Childonias. Two were found this week – one in Ireland at Tacumshin (Co.Wexford) on 19th, and another adult at Dungeness RSPB (Kent) on 20th-21st – a welcome return for a species that had a blank year in 2018 after a run of annual sightings that stretched back to 1993.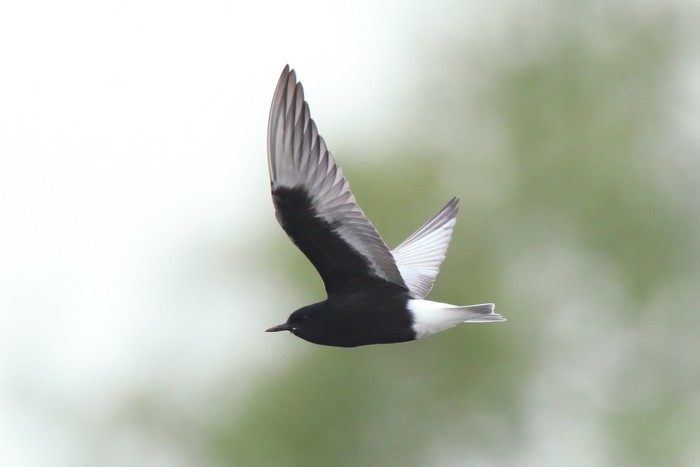 White-winged Black Terns were doing well this week also, with Co.Wexford accounting for the only settled individual of the four or five seen across the region – one present at Lady's Island Lake on 16th-21st. Our balance were one day birds, seen at Nosterfield NR (North Yorkshire) on 16th; Foxcote reservoir (Buckinghamshire) on 19th and Willen Lake on 20th; in Gloucestershire on 19th also at Frampton briefly and Slimbridge WWT; and on 20th, three birds seen in Devon at Exminster Marshes RSPB.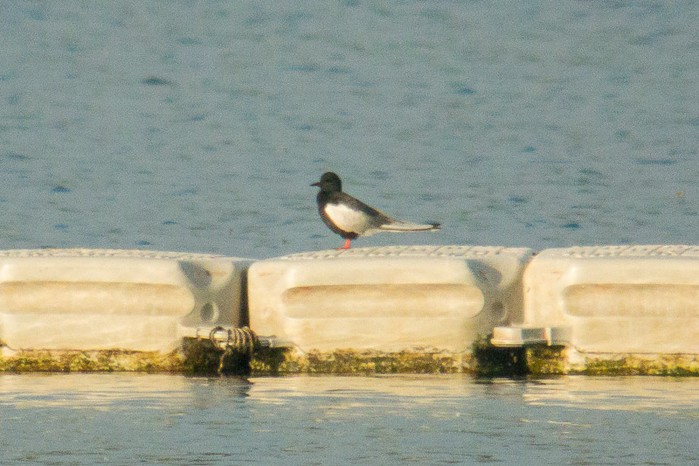 A Gull-billed Tern adds yet more variety this week – found on Tiree (Argyll & Bute) on 17th-20th at Loch a' Phuill.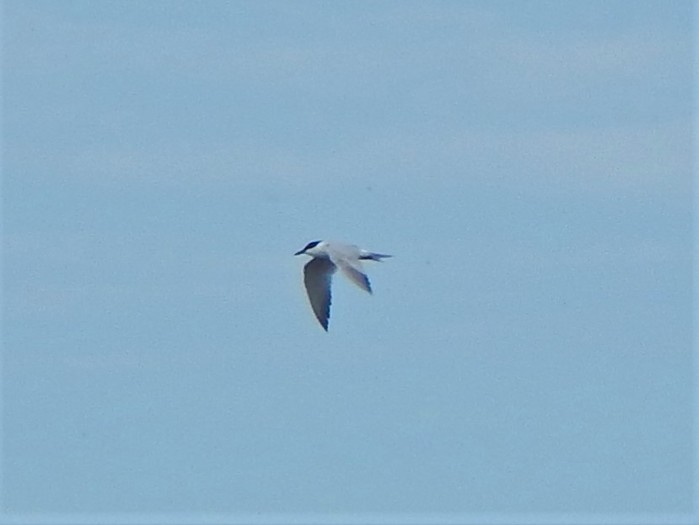 Turning to the gulls, absent from the news for some weeks now, a couple of Ring-billed Gulls provided some interest in recent days. Both in Ireland on 16th, a first-winter individual was present at Maghergallen (Co.Donegal) and a second-winter bird was seen at Blennerville (Co.Kerry).
One of our recent Bonaparte's Gulls remained into the current week – this being the individual at Blashford Lakes HWT (Hampshire) again on 15th but not thereafter.
A small scatter of half a dozen Iceland Gulls were noted – two birds at Sandness (Shetland) on 19th, and singletons on Barra (Western Isles) on 16th, Skateraw (Lothian) on 19th, Portstewart (Co.Derry) on 19th, and at Cape Cornwall (Cornwall) on 19th-20th also; on 20th further Cornish sightings came from St Just and Kenidjack.
Just three Glaucous Gulls remain to wrap things up – seen at Magheraroarty (Co.Donegal) again on 16th; on 19th at Wellington GPs (Herefordshire); and on 20th in Kirkwall (Orkney).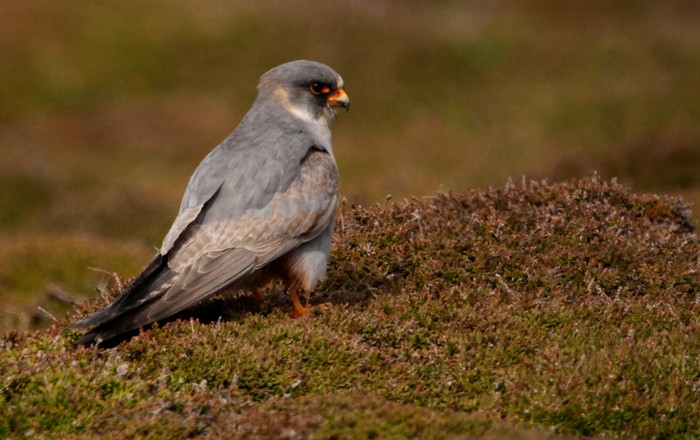 A small arrival of Red-footed Falcons this week bolstered the lingering presence of one of the recent male birds at Thorne Moors NNR (South Yorkshire) still on 16th – fresh sightings came in the form of a first-summer male on Scilly on St Martin's on 17th and St Mary's on 18th-21st; a male on Lundy (Devon) on 18th; and in Co.Wexford on 19th a female at Cahore and two females at Tacumshin – one of the latter pair remaining there on 20th-21st.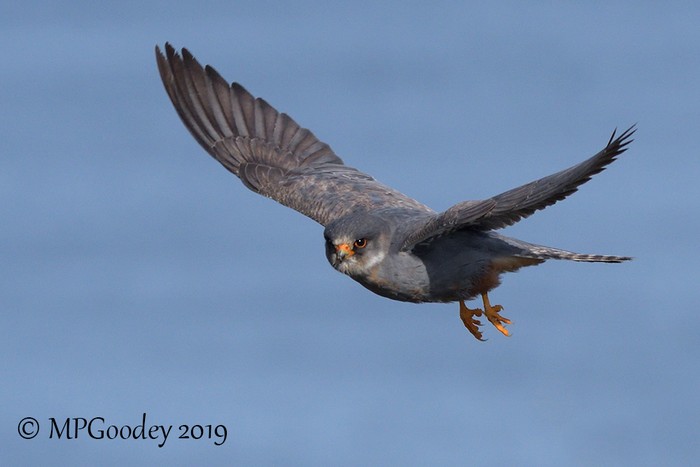 Black Kites, meanwhile, were represented by just a handful of birds – individuals noted at Salisbury (Wiltshire) on 17th and High Eske NR (East Yorkshire) on 18th; and in Essex on 20th at Mersea Island and Holland Haven CP. On 21st one was seen heading south over Chambers Wall (Kent), and a further bird was reported that day from Cahore Marsh (Co.Wexford).
A small scatter of Montagu's Harriers were logged this week – at Choseley (Norfolk) on 15th, Stokes Bay (Hampshire) on 17th, and Youghal (Co.Cork) on 17th also – with two further probables reported on 18th in West Sussex, at Arundel and Medmerry RSPB, and another probable on 21st at Sandwich Bay (Kent) – and further birds seen in East Yorkshire on 20th at Beacon Ponds and on 21st at Winterton North Dunes (Norfolk).
Unst (Shetland) once more provided a sighting of a White-tailed Eagle, noted up at Hermaness NNR on 15th.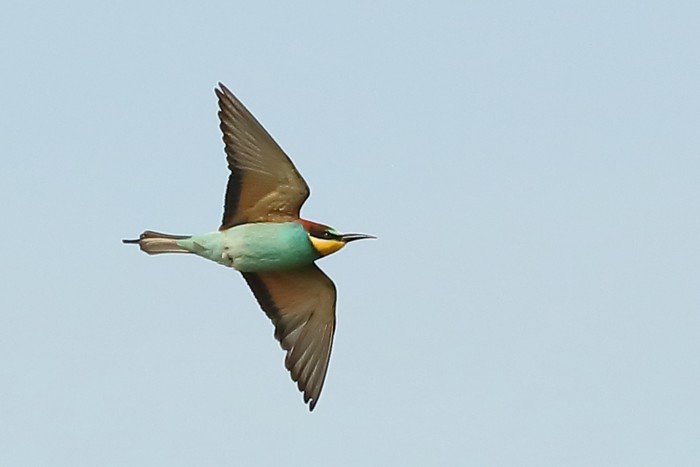 If rising numbers of Red-footed Falcons are a promising sign of better things to come, so too are more than the odd one or two Bee-eaters - and this week, we hit double figures of them. The week began well in Dorset with a single bird seen at Studland and then seven at Durlston CP; with two more that day at Ballyquintin Point (Co.Donegal), and a singleton at Winchelsea (East Sussex). Back to Dorset on 16th, and a single bird on Portland; and then, on 18th, five birds over Winterton (Norfolk) and two heard passing over The Lizard (Cornwall). On 20th a single bird was once more heard on Portland, and another was seen at Dungeness (Kent). Finally on 21st more Technicolor sightings – single birds seen in Norfolk at Heacham and Hunstanton and, in Kent, over Lade.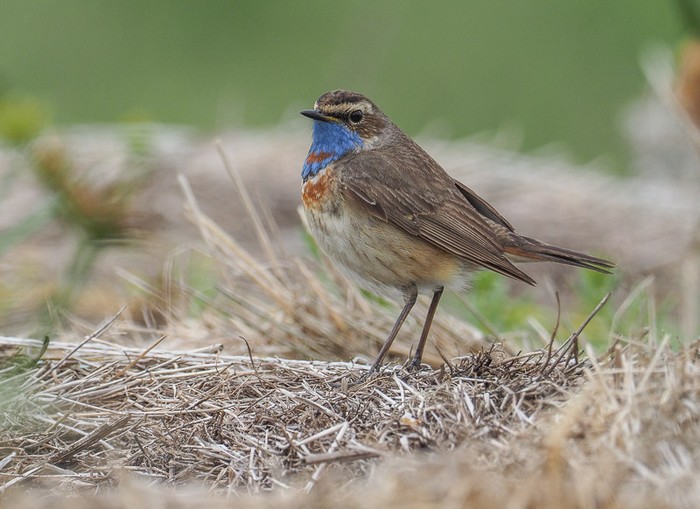 The biggest news, however, and the best omen of all, was the appreciable fall of Bluethroats that hit the east coast of Scotland in the opening days of the week – with just a few scattered birds seen and heard down the English east coast to Norfolk. In all, around 100 birds were recorded, with Shetland enjoying a particularly rich haul of them – Fair Isle and Out Skerries alone recording peaks of, respectively, 16 birds on 18th and 12 birds on 20th. Further south, the Isle of May (Fife) enjoying mounting numbers with a peak count of 14 birds on 19th. While we all know, in our heart of hearts, that migrant passerine numbers ain't what they used to be, this was still an extremely pleasant blast from the past to the spring days that make birders of a certain age go misty-eyed with reminiscence.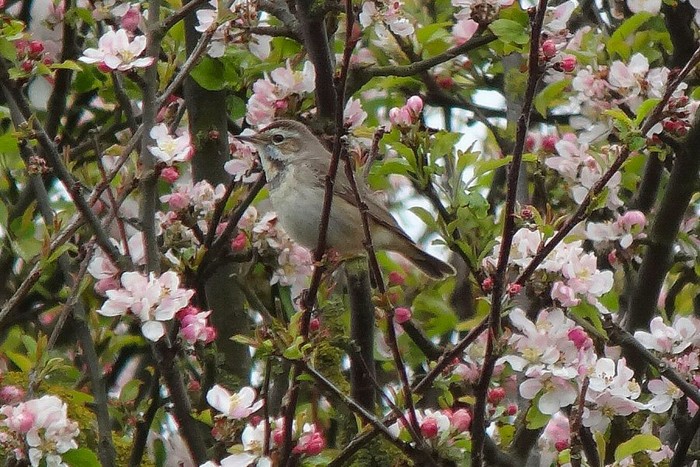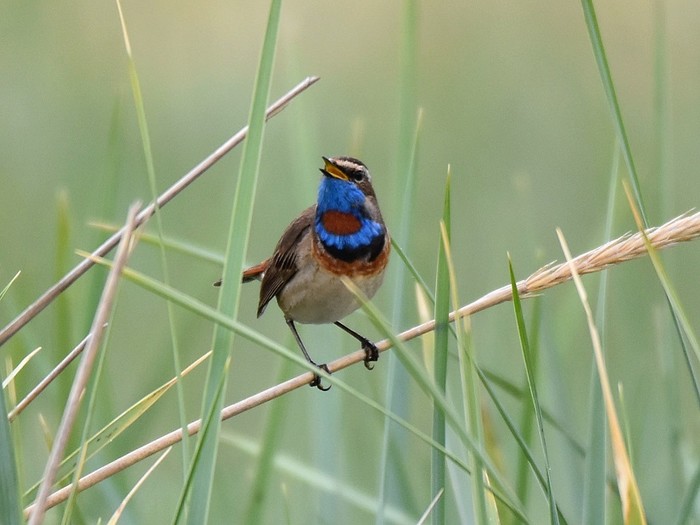 Wrynecks however, weren't keeping pace with their showier drift counterparts – just a half dozen or so were logged this week. On 15th birds were seen on Fair Isle (Shetland) and St Mary's (Scilly); on 16th at Anderby Creek (Lincolnshire) and Ingram (Northumberland); on 17th on Portland (Dorset); and on 18th at Bass Point (Cornwall). A further bird was reported on 19th at Bowers Marsh RSPB (Essex) and, on 21st, one was found on Out Skerries.
A modest complement of Hoopoes were seen again this week – a species with a pleasing propensity for being found well inland in addition to at coastal locations. Great patch ticks then for birders at Cwmbach (Glamorgan) on 15th, Ditchford GPs (Northamptonshire) on 19th, and Bracknell (Berkshire) on 19th also. A further bird was reported from Maple Cross (Hertfordshire) on 17th, with another sighting on 21st at Wexford (Co.Wexford); and island birds were seen on Gugh (Scilly) still and on Barra (Western Isles), both on 15th.
Lost Alpine Swifts were found this week at Brading (Isle of Wight) on 16th, Felixstowe (Suffolk) on 18th, and Templepatrick (Co.Antrim) on 18th also.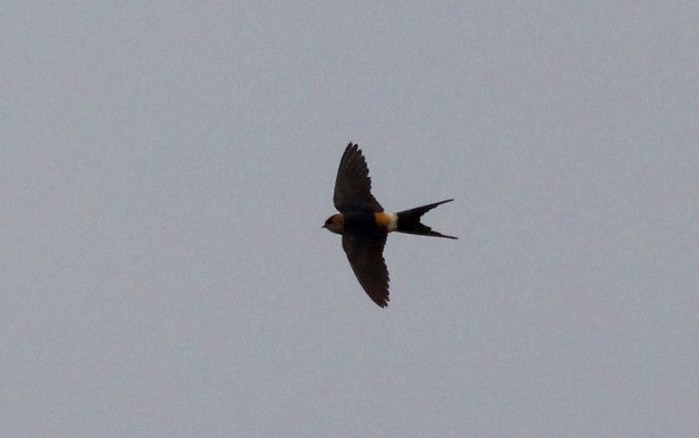 Scilly provided the first of the week's Red-rumped Swallows, present in the skies over Tresco on 16th and St Mary's on 17th-19th. Shetland got in on the act with one at Sumburgh Head on 20th and it, or another, on Fair Isle on 21st. On 20th one was found in East Yorkshire at Kilnsea.
Numbers of Blue-headed Wagtails remained fairly static for a second week, with 10 birds in all logged nationally. Once again, there was some variety to be had, with rising numbers of Grey-headed Wagtails significant amongst them, a reflection of the favourable easterly conditions in northern Britain especially – Shetland landed four birds, singles on Fair Isle on 16th, Noss on 17th, and two birds on Out Skerries on 19th; two were also found on Anglesey at Cemlyn on 16th; and further singles were seen on North Uist (Western Isles) on 17th and Holland Haven CP (Essex) on 19th.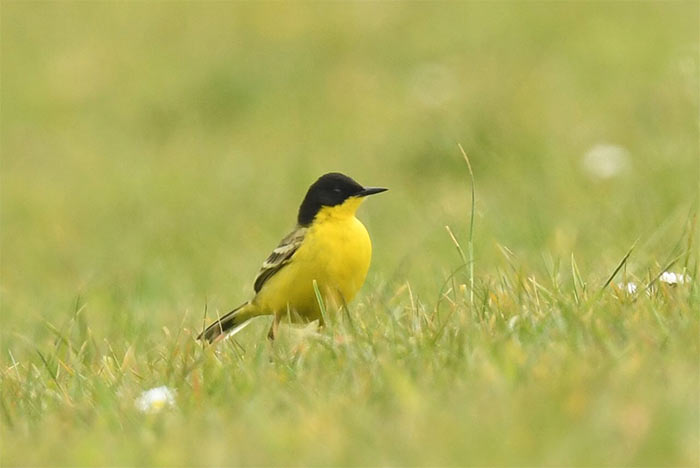 A male Black-headed Wagtail was found in Cornwall on The Lizard on 19th.
A Tawny Pipit was found on 21st in Kent on the golf course at Kingsgate – an increasingly scarce commodity these days, and starkly so for birders with a few decades experience under their belts.
Warblers were, magnificently, a significant feature of the past week. It's hard to know where to start with them, but perhaps we should kick off in Scotland where rarity finder extraordinaire Peter Stronach struck again, with the discovery of Highland's first Iberian Chiffchaff, a singing male present at Balnakeil on 17th-19th. Further singing examples were present still at Newburgh (Aberdeenshire) on 15th-20th and Pilling Lane Ends (Lancashire) on 18th-21st.
It's coming to the time of year when we might start to expect a Greenish Warbler or two, and one was duly found this week, in Norfolk at Blakeney Point on 19th. Also that day, with more of an autumnal vibe about it, a Dusky Warbler was found on The Lizard (Cornwall).
Singing Savi's Warblers remained in Suffolk at Minsmere RSPB and Carlton Marshes SWT on 15th-21st; another was present at Trimley Marshes SWT on 16th.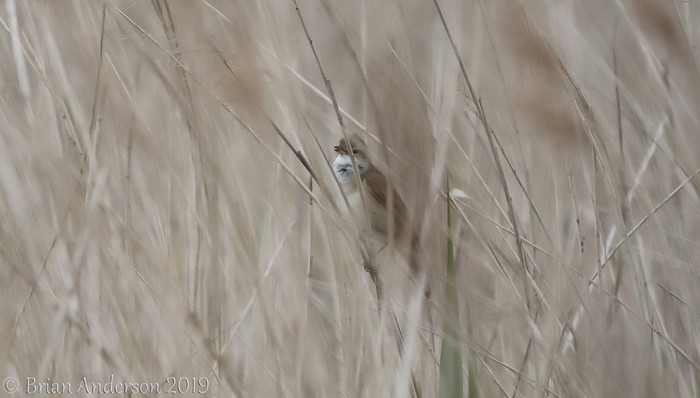 The croaking Great Reed Warbler remained a noisy presence at Wintersett reservoir (West Yorkshire) on 15th-21st; another was found at Crossness LNR (London) on 18th-20th.
With a good fall of Bluethroats in the north, we might have expected a sprinkling of Marsh Warblers too, but that wasn't the way of it this week – just one probable bird was reported from Holy Island (Northumberland) on 19th, and a confirmed individual on Shetland at Scatness on 20th. It's perhaps a little early yet.
Icterine Warblers did rather better for themselves - three were noted in the early part of the week, on Holy Island on 18th; and in Shetland at Quendale on 19th-20th and Rerwick on 19th and on Out Skerries on 18th-20th. Then, on 20th, more were forthcoming – on Shetland at Hoswick, Aith and new birds on Out Skerries and Fair Isle; and on North Ronaldsay (Orkney). On 21st one was logged at Boddam.
A Melodious Warbler was trapped and ringed on 21st on Calf of Man (Isle of Man).
Shetland provided the bulk of the week's Subalpine Warbler action – a Western Subalpine Warbler present on West Burra on 16th, and Eastern Subalpine Warblers on Noss on 17th-19th, Out Skerries on 17th-20th, and trapped and ringed at Scousburgh on 20th. One was present, and trapped and ringed, on North Ronaldsay (Orkney) on 17th-21st also. A female Subalpine Warbler sp was trapped and ringed on Calf of Man (Isle of Man) on 20th.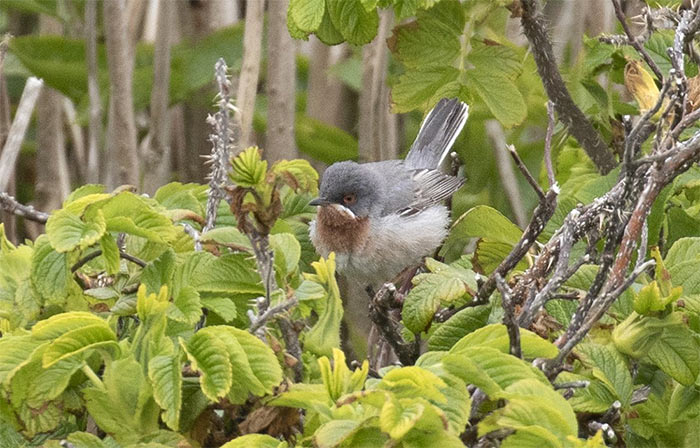 We've already enjoyed a decent start to the spring where Collared Flycatchers are concerned, and that continued this week with some fresh individuals found – male birds on Orkney's Papa Westray on 18th, and Shetland's Out Skerries on 19th. Belated news of a further male on Stronsay (Orkney) on 19th emerged the following day.
Red-breasted Flycatchers meanwhile were newly in the news, with birds found at Bempton Cliffs RSPB (East Yorkshire) on 16th, trapped and ringed on the Isle of May (Fife) on 16th also, and on Out Skerries on 17th.
As predicted last week, favourable weather conditions at this juncture in the spring were surely good for a Thrush Nightingale - in the event, it turned out they were good for several. The first, found on 20th on Noss (Shetland), was followed in quick succession by more birds on Shetland – on 20th-21st on Out Skerries; on 21st at Quendale; and another putative bird was seen briefly at Boddam that day also.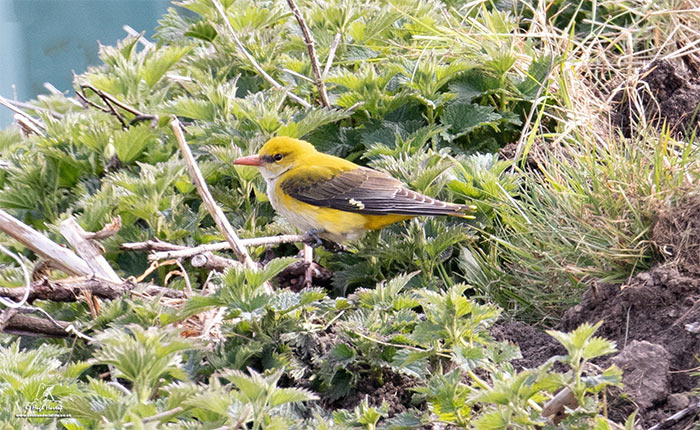 Some 20 Golden Orioles were logged nationally this week, with regular sightings still on St Mary's (Scilly) throughout, and two birds on south mainland Shetland on 16th suggestive of the general flavour of birds arriving from the east at that point in the week. One singing in London's Richmond Park on 20th was particularly notable and, on 21st, two were present on Portland (Dorset).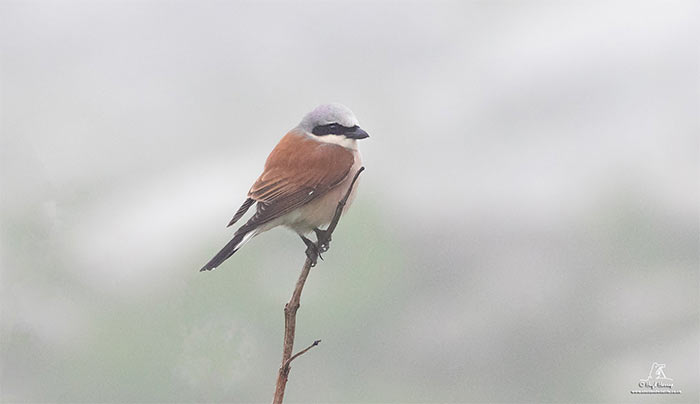 Red-backed Shrikes were also the classic indicator species, with a number seen in Shetland suggestive of better things to come – on 19th birds were noted on Unst, Fetlar and Foula, and on Mainland at Grutness and Sandwick; elsewhere, on 17th one had made it to Ireland, seen at Tacumshin (Co.Wexford); on 18th one was in Co.Durham at Bawdon Blast Beach; and on 19th another was found in Lincolnshire at North Somercotes and one was further south-west at Cricklade (Wiltshire). Four were noted on Unst on 20th; on 21st birds were still to be seen on Fair Isle and Fetlar and, in Argyll & Bute, one was found on Tiree.
Three widely spread Woodchat Shrikes were seen this week – birds present at Tramore (Co.Waterford) on 15th, Polgigga (Cornwall) on 16th-19th, and Kirkwall (Orkney) on 17th-19th.
Rarer shrike fare came in the form of a Lesser Grey Shrike found in Kent at Northward Hill RSPB on 19th; a Great Grey Shrike completed the set at Needingworth GPs (Northamptonshire) on 17th-19th.
In Kent, the Pied Crow continued to lob around the Broadstairs and Margate area of the Kentish coastline until 21st. It seems settled, for now, but on the basis of the past year one wouldn't bet against it randomly turning up someplace else entirely in the days and weeks to come.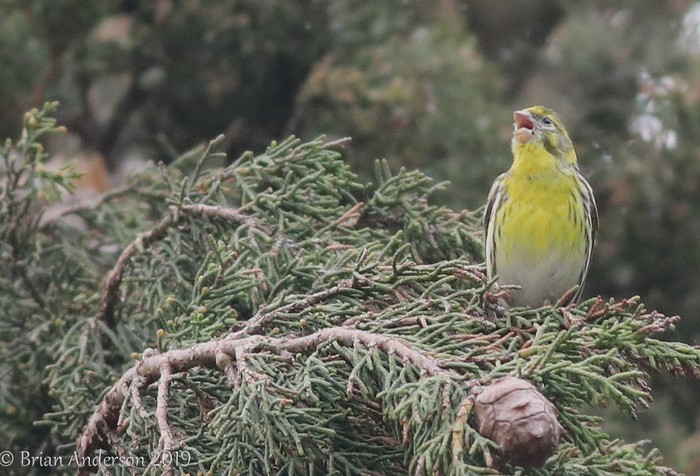 Also in Kent, a singing male Serin was a popular sight (and sound) at Littlestone-on-Sea on 15th-21st; another was seen this week at Gibraltar Point NNR (Lincolnshire) on 17th and 21st.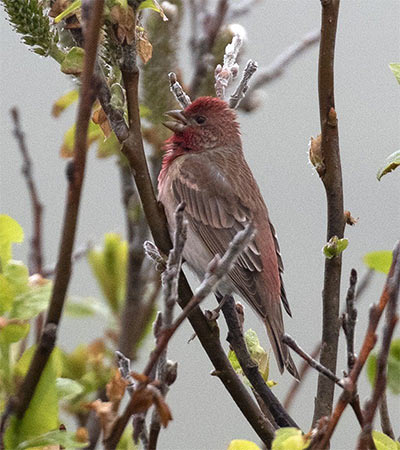 Common Rosefinches were, predictably, almost the exclusive preserve of Shetland this week with some 20 birds logged across the length and breadth of the archipelago. Duos were recorded on Out Skerries, Eswick on Mainland, and on Unst on 19th, on Fair Isle on 20th, and at Sumburgh and on Fetlar on 21st; four birds were present at Houbie on Fetlar on 19th too; and on 20th Out Skerries was hosting seven birds, while nearby Bressay had an additional bird also. East Yorkshire provided three more sightings – birds at Spurn on 17th and 21st, and at Flamborough on 18th. One was present on North Ronaldsay (Orkney) on 20th, with a male trapped and ringed there on 21st.
Keeping with the Shetland flavour, a Rustic Bunting was found at Levenwick on 18th-19th, with another seen not a million miles away on Papa Westray (Orkney) on 18th-19th also; one on 20th at Scatness (Shetland) was followed on 21st by another bird on Fair Isle (Shetland).
A Little Bunting was found on 21st at Boddam (Shetland).
Finally, offshore Ortolan Buntings were seen this week on Fair Isle (Shetland) on 15th, Skomer (Pembrokeshire) on 16th, and Holy Island (Northumberland) on 18th.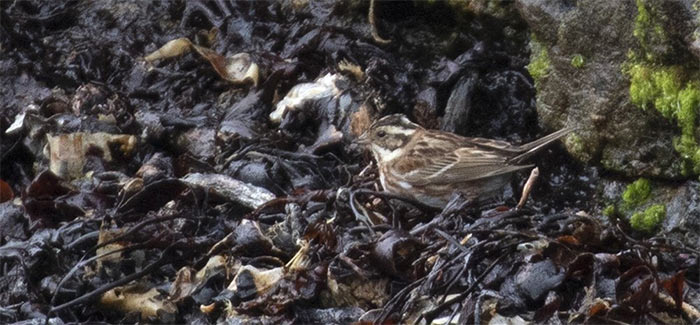 The overseas baton was passed, in emphatic style, this week to Sweden. Come to think of it, Scandinavia generally has been rocking of late, but this week? All about Sweden.
A bizzare turn of events this morning saw us twitching a mourning dove found around 10 minutes north of Ottenby in Ventlinge. 2nd record for Sweden. Totally unforseen WP tick! @TarsigerTeam pic.twitter.com/NfZay9vEJk

— Cathal Forkan (@forktailedswift) May 21, 2019
For starters, their first Grey-headed Plover was still present at Varmlands Ian on 15th-19th and, latterly, on 21st at Stoby. Ducks were well-represented with both Stejneger's Scoter still present at Hornefors on 15th-21st and American White-winged Scoter at Svenska Hogarna on 19th; a Black Vulture was seen at Almhults on 15th; and in any normal week, a Mourning Dove on Oland on 21st would have been remarkable – only the country's second record of the species.
Lovely.
Cinereous Bunting, Emberiza cineracea at Sundre B.O. Gotland - the 1st record for Sweden pic.twitter.com/RDQDWsorMH

— Tarsiger (@TarsigerTeam) May 17, 2019
This was no ordinary week in Swedish birding, however. It had begun with the country's first Kurdish Cinereous Bunting on Gotland on 17th-19th; and ended with a form hemprichii or variegatus Caspian Stonechat at Ronneby.
Male Caspian Stonechat (ssp hemprichii) photographed at Ronneby, Blekinge - Sweden pic.twitter.com/Pdbvzs8ZoB

— Tarsiger (@TarsigerTeam) May 21, 2019
Before we get onto Black Vultures - as they're having a bit of a moment in northern Europe – we need to shift our focus elsewhere in Scandinavia. Finland, while not scaling the giddy heights of Sweden this week, still managed to score its first Pallas's Reed Bunting at Kirkkonummi on 19th. Denmark, meanwhile, landed its first Spanish Sparrow at Brovande on 15th; and a Paddyfield Warbler at Kastrup on 19th.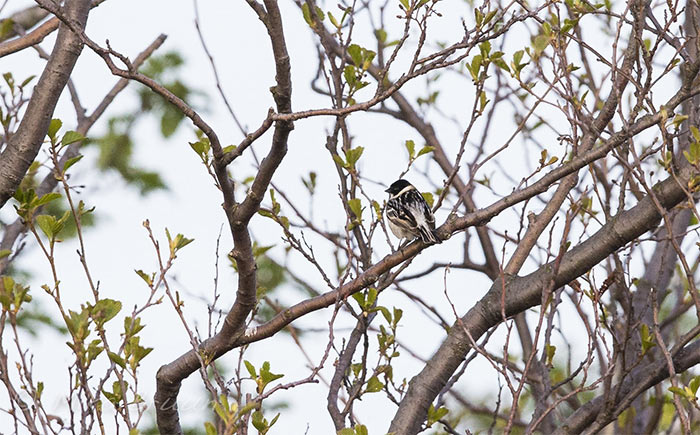 So, Black Vultures… a feature of the news lately, and that continued this week. Apart from the Swedish bird, we also got sightings from Hedmark (Norway) on 18th and, in Belgium, at Vlijtingen on 20th and Hees on 21st. Will one finally drift our way?
Belgium also retained its Pygmy Cormorant at Parc du Woluwe on 16th-19th. Holland kept the wintering Nutcracker at Wageningen on 17th; and had new interest in the form of a Greater Sand Plover at Maasvlakte on 20th-21st.
The regular Black-browed Albatross was seen at sea off Schleswig Holstein (Germany) on 15th. In France, the Sociable Plover remained at Onnaing on 15th.
Poland, not a regular in the news, landed a Steppe Eagle at Chelm on 19th.
Heading offshore, a Hoopoe Lark was seen on 19th on Menorca at the airport.
The coming week…
Five out of six of last week's forthcoming rarity predictions came true – which by my predictive standards is, frankly, remarkable. Just Black-headed Bunting let me down…
The last week of May is an exciting time, bursting with potential. While I want to believe that just one of the recent Scandinavian goodies could conceivably turn up here – and just imagine the funds that could be raised towards the monumental challenge of rising Fair Isle Bird Observatory, phoenix-like, from the ashes should a Kurdish Cinereous Bunting be found on there – my attention is drawn, irresistibly, to the waders once more.
Plovers, specifically. Norway and Holland have both had Greater Sand Plovers in the past fortnight. One surely could be knocking on our door sometime soon. Maybe a White-tailed Plover or – and imagine this – a mainland Caspian Plover.
Time to dream big, I think.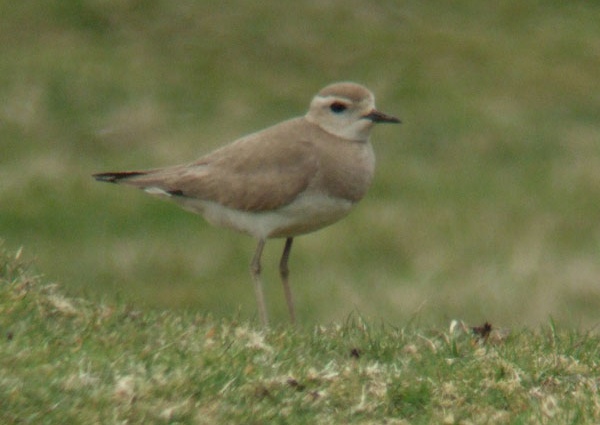 Jon Dunn
22 May 2019
Share this story
Tweet