Weekly birding round-up: 01 - 07 May
The week at a glance
Cambridgeshire hangs onto the drake Baikal Teal
And Essex enjoys a flock of White-winged Black Terns
The last week of April, whilst characterised by a storm and April showers, was also a belting example of how good spring can be – a smattering of American passerines, a duck from the east, a warbler from the south and a wandering albatross.
The first week of May was rather a different story, for Britain and Ireland at least. As we'll see in due course, Norway magnificently enjoyed some albatross and other goodies besides. But closer to home… not so much, as a powerful stream of northerlies swept down the country, effectively slamming the door on much avian movement.
Baikal Teal
Having flirted with us earlier in the spring, here one day and gone the next, the drake Baikal Teal re-found in the preceding week at Ouse Washes RSPB (Cambridgeshire) on 29th April had, predictably, done a bunk on 30th. Game over?
Well, no. Come 2nd May and there was the news everyone, not least birders looking for something decent to twitch over the weekend, had been hoping for – the bird was back, still in Cambridgeshire, on the Nene Washes at March Farmers.
Better yet, it finally stuck. Game on.
Remaining there until 7th it's done nothing whatsoever to blot its copybook. No nasty leg bling, not turning up at an eyebrow-raising time of year, nor somewhere it has no business to be. It feels textbook.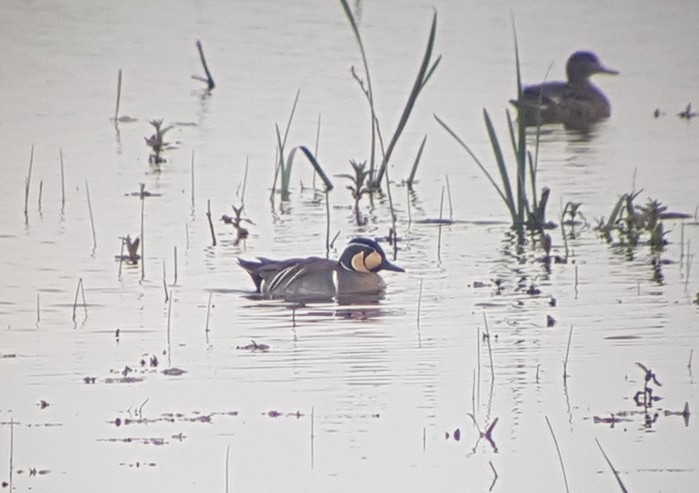 (Of course, were it the first of its kind, none of this might be good enough. I'm thinking of the unfortunate Wood Duck that appeared in Shetland, en route to not being admitted to Category A of the British list, ten years ago in spring 2009. A bird that didn't really do very much wrong whatsoever, but them's the breaks. Baikal Teal knows a thing or two about a difficult passage onto Category A, after all…)
White-winged Black Terns
The fact that this week was, by any standards, rather a quiet one could not alone account for the elevation of White-winged Black Tern to the headlines. They are, after all, annual. More than that, they turn up every year in reasonable numbers – by the time the species was dropped by the BBRC in 2005, it was being seen in double figures more or less annually since the 1970s.
That's not to say that bumping into an adult White-winged Black Tern during spring migration isn't always an utter joy – seen from afar in flight, they flash black and white like a blinking cursor; seen at close quarters, they're simply gorgeous, a monochrome confection with scarlet counterpoints.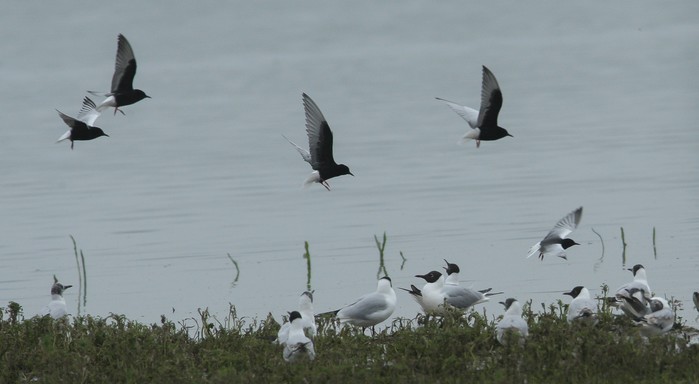 Still, mere aesthetics ain't enough to warrant us lifting them into the headlines. What does it, however, are sheer numbers. A flock of White-winged Black Terns is a much more unusual matter than the odd singleton or duo overshooting in spring.
And so to this week, where a flock of five birds found at Abberton reservoir (Essex) on 3rd had risen, briefly, to a full half dozen logged there on 4th before returning to five birds again on 5th, to the delight of a stream of admirers, with a bonus Bonaparte's Gull for good measure. One tern was reported as present there again on 7th.
In the absence of any big tallies from Aberdeenshire, our weekly score of White-billed Divers was a shadow of previous weeks. Four were seen once more in Orkney off Papa Westray on 1st, with one off North Ronaldsay that day also; and elsewhere in Scotland, one was again seen off Burghead (Moray) on 1st, and another was off Unst (Shetland) on 6th. Ireland got a single bird too, seen off Aughrusbeg (Co.Galway) on 4th.
The winds this week were far from favourable for skua passage, so rather than the hundreds of Pomarine Skuas we'd enjoyed the previous week, we had a mere dribble of some 40 birds noted nationally instead. Their time, surely, will still come any day now. So too Long-tailed Skuas - one was seen passing North Uist (Western Isles) on 7th, a very small vanguard indeed.
Also hinting at what's to come were a couple of Balearic Shearwaters seen – singles off Portland (Dorset) on 2nd and Cley (Norfolk) on 5th.
Finally, on 7th a Cory's Shearwater was reported passing Old Head of Kinsale (Co.Cork).
The recent trend of diminishing reports of Cattle Egrets continued this week, with birds quietly getting on with whatever they're up to – our peak count was a mere 13 birds seen on 2nd at Wareham (Dorset). For now then they're going to slip from our weekly round up of the long-legged beasties – we'll see, later in the summer, how they've got on. I have a feeling that this last winter's large roosts are going to be a growing feature of years to come…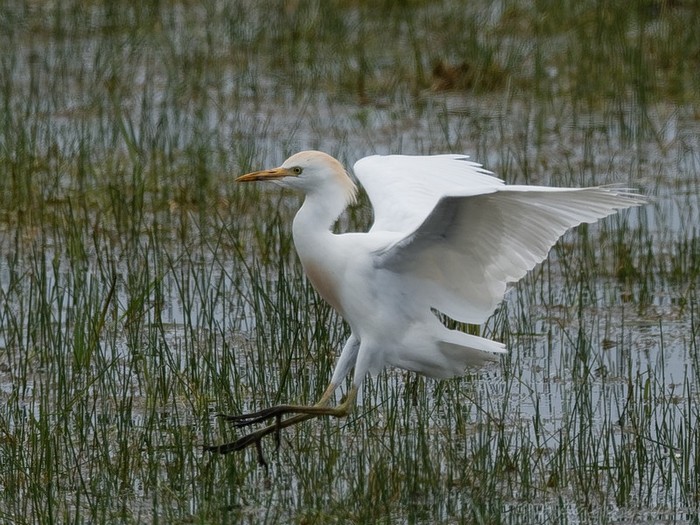 Colourful fare this week came once more in the elegant form of Purple Herons - one remained in Norfolk at Burnham Overy for another week, present there until 7th; while further sightings came from Ynyslas (Ceredigion) on 2nd-7th and Marazion RSPB (Cornwall) on 3rd; and another report of a probable bird seen in flight in Cornwall over Hayle on 5th. On 6th one was seen in flight heading towards Stanford Court Lake (Worcestershire); on 7th Slapton Ley (Devon) got in on the act with one seen in flight that morning.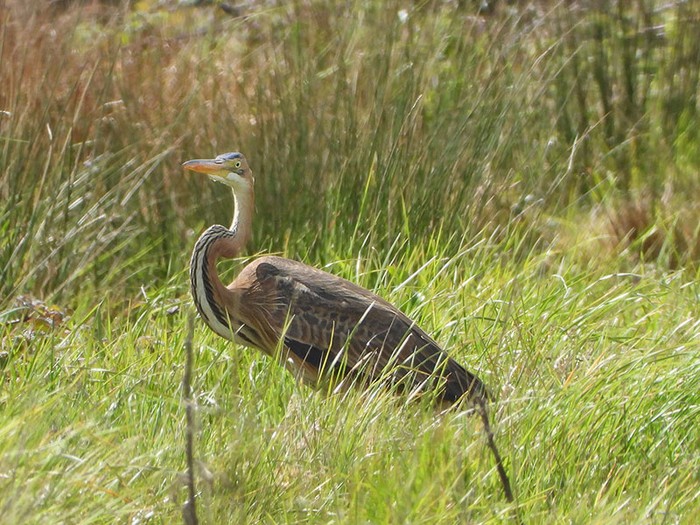 Night Herons continued to feature too – adults remained in Kent at Conningbrook Lake CP on 2nd-4th and on St Mary's (Scilly) on 3rd-7th; while new birds were seen on 1st in Co.Cork at Lissagriffin, on 2nd-4th at Fairburn Ings RSPB (North Yorkshire) and on 5th over Waltham Brooks SWT (West Sussex).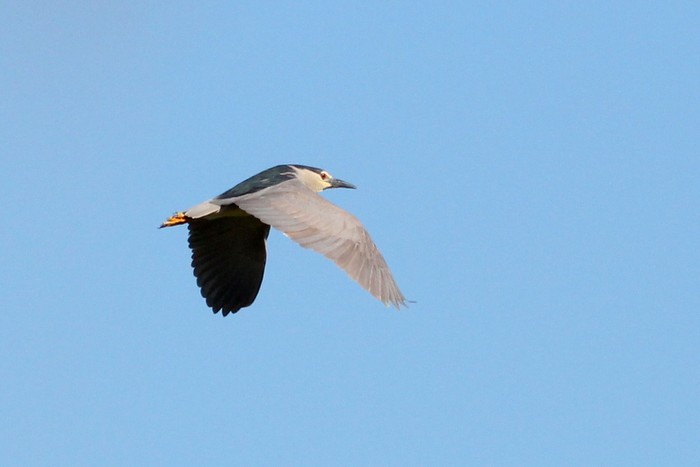 With no stork news, dodgy or otherwise, this week we're now straight onto perennial favourite, Glossy Ibises. Lingering birds remained at Marazion RSPB (Cornwall) on 1st-6th; Newport Wetlands NNR (Gwent) on 1st-7th; and in Ireland at Rosslare (Co.Wexford) on 2nd and at Lough Neagh (Co.Armagh) on 4th still. Further sightings came from Titchfield Haven NNR (Hampshire) on 1st-2nd and over Marshside RSPB (Lancashire) on 3rd; with another possible bird seen over Strumpshaw Fen RSPB (Norfolk) on 2nd.
Small parties and wandering singletons and duos formed the pattern once more for Common Cranes this week; away from the regular haunts, the Ythan estuary (Aberdeenshire) continued to feature with variously four or six birds hanging around the area on 2nd-4th.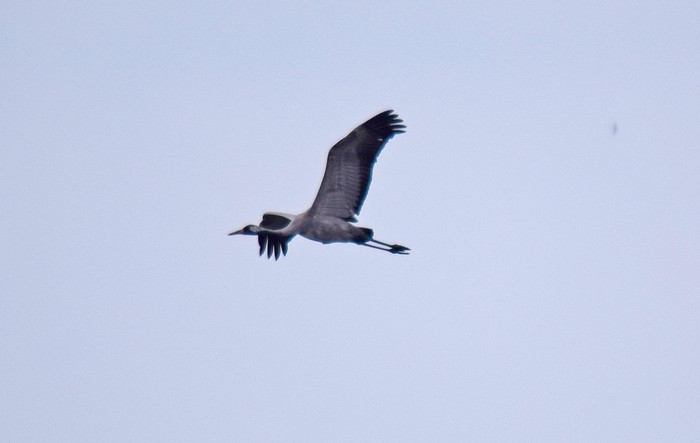 The tide has, Baikal Teal excepted, firmly started to turn where our rare and scarce honkers and quackers are concerned – numbers of all are on the wane, with mainly familiar faces making up this week's news.
Starting once more with the rarest of the best of the rest, the drake American White-winged Scoter remained off Musselburgh (Lothian) still on 1st-7th, with his accompanying retinue of four Surf Scoters still present until 7th also. Four of the latter were also noted this week in the Sound of Taransay (Western Isles) on 1st; and one was seen on 6th at Llanfairfechan (Conwy) again.
Highland's drake King Eider remained at Nairn on 1st-2nd whilst the regular site of the Ythan estuary (Aberdeenshire) boasted a drake once more on 3rd-4th. Absent from the news for a while, the Welsh female was seen again on 5th at Aber Dysynni (Gwynedd). In Ireland, the first-winter drake dresseri 'Dresser's Eider' remained off Skerries (Co.Dublin) still on 2nd.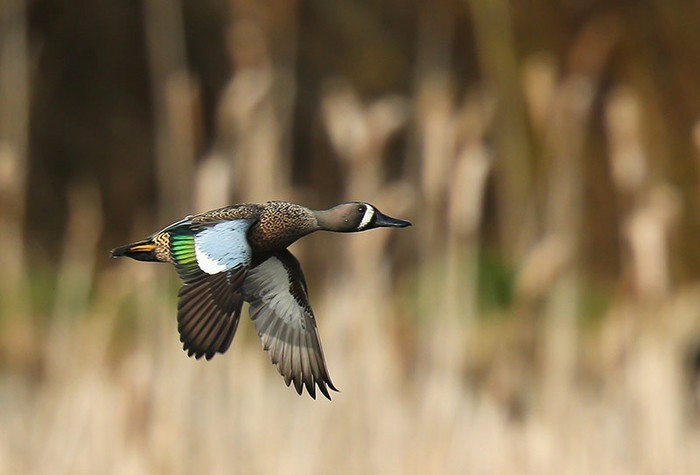 In Highland, the drake Blue-winged Teal was still present at Mellon Charles on 1st-7th, while the drake Black Duck remained at Strontian on 1st-7th.
The drake American Wigeon remained 1st-5th, while this week's Green-winged Tealswere reduced to birds noted at Yesnaby (Orkney) still on 1st, at Holywell Pond (Northumberland) on 3rd-5th, and at Kilnsea (East Yorkshire) on 7th.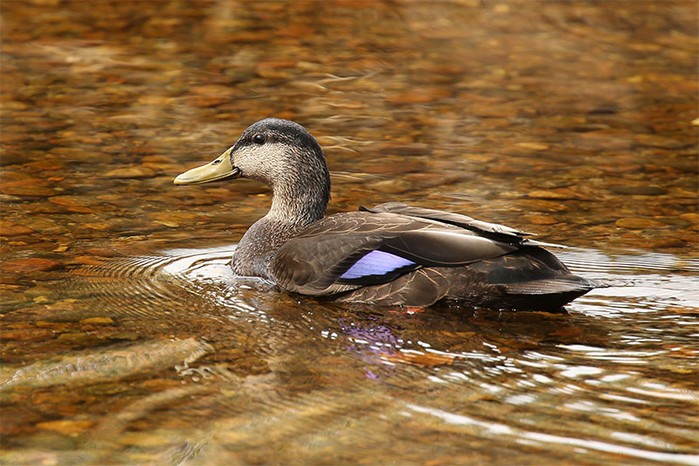 The drake Lesser Scaup remained on Blagdon Lake (Somerset) on 2nd-6th, and sightings of the Ferruginous Duck continued to come from Wet Yorkshire, at Bretton CP and South Kirkby Marsh on 4th-5th.
Ring-necked Ducks were dropping in numbers, down now to 10 birds noted nationally. Birds remained at Slapton Ley (Devon) on 1st; Lodmoor RSPB (Dorset) on 2nd-4th; on Tiree (Argyll & Bute), where two birds were still to be seen on 2nd; at Llyn Brenig (Denbighshire) and Wellington GPs (Herefordshire) again on 6th-7th; and at Frensham Pond (Surrey), where the female was again present on 5th. Further sightings came from Pett Levels (East Sussex) on 1st-6th, Bowers Marsh RSPB (Essex) on 1st-6th, and Staines reservoir (Surrey), where a drake was found on 2nd. I wonder what would happen were he to find the settled Frensham Pond female at this point in the year…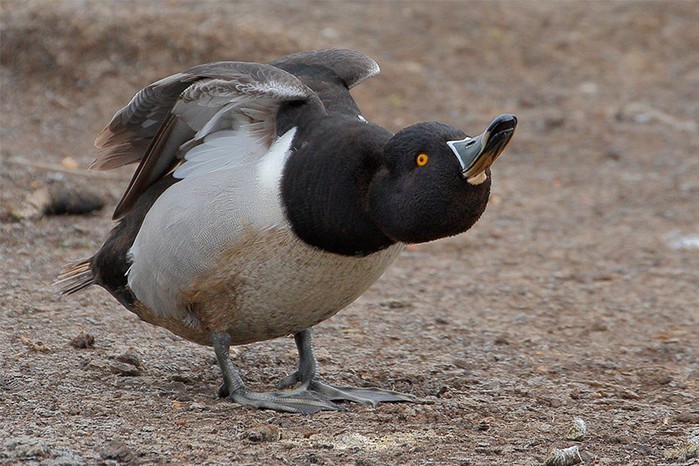 Finally, our honorary waterbird the adult Pied-billed Grebe remained on Loch Feorlin (Argyll & Bute) on 1st-3rd.
<!—Section Title -->
With the exception of Dotterels - as there's no stopping them at this point in the spring; some 60 birds in all were logged nationally this week, including a peak count of a trip of 13 birds on Rattray Head (Aberdeenshire) on 6th – the northerlies that dominated our weather definitely had a suppressing effect on new arrivals of interesting shorebirds in recent days.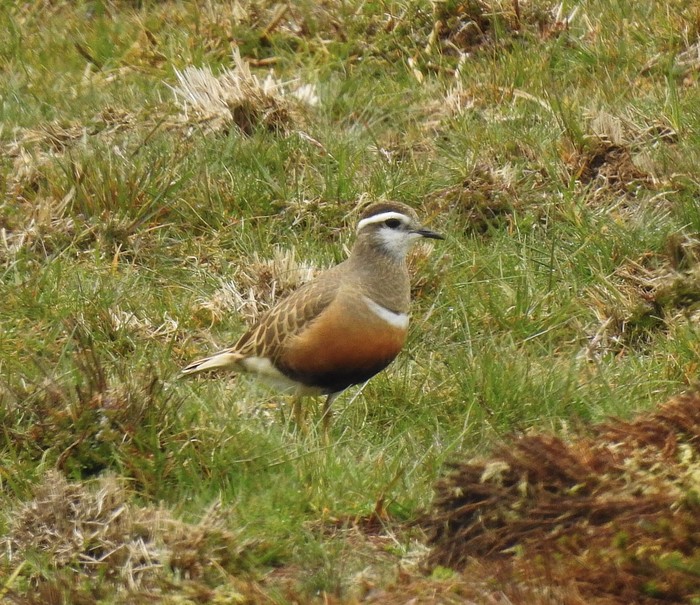 Last seen at Blue Marsh Farm EWT (Essex) on 26th, a Marsh Sandpiper was seen there once more on 4th, albeit fleetingly – later on in the day supplanted by a Wood Sandpiper there.
A female Black-winged Stilt made it to Dorset on 6th, being seen there at Radipole Lake RSPB; on 7th a Kentish Plover was found on the beach at Dungeness (Kent), with another reported that morning at Hedgecourt Lake (Surrey).
The adult Long-billed Dowitcher in Lincolnshire at Frampton Marsh RSPB made it into the new month, just, being seen there still on 1st.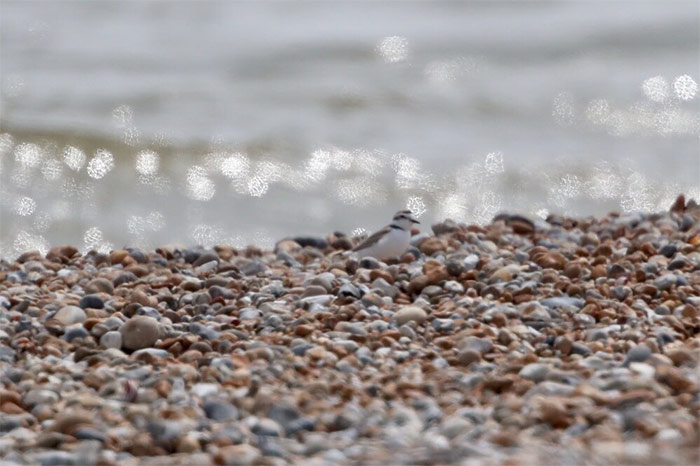 The Spotted Sandpiper at Ferrybank (Co.Wexford) was logged there still on 4th-7th, whilst another was found in Lothian at Skateraw on 4th-7th also.
Some Temminck's Stints hinted at wader passage to come – singles seen at Morton Bagot (Warwickshire) on 4th and Staines reservoir (Surrey) on 5th, with another reported on the latter date at Cley (Norfolk). On 7th one more was present in Cornwall at Walmsley Sanctuary CBWPS, while one was seen at Middleton Lakes RSPB on the Warwickshire / Staffordshire border.
Finally, a Red-necked Phalarope in Lincolnshire on 3rd-7th at Gibraltar Point NNR and Middlemarsh Wetlands brings this section to a dainty close for another week.
Mirroring the wildfowl this week, our white-wingers continued to melt away – though the cold air from the north will probably have made those that remained feel right at home. Iceland Gulls were almost entirely restricted to birds in the north – seen on Unst (Shetland) and North Ronaldsay (Orkney) on 1st; at Shawell (Leicestershire) and Tynemouth (Northumberland) again on 3rd; off Marwich Head (Orkney) on 4th; on 5th on Mull (Argyll & Bute), Yesnaby (Orkney) and at Scrabster (Highland); on 6th at Otterspool (Lancashire); and on 7th at Nether Dallachy (Moray). On 7th the most southerly bird by some margin was seen in Cornwall at Sennen.
Glaucous Gulls were equally shy and retiring – an English example remained at Blaydon (Co.Durham) on 1st-5th; in Scotland birds were logged on 1st at Skateraw (Lothian), on 2nd in Lerwick (Shetland), on 3rd on Fair Isle (Shetland) and Benbecula (Western Isles); and on 6th in Ireland at Arklow (Co.Wicklow).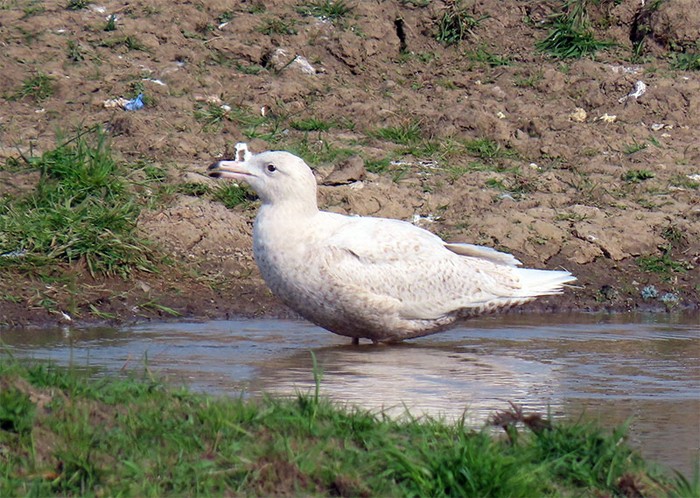 Intriguing news this week broke on 6th with a report of a possible first-winter Slaty-backed Gull present on rocks at Rhos Point (Conwy) before flying east. Alas no more was seen or heard of it latterly…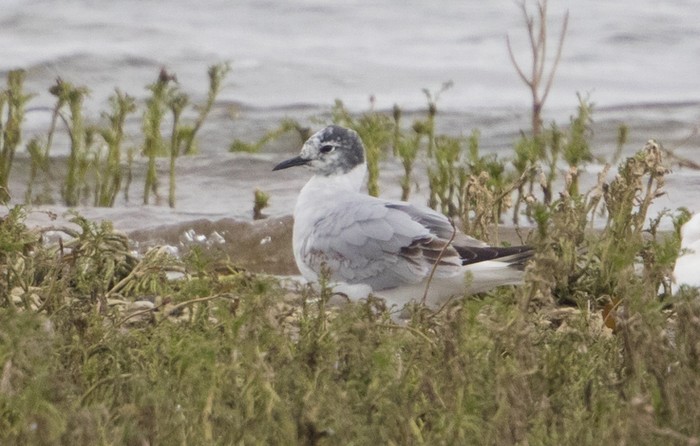 Our remaining Larid excitement this week comes in the form of a trio of Bonaparte's Gulls - at Blashford Lakes HWT (Hampshire) still on 1st-7th; in Cardiff Bay (Glamorgan) again on 3rd; and providing the cherry on the White-winged Black Tern cake at Abberton reservoir (Essex) on 2nd-7th. Another bird was reported on 6th from South Gare (Cleveland).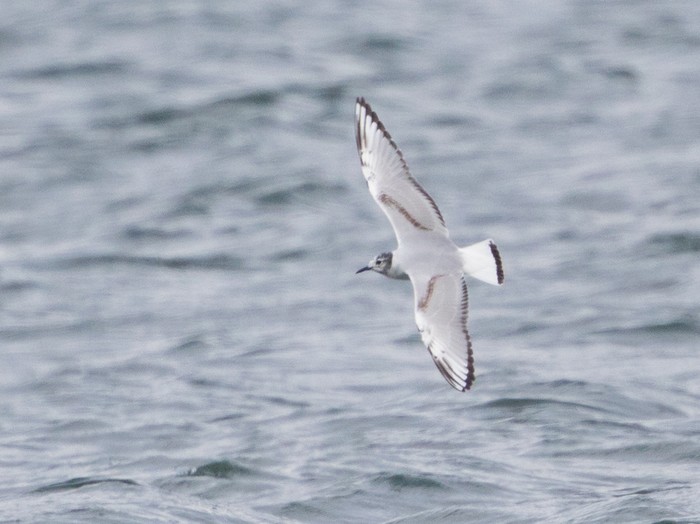 A handful of Red-footed Falcons this week provided much-needed spring colour. Males remained at Woodbridge airfield (Suffolk) on 1st-6th and at Thorne Moors NR (South Yorkshire) on 1st-5th, while a female seen at Billericay (Essex) on 1st was present there for its third day by that point. Another probable male was noted in Suffolk at Landguard NR on 2nd.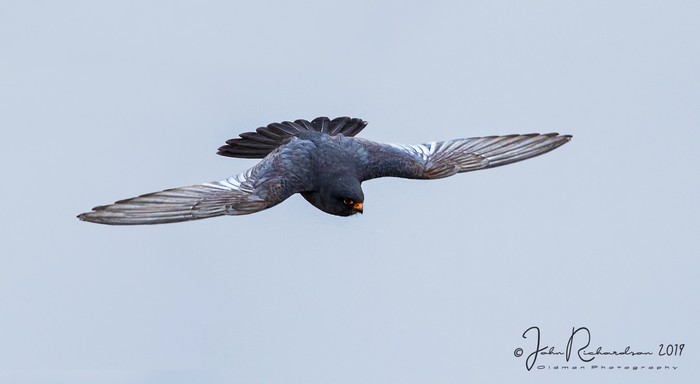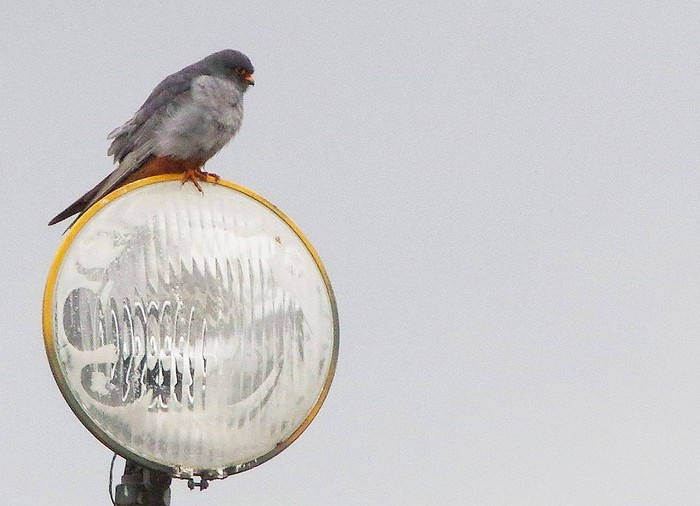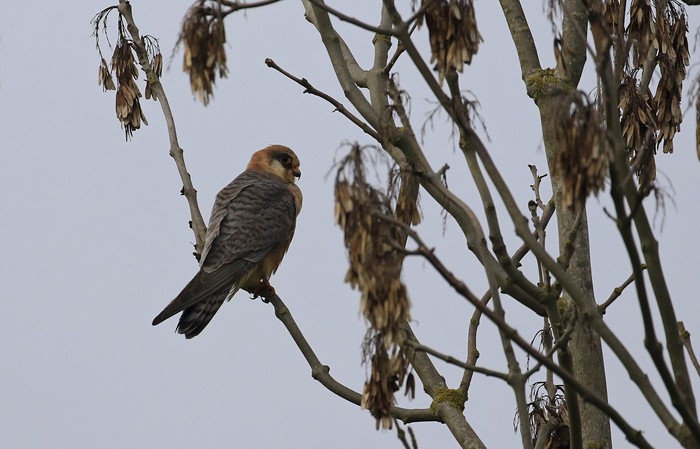 Black Kites meanwhile were conspicuous by their relative absence – one was still kicking around Fair Isle (Shetland) on 1st, and further sightings in the south came from along the Kentish coastline between Kingsdown and Pegwell Bay on 2nd, and at Alkborough Flats NR (Lincolnshire) on 3rd. One was seen on 5th at Bredon Hill (Worcestershire), with another possible sighting there the following day. On 7th a bird was logged over Herringfleet Marshes (Suffolk).
Passage Montagu's Harriers were, however, more of a feature than of late, with at least 10 birds noted along the south and east coasts, from as far west as St Mary's (Scilly) on 1st, and up into Yorkshire as the week progressed. The week began with lingering birds at Alkborough Flats NR (Lincolnshire) on 1st-5th and Blacktoft Sands RSPB (East Yorkshire) on 1st-6th; on 2nd a possible was reported from Nonington (Kent), a probable at Lower Raypits EWT (Essex), and another at South Woodham Ferrers (Essex); on 5th birds were logged at Dunkery Beacon (Somerset), Weymouth (Dorset), and in Norfolk at Titchwell RSPB and Burnham Overy. On 6th one was seen in Norfolk at Waxham; and on 7th a possible was noted over Tresco (Scilly).
Just one possible Rough-legged Buzzard made the news this week, being reported from Otmoor RSPB (Oxfordshire) on 1st. More substantial news came in the form of an adult White-tailed Eagle at Benacre Broad (Suffolk) on 1st and a juvenile bird seen at Arundel (West Sussex) on 1st-2nd and, on 6th, one noted in Norfolk at Happisburgh in the morning presumably accounting also for the juvenile seen on 7th at Horsey and Eccles. Another probable bird was noted on 7th over Thorne Moors NNR (South Yorkshire).
A Snowy Owl was reported on 4th from just outside Kirkwall (Orkney); the same day as the female once again seen on St Kilda (Western Isles). Oh for a mate for that settled bird…
Numbers of Blue-headed Wagtails found nationally this week remained healthy, with some 20 birds in all seen. Variety, however, was out there for the keen-eyed and fortunate…
On 1st, male Ashy-headed Wagtail and Grey-headed Wagtail were seen on St Mary's (Scilly) and at Port Mellon (Oxfordshire) respectively. On 3rd, a probable Black-headed Wagtail at Musselburgh (Lothian) was followed on 4th by a male seen at Balnakeil (Highland).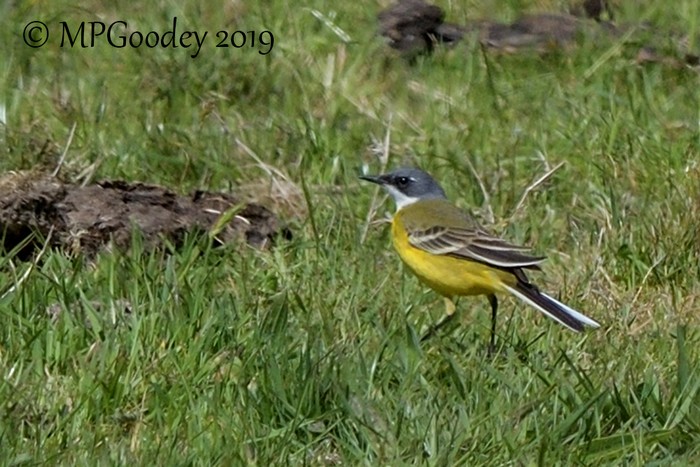 Closing our wagtail account on 7th, a male Citrine Wagtail was found at East Coast NR (Co.Wicklow). For all they're relatively commonplace in Britain, especially in autumn, they're a scarcer beast altogether in Ireland, particularly in spring, and I'm not sure if this might not be a first of its kind for Co.Wicklow?
Sticking with this colourful theme, the Great Spotted Cuckoo continued to play hard to get on the north Norfolk coast, being seen intermittently, fleetingly and often distantly on 1st-7th.
Hoopoes were a little easier, though not noted in huge numbers – birds were seen this week at Snettisham (Norfolk) on 1st-2nd; St Martin's (Scilly) on 1st; Kenidjack (Cornwall) on 1st-3rd; on Fair Isle (Shetland) still on 1st; at Pevensey (East Sussex) on 3rd; on 4th at Fobbing (Essex); on West Burra (Shetland) on 4th-7th; and on 6th on Skomer (Pembrokeshire).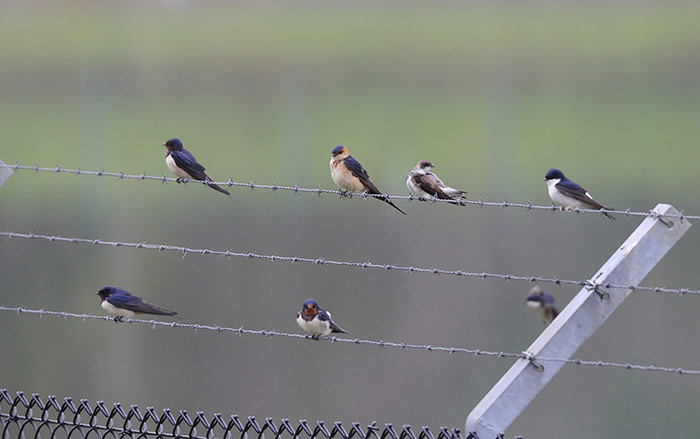 Red-rumped Swallows, meanwhile, had a stronger showing with 14 birds in all reported in the course of the week – with duos seen at Sandwich Bay (Kent) on 1st and Southwold (Suffolk) on 2nd. Also notable was one trapped and ringed on St Mary's (Scilly) during a stay on 1st-2nd.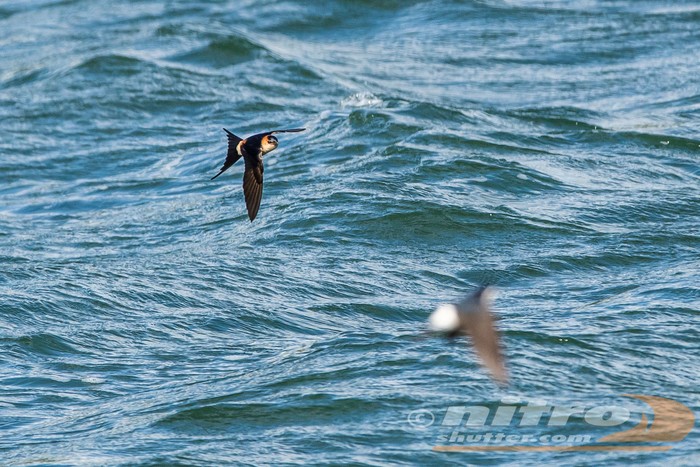 Just three Wrynecks were seen this week, speaking volumes about the general lack of passerines making it through here – one on 6th in a Wyke Regis (Dorset) garden and the balance both in the north, on Sanday (Orkney) on 1st-2nd, and the other on Fair Isle (Shetland) on 1st.
Also marking the changes, and also shared between Orkney and Shetland, were the two Waxwings seen this week – one in Kirkwall (Orkney) on 5th-7th, and the other at Sandgarth (Shetland) on 3rd-5th still.
We stay in Shetland briefly as we move into the warblers where, on 1st-5th, a Yellow-browed Warbler was lurking in Hoswick and, on 1st, another was seen on Fair Isle.
An Iberian Chiffchaff was in song this week at South Kirkby (West Yorkshire) still until 7th; another was reported on 6th from Seaton GPs (Kent); and on 7th one was singing and showing well at Gibraltar Point NNR (Lincolnshire).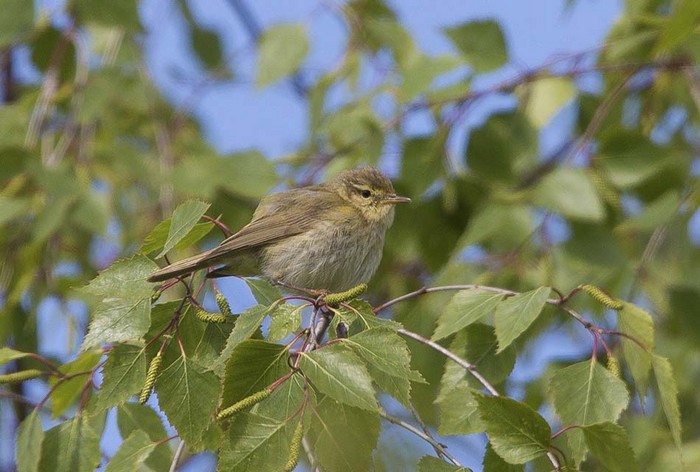 Lundy (Devon) landed yet another Subalpine Warbler on 1st, a first-summer male Western trapped and ringed; a first-summer male Eastern Subalpine Warbler was trapped and ringed there on 6th, while the ringed Western bird remained there until 5th. A female Subalpine Warbler sp was present on St Mary's (Scilly) on 2nd-3rd; and another unassigned female was seen on St Agnes on 6th. Breaking the recent Scilly and Lundy monopoly, a probable Western Subalpine Warbler was trapped and ringed on Orford Ness (Suffolk) on 7th.
Singing Savi's Warblers remained this week at Attenborough NR (Nottinghamshire) on 1st-7th, Minsmere RSPB (Suffolk) on 1st-7th, and Farlington Marshes HWT (Hampshire) on 1st. A further bird was trapped and ringed on St Mary's (Scilly) on 2nd, and one was in song at Longhaven (Aberdeenshire) on 6th. On 7th a further bird was reported as heard in song at Heacham South Beach (Norfolk).
A possible Great Reed Warbler was reported in song at Westhay Moor NNR (Somerset) on 5th. What an addition to the Levels' burgeoning fauna those hefty beasts would be… Another was in song in Norfolk on 6th at Pensthorpe Natural Park.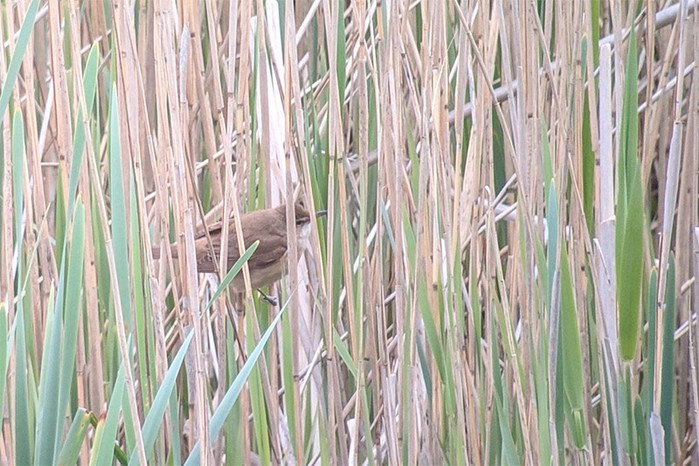 Melodious Warblers were found on 6th at Kilmichael Point (Co.Wexford) and singing on Portland (Dorset).
A probable singing Golden Oriole was heard at Hollywood (Worcestershire) on 1st, while a possible songster was heard in London at Highgate on 2nd; and another bird was further gilding Abberton reservoir's great week in Essex on 6th. The pace picked up on 7th with three reported from St Martin's (Scilly) and at least two on St Mary's; and a singing male on Portland (Dorset).
Shrikes remained a relatively scarce commodity for another week, with four Woodchat Shrikes to be had – this time birds present on St Martin's (Scilly) on 1st-3rd, in Cornwall at Carn Gloose on 2nd-3rd, at Long Nab (North Yorkshire) on 5th-7th; and at Flamborough (East Yorkshire) on 7th.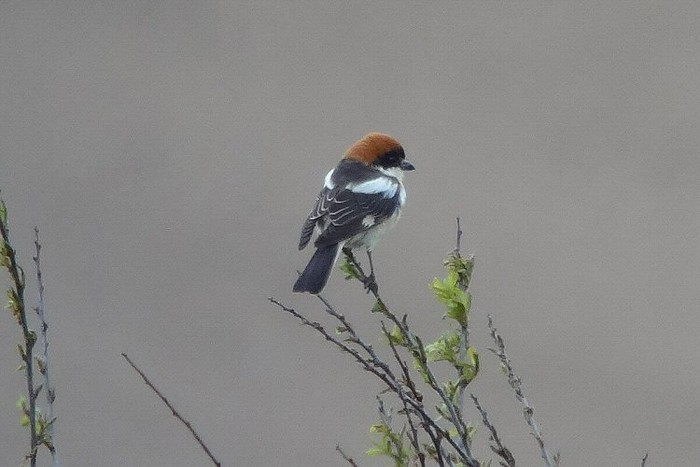 The wandering Pied Crow put in another appearance on 6th-7th, this time at North Foreland (Kent).
This week we've almost double figures of Serins to report upon: Portland (Dorset) enjoyed two birds again on 1st, with at least one still on 2nd; further Dorset sightings came from Hengistbury Head on 1st and Lulworth Camp on 5th. Kent scored birds at Foreness Point on 2nd, St Margaret's at Cliffe on 3rd-6th, and Denge Marsh on 6th. One was present in Cheshire at Houghton Green Flash on 3rd; and a probable was in flight at Sutton Bingham reservoir (Somerset) on 5th. On 7th one was found in Norfolk at Waxham.
A singing male Common Rosefinch was brightening the day at Southwold (Suffolk) on 5th.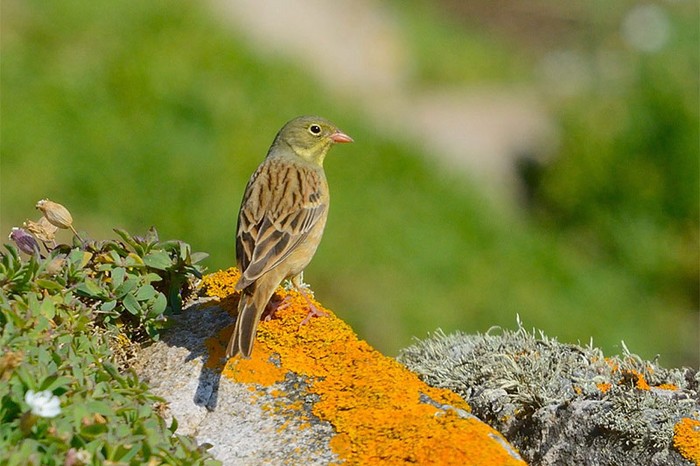 Also on 5th, Great Saltee Island (Co.Wexford) landed a fine double in the form of Little and Ortolan Buntings, the latter remaining on 6th-7th; another Little Bunting was seen on 5th on St Mary's (Scilly), while one was found on 6th-7th on Barra (Western Isles).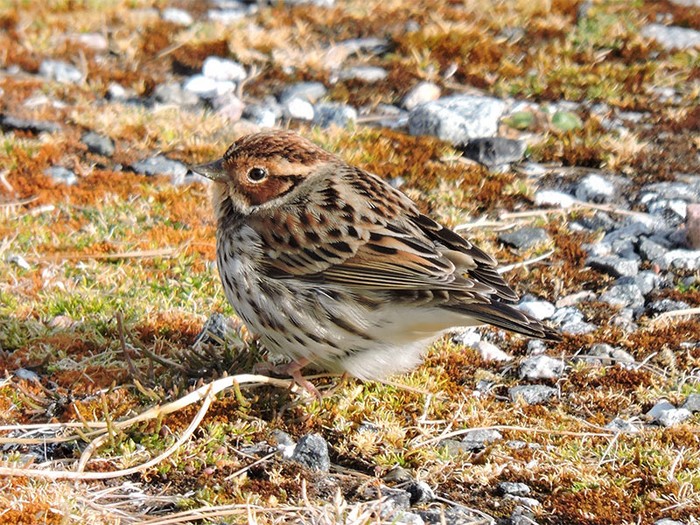 Oh Norway. What have you gone and done? It's all been Holland this and Sweden that for the past few weeks and months, but now Norway has had a bit of a moment and reminded us it was there all along.
Famous in seabird circles for hosting the Western Palearctic's first ever accepted record of Yellow-nosed Albatross, an adult photographed at sea some 30km northwest of Halten on 13th April 1994, Norway already enjoys something of a reputation for turning up a crazy, berserk seabird record from time to time.
Who though would have anticipated the events this week on 2nd - a Wandering Albatross sp not just reported in Rogaland, but grippingly phone-photographed too – seen at first from the dock at Judaberg, and latterly from the deck of a ferry. Norway's first record, needless to say. Rogaland is, one has to say, not a million miles from northern Scotland or, as the albatross flies, pretty much anywhere on the British east coast. I'm irresistibly reminded of the tale I once heard, here in Shetland, of a large albatross seen briefly off the south Mainland before vanishing into thick fog many years ago. Easy to dismiss as the stuff of folklore and myth, and yet… as events this week prove, you never can tell…
A Wandering Albatross sp would be enough in itself, but Norway wasn't messing around this week. Cue another national first on 2nd, and a second record for the Western Palearctic – a Grey-headed Plover in Aust-Agder, and still present there until 4th. As if all of that wasn't enough, Norway also scored its second record of White-crowned Sparrow on 2nd-4th at Sandoy – completing a quite incredible day in Norwegian birding history.
All of which rather overshadows events elsewhere… Starting in Holland, the Nutcracker at Wageningen was hanging in there on 1st-7th, grateful recipient of many a walnut from its admirers; and a Marbled Duck was present at Kolk van Dussen on 2nd-4th.
In Germany, a Sociable Plover remained at Scheuder on 3rd; while another was still present in France at Onnaing on 1st-4th. France scored yet another rare plover in the form of a Greater Sand Plover present at Hyeres on 4th-6th and, on 6th-7th, a Seebohm's Wheatear at Sailly-Lez-Lannoy on the French/Belgian border.
Spain was enjoying a good week, with a Western Reef Heron in Coto Donana on 2nd, and two Elegant Terns at Marjal Els Moros on 1st-4th.
Adult male Seebohms Wheatear (ssp seebohmi) photographed at Sailly-lez-Lannoy by Jacques Leclercq - the 1st record for Belgium pic.twitter.com/S5VeCG38Ti

— Tarsiger (@TarsigerTeam) May 7, 2019
Italy meanwhile landed a Blue-cheeked Bee-eater at Senigallia on 1st; another was found on 6th at Drilon in Albania, a national first.
Moving much further afield now, on Fuerteventura (Canary Islands) the Dwarf Bittern remained present on 4th at least. We finish in Egypt where two Crested Honey Buzzards were noted at Gabal el Zayt on 1st.
We could be forgiven for casting covetous eyes east across the North Sea towards Norway and the astounding birds it's enjoyed in recent days. Either one of the albatross or the plover is the stuff of sheer fantasy.
We'd need to be a little more realistic though. The second week of May is a time when we'd really be hoping for birds overshooting from the south – although, as last week proved in Britain and Ireland, so much depends on the wind not completely banjaxing that.
So let's hope for an end to northerlies. Let's hope instead for more favourable tailwinds, the sort that bring more Subalpine Warblers and Red-footed Falcons, maybe a Thrush Nightingale, perhaps a Broad-billed Sandpiper… something for everyone, then.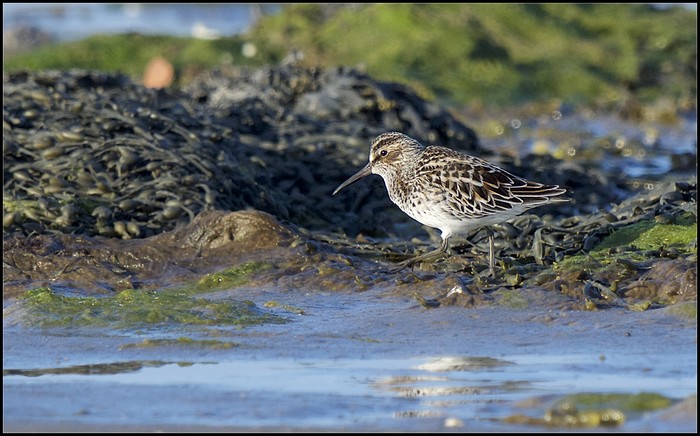 Jon Dunn
8 May 2019
Share this story
Tweet