Weekly birding round-up: 7 - 13 Nov
The week at a glance
Cleveland enjoys a swift double, with Little and Pallid Swifts
While Pallid Swifts poured in nationwide
Shetland gets an Eastern Yellow Wagtail
And another Nearctic species is added to the 2018 roll-call – a Mourning Dove in Co.Galway
A southerly airflow over Britain this week, fuelled by a big lump of low pressure sitting out to the west of us, served up generally slim late autumn pickings. A little bit more easterly flavour would have been good… but beggars can't be choosers, and it's hard to argue with what brightened up November skies.
So buckle in for a swift run through what did make it to us…
Little & Pallid Swifts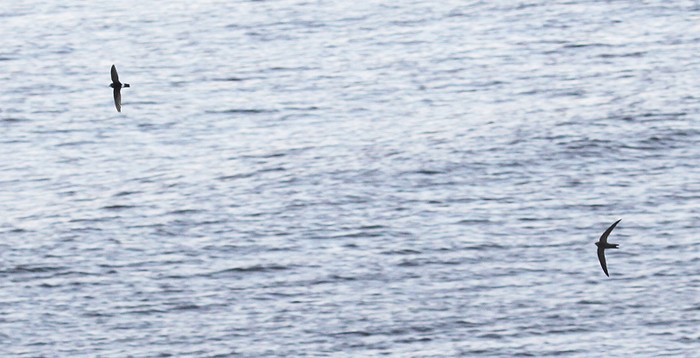 Pallid Swifts can be, as we remarked last week, something of a thing in early November. Given a following wind at this time of year and any overhead Apus is worth a second glance.
Sure enough, this week there were plenty of possible Pallid Swift candidates; a handful of probable birds; and a few confirmed examples, too. More of which anon.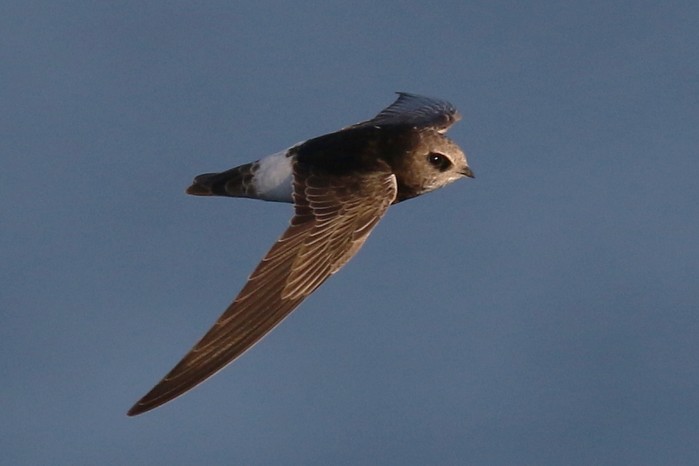 More eye-catching still was the belated news on 10th of either a White-rumped Swift or a swift with a white rump (yes, I know, to the non-birder that seems absurdly self-evident – bear with us…) at Blacktoft Sands RSPB (East Yorkshire) the previous day. I'm sure that more than one of us dared to dream that Britain's first White-rumped Swift, last seen at Hornsea Mere (East Yorkshire) on 14th October, was about to get a second airing – either the same bird, or another example. Could it be?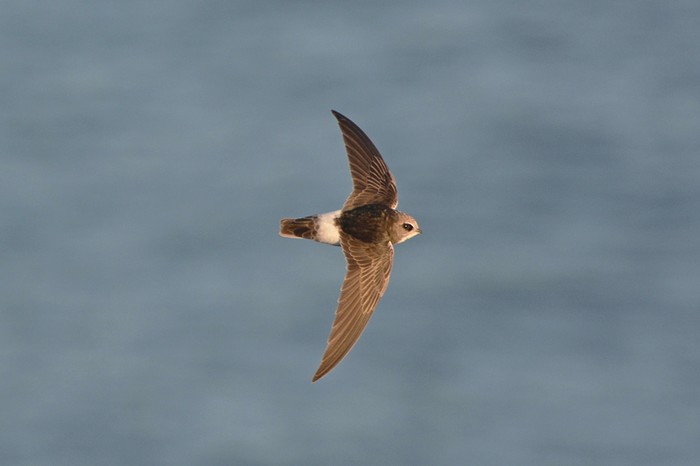 Perhaps it wasn't a coincidence that on 11th a swift with a white rump, but not a White-rumped Swift, was found in Cleveland at Hartlepool Headland. Both a little swift and, indeed, a Little Swift - Cleveland's second record following a one-day spring bird at Boulby Cliffs on 10th May 1998. Both one for the county-lister and, frankly, a damn fine bird for anyone this late in autumn proceedings. That it shared its airspace on 11th with a Pallid Swift was all the more remarkable.
Showing well as the afternoon of 11th progressed, the bird gave rise to one of the most specific bird information service messages I've seen in a very long time as it went to roost on the right-hand side of the windowsill of 12 Cliff Terrace… Still present there the following morning, it continued to delight visiting birders until mid morning and then… it was gone.
Pallid Swifts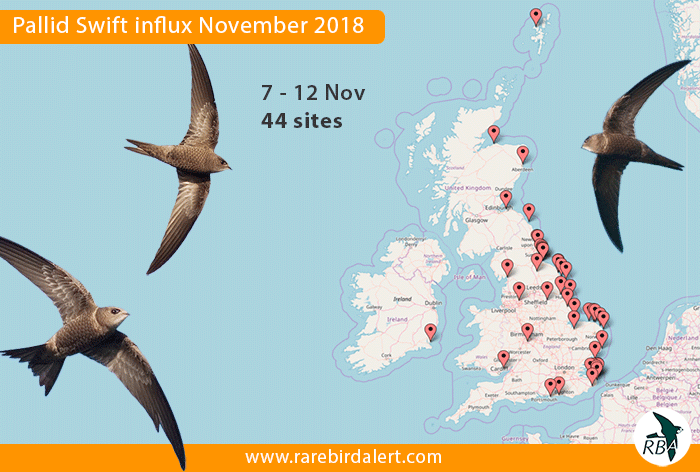 It's hard to remember a time when Pallid Swift was still a truly outrageous rarity. 1978, when the first latter-day example spent a memorable nine day sojourn in Kent at Stodmarsh on 13th-21st May, seems like a very long time ago indeed. By the time I moved to Kent in 1992 there had only been four subsequent records, and the species was definitely in blocker territory. That three of those four 1980s records came from November was, however, perhaps a hint of things to come.
Spool forward to the end of 2016 and we've suddenly got 96 accepted British records, most of which hailed to the months of October and November. Whatever happened to Pallid Swift?
Events this week, I think, are a perfect example of how birders are now, collectively, better equipped to deal with a late autumn swift. We're blessed with not only a growing awareness and even an expectation that Pallid Swifts might be among us at this time of year – we've also got infinitely better optics than those of a few decades ago and, critically, many folk are now armed with cameras that can capture, instantly, images that help to make the definitive call between Common and Pallid Swifts - neither species of which, if we're honest, are exactly renowned for sitting still or coming conveniently close to their observers for prolonged periods of time in the field.
So, as this week unfolded and the reports of possible Pallid Swifts began stacking up from West Sussex to Shetland and many points in between, it didn't come as a total surprise when the messages began to follow of a number of those possible birds being confirmed, after looking at images taken in the field, as definite Pallid Swifts. I think we'd all wager money that a good few of the remaining possibles were probably the rarer option too this week, as a southerly airflow emanating from southern Europe and beyond threw the doors of possibility wide open.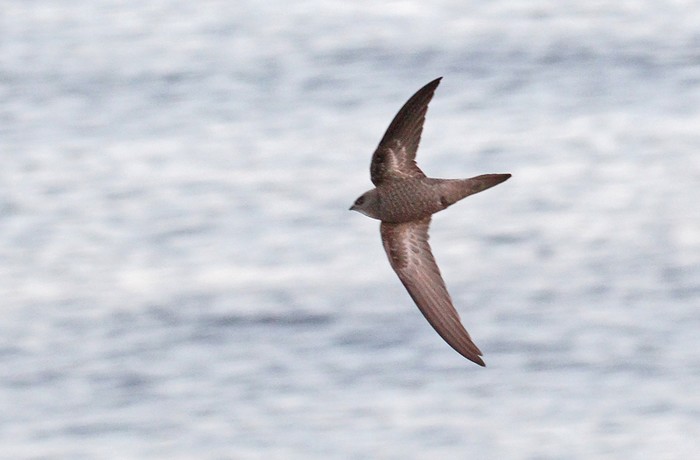 By 12th we had sightings of possible, probable and confirmed birds from no fewer than 43 sites nationwide – which, even by the precedent of the past twenty years during which time the accepted records have begun to mount up, is still astonishing. Better yet, the start of the coming week is looking pretty tasty for more still to reach us. And who knows… maybe there will be some more swifts with white rumps amongst them too.
So, confirmed birds this past week – on 7th, one in Ireland at North Slob WWR (Co.Wexford) was followed, in England, by one at North Gare (Cleveland); on 10th, sightings were confirmed at Newport Wetlands NNR (Gwent), Sheringham (Norfolk), and Foreness Point (Kent), the former meaning Wales had got in on the act. The pace picked up substantially on Sunday 11th, with two birds at Thorpeness (Suffolk) and singles at Hartlepool Headland and Seaton Carew (Cleveland), Spurn and Kilnsea (East Yorkshire), Flamborough (East Yorkshire), Goxhill Haven (Lincolnshire), and South Shields (Co.Durham).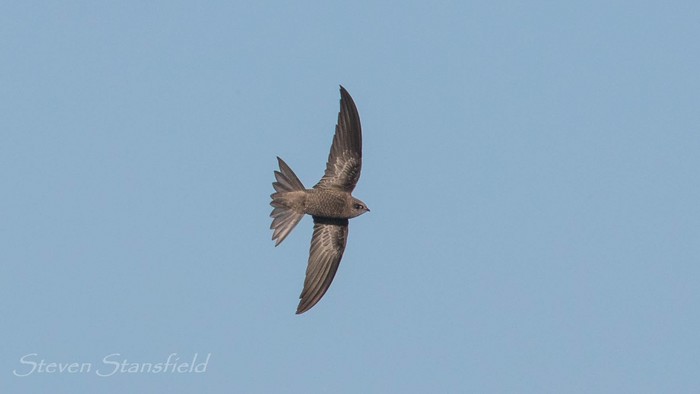 On 12th one was at Long Nab (North Yorkshire); Norfolk enjoyed sightings at Tilney All Saints, Cromer and Happisburgh; and Kent enjoyed a bird at Reculver. The week ended with more sightings still on 13th – over North Foreland (Kent) with two birds noted there, and Filey Brigg (North Yorkshire).
The moral of the story being that, this coming week of all weeks, we need to get out, find a swift, and give it a really good hard look. There will surely be more Pallid Swifts to come.
Eastern Yellow Wagtail
Having already enjoyed one probable Eastern Yellow Wagtail earlier this autumn up on Unst, Shetland weighed in this week with two more probable birds on 8th, one in the central mainland near Loch of Benston and the other bird down at the mainland's southernmost tip at Sumburgh.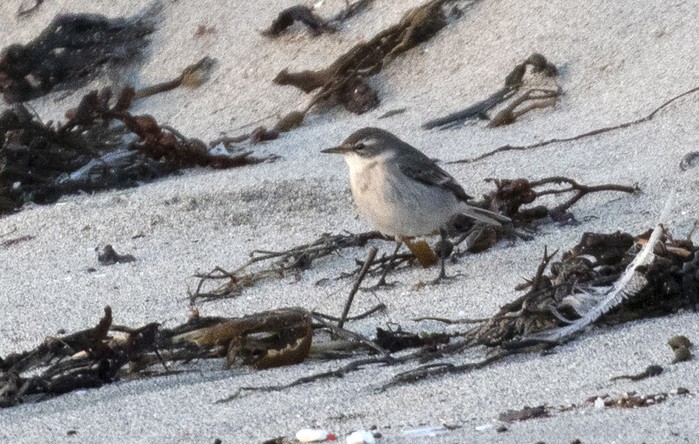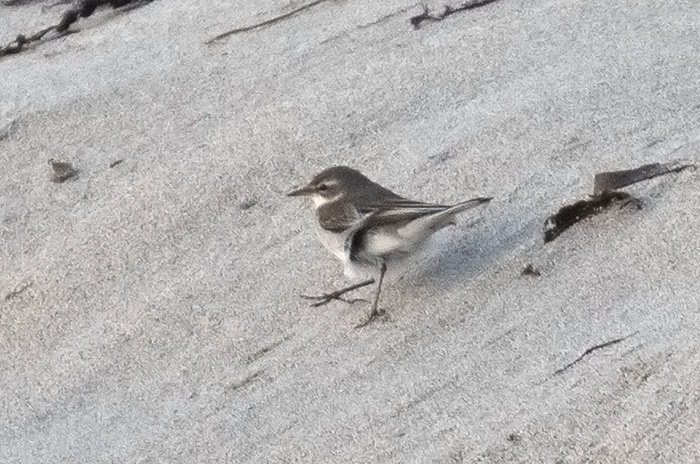 The latter bird remained until 13th, being seen intermittently on the beach there. A sound recording was taken and, as the week wore on, confirmation came that the bird was indeed an Eastern Yellow Wagtail. Britain's first was on Shetland, way back in 1909 on Fair Isle, but subsequently the islands have only had one more confirmed record – a bird on Out Skerries on 10th-14th October 2011. That's not to say there haven't been others, as further birds have at the very least been suspected to be of an eastern ilk, but proving them is another thing. A good sound recording or DNA analysis is the silver bullet in that regard and, on this occasion, we've got what sounds like a solid case for an Eastern Yellow Wagtail.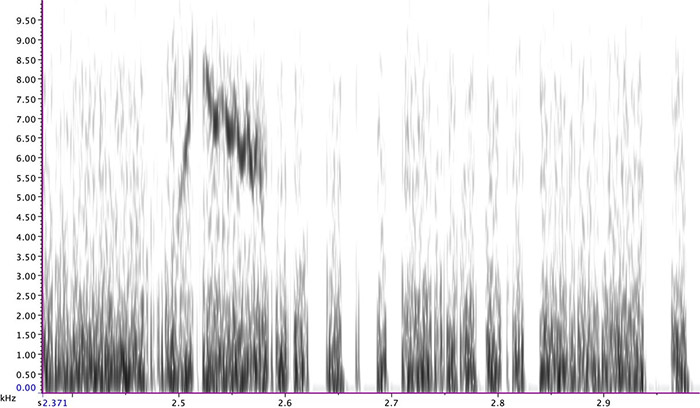 Mourning Dove
News emerged late on 12th of yet another Nearctic species to add to 2018's already burgeoning tally – this time a Mourning Dove 'recently' in Ballyconneely (Co.Galway). That 'recently' was maddeningly vague, not least for any Irish birders entertaining hopes of catching up with this, Ireland's third record of the species.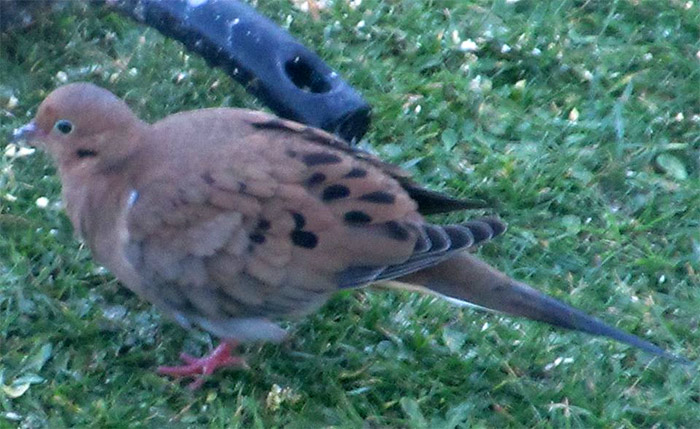 The previous two were in Co.Cork in 2009 and Co.Galway in 2007 respectively – the latter bird spending an accommodating fortnight on Inishbofin. That reatively recent long-stayer alone probably means the pressure is off for most who'd like to see an Irish example of this delicate dove, but all the same – there have been a number of past British and Irish birds that have stuck around for longer than a week, so there must be a fair chance that this latest bird may have some legs in it yet, particularly when news clarified somewhat on 13th that the bird was first seen at Ballyconneely only the previous day; unfortunately, however, that was accompanied by negative news from on site. Maybe it will pop back out of the woodwork yet…
Down in Kent the week began where the prior week had left off, with the adult White-billed Diver still on the waters off Margate on 7th-9th, but not thereafter. A possible bird was seen in Cornwall in Mount's Bay on 9th; while on 10th a bird was seen bombing past Lindisfarne NNR (Northumberland).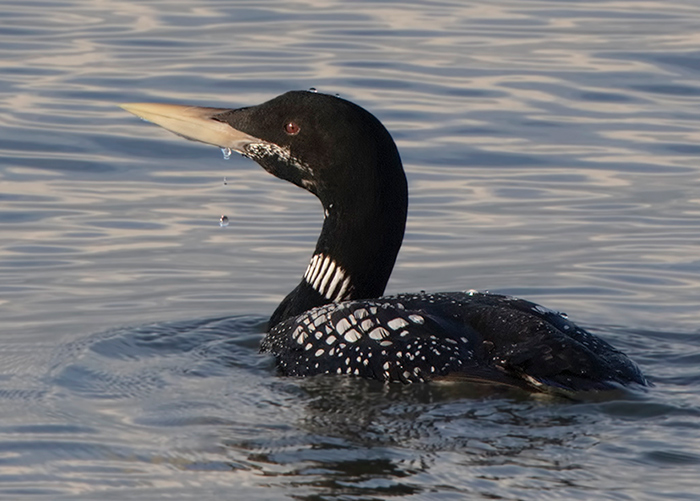 In Cornwall, the regular wintering Pacific Diver was back in Mount's Bay on 12th-13th.
Seawatching generally though wasn't proving productive this week. A Leach's Petrel off Southwold (Suffolk) on 7th and a Long-tailed Skua seen from Hythe (Kent) on 10th were about the sum of the highlights. A shade over 30 Pomarine Skuas were logged nationwide, with Berry Head (Devon) commanding the lion's share of records with 11 birds noted over 7th-10th.
Numbers of Little Auks fell off a cliff this week, with just a handful noted: on 7th a south coast bird was seen from Portland (Dorset); two were off Girdle Ness (Aberdeenshire) on 9th, with a single bird that day at Wheldrake Ings YWT (North Yorkshire); Dunnet Bay (Highland) scored a single bird on 10th and two on 11th; and a final bird was seen from Flamborough (East Yorkshire) on 11th.
Around 300 records of Cattle Egrets filtered in this week, with our now expected bias towards the south west of England where, at Shapwick Heath NNR (Somerset) on 11th we had the week's highest single site count – 84 birds in all. Someday soon we're surely due a tally that breaches the century mark on the Somerset Levels… Further chunky non-Somerset tallies came on 12th from Walmsley Sanctuary (Cornwall) with 43 birds and Abbotsbury (Dorset) with 38 birds. Meanwhile birds were scattered around the rest of Britain and out into Ireland too – it looks like they're set to increase their numbers exponentially year on year now.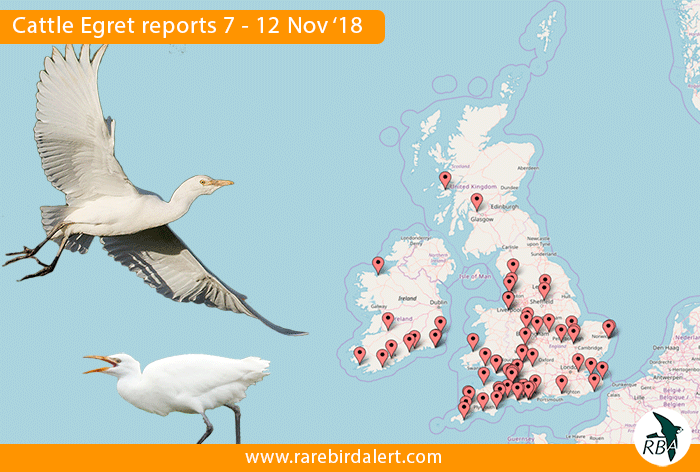 In Devon the Glossy Ibis was seen once more at Fremington Pill on 9th and again on 13th, while in Somerset one was present at Catcott Lows NR on 10th-11th. On 13th Oxfordshire provided sightings in quick succession from Farmoor reservoir and Otmoor RSPB.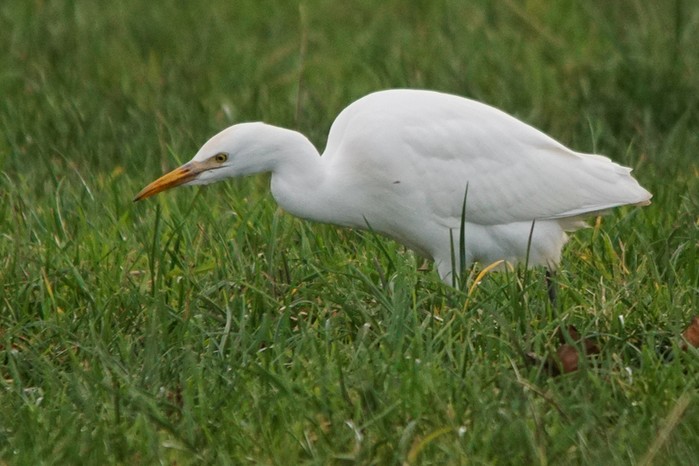 Cambridgeshire once again accounted for the bulk of our Common Cranes sightings away from Norfolk – the highest count this week being some 30 birds at Ouse Washes RSPB on 12th. Elsewhere two birds were again at Hatfield Moors NNR (South Yorkshire) on 7th and again on 11th.
Starting our paddle through the week's honkers and quackers with, as usual, The Goose Formerly Known As Canada, we've plenty of news from Barra (Western Isles) to bring you – here the small Canada-type was still present until 13th and joined, that day, by three probable interior Todd's Canada Geese. Elsewhere in the Western Isles, two more small Canada-types were on North Uist on 13th.
An adult Black Brant was seen in Norfolk at Stiffkey on 7th, whilst in Cumbria another adult was present on Walney on 10th.
The intermediate morph Snow Goose was still being seen in Highland at Munlochy Bay on 7th-8th, and nearby Avoch on 9th-13th. A blue morph bird was at Loch of Skene (Aberdeenshire) on 7th.
The drake Black Scoter was still off Cheswick Sands (Northumberland) this wee k on 7th-12th, while in Lothian the drake American White-winged Scoter was still being seen off Musselburgh on 8th-9th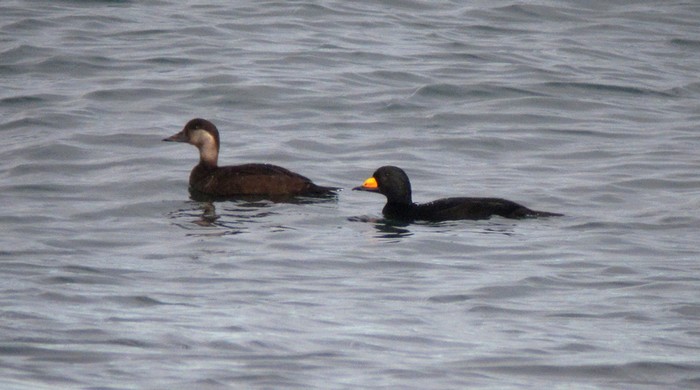 Musselburgh again accounted for a drake Surf Scoter on 9th; two drakes remained off St Andrew's (Fife) on 8th-10th; and two drakes were seen from Harris (Western Isles) on 10th.
The female Lesser Scaup on Anglesey at Llyn Llygeirian remained there on 10th.
Settled Ring-necked Ducks remained in Dorset at Radipole Lake RSPB on 7th-13th; at Loch of Clumlie on Shetland on 7th; at Slapton Ley (Devon) on 7th-13th; in Essex at Abbotts Hall Farm EWT on 7th-8th; and at Woodhall Spa Airfield (Lincolnshire) on 9th-12th. A fresh drake was in Highland at Loch Watten on 11th with two drakes present there on 13th and, on 12th-13th, three were found on Tiree (Argyll & Bute).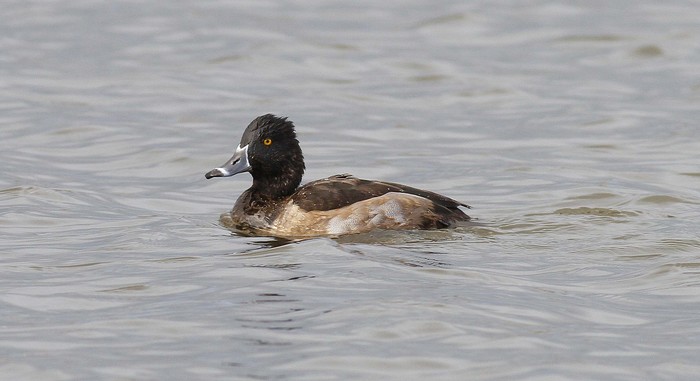 Lingering Green-winged Teals remained on North Uist (Western Isles) on 7th still; on North Ronaldsay (Orkney) on 8th-11th; and in Wick (Highland) again on 11th-12th. Another Orcadian record came from Loch of Skaill on 11th-12th; and a further bird was seen in Ireland at Shannon Airport lagoon on 10th.
We head back to Highland next where the drake American Wigeon was still present at Loch Eye on 7th-12th. Other lingering drakes were still to be seen this week at Hesketh Out Marsh RSPB (Lancashire) on 8th-13th and at Grindon Lough (Northumberland) again on 9th. A probable drake was seen on 13th in Lancashire at Leighton Moss RSPB.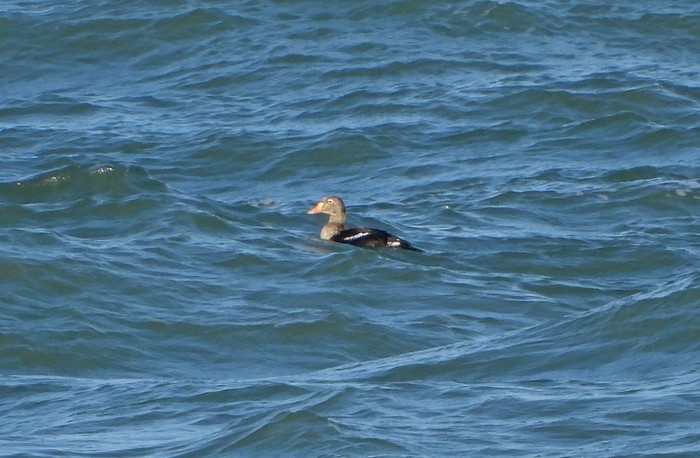 Highland also provides another sighting this week of the resident drake Black Duck still at Strontian on 10th-12th.
Norfolk's second-winter drake King Eider remained off Sheringham from 7th-13th.
Finally, a drake Hooded Merganser, present for around a week beforehand, remained in Suffolk on 13th on the Blyth estuary near Blythburgh church, during which day it was seen to be sporting a nice yellow ring. Sure enough, another escape. And there I was thinking we were all currently trying to give up disposable plastic...
<!—Section Title -->
Ireland continued to provide the main attractions on the shorebird front this week in the form of a juvenile Baird's Sandpiper at Tacumshin (Co.Wexford) on 10th-11th and the lingering trio of juvenile White-rumped Sandpipers still at Myroe (Co.Derry) on 11th.
Ireland also delivered a fresh juvenile Spotted Sandpiper at Easkey (Co.Sligo) on 10th-11th; while in England the juvenile remained settled at Jarrow (Co.Durham) on 9th-13th.
Lincolnshire's resident adult Long-billed Dowitcher was still to be found at Frampton Marsh RSPB until 12th.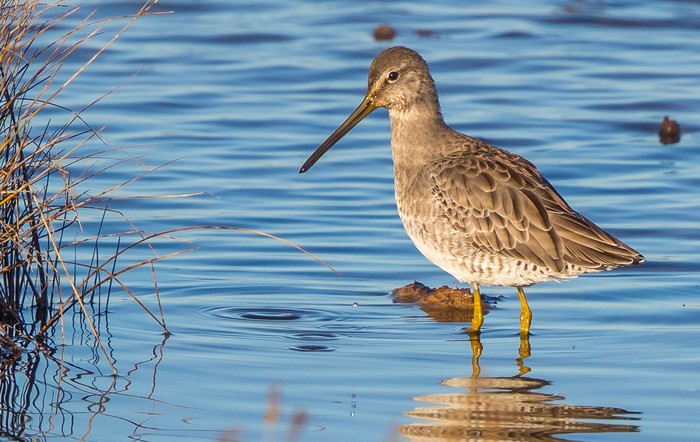 Ireland also contributed a new juvenile Lesser Yellowlegs this week, present at Clonakilty (Co.Cork) on 11th; while in Britain the recent juveniles remained in Dorset at Lodmoor RSPB until 13th and on Skye (Highland) until 13th.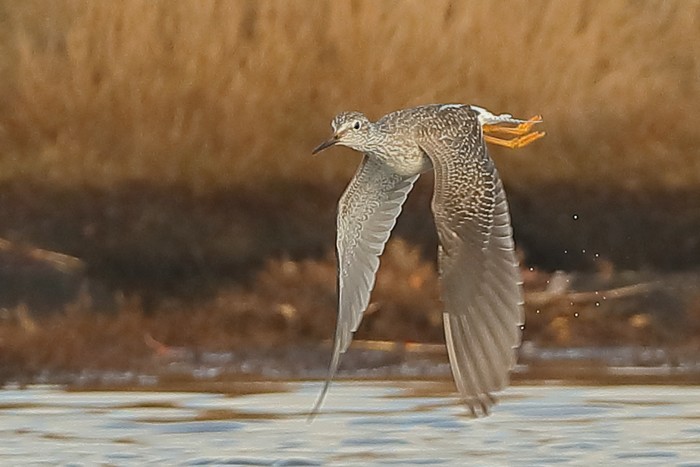 A late Dotterel was reported from Pegwell Bay (Kent) on 11th; a confirmed bird was on Tiree (Argyll & Bute) on 12th.
And finally, we've a smattering of Grey Phalaropes - single birds off Dovercourt (Essex) on 7th; Cape Clear (Co.Cork) on 9th; and Easkey (Co.Sligo) on 11th. On 13th a final bird was found at Newport Wetlands NNR (Gwent).
We'll kick off the gulls with that other pelagic wanderer – a single record this week of Sabine's Gull seen off Ballycotton (Co.Cork) on 9th.
This was not, however, the star of the gull show this week. That was, of course, the second-winter Franklin's Gull found at Radipole RSPB (Dorset) in the morning of 12th and seen later that afternoon roosting in Weymouth Bay; and again at both locales on 13th. The county's last record was a decade ago in January 2008, so this latest bird will have been a welcome sight for the county listers.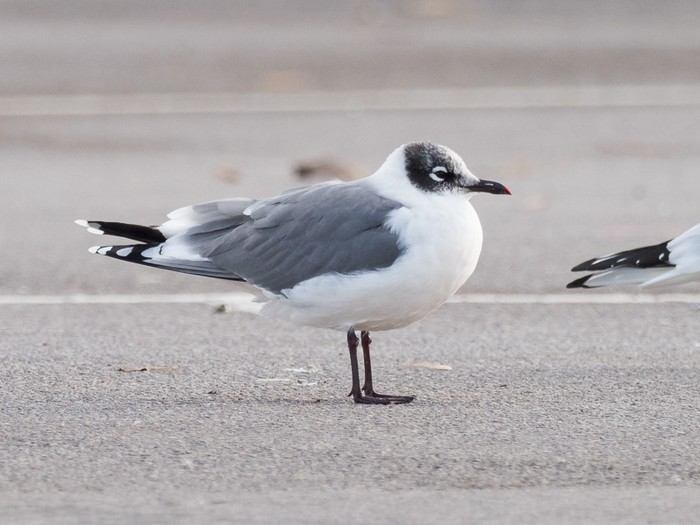 Moving onto white-wingers, a Kumlien's Gulls was again seen on North Ronaldsay (Orkney) on 9th while, the probable bird still present on Skye (Highland) this week was latterly determined to be a hybrid Glaucous x Herring Gull.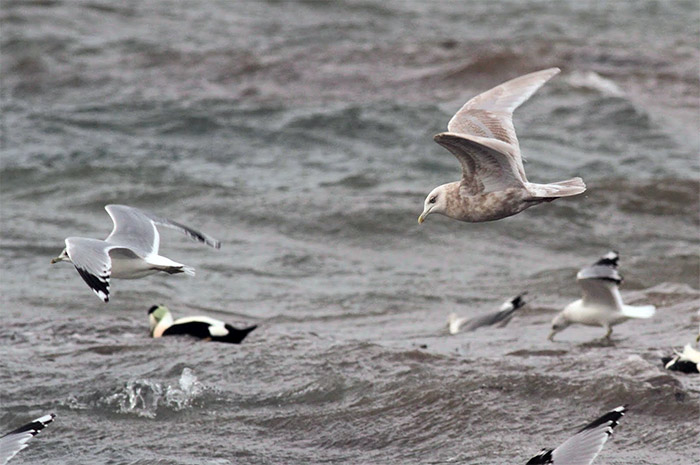 Numbers of Iceland Gulls remained fairly static, with half a dozen birds reported this week: in Shetland at Boddam on 7th-9th, Hoswick on 9th, and on Unst on 10th; and on 11th at Bridport (Dorset), Audenshaw reservoirs (Greater Manchester), and on Rum (Highland). The Mancunian bird was seen at Audenshaw and nearby Gorton reservoirs on 12th. Some 15 Glaucous Gulls were seen nationwide – for now the door seems firmly closed on new arrivals from the north.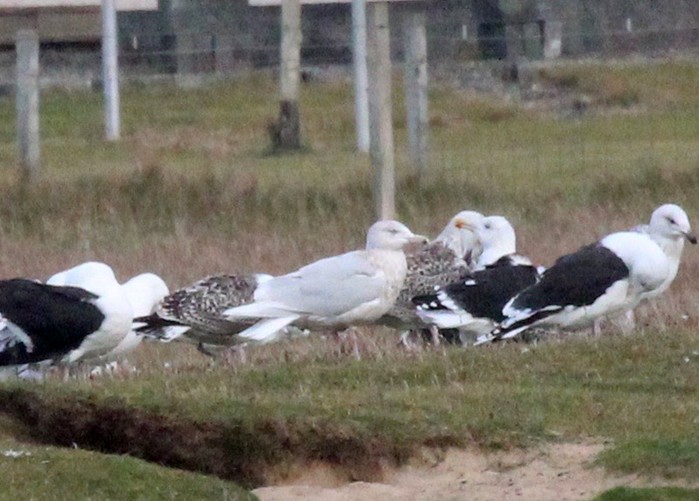 From the west, however, we have a Ring-billed Gull on Tiree (Argyll & Bute) on 11th; and a probable bird seen at Blashford Lakes HWT in Hampshire on 13th perhaps marking the return of the regular wintering bird.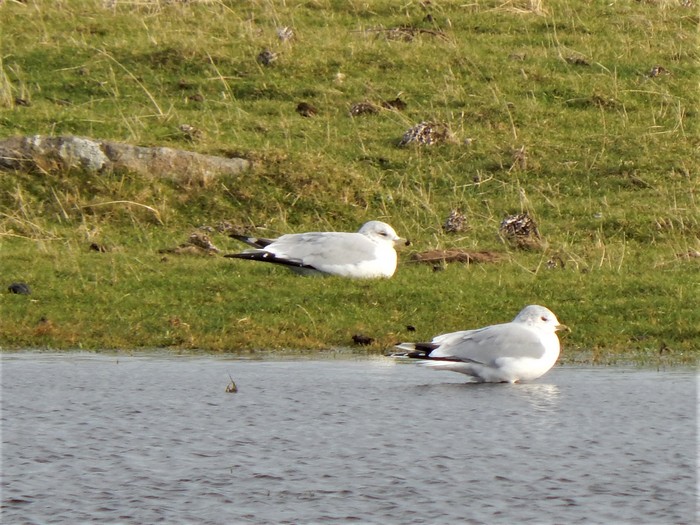 Ireland, finally, provides fresh sightings of the regular adult Forster's Tern, this time in Kinvarra Bay (Co.Galway) on 10th-11th.
Almost 40 reports of Rough-legged Buzzards filtered in throughout the course of the past week, with Norfolk once again proving a locus for sightings, with records coming from no fewer than eleven sites in the county. Otherwise, confirmed or possible birds were distributed from Shetland in the very far north right down the east side of the country as far south as Kent.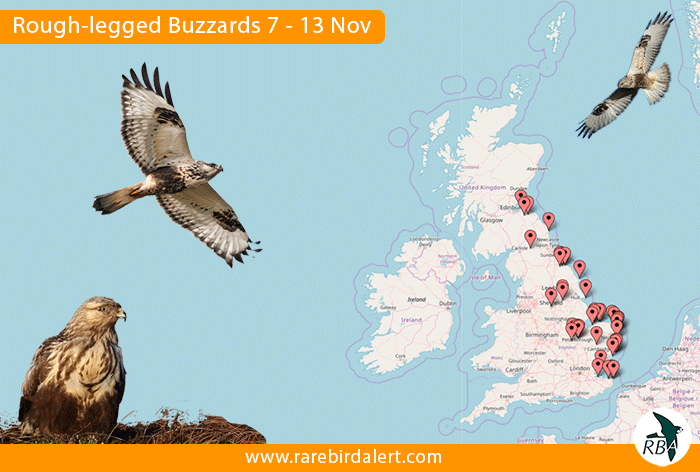 The week began with the juvenile White-tailed Eagle still on the cusp of Cleveland and North Yorkshire at Kildale on 7th-8th; who knows whether this bird also accounts for the juvenile seen further north still in the Faseny Valley (Lothian) on 10th-11th, but the juvenile was again or still present at Kildale on 12th-13th.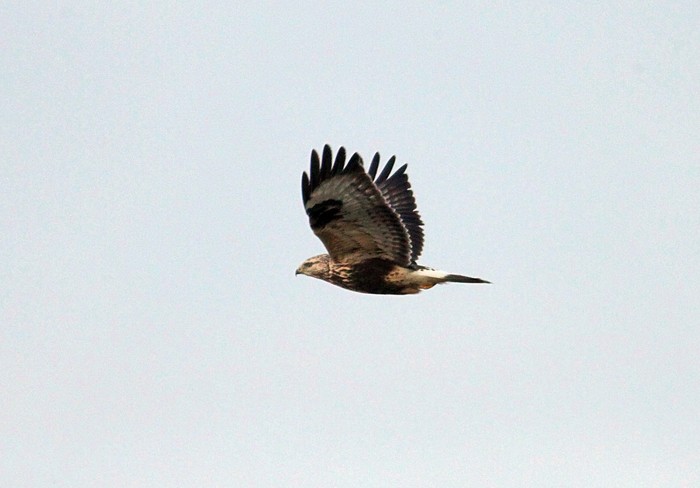 With the high emotion of the previous week's Tengmalm's Owl in Orkney abating, this week's Orkney owl action was restricted to the make Snowy Owl seen again at Eday on 7th. A fresh pellet and droppings found in Shetland's North Roe on 12th suggest that the bird found on 4th by Shetland bird-finder general Brydon Thomason may still be in the area, unseen for now.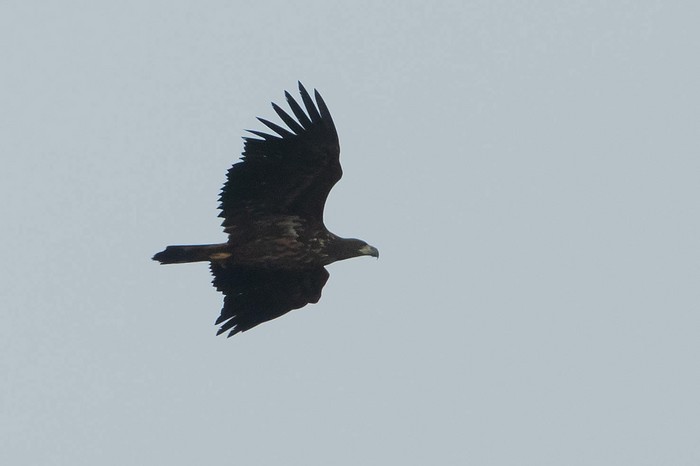 Leading the way into an increasingly sparse passerine section this week is the first-winter male Pied Wheatear at Meols (Cheshire) still on 7th-9th – a confiding bird that proved justly popular with local birders in the northwest. Much less attention, unsurprisingly, was being paid to the first-winter female bird still present on Foula (Shetland) on 8th. News filtered out of a third bird in Cornwall at Trevose Head on 11th, though the bird itself wasn't reported again until the morning of 13th – one to kick off the new week with.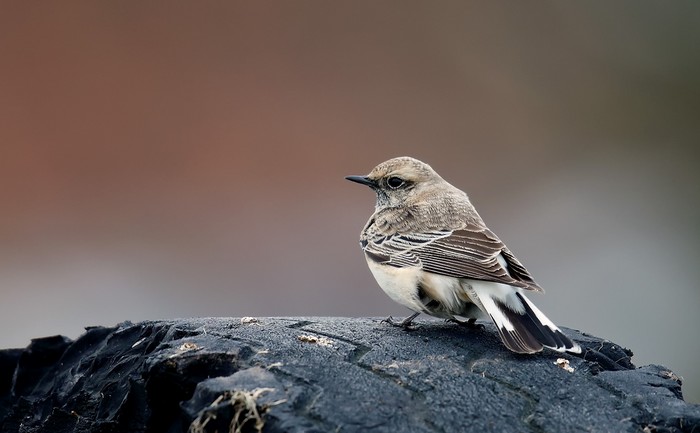 Norfolk, meanwhile, continued to play host to the probable Stejneger's Stonechat at Salthouse until 8th.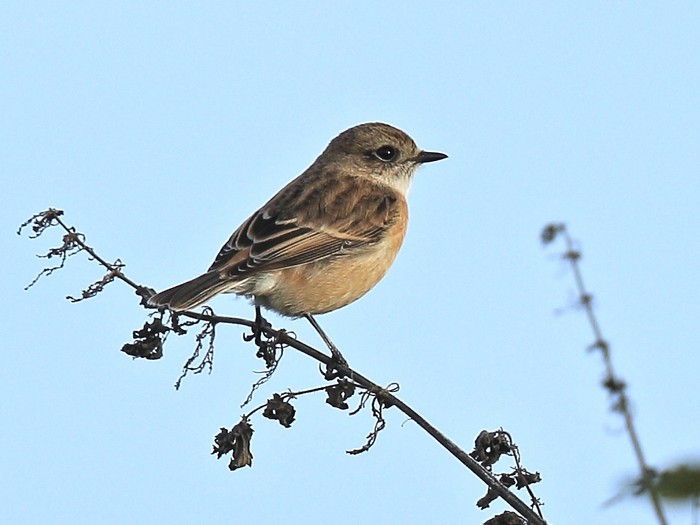 Numbers of Richard's Pipits again halved again this week, with only a handful seen and heard – one at Felixstowe Ferry (Suffolk) on 9th; another on 10th on Thorney Island (West Sussex); and on 11th, birds at Hunmanby Gap (East Yorkshire), Wall Common (Somerset), and Tacumshin (Co.Wexford).
A probable Tawny Pipit was briefly on Skokholm (Pembrokeshire) on 7th.
Blyth's Reed Warbler may have enjoyed a meteoric transition as a British bird from rare and challenging identification challenge alike to practically a staple of every autumn, no longer deemed rare enough for consideration by the BBRC, but in an Irish context it's still a different proposition entirely – to the end of 2014 there are just 10 accepted records. Caution is understandable then when encountering a promising Acro in Ireland – but this week's bird at Knockadoon (Co.Cork) on 7th-8th proved to be a classic, and a welcome bird that far west.
Numbers of Yellow-browed Warblers continued their steady decline this week, halving again to some 30 birds nationwide this week. In Dorset the Hume's Warbler remained at Durlston CP on 7th-9th; a further bird was found this week at Flamborough (East Yorkshire) on 9th, with an additional possible bird at St Abb's Head (Borders) on 10th.
Six Pallas's Warblers were seen this week at sites across the south coast: one was at Worthing (West Sussex) on 10th-13th; Portland (Dorset) enjoyed a bird on 10th-11th, with another in the county at Durlston CP on 10th-11th also; a bird was found at St Catherine's Point (Isle of Wight) on 11th-13th, with another at Culver Down on 12th-13th also; and on 12th-13th one was present in Cornwall at Porthgwarra.
With sightings coming daily from St Mary's until 11th, we could be sure that at least one of the recent Dusky Warblers was still enjoying the subtropical climate and easy living of Scilly; two birds were confirmed as being present on there on 12th, and at least one remained on 13th. Another individual was discovered on 8th in Shetland at Nesting; and a final bird was found on 13th at Kenidjack (Cornwall).
Just two Barred Warblers were seen this week – one in Norfolk at Warham Greens on 10th, and a late Shetland bird on Whalsay on 11th.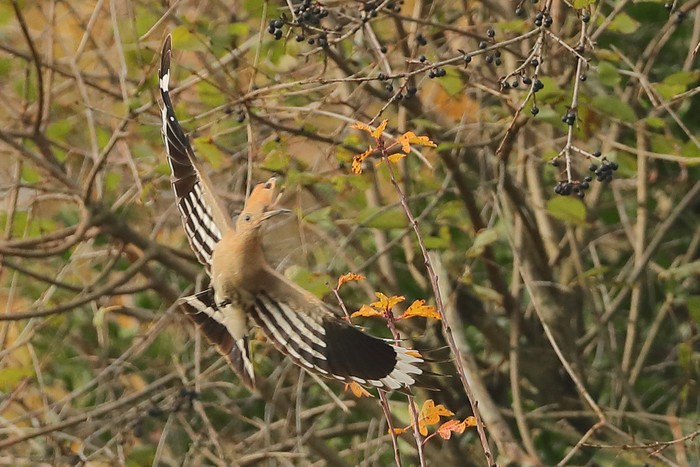 Four wild Hoopoes were seen this week – the Calne (Wiltshire) individual remained there until 12th; one was present in Co.Durham at Murton on 8th-12th; a bird was found at Aveley (Essex) on 11th; and on 12th-13th a final individual was at Montrose Basin (Angus). An escaped, colour-ringed bird was present in Kent in Margate on 10th-13th.
Numbers of Waxwings dropped somewhat this week. Around 750 birds were noted nationally, with Aberdeenshire and Moray proving their heartlands – flocks of around 100 birds were noted in Aberdeenshire on 7th in Aberdeen and on 9th at Banchory; and, in Moray, a flock of around 100 birds were also seen in Forres on 11th followed by our biggest flock yet, some 200 birds on 13th in Elgin.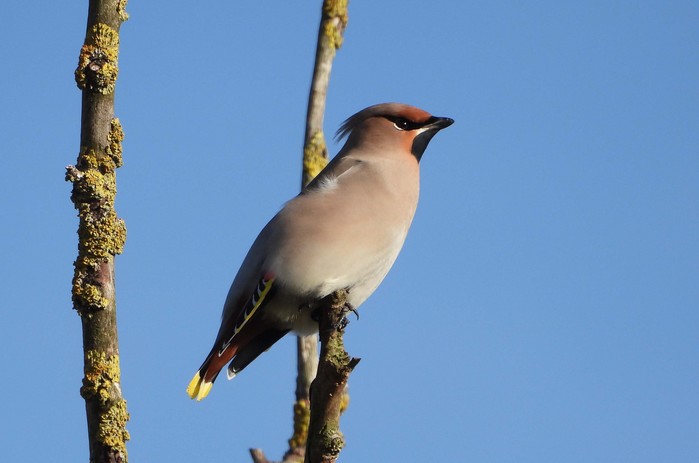 Another Penduline Tit was found this week, on this occasion in London at Cross Ness LNR on 10th. Cross Ness was enjoying an excellent week, as it also hosted a late Red-backed Shrike on 8th-12th; a tremendous find this late in the season, and a fabulous local patch tick for the lucky finder.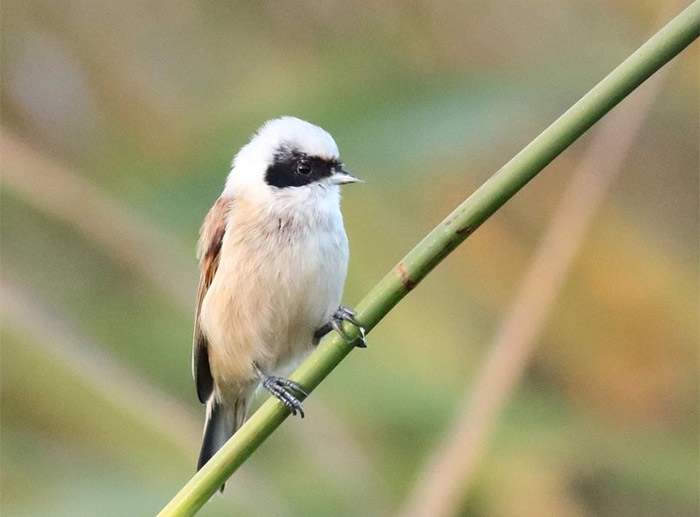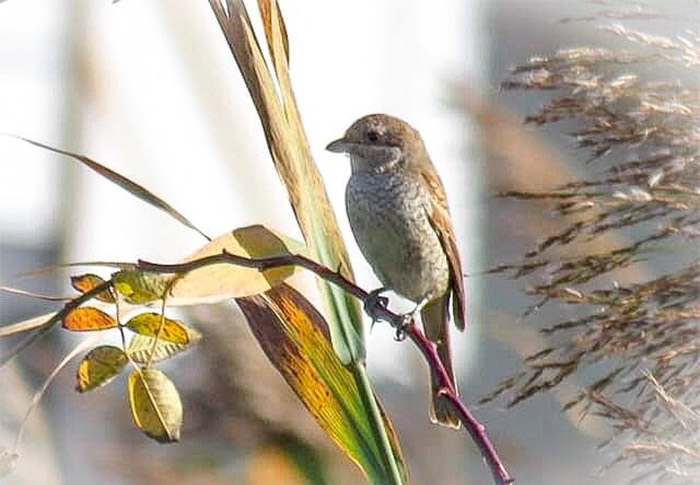 Great Grey Shrike sightings filtered in daily: on 7th still in Pembrokeshire at Plumstone Mountain; on 8th-13th still in Ashdown Forest (East Sussex); on 8th in Norfolk at Santon Warren; on 8th-13th in Cannock Chase (Staffordshire); on 9th and 10th in South Yorkshire at, respectively, Hatfield Moors and Thorne Moors; on 10th-13th in Angus at Montreathmont Forest; and on 11th at Burton Marsh (Cheshire) and Grantown-on-Spey (Highland).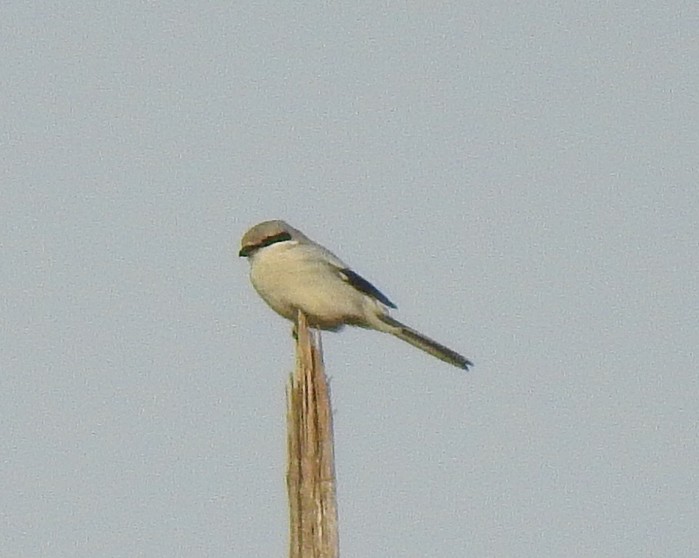 The Pied Crow remained in East Yorkshire at Flamborough until 12th at least. What would have been the biggest news of the week had it only been confirmed once and for all was another sighting, in flight, of the recent probable Nutcracker in Norfolk at Cromer on 13th.
Rose-coloured Starlings remained at Llandudno (Conwy) on 9th and Penysarn (Anglesey) on 9th also; a further adult Welsh bird was seen this week at Machynys (Carmarthenshire) on 10th. Fresh juvenile birds were found on 9th-12th at Kesgrave (Suffolk) and on 10th-13th at Annan (Dumfries & Galloway). Belated news of one present on the Isle of Man in a Douglas garden for about a week emerged on 12th also.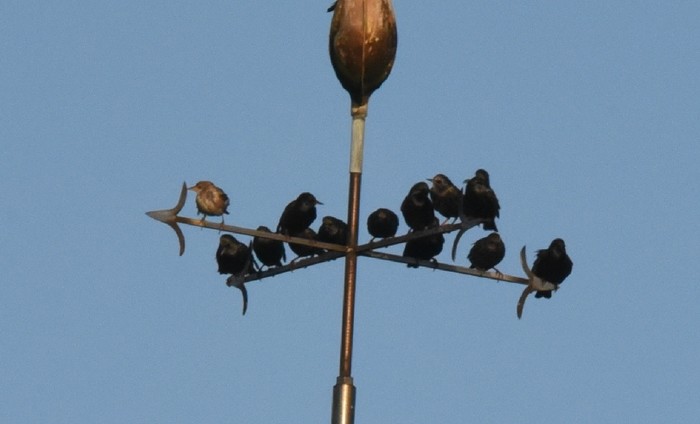 Two Common Rosefinches were seen in Shetland on 8th – one apiece for Foula and Unst.
A probably exilipes Arctic Redpoll was still present in South Yorkshire at Orgreave on 9th-11th.
The small flock of Parrot Crossbills in Norfolk at St.Faith's Common found late in the prior week remained there until 10th at least, with varying numbers noted daily but peaking at eight birds on 9th.
Last but not least, the Little Buntings was still present on The Lizard (Cornwall) on 10th-12th.
News from the Azores virtually dried up this week, with just a pair of drake Wood Duck still on Sao Miguel on 7th and the Tricolored Heron again on there on 12th of note.
Otherwise, the Western Palearctic's interesting news was generally closer to home than of late.
Spain's drake Bufflehead was still in Galicia at Lagoa de San Pedro de Muro on 11th; the Sociable Plover remained at La Janda in Andalucia on 12th, with two birds present there the following day.
In France the Eastern Imperial Eagle remained at Saint-Gilles on 7th-12th while in Belgium the Pygmy Cormorant remained at Parc Domaine du Val Duchesse on 8th-12th.
Holland continued its recent monopoly on Black-shouldered Kite, with a bird present at Hippolytushoef on 10th-12th.
Norway's Brown Shrike remained at Mulvika on 12th; but Scandinavia's biggest news was coming from Sweden this week in the form of their first Naumann's Thrush on 13th at Patamalm. Oh for another British bird! Better yet, imagine the carnage when (not if…) we score our first Pied Bushchat - Sweden's first was photographed on 8th at Ulricehamn.
And finally Poland scored a drake Stejneger's Scoter in Gdansk Bay on 10th.
It's a funny old week, the second week of November. Look at the past records and there are a couple of eye-popping rarities that leap out at you. A couple of gobsmacking Americans, in the form of the Brown Thrasher found in Dorset on 18th November 1966, and the Varied Thrush discovered in Cornwall on 14th November 1982; and one European bird that's at least as keenly anticipated, being the Wallcreeper found on 19th November 1969 in Dorset at Worth Matravers.
(The late 1960s were clearly a terrific time to be living on the Purbeck peninsula…)
I know we can never say never, but I think we all suspect that the thrasher may never happen again. Varied Thrush? Somehow feels unlikely too. Frankly, with the last British record dating back to 1985, Wallcreeper is also beginning to look like a longshot, though it really shouldn't – wandering birds continue to be found, from time to time, in other parts of northern Europe away from their montane breeding habitat.
So what's more likely this coming week? Amongst the clouds of Pallid Swifts, I still say a Desert Wheatear is practically a formality and, for a longer shot, we've 10 historic records of Little Bustard to provide some slim cause for optimism. And the wind is forecast to swing into the east midweek. Maybe a late Sibe isn't too much to ask for after all.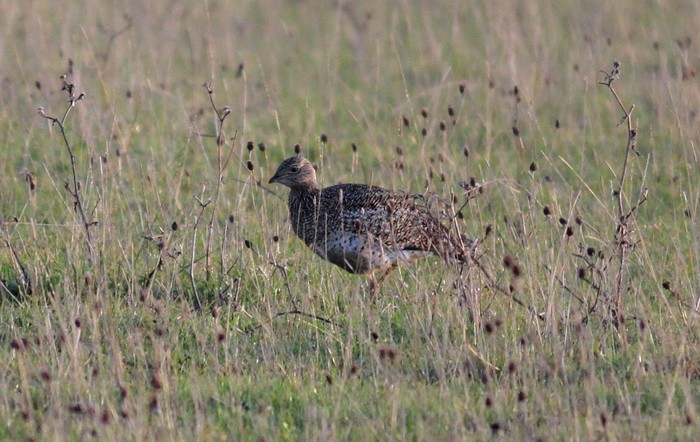 Jon Dunn
14 November 2018
Share this story
Tweet