Weekly birding round-up: 19 - 25 Sept 2018
The week at a glance
Shetland pulls a Yellow-breasted Bunting out of the bag
Lancashire scores with a Barolo Shearwater
Norfolk claims a Wilson's Petrel while Cornwall pulls in a probable Madeiran
And the first Red-eyed Vireo of the year makes landfall in Cornwall
The week began with the advent of Storm Ali, not so much floating like a butterfly and stinging like a bee as going the full Tyson Fury – delivering a flurry of blows amidst plenty of hot air.
Sea-watchers heading to the coast would surely be richly rewarded, and the hatches were surely tightly battened down – we'd not be getting any eastern passerines on the back of this, would we?
Shrewd weather watchers in Shetland suspected otherwise as the weekend dawned – while the accepted orthodoxy is that a high over Scandinavia will bring easterlies, a really good low can, with a smidgen of luck, do the trick too – the charts were showing winds coming straight out of the east, looping anticlockwise at sea over Norway, and dropping down to Shetland. Game, maybe, on…
Yellow-breasted Bunting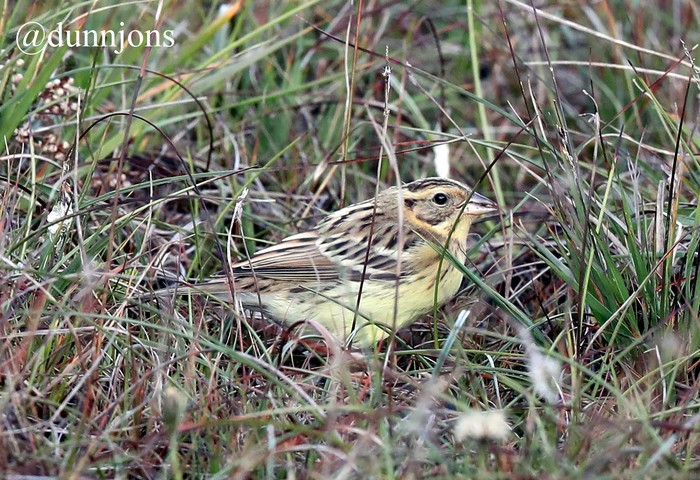 In a day and age when we're beset with generally bad-news stories from all around the world, in particular environmental ones, it's tragically easy to become inured to the litany of loss. It seems like hardly a day goes by without a reminder that another iconic species, usually a charismatic mammal, is in trouble.
That sounds like the classic writer's device where I'm going to announce something that bucks the trend… but no, this isn't that story. The demise of Yellow-breasted Bunting is nothing short of tragic – since the turn of the century their numbers have fallen off a cliff, a global population that's in meltdown – a decline driven primarily by hunting in China, where the species is considered a delicacy, but also by changing agricultural practice diminishing the quality and area of their wintering grounds, and the loss of reed-beds reducing their preferred roost sites.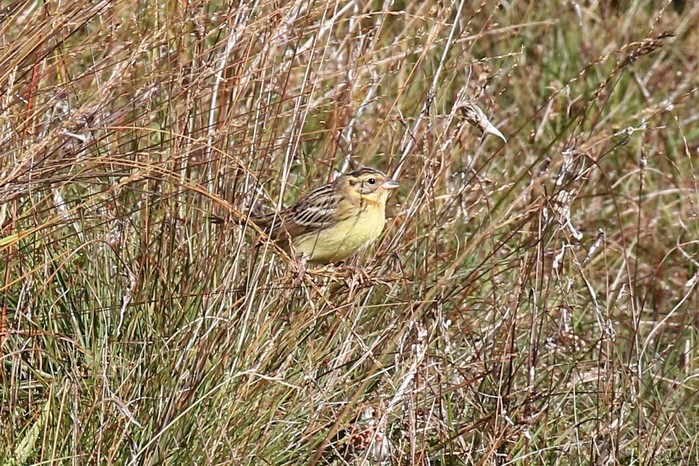 In 2000, Birdlife considered Yellow-breasted Bunting of Least Concern; and by 2017, it was red-listed as Critically Endangered. The rate of decline of the global population is catastrophic, and appears to be accelerating. That terrible trend is mirrored in terms of how many are being seen here in Britain – once a staple of every autumn, and in no month more so than September, since 2000 they've become genuinely rare in these parts. Indeed, since 2000 we've even had entirely blank years – five, in fact – a previously unheard of situation.
And if, back in the day, you wanted to see a Yellow-breasted Bunting, you'd have been well-advised to head to Shetland – no fewer than 150 of our 237 accepted British records to the end of 2016 hail from there. In the past decade, however, it's all gone horribly wrong… one on Foula on 25th-27th September 2011 was the first since 2008 and after that… nothing, until last year when one was found on Out Skerries. It's a mark of how rare they'd become that folk even twitched that latter bird from the British mainland.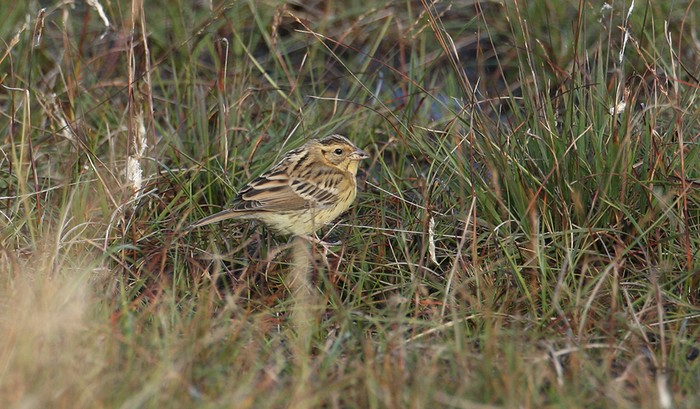 So there's a pervading sense now that each Yellow-breasted Bunting might just, god forbid, be one's last. The discovery this week of one on Whalsay at Vatshoull on 22nd-23rd was always going to prove popular – and particular credit must go to Whalsay's bird-finder supreme, John Lowrie Irvine, for not only turning up this latest individual, but doing so from a moving car. Top drawer skills, right there.
One final, curious, aside – if we include the bird present on Whalsay at Brough on 13th-14th September 2008, half of the last four Yellow-breasted Buntings to be seen in Britain have been on Whalsay. There's apparently something about it they seem to like…
Barolo Shearwater
Another week, another Barolo Shearwater… and if that sounds blasé, it's really not meant to be – it's just not that often that we get consecutive weekly sightings of a rare seabird of the calibre of this.
So, this week, hot on the heels of the bird seen the previous week passing Ardvule Point on South Uist on 16th, we've a bird seen in Lancashire in the morning of 20th, first from Heysham and then, a little while later, off Rossall Point. If the Western Isles had had to wait a while (almost 30 years) for their most recent sighting of this charismatic shearwater, Lancashire had barely had a shorter interlude – if accepted, this third record for the county comes 26 years after their last, seen from Seaforth on 5th September 1992.
Wilson's & Madeiran Petrels
Normally we'd not be seeing a single Wilson's Petrel elevated to the headlines – they are, after all, practically two a penny in the south-west approaches in late summer and early autumn. What they're not, however, is often seen in the North Sea, let alone tucked in within sight of land on the north Norfolk coast.
Indeed, there's no accepted records to date for the county, with just a probable bird seen off Cley in the morning of 23rd July 2010 showing up in a search of previous reports. That means that the bird seen this week from Cley in the morning of 23rd is a big deal and, potentially, a county first if accepted.
Another Wilson's was reported from the more anticipated Cornish waters off St Ives on 21st, but it was a petrel of a different hue altogether in Cornwall this week that really caught the eye – a probable Madeiran Petrel seen off Porthgwarra in the early afternoon of 20th.
Eleven years have elapsed since our first accepted British Madeiran Petrels, individuals seen at sea off Scilly on 28th July 2007 and from Pendeen later that autumn on 16th September, and with just one further probable bird in British waters (last year, on 22nd July off Devon's Prawle Point), we hardly need reminding that this is both a top drawer rarity and one that will need to clear a high bar before it's accepted onto the record books.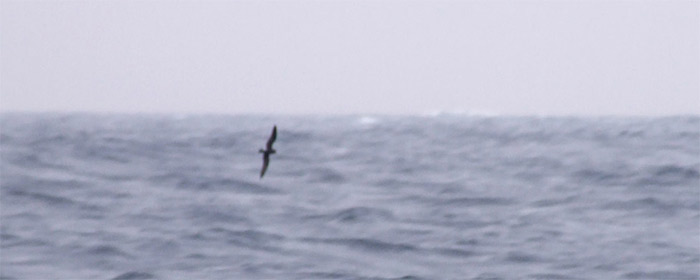 Red-eyed Vireo
Far from the rarest of American passerines and, indeed, more or less annual since 1980, this is the only time I'd consider featuring a Red-eyed Vireo up here in the giddy heights of the headlines – but this is a week when the wind came a-whisking off the Atlantic and this is the first vireo of 2018, so here it is…
And let's face it, who wouldn't absolutely love to find one of these funky birds? They simply ooze character and chutzpah.
Not entirely surprising, however, that the one discovered this week on 20th in Cornwall was at the absolute rarity magnet that's Nanjizal. This site has both pedigree and a burgeoning reputation for turning up the goods from all points of the compass, not least the USA. Who, after all, can forget Britain's first Alder Flycatcher, present there 10 years ago on 8th-9th October 2008?
At the risk of sounding churlish, though, while we're in the mood for reminiscing, who can forget another Cornish vireo of a different hue altogether – a vireo whose anniversary fell this past week too. That would, of course, be the absolutely stunning Yellow-throated Vireo at Kenidjack on 20th-27th September 1990. While nobody would sniff at finding a Red-eyed Vireo, imagine the reaction on all fronts if we got another Yellow-throated. Pure carnage.
While we tend to think of this time of year being all about autumn migration and passerines, it's hard to argue with any week that delivered sea-watching of the calibre of the past week – and to get the full picture of that, you need to read on into the Gulls 'n' Terns and Shorebirds…
We've already historically name-checked Pendeen in the headlines, and this Cornish vantage point features in this week's news too – with a Fea's-type Petrel seen from there on 21st.
The really big news, however, this week has to be Great Shearwaters, with the strong winds bringing them within sight of birders in vast numbers – some 6,500 in all were recorded this week, with some 500 noted from the Scillonian on 19th utterly eclipsed on 20th when 2,506 were tallied from Porthgwarra (Cornwall) and a further 2,400 were seen from St Agnes (Scilly).
Cory's Shearwaters, meanwhile, were altogether more shy and retiring – two were off St Agnes on 20th; one was noted from Pendeen on 21st; the Scillonian supplied two more on 22nd; and one seen heading south past Girdle Ness (Aberdeenshire) on 25th was an excellent record that far north.
Numbers of Balearic Shearwaters, however, were more substantial though nowhere near as numerous as their Great brethren. Around 1,400 birds in all were seen during the course of the week, with a peak count of 350 seen from The Lizard (Cornwall) on 19th.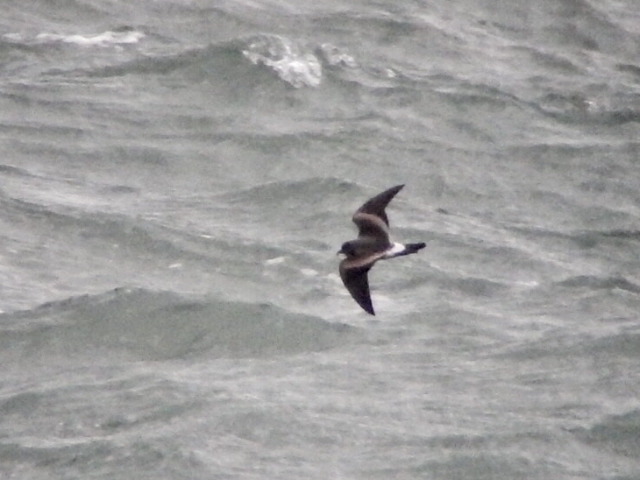 Displaced Leach's Petrels featured largely in the news this week and, with them, Grey Phalaropes too, more of which in due course – but of the Leach's, some 330 birds in all were tallied this week, with a good few blown into sight of land in Lancashire, up the Bristol Channel, and east up the English Channel and into the North Sea; on 23rd small numbers were being seen along the north Norfolk coast.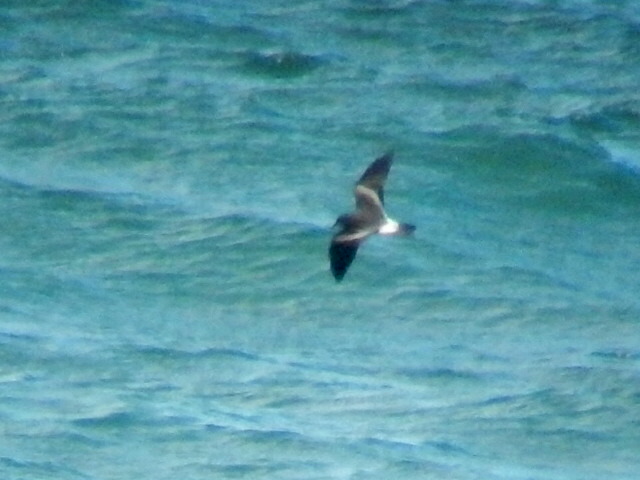 The conditions were also favourable for anyone wanting to see the scarcer skuas, with some 200 Pomarine Skua and 70 Long-tailed Skua noted nationally. While many of these sightings related to single or small parties of birds, some chunky single site daily tallies came in – most notable being 36 Pomarine Skua logged from Bridges of Ross (Co.Clare) on 19th, and 14 Long-tailed Skua seen from Kilcummin Head (Co.Mayo) on 21st.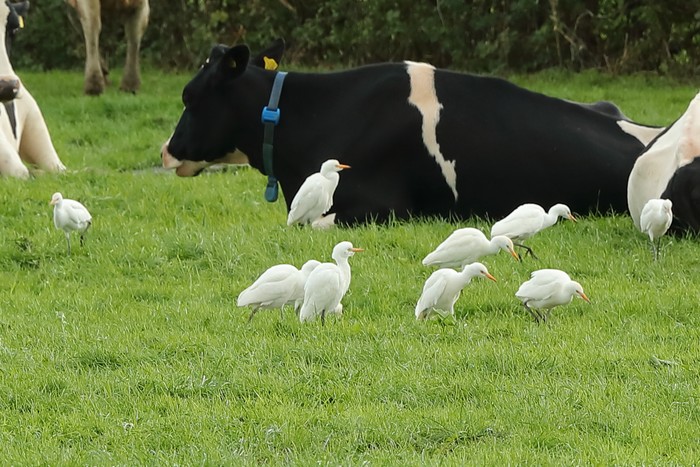 Speaking of chunky numbers, Cattle Egrets continued to go from strength to strength this week. Once more, pinning down a hard and fast overall national tally remains as easy as knitting fog – birds ebbed and flowed as the days wore by. A weekly tally of some 190 birds, therefore, may involve some duplicates but, whichever way we paint it, there were an awful lot of Cattle Egrets in Britain again this week. Our peak counts came once more from Somerset where, on 23rd, Catcott Lows NR hosted 30 birds and Chew Valley Lake a further 29 individuals.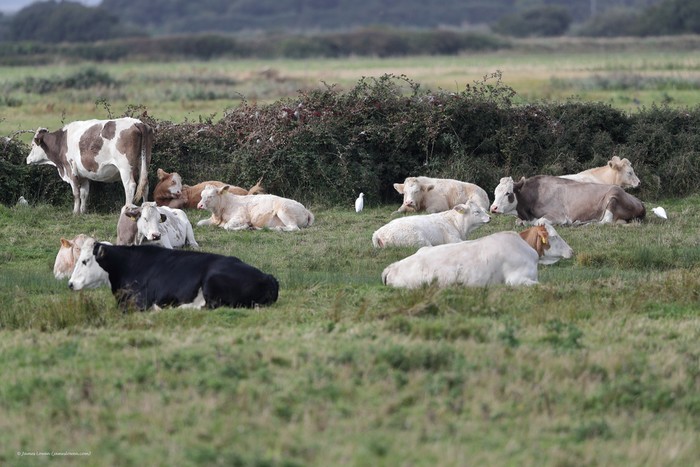 Glossy Ibises continued to put on a good showing this week. Sightings came from Essex at Bowers Marsh RSPB on 19th-21st and over Wat Tyler CP on 23rd, while one was seen in Suffolk at Aldeburgh Marshes on 22nd-24th. One remained in Devon at Fremington Pill on 21st and again on 24th-25th, while on 20th a bird was seen at Rutland Water (Leicestershire). On 24th one was seen in Pembrokeshire over Sandy Haven. In Ireland, sightings came from Co.Louth where a bird was seen on 20th at Rockmarshell and on 22nd-25th near Dundalk.
The usual perplexing scatter of White Storks appeared once more this week – single birds were seen in Surrey on 20th at Milford and on 23rd at Lingfield; one remained in Cambridgeshire at Dog-in-a-doublet on 22nd; and on 23rd birds were noted in Kent at Sandwich and in East Yorkshire at Watton. On 25th one popped out of the woodwork in Kent once more, being seen in the morning at Chillenden; and another was seen in Hampshire that day at Petersfield.
Away from their Norfolk stronghold, Common Cranes continued to be seen as far north as Aberdeenshire where a party of five birds were still on the Ythan estuary on 21st-22nd, and in the far southwest where the individual remained at Helston Loe Pool (Cornwall) on 19th-23rd. Elsewhere, in South Yorkshire two birds at Thorne Moors NNR on 19th had risen to four there on 21st; in Lincolnshire a duo were noted at Gibraltar Point NNR and Frampton Marsh RSPB on 22nd; and two passed over Minsmere RSPB (Suffolk) on 23rd. On 24th five were seen over Saltholme (Cleveland) and two were noted over Studland (Dorset), while a flock of 26 were present in Cambridgeshire at Ouse Washes RSPB. Five birds appeared on the morning of 25th circling over Daventry reservoir (Northamptonshire); and five were noted later that day over Knapp Hill and Andover (Wiltshire) and Pennington Marshes (Hampshire); two more were seen that day on private land in Poole Harbour (Dorset).
Spotted Crakes were still to be found this week in Buckinghamshire at Willen Lake on 20th-24th, Old Moor RSPB (South Yorkshire) on 20th-25th, and again at Grove Ferry NNR (Kent) on 22nd-23rd. Further sightings came from Wilstone reservoir (Hertfordshire) on 19th-23rd; Lodmoor RSPB (Dorset) on 20th-25th; Conwy RSPB (Conwy) on 22nd; Nanjizal (Cornwall) on 24th; and Gibraltar Point NNR (Lincolnshire) on 25th; with a further possible bird reported from Ladywalk NR (Warwickshire) on 20th.
A Corncrake was seen on 21st at Boultham Mere (Lincolnshire), with another flushed on 23rd at Therfield (Hertfordshire).
Just the merest wintery hint this week on the goose-front, with the first Black Brant in ages seen on 23rd at Strangford Lough (Co.Down), though, for the most part, the waters of the RBA rarity duckpond remained unruffled for another week.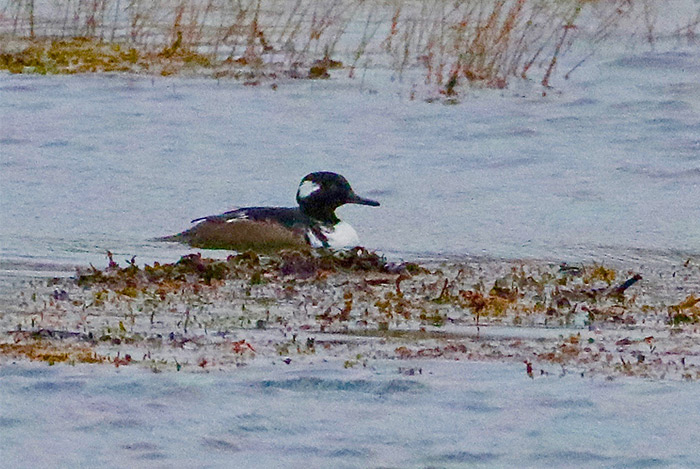 The obvious exception to this, of course, was the drake Hooded Merganser found on 25th in Co.Galway in Streamstown Bay – and, while I'm far from the biggest fan of ducks commonly kept as ornamentals in Britain, Ireland and the rest of western Europe, I'm prepared to concede that a Hoodie turning up on the coat-tails of some strong winds off the Atlantic at this time of year has more of a feel-good factor about it than, say, one in Kent a few miles from a duckpond that sports some captive examples of its kind.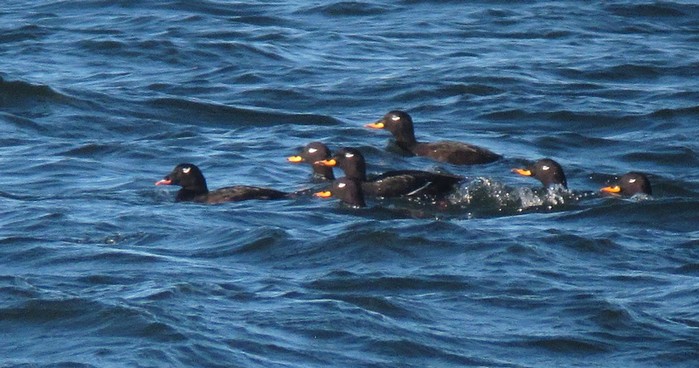 In Lothian, meanwhile, the drake American White-winged Scoter was still hanging in there off Musselburgh Lagoons until 25th. The drake Surf Scoter remained off Taransay (Western Isles) still on 20th, with two birds seen there on 21st.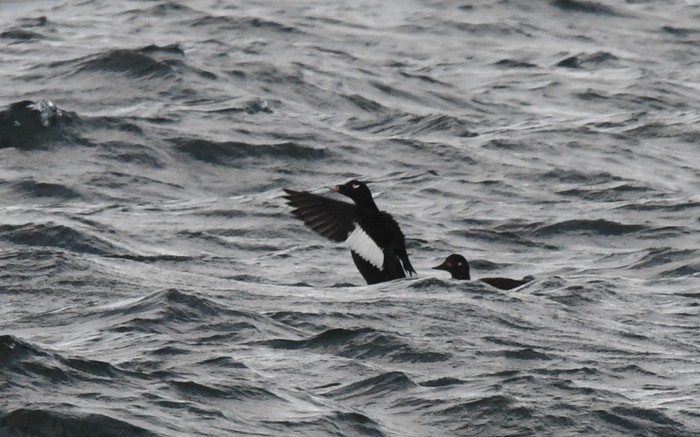 The drake Ferruginous Duck was seen again on Abberton reservoir (Essex) on 22nd, with the drake Ring-necked Duck also there still on 19th-22nd. Other drake Ring-necked Ducks were present this week at Gartmorn Dam CP (Forth) on 19th-21st and on Lough Shivnagh (Co.Donegal) on 21st; and the week ended with a juvenile Ferruginous Duck at Minsmere RSPB (Suffolk) on 25th.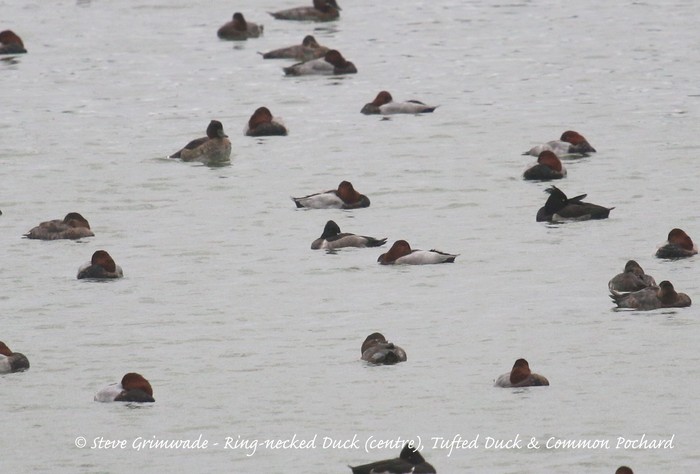 A possible drake Lesser Scaup was seen on 20th near Dunbarton (Clyde), while in Lothian a probale drake American Wigeon was seen on 22nd at Dunbar Quarry.
The female King Eider was seen once more this week at Ynyslas (Ceredigion) on 24th-25th; an eclipse drake was off Burghead (Moray) on 25th.
<!—Section Title -->
This was another week that delivered a bounty of good shorebirds – indeed, for one particular pelagic species, this was the week when practically everybody stood a fair chance of stumbling across something interesting, even inland… but more of that shortly.
We'll kick off with American Golden Plovers, which enjoyed another strong showing this week, nudging up into double figures. Birds were seen on North Ronaldsay (Orkney) on 19th-24th; on 20th on Unst (Shetland); on Orkney at Deerness on 21st; on 21st-23rd at Tacumshin (Co.Wexford); a possible bird was noted in Lancashire at Hesketh Out Marsh on 22nd, with an adult at Marshside RSPB on 23rd-25th; and on Tiree (Argyll & Bute) still on 24th. On 22nd in Ireland birds were seen at Myroe Levels (Co.Derry) and Loop Head (Co.Clare), the latter bird still present on 24th; on 23rd-24th on Omey island (Co.Galway) again and at The Cull (Co.Wexford); and on 24th a bird was seen on The Gearagh (Co.Cork).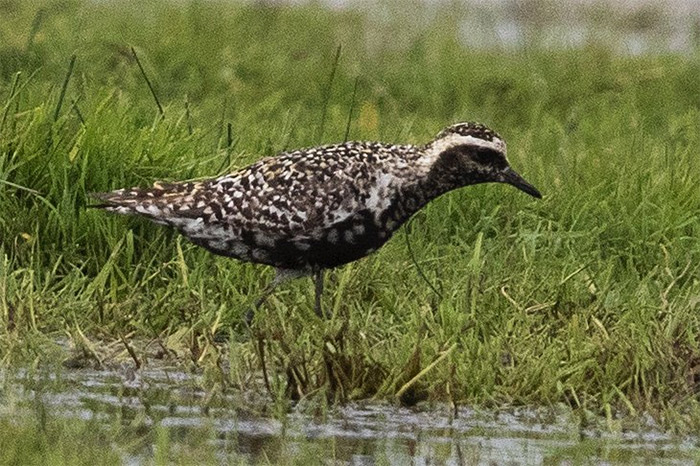 Bucking the American trend, a Pacific Golden Plover was present for a day in Suffolk at Aldeburgh Marshes on 20th.
Numbers of Baird's Sandpiper dried up somewhat this week, with just three individuals seen – the long-staying bird once more on Tresco (Scilly) on 19th-21st; and on 21st, further birds in Ireland at Tacumshin and Lady's Island Lake (Co.Wexford).
A White-rumped Sandpipers, however, did rather better than hitherto, with four or five birds representing at least a fourfold increase – adults were logged at Ballyconneely (Co.Galway) on 20th and Myroe Levels on 22nd-24th; another Co.Derry sighting came from the Bann estuary on 22nd; and a juvenile was at Leam Lough (Co.Mayo) on 20th. A further probable bird was reported from Landimore (Glamorgan) on 22nd.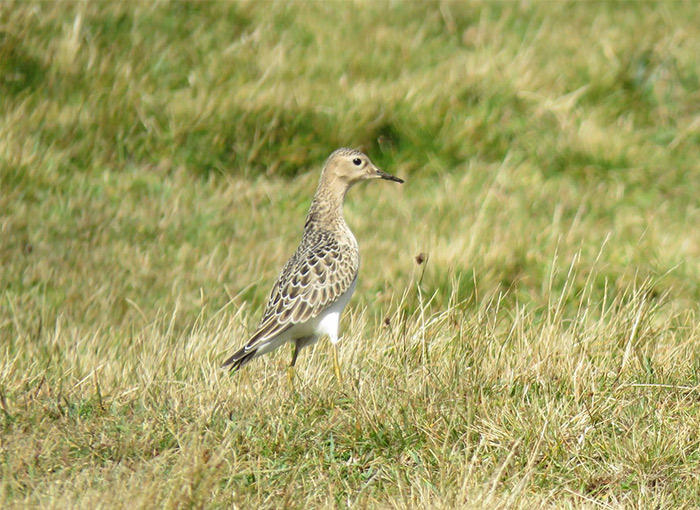 Numbers of Buff-breasted Sandpipers rose once more on the previous week's already solid performance – 18 birds in all were logged, with notable single-site counts coming from Dale airfield (Pembrokeshire) on 22nd-24th and Tacumshin on 22nd, both of which hosted a trio; and Myroe Levels on 22nd and Loop Head on 23rd, each of the latter sites sporting a pair respectively.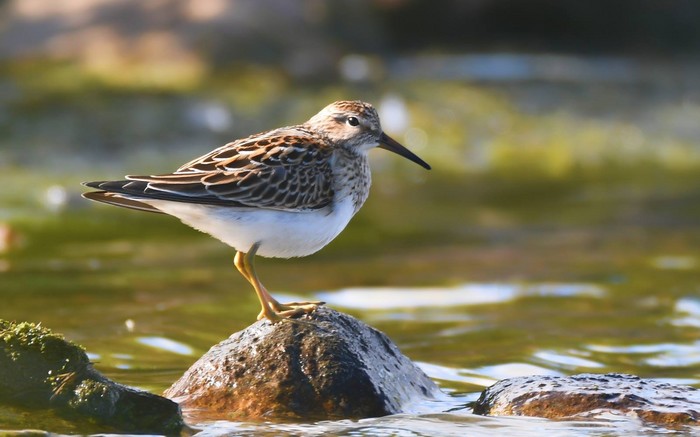 (A cumulative figure dwarfed, once more, by our Pectoral Sandpiper tally – 34 birds in all were logged this week from Britain and Ireland, with three birds together on Tresco on 21st-23rd the best single site count).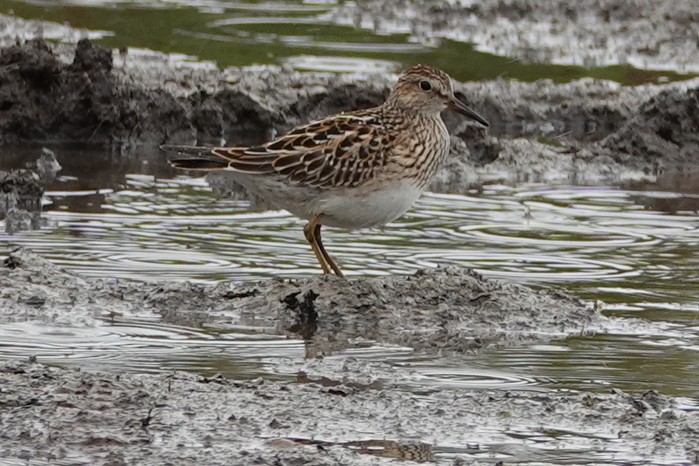 The Temminck's Stint in Cambridgeshire near Soham remained there on 19th, with another seen that day at Willington GPs (Derbyshire). On 24th-25th another was at Pennington Marshes (Hampshire).
In Lincolnshire, the adult Long-billed Dowitcher stuck at Frampton Marsh RSPB for another week, being seen daily there.
As we thought, last week's Lesser Yellowlegs in Cornwall at Devoran Quay remained on 19th-21st and was added to by a second individual, seen in Dorset firstly at Abbotsbury and latterly at Lodmoor RSPB on 23rd-25th.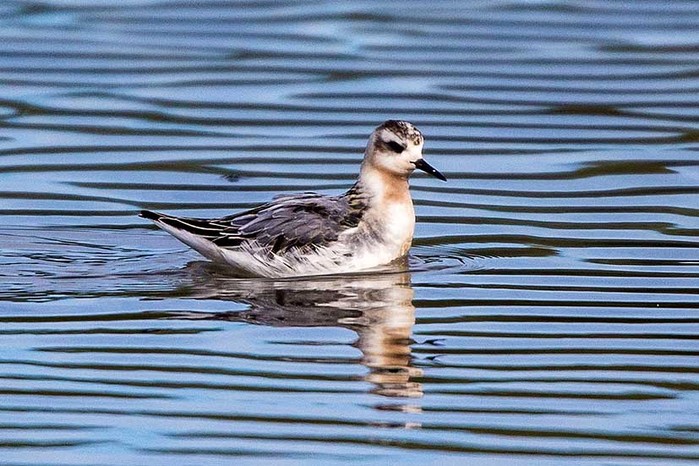 Any week at this time of year that sports decent numbers of Leach's Petrels stands a very good chance of boasting a high tally of Grey Phalaropes too, and this week was to prove no exception. Indeed, for many, this was the standout birding event of the week – and why wouldn't it be, when so many of these charming birds were blown inland to take up temporary residence on freshwater bodies. Overall, around 260 birds were logged nationwide, with some high counts at coastal stations – 25 seen off Brandon Point (Co.Kerry) on 19th, 27 from St Ives (Cornwall) on 21st, and 22 off Bryher (Scilly) on 23rd – so it was small wonder that so many found themselves inland. This was the week to add Grey Phalarope to your local patch list pretty much anywhere…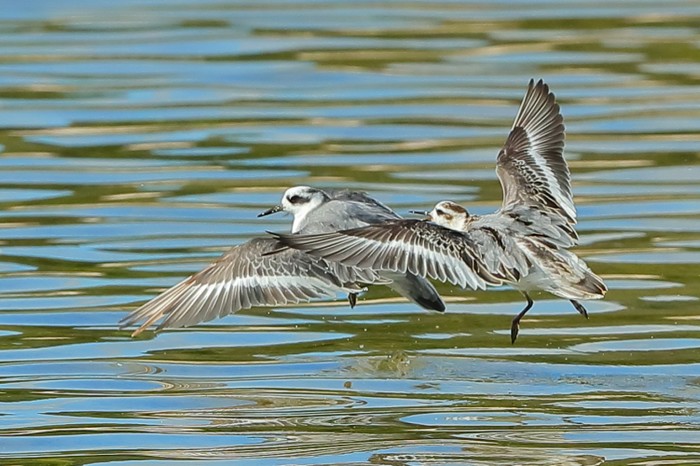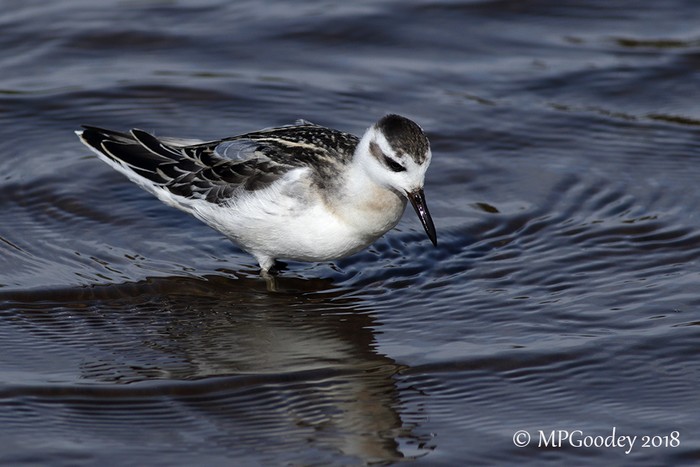 And finally, a Red-necked Phalarope was reported on 25th in Pembrey Harbour (Carmarthernshire).
There can't be many consecutive weeks when we have a candidate Bridled or Sooty Tern reported, but following the preceding week's report off Selsey Bill (West Sussex) this week we have another sighting – a bird seen too distantly to ascribe to either species with certainty, off Whitburn CP (Co.Durham) on 23rd. One can only imagine the strange mixture of elation and frustration such a sighting would induce…
A further tantalising account came in the hefty form of a possible Caspian Tern reported from Berry Head (Devon) on 22nd. September's far from the classic month for them… and with the American Royal Tern resident, back and forth, this summer not a million miles from Devon, one wonders what the alternatives to a putative Caspian might be…
Less tern ambiguity came in the definitive form of the adult Forster's Tern once more at Soldier's Point (Co.Louth) on 19th-23rd and a juvenile White-winged Black Tern at Marton Mere LNR (Lancashire) on 22nd-23rd.
A Laughing Gull heads up our rare gulls – a second-winter bird present on St Martin's (Scilly) on 21st.
In Ireland the adult Bonaparte's Gull was still to be found at Dunmoran Strand (Co.Sligo) on 20th-23rd, while the Ring-billed Gull was still in Sligo on 22nd-24th at Doorly Park; another of the latter was seen on 22nd at Kilkee (Co.Clare).
White-winged gulls remain in short supply for now – we've Glaucous Gulls this week at Llandulas (Conwy) still on 20th, Burghead (Moray) again on 21st and on Skye (Highland) on 25th; and Iceland Gulls for a little variety on 22nd at Glynn (Co.Antrim) and on Fair Isle (Shetland) on 24th.
And that brings us to Sabine's Gulls - and in no great surprise, we did well for them in a week of such unsettled weather. A shade over 70 birds were logged this week, with some even making it to the eastern seaboard by 23rd – at least one was lobbing around the north Kent coast on 23rd, and another was noted that day off Holme (Norfolk). Naturally, the further west we go the more there were – and no more so than off Kilcummin Head (Co.Mayo) where, on 21st, 15 birds were logged.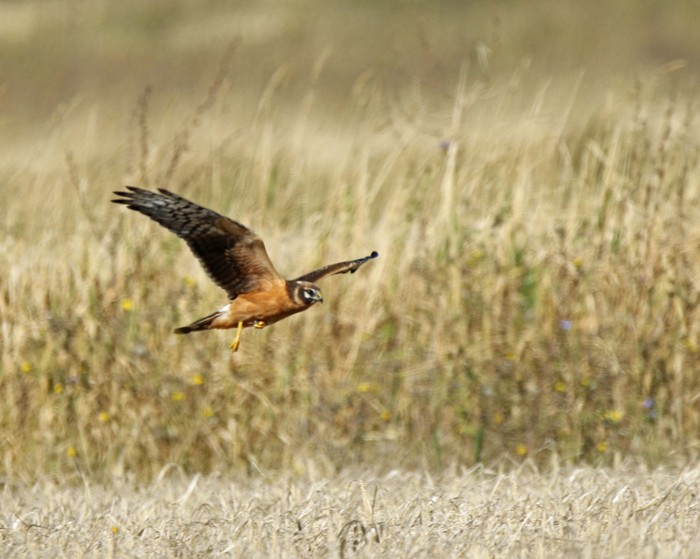 Three of the preceding week's juvenile Pallid Harriers continued to give themselves up this week – one remained at Therfield (Hertfordshire) on 19th-25th; one was still at Welney WWT (Norfolk) on 19th-25th; and the intermittently seen individual in Cheshire was once more around Parkgate on 21st-22nd. A further possible bird was noted on 24th northwest of Arundel (West Sussex). It'll be interesting to see if, when and if the wind ever ticks back around into the east, we continue to get more of these charismatic raptors this autumn.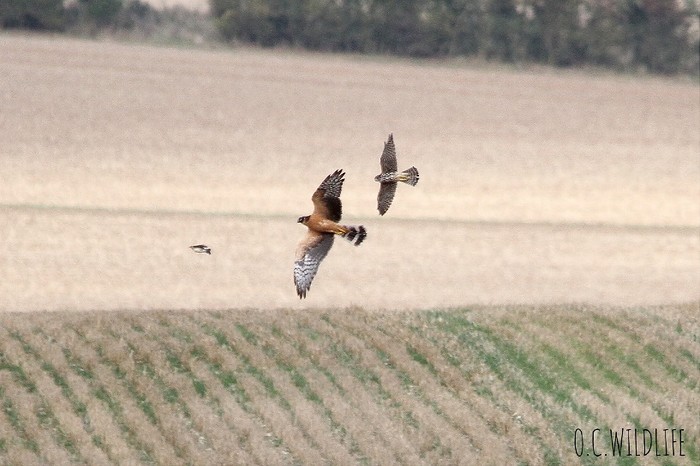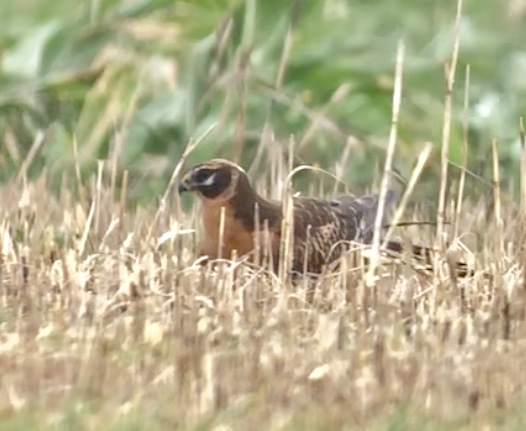 A dark morph Honey Buzzard was seen over the Lodge in Sandy (Bedfordshire) on 20th, with another noted on 25th in Surrey at Kingston upon Thames.
Finally, out on St Kilda (Western Isles), the female Snowy Owl was hanging on in there on 22nd-24th still.
If the previous week had been a little sparse on the eastern passerine front, this week offered thinner pickings still.
A couple of Subalpine Warbler sp of indeterminate species were about the best the week's interesting warblers had to offer – seen on Unst (Shetland) at Burrafirth on 19th-21st, and in Ireland on Mizen Head (Co.Cork) on 21st.
Two Blyth's Reed Warblers remained from the previous week – present in Shetland on Fair Isle and Foula still on 19th; while, on 24th, a probable Blyth's Reed Warbler was lurking in the vastness of the iris beds at Quendale on the Shetland mainland.
An Icterine Warbler was present on Unst on 21st – a scarce commodity this autumn, it seems – while a Melodious Warbler was on St Mary's (Scilly) on 19th, with an unconfirmed report of a further bird at Nanquidno (Cornwall) on 22nd, and one elsewhere in the county at Rame on 24th.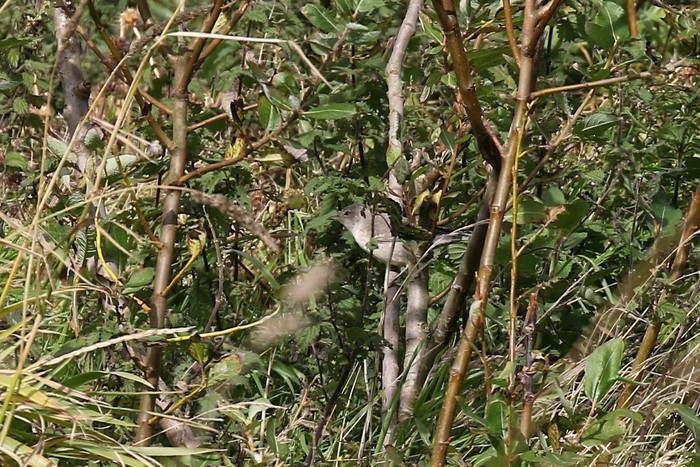 Barred Warblers squeaked, just, into double figures this week, with ten birds seen. In Shetland, these were singles on Foula on 19th-21st; on Unst on 21st-23rd; and on 23rd at Hoswick and Wester Quarff; and two on Fair Isle on 20th. North Ronaldsay (Orkney) had one bird on 19th with two there the following day; and on the mainland, Kilnsea (East Yorkshire) played host to one on 19th, with another at Wick (Highland) on 21st, and one found in Norfolk at Burnham Overy Staithe on 24th.
If we thought that was a touch dismal, Yellow-browed Warblers had a shocking week – birds were initially reported from North Ronaldsay on 19th, South Nesting (Shetland) on 23rd, and Mizen Head on 23rd also. Finally, on 24th, a little more action, though only a little – two on Shetland at Quendale, and birds found at Spurn (East Yorkshire) and South Foreland (Kent). 25th yielded a further bird on Scilly, on St Mary's, and one in Kent at Northward Hill RSPB. And that was it.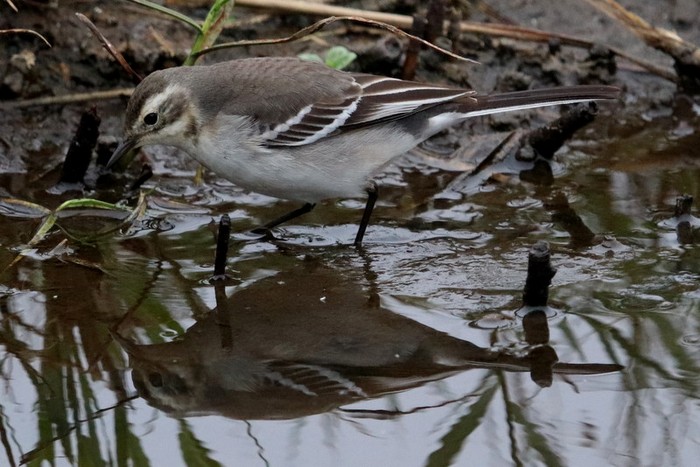 On Scilly the first-winter Citrine Wagtail remained on St Mary's on 19th-23rd; another was on Unst on 21st-22nd; and a final bird had filtered as far west as Arranmore Island (Co.Donegal) on 23rd. With 32 accepted records to the end of 2014 they remain a pretty big deal in an Irish context and particularly in Co.Donegal – this is their third record, the first being found on Arranmore back in October 1993.
A Richard's Pipit was at Beal (Northumberland) on 20th, followed on 22nd by another sighting from Hampshire, at Hill Head, one on Fair Isle on 24th, and another at Beachy Head (East Sussex) on 25th; while a Tawny Pipit was in Cornwall at Porthgwarra and, latterly, Nanjizal on 24th.
Presumably the same Bluethroat last seen on 17th was once more present on Out Skerries (Shetland) on 20th-25th.
Some twenty Wrynecks were still to be seen this week nationwide, including two on 25th at Land's End (Cornwall), while we've just the one Hoopoe to report upon – seen on 21st at Loch Fleet (Highland) – and a single Golden Oriole, found on Foula on 25th.
A possible Red-rumped Swallow was noted in Dorset at West Bexington on 23rd; another was seen on 24th at Nanjizal, while one was reported that day 13 miles off Porthgwarra – tempting and romantic to hope this was one and the same bird…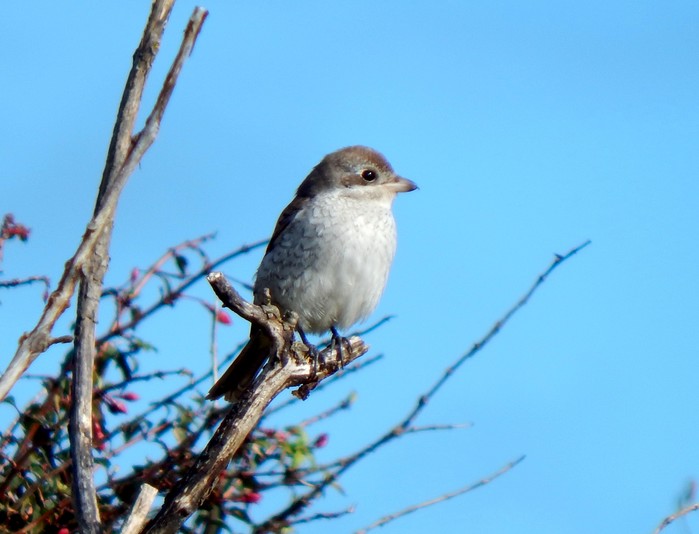 Red-backed Shrikes were represented by one still at Farlington Marshes (Hampshire) on 19th-21st; and single birds on Skomer (Pembrokeshire) on 19th, Mull (Argyll & Bute) on 21st-24th, Tiree (Argyll & Bute) on 23rd-24th, and mainland Shetland at Garth on 25th.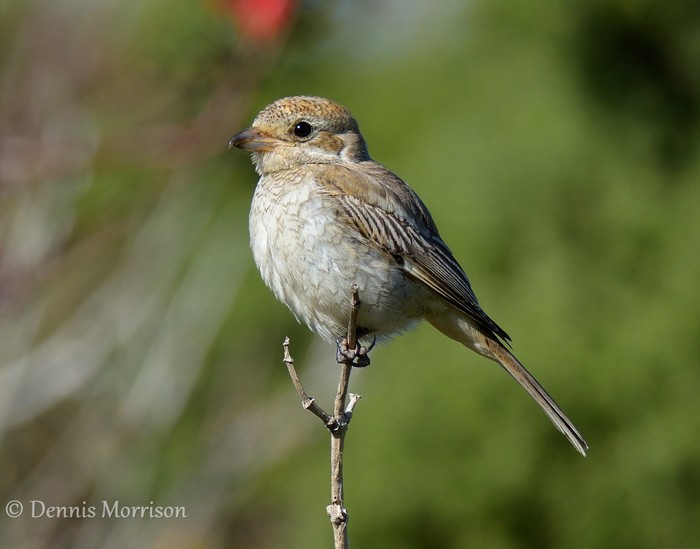 The first-winter Woodchat Shrike in Lothain remained this week at Barns Ness on 20th-25th; another was found on 24th-25th at Ynyslas (Ceredigion).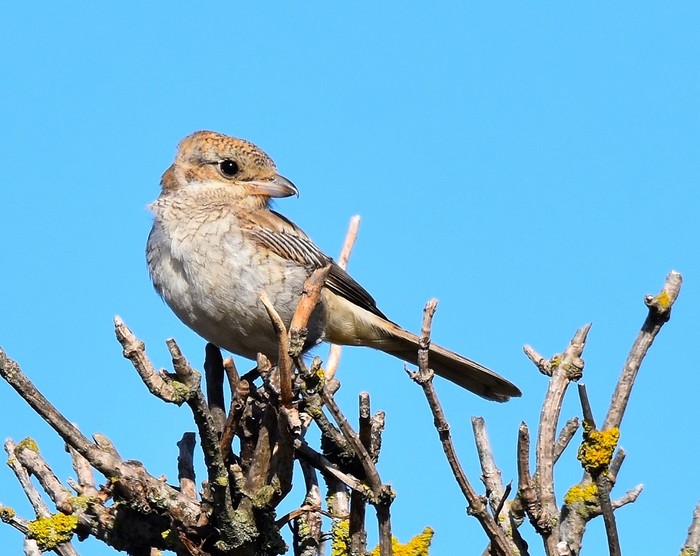 Absent from the news for a long while now, a Great Grey Shrike was seen on 25th in Gloucestershire near Patchway.
The Pied Crow stuck around at Flamborough (East Yorkshire) for yet another week.
Our Rose-coloured Starlings this week were all about the juveniles: on 19th one was found on Tresco (Scilly), followed on 20th by another at Capel Seion (Ceredigion); and further juveniles at Barns Ness on 21st-25th; and on 21st at Brighton (East Sussex), Lodmoor RSPB (Dorset), and Porthgwarra (Cornwall); on 24th one was present on Portland (Dorset). The Porthgwarra bird presumably accounts for that seen nearby at Polgigga on 25th.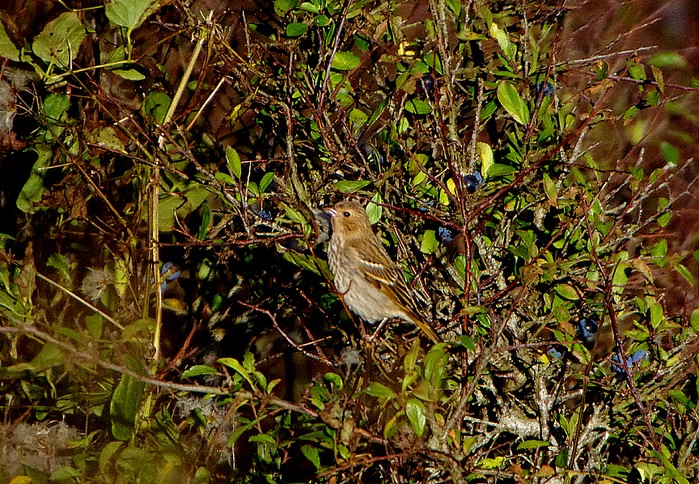 Numbers of Common Rosefinch held fairly steady for another week, with around 30 in all logged nationwide. Out Skerries retained half a dozen birds on 19th, though these dwindled as the week wore on. Elsewhere some had made it to Scilly by the back end of the week, with sightings on 23rd from St Agnes and St Mary's alike.
It fell to Shetland to provide our first Ortolan Bunting this week – one present on Fair Isle on 23rd – and then this was followed by further single birds on 24th at Nanjizal and Weymouth (Dorset), and two birds on nearby Portland. On 25th a further individual was found on St Mary's in Scilly.
A Little Bunting was again seen on Unst this week, present at Lund on 19th-20th; another was found on Orkney at Hobbister RSPB on 21st.
Finally, back on Shetland, on Foula the White-throated Sparrow remained comfortably settled there on 19th-25th.
It's only right, I think, in a week dominated by seabirds that we should start this section with another good one, albeit one that British birders would give their eye teeth for - a South Polar Skua seen on 21st off Galicia (Spain). It's surely going to happen here, eventually.
In France the Red-necked Stint remained at Hyeres on 19th-25th; in Germany on 22nd-24th a Sociable Plover was present at Torgau.
From Spain, we've two Elegant Terns seen on 23rd in Andalucia at Chipiona.
Lastly, in Finland, a Steppe Grey Shrike was present at Maaviiki on 19th; and a Black Vulture was seen on 23rd at Virkkula.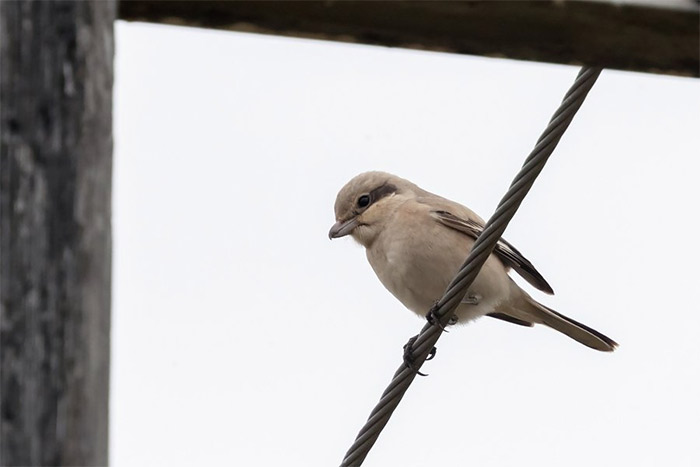 And finally, closer to home…
While I'm not in the habit of listing each and every vagrant creature that makes it to our shores, not least because if I did we'd end up knee deep in moths and dragonflies, I do sometimes find the non-bird news that flashes up on my RBA feed getting my juices flowing…
We'll swiftly skirt around the Walrus in Shetland earlier this year, a painful subject as its arrival coincided with my leaving the islands to work overseas… and move on, instead, to a marine mammal that this week was somewhere much more convenient for would-be admirers – as long as they were quick on their feet.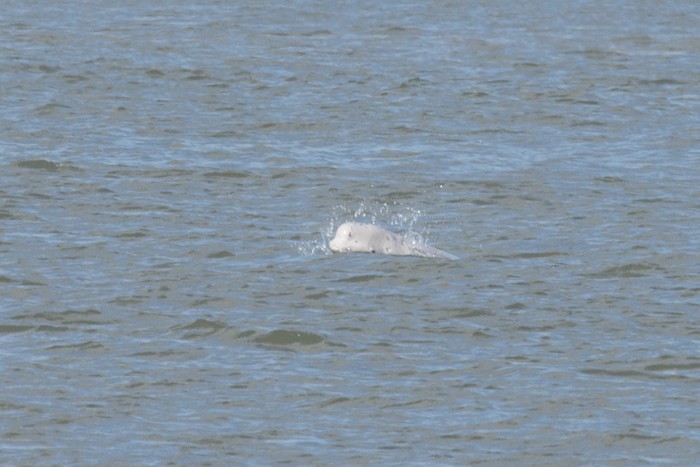 And that is, of course, the Beluga discovered in the Thames off Coalhouse Fort by Dave Andrews in the late morning of 25th. Present for a few hours before disappearing on the changing tide, it remained for long enough to allow twitchers the extraordinarily rare chance to see this rare Arctic cetacean in British waters. With memories of the ill-fated Northern Bottlenose Whale that came to grief in the Thames in January 2006 in mind, in the nicest possible way I hope that we don't see the Beluga again – or, if we do, that it's in the open sea and making its way back north…
The coming week…
This autumn, so far, seems to be shaping up nicely to be one of those ones dominated by winds from the west. While I'm selfishly hoping for winds of a more easterly persuasion, westerlies could mean we're on for a good Scilly season as September draws to a close in the coming week and we stand on the cusp of October.
There are a host of good warblers that I've been lusting after in these closing remarks for the past couple of weeks, and we're still bang in the middle of prime-time for one of any of them to make landfall here. Either on Scilly or, indeed, on Barra – which seems to be the place to be in recent years!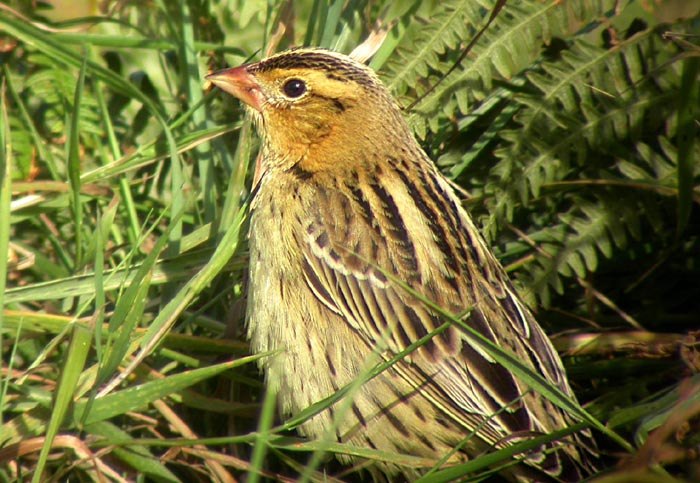 More Red-eyed Vireos practically feel like a formality in the coming days; and sticking with the slightly more substantial theme, what about a Bobolink or a Rose-breasted Grosbeak? Both Scilly classics, and both coming into the peak time for one to turn up somewhere…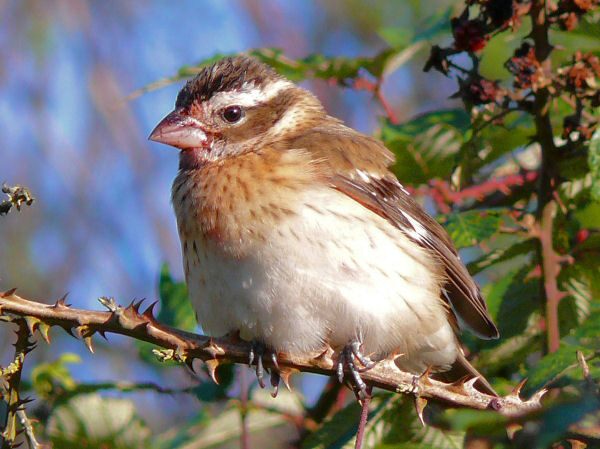 Jon Dunn
26 Sept 2018
Many thanks to all contributors for their photos and videos this week.
Jon Dunn, Christopher Teague, Steve Arlow, Joe Pender, Brian Henderson, Michael Trew, James Lowen, Jonathan Farooqi, Steve Grimwade, Andrew Moon, Victor Caschera, St.Kilda Rangers, Ron Macdonald, Andrew Tweed, Ron Marshall, Martin Goodey, Mark Leitch, Owen Crawshaw, Ian Bennell, Kris Webb, John Bowler, Dennis Morrison, Lukasz Pulawski, David Stone, David Darrell-Lambert, Andrew Warr, William Spurrell. Mick Alibone, Juha Niemi, Matthew Mellor.
Share this story
Tweet