Weekly birding round-up: 14 - 20 Mar 2018
Co.Clare delivers an American Herring Gull
And the Horned Lark is still in Surrey
So I left you on the eve of the arrival of the 'Beast from the East', and I'm back again in the wake of its little brother, the 'mini-Beast from the East'. All of which, dropping the media hyperbole, amounts to a weekly weather summary that records some late winter snow, just like we used to get in the old days when we had actual winters.
Still, with the Spring Equinox falling on the last day of the week, we're officially crossing into a new season now. Sure enough, this past week's birds in Britain and Ireland were neither one thing nor the other – reduced numbers of winter fare, and just the first glimmers of spring interest. Except further south and east in the Western Palearctic, where it was All Going On this week.
More of which shortly. Let's get into the birds closer to home.
American Herring Gull
Ireland, by some margin, remains the prime place to stumble across a late-winter American Herring Gull - a quick glance at past records confirming that my gut instinct in that regard is amply borne out by the stats – Ireland accounting for a threefold tally of smickers compared with Britain.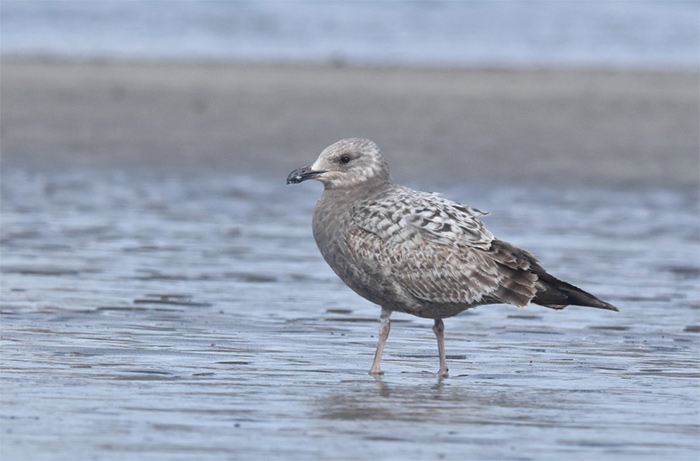 That amounts to almost 100 past records up to the end of 2014, compared with a paltry 32 accepted birds in Britain to the end of 2016. Crudely speaking, it would be easy to put that dominance down to Ireland's position in the west of the region – but that wouldn't explain why Co.Clare, on Ireland's west coast, has only the one accepted record of American Herring Gull on the record books – a first-winter bird seen at Loop Head on 29th March 2008. Flanked to the south by Co.Kerry (14 accepted records) and, to the north, by Co.Galway (12 accepted records), Co.Clare is the Cinderella county.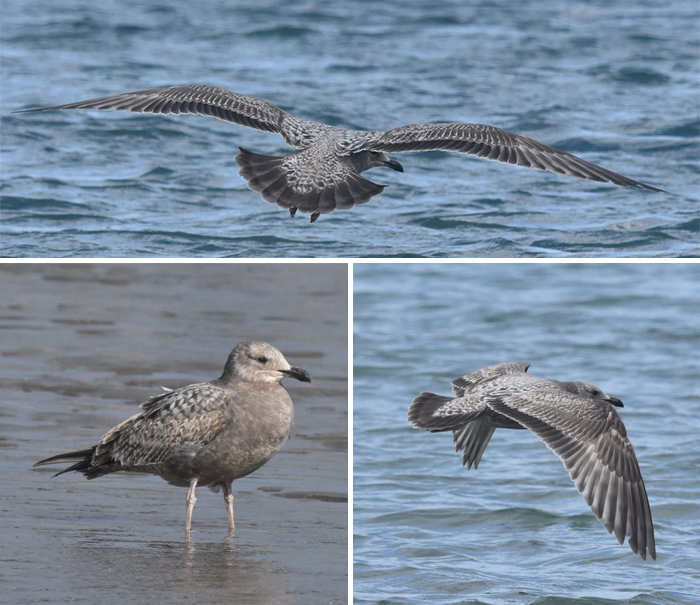 Happily, this week, Cinderalla went to the ball once again – a first-winter American Herring Gull was found in the afternoon of 19th at Kilkee, and still present there the following day. This had been preceded earlier in the week by a possible first-winter bird in Wales at Pwllheli (Gwynedd) on 16th-17th - a record that, if confirmed, would be a county first.
Horned Lark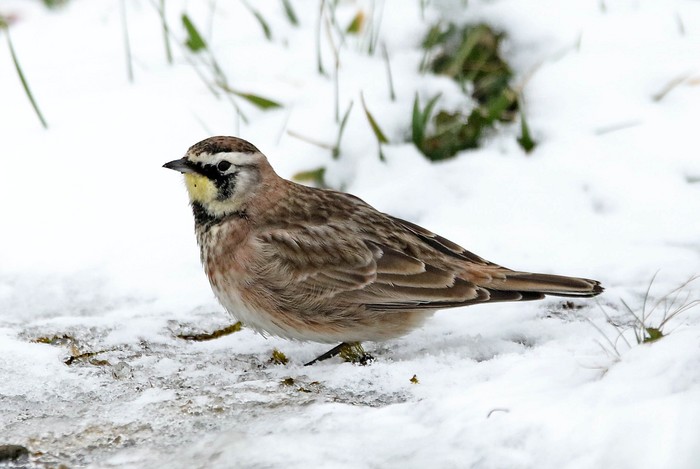 Meanwhile in Surrey the female alpestris/hoyti/pratincola Horned Lark remained for another week at Staines reservoir, being seen there daily until 20th. A little bit of snow and cold weather wasn't enough to shift her after all… but surely the urge to move on to pastures new will be mounting in the days to come.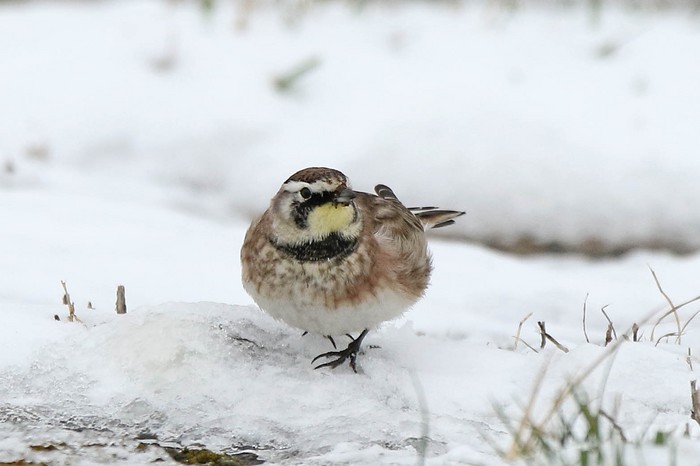 This week's interesting seabirds were slim pickings indeed – top of the class undoubtedly being two of the recent wintering trio of Pacific Divers - one of the Cornish birds was again noted in Gerrans Bay on 16th, while on 17th the adult was again seen in Ireland in Crookhaven Harbour (Co.Cork).
A handful of Little Auks were seen this week – on 18th, single birds were logged off Dunnet Bay (Highland) and Lossiemouth (Moray); and on 19th one was seen from Burghead (Moray).
Finally, a Pomarine Skua was noted on 17th in Kent at Swalecliffe.
Around 50 Cattle Egrets continued to lob around England this week, with a continuing focus on the southwest – the week's highest tally of 16 birds being noted on 16th in Cornwall at Chapel Amble, with another double figure count coming on 19th in the county from Polmorla when 10 birds were seen in flight there. Further birds remained in Somerset on the Levels, with six at Westhay still on 14th-17th and five noted in flight on 15th at East Lyng; while away from the southwest, three were seen again at Southport (Lancashire) on 14th, with four there on 16th; and sightings of a single bird in Buckinghamshire came from Wolverton and Haversham on 16th and Great Linford again on 17th.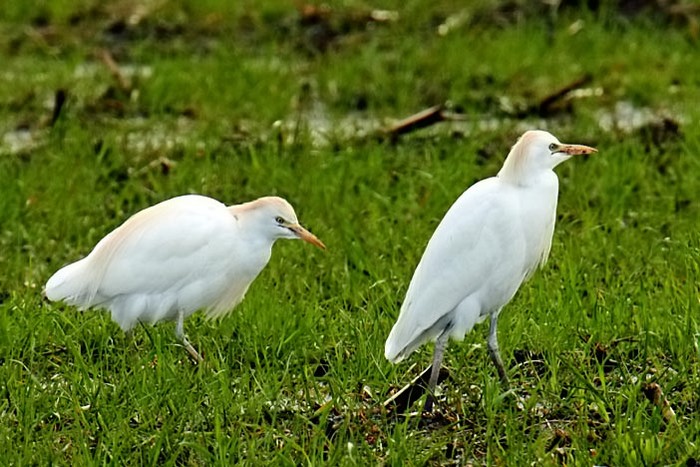 Some 70 Great White Egrets were logged again this week, in the most part from the usual suspects where sites were concerned, although the possibility remains these days that one might just turn up in pretty much any suitable habitat. How times have changed! Peak counts came in the form of half-dozens, at Denhall Quay (Cheshire) on 18th and Ham Wall RSPB (Somerset) on 19th.
Numbers of Spoonbills remained fairly steady, albeit with just a report of a single bird in Poole Harbour this week, a volte face compared to recent weeks' tallies there – around 30 birds were noted in the course of recent days, mostly across southern England, with three birds in Wales at the National Wetlands Centre WWT (Carmarthenshire) still on 15th.
Two Glossy Ibises remained this week in Ireland at East Coast NR (Co.Wicklow) on 15th-19th, while in Suffolk the settled bird was still at Minsmere RSPB on 14th-20th also.
The Common Crane remained at Berneray (Western Isles) on 16th while, further north still, one was on Orkney on 14th-19th at Deerness. One was seen in flight over Portland (Dorset) on 17th; two flew over Pegswood (Northumberland) on 20th.
Probably the least said about the escaped female Bufflehead the better this week… present at Attenborough NR (Nottinghamshire) on 15th-20th, it proved to be ringed and, given the presence of the escaped individual six miles away at East Leake in early December 2017, it wasn't entirely a surprise when the shackle was spotted. One wonders how many previously accepted records would have fallen foul of the better optics and cameras of the current day had they been available at the time…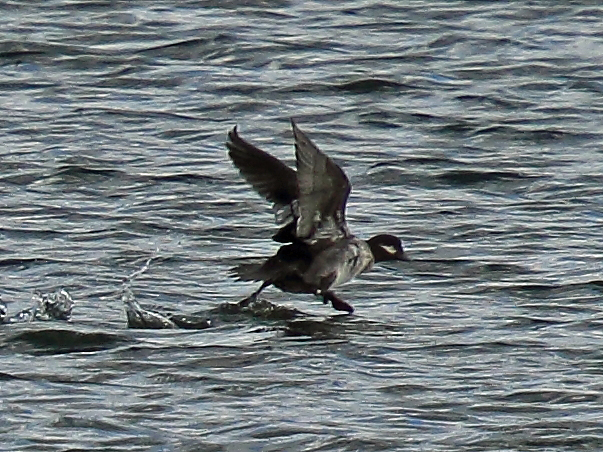 Back to the less contentious honkers and quackers, then. The Goose Formerly Known As Canada was represented again this week by the Cackling or Canada Goose on North Uist (Western Isles) at Baleshare once more on 14th-15th; while sightings of Black Brants centred on Essex in the early part of the week – around The Naze on 14th and Wallasea Island RSPB on 15th; and, elsewhere, from Walney Island (Cumbria) again on 15th and in Kent at Stoke on 18th.
On 20th a blue morph Snow Goose was seen near Fochabers (Moray), and one was seen in Orkney near Dounby.
Highland's recent largesse of drake American Wigeons was reduced to reports of the Clachnaharry bird again this week on 15th and that at Tain Links on 20th; other drakes were seen again at Dipple Shore (Ayrshire) on 17th-19th, Rutland Water (Leicestershire) on 17th-18th and Dunster (Somerset) still on 17th-20th. Another report from Somerset came in the form of a female bird reported from Shapwick Heath NNR on 17th.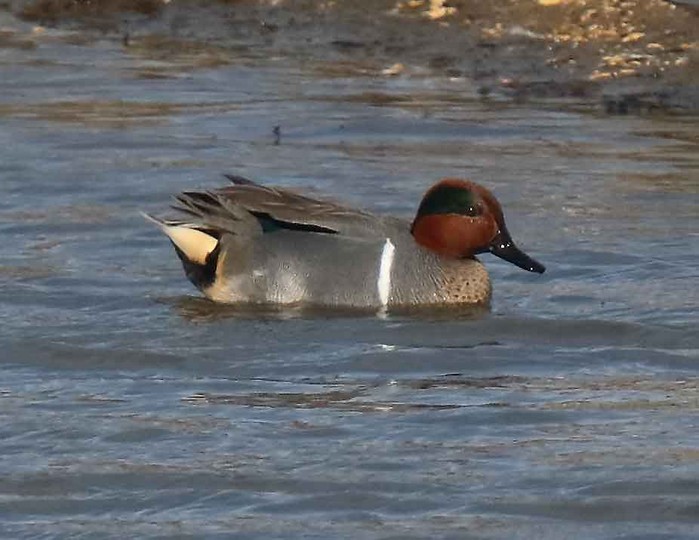 Numbers of Green-winged Teals were into single figures, comprising familiar recent faces: the Cornish bird remained at Wilcove on 14th-16th; in East Yorkshire sightings came from North Cave Wetlands YWT on 14th-17th and Kilnsea Wetlands on 16th-19th; in Cleveland again at Saltholme RSPB on 17th-19th; and in Scotland, on 15th at Loch Flemington (Highland) and on North Uist at Loch Sandary (Western Isles); and in Orkney, at Marwick Bay on 15th and on North Ronaldsay again on 16th-19th.
Meanwhile Ring-necked Ducks held steady for another week with nine birds noted. Females were logged at the National Wetlands Centre WWT (Carmarthenshire) again on 17th, and at Lough Neagh (Co.Armagh) on 19th and Closet River mouth on 20th. Drakes were seen again at Ham Wall RSPB (Somerset) on 16th-19th; Beesands Ley (Devon) on 16th-17th; Ouse Washes RSPB (Cambridgeshire) on 17th-18th; Lough Yganavan (Co.Kerry) on 16th; in Scotland on 18th at Loch Shiel (Highland) and on Lewis (Western Isles) at Loch an Tiumpan; and in Lincolnshire one was seen at Bagmoor on 17th-20th. On 20th one (or a hybrid) was found at Abbotsbury (Dorset), while the drake was once again seen at Carlingwark Loch (Dumfries & Galloway) that day also.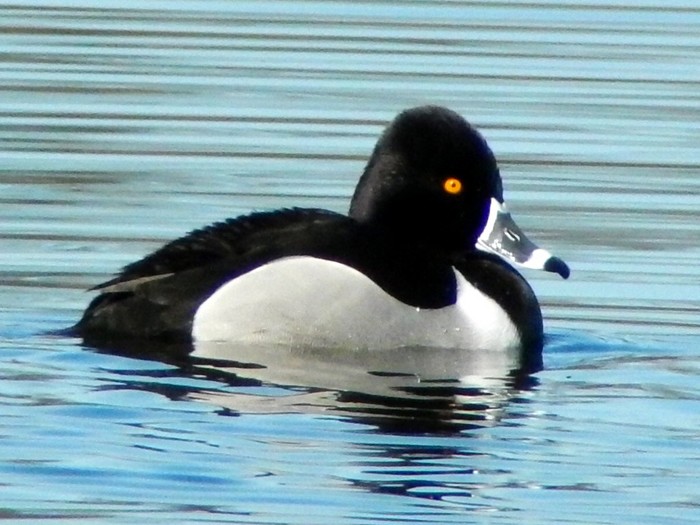 The drake Lesser Scaup was still at Dozmary Pool (Cornwall) on 14th, but not reported thereafter. Drake Ferruginous Ducks were again seen in Powys at Llan Bwch-llyn Lake on 14th-16th and in Hampshire at Blashford Lakes on 19th-20th.
A first-winter drake King Eider was seen at Flaggy Shore (Co.Clare) on 14th-20th; the female remained in Co.Cork at Dunmanus Bay on 18th-20th.
The drake Black Scoter was once more off Rossbeigh (Co.Kerry) on 20th.
Returning to Flaggy Shore briefly, the drake Surf Scoter was still present there on 14th-20th; the trio remained in Cornwall at Porthpean on 14th-18th; four birds (three drakes and a female) were noted on 19th at Balbriggan (Co.Dublin), with the three drakes still there the following day; two were off Rosslare Point (Co.Wexford) on 16th; one was off Rossbeigh (Co.Kerry) on 20th again; and the drake was once more in Colwyn Bay (Conwy) on 15th-19th.
Finally we're back in Shetland for the closing honorary waterbird – the Pied-billed Grebe still present at Spiggie on 17th.
Well, thank god for Grey Phalaropes this week, is all I'm saying. Without them we'd be drawing a blank for shorebirds, an unthinkable situation…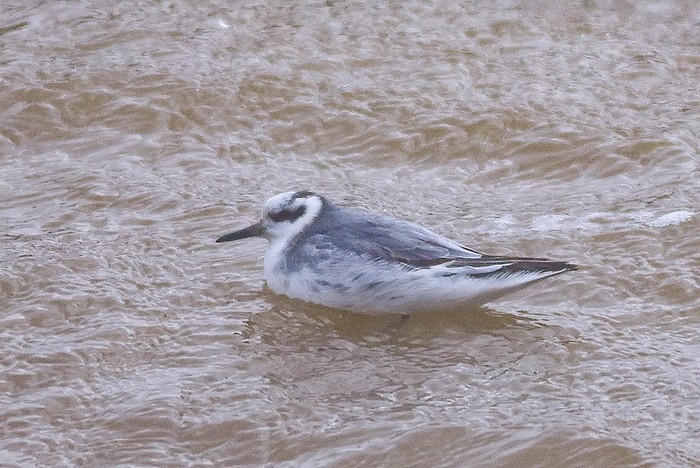 One was lingering off Bridlington (East Yorkshire) on 18th-20th, with another seen on 18th at Featherbed Bay (Co.Durham), and two were off Gullane Point (Lothian) on 19th and again on 20th.
Ring-billed Gulls continued to be a late winter mainstay, particularly in Ireland where the lion's share of the week's 11 birds were to be found – at Dingle harbour (Co.Kerry) on 14th; Bray harbour (Co.Wicklow) still on 14th-20th; Tralee Bay Wetlands Centre (Co.Kerry) again on 16th-20th and Blennerville on 17th-20th; at Belfast Lough RSPB (Co.Antrim) on 16th and in Carrickfergus harbour on 18th; in Rosslare Bay (Co.Wexford) on 18th and in Cork (Co.Cork) on 19th; and at Timoleague (Co.Cork) on 20th – all of which were adults bar the Rosslare Bay individual, a first-winter bird. English birds were the adult again at Blashford Lakes HWT (Hampshire) on 14th-20th and the first-winter again in Cornwall at Newquay on 14th-18th.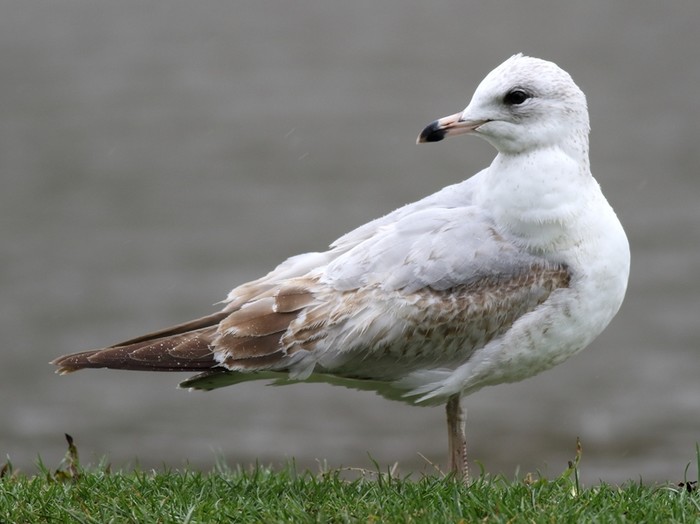 Numbers of white-wingers remained strong this week, in an appropriately wintery nod to the cold snap. These comprised around 100 Glaucous Gulls, with peak counts of five birds in Dingle (Co.Kerry) on 16th and on North Uist (Western Isles) on 15th; and just shy of 200 Iceland Gulls, with Dingle claiming the highest tally by some margin with 21 birds noted there on 16th. Winter may drawing to an end, but there are going to be white-winged gulls around for a while yet.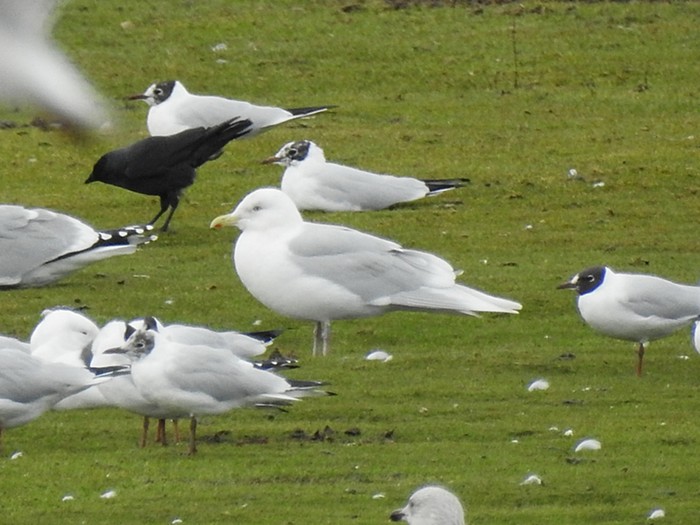 Half a dozen Kumlien's Gulls were logged this week – juveniles again at Chasewater (Staffordshire) on 14th and on North Ronaldsay (Orkney) on 16th-20th; on 17th, a second-winter was reported at Scrabster (Highland) again, with the second-winter once more on South Uist (Western Isles) at Ardvule that day and a third-winter again at Tralee Bay Wetlands Centre (Co.Kerry); and on 18th, an adult was found in London at Crayford Marshes.
A taste of autumn was lingering in Orkney still this week, where the juvenile integrade migrans x lineatus 'Eastern' Black Kite was seen at Tankerness on 15th-19th.
Meanwhile, trappings of winter remained in the form of the adult male Rough-legged Buzzard still on 18th at Thorney Toll (Cambridgeshire); two more were reported on 19th over Rothbury (Northumberland).
A white morph Gyr was found at Flaggy Shore (Co.Clare) on 20th.
And finally, on Scilly, the first-winter female Snowy Owl remained on Tresco on 17th-20th.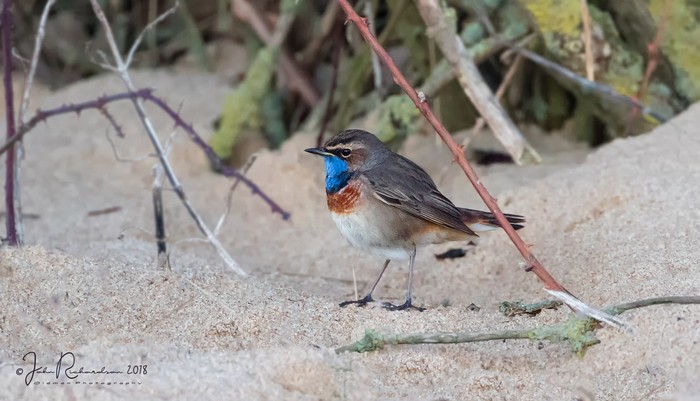 The highlight of the week, if not for sheer rarity, but certainly for outright dazzling aesthetics, was the mini-influx of Bluethroats in the closing days of the week. One seen briefly at Trimley Marshes SWT (Suffolk) on 18th hinted at a glimmer of spring; the finding of not one, but two birds at Denge Marsh (Kent) on 18th also was excellent news, not least as one of them proved to be a resplendent white-spotted male. That would have been good enough – but the following day there proved to be four birds present at the latter site, comprising two males, and two first-winter males or females; at least one remained there on 20th. Landguard NR (Suffolk) meanwhile sported two more males on 19th-20th, and that at Trimley Marshes seen once more on 20th also. We'll not get ahead of ourselves – this isn't a return to the glory days of large falls of these gorgeous birds – but it's fabulous nonetheless.
Further colour came from a more westerly quarter where, in Cornwall, two Hoopoes made landfall – one seen at Sparnon on 16th-19th, and another at Par on 18th.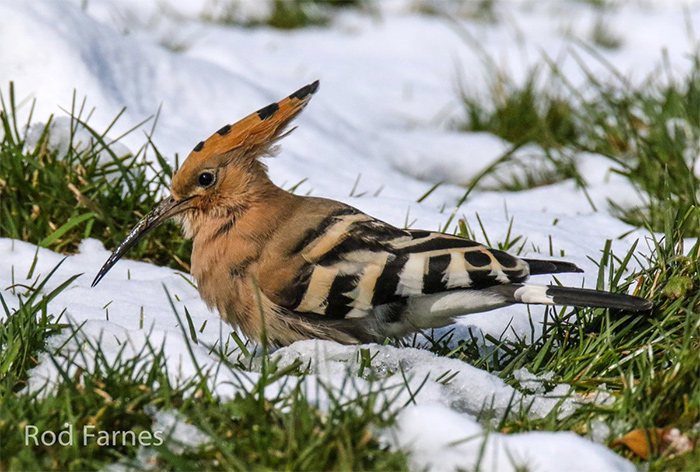 Nearby, in Devon at Plymouth, a Yellow-browed Warbler was noted on 15th; the lingering bird remained at Wombwell Ings (South Yorkshire) on 14th-20th.
Keeping with that faintly autumnal theme, a possible Black-throated Thrush was reported on 19th at Laragh (Co.Wicklow).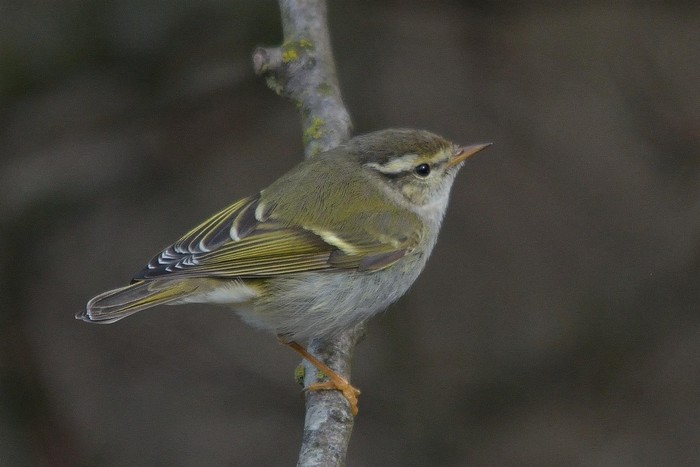 Fifteen Waxwings in Aberdeen (Aberdeenshire) kicked off the week's punky offerings on 14th, with 10 birds still there on 18th-19th; elsewhere just ten further birds were seen or reported as the week wore on, with two at Longbenton (Northumberland) on 15th-19th still the most settled and, therefore, accessible for those so inclined to pay their respects.
A scatter of Great Grey Shrikes remained this week with, most notably, the wintering bird at Morden Bog NNR (Dorset) present all week being joined briefly on 18th by a second bird from the depths of Wareham Forest. Elsewhere, in Gloucestershire the bird remained at Crabtree Hill on 14th-18th, with sightings also on 16th at Shab Hill and Hawling still. The individual remained at Cropwell Bishop (Nottinghamshire) on 14th-20th, while that at West Ilsley (Berkshire) was once more seen on 14th. One was in Pembrokeshire at Plumstone Mountain on 16th; and on 20th one was seen in Scotland at Meall Mor (Highland).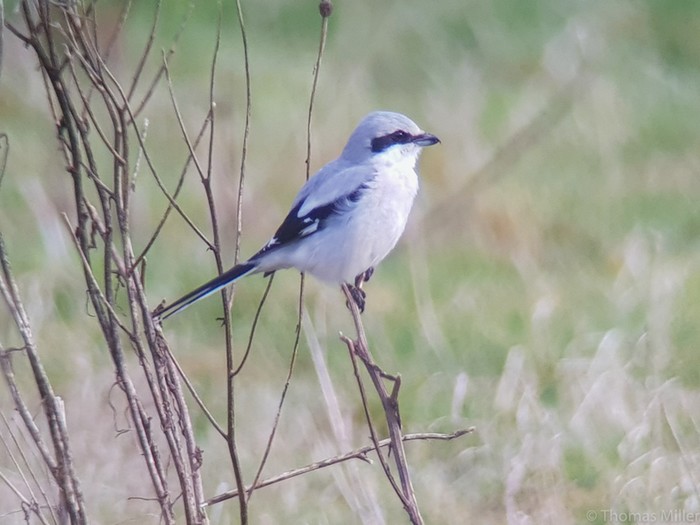 Five probable Parrot Crossbills were noted on 16th in Berkshire at Crowthorne Wood.
The exilipes Arctic Redpoll was again at Hazlewood Common (Suffolk) on 14th, while the bird at Whitlingham Country Park (Norfolk) was still present there on 16th.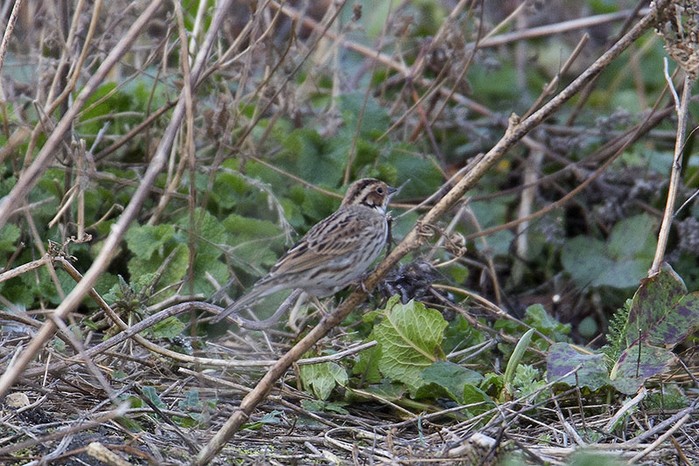 A Common Rosefinch would have been both an unexpected and unseasonal find this week in Devon, where one was to be found on 17th-19th in a Plymstock garden.
The Little Bunting at Walthamstow reservoirs (London) remained there on 14th-20th, while one was again on the Isle of Wight at Brading on 19th. Another was found in Hampshire at North Baddesley on 17th-20th.
If it was generally rather peaceful for British and Irish news this week, it's genuinely hard to know where to begin elsewhere in the Western Palearctic – there was loads going on, and some of it close enough to us to set the daydreamers going at what might, conceivably, one day be found closer to home.
Not least then in France where the near-adult form vetula Cape Gull was again seen at Le Mesnil-Aubry landfill, near Paris, on 19th-20th; and the Pygmy Cormorant was again at Drome on 15th. The settled individual of the latter was not a million miles away in Belgium still at Parc Domaine du val Duchesse on 15th-20th. Either species would do us nicely.
Tidying up France and Belgium before we move a little further afield, in Belgium a Slate-coloured Junco was found at Doornzele on 15th-20th, while in France a male Pine Bunting was found at Herault on 14th-15th.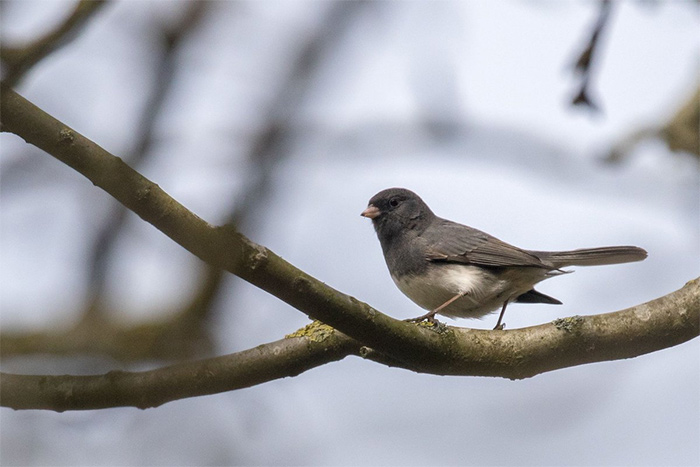 Another Pine Bunting was in Holland still at Havenhoofd on 16th with a female at Noordwijk on 20th, while elsewhere in the country the Black-throated Thrush was at Scheemda still on 15th and the first-winter Ross's Gull was once again at Vlissingen on 15th-16th.
The drakeStejneger's Scoter remained in Sweden at Halland on 14th.
More food for thought for British birders came from Hungary this week where a Black-throated Accentor was found at Kisujszallas on 19th-20th…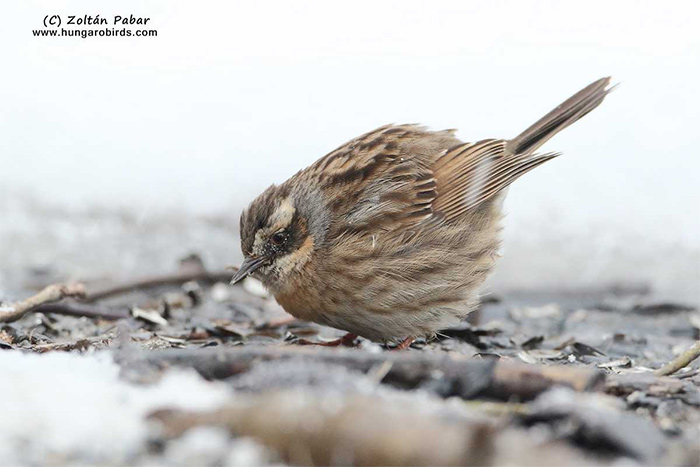 Italy featured a Bar-tailed Lark on Sicily on 17th, and two Pied Crows there on 20th; meanwhile in Spain the Steppe Grey Shrike was still at Serra de Daro in Girona on 16th-20th; the Sociable Plover was again seen on 19th at Barahona; an adult Thayer's Gull was found at Lago Fish Pond in Galicia on 14th; and a party of six Lesser Flamingos were at Laguna de Fuente de Piedra in Andalucia on 15th, with three of their number remaining there on 18th.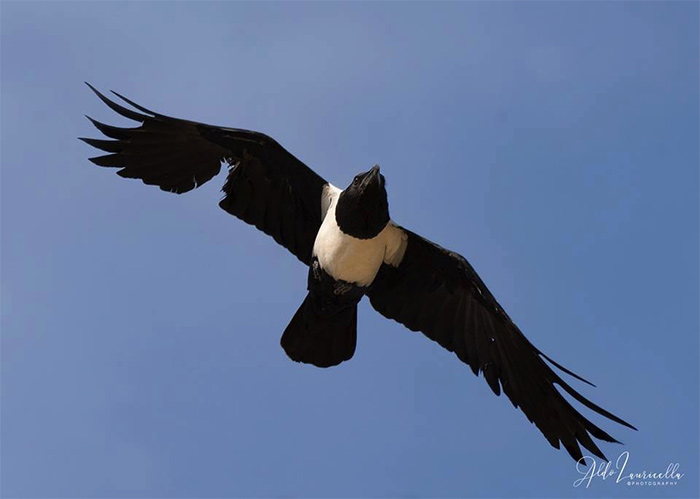 The Lesser Flamingo remained in Israel north of Eilat on 14th-20th; a Crested Honey Buzzard was seen by Eilat on 20th.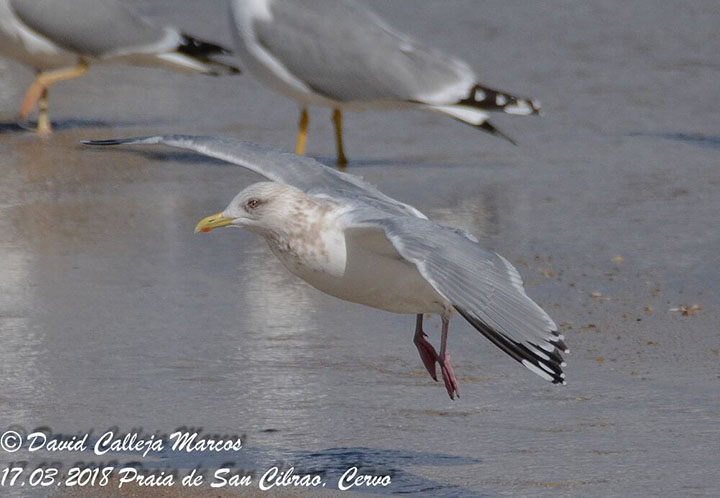 A male Caspian Plover was seen on Cyprus at Mandria on 14th-15th – probably not a healthy place for any migrant bird, let alone one as stuffable as this, sadly.
Heading much further afield still, in Morocco a flock of at least 44 Sudan Golden Sparrows remained at Oued Jenna on 15th.
And then we're offshore… to Cape Verde, where an Atlantic Petrel flew by Ponta do Barril on 14th, the Solitary Sandpiper was still at Santiago on 15th, and Santiago also continued to boast Long-tailed Cormorant on 15th-16th.
Meanwhile on Fuerteventura (Canary Islands) the Dwarf Bittern remained in residence until 17th at least; and on the Azores, the Green Heron was still to be seen on Pico on 20th, while the Redhead and a Forster's Tern were on Terceira on 20th also.
Well, that's another week done and dusted and, as noted in our opening remarks, winter's fading away while spring's not really got going yet. That's all changing daily, of course, and with even a hint of a supportive wind we're in with a shot for some spring scarcity and rarity action.
So what's heading our way in the coming week? As we saw this past week, the likes of Bluethroats are on the cards – other traditional early spring fare could include an Alpine Swift or two, or if we're luckier still, a Great Spotted Cuckoo - four historic records for the coming week suggest we're moving into the prime time for one of these handsome birds.
For a longer shot, looking to the near continent and the past week, there's also a clue in the Slate-coloured Junco found in Belgium – displaced Nearctic passerines will also be heading north from here on in, so the likes of a junco or a rare sparrow are outside possibilities for the eternally optimistic…
Jom Dunn
21 March 2018
Share this story
Tweet