Weekly birding round-up: 28 Feb - 6 Mar 2018
Ross's Gull in Dorset
Thayer's Gull in Hampshire
Horned Lark in Surrey
Pacific Diver in Cornwall
Stilt Sandpiper in Dorset
Pied-billed Grebe on Shetland
The main event this week was of course the weather. Wednesday saw the full force of the Siberian blast extend to the whole of the UK. It brought everyone at least some snow and many got very large amounts, whilst the subzero temperatures and gale force easterly wind made conditions outside brutal indeed. As if this wasn't enough, the arrival of 'Storm Emma' on Thursday (the first day of spring!) brought further grim conditions and disruption across the Southwest and South Wales. Not until Sunday did things begin to ease, with temperatures finally heading convincingly above zero in southern parts although snow persisted in Scotland until the end of the week.
Despite the conditions, there was little sign of mass bird immigration from the continent with, for example, no significant influxes noted of geese, small grebes and the like, and just alight scattering of Smew. Nor was there any major rarity discovery. There was, though, plenty of evidence of a significant impact on our own birds, with widespread movements noted, particularly of Lapwings, Golden Plovers, Snipe and Fieldfares, the latter brightening up many a suburban garden. This must have been a horrific week for these and other species, and must have seemed particularly appalling to some slightly over-eager summer visitors. The Wheatear in Lancashire and the Garganeys in Hampshire on 28th could not have chosen a worse day to make their arrival.
Unsurprisingly, the number of rare and scarce birds reported was a little down on last week, partly of course due to fewer observers being able to go out but probably also due to birds succumbing to the conditions or just fleeing the area entirely. And with the easterly flow extending well out into the Atlantic, it will be interesting to see if any of our Lapwings, Golden Plovers, Snipe or Fieldfares appear on the other side of the Atlantic in coming days. Birders in eastern Canada and the American Northeast should certainly be out searching.
Ross's Gull
Highly appropriate given the wintry conditions, and perhaps not too perturbed by them, the Weymouth, Dorset adult Ross's Gull remained all week. Always elusive, it was particularly shy on 28th, not appearing until mid-afternoon in the car park at Radipole. There was then, unsurprisingly, no sign of it during the worst of the week's weather but it was at Radipole again on 3rd and was typically mobile still on 4th, visiting Ferrybridge, Chesil Cove, Radipole and Lodmoor and finishing the day in Weymouth Bay amongst no fewer than 1,000 Mediterranean Gulls! On 5th it made a typically brief appearance in the Radipole car park mid-morning but on 6th it was at Ferrybridge until mid-afternoon when it relocated to Radipole via Chesil Cove. Hopefully it will be around a little longer yet.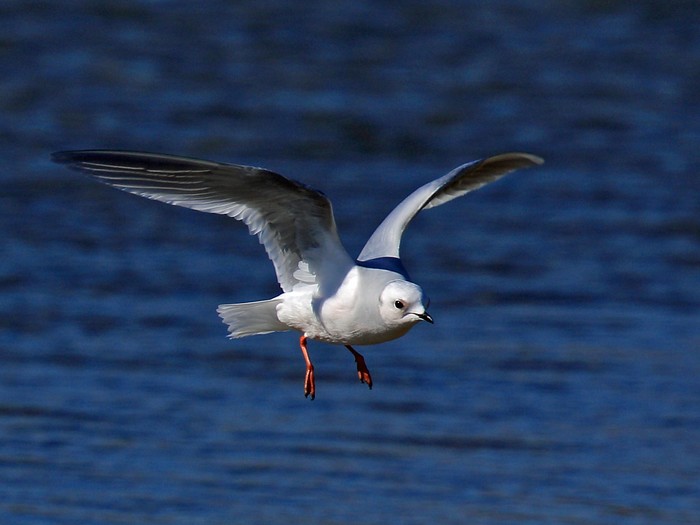 Thayer's Gull
Also 'missing' during the early part of the week was the juvenile Thayer's Gull at the Blashford Lakes, Hampshire roost but it was seen again in the improving conditions on 3rd and 4th, then at Tidpit on 5th and at both sites on 6th.
Horned Lark
Also a hardy species, capable of surviving far more severe conditions across America's Great Plains, the Horned Lark was still at Staines Reservoir, Surrey on 6th.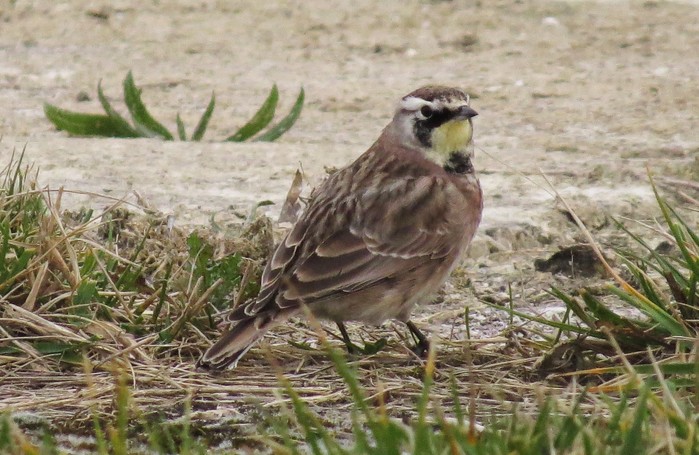 Pacific Diver
Probably quite unperturbed by the weather too was the regular
Pacific Diver
, again in Gerrans Bay, Cornwall on 6th.
Stilt Sandpiper
Much less suited to the Siberian weather was the Stilt Sandpiper, still at Stanpit Marsh, Dorset to 1st but doubtless regretting its decision to winter at such high latitudes. There were no reports of it after the thaw, however. Maybe it has succumbed or, preferably, fled to somewhere warmer.
Pied-billed Grebe
On Shetland the long-staying Pied-billed Grebe was still at Loch of Spiggie on 5th.
The 'best' seabird of the week was a dead White-billed Diver found on the beach on North Ronaldsay, Orkney on 3rd. Otherwise, scarce seabirds were just that, with just a tiny scatter of Little Auks in Scotland - eight off Burghead, Moray on 1st, singles off North Berwick, Lothian and Lossiemouth, Moray on 3rd and ten off Ackergill, Highland on 4th – and a run of Grey Phalarope sightings in northeast England – off South Shields, Durham on 1st, St. Mary's Island, Northumberland on 2nd to 5th (with three on 4th) and Hadston Carrs, also Northumberland, on 3rd.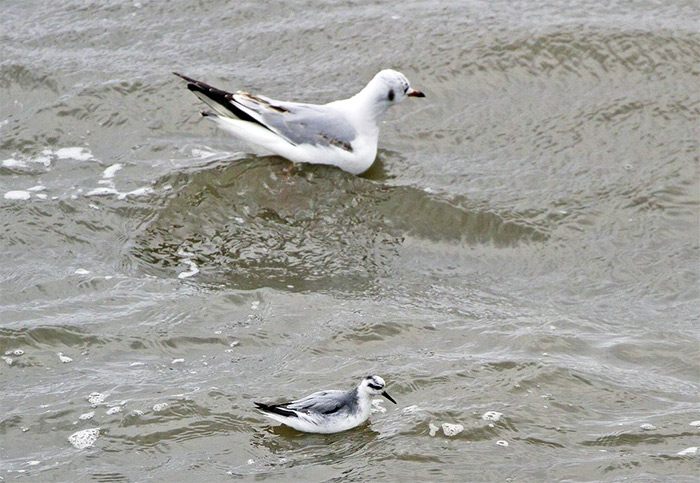 The week's best geese were a Cackling Goose at Ballyconnell, Sligo on 3rd and a Cackling or Canada Goose still at Balranald, North Uist, Western Isles on 5th but other notable records were a Snow Goose at Marwick and Westray, both Orkney, and a Black Brant at Walney, Cumbria on 1st. Given the cold airflow from the continent, the lack of Tundra Bean Geese was striking, the two at Hornsea Mere, Yorkshire during the week apparently the only ones in the whole country.
The big freeze ensured that most of the country's inland fresh water was iced over for several days so it was little surprise that the numbers of rare ducks were down on last week. The only American Wigeons reported were those at Dunster, Somerset, Rutland Water, Leicestershire, Exeter, Devon, Girvan, Ayrshire and Udale Bay and Clachnaharry, both Highland, with Green-winged Teals at Greylake, Somerset, Torpoint, Cornwall, Ashleworth Ham, Gloucestershire, Loch Flemington, Highland, Saltholme, Cleveland, North Cave and Austerfield, both Yorkshire, North Ronaldsay and Marwick, both Orkney, and on North Uist, Western Isles. Perhaps surprisingly, Garganey had been noted by the end of the week in Dorset, Devon, Hampshire and Suffolk.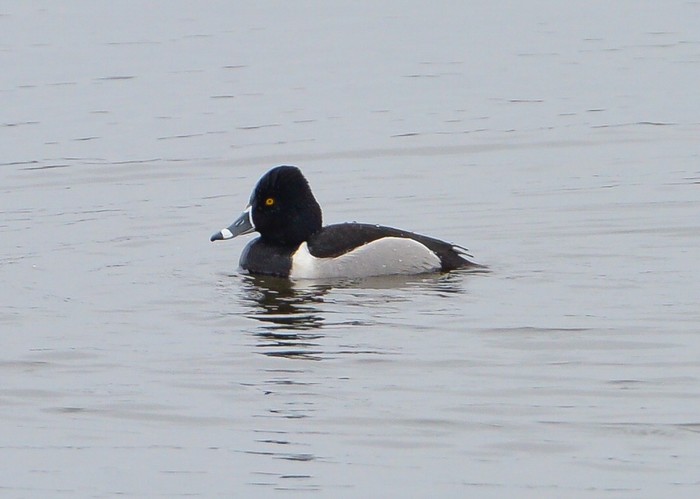 The best diving ducks were Lesser Scaups at Siblyback Lake and Dozmary Pool, both Cornwall, and Ferruginous Ducks at Leez Reservoir, Essex on 3rd, Ham Wall, Somerset still on 4th and at Cotswold Water Park, Gloucestershire on 5th. Ring-necked Ducks were at Beesands Ley, Devon, the Ouse Washes, Cambridgeshire, Old Hall Marshes and Abberton Reservoir, both Essex, the National Wetlands Centre, Camarthenshire, Benbecula, Western Isles, Ham Wall, Somerset, Cotswold Water Park, Gloucestershire and Corran Lake, Cork.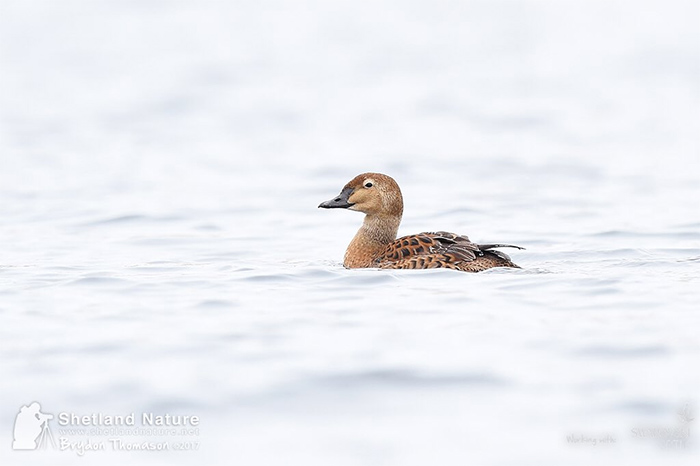 Turning to the sea, Surf Scoters were still off Musselburgh, Lothian, Colwyn Bay, Conwy, Rosslare Bay, Wexford (two) and Unst, Shetland whilst the female King Eider was still in Mid Yell Voe, also Shetland.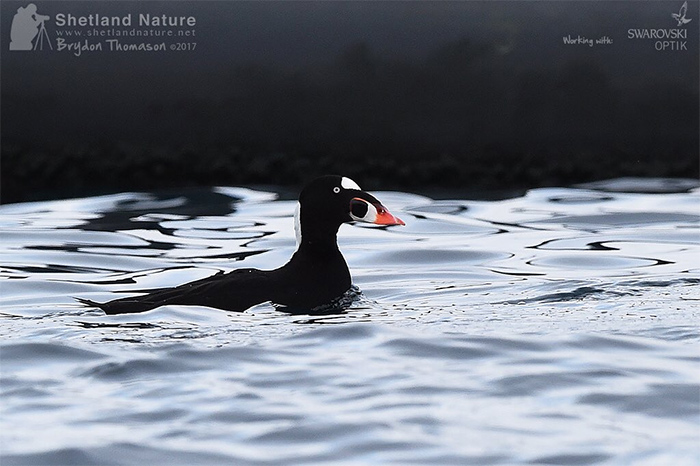 Herons, egrets, crakes etc.
Particularly ill-suited to the conditions, Glossy Ibises were also somewhat depleted this week, the only reports coming from Ixworth and Leiston, both Suffolk, Milton-on-Sea, Hampshire, Newcastle, Wicklow (up to three) and Fremington Pill, Devon. Cattle Egrets were as usual concentrated in the Southwest (with one found dead at Millbrook, Cornwall on 4th) though five were still at large in Lancashire, noted at Birkdale on 6th. In a quiet week for Great White Egret reports there were no large roost counts noted, the largest concentration being just five at Dungeness, Kent. At the opposite corner of the country, the long-staying Common Crane was still accompanying Greylag Geese on the machair at Berneray, North Uist, Western Isles on 2nd.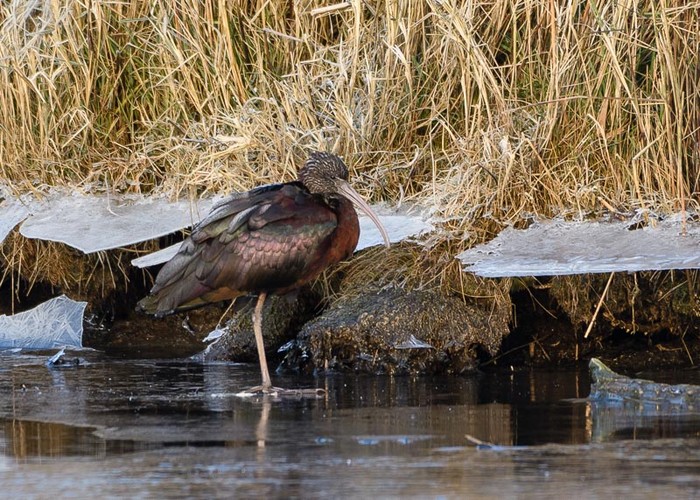 The only raptors of note were a White-tailed Eagle around Theddlethorpe, Lincolnshire on 3rd and the adult male Rough-legged Buzzard still at Haddiscoe, Norfolk on 5th.
Apart from the Stilt Sandpiper, the week's only rare waders were the Long-billed Dowitcher at Lady's Island Lake, Wexford on 28th and another at Birr, Tipperary on 6th. The Spotted Sandpiper in Nottinghamshire was last seen on 26th February so the winter weather seems to have either killed it or moved it on. A welcome sign of spring was, however, provided by a Little Ringed Plover at Upton Warren, Worcestershire on 4th.
Ross's and Thayer's Gulls aside, the top gull of the week was the Bonaparte's Gull still at Killybegs, Donegal on 6th. However, despite the extinguishing of the westerly vector, it was white-winged gulls which continued to steal the show. Iceland Gulls were commonest, with the Western Isles claiming the lion's share. Some highly impressive totals here included an amazing 40 on North Uist, 28 in Stornoway, Lewis and six on Barra. For once, Killybegs, Donegal found itself trumped, this site mustering 'only' 35. Otherwise eight were at Mutton Island, Galway, five at Cork, Co. Cork and five at Tralee, Kerry. The best Glaucous Gull counts were 25 at Killybegs and twenty on North Uist (making 60 white-winged gulls there altogether!).
Kumlien's Gulls remained prominent with one at Spiggie, Shetland on 28th, the juvenile still at Kilvington Lakes/Hoveringham Gravel Pits, Nottinghamshire to at least 4th, a third-winter on Lewis, Western Isles on 1st, a juvenile on North Ronaldsay to at least 5th, a juvenile at Waterside, Galway, two on North Uist, Western Isles and an adult on St. Mary's, Isles of Scilly on 2nd and 4th, a juvenile in Limerick, Co. Limerick and a third-winter at Tralee, Kerry on 3rd, a second-winter on South Uist, Western Isles on 4th and 5th, a juvenile at Stornoway, Lewis, also Western Isles, on 4th and a juvenile at Killybegs, Donegal on 6th.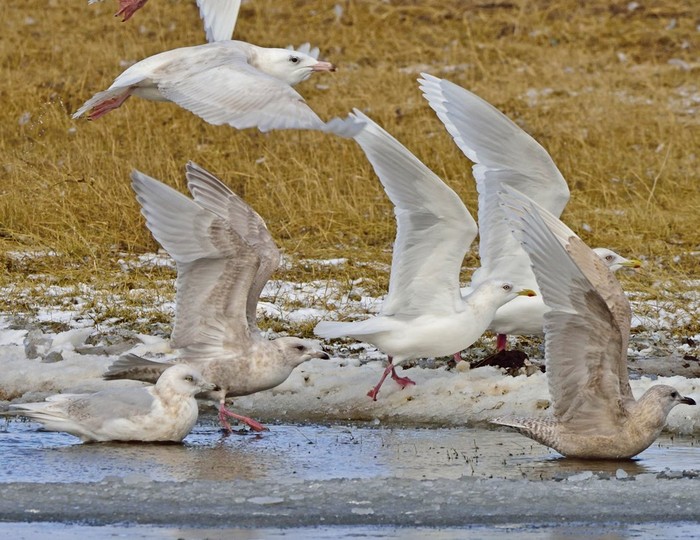 Ring-billed Gulls were at Bray, Wicklow, Newquay, Cornwall, Cashen (two), Tralee (two), Lough Gill and Blennerville, all Kerry, Sligo, Co. Sligo, Dublin, Co Dublin, Waterside and Nimmo's Pier, both Galway, and Blashford Lakes/Tidpit, Hampshire.
Near-passerines and Passerines
The passerine line-up was dominated again by Coues's Arctic Redpolls with single new birds at Horsmonden, Kent on 3rd, trapped at a site in southeast Suffolk on 4th and in riverside alders at Fakenham, Norfolk on 3rd to 6th. Meanwhile, last week's new discovery was still on the edge of Norwich at Whitlingham to 6th, whilst the long-staying Suffolk bird near Aldeburgh was present to 6th also and the more recent arrival on Whalsay, Shetland was still there to at least 2nd.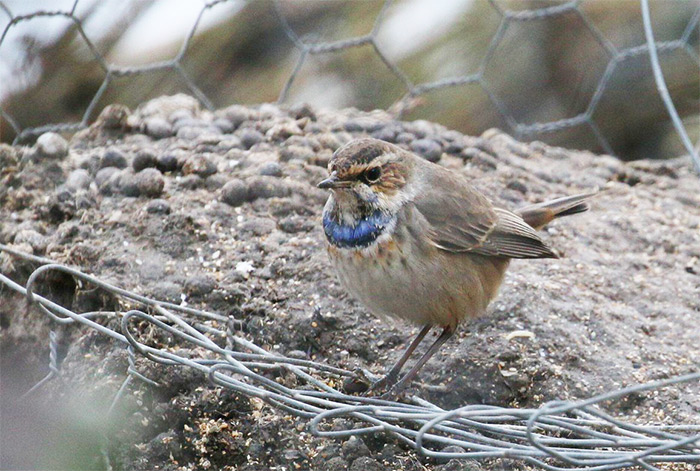 The other headline winter passerines were the somewhat out-of-place male White-spotted Bluethroat on South Ronaldsay, Orkney again on 4th, three Parrot Crossbills again at Swinley Forest, Berkshire/Surrey on 3rd and 5th, a new Little Bunting at Brading, Isle of Wight on 2nd (that's five now in Britain since December) and the long-stayer still at Walthamstow, London to at least 6th with a Serin also there briefly on 6th.
The best of the rest were a Rose-coloured Starling at Little Milford/Milford Haven, Pembrokeshire on 3rd and 5th and the remarkable Siberian 'double act' of Richard's Pipit and Yellow-browed Warbler at Wombwell Ings, Yorkshire, the former to at least 2nd and the latter to at least 6th.
Waxwings remained few, the complete list of sightings being as follows: a single in Norwich, Norfolk on 28th, one at Poynton, Cheshire to at least 3rd, four at Strelley, Nottinghamshire on 28th, one at Lowestoft, Suffolk and five at Scarborough, Yorkshire on 1st, 20 in Aberdeen, Aberdeenshire to 3rd, up to 17 at Elgin, Moray on 3rd to 5th, four at Sunk Island, Yorkshire on 3rd, seven at Skinflats, Forth and four at Miltonduff, Moray on 4th and two at Penrith, Cumbria on 5th and 6th.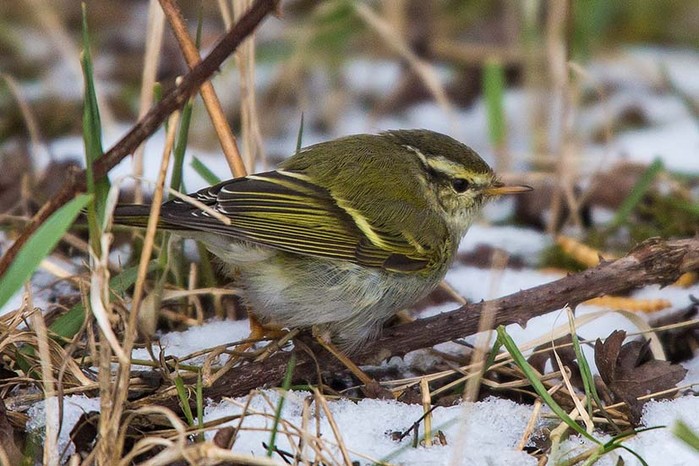 Otherwise, up to twelve Shorelarks were still at Holkham Bay, Norfolk and Great Grey Shrikes were in the West Ilsley, Berkshire and Baulking and East Hendred areas of Oxfordshire, also at Burley and Ferny Knap, both Hampshire, and Morden Bog, Dorset. The 'Italian Sparrow' was still in East Budleigh, Devon on 28th.
Hawfinches remained prominent with an astonishing 325 still around Mickleham, Surrey, 70 at Kingley Vale, Sussex, 60 near Blandford Forum, Dorset and 50 at Merrow Downs, Surrey. Counts of over 20 came from more than ten other locations, mainly in southern England but 30 were at Dingestow Court, Gwent, 27 at Darley Dale, Derbyshire, 26 at Rufford Abbey, Nottinghamshire and 20 at Keele, Staffordshire.
Elsewhere in the Western Palearctic, the Dwarf Bittern remained a prime draw on Fuerteventura, Canary Islands, as did the impressive line-up in the Netherlands of Eastern Black Redstart and Black-throated Thrush in the northeast of the country close to the German border and Ross's Gull and Pine Bunting in the southwest. Also new in the Netherlands was a dead Brünnich's Guillemot, found on the beach on Ameland on 4th. The week's best new live discoveries were a Grey-headed Gull in Italy, a Steppe Grey Shrike in Catalonia, Spain, Israel's first Pacific Swift north over Eilat on 2nd and a Pine Bunting (a female) in Greece on 3rd, the latest in a good recent run of this species in Europe.
Looking ahead, next week is clearly set to be very different. With the winds forecast to be somewhere between southwest and southeast and the temperatures heading steadily back towards where they should be, we should see a welcome return to early spring. This time of year is traditionally dominated by the very first of our returning summer migrants so it is certainly time to look for Wheatear, Garganey, Chiffchaff and Little Ringed Plover. March is also a good time for something rarer, however, as birds start to move about and previously undetected 'secret winterers' suddenly break cover. The displacements caused by this week's weather might also yet produce something rare. In the east Coues's Arctic Redpoll, Black-throated Thrush and Pine Bunting all represent potential targets but in the west this is a prime time for northward-drifting gulls. Could it be the week for a Kelp Gull amongst those Lesser Black-backs?
Andy Stoddart
7 March 2018
Share this story
Tweet