Weekly birding round-up: 21 - 27 Feb 2018
A beautiful Ross's Gull graces Dorset
While across the county border in Hampshire the Thayer's Gull extends its stay
Ireland still boasts Black Scoter and Semipalmated Plover
The long-staying Stilt Sandpiper remains in Dorset
And the Horned Lark is still in Surrey
I'm writing this on the eve of the arrival of the much vaunted 'Beast from the East' which, depending on the paper one reads, is either snowpocalypse now or, as those of us who're not quite so hysterical prefer, the advent of some winter weather.
So the past week seems to have been all about the anticipation of the arrival of the coming week's weather unless, that is, you're a birder. In which case this week has been largely about a small gull in Dorset…
Ross's Gull
It's not the done thing to be sniffy about gulls, is it? Even if you're not a fan of sifting through thousands of first-winter large gulls in the hope of finding something that's not a baby Herring Gull, actually admitting as much is tantamount to publicly stating you're not a Proper Birder. Deep down, though, they're not everybody's cup of tea… and then there are Ross's Gulls…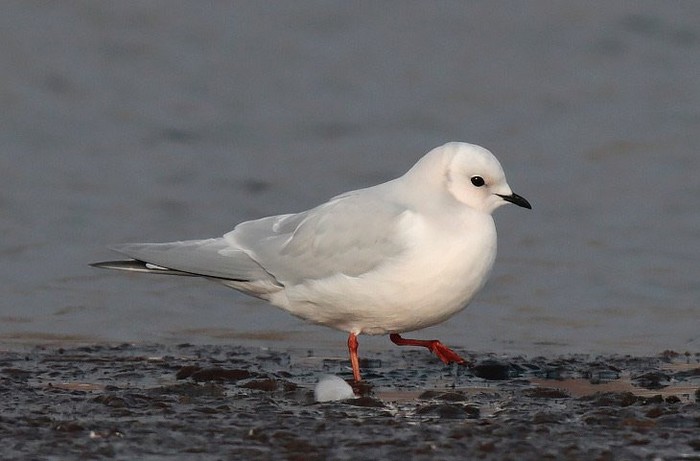 I challenge anyone not to fall in love with Ross's Gulls. They're just plain irresistible, aren't they? They're dainty and perfectly proportioned, from their dove head to their diamond tail. While a hefty juvenile Thayer's Gull might be one for the true connoisseur, an adult Ross's Gull is a guaranteed aesthetic crowd-pleaser, and likely to lure folk from far and wide even if they've seen one before. Because they're just gorgeous, aren't they?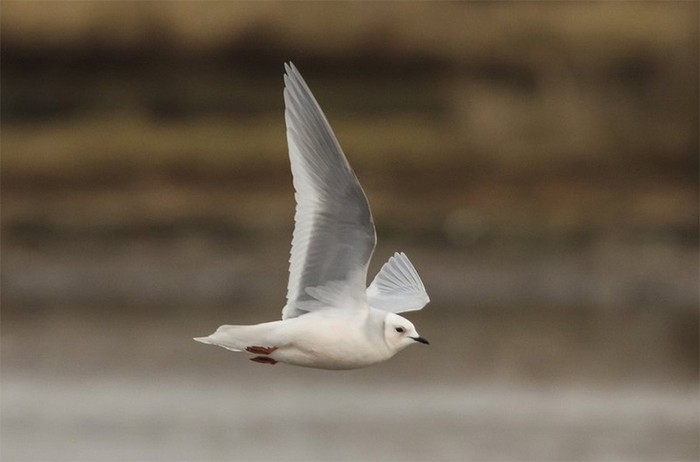 All of which preamble is, of course, all thanks to the adult Ross's Gull that graced the Weymouth area this week, ghosting between Ferrybridge and Lodmoor RSPB from 21st-27th. Only the third for Dorset, this latest bird has been a long time coming – the last record was a long-staying individual at Stanpit Marsh for 66 days in June, July and August 1974. Curiously, the county's first was also a summer bird – seen in Weymouth on 13th August 1967. Compared with neighbouring Devon, which has enjoyed five records to the end of 2016, Dorset's had slim pickings indeed and this obliging new bird was both welcome and, arguably, long overdue.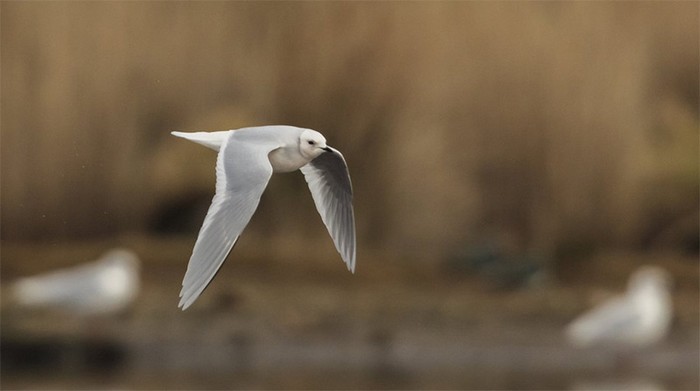 Thayer's Gull
It would have been entirely feasible for pilgrims to the Dorset Ross's Gull to see the yin to its yang, as the Thayer's Gull in neighbouring Hampshire was still to be found at Tidpit and Blashford Lakes HWT throughout the week. Was there ever a starker contrast to a delicate High Arctic gull than the solid, brooding, presence of a juvenile Thayer's?
Black Scoter & Semipalmated Plover
Sticking with the theme of settled birds, the main news from Ireland this week concerned the ongoing presence of two birds that, numerically at least, are right up there amongst the rarest for all there have been long-staying individuals to breed complacency amongst British and Irish birders alike. These are, of course, the drake Black Scoter still off Rossbeigh (Co.Kerry) this week on 21st-25th; and the adult Semipalmated Plover still at Keel Beach on Achill Island (Co.Mayo) on 24th at least.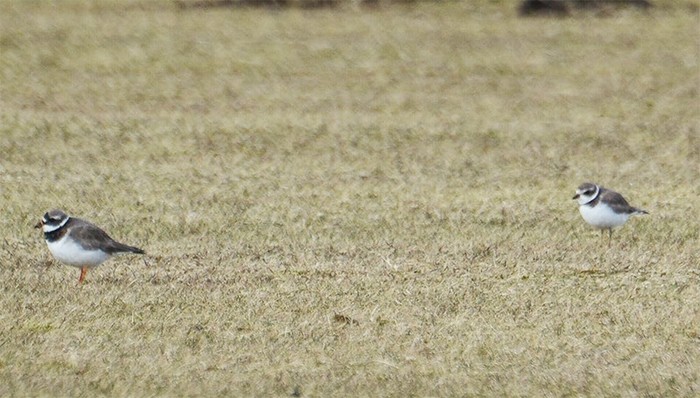 Stilt Sandpiper
We return briefly to Dorset where, once more this week, the first-winter Stilt Sandpiper remained settled at Stanpit Marsh. Thursday will be the day that it surpasses the long stay record set by the 1984 individual in Cheshire – officially, then, the most obliging individual of its kind in Britain or Ireland, and a cherry on the cake for recent gull-twitchers to Dorset and Hampshire, I'm sure.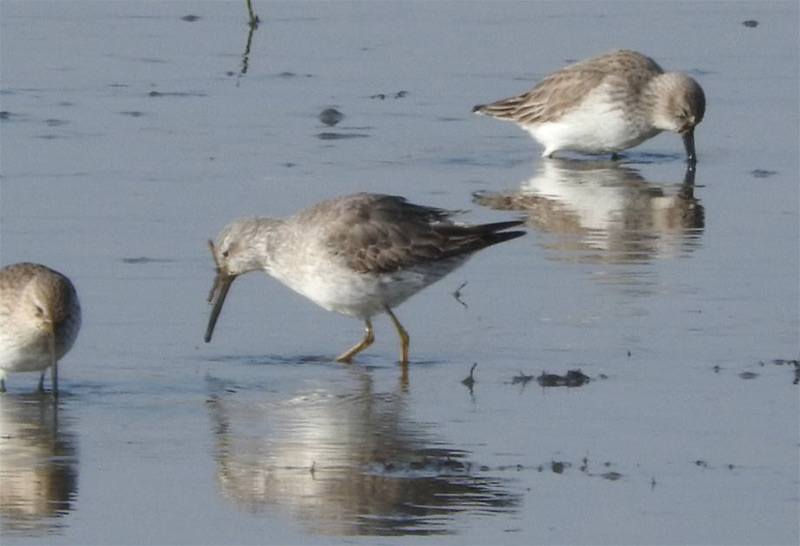 Horned Lark
Last, but by no means least, the female alpestris/hoyti/pratincola Horned Lark remained in Surrey this week at Staines reservoir, being seen there daily until 27th. Will the Beast from the East prove her undoing and, finally, induce her to move on to pastures new?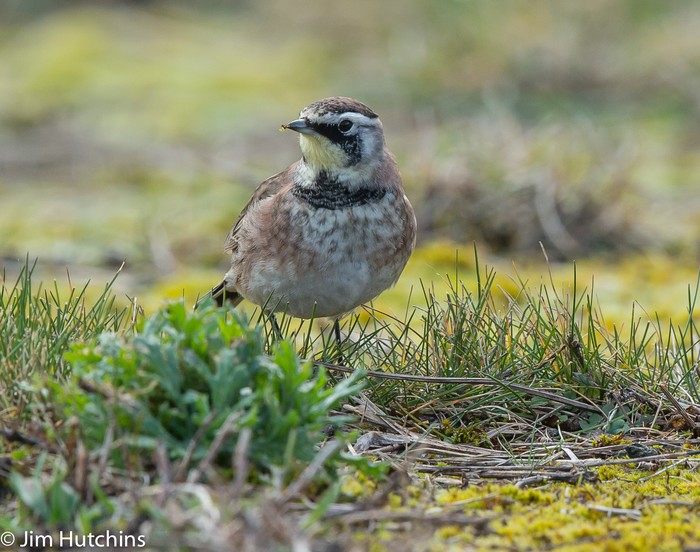 This week's seabirds are a pretty sparse lot, all told. It fell to Mousehole (Cornwall) to provide the diver highlights, with the White-billed Diver still present there as the week began on 21st and, as the week wore on, the Pacific Diver seen off there once more on 25th.
Little Auks were similarly impoverished, with the very merest scatter of singletons to report: one off Avoch (Highland) on 21st; one seen in Norfolk from Mundesley on 24th; on 25th one back in Scotland off Reay (Highland); and finally, on 26th, one was seen from Chanonry Point (Highland).
Numbers of Cattle Egrets being reported this week remained fairly consistent with the preceding week – with approximately 65 birds noted across the region. I've no doubt, however, that our tally this week remains an underestimate of what's actually out there lurking in damp fields and wetland margins. Once again this week it fell to St Clements (Cornwall) to give us our highest single site tally – these being 17 birds still present there on 21st.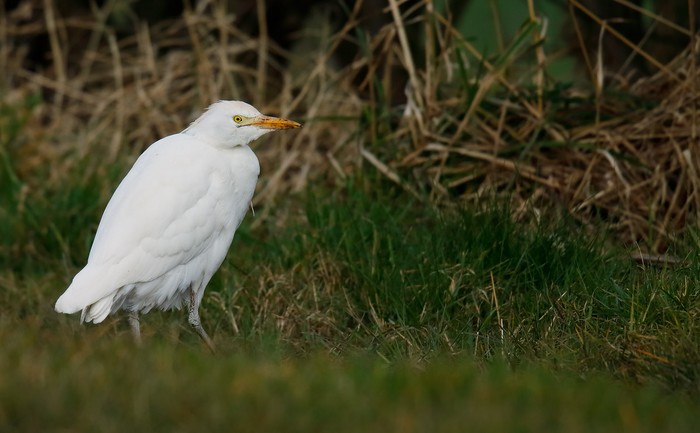 Around 90 Great White Egrets maintained a strong showing in the usual widely dispersed spread of some 40 counties across the region. Once more, this was the usual story of mostly singletons, and the odd duo or trio, with the most significant counts coming in the form of nine birds at Shapwick Heath NNR (Somerset) on 25th, and five birds at Llangorse Lake (Powys) on 21st.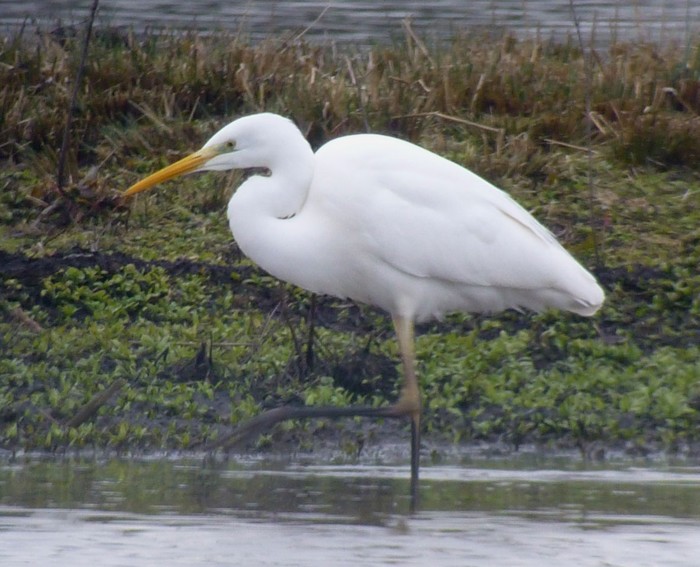 In the total absence of the recent stalwart flock of 20 or so Spoonbills in Poole Harbour (Dorset), our weekly tally of spatula-faces was looking pretty denuded this week, with just 25 birds noted. Poole Harbour could only muster a half dozen on 23rd, with five reported from Keyhaven (Hampshire) on 25th the next highest count altogether this week.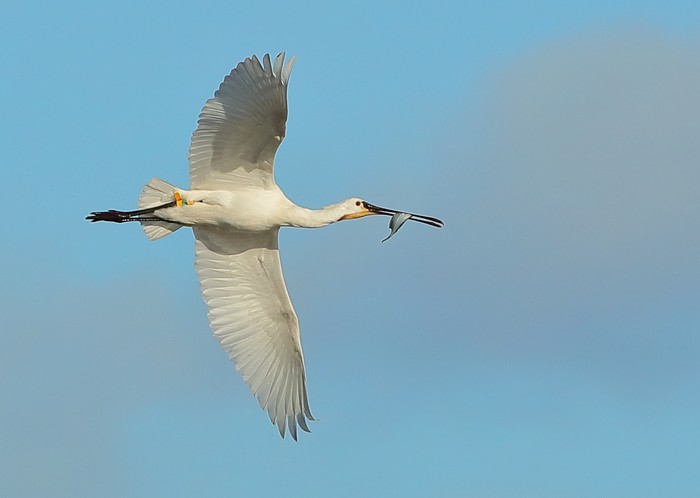 Numbers of Glossy Ibises were down somewhat on the previous week, with eleven birds in all logged: on Skye at Kilmaluag (Highland) on 21st-23rd; at Brading Marsh (Isle of Wight) still on 21st-23rd; at Fremington Pill (Devon) again on 22nd; at Minsmere RSPB (Suffolk) still on 22nd-27th; at Shapwick Heath NNR (Somerset) once more on 23rd-25th and Ham Wall RSPB on 26th; at Black Hole Marsh (Devon) on 24th; and, in Norfolk, at Breydon Water on 24th and Berney Marshes RSPB on 25th. On 27th one was found in Hampshire at Sturt Pond. In Ireland the trio remained at East Coast NR (Co.Wicklow) on 24th-27th.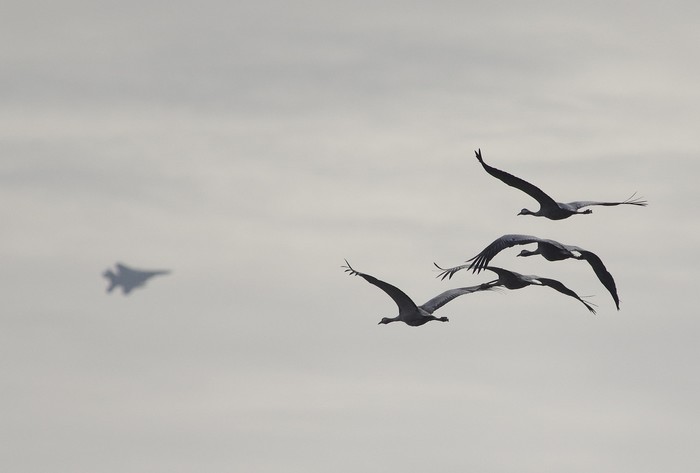 The Common Crane remained at Berneray (Western Isles) on 21st-26th while, in Cambridgeshire, the flock at Nene Washes RSPB peaked with 24 birds present on 22nd. A further bird was seen in Dorset over Wareham Forest on 24th.
Straight back into the murky waters of the Rarity Round Up duckpond this week, and where better to start than two white Snow Geese still present in Devon at Powderham on 23rd-26th. Right time of year… but a somewhat untraditional location, surely? Far more of a feel-good factor remained this week around the white morph bird still to be found at Berneray (Western Isles) on 23rd-26th.
The Goose Formerly Known As Canada needn't delay us overly, as we've just the one interior Todd's Canada Goose to consider – that on Islay (Argyll & Bute) once more on 24th – and the Cackling or Canada Goose once again on North Uist (Western Isles) at Balranald RSPB on 26th.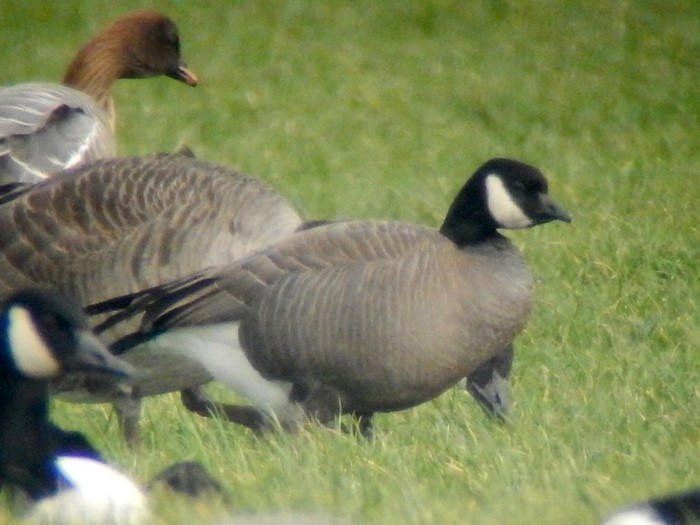 The regular Black Brant was lobbing around the north Norfolk coast at various locations again throughout the week; one was once more on Walney Island (Cumbria) on 24th, while one of the recent Essex birds was seen that day at Walton-on-the-Naze; and on 21st one was seen in Poole Harbour (Dorset) at Whitley Lake. In Ireland, an adult was in Dublin Bay (Co.Dublin) on 24th, while the following day another was seen at Kilcoole (Co.Wicklow).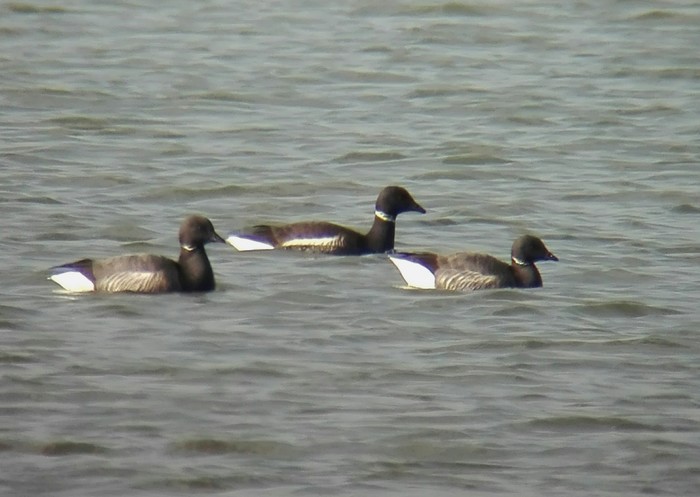 The usual suspects comprised our line-up of drake American Wigeons once more this week – birds remained at Matford Marsh RSPB (Devon) on 21st-27th; Grindon Lough (Northumberland) on 21st-24th; Nene Washes RSPB (Cambridgeshire) on 21st-25th; Rutland Water (Leicestershire) on 23rd-25th; and in Scotland at Dipple Shore (Ayrshire) on 23rd-27th. In Somerset one was seen at Dunster on 23rd-27th.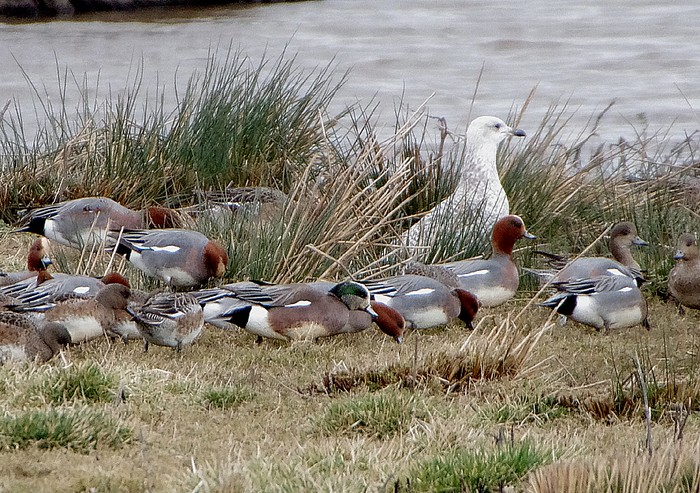 Green-winged Teals continued to be a late winter staple, with 10 birds in all recorded. On 21st the regular bird was again noted on North Ronaldsay (Orkney), with one seen that day on Sanday also, and the North Ron bird still present on 24th; on 21st-22nd one was in South Yorkshire at Newington Flash; on 21st-27th one was seen at North Cave Wetlands YWT (East Yorkshire), while on 22nd-25th a bird frequented Kilnsea Wetlands; one remained on 22nd still at Saltholme RSPB (Cleveland), while elsewhere on 22nd birds were logged at Ham Wall RSPB (Somerset) and Walmsley Sanctuary (Cornwall); on 23rd-27th one was again seen at Ballymena (Co.Antrim); and on 24th-27th one remained at Loch Flemington (Highland). On 25th, back on Orkney, one was on Mainland at Finstown Ouse.
Meanwhile Ring-necked Ducks held fairly steady this week with nine birds noted, all of them drakes apart from the female still at National Wetlands Centre WWT (Carmarthen) on 22nd-25th. On 21st birds remained at Cromane (Co.Kerry) and Coot Loch on Benbecula (Western Isles); one remained on Little Loch Shin (Highland) on 21st-27th, while birds remained at Cotswold Water Park (Gloucestershire) on 21st-27th and Ouse Washes RSPB (Cambridgeshire) on 21st-25th; on 22nd the drake was still at Ham Wall RSPB (Somerset), while on 24th-25th birds were once again logged at Beesands Ley (Devon) and Lough Yganavan (Co.Kerry).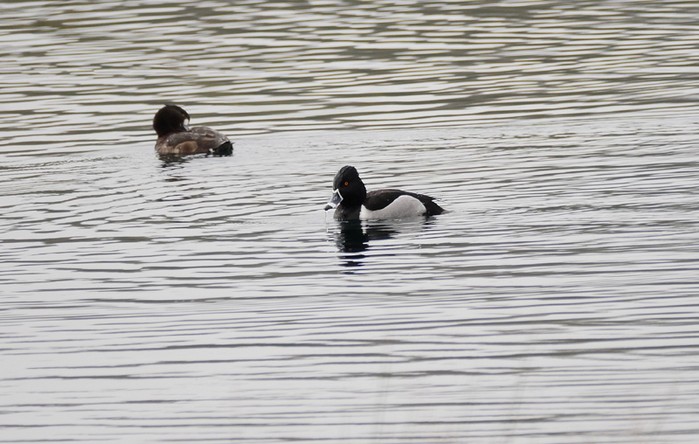 The drake Lesser Scaup was still at Dozmary Pool (Cornwall) on 21st-25th, while the drake Ferruginous Duck was seen again in Somerset at Ham Wall RSPB on 25th in the company of a second individual, and on his lonesome once more on 27th.
On 21st the female King Eider was seen again in Shetland off Yell, while the resident female was once more sighted at Ynyslas (Ceredigion) on 24th.
The settled trio of Surf Scoters remained this week at Porthpean (Cornwall) on 21st-25th, while in Scotland birds were again noted from Largo Bay (Fife) on 22nd and Musselburgh (Lothian) on 22nd-25th, and a Welsh sighting came from Old Colwyn (Conwy) on 25th again. Irish birds comprised the female still off Rossbeigh (Co.Kerry) on 21st-24th; a duo off Rosslare (Co.Wexford) still until 25th at least; and a duo off Ben Head (Co.Meath) again on 25th.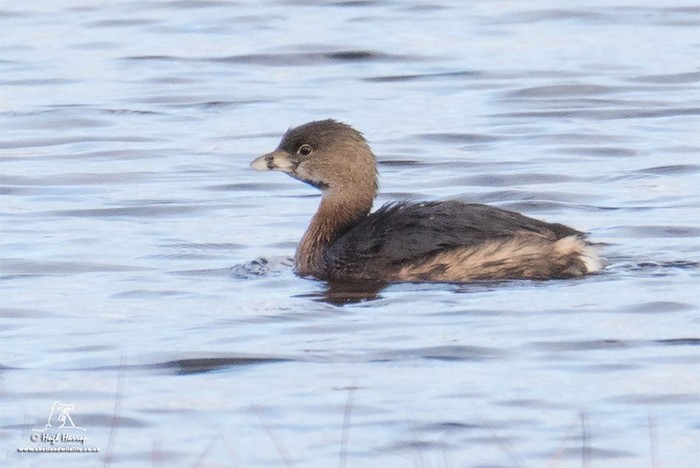 Finally we're back in Shetland for the closing honorary waterbird – the Pied-billed Grebe still present at Spiggie on 23rd-27th.
All the recent usual shorebird suspects lined up, present and correct, for another week, with just the tiniest bit of Irish addition for the sake of variety.
Starting then in Co.Wexford, the first-winter Long-billed Dowitcher was once again seen at Tacumshin on 24th and nearby Tomhaggard on 25th; on 27th one was at Lady's Island Lake. The adult bird meanwhile remained Oare Marshes KWT (Kent) on 24th also.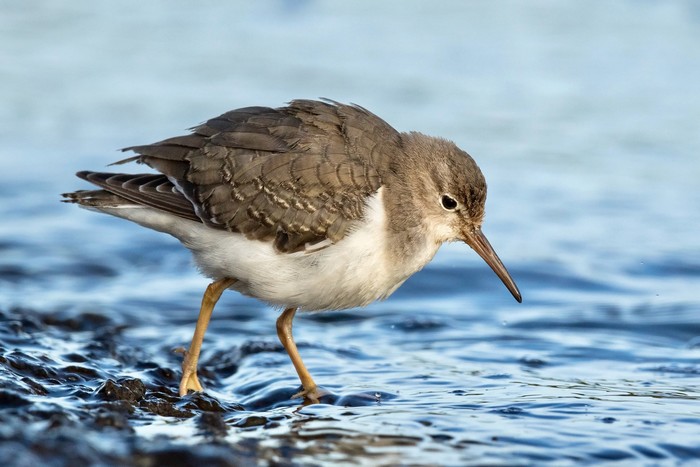 In East Sussex the wintering Temminck's Stint was again seen at Pulborough Brooks RSPB on 21st-25th.
Finally, in Nottinghamshire, the Spotted Sandpiper remained at Holme Pierrepont on 21st-26th.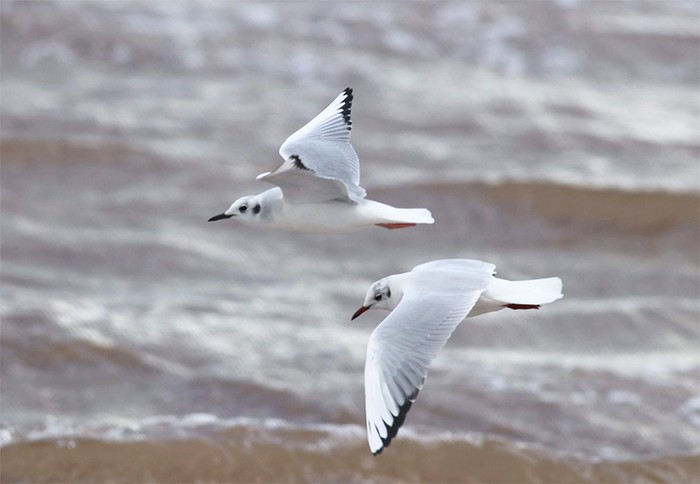 Three adult Bonaparte's Gulls kick off the gulls and terns this week, these being the individual in Ireland at Killybegs (Co.Donegal) still on 23rd-25th, the Scottish bird at Gourock (Clyde) again on 21st-25th, and the English bird down in Devon Teignmouth again on 24th-27th. An additional sighting came from Wales on the Teifi estuary (Ceredigion) on 23rd.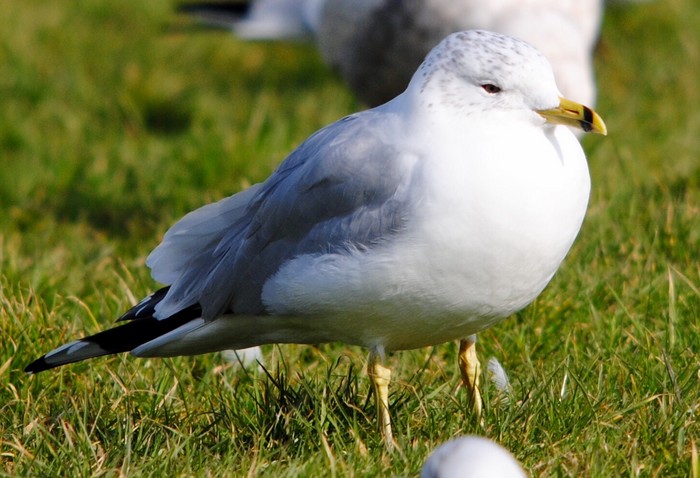 Ring-billed Gulls nudged into double figures with 13 birds reported – around half of the tally of the previous week, however. In England, the first-winter was still at Newquay (Cornwall) on 21st-26th, with an adult at Hayle Estuary RSPB on 24th; the adult was still at Blashford Lakes HWT (Hampshire) on 21st-27th; a second-winter was in Shropshire at Ellesmere on 21st-22nd; and, in Dorset, a probable was seen at Longham Lakes on 25th. The adult was once again in Wales at Llys-y-Fran reservoir (Pembrokeshire) on 25th. Ireland makes up the remainder of our sightings, these being a second-winter at Rosslare Back Strand (Co.Wexford) on 22nd; the adult still at Bray (Co.Wicklow) on 22nd-23rd; adults still at Dundalk (Co.Louth) on 24th-25th and Tralee Bay Wetlands Centre (Co.Kerry) on 24th-26th; adults on Hook Peninsula (Co.Wexford) and at Blennerville (Co.Kerry) on 24th; and a second-winter at Rossbeigh Strand (Co.Kerry) on 25th.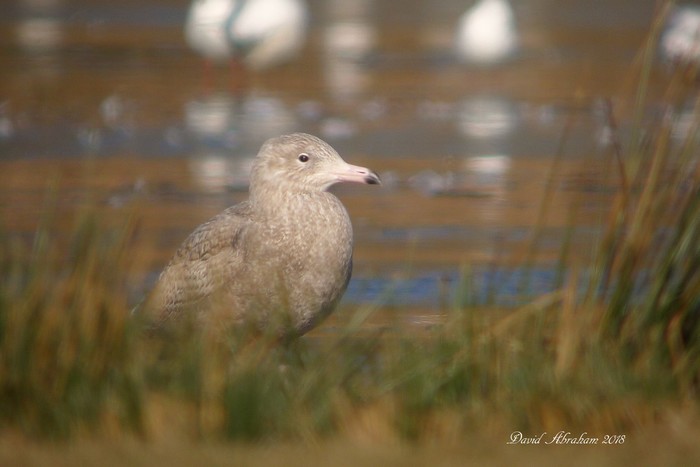 And so we come to our weekly white-wingers, where numbers of Glaucous and Iceland Gulls decreased somewhat from last week's largesse. Starting with the former, around 160 birds were noted with a peak count again coming from Killybegs (Co.Donegal) where 16 birds were logged on 23rd; while the latter tallied some 240 birds, and a peak count also at Killybegs, where 24 were noted on 23rd. Numbers of Kumlien's Gulls meanwhile also contracted with just 14 birds logged this week across Britain and Ireland. Vatersay (Western Isles) was the locus for them, with at least three individuals noted there over the course of the week – an adult and a juvenile there on 21st, a juvenile on 22nd, and a second-winter there on 24th.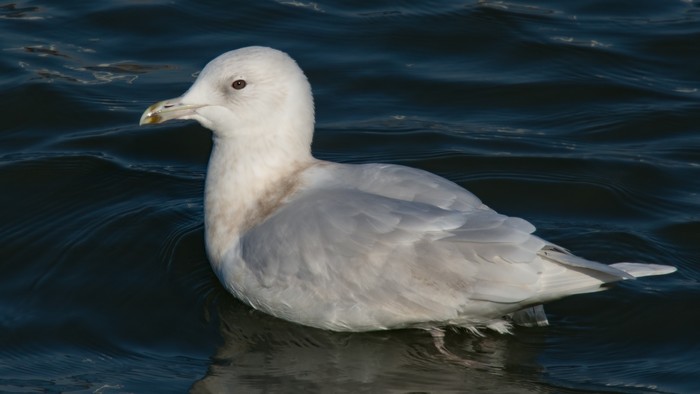 Appropriately in a week in which the threat and, finally, the arrival of the white stuff featured so prominently, two ermine-clad executioners graced our skies in the past few days – the white Gyr was seen again Ireland at The Mullet (Co.Mayo) on 21st, while another white morph was noted in Highland at Tongue on 25th.
Both the recent adult male Rough-legged Buzzards were seen again lately, at Haddiscoe Island (Norfolk) on 21st-25th and Thorney Toll (Cambridgeshire) on 23rd-25th respectively.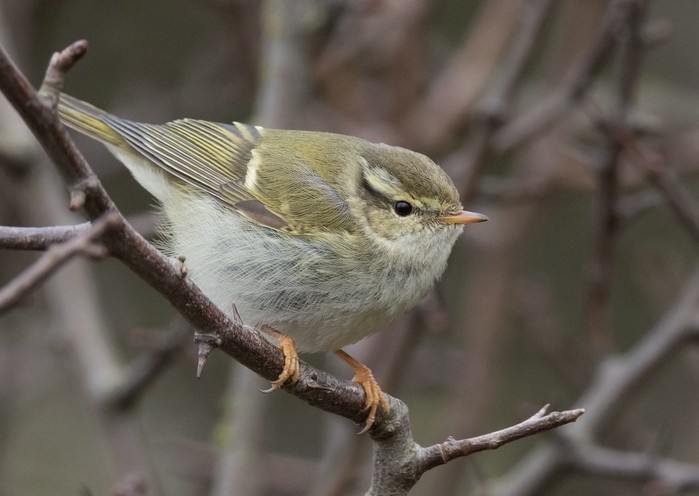 We'll kick off our run through the passerines in Cornwall where at least one bird was feeling the sap rising this week – the Yellow-browed Warbler at Carnon Downs still on 21st-25th was even heard in song – a gesture both wildly optimistic and somewhat premature… Another bird was found at Wombwell Ings (South Yorkshire) on 25th-27th, sharing the latter site with the Richard's Pipit that was still present this week on 23rd-27th. South Yorkshire was suddenly feeling all east coast in autumn…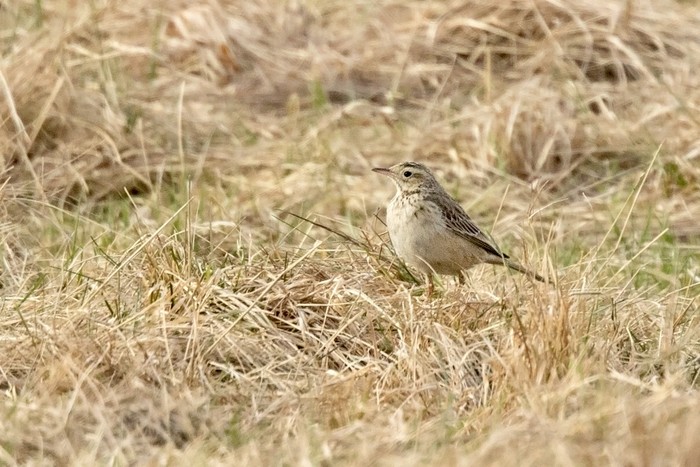 The first-winter male Penduline Tit at Plock Court Wetlands (Gloucestershire) may, finally, have called it a day as, despite being seen this week on 21st-23rd, it's not been seen there subsequently.
In Devon, the male putative Italian Sparrow was still to be found in East Budleigh on 22nd-27th, while in East Yorkshire the first-winter Rose-coloured Starling remained at Easington until 25th at least.
The unseasonal Bluethroat was still to be found at Eastbourne (East Sussex) on 26th.
Numbers of Waxwings took a nose-dive this week, with just a scatter of birds to report upon – in the absence of any significant late-winter arrival from the continent they're one to see while flocks last… the adult remained in Cheshire at Poynton on 22nd-26th, with another single bird noted at Flamborough (East Yorkshire) on 23rd; three were seen in Skelton (Cleveland) on 23rd; five were at Joppa (Lothian) on 24th; and three had made it as far west as Cobh (Co.Cork) on 25th, with a single bird seen that day at Larg (Ayrshire). On 26th four were in Scarborough (North Yorkshire); four were in Gravesend (Kent); four were found in Felixstowe (Suffolk), remaining there the following day too; two were reported from Forfar (Angus); and single birds were seen near Tayvallich (Argyll & Bute) and in Aberdeen (Aberdeenshire). On 27th a single bird was seen at Blairgowrie (Perth & Kinross), with a further report of three again in Forfar that day also.
Wintering Great Grey Shrikes seen this week nudged into double figures, with Gloucestershire once more dominating sightings – at Crabtree Hill again on 21st-24th, Hawling on 23rd-26th, Great Barrington again on 24th and also that day at New Fancy View. Further birds were seen at Prestwick Carr (Northumberland) again on 21st-25th; West Ilsley (Berkshire) still on 21st; Morden Bog NNR (Dorset) again on 23rd-26th; on Exmoor (Somerset) on 24th-26th; at Cropwell Bishop (Nottinghamshire) once again on 24th-25th; at Markway Inclosure (Hampshire) still on 24th-26th and at Holm Hill on 27th; and again at Baulking (Oxfordshire) on 25th. On 26th one was found in Norfolk at Wighton, and was still present there the following day.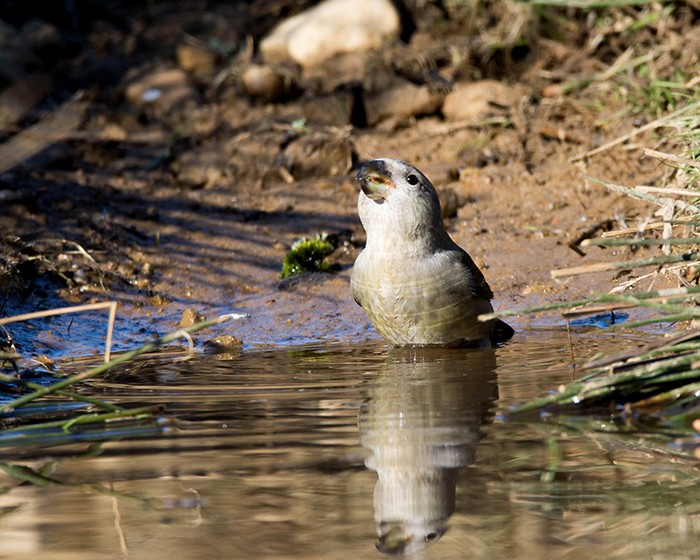 The possible Parrot Crossbills in Houghen plantation (Norfolk) continued to exercise birders this week, with a dozen birds there elevated to probable status by 23rd, and serving as a timely reminder that all's not always as cut and dried in the world of Loxia as we might like to convince ourselves. How, exactly, does one explain birds with bills that seem chunkier than Common Crossbills but not as bulging and brutish as those of classic Parrot Crossbills? Hard enough in the wilds of rural Norfolk, but try making sense of them in the pine forests of Scotland…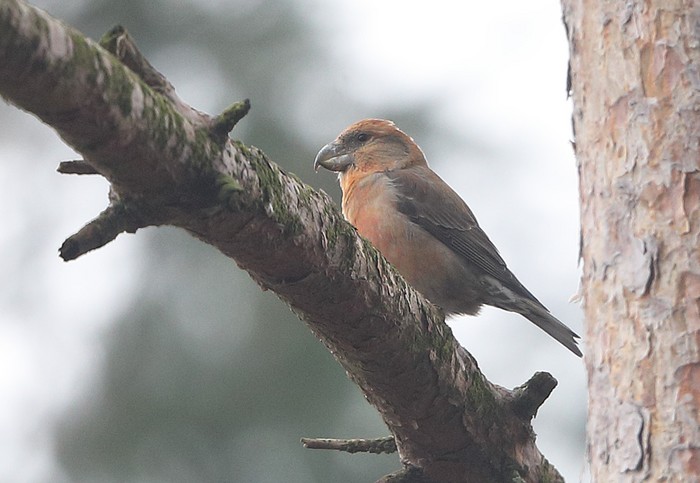 Twenty birds remained in Norfolk at Santon Warren still on 22nd, while the settled flock at Howden reservoir (Derbyshire) peaked once more with a dozen present there on 24th and again on 26th.
A Serin was in Essex on 27th at Shoeburyness.
Returning to Norfolk, one of the recent exilipes Arctic Redpolls was still at Kelling on 21st-24th; the bird on Whalsay (Shetland) remained at Skibberhoull on 21st-24th; and on 21st a probable was seen in Suffolk at Covehithe, and a further possible bird was in Norfolk at Choseley. On 27th one was found in Norfolk at Whitlingham Country Park.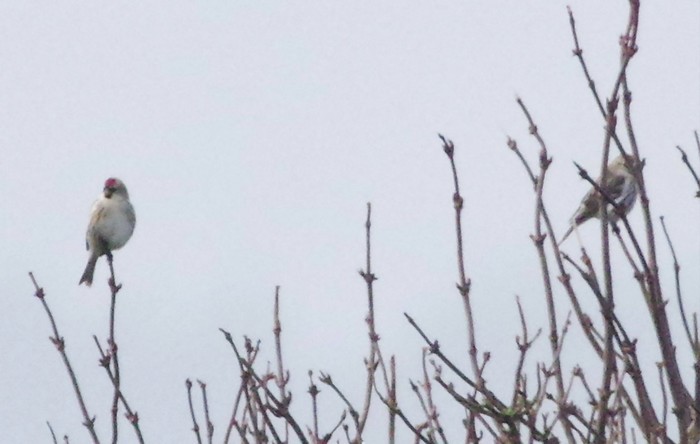 Norfolk continued to feature in the news albeit for information only, as the female Pine Bunting seen once again in the Holt area on 22nd is at a location with no public access.
Happily, no such problems beset the Little Bunting at Walthamstow reservoirs (London) still on 21st-27th.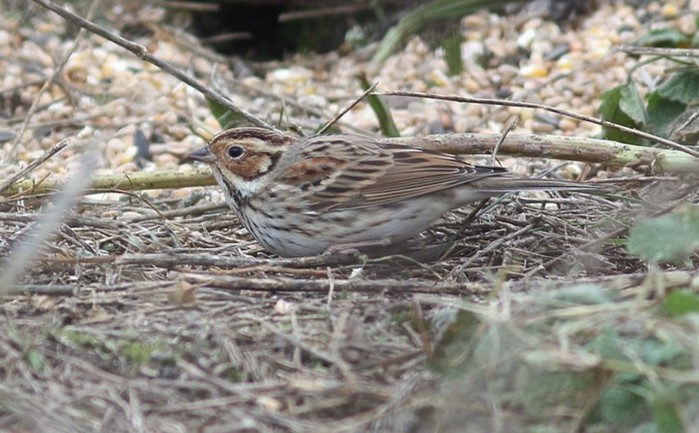 We'll start our weekly perambulation through the best of the Western Palearctic offerings in France where, in a reminder to us all to keep checking those gulls, a near-adult form vetula Cape Gull was seen at Le Mesnil-Aubry landfill, near Paris, on 21st-22nd. Imagine the ensuing carnage if that was re-found, some snowy day sometime soon, in Britain…
Or, more modestly, the chaos if the American Royal Tern that's still hanging around Guernsey this week, being seen there once more on 25th, did the decent thing and crossed the Channel to the English south coast...
To Holland next, where there was still plenty going on there just a short flap across the water from us, in the form of the male Eastern Black Redstart still at Groningen on 22nd-26th, and the Black-throated Thrush at Scheemda still on 22nd-26th also.
Meanwhile, in Belgium, the Pygmy Cormorant remained settled at Parc Domaine du val Duchesse (Belgium) on 22nd-25th.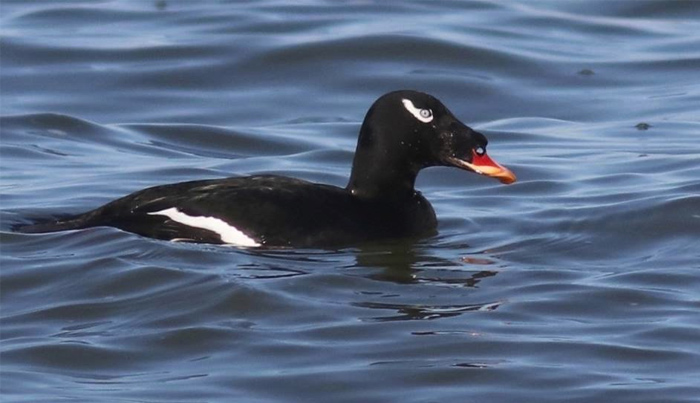 In Poland, on 26th, a Stejneger's Scoter was seen in Gdansk Bay.
Spain gave us more thrush food for thought this week in the form of an Eyebrowed Thrush found in Cadiz on 22nd-27th. Portugal completed the Iberian peninsula offerings with a Sociable Plover at Pera marshes in the Algarve on 21st-27th.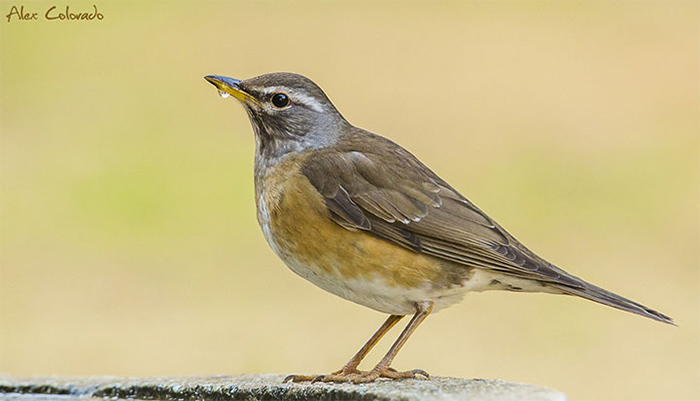 The Canary Islands held onto their Dwarf Bittern on Fuerteventura on 21st-26th; the Azores, meanwhile, offered a Snowy Egret on Terceira on 23rd still, and Green Heron on Pico still on 27th.
Iceland's American White-winged Scoter was still off Keflavik on 23rd-25th, while on 23rd a Thayer's Gull was seen at Njarovik.
Finally to those bits of Africa that concern Western Palearctic listers… in Morocco on 25th the Pied Crow was again seen at M' Hamid El Ghizlane, and some 50 Sudan Golden Sparrows were at Oued Jenna.
We'll start our weekly perambulat
So that's another week done and dusted, and we're heading into March this coming week – and that means spring is coming. Well, technically, anyway – a feeling that's borne out by a quick glance at past rarity records, which are studded with ever more potential southern overshoots, and a Tengmalm's Owl at Spurn (East Yorkshire) in 1983 that we don't speak about – but the reality is that, looking out the window this morning, spring feels a looooong way away.
Nope, it's still winter this coming week. If I was any sort of a predictive sage (and, clearly I'm not!) then I'd be putting my money on this week featuring another rare gull or two. Hard weather tends to focus both the hungry vagrant gull's mind on finding some easy pickings on land, and the keen birder's mind on rubbish tips, seething clouds of gulls, and the chance of something unusual amongst them.
I fancy another Glaucous-winged Gull… though the long-anticipated arrival of another, twitchable, Tengmalm's Owl would truly be a Beast from the East…
Jon Dunn
28 February 2018
Share this story
Tweet

This week's videos