Weekly birding round-up: 5 - 11 July 2017
The week at a glance
The second British Amur Falcon upsets the applecart as Thursday draws to a close
Fair Isle's fascinating Phylloscopus lingers in the Obs garden - Green Warbler now the favoured option for some…
Aberdeenshire's drake American White-winged Scoter still moored off Murcar
The year's first Fea's (-type) Petrel drifts past the south Devon coast
Nottinghamshire's Bee-eaters continue to be significant crowd-pullers
That Pied-billed Grebe is going nowhere fast…
As those who keep "official" lists mourned the recent demotion and therefore passing of Thayer's Gull from their shiny new IOC lists (which they can't even play with properly for another five months), many birders took not a blind bit of notice and carried on in their own merry ways as the midsummer lull appeared to kick in, good and proper.
A hot and sticky two or three days kicked off the new week, with the southeast inevitably taking the big hit with the humidity and very warm to hot temperatures, pushing the thermometer towards 30° C (that's around 86 to 87 in Fahrenheit). As is often the case, the moist air and extreme warmth began setting off a chain of thunderstorms countrywide and behind it came the familiar feeling of fresher air accompanied by a little light northwesterly wind.
Further belts of showery rain scudded across the far northwest and the extreme south as the week progressed but most people enjoyed relatively settled conditions, temperatures at a pleasant low-20's with gentle breezes and a decent amount of sunshine too; but further storms weren't far away either and the week concluded on a damp note for many across England.
The birding was generally rather pleasant as well but it too was generally settled as we waited for the next ornithological storm to brew…and with the new review week less than 48 hours old, a Cornish thunderclap and lightning bolt jolted everyone from their summertime dormancy.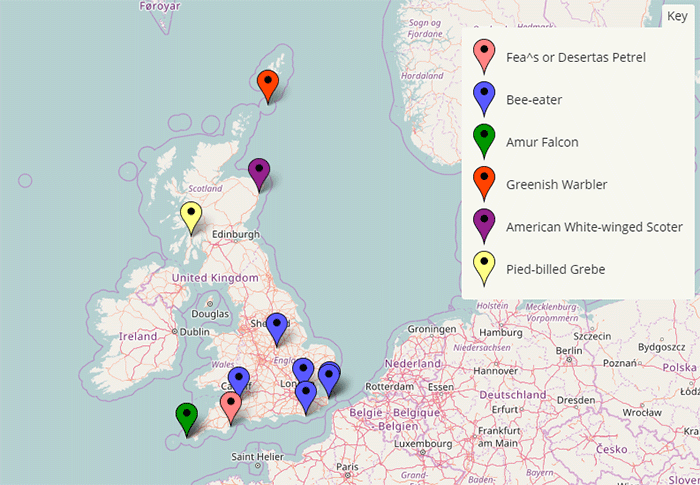 Amur Falcon
Modern day birding and, more especially, modern day listing has such an island bent about it (and a far flung island bent at that) that the occurrence of stellar birds on the British mainland has become an increasingly unusual event. Even when they do appear, the words "East Yorkshire" are more frequent than most, to the point that it almost feels that no other region is getting a look in.
Of course that's nonsense really, but that's how it feels sometimes. The likes of Norfolk and Suffolk, for instance, still have that buzz sometimes when a genuine mega rocks up and there are actually any number of counties over the last five to ten years that have scored with a big, big rare (Somerset's Hudsonian Godwit being a prime example) and this summer has already seen hordes drawn to Sussex to pay homage to our first "proven" Elegant Tern.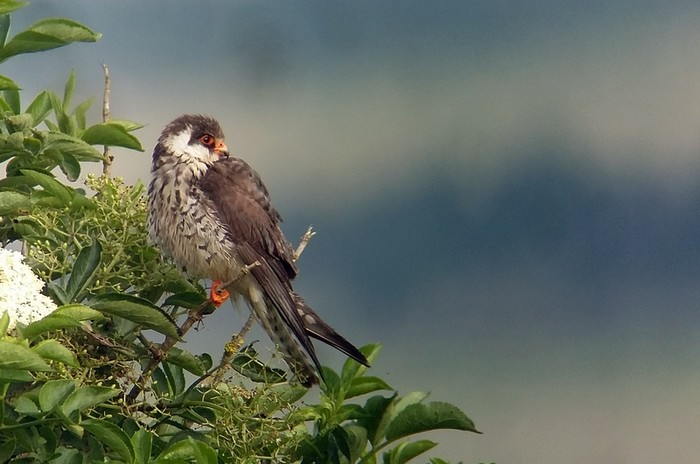 The far southwest though has almost fallen off the "mega radar" since the Alder Flycatcher in 2008. Yes, there've been other birds there which have caused a stir, the top attractions since then were both discovered last year (both the big beardy BoP and the floppy-faced Pelican could be destined for interesting categorisation mind) but this week's happening towards the very tip of England has focused many, minds back on the majesty of Cornwall …
It all started going haywire as dusk loomed on the evening of 6th - a tweeted photo from patchworker Mark Wallace backed up his thoughts that he'd come across a first-summer female Amur Falcon in the hedgerows around Rafta Farm, a mile or so to the northeast of Porthgwarra. The image presented was striking in the extreme; a bandit-faced little falcon staring down the barrel of the lens with blue-grey upperparts replete with blackish barring, coupled with white cheeks and underparts complete with black bars all evident on one BOC shot. There was no doubting this was the real deal - Mark had scored a county first and second British record and, most important for many, the first twitchable example of the species (for so long recognised only as the eastern form of Red-footed Falcon).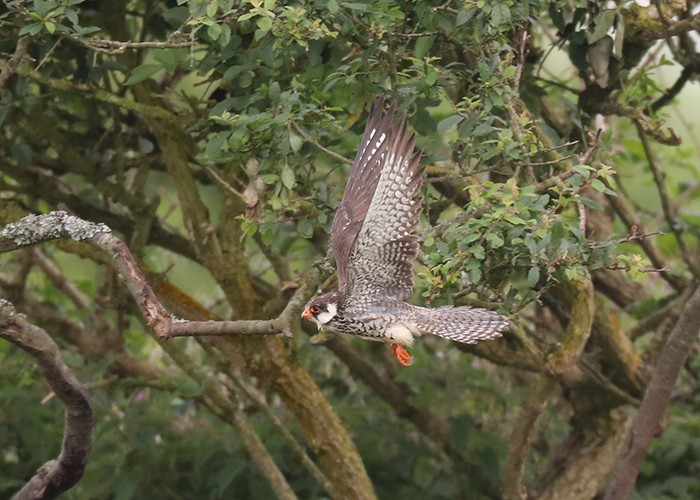 It is worth returning to two of the little historical notelets from within the previous two paragraphs - #1 2008 and #2 Red-footed Falcon. No one can forget the extraordinary "miss" that surrounds the first record of Amur Falcon here - present intermittently at Tophill Low, in East Yorkshire, from September 14th-October 15th 2008, the first-summer male was seen by dozens and dozens of birders, numbers bolstered by those collecting a padder post the Flamborough Brown Shrike and, despite a few luminaries being in attendance, the identity as a Red-footed Falcon was questioned by barely a soul. Indeed, when murmurs were raised as to just why it wasn't an Amur Falcon the notion was slapped down as fanciful and a huge opportunity was lost.
The Tophill bird wasn't a straightforward identification at the time (as an Amur Falcon) as it appears now - the bird was in moult almost throughout and the confirmed retrospective identification came a couple of days after the bird had gone, with images posted online showing that on the underwing, fresh new diagnostic white axillaries and a number of white underwing coverts had appeared during the tail-end of the stay, feathers which rocketed the bird from interesting padder also-ran to "holy cow" status in an instant. A British first had slipped through the net like the slipperiest of eels. A tough one in many respects, given that underwing moult, but despite the fact that those telling key features weren't exhibited until well in to the time at Tophill, in hindsight other clues were there, most notably the bird's face pattern and underpart colour tone.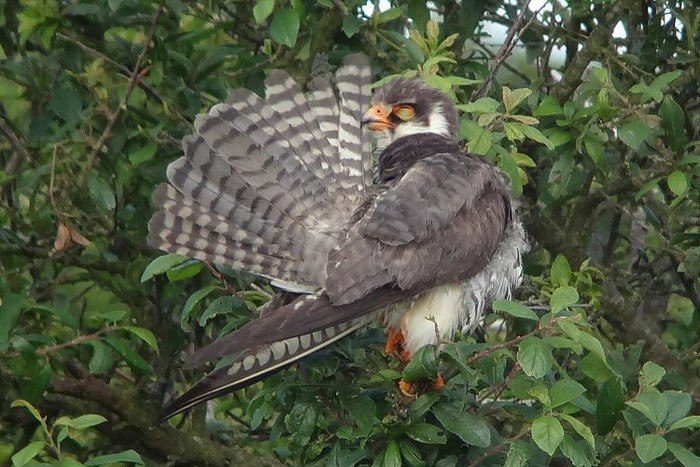 Anyway, for many Friday folk, nine years worth of negativity, grumpiness and rancour were expunged as the Cornish Amur Falcon performed well for much of the early morning, moving off around the surrounding area at times (which made things a little jingly-jangly for those en route) and just after 11, she spiralled up in to a blue sky and headed off towards Sennen…and that was that.
Amur Falcon has a chequered history here - as well as the "debacle" (not my word, online keyboard warrior speak!) in Yorkshire, the mysterious case of a French rehabilitated bird that was shot in Dumfries & Galloway in September 1984 (after being hit by a car in Yorkshire earlier the same month…) surfaced just after the Tophill Low bird. The French bird had been found in captivity and was nursed back to health for almost 10 weeks before release in July 1984. A couple of months later this unlucky bird journeyed north through Britain before the gamekeeper's gun ended the matter. To date, this bird has never been accepted on to the British List.
This week's Cornish bird is around the 15th record of Amur Falcon within the Western Palearctic; the first examples (whilst still regarded as a race of Red-foot) came from the Italy's Straits of Messina (in 1995, then '97 and '98) and other records around the region have come from countries as diverse as Sweden (in 2005) to, remarkably, the Azores (in 2011) while this year, as was mentioned a few weeks ago, a stunning male took up a temporary home in a Romanian Red-footed Falcon colony.
One of the most fascinating things about this week's Kernow Krippler (sorry….) was quite where it must have been ahead of alighting in west Cornwall. Had it been elsewhere in the southwest of England or had it drifted north from mainland Europe on the latest pulse of hot air that drifted in as the week began? Early July is a quite extraordinary date for this species to appear here (given where it should be at the moment) but as the last couple of reviews have mentioned, you can't take your eyes off the ball for a moment, no matter what the time of year, especially now given this month's outstanding "previous"…
Fair Isle's Green(ish) Warbler
As last week drew to a close, the rather striking looking Phylloscopus warbler in the observatory garden on Fair Isle raised a few eyebrows thanks to its lemon washed face and underparts - features which inevitably conjured up thoughts of Green Warbler and conversely, weren't necessarily typical of Greenish Warbler. (However, like the Portland warbler of early June, it isn't always the safest game to play, thinking of what is, and what isn't typical along this particular branch of the Phylloscopus tree).
There was surprisingly little by way of opinion offered online and the silent bird remained in the small plantation outside the observatory windows through until at least 7th, seldom showing itself well which, at first, may seem odd given how small the area is, but as anyone who knows the garden knows, it is surprisingly dense and lush and also there weren't so many folk looking for it either.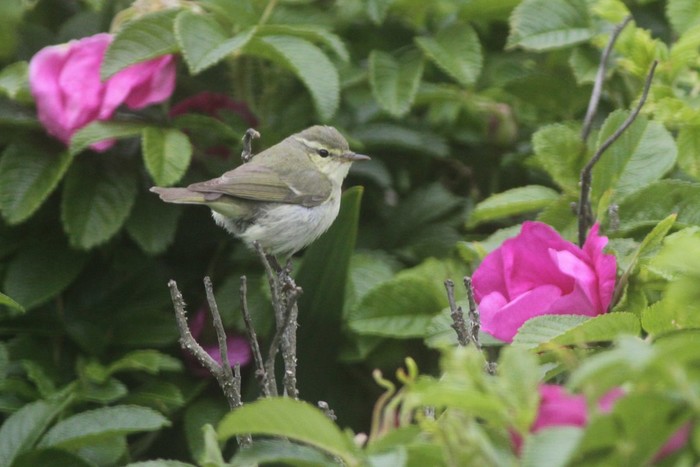 The Observatory's Facebook page offered new images (still teasing in many ways, looking like a half way house between the two species in one or two, then like a Greenish Warbler in one and more Green Warbler-like in another and the website also afforded a little more information on the notes taken when the bird was trapped (on 4th).
The bird showed a large brood patch, suggesting it to be a female which perhaps accounts for the wing length of 61 mm which is at the bottom of the range for Green but pretty much spot-on for Greenish. There's been a degree of interest in the fact that the lower half of the eyering is yellow, suggested by some authors to be a diagnostic feature for nitidus. Other field marks may be tricky to be labelled as conclusive for one species or the other, so the "suite of characters" element comes in to play. Again, depending on what image you look at up to and including July 6th, it could have gone either way.
The story rumbled on to 7th and whilst many folk's attention was diverted to what was going on in west Cornwall, an afternoon Twitter post from the Obs., staff featured the most eye-catching image to date - and the most compelling in-field image so far for anyone in the pro-Green Warbler camp. It looked like a dead-ringer for the Unst bird, albeit a more faded look (unsurprising given that we're now in July and not mid-May)…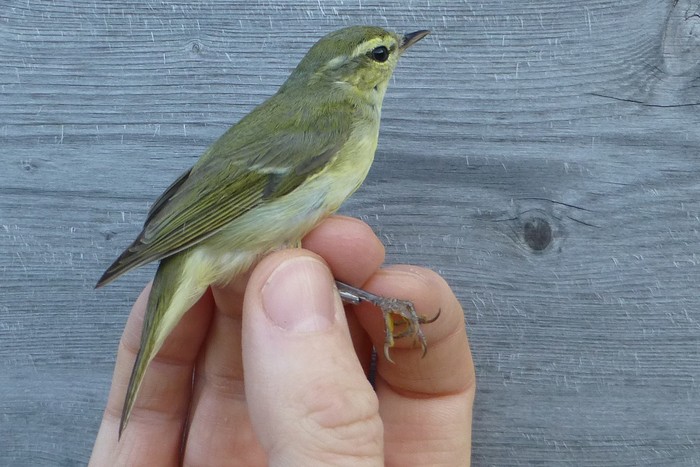 As was touched upon last week, that Unst bird from May last year finally went through the formalities of acceptance by the BBRC this week and was the second British record to date, following on from the famous Garrison bird on St. Mary's in September and October 1983. Interestingly, there are two other recent records in northern Europe from within the last five years, the beautiful bird found on Finland's Âland Islands in May 2012 and also trapped in Denmark, at Blåvand in May 2015.
That Shetland could host all three members of the Greenish Warbler family within the space of six spring and summer weeks is nothing short of astonishing - the Foula Two-barred Greenish Warbler, the Whalsay Greenish Warbler and now the Fair Isle (potential) Green Warbler all appearing in a window that opened on May 30th and closed on July 4th.
The final answer will come, once again, from the dark corridors of the labs in the Granite City - a feather sample has been sent to Aberdeen for appraisal and whichever greeny warbler it comes back as, it'll prove to be instructive whatever (though I would argue that it is a done deal already).
American White-winged Scoter
The recently returned drake American White-winged Scoter spent at least the first couple of days of the review week still anchored off the Aberdeenshire coast at Blackdog but he couldn't be found during a grim 7th.
Its odds on that he didn't go far and that another lengthy summer sojourn is on the cards…let's wait and see what happens.
Fea's-type Petrel
Just ahead of sending the first draft of this week's learned and sage thoughts from the north Norfolk frontier, the pager bleeped in to life and duly scuppered my odds-on favourite for next week's predictions. Rather than ruffle feathers next week, a southwestern Fea's (-type) Petrel instead gave a little ruffle and shimmy of them this week, heading south past Berry Head (Devon) just before teatime on 11th.
No matter how frequent they become (that's getting on for 180 now, good going since the first PG less than 30 years ago) these hard-to-connect-with Pterodromas still retain a special pelagic mystique and magic. Annual now for years, they remain one of the hardest rarities to connect with, even for ardent seawatchers.
The Berry Head Fea's (-type) this week could become only the fifth record for Devon; the first was accepted from Prawle Point in August 1999, with the second appearing off both Berry Head and Hope's Nose on July 17th 2001. Two were noted in the autumn of 2009, off Prawle in August and Budleigh Salterton in late October and there's been no accepted records since (there have been a claim or two).
July boasts 17 records, of 19 birds, across Britain and Ireland and includes the amazing hat-trick of birds from Galley Head on July 31st 2013. Records are dotted randomly across the whole month, from the very start to the very end and also include two of the six confirmed Fea's Petrel to be accepted to date - videoed and photographed off Scilly on July 2nd 2001 and photographed at-sea off Easington in East Yorkshire on July 12th 2014.
The Nottinghamshire Bee-eaters still on station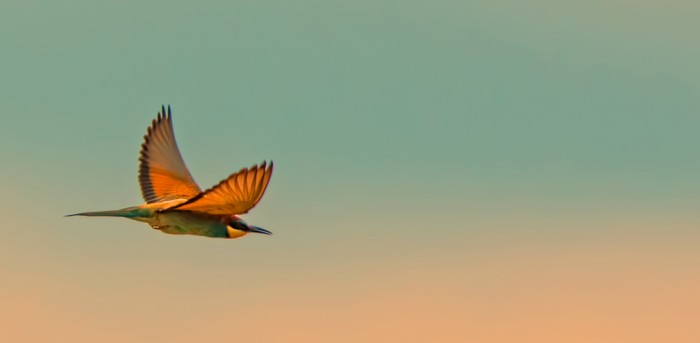 There seems to still be lots of action in and around the East Leake quarry in Nottinghamshire this week where up to seven Bee-eaters remained on site as the crowds continued to pour in…
RSPB figures suggested that upwards of 2500 people visited across the weekend of 1st & 2nd July which underlines the huge popularity of these charismatic show-stoppers, an appeal which extends way beyond the world of twitchers and lists.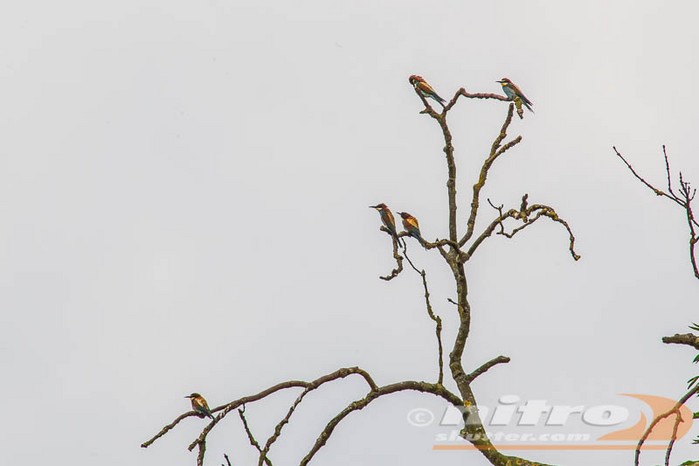 Most people have behaved themselves and most (though not all) have used the £5 fundraising car park - hopefully the monies will continue to roll in as the Bee-eaters go about their business and there's a successful outcome down the line, later this summer.
Long staying rares…
Pied-billed Grebe
Kicking off another week on site was the summering male Pied-billed Grebe who just wouldn't leave Loch Feorlin, near Minard (Argyll & Bute) - he was still present on 5th.
The first count of any consequence of Cory's Shearwaters came via a Scilly pelagic on the evening of 10th, 37 counted along with four Great Shearwaters.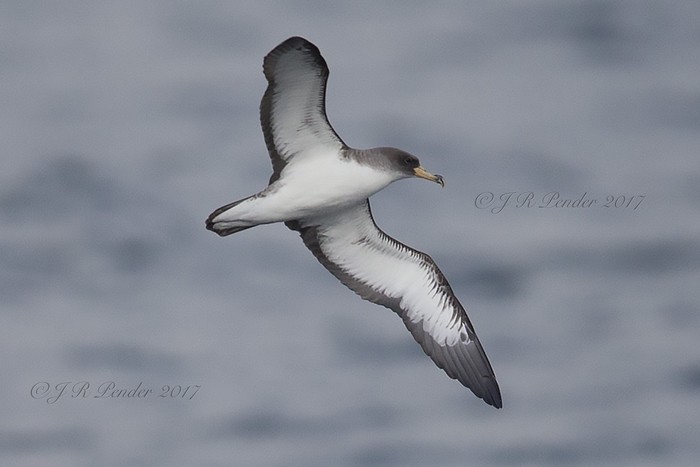 On the Cornish mainland, whilst much of the attention was focused on the dinky falcon just up the road, a gentle trickle of Great Shearwaters was noted from Porthgwarra over the course of the week; threes logged on 6th and 8th with one passing by on 7th and six noted on 11th, along with three Cory's the same day. The same site saw six of the week's 20 or so Balearic Shearwaters fly by, four of them on 8th with others noted from Kent and Devon to Antrim, Ayrshire and Wexford. It is also worth mentioning the large shearwater sp.,that headed past Whitburn (Co. Durham) on 11th.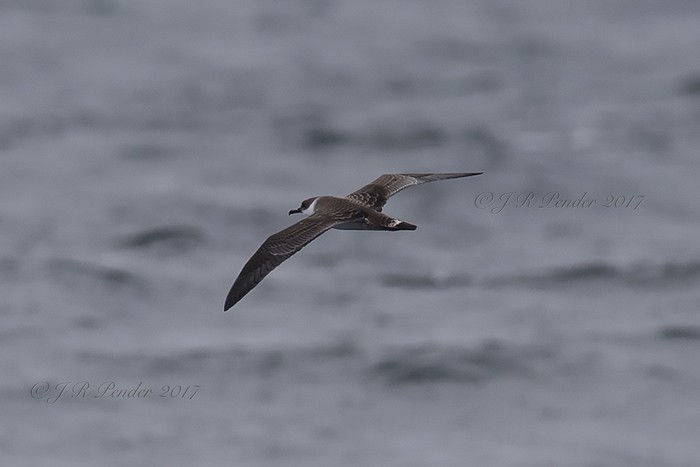 The stars of a pelagic out of Baltimore (Co. Cork) on 9th were a Sabine's Gull and five Pomarine Skuas, the latter making up over half the week's total, nine seen in all, with two off Whitburn (Co. Durham) on 10th and singles off Spurn (East Yorkshire) on 6th and Porthgwarra on 8th.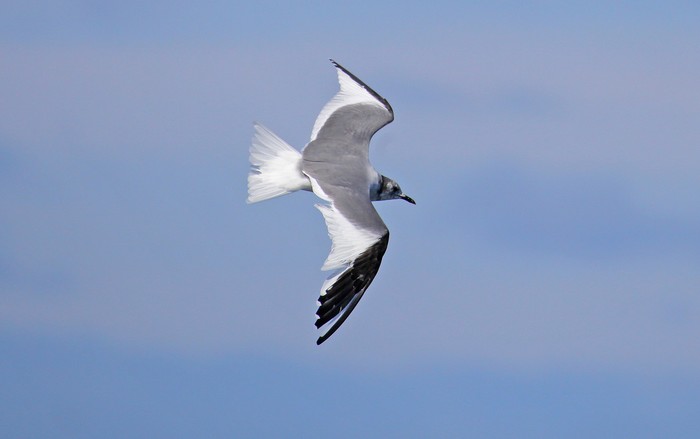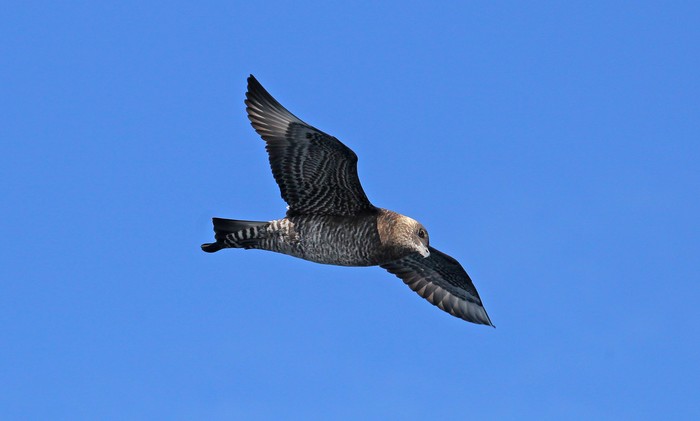 The only other seabirds to mention was the Leach's Storm-petrel seen between Cape Clear and Baltimore (Co. Cork) on 11th and the lingering (apparently sickly?) first-summer Sabine's Gull that was at Nosterfield Lakes (North Yorkshire) throughout the week.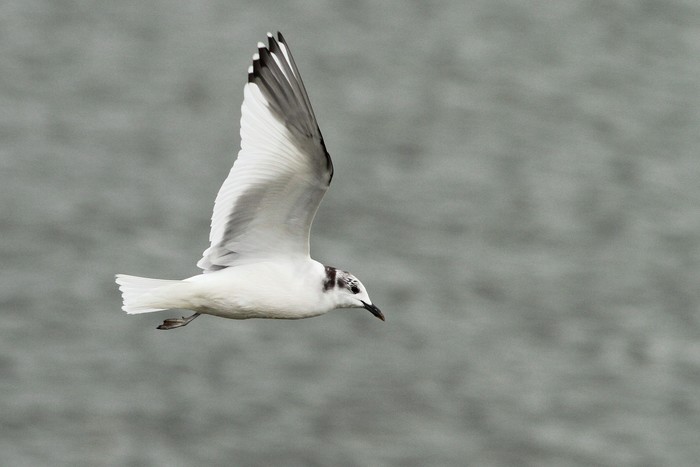 No word from Somerset this week on the summering oft-returning Little Bittern but the marvellous Levels were still hosting the Glossy Ibis through until at least 9th along with up to five Cattle Egrets (seen at Ham Wall RSPB on 7th) and (a week high count) of five Great White Egrets, also seen at Ham Wall on 7th.
In Shropshire, the American Night Heron remained at Dingle Gardens, near Shrewsbury all week (it could be there for life now) while last week's two Purple Herons were this week's two Purple Herons, remaining at Minsmere RSPB (Suffolk) to at least 10th and East Coast NR (Co. Wicklow) to 11th.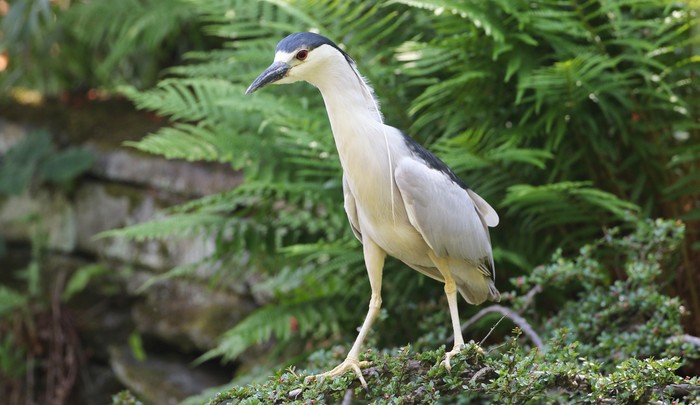 Back to Cattle Egrets now, and the aforementioned Somerset quintet were part of an overall total this week around 22 birds in six English counties. The southwest region held a dozen of those; along with the Levels birds, four (or five) were still along the Camel Estuary in Cornwall, seen at Walmsley Sanctuary on 6th (with perhaps another at Dinham Flats the same day) while in Devon, two remained at South Huish Marsh, near Thurlestone for much of the week and another appeared at Exminster Marshes RSPB on 8th (dropping along to Exmouth later the same day). New arrivals in Dorset were at Stanpit with three more were found in the same county, at Arne Moors, all on 10th. Also new was a bird at Dungeness (Kent) from 6th-9th and two were at Marshside RSPB on Merseyside on 11th while still in place in east Norfolk was the Cattle Egret at Potter Heigham Marshes, present to 9th.
Great White Egrets were still in evidence across much of the country this week, some 32 birds recorded in 16 counties. Along with the birds in Somerset (as above), a group of four were in Flintshire, over Shotton Pools, on 6th and four inland birds were at Rutland Water (Leicestershire) on 11th. Up to five were in East Anglia's three counties and four were in the southeast. Further north, three were in the northeast and one was still in northeastern Scotland, at Loch of Strathbeg RSPB (Aberdeenshire) on 5th.
As the breeding success of British Spoonbills goes from strength to strength, numbers this week soared through the three figure mark, a conservative estimate of some 120 birds (in just 13 counties) being totted up over the last seven days.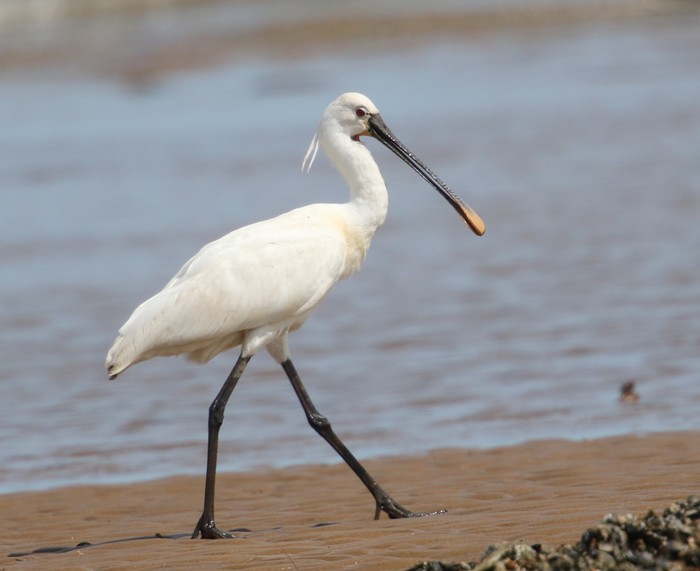 Norfolk was at the heart of the action - a minimum 54 noted at three sites on the late morning of 9th; 31 snoozed at Stiffkey, a further 20 were on the marsh at Burnham Deepdale and three were at Cley at around the same time as the larger coastal counts were taken. The latter site's highest count of the week was of 10 birds on 5th which included four juveniles.
Birds began to gather in number at Hollesley Marshes (Suffolk) too, up to 19 seen there on 5th while a dozen (including two young birds from this year) were at Alkborough Flats NR (Lincolnshire) on 6th. The popular (and successful) family at Fairburn Ings RSPB (West Yorkshire) remained for much of the week, with at least two juveniles still on site.
At least half a dozen were in Dorset (it could have been double that) and others stretched from Kent to Lancashire, Northumberland and on to Aberdeenshire.
A new Common Crane was on the Shetland Mainland this week, seen at Kergord on 7th-9th and it was one of only four birds reported this week, the others noted again at Minsmere RSPB on 8th with two over Potter Heigham Marshes (Norfolk) on 10th while the origins of the White Stork seen over Belper (Derbyshire) on 9th are unknown.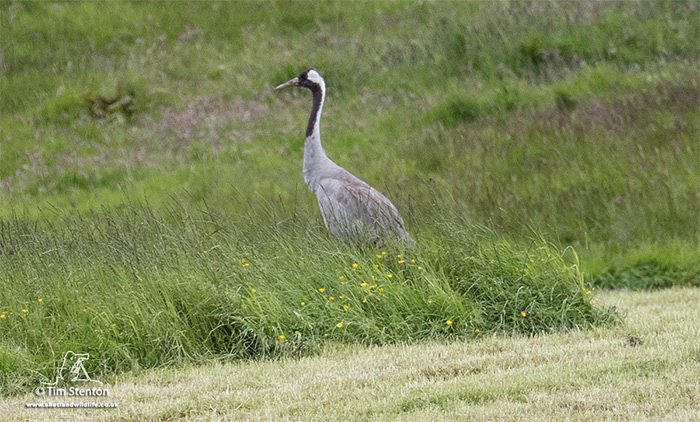 Finally, a mention of the still present singing Corncrakes around the North Elmham area of Norfolk. It appears that they may have been released (apparently in some number), presumably/hopefully under license, by a local "nature reserve" (one which has "previous" with regard to the occasional hair-brained scheme). For those with county lists, it almost renders the species obsolete from now on (bar perhaps coastal autumn birds) from the listing potential within Norfolk, just as is now the case with White Storks.
The increasingly popular first-summer female King Eider in west Wales remained at Ynyslas (Ceredigion) through until 10th while in Aberdeenshire, the male was still being noted around Blackdog and Murcar through until the end of the weekend at least.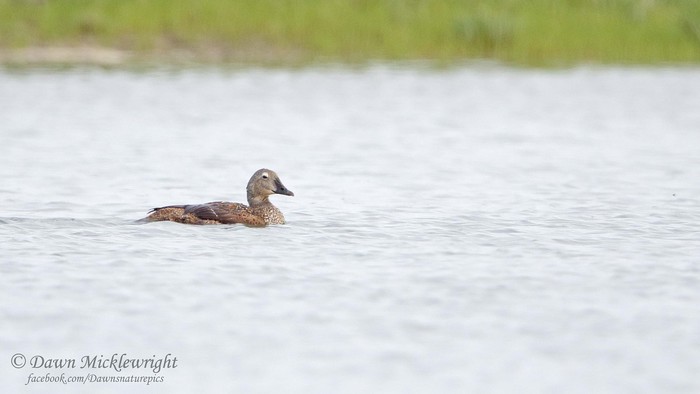 Within the vast rafts of Scoter off the same stretch of Scottish coast were at least two adult drake Surf Scoters, seen on 7th.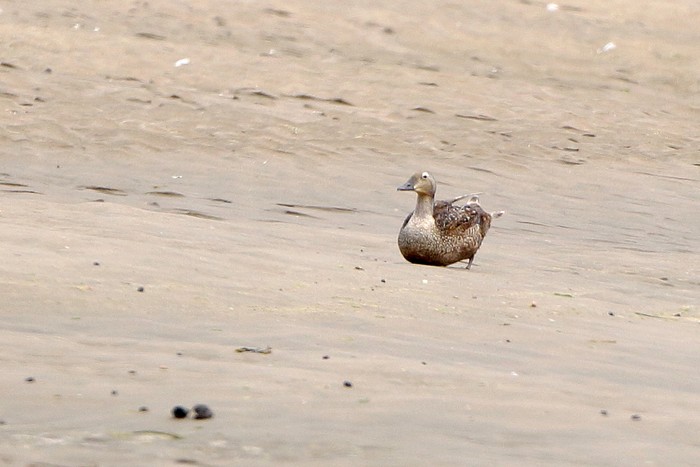 With apologies to the good folk at Filey, it looks as though the drake Green-winged Teal seen there on June 29th totally passed me by, so it's mentioned here to redress the balance. Meanwhile, wishing that I didn't have to mention the still present Ferruginous Duck at Washington WWT (Co. Durham) but needs must, he was still there to 11th.
A rather beautiful and also really rather interesting salmon-hued summer Dowitcher was found at Boulmer (Northumberland) on the evening of 7th and which remained, off and on, to the end of the review week. Identified as a Long-billed, this lovely bird was a stark reminder of just how tough the identification of the two Nearctic Dowitcher species can be at certain times of the year.
There was a whiff of griseus Short-billed about it from the first online tweeted image and you could argue that the suggestion of a spotted breast, steep-looking forehead, the rather arched looking supercilium (and apparently high looking position of the eye on the head) and the underpart colour suggested that too (the precise detail on the greater coverts was hard to determine from the initial image).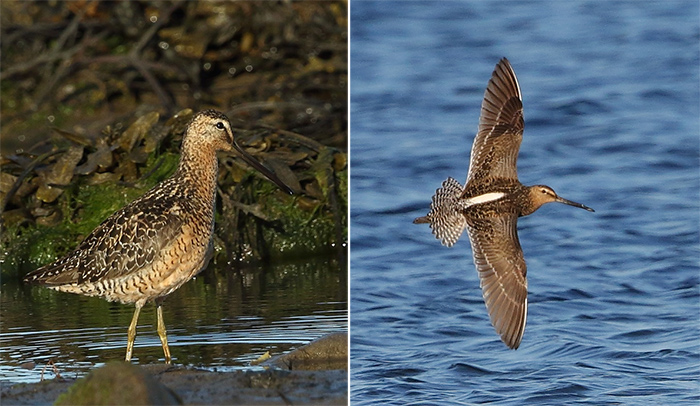 However with all due respect to the original observer, doubtless all the massive conundrums of identification were thought of at the time and you can find reasons for this bird being just what it was called in the first place (the amount of dark apparent on the upperparts for instance) and the bird remains a Long-billed Dowitcher.
There have been 22 previous records of Long-billed Dowitcher in July and this is the first time on has appeared in Northumberland at this time of year. It becomes, upon acceptance, the 8th record for the county, four of those have come in the last seven years, including two for a day at East Chevington in October 2011 and the over-wintering young bird in and around the Cresswell Ponds area from November 2015 to the end of April 2016 (and maybe this now adult bird is one in the same).
(There are just four British records of Short-billed Dowitcher and three Irish records, the most recent of any was the first-winter that spent a couple of months coming and going from North Ronaldsay from November 2015-January 2016; indeed all records bar the first at Tacumshin in 1985 have been long staying birds, allowing everyone plenty of chances to enjoy this still hugely rare shorebird prize).
A super find on the Outer Hebrides this week was the worn summer attired Semipalmated Sandpiper along the beach at Aird an Runair, Balranald RSPB, North Uist on 5th where it remained to the following day.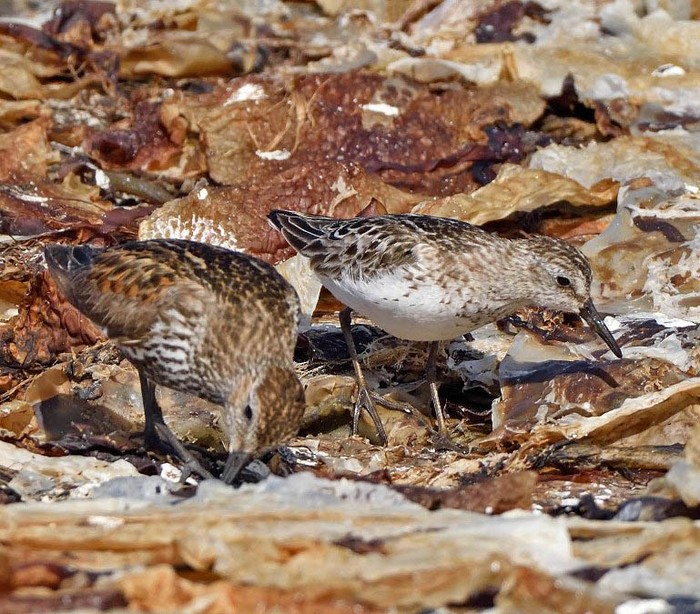 To date there have been 22 July records (from accepted total of 310 in all), but only three of those have been discovered in the single digit dates of the month, with most of the 22 acceptances coming towards the end of month, including Britain's first example of the species, found on Arnold's Marsh, Cley on July 19th 1953. There have been 17 Hebrides records to end of 2015 (along with an additional one last autumn as well) but there's just one other previous July record on the islands, also seen at Balranald on July 20th 2008.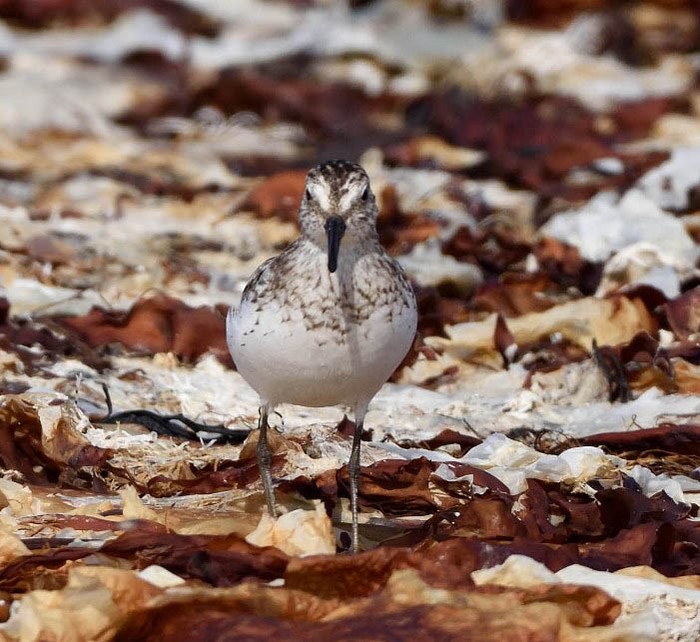 The early run of Nearctic shorebirds continued with a couple of new Buff-breasted Sandpipers - the first was located at Kilnsea Wetlands (East Yorkshire) on 8th (where it remained to 10th) and the second within 24 hours was found at Butt of Lewis, Lewis (Outer Hebrides) the following day.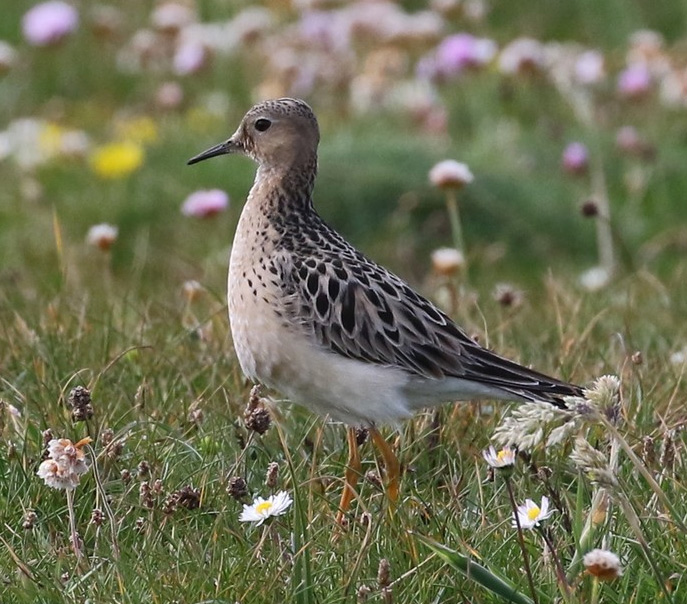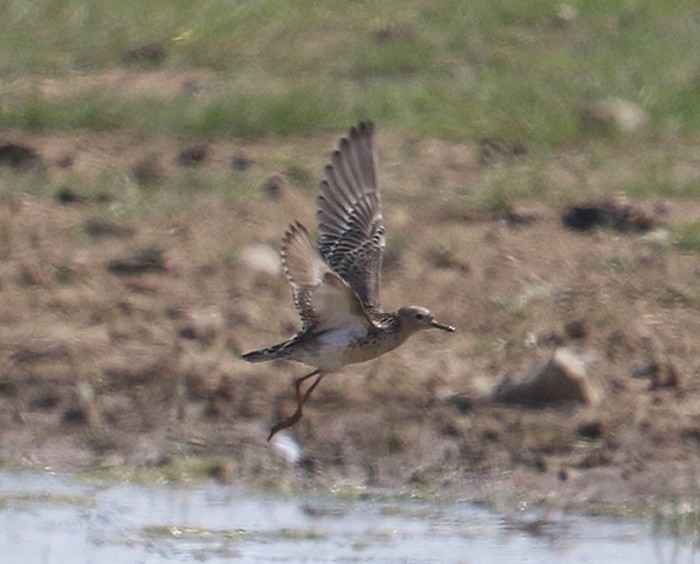 Norfolk's thriving family of Black-winged Stilts continued to entertain visitors to Potter Heigham Marshes throughout the week, the four soon-to-be fledged juveniles still growing by the day and will hopefully make it to the flying stage soon and the family of six remained to 11th. The only others mentioned this week were the two birds that remained along the Ouse Washes RSPB (Cambridgeshire) to 8th.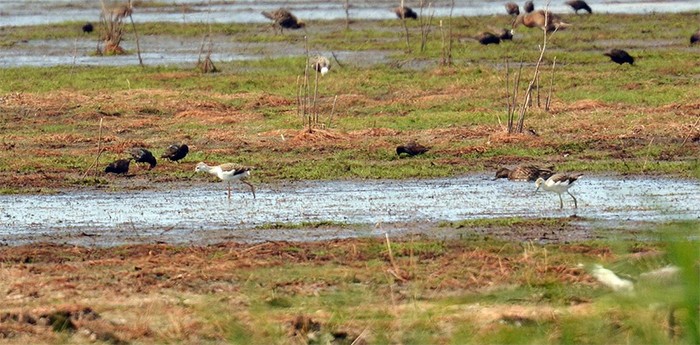 In Northumberland, last week's Pectoral Sandpiper remained at Druridge Pools NR only until 5th while on North Ronaldsay, the flock of Red-necked Phalaropes on Gretchen Loch peaked at four birds on 5th, with two still there on 6th with one on 7th and then three again on 9th (at least two of them were new birds, so there's a terrific turnover of birds there at the moment) while another new arrival was seen at Loch of Strathbeg RSPB (Aberdeenshire) on 7th.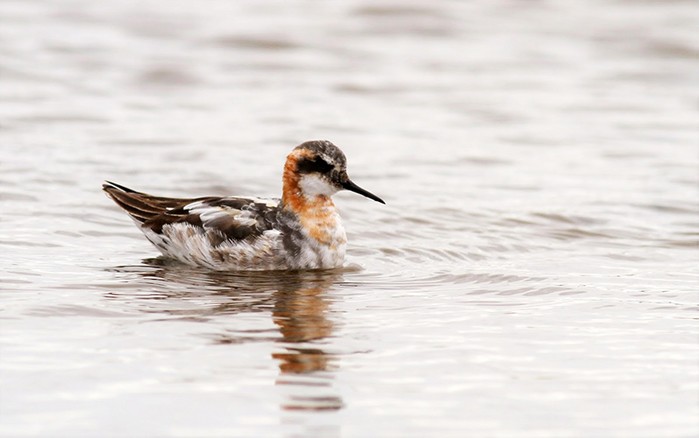 The roamin' Caspian Tern that did half a circuit of England and Wales last week was resting at the WWT National Wetlands Centre, near Llanelli (Carmarthenshire) for much of 5th but was absent from then on. Whether it was possibly the bird seen near Great Linford (Buckinghamshire) on 9th remains to be seen - the same site hosted the county's most recent record (one of only three previous ones) on May 11th 2001, the others (also one-day birds) were seen in April 1996 and April 1992.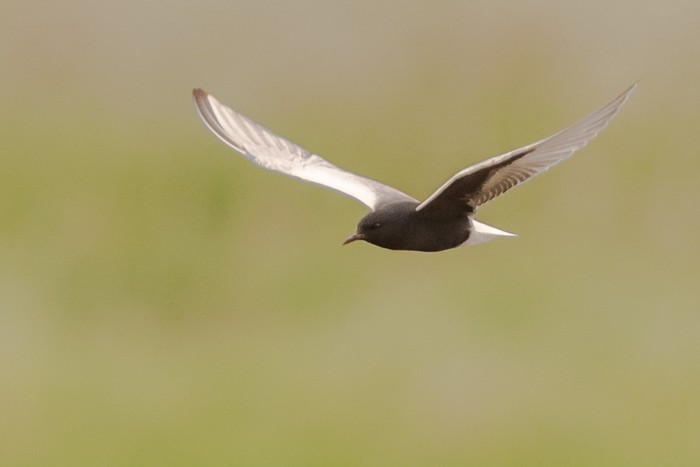 Both of last week's adult White-winged Black Terns made it on to this week's avian goodies menu, remaining at Kilnsea Wetlands (East Yorkshire) and Low-Newton-by-the-Sea (Northumberland) to 5th, the latter moving during the day to Seahouses during the early evening. New was the adult on Ancum Loch, North Ronaldsay (Orkney) on 9th, the first on the island since July 2011 and the first on Orkney since May 2014. What may have been the third of the week was discovered at Swillington Ings (West Yorkshire) on 11th where it showed well throughout the afternoon and evening.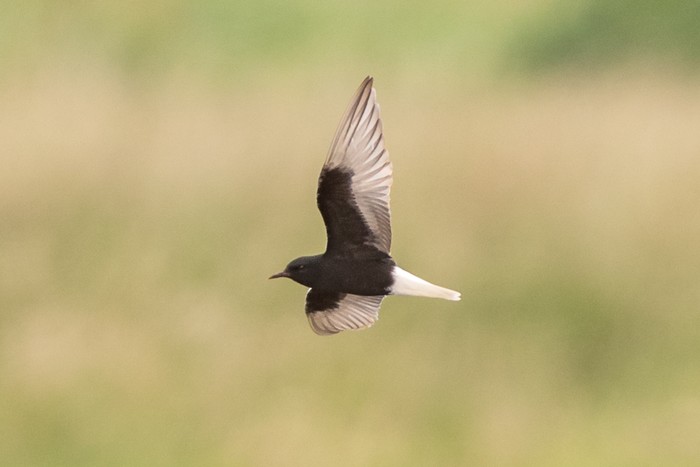 An old favourite was back, right on cue, in southeast England this week, the fine adult summer Bonaparte's Gull returning once more to Oare Marshes NR (Kent) on 8th where it remained 11th.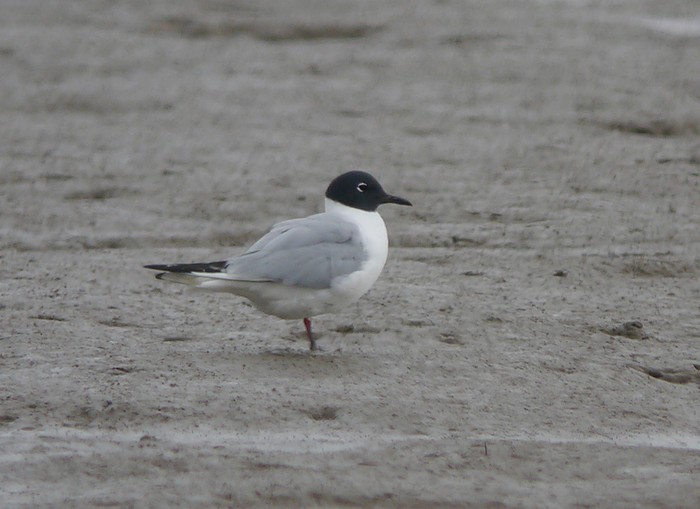 This fourth county record was first seen as a first-summer in May-August 2013 and has been back to the same site every year since - present for 53 days (from July 17th) in 2014, for 54 days in 2015 (present from June 20th) and last year for 60 days, after reappearing on the very same date as this week, July 8th.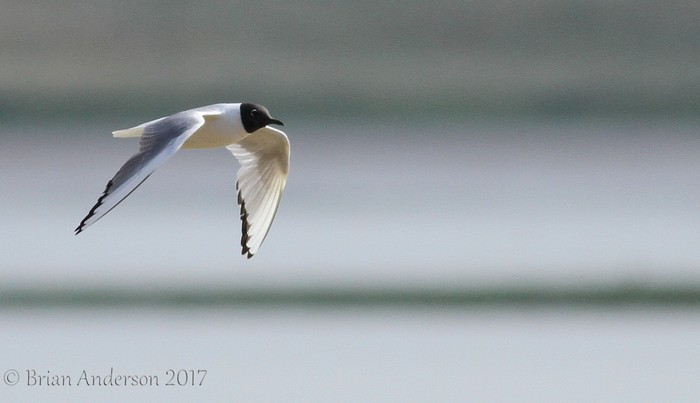 We've six Glaucous Gulls to mention in this summery week, Scottish singles seen in Highland (two there), Moray and on the Outer Hebrides, England's one and only was seen in Northumberland while the adult was still in Kerry, at Blennerville and Tralee until 8th. Iceland Gulls managed five in all, three were noted in Scotland (in Lothian, Argyll and Bute and the Outer Hebrides) with a Cornish bird noted over Nanjizal on 7th and another was in Kerry on 11th.
Three new Red-footed Falcons made themselves known through the past seven days. A male was seen over Hen reedbeds SWT, near Reydon (Suffolk) on 6th and was followed by a five minute first-summer male at Kingston Bagpuize (Oxfordshire) and an unsexed bird at Walshaw Dean Reservoirs (West Yorkshire) both on 9th.
A two-day Black Kite was reported from Frampton Marsh RSPB on 8th, although there was no further news post the Twitter post from the reserve and a second report came from Tatton Park (Cheshire) on 8th, a bird that circled the area late afternoon and drifted out of sight.
The week's first Honey Buzzard sighting came from north Norfolk where a dark adult headed north over Wolterton Hall on 5th, one of half a dozen noted over the past seven days. Wandering individuals were reported from Widmer End (Buckinghamshire) on 7th, Minsmere RSPB (Suffolk) on 8th and in Kent, a female was at South Foreland Valley, another flew in-off at Samphire Hoe CP, both on 9th and a third was seen over Dungeness RSPB on 10th with Suffolk's second of the week appearing over Halvergate on the same date. Meanwhile, two remained at the Wykeham Forest in North Yorkshire throughout.
There's just one Montagu's Harrier to mention, the adult female noted again at Blacktoft Sand RSPB (East Yorkshire) on 10th-11th (the first report of her since June 11th).
For the second July week in a row, there's a new Blyth's Reed Warbler to discuss. After last week's singing male was found in Highland, this week's new stock of this still-increasingly frequent Acro was discovered deep in to west Cornwall, in the Nanzijal Valley on 8th.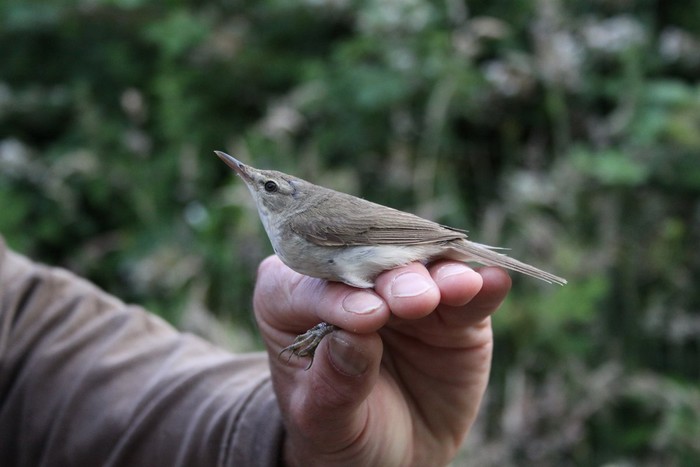 Despite the onward upward trend, Blyth's Reed remains an exceptional rarity within the southwest and this week's trapped male is just the third record for Cornwall and all of them have been at Nanzijal. The first two records came in the autumn of 2015, on September 2nd and then October 16th so a July occurrence is quite exceptional. Indeed, the two birds seen in the last couple of weeks are the first ever July records of the species in Britain or Ireland, none occurring up until species removed from Rarity List at the end of 2014 and with a big, fat zero between then and July 2017.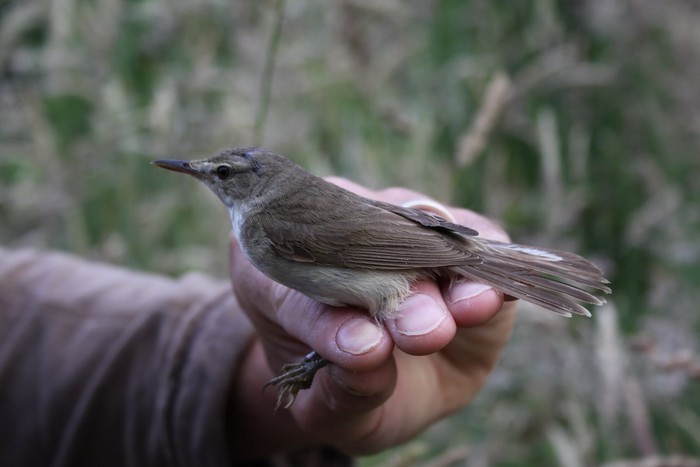 Still present on Wexford's Cahore Marsh was the singing male Marsh Warbler, in place until at least 9th while East Anglia's two singing Savi's Warblers remained at Hickling Broad to 5th and Minsmere RSPB throughout the week. In Scotland, a singing male Icterine Warbler was again near Nigg Bay on 6th.
Two slightly unseasonal Red-rumped Swallows made appearances this week in southern England; first was one that headed SW over Titchfield Haven NNR (Hampshire) on the morning of 5th and the second arrived on St. Agnes (Scilly) on 9th, relocating to St. Mary's later the same evening.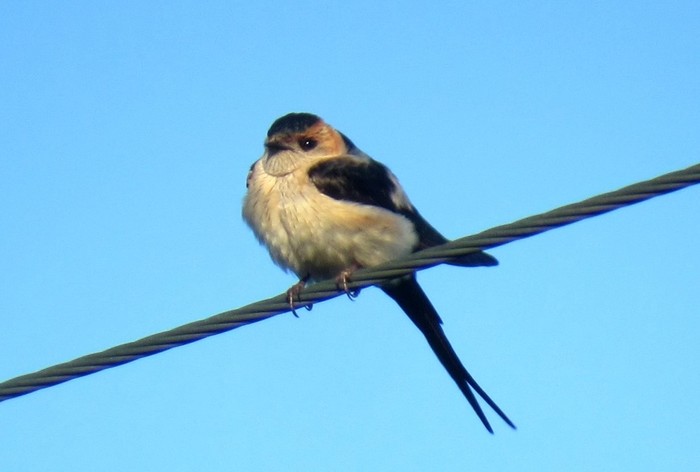 Further summer colour came courtesy of Bee-eaters that were dotted sporadically around the country; one was seen at Broadstairs (Kent) on 5th (presumably the bird noted along that part of the coast the previous day) with another Kentish arrival coming to Sandwich Bay, also on 5th (when a heard-only bird was heard at Combwich in Somerset). Two more were seen heading over Bexleyheath (London) on 7th and a singleton was logged at Beachy Head (East Sussex) on 9th.
A couple of newly arrived Hoopoes were discovered at Nanjizal valley (Cornwall) on 6th and at Cleadon Hills (Co. Durham) on 9th and singing male Golden Oriole was heard in County Down, at Ballyroney on 9th (possibly the first in the Irish county since November 2013). A late arriving, or maybe coasting, female Red-backed Shrike was found at Hollesley Marshes RSPB (Suffolk) on the evening of 7th and was the only record this week.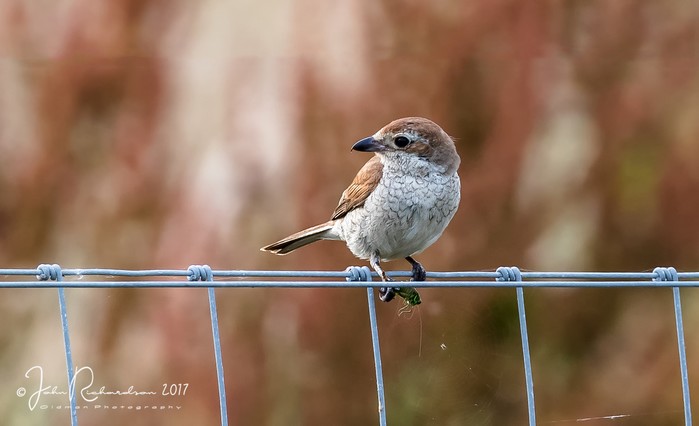 Up north again now and to the first-summer Rose-coloured Starling that remained at Broadford, Isle of Skye (Highland) through until 11thwhilst new was another Scottish west coast adult, seen on Arran, at Sliddery on 10th.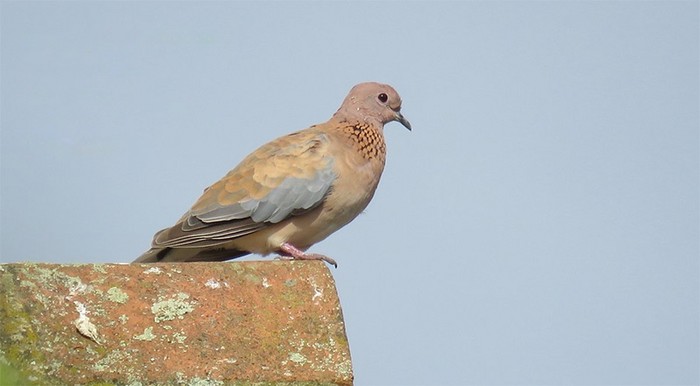 Last up, the Laughing Dove that has generated a soupçon of interest at Sandon (Hertfordshire), this one's been around throughout the week, often in cooing song. It qualifies here mainly because the pictures are pretty (he's a fine looking fellow) and should anything ever come of it, I can tick the bird I had some 25 years ago coming "in-off" and away over the reserve at Cley.
Job done methinks.
Rarest bird by far this week within the Western Palearctic region was the remarkable location of a Grey-tailed Tattler at Cabo da Praia, Terceira on the Azores on 7th, only the 5th for the Western P and a first for the Azores (appearing again on 10th too).
Almost 23 years have passed since the second British record (and, of course, sole twitchable example), the brilliant Burghead Bay juvenile of November and December 1994 and there'd been a gap of 13 years since the suppressed Welsh bird of mid-autumn 1981. As curious as the July date seems at first for the Azorean Tattler, one other WP observed individuals was seen and photographed in Sweden on July 12th 2003.
The wader-watchers in Norway are having a fine old time of it at the moment, no sooner do they finish playing with the blistering Oriental Plover then along comes a 6th national record of Red-necked Stint, found at Nærland, Rogaland on 6th.
On to birds that have dipped their respective tootsies in to British waters of late. Firstly, in northern France, the last day of last week's review week saw the appearance of the colour-ringed male Elegant Tern on the beach east at Calais, near Oye-Plaige, Pas-de-Calais and he was still there at the start of the new review week on 5th and remained until 11th.
Up in Germany, the Black-browed Albatross went walkies somewhere away from the usual favoured spot of Sylt, Schleswig-Holstein at the start of the week but was back on site ahead of the weekend and remained to 11th.
Elsewhere around Europe, a Cattle Egret was found at Liepaja Lake in Latvia on 8th, just the third record for the Baltic state, the Cape Gull remained at Quinta de Marim, Olhão in Portugal until 7th at least and in Italy, a Western Reef Heron was at Boccasette, Rovigo on 11th.
Early indications are for a pleasant few days ahead but with weather that is fairly standard fair for summer, warmish, plenty of sunny spells, but with indifferent winds looking as though they're coming from (mainly) the southwest.
But just because the weather looks suitably tame and, perhaps a little on the dull side, we're now slap-bang in the middle of that time of year when it could either be another really quiet week (vying for the "Quietest Week of 2017" award) or there could just be a gem unearthed somewhere that'll make us all stand up and take note.
On paper, July 12th wouldn't seem like a day to land a raft of rarities from the top of the top drawer and few would ever think of a desperately rare duck as being a headliner, but Cape Clear's drake Redhead of 2003 had other ideas and it remains the most recent record in either Ireland or Britain, one of just three records in all (over 20 years have elapsed since Britain's last record).
Shorebird fans are always tuned in as the early, early autumn push begins and July 12th has been a red-letter day for some hugely significant finds - Britain's first White-tailed Plover arrived in Warwickshire in the scorching summer of '75 while 13 years later came the appearance of the much-discussed Caspian Plover in Lothian.
…and there's also Blue-cheeked Bee-eater to mention; that Cowden bird of 1989 relocated to the Lincolnshire Fens on July 12th, yielding further heartache and tears for me as I twitched it, unsuccessfully, from Gibraltar Point…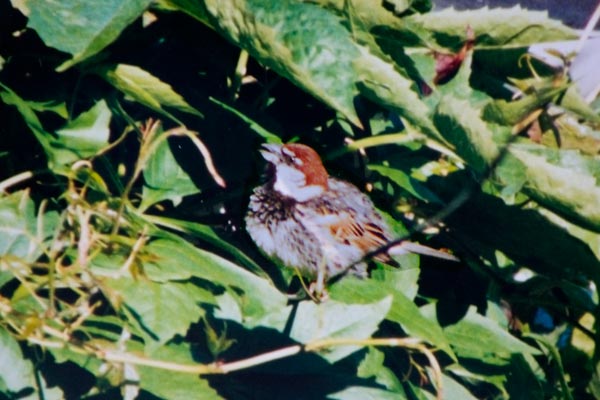 Another all-the-more ancient Blue-cheeked Bee-eater surfaced on Scilly on July 13th 1921 while the same date also proved popular thanks to the discoveries of the Cumbrian Spanish Sparrow in 1996 and the Breydon Water Great Knot in 2014, emphasising again just what's out there in terms of shorebirds at this time of year.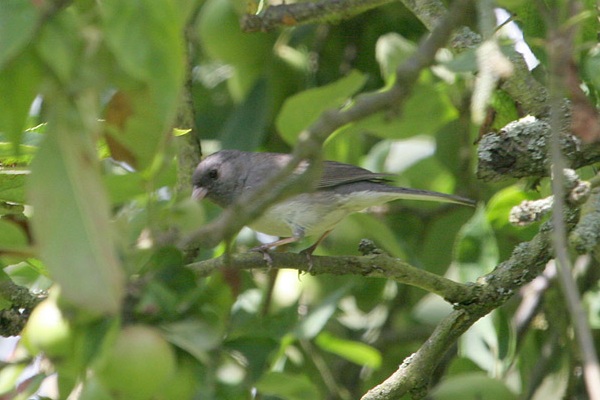 Whilst shorebirds are almost expected, Nearctic passerines generally aren't but July 14th has some form; in 2007 two Slate-coloured Juncos were found in Norfolk, with one at Langham being very well received, while rarer still was the two-day male Brown-headed Cowbird at Angle, in Pembrokeshire in 2009.
The coast of northeast England has claimed two accepted Barolo Shearwaters on July 15th - one passed Whitburn in 1989 with the other seen from Hartlepool in 2000, while the 16th of the month sees shorebird catching the eye again, mainly due to the one-day Mongolian Sand Plover found at Lossiemouth, in Moray, in 2013, a bird which subsequently relocated to Cork.
Nine of the rarer species of Nearctic shorebird have been recorded in Britain and Ireland across the years on July 17th including an Upland Sandpiper in Dublin in 1974 and the week's second Least Sandpiper, this one an inland bird in Derbyshire in 2008.
The enduring shorebird theme continues to July 19th - a Shetland Red-necked Stint in 2000 catches the eye - whilst the amazingly unseasonal adult Ivory Gull in Highland in 1995 still stands out as one of the records of that particular year. Inevitably though, the last word is to Blue-cheeked Bee-eater with the 19th of July 1989 seeing the appearance of what may have been the East Yorkshire and Lincolnshire bird in Kent.
Oddments throughout then and there's still that deep-down feeling that we're still on for the B-c B-e anytime soon, but its more than likely going to be a rare tern (an orange-billed one probably, but don't rule out those dark-backed ones too) or maybe some Two-barred Crossbills (they're coming…). Say them often enough and they'll happen.
Surely though it has to be the shorebird group which have to be considered as the main focus, as the historic bits and bobs above suggest. Species from west or east could enliven any day in the next week and while all we may get is a White-rumped or maybe Broad-billed Sandpiper, or perhaps one of those oft-mentioned pratincoles, those extra-special waders may just be a binocular lift away.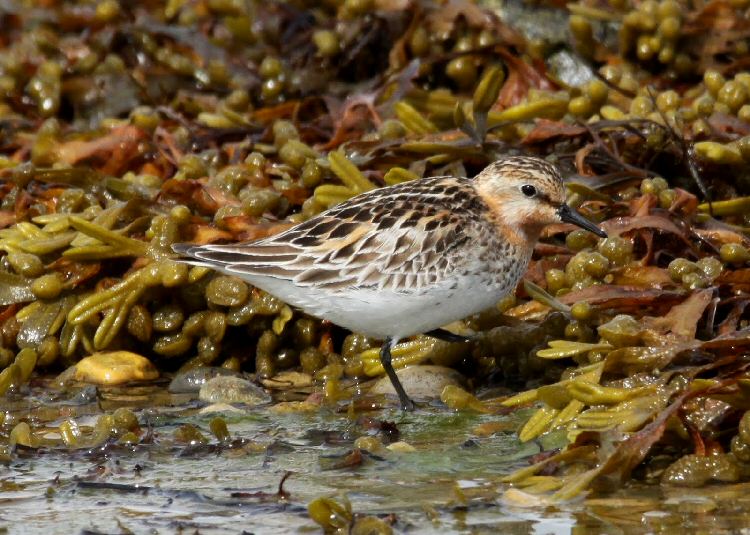 Mark Golley
12 July 2017
Share this story
Tweet


Many thanks to all contributors for their photos and videos this week.
Greham Jepson, Tony Dixon, Fair Isle Bird Observatory, North Ronaldsay Bird Observatory, Mike Langman, John Tymon, Ivan Sansom, Joe Pender, Sean Cronin, Rob Stonehouse, Peter Hackett, Sean Nixon, Scott Mayson, Tim Stenton, Dawn Micklewright, Adam Mcpherson, Heiko Peters, Steve Duffield, Toby Green, Simon Spavin, Mick Davis, Ian Bollen, Murray Wright, Brian Anderson, Kester Wilson, Robin Mawer, John Richardson, Lee Evans, Paul Kelly, Alan Tate, Margaret Sharpe, Paul Baker,