Weekly birding round-up: 31 May - 6 Jun 2017
The week at a glance
Argyll and Bute birders score Scotland's third Sooty Tern - the first here for 12 years
Perplexing Greenish Warbler sp., trapped and ringed at Portland - could it be another Two-barred?
An adult drake Black Scoter is discovered off the coast of Aberdeenshire
Two new singing male Iberian Chiffchaffs pop up in Cheshire and Suffolk, the latter a potential county first
In Cumbria, a Black-eared Wheatear is reported from the Lake District
In shock news (not…), the male Pied-billed Grebe is still in Argyll & Bute
Spring's inexorable fade in to the early days of summer was, largely speaking, something of a mixed bag - the weather in particular was all over the shop; temperatures went from mid 20's to low teens showers, storms, sunshine, muggy air, fresh air…it was in a right old state, especially as we closed down for business, isobars tightening, winds blowing, rain falling. It wasn't nice.
The winds did their inevitable wobble from the southeast to brisk west as assorted highs and lows fought it out in the stratosphere (or wherever such meteorological battles take place), ending with a stinker of a day for many on 6th; the birding too was full of highs and lows in what was still a busy week.
As spring drifted away and June eased her way in to our notebooks, there was a pervading "end of term school disco" feel to the whole affair…
…and, just as the DJ sticks on Dexy's "Come on Eileen" ahead of lights up, you cop off with the school hottie (either gender, either gender…) and everyone's jaws drop a little - and you can't argue with the fact that this week's headliner was the birding equivalent of such heady disco days…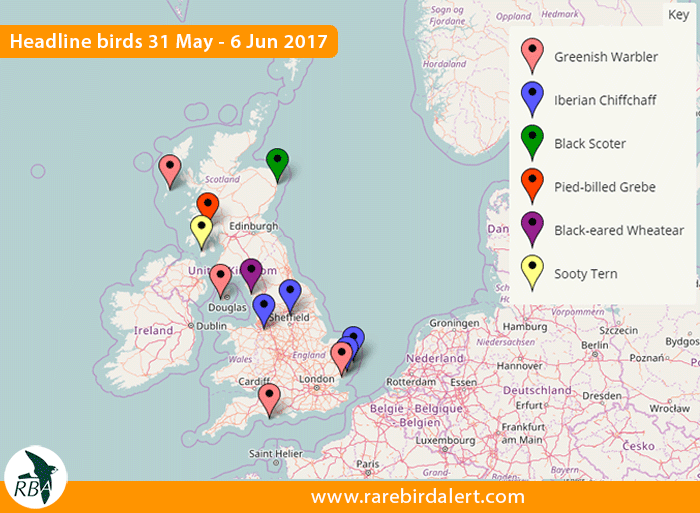 Sooty Tern
Sometimes in this review writing carry on, you have to play the long game.
Six weeks ago there were a few mutterings about the chance of the Sooty Tern that had made transit through the lower reaches of the Western Palearctic and then hit the Iberian Peninsula may well (eventually) end up in British waters before spring was out.
Well, thanks to the Machrihanish Bird Observatory, that slow-burner finally came to fruition, due entirely to pelagic gazing endeavours paying off, in the very finest style, when a Sooty Tern headed south off Uisead Point during the late morning of June 2nd.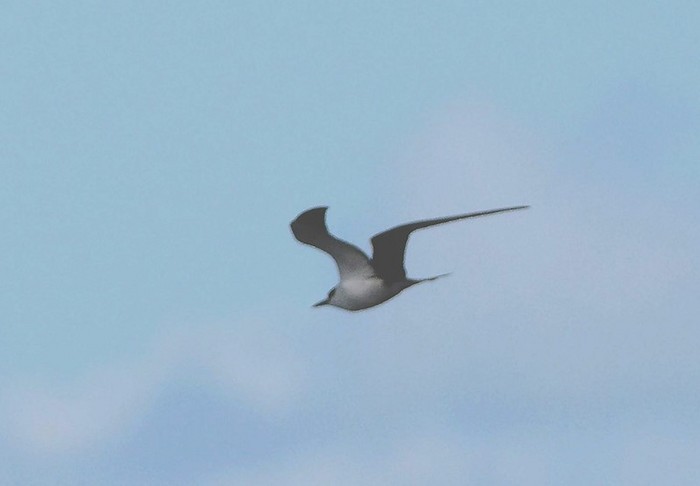 Only the third record for Scotland, this is one of those magnificent rarities that always makes you sit bolt upright and mutter a suppressed "wow" or two as any birder worth his or her salt knows just how rare this species remains here and how few chances there have been to see one.
More senior members of the twitching fraternity, those in their late 60's and early to mid 70's, may well have been in and around north Norfolk to witness the Sooty Tern that spent a few days around Scolt Head and Blakeney Point in mid June 1966 (a bird that gets a mention at the end of this week's offerings, due to the first show it made in Suffolk).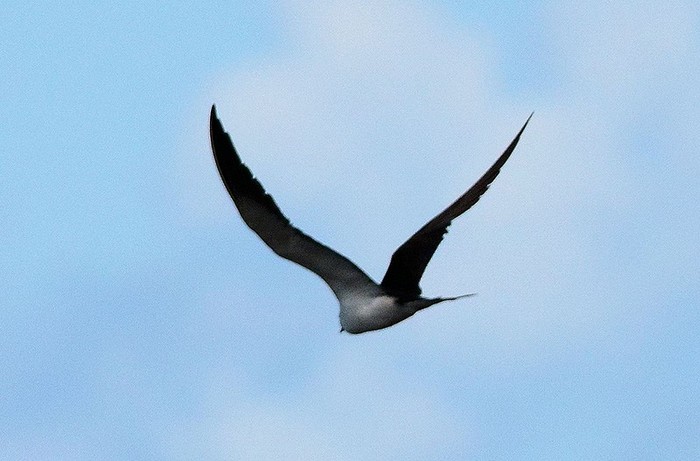 Those of a slightly younger vintage, those in their mid-late 50's or very early 60's (and who are still actively birding and listing now) will probably have made the dash to Ditchford Gravel Pits in Northamptonshire to see the sickly bird that flopped about in an unseemly manner for two days at the end of May 1980 (I saw it, but only on John Craven's Newsround).
A photographed (and hush-hush) Sooty Tern raised some ire after not much was said about it at either Rye Harbour or Dungeness in July 1984 and then came the fly-by off Bridges of Ross in July 2002, enabling one famous British (almost-ex) twitcher, who just happened to be passing, to add a second to his prestigious diary.
His third, my first and the first for the Generation X listers was the awesome bird that spent almost two months cruising up, down and across the Irish Sea in the summer of 2005 - first seen on the beach at Rhosneigr, in Anglesey on July 5th, the bird was relocated around the rocks of The Skerries, a few miles of the Welsh coast. Epic charters ensued and no one will forget their time at sea as the "garrulous and glorious" visitor announced itself above all the hubbub of seabirds, boat engine and noisy sleep-deprived men.
After four days off the Welsh coast, this particular Sooty Tern popped in briefly to Cemlyn Bay before sweeping out across the Irish Sea, appearing at Rockabill before spending a couple of weeks coming and going on Anglesey. More journeys took it in and out of Irish and Welsh waters - spending a few days in County Down before departing through Pembrokeshire on August 23rd.
The record books show 29 acceptances but that figure is comprised of only 23 birds until now. There are 12 records of Sooty Tern from 1852-1939, three for the 60's (including the Suffolk and Norfolk bird, that also went to Northumberland) and threes for the 70's and 80's too. The 50's and 90's were blank and the first 17 years of the new millennium have yielded just two (until this week), with the much admired 2005 bird being the last accepted record.
…and what was the cause of such optimism back in April? It felt around these parts as though the bird that started off near Raso (Cape Verde Islands) on March 9th-10th was the same individual which was seen at Arrecife, Lanzarote (Canary Islands) on March 25th and then at Peniche (Portugal) on April 19th. The link to the bird seen at Banc d'Arguin, in the Gironde region (France) on May 8th-11th seemed inevitable and it really did feel like it was just a matter of time until it (or another) made it to our shores.
It took a while, but it got here. Finally, it got here. Now if only that American Royal Tern would do the same…
Portland's intriguing Greenish Warbler
Coming less than 48 hours after the distinctive looking Two-barred Greenish Warbler on Foula, a singing male Greenish Warbler at Portland on June 1st didn't really raise an eyebrow, being part of a small arrival of the classic late spring overshoot and was one of three seen within just 36 hours or so.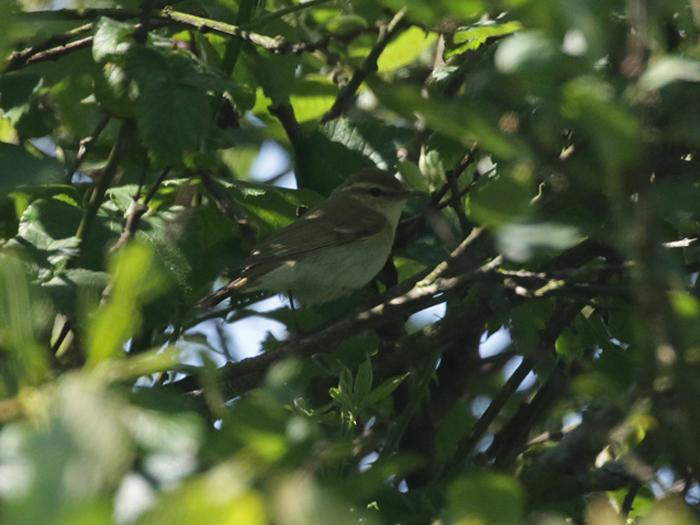 Then came the in-hand photos - those who pay regular visits to arguably one of the most informative of all the Bird Observatory blogspots and Twitter feeds were hit between the eyes by a striking bird with more than a whiff of Two-barred Greenish Warbler about it.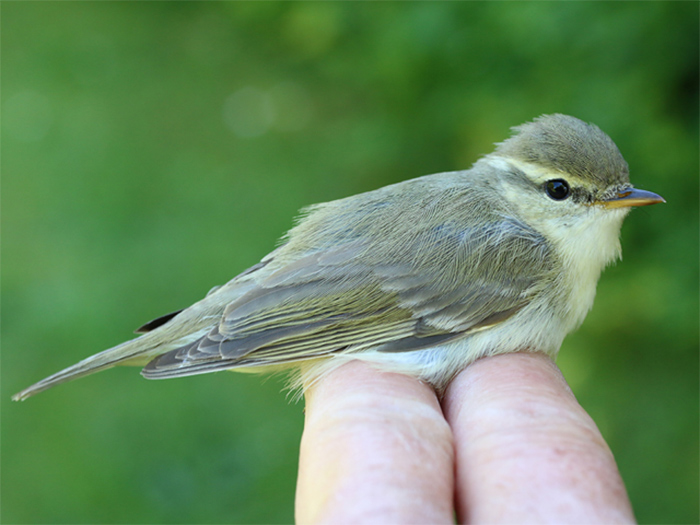 In-field calls and snatches of song were a better fit for trochiloides than for plumbeitarus but the bird undeniably showed something more than perhaps just a vestigial median covert bar (in the hand) and the greater covert bar was also rather striking too, being long and broad (a combination that was arguably pointing towards the possibility of Two-barred Greenish Warbler, though we know that some Greenish Warblers can show two bars).
The upperparts (in one in-hand image) had a greyish cast over the green (compare that to the Foula bird's lime look) which gave the bird a more Greenish Warbler-like vibe. But it looked a little greener in others and the bill too looked a little on the heavy side for a Greenish Warbler. Indeed, the more you looked at the photos, the more perplexing it became.
Side by side, the Portland and Foula birds do look strikingly similar but subtle differences seem to be there - it highlights just how careful you need to be when dealing with such similar species. But, could they actually be one in the same species here?
The news from Observatory warden Martin Cade is that there will be a positive resolution, feather and faecal samples were obtained, so there'll be answer. I'm not quite sure I know which way it'll go - if a bird looking like this is a Greenish, could it then possibly have an inadvertently detrimental effect on the Foula bird, which most certainly looked the part for a Two-barred Greenish Warbler. See what Doc Martin comes up with on this one.
Black Scoter
Although it lost its allure for many some years ago, there's still a tip of the hat, a nod of respect and double helpings of kudos to anyone who scans a summer Scoter flock and comes up with a really good bit of ducky business.
Perhaps back in familiar waters was the adult drake Black Socter seen at the north end of Murcar Golf Course (Aberdeenshire) on the evening of May 31st - potentially the third record for the county and perhaps only the 10th or 11th different individual here ever (at least 27 records are listed but they include the multi-returning birds in Scotland, Wales and Northumberland).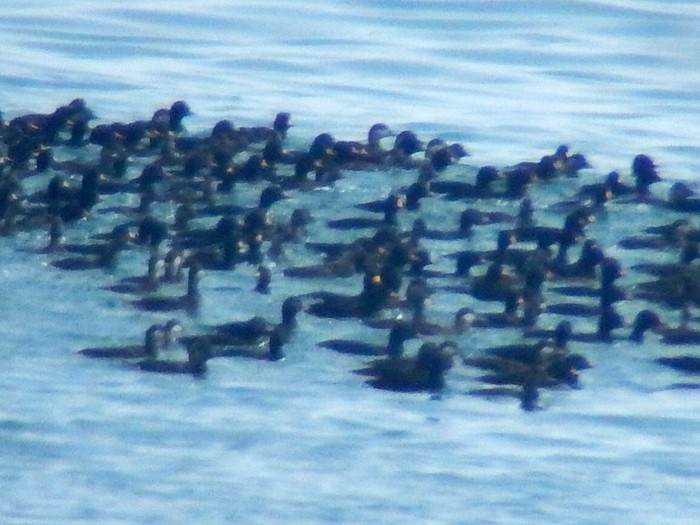 The first of Aberdeenshire's Black Scoters was the adult male found at the end of June 2011 (just after the first British American White-winged Scoter had departed) and the second followed less than a year later, a first-summer drake found in the same spot at Murcar, this one on June 14th.
This week's offering was a two-day affair, he was still in place to 4th.
Iberian Chiffchaffs
And so it goes on…
The amazing spring for records of Iberian Chiffchaffs continued to break, errr, records as another two singing males were logged and recorded this week - that ole rarities committee has one mighty pile of records to paw over when the nights draw in later this year…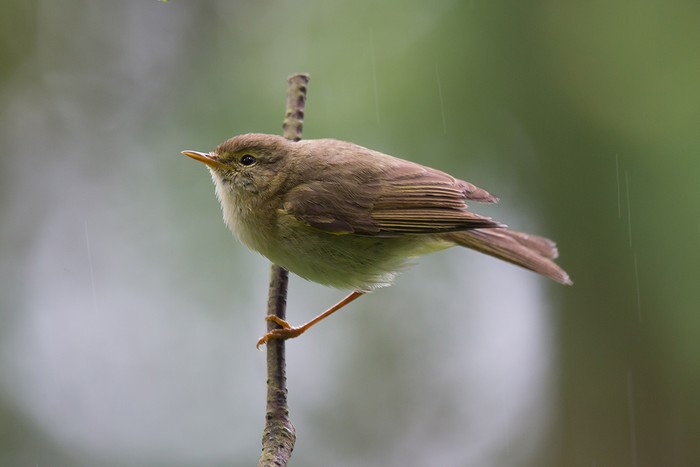 New on May's last day was the singing male in Cheshire, at Kelsall - the second for the county if accepted (the first was at Dibbinsdale for 22 days at the end of April 2004) - the 14th for the year to date - and the second followed less than 24 hours later, when a trapped and ringed bird (at 4.30am) was in song around Landguard NR (Suffolk) only up until around 8am. The significance of this particular individual was that not only was it a first for the site but also a new species for Suffolk too.
Interestingly the Landguard website mentions that "in hand identification of the species is not conclusive" which appears to be contra what ringers at Walsey Hills mentioned and (presumably?) others that have been firmed up or confirmed by a inspection within someone's mitt (like the two Spurn birds this year).
All that besides, we can update the tallies to a speculative 15 for the spring now (and, as was asked a couple of weeks ago, will all 15 be accepted?). The running totals are now three for March, seven in April, four now across May and a single from June.
Black-eared Wheatear
There's not a whole heap known about the report of a Black-eared Wheatear just below the summit of Black Combe, near Silecroft (Cumbria) on 31st.
Lovely Wikipedia tells me that it's a fell in the southwest corner of the Lake District and jolly lovely it looks too (I half expect to see shots of it on RamblerSupreme Stuart Maconie's Twitter feed). It's just the sort of place you can picture a pretty overshooting wheatear as being, perched aloft a crag.
This would prove to be a new Cumbrian bird, neighbouring Lancashire has four, (but none since 1943) - the halcyon days for the two forms of the species feel as though they were some time ago now, despite there being over 65 accepted records now.
The 80's and 90's were hotbeds for Black-eared Wheatear records, 32 in all, split evenly at 16 a piece for the two decades including a couple of twitchable birds in Dorset and Cornwall in the middle of the 80's and the popular young male Western at Stiffkey for nine days in the autumn of 1993.
Twenty years and 32 records compared to the first 17 years of the new millennium with (currently) only eight acceptances in all - four of the first five of which were all twitchable (in Dorset, Cornwall and Scilly, twice). This is a species (or two) that is in a downward spiral at the moment, let's hope the good times roll once more, and soon.
Long staying rares…
Pied-billed Grebe
Yes, he's going nowhere fast - first seen (this year) on March 28th, the male Pied-billed Grebe continued to surface for anyone who happened to be passing through Loch Feorlin, near Minard (Argyll & Bute) until June 3rd.
There's clearly something about Orcadian waters that is to the liking of the occasional White-billed Diver - one remaining off Papa Westray through until 1st.
Long-tailed Skua made it to the review by the skin of their teeth, two headed north past Rubha Ardvule, South Uist during the late afternoon of 6th with maybe even the same double flying past Balranald RSPB, North Uist later that same evening.
The one and only Pomarine Skua noted ahead of the weekend was seen heading by Tarbet Ness (Highland) on 31st and eight more followed; two were seen from Porthgwarra (Cornwall) on 4th, a further Cornish twosome were off Downderry on 5th when four were seen offshore of Teignmouth (Devon). The week's first Balearic Shearwater flew past Milford-on-sea (Hampshire) on 5th and others followed the same day off Portland Bill and Start Point (both sites recording singles) with Devon's Berry Head scoring three, also on 5th. Last of the small bunch were the two off Porthgwarra and singles off Pendeen and Portland, all on 6th.
The Somerset Levels are a continual draw for birders and naturalists alike (is it any wonder given the astonishing quality that lurks within) and the avian goody bag was still wide open and most people's favourite pick was the singing male Little Bittern who remained at Ham Wall RSPB until 4th at least.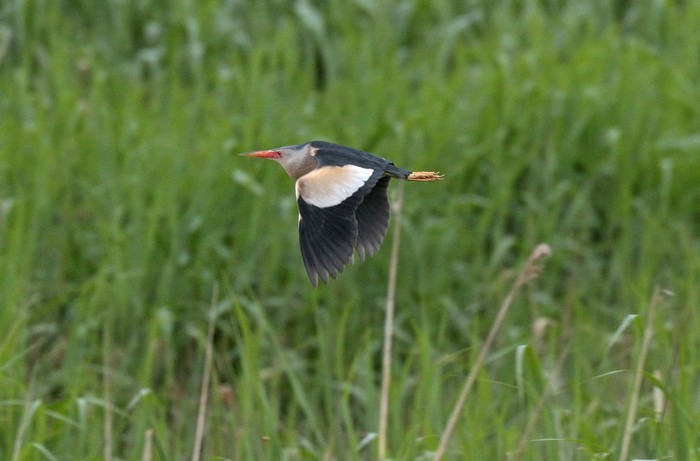 A little further along the M5 and up the M4, in the south Midlands, in Gloucestershire, a female Little Bittern was a cracking find at the borderland Cotswold Water Park, on Shornecote Pit on 2nd where she entertained local listers through until 5th. A big county bird, this is only the third record for Gloucestershire and the first in over 53 years, the most recent accepted record until now coming at Frampton in May 1964. The only record prior to that was in May 1928.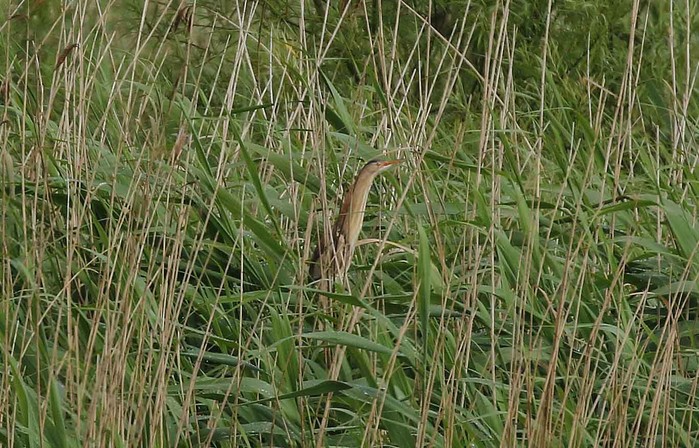 What may be the third Little Bittern was reported a couple of times from the brilliant Lakenheath Fen RSPB (Suffolk) on both 3rd and 4th; it is a small leap to wondering if it's the same barking male that was on site two spring/summers ago (a bird which Suffolk's first since 1977).
Staying in the same county, the second Night Heron within the space of 12 months (and only the second Suffolk bird in the last seven years) was photographed at Carlton Marshes SWT, near Lowestoft on 31st. Despite searching, this newly arrived first-summer wasn't seen again.
No such problems with the increasingly ridiculous adult Night Heron that is almost being hand fed at Dingle Gardens, Shrewsbury (Shropshire) through to 4th. Presumably it has become more and more trusting of people, becoming habituated to the site and therefore becoming all the more reckless/fearless (it wasn't tame - or didn't appear to be when it arrived elsewhere in the county earlier this year).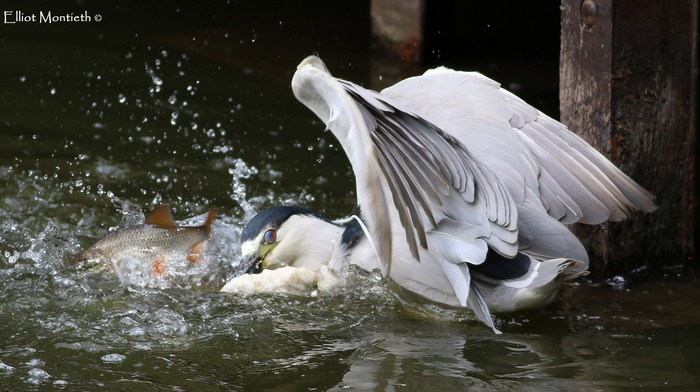 (…and they wouldn't let us have the Scarborough Hooded Merganser coz it liked Cheese and Onion crisps…I'd be looking to a collection or two now if I was on a Salopian committee…)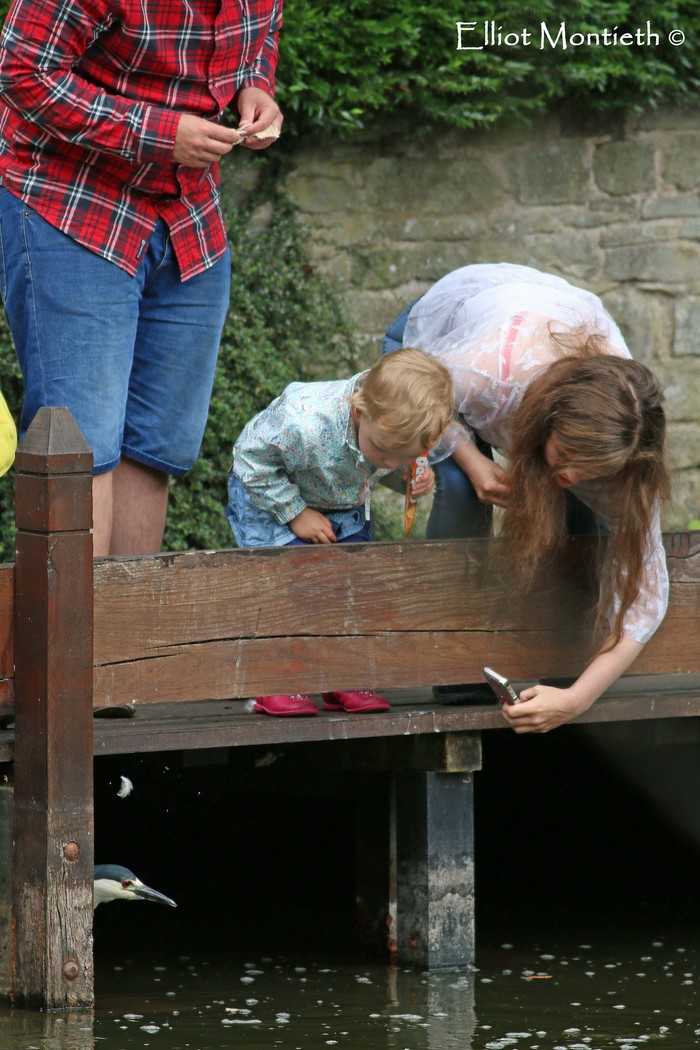 …and maybe that's precisely what'll happen as a few days after committing the above to this week's blether and windbaggery, there was suddenly a feeling of "uh-oh jungo" - the move to label this bird as an escape suddenly gained momentum (as did the likelihood of this being possibly an American Night Heron - how many where there in the Hebrides and Iceland this spring…where they Euro birds or from somewhere else?) Innarestin…
No such tameness from the two Night Herons that were seen in Holy Vale, St. Mary's (Scilly) on 1st. One day, these are going to summer and carry on and do something funky.
A lost Purple Heron was seen at Sheringham Bird Observatory on 2nd, heading east, then south and it may even have been the same bird that was recorded back down the A140 (again…), noted around the Minsmere reserve on 4th-6th - Suffolk's East Anglian dominance continuing despite the best efforts of birders on the north Norfolk coast.
After several weeks of a downward trend, there was a little late spring/early summer spike in records of Cattle Egrets this week, up to 37 recorded in 11 English, Welsh and Irish counties.
At least one chick continued to be tended to by at least one adult at the nest at Burton Mere Wetlands RSPB (Cheshire) to the weekend while in the southwest of England, between 5-15 birds were reported, including 12 mentioned for the Somerset Levels on 2nd (two were in Dorset, at Abbotsbury and two were in Devon, still at South Huish on 6th). Other English birds of note were the two twos in Gloucestershire (at Slimbridge WWT and Brockworth), two still at Frampton Marsh RSPB (Lincolnshire) to 3rd with singles in Norfolk and Merseyside.
Eight Welsh birds were logged, singles at Bosherton (Pembrokeshire) on 31st and Shotton (Flintshire) on 4th while numbers at Ynyslas (Ceredigion) rose from three to six by 5th. A final trio remained at Tacumshin (Co. Wexford) to 5th.
Back in Somerset, a lone Glossy Ibis remained around Meare Heath throughout the week while an "in-off" Glossy Ibis spent barely anytime at all on the Cley Marshes NWT reserve (Norfolk) during the late morning of 2nd before departing rapidly eastwards (being noted, still going ESE, over Sheringham Bird Observatory a few minutes later). Whether this was then the same bird that appeared at Minsmere RSPB (Suffolk) on 4th is guesswork, but it seems logical to link them as one-in-the-same.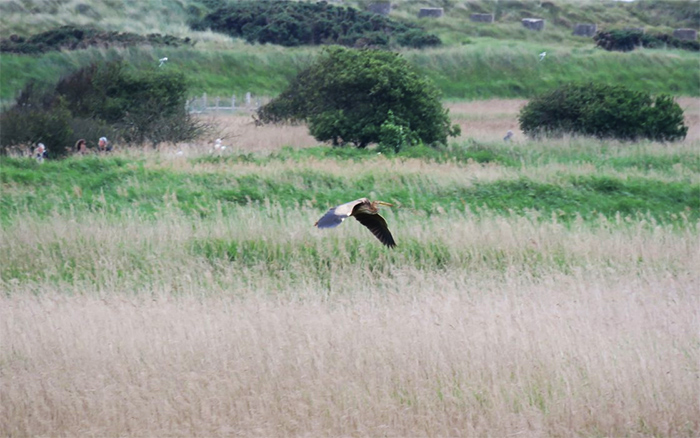 Remaining pretty consistent were the numbers of Spoonbills recorded around the country, some 65 or more noted, with Norfolk well ahead of the pack, upwards of 30 or so recorded around the coast from west to east, including 12 still at Potter Heigham Marshes with a flock of 10 over Brancaster on 31st. Birds were strewn widely away from Norfolk and included four at the WWT National Wetlands Centre (Carmarthenshire) from 31st, five on Brownsesa Island (Dorset) on 4th and six at Drurudge Pools (Northumberland) on 4th (presumably a group that included the quartet seen at Beal earlier that day).
Great White Egrets remained in modest numbers, precisely how many was all down to the accuracy of the report of 18 birds on Ham Wall RSPB on 2nd. There were definitely four the following day and another foursome was to be had at Burton Mere Wetlands RSPB the same day. A further 15 or so were logged criss-crossing the country from Cornwall to Flintshire and East Yorkshire.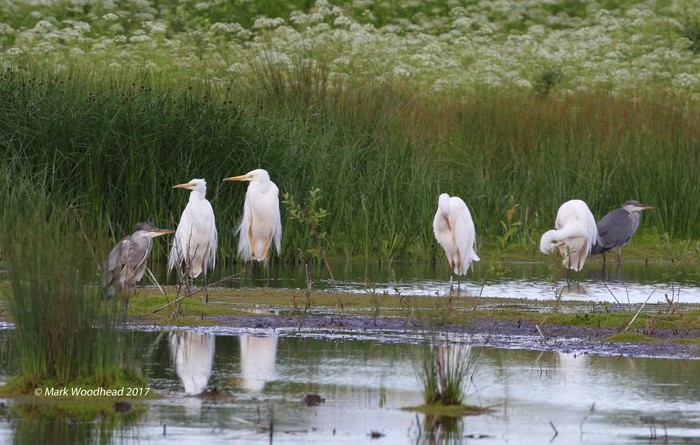 A heard-only Common Crane was reported from Wareham Channel (Dorset) on 31st and the lingering bird in the Idle Valley (Nottinghamshire) was still on the prowl to 1st. Three further singles were seen at Potter Heigham Marshes (Norfolk) on 2nd, Gibraltar Point NNR (Lincolnshire) on 4th -5th and Arne RSPB (Dorset) on 5th.
Still performing deep in the grasses of Warwickshire was the singing male Corncrake who remained in place at Alvecote Pools for much of the week, continuing to attract folk from ever further a field, all hoping for a brief scurrying flight view or two (by fair means rather than foul you'd like to think).
It's a good job that the old Black Duck was still around in the Highlands; seen again at Strontian on 2nd and 6th, he's one of very few interesting wildfowl species noted this week.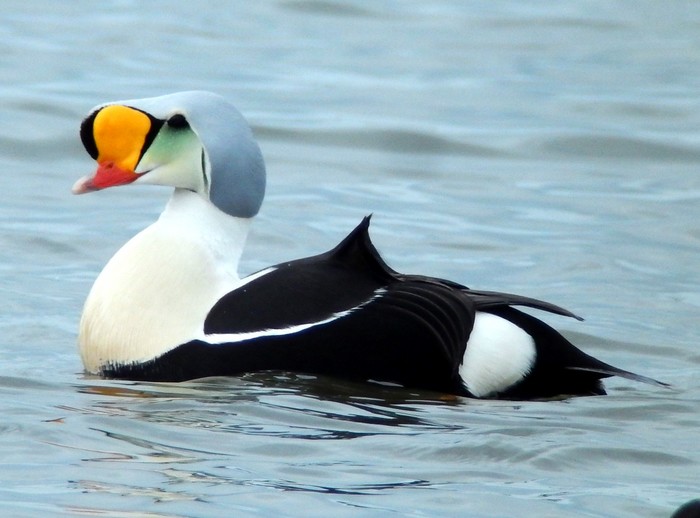 Further Scots' duckiness came in the form of the lingering drake Ring-necked Duck on Loch Finlaggen, Islay (Argyll & Bute) to 2nd; a drake Green-winged Teal was seen briefly at Walls, Mainland (Shetland) on 4th; there were two Surf Scoters to report this week; on Shetland, the drake remained off Baltasound, Unst to 4th while on Orkney, the female was around Echna Loch, Burray to 2nd and on the Scottish mainland, the drake King Eider was again along the Ythan Estuary (Aberdeenshire) 1st-5th.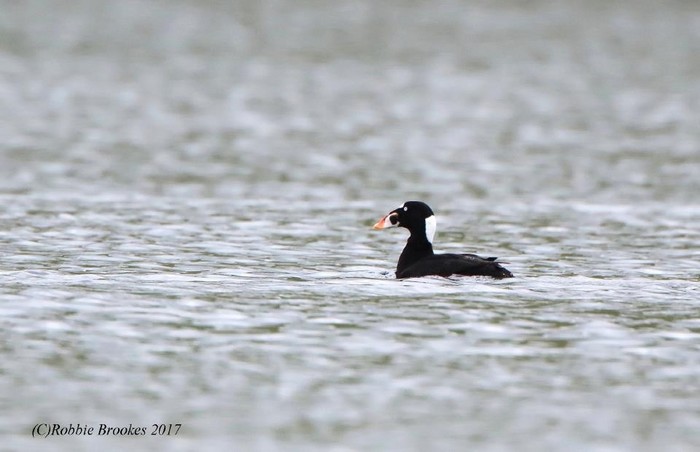 Following quickly on from the dazzling adult male American Golden Plover in west Wales (he was still present along the Gann Estuary until 31st), it was Anglesey's turn to host the new representative of the species this week, a first-summer bird found in Beddmanarch Bay on 1st, the first on the island for at least five years.
Heading in to the far northwest of England, to Cumbria next where the adult Spotted Sandpiper remained at Buttermere through until 5th (is it thinking of summering there?)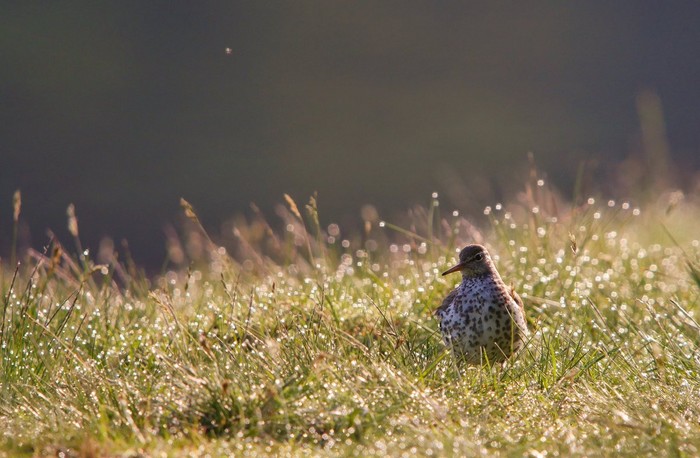 A mini avian tragi-comedy was played out across the far west of Norfolk on the last day of May - the morning had brought news that one of several breeding pairs of Black-winged Stilts spread nationally, after another spring invasion, had hatched two young on the Welney WWT reserve; by the end of the afternoon everything had become a little bit sad and had definitely gone pear-shaped, as the two chicks had already been predated and the adults had departed the reserve almost immediately.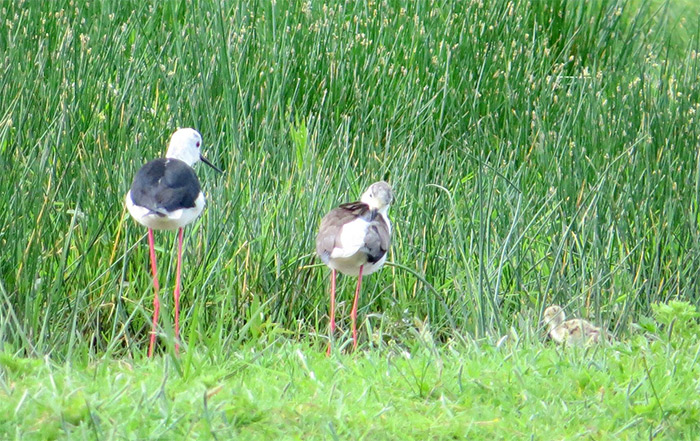 All those joyful morning press releases were gently crumpled up and popped in to the nearest recycling bin.
Hopefully though, the following couple of weeks will bring better news from elsewhere around East Anglia and the southeast. Amongst other spots…
New this week was the lone Black-winged Stilt that appeared at Rye Harbour NR (East Sussex) on 2nd; this is a stretch of the country with some recent success of late where the species is concerned and it was emphasised by the appearance of what were thought to be the Welney two, also on 2nd, seen along The Midrips. The following day, a male was again at Salthouse and Cley (Norfolk) - many thought it was the same loner seen in the area on May 18th, others thought that there was a subtle but significant difference in the grey marks around the head to suggest it was new.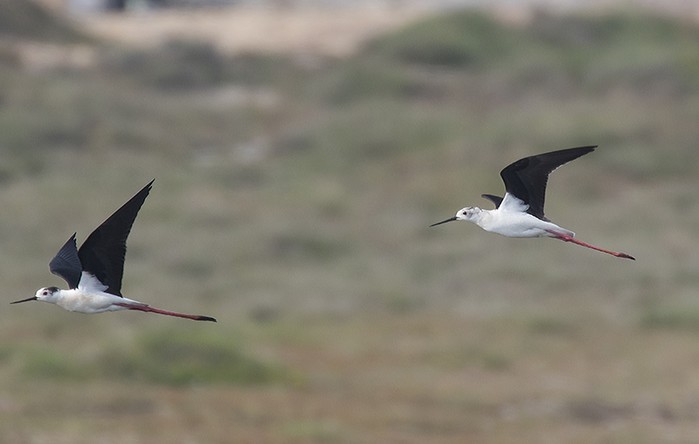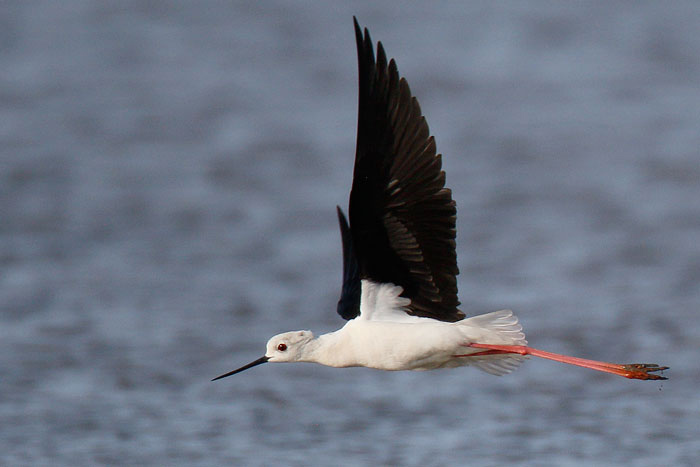 Also fresh in this week were a couple more Red-necked Phalaropes - the first was seen briefly at Hatfield Moors NNR (South Yorkshire) early on 31st and the same date saw North Ronaldsay's second in a week appear on Gretchen Loch. The week's third was the still-present female that lingered at Grindon Lough (Northumberland) throughout the week and she was followed by a second Orkney bird, at Isbister, South Ronaldsay on 2nd and three were noted at Loch na Muilne RSPB, Lewis (Outer Hebrides) on 2nd. Back on Gretchen Loch, three Red-necked Phalaropes were found on 5th as the northward push continued.
As spring fades in to the first real days of summer, there wasn't too much of a surprise in the diminishing numbers of Temminck's Stints - two were noted on 31st; one remained at Frampton Marsh RSPB (Lincolnshire) while new was one at Cemlyn Bay NWWT (Anglesey), the first on the island since 2005.
Two spring Pectoral Sandpipers were seen on a couple of Scottish extremities; on 31st one was on Papa Westray (Orkney) and on 1st one made a brief appearance at Loch a'Phuill, Tiree (Argyll & Bute).
On North Ronaldsay, an adult-type Baltic Gull was found in a rolled field near Holland House on the evening of 1st. It certainly looked the part - compare it side by side with the Gloucestershire bird of 2007...
…the only difference being a white piece of plastic on the '07 bird's leg.
After no reports/no sightings for over two and a half weeks, the first-summer Bonaparte's Gull was noted again at Longham Lakes (Dorset) on 5th while three first-summer Ring-billed Gulls were reported as well; still near Ynyslas (Cerdigion) to 31st, again around the Tralee Bay Wetlands (Co. Kerry) to 2nd and at Lurgangreen (Co. Louth) to 3rd.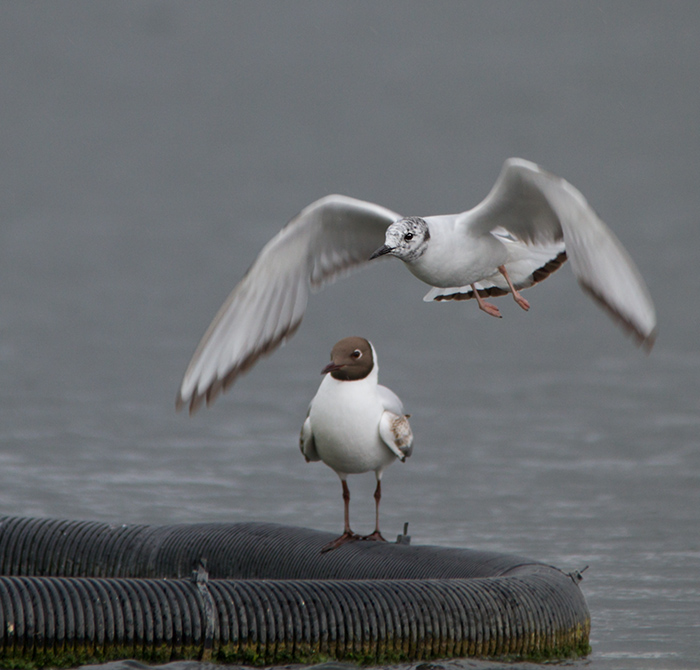 There were 16 Iceland Gulls seen in 11 British and Irish counties this week, 10 of them in Scotland, six of those on the Outer Hebrides. Five singles were seen around England, from London and Kent to Northumberland and one remained in Ireland. Glaucous Gulls registered eight birds, four were in Highland (including two at Brora on 5th), two were logged for the Outer Hebrides and ones where in North Yorkshire and Kerry.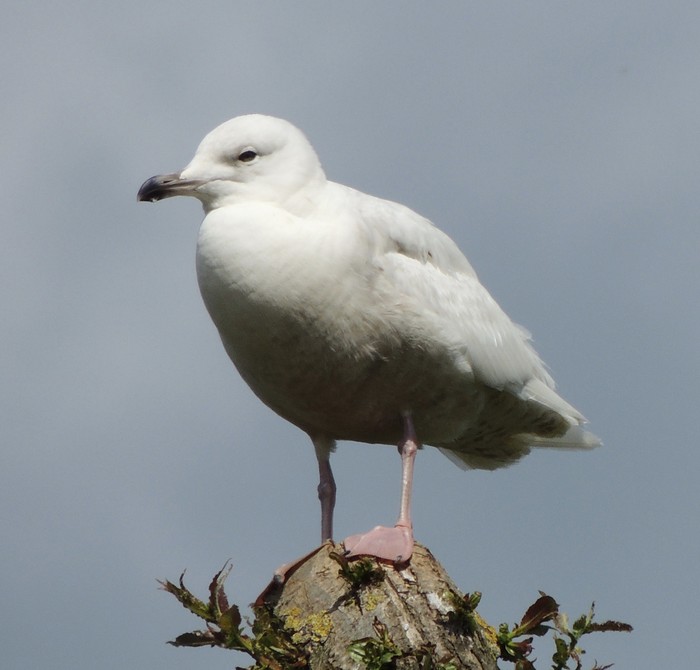 The new week began with a couple of leftover Red-footed Falcons still in place on the morning of 31st; a first-summer female remained at Ham Wall RSPB (Somerset) and the first-summer was around Dunwich Heath NT (Suffolk) before relocating later the same day to nearby Minsmere RSPB.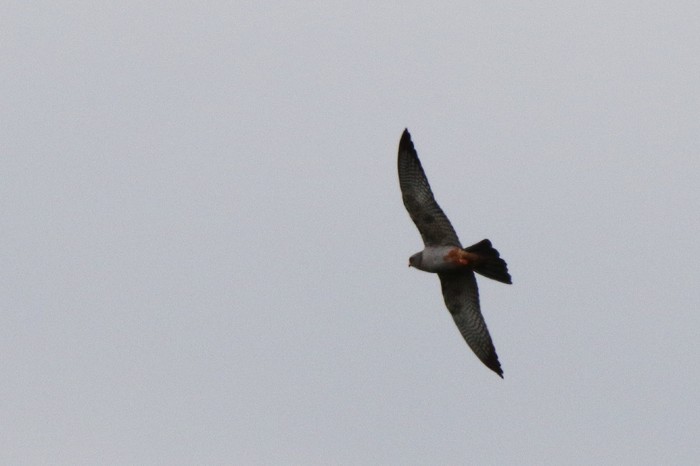 New on May's final day was a female at Wicken Fen NT (Cambridgeshire) while the first day of June saw a first-summer male copy the moves of one a couple of day's previously at Sheringham (Norfolk) while two first-summer males headed across the Nanjizal Valley (Cornwall) later in the afternoon. Another male Red-foot was reported on Portland early on the morning of 2nd and what may well have been the third for Sheringham in almost as many days was also seen on the morning of 2nd while an adult female was seen at Grove Ferry NR (Kent) later the same day. After a gap of three days, a first-summer male was at Minsmere on 4th-5th and a same-age, same-sex bird was at Windmill Farm NR, Lizard on 4th and then Lizard village on 6th.
A couple of Black Kites surfaced on 31st; one was reported three times from the area around Sculthorpe airfield (Norfolk) and another was logged heading over Ramsgate (Kent) too. The 2nd brought a report of one from Shipley CP (Derbyshire) and East Anglian singles on 4th were seen at Orford Ness (Suffolk) and Potter Heigham Marshes (Norfolk).
Back in Kent and definitely worth a mention was the huge count of at least 250 Red Kites from St. Margaret's at Cliffe on 3rd, with counts of 104 from Faversham and 80 at New Hythe the same day.
The super run of Honey Buzzards showed no signs of letting up just yet (this is the best spring for aeons) - half a dozen were seen on 31st; two made it to Kent, seen over St. Margaret's at Cliffe and Dungeness, East Anglian birds were recorded at Kessingland (Suffolk) and Sheringham (Norfolk) with two more in the northeast, at Wykeham Forest (North Yorkshire) and Coulby Newham (Cleveland).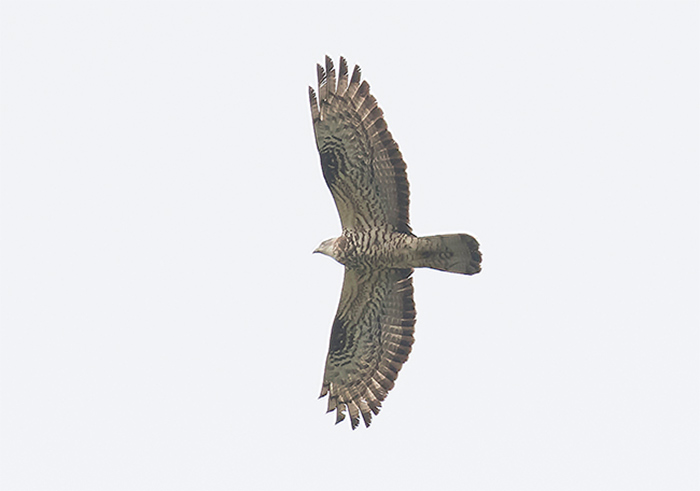 Up to five more followed on 1st; the Kent coast hosted up to three birds, singles seen at Lydd, Folkestone and New Romney with another on the south coast, at Poundgate (East Sussex). The day's fifth bird was at Budby Common (Nottinghamshire). A couple more made themselves known on 2nd; another was seen over Folkestone and one was reported from Oundle (Northamptonshire), taking the tally to 15.
Honey Buzzard #16 was seen at Brading Marsh RSPB (Isle of Wight) later on 2nd and it was followed by half a dozen birds on 3rd; singles in kent were at Dungeness and nearby Lydd-on-Sea, an adult male was over Wilstone Reservoir (Hertfordshire) and in northern England, one was at Ogston Reservoir (Derbyshire), another headed over Kilnsea and Easington (East Yorkshire) and one was at Wykeham Forest (North Yorkshire). A displaying male was in the New Forest on 4th and on 5th the 24th of the week was seen heading over Sheringham and then nearby Kelling Heath (Norfolk).
The one and only Montagu's Harrier mentioned for the week was a second-summer male that was seen at Thorne Moors NNR (South Yorkshire) on 6th.
Before removal from the list of species considered by the BBRC at the end of 2014, Shetland has already amassed 98 records of Blyth's Reed Warbler (almost exactly half of the figure accepted in all) and that figure will now have comfortably exceeded the three figure mark - add to it the singing male found at Voe of Scatsa, Mainland on 3rd.
Two new singing male Greenish Warblers arrived on the first day of the new roundup period; first to come along was the bird at Colne Point (Essex) on 31st and he was followed the same day by one at Eriskay (Outer Hebrides). The third of the week came along on 1st and you'll have already read about that one in the headlines...while the final bird this week was the singing male that was in the Obs., garden on the Calf of Man on 5th (and wasn't the bird seen there last week).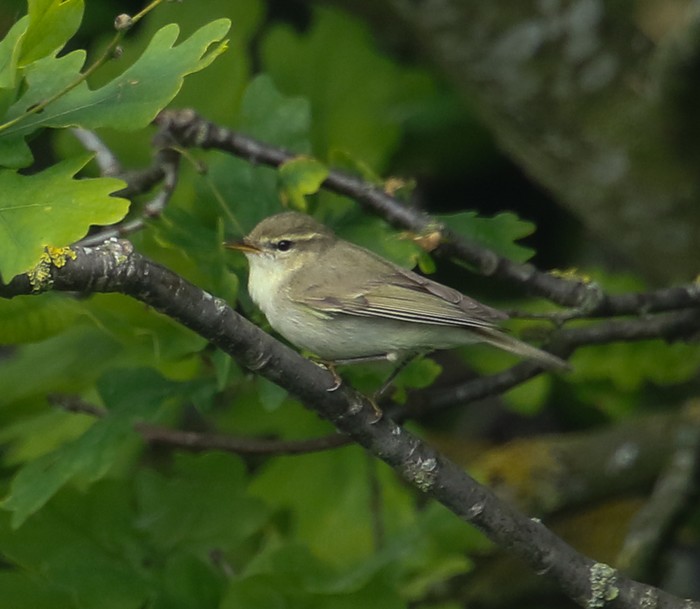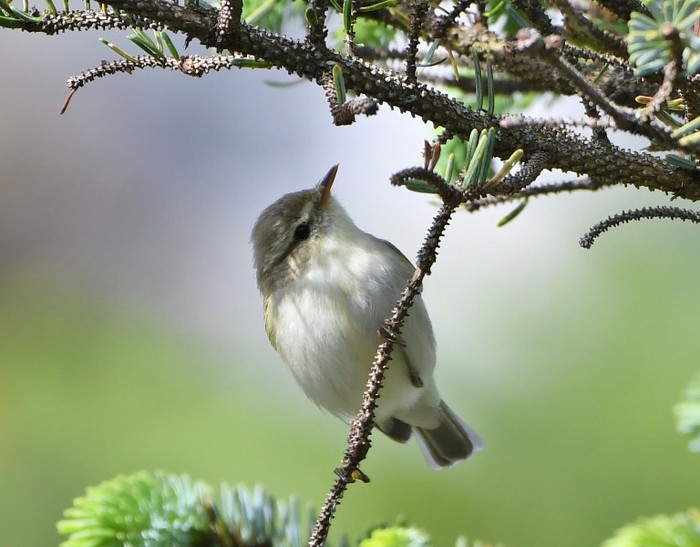 New on 2nd was the male Eastern Subalpine Warbler that was found on Sanday (Orkney) while Fair Isle's trapped and ringed male (presumed) Western Subalpine Warbler remained on the island until 31st.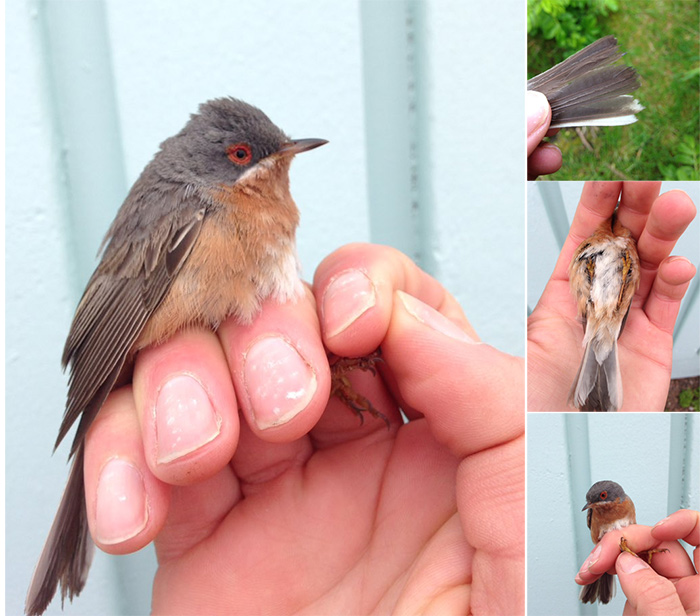 The island also hosted an Icterine Warbler on the same day with a Common Rosefinch and male Red-backed Shrike following along on June 1st (with the former on the island to 2nd).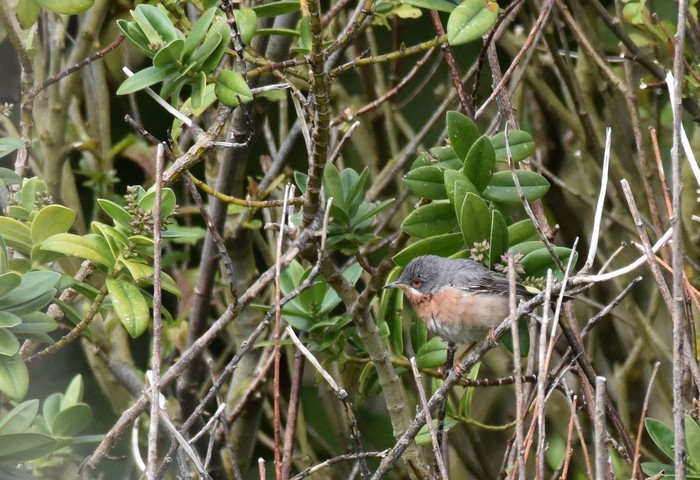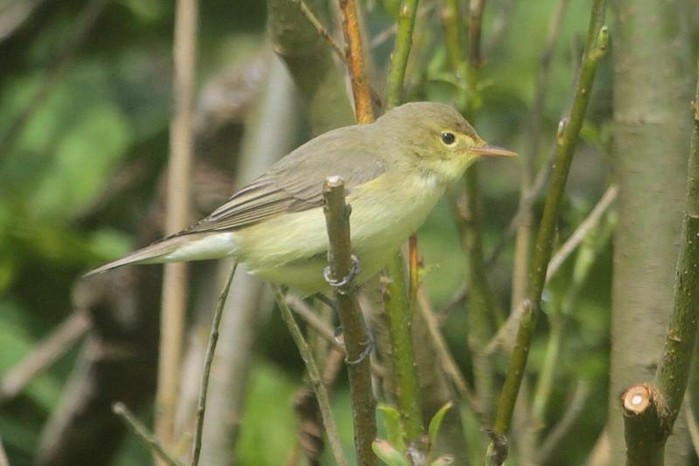 Another Shetland Icterine Warbler arrived on Mainland, at Scatness on 2nd (when two were on Fair Isle) with a second at Sandwick on 4th. New on 2nd on the Scottish mainland was a singing male at Nigg (Highland) and it was followed by a brief songster at Spurn's bird observatory garden.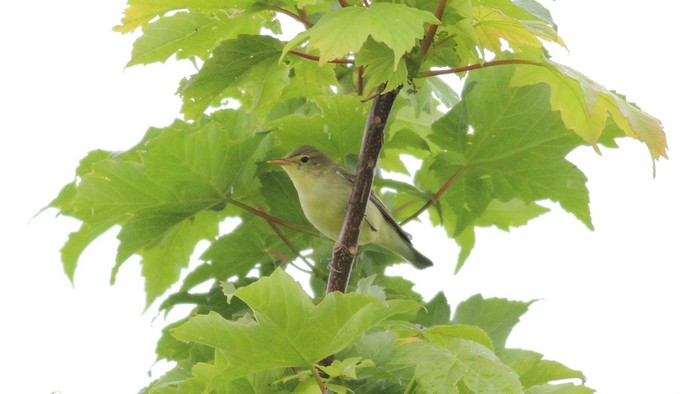 Suffolk was home to the two of the three Marsh Warblers seen ahead of the weekend - the singing male remained at Lakenheath Fen RSPB to 31st and the county's second was at Brantham the next day. The rarest Marsh Warbler of the week was certainly the individual caught and ringed on Skokholm (Pembrokeshire) on 2nd - only the second county record (and the 1st for the island and the fourth new addition to the Skokholm list this year).
The weekend brought with it another trapped and ringed bird, this one at Wintersett Reservoir (West Yorkshire) on 3rd with a second the same day seen at Haverton Hole (Cleveland). The county's second weekend individual was found at Bowesfield Marsh, near Stockton-on-Tees on 4th when others appeared at Hadlow (Kent) and Castlebay, Barra (Outer Hebrides). Cleveland's fine form for the species continued on 6th when a third singing male arrived, this one at Saltholme Pools RSPB.
East Anglia was certainly the place to collect a few Savi's Warblers this week; each of the three county's within the region was now hosting at least one of these sometimes trixy Locustella warblers; the new arrival was found at Wicken Fen NT (Cambridgeshire) on 31st and was still reeling them in until 4th - there have been just two other county records over the past 15 years or more, both of them were at Wicken Fen too, in April 2001 and June 2014.
Elsewhere, the Savi's at Hickling Broad NWT (Norfolk) was on station to at least 4th and Suffolk's songster was at Minsmere RSPB to 5th.
Things are easing where a lot of overshooting species are concerned and Red-rumped Swallow is a prime example of that, just three seen; first was one at Portland on 31st and it was followed by an islander out on Lundy on 2nd-3rd and a southbound bird at Kingsdown (Kent) on 3rd. Despite the still warm and muggy conditions (certainly ahead of the weekend) it was a slight surprise to see just one Bee-eater surface; found at Dungeness on 2nd (where it spent a little time before departing northwards).
Other dashes of colour included the popular singing male Hoopoe at Cranham Wood (Gloucestershire) from 31st-4th - with further reports from Ballyferriter (Co. Kerry) on 2nd and on 4th, at Goss Moor (Cornwall) and Prior's Frome (Herefordshire). A trio of Golden Orioles were recorded, one was at Portland on 31st-1st, a singing male was in the Old Fall Hedge, Flamborough (East Yorkshire) on 2nd and the third was at Holm, Mainland (Orkney) on 6th.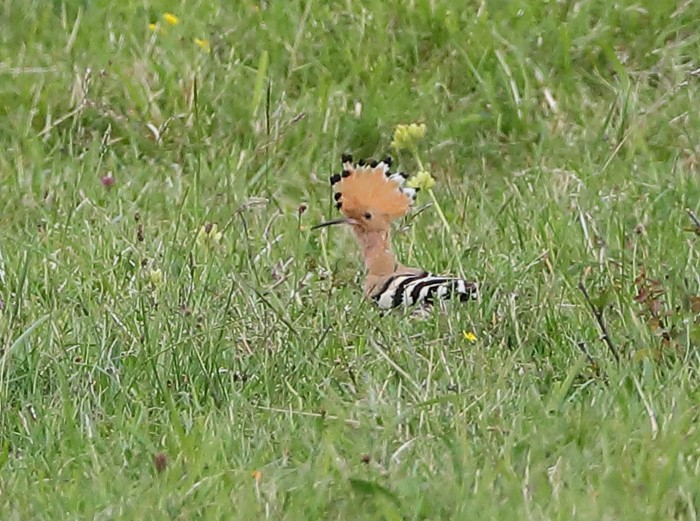 The same day saw what could be one of the last Woodchat Shrikes of the spring appear in Dorset, on the fences near Abbotsbury for one day only. Red-backed Shrikes haven't been too abundant in the past few weeks and the last seven days did nothing to change things. Along with the Fair Isle male mentioned earlier just four more were reported; lone females were on Unst (Shetland) on 2nd, at Marsden Quarry (Co. Durham) and Frinton-on-Sea (Essex) on 3rd with an unsexed bird reported from Colyford (Devon) on 5th. The last of the week was a male found on Fife's Isle of May on 6th.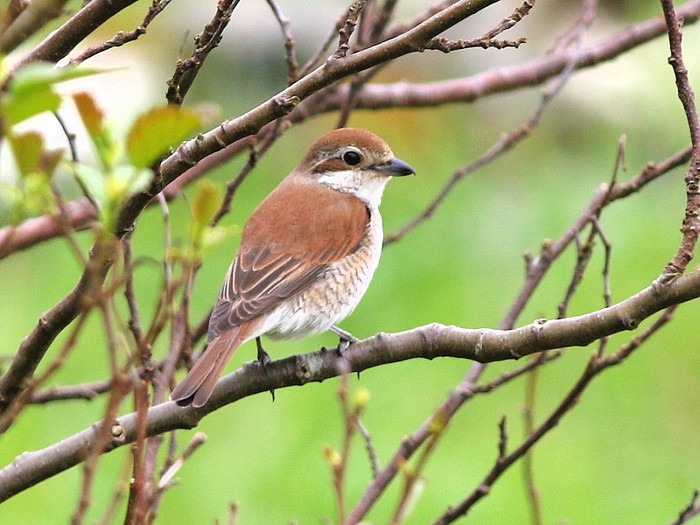 Also not here in any great number are Common Rosefinches. Along with the Fair Isle bird, others were reported briefly at Lea Farm (Surrey) on 31st (but it didn't show after the initial sighting) and on the generally muggy 2nd, a first-summer male was discovered at Scourie (Highland), where he remained until 4th. A brown male moved around the Kilnsea area of East Yorkshire on 3rd and new was one on Sanday (Orkney) on 5th. The last of the week was a male by the school on Fair Isle on 6th.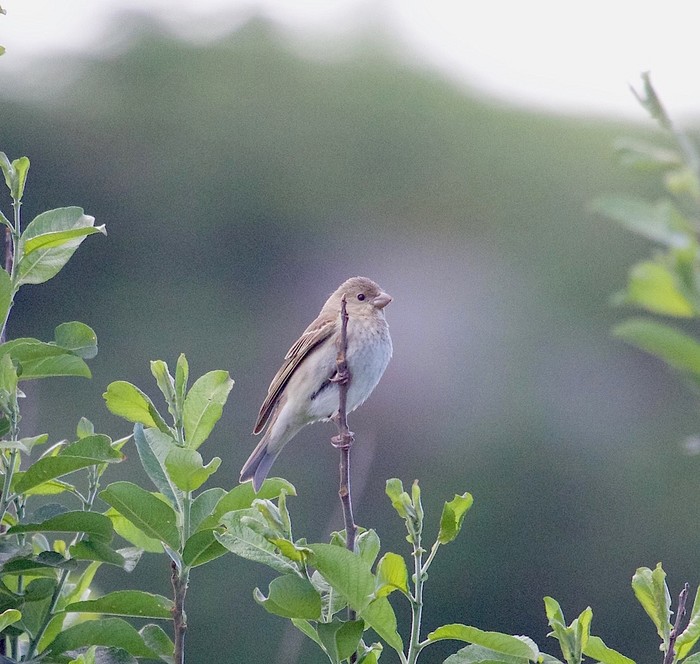 Mopping up some bits and pieces next; the week's two Short-toed Larks were separated by some 900 miles - on Orkney, one was on North Ronaldsay on 1st-3rd and on Scilly, the other was at Deep Point, St. Mary's on 2nd. A Wryneck was at Noar Hill (Hampshire) on 1st and Serin records came from Hayling Island (Hampshire), Sheringham (Norfolk) and South Walney NR (Cumbria) on 1st (the first in the county for four years), again at Sheringham on 3rd and Portland (Dorset) on 4th.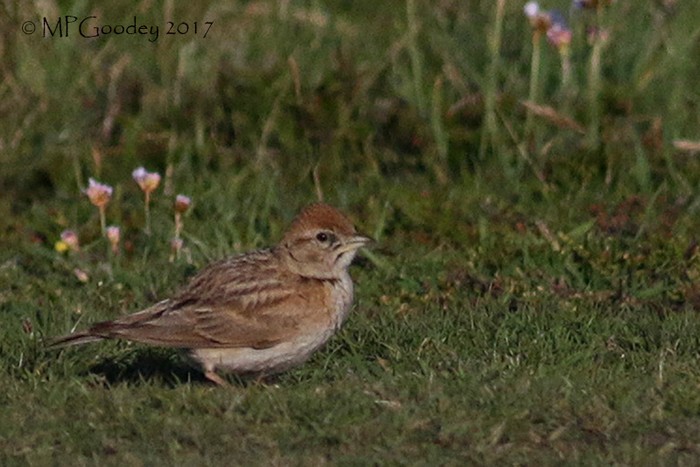 Another gentle pulse of rather beautiful Rose-coloured Starlings made their way to our shores as the weekend approached - lone adults on 1st were found on Lundy Island (Devon) and at Dungeness RSPB (Kent) and the third adult in 24 hours was found the following day in Ipswich (Suffolk) - still in place on 3rd, he looked like an absolute romper!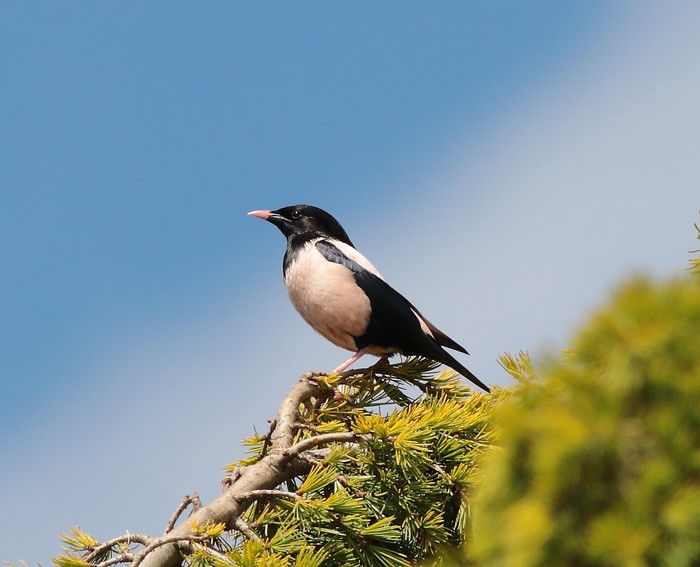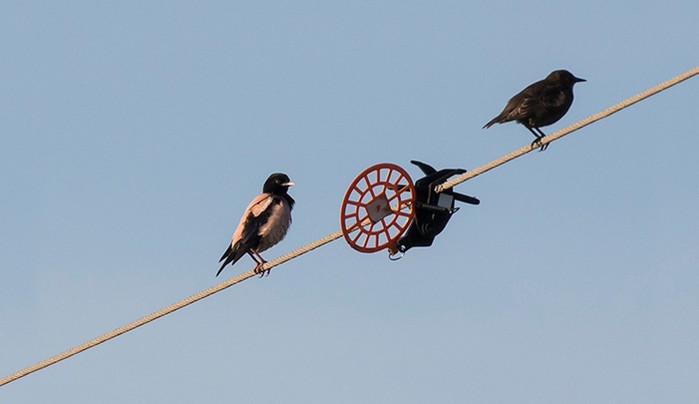 We'll shimmy from north-ish to south-ish again for our sashay around the Western P's main headliners.
First stop is Iceland, where an Eastern Subalpine Warbler was found at Vik, in the southeast of the island, on 31st (where it remained to 3rd) - it is only the third record of any Subalpine species for Iceland.
Norway's 10th Lesser Scaup was found at Latermo, Alt on 2nd while in Denmark, an adult Egyptian Vulture passed over numerous spots in the Sjælland area of the country on 3rd-5th, a fourth national record if accepted as wild. Dropping south to Germany, the adult Black-browed Albatross emerged again on Helgoland on 3rd before returning to Sylt for 4th-5th.
In France, the country's 13th River Warbler, a singing male, was at Sassegnies, Nord on 31st while in Italy, the Black Heron remained at Porto Cesareo, Apulia to 2nd at least and the 15th (or so) Italian Black-shouldered Kite was in the Piedmont region, at Pieve Vergonte on 4th.
Last week's handsome male Amur Falcon has been seen mating with a female Red-footed Falcon in the small colony of the latter species at Plopul, near Tulcea in Romania while perhaps the week's most impressive find came from neighbouring Bulgaria where an Upcher's Warbler was photographed at Kaliakra steppes on 4th - the first for the country and a desperately rare bird in Europe (away from Turkey).
Finally, on the Azores, a Pied-billed Grebe remained at Sete Cidades, São Miguel to 5th and a Snowy Egret lingered on Pico to 2nd.
Let no one ever fob you off and convince you that June is a quiet month.
Last week, the emphasis in these parts was that you ignore the extraordinary power of June's ability to pull out some of the very best birds you might encounter within a calendar year. And it's the same here too…
Take a look at June 7th - you're probably reading this on June 7th and goodness, what a roster of rares this date has offered up historically.
Systematically speaking we can start in 2001, when the first of at least three controversial (each with their own individual, different, black shadows cast across them) Red-billed Tropicbirds was photographed off a yacht some 25 miles off Scilly. Further back in time, June 7th 1970 was the (on the face of it) remarkable date of our first (and still one of just three) Long-toed Stints, seen and photographed at Marazion (and rare-obsessives will remember that Ireland's first and only record was also in June, at Ballycotton, in 1996). Ireland also yielded the Clonakilty Royal Tern in 2009 while eye-catching passerines include the dazzling male Common Yellowthroat amongst the milk crates on Fetlar in 1984 (what a commotion he caused) while Lundy's Rufous-sided (Eastern) Towhee of 1966 remains extraordinary to this day.
As for June 8th, it's all about the Bimac…Fair Isle hosting our most recent example (one of only three) a massive 41 years ago, back ahead of the long hot summer of 1976. The trio of records fell between 1962-1976 (the second and third coming within less than eight months of each other) but since then, not a sniff. Not a single solitary murmur of one anywhere. Like a few birds from a similar time, it feels hard to imagine one appearing at all now - we're almost conditioned to those ultra rares from the east and west (and north and south) now that species such as the Byzantine Bimaculated Lark are almost forgotten about.
Cliff Waller's brilliant two 1sts in three days on Lundy in June '66 is always worth a nod - after the Towhee came the Spanish Sparrow on 9th - and few who read Bill Oddie's Little Black Bird Book will forget the quirky sketch of Fair Isle's male Cretzschmar's Bunting in 1979, while the rarest bunting of the bunch, Pallas's Reed Bunting put in a wacky at-sea appearance off Dogger Bank in 2010.
Cretzschmar's Bunting and Fair Isle also figure hugely for June 10th - Britain's first came along on this day in 1967 with, famously, Bardsey's majestic male repeating the same trick 48 years later, leading to one of the best twitches of the modern era. Last week mention was made of Suffolk's monster Wheatear-Noir, well, Donegal managed a Black or White-crowned Black Wheatear in 1964, so if we're going to get either, now's the time. Not coming along in a hurry is the next bonkers-rare and a repeat of Portland legend Grahame Walbridge's astonishing Egyptian Nightjar from 1984 would draw a crowd of such huge proportions that I need a lie down just thinking about.
And if you think it may slow down as June eases herself in to double digits, well, forget that. The 11th of the month proffered the brilliant discovery of the first-summer male American White-winged Scoter off Murcar beach in 2011 while Minsmere hosted a Sooty Tern (that ended up in Norfolk) in 1966. The Needle-tailed Swift/White-throated Needletail popped up for it's first UK visit on South Ronaldsay in 1983 (yes, people forget that one) and was seen eight years later on Noss.
Skywatchers may do well to plonk themselves at Spurn on 12th - if the weather is suitable - you may score a Pacific Swift as was the case in 2013 (a bird which was relocated in Lincolnshire later the same day). It could be a very swifty day - there's also records of Alpine, Pallid and Little too…
June 13th? Wacky stuff man…there's the Frigatebird sp., seen in Cornwall in 1995 (which then resurfaced in west Wales and southern Ireland) while the same date in 1976 saw Cornwall entertain the second American Kestrel of that year (of course, no real ones have followed either). The first British Moltoni's Subalpine Warbler spent two days on St. Kilda in 1894 (before being shot) while perhaps the prettiest bird in more recent times on June 13th was the dazzling male Eastern Black-eared Wheatear in the New Forest two years ago.
A might role call then but will the weather be kind (and weird enough) to throw up an early summer surprise? Maybe not (by the look of it at the moment) but don't discount the chance of a southern star; why not another Cretzschmar's Bunting? Or maybe we're still on for a lost and misplaced Marmora's Warbler.
As usual, the safer bets ought to be the likes of more Black Storks, maybe another Paddyfield Warbler, that elusive first Roller or Black-headed Bunting of the year.
However.
A look at the forecast pretty much blows away everything I've typed about for the last half an hour or so, and if you were to offer me a tenner and say "place your bets" you'd do worst than be looking to the west for a potential headline grabber next week - there's some beefy stuff out in the Atlantic and it could drag in a pretty sparrow, a gorgeous wood-warbler or a dowdy Cowbird. Or maybe there'll be a shorebird lurking? Or how about another influx of Cedar Waxwings or perhaps, of a different bag of rare, an outrageous seabird in the deepest reaches of Irish or Cornish territorial waters may not be out of the question.
…and I'd also be going each-way on Greater Yellowlegs and Greater Sand Plover, for no reason other than I like 'em and that they have history for June.
…or it could be the dullest week of the year so far…
That wraps it up from me for a couple of weeks - a good job too; if the predicted Blue electoral landslide comes along on Thrusday I won't be a happy bunny. Ignoring our potential further shift to the rancorous right, I'll be cheered by Tammie Nories, Tysties and Bonxies as its time to kick back and hope that Shetland lands something colossal, maybe with a Maple Leaf or Stars'n'Stripes over the shoulder, in the next ten days…
Jon Dunn has been removed from his Whalsay world of Dactylorhiza and all things Ophrys, dusted down and is back for his first outing in a quite some while next week, assuming he survives a day in the field with me…orchids, Otters and Orcas ahoy!
Mark Golley
7 June 2017
Share this story
Tweet


Thanks this week to Martin Cade for his thoughts on the Portland warbler and many thanks to all contributors for their photos and videos this week.
James McCallum, Eddie Maguire, Brian Henderson, Simon Knight, Paul Holmes, Allan Chard, Chris Waring, Jonathan Mercer, Elliot Montieth, Lee Evans, Mark Woodhead, Kris Gibb, Robbie Brookes, John Lawton, Paul Hackett, Martin Casemore, Steve Gantlett, Simon Davies, North Ronaldsay Bird Observatory, John Sanders, Lorne Bissell, Erich Hediger, Dave Burns, Sean Nixon, John Kemp, David Parnaby, Fair Isle Bird Observatory, Mark Lewis, Steve Minton, Peter Stronach, Jonathan Holliday, Michael Trew, David Cooper, Andy Williams, Martin Goodey, Jason Ward,