Birding gear reviewed: (apps) - ChirpOMatic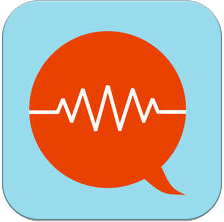 Automatic bird song recognition seems to be a hot area at the moment for app developers. However, the jury is still out over whether it really works and can do so consistently and accurately. After early promise, automatic voice recognition has endured years of disappointment and arguably still cannot deliver consistent results. It remains to be seen whether bird song recognition can make any more significant progress. In the meantime, several bird song recognition apps have already been launched offering smartphone users the opportunity to try it out for themselves.
After our recent review of the Warblr app, this one looks at one of its competitors. ChirpOMatic launched to much less fanfare back in May, with a particular focus on birds of parks, gardens and woodland in its first version. Can it do any better?
The app is simple with a clean layout and is very easy to use. Unlike its competitor, ChirpOMatic goes straight to the recording screen, without taking the user through a long series of introductory screens every time. This consists of a big, red button, clearly labelled 'Tap to record, tap again to stop'. The app offers two different modes – 'ID Mode' and 'Record-only Mode', the latter simply to capture bird song recordings and not attempt to identify them. In 'ID Mode', tap the red button to begin recording and after 12 seconds the app itself stops recording and starts to analyse the results.
Here the biggest difference from Warblr becomes apparent. ChirpOMatic performs the analysis on the device and does not need to upload the recording to do so. Consequently, it does not need an internet connection and is not reliant on having a 3G/4G wireless signal. As any visitor to rural UK will know, 3G/4G networks suffer from appallingly limited coverage outside the major urban areas. So, ChirpOMatic can actually be used in those places which lack such network coverage, a major advantage.
The app takes about 40 seconds to analyse the recording once it has been made, before returning the three most likely matches, although these are unranked. Tap on the image of any of those three species, and ChirpOMatic displays a description of its song or call and also plays a sample recording of it to compare against. This latter feature is particularly useful to allow the user to check the accuracy of the app – without it, there is no way for a bird song novice to know if the app is delivering the correct result. ChirpOMatic also offers a selectable 'Bird-safe Mode' which will not play the sample song through the device's loudspeaker and should be used to avoid disturbing singing birds during the breeding season. If the correct answer is not amongst the three closest matches, the app has a second screen with two runners-up to check against.

At this time of year comparatively few birds are singing, making it difficult to comprehensively field test these apps. Unlike Warblr, the developers of ChirpOMatic are happy to have their app pitted against a series of high quality recordings (the same recordings that many of the developers themselves use to train their apps!). Given the limited number of species which the app is likely most familiar with at present, these tests were limited once again to some of the most common UK birds. Used in this way, ChirpOMatic returned the correct answer in our quick tests around 50-60% of the time, and most frequently when correct those were in the top 3. However, certain species seemed to cause persistent problems – for example, Song Thrush was not identified and the app failed to detect Woodpigeon.
Despite the lack of many birds singing at the moment, an attempt at field tests produced more limited results. For example, a singing Chiffchaff was not recognised, despite being identified from recordings. ChirpOMatic will also recognise calls, but the 'hueet' call of another Chiffchaff was (perhaps understandably) mistaken for a Chaffinch call or a Great Tit, amongst others. Long-tailed Tit calls, which were also identified correctly from recording, were not in the field. At times, the app also failed to hear the bird being recorded, which is not surprising given the basic nature of the microphone on a smartphone.
The developer's own analysis of failed identifications shows that wind noise or the bird being too far away can be major issues, as well as background noise (interestingly, the main causes of failure appear to differ by country!). The time delay between hearing a bird nearby and getting the phone out and starting the app also means the opportunity is frequently missed. This would be perhaps less of a problem in spring, when birds may be singing more consistently.
Compatibility & Availability
ChirpOMatic is published by iSpiny. It is compatible with most Apple iPhone, iPad and iPod touch models, running iOS 7.0 or later. It is available from the App Store priced at £1.49.
Credit where it is due, ChirpOMatic did return the correct identification (in the top 3) in many instances when tested against recordings, even if the results were not consistent. However, it appeared to struggle a little more in field conditions and the range of species covered may still be somewhat limited. Although in theory it can be used to identify birds from calls as well now, it will be interesting to see how it works when birds are singing in earnest next spring, particularly with another update promised by then.
The fact that it works offline and can therefore actually be used in rural areas is a real plus point for ChirpOMatic. It is also considerably cheaper than Warblr and more in line with the sort of price we would expect for an app such as this.
It may be a nice way to get beginners to engage with birdsong and it is a fun toy to play around with. However, it doesn't feel like a useful field tool for bird identification yet. It might be a first step in that direction, or it may be that, like voice recognition, it fails to deliver on the early promise. In the meantime, if you really want to try out automatic bird song recognition for yourself, ChirpOMatic appears to us to be the best app of the bunch so far.
Marcus Nash
18 September 2015