Weekly birding round-up: 4 - 10 Jan 2017
The week at a glance
Blue Rock Thrush in Gloucestershire
Gyr in Down
Snowy Owl on Orkney
Black-browed Albatross on Orkney
Dusky Thrush in Derbyshire
Pine Bunting in Shropshire
'Eastern Black Redstarts' in Cornwall and Cleveland
'Stejneger's Stonechat' in Kent
Black Scoter in Northumberland
Killdeer on Shetland
Northern Harrier on Orkney
American Coot on the Western Isles
Pallid Harrier in Yorkshire
Pacific Divers in Cornwall and Galway
Hudsonian Whimbrel in Cornwall
The week started with a cool and brisk northwesterly flow before calmer conditions set in under the influence of an area of high pressure to the south. This brought slightly milder temperatures but also a period of grey gloom and drizzle. In a European context, however, the weather in Britain was atypical. Further east it has been very cold indeed with a plumge of freezing air extending from northwest Russia and northern Scandinavia down across the whole of eastern Europe as far as Greece and Turkey. Temperatures in Poland have been down to minus twenty, with minus thirty recorded in Moscow.
There were, however, no noticeable hard weather movements of birds fleeing the continent. Instead it was a rather quiet week for new rare birds in Britain. This came as a bit of a shock after the constant procession of major rarities in 2016 but should not really be a surprise in mid-winter. The main news involved a long list of lingering rarities, further arrivals of Glaucous and Iceland Gulls and a continued southward push of Waxwings .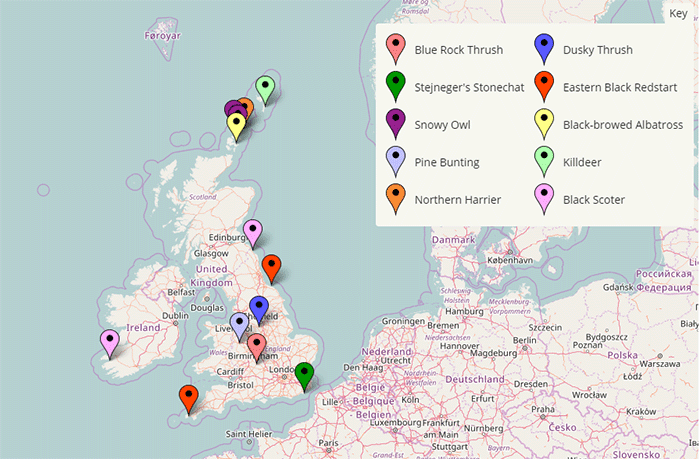 Blue Rock Thrush
If not the week's highlight, its main talking point continued to be the adult male Blue Rock Thrush at Stow-on-the-Wold, Gloucestershire to 10th. The debates over its origin inevitably ranged widely, encompassing the presence or otherwise of a fine strand of something on one of its legs, its alleged escape from the scene of a car crash in Kent, anecdotal admissions of ownership from anonymous dealers, corresponding denials etc. While all this was highly entertaining, not a great deal of light was shed on the matter and the bird seems destined for the drawer marked 'unknown origin'.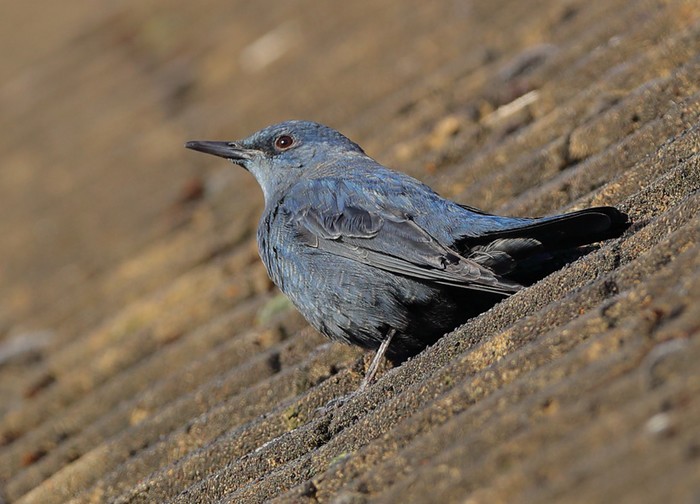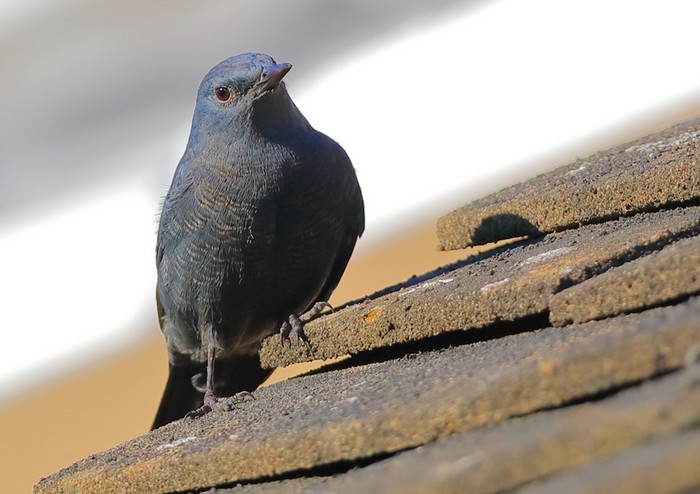 New rarities
The best new discoveries of the week were both High Arctic specialities - a white Gyr at Saintfield, Down on 9th and a Snowy Owl on Eday, Orkney on 7th and then present to 9th, the same bird also reported as being present last week on neighbouring Westray. Other late news from Orkney involved a sub-adult Black-browed Albatross seen on the sea off Rerwick Head, Tankerness, Mainland on 2nd January.
Lingering passerines
Turning to long-stayers, the impressive line-up of wintering passerine rarities continued to delight. The first-winter female Dusky Thrush was still in and around Beeley, Derbyshire to 10th whilst the female Pine Bunting remained at Venus Pool, Shropshire although it was still difficult to see and not definitely reported after 6th.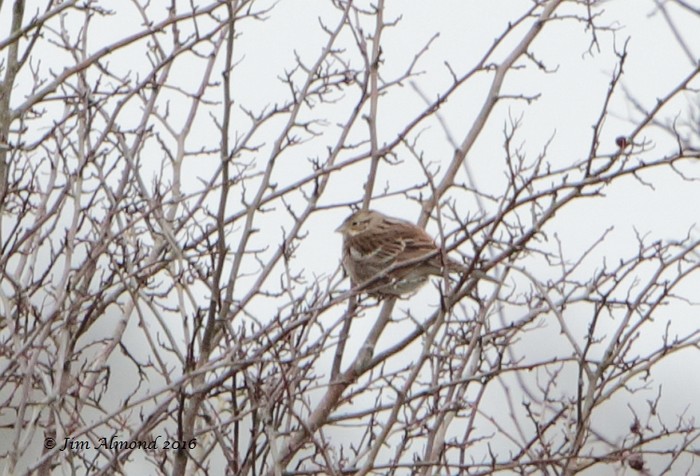 Meanwhile the male 'Eastern Black Redstarts' remained at Mousehole, Cornwall and Skinningrove, Cleveland to 10th. The wintering bird on St. Mary's, Isles of Scilly in 2014/15 remained until 12th January so if either of these birds stays until the end of next week it will have lasted longer into the winter than any before. Finally, the much-debated aberrant first-winter female 'Stejneger's Stonechat' was still at Dungeness, Kent to 10th. Talk of a re-run of its DNA test is certainly welcome and its results will be awaited with much interest. Speaking of which, last October's putative 'Stejneger's Stonechat' at Spurn, Yorkshire (which did actually look like one) was confirmed this week after genetic analysis of a faecal sample.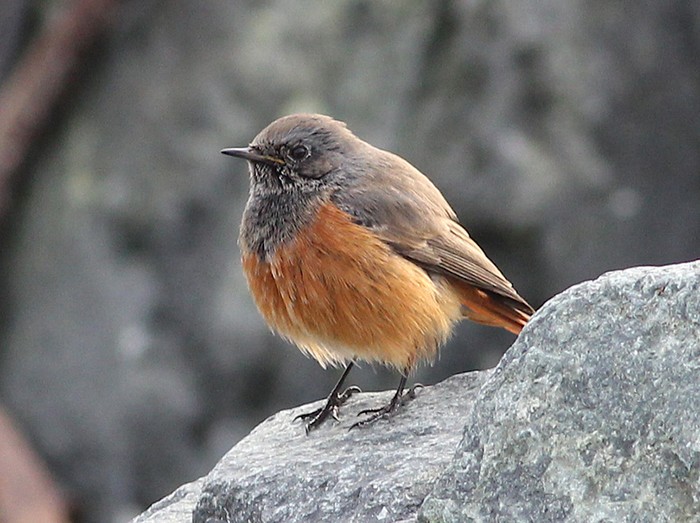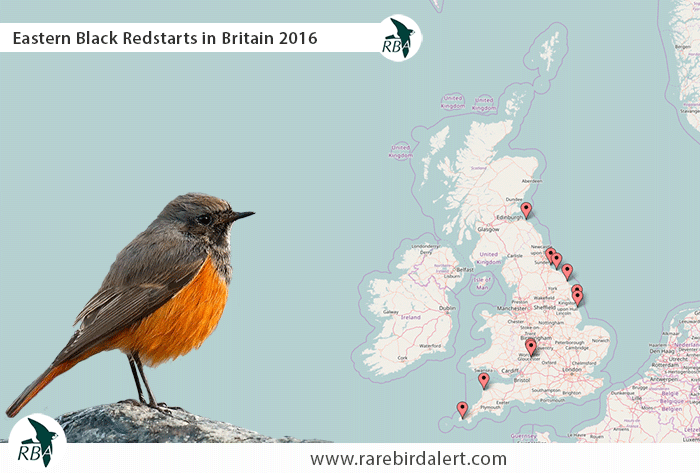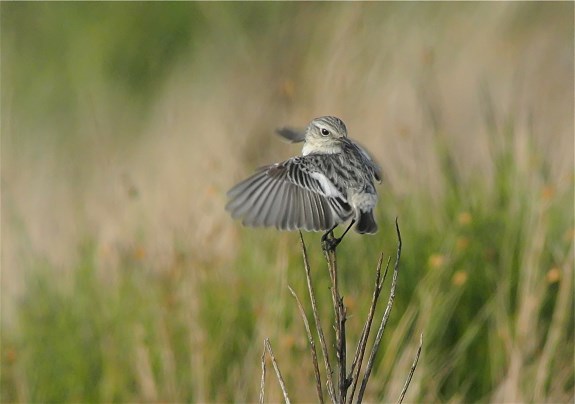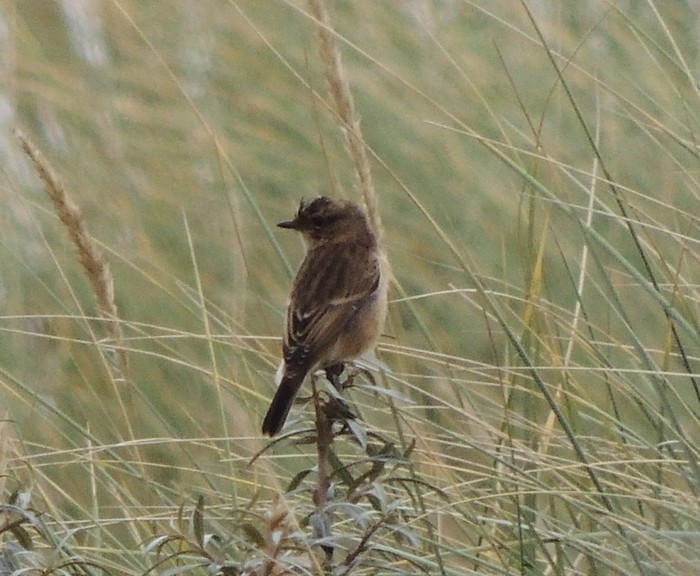 Lingering non-passerines
Turning to non-passerines, the adult drake Black Scoter was still with Common Scoters off Goswick, Northumberland to 10th, the Killdeer still at Sandwick, Shetland to at least 8th, the adult male Northern Harrier still on North Ronaldsay, Orkney to at least 5th, the American Coot still on North Uist, Western Isles to at least 8th and the juvenile Pallid Harrier still at Welwick, Yorkshire to 10th.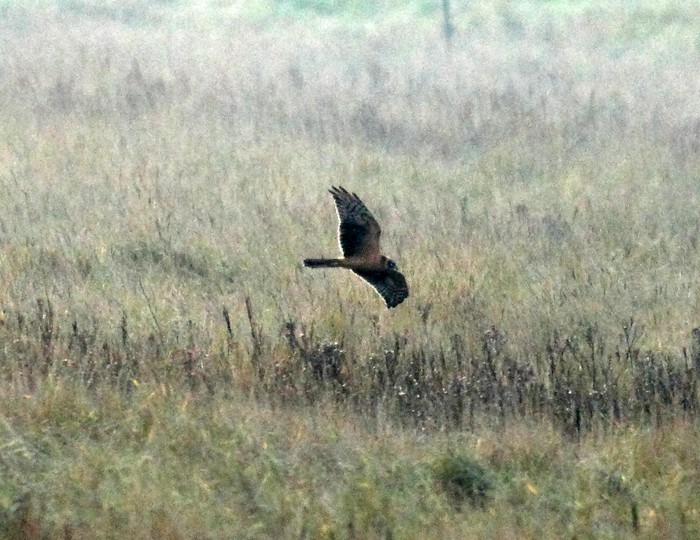 At the opposite end of the country the Hudsonian Whimbrel remained at Perranuthnoe, Cornwall to at least 8th, with the adult Pacific Diver at Penzance, also Cornwall to at least 8th, with the winter's other Pacific Diver still at Tawin, Galway on 5th.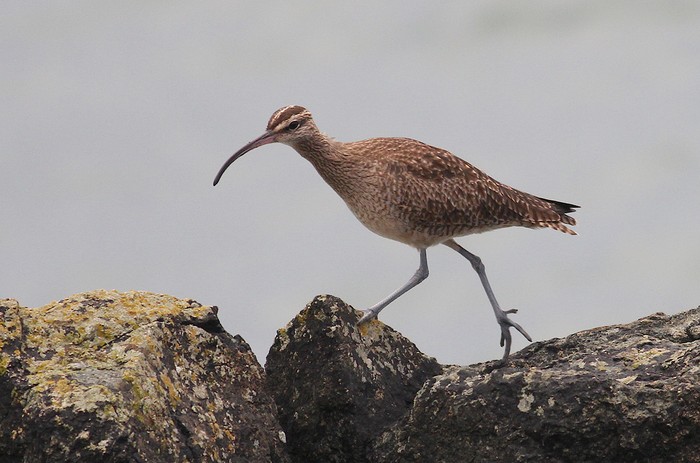 Further afield
Elsewhere in the Western Palearctic, Siberian Accentors continued to make the headlines with another found this week in Sweden. Also in northwest Europe, a Blyth's Pipit was in the Netherlands. In sunnier climes, another 'Basalt Wheatear' was found in Israel, a Lesser Flamingo and eleven Sociable Plovers in Kuwait, a Black Redstart and a Sora on the Azores, an Allen's Gallinule on Gran Canaria, a Spanish Imperial Eagle in Italy, a Little Bustard in Cyprus and a Pine Bunting in Greece.
Scarce seabirds remained very scarce with just a White-billed Diver still off South Ronaldsay, Orkney to at least 7th and Little Auks off North Ronaldsay, Orkney on 5th and, on 7th, off Lossiemouth, Moray (two) and Burravoe and Lerwick (six), both Shetland.
The top goose news was the presumed relocation of Norfolk's Red-breasted Goose with Pink-footed Geese to Marshside, Lancashire on 4th and then at Cockerham, also Lancashire, on 8th and 9th. Given that the Norfolk bird hasn't been seen since late December and that this bird looks identical, it seems pretty certain to be the same bird. This movement demonstrates not only the highly mobile nature of Pink-footed Geese but also how easily a lone goose can swap from one carrier species to another. It presumably arrived with the pre-Christmas influx of White-fronted Geese into the county (it certainly hadn't been present before then) but, as did the White-fronts, got itself mixed up with the Pink-feet - a fate rather hard to avoid in north Norfolk.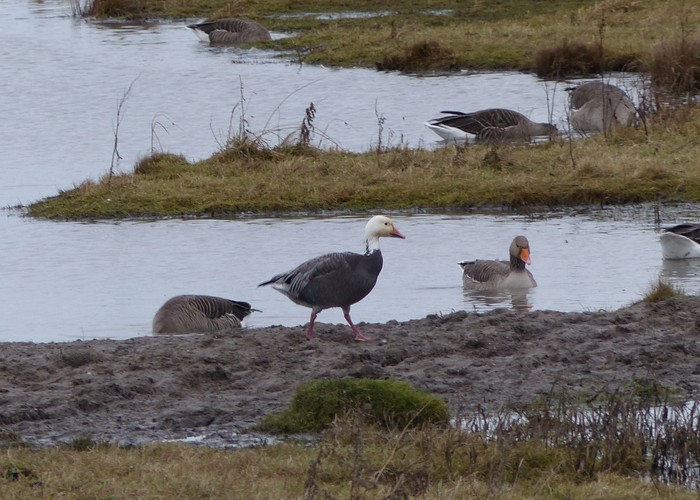 Other rare geese reported included the Norfolk 'Todd's Canada Goose' now in the east of the county between Clippesby and Billockby on 8th and 9th and another still at North Slob, Wexford, the 'blue' Snow Goose still at Marshside, Lancashire on 4th and a white bird at Tain, Highland on 6th. 'Black Brants' were at Ferrybridge (two) and Poole Harbour, both Dorset, Castlegregory, Kerry, Skeffling, Yorkshire, Brightlingsea and Holland Haven, both Essex, and in the Binham area, Norfolk.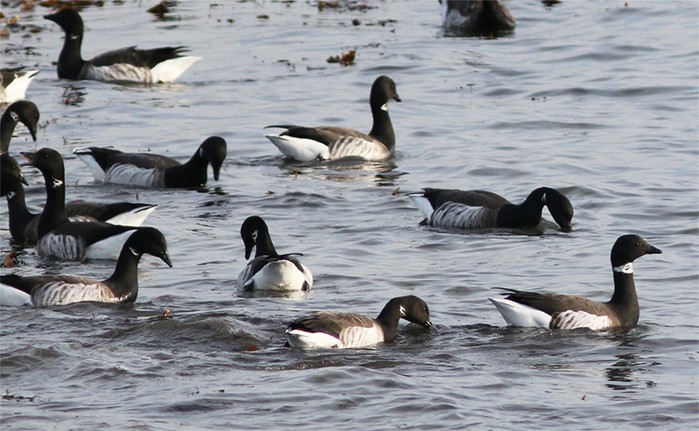 Turning to ducks, the highlight remained the drake Hooded Merganser at Lochwinnoch, Clyde to 10th but the drake Black Duck was again at Strontian, Highland on 10th. Otherwise, the rarest ducks were Lesser Scaups still on Birsay, Mainland Orkney and at Dozmary Pool, Cornwall and Pharisee Lough, Cavan and apparent Ferruginous Ducks at Holme and Ranworth, both Norfolk, and Washington, Durham. Staying with diving ducks, around eleven Ring-necked Ducks were reported - at Cloonee Lough, Kerry, Castle Ward, Down, Paxton Pits, Cambridgeshire, Dungeness, Kent, Pitlochry, Perth and Kinross, Loch of Clumly, Mainland Orkney, Fintown, Donegal, Chew Valley Lake, Somerset, Abberton Reservoir, Essex and Knockaderry Reservoir, Waterford (two).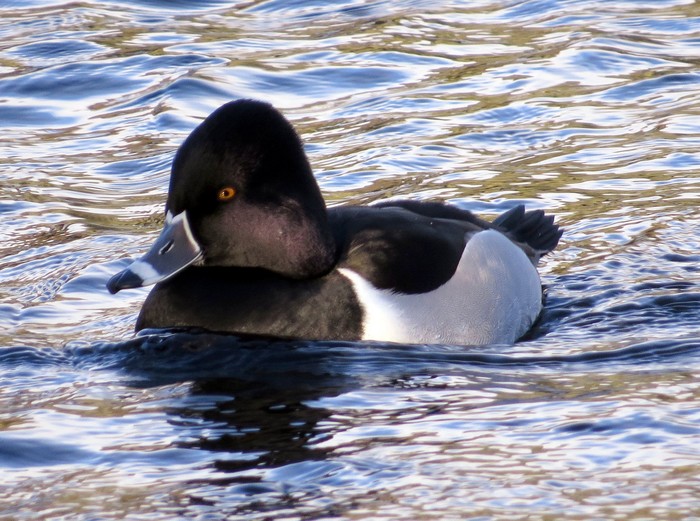 The most common rare ducks were as usual American Wigeon and Green-winged Teal . Around eleven of the former were noted, all in Scotland except for singles in Poole Harbour, Dorset and at Topsham, Devon. The latter numbered around fifteen, four in Scotland, five in Ireland and seven in England.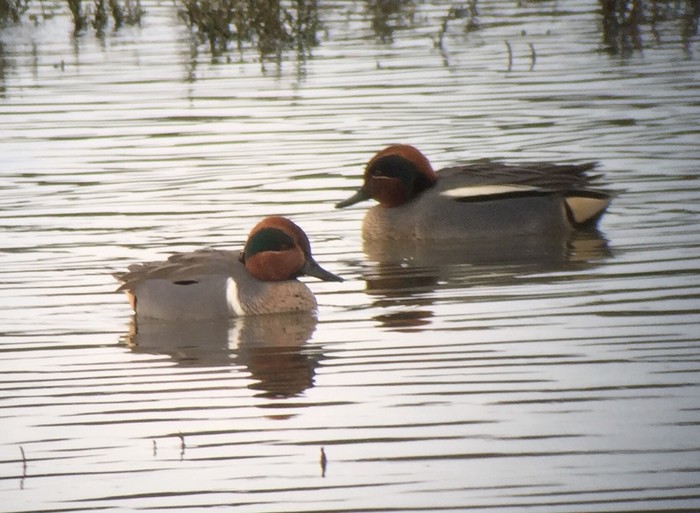 As for seaducks, the juvenile Surf Scoter was still at Rutland Water, Leicestershire to 10th with birds actually at sea at Man Sands, Devon, Pendine, Camarthenshire, Joppa and Musselburgh, both Lothian, Largo, St. Andrews and Tentsmuir (four), all Fife, Quanterness, Mainland Orkney, Murvagh, Donegal and Brandon Bay, Kerry.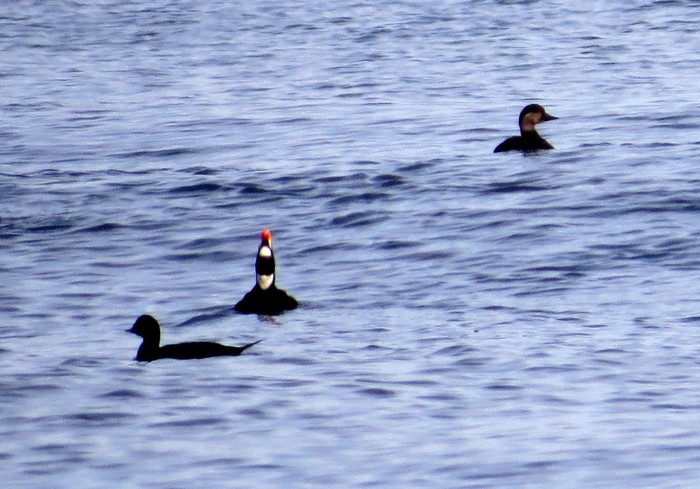 Herons, egrets, crakes etc.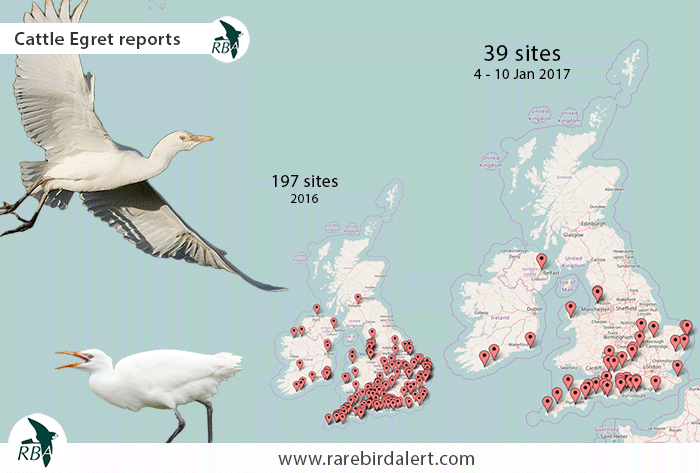 Cattle Egret flocks continued to impress with a remarkable seventeen still at Newquay, Cornwall, nine at Crosshaven, Cork, six at Tomhaggard, Wexford, five at Malltraeth, Anglesey and Warblington Hampshire, four at Exminster, Devon, Bude, Cornwall, Halvergate, Norfolk, Saul, Gloucestershire and Southport, Lancashire and three at Middleton Stoney, Oxfordshire, Chippenham, Wiltshire, Teigngrace, Devon, Newhaven, Sussex and Nottington, Dorset. The Lancashire birds were still the furthest north.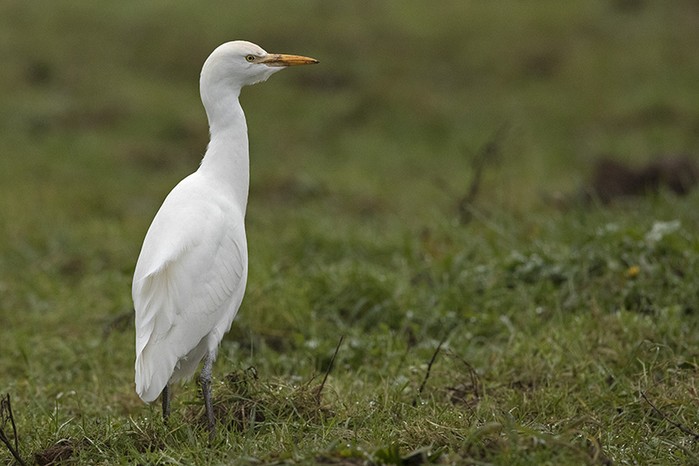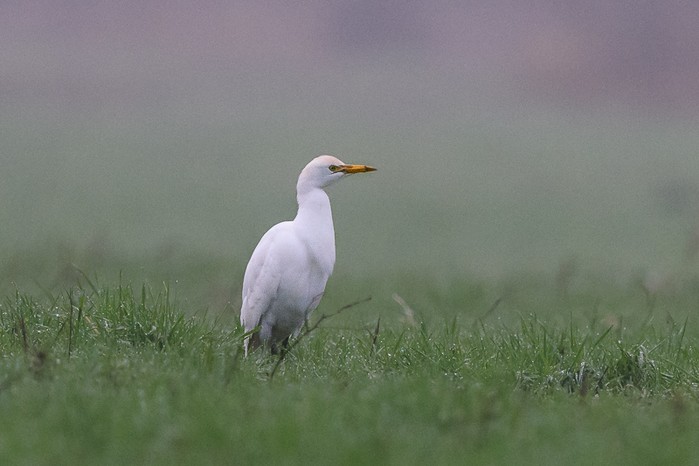 The only Glossy Ibises reported were at Ham Wall, Somerset (two), Watermead Country Park, Leicestershire and Fingringhoe Wick, Essex.
Rough-legged Buzzards were at Lochindorb, Highland on 4th and 6th, Easington, Northumberland on 5th, Blanchland, also Northumberland, on 6th and Thorney, Cambridgeshire, Newingham, Nottinghamshire and Haddiscoe, Norfolk on 10th.
The wintering Lesser Yellowlegs remained at Poole Harbour, Dorset as did the Long-billed Dowitcher at Tacumshin, Wexford. In the Midlands, the highly unseasonal Temminck's Stint was still at Branston Gravel Pits, Warwickshire to 9th.
The adult Bonaparte's Gull around Dawlish, Devon was the only truly rare gull of the week but gulls nevertheless dominated the news this week, thanks to continued arrivals of Glaucous and Iceland Gulls . Thanks to these perennial favourites, it finally felt like winter.
Glaucous Gulls totalled over 150 although accounting for duplication is difficult. Nevertheless this was a noticeable increase over last week and most traditional gull sites seem to have recorded this species this week, particularly in the Northern and Western Isles, along North Sea coasts and inland in northern England and the Midlands. The southernmost birds reached London and Essex but the greatest concentrations were of ten birds at Baleshare, North Uist, Western Isles and almost forty around Unst, Shetland.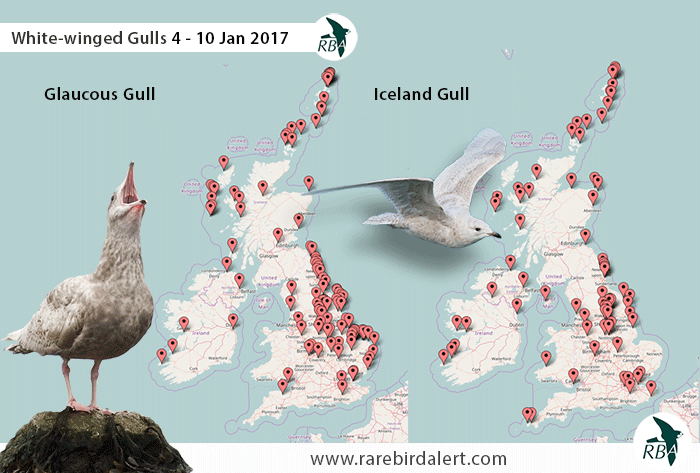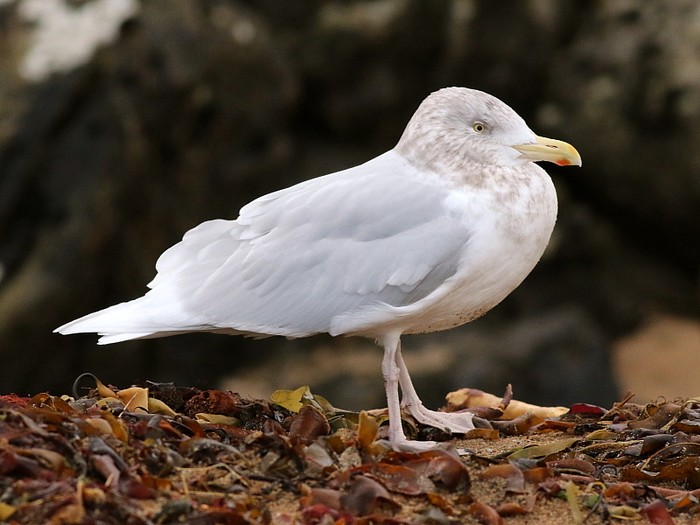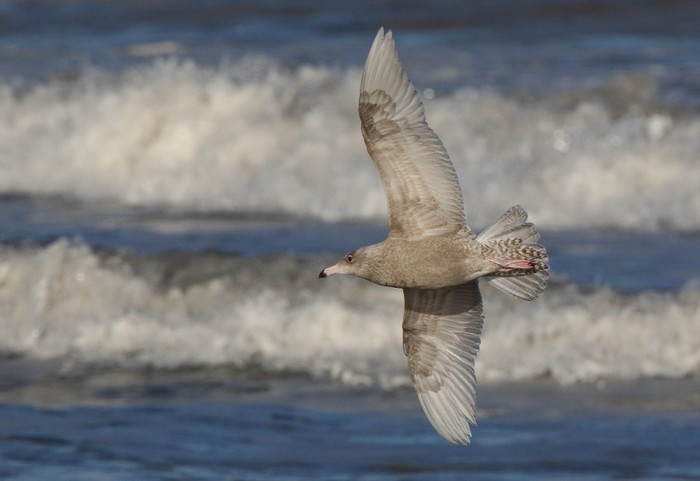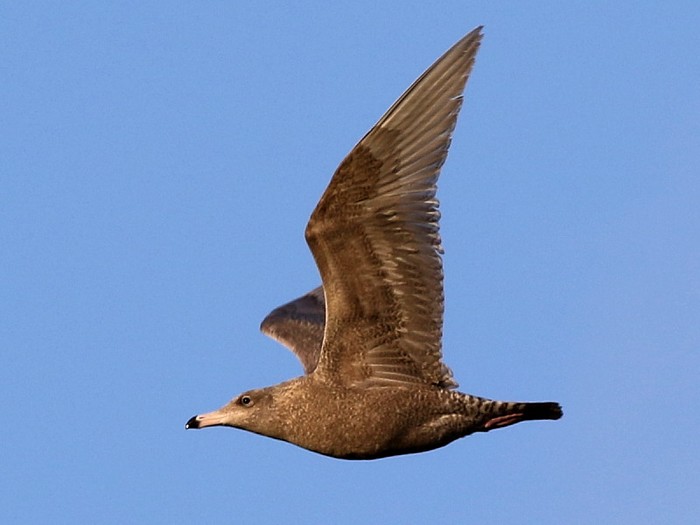 Iceland Gulls were prominent too, with aroud sixty logged and many sites recording both 'white-winged gull' species. The spread of records was similar to that of Glaucous Gull, with birds also reaching London and Essex. Despite the influx, the only 'Kumlien's Gulls' noted were the second-winter still at Tralee, Kerry to 7th, an adult at Mousehole, Cornwall on 8th and 9th and an adult on Skye, Highland on 9th.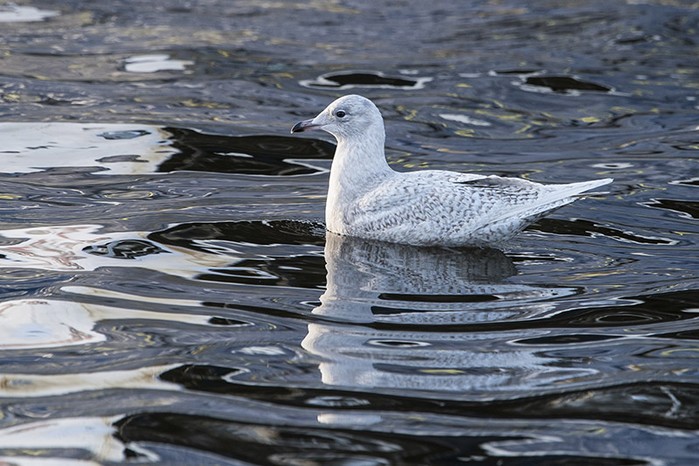 In the wake of last week's apparent influx, Ring-billed Gulls were widely noted, although mainly in Ireland where around fourteen were reported. In England, first-winters were still at Marazion and the Gannel and Hayle Estuaries, all Cornwall, and an adult was again at Blashford Lakes, Hampshire. In Scotland the adult was still at Motherwell, Strathclyde.
Near-passerines and Passerines
The best new scarce passerine of the week was another reminder of autumn - a Pallas's Warbler at Kessingland, Suffolk on 6th and still present to 10th. Also new was a Little Bunting at Knettishall Airfield, Suffolk on 8th to 10th. There was also some late news of a 'Coues's Arctic Redpoll' at Billinge Hill, Lancashire on December 30th.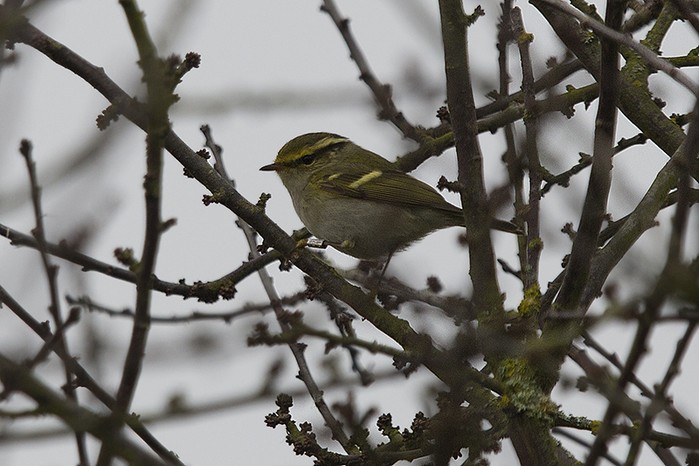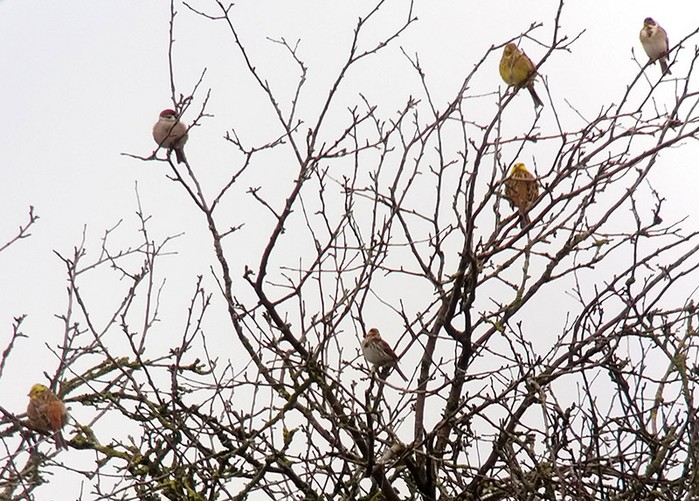 Otherwise it was very much 'business as usual'. Still in place were the male Desert Wheatear at Thurlestone, Devon to 10th, the Little Bunting at Polgigga, Cornwall to at least 5th, Rose-coloured Starlings at Dorchester, Dorset to 8th and Crawley, Sussex to 10th and the Richard's Pipit at Arlingham, Gloucestershire to 10th.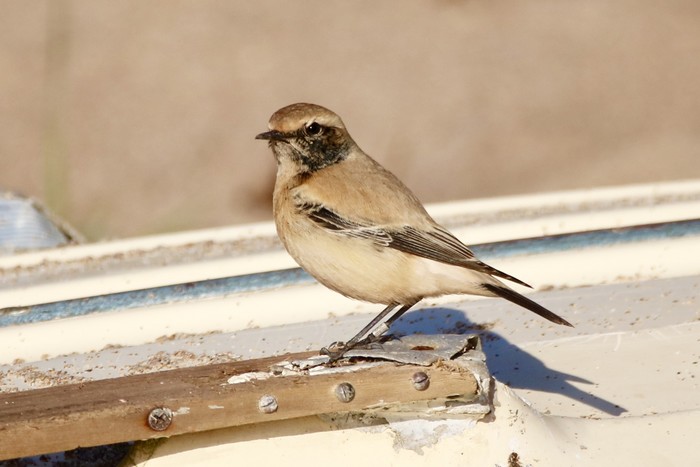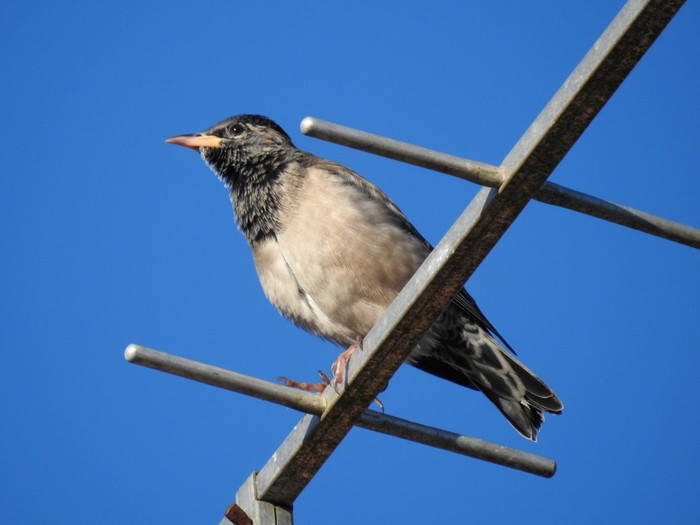 Wintering Yellow-browed Warblers included over a dozen in the Southwest with others at Brandon Marsh, Warwickshire on 4th, Wanstead Flats, London to 4th, Dale, Pembrokeshire on 8th and Kinver, Staffordshire to 9th.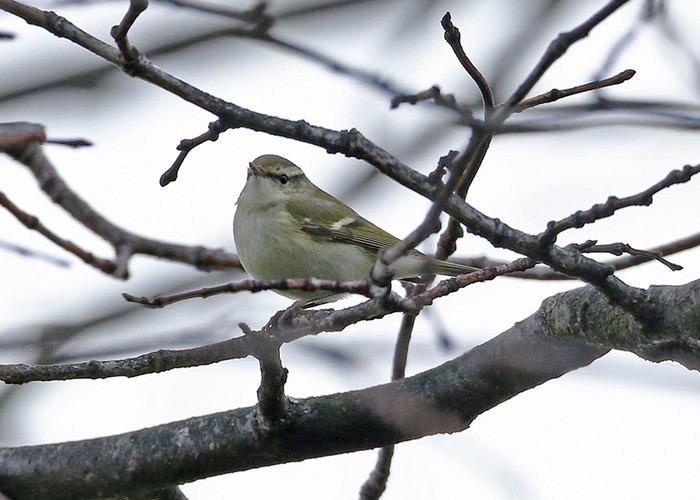 The winter's two big Shorelark flocks both remained in place with up to 31 at Holkham, Norfolk and twenty at Tyninghame, Lothian. Around twenty Great Grey Shrikes remained on winter territories, almost all in southern England. The only Scottish bird was one still at Forest of Birse, Aberdeenshire with Wales's only report from Afan Forest Park, Glamorgan. A bird at New Holkham, Norfolk on 8th represented a new location.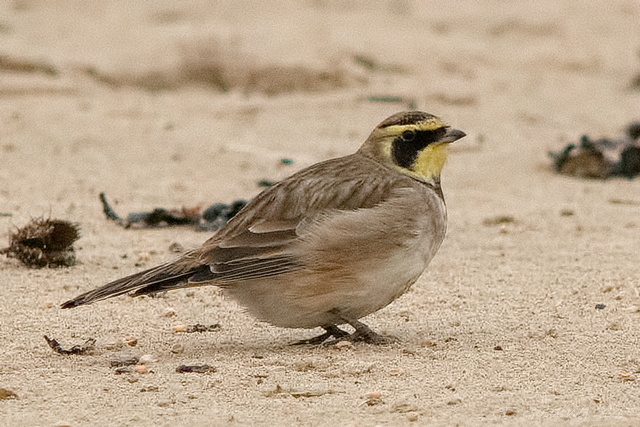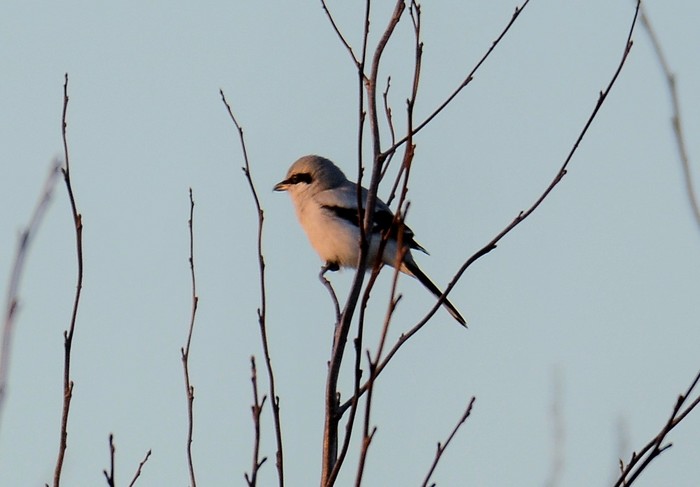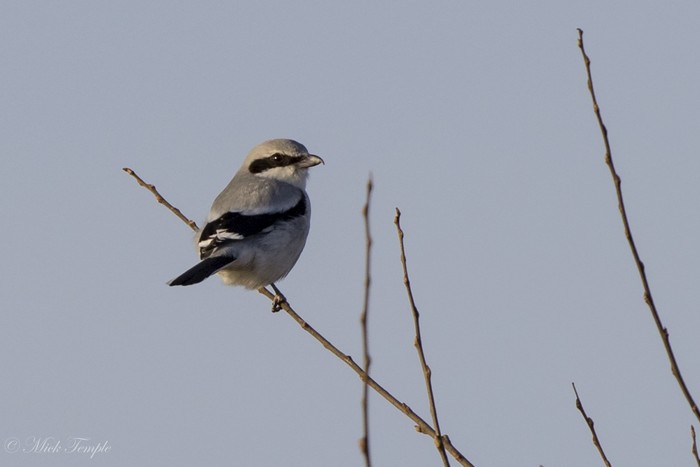 The big southward push of Waxwings which began last week continued this week and gathered pace. There were suddenly fewer reports of large flocks in Scotland (just 250 in Aberdeen, Aberdeenshire, 240 in Dunblane, Forth and 180 in Edinburgh, Lothian), with the 'centre of gravity' of this winter's birds now in northern England and the Midlands where the largest flocks included 300 in Bradford, 200 in Sheffield, 100 in Leeds, 105 in Langsett and 110 in Brighouse, all Yorkshire, 150 in Middlesborough, 120 in Thornaby-on-Tees and 125 in Stockton-on-Tees, all Cleveland, 108 in Blackburn, Lancashire and (impressive numbers for Wales) 190 in Denbigh, Denbighshire and 150 at Kinmel Bay, Conwy.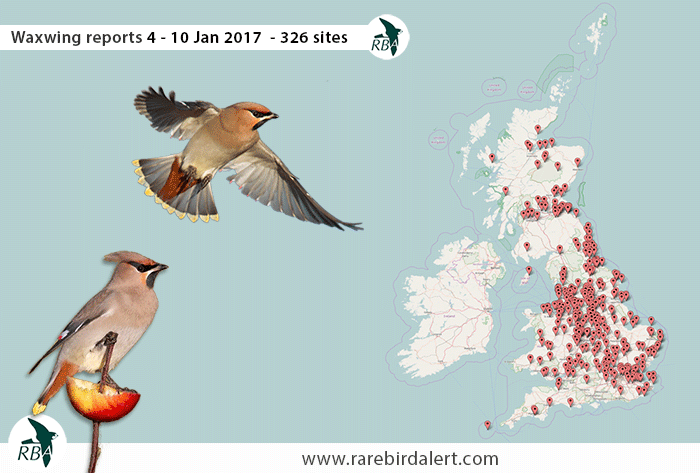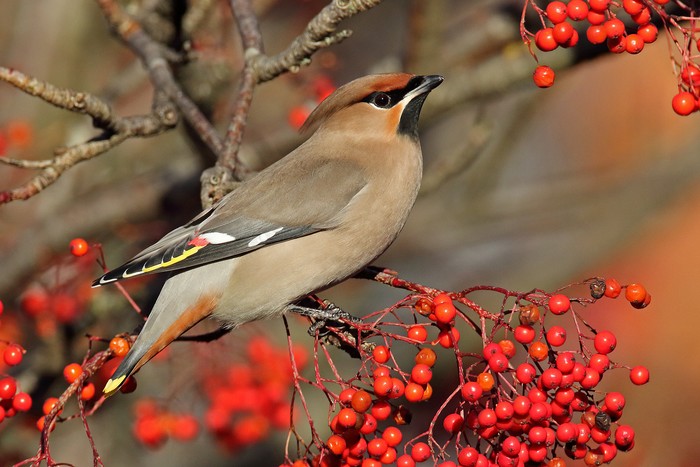 Further south, reports were far more widespread than last week with most southern English counties producing records and one as far southwest as Devon. There were some decent flocks too now with groups of 70 as far south as Essex, 33 in Gloucestershire and 50 in Glamorgan.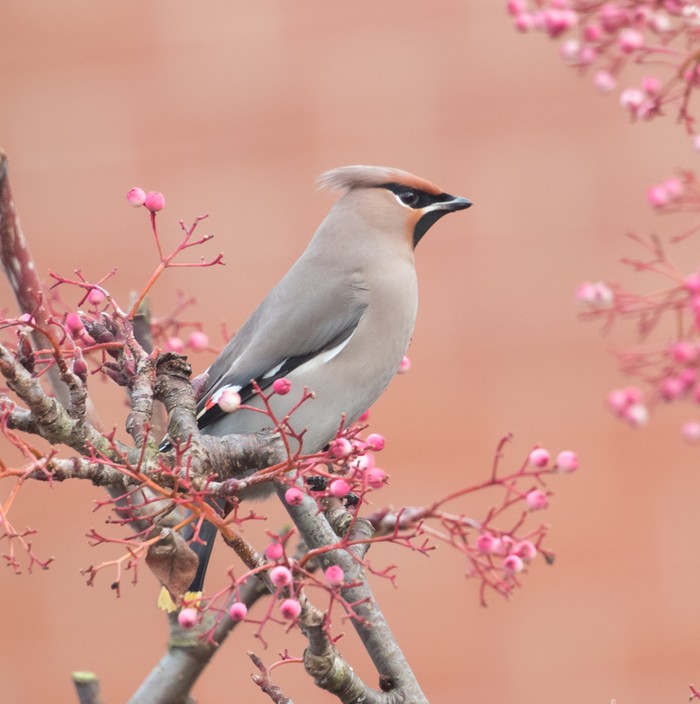 Looking ahead to next week, we are promised a spell of very much colder weather from the northwest, with snow for some. This should encourage further arrivals of white-winged gulls and also help the Waxwings on their way south. But might it also bring a Ross's Gull or an Ivory Gull? These traditional winter rarities have been a little scarce in recent years but January is the best month of all for the former and the second best month (after December) for the latter. For a real fantasy, can we hope for a repeat of the famous 'Ross's and Ivory Gull double' at South Shields, County Durham in December 1970?
Andy Stoddart
11 January 2017
Share this story
Tweet

Many thanks to all contributors for the photos and videos this week.
Michael Trew, Paul Wetton, Jim Almond, Andrew Last, Steven Nuttall, Gary Dayes, Paul Wren, Shaun Ferguson, Erich Hediger, Sean Wileman, Itai Shanni, Colin Davies, Michael O'Clery, John Nadin, David Boult, John Taylor, Chris Upson, Angus Molyneux, David Cooper, Dave Burns, Bill Richmond, Neil Hughes, Nick Moran, Nigel Mill, Dave Helliar, Steve Hopper, Frank Golding, David McGough, Mick Temple, Ivan Ellison, Sean Nixon,