Birding round-up: 10 - 16 Feb 2016
The week at a glance
Ireland's recent "double firsts" top the headlines - courtesy of the stonking Cork Glaucous-winged Gull and wintering drake Black Scoter in Kerry
Hampshire seemingly slam-dunks a wintering Red-flanked Bluetail - or does it?
Mount's Bay still in the news - with the juvenile Hudsonian Whimbrel, the adult Pacific Diver and last week's newly arrived juvenile American Herring Gull all still present this week…
…and Ireland's (1st & only) Pacific Diver logged again off Galway
The Orcadian male Northern Harrier pops up again on North Ronaldsay
In Norfolk, the Pallid Harrier continues to draw the crowds…
…unlike the lonely Greater Yellowlegs on the Isle of Wight
There was respite for all this week post the wind and rain and general unpleasantness offered up by Storm Imogen last week.
Conditions were rather more calm and relaxed than in many recent weeks, mild and gusty southwesterlies replaced by a rather cooler northerly airflow which filtered often blue skies, sunshine and lower temperatures across much of the country as the weekend approached.
Early morning frosts and minus readings on thermometers were the order of the day (a rare event indeed this winter) and as the review period entered its second half of the week, wintery showers of hail, sleet and snow were driven south on an increasingly fresh north wind as a ridge of high pressure battled to stave off the attentions of a new Atlantic low.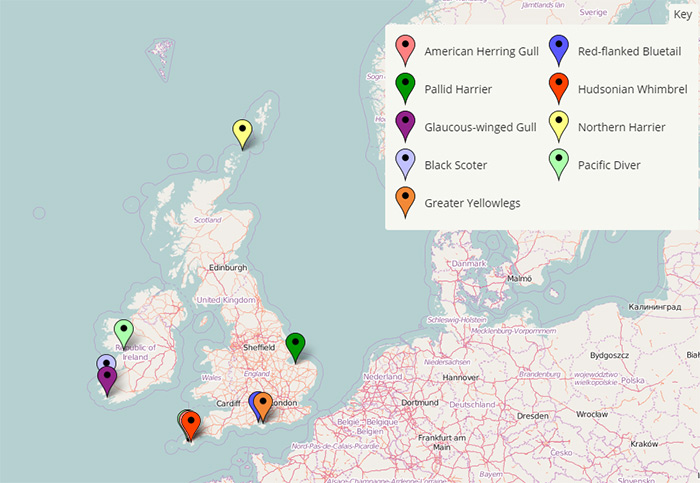 Glaucous-winged Gull
Top of the class again this week - it'll take something very "out there" to shift it right now - is the wonderful looking ultra-larid in County Cork.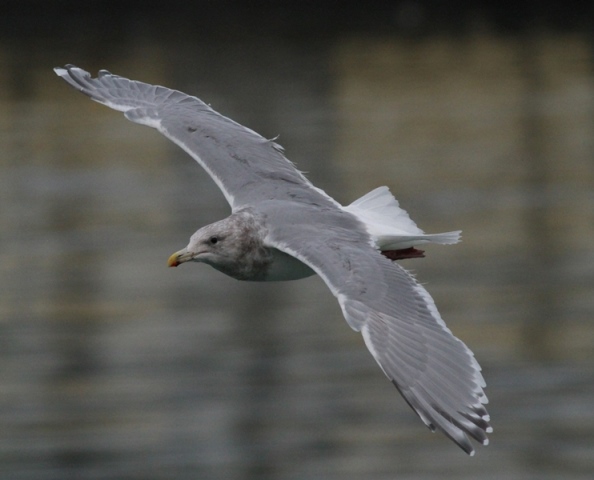 The adult Glaucous-winged Gull was still giving itself up to anyone who happened along the Beara Peninsula and alighted around the harbour at Castletownbere through until 15th at least. Six weeks on from discovery, it is showing no signs just yet of imminent departure.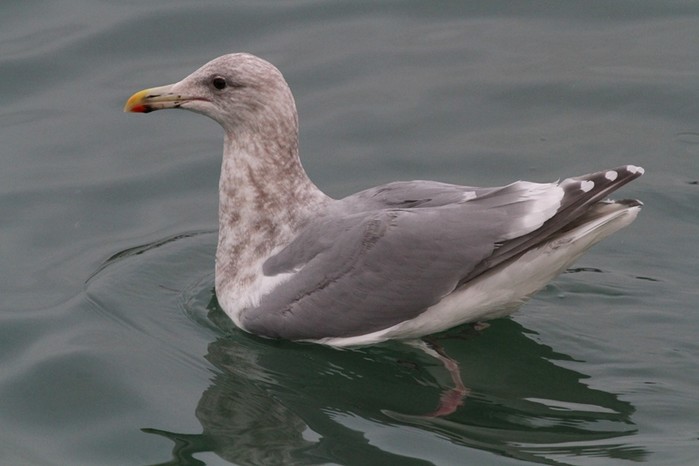 Black Scoter
After assorted grumblings, rumblings and mumblings of discontent (in a style not unlike the Carrow Road faithful at around 4.50 last Saturday) regarding the appearance or non-appearance thereof of the drake Black Scoter in northeast England last week, it is nice to report that, for just the sixth time in the last five months, the first example of the species for Ireland remained offshore in the expansive waters of Rossbeigh (Co. Kerry) on 14th-15th.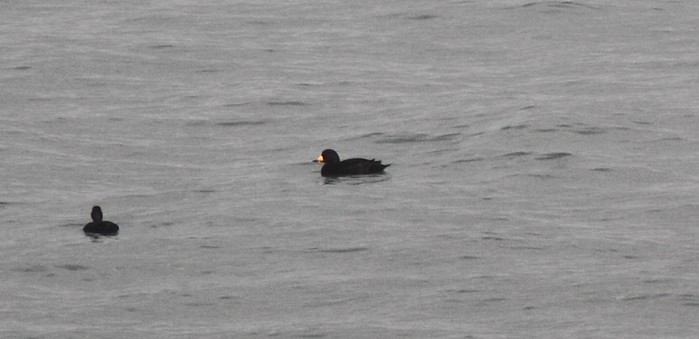 This wintering national mega re-appeared in mid-October and was reported four times during that particular month. Nothing more was heard of it until the middle of last month (collected by one Norfolk birder post double-gull bonanza) and now comes the Valentine's Day sighting (what a romantic treat!).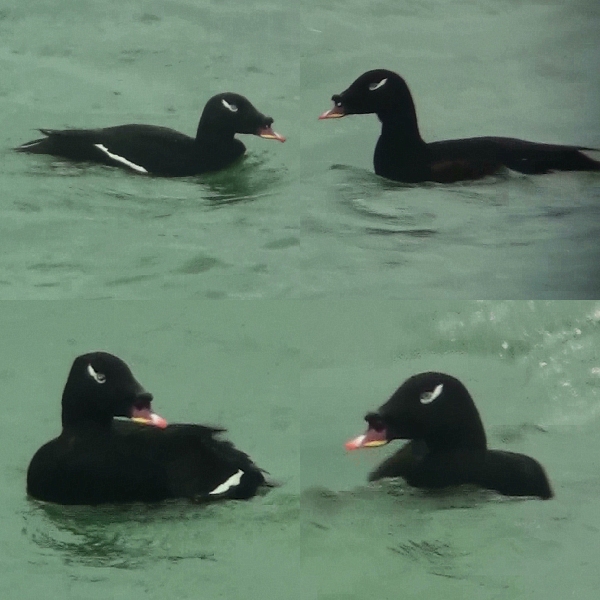 The Rossbeigh Black Scoter was found and identified just over a year ago, seen across January 8th-9th and, once confirmed, good numbers of Irish listers ventured to the west coast site through until early April to collect their second national Scoter first within a relatively short space of time - that awesome drake Stejneger's Scoter in the late winter of 2011 putting Kerry in everyone's sights.
Red-flanked Bluetail
Making a sterling effort to usurp two national #1's from the top spot this week was the reported discovery of what would have been a guaranteed show-stopper in Hampshire - Britain's second-ever wintering Red-flanked Bluetail allegedly located in the wooded glades of the New Forest, in the Norley Inclosure across the weekend of 13th-14th.
The first over-wintering example of this ever-delightful Tarsiger came just two years ago, thanks to the super-showy bird that hopped from Gloucestershire and Wiltshire from February 3rd to March 9th 2014 and this report from Hampshire could have been the focus of attention for bird photographers and birders alike…but was it real? No one seems to know…but the "H" word wasn't far from many locals lips.
The only acceptance of this increasing, more-frequent-than-ever forest dweller for the south coast county came in the more traditional mid-October window of opportunity; one spending six days in and around Sandy Point in 2010.
(…oh how we wished it had been a wintering mainland Western P Rubythroat tho'…)
The Mount's Bay Trio…
…no, not some septuagenarian ensemble playing random, tuneless pieces of music on the Jazz Club circuit ("Jazz Club" - "hmmm, nice"…) but a rather fine threesome that remained around one relatively small chunk of the far west of Cornwall.
First up, last week's new kid on the block…
American Herring Gull
Yep, it's the juvenile American Herring Gull that we use as our starting point for the triple-bill action in and around assorted points of Mount's Bay. Found towards the end of last week's review period (on 8th), the young Smickers was an occasional visitor to the Newlyn area on the first two days of this week's offerings too - present on the rocky outcrop of St. Clement's Isle on the evening of 10th before being noted briefly in Newlyn harbour during the morning of 11th with another sighting noted in the same general area later the same day. Then, as the review drew to a close up it popped again out on St. Clement's Isle on the evening of 16th.
Accessible mainland British smithsonianus are still pretty hard to come by, especially a nice juvenile and the days of those quite extraordinary "fruit bat" types(such as the one that graced Scilly in 1997) seem to be behind us. It wasn't too long ago though that, if you were prepared to travel north to Argyll & BUte, you'd have a chance of seeing a fine young American Herring Gull, courtesy of the bird near Campbeltown for a few weeks in February and March 2014.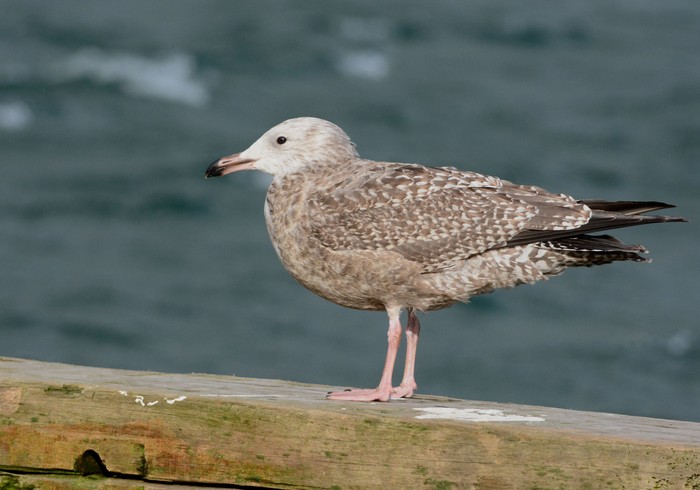 Before that it was the neat bird at Budleigh Salterton (Devon) in February and again in March 2009 with Cornwall's most recent acceptance, around the Mousehole and then Sennen area in the winter and spring of 2007 being the next one on offer.
Rare indeed here…
Hudsonian Whimbrel
The second bird that continued to attract a decent amount of attention this week down around Mount's Bay was the still present Hudsonian Whimbrel that continued to frequent the rocks around Trenow Cove and then Boat Cove through until 16th.
This popular bird, especially so for those down in the southwest of England, has spent 121 days in and around (firstly) Scilly and then Cornwall since appearing slap-bang in the middle of October last year and has, by quite some margin, become the longest staying example of this still extremely rare species from the Nearctic (almost doubling up on the previous record-holder, the well twitched first-summer in Cumbria in 2007).
Pacific Diver
Lastly, following along in the wake of the two new upstarts from the west comes the granddaddy of them all - the 10 year old+ adult Pacific Diver that continued to be seen from time to time on the sea in the bay itself - noted again on 12th-14th, out from Trenow Cove and other parts of Mount's Bay.
Last week it was touched upon that we were coming up to the 9th anniversary of the finidng of this particular bird - and the first day of next week's review (February 17th) will indeed mark the occasion when eyes were first clapped eyes on the third Pacific Diver to be discovered and identified around England and Wales in the space if little over a month.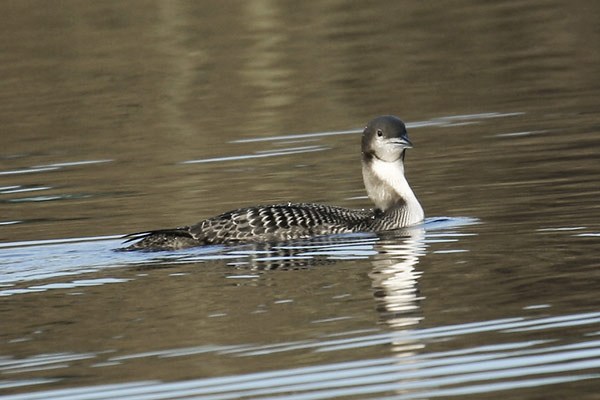 Bird #1 - Farnham GPs, North Yorkshire - January 12th to February 4th 2007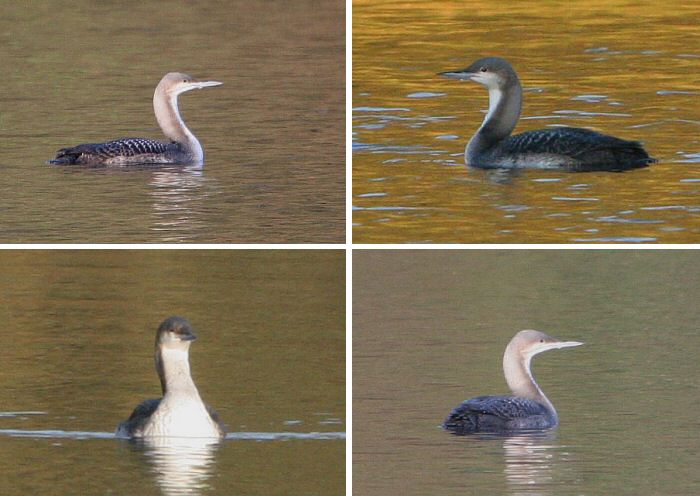 Bird #2 - Llys-y-Fran reservoir, Pembrokeshire - February 2nd to March 20th 2007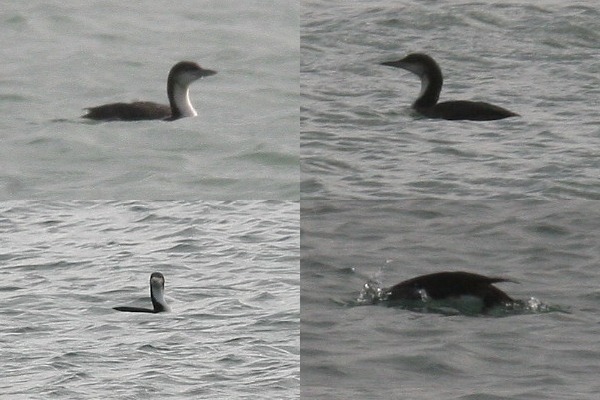 Bird #3 - Mount's Bay, Cornwall, Pembrokeshire - February 17th to March 10th 2007
Anyone who wasn't birding at the time will have to trust me at the general consternation that developed through February '07 as these incredible rarities found there way through the Arctic Circle (by whichever route) and in to British waters. It also didn't help that the beautiful juvenile in Yorkshire was ruthlessly suppressed for the best part of two weeks before anyone blabbed - thank goodness they did as the views that followed were sensational…
…and without wanting to be outdone and left out - the 3rd Irish 1st of the week (albeit one that has been coming back for several years too - was seen again this weekend just gone; the Pacific Diver again off Tawin (Co. Galway) on 14th (it was last noted there early in January having first been seen there in January 2009).
Northern Harrier
Some birds are more sporadic in their appearances here than others, none more so than the fabulous adult male Northern Harrier that made further appearances on North Ronaldsay on 10th and 15th.
So far this year, this beauty has been noted on three days - January 20th & 21st and now February 10th - he may be around the island all the time or perhaps he's meandering further a field. Either way, this marvellous bird has been around since September 25th 2015 and a departure date could be looming within the next few weeks.
A long time favourite when I've been helming the RBA Round-Ups has been Northern Harrier - always a bird that has warranted a headline position over the past three or four years despite officially having only sub-specific status.
Not that I'm some ancient soothsayer, but it did feel as though it was well worth keeping the form (as 'twas) "out there" and in the birder's consciousness of being a spectacularly rare BoP and one that was absolutely worthy of full specific status. That said, it wasn't long ago that any potential for a split between Northern Harrier and Hen Harrier seemed royally dead-in-the-water (as noted in the RBA review) once the ABA's Taxonomic bods refused to take the bull by the horns and do the right thing…
…amazingly though, the final parting gift of the now defunct BOURC-TSC, appearing just before Christmas last year, was the surprise decision to grant hudsonius full Category A specific status. Flying in the face of the work from the USA, the elevation to species level was as eye-popping as it was most welcome (triple list tick here - including the all-important TG04 box being inked in on the "clean list"). Happy days!
Pallid Harrier
The second rare harrier of the week - all the more frequent these days and, in this instance, very much more accessible - was the ever-popular juvenile Pallid Harrier that continued to perform on a daily basis during the afternoons and increasingly light evenings on the NWT's Roydon Common through to at least 14th - a no-show on 15th may have been down to the cold, north wind coming down across Norfolk and it was little surprise to see it re-appear again at Snettisham RSPB the following morning. Normal service was restored that evening, the bird back again at Roydon.
Given how this showy young male has settled in to the Roydon routine, many people are now setting out there stall for that as their more favoured option by which to enjoy a brief encounter with this fine Norfolk rare - many now forego the endless hours standing around at Flitcham and plump (understandably so) for the roost at Roydon.
With another few days collected on the calendar, we're now up to 94 days (to 16th) - that Norfolk record figure of 97 days is drawing ever-closer (the overall record stay, the summering male on Orkney is still way out in front on a huge tally of 147 days.
Greater Yellowlegs
Short and sweet before moving on to the rest of the review, news from the Isle of Wight of the Greater Yellowlegs - still in situ on the River Medina at Whippingham until at least 13th.
Getting us started in all things pelagic (there really wasn't a lot of things to linger on here folks) was the wintering adult White-billed Diver which was noted once more off St. Margaret's Hope ferry terminal on South Ronaldsay (Orkney) on 15th.
There was just one report of Little Auks this week, seven of which were seen in Highland, at Loch Eriboll on 11th. The North Sea saw two Pomarine Skuas drift past Spurn (East Yorkshire) on 13th after one was logged from Happisburgh (Norfolk) the previous day. The only other bird to report around these parts was the Grey Phalarope around Barry Docks (Glamorgan) on 11th.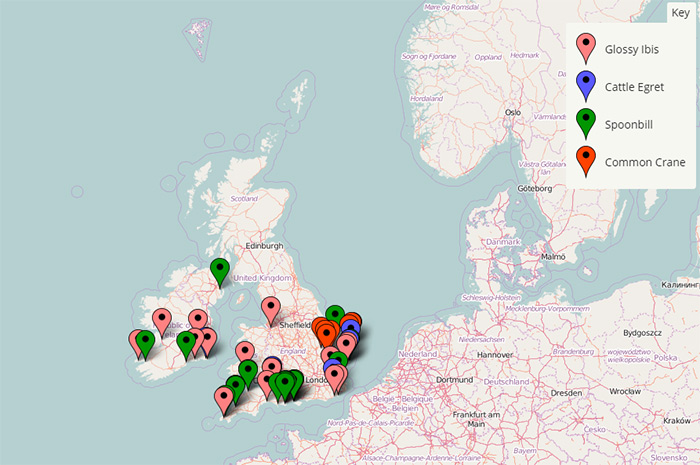 The new review week began with nine Glossy Ibis spread around Britain and Ireland - in the southwest of England, the showy bird at Marazion Marsh (Cornwall) was still in place as were the two loners in Devon, in the north at Wrafton, in the east at Seaton while one also lingered on the Somerset Levels, at Ham Wall RSPB. Further English loners remained at both Pett Level (East Sussex) and also Hollesley Marshes RSPB (Suffolk) and a Welsh singleton was seen at Kidwelly (Carmarthenshire) on 15th.
Three Irish birds seen on 10th were again out near Dingle (Co. Kerry) and at Tacumshin (Co. Wexford) while the pick of any of them was the (presumed) first species record in County Carlow - found at Cloydagh where it remained until at least 13th (Carlow is a smallish inland county in southeast Ireland, loosely in the shadow of the southern end of the lovely Wicklow Mountains. A cracking find for sure…last but not least, the two Glossy Ibis seen at Ennis (Co. Clare) on 15th.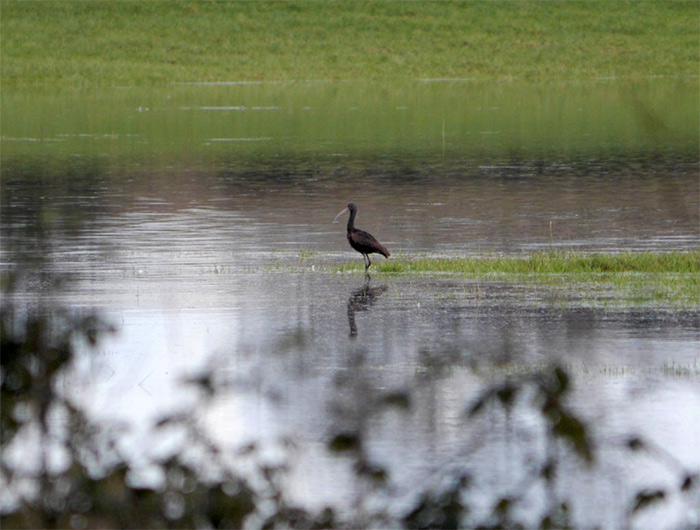 Later in the week, further single Glossy Ibis were seen at Felixstowe (Suffolk) and again at Pitsea's Wat Tyler CP (Essex) on 12th, at Tramore Back Strand (Co. Waterford) and Gowy Meadows CWT (Cheshire) on 14th with what was presumably the Seaton bird moving to Axmouth and the Ham Wall bird relocating to Shapwick Heath, both on 15th. The final day of the week yielded another new arrival, this one at Dungeness RSPB (Kent).
New in Norfolk was a super showy Cattle Egret not too far from the impressive array of scarce gulls at Aldeby tip, near Burgh St. Peter on 11th (...a quite unexpected find for my erstwhile fellow gull-fanatic Kayn Forbes and yours truly…) and it stayed in the area through until 15th at least.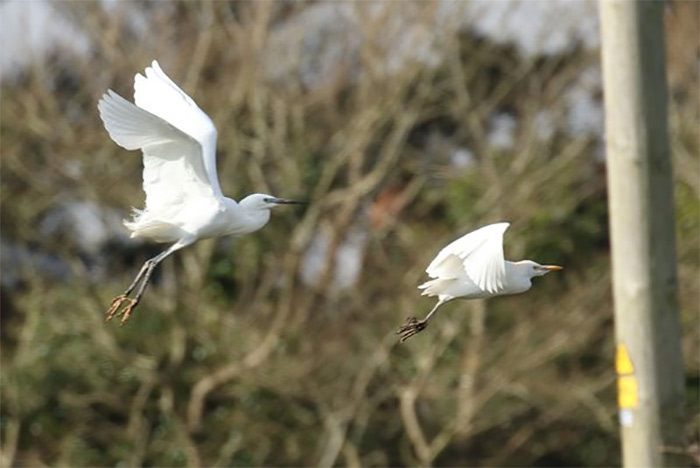 Last week's one-dayer at Biddenham (Kent) was back again on 12th (and also 16th) while another reappearance came from the Suffolk Cattle Egret at Iken on 13th. The latter date saw further individuals recorded at Tomhaggard, not far from Tacumshin (Co. Wexford) and again at Westhay Moor NNR (Somerset).
Dorset maxed out on 18 Spoonbills at Arne RSPB on 12th with three on the river at Corfe Castle on 10th and one at Lodmoor RSPB until 12th at least. In neighbouring Hampshire, there were two birds for Keyhaven and one for Pennington Marshes in the early days of the new review period (and three at Normandy Marsh on 15th) while nudging around the corner to Kent, a single Spooner was on the Swale NNR on 13th. Further north, five were lingering around North Warren RSPB (Suffolk) to at least 12th and one was on the saltings at Burnham Overy (Norfolk) on 16th.
Dropping back down to the southwest, where in north Devon, half a dozen Spoonbills remained at Wrafton and Cornish singles continued to find enough to keep themselves occupied on the Amble Marshes NR and the Hayle Estuary, both through to 16th. In Ireland, there was still a quartet at the Cunnigar in County Waterford across the weekend, with regular singles at Cromane (Co. Kerry) through to 11th and at Castle Espie WWT (Co. Down) to 14th.
Assorted East Anglian fens, Washes and Broads hosted all the Common Cranes noted this week - in Cambridgeshire, four remained at Eldernell on 10th, two were on the Ouse Washes RSPB on 15th and three were near Wicken on 16th, while another foursome were again at Lakenheath Fen RSPB reserve (Suffolk) also on 15th. Three twos were seen around east Norfolk - near Acle and Somerton Holmes and nearby Winterton through the week.
In County Sligo, one of those mysterious adult Grey-bellied Brants was found amongst a little flock of hrotas at Pollacheeny Harbour on 14th - one day we may finally get a handle on what is really what with these fascinating (and highly variable) things from the west Canadian High Arctic but for now, they remain an enigmatic form/hybrid swarm/species and a proper challenge for goose watchers…
Elsewhere in Goose Central (a.k.a. Sligo), both the Richardson's Cackling Goose and the Todd's Canada Goose remained in the general area around Ballyconnell until 14th at least.
Not sure where all the Snow Geese have gone - heading away from our shores already perhaps, though that seems unlikely - so let's leap on to Black Brants, a mightily impressive four of which were seen at Hamford Water (Essex) along with 2200+ berniclas on 10th. The Spurn duo of nigricans stayed in East Yorkshire to 11th with one at Gosport (Hampshire) on the same date, while the 12th saw an adult noted in the harbour near Blakeney (Norfolk). Back in Essex, a lone Brant was on Horsey Island on 15th.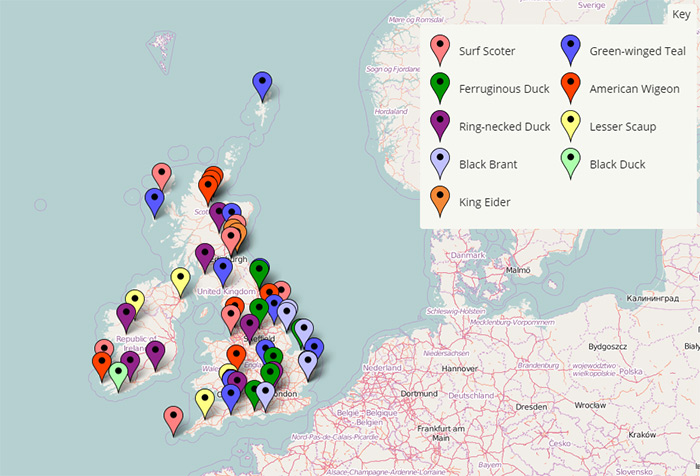 The quackiest of quackers this week was the newly arrived drake Black Duck that appeared at Baltimore (Co. Cork) on 11th where it remained until at least 13th. This appears to be the 6th record for Cork and the first since two males were found near Crookhaven three years ago (on February 7th 2013). p>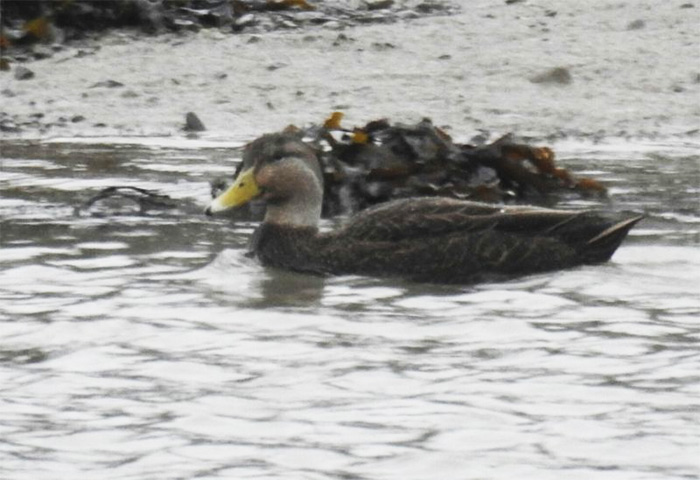 It was "as you were" with the three drake Lesser Scaups recorded over the last seven days - last week's newbie in Antrim remained to 12th at least, with the regular birds still at Dozmary Pool (Cornwall) to 14th and Cosmeston Lakes CP (Glamorgan) to 15th. New though was the female on Sligo's Lough Gara on 15th - only the 3rd ever in the county and the first since 2008. p>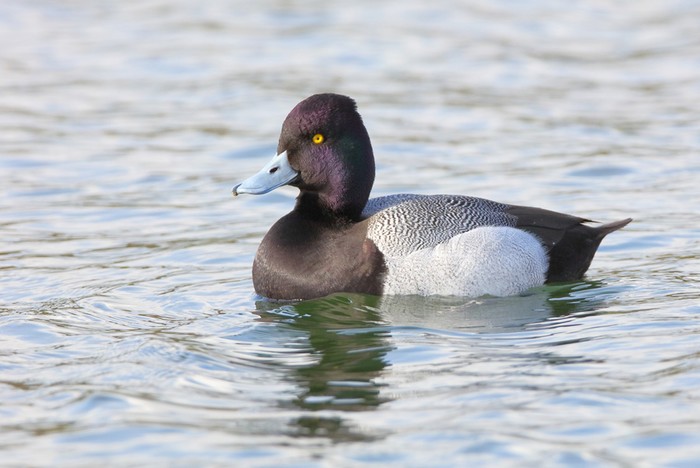 Ireland hosted four of the week's nine Ring-necked Ducks; two drakes were again on Knockaderry Reservoir (Co. Waterford) on 14th with a new female located on Belclare Turlough (Co. Galway) on the same date. In Cork, a drake was at Garryhesta Quarry on 13th (it was last reported here on January 9th). In southwest England, a new drake was found at Glastonbury (Somerset) on 10th were it remained to 16th, with last week's drake still at Bray GPs (Berkshire) to 13th and the female again at Tittesworth Reservoir (Staffordshire) on 12th-16th. Finally to Scotland where the drake near Pitlochry (Perth & Kinross) remained through to 15th and an old friend resurfaced at Martnaham Loch (Ayrshire) on 15th.
A new 1w-female Ferruginous Duck was located at Pugneys CP (West Yorkshire) on 10th - and it remained in place through to 14th. Norfolk's popular adult female was on Holkham Park lake all week, while adult drakes lingered at Washington WWT (Co. Durham) to 13th, Blashford Lakes HWT (Hampshire) to 13th and Caldecotte (Buckinghamshire) to 16th.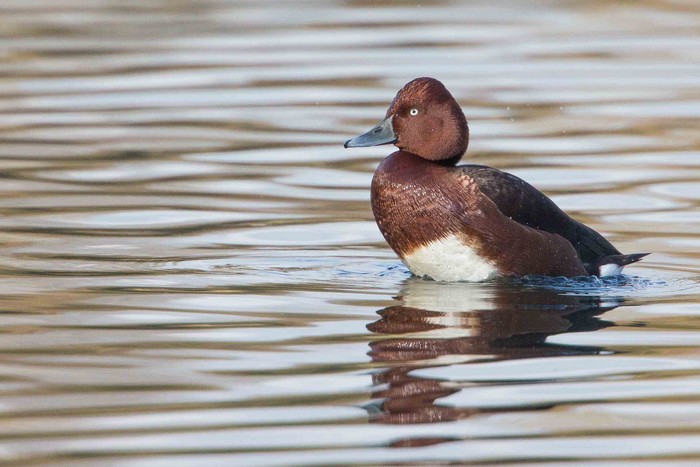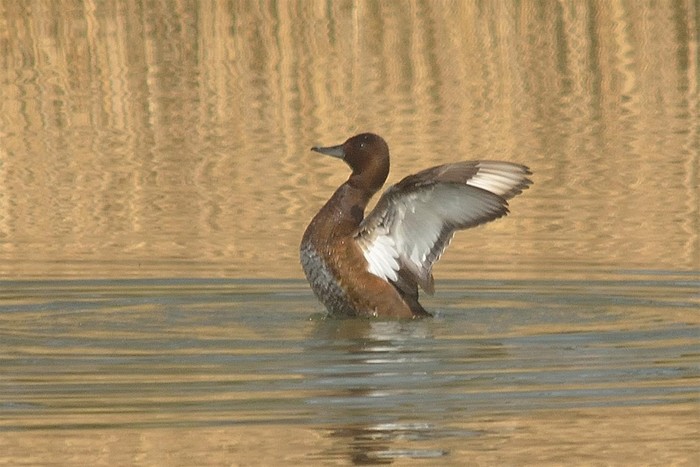 Five single drake American Wigeons were noted through the week - recent remnants were at Tain (Highland) on 10th, Steart WWT (Somerset) and Hesketh Out Marsh RSPB (Lancashire) to 13th and around Inny Strand, near Ballinskelligs (Co. Kerry) on 15th while a new bird was on the lakes at Castle Howard (North Yorkshire) on 12th-16th. Elsewhere, a female was reported from the pits near Stretton Sugwas (Shropshire) on 10th.
This week saw 10 drake Green-winged Teals noted countrywide - with four in Scotland starting things off. On Shetland, one was still at Ollaberry, Mainland on 12th-13th, with singles from recent weeks still on Loch Bee, South Uist, (Outer Hebrides) to 10th, at Caerlaverock (Dumfries & Galloway) throughout the week and at Loch of Kinnordy (Angus) to 12th.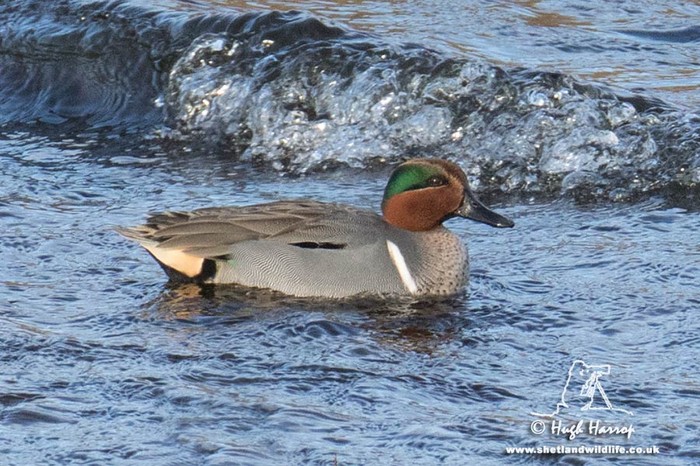 A new English Green-winged Teal was at North Cave (East Yorkshire) from 11th, while others remained at Boldon Flats (Co. Durham) to 12th, Daventry Reservoir CP (Northamptonshire) to 16th, Blythburgh (Suffolk) - the Portuguese nasal-saddled bird - at Steart WWT (Somerset) and Seaton (Devon) all throughout the week.
A small flotilla of three Surf Scoters (including two drakes) were seen in the Sound of Taransay, Harris (Outer Hebrides) was seen on 11th. Off the Scottish mainland, the regular drake remained between Joppa and Musselburgh (Lothian) through the week and a new drake was offshore from St. Andrews (Fife) on 15th-16th. Also new (but presumably one that drifted across from north Wales) was seen off Wallasey, on the Wirral on 10th while on the east coast, the Filey young drake Surfie was present all week. Also still in place was the 1w drake between St. Mary's and St. Martin's (Scilly) on 11th and 14th while an adult drake was in Kerry's Brandon Bay on 12th.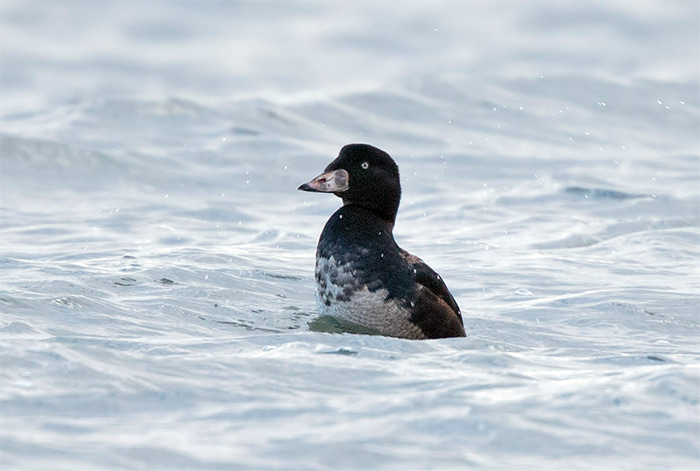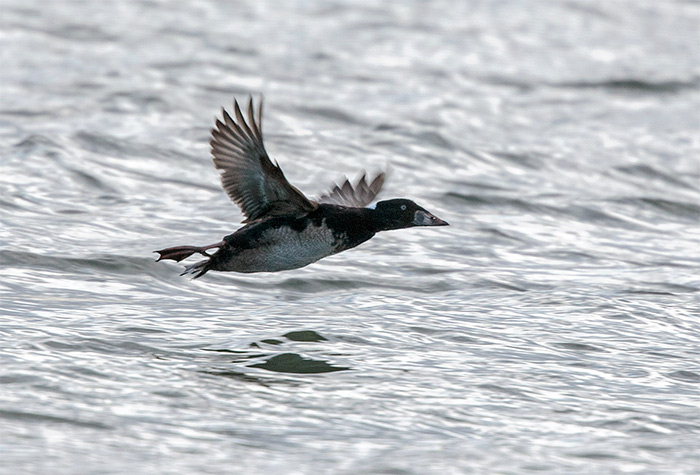 Largo Bay's female King Eider was on site through to 15th and wraps things up for this little section.
<!—Section Title -->
Three wintering Long-billed Dowitchers stuck it out this week - Leicestershire's surprise arrival from seven days ago was on site at Wanlip Meadows LRWT to 12th (appearing again on 15th) while the "old hands" were on Pennington Marshes (Hampshire) and Cresswell Pond NWT reserve (Northumberland) both to 16th.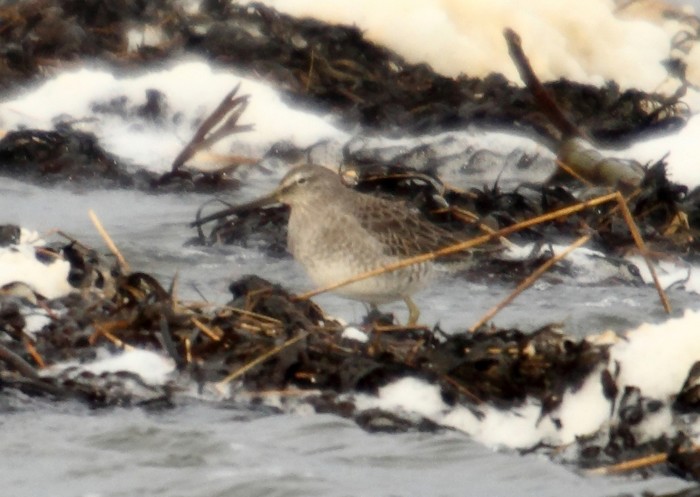 Cork's first-winter Spotted Sandpiper was still close to the G.A.A pitch at Pilmore Strand to 15th while the infrequently noted Lesser Yellowlegs in Norfolk was at Burgh Castle on 11th and back at Breydon Water on 13th.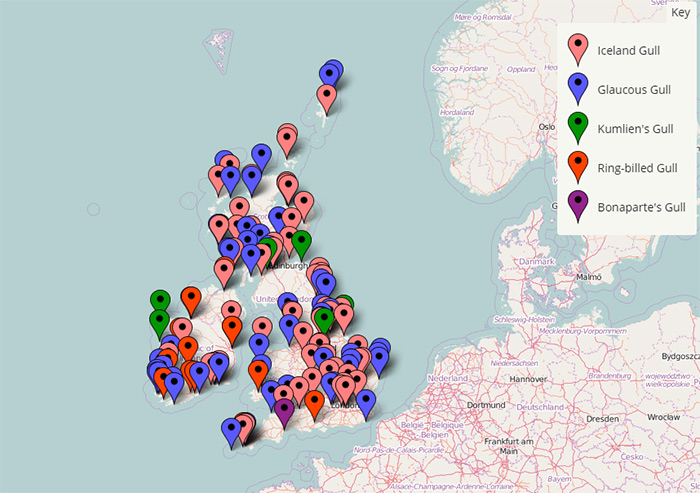 Devon's adult Bonaparte's Gull gets us underway for the next instalment of this week's round-up - seen three times this week off Dawlish Warren NNR (on 14th, 15th and 16th).
In Ireland, at least 19 Ring-billed Gulls were logged through the last week - five of them at Nimmo's Pier in Galway over the weekend; a first-winter, second-winter and adult there on 13th, with three adults the next day. County Cork and County Kerry both scored three birds each; the former seeing an adult noted at Cuskinny Marsh on 11th, a 1w was at Lee Fields on 12th (and two adults were there on 15th) and an adult was at Castletownbere on 13th while the latter saw an adult linger at Blennerville with two at Tralee Bay Wetlands the same day (an adult and second-winter).
Up to three adults remained around Dublin, including two at Sandymount Strand on 10thm while regular adults were in Limerick on 10th and Portrush (Co. Antrim) on 13th. Last week's new second-winter found in Doorly Park (Co. Sligo) was still present on 10th.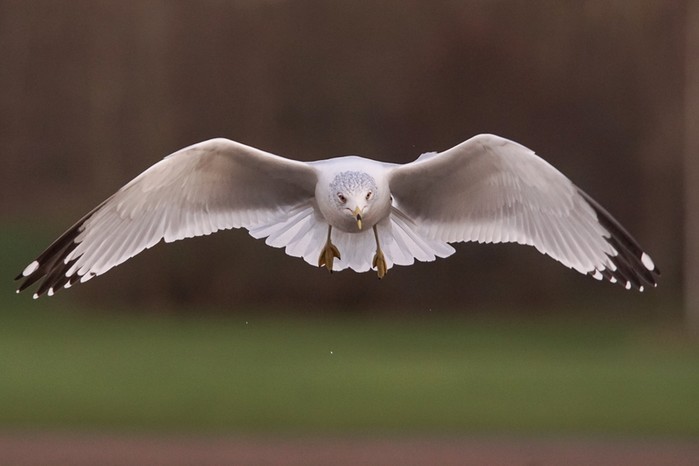 Other Celtic Ring-bills were again at Strathclyde Loch (Clyde) on 11th-12th and Llys-y-Fran reservoir (Pembrokeshire) on 12th and 15th-16th while Engliand's two birds were the adult at Blashford Lakes HWT (Hampshire) to 11th and the youngster remained around Sancreed and Mousehole (Cornwall) to 13th.
Numbers of Glaucous Gulls dropped off a tad this week, falling from 74 (or so) last week to around 69 this week. Wales managed a lowly three in three counties, Scotland saw 14 birds logged in seven counties (including five in Argyll & Bute), 19 were in eight Irish counties (with a single-site weekly high of five in Mayo's Elly Bay on 11th) while 19 English counties shared 33 birds in all, with 11 in the northwest (threes a piece for the North, West and South Yorkshire) and three of the Midlands birds appearing in the Draycote Water roost in Warwickshire on 14th.
In contrast to their big buddies, there was another upward turn for the number of Iceland Gulls noted this week, jumping from 72+ to 94+. Wales again fared poorly (only three in the Principality) with 41 for England - including an impressive five at Rufforth in North Yorkshire - part of 18 in all for the northwest, with fours in the southwest, southeast and East Anglia. Irish birders managed 26 birds spread across a further 12 counties - Elly Bay coming out ahead of everywhere else again with six birds present on 11th. Scotland comes next, with 26 birds in 11 counties, with four for both Argyll & Bute and the Hebrides.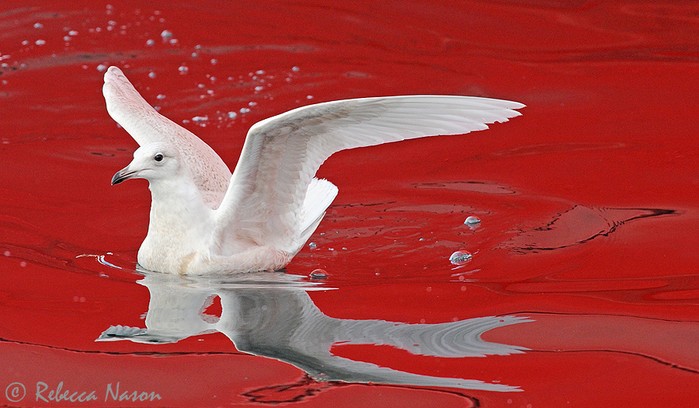 That same expansive bay on the Mullet was clearly much to the liking of all those lovely white-wingers and the 11th also drew a juvenile and adult Kumlien's Gull to the same site, two of the five recorded this week. In East Yorkshire, the fourth-winter was again at Barmston on 10th and another Irish bird, a second-winter, was at Omey Island (Co. Galway), also on 10th. The final bird of the week was the juvenile that remained at Crossapol, Tiree (Argyll & Bute) through to 15th.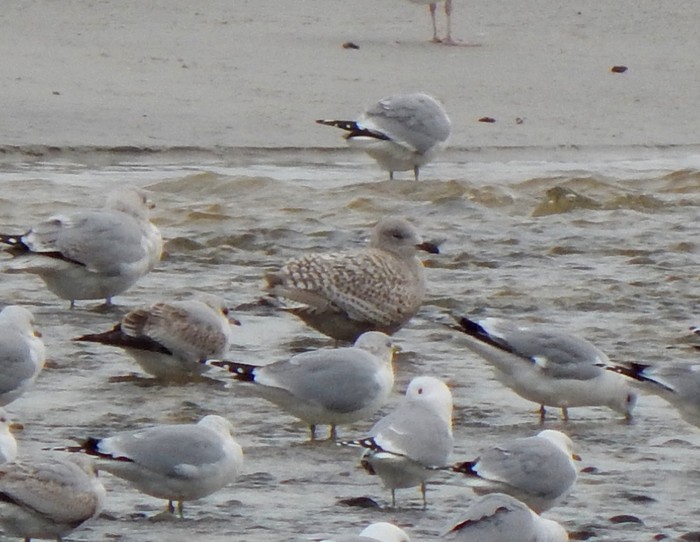 A potential White-tailed Eagle was noted not far from Basingstoke (Hampshire) on 13th (like it or not, this record may be tainted by the alleged goings on in the New Forest).
Norfolk has been in many folks' sights where wintering Rough-legged Buzzards have been concerned this winter and the past seven days has seen a rash of records along the edge of the north coast. One of the popular youngsters remained at Choseley for much of the week, until 14th at least and further single birds were reported from Snettisham on 12th, Sculthorpe on 13th and near Brancaster Staithe on 15th while twos were reported at Holkham Pines on 10th and between Docking and Brancaster on 11th.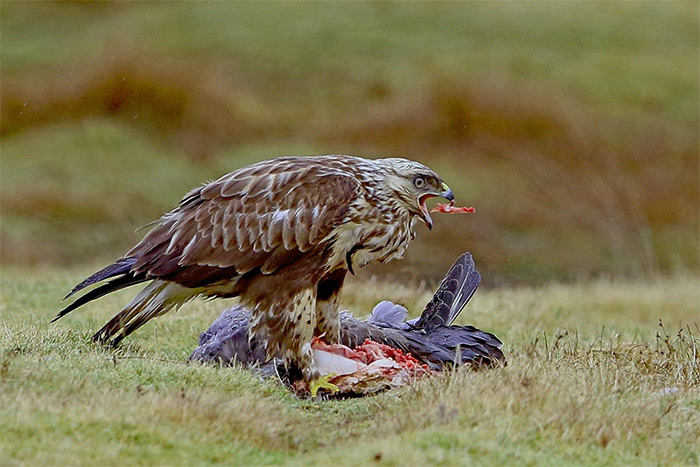 Two Scottish Rough-legs were seen this week; still around Sullom, Mainland (Shetland) to 14th with a new juvenile at Wanlockhead (Dumfries & Galloway) on 12th. English singles were reported near Stevenage (Hertfordshire) on 10th and still around Holland Haven (Essex) to 12th.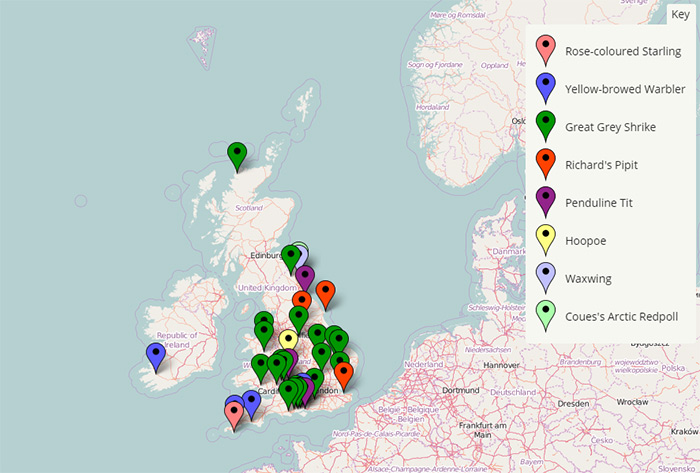 Both of Cleveland's Penduline Tits stuck it out at Saltholme RSPB to 10th while another recent duo was at Horsebere Flood Alleviation Pool, near Brockworth (Gloucestershire) all week. After a short absence, two of the (up to four)_ birds were back at Titchfield Haven NNR (Hampshire) on 14th.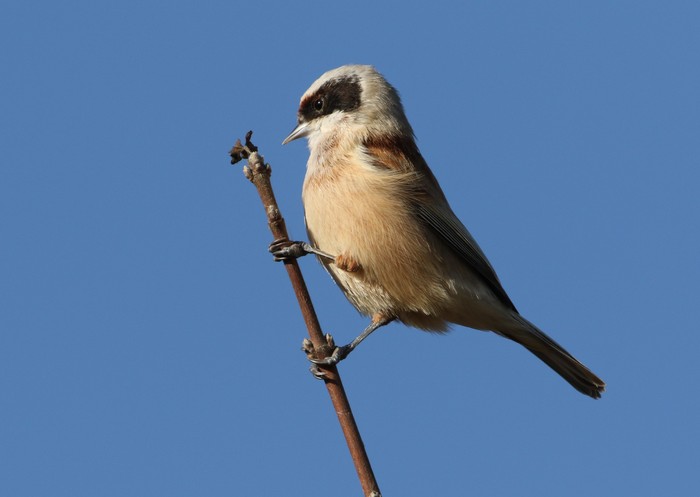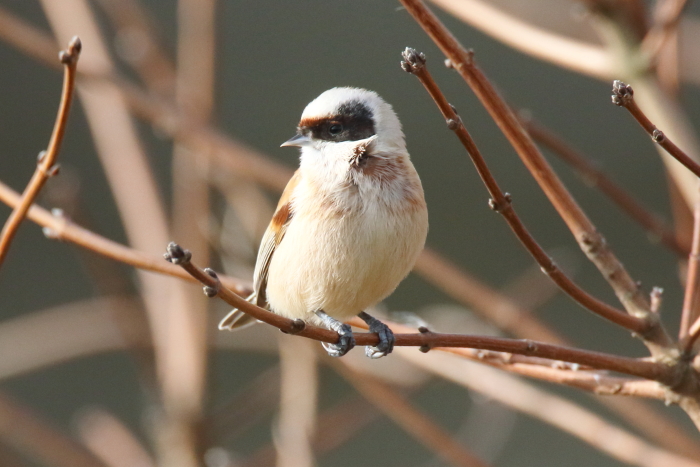 Also lingering for a little longer in Hampshire was one of the week's four Yellow-browed Warblers, still at Eastleigh to 10th. In Cornwall, another remained at Ponsanooth and "new" was a bird at St. John's Lake on 11th (which turned out to be the 51st day - precisely - of its wintering stop-over). Ireland's only bird this week was back at Ross Castle (Co. Kerry) on 11th (it was last noted on January 15th).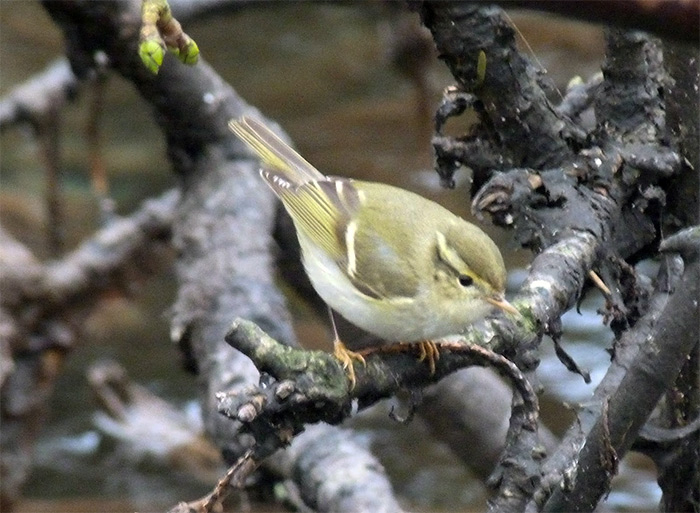 Other atypical winterers included the Hoopoe which remained at Wall Heath in Staffordshire until 15th; East Yorkshire's two and Kent lone Richard's Pipits remained at Flamborough Head and Shell Ness, Isle of Sheppey throughout and the Cornish Rose-coloured Starling was still in Lizard village on 16th.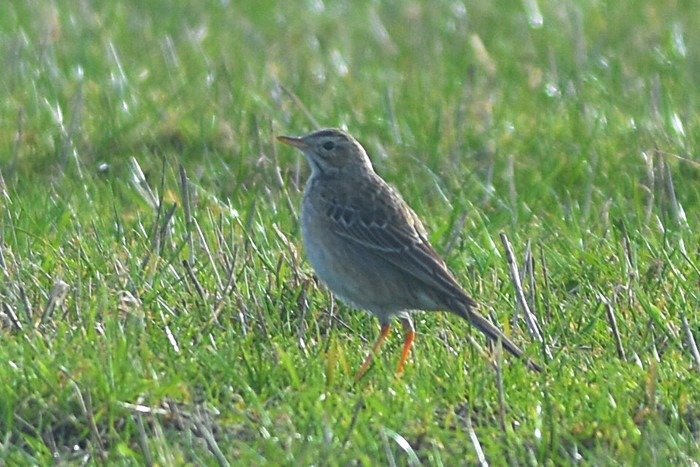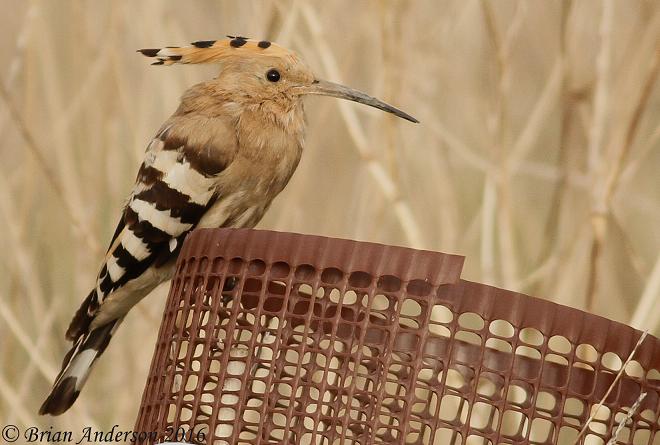 This latest review period kicked off with eight Great Grey Shrikes on 10th; Dorset and Gloucestershire had an even share of four (at St. Leonard's and Wareham Forest in the former and the Forest of Dean and Slimbridge WWT in the latter); lone birds on the same date remained in the New Forest (Hampshire), Thursley Common (Surrey), Heybridge Basin (Essex) and Harwood Forest (Northumberland).
The following day saw last week's new arrival remain at Henlow (Bedfordshire) and new on 11th were birds at Laxford Bridge (Highland), Big Moor (Derbyshire), Great Castleton (Leicestershire) and Wentwood (Gwent). The second Welsh bird of the last seven days was again in the Afan Forest (Glamorgan) from 12th and another was in the New Forest the same day. Two Great Grey Shrikes were in Norfolk over the weekend; still at Grime's Graves on 13th and at Wissington on 14th. Three further sites in the New Forest saw sightings noted through until 15th - while the week concluded with two more Welsh records, at the Dyfriant Forest (Powys) and Llyn Brevig (Denbighshire/Conwy) on 16th, pushing the total for the week somewhere adjacent to 22 in all.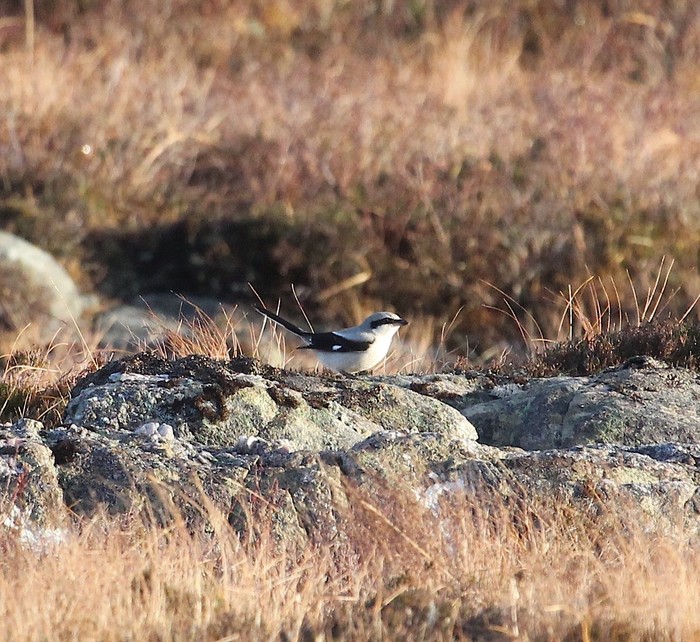 The Widdrington Waxwing lingered all week in Northumberland while the same county also continued to host the country's only Coues's Arctic Redpoll too - still in the area around Birling Carrs and Warkworth until 14th.
The coming week…
Having managed not to trumpet about February 9th being 30 years to the day since a youthful me chanced upon the rather fun'n'funky Portscatho Least Sandpiper (I forgot until now), so in a shameless bit of self-congratulation I thought I'd lob in a mention of it now. Britain's first wintering record, it remained from February 9th to April 20th - and was, for many birders, the first one with legs...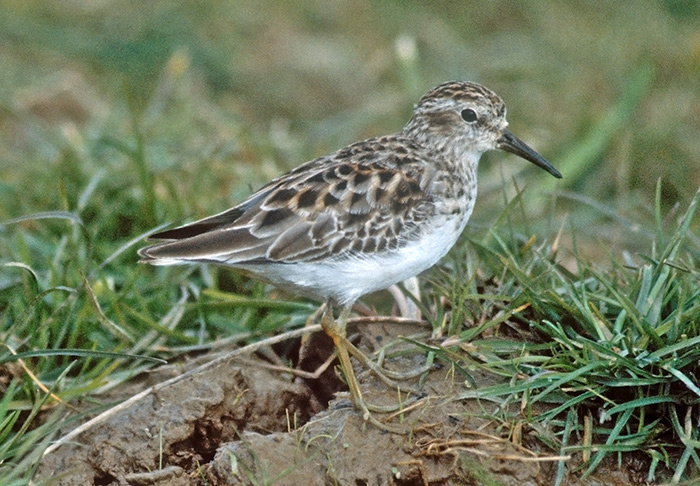 Surprises in the week ahead from golden olden days include the amazing West Midlands record of a Dusky Thrush in the gardens around Majors Green, Shirley on February 17th-19th 1979. The photographed bird reappeared, off and on, through until March 23rd - it would be a long 34 year wait until a twitchable bird would finally help us all along…
In more recent days, the Outer Hebrides supplied one of the more eye-catching rarities of February 18th - the beautiful first-year drake Harlequin appearing near Balranald in 2013…there's been a couple since, but it is still a quite beautiful looking bird.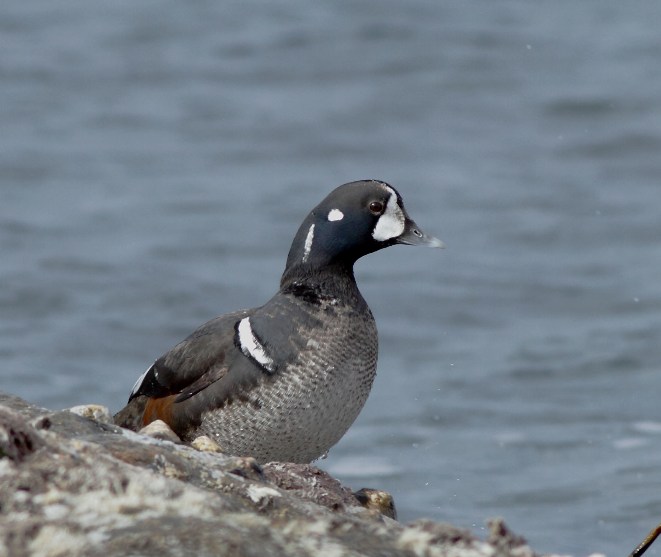 The Spurn Rock Bunting from February 19th 1965 remains a startling occurrence (and it's near-four week stay all the more startling - and galling - too) while, 20 years ago, on February 20th 1996 along came the much admired Cedar Waxwing - still the only twitchable record to date (and all in the company of a breathtaking flock of 1000+ Bohemian buddies…).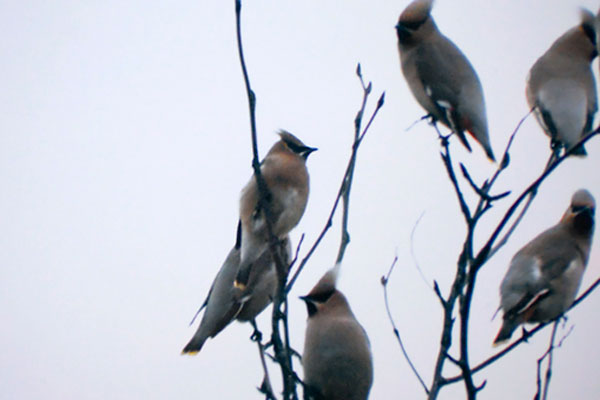 An exceptional Collared Pratincole out on Lundy on February 21st 1945 remains a head-scratcher and the same date also marks the appearance of the much-admired "original" Thayer's Gull around Cobh and Cork City Dump, in 1990 - a superb textbook beastie if ever there was one.
…the first Western Palearctic adult Thayer's Gull followed on February 22nd 1998 in Killybegs (the third seen during the seven days that lie ahead) while a Sociable Plover out on the Old Hall Marshes in Essex, found on February 23rd 2001 reiterates just how much we should continue to expect the unexpected at this time of year…
…and, the most prized, most unexpected vagrants of the past three decades (for those of a listing persuasion), arguably even more so than the Cedar Waxwing is the Woodford Green Naumann's Thrush.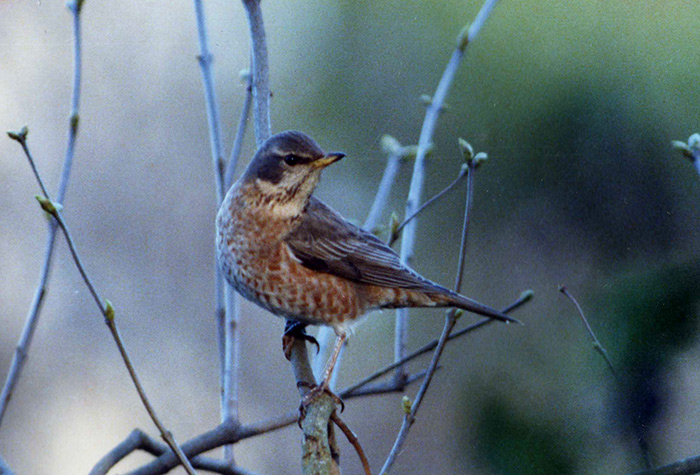 This striking first-winter male became a huge, huge draw at the edge of Waltham Forest in February 1990 and it's most certainly held "value" - one more followed, weirdly within just a short distance away (at South Woodford in January 1997, a bird that wasn't "up for grabs") and there's not been a single whiff of one since.
Some truly rare birds in and amongst the days ahead then - wonder if the next seven days of 2016 can get anywhere near the stellar quality of some of the above?
Mark Golley
17 Feb 2016
Please note: we put a lot of time and effort into sourcing and and producing the images, videos and graphics for each roundup. Some of you (probably Apple users) may notice some photos etc. that appear to have incorrect captions. Please try refreshing the page as they are correcty captioned. If after a refresh they are still showing the incorrect captions then please email us
Special thanks again this week to Tim Loseby and Dave Cottridge for dusting down a couple of fine rares from yesteryear for me. Thanks also to the rest of this week's contributors for their photos and videos.
Garry Armstrong, Paul Kelly, Chris Batty, Jim Dickson, Peter Beesley, Bob Laughton, Lee Fuller, Chris Mills, Andrew Power, Tom Shevlin, Verdant Wildlife, Northwest Natur, Mark Stewart, Michael Trew, Alex Shepherd, Paul Ward, Mick Hemmingway. Hugh Harrop / Shetland Wildlife, Graham Catley, Sean Wileman, Andrew Russell, John Chapple, Martin Casemore, Rebecca Nason, John Bowler, Jim Nicolson, Nature in Shetland, Phillip Ward, Andrew Jordan, Davey Farrar / Kerry Birding, Andy Hood, Brian Anderson, Andy Williams, Justin Carr, Tim Loseby, Stephen Duffield, Alan Tate, David Cotteridge.