Birding round-up: 20 - 26 Jan 2016
The week at a glance
Ireland's first Glaucous-winged Gull logs another week in Co.Cork
Co.Wexford scores its second Ross's Gull off Hook Head...
...while a Franklin's Gull in Co.Kerry on the Cashen Estuary is a county second also
After a positively giddy start to the year, things finally calmed down a little this week. In many ways it felt more like a normal week in late January – coldish in places, turning damp as the week wore on and the remains of the storm that brought near-record deposits of snow in parts of the eastern seaboard of North America made landfall in the UK.
For the most part, while not relishing yet more rain, we enjoyed some traditional midwinter birding fodder. Mostly, as usual lately, this largely revolved around gulls in Ireland.
Glaucous-winged Gull
For a while it looked like the settled Glaucous-winged Gull in Co.Cork's Castletown Bearhaven wasn't going to feature in the news at all this week. Then up it popped again on 24th-25th and all was well with the world once more.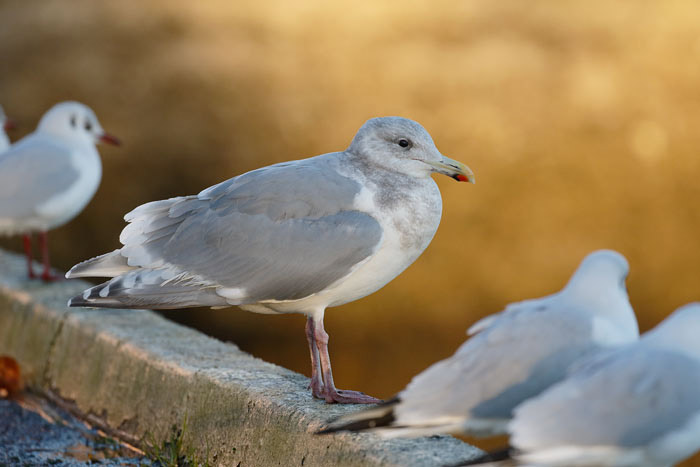 In a winter that's already featured large gulls of such quality, Irish birders could be excused for applying their attention elsewhere now this bird has been around a while – there's still considerable potential in the coming weeks, and with both Franklin's and Ross's Gulls unearthed in the past seven days there's clearly no shortage of promise to realise out there.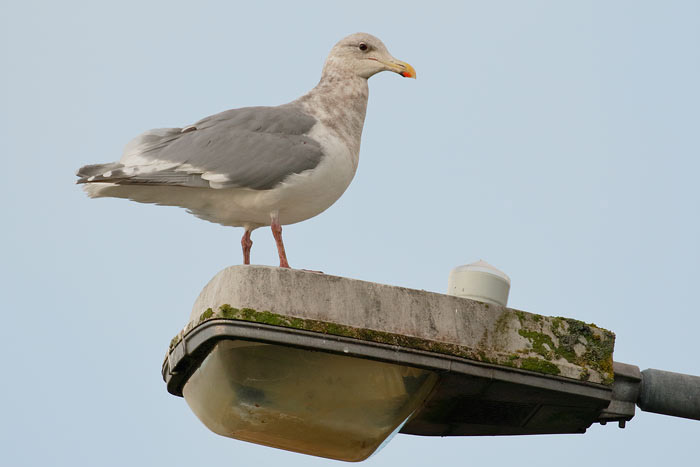 It doesn't have to be all about the large Pacific larids in the headlines...
Ross's Gull
I think I may have mentioned in my concluding wishful thinking last week that Ross's Gull was a likely candidate for the coming week (oh alright, I know I did) so it was pleasing to see news of one of these graceful dove-like beauties flash up on RBA this week.
Found on 20th at Hook Head in Co.Wexford, this week's first-winter bird is the second of 2016 following the Cornish bird at the start of the month. We can be a funny lot, us birders, and prone to being a little dismissive of birds in the immediate aftermath of a long-staying recent individual of their kind. Loads of people popped down to Devon in 2014 to catch up with the first-summer bird that lingered around the Bowling Green Marsh RSPB environs from 24th May - 2nd August. Familiarity can breed contempt – but it really shouldn't with such a charismatic and still truly rare little gull. Each occurrence is surely to be cherished by finder and pilgrim alike.
To the end of 2014 there are just 18 accepted records for Ireland – and even the higher British tally of 96 accepted records since 1950 speaks volumes of a still genuinely rare bird that averages less than two individuals a year.
For Co.Wexford this latest bird would have been particularly significant had it but stuck around – only the second record for the county following the first at Kilmore Quay back on 22nd-23rd January 1983.
Franklin's Gull
And of a very similar calibre of rarity is this week's second new rare Irish gull – the second-winter Franklin's Gull found in Co.Kerry on the Cashen Estuary on 24th and still there on 26th.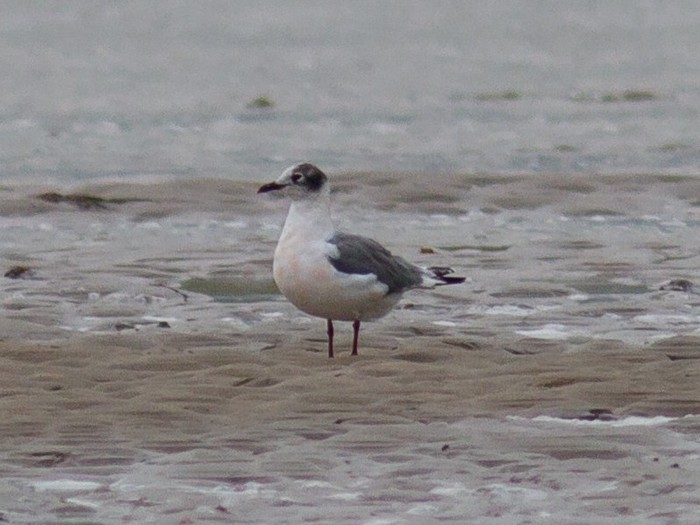 Boasting 72 accepted British and 17 accepted Irish records up to the end of 2014, it's only a smidgen rarer on paper – and plays second fiddle to this week's Ross's simply because a) I predicted a Ross's last week, and b) I have a soft-spot for the latter species because, when all's said and done, they're just so darned cute.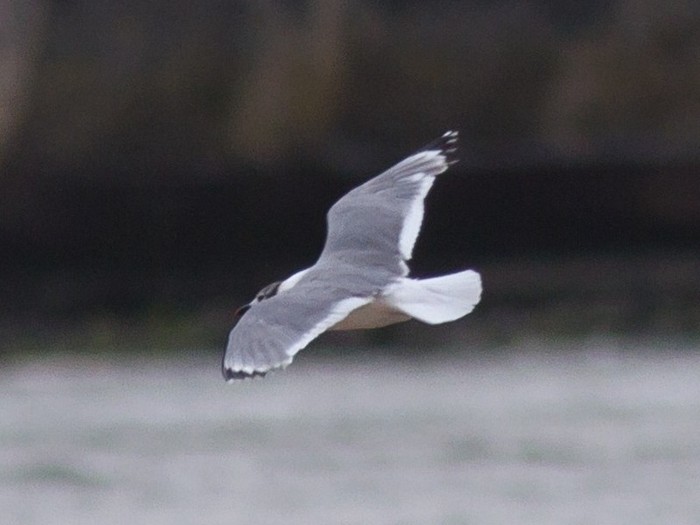 This latest Irish Franklin's Gull also enjoys the distinction of being a county second-record – the first for Co.Kerry being 23 years ago at Ballyheigue on 7th-11th May 1993. Unlike Ross's Gull, which has a strong penchant for turning up midwinter, Franklin's Gull can be expected to turn up in pretty much any given month of the year.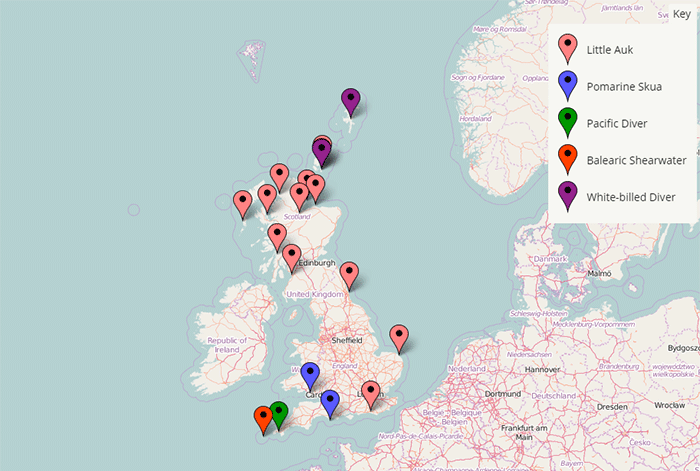 We kick off the week's slim pickings of seabirds with the adult Pacific Diver again noted in the Newlyn area of Cornwall on 20th-22nd. At the opposite end of the country in Shetland another White-billed Diver was seen in the mouth of Weisdale Voe on 20th, bringing the archipelago's total this winter up to four birds.
Little Auks this week were mostly noticeable by their absence. On 20th four were in Orkney at Loch of Ayre, with singles that day noted off South Ronaldsay (Orkney), Achnahaird (Highland) and further south in Norfolk off Walcott. On 21st in Highland three were seen in the Sound of Raasay and a single bird was off Clachnaharry. On 22nd and 23rd single birds were seen from Whitburn Coastal Park (Co.Durham), while on 23rd and 24th single birds were logged on South Uist off Rubha Ardvule (Western Isles). Two were seen from Lossiemouth (Moray) on 23rd with one that day on Islay's Loch Indaal (Argyll). On 25th two were seen off Rubha Ardvule on South Uist (Western Isles) with one more in Ayrshire off Troon and a further singleton in Orkney on Loch of Ayre.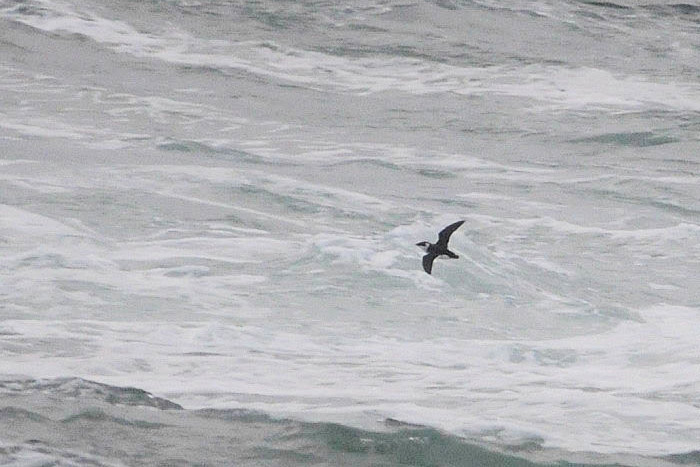 A Balearic Shearwater was seen off St.Mary's (Scilly) on 23rd.
On 26th we finally got some Pomarine Skua action - a single bird passed Portland Bill (Dorset).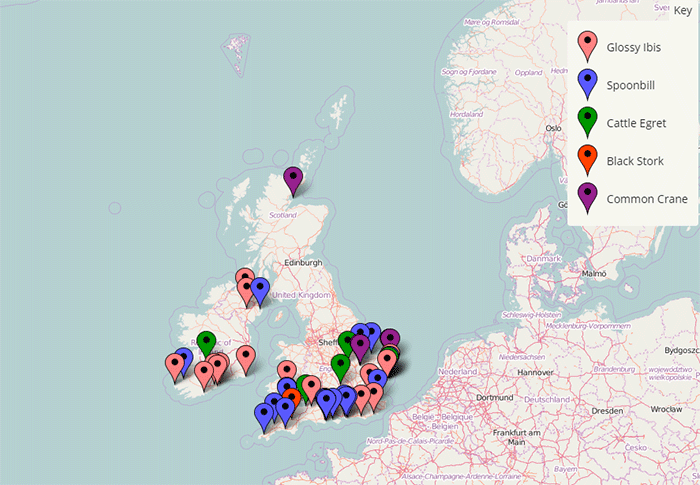 All change in the wonderful world of Irish Glossy Ibises this week, with the existing flocks mixing it up a little as the days progressed. The week began with the flock of 14 still in Co.Cork at Castlemartyr, reducing to nine birds there on 23rd and eight on 24th. Two remained in the county at Carrigtwohill still on 20th, with six at Timoleague on 23rd-24th. Two were at Lady's Island Lake in Co.Wexford on 20th, with singles seen at Lurgan (Co.Antrim) on 23rd and Toome (Co.Londonderry) on 24th.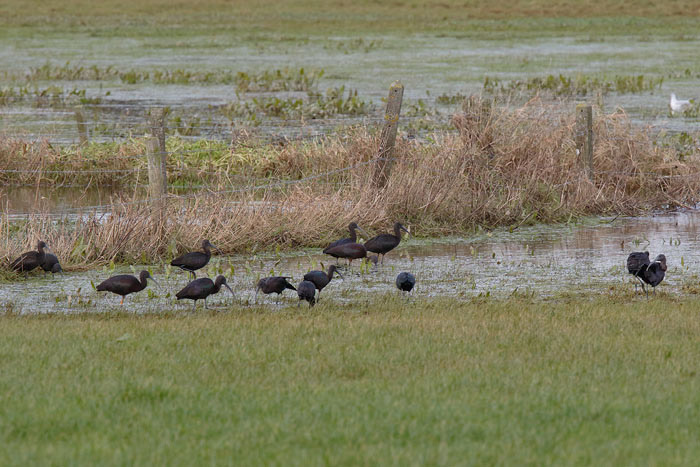 Crossing into Wales we find one bird remaining at the National Wetlands Centre in Carmarthen on 20th. Settled English birds remained in Somerset at Ham Wall RSPB still on 22nd-25th and Pett Levels in East Sussex still on 21st-23rd, with one seen over Rodmell on 24th. One faithfully came into roost at Wat Tyler CP (Essex) on 20th-21st, while one was seen on the south of the Thames Estuary at Harty Ferry (Kent) on 20th. Hollesley Marshes RSPB (Suffolk) hosted one on 20th-26th.
The Cattle Egret in Suffolk remained at Iken until 26th. One was at Oakham (Leicestershire) on 22nd, with the bird seen again at Steart WWT (Somerset) on 24th-25th. One remained in Ireland at Limerick (Co.Limerick) on 20th-23rd.
Not much news came out of Poole Harbour this week where Spoonbills were concerned – peak count, as usual, came from Shipstal Point on 23rd and 26th with 20 birds noted on both days. Down in Cornwall the immature bird remained at Hayle on 20th-25th still, with two birds seen at St.John's Lake on 22nd and one at Walmsley Sanctuary on 25th. Six birds remained at Isley Marsh RSPB (Devon) on 20th-22nd. Hampshire's Keyhaven area remained attractive to birds all week with between one and three noted on any given day, with four there on 22nd.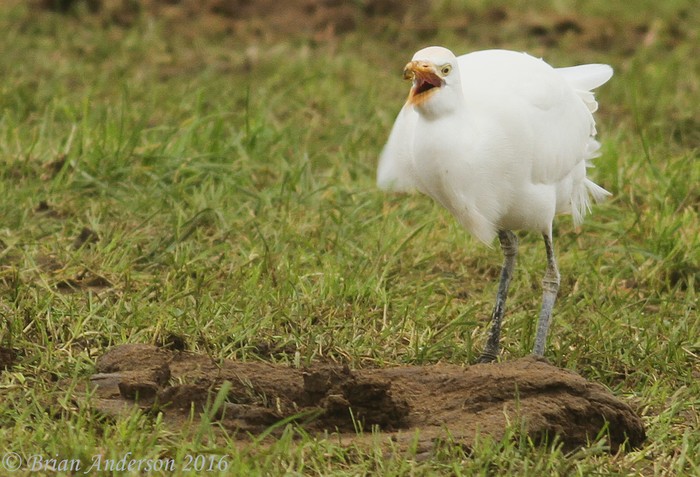 Moving east, two remained at Medmerry RSPB (West Sussex) on 20th-23rd. One was at Thorney Island on 20th, with two at Church Norton on 20th, with one still there on 23rd-26th. One was in Kent at Harty Marshes on 24th-25th. One remained in Suffolk at Hollesley Marshes RSPB on 21st, with four that day at Hazlewood Marshes SWT, moving to North Warren RSPB on 23rd-25th; three remained there on 26th.
One bird was seen in Norfolk at Thornham on 20th, with two over Frampton Marsh RSPB (Lincolnshire) on 23rd.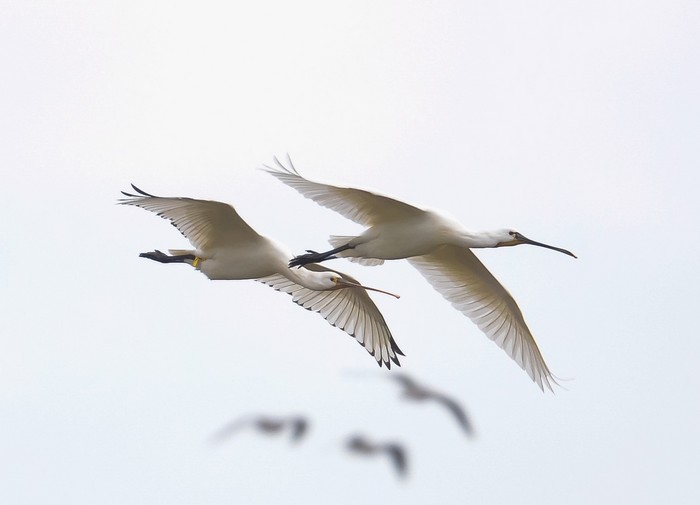 Irish records came on 23rd from Cromane (Co.Kerry) and Strangford Lough (Co.Down).
An intriguing sighting of a Black Stork emerged as the week drew to an end – one seen over the A30 at Whiddon Down on 24th is an unusual midwinter record for a species more typically associated with warmer times – if confirmed, this would be the first one ever recorded in January. Indeed, December to March are blanks for the species in Britain and Ireland...
Quieter than ever for Common Cranes this week outside of Norfolk with a single bird reported from Tarbat Ness (Highland) on 20th-21st and two birds on the Nene Washes at Eldernell (Cambridgeshire) on 21st.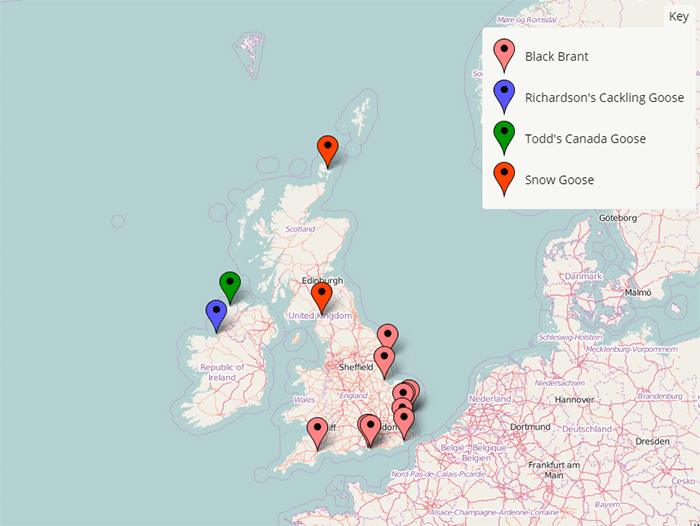 It fell to the geese and ducks to really keep the winter vibe alive this week with a particularly varied gaggle of both on offer. We'll kick off with the Geese Formerly Known As Canada and there was plenty of variety / variations on a theme to be had: the week began with three possible Todd's Canada Geese in Co.Donegal at Dunfanaghy on 20th; another Todd's remained in Co.Sligo at Ballintemple on 24th, sharing a flock of Barnacle Geese with a Richardson's Cackling Goose also. Presumed escaped form minima Ridgway's Cackling Geese were again in Devon at Countess Wear and in Dumfries & Galloway at West Freugh Airfield on 24th.
Two white Snow Goose were beyond obvious reproach again on Orkney near Kirkwall on 24th, and again in Cumbria at Saltcoats that day also.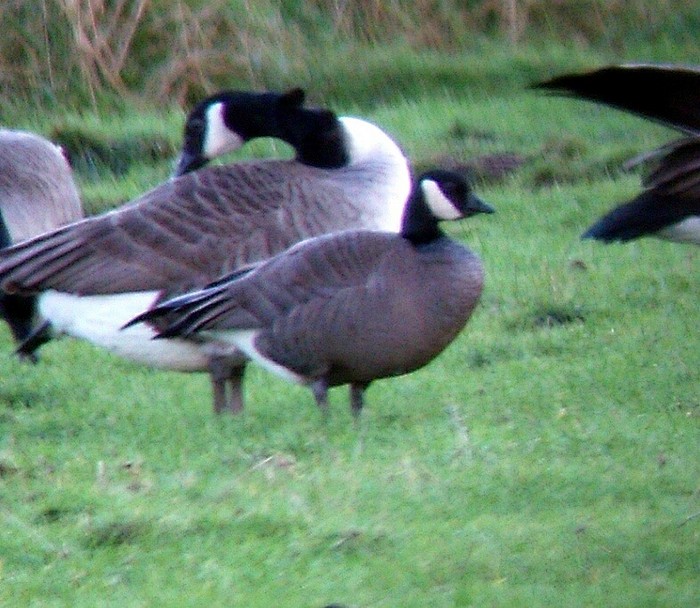 Black Brants enjoyed a considerable uplift on last week's frankly feeble tally of three birds: the week began with one still in Devon at Darts Farm RSPB on 20th, with further sightings that day from Pagham Harbour (West Sussex) and Oare Marshes (Kent); an adult was again at Pagham Harbour on 25th. One was seen on 22nd in Essex at Hamford Water, while sightings on 23rd came from West Sussex at Church Norton and West Wittering, from the mouth of the River Witham in Lincolnshire, and at Kilnsea (East Yorkshire) where two adults were to be seen. Back in Kent on 24th one was logged at St.Mary's Marshes, and an adult was again in Essex at West Mersea on 26th.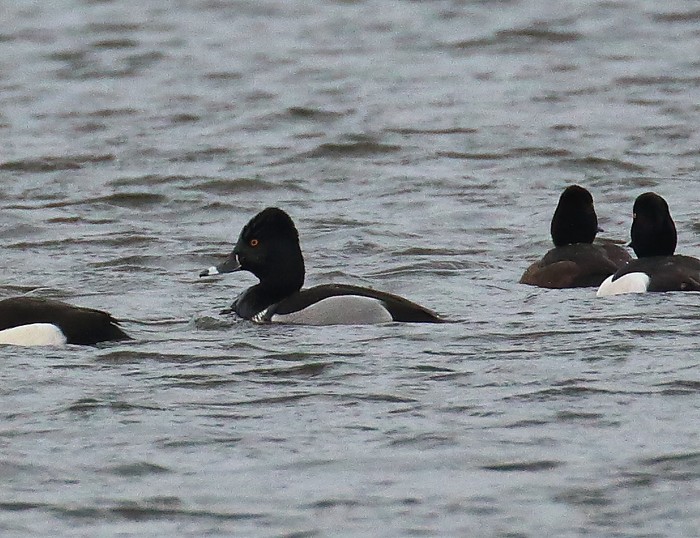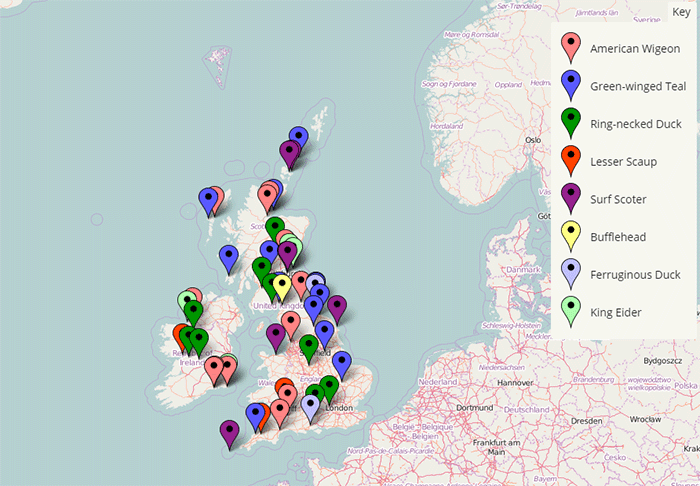 Two familiar Lesser Scaups were noted this week – the drakes in Cornwall at Dozmary Pool until 26th, the drake still in Glamorgan at Cormeston Lakes CP until 26th – and one new drake in Ireland at Tullaghnafrankagh Lough in Co.Galway on 24th-25th also.
Numbers of Ring-necked Ducks increased again this week with twelve in total recorded across Britain and Ireland. The Irish stole the show with three birds (a drake and two females) at Ashton Carrows NR (Co.Tipperary) on 20th; further Irish drakes were at Lough Arrow (Co.Sligo) on 22nd, and Loughrea (Co.Galway) on 24th. In Scotland the drake remained at Pitlochry (Perth & Kinross) until 23rd, with last week's first-winter drake still at Carlingwark Loch (Dumfries & Galloway) until 24th, and a drake on 24th-26th at Trabboch Loch (Ayrshire). English birds were headed by the settled pair of females still in Hampshire at Rooksbury Mill LNR until 23rd; another female was in Staffordshire at Uttoxeter Quarry on 23rd-24th, and the drake remained in Berkshire at Bray GPs until 26th.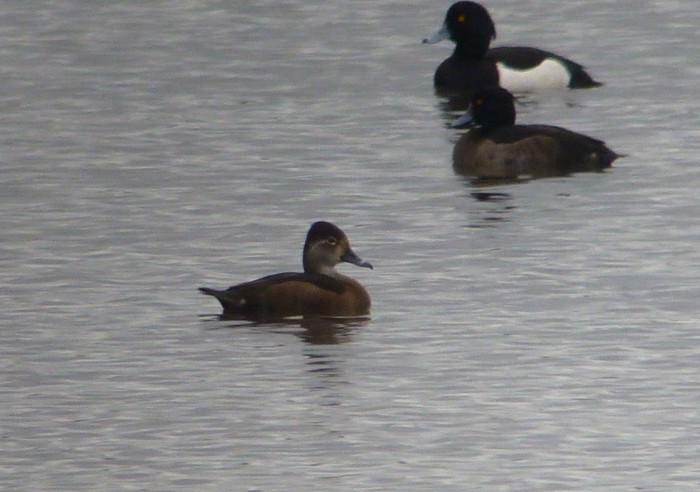 Back in Hampshire the drake Ferruginous Duck remained on the lakes at Blashford HWT all week long.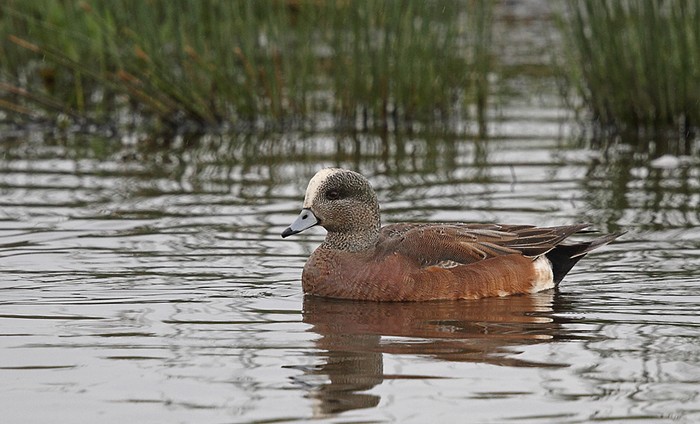 11 American Wigeons made for a modest increase on last week. The first-winter drake was reported still in Devon on 21st at Bowling Green Marsh RSPB; with drakes still until 26th in Northumberland at Grindon Lough and in Lancashire at Hesketh Out Marsh RSPB until 25th. A drake was at Birnie & Gaddon Lochs NR (Fife) on 21st-23rd, with further Scottish records coming this week from Tain (Highland) again on 22nd, on North Uist at Loch Portain (Western Isles) on 24th with two drakes there, and again at Udale Bay (Highland) on 25th-26th. In Ireland the drake was still at Tramore (Co.Waterford) on 21st, with additional sightings coming from Tullaghan (Co.Leitrim) on 22nd-24th and at Tacumshin (Co.Wexford) still on 24th.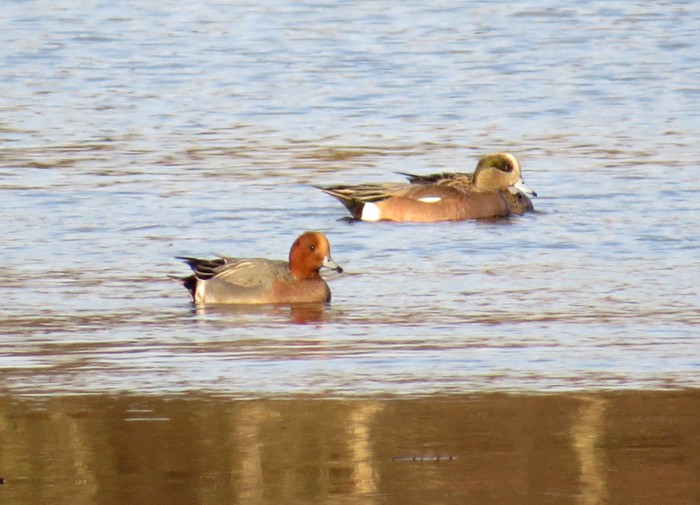 There was no shortage of Green-winged Teals either this week with a mighty 14 in all noted across the region. The traditional wintering site of Caerlaverock (Dumfries & Galloway) inevitably held one all week, with two seen there on 23rd. Elsewhere in Scotland single birds were logged on North Ronaldsay (Orkney) still on 20th-21st; on North Uist at Loch Sandary (Western Isles) still on 20th-25th; on Islay at Loch Gruinart RSPB (Argyll) on 23rd still; on Banton Loch (Clyde) again on 23rd; and in Highland at Portmahomack on 24th. Our remaining reports were all English: settled birds remained at Walmsley Sanctuary (Cornwall) until 25th; at Idle Valley NR (Nottinghamshire) on 21st again; at Boldon Flats NR (Co.Durham) still on 21st-25th; and still at Saltholme RSPB (Cleveland) on 22nd-25th. Further English sightings came on 24th at Berry Fen (Cambridgeshire) and Nosterfield LNR (North Yorkshire).
In a clear sign that normal service was being resumed, we begin our round-up of Surf Scoters this week in Wales where a drake was finally reported again from Conwy's Colwyn Bay. And all was again well with the world… Elsewhere the week kicked off with two drakes in Orkney on 20th at Inganess Bay and Rewick Point; and a drake was again off Musselburgh (Lothian) on 23rd-25th. The first-winter drake remained off Filey (North Yorkshire) throughout the week, while the first-winter drake remained in the Scilly archipelago until 24th.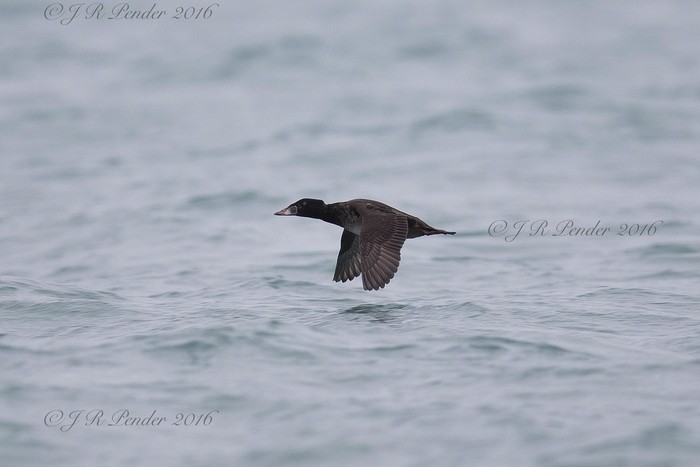 Two of last week's queen King Eiders remained on offer this week: the Ruddon's Point (Fife) and Rosslare (Co.Wexford) ladies both hanging around until 24th. A drake was seen in Ireland at Ballyconnell (Co.Sligo) on 20th-24th, while an unconfirmed report of a first-winter drake on 22nd off North Berwick (Lothian) unfortunately came to nothing further.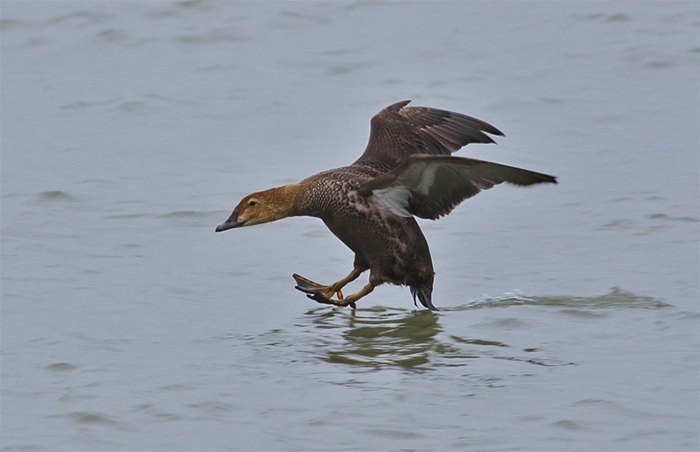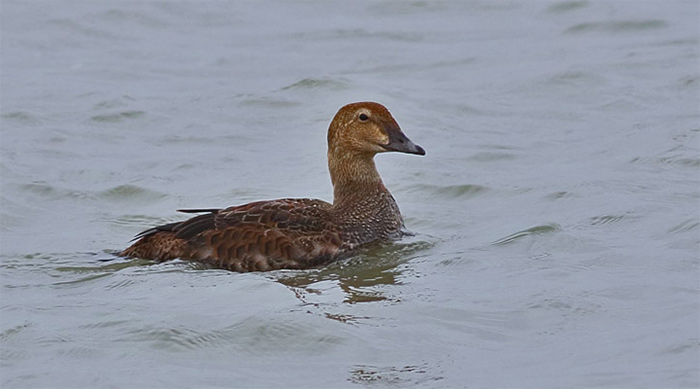 Late news on 26th of a Bufflehead reported on 24th at Grune Point in Cumbria was too little too late to warrant lifting up into the week's main headlines. We can only hope this bird reappears in the coming days – and proves to be bling-free.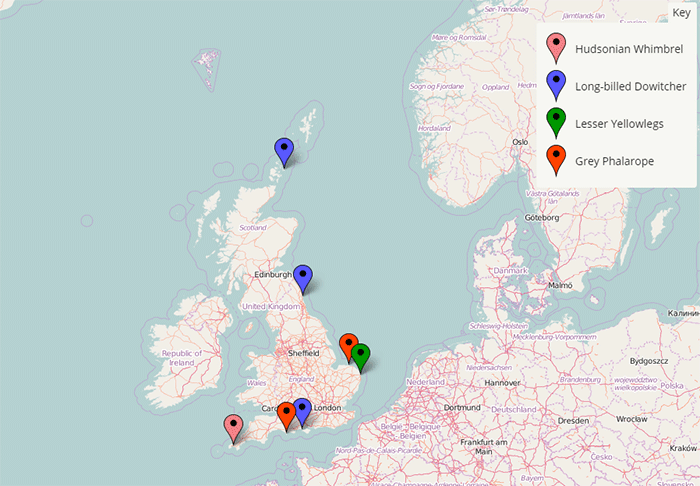 Star of the shorebird show this week remained Cornwall's Hudsonian Whimbrel - this considerately long-staying individual continued to grace the Marazion area until 25th.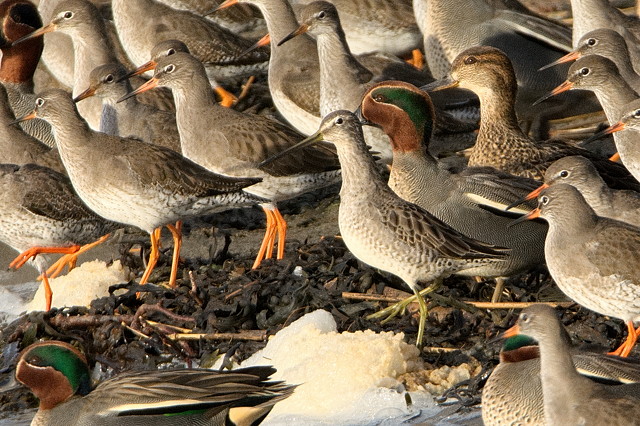 In a week that saw the return of the conspiracy theorists' favourite TV show and the breaking news of the Western Palearctic's first record of Dark-sided Flycatcher retrospectively identified on Iceland it was perhaps rather fitting that this week should also herald a new Long-billed Dowitcher on Stronsay- taking the year's tally up to three birds. Joining the settled first-winter birds at Cresswell Pond NWT (Northhumberland) all week and the individual seen again on 20th in Hampshire at Pennington Marshes, the latest rare bird for Stronsay was seen on 24th. Three Long-billed Dowitchers, in one week, in January? Things are getting strange!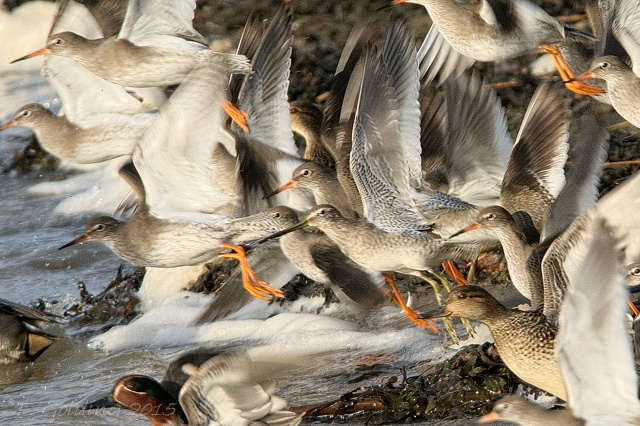 To be fair, not that strange, so we'll not worry just yet – but it's still a whole lot of records in January for a species that traditionally favours September and October. We'll leave Mulder and Scully to investigate stranger cases than this…
In Norfolk the Lesser Yellowlegs was again at Breydon Water RSPB on 21st-26th, while the week's sole Grey Phalaropes were the individual still in the county at Cley Marshes NWT on 20th-23rd and one in Dorset at Ferrybridge on 26th.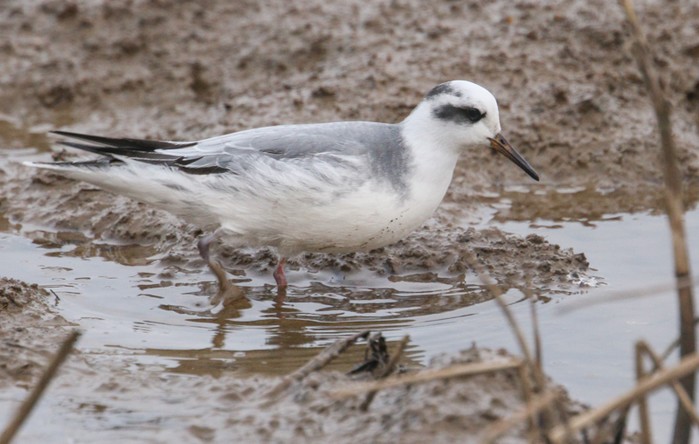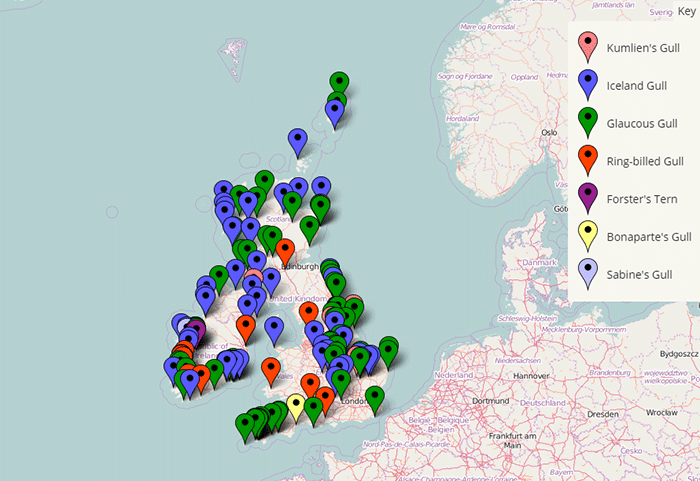 The week's gulls and terns begin, inevitably, with the putative Thayer's Gull found at the close of last week at Donmouth (Aberdeenshire) by Chris Gibbins. If ever there was a masterclass in the process of gull identification (and an impressive example of being prepared to openly question one's own initial conclusions) then this was it.
Seeing the bird afresh in neutral light conditions Chris had concerns about it, and immediately expressed them – the bird now appeared too pale overall, with not enough contrast in the primaries and secondaries to remain entirely confident about the identification. As Chris succinctly put it: "What a difference sun vs no sun makes to a bird where subtlety of tone is everything".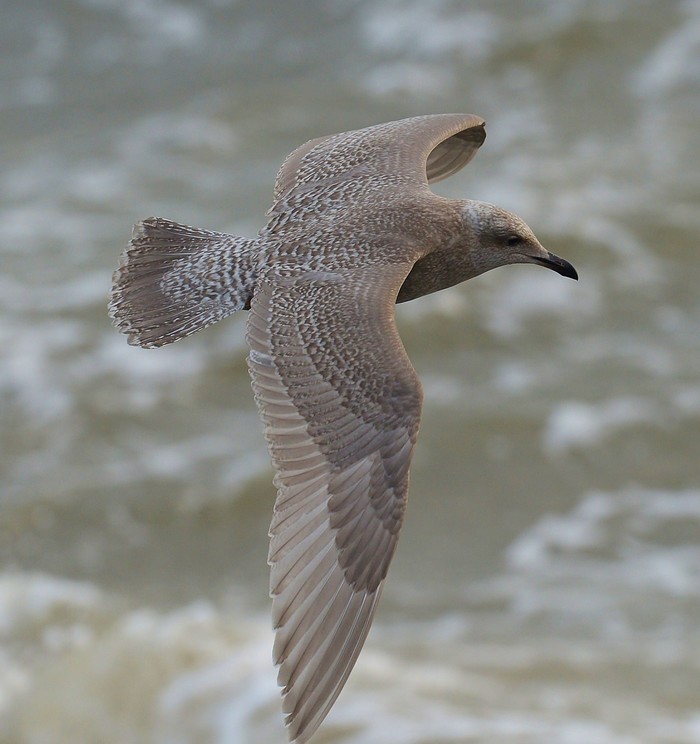 The subject of this conjecture remained at Donmouth on 20th-24th, allowing those so inclined (distance for many notwithstanding) to go and have a look for themselves. For those of us for whom a trip to Aberdeenshire wasn't logistically doable, we could content ourselves with a suite of photos of the bird in bright and neutral light, and ask ourselves the searching questions about what we would have done under the circumstances...
Enhancing an already tremendous week in Ireland for smaller rare gulls was another new Bonaparte's Gull - an adult seen from Hook Head (Co.Wexford) on 23rd. Back in Devon the regular wintering adult bird continued to mooch around the Exe Estuary until 24th at least.
It was the usual story for Ring-billed Gulls with the lion's share as we'd expect being in Ireland again this week - of the 23 birds reported all but eight were there, including the week's highest single-site counts: four were seen at Nimmo's Pier (Co.Galway) on 20th, with three still there on 24th; three birds remained at Tralee Bay Wetlands in Co.Kerry on 25th; and duos were at Bantry (Co.Cork) on 24th and the Cashen Estuary on 26th.
Elsewhere in Ireland singe birds were noted on 20th at Letterkenny (Co.Donegal); on 21st again at Carrahane Strand (Co.Kerry); on 22nd at Timoleague (Co.Cork), on 22nd-24th in Dublin (Co.Dublin) and on 22nd-25th on the Cashen Estuary (Co.Kerry); and on 23rd an adult was in Co.Kerry at Blennerville.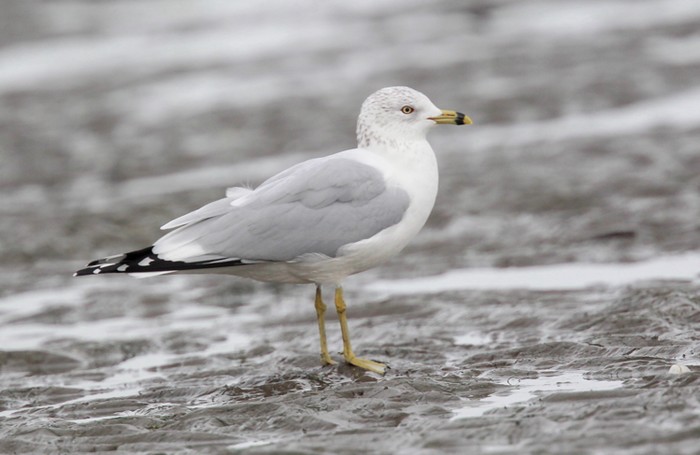 English birds included the settled adult still at Blashford Lakes HWT (Hamsphsire) all week, and the first-winter individual in Cornwall still in fields at Sancreed until 26th. Elsewhere in Cornwall an adult bird was at Seaton on 24th. An adult and a second-winter were found at Chew Valley Lake (Somerset) on 21st, while up in Lancashire the second-winter bird was again at Preston on 20th. Wales and Scotland sported one adult bird apiece, at Llys-y-Fran reservoir (Pembrokeshire) on 20th-22nd and Strathclyde Loch (Clyde) on 23rd-26th respectively.
Again, there was very little change to report in either the numbers or the ditribution of our regular white-wingers this week.
Taking the Glaucous Gulls first, around 70 birds in all were recorded with a similar widespread pattern of occurence incorporating 20 English, six Scottish and six Irish counties. The peak single site count was three birds, with trios seen at Rufforth (North Yorkshire) on 21st-22nd, at Ballycotton (Co.Cork) on 21st and 23rd, at Duncannon (Co.Wexford) on 22nd, and at Killybegs (Co.Donegal) on 25th-26th.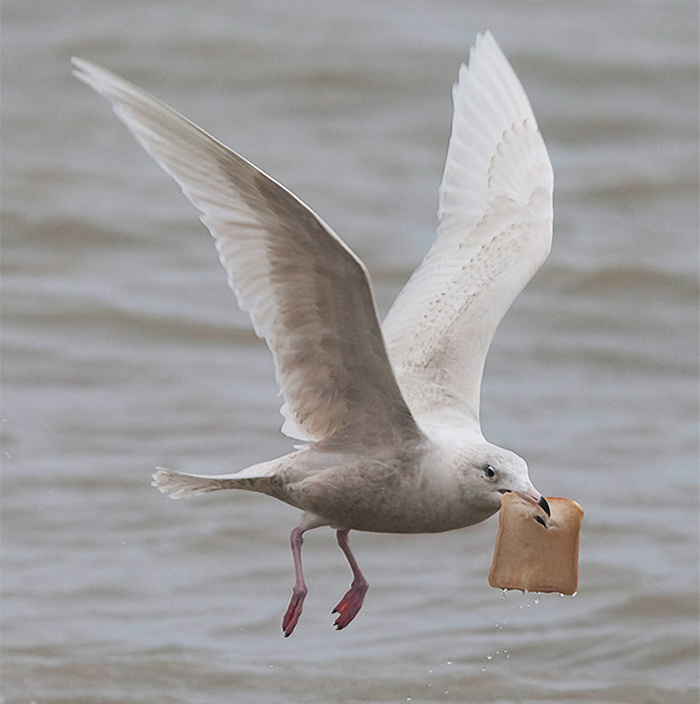 Iceland Gulls stayed constant with around 80 birds again logged throughout the course of the week in15 English, 12 Irish, eight Scottish and two Welsh counties. The headline tallies came from Killybegs (Co.Donegal) on 25th when nine birds were recorded there – six remaining there the following day. Elsewhere trios were at Duncannon (Co.Wexford) on 21st and Rufforth (North Yorkshire) on 22nd; with four birds at the latter site on 25th.
There was a spike in numbers of Kumlien's Gulls reported this week with no fewer than seven birds noted. Various parts of Yorkshire proved particularly attractive: in West Yorkshire the juvenile remained at Angler's CP and Wintersett reservoir until 26th; a juvenile was again seen in South Yorkshire at Hampole on 22nd-23rd; while in East Yorkshire a sub-adult was at Barmston on 23rd-26th. The remaining English record was a juvenile at Fen Drayton Lakes RSPB (Cambridgeshire) on 23rd-24th.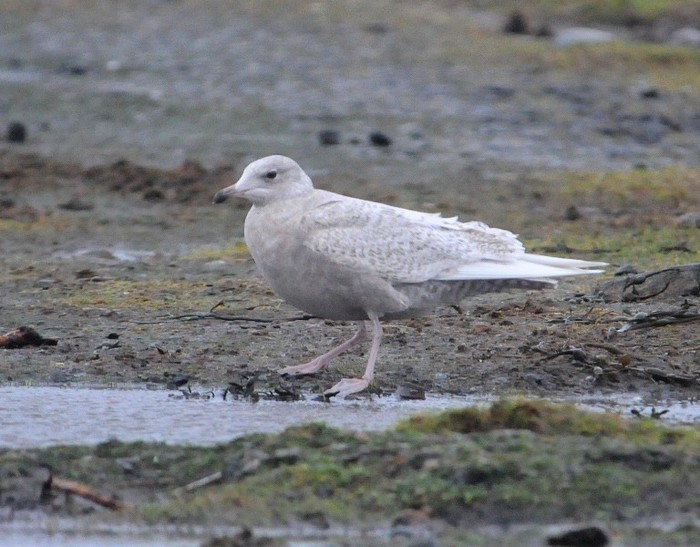 The juvenile from last week remained on Tiree (Argyll & Bute) until 21st, while in Ireland it was down to Co.Kerry to supply the goods: a juvenile on the Cashen Estuary on 22nd and a second-winter at Black Rock Strand on 23rd.
Fittingly staying with Ireland we conclude matter in Co.Galway where an adult Sabine's Gull was noted on 22nd at Ballynahown and the faithful adult Forster's Tern was seen again this week on 25th from Parkmore Quay.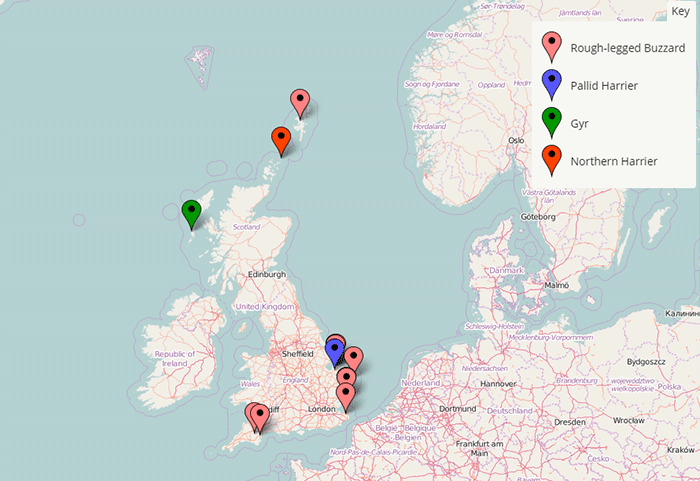 Another really very good week for rare raptors this week when you take a pace backwards and look at the line-up – there was something for everyone (provided everyone was prepared to accept those somethings were mostly on remote Scottish islands)
And thus it was with the white Gyr again seen in the Western Isles on South Uist at Bornish on 24th, and the cracking adult male Northern Harrier popping up once again on North Ronaldsay (Orkney) on 20th-21st. If only the weather could settle down and I had time to spare... I'd love to see the latter bird.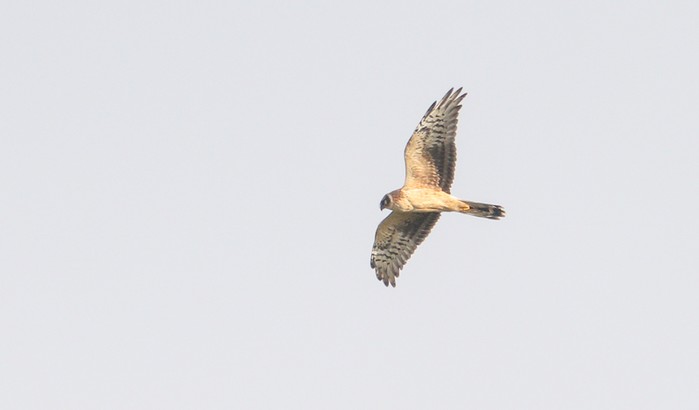 Much more accessible than either of those two northern offerings was the juvenile Pallid Harrier still down in Norfolk at Flitcham until 26th.
Meanwhile Norfolk held the bulk of the week's Rough-legged Buzzards: one or two were still being reported daily at Choseley, with a further sighting on 24th from Haddiscoe Marshes. In Essex the juvenile remained in the vicinity of Holland Haven CP until 24th, while the Shetland bird was again at Sullom on 23rd. Further sightings came from Postbridge (Devon) on 21st and Seaton GPs (Kent) on 24th.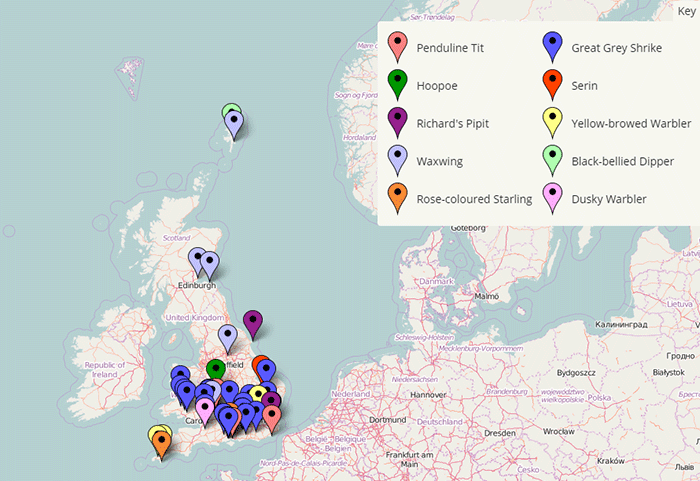 Last, but by no means least, we come to the week's passerines – and after the cold snap came the dearth of warblers. The Somerset Dusky Warbler popped out of the damp recesses of Ham Wall RSPB again on 20th-25th, while the recent Yellow-browed Warbler in Cornwall at Ponsanooth was still present on 20th-24th. Of the remaining double figures we were logging in the dying days of 2015 there was little sign – just the bird again in Hampshire at Eastleigh on 23rd, and a new (and terrific wintering record) individual in London on 25th in a private garden in Gidea Park.
Penduline Tits were a more reliable bet for passerine glamour, and the two males remained faithful to Horsebere Flood Alleviation Pool until 25th. Four birds were again in Hampshire at Titchfield Haven NNR on 20th, with at least two still there on 23rd; while over in Kent at least one bird remained at Dungeness RSPB on 24th.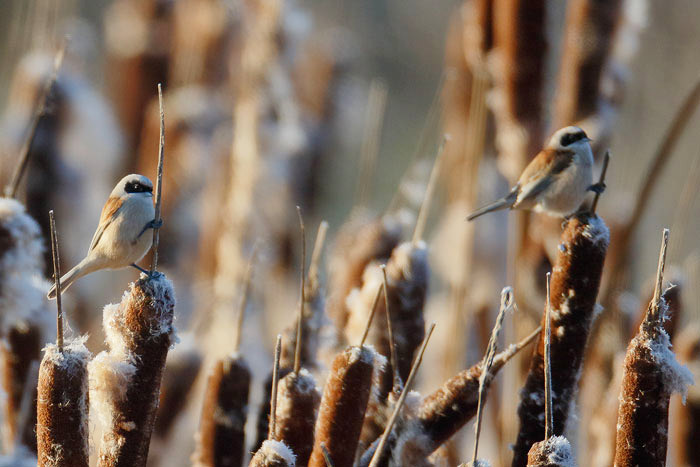 The most unseasonal bird of the lot was grimly determined to see the English winter out in Staffordshire, where the hardy Hoopoe was seen daily at Wall Heath, Hinksford.
Further feebleness from Waxwings who've really never got going this winter: one remained in Lerwick (Shetland) on 20th-21st; one was in Pugneys CP (West Yorkshire) on 20th; one was in Dunbar (Lothian) on 20th-24th; and one was in Kirkcaldy (Fife) on 24th. An unconfirmed report of 18 birds at Splatt Bridge (Gloucestershire) disappointingly came to nothing.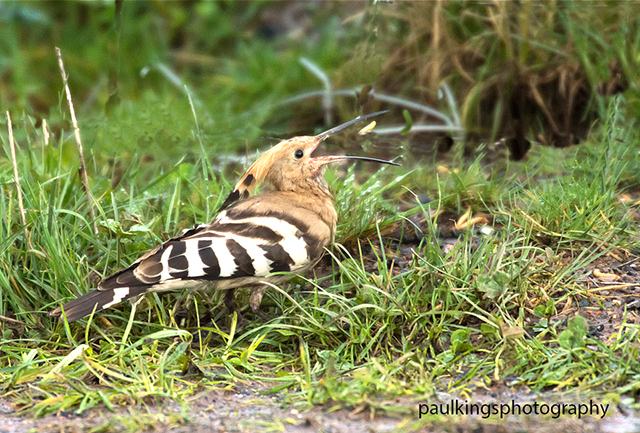 Flamborough remained the place to be (and to see) Richard's Pipits as the three birds from last week remained there until 24th, with the Kentish individual still at Shell Ness until 25th.
One of the two Black-bellied Dippers seen lately at Voe (Shetland) remained there until 25th.
After an abscence in the news of around a fortnight this week delivered not one but two Rose-coloured Starlings - the adult bird was again seen in the Lizard village (Cornwall) on 24th-25th, while a first-winter bird was seen in Eastleigh (Hampshire) on 23rd.
Our numbers of Great Grey Shrikes remained static this week with around 20 individuals reported from 14 counties. Starting in Wales, a stronghold for the species this week, individuals were seen on 20th in Wentwood Forest (Gwent) and Cross Inn Forest (Ceredigion); on 20th-23rd in Afan Forest Park (Glamorgan); in Carmarthen at Brechfa on 23rd and Cynghordy on 24th; and at Mynydd Marchywel (Glamorgan) on 23rd.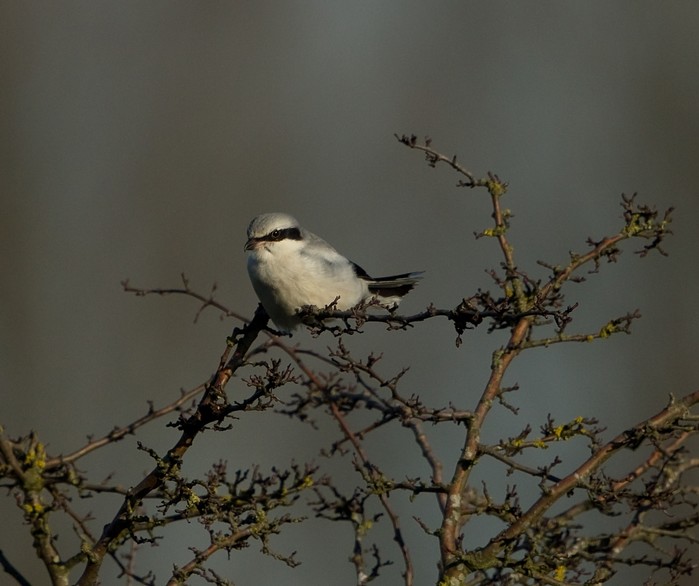 Hampshire records this week came on 20th-24th in the Beaulieu Road Station area and on 23rd from Ringwood. One was in Somerset at Draycott Sleights NR on 20th while the steady bird remained in the Crabtree Hill area of Gloucestershire until 24th at least. West Sussex claimed a bird at Pullborough Brooks RSPB on 25th while one remained in East Sussex in Ashdown Forest on 20th-21st. Surrey records came from Thursley Common on 20th-26th and Chobham Common on 22nd-24th.
The London bird remained at Edgware until 25th, while in Essex one stayed at Heybridge Basin until 25th also. One lingered at the county border at Santon Warren (Norfolk) on 23rd-25th, and one was in Oxfordshire at Stanton Harcourt on 22nd.
Just one Serin brightened late January this week, this being the bird in Norfolk at Downham Market on 20th-23rd.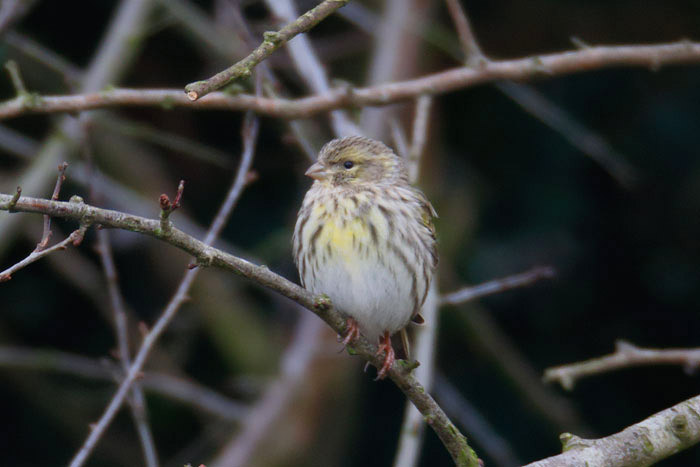 Once more we finish the week in Northumberland where the the Coue's Arctic Redpoll remained at Birling Carrs this week.
The coming week…
With all manner of tantalising and mouth-watering birds 'just' across the water still in Holland this week, it's tempting to cast our eyes at their Pine Bunting, male Siberian Rubythroat and Long-legged Buzzard and think the grass is greener on the other side of the North Sea.
We'd settle for any of those – though I fear it will be an extremely long wait before a Long-legged Buzzard makes it here.
(Imagine it though, somewhere in the Norfolk wilds on a raw February afternoon... Makes me need to have a little sit down, that does).
Nope, I think we need to be a little more realistic in our predictions this week. A quick glance at the annals of past records suggests that, while a new rare gull remains a near certainty, it's a good week to keep your eyes peeled on those reservoirs and coastlines for a good duck.
This week's reported Bufflehead provides ample incentive...
Past records in the coming week of Canvasback at Lade (Kent) in 2000, Black Scoter off Anglesey in 2003 and White-winged Scoter in Co.Kerry at Rossbeigh in 2011 all hint that something really decent in the duck line may be possible.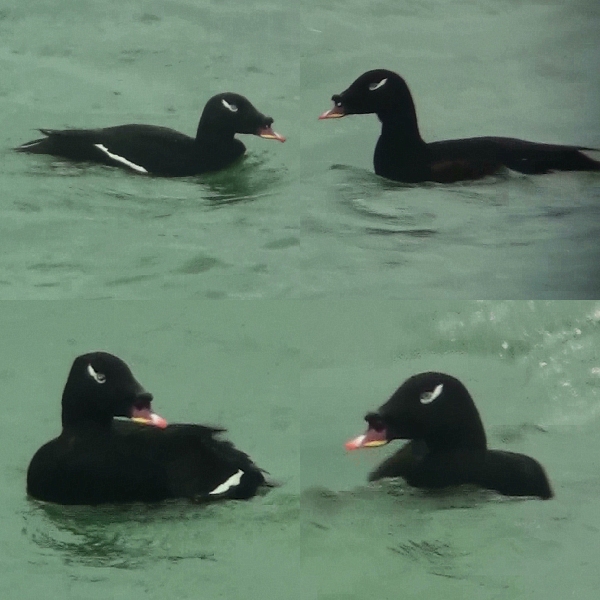 Jon Dunn
27 Jan 2016
Please note: we put a lot of time and effort into sourcing and and producing the images, videos and graphics for each roundup. Some of you (probably Apple users) may notice some photos etc. that appear to have incorrect captions. Please try refreshing the page as they are correcty captioned. If after a refresh they are still showing the incorrect captions then please email us
Thanks to this week's contributors for their photos and videos.
Steve Gantlett - Birding World, Seamus Enright, John Kemp, Brian Anderson, John Pringle, Brian Henderson, Dave Grant, Jonathan Woodcock, A M J Davey, John Nadin, Jonathan Farooqi, Joe Pender, Paul Kelly / Irish Bird Images, Frank Golding, Alex Berryman, Stewart Woolley, Sean Nixon, Martin Casemore, Ashley Fisher, Steven Denny, Oriole Birding, Philip Parsons, Paul King, Nicholas Brown, Shaun Ferguson, Marcus Nash - The Bird ID Company.