Weekly round-up: 11 - 17 Nov 2015
The week at a glance
Derbyshire's Crag Martin plays a bit of hide-and-seek, reappearing (for sure) on Friday the 13th
The second Desert Wheatear for Cumbria makes a Monday landfall in the northwest
A coasting juvenile Pallid Harrier is located in Cleveland ahead of the weekend…
…while a Pallid Harrier finally makes it to Norfolk, with a second found at the end of the week
…and Orkney's male Northern Harrier has a second coming on North Ronaldsay…with an appearance in Highland too.
Thar' she blows!
No, no, no - not some derisory sexist urban slang thing (right on eh kidz? Not…) but a meteorological nod to the first "named storm" we've had thundering in to our shores since the Met Office and their Irish counterparts decided to get all hip and start to follow other weather services around the world, sticking a name on any old squally shower with a puff or two of wind.
Anyways…
Here she was then - Storm Abigail (which does have a certain charm and breezy air about it, more so than what will be on offer when Storm Henry, Imogen or Lawrence come along - no Class War weather here folks, oh no…) - c'mon don't put your trust in freakin' social media votes all the time - and she did a decent job of rattling the windows across much of the country (even the furthest parts of East Anglia saw gusts in excess of 50 mph) with peak speeds of nudging 90 mph in the far north of Scotland (closest to the deepening centre of the low pressure).
Along with the high winds was a lot of precipitation and some of that fell as snow in the Highlands, while power cuts hit some areas of Argyll & Bute, the Hebrides and Shetland. The mild conditions that prevailed before Abigail loomed large (generally temperatures had been in the mid-teens) changed as the weekend swung our way, winds switching to the west, with a cooler feel (only just below double figures, so not that bad really) but only for a short while; a second Atlantic front hitting the west coast, bringing heavy rain and further gusty conditions.
It really wasn't too pleasant.
Admixed, like a blue wash on the artist's palette, were spells of sunshine and clear skies - changeable could be the best way to describe our offerings from the weather gods and goddesses this week. There's not much let up in sight either…
…and, as it turns out, Storm Barney crashed his way as this week's offering was put to bed. Very wet and very windy weather followed. Again.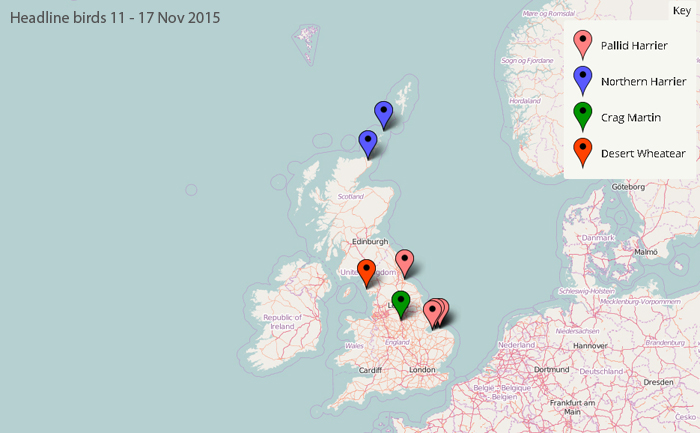 Crag Martin
Having taken all the accolades last week, the Chesterfield Crag Martin (undoubtedly one of the surprise packages of 2015) appeared to have given up the ghost and "done one" as the first day of the new review period drew to a close.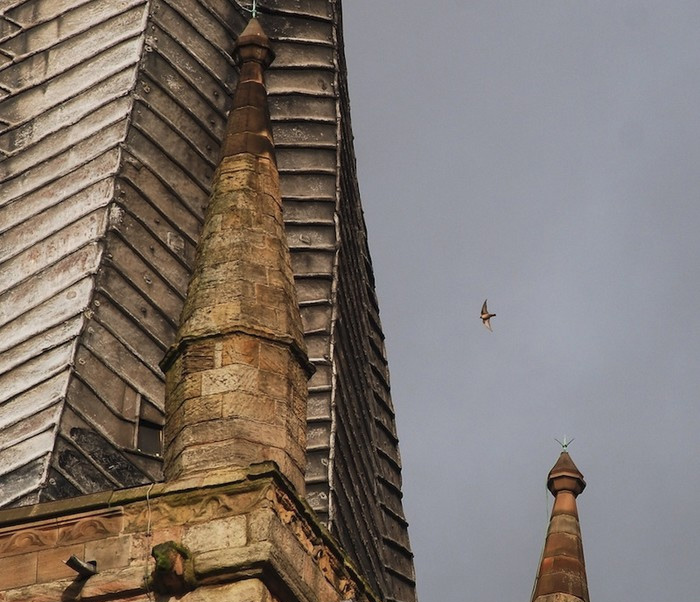 A morning's worth of "no sign" and "still no sign" on 11th seemed to suggest that the bird could have departed to somewhere else in Derbyshire (or even further a field maybe) or it had perhaps finally given up the ghost and pegged it. Either way, there was no positive news from the town on Wednesday and that seemed to be that.
Our plucky hero had other ideas tho' - and after allsorts of confusion here and there (let's not waste time on any of that mullarkey) - lo and behold, there it was again, zapping around the crooked spire at the St. Mary's & All Saints Church during the morning of Friday the 13th - for any Wednesday dippers in the area, this particular date was now anything but unlucky. Not a whiff of Black Friday this time around…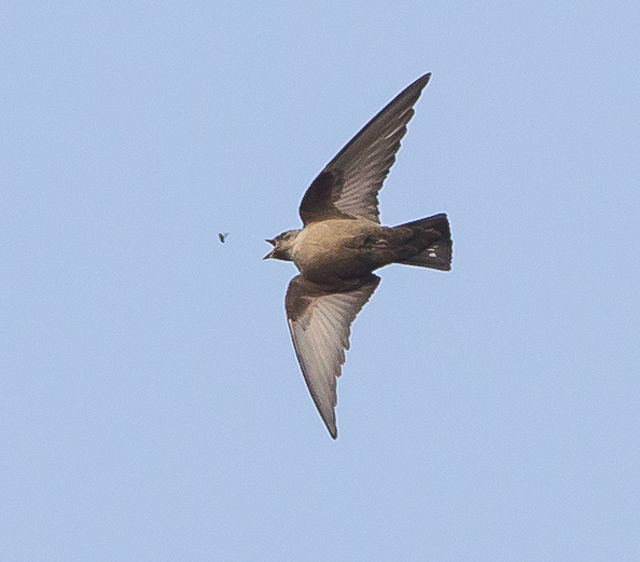 …and with not a hint of any errant slashers nearby and Crystal Lake being merely a place deep within your worst nightmares, the resilient Crag Martin performed off and on through the morning and appeared to be getting back in to a similar pattern of behaviour as it's first three days - performing around the church, disappearing for a while before returning for another command performance.
Where had it been? Presumably not too far at all (there's a big clue coming). But many were delighted that this amazing discovery had resurfaced - the show must go on as they say…
…and so it did, showing again during the middle of the morning on 14th (to an appreciative bunch of weekenders where it performed for an hour and a half or so until lunchtime. Typically, it ventured off again but this time, someone tracked it down - at least one birder amongst the 6, 178 fans heading to the League One fixture at the Proact Stadium (Saltergate was so much nicer in its own lo-fi way) noticing something all the more exciting than the pre-match warm ups happening at the ground.
The Crag Martin remained around the stadium until dusk , seen on beams in the east stand as darkness fell - no surprise that the bird was seen there early the next morning until heading back to the crooked spire before 10am. It flip-flopped between sites for the rest of the day too and was noted again at the Proact Stadium on the morning of 16th before appearing over the church during the afternoon.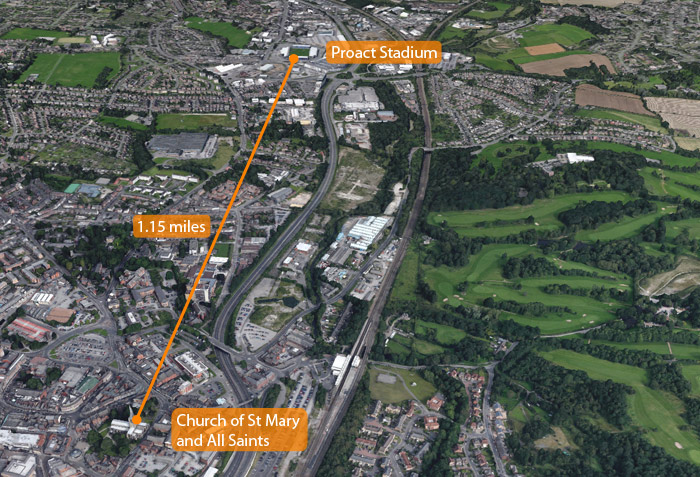 Mystery solved perhaps as to where it has been heading off to for the last week…?
Either way, it's now a record stay for the species here and anyone who required inking in the little empty square on their lists will have filled it by now and the bird mooched back and forth between the church and stadium throughout the rest of the week to 17th.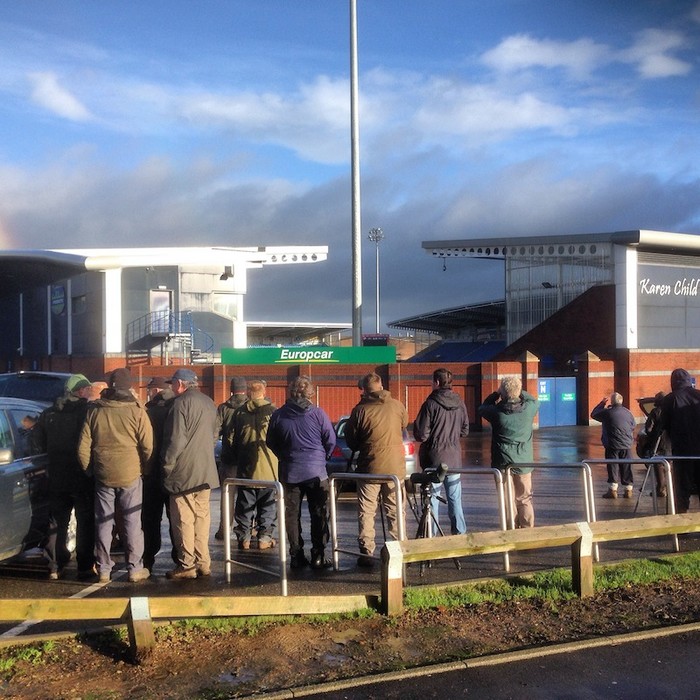 …it also becomes the rarest bird noted at any English (and Scottish) football league ground by some way. There was a Great White Egret near Derby County's Pride Park in July this year, there's been numerous Waxwing flocks adjacent to several stadia over the years (definitely Old Trafford, Hillsborough and the Britannia for starters) while Berkshire's one and only Laughing Gull was noted occasionally at the Madejski Stadium in 2005-'06. I'm sure there may be others…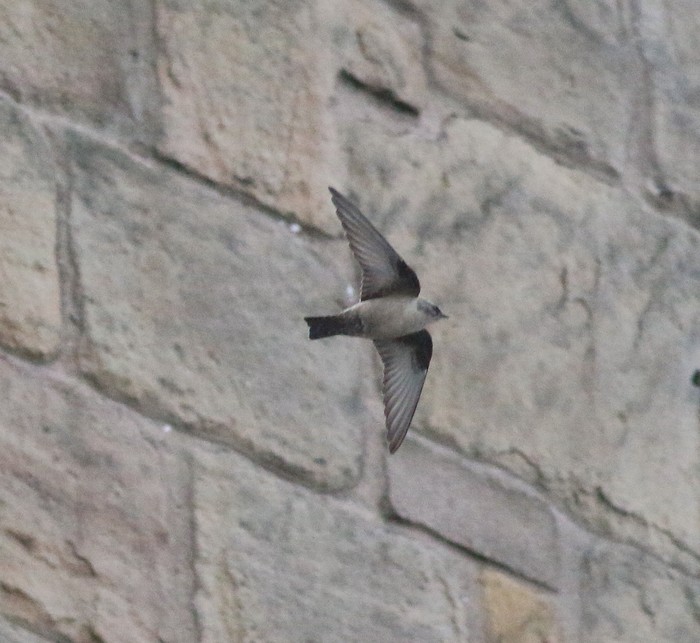 (BTW - Chesterfield lost, 2-1 to an ever-improving Oldham Athletic, three league games unbeaten on the road now; Chaddy the Owl will be a very happy chappy).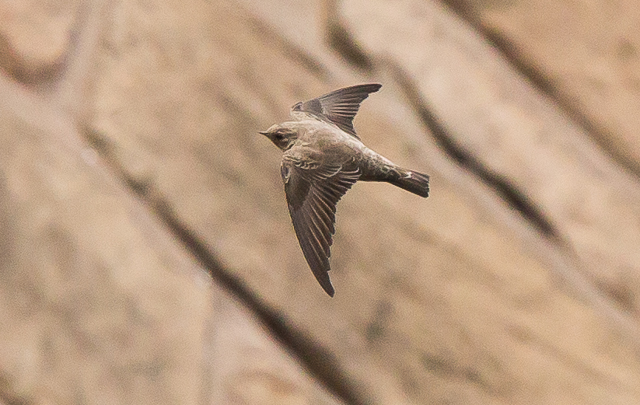 Desert Wheatear
At the end of last week's review, the thought that Desert Wheatear remained the most obvious rarity to come our way this week was flagged up once more - mention being made of the 21 previous examples of this perky annual vagrants appearances here historically across previous November 11th-17th's.
Glory be then for the appearance of a fine male on the beach at Tarn Bay, on the coast of Cumbria, some four miles to the SSW of Ravenglass during the day on 16th - coming exactly a year to the day since the Montrose male mentioned last week.
The first confirmed record of the autumn so far, there's only been one other appearance this year, the fine Scilly male on St. Agnes in March and this week's bird is only the second for the far northwestern county - Cumbria's only other Desert Wheatear was a female that spent a week at South Walney from November 15th-21st 1986 - a 29 year gap is a fair old time to wait for the second bite at the cherry for local listers…
…and those Cumbrian birders would have been happy to see the positive news on the morning of 17th - he was still in situ - job done.
Pallid Harrier
Stop-starting seemed to be bordering on rife ahead of the weekend. Mucho confusion was being had in northeast Derbyshire and, for a short while, there was also a bit of the same going on in north Norfolk on the morning of 12th, where a reported Pallid Harrier morphed back to being a Hen Harrier within space of an hour or so (the R.F.P. scenario in full swing) - more on Norfolk going's on in a mo…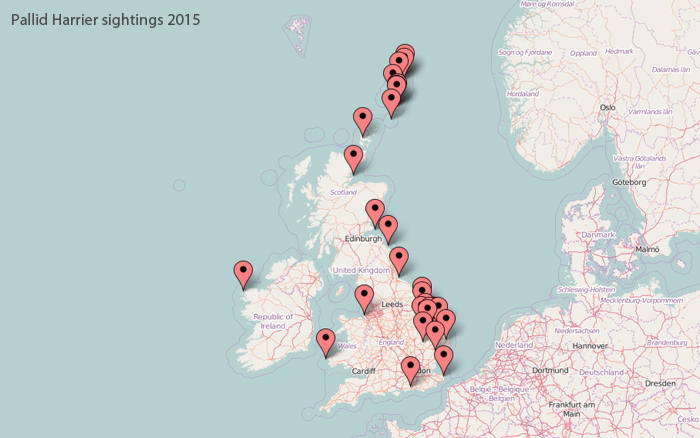 Whilst all that was going on along the East Anglian coast, some 160 miles or so to the north, at Seaton Sands in Cleveland, another potential Pallid Harrier was being reported the same morning - and this one turned out to be the real deal, as some rather striking images soon confirmed.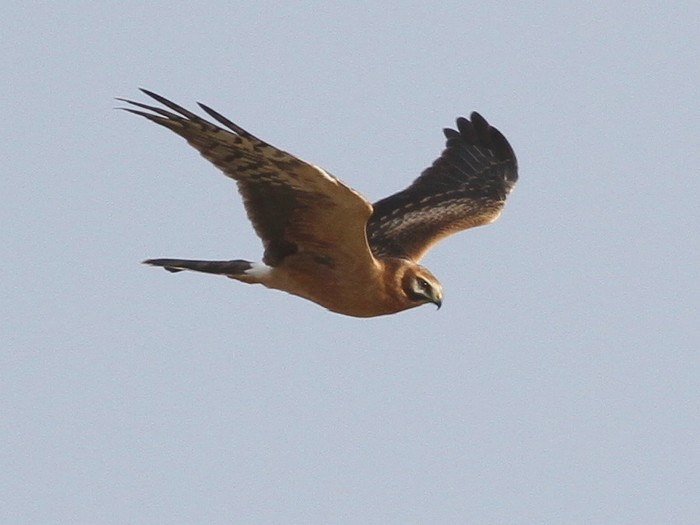 A second for the county, this week's individual follows on from the debutant discovered at Dorman's Pool on October 20th 2011, a bird that spent four days in the area. Whether this is the juvenile that was reported further north, in Northumberland last week is an interesting thought - we know the Spurn bird tracked down to Lincolnshire - and the distance of some 85 miles or so is (of course) comfortably with the grasp of such a bird as a coasting Pallid Harrier.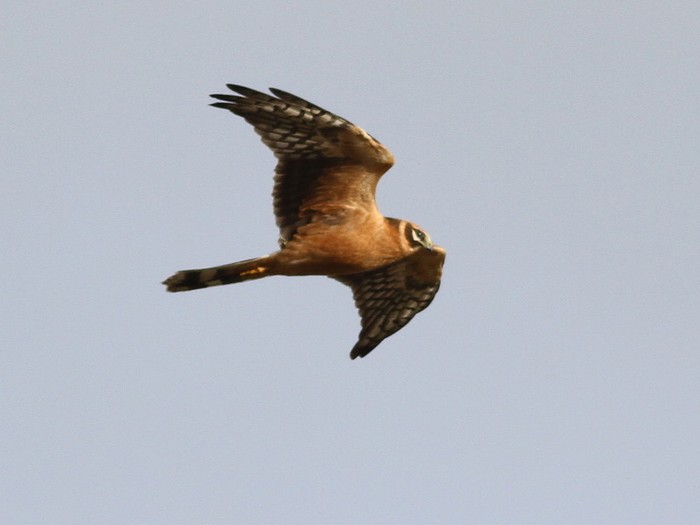 Coasting Pallid Harrier. That's exactly what was being primed behind the keyboard where the Titchwell bird was concerned - surely it would be the Gibraltar Point bird, which had been last noted on the north side of the Wash on 8th. Then it all went to mush where the bird at Titchwell was concerned (where are those photos go by the way - they were of a Hen right?) but there was still an unerring sense that at some point that Lincs., baby would appear in north Norfolk - three options; 1) around the small roost at Titchwell; 2) in the increasingly interesting harrier roost at Cley and Salthouse Marshes and 3) the traditional spot of Warham Greens.
As dusk fell on 15th, we had our answer, the honeypot roost at Warham did the business as a juvenile Pallid Harrier was located amongst a few Hens and it was noted here again during the following two days.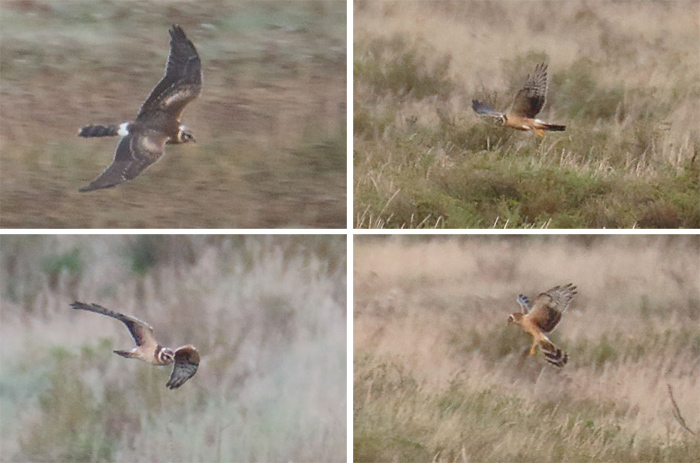 Many dozens of Norfolk birders saw their debut county bird at the same spot in the winter of 2002-'03 (a bird initially found at Stiffkey and that also roamed to Blakeney and Cley in its near-100 day stay) and a further seven have followed ahead of this stooger, including one in September 2014 on Blakeney Point - four years in a row now for Norfolk, most of them recorded along the north and west coasts.
Late, after dark news from the far northwest corner of Norfolk emerged on 17th - another juvenile Pallid Harrier was photographed at Snettisham, heading along the beach and off towards King's Lynn during the middle of the morning - could this actually have been the Lincolnshire bird? Is the Warham bird the Cleveland bird? Or is the Warham bird new? Are they actually both new? And are "they" actually just one in the same? (That last one seems unlikely, but not impossible).
So many questions, but it's the first time (presumably) two have been in the county on the same day - the first mainland county to do so (only Shetland, Orkney and Argyll & Bute have managed more than one on the same day prior to this week).
Northern Harrier
Whilst we've got rare BoPS in mind, let's away to storm-blown Orkney and to North Ronaldsay where the diligent Bird Observatory staff recorded the return of the dashing drake Northern Harrier on 11th.
By the time of his first departure from the island (last noted on November 2nd) he'd chalked up a stay of 39 days. Who knows where he's been in the week-and-a-bit that's followed (the northern and northeastern most tips of Sanday are closest to the bottom end of North Ronaldsay) but it seemed to be a safe-ish bet that he'd not gone too far from Orkney (if the bird had headed due north, the Fair Isle staff would have seen him somewhere).
However…
The late morning of 15th then brought news of a Northern Harrier at Loch Watten (Highland) - old school Caithness - a site that lies to the WNW of Wick and is a mere hop, skip and jump from Orkney for an errant long distance Atlantic vagrant. No mention of anything bar the (sub-) species so far, the details of the age and sex are missing as it stands. But it is tempting to assume it is indeed the Orcadian bird moving south over The Pentland Firth - and if it was him, well, he obviously didn't like mainland Scotland too much as he was back on North Ron on 17th.

What did Abigail bring to the pelagic party?
As the late autumn storm whooshed her way across the ocean, almost like a hurricane, there was a knock on effect amongst a few seabirds after the weather system had headed off to the northeast and conditions settled down enough for any waifs and strays to re-orientate themselves and head back out to where they should be going.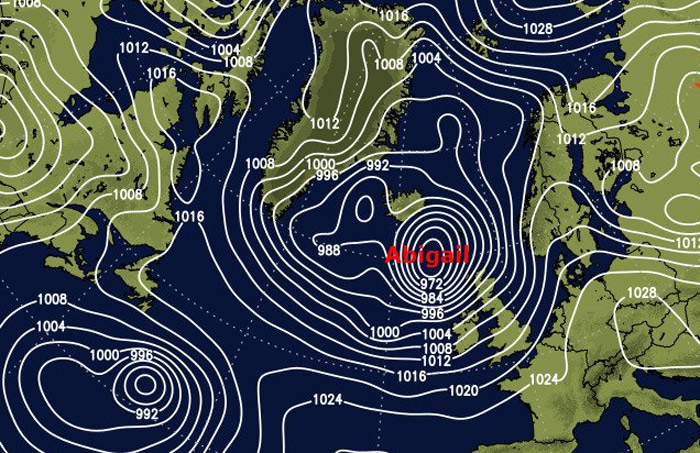 There was no surprise that it was (predominantly) western facing coasts that got a little bit of Abigail Action on 13th - here are the highlights…
In Cornwall, a fruitful few hours of watching off Pendeen Watch produced a Long-tailed Skua, six Grey Phalaropes, at least 15 Pomarine Skuas along with 62 Balearic Shearwaters (and 30+ Sooties and 110+ Bonxies too).
Around the Cornish coast, at Cape Cornwall, a single Grey Phalaropes was noted, along with four Pomarine Skuas and 34 Balearic Shearwaters while off St. Ives Island, 14 Poms, 37 Balearics and nearly 60 Bonxies were logged.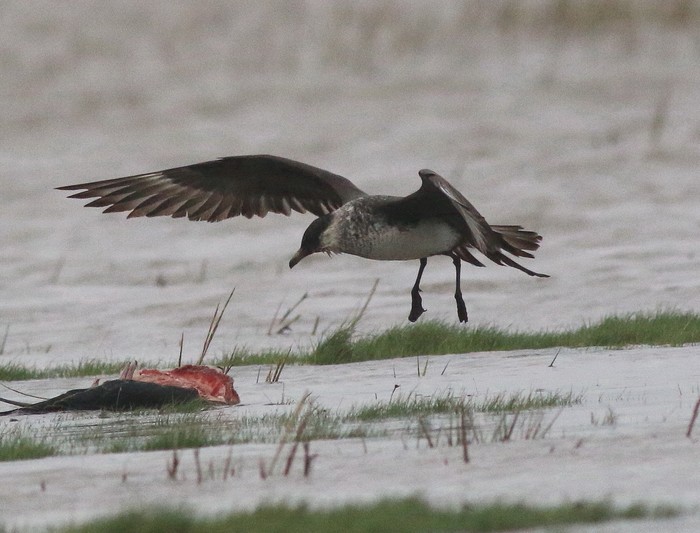 Up in Pembrokeshire, at Strumble Head, shearwater numbers were almost non-existent, but there were two Long-tailed Skuas seen, along with three more Poms.
Off the western side of Ireland, seawatchers at Bridges of Ross, in County Clare recorded eight Grey Phalaropes and 10 Pomarine Skuas while in Mayo, at Kilcummin Head, a single Grey Phalarope and 11 Poms were seen.
Dorset managed a couple of storm-driven Grey Phalaropes on 12th-13th; the first was found on Stanpit Marsh on the former date (getting ahead of the windy weather) while the second appeared in Chesil Cove the following day. Also on 13th, the second Grey Phalarope within just a few days was seen at Shepperdine (Gloucestershire) and two were logged from St. Ives Island (Cornwall). (The sixth of the week was seen on 11th from Ardvule, South Uist).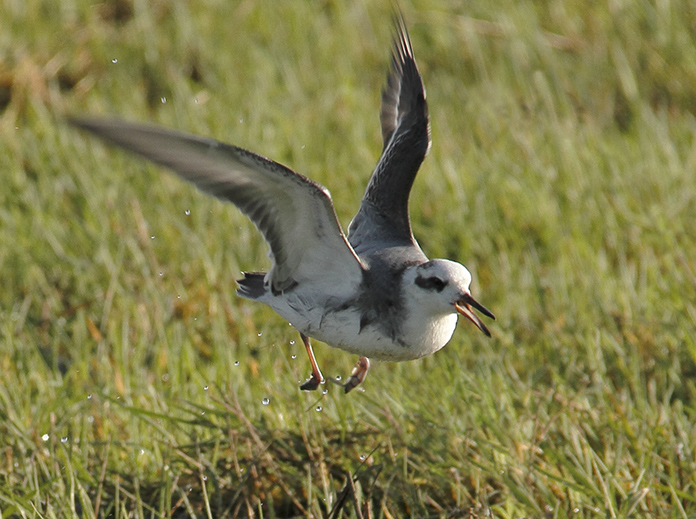 Leach's Storm-petrels over the windy days early in the week included three off the islands of Argyll & Bute - two flew past Hynish, Tiree and another was at Islay's Loch Indaal on 12th - while on 13th, off the coast of the Wirral were driven in to Leasowe (at least six there), Crosby and Hoylake (singles for both) and in Lancashire, singles were seen at Fleetwood, Knott End, Morecambe and, a little further inland at Carnforth. Further to the south, more loners at Towan Head (Cornwall), Wall Common (Somerset) and (invoking memories of that extra special seabird of 25/11/09) also off Severn Beach (Gloucestershire). With the brief lull on 14th, there was no surprise that just two more were noted, seen at Lavernock Point (Glamorgan) and picked up in the car park at St. Ives.
Back to the gusty 13th, three late east coast Long-tailed Skuas were reported from Southwold (Suffolk), with further Pomarine Skuas off Hartland Point (Devon), Severn Beach (a lone pale adult, still sporting some dandy spoons), two flying upriver at Sand Point (Somerset) and one off Lossiemouth (Moray). The previous day saw three single birds logged - off North Ronaldsay, Hynish, Tiree and Bardsey Island.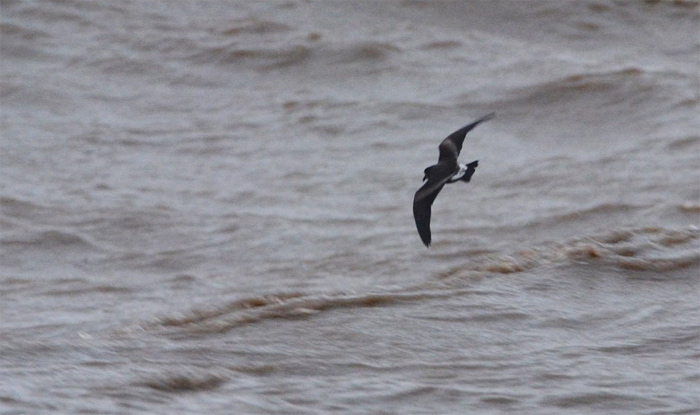 North Ronaldsay also bagged a small double figure count of Little Auks - 11 counted on 12th - with the same date seeing threes a piece for Lossiemouth (Moray) and Boulmer (Northumberland), with the latter county seeing a singleton drift past the Farnes as well. Shetland singles were seen at sea, just west of Walls, on 11th and on Fair Isle on 12th while 13th saw fours fly past both Lossiemouth (Moray) and Marske-by-the-Sea (Cleveland) and three more head south off Whitburn (Co. Durham). Two more Lossiemouth birds were noted on 14th.
Storm System #2
No sooner had Storm Abigail wandered away towards northern climes, along came another hefty deep low that whistled across the face of western coasts and it dragged another 23 Leach's Storm-petrels in to the mix; 10 were seen around the waters of Gloucestershire, three at Severn Beach, three from Sharpness and singles at Lydney, Frampton-on-Severn, Saul Warth, and also Slimbridge WWT. Six lone birds were noted in Wales, seen off Cardiff Bay, Lavernock Point and Porthcawl (Glamorgan), Burry Port and Pwll (Carmarthenshire) with others at Newport Wetlands (Gwent) and Criccieth (Gwynedd).
In northwest England, singles birds were seen from Walney Island, Leasowe, Hoylake and also at Heysham with a couple of final Leach's noted off the southwest; in Somerset, one flew past Clevedon and in Devon, another was seen at Exmouth.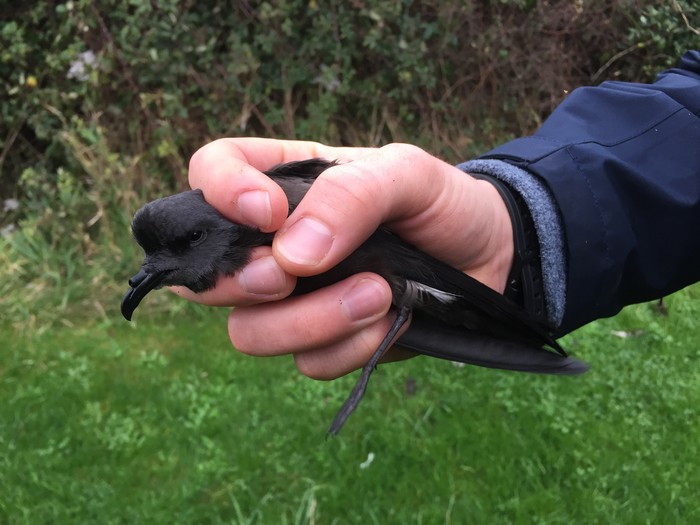 Blown inland to Oxfordshire on 15th was the county's first Sabine's Gull since August 2010, seen on Farmoor Reservoir. Further Grey Phalaropes were offshore from Burnham-on-Sea (Somerset) and Liscannor (Co. Clare) on the same date while seven further lone Pomarine Skuas were noted across 14th-15th, including a lingering pale adult at Pilling (Lancashire) on the latter date, which remained to 16th. Also on 15th, eight Balearic Shearwaters were seen from Pendeen.
Not necessarily connected to the west coast weather were the new Little Auks on 15th; singletons were seen from Papa Westray (Orkney), Ferry Ness (Lothian) and in Dublin, at Killiney and 20 flew past North Ronaldsay.
The Rest of the Seabird Week…
The after effects of the second spell of windy weather left a few stragglers out and about - three Leach's Storm-petrels were seen from Severn Beach and Troon Harbour (Ayrshire) on 16th, with singles at Sand Point (Somerset), on the Wirral at Hilbre Island, Hoylake and Leasowe, Heysham (Lancashire) and Aird, Tiree (Argyll & Bute).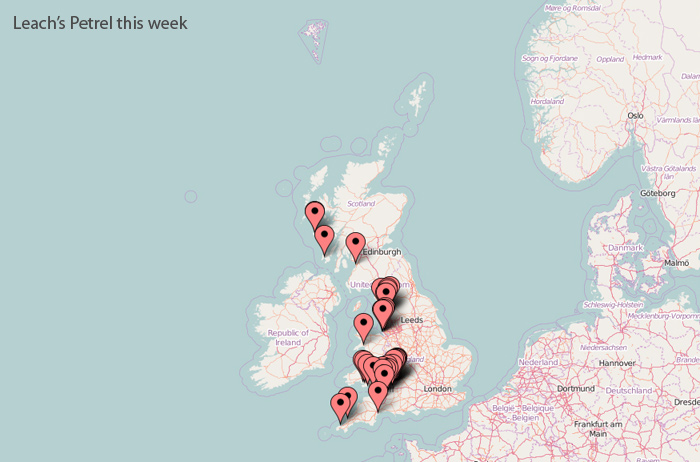 Also on 16th, Grey Phalaropes were seen at Troon, Deerness, Mainland (Orkney) and on Lough Gara (Co. Sligo); nine Little Auks headed past the Farnes (Northumberland) and four were seen from Lossiemouth; five single Pomarine Skuas appeared off Benbecula, Aird, on Tiree, Filey, Dungeness and Pendeen Watch and 10 Balearic Shearwaters were noted from Cape Cornwall.
The final day of the week saw three further Leach's Storm-petrel logged - there's been over 50 in the last seven days - two seen from the Mumbles, Gower (Glamorgan) with another from Somerset's Sand Point. Seawatchers in Devon recorded a juvenile Long-tailed Skua from Berry Head and in neighbouring Dorset a Grey Phalarope appeared off Hengistbury Head with another Irish bird found on the Cashen Estuary (Co. Kerry). In Kent, an adult Pomarine Skua was seen at Swalecliffe and others were seen from Lavernock Point in south Wales and the tip of the Lizard. There were four single Little Auks reported, at Pendeen and on the Lizard (Cornwall), Selsey Bill (West Sussex) and Craster (Northumberland) and another trio were off Lossiemouth. Finally, on the east coast, two Balearic Shearwaters flew past Flambrough Head (East Yorkshire).
A new Norfolk Glossy Ibis was found on the damp meadows of the picturesque Felbrigg Hall on 13th - performing well to all comers over the weekend (being the first in the county since August 2014), remaining to 17th. There weren't too many more to report this week; lingering singles remained at Seaton (Devon) to 14th and also Northwick Warth, Pilning (Gloucestershire) through to 17th.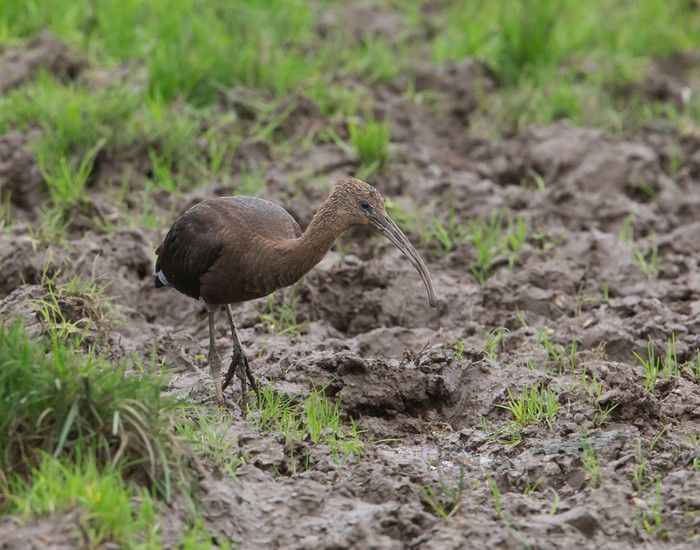 Down in south Devon, three Cattle Egrets were at Aveton Gifford through to 12th with presumably the same trio back at Teigngrace the following day (at least one remained to the end of the week). Just two more were noted, at Shapwick Heath NNR (Somerset) on 14th and, once again, along the Camel Estuary (Cornwall) on 16th.
Lean times this week for Spoonbills; up until 15th there'd been no news from Poole Harbour so the maximum until then was the Dungarvan 4, still in Waterford on 11th. Also in Ireland, singles were still at Roscarberry (Co. Cork) to 12th and Tacumshin (Co. Wexford) on 15th. Other records were few and far between, one was at Farlington (Hampshire) on 12th, two remained on the Hayle Estuary (Cornwall) on 14th-16th and further duos were at Hollesley Marshes RSPB (Suffolk) on 15th and Fremington (Devon) on 16th. Loners in Norfolk were at Snettisham RSPB on 15th and over the Warham raptor roost on 16th.
After a quiet week last week, reports of Common Cranes were back to somewhere adjacent to where they ought to be come late autumn, reported from several familiar sites. At least 11 were on the Ouse Washes RSPB (Cambridgeshire) on 11th with 21 there on 15th, with further Fenland county reports coming from Guyhirn and Eldernell on 12th (a two and a four respectively). Two birds were at Lakenheath RSPB (Suffolk) on 12th and the same day saw two reported over King's Lynn pre-8am. A productive Grus grus day, the 12th also saw a dozen noted at West Somerton (Norfolk) while a lone bird made it to Highland, seen at Reiss on 14th while two more Norfolk birds were near Acle on 16th.

After a blank seven days, one of Islay's wintering Richardson's Cackling Goose was logged on 15th, seen in fields near Port Ellen, while in the goose fields of Sligo, a Todd's Canada Goose was at the Ballygilgan NR (not far from Lissadell) on 12th and 16th - the latter date being its 13th on site.
Other Brantas of note this week were the Black Brants that remained around Cley NWT (Norfolk) throughout the week, along the Fleet (Dorset) (perhaps two birds in the expansive area on 15th), in Essex, still at West Mersea on 12th and on Dengie Marsh on 13th and, rounding things off, new at Spurn (East Yorkshire) on 17th.
Highland birders recorded a Snow Goose with the wild Greylags at Loch Eye on 11th with the same bird appearing at nearby Ankerville Corner, Nigg Bay on 16th (having joined up with some Greenland Whitefronts now) and another was reported from the North Slob (Co. Wexford) on 12th.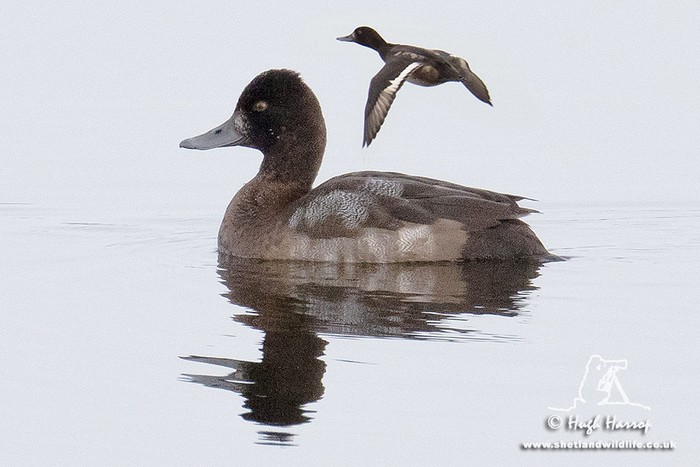 Two further Scottish Snows, one blue, one white, were seen on 14th -the blue bird was at Loch of Strathbeg RSPB (Aberdeenshire) and the white bird was at Skinflats Lagoons RSPB (Forth) while on the Solway, the white Snow Goose was again on the Cumbrian side of the estuary, seen on 16th at Skinburness.
Three new Lesser Scaups were found at assorted outposts of the country this week (Storm Abigail helping several ducks our way); the first, a young drake was found at Loch of Houlland, South Nesting, Mainland (Shetland) on 12th, re-appearing at Loch of Benston on 15th; the second was on the Lower Moors pool, St. Mary's (Scilly) on 13th (another first-winter drake, it was identified the following day and was still there to 16th) and a new female was found on Loch a'Phuill, Tiree (Argyll & Bute) on 16th.
Shetland has had just five previous records of this ex-BBRC species to date - the first was found on Loch of Spiggie in May 1993 and a flock of three followed along, in the very same spot for a month from the start of November 1998. What was assumed to be the same female spent almost a year around the islands from November 2007 (seen on Fetlar, Yell and Unst) and in May 2009, a male was a spring arrival, again at Loch of Benston, on Mainland. Shetland's most recent record until this week was an adult female on Buness, Fair Isle for three days in October 2011.
Lesser Scaup on Scilly is rarer still - there's been just one record until this week, a 17-day drake spending time on Tresco from late October in to November in 1999, while Argyll & Bute has five previous records of this annual visitor, two of them on the same loch as this week's bird (the most recent being just last autumn).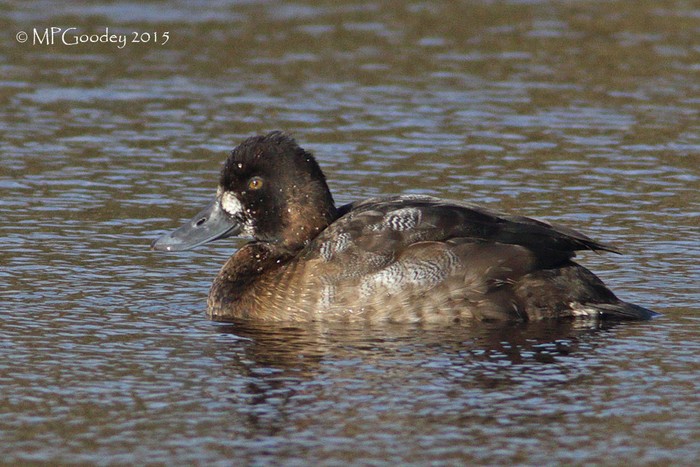 The fourth Lesser Scaup of the week, an adult drake, was back again on Somerset's Chew Valley Lake on 12th (presumably this same bird was present off and on through September), appearing for a second time on 16th.
Coming in with one record fewer than its far rarer relative was Ring-necked Duck - the three birds this week were all remnants from previous weeks; drakes remained at Pitlochry (Perth & Kinross) to 16th and Kinnegar Pools (Co. Down) to 17th while the female was still on the North Slob WWR (Co. Wexford) to 15th. In the northeast of England, the tame fairly approachable drake Ferruginous Duck remained amongst its definitely captive brothers and sisters at Washington WWT (Co. Durham) until 14th at least.
The week's only three American Wigeons included two in Argyll - the still-present drake was at Loch a'Phuill, Tiree to 16th and a new arrival was seen on floods at Campbeltown on 17th with the day's second new arrival found at Loch Portain, North Uist (Outer Hebrides). The only drake Green-winged Teals remained on Folly Pond, Caerlaverock WWT (Dumfries & Galloway) throughout, with new arrivals appearing on North Ronaldsay on 15th-17th and Loch of Lintrathen (Angus) on 17th.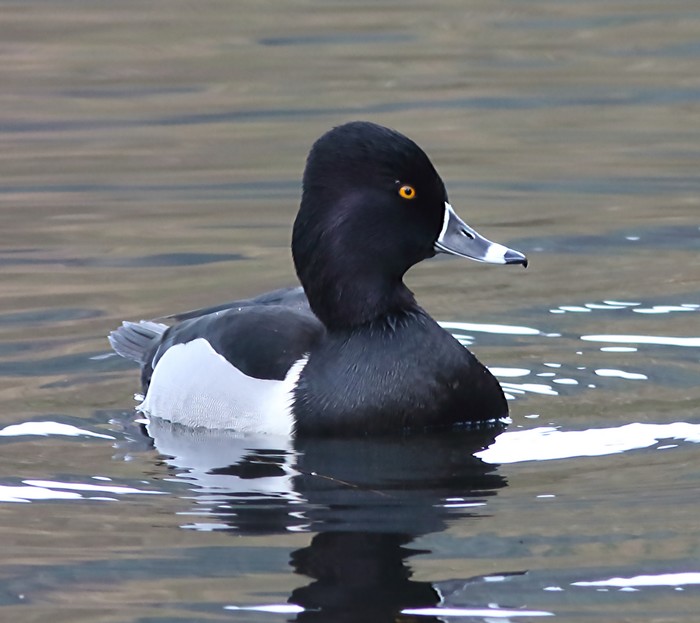 A new juvenile Surf Scoter was found at Cleat, Barra (Outer Hebrides) on 13th while the east coast drake remained off assorted sites in Lothian to 17th. Best of the three noted though was the juvenile photographed in Somerset, off Blue Anchor, near Carhampton on 15th - RFP'ed, it becomes a cracking county first and, happily, it was still in place over the following two days to 17th.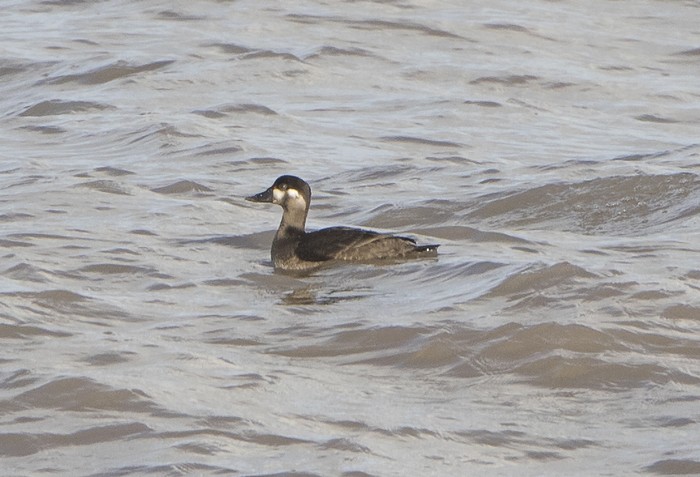 There's been a neat little run of new Long-billed Dowitchers of late; after the Hampshire juvenile of October, two newbies made an appearance a week ago, in Dublin and Northumberland - the latter of which remained in and around the Cresswell Pond area all week while the fourth new bird within a month or so was found just north of Killorglin (Co. Kerry) on 11th.
There have been nine accepted Long-billed Dowitcher records in the county until this week's individual, the most recent of which was seen around Fahamore, Castlegregory from November 2011 to January 2012.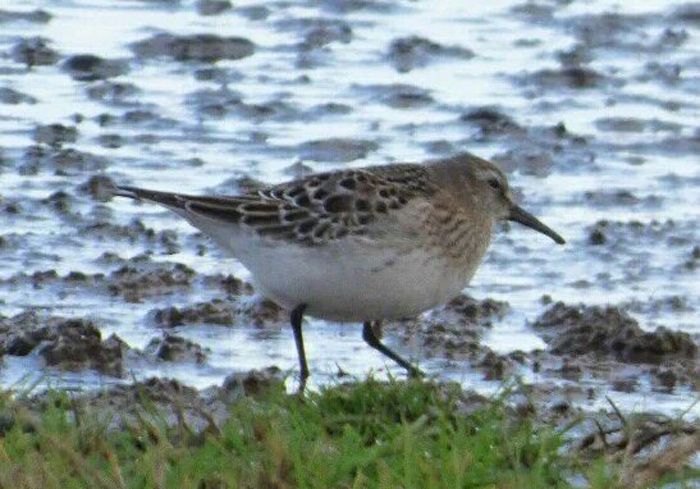 Also new was the juvenile White-rumped Sandpiper on the lagoons at Musselburgh (Lothian) from 12th-14th, the first in the county for over three years (since an adult was at Tyninghame Bay in August 2012). Another new Nearctic arrival was the juvenile American Golden Plover (found by Hudwiteer Dermot Breen) on Slyne Head (Co. Galway) on 13th.
Both of last week's Red-necked Phalarope started the new period of in some sort of decent shape, sadly for the first-winter at Upton Warren in Worcestershire, a local Sparrowhawk decided it was a tasty morning morsel on 11th, so that was the end of that. Faring a little better was the bird at Hollesley (Suffolk), still going strong until 12th.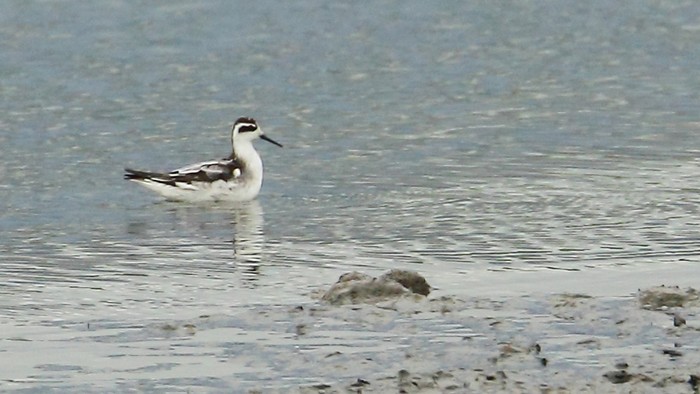 It looks as though the Kerry Gull-billed Tern has departed, no sign since the end of the last review (on 10th) but Irish watchers could at least take a peep at the Forster's Tern that was tucked away in the botom corner of Galway Bay, at Kinvarra, on 15th.
Far rarer for Galway birders was the adult winter Bonaparte's Gull in Rusheen Bay on 13th - just the 4th county record, the 1st in over 12 years, the 1st outside of spring and the 1st away from Nimmo's Pier (singles seen there in April 1990, March to May 1999 and April 2003).
Popping up again for the only time in the last ten days or so was the south Devon adult Bony's - noted at Dawlish briefly on 14th.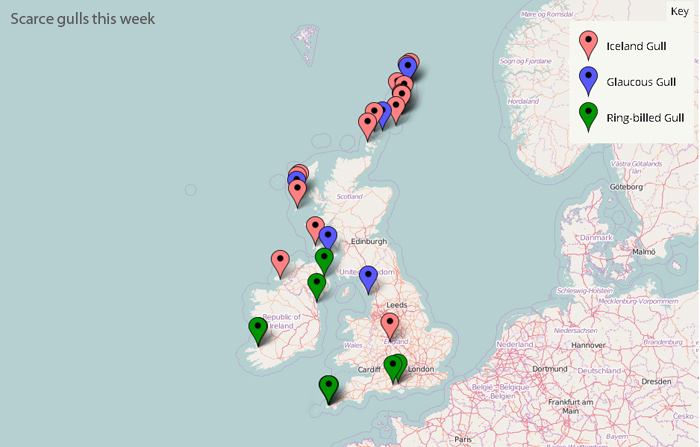 Blennerville may have lost their rare tern but there was still a 2w Ring-billed Gull in the area on 13th (and an Iceland Gull too) while an adult roosted again at the Blashford Lakes HWT reserve (Hampshire) on 14th-17th (presumably the same bird seen there from time to time at the start of the year). Also in Ireland were single adults at Carrickfergus (Co. Antrim) on 15th and Cruisetown (Co. Louth) on 16th. Definietly new was the first-winter Ring-billed Gull found at Sancreed (Cornwall) on 15th which then appeared at Wherry Town, Penzance the next day.
Seven Glaucous Gulls were noted this week; on North Ronaldsay (Orkney) on 11th and 17th, again at Campbeltown (Argyll & Bute) on 12th, on Walney Island (Cumbria) on 14th, Unst (Shetland) and Islay on 15th with one more off South Uist on 17th. Further Iceland Gulls included at least half a dozen or more around Shetland including two at sea, just west of Walls on 12th with singles at Quendale on 11th, Fair Isle on 12th, Sumburgh and Lerwick on 14th and on Unst on 15th.
Three lone Orkney Icelands were on North Ronaldsay on 13th, Mainland on 14th and Papa Westray on 15th while the Hebrides saw singles for South Uist, Benbecula and Barra between 11th-16th. Another singleton was at Loch Indaal, Islay (Argyll & Bute) on 13th while what was probably the Blennerville bird appeared at Tralee later in the week. Three more new juvenile Iceland Gulls were found on 16th - at Bartley Reservoir (West Midlands), on Fair Isle (Shetland) and Killybegs (Co. Donegal).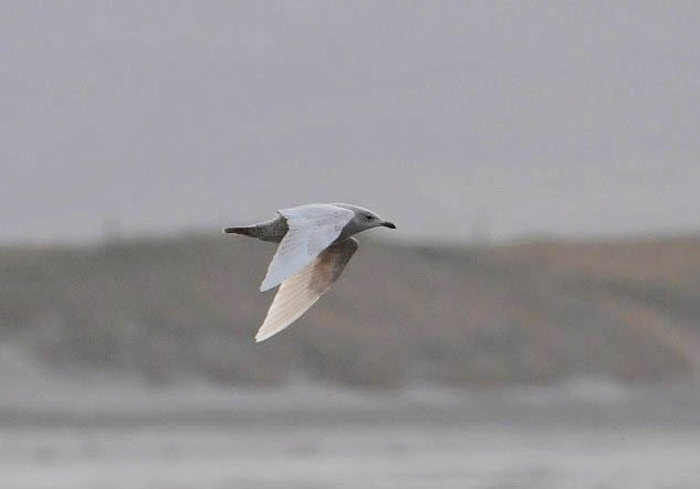 A single south Shetland Mainland Kumlien's Gull was reported from Sumburgh Airport on 13th, perhaps the same 2w that was a litle further north last week?
Finally, in Cornwall, the often not present third-winter American Herring Gull made a one-off appearance (again) at Jericho Farm, St. Just on 16th.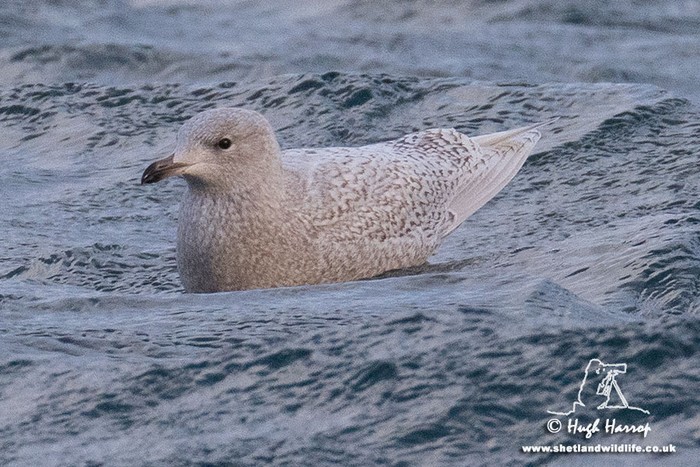 It was "as you were" for the Rough-legged Buzzards at Titchwell RSPB and Holland Haven, present to 13th and 17th respectively.
New birds were reported from Lochindorb (Highland) on 12th, 15th and 17th, Wrabness (Essex) on 12th, Frakkafield, Mainland (Shetland) on 14th, at both Elmley RSPB (Kent) and Morston (Norfolk) on 15th with perhaps this latter individual reported over East Hills, near Wells on 16th.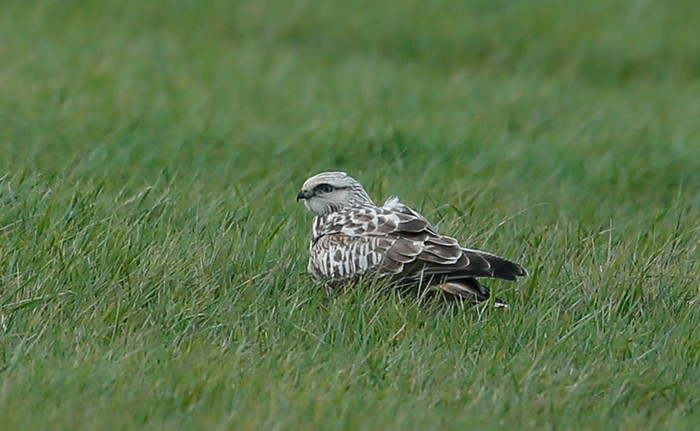 Pipits first …
A south coast Olive-backed Pipit is always of interest but this week's offering was a one-day only visitor to the awkward-to-access Sandy Point NR, tucked away in the southeast corner of Hampshire's Hayling Island, on 12th.
This remains a big rare in the county - only the 5th in all - and is the first in Hants., since one was at the same site in October 2009, also another one-day bird. Indeed there's been just one Olive-backed Pipit in Hampshire that hasn't been a 1-Day-Wonder - the county's first, at Sway in November 1987 spent six days in the area (others were at Warsash on November 7th 1994 and Fareham on October 27th 1999).
With all the Chesterfield Crag Martin carry-on, another startling Derbyshire record slipped past this week with barely a comment - the county's second Red-throated Pipit of the year was reported calling over Carsington Water on 13th; the first RTP in Derbyshire in 2015 was the super "sum-plum" singing male on Ludworth Moor for two days in early May. That was the 3rd ever record, the others appearing in May 1985 and April 1996.
Just one Richard's Pipit to mention before moving on, seen around Sumburgh Airport, Mainland (Shetland) on 15th.
Warblers second …
Dungeness scored the second Dusky Warbler of November on 16th-17th, courtesy of a bird in the brambles close to Hooker's Pit - an elusive bird departed the NNR overnight on 1st after a seven day stay.
The last of the autumn's Pallas's Warblers stayed over until 11th at St. Levan (Cornwall) while five of the week's nine late-lingering Yellow-browed Warblers were at two spots on St. Mary's (Scilly) on 13th - two at Lower Moors, three at Porth Hellick - with Cornish birds at Helston on 12th and Trevilley, near Sennen on 16th.
In Hampshire, a Yellow-browed Warbler was at New Alresford, also on 12th while a decent find inland was one that appeared in the Black Country, at Dudley on 15th-17th. Best of the bunch, County Wicklow's first for exactly four years, found at Greystones on 11th and still there on 13th; the most recent record for the east coast county was one at Bray Head on 13/11/11.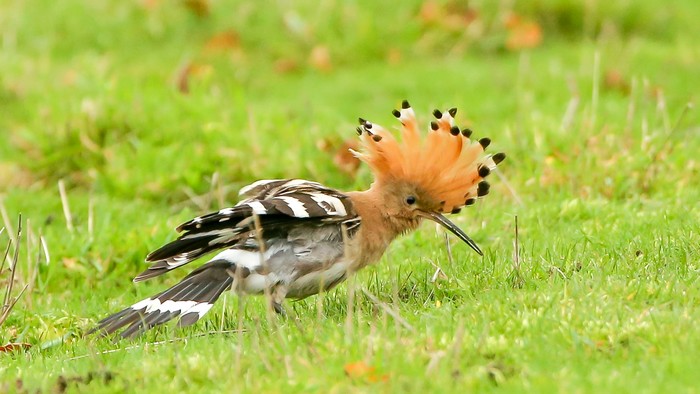 Randoms third …
Down the Irish coast and in to County Waterford now where the 1w Red-breasted Flycatcher was in no hurry to leave Brownstown Head just yet, still present on 15th (clocking up over two weeks on site in the process).
Proving to be one of the more popular East Anglia birds this week was the first twitchable Norfolk Hoopoe of 2015 that was enjoyed by many at Crostwick, near Spixworth from 13th-17th (having first been noted by locals on 10th).
On the outskirts of London, at Croydon's Beddington SF, a Serin was noted in a permit-only area on 15th, perhaps the first in the London recording area since 2010 while in Ireland, a first-winter Rose-coloured Starling was reported from Howth (Co. Dublin) on 17th.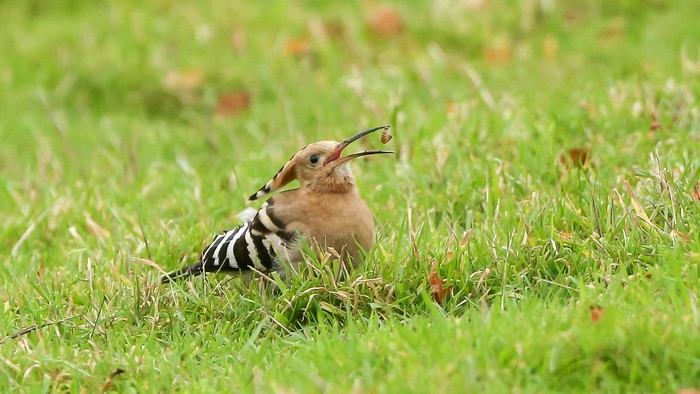 Winter wanderers
By the end of the weekend, 15 different Great Grey Shrikes had been reported across the country. The first day of the new review period began with singles at Cannock Chase (Staffordshire), Brimpton GPs (Berkshire), Thursley Common (Surrey) Heybridge (Essex) and in Wales, at Afan Forest Park (Glamorgan).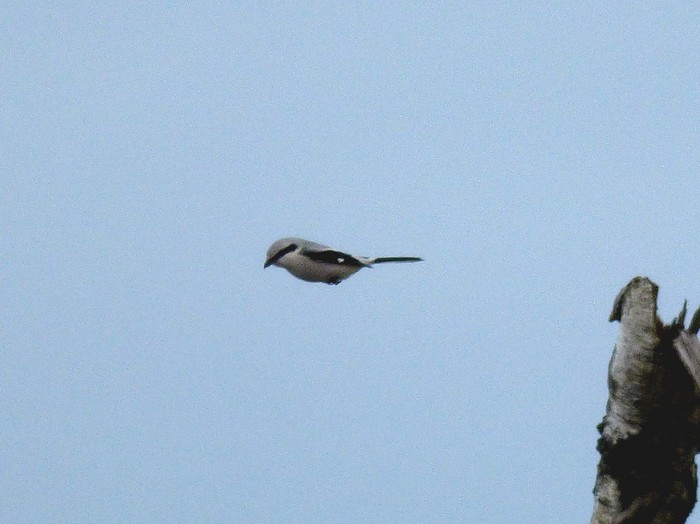 The 12th saw loners again at Barton in Fabis (Nottinghamshire), Santon Warren (Norfolk) and Frensham Common (Surrey) while the 13th saw Norfolk's second of the week appear at Breydon Water, with others noted again at Iping (West Sussex) and Linwood (Hampshire).
A second Great Grey Shrike appeared on Thursley on 14th and the 15th saw another New Forest bird appear at the Milham Inclosure with the first Scottish bird of the week noted at Loch of Lintrathen (Angus). New for 16th was a nice find in Warwickshire, where a Great Grey Shrike was discovered at Middleton Lakes RSPB with the day's second newbie appearing at Grove Airfield (Oxfordshire). The third report for the day came from West Sussex, at Pulborough Brooks RSPB and a fourth followed at Llyn Du (Gwynedd). In the New Forest, one of their roaming birds was again at Broomy Plain, also on 16th.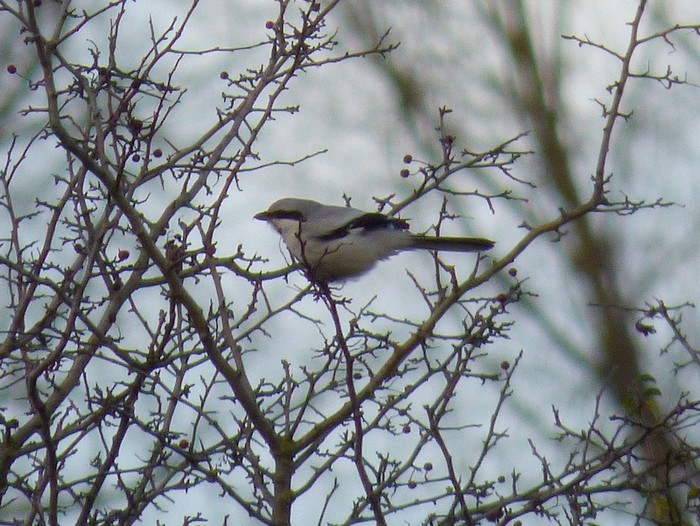 In a slower week, there weren't that many Waxwings to report and those that there were, well, they were spread far and wide. Two were seen in roadside hedges at Carrickfergus (Co. Antrim) on 11th with one reported (as a heard-only) in Norwich (Norfolk) on 12th (apparently present the previous day too). The only others mentioned were two near Bowmore, Islay (Argyll & Bute) on 13th.
The week ahead…
Mild, wet and windy with winds still largely from the west - that seems to be where we're going for the first few days of the week.
…and as we head further and further towards the back end of November, the hopes of that one final star turn diminish with every tick of the clock and each and every sunrise and sunset.
That's not to say that the bins, 'scopes and long lenses should be packed away and dusted down in mid-April. There's been plenty of fine birds located over the passage of time through third week of the 11th month. Indeed, there's been a hatful of fine rarities discovered on the first date of the new weeks ahead…
November 18th has some decent pedigree - our most recent Asian Desert Warbler was a huge surprise at Samphire Hoe in Kent in 2012 (no twitch, just gripping photos of the 1st for 12 years - remember there were new arrivals in both Norway and the Netherlands just a few days ago…) and there've been single records of Lesser Grey, Steppe Grey and Brown Shrike on the same date too.
Given the weather, the mind has to head to the west and what treats could still be at large from the Americas…November 18th has thrown up oddments, Ireland's one-and-only Double-crested Cormorant was discovered off Nimmo's Pier on this date in 1995 (20 years and its one species that barely of the new big-listers seldom mention, it'll soon be 27 since Billingham!) while the bonkers-crazy Durlston Head Brown Thrasher was discovered 49 years ago to the day…
(Which is a more likely ship-assisted vagrant - Brown Thrasher or House Finch? If you can't have the latter, there's no way the former should be given space on the list surely? Depends who has the rulebook at the time, clearly).
After the 18th though, Nearctic passerines fade away - a Blackpoll Warbler in Kent (at Tunbridge Wells on 19/11/11) and an Irish American Buff-bellied Pipit in Waterford (at Clonea on 22/11/11) are all that's on offer.
The Kenfig ring-read American Royal Tern (originating from the Eastern Seaboard, somewhere between Virginia and North Carolina) remains the big show-stopper from the Americas through the rest of the week - wouldn't it be nice to have another of those bad boys…
Other highlights? There's the Dorset Wallcreeper of November 19th 1969, another Asian Desert Warbler (at Frinton on November 20th 1975) as well as Ireland's first Brown Shrike at Ballyferriter in County Kerry, on November 22nd 1999. (Either of the first two of that trio would go down a storm).
It is also, historically, a good week (a very good week actually) for Little Bustard - a dozen found across the historical days ahead, including four on 19th and three on 20th.
There's nothing to suggest anything like that happening in the seven days that lie ahead so, it has to be something from the west, it just has to be…
It would seem more likely to have a Killdeer or one of those American Buff-bellied Pipits that actually makes landfall here. Both Franklin's or Laughing Gull wouldn't come as much of a surprise either, the weather looks bob-on for them or a smithsonianus…
…and, well, blow me down, two days after scribbling the above, this popped up on the ABA Blog.
Innarestin'. Rare North American larids before Saturday I'll wager, given the rippling weather that lies across the Atlantic. Or maybe there'll be another monstrously rare heron or egret caught up in it too…Green, Great Blue, Little Blue, Snowy…lots of choice.
Lots and lots…tho' it seems easier to predict a weekend of beefy juvenile Poms and cute tiny whirring Little Auks scudding down North Sea coasts if the forecast is anything to go by - remember tho', the "10 Rare Men" expressly forbid you having a flyby Brünnich's, so don't even think about it…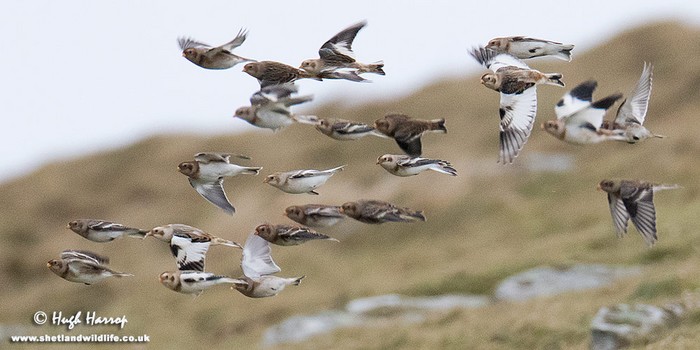 Mark Golley
18 Nov 2015
Please note: we put a lot of time and effort into sourcing and and producing the images, videos and graphics for each roundup. Some of you (probably Apple users) may notice some photos etc. that appear to have incorrect captions. Please try refreshing the page as they are correcty captioned. If after a refresh they are still showing the incorrect captions then please email us

Special thanks this week to Mike Pilsworth for his Blyth's Pipit shots and also to Garry Taylor and Spurn Bird Observatory. Many thanks as well go to John Miller for his ever-so-gripping Varied Thrush shot and Hugh Harrop for supplying his super Waxwing. Thanks also to all of this week's contributors for their photos and videos.
Neil Duggan, Peter Garrity, Peter Stansfield, Ian Forrest, Steve Gantlett, Marcus Nash, Lorne Bissell, Brian Thompson, Matt Collis, Graham Clarke, Gary White, Hugh Harrop / Shetland Wildlife, Martin Goodey, John McInnes, Brian Gibbs, Nigel Stewart, Peter Hackett, John Kemp, Sean Nixon, Jonathan Winnan, Gaz Robinson,