Weekly round-up: 14 - 20 Oct 2015
The week at a glance
The male Wilson's Warbler remains, albeit elusive, on the Outer Hebrides
It had to happen - a female Siberian Rubythroat alights on Fair Isle as the week draws to a close
Cornwall lands a the first Brown Shrike of 2015
Brand, spanking new juvenile Hudsonian Whimbrel drops on to Tresco…
…while the St. Mary's Blyth's Pipit hangs on for a few more days…
…and another Blyth's Pipit gets reported from the tip of Mainland Shetland
Second Short-toed Treecreeper of the autumn lands at Dungeness
Shetland specials drop in as the review period draws to a close… White's Thrush lurks on Unst…
….and a Pallas's Grasshopper Warbler on Fair Isle was equally as expected…
Triple bill of Isabelline Shrikes starts the week off - one for Devon and two for Norfolk - and then came the fourth…
Shetland sees the first Pied Wheatear there for in three years appear on Unst
…and news of Cornwall's 2nd-ever Pied Wheatear emerges four days late…
Ireland's first Two-barred Crossbill for 88 years alights on the Mullet
Norfolk lands two Hume's Yellow-browed Warblers on a busy and wet Thursday, another follows in Kent
Rare and really rare Harriers remain on the Northern Isles - a Pallid on Shetland and the male Northern on Orkney…
…and then Ireland's 6th Pallid Harrier appears in Mayo
The northeast wind blew. And blew and blew. It wobbled a bit to the east, and to the north, but largely held station.
…and even when it stopped the birds kept on coming.
A classic autumn week, birds strewn across every single point of the collective lands within our boundaries but until the final day of the review week, the eastern "mega" was still missing. Three came along at once, but none could quite topple the start turned which remained from last week…a luminous warbler edging out a dowdy chat for the top spot.
But only just.
Wilson's Warbler
They came, they saw, they conquered…
…it's away to the beautiful rugged and glorious Outer Hebridean island of Lewis (part of the largest island within the archipelago) and, let's make it clear, we're not talking about the invading travellers in Viking form (they made themselves at home sometime in the 9th Century A.D) - no it's the modern-day birdwatching form "the twitcher"; a bunch of whom splashed the cash (somewhere in the £400 minimum mark) to fly from assorted points of the country and head to Port Nis and chance their collective selves at availing themselves of…
…last week's outstanding discovery - the first-winter male Wilson's Warbler, the second for Britain and, as mentioned here last week, found bang on 30 years to the day since the eminent gentlemen of southwest birding, Roger Smaldon, Vic Tucker and Bob Burridge had put Rame Head well and truly on the famed birding map of Britain with their eye-popping discovery in the far southeast of Cornwall in the stellar autumn of 1985.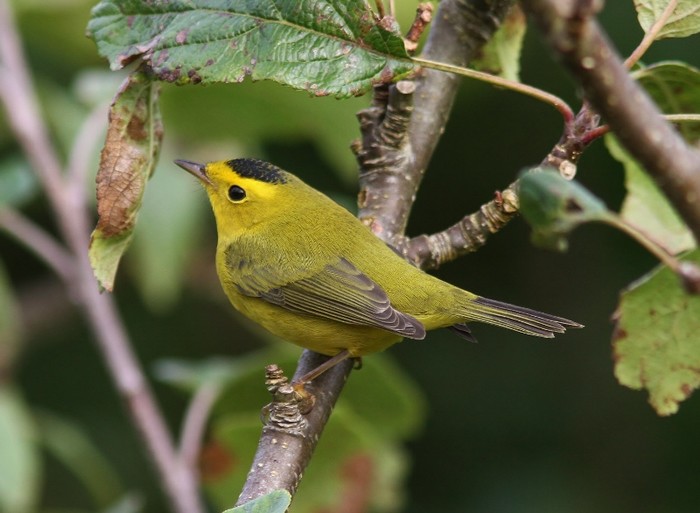 For those with flexible friends, bosses, spouses and bank balances, the trixy kippah-capped gem did the job for all those taking the plunge on 14th - showing off and on all through the day, though never sounding as though it was an easy task to see. It then proceeded to do similar things (showing nicely on occasion via assorted images posted online) all over again on 15th, 16th and 17th (with views becoming increasingly more tidy and fine by the look of the online images as the stay progressed).
Hopefully all those visiting listers who scoured the bushes in and around the area of the Café Sonas doffed their caps towards the finders of this outstanding (genuine) mega wood-warbler; local resident Tony Marr (former BOURC chairman and outstanding raconteur in to the bargain) and conservation legend Roy Dennis (alongside all his lifetime's work on conserving Scottish birds, there's also a significant spell as warden of Fair Isle to add in to the mix too).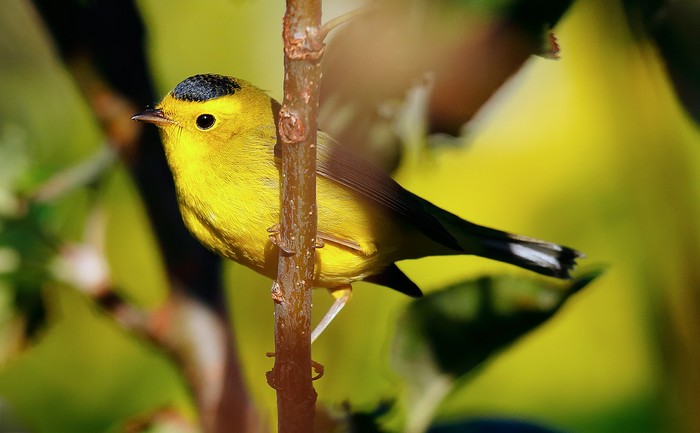 These two fine fellows have a collective age somewhere adjacent to the 150 mark (give or take a few years) and this joyous find shows that it really isn't just the playful, cocky young bucks who can pull the big rares out of the bag - these genuinely notable figures of the birdwatching establishment both have significant "rare" history…
B.A.E.M was responsible for the correct call on Britain's first Greater Sand Plover (at Pagham Harbour, in December 1978) while R.H.D (in his time on the famous Shetland isle) started the ball rolling in April 1959 with Britain's first Song Sparrow, then adding our first Olive-backed Pipit in October 1964 before the grand finale of Britain's first Cretzschmar's Bunting in June 1967.
The word you may be looking for is "pedigree"…
The Marr & Dennis Wilson's Warbler certainly adds another dimension to the oft-quoted phrase "senior moment" - scoring a national first (as this was) of such magnitude is a "senior moment" and then some…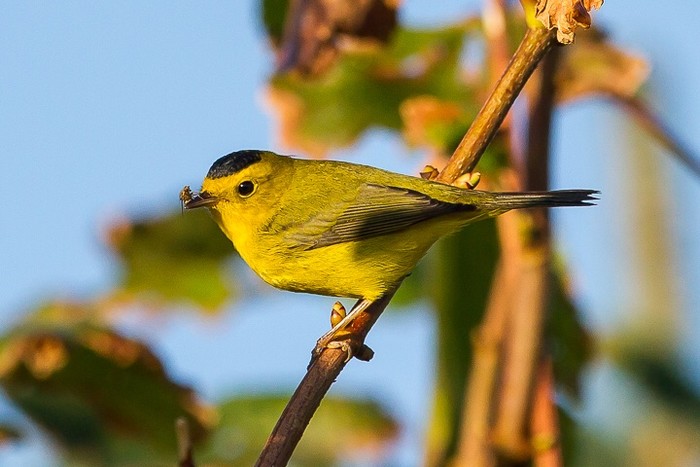 Siberian Rubythroat
Two or three years ago, the appearance of a new Siberian Rubythroat would have superseded a bird that had already been in the news from the previous week.
As a fabled troubadour famously once wrote "the times they are a'changin'" and for the first time since the inception of the RBA Weekly Round Up, this week's dizzying find on Shetland plays second fiddle to last week's (and this week's too) rarest bird of the week.
Perhaps if the latest bird, found on 20th (within an increasingly regular pattern of occurrence), had been another storming male, well, things may have been different, but Fair Isle's newest female Rubythroat doesn't top a male Wilson's Warbler in the appearance stakes. But that doesn't detract from a sensational find…
Found around the Hill Dyke area of the island by one of the island's Observatory AW's, this week's Fair Isle bird becomes the 12th British record to date and the 10th in the past 40 years on Shetland. It is also the sixth record of this ultra-Sibe for Fair Isle.
The most telling stats., of all?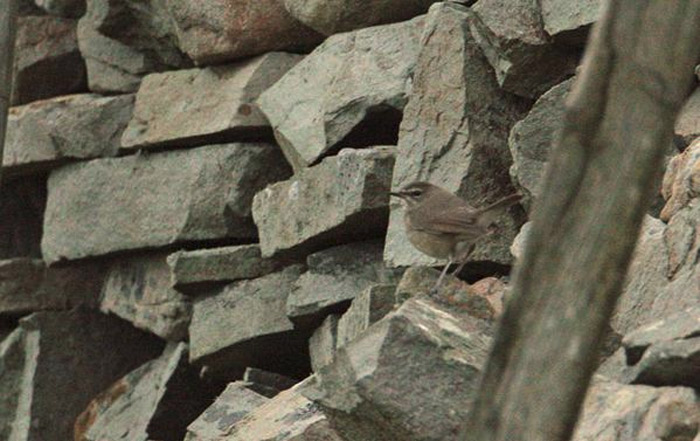 This becomes the eighth record of Siberian Rubythroat in the past decade and they have become established as an annual species here too - singles recorded every year now from 2011 to 2o15 - something that seemed unthinkable a few years ago.
Fair Isle's half dozen started with the 1st British record, a first-winter male, on October 9th 1975 with the second (the first female) coming 28 years later, on October 17th 2003. A second female was found on October 23rd 2005 and a third island female appeared exactly seven years to the day, on 23rd October 2012. A young male followed the next year, on October 21st 2013 and then came this week's latest addition to a mounting list…
Many birders have successfully twitched assorted Shetland Siberian Rubythroats over the past 10 years or so, particularly those dazzling Mainland males at Gulberwick (in 2011) and Levenwick (last year) but 100's still await a twitchable bird on the British mainland itself. Many caught up with the (at the time) contentious male in Dorset, at Osmington Mills, in October 1997 and no one, bar invitees saw the female that spent three days in gardens in Sunderland in late October 2006.
The wait goes on…but with each new arrival on Shetland, the hopes of a widely accessible bird closer to home remain top of many, many folks' "wants list".
…and, one day, it will happen…and it'll be in October, just like all the others…
Brown Shrike
Brown Shrike was added to the British List ten years after the first Siberian Rubythroat, thanks to Mark Chapman's find at Sumburgh on September 30th 1985. Just one more was found between then and the turn of the century (an Irish bird, over at Ballyferriter, in County Kerry, in November 1999).
Since the calendar began to stick a 2 at the start of the millennium, numbers have positively soared, a further 16 accepted between 2000 and 2013 and this week, just ahead of the Rubythroat's touchdown some 850 miles to the north came the first "mega" of a hectic final review day (20th) - Cornwall's third Brown Shrike found in the valley at Porthgwarra.
The two previous records in the far southwestern county came within just a few months of each other - on the Lizard Peninsula for a couple of days in late-September 2009 with a female spending a day in Sennen Cove on May 20th the following year.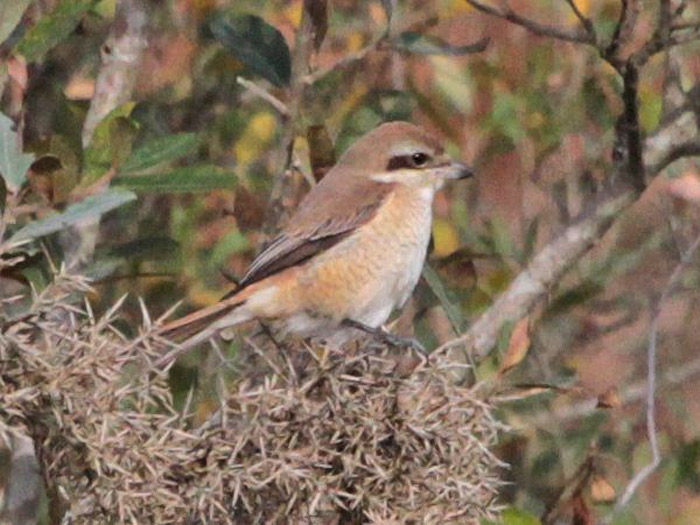 That bird in 2010 is one of (now) nine Brown Shrikes to have been found within just the last five years, five of them discovered in that remarkable period between September 20th-28th 2013, from Hampshire, Fife, Aberdeenshire, Orkney and Shetland (the final island group boasts five records in all, with Cornwall now following along with this third bird, while East Yorkshire has two to date (both found at Flamborough Head).
The Porthgwarrra bird is also the fifth October Brown Shrike - all five falling between 11th-22nd of the month.
Hudsonian Whimbrel
Another Nearctic star turn this week and a new arrival to boot, was the juvenile Hudsonian Whimbrel that arrived late in the day of 15th at Gimble Porth, Tresco (Scilly) - the second record of the species for 2015.
Here's a little bit more from finder Steve Broyd…
"On 15 October, after a long slog around Tresco, Bob Hibbett and I returned to our cottage for the day. After a while I decided it was a little early to stop birding, so, after a quick coffee, I set off towards Gimble Porth in a last attempt to find something interesting. "

"Ambling along I saw very little until a medium sized wader flew across the bay towards me. It was clearly a Whimbrel but with a completely dark rump, mantle and tail. It also had a contrasting upperwing pattern (dark primaries with paler secondaries and coverts). As it banked it flashed its dark underwing - surely this was a Hudsonian Whimbrel? The bird then turned and flew out across the bay and my heart sank. "

"Thankfully, it returned and landed close by. I could now see its bold head and rather striking pattern - the noticeably white cheeks, supercillium and crown stripe fitted nicely with Hudsonian."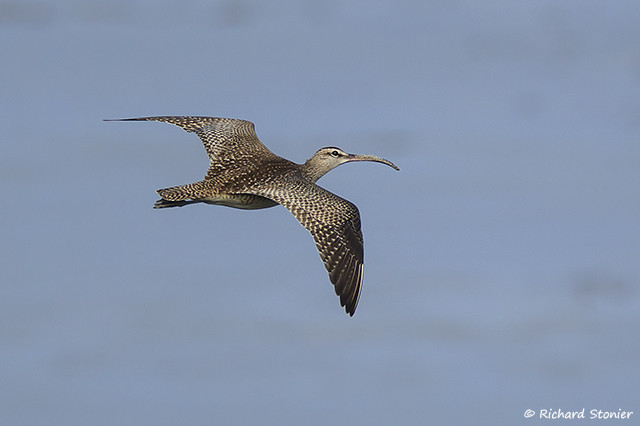 "That was it, call Hibbett, get him over to Gimble Porth and Tweet it out. Soon most Tresco birders were on site - five of us (more eyes needed…)."
"The bird stayed overnight and with the early boat from St Mary's large numbers of birders started to arrive. A Scilly tick for most. The bird performed impeccably all day allowing detailed study of its very fresh plumage and excellent photo opportunities."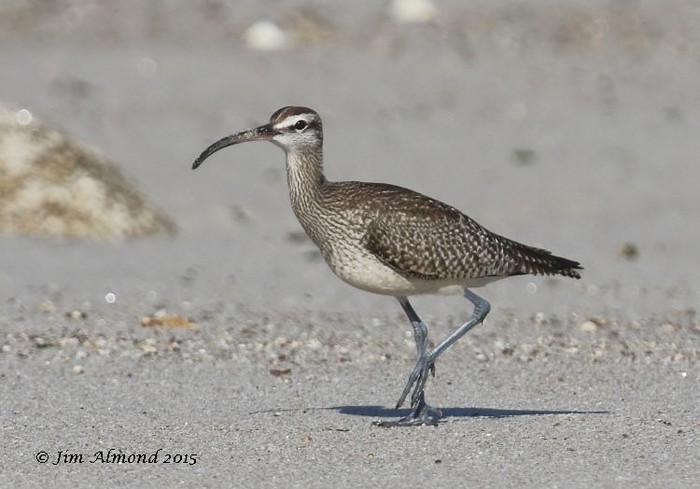 For all those who "needed" this dark-rumped long haul vagrant prior to the turn of the year, the popular long-stayer found at Church Norton (West Sussex) in June was a blessing, staying as it did for well over a month (being last recorded on July 27th). No mad scramble required for a trip to Scilly - but that shouldn't detract from a super find, only the 15th record for Britain and Ireland and only the second occurrence for Scilly; the first spent three and a bit weeks on St. Mary's in September 2008.
Interestingly, this becomes only the second October record from the 15 to date - the only other acceptance was a one-day bird at Tralee Harbour (Co. Kerry) on October 1st 1957 - and it remained until 19th.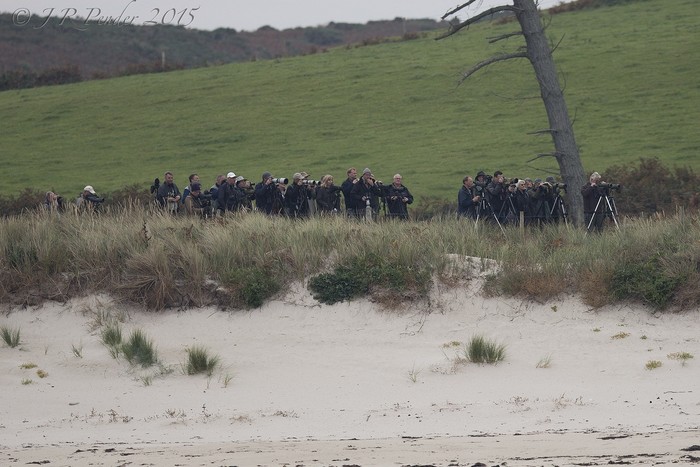 Blyth's Pipit
Also nipping in under the voluminous sulphur-hued radar at the end of last week was the Blyth's Pipit found out on Peninnis Head on St. Mary's (Scilly) - that bird showed itself to all comers through the 15th and is Scilly's sixth in all (coming hot on the heels of the Standing Stones bird from October 6th-9th 2014) and takes Scilly to level-pegging with Shetland in to the bargain.
Well, that was until the afternoon of 15th when a vocal bird was reported from the southern tip of Shetland's mainland - at Sumburgh Farm - which, if accepted, will nudge Shetland ahead once more.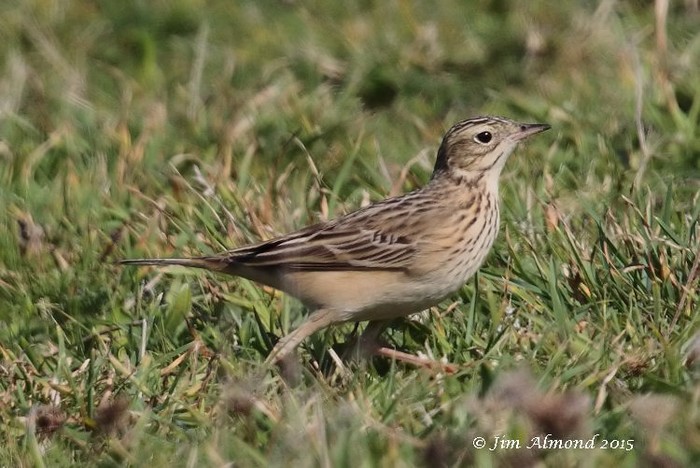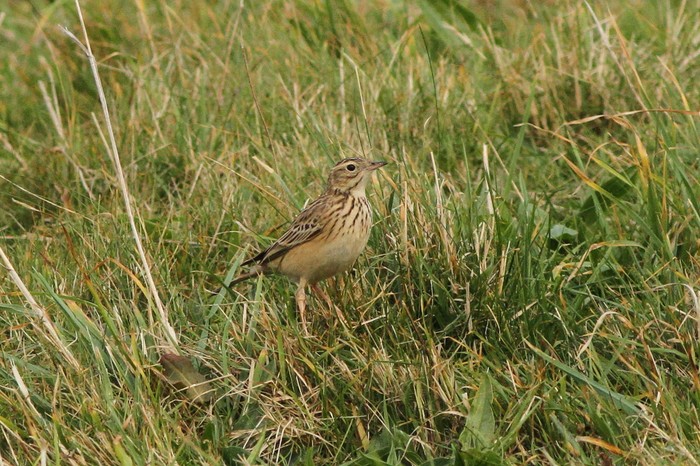 There are now four records of this once-mythic species on the list for 2015; the wintering Pugney's bird from the start of the year and October's trio - the superb saltings bird at Stiffkey and the Scilly and Shetland individuals too - putting this year level with the record year of 2007 when another quartet was shared between Scilly, Cornwall and Shetland (edging ahead of the triple bill of 2006 as well).
Three-quarters of all accepted Blyth's Pipit records (21 to the end of 2013) have been October discoveries; the first being the British first (the famous Brighton bird of October 23rd 1882) with a gap of 106 years to the second, found on Fair Isle on October 13th 1988. Four October birds were located during the 1990's (all prior to the end of October 1996) and then a gap of nine years followed until the next October bird - seen on Bardsey on October 16th 2005. A further dozen October records have followed (up to and including this month's threesome).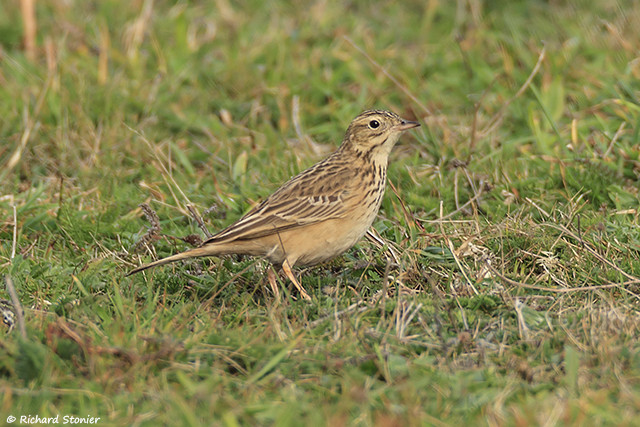 Scilly's bird remained out and about on Peninnis through until 20th but all went quiet on the Shetland front almost as soon as the first (and only) news was mentioned.
Short-toed Treecreeper
Still a much prized bird is the diminutive and decidedly tricky to catch up with Short-toed Treecreeper but this week gave the needy a second bit at the cherry within the past six weeks courtesy of a calling bird reported from the east side of the enormo-trapping area at Dungeness on 16th.
It was only in the second week of September that one was photographed in what would become known, forever more, as "The Acadian Garden" (on September 10th) and, if both are accepted, they will become the 27th and 28th British records respectively and - you know what's coming - the 21st and 22nd records for Kent. (Take a look at the map. There are few as lop-sided as this one is to one single spe3cies in one single county, especially on mainland).
Most folk will be familiar with the Dungeness track record for this particular vagrant - 15 individuals have been recorded on site, including two together between October 7th-10th 1978 and many birders have, over the years, enjoyed adding the species to their lists courtesy of the Kentish site.
Many though would have enjoyed the bird at Landguard Point (Suffolk) in the early spring of 2011, present for a fortnight across the end of March and first week of April, while more collected the showy bird at Bradwell-on-Sea (Essex) in early April 2005. These two are part of the collective of half a dozen Short-toed Treecreepers away from Kent; the others being two in Dorset, on Portland from November 1970 to March 1971 and also in May 1979, another May bird (and another for Essex), in Epping Forest in May 1975 and a trapped bird in East Yorkshire, at Hornsea Mere, in late October 1970.
White's Thrush
Unst's second fine bird of a busy week (the first follows in a short while) was discovered as the second "clarion call" bird of 20th. Found at Baltasound, here was the announcement of The Eternal Mega.
White's Thrush.
With almost 90 on the record books, this bird is actually someway beyond genuine mega status now, Shetland can boast around a third of those on her own, but there remains an undeniable aura around this most marvellous of taiga dwellers.
Despite over 30 birds on Shetland to date, this becomes a first for Unst (a long awaited first presumably) - Fair Isle and Mainland being utterly dominant with other records; including at least three birds last year the split is an even 14:14 for the two, with singles for Out Skerries, Foula, Whalsay and now Unst.
Their overwhelming beauty, undoubted mystique and hard-to-connect-with status are a heady brew indeed. Truly irresistible.
Isabelline Shrike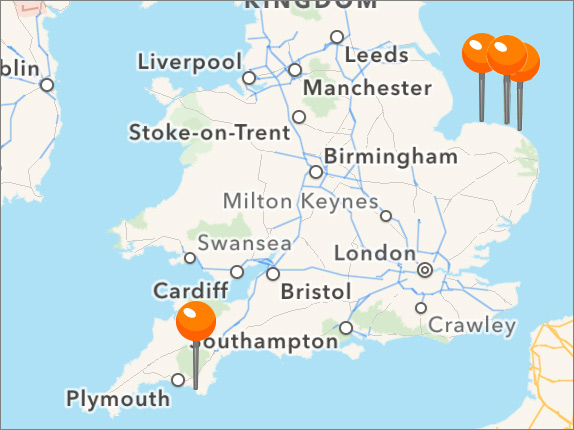 2015-10-21shrikemap
Despite there being over 100 acceptances on the books, there remains (well, for me at least) something almost irresistible about the ever-delightful Isabelline Shrike.
Last week came the autumn's first - on the north Norfolk bushes at Beeston Regis. This week, right on the 1st day of the new week - 14th - brought a super hat-trick. The Beeston bird was still in situ, while new (it had actually been found the previous day but was presumably not sorted until 14th) was a 1st winter bird at South Huish Marsh (Devon) and, later in the day, came Norfolk's second, found on the leeward side of the pines at Holkham Meals, close to the Washington Hide.
Then, incredibly came a third in Norfolk - found on the northeast coast, at Mundesley, on a busy 15th. Sadly, for finder Rich Moores (who was prompt and hasty in his news dissemination) it turned out that there had been a small band of invitees from within the east of the county who had actually been having said bird since the final two day of last week, from 12th.
Oh dear…
Still, let's not dwell on the negative and so let's accentuate the positive.
This week's Devonian bird is the first in the county since 2001 (when one was found in late August on Lundy) and only the fifth-ever - two of them were found at Berry Head (in November 1984 - well worth bunking off 6th Form at Okehampton College for - and October 1997) with the other record coming to Wembury in November 1987 (a bird that, three days before arriving in Devon had spent time in the hedgerows of north Norfolk, at Wells).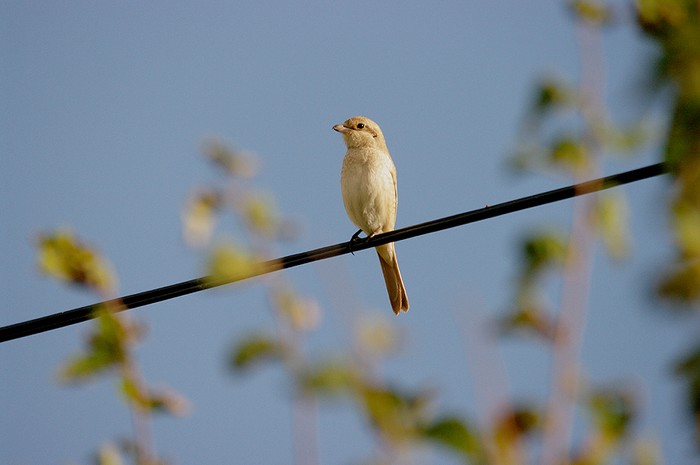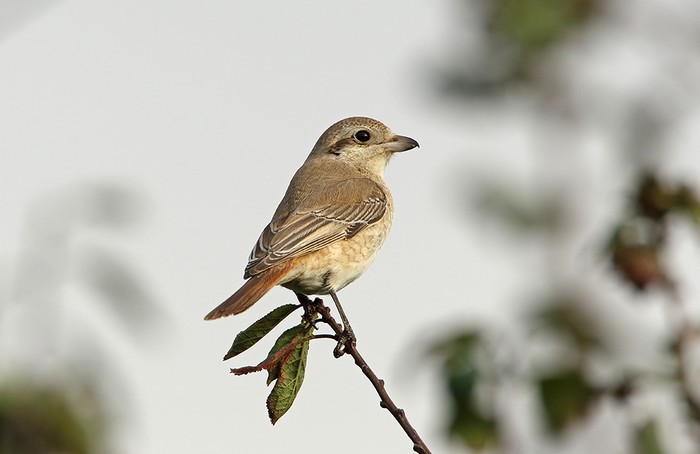 All of which brings us sweetly back from my home county to my adopted home county - and the new arrival at Holkham became the 10th for Norfolk (with the Mundesley bird knocking the total up by another one of course); the Holkham 2015 individual appeared 40 years and two days after the county's first, also found at Holkham Meals, in the still-sensational "Sibe Autumn" of 1975 (and oh, how many of us with big Norfolk lists long for a repeat of the Parker, Holman & Kemp Yellow-browed Bunting from the same year).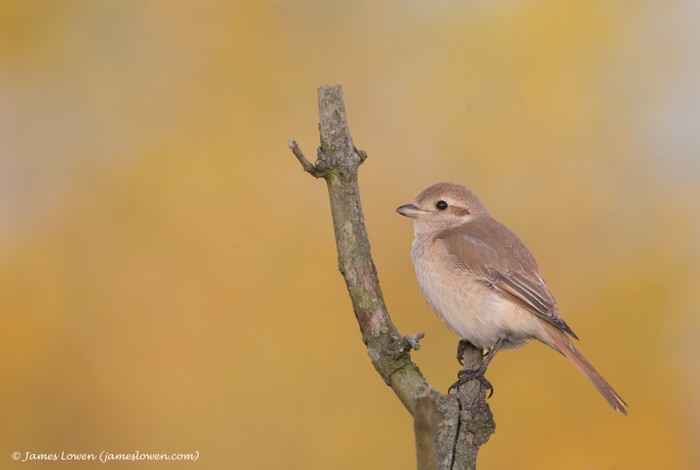 With Norfolk's terrific trio located within just a few days this October and the super-showy 1st-winter found at Warham Greens a year ago to the day, on October 14th last year, this particular part of East Anglia is doing rather well thank you where Isabelline Shrike is concerned - the, now, double-figure showing is the best for the British mainland and only Shetland lies ahead (with at least 17 there).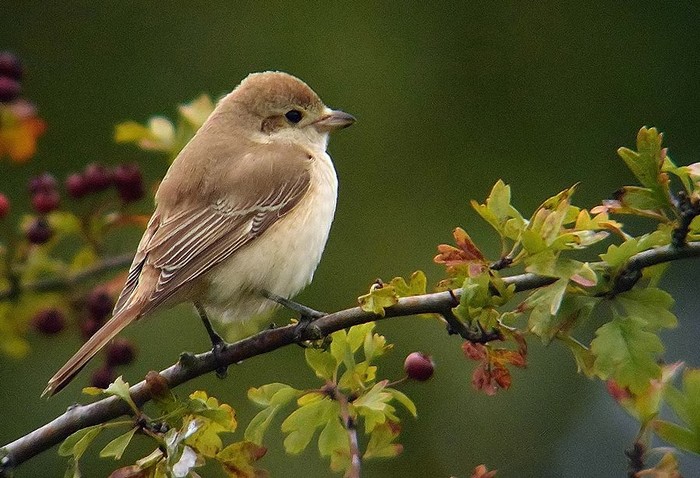 Three Isabelline Shrikes in a day has been done before - most recently as last year on October 16th (in East Yorkshire, Norfolk and Kent) and November 1st 2011 also seeing a trio of birds present in Shetland, Pembrokeshire and Hampshire (a year that yielded nine in all) - but three birds in the same county on the same day is a new phenomenon.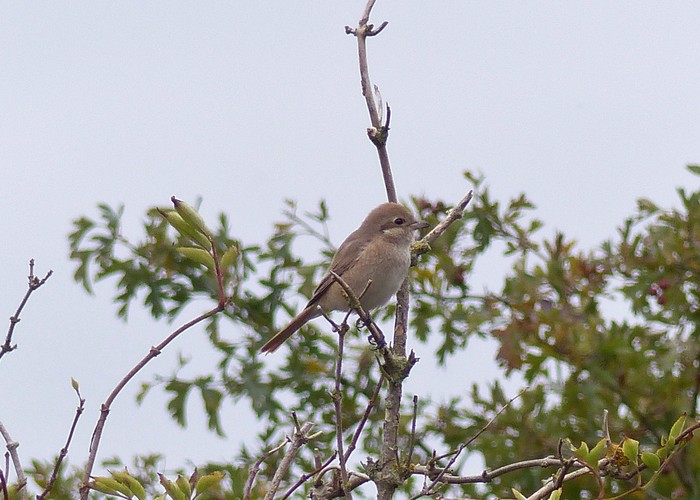 And that become all the more remarkable once the northeast Norfolk bird hove in to the public domain - all three of Norfolk's birds were present on 15th - which meant that "double history" was made; as above, no one county has ever hosted three birds on the same day before and there's never been a day in rare-birding here when four (wow…four!) Isabelline Shrikes have been noted on the same day (the South Huish bird remained to 15th too).
As the week continued, two of Norfolk's three birds remained until the end of the weekend (at Beeston and Holkham) with Devon's South Huish bird in place until 19th.
Two-barred Crossbill
There's a saying that goes along the lines of "can't keep a good man down" and where the far-flung outpost of Mayo's magnificent Mullet Peninsula is concerned the man in question is Dave Suddaby.
Time and again he's unearthed untold avian treasures on this barren, enlivening and breathtaking part of Ireland's finest county - think recently of Red-flanked Bluetail and, of course, this spring's Grey-cheeked Thrush - now, you can add a remarkable (garden!) record for Irish birders - a male Two-barred Crossbill in the conifers (that held that Bluetail) in the Suddaby garden at Tarmon for a few minutes on the morning of 15th.
While birders in Wales, England and Scotland have had chances to enjoy this beautiful forest dweller in recent years - but for Ireland, there's been 88 years of nothing. There are only four previous records across the whole country - one shot in Enniskillen (Co. Fermanagh) on February 17th 1895, with three for Antrim (in January 1802, c. 1867 and, "most recently" on August 2nd 1927). Another cracking record for Suddaby, the Mullet and Mayo - the only question remaining being as to whether it was an Old World Two-barred or even a New World White-winged Crossbill?
Pied Wheatear
The second October Pied Wheatear of 2015 - following hot on the heels of the delightful 1w male at Spurn - was found and photographed at Valyie, Unst (Shetland) on the morning of 14th; not seen for long but, thanks to a few photos, proved not only to be a Pied Wheatear but also a nice, scaly-backed 1w female in to the bargain.
Just like the one-day Spurn bird, this week's Shetland individual didn't' linger for long (indeed there was no sign of the bird later the same day) and is the second record of the species on the very same island within 12 months - one spending a couple of November days on Unst in November last year.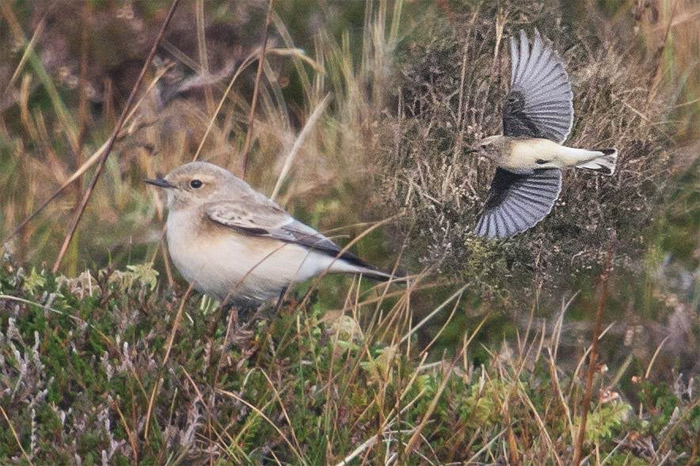 That 2014 bird and this week's individual take the Shetland overall total up to nine birds in all (six of them occurring since 2000), seven of them found in October. From the 74 accepted birds (to the end of 2013), a total of 47 birds have been recorded in the month, spread from Scilly to Shetland, with most of them along the east coast, except for west coast birds in Pembrokeshire (in 1968), Lancashire (in 1997), Gloucestershire (in 2011) and Gwynedd (in 2013).
…and adding to the list, along with the Shetland female came news, four days after the event, of a male Pied Wheatear at Botallack (Cornwall) on 17th. Not a lot is known about the record, but what is known is that this lovely mid-autumn overshoot is hen's teeth rare in Kernow - only one prior to this; seen at Dodman Point for five November days in 1991.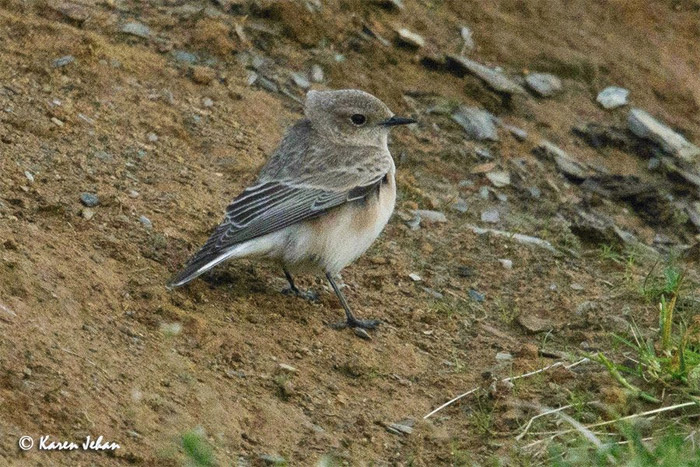 Three in a month and there's more to come. Hopefully…
Pallas's Grasshopper Warbler
Despite the less-than-optimum conditions at the time, there's no denying there was still a little buzz of excitement on 19th when news of a Pallas's Grasshopper Warbler emerged.
Inevitably it was on Shetland, even more inevitably it was on Fair Isle (this one in the Wirvie Burn, a site with a little bit of previous for that species) but a PG Tips is a PG Tips. A genuine birder's bird and a mighty rare to find despite the species approaching the 60 mark of appearances.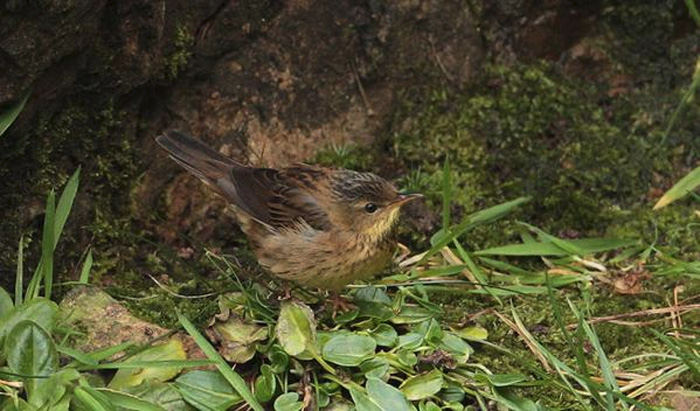 That some two-thirds have been on Shetland is the key - twitchable mainland records remain hen's teeth rare, so if you want to see one (or, better still, be in on finding and identifying one - it's a good feeling I can tell you) then pack your bags and head north. And maybe best head to Fair Isle where there've been some 25+ or so since 1949.
Hume's Yellow-browed Warbler
Norfolk's mainland dominance where beautiful, buffy-hued shrikes is concerned has been touched upon just above - and (like Pied Wheatear actually) there's another species where the east coast's premier county is streets ahead of all comers (even Shetland!) - step forward Hume's Yellow-browed Warbler.
Up until the end of 2013, Norfolk has laid claim to 22 of B&I's 133 Hume's Yellow-browed Warbler records in all and the hectic day of 15th produced two more along the county's north coast - the first appearing amongst the vast woodlands of Holkham Meals (where there may have been a second bird too) with the second coming late in the day at Brancaster, with the former remaining until 20th.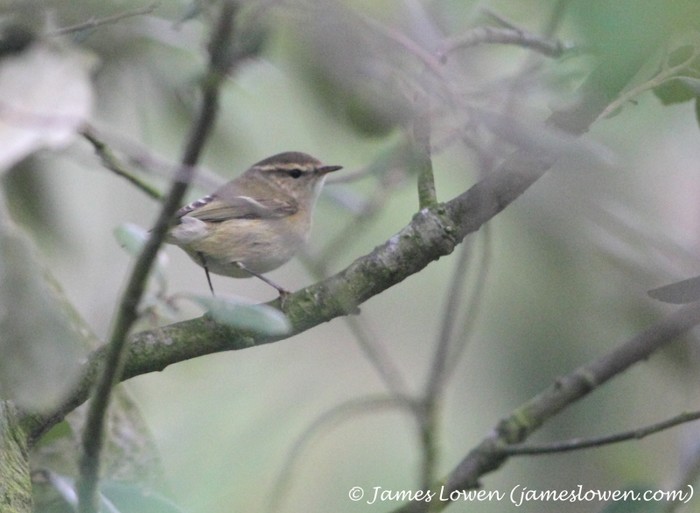 The Holkham bird drifted slightly to the east into the Wells end of the woodswhile in Kent, a third bird for the last seven days was discovered at Kingsdown on 18th - the eighth record for the county if accepted - and follows on from two wintering birds last year, at Ramsgate and Dungeness.
Of those 130+ occurrences, 30 (until the end of 2013) have been seen in October, the earliest of which was seen on October 6th-11th 2007 in….Holkham Meals. Norfolk now has 11 October records to its name - with three found in January, eight in November and two in December.
Northern & Pallid Harriers
Away up on Orkney, the beautiful male Northern Harrier remained on North Ronaldsay until 20th (clocking up over three weeks on site now) while to the north, on Shetland, a lone Pallid Harrier was seen heading across the Loch of Spiggie, towards Scousburgh on the afternoon of 14th.
From the very far north of Scotland its back to the outer reaches of Mayo where, on 19th, and for the second time this week Dave Suddaby pulled out a cracking Irish rare thanks to the juvenile Pallid Harrier that disrupted the afternoon I-WeBS survey at Annagh Marsh - striking up his second 1st for the county within five days, a bird that remained to the following day too.

To date, all of Ireland's Pallid Harrier were discovered in 2011. Cork scored three records - with singles in Wexford (from late August to late September) and also in Galway (at Lough Corrib, where a wintering bird was seen from the end of September until April 2012.
The often fresh northeast winds that blew along many North Sea coats through the first part of the new review period dragged in a handful of late Long-tailed Skuas; on 14th, one headed past Shell Ness (Kent); a pale juvenile flew south off Whitburn (Co. Durham) on 15th and another juvenile was seen in North Yorkshire, at Staithes (North Yorkshire) on 16th.
The same weather systems produced around 35 Pomarine Skuas in 10 counties, with eight each for Norfolk and Co. Durham (with five off Cley on 17th and four off Whitburn on 16th), half a dozen off the coast of East Yorkshire and four seen in Highland from the Ullapool – Stornoway ferry, near Ullapool, on 18th.
Just one Leach's Storm-petrel was noted, seen from Suffolk's Southwold on 16th with the same county being responsible for the only reports of Sabine's Gull - perhaps even the same bird - noted from Lowestoft and Thorpeness on 14th, with teh same date seeing the continuing presence of the week's sole Grey Phalarope still on Dursey Island (Co. Cork).
In amongst a significant auk passage off the north Norfolk coast on 16th was the first Little Auk of the month and the second followed at Spurn (East Yorkshire) the following day.
Only 13 Balearic Shearwaters were recorded through the past few days - eight North Sea birds were thinly spread between East and North Yorkshire and Durham, while two were off the Dorset coast and three were seen in Scilly waters.
New this week was a Night Heron report from Dibden Purlieu (Hampshire) on 19th and, in Somerset, a juvenile Purple Heron in the fields at Steart WWT on 14th (has it wandered from the Levels or Slimbridge perhaps) while the same county continued to host one of the week's 16+ Glossy Ibis remaining at Meare Heath and Shapwick Heath NNR until at least 16th.
Ireland may have lacked success in the rugby but at least they fared well with rare Ibis; the new week beginning with one on the Slob at Youghal (Co. Cork) and two appeared at Lough Naparka (Co. Kerry). Wexford grabbed the next one, seen at Ring Marsh on 17th when four were found back in Kerry, again at Lough Naparka. By 19th, six Glossy Ibis were at Baile an Reannaigh (still in Kerry) with two remaining at Lough Naparka. The flock of six were then at nearby Smerwick Harbour on 20th when a new arrival was found up in Derry, at Lough Beg.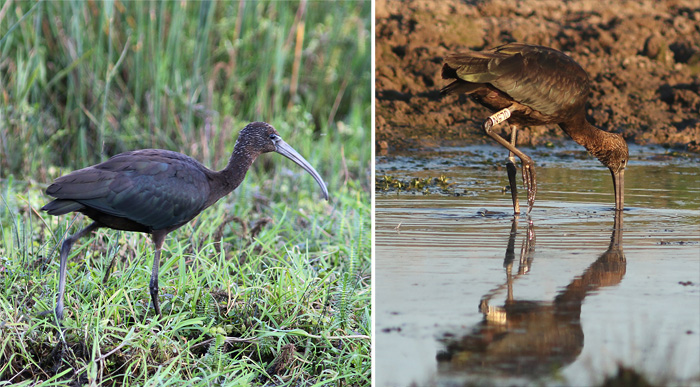 Fair Isle's birders still had three Glossy Ibis to play with until 15th while a lingering loner was at Wat Tyler CP (Essex) (also to 15th) and was presumably the bird seen on 20th at Goldhanger, while in Leicestershire, another single was at Rutland Water on 16th. Two more were again at Seaton Marsh (Devon) on 20th (after nine days away somewhere) and another appeared in Somerset, this one at Chew Valley Lake, also on 20th.
Back in amongst the Somerset Levels, the Cattle Egret was noted at both Meare Heath and Shapwick through until the end of the week while, steaming in under the radar was a massive Shetland rare - the Cattle Egret found at South Collafirth, Mainland on 16th causing a significant stir for all local listers; the only other record for the islands was an exhausted bird found on the M.V. Hendra at Symbister, on January 27th 1999 (a bird that was eventually flown to Portugal, in good health in February that year). This year's "main event" remained to 20th.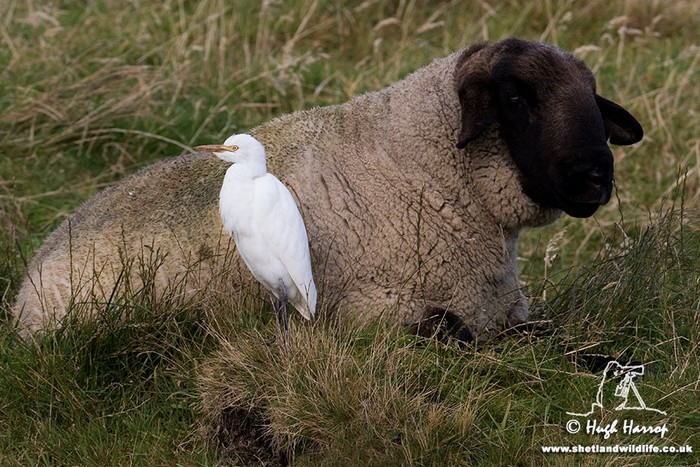 That's two Shetland Cattle Egrets to ten Shetland Siberian Rubythroats…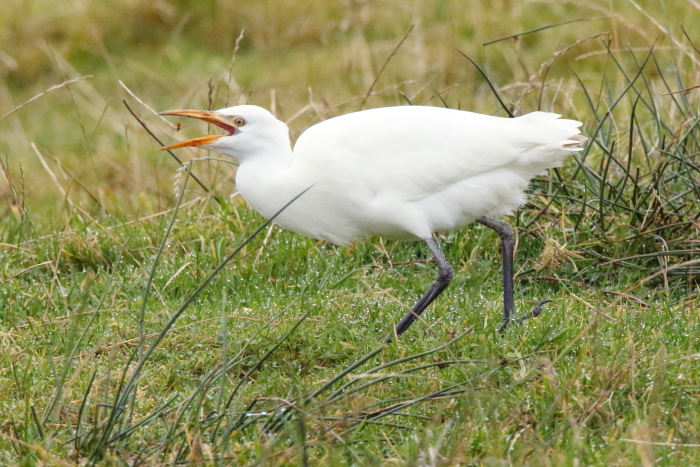 The highest count of Dorset Spoonbills this week was a miserly 37 at the Arne RSPB on 14th (with a few double figure tallies elsewhere around Poole Harbour through the rest of the week). Three also remained to the west, at Lodmoor RSPB for several days too. Some 22 more were reported from England, Ireland and Wales - at least one was around Scilly, four were in Cornwall, a couple were noted in Suffolk and singles were seen in Cheshire and also Leicestershire (one at Eyebrook Reservoir until 18th at least). The trio of youngsters remained at Conwy RSPB (Conwy) to 15th and Irish records included four again at The Cunnigar, Dungarvan (Co. Waterford) on 15th-16th, two at Tacumshin (Co. Wexford) on 16th with single Cork birds noted at Rosscarbery on 16th and Clonakilty on 17th.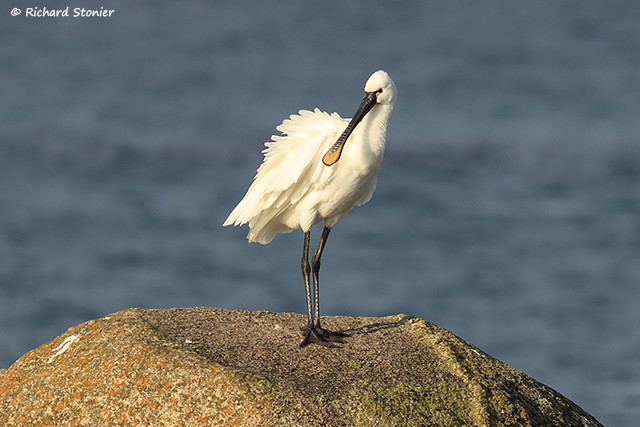 Very few Common Crane made the news; the Norfolk Broads "peaked" at three at Winterton on 15th while two were seen at the Ouse Washes RSPB (Cambridgeshire) on 18th, when another was reported again in fields at Dungeness RSPB (Kent).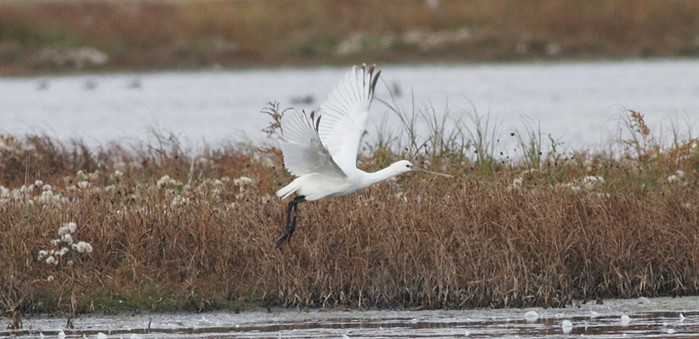 A single, late-ish Corncrake was noted at Freiston Shore RSPB (Lincolnshire) on 14th while the popular Spotted Crake was on station at Burton Mere Wetlands RSPB (Cheshire) to 16th.
One of the undoubted joys of autumn is the daily arrival of wild geese in to the country and it has been great to see mention made of the three vagrant Scottish Snow Geese this week. In Dumfries & Galloway, a white bird was again at Caerlaverock WWT on 15th while on the other side of the country, another white Snow was still with a sizeable, multi-1000, gathering of Pink-footed Geese in Moray's Findhorn Bay to 16th.
A blue Lesser Snow Geese was found at the Braehead of Lunan, near Montrose (Angus) on 17th-18th, having moved from last week's location of Fishtown of Usan.
On Islay, a Canada Goose sp. was found at Loch Gruinart RSPB on 14th while a Todd's Canada Goose appeared at Sunderland, also on Islay on 18th with two later the same day in the roost at Loch Gruinart.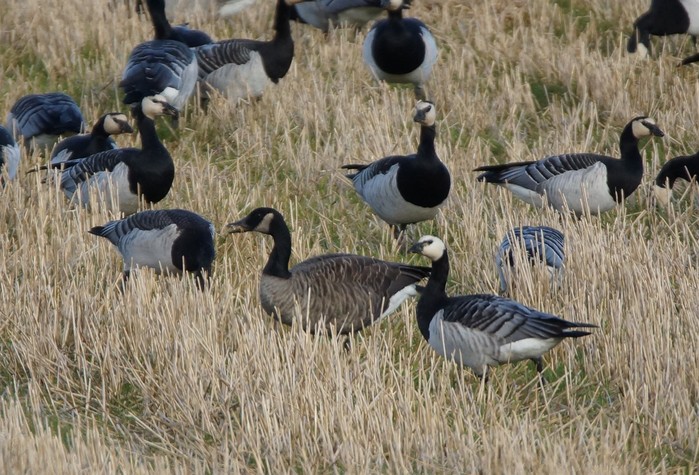 Along the Exe Estuary, the minima Ridgway's Cackling Goose (of unknown origin, though now feted as - unequivocally - "the real deal" by some) remained with the Dark-bellied Brent Geese at Exmouth to 15th. Amongst the same flock, an adult Black Brant also lingered to the same day and was one of three "definites" logged this week; the others coming to Blennerville (Co. Kerry) on 14th, again on The Fleet, near Weymouth (Dorset) on 15th and at Cley (Norfolk) on 17th. A hybrid (or perhaps pure Brant) remained further along the Norfolk coast, at Wells, until 15th.
Two Irish Lesser Scaups were found through the past week; one was back again on Lough Gill (Co. Kerry) from 16th (one or two were seen there, along with the rare Nearctic Coot through much of the first part of the year) while further up the west coast, on Mayo's Achill Island, a drake was found on Lough Doo on 18th - a bird which will become a remarkable third county first this week (following on from the Crossbill and Harrier mentioned earlier). Back again, the Welsh drake who returned to Cardiff Bay on 20th.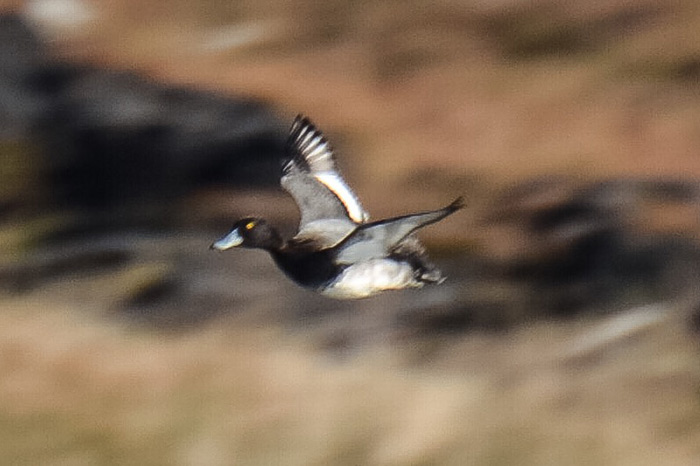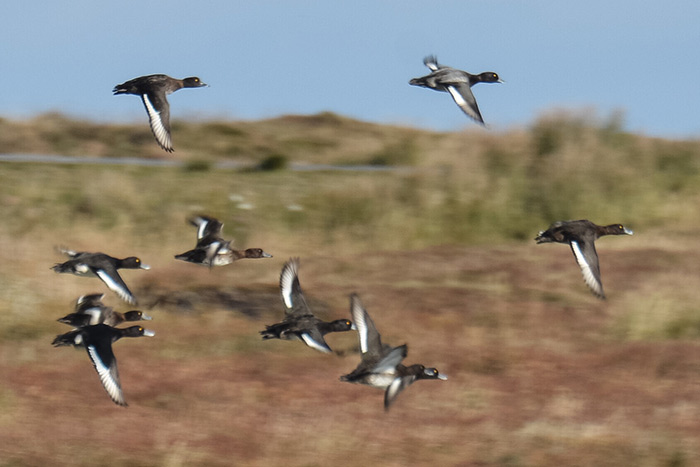 A new juvenile Ring-necked Duck was found in Devon, at Countess Wear, near Exeter on 14th while the drake that appeared at Startop's End Reservoir (Hertfordshire) remained through until 19th.
At least one drake American Wigeon was seen around various sites on Orkney through to 18th - on Shapinsay and Loch of Ayre, Mainland on 14th then on the sea off Graemeshall, also Mainland on 17th-18th. In Argyll & Bute, another drake was at Ardnave, Islay throughout the week, while the week's third (or fourth) drake American Wigeon of the week remained in Wexford, at Tacumshin to 18th. The only report away from islands was the potential female at Old Hall Marshes RSPB (Essex) on 18th. Back briefly to Ireland, where a drake Green-winged Teal was found on Derry's Lough Beg on 17th.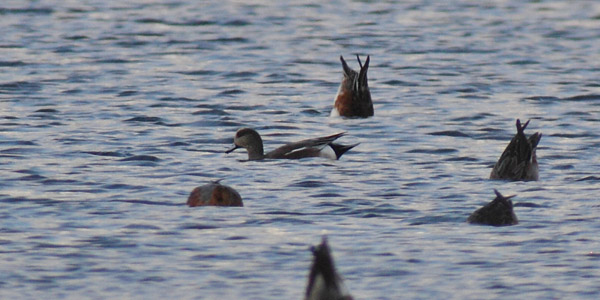 Seaduck representatives this week were single drake Scottish Surf Scoters - still in Lunan Bay (Angus) to 14th and again off Ferny Ness (Lothian) through to 18th.
Under my watch, generally speaking, a bird of the quality of the Isle of Wight Greater Yellowlegs would normally find a way of staying "up top" and bury itself somewhere towards the end of the headliners, but last week's demotion remains in place this time around too, given the volume of "better" stories and rares that litter the first 2500 words or so. All that needs to be said, for now, is that the adult that's been knocking around the south coast for many, many months remained at Whippingham, on the River Medina through until 20th.
Ireland continued to hold on to the week's only Lesser Yellowlegs, still near Clonakilty, around the White's Marsh area of County Cork until 15th.
In Gloucestershire, the juvenile Semipalmated Sandpiper was at Slimbridge WWT until 15th while the three White-rumped Sandpipers recorded were all new stock; a moulting adult at Bambuirgh (Northumberland) was seen from 14th-18th, another was at Blennerville (Co. Kerry) on 18th when a juvenile was also discovered on the RSPB reserve at the Loch of Strathbeg (Aberdeenshire), the second in the county this autumn.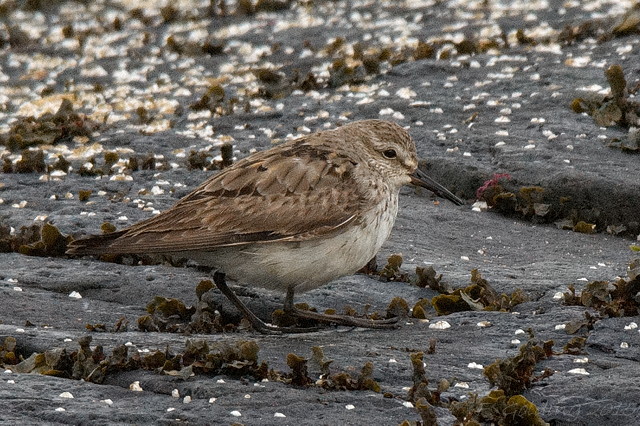 Hampshire's Long-billed Dowitcher was still around the Pennington Marshes all week while 10 American Golden Plovers were reported, with Cork claiming three - juveniles still at Ballycotton and Rosscarbery (until 17th and 18th respectively) with a new youngster at The Gearagh on 18th. Also new was a juvenile on Predannack Airfield (Cornwall) on 17th and an adult at Anthorn (Cumbria) on 18th (the first there for a couple of years) while leftovers from last week were at Cullivoe, Yell (Shetland) to 14th, Aberlady Bay (Lothian) to 16th, the Kilnsea and Easington area of East Yorkshire to 20th at least and further Irish singles remained at Lurgangreen (Co. Louth) and Lough Swilly (Co. Donegal) to 20th as well.
Four Pectoral Sandpipers made the news through the past few days; one remained at Burton Mere Wetlands RSPB (Cheshire) to 17th while new arrivals made themselves known at Baleshare, North Uist (Outer Hebrides) on 14th-16th and at Frampton Marsh RSPB (Lincolnshire) and Pulborough Brooks RSPB (West Sussex), both on 18th.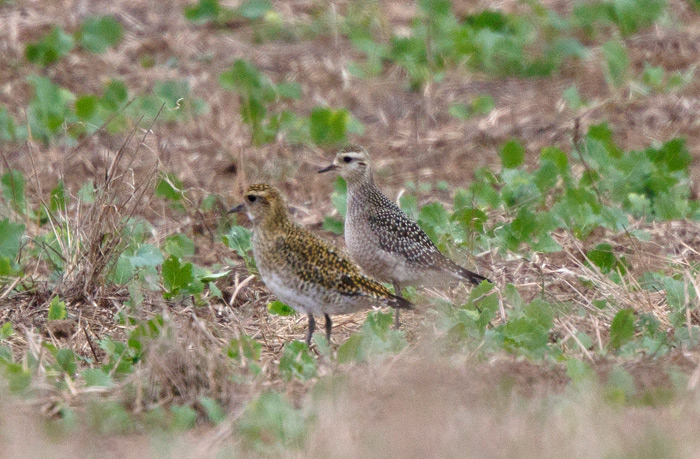 Last week's inland Temminck's Stint in West Yorkshire remained at Swillington Ings until 14th and another was decent find at Blagdon Lake (Somerset) on 19th. These two were the only other shorebirds of note this week.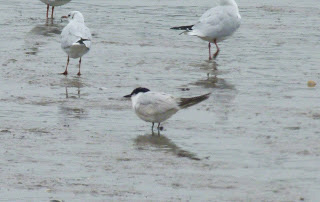 In the west of Ireland, in County Kerry, a Gull-billed Tern was a tremendous autumn find in Tralee Bay on 17th, reappearing over the following three days at nearby Blennerville - a superb county first.
Shropshire's first White-winged Black Tern since 2010, the popular juvenile, remained at The Mere, Ellesmere through until 15th.
A returning now third-winter American Herring Gull was back at Jericho Farm, St. Just (Cornwall) on 17th (it was noted infrequently in the area until April ealrier this year). In neighbouring Devon, the elusive though regualr adult Bonaparte's Gull was seen at Teignmouth on 14th and Dawlish Warren NNR on 18th-19th while the adult in Scotland remained on the Lossie Estuary (Moray) until 15th - being only the second county record there, the first spending four days on Loch Spynie in May 2007.
With autumn drifting, day by day, that much closer to a new season, the news of three Ring-billed Gulls on Nimmo's Pier (Co. Galway) was no surprise whatsoever. Elsewhere in Ireland, retruning adults were noted back at Portrush (Co. Antrim) on 14th and Lurgangreen (Co. Louth) on 16th. In Cornwall, the regualr 2nd winter Ringo was on the Hayle Estuary to 18th (with two birds reported there on 16th).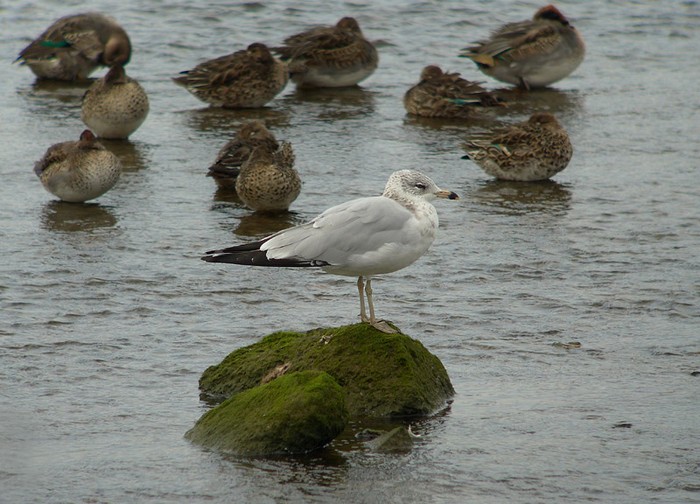 A third-winter Glaucous Gull was reported from Winchelsea (East Sussex) on 16th and two arrived on Fair Isle on 18th where there was also an Iceland Gull on the same day. Another Shetland bird was at Sandwick, Mainland on 16th while an adult was off Thorpeness (Suffolk) the same day. A fourth bird was noted at Portrush on 14th.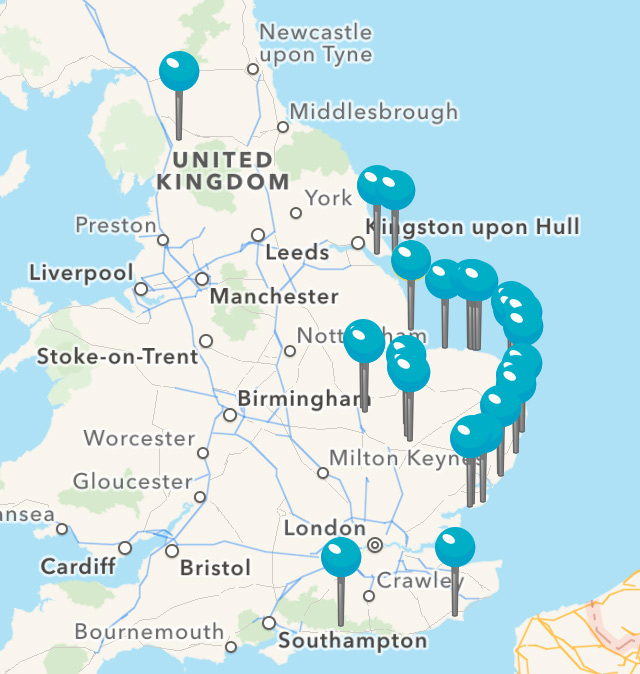 Norfolk saw reports of two separate Honey Buzzards surface this week, one was over Holt on 14th and another was at Sheringham late the same day. The third (and final) report of the week (and of the day) came from Haverton Hole, Billingham (Cleveland).
Upwards of 23 Rough-legged Buzzards were reported through the week, almost all along North Sea coasts; on 15th singles were seen at Spurn (East Yorkshire) and Ely (Cambridgeshire); the 16th saw a lone bird reported from Wepham (West Sussex); a busier 17th saw two birds arrive at Gibraltar Point NNR (Lincolnshire) with loners at Sunk Island (East Yorkshire), Holme Fen (Cambridgeshire) and St. Osyth (Essex) - with two on 18th, one of which may have come along from nearby nearby Colne Point.
The 18th saw a Rough-legged Buzzard head over Easton Bavents (Suffolk) while at least three were in Norfolk - in the east of the county birds were seen at Breydon Water, Waxham and nearby Hickling Broad, while along the north coast, one was tracked over Weybourne and Kelling and it or another ended the day at Burnham Overy Dunes. The penultimate day of the review period saw a juvenile spend a little time south of Walsey Hills (Norfolk) and others were reported from Burwell and Wicken Fen (Cambridgeshire) Scotney GPs (East Sussex) and Sunbiggin Tarn (Cumbria).
The final review day saw up to three more noted in east Norfolk, including two at Winterton and Horsey, three in Suffolk and one in Essex.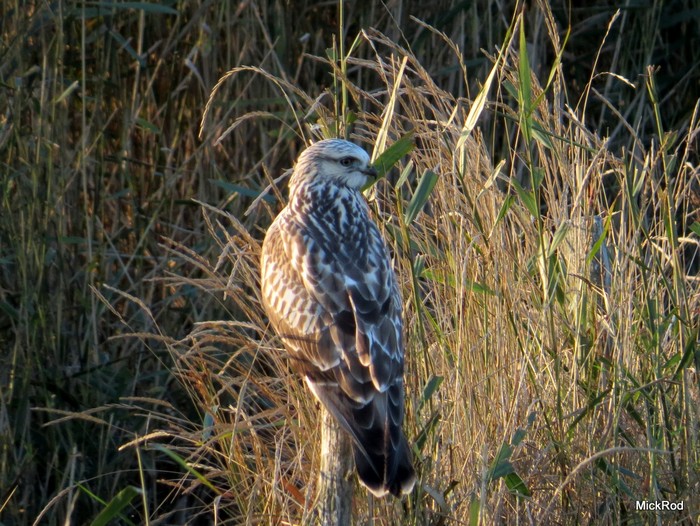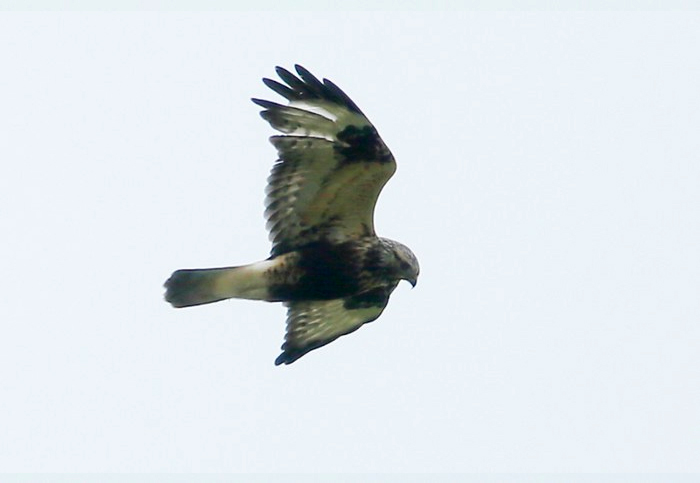 The only other raptor report to report was a Black Kite over the village of Cove (Hampshire) on 17th.
The latest October bird-fest week began with two of the previous seven days' Red-flanked Bluetails still in situ - on Scilly, remaining on St. Agnes and in Norfolk, remaining in deep cover in Holkham Meals. They both remained to 16th, when the tally for the week took a decided upturn…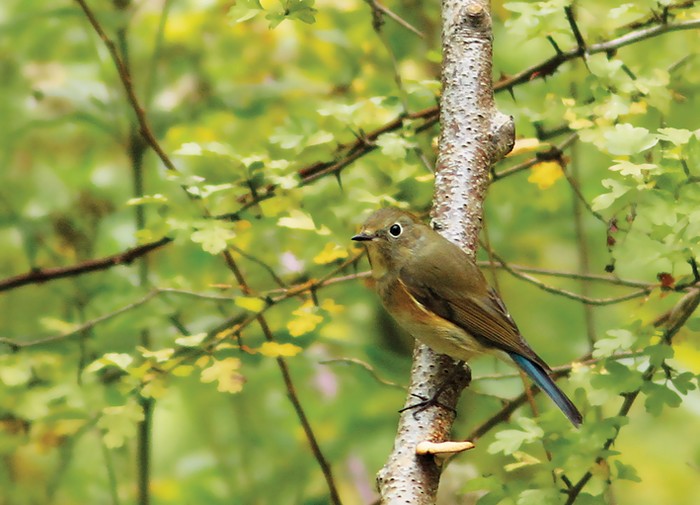 The first new arrival of the day was discovered just to the south of Kergord House, Mainland (Shetland) and was followed through the afternoon by further fresh stock at the drinking pool at Wells Woods (Norfolk) - local birder Ashely Saunders enjoying a super rare-finding purple patch - and then at Low-Newton-by-the-sea (Northumberland) as the evening began to dim. The sixth individual for the day was seen at Flamborough Head (East Yorkshire) in the same spot as one had been noted on 13th - assumed to be the same bird, but is there any chance it too was new?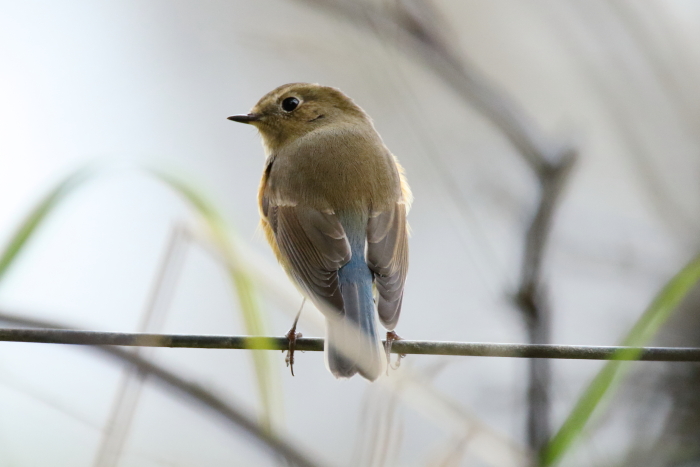 Whether the Flamborough Bluetail was new or not, the half dozen birds noted on October 16th 2015 created their very own little bit of history - becoming a record "single-day" for the species, topping the five birds noted on October 11th 2010 and October 15th 2011. Yep, it's peak time alright…
…and that was further emphasised by the appearance of the seventh for the week on the afternoon of 18th, when a new bird was discovered in east Norfolk, at Hemsby, an individual that made another little bit of "triple bill" history (in an Issy Shrike styleeeee) - no single county has ever recorded three Red-flanked Bluetails on the same day until now, but the continuing presence of the singles in Holkham and Wells, along with the arrival of this Hemsby bird means that Norfolk popped itself in to the record books once again (and the county's overall total has now eased in to the 20's too).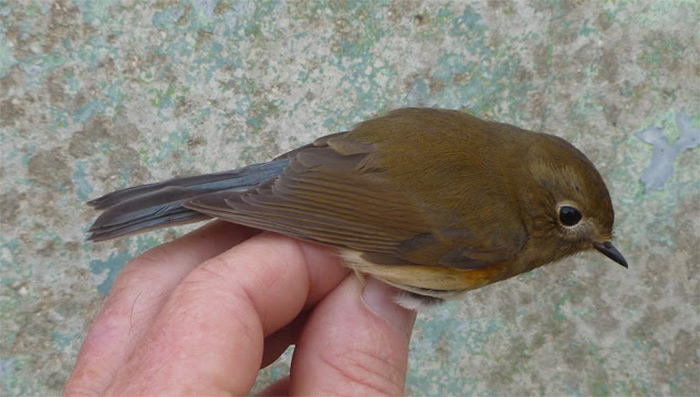 Making things more interesting still was the finding of what could have been a new Bluetail on St. Agnes on 19th - seen down by the chapel and tennis courts; one had been seen along Barnaby Lane earlier the same morning (after going missing for a day in to the bargain).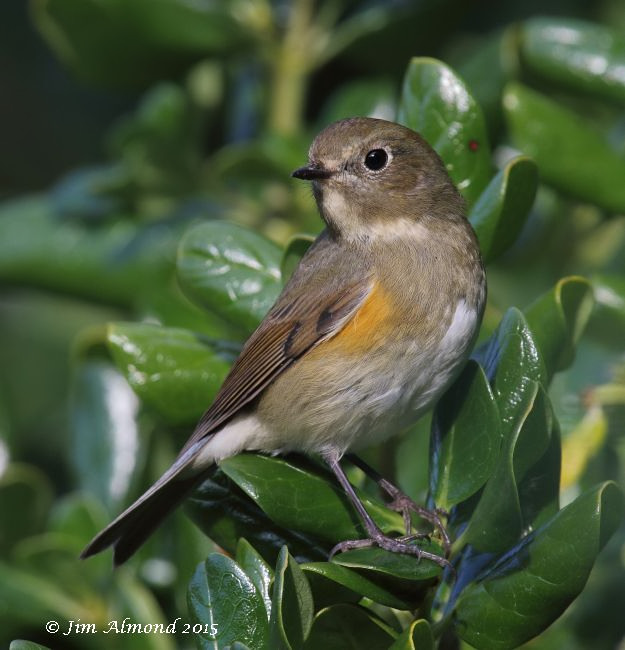 The week concluded with three further new arrivals on the review's final day of 20th at Gibraltar Point NNR (Lincolnshire), trapped at Sandwich Bay NNR (Kent) and along Cork's Mizen Head - taking the total for the week to a minimum 10 - the Gib Point bird is the first in the county since November 2008 (and is the 8th Lincs., record in all); the Sandwich bird is the first in the county since October 2011 (and becomes the 7th county record in all); and the Cork bird is the fourth for the county and only the fifth for Ireland (Mayo has the only one to date, seen last year on the Mullet).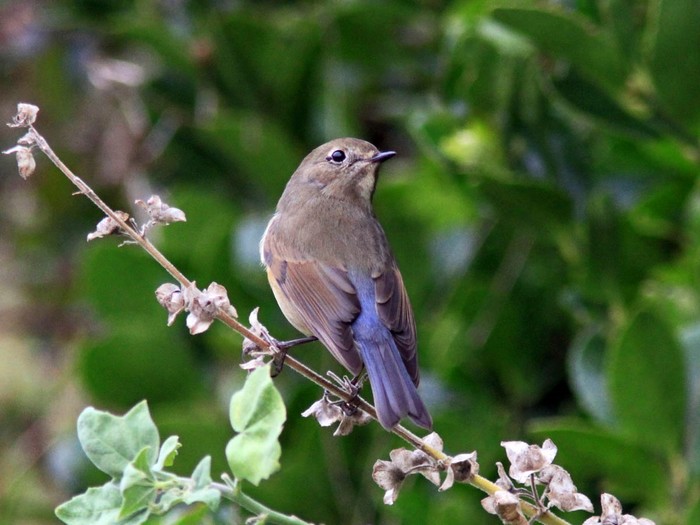 There's around 140 or more on the Rare-Clock now for this beautiful, evocative and eternally popular little forest-dweller and it is still all a bit "pinch yourself, its true" that that famous mass-twitched Winspit bird of a (mere) 22 years ago was just the 14th record for Britain. How times change...
Brown ones, stripy ones, skulky ones…here's some warblers…
The cream of the crop where the four Blyth's Reed Warblers of the week was concerned was the second Cornish record that popped in to a net at Nanjizal on 16th (with news released three days later) - it comes hot on the heels of the first Cornish record that, as it turns out, also popped in to a net at Nanjizal on September 2nd this year.
Another new bird was located on Cape Clear Island (Co. Cork) on 14th (where it remained until 17th) - the first since one on Dursey Island in October 2010 and (potentially) just the fourth for the county (others seen in October 2007 on Mizen Head and on Cape Clear in October 2006.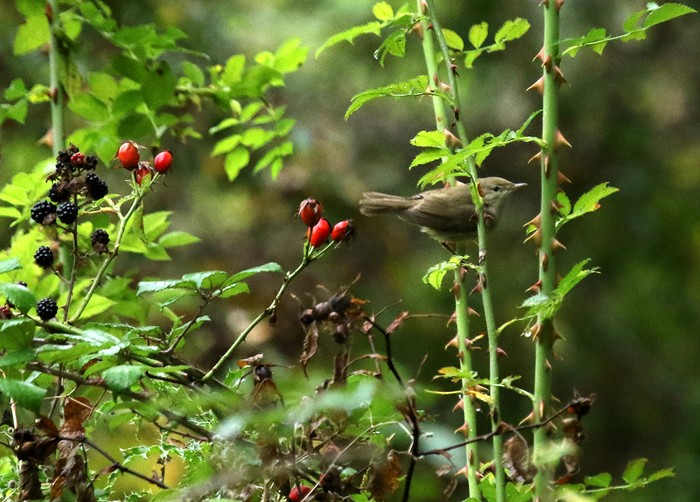 Two further Blyth's Reed Warblers remained from last week; at Quendale, Mainland (Shetland) to 16th and within the thick cover of Wells Woods (Norfolk) until 19th at least.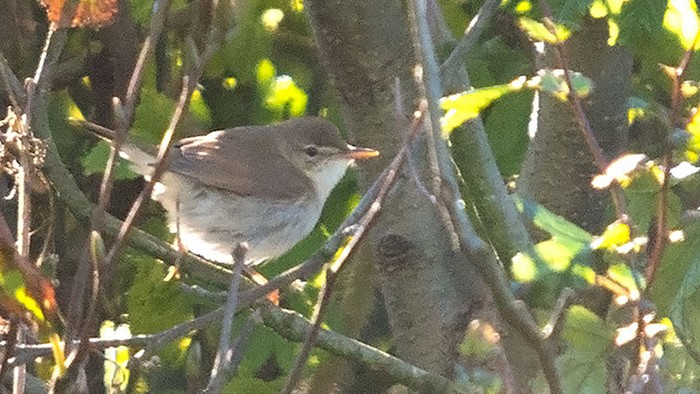 Pallas's Warblers were an inevitable species to appear with all the weather heading down from the NNE with East Anglia (mainly Norfolk) and the northeast of England sharing 22 birds (minimum) evenly between the two regions.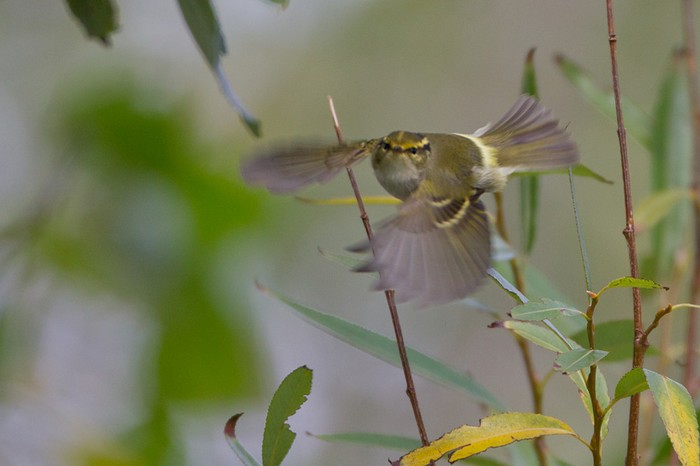 East Yorkshire managed at least five (perhaps as many as seven birds) in all; at least two were at Flamborough Head on 17th, singles were at Kilnsea on 15th, 16th and 18th and two were at Buckton from 15th-17th. Two were found at Scarborough and Filey (North Yorkshire) on 17th when further singles emerged in Cleveland (at Hartlepool Headland) and in Lincolnshire (at Gibraltar Point NNR). The region's final bird of the week was found at Sunderland (Co. Durham) on 19th.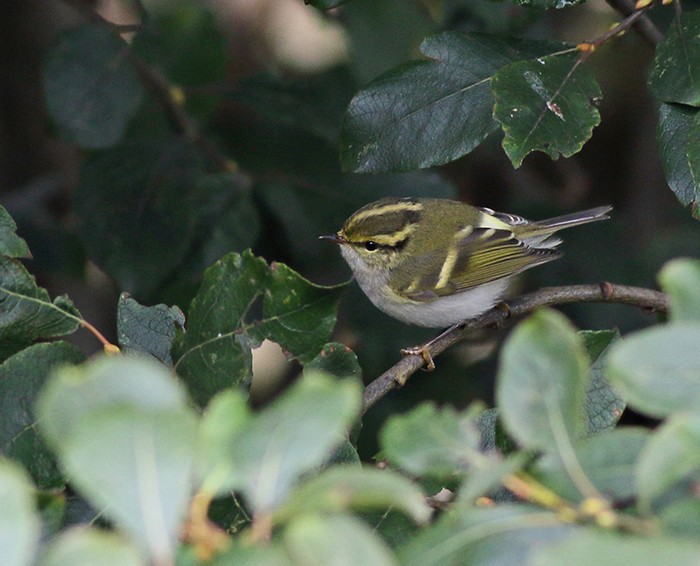 Norfolk managed upwards of nine Pallas's Warblers through the week; the first two beiong found at East Hills, near Wells and nearby Warham Greens on 14th. They were followed with two in Holkham Meals and at least three in and around the adjoining Wells Woods across the weekend, which also saw new arrivals make it to Holme and Caister-on-Sea (on 17th and 18th respectively). Suffolk managed a couple more - at Sizewell on 17th and on Orford Ness on 18th.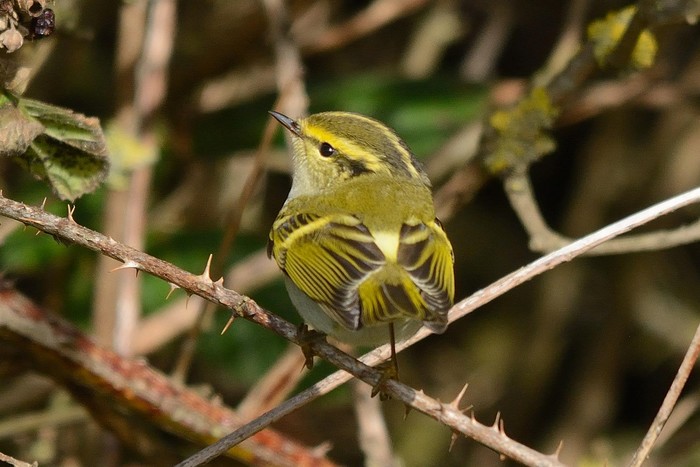 Southeastern England saw Kent birders locate seven birds through the week. The first appeared at Chamber's Wall on 15th and was followed by three birds on 18th (at Seasalter, St. Margaret's at Cliffe and the Isle of Grain) with two more noted on 19th (at South Foreland and Sandwich Bay). The final one of the week there was in Margate on 20th. One further regional Pallas's Warblers was found in Essex, at Frinton-on-Sea on 18th.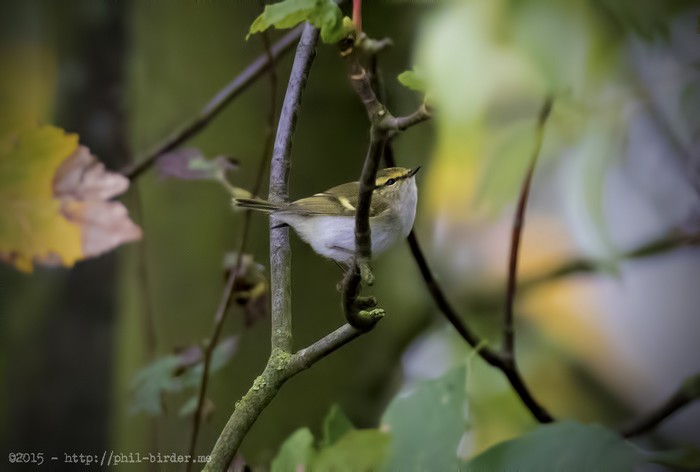 There was little surprise that few made it much further across the country other than across the east coast but one was seen on Tresco (Scilly) on 16th-17th while another found a way to Bardsey Island (Gwynedd) on 19th (the first there for almost four years) and another made it to Nanjizal Valley (Cornwall) on 20th - bringing the total for the week to 33 in all.
Dropping from some 700 individuals last week to the 450 mark this week was Yellow-browed Warbler. The far north and the far southwest were particular strongholds as birds filtered all the way from the eastern most points of the North Sea coasts to the further western shores adjoining the Atlantic Ocean.
Around 100 birds were still around Shetland, including nine on Fair Isle and seven on Fetlar on 15th. That three figure haul was past of a Scottish total of some 155 in 13 counties and regions, including 13 on Orkney and 18 on the Outer Hebrides.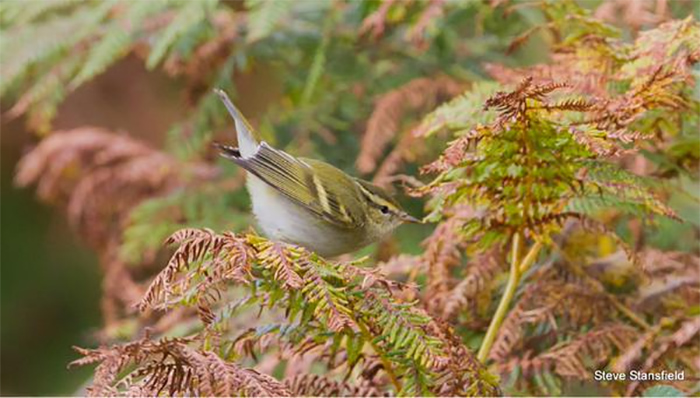 Around the 100 mark of Yellow-broweds was logged in southwest England, including 45+ around Scilly and a further 40 or so in Cornwall (with six at Nanjizal on 19th). In the northeast, over 70 Yellow-browed Warblers were noted in eight counties, including at least 22 in Northumberland, 14 in East Yorkshire, 12 in North Yorkshire and 10 in Lincolnshire. Thirty of East Anglia's 34 birds were in Norfolk, including five at Wells on 17th while 21 birds were in five southeastern counties, including 15 in Kent. A dozen were in Wales (with three on Bardsey on 16th-19th), eight were seen in the northwest and seven birds already found their way to the Midlands, including two in Leicestershire.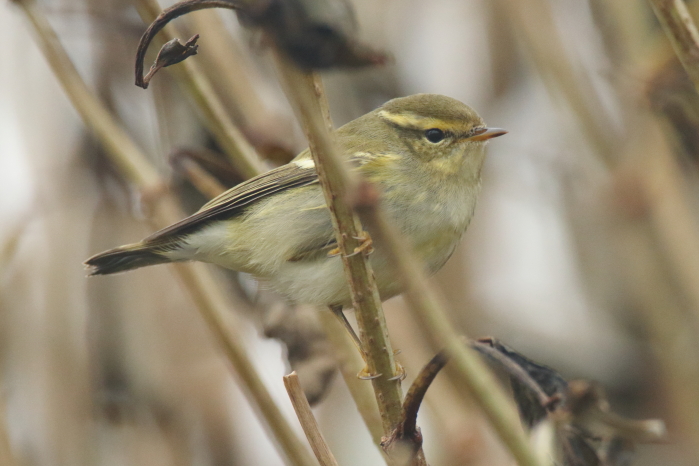 In Ireland, 50+ was the weekly total, half of them noted in Cork, with half a dozen for Galway and five for both Kerry and Mayo.
Shetland hosted three of the week's seven Dusky Warblers; one remained at Sandwick, Mainland until 19th with further birds at Cullivoe, Yell on 14th and Walls, Mainland from 17th-19th. Singles were seen on Brownsman, Farne Islands (Northumberland) on 16th-17th, at Flamborough Head (East Yorkshire) from 16th-19th and Gibraltar Point NNR (Lincolnshire) from 14th onwards to 20th.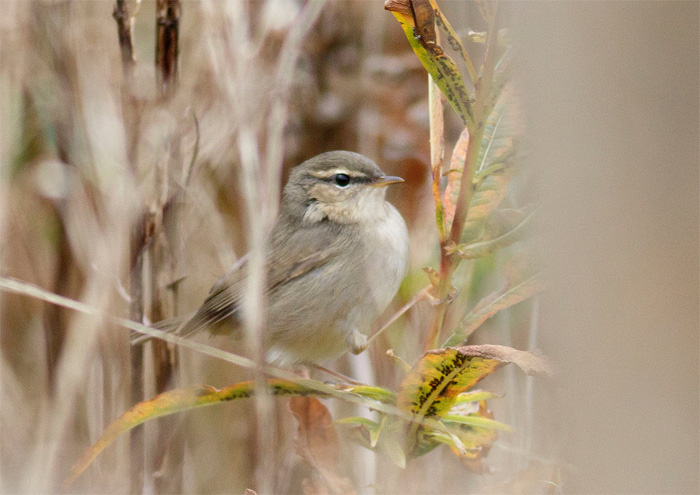 Fair Isle's first Radde's Warbler for five years was found on 14th, one of only three noted through the week. The second was in Yarmouth Cemetery (Norfolk) on 15th (one, perhaps this one, was present on 11th) and the third of the last seven days was found in the valley at Kenidjack (Cornwall) on 17th.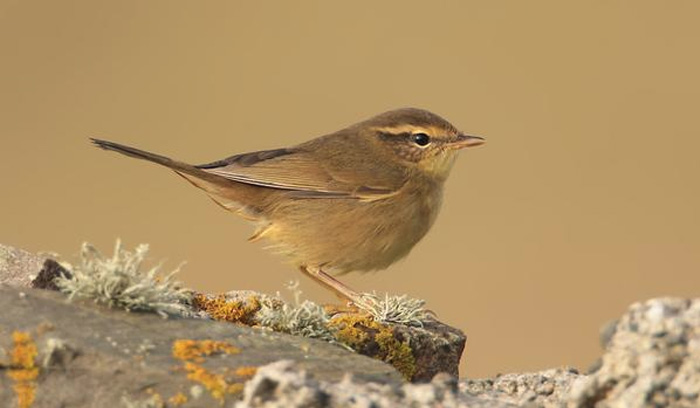 Two western Melodious Warblers made it to Bryher (Scilly) on 14th and out on Tory Island (Co. Donegal) on 15th (a species that is exceptionally rare in this part of the world…).
Scotland managed five Barred Warblers through the week; one was at Skateraw (Lothian) on 14th-18th, another was on Fair Isle on 16th and one was on Lewis, at Barvas on 17th. Further mainland birds were noted on 18th at Kilminning Castle (Fife) and Durness (Highland) on 19th. To the south, at least one Barred Warbler was on Holy Island (Northumberland) from 14th-18th and singles appeared at Whitburn (Co. Durham) on 14th, Flamborough Head (East Yorkshire) on 15th-18th and in Cornwall on 20th, singles were at Rame Head and Cot Valley (Cornwall). Last week's bird at Firkeel (Co. Cork) remained to 18th.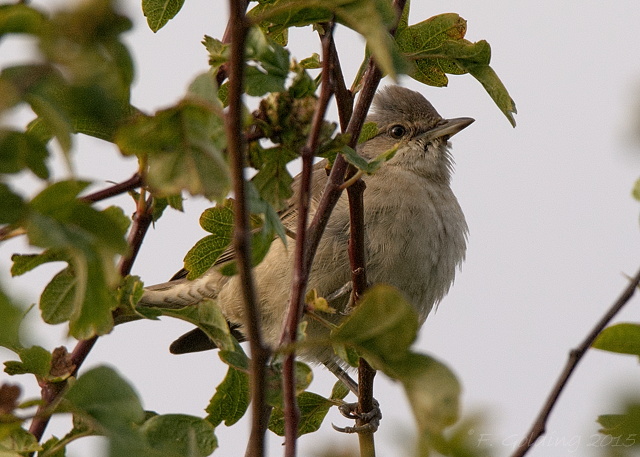 The Pipit Patrol
Although there was an absence of the super-stripey PP this week, there were lots of other pieces of pipity-loveliness on offer and none was more lovely than the rather exquisite Olive-backed Pipit that frequented Norfolk's Muckleburgh Hill from 15th to 18th. Tame and ultra-showy the one blemish on the copybook was that it was just the wrong side of the Cley square boundary…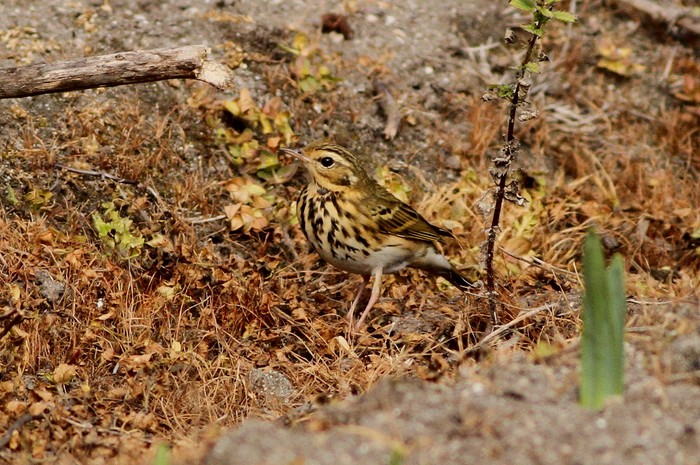 The north coast bird was one of 18 O-bP's in all - a second Norfolk bird was seen in Hemsby on 18th (along with the Bluetail too!) and a third was, inevitably, in Wells Woods on 19th. Elsewhere this week, six birds were seen around Shetland (two for Fair Isle on 14th-15th, with further singles there on 19th and 20th, and also on Mainland, at Gulberwick on 14th and Quendale on 15th); three were in East Yorkshire (singles at Spurn on 14th-15th and 18th with another at Buckton on 15th-16th) and two made it to Dorset (lone birds found on Portland on 14th and 18th). Further east coast singles were noted on 18th at Whitburn (Co. Durham) and Hartlepool Headland (Cleveland) and far flung west coast individuals dropped on to Barra (Outer Hebrides) on 18th (the first Hebs record for three years) and St. Martin's (Scilly) on 19th-20th.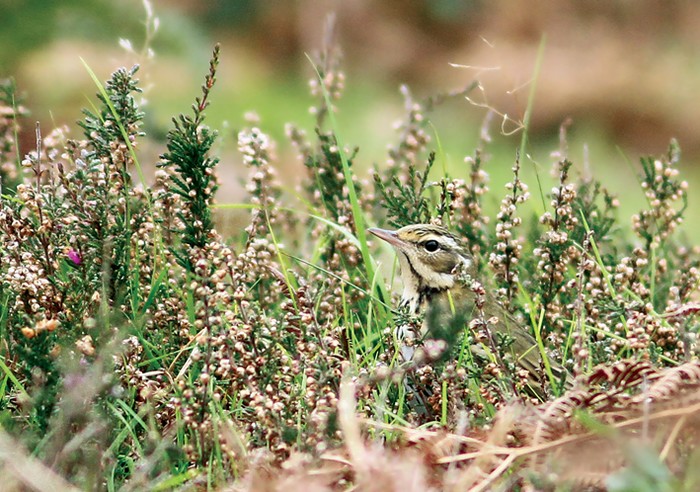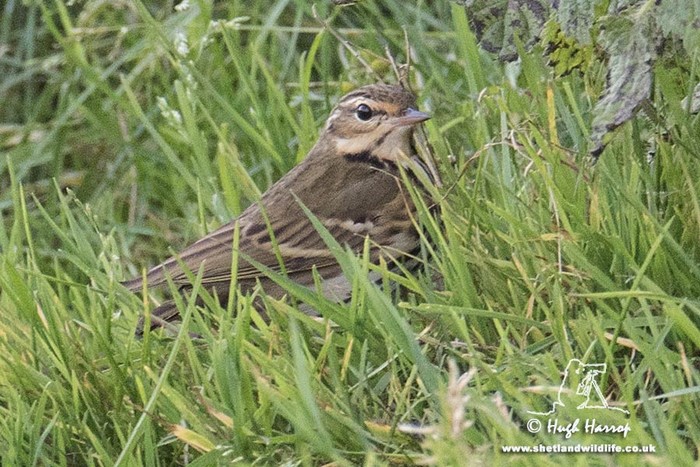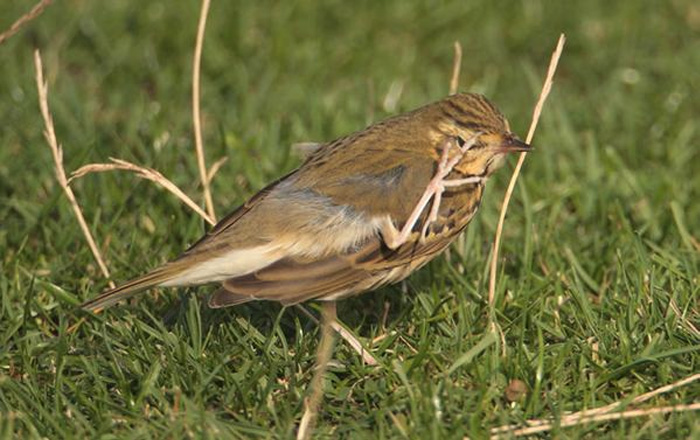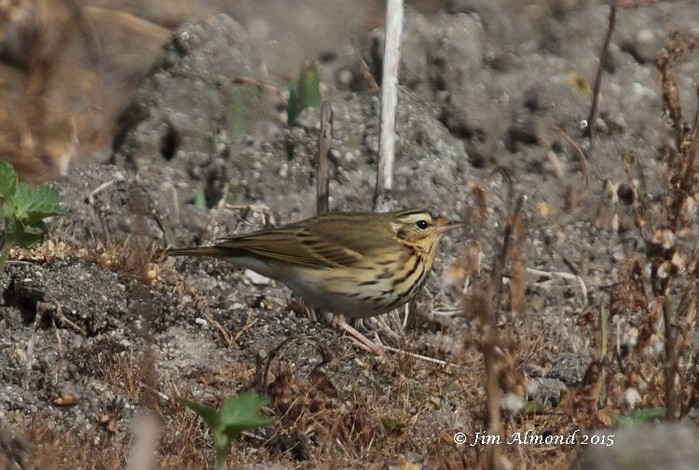 Only two Red-throated Pipits were seen this week, both on Scilly - one remained on St. Mary's until 15th and a new bird was noted fro a few minutes on the heliport field on Tresco on 18th (there was another reported briefly at Holme, in Norfolk on 19th, but details seem to be scant).
By the end of the weekend, the total of Richard's Pipits noted was on 39 - six of which appeared on Fair Isle on 14th. The same day also produced two on St. Mary's (Scilly) and well spread singles on North Ronaldsay (Orkney), Spurn (East Yorkshire), on Bardsey (Gwynedd) and over Holyhead Mountain (Anglesey) and in Somerset, over Wain's Hill. The following day saw eight further new arrivals noted; three were at Baltasound, Unst (Shetland) and there were twos for Bryher (Scilly) and Loop Head (Co. Clare) with another Shetland single appearing on Out Skerries.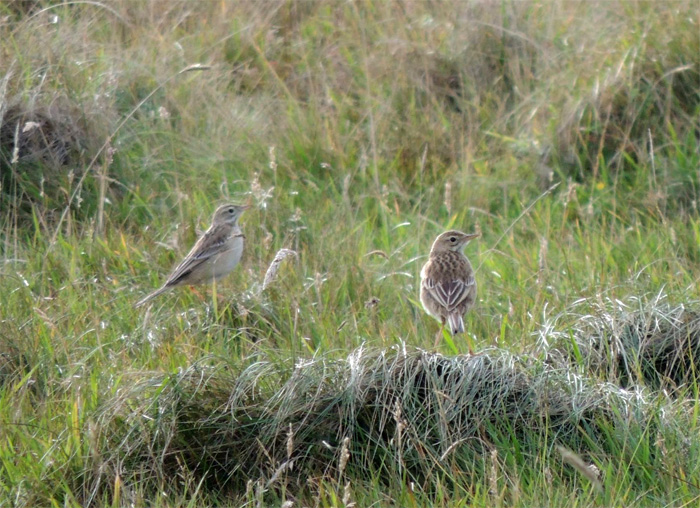 New on 16th were loners on Tresco and at Ross (Northumberland) while a busy 17th saw three found in Norfolk (two at Gramborough Hill and one at Wells), Dorset singles at Stanpit and Durlston Head and in Lincolnshire, one was found at Gibraltar Point NNR. The next day, two were around the same area and another single was at Cahermore (Co. Cork). The 40th of the week was seen in stubble fields near Stiffkey (Norfolk) on 19th and the 41st flew west over nearby Burnham Overy the following day.
Chats and stuff…
On Mainland Shetland, the Siberian Stonechat found last week at Quendale lingered through until 15th while new in East Yorkshire was a bird at Flamborough Head, present from 14th-20th. The third report of the week was all the more controversial - a male Stonechat located at Pungies Lane, St. Mary's (Scilly) on 15th was widely regarded as being a Siberian but the images posted don't really fit a "conventional" maura-type male (be it 1st winter or adult). That took us to the realms of potential Stejneger's but that wasn't an easy fit either. A rubicola Stonechat is where this individual was heading…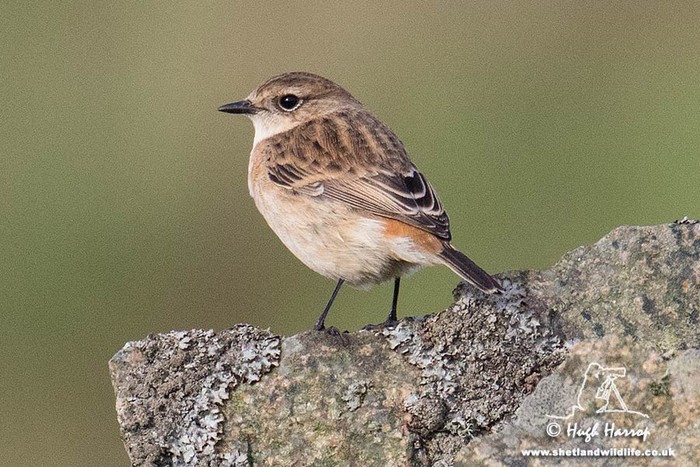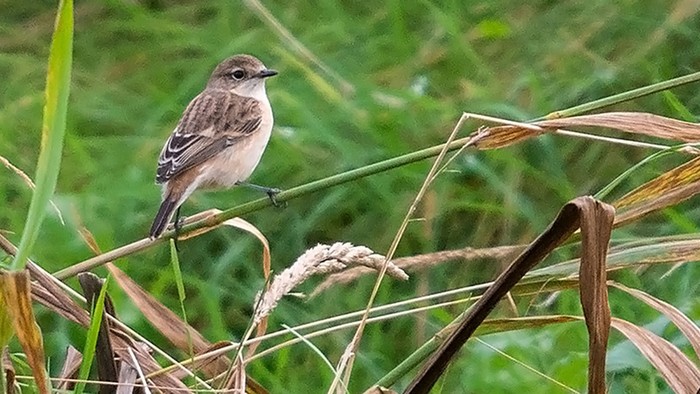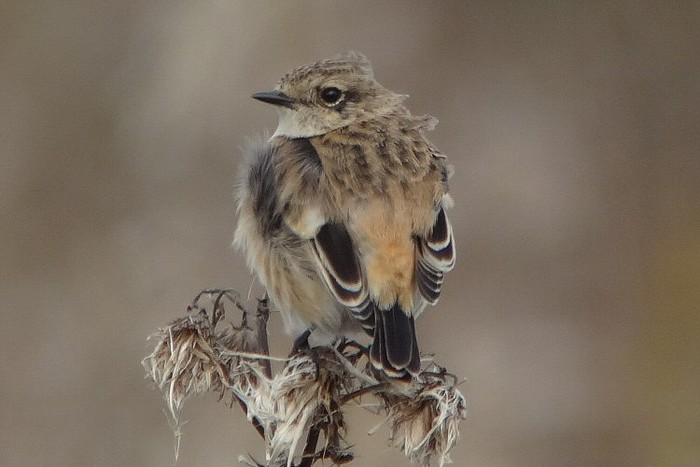 At least five Bluethroats were logged on Shetland through the week; one was on Fair Isle at the start of the week and lingered to 19th while Mainland scored two on 15th, at Gulberwick and Quendale with a third appearing at Burravoe, Yell, the same day. The final bird for the islands was on Unst on 19th while the only British mainland record came from Spurn (East Yorkshire) on 15th.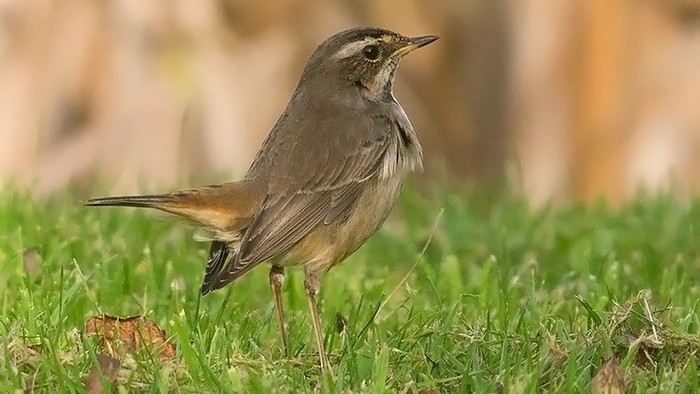 Obviously not a chat, but definitely "stuff" is Red-breasted Flycatcher and many of the 14+ noted this week were found on 14th-15th. The first batch on 14th arrived at on Fair Isle and Bryher and also at Kilnsea and, in County Clare, at Kilbaha - a control of a first-winter bird which had already been ringed somewhere in Britain…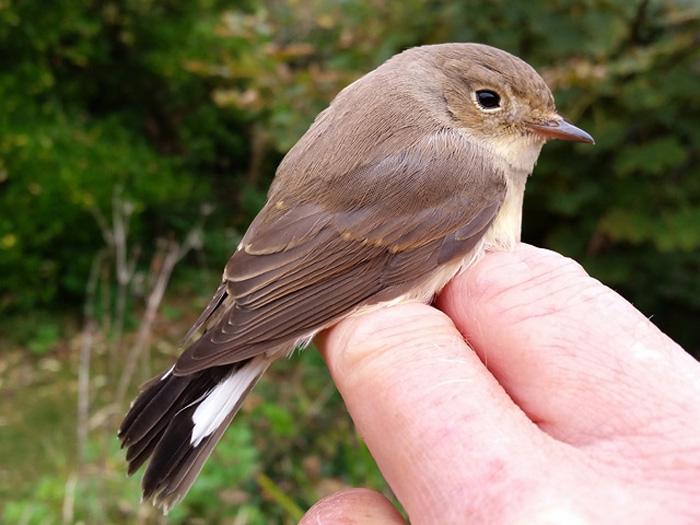 Norfolk hosted the only mainland records on 15th, seen at Blakeney and Winterton with the remaining foursome located on islands - Shetland's Scalloway, Orkney's North Ronaldsay, Fife's Isle of May and Devon's Lundy. The only others reported were at Brevig, Barra (Outer Hebrides) on 18th, in the Bird Observatory garden, at Portland (Dorset) on 19th and at Covean, St. Agnes (Scilly) and Samphire Hoe CP (Kent), both on 20th.
Just one Short-toed Lark was on offer over the past few days, and it was a remnant from last week - still on the airfield at St. Mary's (Scilly) until 20th.
Bits & Bobs & Buntings…
Four of the five Common Rosefinches recorded this week were island birds; west coast birds found on 14th made it to Skomer (Pembrokeshire), St. Martin's (Scilly) and Lundy (Devon) with a second Scilly bird appearing on St. Agnes on 15th. The same date saw another west coast arrival appear, this one near Firkeel in Cork.
The easterly bias to the winds dropped two Penduline Tits in to the reedbed at Minsmere RSPB (Suffolk) on 18th, with one there early the next day. Four or five single Serins were noted; on St. Martin's (Scilly) on 14th, Burnham-on-Sea (Somerset) on 16th and at Portland Bill (Dorset) on 19th (and one was also reported in Norfolk, at Kelling on the same day). The final one of the week was at Southwold (Suffolk) on 20th.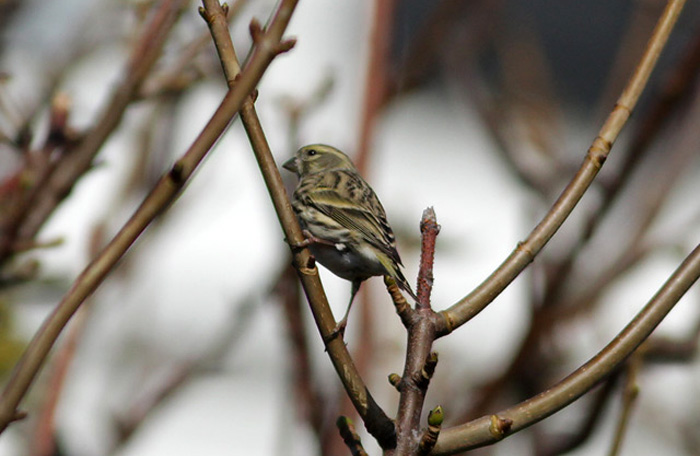 Momentary collywobbles all round perhaps on Fair Isle when an Ortolan Bunting plopped in on 16th (they're going to land a Grey-necked one day) and the second in two days was found on Scilly, on St. Martin's on 17th.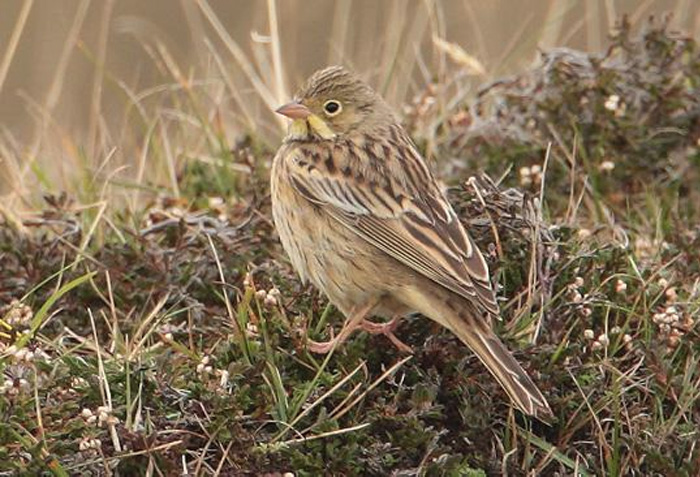 Fair Isle scored a cracking quartet of Little Buntings on 14th with southwestern singles the same day appearing on St. Mary's and Lundy. Two singles were found on 15th, at Flamborough Head and on the Shetland Mainland, at Geosetter. Off the coast of County Cork, the ninth Little Bunting of the week was seen on Dursey Island and the 18th brought two birds to Norfolk; one by the path to Burnham Overy Staithe and at Overstrand.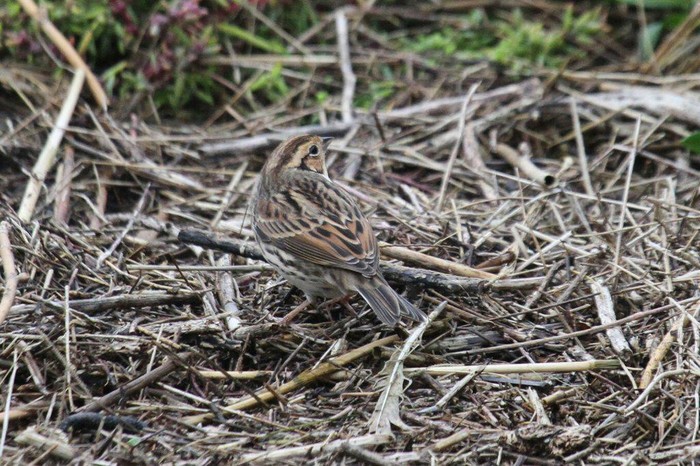 Miscellany…
Herefordshire's Hoopoe remained at Stretton Sugwas GPs to 18th and the second for the week was at Rinsey Head (Cornwall) on 19th, while just four Wrynecks were reported; singles seen on Tresco (Scilly) on 16th, at Pennington Marshes (Hampshire) and Nanjizal (Cornwall) on 18th and in Dover (Kent) on 19th.
Cornwall held three of the week's six Rose-coloured Starlings - juveniles were at Sennen on 14th and at nearby Land's End from 14th-19th while an adult was on the Lizard on 17th. A new youngster was at East Mersea (Essex) from 15th-20th while an Irish bird was at Mizen Head (Co. Cork) on 15th and the lingering adult on Islay (Argyll & Bute) remained to 15th at least.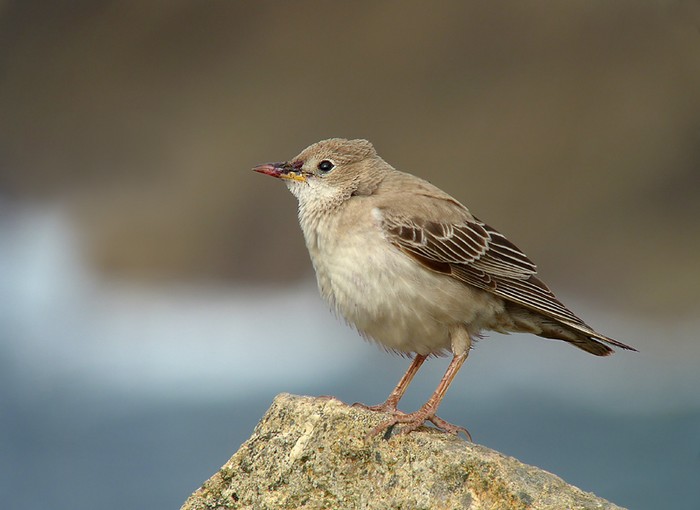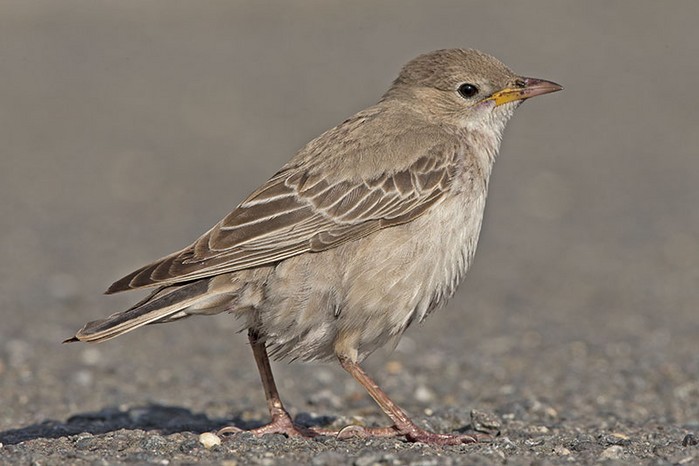 Also present in very small numbers this week was Red-backed Shrike; one was on Portland from 14th-19th and on Mizen Head between 14th-17th.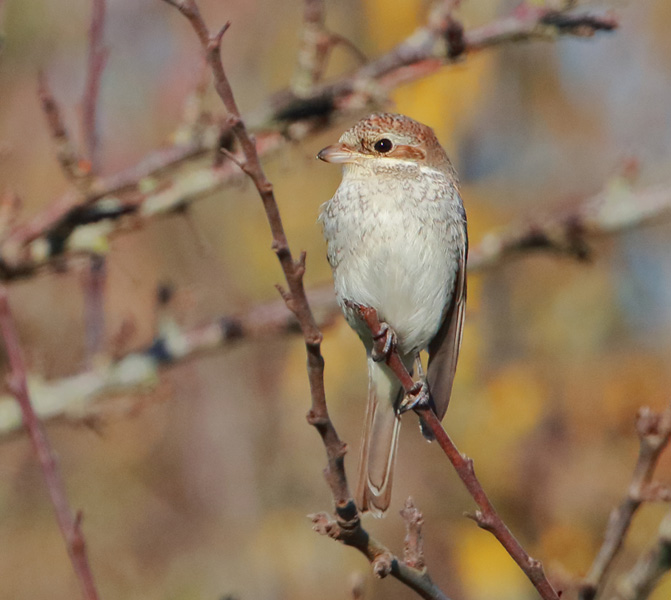 The Monochrome Murderous Invaders…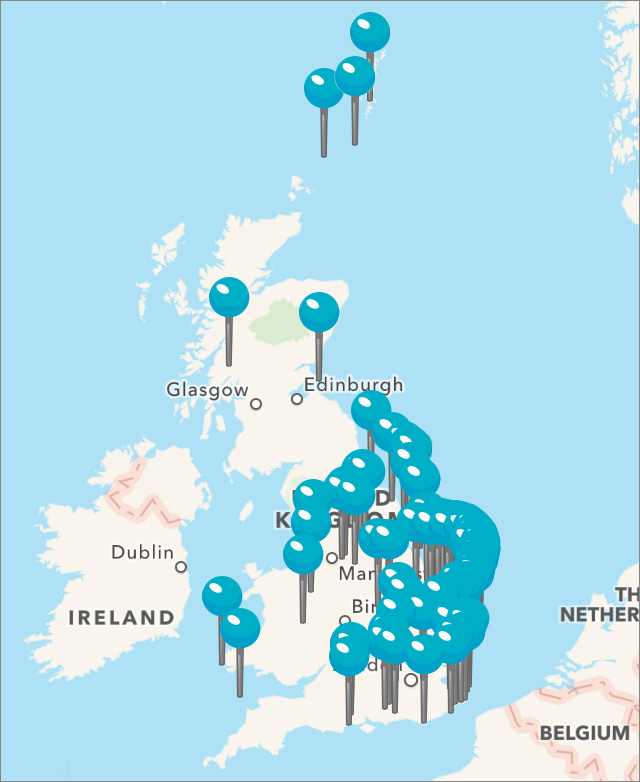 In amongst all the Bluetails, rare pipits, warblers and everything else that raised the occasional eyebrow through the past seven days, one regular, always welcome autumn invader really took off - big numbers of Great Grey Shrikes thumped on to North Sea coasts throughout the week, with some 126 recorded by the close of play on 20th.
Norfolk was awash with birds, with at least 40 recorded by the end of 19th including three at Strumpshaw Fen RSPB on 20th and twos at Holme from 15th, Wells Woods on 16th and Waxham on 17th. Neighbouring Suffolk recorded 19 (as a minimum) with doubles at Mutford on 14th, Southwold on 15th and Landguard NR on 19th.
That's 59 down from East Anglia alone then; the northeast of England comes along next with at least 26 more Great Grey Shrikes to add to the pepper-toned pot. Upwards of 15 were seen in East Yorkshire, including four at Spurn on 18th while three of North Yorkshire's birds were seen in the Langdale Forest on 19th. Two of Lincolnshire's three individuals were at Gibraltar Point NNR on 15th, with singles in West and South Yorkshire as well as one in Cleveland.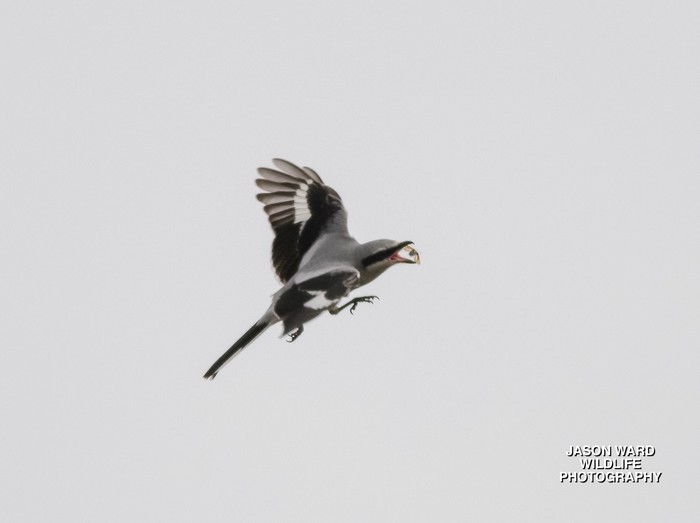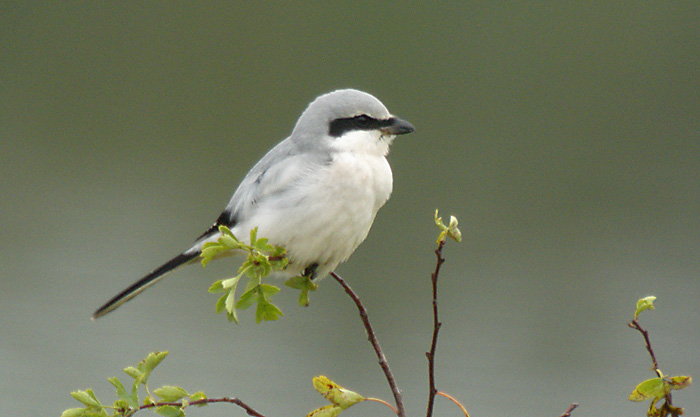 In the southeast, Kent fared well too - as many as 12 recorded there, including two at Worth & Sandwich on 15th. Four shrikes were in Essex, three or four appeared in Hampshire's New Forest, twos were in West Sussex and Surrey while singles were logged in Hertfordshire, Bedfordshire and London. Numbers elsewhere were on the slender side; five were in Scotland (one in Argyll and the others all on islands in Shetland, Orkney and Fife), two were in Wales (one in the north, one in the west), one was seen in the northwest, four were in the Midlands (including two in Leicestershire) and two made it to the far southwest, to Dorset's Hengistbury Head on 18th and Devon's Lundy two days beforehand.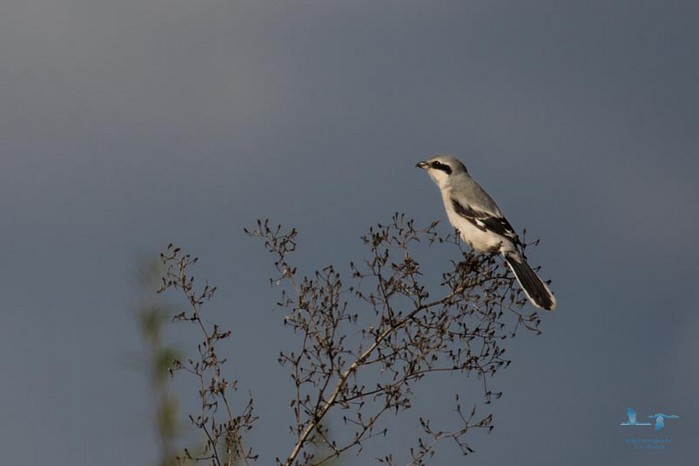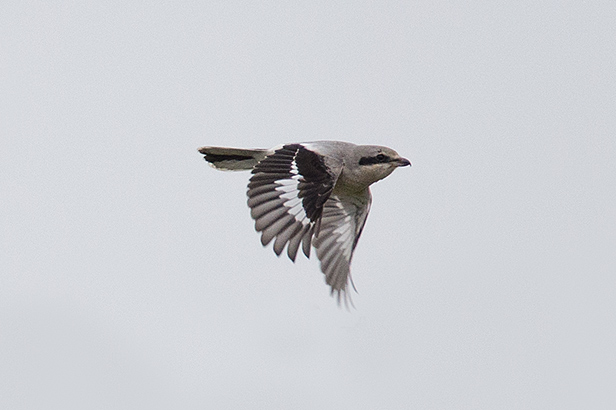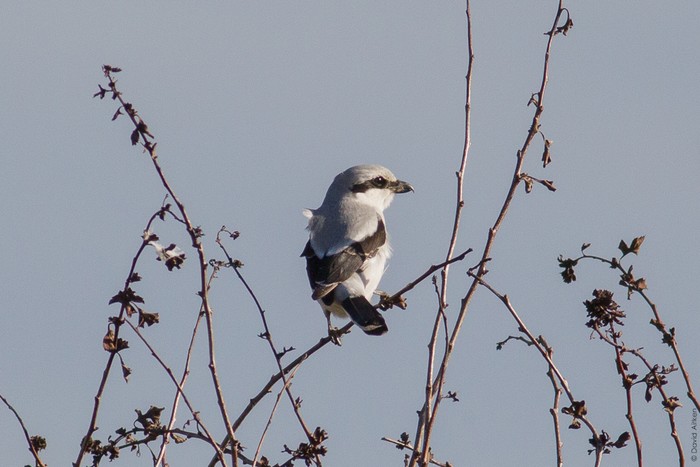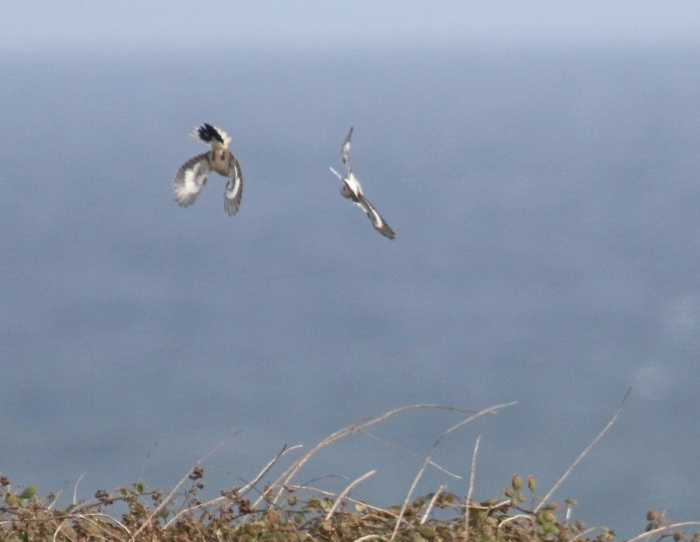 …and that, as they say, was that…
The purist would be saying that the week ahead could be - and it is a very significant could - the prime week of the autumn (and, therefore, the year as a whole).
Everything is dependant on the winds, the highs and the lows and just what system lies where. If things shape up from the west, rewards are high. If things shape up to present eastern gems and jewels, the rewards, on paper, seem higher still.
For those with Nearctic ambitions, take a peek in the famous valley of Porthgwarra on October 21st. That famous Cornish site has produced two historic British birds on that date - the first American Redstart in 1967 and the debut Chimney Swift in 1982.
October 22nd has whacked in two mighty (one the mightiest and heftiest far-flung traveller of them all) Phylloscopus - both 1st's - (and one being the mightiest and heftiest far-flung traveller of them all). In 2009 came the beautifully showy Eastern Crowned Warbler in County Durham and the rather more secretive gone-before-you-knew-it Pale-legged/Sakhalin Leaf Warbler spent a short time boggling-minds on Portland in 2012.

Further Eastern-style promise has beckoned courtesy of the fabled Bimaculated Lark (write it in often enough and it will come…) found on Scilly on October 24th 1975 while those who like their rares with a dash of the ole Red, White & Blue may cast a wistful mind's eye to the trapped Ruby-crowned Kinglet on Cape Clear Island on October 27th 2013.
As mentioned earlier (though written four days previously here…!) many still yearn for another bite at the cherry-chested Siberian Rubythroat - nigh on half of the accepted records to date have appeared in the seven days ahead, two of which were found on the day that all rarity hunters need to scrawl a big red Sharpie circle around - October 23rd.
From the west on this astonishing day have come a Rose-breasted Grosbeak (on Scilly in 2007), Common Yellowthroat (freshly dead in west Cornwall in 2006), an Ovenbird (on Barra in 2011) and that remarkable Shetland Cape May Warbler in 2013. As if that wasn't enough, October 23rd last year yielded Hebridean Hermit Thrush (a leftover) and Grey-cheeked Thrush (which wasn't) and double Coccyzus - the twitched Porthgwarra Yellow-billed Cuckoo and the dipped Black-billed Cuckoo on North Ronaldsay.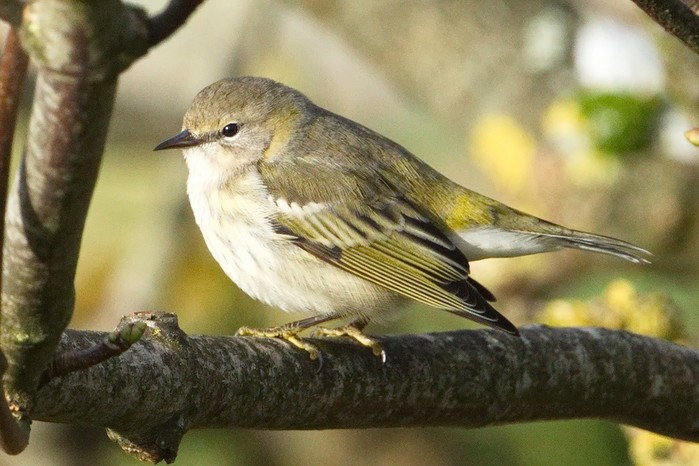 The Stars'n'Stripes role-call of honour for October 23rd is of the highest order. Arguably, the east takes it a notch or two higher…
Those two Siberian Rubythroats (both females, both on Fair Isle, one in 2005, the other in 2012) are mere appetisers for the triple-bill main event. First up, the incredible record of the Suffolk Siberian Blue Robin discovered late in the day in the dune slacks at Minsmere in 2000. Swinging back to Fair Isle, Britain's first Rufous-tailed Robin unveiled itself with grace amongst the moss-clad stone walls in 2004 while in 2012, the second British Chestnut-eared Bunting was found at the tip of south Mainland, Shetland, near Virkie.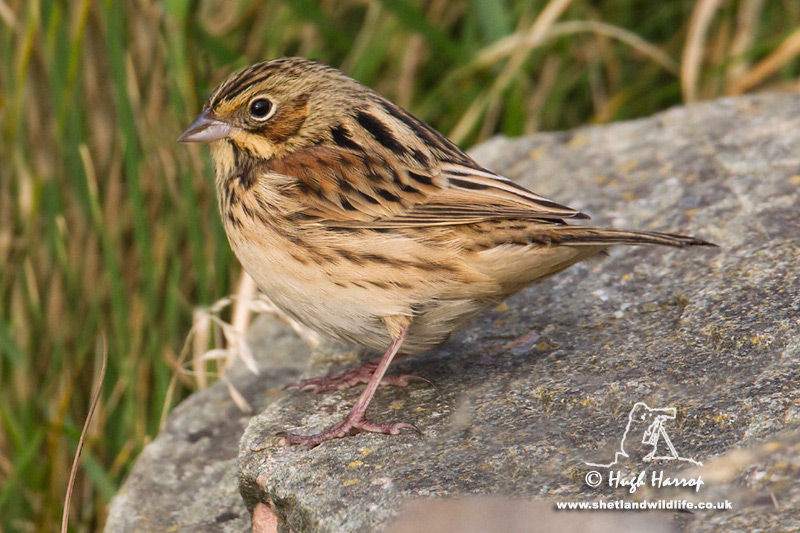 East versus West…the titans slug it out once more…
…and with Shetland and Cornwall dragging in three big birds from the right of us on this week's final day and the mid-Atlantic Azores awash with an array of incredible Nearctic vagrants (caught half way between Newfoundland and Portugal…) there's no telling quite what direction the next set of birds will pop up from.
…but, for all those awesome birds, let's stick necks out for an increasingly rare species here (and worldwide too), one that was (in the mid-80's and in to the 1990's) rather easier to connect with - Sociable Plover. Out of the 50 acceptances to date, 20 have come in October but just two of those have 20 have come in the last 15 years (seen by 100's of Minsmere dippers in 2000 and also admired by many on Scilly in 2008, a bird which is our most recent record to date).
There have only been six Sociable Plovers across the past 15 years, including the obliging bird a decade ago in London compared to eight records in the 90's and 10 in the 80's.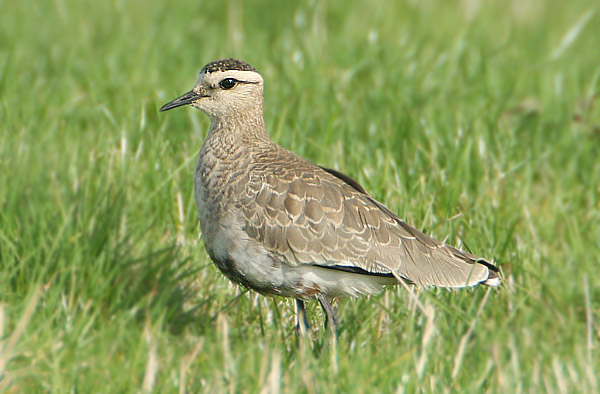 The future of this (officially) "Critically Endangered" species - the rarest and most threatened of any species upon the (European) Steppes. Habitat loss and hunting appear to be significant long-term threats and the days of regular occurrences as a vagrant here seem set to fade further and further away with each passing year.
…the lack of appearances here seems somewhat trite in terms of a topic of discussion, but whenever the next one comes along, let's hope that all those taking their time to see it realise just how lucky they are…
Mark Golley
21 Oct 2015

Please note: we put a lot of time and effort into sourcing and and producing the images, videos and graphics for each roundup. Some of you (probably Apple users) may notice some photos etc. that appear to have incorrect captions. Please try refreshing the page as they are correcty captioned. If after a refresh they are still showing the incorrect captions then please email us
Thanks to all of this week's contributors for their photos and videos.
Hugh Harrop / Shetland Wildlife, Paul Kelly / Irish Bird Images, George Gay / North Ronaldsay Bird Observatory, Penny Clarke, Marcus Nash / The Bird ID Company, Martin Cade / Portland Bird Observatory, David Parnaby / Fair Isle Bird Observatory, Steve Stansfield / Bardsey Bird Observatory, Matthew Eade, Tony Davison, Pete Hines, Alan Curry, Steve Arlow, Dave Appleton, Richard Stonier, Jim Almond, Joe Pender / Sapphire Pelagics, Rob Stonehouse, David Stone, Gary Thoburn, James Lowen, Barry Woodhouse, Martin Palmer, Phil Bishop, Karen Jehan, Dave Suddaby. Michael O'Clery, Davey Farrar / Kerry Birding, Andrew Jordan, Steve Percival, Micheal O'Briain, Paul Kelly, Frank Golding, Graham Catley, Mark Dowie, Mick Rodwell, Sean Nixon, Penny Clarke, George Gregory, Gibraltar Point Bird Observatory, Cliff Woodhead, Gareth Hughes, Paul Wilson, Martyn Sidwell, Stephen Ray, Mick Hemmingway, Phil Birder, Tony Dixon, Graham Etherington, Mark Dowie, Chris Upson, Michael Trew, Jason Ward, David Hunton, Yves Gisseleire, David Aitken, Simon Spavin, Pete Saunders, Paul Rowe.