Weekly round-up: 23 - 29 Sep 2015
The week at a glance
Thick-billed Warbler thumps in to Mainland Shetland
Scilly starts to shine with three great birds within 24 hours…
…with both Blackpoll Warbler and Grey-cheeked Thrush arriving on St. Agnes…
…and a Pechora Pipit is discovered on St. Mary's…
…then St. Agnes's third Nearctic passerine in three days arrives in the shape of a Red-eyed Vireo
Majestic adult male Northern Harrier found on North Ronaldsay
Orkney then lands a new Swainson's Thrush…
…and a second Grey-cheeked Thrush for the week makes landfall on the Shetland Mainland hours beforehand
Kent host a brief fly-through Pallid Harrier and two more are found, in West Sussex and East Yorkshire, as the week closes. At least two linger on Shetland as well…
The Isle of Wight hosts a Greater Yellowlegs - a new one or is it another reappearance of the Hampshire bird?
Record numbers of Yellow-browed Warblers drop in countrywide, from Shetland to Scilly
The remnants of that choice piece of Atlantic weather continued to make its influence known as the new review got underway - bringing further Nearctic vagrants along with it for good measure.
Once that system had departed across the North Sea, a couple of days of bright and sunny days with a generally west to northwesterly airflow followed as a tantalising ridge of high pressure began to develop off to the east of us.
As the weekend began, the southeast and easterly winds were already having a considerable impact and despite many North Sea coasts experiencing brisk winds from just where there were required, the bright blue skies meant that perhaps the very best birds just kept flying west and off in to a watery end game as they had no reason to ground on Britain's east coast.
The week concluded with westerlies across the north of Britain and those east winds still through much of England - conditions that saw one species pour in to our shores in an astonishing influx.

Thick-billed Warbler
Like an avian "Rumble in the Jungle" the vagrant rich, birding powerhouses of the Nearctic and Eastern Palearctic are already going at it this autumn - head to head and toe to toe in a stellar blow-by-blow encounter, punch and counter punch met with gasps of wonder and awe from all those on the sidelines.
Just a few days ago, the headlines were stolen by that dizzyingly good 1st from the Americas - this week, after the US & Canada made the early running, it was a bird with an extensive range across temperate eastern Asia that threw the biggest punch of a busy few days.
Britain's sixth-ever Thick-billed Warbler was found just below the mill at Quendale on the Shetland Mainland during the late afternoon of 24th - all of that select half dozen have been found on the islands, one of which was singled out at the end of last week's review (and two more of which got a look-in at the tale end of this week's offering too)…yup, this was a species that was really on my mind…
There have been just two previously twitchable records of this huge rare - the most recent of which appeared at Geosetter (to the north of Quendale) on October 4th 2013 and which saw a significant gathering appear soon afterwards and through the following day too. This week's brilliant work, by my old Devon birding contemporary Pete Aley and Steve Young, saw the Quendale bird showing off and on through what remained of the early evening, some quoted as saying that it performed slightly better than the Geosetter bird, even a handful of brief "on the deck" views were to be had.
Ten years prior to the Geosetter Thick-billed Warbler, a hugely surprising mid-May bird spent two days on Fair Isle (charters arriving within the day to enjoy this one) while the fourth records of the 2000's was a bird trapped on Out Skerries on September 14th.
Before that bird of 2001 there was a huge 40 year gap - that Whalsay bird mentioned at the end of last week's review was found on September 23rd 1971 while Britain's first was found on October 6th 1955 on Fair Isle.
Scilly lands three crackers within 24 hours
#1 - Blackpoll Warbler
After all the fun and general mayhem that ensued as the tail of last week's review wagged firmly on 22nd - what with all that Empidonax action at Dungeness - it became all too obvious that if we were receiving North American landbirds of the calibre of an Acadian Flycatcher then surely there were more exciting passerines about to drop after their very own significant Transatlantic crossings.
That they started to arrive within a day of the Kentish flycatcher was no surprise whatsoever - and the location of not one but both of those latest arrivals was also no real eyebrow raiser either…
First up was the delightful looking first-winter Blackpoll Warbler found in and around the bracken and bushes of St. Warna's Cove, St. Agnes (Scilly) during the middle of the morning on 23rd - the first on Scilly since a showy bird performed at Content, on St. Mary's, late in the season in October 2012.
Blackpoll Warbler has been recorded annually since 2005 with the most recent bird prior to this week's being the brilliant find at Easington, in East Yorkshire, last November, which was the 55th record of the species for Britain and Ireland (with a split of 45:10).
Scilly has long been the best place to try your luck with this particular wing-barred wood-warbler - this week's neat bird on Agy becomes the 24th for the islands and is the 7th there in the past 10 years (one was on St. Agnes in 2005, two were found on St. Mary's in 2007, St. Agnes recorded another in 2008 and Bryher and St. Mary's saw birds noted in 2012).
Just three Scilly Blackpolls were found through the 1990's (in 1990, 1995 and 1997) and they had followed five through the 80's (including two in 1984) while the 70's was a bountiful time, eight records accepted of at least 10 birds - the amazing haul of 1976 still unique to Britain; two were on St. Mary's from October 4th-23rd, two or three were on St. Agnes between 7th-20th with singles on St. Martin's on 9th, a new bird on St. Mary's on the 14th and one was found on Tresco on October 20th.
St. Agnes was also the island that got the Blackpoll ball rolling back in the autumn of 1968 - the 1st for Britain being found in the bushes near the Post Office on October 12th by, amongst others, the late Peter Grant and St. Agnes veteran Paul Dukes.
This week's find on Agy is the second earliest Blackpoll Warbler to date; there have been just seven in September in all (including this week's) the earliest of which was found at Prawle Point (Devon) on September 18th 1976. Shetland's two records for the month were both found on 30th (on Whalsay in 1985 and Fair Isle in 1991) while Scilly's only other September bird was on St. Agnes on September 27th 2005, with one following on a couple of days later on South Uist. The only other September record was found on Inishbofin on September 25th 2013 (scant compensation for dipping the Eastern Kingbird)…
#2 - Grey-cheeked Thrush
Within just a few hours of the appearance (and relatively swift disappearance) of the Blackpoll Warbler around St. Warna's Cove, the same little part of St. Agnes was hosting it's second Nearctic visitor of the day - a Grey-cheeked Thrush - which played the game a little better than the old-money Dendroica, showing through the rest of the day and on in to 24th as well.
Scilly's most recent record of this long-haul vagrant was around the Old Town Churchyard in October 2013 which was the 27th record in all for the islands, an impressive total boosted famously by the startling influx between October 20th-27th 1986 when at least eight birds were found on Scilly, one of them (on Tresco) clearly in full-on Bicknell's Thrush mode.
Also, just as with Blackpoll Warbler, the autumn of 1976 was a fertile time for the species around Scilly, four found between October 14th-21st.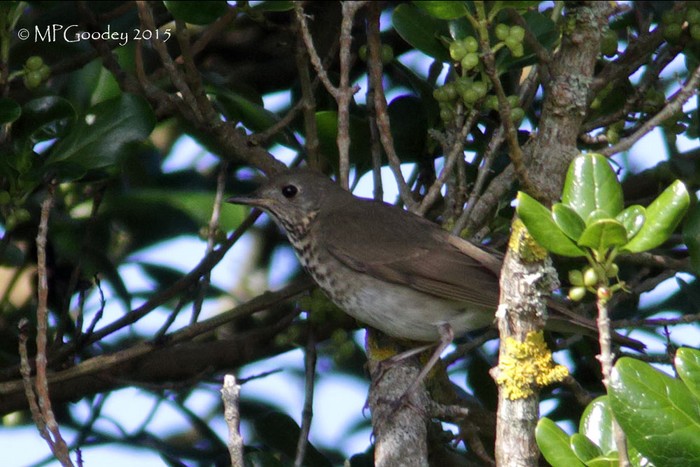 Grey-cheeked Thrush was, for decades, only really likely to be encountered on Scilly but the past few years have seen birds occurring inland in both Norfolk (in 2004) and Hertfordshire (in 2005) along with one in Dorset as well (in 2008). Further birds have appeared in Ireland and, most notably, on Scottish islands - last autumn's five autumn appearances started with singles on the Outer Hebrides (on Barra) and Orkney (on North Ronaldsay) on October 23rd and was followed by one the following day on Fair Isle. Shetland registered two more before the end of the autumn too.
…and, of course, this week's St. Agnes bird isn't even the first of the year, Dave Suddaby's super spring bird on the Mullet on May 25th seeing this perky thrush make it's debut showing for 2015.
Out of the 70 or so records of Grey-cheeked Thrush now recorded in both Britain and Ireland, it is interesting to note (as with Blackpoll Warbler) just how few have arrived in September - the St. Warna's Cove bird is only the fifth for the month; Britain's earliest autumn arrival to date was found on St. Agnes on September 22nd 1991 while the other three have been found on Shetland - on Foula on September 27th 2003, on Fair Isle on September 3oth 2007 and, as mentioned last week, on Fetlar on - daa daah! - September 23rd (2011).
#3 - Pechora Pipit
Whilst in full-on daa daah! mode, mention was made at the end of last week's exhaustive blurb about those times when west meets east and Scilly decided it would play the game and prove such intuition to be somewhat well founded with the trapping of a Pechora Pipit at Porth Hellick Pool on the morning of 24th.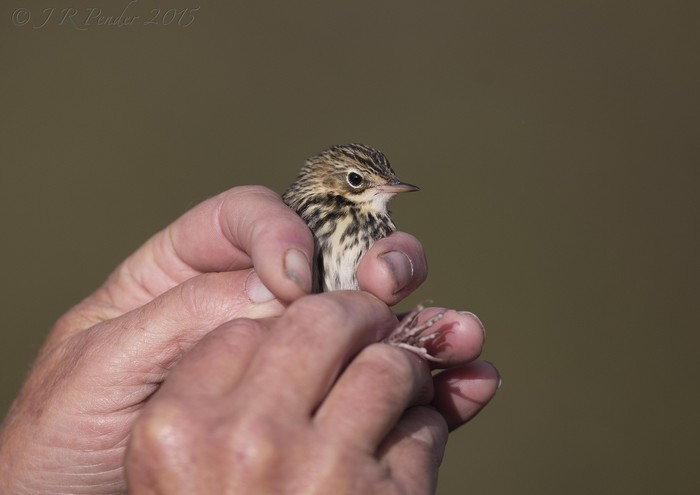 Initially thought to have been a Red-throated Pipit, the bird was quickly re-identified as being the all-the-more unusual (and still down right rare) option and for those present to see the bird in the hand and at release, they were fortunate enough to be witnessing what was just the second records for the islands and the first for St. Mary's.
The only record for Scilly prior to this was the two-day bird seen on Tresco for two days at the end of October 1994 while the rarity value of the species away from Shetland is (as was discussed briefly last week) well known.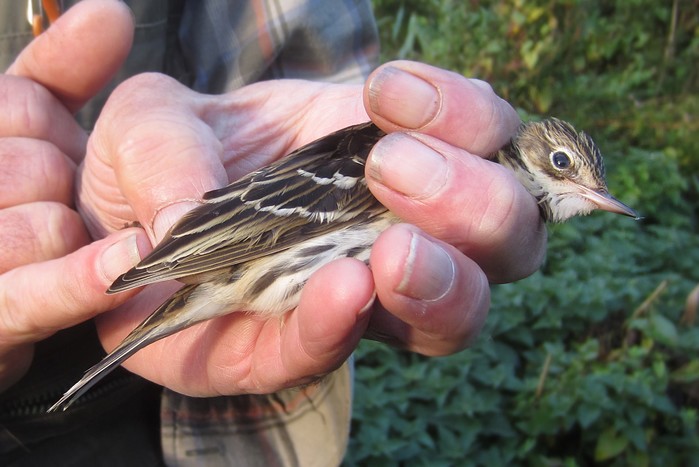 This species remains a huge mainland bird; Cornwall managed three acceptable records between 1990 and 1996 (with none since); Dorset scored two (both at Portland, one in 1983, the other in 1990); Yorkshire has two as well (one trapped at Spurn in 1966 and the well-twitched bird at Filey in October 1994) and Aberdeenshire has one to it's name (in October 2003). Most remarkable of all was the five day super-showy bird in Pembrokeshire in November 2007.
Ireland has seen two Pechoras reach their shores (in Cork in September 1990 and Donegal in September 2001), the Hebrides also has one record to date (in October 2008) while Orkney's twosome were both found on North Ronaldsay (in the October's of 2011 and 2014).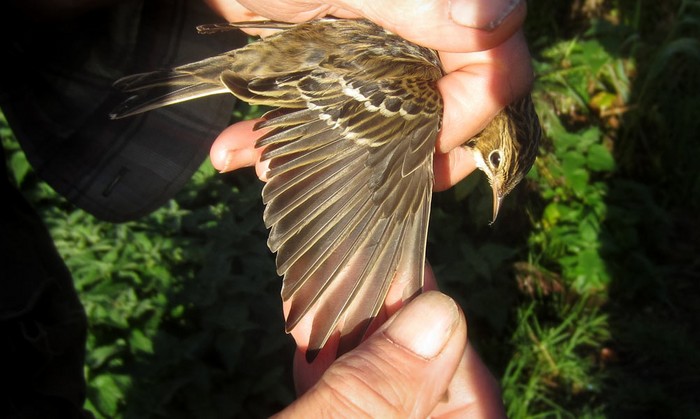 Shetland, as mentioned last week, has 85 acceptances from the 102 given the green-light to date (excluding several last autumn). Almost exactly half of those 102 birds are September finds, the earliest of any of them being one on Fair Isle on the 8th of the month in 1976.
…and St. Agnes does it again just ahead of the weekend…
Red-eyed Vireo
Nowadays, the 200-mark is beckoning for Red-eyed Vireo and, by numbers alone, most people tend to expect this eternally entertaining beefy passerine to be at the start of any action from the west - so often the flag-bearer for all the good things to come…
This time around however, it came in as the 4th American passerine vagrant of a busy four-day period from 22nd-25th - and it was, for the third time in 72 hours, St. Agnes that stole the show as the first Red-eyed Vireo on Scilly for four years was discovered in the tamarisks at the back of the churchyard at Periglis, where it remained to 26th. What was presumably the same bird was then noted by the nearby fruit cages on 29th.
To date, the Isles of Scilly has clocked up over a quarter of all the British & Irish occurrences and this week's arrival will be the 50th accepted record for the islands when the BBRC report is published this time next year.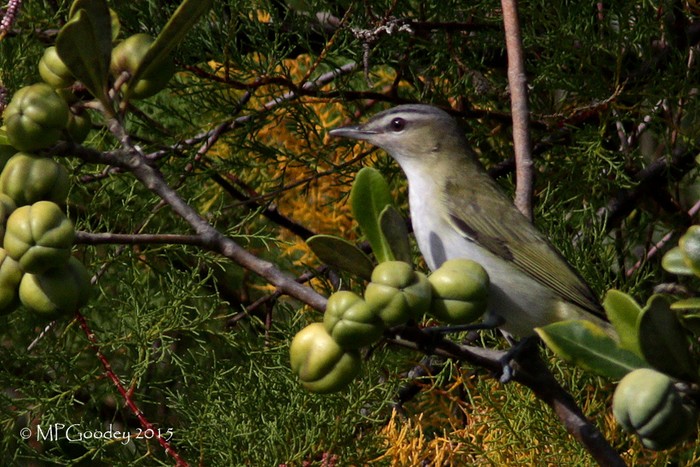 Just as was the case with Blackpoll Warbler, Red-eyed Vireo made its (live) B&I debut on St. Agnes in the 1960's - the first record being of two different birds in and around the middle of the island on October 4th 1962, birds found and identified by genuine birding deity D.I.M Wallace, along with the equally legendary Bob Emmett and Ian Ferguson-Lees (there'd been a freshly dead corpse below Tuskar Rock off the Wexford coast exactly 11 years earlier).
A further three 60's records followed for Scilly and there was just one recorded there during the 1970's. The 80's were particularly productive (perhaps coinciding with a peak in number of properly active birders on the islands) with at least records of Red-eyed Vireo recorded while the 90's followed on with 11 for the decade. The first decade of the 2000's yielded 14 (partly thanks to a mighty half dozen in 2000 itself) while the past five years have produced five.
It seems a while since Scilly has been as productive as this - but it really is due something a step up from this excellent Nearctic trio…
Northern Harrier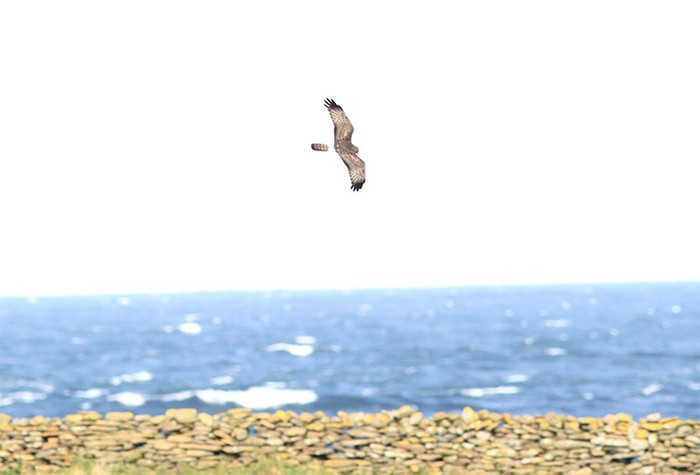 Any regular readers of the weekly musings, mumblings and mutterings will be only too well aware (or perhaps just plain bored rigid) by the championing of Northern Harrier and the extraordinary upturn in the recording fortunes of that most striking raptor form.
This week came another autumn bird and a stunning adult male to boot - seen on Orkney's North Ronaldsay during the morning of 25th by resident rare-magnet Mark Warren, this beautiful Northern Harrier is the second island record, following on from Alex Lees' ground-breaking juvenile of 2008 (first noted around the island on September 24th that year).
Alex's bird set a few minds whirring and advanced the pace of modern day identification markedly and, in retrospect, his bird was a dazzlingly fine example of a fresh, juvenile Marsh Hawk - but it would take multiple birds at Tacumshin and also the wintering young male in Norfolk for everything to fall in to place…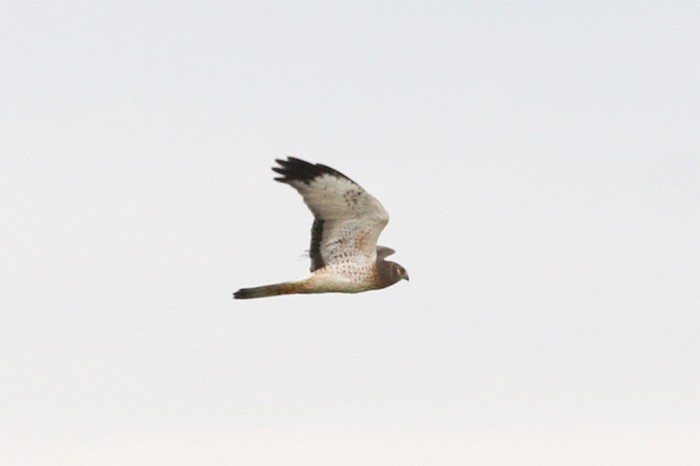 Records of non-juvenile "Grey Ghost" males here have now reached five in all - the first was photographed at Selset Reservoir (Co. Durham) on September 22nd 2009. This was followed by a second-winter bird at Tacumshin from October 15th 2011 and, after that, came the male which made a brief flypast at Men-an-Tol in west Cornwall on November 23rd 2013. The following spring, another brief fly through male was captured on film (as it were) on the western side of Portland, on April 21st 2014.
…and now we have the 5th "Grey Ghost" thanks to the sharp eyes on North Ronaldsay. And what a beast it was too…wowsa (as da kidz like to say…(probably). It remained on the island through until 29th.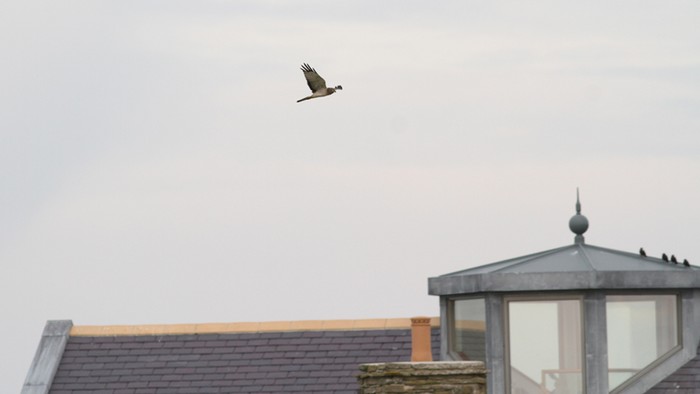 Earlier in the summer, news circulated from the US that, within the 2015 AOU Check-List Supplement (mentioned in the round-up of July 1st-7th), the proposal to split Northern Harrier and Hen Harrier had been rejected - which still feels like a remarkable decision to many (and not just those wanting the hoped-for armchair tick). No reasons were mentioned as to how and why the proposal fell down but, no matter - it still feels likely to happen at some point - they are magnificent birds full stop and their continuing upward spiral of vagrant records both here and in Ireland remains one of the most exciting and fascinating birding events of the past decade.
Whatever the assorted world committees say, these are sensational birds and the Ronaldsay Grey Ghost remained to 26th. The next question for discussion is just how many of these recent adult males are actually roaming wanderers who may have arrived in the Western Palearctic as juveniles and are now "within the system" aside from the recent Cambridgeshire juvenile, youngsters appear to have stopped coming now - and we're left with males only. Coincidence? Maybe.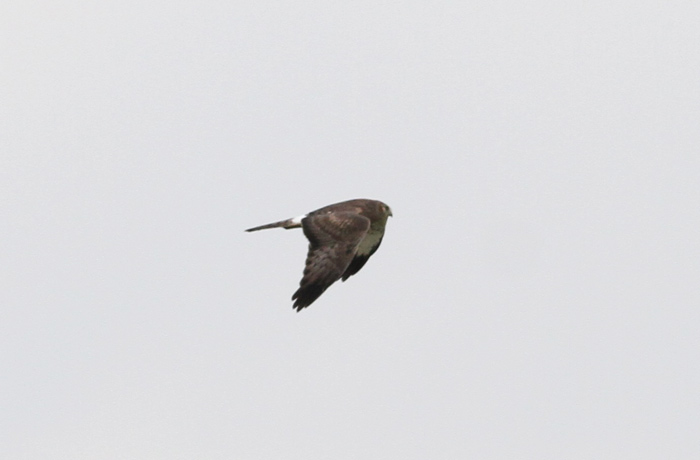 (Also, where and what could these rogue male Marsh Hawks be breeding with?)
Northern Isles Catharus thrushes double-drop within hours of each other…
It almost feels like spring all over again…and then some…
That remarkable spell of weird hardcore west to northwesterly winds at the back end of May and early June produced Grey-cheeked Thrush, Veery and Swainson's Thrush within 10 days of each other (with a second of the last species appearing in mid-June of course).
You'll have already read about the 1st Grey-cheeked Thrush and now here's the 2nd. Found at Ollaberry, Mainland (Shetland) on 28th it becomes September's sixth record - four of which have been on the famous northern island group. It is also the fourth Shetland bird within the last 12 months and becomes the 11th found on the islands in total (seven of those coming since 2007).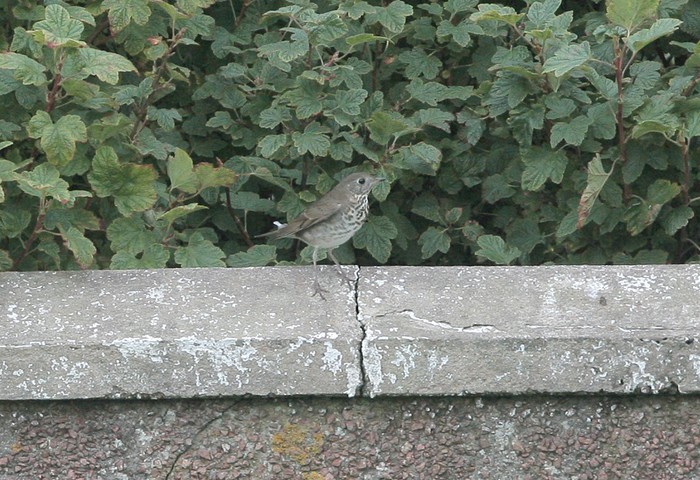 Within only a couple of hours, along came a Swainson's Thrush, found at Cleat, on Sanday (Orkney) - becoming only the third record for the islands, following one at Kirkbuster, Mainland on October 21st 2011 and the first, also on Mainland Orkney and also on October 21st, trapped at Holm in 1993.
Swainson's Thrush remains that much rarer than Grey-cheeked, only 37 acceptances until the end of 2013, with three further records following on after that until this week (in Shetland, Clare and Pembrokeshire). Of those (now) 41 records in total, there are only eight September occurrences - one for Scilly (in 1984) and seven on Shetland (spread from 1990 to 2012).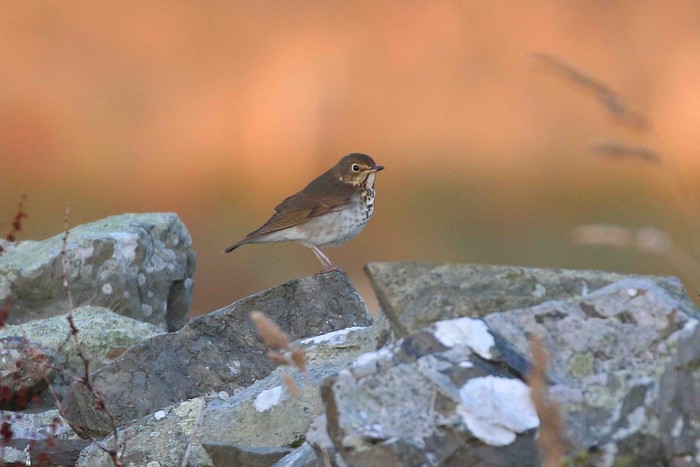 All we need now is a Veery to go all mirror-image with the spring - and it just feels like that could happen any day now.
Pallid Harrier
The Orcadian Marsh Hawk reminds us to not forget another rare harrier that appeared this week; morning news came out on 23rd of a southbound juvenile Pallid Harrier at Worth Marsh, near Sandwich Bay (Kent), potentially only the third record for the county - previous acceptances were a lingering second-summer (3cy) male at Elmley between August 3rd-20th 2002 and a juvenile that spent September 24th-27th 2011 at Cliffe Pools RSPB.
This week's lovely juvenile was noted early-doors on a clear morning with a light westerly breeze, initially heading out to sea before 7am of the review's first day of the new week. Some 40 minutes later it appeared adjacent to the famous golf course before spending a further 10 minutes showing well at the wonderfully named Roaring Gutter. It departed south and wasn't seen again.
The final day of the review period, 29th, saw two new juvenile Pallid Harriers being located; first came a beautiful looking individual through both Sammy's Point and then Spurn (East Yorkshire) prior to 9am with another appearing at Burpham (West Sussex) later in the morning.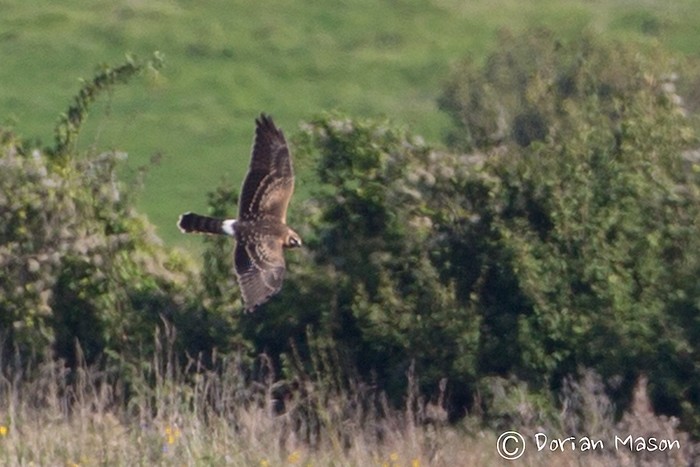 Spurn and the surrounding recording area has logged two previous Pallid Harriers - a male in April 2003 and a first-summer in May 2012 - while the only other record of the species in West Sussex was found at the same site as this week's, found in mid-September 2011.
(Interestingly, three and a half hours after the Spurn bird headed south, a harrier sp., was seen "in-off" at Norfolk's Burnham Overy dunes…I wonder…)
Meanwhile, on Unst, the juvenile Pallid Harrier remained around Northdale through until 27th (two were present there on 13th with a single from 15th onwards). Perhaps the same bird was noted less than 10 miles away, at Uyeasound, on 25th and again on 28th and it was seen around Loch of Hills and Ungirsta on 29th. Another juvenile was seen on Yell, at West Sandwick on 27th.
Greater Yellowlegs
Slinking along in to the lower echelons of the headliners this week, an adult Greater Yellowlegs along the somewhat exotically named River Medina, at Whippingham on the Isle of Wight on the afternoon of 23rd and again on 25th-28th.
Once accepted, it will become the first record for the island but perhaps, given the long-stay of one just across the Solent, at Titchfield Haven, not entirely unexpected. This week's location is directly due south of Titchfield and despite there being no sign of the Hampshire bird since the end of July, it is an easy fit to put two and two together…

With the weather calming to a gentle high pressure system and with the calendar heading towards October, there's no surprise in a small return for both "big shears". A couple of Great Shearwaters were seen off the top of Ireland on 24th - passing Ramore Head (Co. Antrim) and Kilcummin Head (Co. Mayo). Off the south-south eastern corner of Ireland came the only Cory's Shearwater, on the sea off Ram Head (Co. Waterford) on 25th.
Around 85 Balearic Shearwaters were logged in 12 counties this week; nine English and single Welsh, Scottish and Irish counties - Cornwall scoring highest with 26 (thanks to counts of 15 and 11 off Pendeen on 23rd and 24th) with a count of 14 from Devon's Berry Head on 28th. Dorset registered 15 and Pembrokeshire 12. Singles were scattered elsewhere from Kent, Norfolk and north to both East and North Yorkshire and Durham, while Argyll & Bute and County Clare were also represented.
Just five Long-tailed Skuas were reported this week, two of them in Pembrokeshire, off Skokholm on 23rd and Strumble Head on 25th. Birders at Pendeen recorded one there on 23rd and east coast birds were off Thorpeness (Suffolk) on 27th and Spurn (East Yorkshire) on 28th.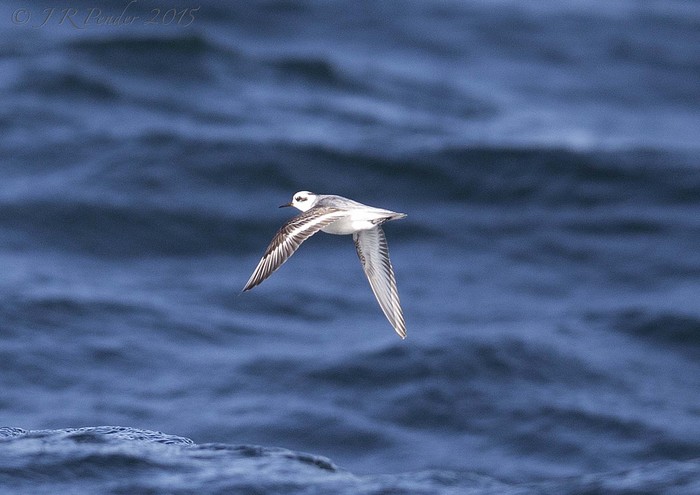 Pomarine Skuas were also in pretty short supply too - just 22 seen, including threes for Strumble Head on 23rd, Bridges of Ross on 24th and Arranmore Island (Co. Donegal) on 25th. Two were seen in Argyll & Bute, at Hynish (on Tiree) on 27th with further singles spread far and wide from Orkney to Cleveland and down to Scilly.
One or two of the locations mentioned above were also locations for some of the week's six Sabine's Gulls; twos each for Bridges of Ross on 24th and Hynish on 27th with singles in the Sound of Harris (Outer Hebrides) and between Mull and Coll (Argyll & Bute, both on 24th.
In County Clare, some blustery weather on 23rd and 24th helped a few Leach's Storm-petrels in to the bay at Bridges of Ross, five there on the former day, 13 on the latter. Off the coast of South Uist, a single headed past Ardvule on 24th and the following day saw one noted from Arranmore Island. Despite the calmish conditions, one lolloped west offshore of Cley and Blakeney Point on 26th and two were seen from Thorpeness (Suffolk) on 27th.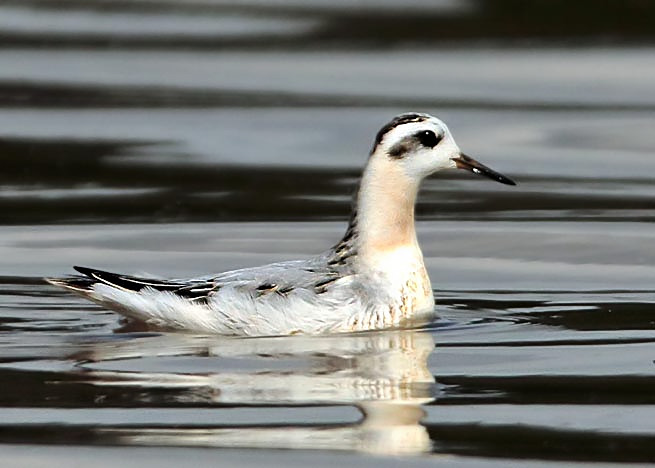 There was a modest showing of Grey Phalaropes through the week, 14 recorded in all; the 23rd saw singles pass Horsey (Norfolk) and Bridges of Ross, where one was also noted on 24th. The same day saw new singles noted from Corsewall Point (Dumfries & Galloway) and Ardvule, South Uist, where a single was also seen on 25th. Back briefly to 24th to mention further singles off Bloody Foreland (Co. Donegal) and a Scilly pelagic while further birds on 25th were at New Passage (Gloucestershire) and Bardsey Island (Gwynedd).
The 26th saw a loner appear on Durleigh Reservoir (Somerset) and two were seen off the ferry from Inishmore (Co. Galway) while the final birds of the week were offshore at Dungeness on 28th-29th and on 29th, off Rubha Ardvule, South Uist and at sea from the Scillonian IIIand also the Aberdeen-Shetland ferry too. One Grey Phalarope lingered from last week - still at Cuckmere Haven (East Sussex) to 25th at least.
New this week was a Purple Heron heading across Cambridgeshire's Grafham Water during the evening of 28th - potentially the first in the county since September 2012.
All three of last week's Glossy Ibis get a mention this week, noted again in Essex, at Wat Tyler CP to 23rd, on Scilly, around Tresco's pools to 25th and still in Waterford, at Tramore Backstrand to 27th. A bird seen earlier in the month, on the Somerset Levels, reappeared this week, seen in the egret roost at Shapwick Heath NNR on 26th and at Ham Wall RSPB on 28th while new was one over Lavernock Point (Glamorgan), the first in the county for three years.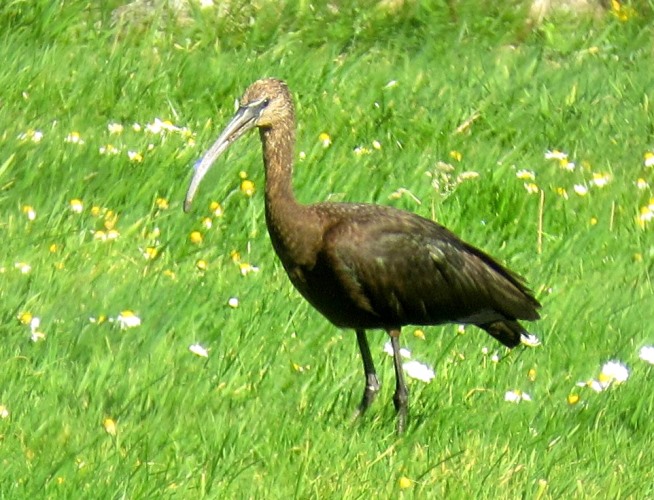 A Cattle Egret was also noted at the same site, this one appearing again from 24th, also taking in Catcott Lows NR for good measure. New was one at the Abbotsbury Swannery (Dorset) on 26th and two on the Goldcliff Pools, Newport Wetlands (Gwent) and at Pennington Marshes (Hampshire), all four seen on 27th (one of the Gwent birds moved to Peterstone Wentlooge on 28th when the Hampshire duo were seen at Keyhaven). A Cattle Egret was then found at the National Wetlands Centre WWT (Carmarthenshire) on 29th. The regular review favourite remained at Dungeness RSPB until 27th at least.
Brownsea Island welcomed a hefty 37 Spoonbills to the area on the afternoon of 28th, creeping up to 42 by 29th. In Norfolk, seven were seen at Warham Greens 25th and in Suffolk, two remained at Hazlewood Marshes SWT to 24th and six were at Orford Ness on 26th. In Essex, single birds were logged at four different sites (Abberton reservoir on 23rd, Holland Haven on 25th and both Kirkby-le-Soken and Old Hall Marshes RSPB on 26th) while drifting to Kent, two flew over Dungeness RSPB on 25th and one was at South Foreland on 27th.
Elsewhere along the south coast, single Spoonbills were at Bracklesham Bay and Church Norton (West Sussex) on 25th-28th, Gilkicker Point (Hampshire) on 27th and at a couple of sites along the Exe Estuary until 26th. Also in Devon, on the north coast, three were at Isley Marsh RSPB on 28th. The final one for the week was seen at Gibraltar Point NNR (Lincolnshire) on 27th.
A minimum eight Common Cranes were seen in Cambridgeshire through the week, an octet present at Ouse Washes RSPB on 24th followed birds at Upware and Burwell Fen at the start of the review period (and two were at Nene Washes RSPB on 24th as well) while seven were at Little Downham on 25th.
Three Cranes took 80 Friday afternoon minutes to drift south down the coast of North and East Yorkshire, from Scarborough to Kilnsea (via Speeton) on 25th. Whether the three noted back in Cambridgeshire early the next morning, heading SE over the A14, at Bar Hill where connected is anyone's guess, but it would be nice if they were. The timings certainly fit…the only others noted were over Hale (Cheshire) on 26th and at Blithfield Reservoir (Staffordshire) throughout the week.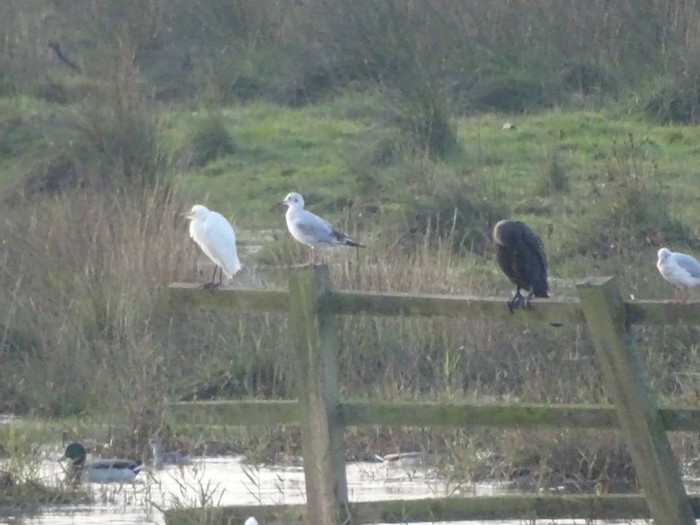 The only Corncrakes were separated by some 800 miles - found on St. Mary's (Scilly) on 24th (where, unusually, it remained to 26th) and on Fair Isle, seen there on 25th with presumably a second found on 28th.
Off the coast of west Wales, a parvipes Lesser Canada Goose flew in to roost on Skokholm on 25th while on the River Exe, a minima Ridgway's Cackling Goose was found amongst the newly returned Dark-bellied Brent Geese on 27th, where it remained to 29th (and began to stir some interest in to the bargain).
Quite where either of these curios have sprung from is an interesting one to muse upon - the time of year is fine and dandy and we've been getting a few other vagrants from the Americas…but quite how long the Cackler has hitched up with berniclas is a puzzler though. On paper, Dark-bellied Brent Goose is a most unlikely carrier species. "Of Unknown Origin" may be an appropriate label for this particular minima.
Origins are much less taxing to think about where the newly returned Black Brant in County Kerry, at Tralee, are concerned - appearing with the Pale-bellied Brents on both 24th and 25th.
Back again too was the adult drake Ferruginous Duck at Blashford Lakes HWT (Hampshire) from 27th - he was seen there off and on through the winter (to February 8th) having appeared in mid-November last year. It seems highly likely that this is the same drake that has been noted every winter since the end of December 2011. A new FD was found in Surrey on 28th at Frensham Great Pond, the first in the county since April 2010.
Somerset laid claim to the only other notable Aythya this week, the drake Lesser Scaup still at Chew Valley Lake to 27th at least.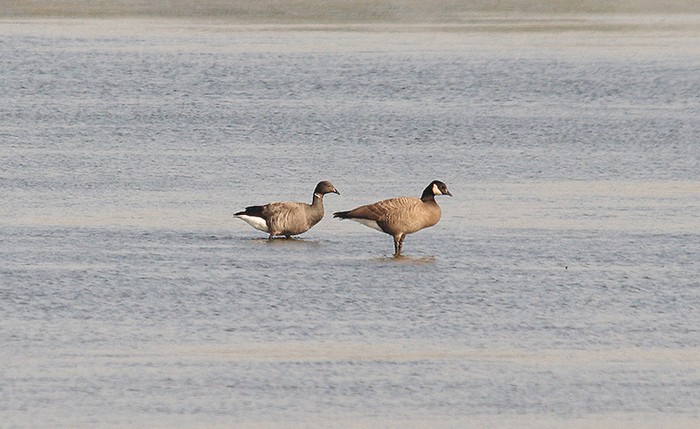 Almost in the singular was the drake American Wigeon at Tacumshin (Co. Wexford) through until 27th - it's "sole species representative" status changing on 28th when one appeared on Swartmill Loch, Westray (Orkney), where it remained to 29th.
In Highland, the eclipse drake King Eider remained off the coast at Nairn to 24th while in Lothian's Gosford Bay, a drake Surf Scoter remained until 28th.
…and finally…Hooded Merganser.
Regular readers will know just how mean I like to be whenever this species rears it rather lovely head. This week, amongst a strong push of Nearctic passerines and assorted non-passerines (including a couple of potential wild geese) came news of an un-ringed, fully-winged drake Hooded Merganser on Somerset's Hawkridge Reservoir from 26th-28th.
People who went seemed happy enough with it, those who didn't, simply not bothering, made their feelings clear enough. Generally speaking, a potential 8th for Britain would be up in the headlines, but how on earth can you pick the wheat from the chaff?
It has now transpired, a day after the above was scribed, that this bird appears to be a free-flyer from a nearby collection. Well, you don't say. A very narrow escape in terms of a Hooded Merganser that could conceivably have made head way on to the official record.
The Rarities Committee have given themselves no room for manoeuvre by accepting birds that many wouldn't bother with (duff locations, plastic-looking and so on) and, thankfully, someone has come up with bona fide, detrimental evidence on this one. If they hadn't, it too would surely have been given the green light. The bar is very low for this species. End of.
The second Semipalmated Sandpiper of the autumn was found on Kerry's Inny Estuary on 28th - with a Buff-breasted Sandpiper in attendance as well. This west coast county is rapidly approaching 50 accepted records of this trixy peep, not bad going in the 31 years since the first was found at Blennerville.
Trailing by around 45 records is Gloucestershire but this week the county hosted their fourth Semipalmated Sandpiper thanks to the discovery of a nice juvenile at Slimbridge WWT on 28th-29th. All four records have come in the last nine years - the first was also at Slimbridge, found on September 22nd 2006. The second came at New Passage on September 26th 2009 and the third was found out on the Dumbles in mid-September 2011.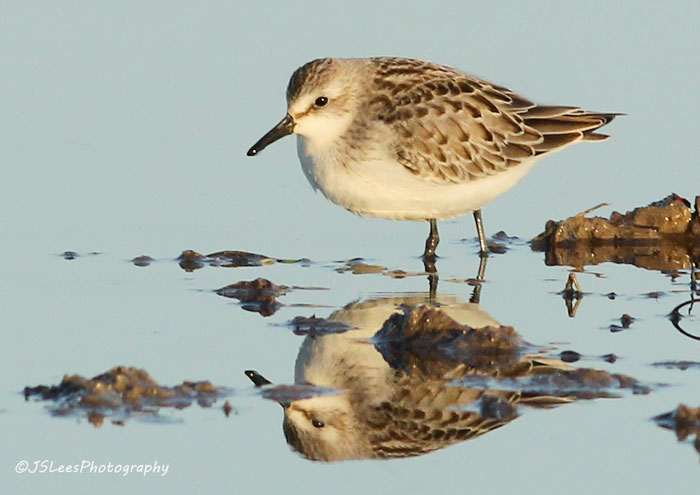 New too this week, at the end of the week, was a juvenile Baird's Sandpiper - found in Hough Bay, on Tiree (Argyll & Bute), the 10th for the county and the fifth for Tiree itself, the most recent of which was found two years ago.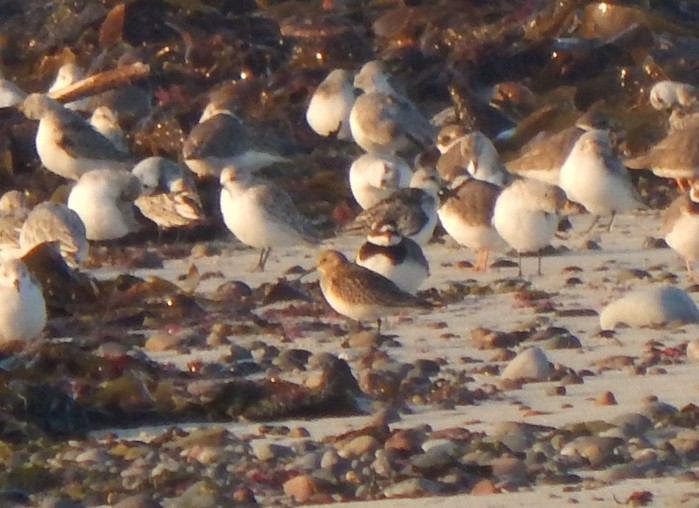 Last week's newly arrived Wilson's Phalarope in Essex remained until 28th at least on the RSPB reserve at Vange Marshes while the fresh-stock juvenile Long-billed Dowitcher that also made landfall a few days ago, on Skokholm stayed on the island to 24th.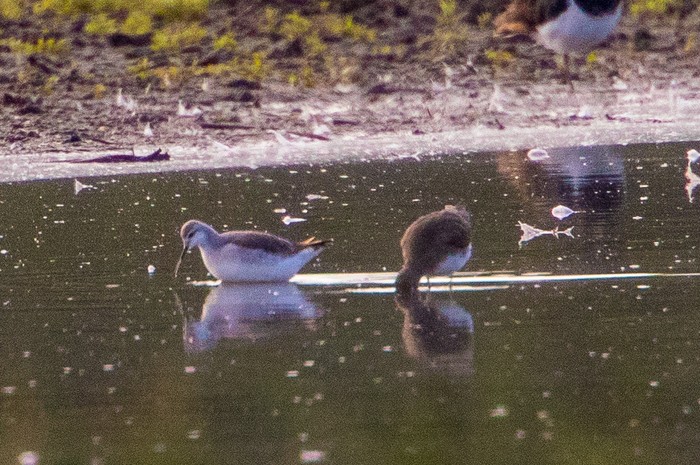 In southern Ireland what was presumably the other one of the two new Long-billed Dowitchers from the previous week was seen at Rosslare Back Strand on 25th before appearing back at Tacumshin the following day. New for this week was another youngster at Pennington Marshes (Hampshire) on 23rd. It proceeded to move between Pennington and Keyhaven until 29th and is the 11th for the county (and follows on quickly from the summering adult, also at Pennington, in 2013). The second newbie arrived late in the day on 29th, at The Gearagh (Co. Cork) ~ the first there since 2012 (and the 28th record in all).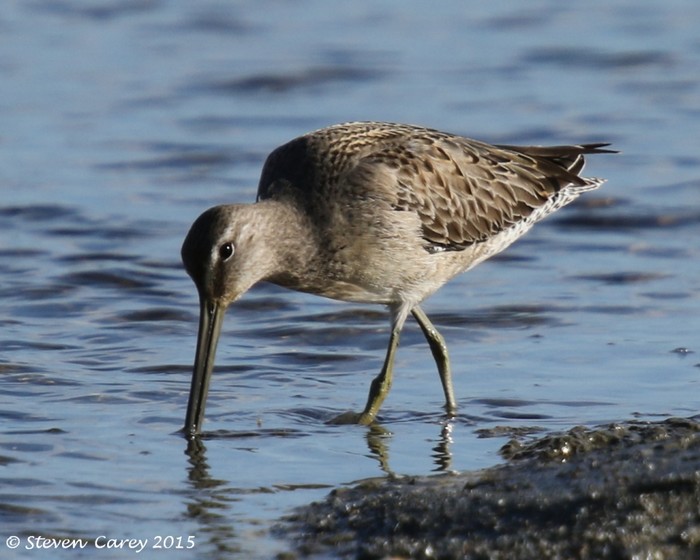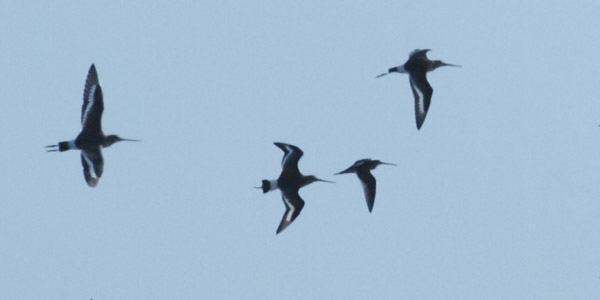 Just five Buff-breasted Sandpipers were recorded through the past seven days - new birds seen at Loch of Strathbeg RSPB (Aberdeenshire) and on South Uist, at Bornish and Ormiclate, all on 23rd with the same date seeing the continuing presence of one on the "private" Predannack Airfield on the Lizard. Kerry's addition on 28th is mentioned at the top of the shorebird section.
Ireland was again the most favoured nation for American Golden Plovers, four noted around the country, three of them new-in; an adult was found on Achill Island (Co. Mayo) on 25th and a juvenile was at Ballycotton (Co. Cork) from 25th-28th. Also on 25th was one in Donegal, at Inch Island, Lough Swilly, a bird which also remained to 28th. The adult found in Clare last week, at Loop Head remained to 23rd.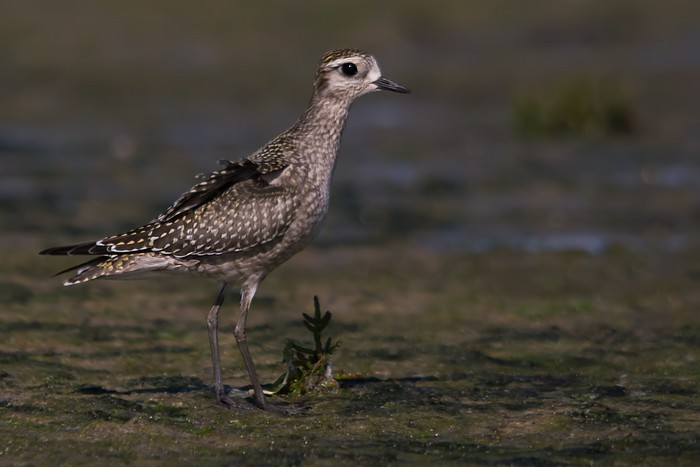 The Northern Isles saw the appearance of two dominicas, an adult on Sanday (Orkney) and a juvenile on Mainland Shetland, at Sandwick, both found on 26th. The only other bird mentioned was the juvenile that stayed on Tresco until 23rd.
England managed to score seven Pectoral Sandpipers partly thanks to the trio that remained at Porth Hellick, St. Mary's (Scilly) to 24th (with one until 27th at least). New birds arrived at Ashford (Kent) from 25th-27th, Old Moor RSPB (South Yorkshire) from 26th-29h, Slimbridge WWT (Gloucestershire) on 27th and Burton Mere RSPB (Cheshire) on 28th-29th.
Four newbies were in Scotland, at the Loch of Strathbeg RSPB on 23rd, Baltasound, Unst (Shetland) on 27th and on at both Baile Gharbhaidh, South Uist (Outer Hebrides) and Sanday (Orkney) on 28th. Three of Ireland's four birds this week were seen in County Cork - at The Gearagh on 23rd, at Ballycotton on 25th and over Cape Clear Island on 26th - while new too was a Pec at Tacumshin on 28th.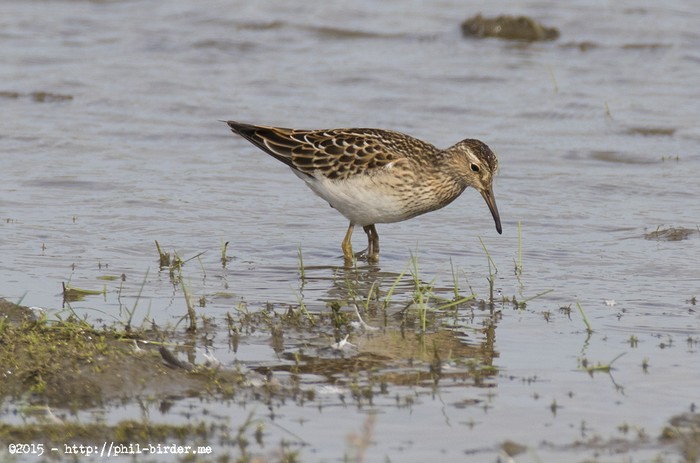 New Dotterel on the first day of the new review period were on Loop Head and the airfield on St. Mary's, both in situ to 24th. Another (?) juvenile spent a day on the golf course on St. Mary's on 26th when one was found at Tacumshin while 27th saw two young birds appear at the spring staging post of Garreg Lwyd (Carmarthenshire). Also in Wales, a fresh juvenile was at Aberdaron (Gwynedd) on 28th.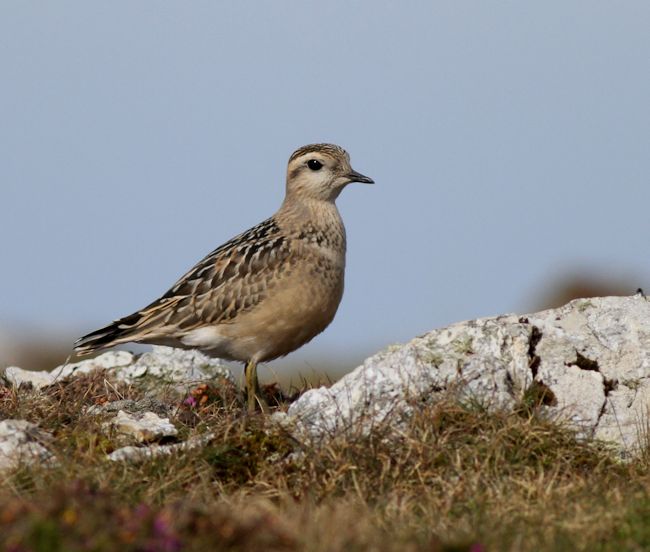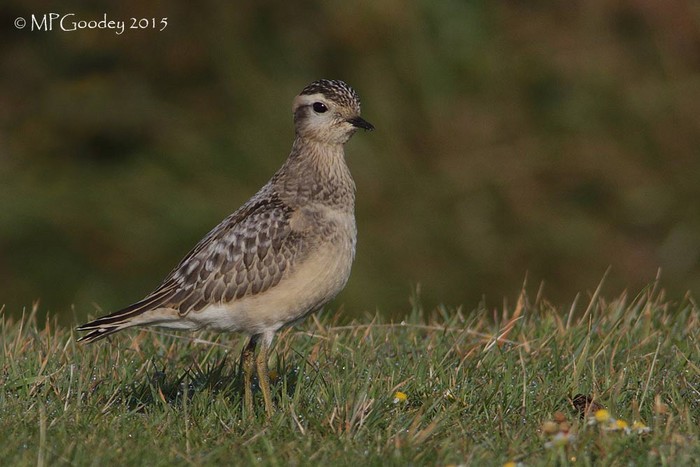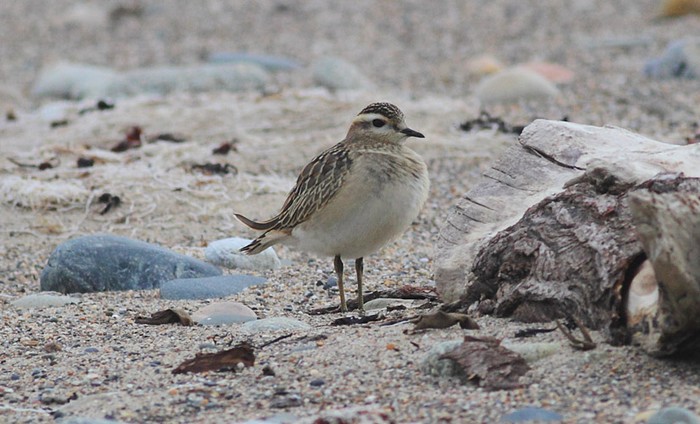 Last but not least, the brief (and rather unusual September record) of a Kentish Plover at Ferrybridge (Dorset) on 24th - interestingly the third autumn record in the county for 2015 - and a report of at least one Temminck's Stint at Ticthwell RSPB (Norfolk) late on 29th.
A neat moulting adult White-winged Black Tern on the power station outfall at Heysham (Lancashire) on 26th, a bird which was seen off and on throughout the day and the following two days too.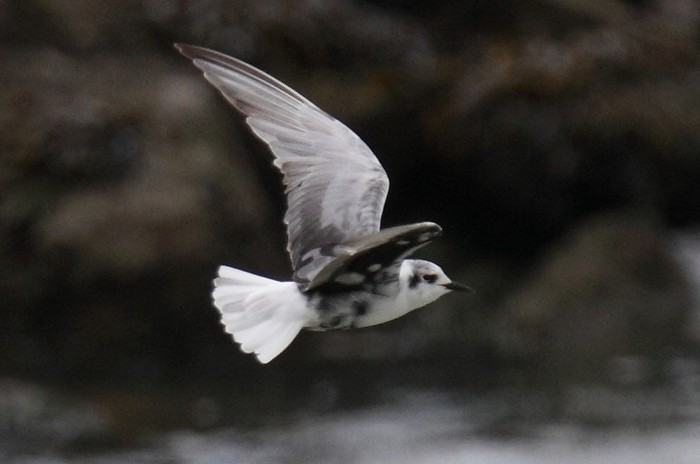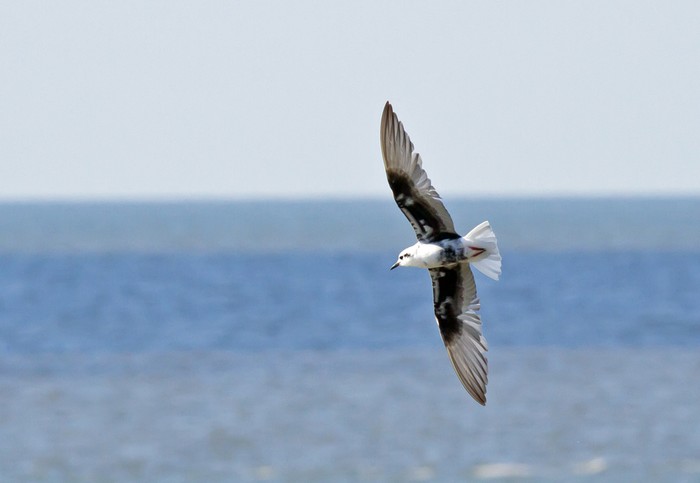 In Ireland, the adult Forster's Tern was again along the Rogerstown Estuary (Co. Dublin) on 27th, the first report since 17th of the month.
Elsewhere in Ireland, the presumed adult Azorean Gull was again at Blackrock Castle (Co. Cork) on 26th-27th while a returning adult Ring-billed Gull was back at Porthrush (Co. Antrim) on 23rd. In Cornwall, the 2w Ringo appeared again on the Hayle Estuary on 23rd, also popping in to Gwithian Sands NNR as well the same day. Another reappearing 3cy bird was back in Preston (Lancashire) on 25th-26th (last noted there on 14/09) while the final one of the week was at Blackrock on 29th.
Two single Glaucous Gull records were received this week; at Derrybeg (Co. Donegal) on 24th and on Sanday (Orkney) on 28th-29th while Antrim scored an Iceland Gull at Portballintrae (Co. Antrim) on 25th and another was at Loch of Spiggie (Shetland) on 28th-29th.
As well as the juvenile Pallid Harrier out on Kent's Worth Marsh on 23rd was a new juvenile Red-footed Falcon. It stayed a little longer than the harrier, but was gone by next day. Two further new arrivals, also both birds of the year, were found on 24th - one was photographed in Norfolk, at Ormesby Little Broad and one arrived at Gibraltar Point NNR, the latter Lincs., bird remaining in the area until 29th.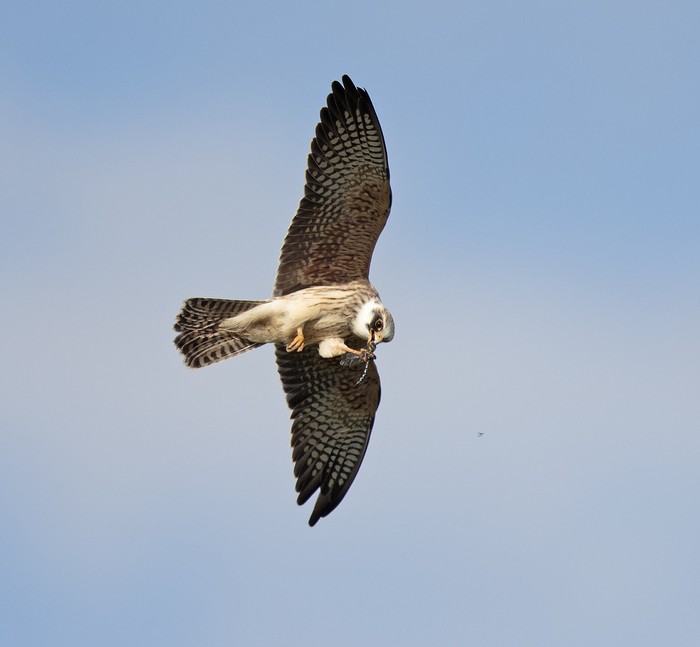 Just two Honey Buzzards were seen this week; a cracking dark juvenile flew WNW "out the back" at Cley on 25th (amongst a movement of 60+ Buzzards and a Red Kite) and the week's other HB flew south over the Naze (Essex) on 26th.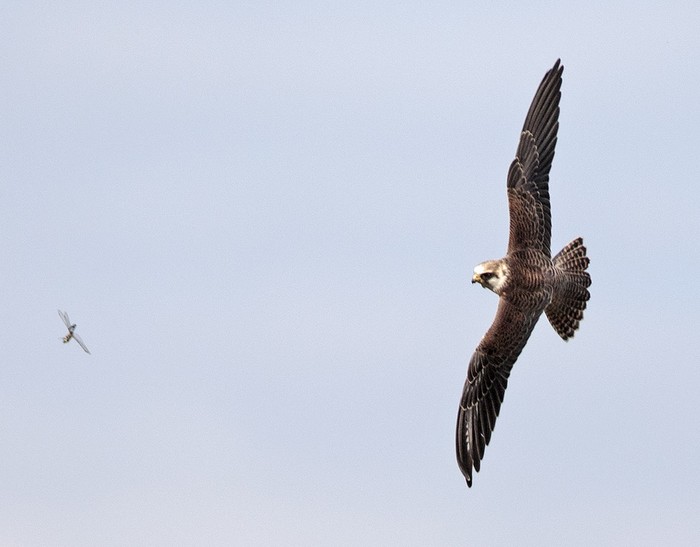 There were also three further reports of Rough-legged Buzzards over the past few days; at Follingsby (Co. Durham) on 25th and on 28th, at Titchwell (Norfolk) and Saxmundham (Suffolk). And still there's not been a one in Sweden yet…

Optimum conditions, the end of September and Shetland add up to just one still prized little wanderer - Lanceolated Warbler - and the early afternoon of 26th brought forth the first record of the year courtesy of a trapped and ringed bird found at Dale of Walls on Mainland.
(Yes, those three component parts are truly birding equivalent of shooting fish in a barrel).
Little surprise that if there was one Lancie on Shetland, another would follow - step forward Fair Isle where the second of the week was found near Sukka Mire on 27th.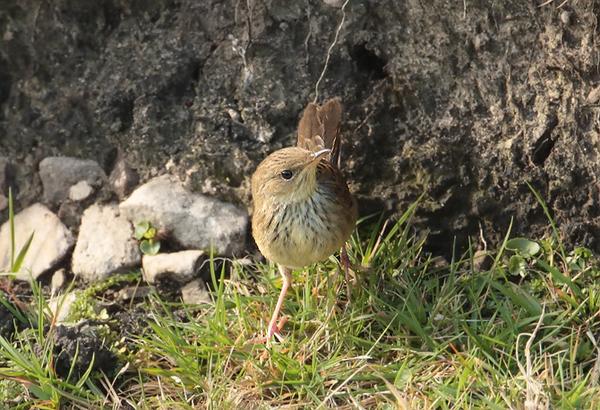 As every year passes, the utter dominance of these remarkable islands and records of this extraordinary tiny feathered rodents becomes stronger and stronger. By the end of 2013, there had been 141 accepted records across the country - and three more have followed since (two last year and this week's two- all four of them on Shetland)...and of those 145 birds, 120 have been seen on Shetland. If I'd paid attention at school and not been busy bunking off to see rares, my C.S.E Grade 3 Maths result would have helped me work out the % of Shetland birds to elsewhere. Too hard for me - but its decent...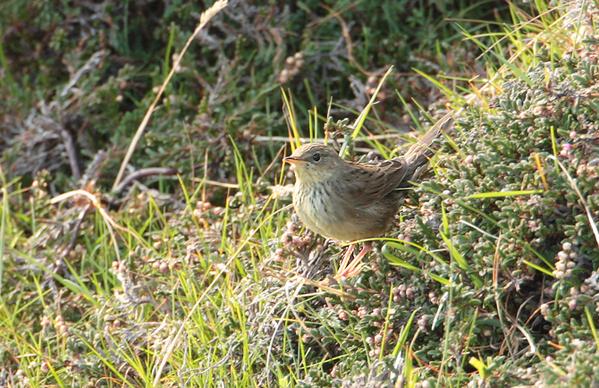 There have been just five mainland Lanceolated Warblers found in the past two decades - in September 1996, singles were found on consecutive days on the east coast at Spurn and Rimac (on 21st and 22nd) and 12 months later, one was trapped at Landguard, on September 26th 1997. The next accepted mainland occurrence came 13 years later, at Collieston, in Aberdeenshire on October 11th 2010 with October 12th 2012 seeing one appear at Long Nab, Burniston.
In the same 20 year period, Shetland has recorded a whopping 65Lancies, with five for Orkney, with two for the Farnes and one, in 2002 on Scilly, found (amazingly) on Annet.
There was more fish-barrel-shooting carry-on to be had with Pechora Pipit - Shetland's second within a week appearing at Loch of Norby, Mainland on 29th. All the Shetland Pech info appeared in last week's round-up, so just add one to whatever was mentioned seven days ago :o)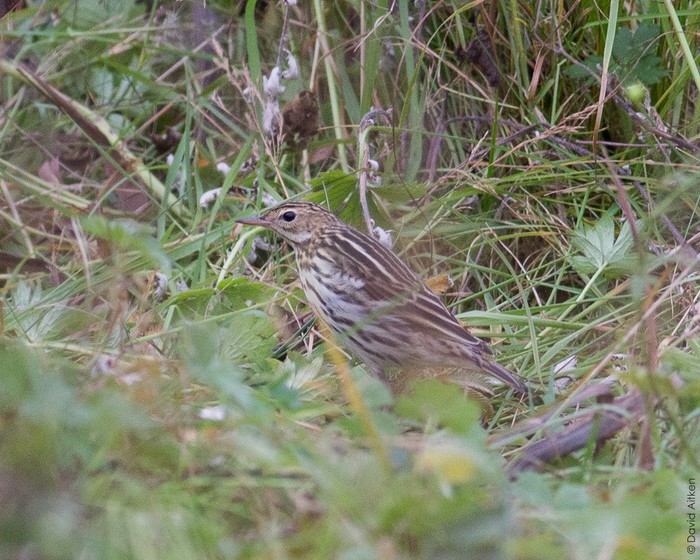 In the World of BBRC the decision to hoy Blyth's Reed Warbler, a species with less than 200 records on the books and still a species that is an undoubted trickster for the unwary, off of the "Rares Almanac" remains one of the odder ones they've made (they've made worse mind…) but doubtless the powers-that-be would argue that the super arrival of nine new birds across the past week proves their point.
Right or wrong, nine fresh arrivals in just a few days is impressive in anyone's books and, as expected, much of the action came on Shetland. Last week's bird on Fair Isle remained to 25th (beautifully captured by Rebecca Nason) while the first of eight new birds around the islands was found at Easting,Unst on 23rd. Next was one that spent a couple of days at Southdale, Fetlar and it was followed by five birds around various parts of the Shetland Mainland.
The first of the quartet was noted in the bushes alongside the Pool of Virkie on 25th with one up the road at Toab the following day. The 27th saw new stock appear at North Gluss and Exnaboe, with 28th seeing another appear at Hestingott. The eighth new Shetland bird was found at Symbister, on Whalsay on 27th. There's still a little way to catch up with the dozen around the islands in the autumn of 2013 but that figure is really being chased down. It looks destined to fall...
There was a new English Mainland Blyth's Reed Warbler to mention too - found at Sammy's Point, Easington (East Yorkshire) on 28th by one of a couple of near-legendary (now) locals, Mick Turton. The Spurn Peninsula has accounted for four previous records for the county (half of the whole of Yorkshire's total to the end of 2013) including the famous singing male of May 1984 with a couple at Flamborough Head and Filey as well.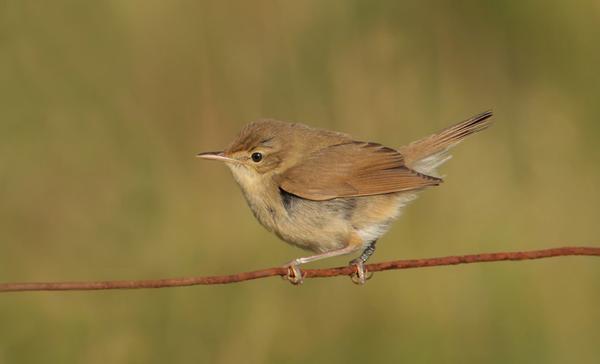 Another Yorkshire legend is John Hewitt and he was on hand to locate a superb Arctic Warbler at the Driftwood Campsite, Kilnsea on 27th (which was reported again briefly the next day too). This was the first Yorkshire record for just over three years, since a two day bird at Flamborough on September 1st-2nd 2012 and will be the 17th records for the whole of the Yorkshire area.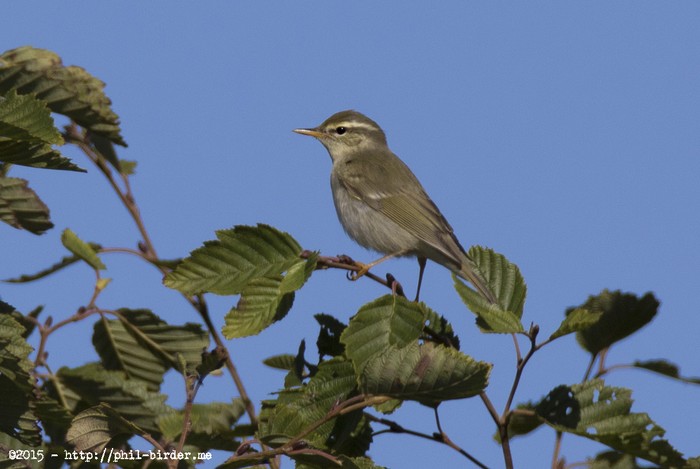 The second new Arctic Warbler of the week was found at Uyeasound, Unst (Shetland) on 23rd where it remained through until 27th - the islands are closing in on the 200 mark now…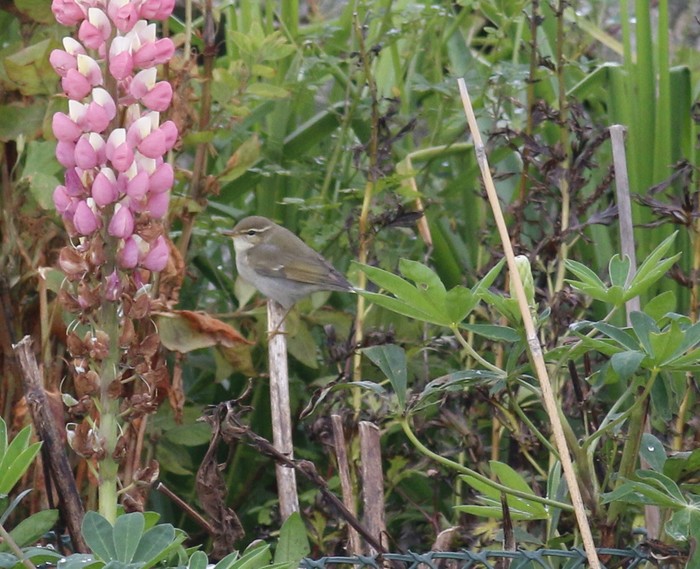 On Scilly, a Bonelli's Warbler sp., was again on The Garrison, St. Mary's on 24th - the rest of the Phylloscopus action was formed entirely of another wave of Y-bW's…
The inornatus invasion continues…
76 Yellow-browed Warblers on Fair Isle on 28th. An island day count record. Can I move on please?
"No" is the answer, though you may wish to forego sitting through my tottings up and working up - but the masochist in me won't allow me to leave it at that. It is one heck of starting point - an incredible total, upping the ante on last week's Fair Isle new record figure which nestled in the mid 50's.
There's bound to be missed birds and overlapped birds in all of what follows, so it really is approximates all round…
Here we go then…from top to bottom and side to side across B&I. Shetland is the inevitable starting point.
That colossal Fair Isle total of Yellow-broweds helped push Shetland's overall haul to the colossal 320+ by the end of 28th (still a day to go…) with a fascinating spread of birds across the 100's of miles of the archipelago.
Mainland Shetland hosted at least 199 birds through the week (probably many more) with high counts of 13 at Maywick on 28th, 14 at Voe on 26th and 16 at Wester Quarff, also on 28th. At least 25 were seen on Unst and a day count of 10 was taken on Out Skerries on 28th. A further dozen were on Foula the same day while Fetlar managed 11 birds on the island on 24th. Only single birds were mentioned for Bressay and Mid Yell (with nothing mentioned from Noss, Yell and Whalsay).
As a whole, Shetland's big day seems to have been 28th - an estimated 175 birds spread far and wide. That really is quite some total.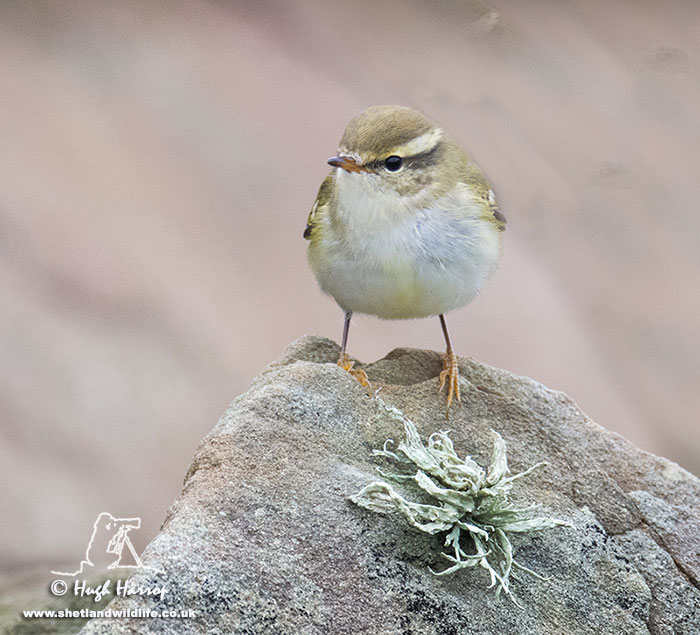 Elsewhere in Scotland, Orkney managed just over 40 this week, including 17 on North Ronaldsay on 24th with eight on Mainland, six on Papa Westray and five on Sanday. Four reached the far west coast when they hot the Hebrides, while the Scottish mainland itself didn't fair that well, Highland managed 13 in all (including eight at Durness on 24th), with four in Lothian, three in Aberdeenshire and one in Fife.
The Yellow-browed Warbler Totaliser already stands on c.411 before leaving Scotland.
Down into northeast England now where, along with East Anglia, birds poured in from lunchtime of 27th. East Yorkshire hosted at least 36 of the region's 59+ total - at least 22 were seen around the Spurn Peninsula on 28th (a similar number were counted on 27th too) while half a dozen were at Flamborough Head on 28th. Lincolnshire managed 10 birds in all, while Northumberland managed five and there were fours for Cleveland and North Yorkshire (with a surprising blank in Durham).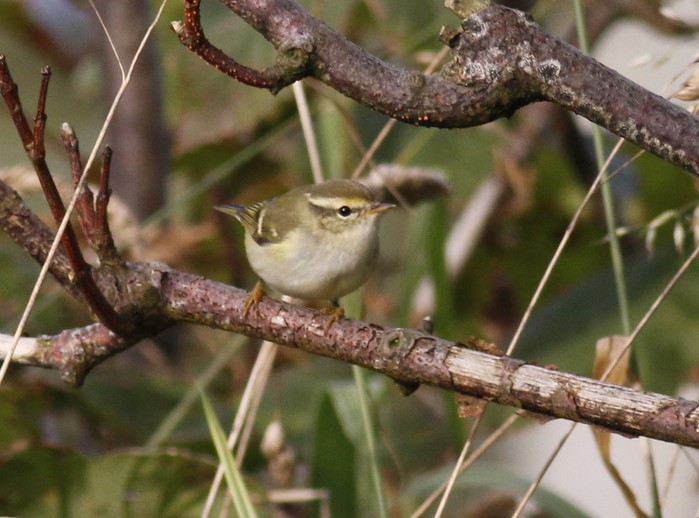 A bunch more potentially new birds on Shetland, perhaps as many as 90 in all (obviously previous arrivals may have been moving around..) with at least 21 noted on Out Skerries, 12 at Boddam and 11 at Quendale. On Orkney, at least five new birds were seen on Sanday ~ a day total of 10 there ~ and North Ronaldsay's day count was 11. Further south, up to 25 new arrivals were logged in the northeast of England (including eight at Flamborough Head and five at Grimston) and perhaps as many as eight new birds in Cleveland, while upwards of eight fresh East Anglian arrivals were split 4:4 between Norfolk and Suffolk. Nine more Kent Yellow-broweds added to the growing total (including six at Sandwich Bay) while two new birds reached both Scilly and Bardsey ~ for an estimated 147 new individuals.
The Yellow-browed Warbler Totaliser reaches a grand total, to dark on 29th, of a rollickingly high estimated 744+.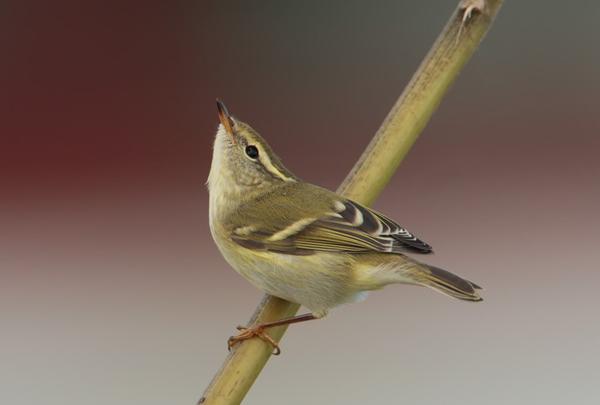 Southeastern England managed a dozen or so, including five at The Naze (Essex) on 28th (from a county total of eight in all) with three in Kent and one in East Sussex). In the southwest, Scilly hosted 11 of the region's 26 birds in all, seven of them found on St. Mary's (with three for St. Agnes and one for Tresco) while ten were in Cornwall, while it was 3:2:1 from Dorset, Somerset and Devon.
Two stragglers hit the Wirral this week, at Hoylake and Red Rocks, while Wales and Ireland managed seven and six Yellow-broweds respectively, (Cork hosting five in all, while Pembrokeshire managed three).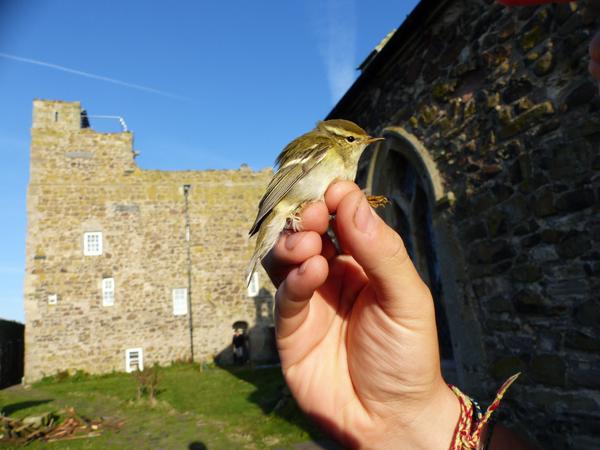 The Yellow-browed Warbler Totaliser, by the end of 28th, had hit a huge 592+ in all. And there's still a day to go…
…and what did the final review day bring?
A bunch more potentially new birds on Shetland, as many as 16 in all (and that's before the outer islands weigh in with news) and at least five new birds were seen on Sanday (Orkney) - a day total of 10 there. Further south, up to 20 new arrivals were logged in the northeast of England (including five at Grimston) and perhaps as many as eight new birds in Cleveland, while upwards of eight fresh East Anglian arrivals were split 4:4 between Norfolk and Suffolk. Nine more Kent Yellow-broweds added to the growing total (including six at Sandwich Bay) while two new birds reached both Scilly and Bardsey - for an estimated 57 new individuals.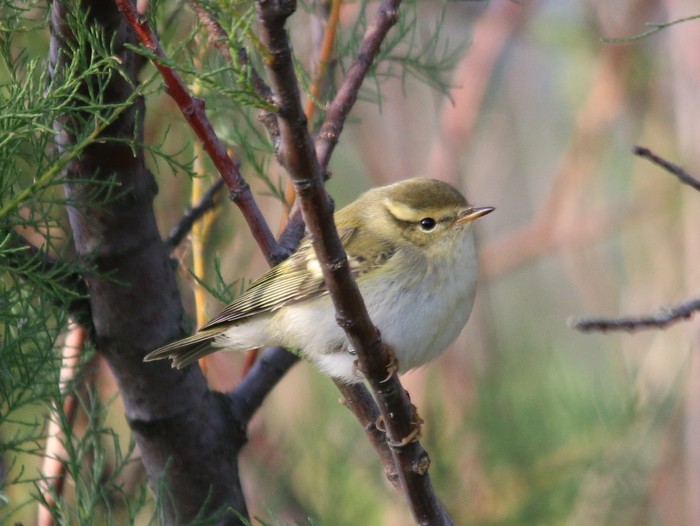 The Yellow-browed Warbler Totaliser reaches a grand total, to dark on 29th, of a rollickingly high estimated 654+.
Can I have a lie down now please?
The Best of the Rest…beginning with Buntings
Devon birders have had to wait a long time between their last Rustic Bunting and this week's superb record on Lundy, where one trapped and ringed on 27th - almost 18 years in fact. Given the remote location and disappearance the following day, this brilliant bunting remains fiendishly hard to get on to the county list for many.
All six of Devon's previous records were found between 1986 and 1997, the first five of which were also discovered on Lundy (and all in October - '86, '90, two in '93 and one in '94). All bar that first bird were one-dayers too. The only record on the mainland was a two-day bird on the southern edge of Dartmoor, at Yelverton, on March 22nd-23rd 1997.
Elsewhere, two further Rustic Buntings were noted; one remained at Hametoun, on Foula, to 23rd and a new Shetland bird was at Gorie, Bressay on 24th.
There's no real surprise to hear that Shetland hosted three more Little Buntings either ~ one was on Out Skerries on 26th-28th, another was found (then trapped and ringed ) on Fair Isle on 27th-29th and Whalsay was home to the third, seen at Brough on 29th. Way off to the southwest, the third for the week was reported at Nanjizal (Cornwall) on 28th.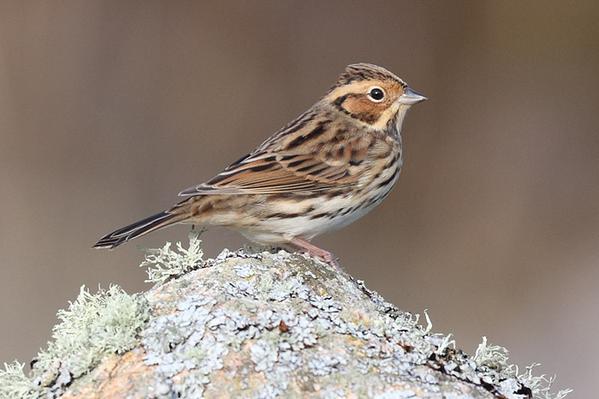 As well as the prized Rustic, Lundy also delivered an Ortolan Bunting from 25th-28th, with further singles at St. David's Head (Pembrokeshire) on 26th, on 28th, at Portland Bill and Penninis Head, St. Mary's and on 29th, at Winspit Valley (Dorset) and Cork's Mizen Head.
On the Shetland Mainland, a new male Eastern Subalpine Warbler was in gardens at Mossbank from 25th-29th. Flamborough's male Eastern Sub-A was noted again on 23rd while Scilly saw a brief and elusive "sp." appear on The Garrison, St. Mary's on 26th.
Two fresh Melodious Warblers were found at the tip of west Cornwall on 24th, at Porthgwarra and Land's End (the former around to 27th, the latter to 25th). The only other noted this week was a presumed new bird on Mizen Head (Co. Cork) on 25th (last week saw one there to 22nd). There's just one Icterine Warbler to mention, present in the willows at Evie, Mainland (Orkney) on 25th-26th.
Shetland bettered last week's tally of 14 Barred Warblers by at least three this week - the 17 birds noted saw Mainland claiming eight, Unst five, Fair Isle two with ones on Yell and Out Skerries. Orkney provided six more of the 32 birds recorded; three were on North Ronaldsay (including two on 28th), with singles on Mainland, Westray and Sanday while two birds were found in Highland (at Melvich on 25th and Tarbat Ness on 27th).
Away from Scotland, seven more Barred Warblers were found; four+ in the northeast (a minimum three in East Yorkshire, at Flamborough Head, Easington and Spurn), one was seen in East Anglia (in Norfolk, at Kelling Water Meadows from 24th-27th) and two were in Wales (both in Pembrokeshire, at St. David's Head and also on Skokholm, both on 24th).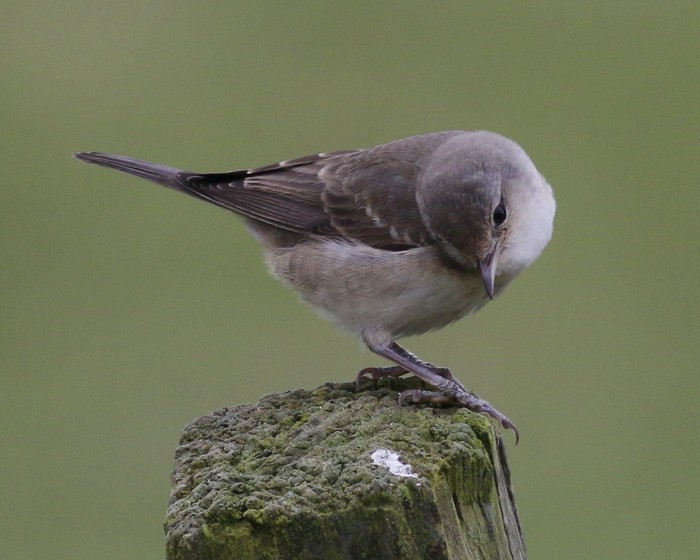 A new batch of some 16 Red-breasted Flycatchers appeared across the past seven days. Moving from north to south, we'll start on Shetland where two appeared at Wester Quarff, Mainland and singles were seen on Out Skerries and Foula, all on 28th.
A singleton was on North Ronaldsay on 24th while, dropping south, hree birds were found on the Spurn Peninsula on 27th, a single at Spurn itself with two at Kilnsea while further south, in Lincolnshire, a fourth for the North Sea coast was located at Saltfleetby. The fifth for the day was trapped and ringed at Orford Ness (Suffolk) while on the south coast, new was a bird at East Soar Farm (Devon) on 25th.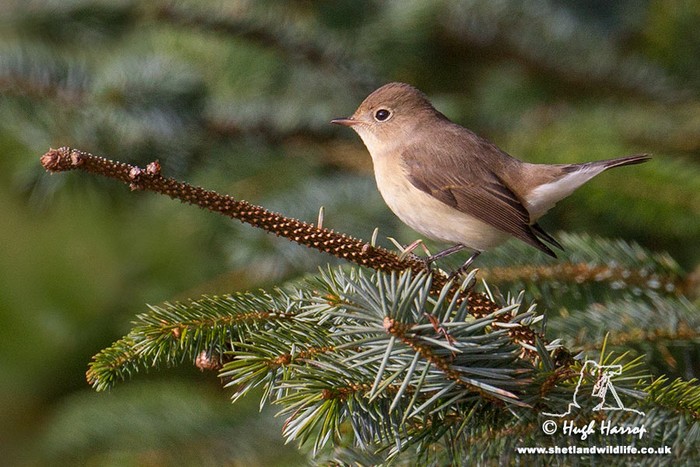 Another Red-breasted Flycatchers was reported on St. Mary's (Scilly) the following day when Ireland's only bird for the week was found on Mizen Head (Co. Cork). Finally, a neat Welsh R-bF was found at Llandudno (Conwy) on 28th and singles were found on Blakeney Point (Norfolk) and Barra (Outer Hebrides) on 29th.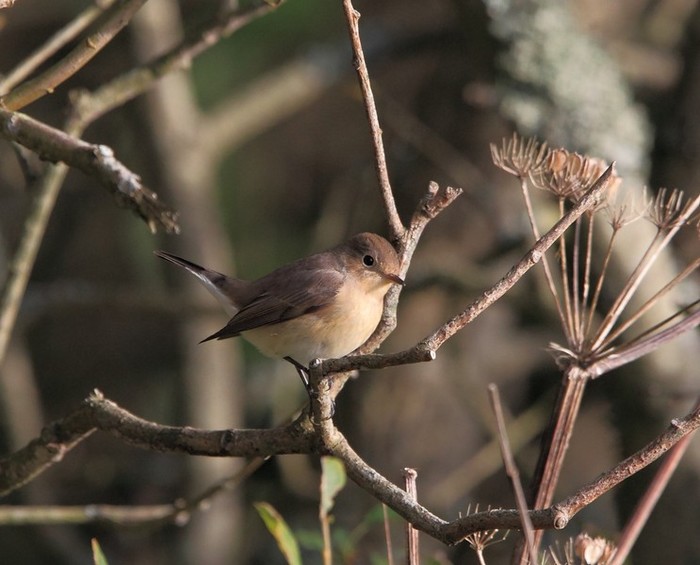 After a strong-ish showing seven days ago, Wryneck numbers dropped from 40+ to just 14 this week, with seven on Scilly helping to push the number in to double figures. Singles were found on Bryher and St. Agnes on 23rd and Tresco on 25th while 28th saw two birds arrive on both Gugh and St. Martin's. Also in southwestern England lone birds at Kynance Cove, Lizard (Cornwall) on 23rd-24th and Hengistbury Head (Dorset) on 26th-27th while further east, two were in Kent (still at Dungeness to 26th and at Abbot's Cliff on 27th-28th). Another singleton was at Thorpeness (Suffolk) on 26th-28th and another was at Winterton (Norfolk) on 29th while the sole inland Wryneck was found at Carterton (Oxfordshire) on 23rd.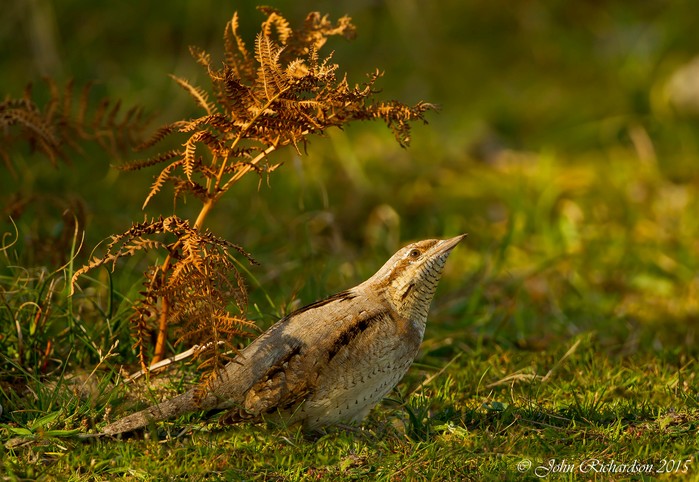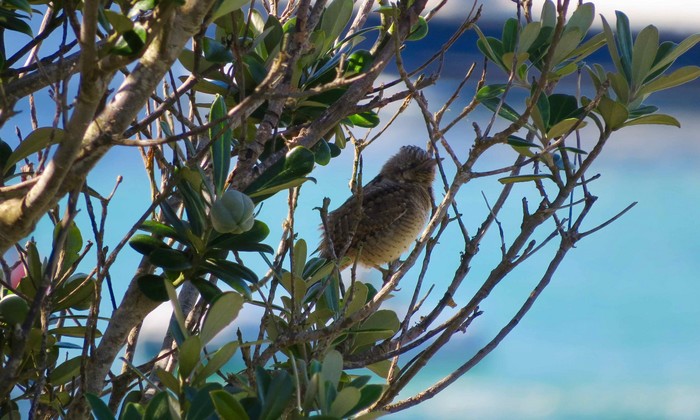 There was even less action for Red-backed Shrikes; only three on offer - the first appeared at Lissagriffin (Co. Cork) on 25th and on 27th one arrived on Sanday (Orkney). Last of the trio was a first-winter on Unst, seen at Burrafirth on 29th.
The autumn's first Olive-backed Pipit was found on Fair Isle on 28th while Richard's Pipits took full advantage of some tidy conditions from 27th onwards. Six were found on a largely sunny, ESE Sunday - one headed over Burnham Overy Dunes (Norfolk) and was followed by a quintet of off-island records the same day; Out Skerries, North Ronaldsay, Inner Farne, Lundy and St. Mary's.
The following day saw one or two Richard's Pipits noted around St. Mary's (on the airfield and on Peninnis) with further island birds on Brownsman, Farnes, at Pierowall (Orkney) and Whalsay (Shetland). Elsewhere singles were reported at Cley (Norfolk) and at Annagh Head (Co. Mayo) and on 29th a new bird made it Lincolnshire (at Humberstone Fitties).
Autumn's first two Short-toed Larks were found at Tacumshin (Co. Wexford) on 25th and St. Mary's golf course (Scilly) on 27th while the first of nine Shetland Bluethroats this week was found at Walls, Mainland on 25th and was followed by three new birds on 27th, on Mainland at Tumblin and also near Loch of Spiggie, with another found on Out Skerries. Fair Isle rattled in three on 28th and further Mainland birds were at Quendale and Sullom on 29th. Two new birds were also on Orkney, both seen on 28th, on Stronsay and Westray. The sole English mainland bird was found at Kilnsea (East Yorkshire) on 29th.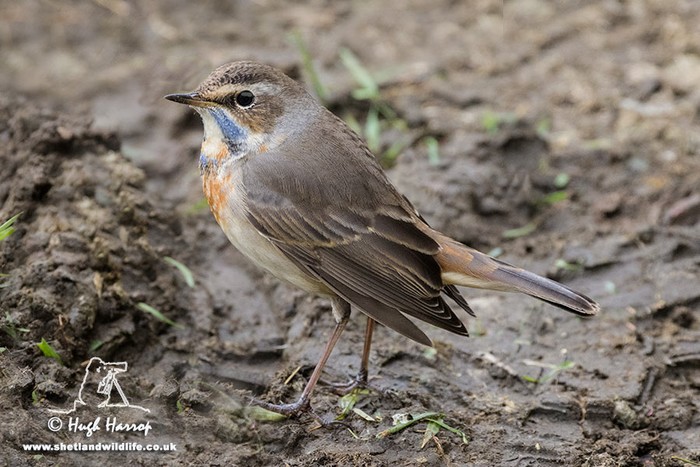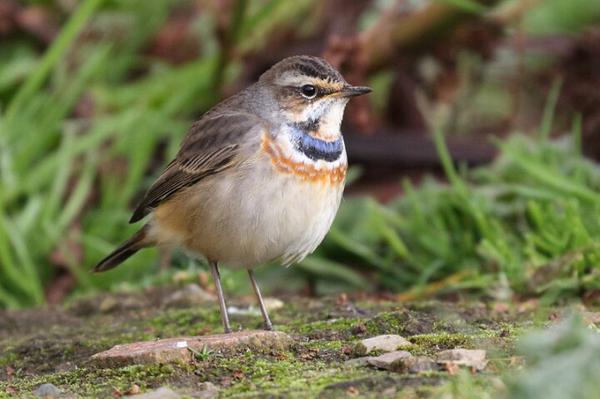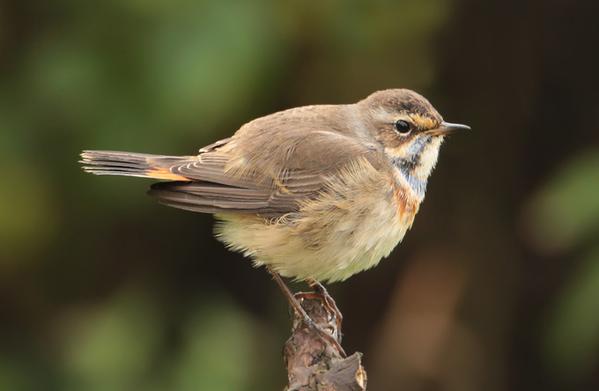 (It won't be long before the colour of the throat will turn from blue to ruby…).
All bar two of the week's Common Rosefinches were rooted firmly in Shetland - singles were on Fair Isle on 23rd-25th, at Hoswick and Bigton, both Mainland, on 27th with at least one on Out Skerries. A further two were found on Foula on 28th and one appeared at Dale of Walls, Mainland on 29th. Orkney managed one, seen on Sanday on 28th while another was found in the Nanjizal valley (Cornwall) on 23rd.
The only Serin was reported flying over Solva, near St. David's (Pembrokeshire) on 23rd while the three Rose-coloured Starlings in Cornwall and Devon were split 2:1 - singles at Porthcurno on 26th and then Land's End on 28th (it could even be just one…) with a juvenile at Dawlish Warren NNR on 26th.
Also at Porthcurno was a Red-rumped Swallow on 27th while late Golden Orioles were reported from a hedge near Barnham (West Sussex) on 26th and briefly at Watermill, St. Mary's (Scilly) on 28th.
Phew…
The early, early signs for the days ahead suggest that it could be a period where one or two of those desperately alluring eastern waifs and strays may just come in to play…
…and we're in to the genuinely big league now, some mouth-watering subjects have made their ways here historically on the northeast, east or southeasterlies in the days of yore.
Britain's first Brown Shrike was seen on Shetland Mainland on September 30th 1985 while the Flamborough Brown Flycatcher of October 4th-5th 2007 drew a horde to East Yorkshire for many people's first encounter with the species in Britain.
From further afield, there've been two Thick-billed Warblers - Britain's first was trapped on Fair Isle on October 6th 1955 while a sizeable twitch bore witness to one in the crop fields of south Mainland on Shetland just a couple of years ago (as has been touched on at the top of the review…so much for getting ahead of the game, but I'll keep it in anyway!)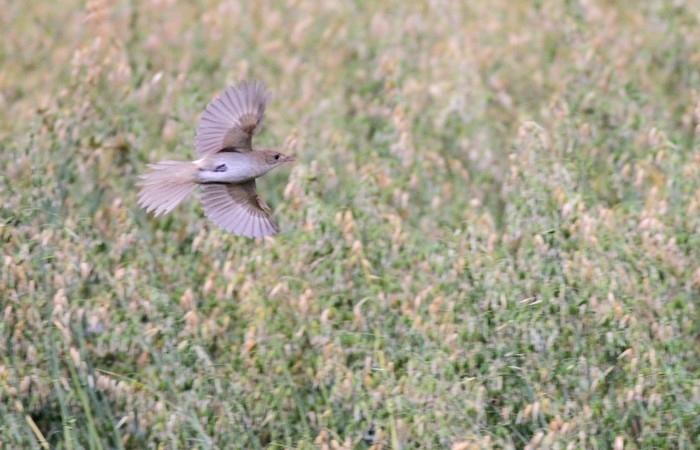 The "Big 3" have also made themselves known in the week ahead too…
Our earliest Siberian Rubythroat, that gorgeous peek-a-boo male was found on Foula on October 5th 2007, while four years further on, a freshly dead first-winter female Siberian Blue Robin was brought to the crofter's table on the same Shetland outpost, on October 1st 2011.
The sole twitched example of the species appeared on October 2nd 2001 on North Ronaldsay. Incredibly, the same island on the same date (October 2nd) was the site for another freshly deceased monster mega from the forests - a first-winter Rufous-tailed Robin found, covered by early morning rain, in 2010.
Any of that trio this week will draw a crowd and if the weather lines up as it should, who knows…
The smart money though, the safer bet, has to head towards an eastern thrush or two (only if the weather holds…). At least 11 White's Thrushes have occurred (including four on 1st), while there have been four each for both Black-throated Thrush and Eyebrowed Thrush. The once hugely coveted Siberian Thrush has made three appearances in the days ahead too - two of them on the 1st of the month (on the Isle of May - Britain's first - in 1954 and North Ronaldsay in 1992) while Scilly's sole record to date came to Gugh on October 5th 1999.
…and the banker? Pallas's Grasshopper Warbler, 19 of which have been found in the seven days ahead in times past; October 1st and 2nd ahead of the pack with five on each date (three were found on Foula within 24 hours in 2004). There've been a couple of trigger-happy goes this week but by Sunday or Monday, Shetland may get one of the real deal.
Surely that one is "on" for the week ahead (ditto more Lanceolated Warblers and there's a feeling in the water that, should conditions suit, we'll be enjoying shots of an Isabelline Wheatear this time next week…
If the conditions slip from the east and head west (as they do for some early in the week ahead)….lordy bee…quality is the word to remember (as if our 1st Acadian Flycatcher and this week's goodies weren't enough to be going along with).
There's an overwhelming list of some 25 different passerine species from the Americas that have made landfall in B&I in the seven days ahead - from Blue-winged Warbler to Gray Catbird, Bay-breasted Warbler to American Redstart and Blackburnian Warbler to Eastern Kingbird…
…and that's just the start….
The cup overfloweth from the west and the forecast suggest Shetland or Orkney may cop for "it" (whatever "it" is) - truth be told, the early signs are that, once again, we need to cast our eyes both ways, left and right as it where, but the draw remains towards the taiga forests for the headline makers of the very near future.
Or, if it lurches towards the deep southeast, things with Isabelline or Steppe in their names may be on the cards.
...and, BTW, whatever happened to Bimaculated Lark…
Mark Golley
30 Sep 2015

Please note: we put a lot of time and effort into sourcing and and producing the images, videos and graphics for each roundup. Some of you (probably Apple users) may notice some photos etc. that appear to have incorrect captions. Please try refreshing the page as they are correcty captioned. If after a refresh they are still showing the incorrect captions then please email us
Special thanks this week to Mark Warren, George Gay and the North Ronaldsay Bird Observatory for their cracking Northern Harrier images. Thanks too to Alex Lees for images of his 2008 juvenile Northern Harrier on the same island.

Many thanks also to the rest of this week's contributors for their photos and videos.
Bryan Thomas, Martin Goodey, Joe Pender, Robin Mawer, Melvin Grey, Bob Sharples, Killian Mullarney, Mark Newsome, Robert Hoare, Tim Sykes, Toby Green. Jeff Hazell, Phyl England, Steve Gantlett, Rob Werran, David Stone, James Lees, John Bowler, Paul Ward, Steven Carey, Paul Kelly, John Kemp, Ronan Mc Laughlin, Hugh Harrop / Shetland Wildlife, Phil Bider, John Taylor, Shirley Roulston, Chris Batty, David Talbot, Martin Casemore, Graham Catley, Steve Arlow, David Aitken, Rebecca Nason, Toby Green, Farne Islands / National Trust, Ben Moyes, Michael Mckee, Alan Doidge, John Richardson, Jonny Rankin, Stuart Piner.