Weekly round-up: 09 - 15 Sep 2015
The week at a glance
Adult Hudsonian Godwit found again in Co.Galway
Hampshire is graced by another Short-toed Eagle
Kent gets another Short-toed Treecreeper at Dungeness
Whalsay's first Eastern Olivaceous Warbler is found at Skaw...
While the Shetland mainland scores an early Pallas's Grasshopper Warbler...
And more Pallid Harriers make landfall across Shetland
Now that's what we're talking about! The wind came relentlessly from the south east for the first half of the week just gone, with Shetland in particular catching the business end. There were some good birds to be had… and your own RBA correspondent was fortunate enough to be in the right place at the right time. More of which shortly.
As the week wore on, the wind began to swing around as low pressure systems off the Atlantic began to dominate proceedings and weaken the easterly airflow (except in Shetland, where it just kept on comin'...). That's the lovely thing about autumn in the UK and Ireland – whatever the wind direction, someone, somewhere, should be getting something interesting blown in. The coming week could be interesting in all sorts of new ways.
But for now… let's do last week. There's loads to go at, and it wasn't all up north...
Hudsonian Godwit
You see, the bestest bird of the week wasn't in Shetland at all. Nope, we need to cast our gaze much further south-west indeed to a different set of islands altogether...
The adult Hudsonian Godwit found earlier this summer in Co.Galway at Inishdawros on 22nd July was an all-too-brief affair. A brilliant find by Dermot Breen, a brilliant bird and apparently a different one to that seen earlier in the summer in Somerset, but an uncooperative one for Ireland's birders – it had gone by the early evening that day and wasn't to be seen again there. End of story, right?
Well, no. Fast forward to 15th September but staying in Co.Galway, news broke that there was a spanking adult Hudsonian Godwit on the Aran Islands at Kilmurvy on Inishmore. Fabulous stuff.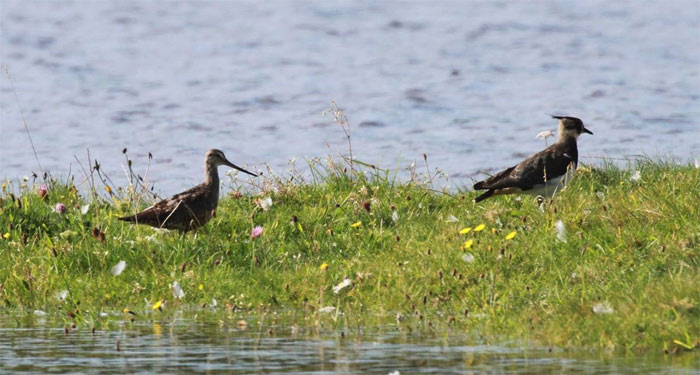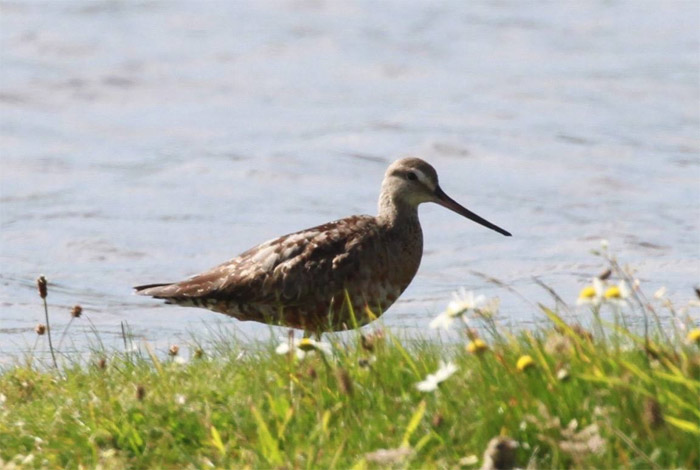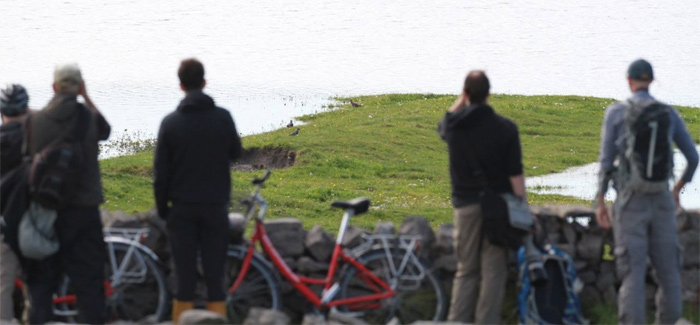 As we go to press on 16th, it's still present. We'd have to assume it's been kicking around Co.Galway all summer, so hopefully it's going to remain settled just a little while yet...Though of course, for all but Irish birders the Somerset individual earlier this year took a lot of pressure off both lists and wallets alike.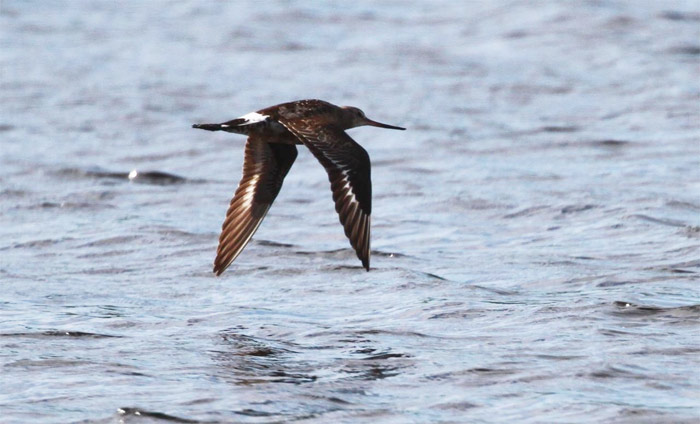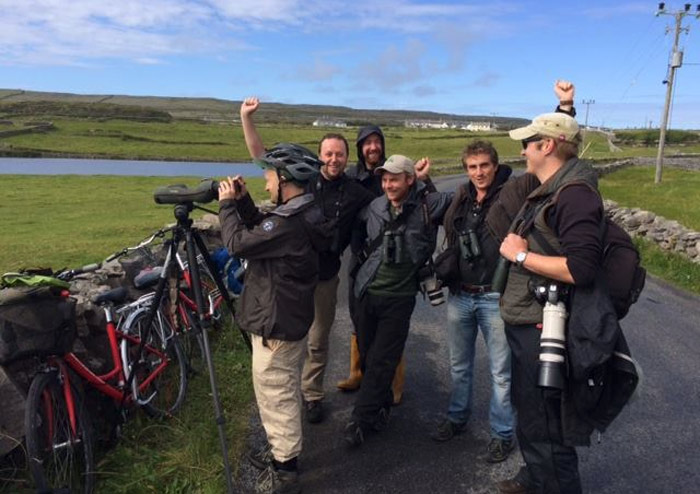 Short-toed Eagle
Hampshire laid claim to the biggest bird, literally if not metaphorically, in the headlines this week – not even a county first, but a tremendous beastie for all that – the juvenile Short-toed Eagle that was found mid-morning on 14th circling over Braishfield before drifting off towards Hursley in the south-east.
Giving me that déjà vu feeling all over again.
We've three previous records on the books, starting with the juvenile that toured Scilly for five days in the incredible October that was 1999; subsequently one was seen in Devon in October 2011, and of course last summer one was seen all over the shop, from Dorset to Norfolk via several points in between. There's a sense that the frequency with which this stunning raptor's being seen is picking up pace. Which can't be a bad thing, unless you happen to be a snake or a gamekeeper.
(A potentially tricky identification conundrum there. Helpful Wildlife Spotting Top #1 – the snake's the blameless one that kills to eat and not for so-called sport).
Will this bird be seen again? There's plenty of habitat in the area to keep it occupied, so fingers crossed this isn't the last we hear of it.
Short-toed Treecreeper
Was there ever a week with two short-toed species sharing the headlines? I think not. But that changed this week with belated news of a Short-toed Treecreeper at –where else? – Dungeness (Kent) on 1oth.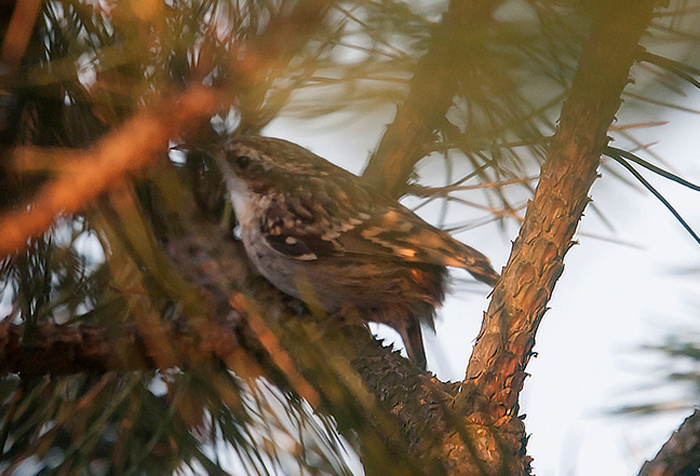 To say that Dunge has form with this species is, to not put too fine a point on it, a massive understatement. Of the 27 previous accepted British records approximately half of them have been on the big shingle headland. With most of the remainder elsewhere in Kent, to be fair.
I reckon most of us who've caught up with a British individual have probably done so in the Garden of England. One Yorkshire record at Hornsea Mere in 1970 gives slender hope to anyone not prepared to make the journey down there for the next one...
Eastern Olivaceous Warbler
I went into last weekend feeling pretty pleased that the Shetland Booted Warbler I'd predicted in the previous week's Round-Up had come good. I'd also name-checked another warbler as a once-in-a-blue-moon mid-September Shetland possibility – the always lovely Eastern Olivaceous Warbler...
Heading out birding on Saturday 12th on my local patch at Skaw on Whalsay (Shetland) the signs were all there that something special could be in the offing – there was a Barred Warbler in my garden, the wind was still a stiff south-easterly, and Peter Stronach was on the island. This latter element was the most important omen of all – Peter's ability to unearth good birds on Whalsay is legendary. Many RBA readers will have enjoyed the Veery on Whalsay in 2009. That was one of his birds. And his Whalsay warbler account alone includes Blyth's Reed, Lanceolated and Pallas's Grasshopper…
So joining up with him and John Lowrie Irvine (finder of legion Whalsay rarities, including amongst many other good warblers the small matter of Britain's third Ruppell's) always augured well.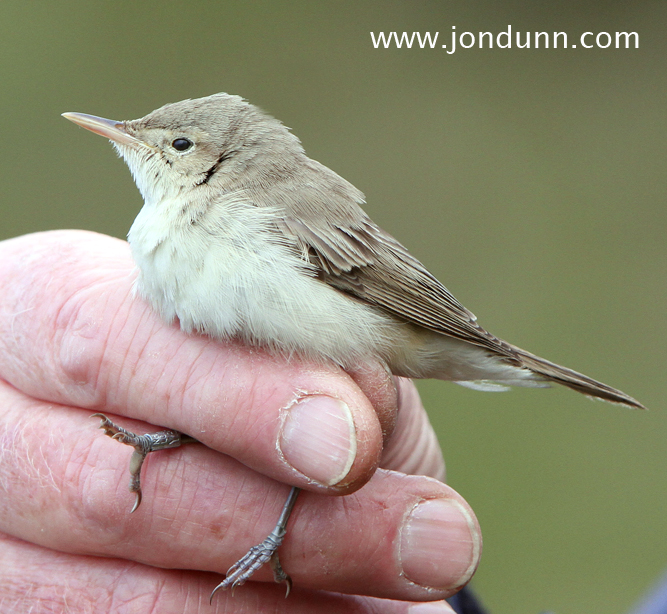 We'd no sooner walked into the plantation at Skaw than we could hear a warbler chak-chak-chakking in deep cover. Shortly afterwards it flew briefly out of the plantation, giving the impression of an excitingly pale bird. Booted was mooted, but subsequent hard-won views began to modify that initial impression. The bird was incredibly skulky, moving quickly through the canopy of the bushes and small trees of the plantation. It was an intriguing pearl-grey, not really the milky-tea we'd have hoped for in a Booted, sported a substantial long bill and, behaviourally, the regular calling and vigorous tail-pumping all felt right for something rather rarer. Our thoughts moved quickly towards Eastern Olivaceous Warbler.
Our field observations continued while the site's regular ringer, Brian Marshall, continued to monitor his mist-nets. We were pretty confident we had an Eastern Olivaceous - but were mindful of the possibility of Sykes's Warbler and the need to be sure to eliminate Western Olivaceous. When the bird finally lodged in one of Brian's nets, the final niggling doubts could be set aside as the biometrics measured up. We'd got Whalsay's first, Shetland's eighth, and Britain's twentieth Eastern Olivaceous Warbler. Cue much elation.
Shetland is clearly the place to connect with one of these charismatic warblers, with almost half the British records hailing from the islands. If you're wanting to catch up with one… well, you know where to come…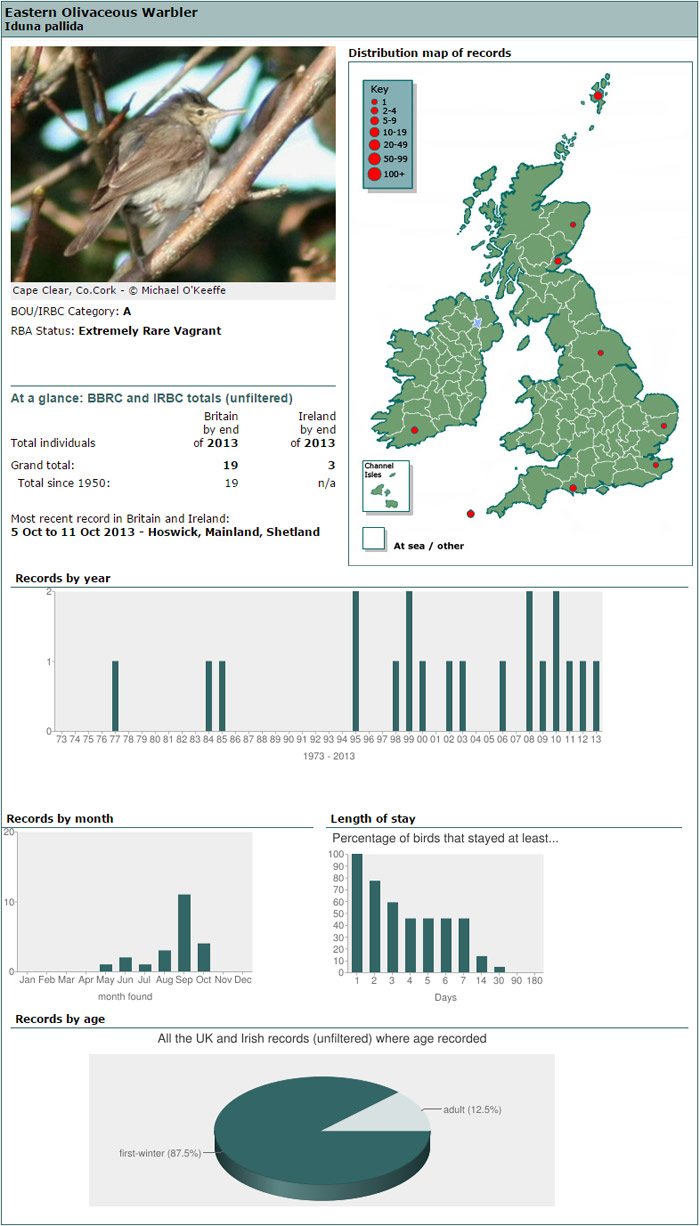 Still present on 14th, this latest individual was often sharing the same bushes as a furtive Red-breasted Flycatcher - classic Shetland autumn birding at it's best!
Pallas's Grasshopper Warbler
Speaking of warblers that Shetland enjoys a near-monopoly on, we come to the Pallas's Grasshopper Warbler found on 11th in the very far north of the Shetland mainland at Isbister. Almost, but not quite the earliest ever British record – which honour goes to the remarkable bird trapped and ringed last year on 6th September in Hampshire at Titchfield Haven.
Generally speaking though, most British and Irish Pallas's Grasshopper Warblers are found during the last week of September and the first week of October – and most of those are in Shetland, with an eye-watering 75% of all records coming from there. Poor Orkney musters but a single record – surely just a reflection of scanter observer coverage there. That and some truly staggering beds of Yellow Flag iris that stretch as far as the eye can see...
This latest addition to Shetland's tally was still present at Isbister on 12th, but not seen there subsequently. The first but surely not the last of the autumn...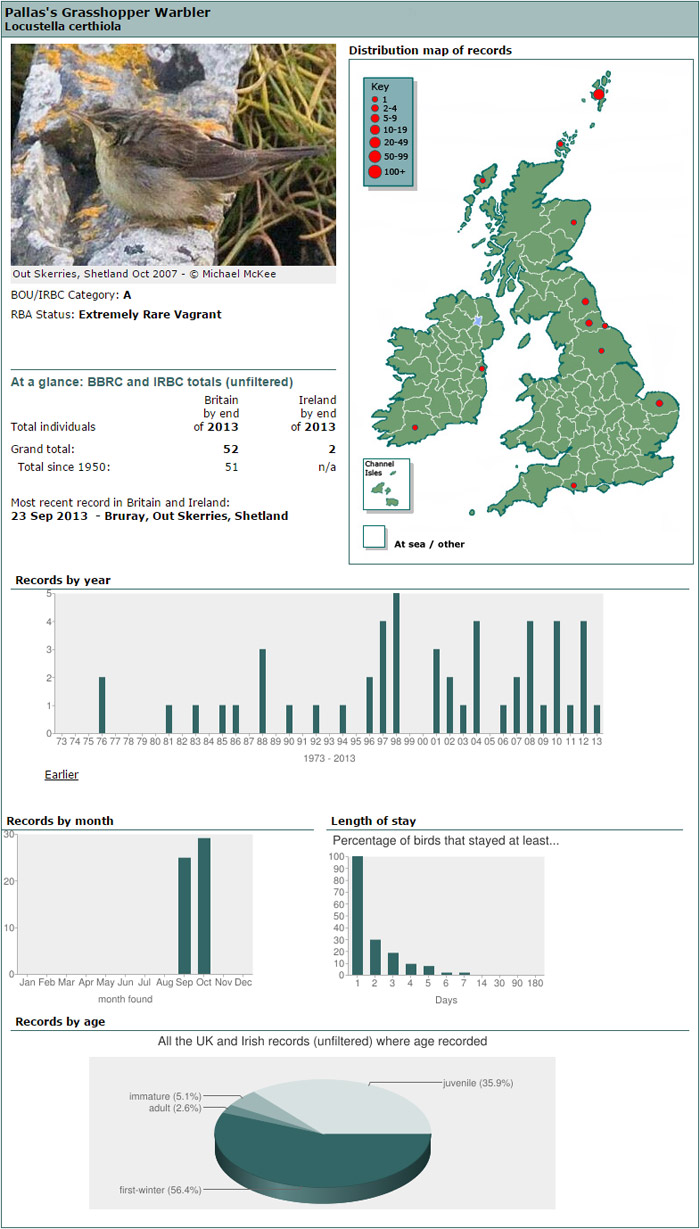 Pallid Harrier
We've covered a lot of ground in the past couple of weeks where Pallid Harriers are concerned. There's been warm, fuzzy reminiscence of the first twitchable bird, the male on Orkney in 1994. (And you always remember the first time, yes?). There's been a measured look at the species' change in fortunes in latter years, with it going from gross rarity to something slightly more anticipated of an autumn nowadays. And there's been the acknowledgement that, while it may be getting a little commoner, it's always a stellar bird to find or see.
Once again, without wishing to sound too much like the Shetland Marketing Board, it's been Shetland that's dominated records over the years, and we've already name-checked the excellent year of 2011 when at least 5 birds were logged in the islands. With two already on the scorecard for 2015, this week's events suggest we're on course for another classic autumn mini influx this year.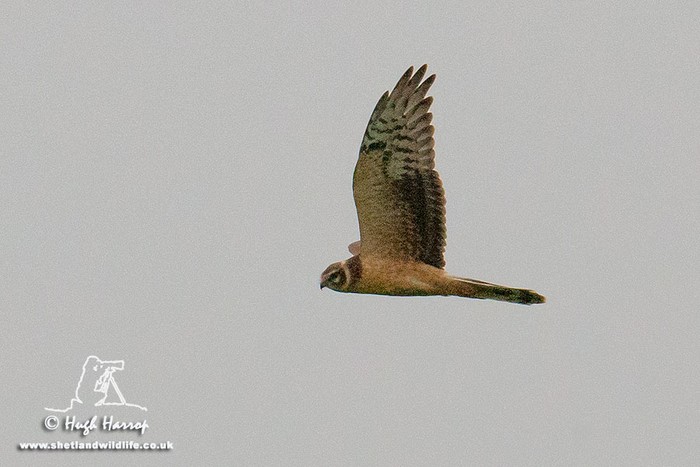 The week began well with one of the two previous arrivals still finding the South Mainland very much to its liking, being noted again in the Hillwell area on 11th. The sustained south-easterly winds paid dividends on 13th with no fewer than three new arrivals at opposite ends of Shetland – one was the star of a purple 48-hour patch of raptor arrivals on Fair Isle, sharing the island on 13th with three Hen Harriers, nine Sparrowhawks, 13 Kestrels and a Merlin. Two further Pallid Harriers were found at Northdale on Unst in the late afternoon. The Fair Isle bird was still present on 15th.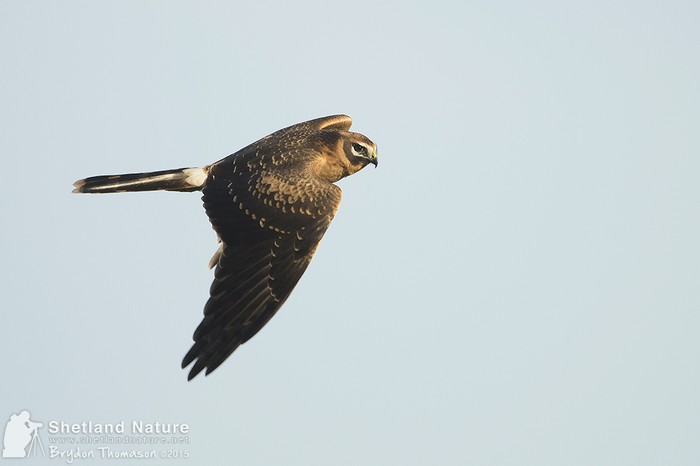 Idle speculation, of course, but one wonders what would have been made of the Saker reported on 11th near Wells (Norfolk) had it been picked up in Shetland during a notable movement of raptors...
Star billing over the chum-slick that's this week's seabird offerings undoubtedly goes to the Fea's / Zino's Petrel that moved slowly past Spurn (East Yorkshire) early in the morning of 9th. While the south-west of Ireland remains the place to see a Pterodroma, Yorkshire represents the best British bet with 13 accepted records up to the end of 2013. Having said that, you'd always really fancy your chances on one of the Scilly evening pelagics...
And where better than one of those to catch up with a Wilson's Petrel? Singles were seen on 10th and 15th off Scilly. Two Leach's Petrels were off the Severn Beach (Gloucestershire) on 14th with singles down off Steart and Burnham-on-Sea (Somerset) on 15th.
Numbers of Balearic Shearwaters picked up once again this week with some juicy tallies amongst them. Devon was at the heart of the action in mid-week, with 126 past Berry Head on 9th , 111 past there on 11th, and 103 on 13th; and 168 logged off Start Point on 13th also. Not a million miles away in Cornwall watchers on Pendeen logged the week's highest count on 14th with 206 birds tallied; on 12th 153 birds were noted here also. Elsewhere counts were in the single figures, with a grand total of around 950 birds recorded from 18 counties.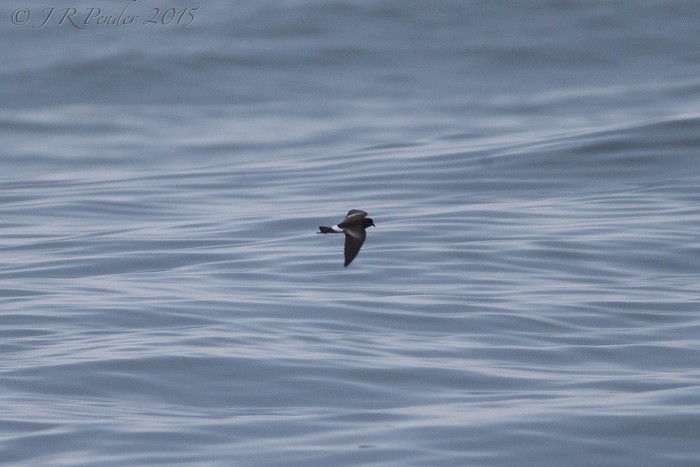 Large shearwaters continued to be in short supply with a handful of both species to report – three Cory's Shearwaters were noted off Old Head of Kinsale (Co.Cork) on 11th, with single birds seen off Ballycotton (Co.Cork) on 9th and Porthgwarra (Cornwall) on 12th; and single Great Shearwaters were off Old Head of Kinsale on 11th and Martin's Haven (Pembrokeshire) on 13th, with two birds seen from Co.Mayo's Kilcummin Head on 12th, one off Pendeen (Cornwall) on 14th, and three from The Mullet (Co.Mayo) on 15th.
Considerably fewer Long-tailed Skuas were seen this week, with some 40 birds logged representing a third of last week's tally. The bulk of these were single birds, with the exceptions being two off Thorpeness (Suffolk) on 9th and six noted off Spurn YWT (East Yorkshire), four off Kinghorn (Fife), two off Brora (Highland) all on 12th, and six off The Mullet (Co.Mayo) on 15th.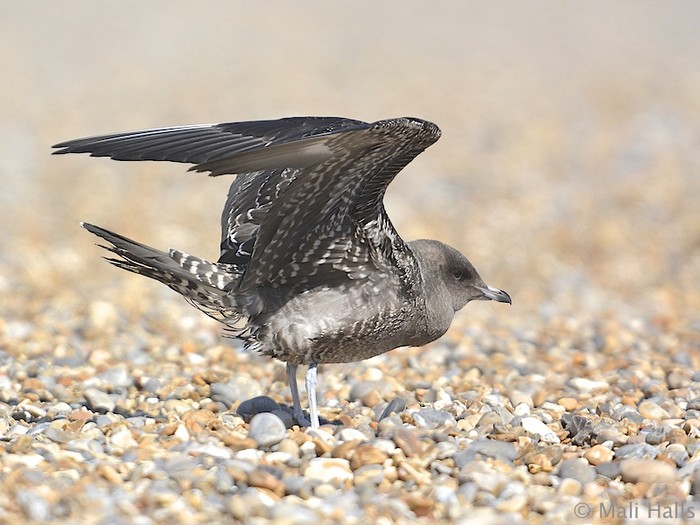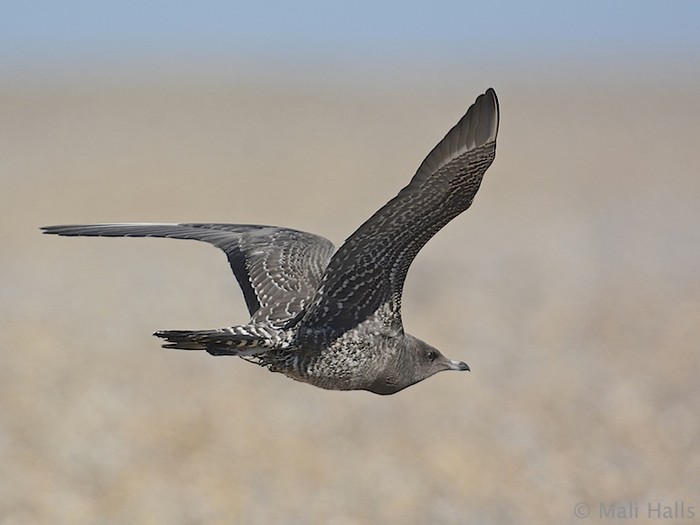 Pomarine Skuas mirrored the Long-tails with a similar reduction in numbers over the previous week. Again, around 40 were logged – most of these being singletons with counts of two noted from Bardsey (Gwynedd) on 11th and off Skye (Highland) on 13th; three birds recorded off Kilcummin Head (Co.Mayo) on 12th; and nine off The Lizard (Cornwall) on 14th.
Not that any of us really need telling, but the reinvigorated Somerset Levels really are the business where Herons, Egrets & allies are concerned. This week served to quietly remind us that anyone heading down in a generally Cornwall-ish direction this autumn would be well worth making a short detour off the M5 for a quick gander at what's on offer.
Which, this week, was a tremendous variety – star-billing on 13th being a Glossy Ibis at Meare Heath and, latterly, Ham Wall RSPB, but with a strong supporting cast of a Purple Heron at Hall Wall RSPB on 11th-13th and a Cattle Egret at Meare Heath on 12th-13th.
Things had quietened down considerably on the Cattle Egret front this week, with just a handful to report. Besides the Somerset bird there was Old Faithful still hanging out at Dungeness (Kent) on 9th-13th, and one noted elsewhere in the county at Preston on 12th. And that was your lot.
Returning briefly to Glossy Ibis, the settled bird was again at Tramore (Co.Wexford) on 11th.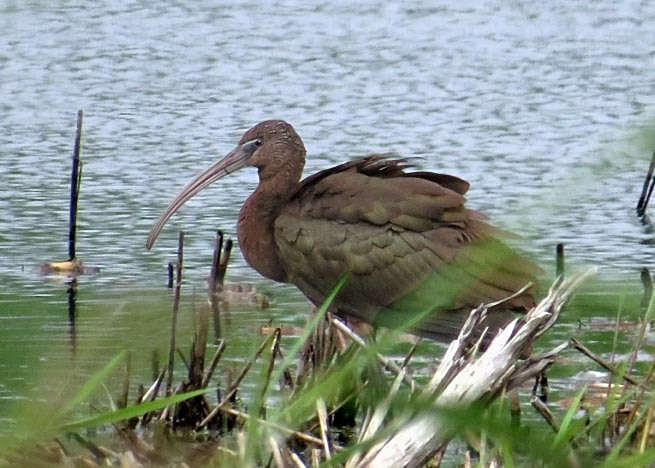 Further contentment was to be found in East Yorkshire at Sunk Island, where the French-ringed juvenile Black Stork continued to mooch about until 13th.
Did you know that, once upon a time, Spoonbills were considered quite the delicacy in Britain? True fact, that. And once again this week they provide the meat of this section of the week's happenings...
Never more so than on Brownsea Island (Dorset), where the flock on the lagoon ebbed and flowed in size but appears to be gradually building – this week's peak count involving 28 birds on 11th-12th. Will last year's record count of 47 birds there be surpassed in the coming weeks? Watch this space.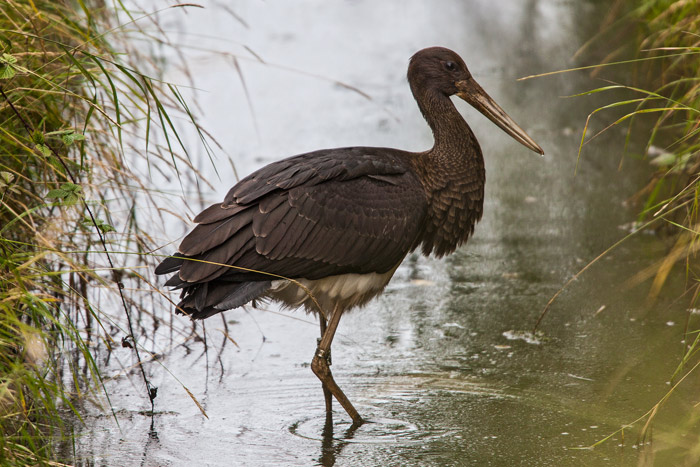 Elsewhere in Dorset the peak count from Arne RSPB was a mere five birds at Shipstal Point on 11th, and one was seen in Christchurch Harbour on 9th and 11th.
Dropping into Devon before we work our way around the coast, a single bird was noted at Bowling Green Marsh RSPB on 10th-15th, and on the Exe Estuary on 11th. Back east now to Hampshire, with single birds recorded at Farlington Marshes HWT and Titchfield Haven NNR on 9th, with two birds at the latter site on 13th-15th. One was seen at Calshot on 13th also, and two were over Lepe CP on 15th.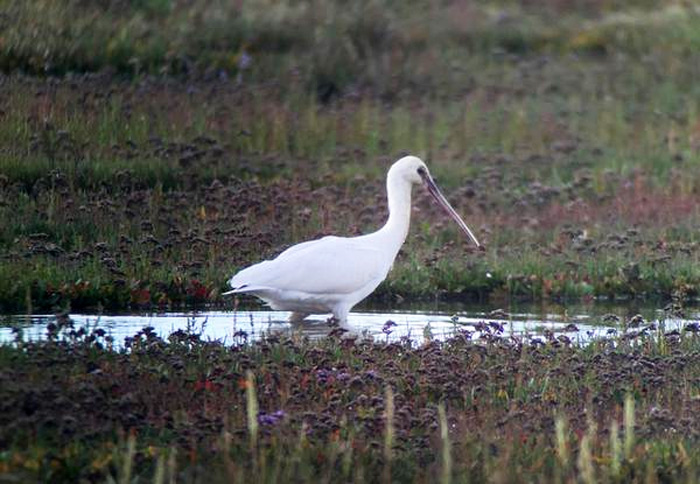 Across to Kent next, where Cliffe Pools RSPB had two birds on 11th rising to five individuals on 13th. Four birds were seen flying along the Kentish coast on 13th being noted from Hope Point and Sandwich Bay.
Across the Thames Estuary in Essex at Fingringhoe Wick EWT three birds remained on 10th-13th. In Suffolk three passed over Landguard NR on 9th, with four present at Hazlewood Marshes SWT on 11th. Which brings us to Norfolk, one-time epicentre of all Spoonbill flock-related news until Dorset came along and did one on East Anglia's finest. Peak counts came from Stiffkey with 11 in the area on 9th rising to 23 on 14th, and Titchwell RSPB which peaked with nine birds on 14th; whilst elsewhere a single bird was noted on 10th and 11th passing Holme, and trios were at Snettisham Coastal Park on 10th and Warham Greens on 11th with five at the latter site on 15th.
Heading north, Lincolnshire accounted for one still at Frampton Marsh RSPB on 9th, and varying numbers present all week at Gibraltar Point NNR – fluctuating from a low of three on 11th to a high of eight individuals on 12th. Two birds remained over in Lancashire at Hesketh Out Marsh RSPB all week long. Two flew from Burton Mere Wetlands RSPB (Cheshire) on the morning of 15th.
Once again the settled Common Crane remained at Blithfield Reservoir (Staffordshire) throughout the week. Three were seen heading south-east over Frampton Marsh RSPB (Lincolnshire) on 15th.
Four migrant Corncrakes again this week – one on Bryher (Scilly) on 9th, one on the east coast at Wells-next-the-Sea (Norfolk) on 12th with another in Norfolk at Stiffkey on 14th, and one in Essex at The Hythe in Colchester on 15th. Skomer (Pembrokeshire) landed a Spotted Crake on 10th-11th, while the sea crossing was just too much for a second individual found dead on Scilly on St.Mary's on 12th. Another bird was at the Teifi Marshes NR (Pembrokeshire) on 14th.
Quiet, quiet times again this week on the ducky front. One or two familiar faces, but that was about the extent of it. We'll not dally here for long.
The drake Lesser Scaup remained at Chew Valley Lake (Somerset), being seen again there on 14th. At the opposite end of the country the first-summer drake Surf Scoter was again reported that day off Murcar (Aberdeenshire), and the drake Surfie was again in the Sound of Taransay (Western Isles) on 15th.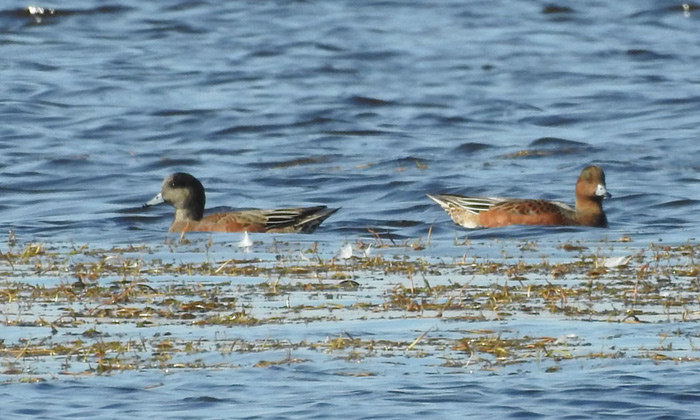 And so to American Wigeons for the last of this week's duck-related thrills – last week's bird remained at Tacumshin (Co.Wexford) until 15th, while a drake was on Islay at Ardnave (Argyll) on 14th.
Any week that features a Hudsonian Godwit was a good week for shorebirds. That arrived at the week's end, but the week began in Shetland with the American theme firmly in place – Shetland's eighth ever Long-billed Dowitcher remained on Yell at Swarta Shun until 13th – proving to be a fabulously confiding individual.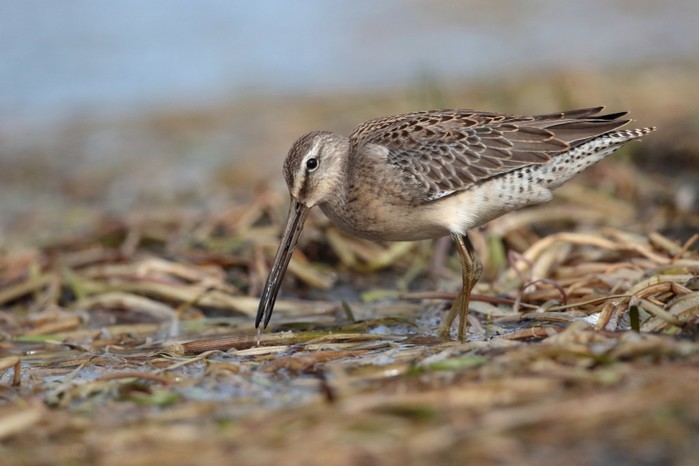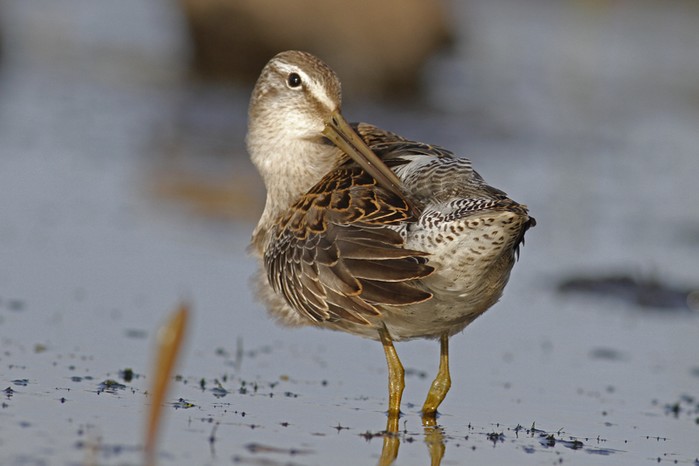 As the week progressed more American loveliness was turning up – notably two Buff-breasted Sandpipers in Scotland, one apiece for the Butt of Lewis (Western Isles) on 11th-14th and Loch a'Phuill on Tiree (Argyll) on 14th; and a further bird on 15th in Ireland at Tacumshin (Co.Wexford).
Numbers of Pectoral Sandpipers meanwhile were down on last week's double figure showing. One remained from last week in West Sussex at Siddlesham Ferry until 15th; new birds were on Hickling Broad (Norfolk) on 10th, St.Mary's (Scilly) on 11th (joined by a second bird on 12th-15th), Maer Lake (Cornwall) on 12th-13th, Dawlish Warren NNR (Devon) on 13th-14th, and at Slimbridge WWT (Gloucestershire), Bagmoor (Lincolnshire) and on North Uist at Baleshare (Western Isles) on 13th. One was reported from Freiston Shore RSPB (Lincolnshire) on 14th, and one was at Carrahane Strand (Co.Kerry) on 15th.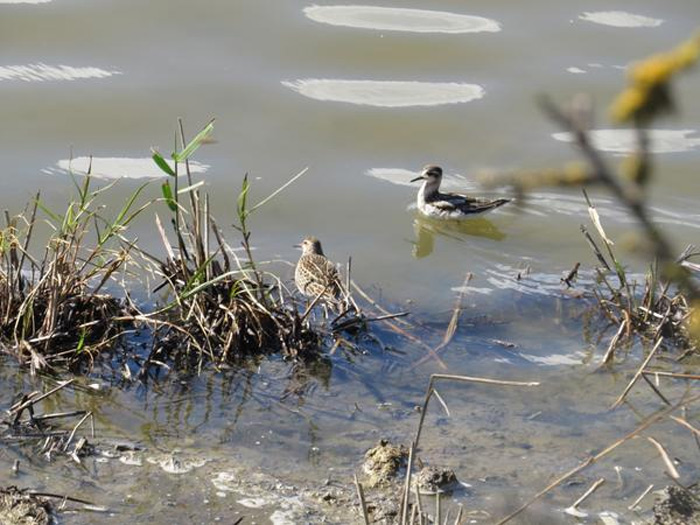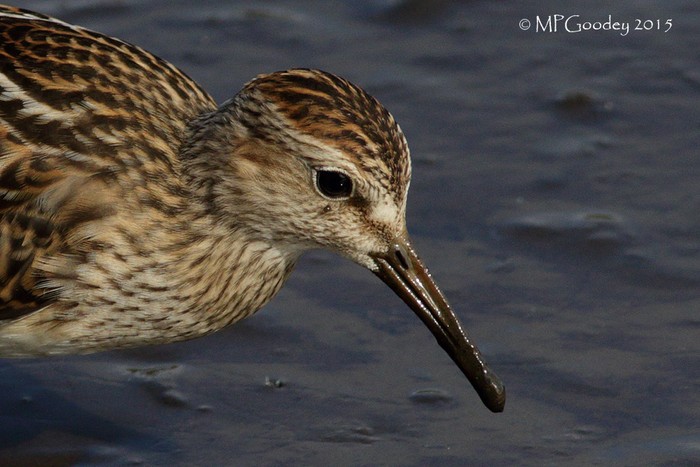 A probable Pacific Golden Plover flew over Shapwick Heath NNR (Somerset) with Golden Plovers in the evening of 14th. If confirmed this would prove to be an arguably overdue first for the county.
Just one Temminck's Stint to report this week - one at Slimbridge WWT (Gloucestershire) on 13th.
On a par with last week's reports were the handful of single Dotterels recorded this week: reports came from Cornwall of one at Skewjack on 10th with one flying by Porthgwarra on 11th; with further individuals noted on 12th at Colne Point (Essex), Shuart (Kent), and on Anglesey at The Range RSPB, the latter bird remaining until 14th. On 15th one was seen on St.Mary's (Scilly) and another was on Ventnor Downs (Isle of Wight).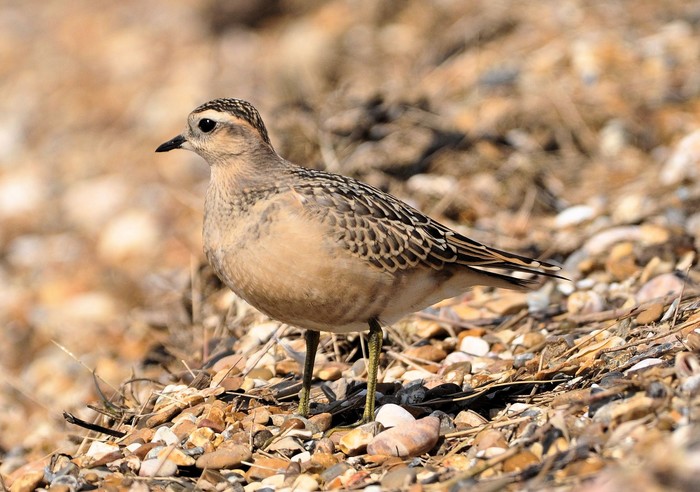 Red-necked Phalaropes were to be found at Minsmere RSPB (Suffolk) on 9th-11th; at Hollesley Marshes RSPB (also Suffolk) on 10th-15th, with two birds there on 12th; at Caister-on-Sea (Norfolk) on 12th; and on Stretton Sugwas pits (Herefordshire) on 12th-15th.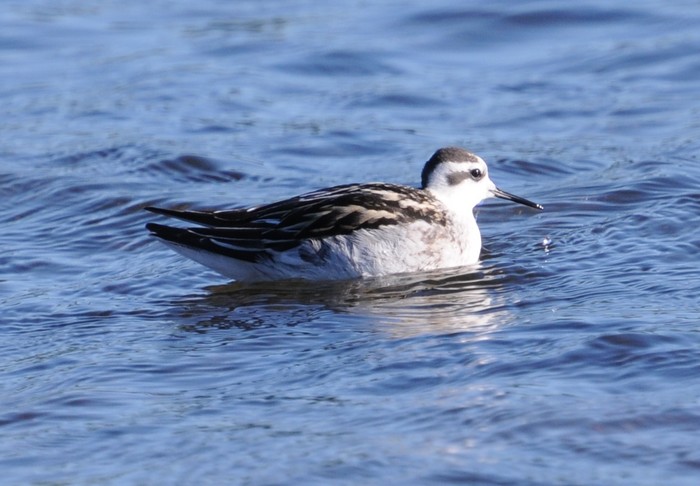 Meanwhile, frisky weather in the Atlantic conspired to bring more Grey Phalaropes to light this week. Single birds were logged at Maer Lake (Cornwall) and on Tiree at Sorobaidh Bay (Argyll) on 12th; on 13th passing Benbecula (Western Isles), from the ferry near Coll (Argyll), and on 13th-15th on Exminster Marshes RSPB (Devon); and on 14th at Swanborough fishing lake near Lewes (East Sussex).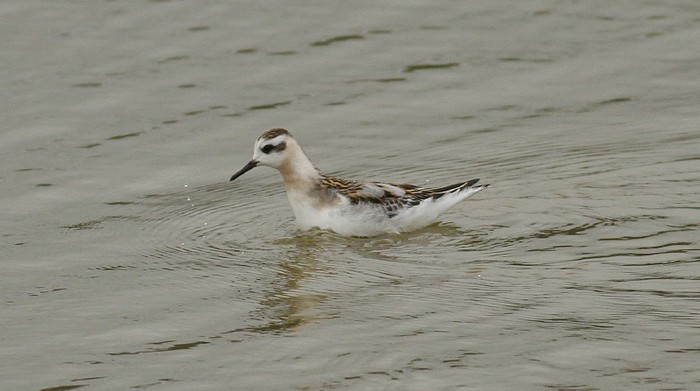 On 15th further birds were found at Ynysyfro reservoirs (Gwent), Llanrhidian (Glamorgan), South Milton Ley (Devon), Sidlesham Ferry (West Sussex), Lepe CP (Hampshire), Abbotsbury and Chesil Cove (Dorset), Chew Valley Lake and Burnham-on-Sea (Somerset), Bough Beech reservoir (Kent), Barns Ness (Lothian) and two noted from the evening Scilly pelagic.
Almost making it into the week's headlines was a probable second-summer Audouin's Gull seen in Essex on 13th flying past Holland Haven CP and then Frinton-on-Sea in the early afternoon. In a quieter week this might have ascended to the giddy heights of the headlines... as it was, this potential county first has to make do with heading up the Gulls & Terns. With confirmed birds in the past decade in Suffolk and Kent, it's surely only a matter of time before one's confimed in Essex...
Briefly diverting ourselves with the week's rare terns before we head back into the somewhat commoner gulls, the adult Forster's Tern was still on the Rogertown Estuary (Co.Dublin) on 10th, while juvenile White-winged Black Terns remained in the Dungeness area (Kent) until 10th and in Norfolk on Ormesby Broad (and latterly Filby Broad) until 13th. A further juvenile White-winged Black Tern was in Lincolnshire at Gibraltar Point NNR on 9th.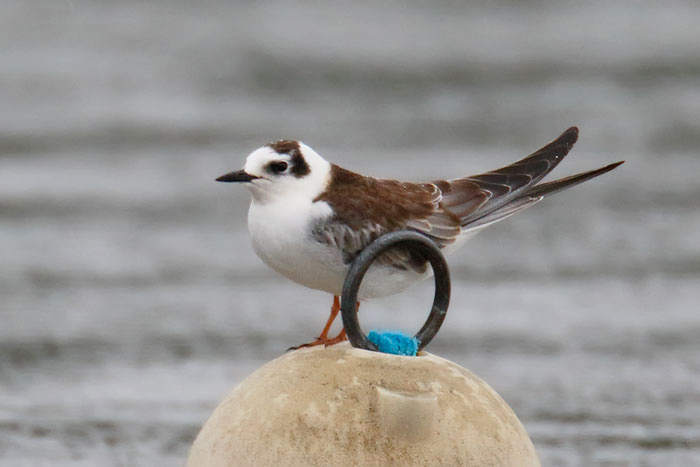 Back to the gulls then, where two familiar Ring-billed Gulls won't delay us for long - the second-summer individual remained at Preston Dock (Lancashire) until 14th, while the adult was again logged in Scotland at Dingwall (Highland) on 10th. Elsewhere in Scotland a second-winter individual was on North Uist at Baleshare (Western Isles) on 13th; and one was on Vatersay (Western Isles) on 15th.
Just a couple of Glaucous Gulls to report this week – at Kilnsea (East Yorkshire) on 11th, and at Lenadoon Point (Co.Sligo) on 13th. Which brings us to arguably the loveliest gull of them all...
...the ever-pleasing Sabine's Gulls. Another reasonable showing of them this week: an adult was off Berry Head (Devon) on 9th; adults were seen from Skye (Highland) in Staffin Bay on 9th and 14th; two juveniles were seen in Ireland off Kilcummin Head (Co.Mayo) on 12th; on 13th a juvenile was off Girdle Ness (Aberdeenshire) and an adult was logged from Rubha Ardvule on South Uist (Western Isles); and on 14th a juvenile was seen from The Lizard and a further bird was logged off Pendeen (Cornwall), with one off Brandon Point (Co.Kerry) that day also.
Red-footed Falcons continued be a fixture in the week's raptor news – a first-summer male starting the week off at Hemscott Hill (Northumberland) on 10th-11th, with further juveniles st Girdle Ness (Aberdeenshire) on 10th-12th and on the Isle of May (Fife) on 14th-15th.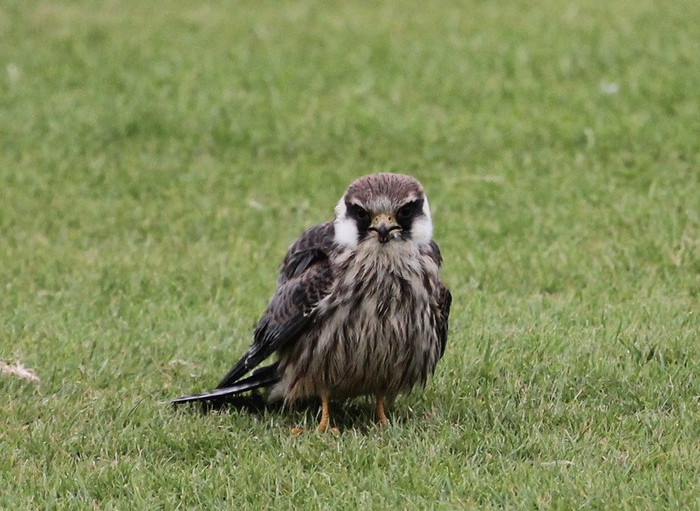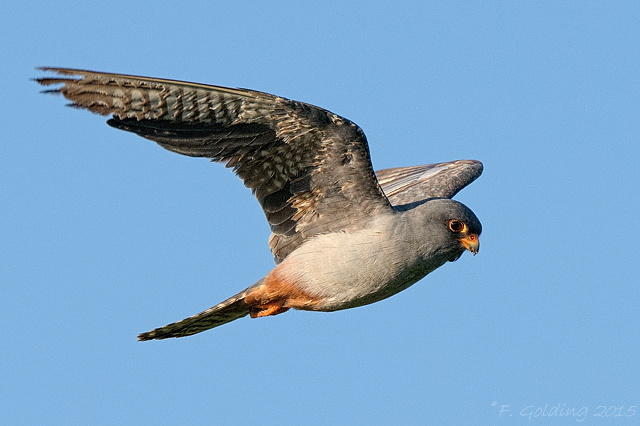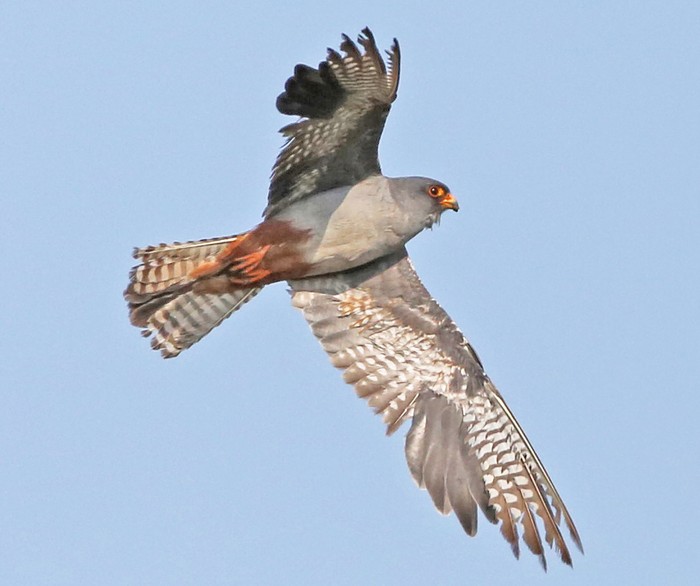 A Rough-legged Buzzard was at the traditional site on the Isle of Sheppey (Kent) at Capel Fleet on 9th.
And so to this week's migrating Honey Buzzards - numbers down again this week, to just half of last week's records – a dozen or so recorded in all on a daily basis. On 9th individuals were seen at Flamborough Head (East Yorkshire) and Ipswich (Suffolk); on 10th one was over Scalby Lodge Pond (North Yorkshire); on 11th birds were seen in Kent over Canterbury and Pegwell Bay; on 12th it was the turn of Hengistbury Head (Dorset) and the Isle of May (Fife); on 13th birds were noted at Stiffkey (Norfolk), Scarborough (North Yorkshire) and Sutton Bingham reservoir (Somerset); on 14th over Noss (Shetland); and on 15th when three were reported over East Bergholt (Suffolk).
And so we come to the week's main agenda – as indeed it's likely to be increasingly in the coming weeks – the passerines. Last week's early Yellow-browed Warblers were, as we thought, the first of many to come – more of which anon – but we'll kick of with the rarer warblers before we come to them.
Starting – where else? – in Shetland, where – who else?! - Peter Stronach, on a roll from finding Whalsay's first Eastern Olivaceous, struck again on 14th. It wasn't really a surprise to get a text to the effect that he'd found a Bonelli's warbler sp on Sumburgh - slightly more surprising perhaps was that this fairly cold-toned bird turned out, when trapped and ringed, to have biometrics that placed in firmly in the camp of Western Bonelli's Warbler. One of the observers in the field mentioned that, while watching the bird, he'd heard an Eastern Bonelli's-like chup call – a cautionary tale for anyone who finds or sees a putative Eastern Bonelli's that you need to be very, very certain that a call you're hearing is coming from the bird you're keeping tabs on. There is, after all, a high burden of proof required where these warblers are concerned... Explaining the unease of many at the acceptance of some past un-trapped and un-sonogrammed individuals.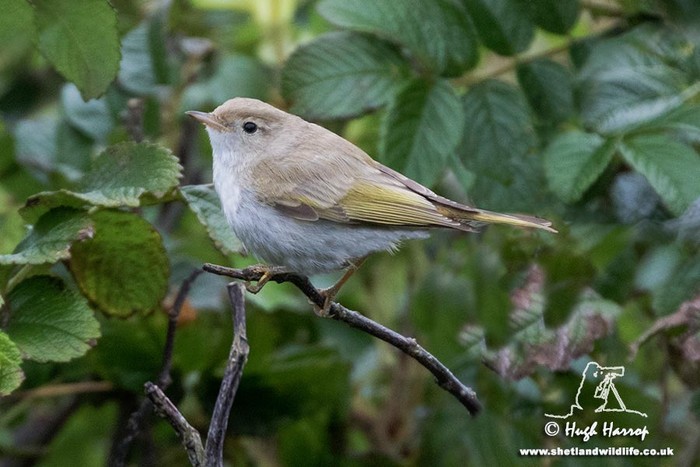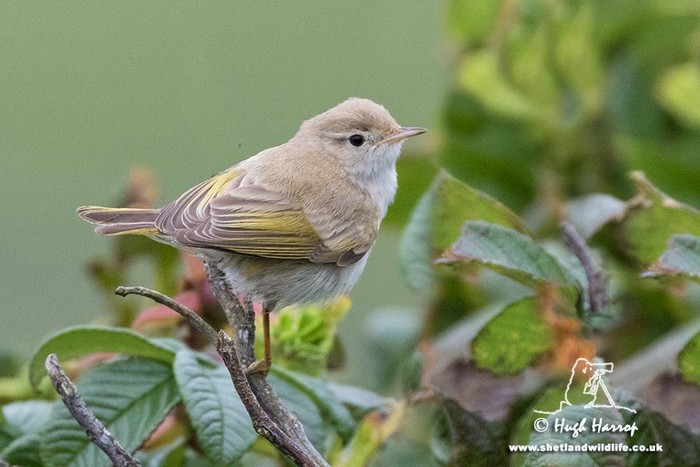 Food for thought then as another Bonelli's Warbler sp was photographed on 15th on Unst (Shetland) at Burrafirth. The Sumburgh individual was still present on 15th.
A report of a possible Radde's Warbler at Sandwich Bay (Kent) on 11th would have been, comfortably, the earliest ever record of the species – typically associated with mid to late October arrivals, the earliest record to date was one on Fair Isle (Shetland) on 23rd September 2001.
Staying in Shetland, the Booted Warbler from last week at Sumburgh remained present until 14th.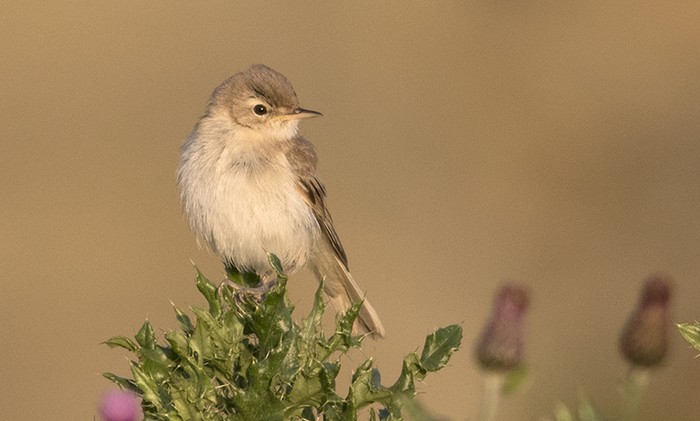 A Greenish Warbler was in Marsden Quarry (Co.Durham) on 12th. Two Arctic Warblers featured in the news – one at Skateraw (Lothian) on 11th-15th, and one on Inishbofin (Co.Galway) on 13th-14th.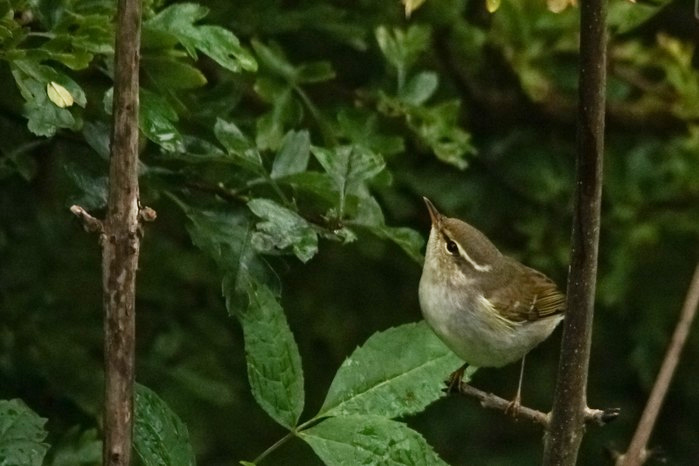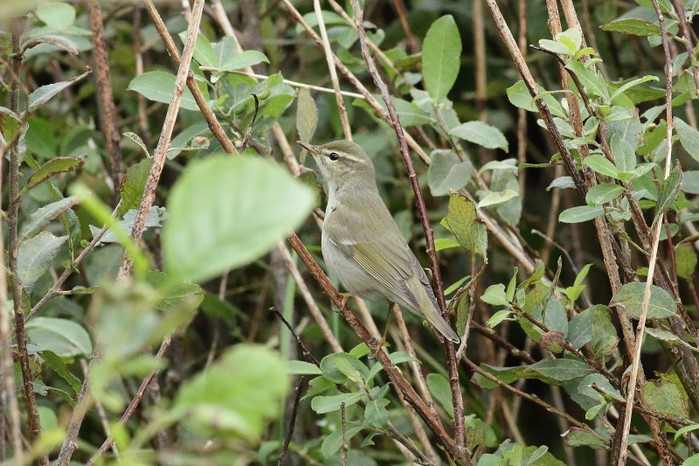 Marsden Quarry was back in the news two days later with a Blyth's Reed Warbler there on 14th-15th. An unconfirmed report of another came out of Stronsay on 13th.
A Marsh Warbler was in Norfolk at Weybourne on 11th. The county accounted for the week's only reported Subalpine Warbler at Wells Woods on 9th in amongst a tit flock.
A Melodious Warbler was in Ireland on Great Saltee (Co.Wexford) on 12th; another was on St.Mary's (Scilly) on 15th. Icterine Warblers were at Bawdsey (Suffolk) on 9th, where a probable bird was reported; on 9th-11th on Holy Island (Northumberland); on 10th-12th on Bryher (Scilly); on 11th at Saltfleetby NNR (Lincolnshire); at Landguard NR (Suffolk) on 12th, and at Buckton (East Yorkshire) on 12th-13th; at Flamborough Head (East Yorkshire) on 13th; and on Bryher (Scilly) on 15th.
Numbers of Barred Warblers remained strong this week, as might be expected with a sustained easterly wind. Unsurprisingly many, though not all, of these made landfall down the east coast. Hangovers from last week remained at Staines Moor (Surrey) until 15th, and Titchfield Haven NNR (Hampshire) on 10th.
New birds came in daily – on 9th on Trondra (Shetland), Minsmere RSPB (Suffolk) – until 13th – and Flamborough Head (East Yorkshire). 10th September saw a larger arrival, with new birds at Holy Island (Northumberland), Fairhaven Lake (Lancashire), Noss (Shetland) – until 15th - Mire Loch (Borders), North Ronaldsay (Orkney) – with two birds here on 10th-11th – Warham Greens (Norfolk), Sumburgh (Shetland) – two birds here also – Tynemouth (Northumberland), and at Skaw on Whalsay (Shetland).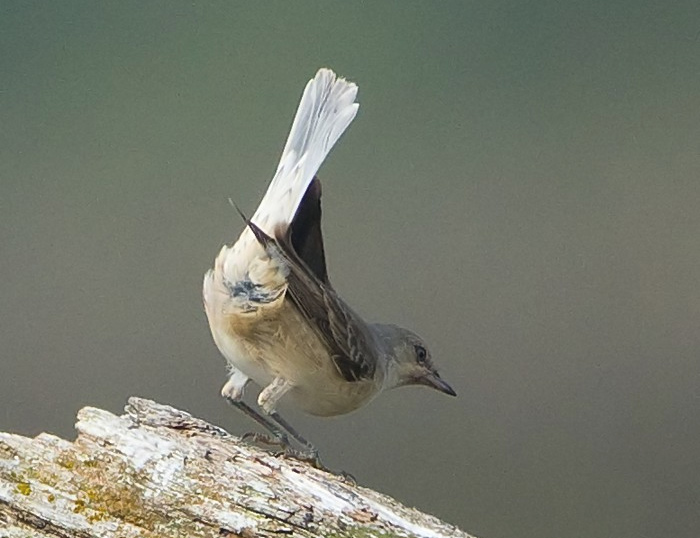 Two birds were on Fair Isle (Shetland) on 11th, with one further north in Shetland on Fetlar at Funzie that day, and birds elsewhere on 11th at Ripon (North Yorkshire) and Sammy's Point (East Yorkshire). On 12th Whalsay now hosted two birds at Skaw (Shetland), while there were new birds on Unst at Norwick (Shetland also),Wells-next-the-Sea (Norfolk), on Lewis at Eoropie (Western Isles), and on St.Agnes (Scilly) – this latter still there on 14th.
Things slowed down as the week closed – on 13th individuals were found on Barra (Western Isles) and at Spurn YWT (East Yorkshire); and on 14th on Fetlar and Yell (Shetland), at South Gare (Cleveland) – still there on 15th - and in Ireland at Erris Head (Co.Mayo). On 15th one was on St.Agne (Scilly).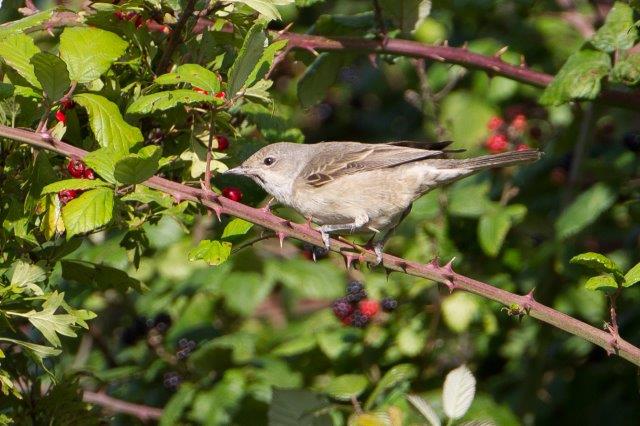 Which brings us, finally, to the Yellow-browed Warblers. Compared to last week's harbingers, this was a deluge – where last week we had three pioneering birds, this week we had pushing on for 100 individuals reported from 16 English and Scottish counties – naturally, many were in Shetland but there were birds right down the east coast and from Dorset (at West Lulworth on 13th), Devon (at Bolt Head on 12th) and as far west as Scilly.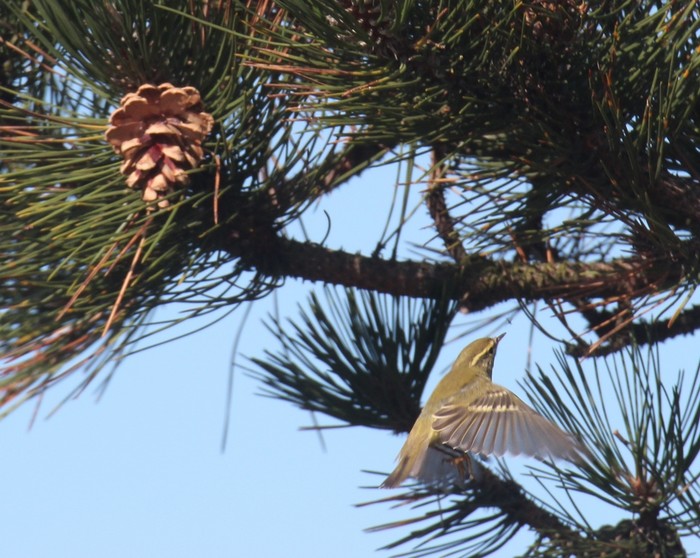 Shetland returned the week's largest single site counts – Fair Isle peaked with 10 birds on 9th, with six recorded on Fetlar on 14th. There were four birds on South Ronaldsay (Orkney) on 13th, and doubtless there were many being overlooked in the northern isles – even as I walked through Lerwick yesterday morning (15th) I came across two feeding overhead in sycamores right in the heart of the town.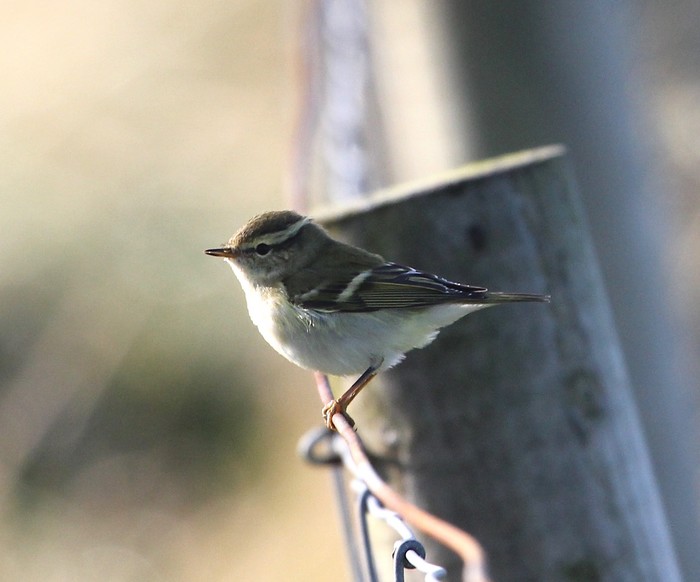 Last week's Wryneck at Farlington Marshes HWT (Hampshire) was still present until 10th – and further birds were reported daily thereafter. On 9th singles were on Bryher (Scilly) – with two birds there on 10th – Beachy Head (East Sussex) until 13th, Skomer (Pembrokeshire) until 10th, Winterton Dunes NNR (Norfolk) until 13th, and at East Boldre (Hampshire), Southwold (Suffolk), and St.Agnes (Scilly).
On 10th birds were in Suffolk at Corton and Minsmere RSPB, the latter bird until 15th; on St.Mary's (Scilly) with two there on 14th; at Fairhaven Lake (Lancashire) until 15th, on Mizen Head (Co.Cork) until 12th, at Trewellard (Cornwall) until 12th also, and at St.Margaret's at Cliffe (Kent). On 11th individuals were on Isle of May (Fife) until 12th, at West Runton (Norfolk) until 12th also, on Hengistbury Head (Dorset) until 13th, on North Ronaldsay (Orkney) until 14th, and at Moulton (Suffolk), trapped and ringed at Nanjizal Valley (Cornwall), at Osmington Mills (Dorset) and on St.Martin's (Scilly).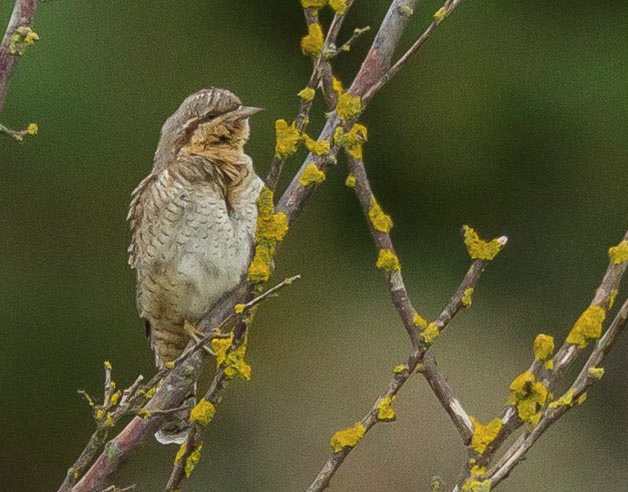 On 12th new individuals were found at Wells-next-the-Sea, Wymondham and Blakeney Point (Norfolk), on Fair Isle (Shetland), at Buntingford (Hertfordshire), Seaton Common (Cleveland), Shuart (Kent) and Staines Moor (Surrey) – the latter bird still there on 15th. The keen-eyed observer will note the occasional inland records amongst this long roll-call of Wrynecks - how many went unnoticed inland, and what better inland patch tick than one of these awesome, cryptic birds?
On 13th one such was at Doxey Marshes (Staffordshire), with further birds at Portland (Dorset) and in Ireland at Knockadoon Point (Co.Cork). On 14th birds were noted on Bardsey (Gwynedd) and on the Isle of Wight at Culver Down. Finally on 15th new birds were seen on Inner Farne (Northumberland), Kenidjack (Cornwall), and Fethard-on-Sea (Co.Wexford). Two more were recorded that day on St.Mary's (Scilly).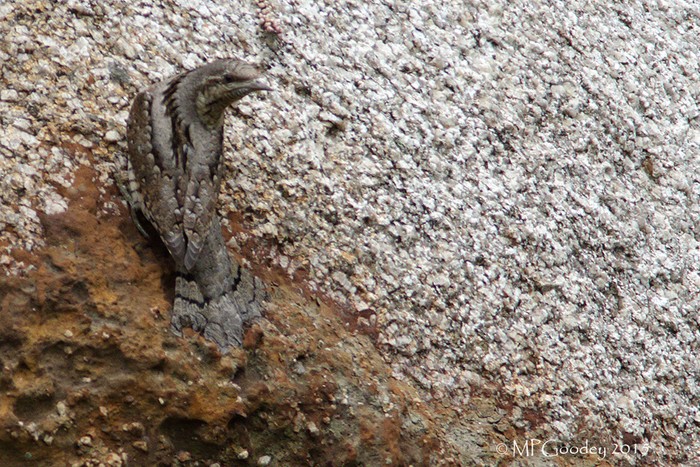 The last substantial autumn passerine fare was, of course, Red-backed Shrikes. Birds from last week remained at Kilnsea (East Yorkshire) until 14th and at Salthouse (Norfolk) until 9th. New arrivals on 9th were on Fair Isle (Shetland), Newark Bay and Sandside Bay (Orkney mainland), Flamborough Head (East Yorkshire), South Gare (Cleveland), Great Yarmouth (Norfolk) and on Mizen Head (Co.Cork).
One was on Out Skerries (Shetland) from 10th-14th; other reports on 10th were at Burravoe on Yell (Shetland) and Spurn YWT (East Yorkshire) – this latter until 12th. Three more individuals surfaced on 11th – at Boarhills (Fife), Studland Heath (Dorset) and The Lizard (Cornwall). Another Irish bird came to light on 12th-15th on Brownstown Head (Co.Waterford); a further bird on 12th was down on Scilly on Bryher.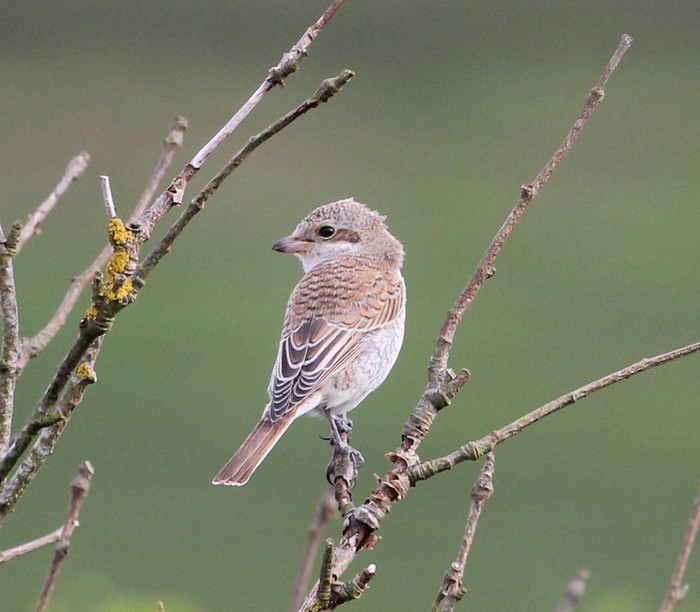 Individuals were found on 13th at Sandgarth (Shetland), Sanday (Orkney), and on 13-15th at Polgigga (Cornwall) and 13th-14th at Thorne Moors (South Yorkshire). On 14th one was noted on Fetlar (Shetland).
Amongst so much Red-backed action a Woodchat Shrike almost – but not quite – slipped under the radar, at Nosterfield LNR (North Yorkshire) on 13th-15th.
Dropping down the passerine section faster than Chelsea in the early days of this season's Premiership (early days yet, Jose, I know) were Bee-eater - they came, we saw them, they bred... and they all but vanished from the news this week. One was seen again in Cumbria flying over Warwick Bridge on 9th.
A Hoopoe was again on Portland (Dorset) on 9th also.
A Golden Oriole was on St.Agnes (Scilly) on 15th.
Numbers of Red-breasted Flycatchers are picking up as we head into the peak time for them. Individuals were found this week on 10th at Kilnsea (East Yorkshire) and Lamba Ness on Unst (Shetland); on 11th at Spurn YWT (East Yorkshire) and on 11th-13th at Skaw on Whalsay (Shetland) and Inner Farne (Northumberland); on 12th on Great Saltee (Co.Wexford), North Ronaldsay (Orkney), and at Wells-next-the-Sea (Norfolk); and on 14th at Erris Head (Co.Mayo).
Just one Bluethroat recorded this week, at Winterton Dunes (Norfolk) on 11th-12th.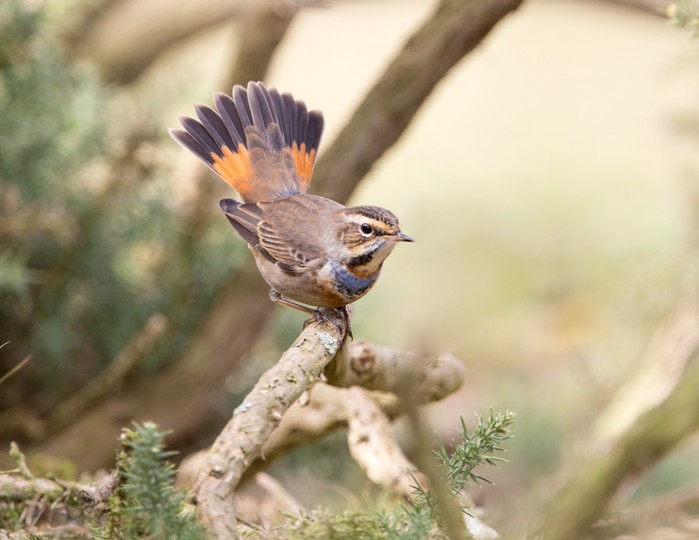 The week began with Citrine Wagtails still on Fair Isle (Shetland) until 11th, with a new bird there on 12th, and on North Ronalday (Orkney) still on 9th. A further bird was seen in Norfolk at Waxham on 10th.
A more challenging wagtail altogether are Eastern Yellow Wagtails - a probable bird was on Fair Isle (Shetland) on 12th-14th.
Numbers of Rose-coloured Starlings dropped somewhat this week, with all records being ones previously seen in Cornwall – two juveniles were still in St.Levan on 9th, with one there again on 11th; and one juvenile remained at Porthgwarra on 9th-14th. Nearby one was at Polgigga on 15th.
Common Rosefinches on the other hand kicked off this week with double figures comfortably recorded. One was trapped and ringed on Fair Isle (Shetland) on 9th; one remained on the Isle of May on 9th, one was trapped and ringed there on 10th and three were there on 11th; one was at Baltasound on Unst (Shetland) on 9th also; one was on Out Skerries (Shetland) on 10th-11th; elsewhere on 10th birds were at Exnaboe (Shetland) and Tory Island (Co.Donegal); on 11th, individuals were in Co.Cork at Galley head and Mire Loch (Borders); on 12th at Funzie on Fetlar (Shetland); and on 13th at Northdale on Unst (Shetland) and Inishbofin (Co.Galway).
Double figures also this week of Ortolan Buntings, with a more generally southerly bias as might be expected. Three birds were on Bardsey (Gwynedd) on 9th, reducing to one on 11th-13th but with two there still on 15th; three birds were on Lundy (Devon) on 11th, reducing to one by 13th. Single birds were at Blakeney Point (Norfolk) and Cliftonville (Kent) on 9th; at Dungeness (Kent) and Portland (Dorset) on 10th; on St.Agnes (Scilly) and Spurn YWT (East Yorkshire) on 11th; and at Galley Head (Co.Cork) on 12th-13th.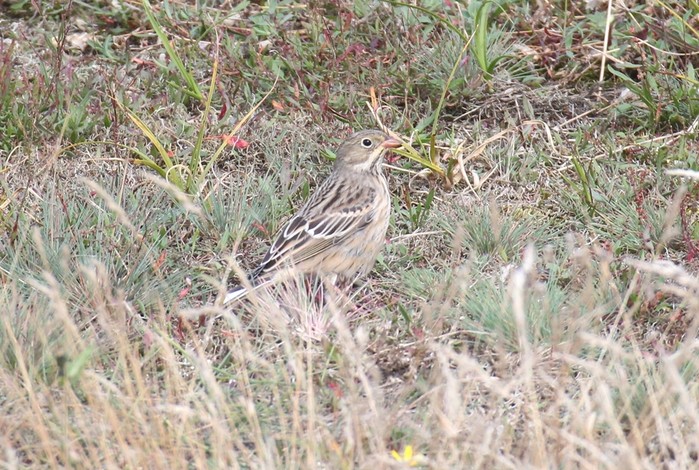 Final traditional September fare came in the form of two Little Buntings, one apiece on Portland (Dorset) on 9th and Fetlar (Shetland) on 14th.
Buoyed by the modest success of suggesting last week that we were in store for some easterly goodness, and in particular a Booted or an Eastern Olivaceous Warbler on Shetland, it's time to raise both my game and my aim considerably higher. The charts for the coming days are an absolute witch's cauldron of pressure systems, and almost anything feels possible – not least on Shetland, where the south-easterlies could be super-intense if we're lucky. Maybe it's time for another Isabelline Wheatear?
Meanwhile, further south and west we see the remains of Tropical Storm Henri come barrelling across the Atlantic from Bermuda, bringing with them some frisky south-westerlies, and my mind is inevitably turning to two things – more good seabirds to add to this year's already excellent haul, and maybe an interesting North American passerine or two...
Seabird-wise I wouldn't be entirely surprised if another Fea's Petrel or Barolo Shearwater was claimed in the coming days. As for Wilson's Petrel - they're out there, but will anyone go out to find one... or will one grace a land-based seawatch? There are five past records for the coming week of Black-browed Albatross, and a single record of arguably the ultimate seawatcher's prize – the Madeiran / Cape Verde / Monteiro's Petrel that graced Pendeen (Cornwall) on 16th September 2007.
All of which is food for thought for anyone of a seawatching frame of mind. And if nothing else you stand a good chance of a battered Grey Phalarope.
I fancy it may be the turn of the west to roar this week, and not only on the seawatching front – looking to the passerines, the usual Catharus thrush suspects have moderate past form, but it's the warblers that really catch the eye...
...namely in recent years, the Wilson's Warbler on Dursey Island (Co.Cork) on 18th-21st September 2013. Casting our eyes further back into the mists of time, the 20th September seems to be a magical date: Tennessee Warbler on St Kilda (Western Isles) on 20th September 1995; Chestnut-sided Warbler on Fetlar (Shetland) on 20th September 1985; and Hooded Warbler on St.Agnes (Scilly) on 20th-23rd September 1970.
Any of which would do us nicely.
They're the longest of long shots though. Far more likely is an early(ish) vireo - there are eight previous records of Red-eyed Vireo in the coming days to suggest it's a contender.
Oh, and one staggeringly good-looking Yellow-throated Vireo, at Kenidjack (Cornwall) on 20th-27th September 1990...
You would, wouldn't you?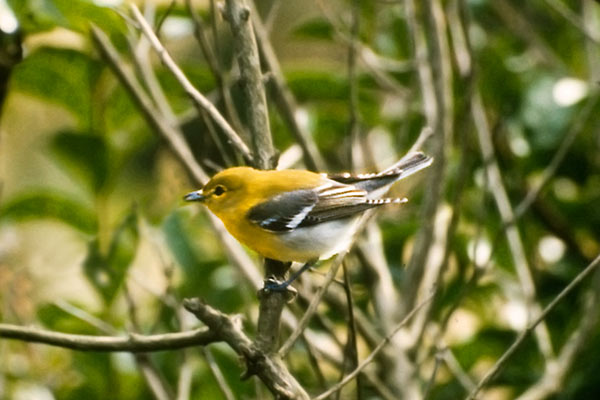 Jon Dun
16 Sep 2015

Please note: we put a lot of time and effort into sourcing and and producing the images, videos and graphics for each roundup. Some of you (probably Apple users) may notice some photos etc. that appear to have incorrect captions. Please try refreshing the page as they are correcty captioned. If after a refresh they are still showing the incorrect captions then please email us
Special thanks this week to Dan Brown for this Hudsonian Godwit photos. Many thanks also to the rest of this week's contributors for their photos and videos.
Hugh Harrop / Shetland Wildlife, Roger Riddington, Martin Casemore, Tim Jones, Michael O'Keeffe, Michaek McKee, Brydon Thomason / Shetland Nature, Joe Pender / Sapphire Pelagics, Mali Halls, Jeff Hazell, Ron Marshall, Marcus Nash, Jim Dickson, Robbie Brookes, Gary Bell, Amy Robjohns, Martin Goodey, Simon Cox, Christina La Monica, Brett Spencer, Martin Cade / Portland Bird Observatory, Steve Gantlett, Andy Williams, Frank Golding, Tom Tams, Joe Jobling, Andrew Russell, Dermot Breen, Nicholas Brown, Dave Rimes, Steve Cale, Andy Williams, Jon Worthington, Steve Clifton, Graham Clarke, Steve Cale, Alan Tate.